Date: 22-Oct-06
Route: BKK-TPE
Distance: 1547mi
Flight: BR 212 EVA Air
Flight Time: 3:08h
Dep. Time: 12:27
Aircraft: 777-300/ER 77W
Registration: B-16701
Dep. Gate: E 7
Seat: 50H
Checked in soon after the counter had opened and the wait wasn't long. Then went thru immigration and it was fairly quick for being Bangkok. The new airport had been open for about two weeks when I was there but a lot of things did not look finished. Also the layout is a bit confusing.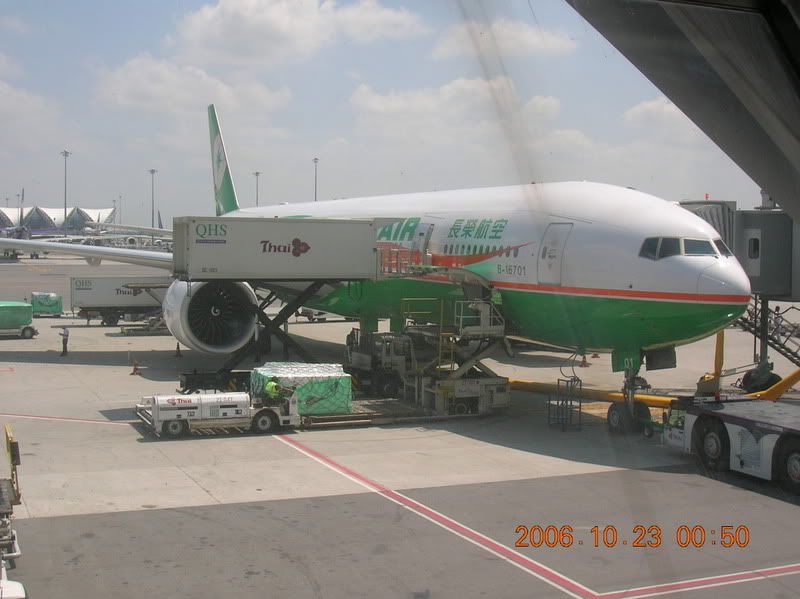 I watched some arrivals from an area close to my gate. Finally, a bit late, the EVA Air 777-300/ER landed and soon made its way to the gate. I was surprised to see about 10 EVA Air agents at the gate. As I arrived at the gate, I realized that I had lost my boarding pass. I told one of the agents this and she wouldn't print a new one but went to look for it. She returned about 15 minutes later with my boarding pass…..I'm still not sure why they couldn't just reprint the boarding pass….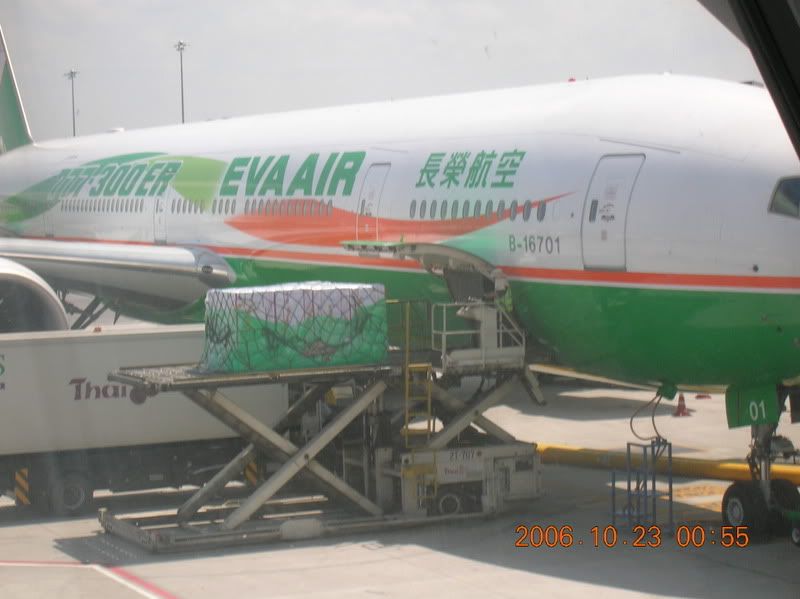 The interior was still fresh and the seats were fairly comfortable. They had the leg rest even in Economy class just like some other carriers have (AF, EY, NZ). The legroom was good for me and I'm 180cm/5'11". The load factor was probably around 35 per cent so it was nice that it was too crowded. I had three seats for myself which makes it much more comfortable.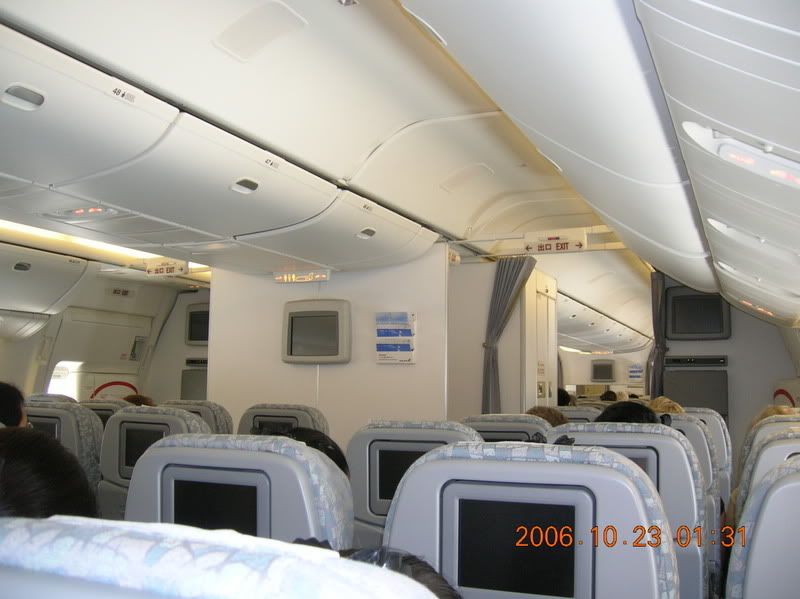 Before after push pack, they came around with a hot towel which was nice but this one had an awful smell. Taxing was slow and it took about 15 minutes before we were ready for take off. We had a short take off roll due to the short flight to TPE. Always nice feeling when plane starts rolling.
Soon after take off, lunch was served and the portion was somewhat small. Also surprising that they not give out any menus. The food was okay but not much more than that and I'm usually not that picky. Perhaps just getting a TG flight with their excellent food may have had an impact. The flight attendants were very friendly but didn't seem to speak that much English. They came around one more time offering more drinks.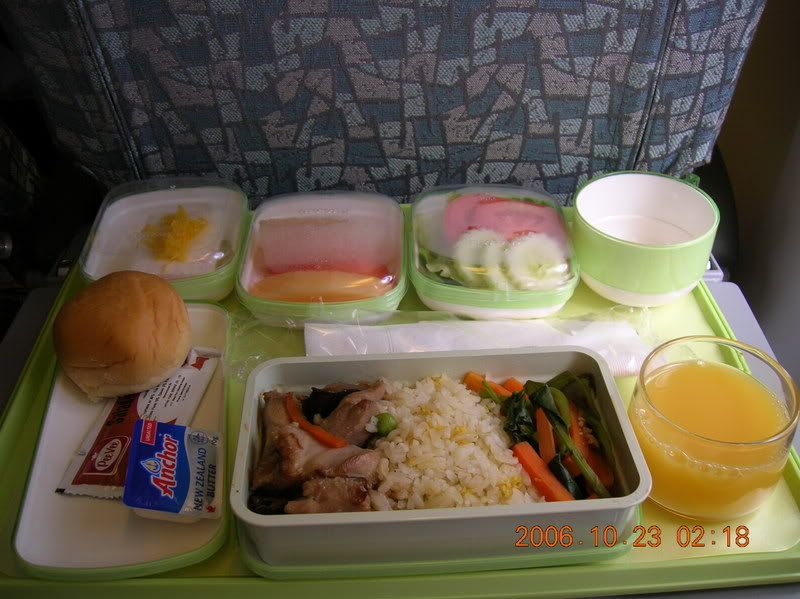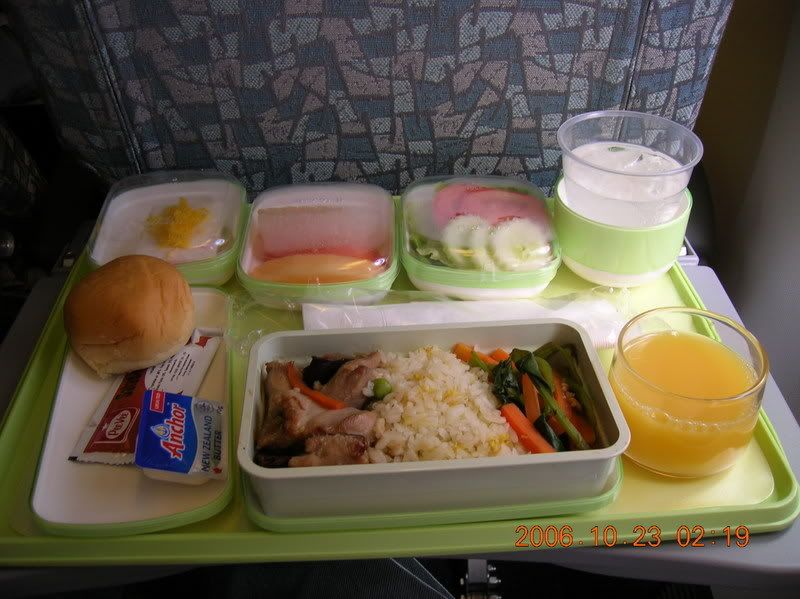 The PTV screen was nice size like on AM, AF etc and they had AVOD but selection seemed poor. Because of the selection of movies and the short flight I didn't watch any movie but explored the AVOD system and mostly watched the Airshow map.
I bought a Herpa Wings model of the 777-300/ER from the Duty Free catalogue and was happy to note that it had the same registration as the aircraft I was flying on.
I went to the bathroom and it was very nice with newer faucets than on other 777s that I have been on; sensors noticed your hands and water started flowing. Don't think I ever have experienced that on an aircraft before.
Routing was over Da Nang and then just to the west of MNL and straight to TPE. To sum things up, it was a nice flight but I would probably not fly BR on a longer flight eg Trans Pacific. .
The777Man