This is a trip report which action took place in June 2006.
Back in April, 2 months before school finished, I had been thinking about where to go on my next flying-for-fun day...
After I had checked out some low-cost airlines' sites, I found an interesting combination that consisted of 4 flights at about 150 €. The route was Zagreb-Dubrovnik-Prague-Rome-Trieste.
I found this combination to be very interesting because for the first time I could fly with 2 new airlines in my logbook, as well as with 2 types of airplanes with whom I have never flown before.
Finally that day came, June 21st. After I had slept for only 3 hours, I woke up at 2 AM. At 2.30 my ride to Zagreb airport Pleso arrived. It was truck (ownership of my dad's firm) who transported merchandise to Zagreb. After little more than 2 hours of ride, I arrived at Pleso. It was 4.45 AM. The airport looked very solitary, which wasn't strange at all if you take the fact that the first plane takes off at 7 AM.
I entered the airport building and saw just a few police officers and passengers who were sleeping in the waiting-room. I sat and tried to take a little nap, but it didn't work.
Around 6 the building started to fill and the staff on check-in began to register the passengers for flights to Milan, Paris, Frankfurt Split and Dubrovnik. While the counters of Air France to Paris and Alitalie to Milan were separated, Croatia Airlines had few open counters who were intended for all the flights of Star Alliance.
I stood behind one passenger's group who, I believed, were travelling with plenty of 'special' luggage – air guns. As the time flew by all the passengers in other lines were going forwards, but not my line.
After I had waited for 20 minutes I got tired of it, so I switched to the line next to mine. There I waited for another 10 minutes to register for my flight.
After I had finally finished checking-in (that all went without any problems because I didn't have any handed-out luggage but only my backpack), I went to the part of the airport where were domestic departures. I passed the security control and went forwards the door which had monitor above that said 'Dubrovnik'. In that particular part of the waiting-room there was nobody, even though in the other part there were plenty of people who were travelling to Split.
Flight to Split was scheduled for 7 AM and mine was half and hour later. While I was waiting the boarding for my flight to begin, I was taking the pictures of airplanes who were parked on the apron.
9A-CTM in it's first morning departure from Zagreb, the flight to Split
2 Airbuses & 2 Fokkers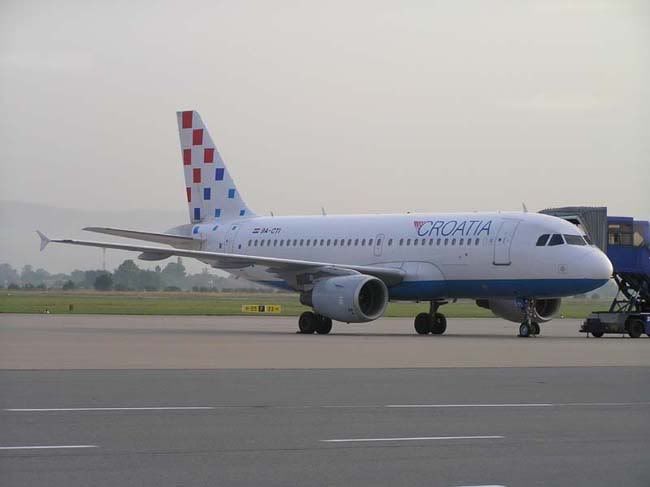 My first plane for today.
At 7:15 AM the boarding for my flight began. According to what I have seen on the flights before, it seemed that my plane was going to be full... And it was.
Wednesday, 21.06.2006
ZAG (Zagreb-Pleso) - DBV (Dubrovnik-Cilipi)
OU 660 operated by Croatia Airlines A319 9A-CTI "Vukovar"
Scheduled: 07.20 // 08.15
Actual: 07.41 // 08.27
Gate: 02
Seat: 18A
Load factor: 121/126 (96,03 %)
Fare: 29,84 €





Delivered new to Croatia Airlines: 15.6.1999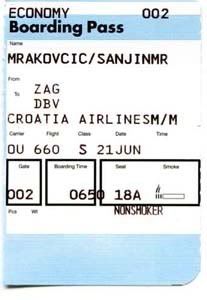 After we had been transported by the buses to the airplane, on the entrance to the plane we were welcomed by the 2 lovely flight attendands. I saluted them with 'dobro jutro' (good morning on Croatian) and went to my seat.
For the record, I'm very familiar with this plane because it was my 5th flight with it.
The captain informed all of the passengers that the departure was going to be 10 minutes late because we were waiting for 2 other passengers.
Finally, at 7:40 the plane took off from the apron towards the runway 05 from which we flew to Dubrovnik at 7:42.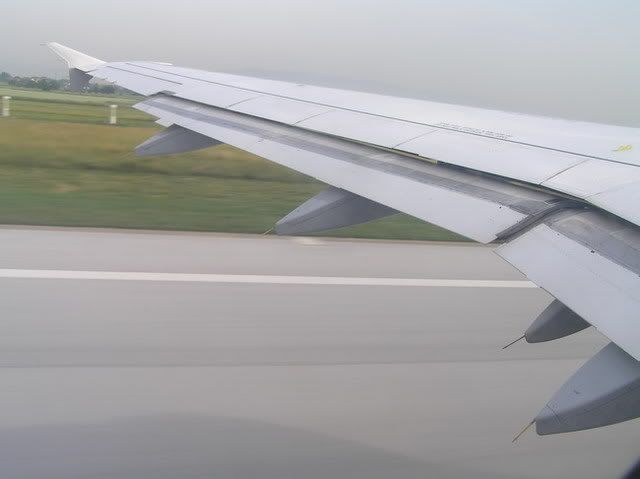 Rotate!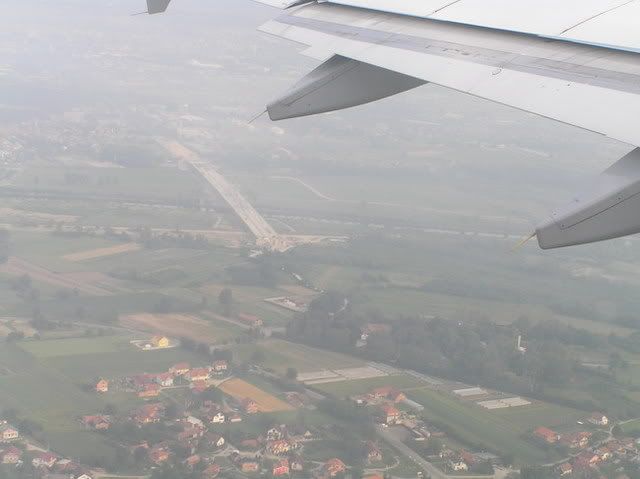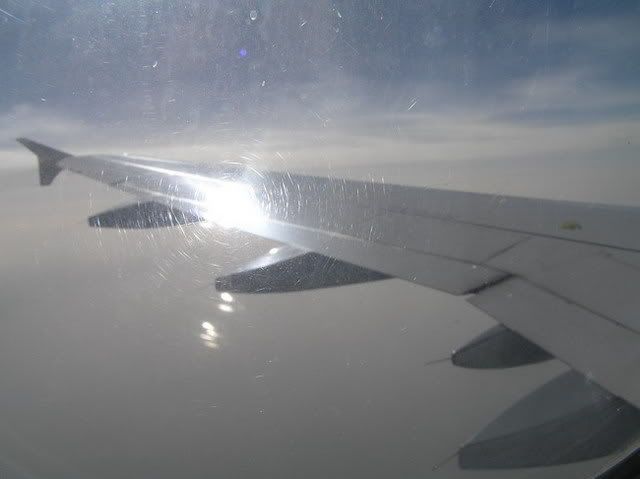 Somewhere over Bosnia.
20 minutes after the departure, the captain explained us the route of our flight. I didn't pay much attention to what he was talking about; less than a week ago I was flying on the same route...
The first morning flight to Dubrovnik was nearly full.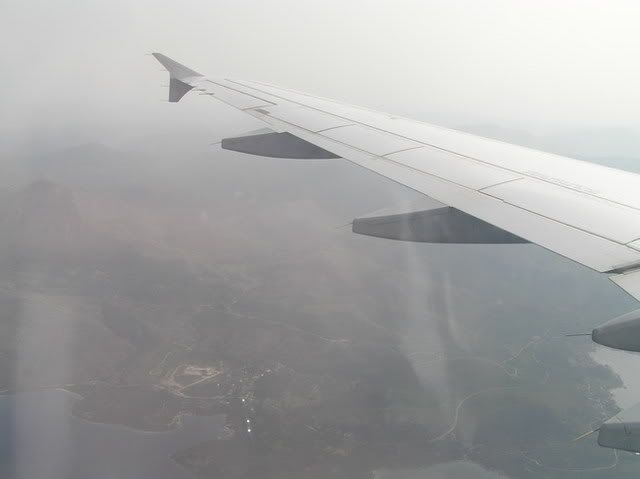 Tourist resort Babin Kuk
Port Gruz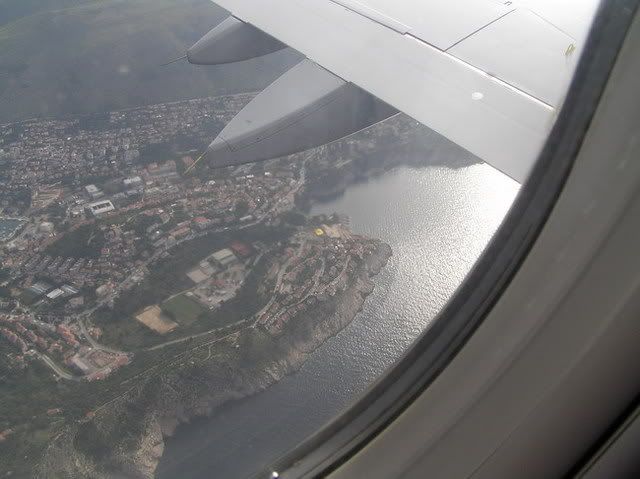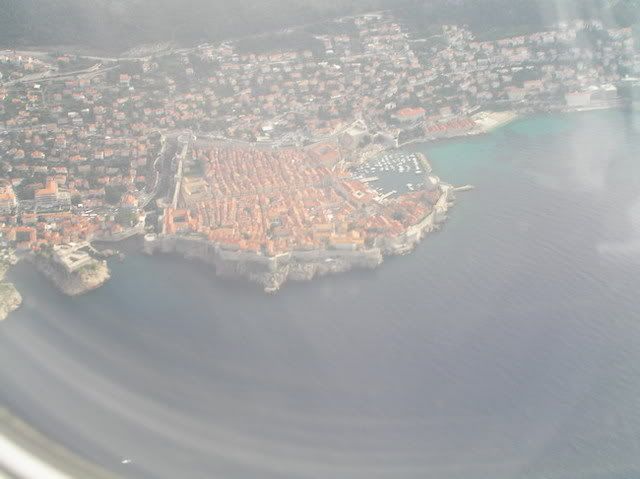 Historical center of Dubrovnik is protected by UNESCO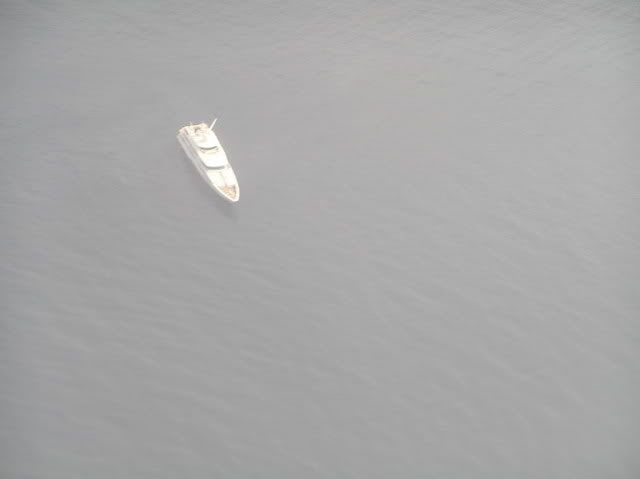 One of few anchored yachts in front of Dubrovnik...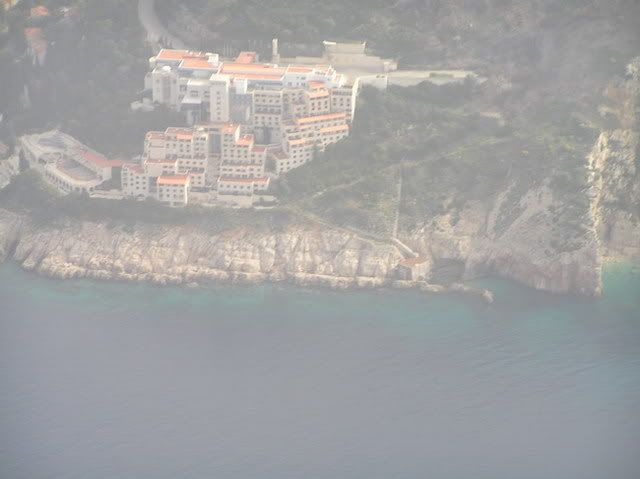 Hotel Croatia, Cavtat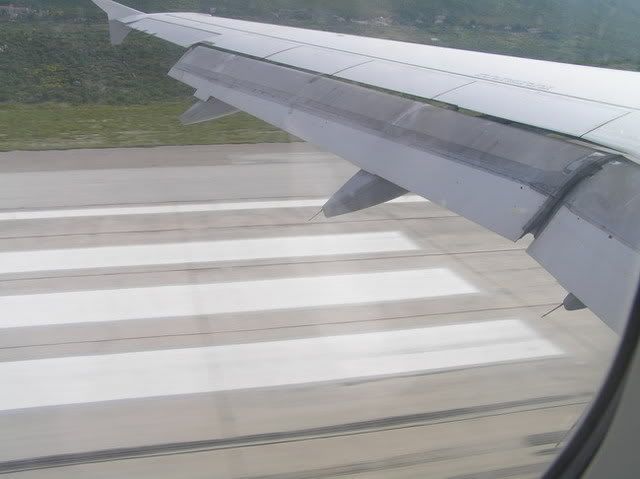 Just 2 or 3 seconds and...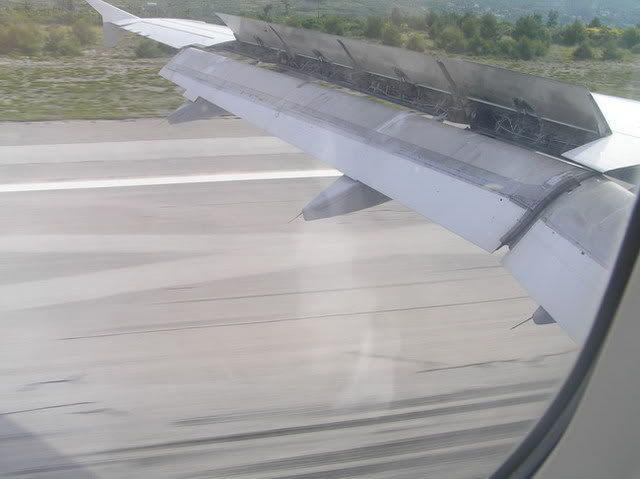 …touchdown!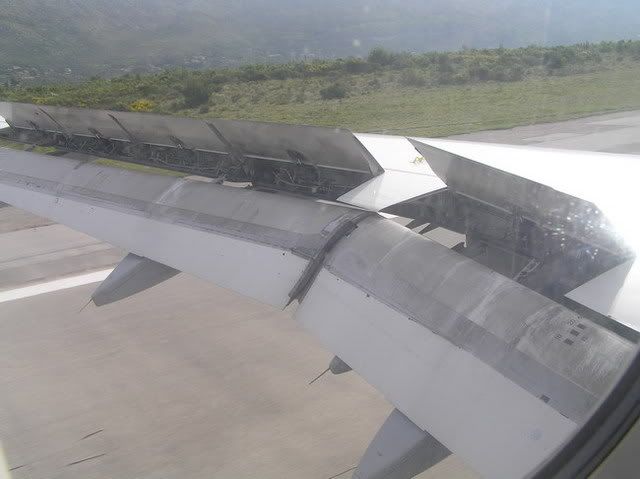 Dubrovnik Airlines' Mad-dog in hybrid colours of Aviajet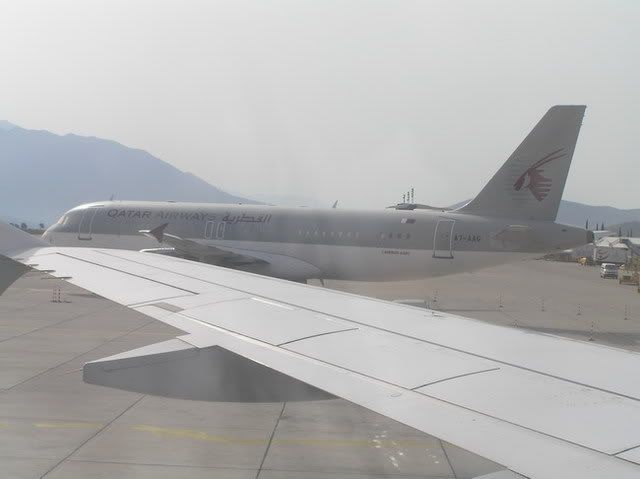 Qatar Amiri Flight in Dubrovnik… WOW
Estonian's Boeing in approach...
...just a little more…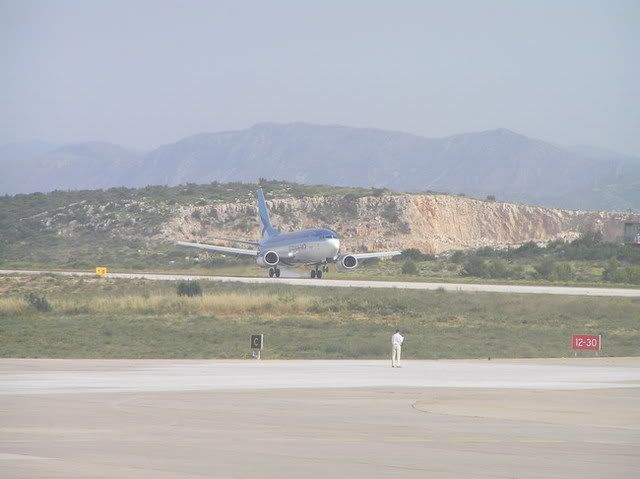 …and touchdown!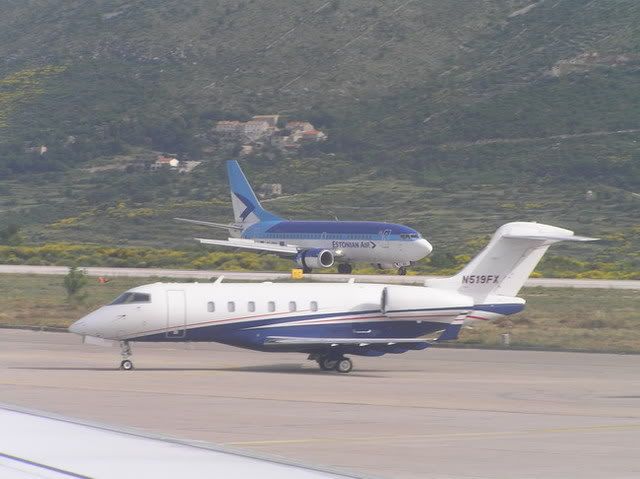 "Dear passengers, welcome to Dubrovnik".
When I got out of my plane, Estonian Air's Boeing was alredy parked...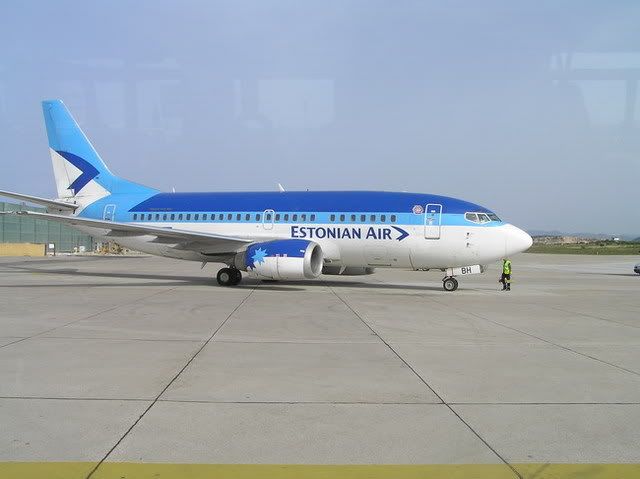 The bus transported us to the airport building. Because I had no handed-out luggage, I was out straightaway.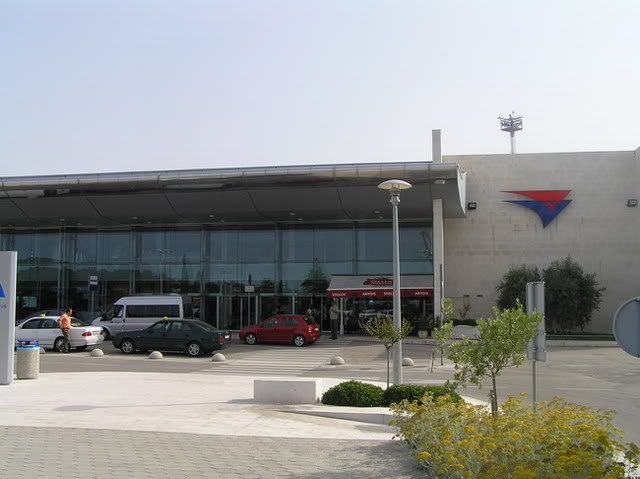 When I was finished taking pictures of everything I thought was worth memorising, I entered the airport building again. I searche for the nearest exchange office bacause I wanted to exchange my € to CZK (if I accidentally needed or wanted to buy something at the airport in Prague.)
Old check-in area at DBV.
When I registered for my flight, there was still an hour till the plane would take off, so I went to the upper floor where the international departures were located.
I did my passport checking and security control in less than 5 minutes because there was no hustle.
Old zone of international departures in DBV.
While I was waiting to board, I did my "spotter duty".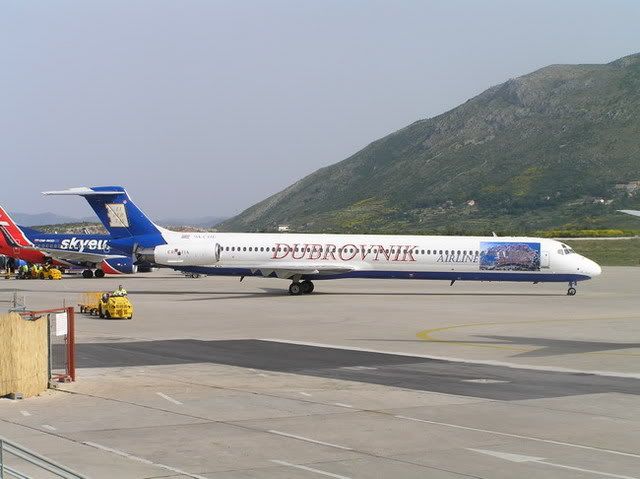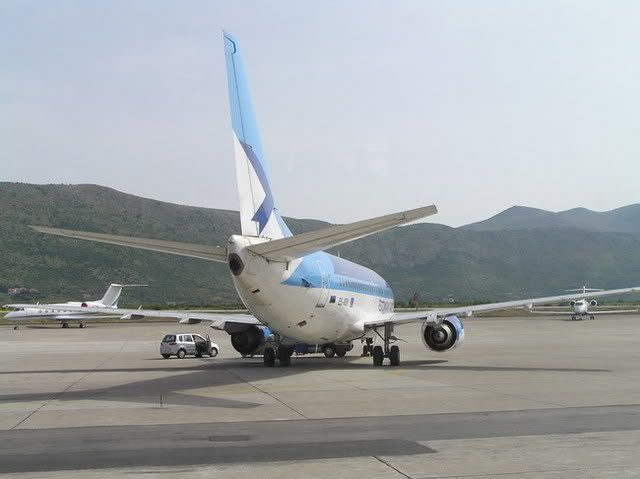 Wednesday, 21.06.2006
DBV (Dubrovnik-Cilipi) – PRG (Prague-Ruzyne)
NE 2215 operated by SkyEurope Airlines B737-700 OM-NGD
Scheduled: 09.30 // 11.20
Actual: 09.30 // 11.18
Gate: 05
Seat: 25A
Load factor: 43/149 (28,86 %)
Fare: 26,00 €



View Large
View Medium


Photo © Petr Popelar
Delivered new to SkyEurope Airlines: 25.5.2006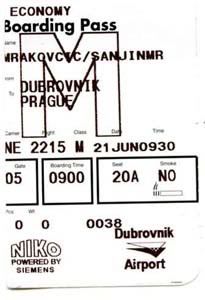 At 9.10 the boarding began. We were transported to newest addition of SkyEurope (at that time), November-Golf-Delta.
I entered the plane through the back door where I was welcomed by a lovely flight attendant. Because SkyEurope was making preassigned seating, I got seat 20A, but was unable to take my place because there was someone sitting on 20C. I asked one of the three flight attendants If I was allowed to sit few rows back. She said I could choose where to sit by myself because today there would be only 40 passengers onboard.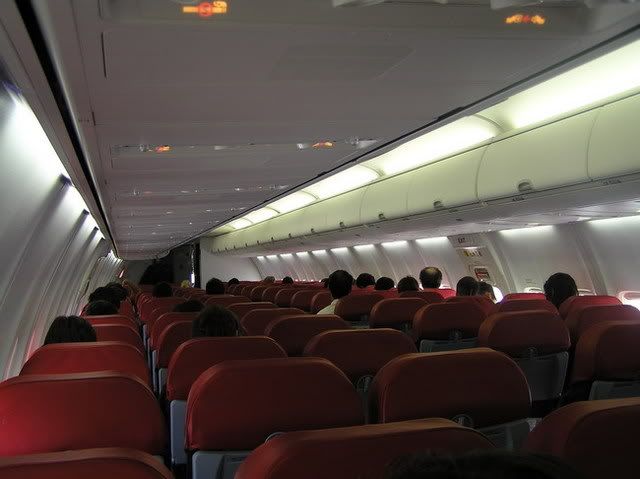 When the boarding was finished, the door were closed and the engine was started: time to fly. Direction towards runway 12 and take off!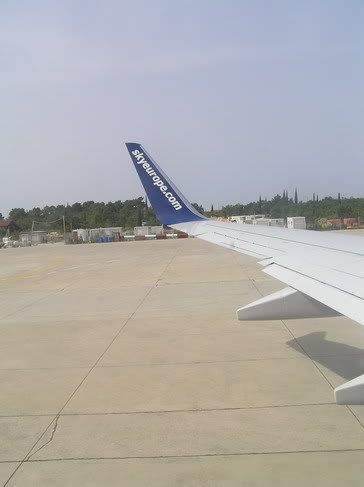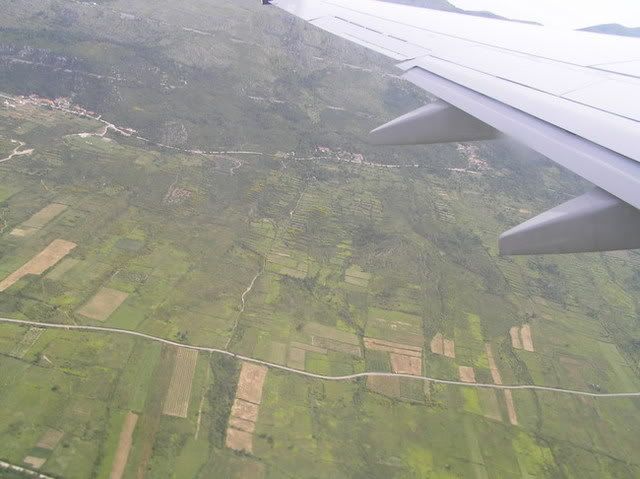 Konavle
Look to the South...Boka Kotorska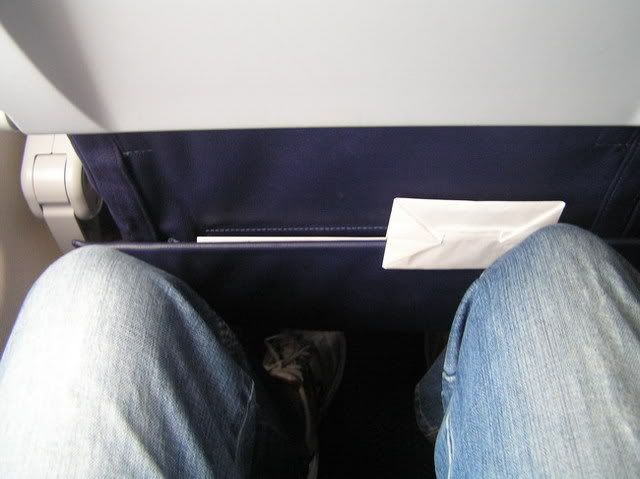 I'm 1.86m (6.1 ft) tall so estimate for yourself if I had enough space... I managed to somehow be ok.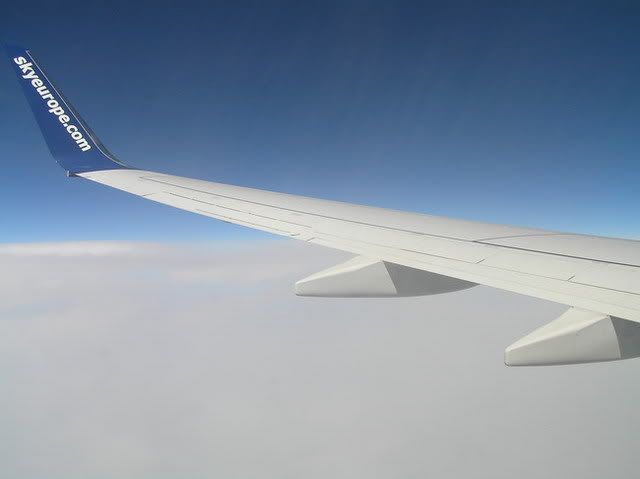 Again somewhere over Bosnia...
Someone from the cockpit informed us (don't remember if it was the captain or FO) that we were flying on FL 380 with a speed at about 850km/h...The route was Dubrovnik-Zagreb-Graz-Brno-Prague.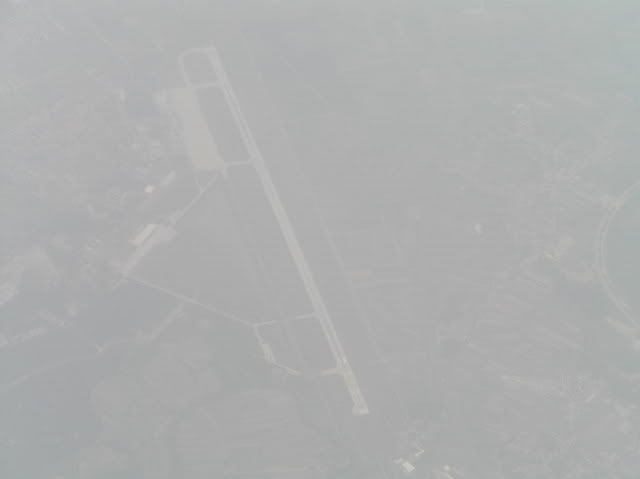 The place from which I flew 3 hours before...ZAG
Flight attendants began selling drinks, snacks and duty-free products. Because I went hungry I chose «Pizza delight» menu for 6 €. I have to admit that the ladies served me like a king!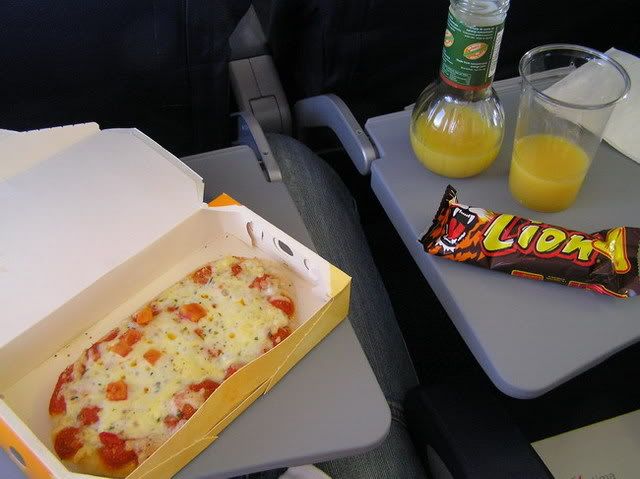 Just few minutes before landing I made another cabin shot!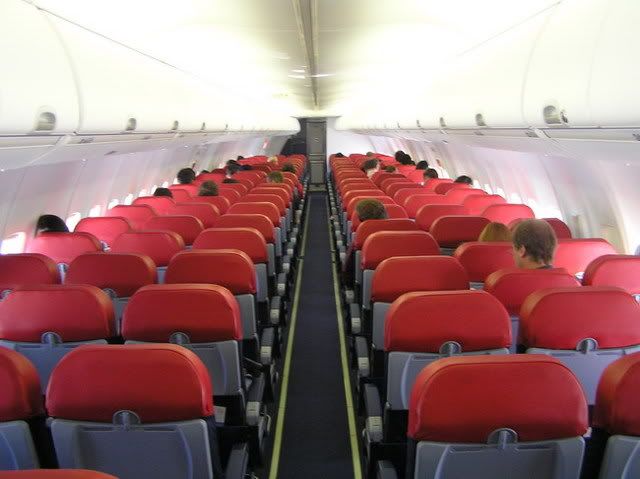 And here it was...we landed under the clouds and dear Czech country began to reveal it self underneath the metal bird...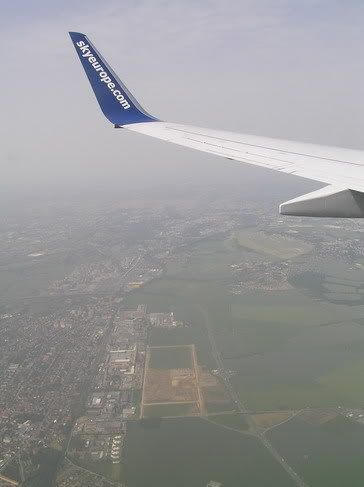 Kbely airport on aproach to runway 24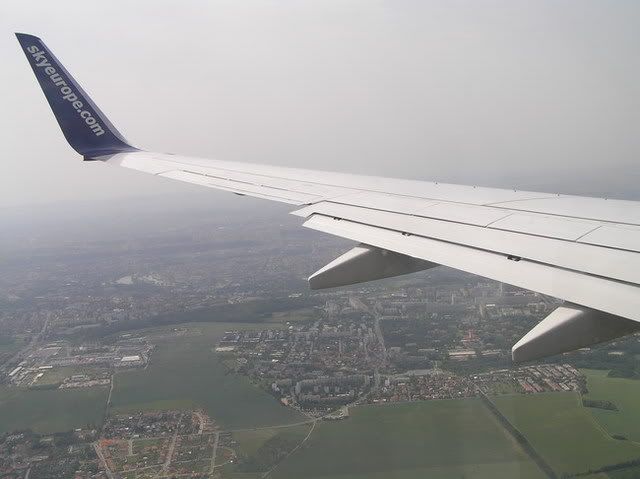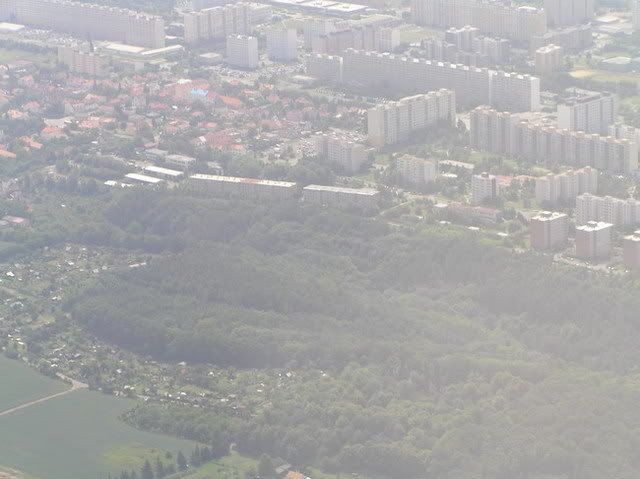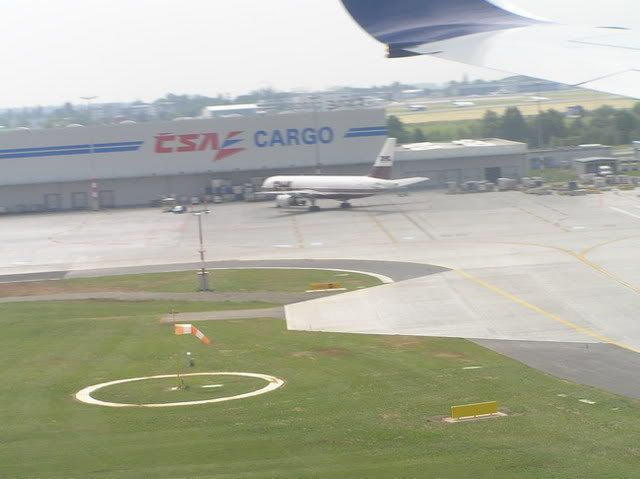 Few moments before touchdown.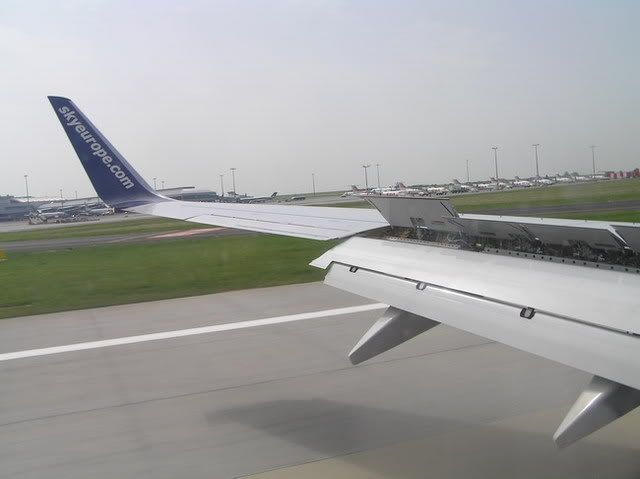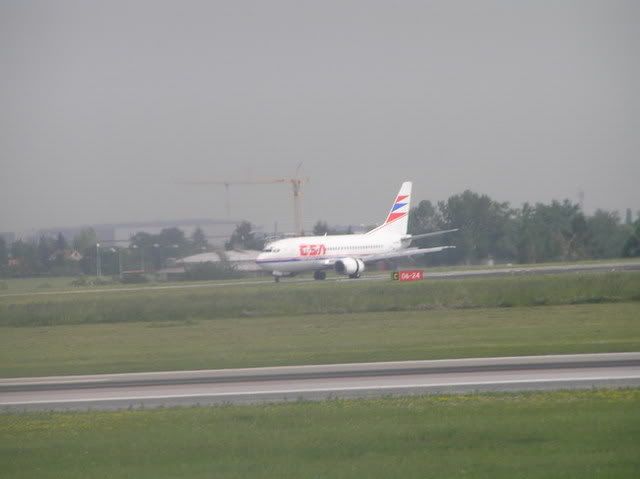 This Czech Airline's plane landed just before us... our bird is prettier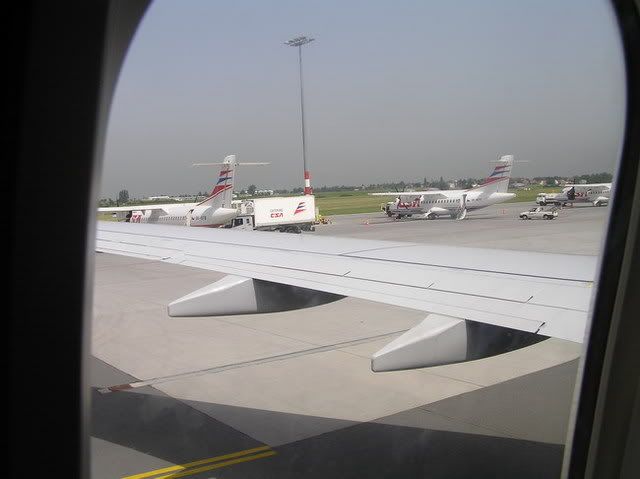 The plane parked on gate C2, which is in Schengen zone. However, because Croatia isn't in Schengen's zone, we left the plane, passed air-bridge to the stairs which led downstairs...the bus was waiting for us.
It drove us to the terminal N1 where the passeport control, baggage belt and customs were located. When I was finished with all those controls, I headed to the newest part of the airport (at least I thought it was new).
I looked for the counter to check-in for Rome and when I found it, I registered for my flight. Next to our counter there was EasyJet's flight to Dortmund – FULL. That day some country was probably playing in Dortmund at the FIFA World Cup.
Even though the passport and security check was working full speed, it was still crowded. I managed to pass all that in about 15 minutes so I took a little walk at the airport and visited some Duty-free shops. And I also saw that the plane which I came to Prag was the same one that was taking off to Rome.
This is surely not my plane for today...
And here it is again, November-Golf-Delta…
When I was booking my ticket, I thought it wouldn't be the same, because the interval between my flights was 80 minutes, which is a lot more than what the other low-cost airlines have (25 minutes for Ryanair).
Wednesday, 21.06.2006
PRG (Prague-Ruzyne) – FCO (Rome-Fiumicino)
NE 2386 operated by SkyEurope Airlines B737-700 OM-NGD
Scheduled: 12.40 // 14.30
Actual: 12.37 // 14.25
Gate: C2
Seat: 25A
Load factor: 98/149 (65,77 %)
Fare: 37,88 €



View Large
View Medium


Photo © Marco Toso - SpotIT
Delivered new to SkyEurope Airlines: 25.5.2006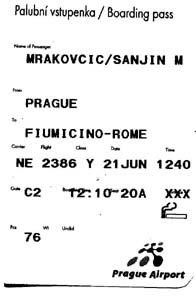 The boarding began on time. Once again I was assigned seat 20A, but I took seat 25A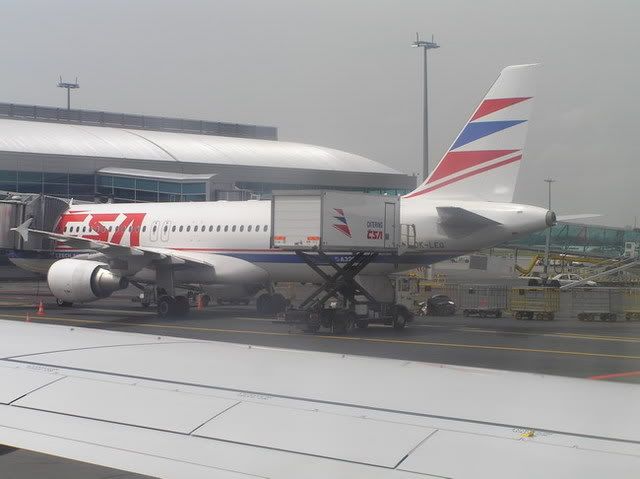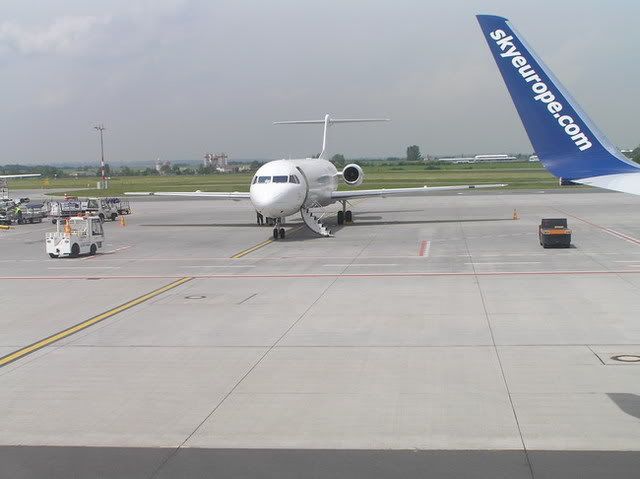 Video of take off from PRG.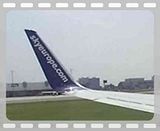 Sorry for bad quality… Also, this video is without sound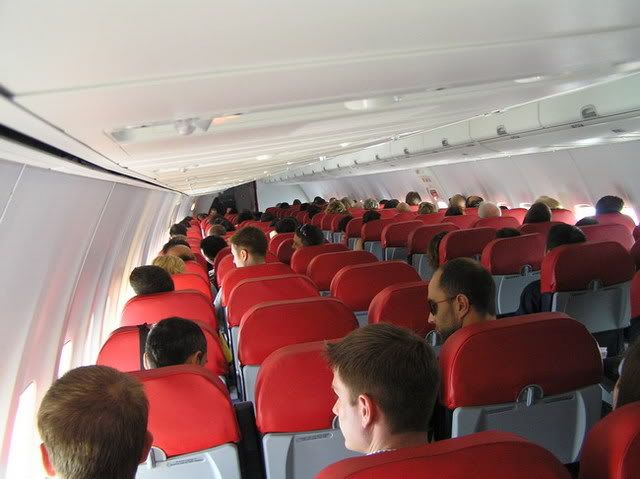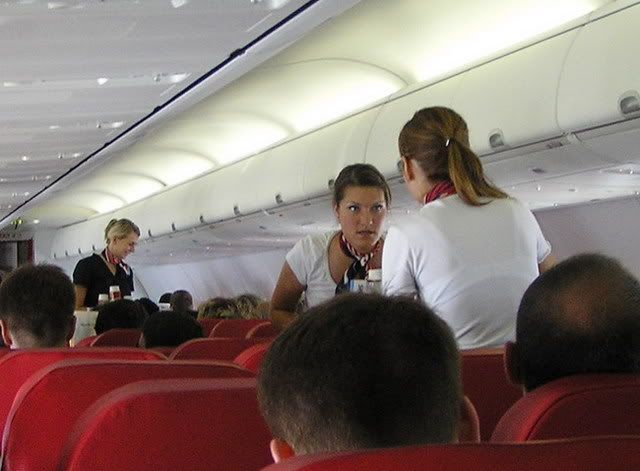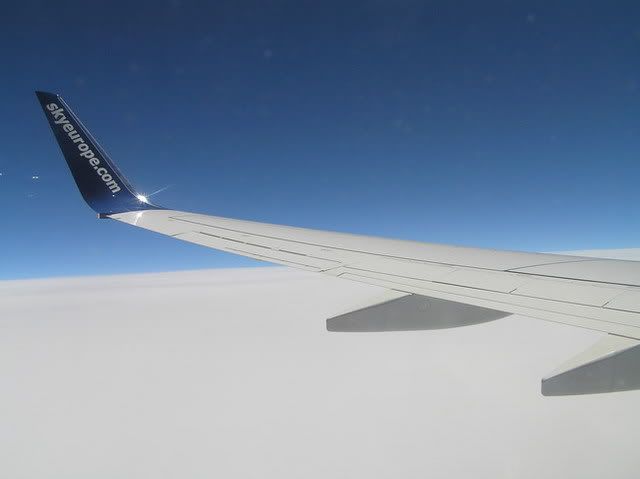 We began landing...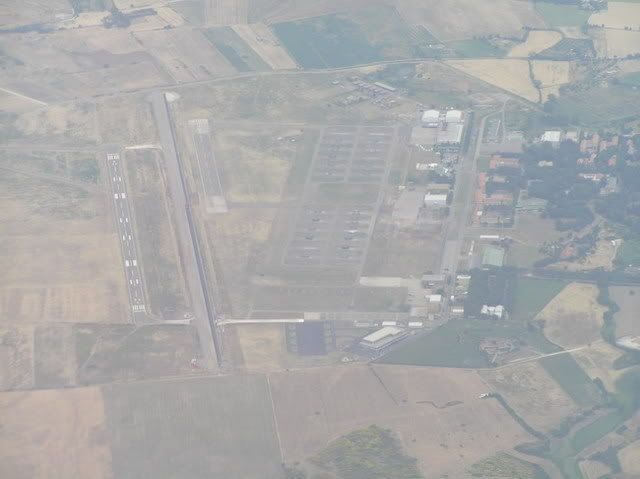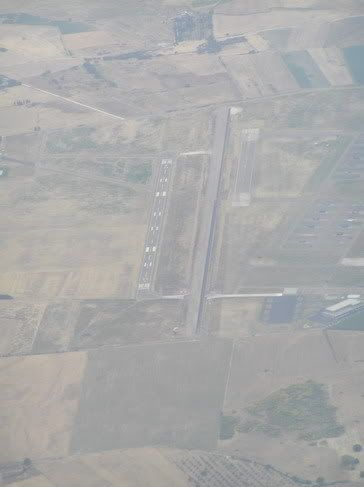 Military airport Viterbo
Aproaching to FCO's runway 14L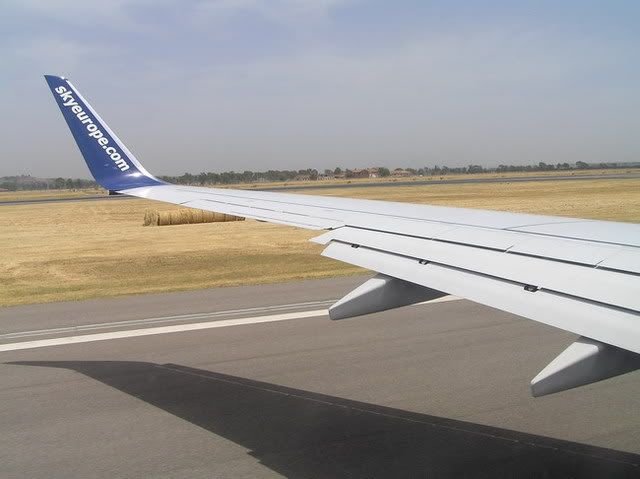 Taxiing towards satellite terminal C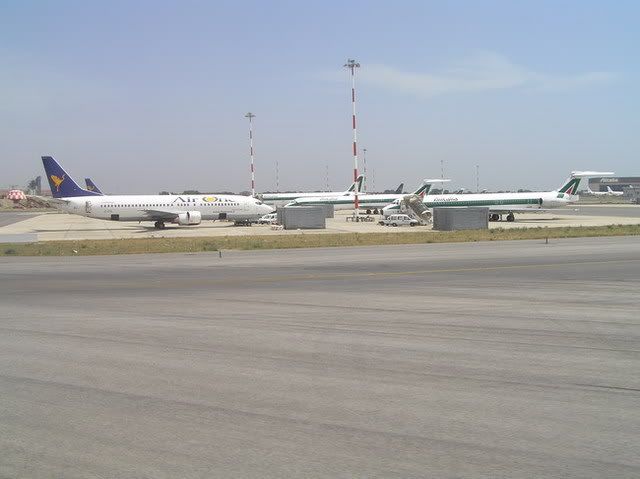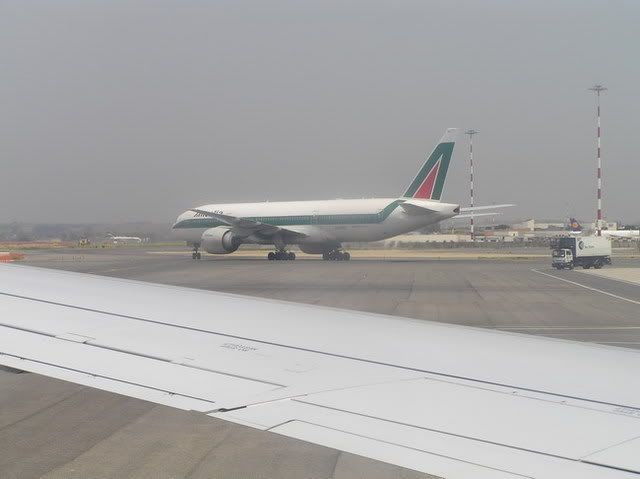 We passed through the airbridge and with corridor towards train's waitingroom...
When we got to the passport control, there was no policeman to be found... I was little confused because of the shortage of the security staff, but then suddenly 5 policeman appeared from nowhere.
I passed everything without any problems...Till my next flight I was watching the terminals at Fiumcino, went to get some fresh air, and after half an hour went into terminal A where there were located counters of Alitalia and AirOne.
On every counter of each airline you could register for any flight. Because there were little passengers, I went dirctly to one free counter and gave miss on check-in paper with reservation and my passport.
Because it was still early until my flight to Trieste, gate for that flight wasn't announced yet. Lovely miss told me to carefuly look on the monitors so I could see from which gate my flight was taking off.
She gave me boarding pass and I went to security check, which was on the left side of the Terminal A.
I passed that and with stairs went to domestic departures' zone.
Because my camera was showing 'battery low', I couldn't take a lot of pictures. I was saving my battery for CRJ-900:D.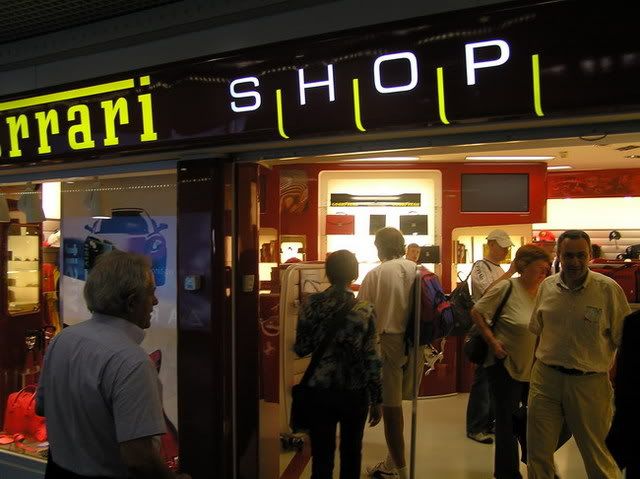 Ferrari shop at FCO.
Employee dressed in the uniform just as Ferrari's mechanics at F1 races.
I'm sorry but I have to make a complaint. The waiting room on terminal A was very bad highlited and it was poorely maintainted. Water was dropping from the air-conditioner so there was puddle of water on the floor. The seats were dirty and the cover on some seats was torn so you could see the sponge.
In front of me there was one passenger who had paper and was writing music notes. I thought he looked ridiculus pretending to conduct when he wrote his notes on paper.
As time flew by, so did my boarding time but the monitor constantly showed Air One AP 2124 Trieste - gate B05, but boarding wasn't ready to start. At about 17h the monitor showed new gate for Trieste - A18 Boarding… Because that gate was located on the other side of the terminal, I instantly got up, took my backpack and looked the gate for my flight. When I got to A18, I saw few passengers who were waiting in front of it so just to be sure, I asked one older man If he was going to Trieste too. He said he did and started babbling and didn't want to shut up. He stopped when I somehow managed to put a sentence that I didn't know Italian that well. I told him that I was from Croatia. He was looking at me with a pale expression on his face, so I told him that Croatia was just accross the Adriatic sea and once was part of Yugoslavia. On the first mention of Yugoslavia the man yelled "A, TITO!" Tito was dead for over 25 years and the old guy stills remembers him, even though he has probably never seen him.
Let's get back to planes. The boarding began at 17.45 so we were taken by the bus to the elegant new plane.
Wednesday, 21.06.2006
FCO (Rome-Fiumicino) – TRS (Trieste-Ronchi dei Legionari)
AP 2124 operated by Air One CRJ-900 EI-DOU
Scheduled: 17.20 // 18.20
Actual: 18.20 // 19.18
Gate: B05, changed to A18
Seat: 22F
Load factor: 55/90 (55,55 %)
Fare: 56,01 €





Delivered new to Air One: 22.5.2006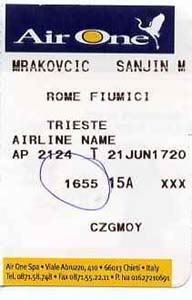 On the entrance there was this stunning blond flight attendant standing, she greeted me and asked me to show her my boarding pass, then she told me to sit in the row no. 15, right next to the window... I came to my seat and I was looking – where's was the window?! Both the row in front of me and the row behind me had a view, but not my seat. When I sat on 15A, an older Italian woman sat next to me. I called the flight attendant and asked her If I could sit somewhere else because there was no window. She said I could and asked the Italian woman if she could get up so I could sit in the back. I thanked and went few meters in the back. I took seat 20F (de facto 20D) and was the last in the plane.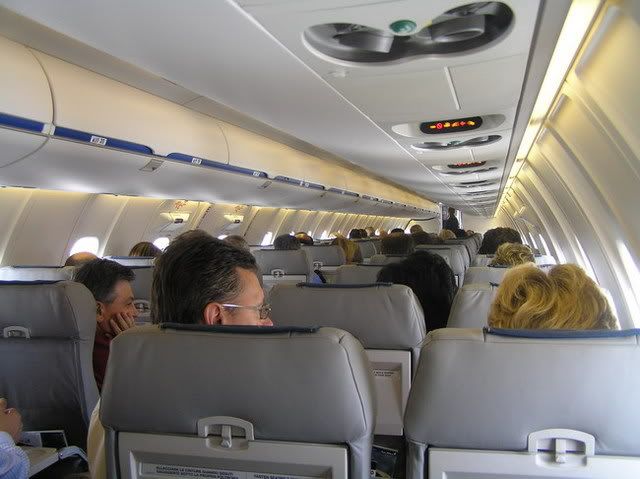 The captain apologised because of the delay and said that there was a malfunction on the airplane's software and that the engineers were trying to fix the problem.
He also said that we would take off in 20 minutes, if everything went according to plans. That was the way. We went to runway 25 from which we took off to Trieste.
Legroom was OK.
When the sign 'please fasten your seatbelts' went off, FAs started serving us. I got a glass of orange juice and a little pack of delicious cookies.
This flight went pretty fast to me, maybe it was because it was my last flight.
When I landed in Trieste, a friend was supposed to be waiting for me. However, probably because of the delay, he wasn't there. I was mad crazy. Because I had no money on my cell, I searched for him throughout the whole building. I couldn't find him. I went to the parking lot to see if I could find his car, but it wasn't there. I thought that he was maybe lost. I sat next to the wharf at the entrance on the parking lot and waited... After 40 minutes, I saw coming from a far a white Opel Astra. I prayed God to be him... The car stopped in front of me, I looked at the registration which said RI!! My friend looked at me and said "Sorry mate, come in!"
Finally I was on my way home.
P.S. At SkyEurope's plane I bought plane models B737-700 i -300. They are here to make company for the others