First and maybe last time LTU via FAO/MAD/DUS
Hello, dear readers, today I present a report about a vacation trip to Portugal, included: How to avoid these silly expensive south germany school holiday fares.
All details booked not earlier than three weeks prior to the trip.
(1.)
Sunday, 08.04.2007
STR (Stuttgart-Echterdingen) - FAO (Faro)
X3 2250 operated by TuiFly B737-800W in old HapagFly colours D-ATUG
Scheduled: 06.50 // 08.45
Actual: 07.00 // 08.40
Gate: 333 Seat: 26E
Load factor: Around 70 %
Fare: 93,54 EUR per pax
Flight no. 21 on the 738 and the first on this machine
History:
Delivered to HapagFly: 30.03.2006
Renamed TuiFly since: 15.01.2007
My group of travellers (all together four persons) arrived by car at STR airport P8 at around 5.00 am.
A clear, but cold spring morning.
The first wave of TuiFly departures around 06.00 am was checked in, so there are more agents than pax
at the several desks, clearly no time to wait.
The girl there was standard friendly, gave me the seats I asked for and send our bags to FAO.
T3 security was busy with long lines, at T1 security the same like at check-in, more free lines than pax.
Our gate was the last eastern finger gate, the plane was there for the night-stop.
No pix as it was dark outside.
Time goes by quick, while we viewed the morning departures.
Boarding starts early at around 06.15 am, called by rows 16 to the end, first.
Free magazines on offer, a friendly welcome from the male purser and the further four female FA´s.
The machine clean and good looking, fitted with the new thin and hard Recaro seats, ok for these 2 hours, 30 minutes.
TuiFly cabin: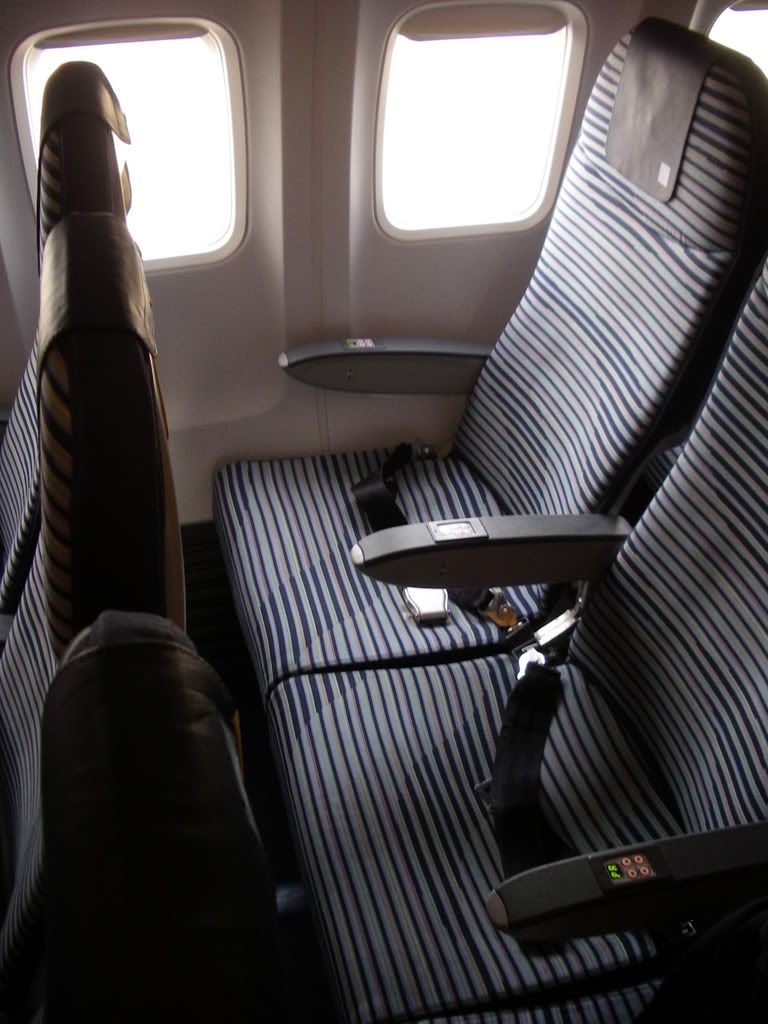 Also a friendly welcome from the cockpit, captain Oliver Staiger and as the pilot flying, the FO Thomas Wolf.
The purser introduced the cabin crew by name.
The safety demo was from the screens, no route map there later, only advertisements and short films.
Nice view to STR airport short after departure:
Route: STR, number three for departure from runway 07, Geneva, Toulouse, Pamplona, FAO runway 28.
Flight level 37.000 ft.
Traffic: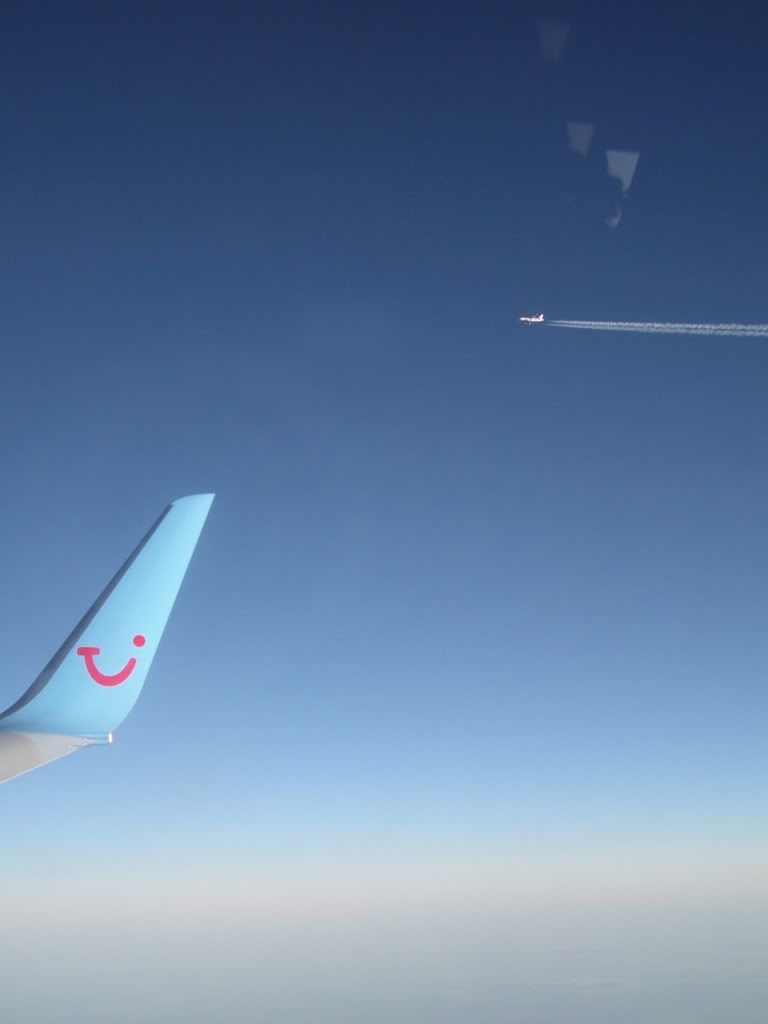 Faster:
Good bye: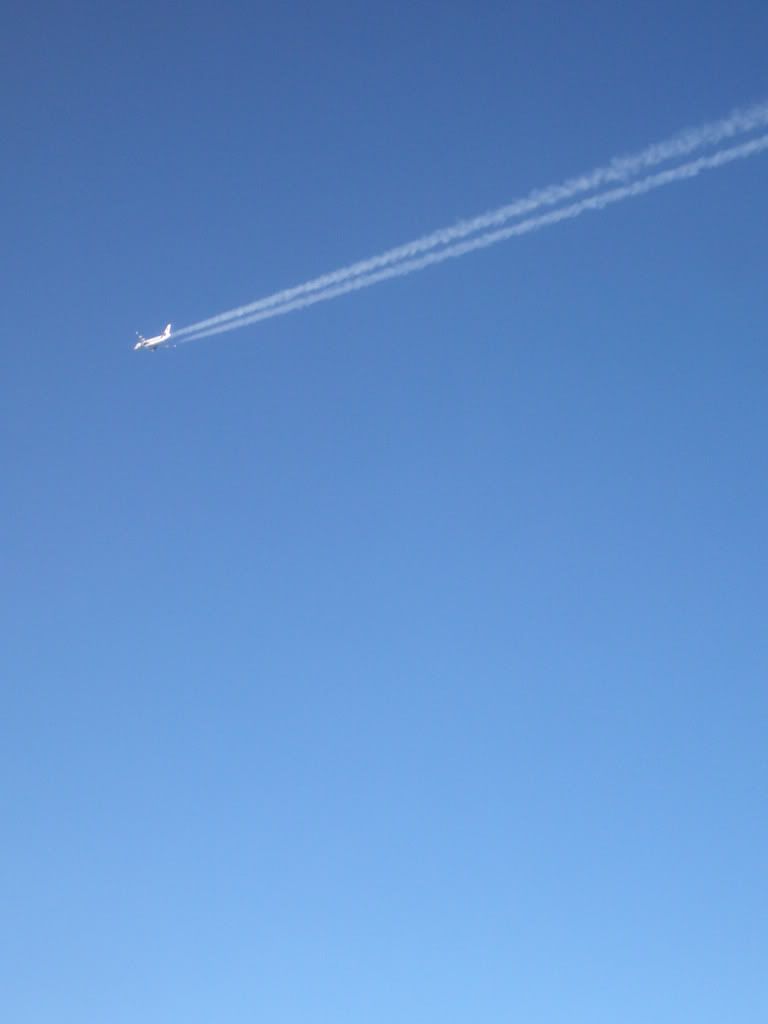 Service: A bread roll and beverages, coffee, tea for free.
The purser announced later also ten minutes to approach, a good thing IMO, especially for travelling with children.
The wheather at FAO was slightly foggy, approach was calm, but touchdown was real hard, so all the pax know, we´re back on terra firma.
Deboarding at FAO: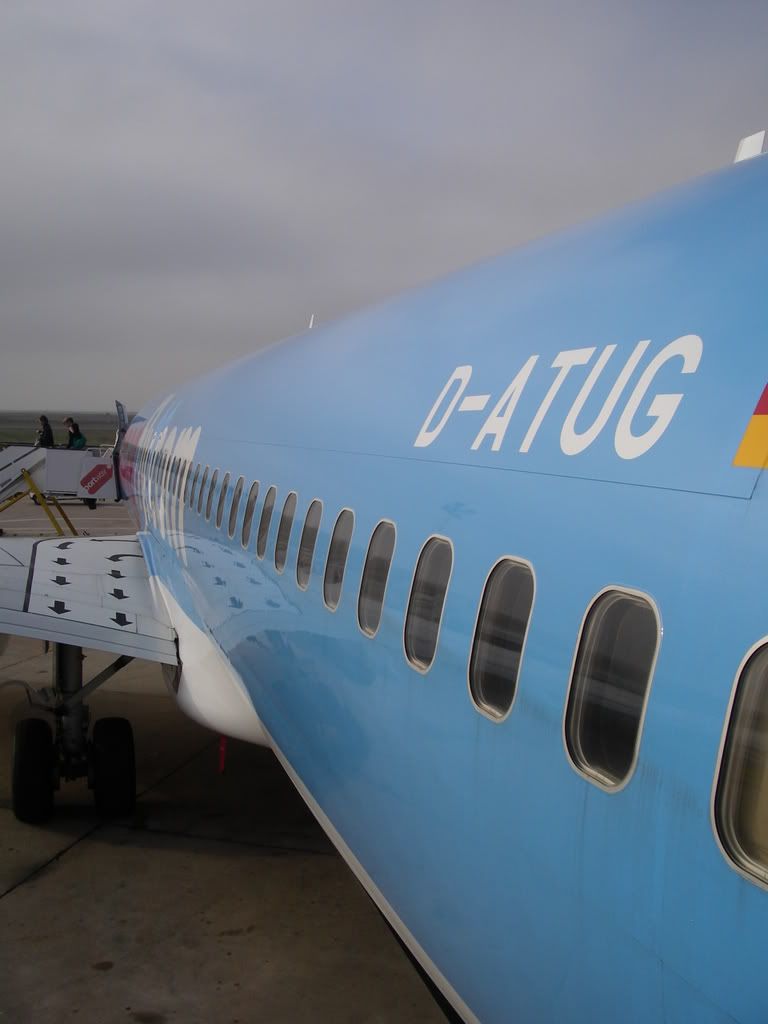 D-ATUG at FAO:
A apron position beneath two other company B738´s, bus deboarding, not more than five minutes for our bags.
Further by shuttle to the Europcar office, Ebookers offered the best fare, 112.-- EUROS, five days full insurance included, not bad.
Around 45 minutes to go for our hotel, the Boca do Rio resort near Ferragudo, Portimao. A recommendable property.
Boca do Rio, a former fish factory: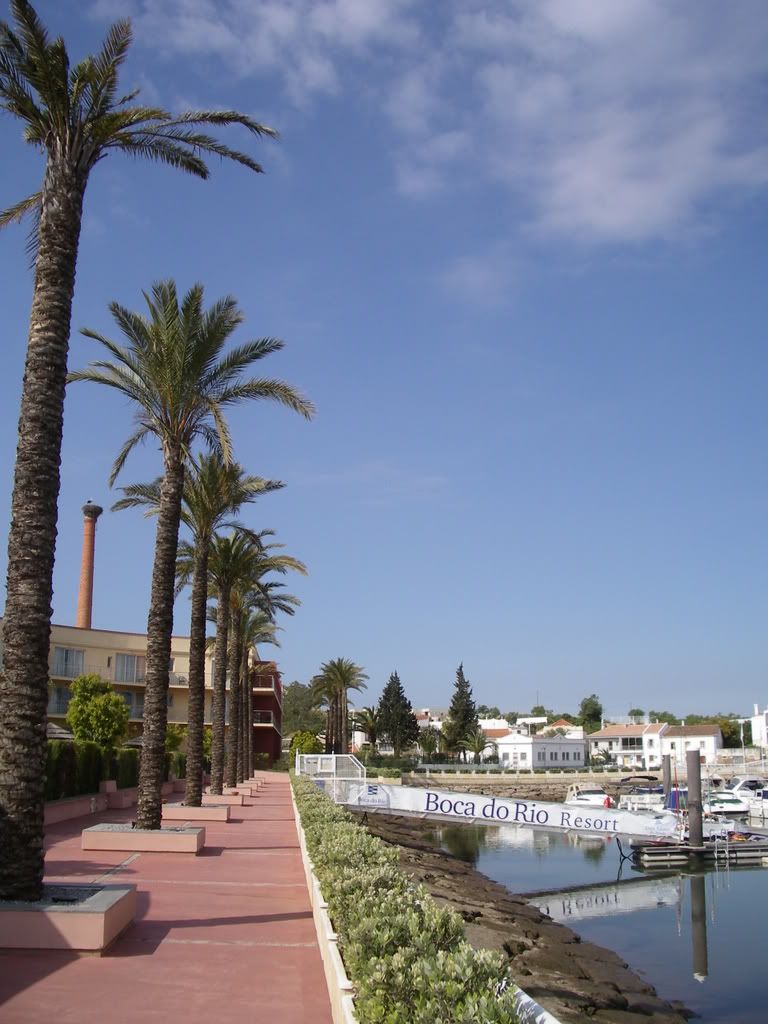 View from our room to the Rio Arade:
Another permanent guest at Boca do Rio, the stork:
Cabo San Vicente, the western-most part of mainland Europe: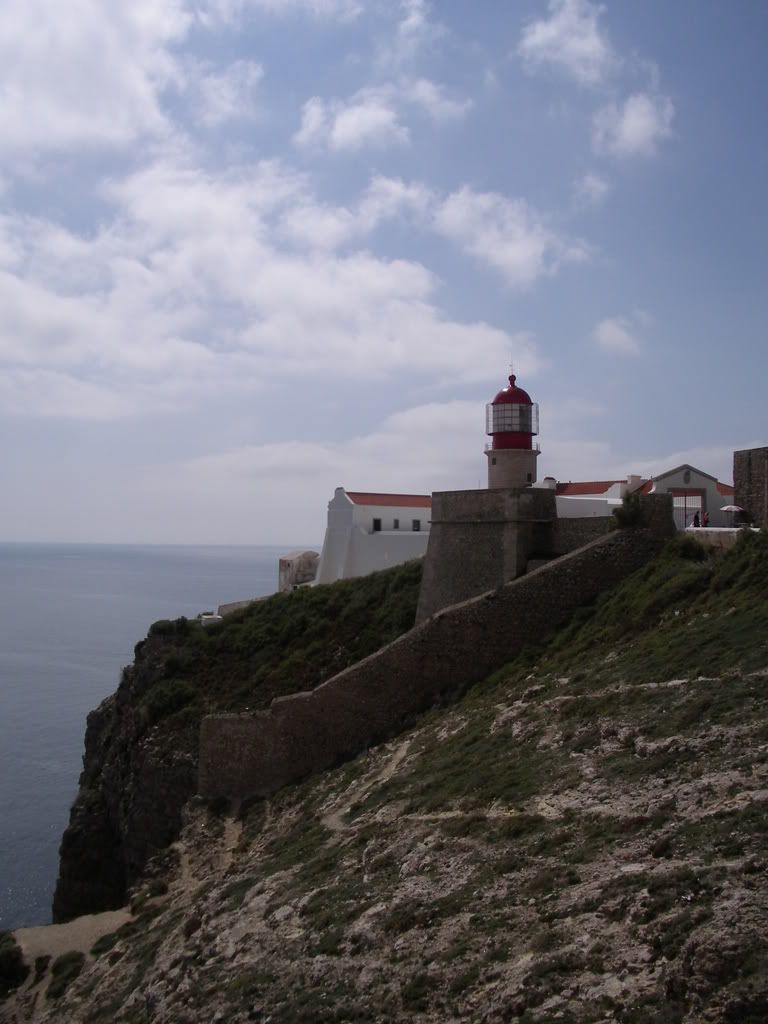 Beautiful beaches there: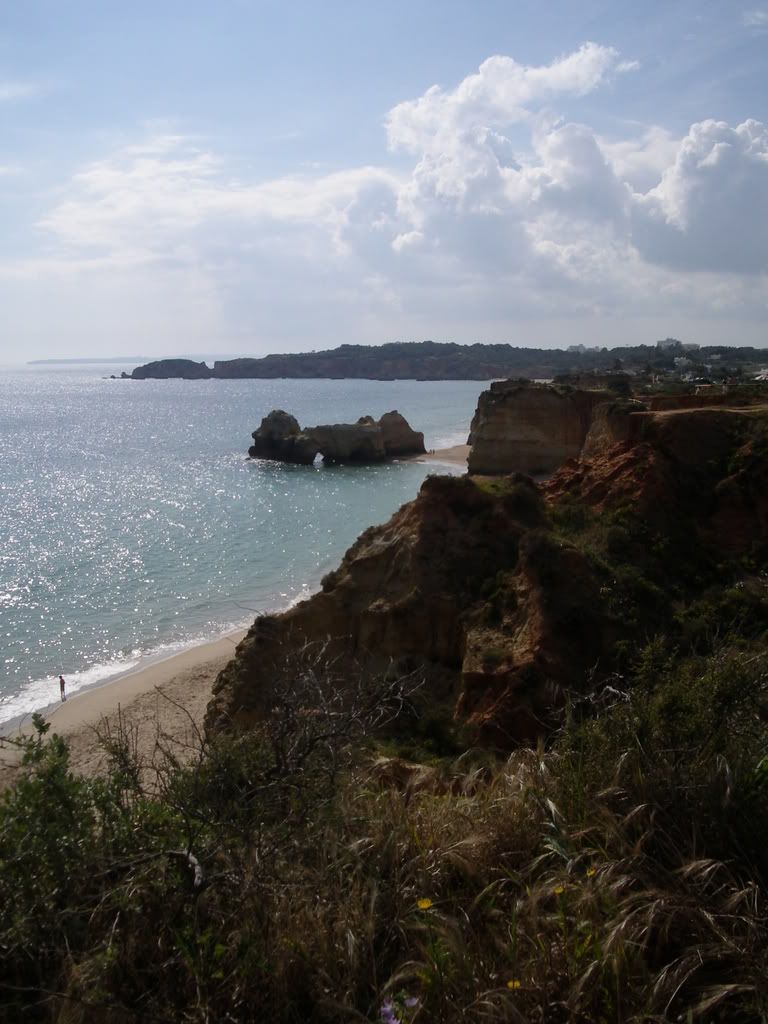 (2.)
Thursday, 12.04.2007
FAO (Faro) - MAD (Madrid-Barajas)
FR 5473 operated by Ryanair B737-800W EI-DAV
Scheduled: 13.35 // 15.55
Actual: 13.45 // 15.55
Gate: C7 Seat: 25B
Load factor: Around 80 %
Fare: 23,49 EUROs per pax
Flight no. 22 on the 738 and the second on this machine
Delivered to FR: 10.01.2004
Five days with enough sun, but also some rain showers later, we´re on the way back to FAO airport.
I dropped of my group at the airport, returned the car without further problems and was back with the shuttle
only minutes later.
Two desks open for the FR service to MAD, no time to wait there, around 1 hour, 30 minutes prior to departure.
A friendly male accepted our slightly overweighted bags for the flight to MAD.
FR calls FAO = Faro-Huelva, Huelva is a big industrial city near the portuguese/spanish border and IMO there are mostly spanish pax, also some business like
travellers
on this service.
Inside FAO airport: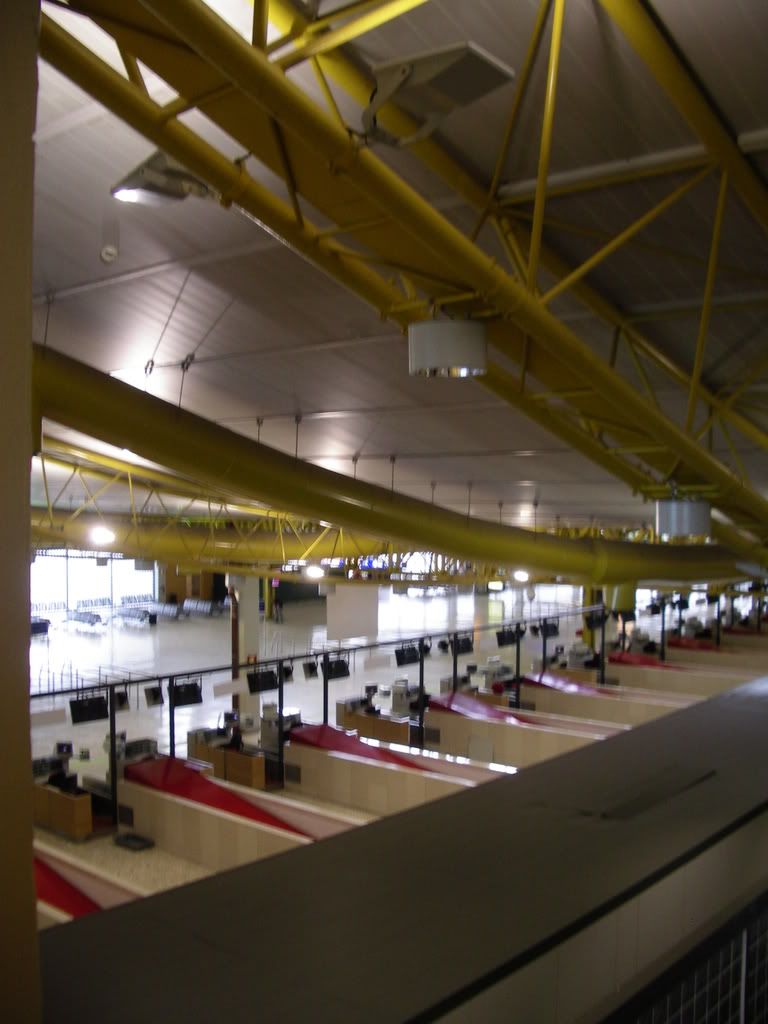 Our plane from MAD arrived during a heavy rain shower, but nevertheless ontime. That reg sounds familiar to me, so I thought when I read EI-DAV, ok FR operates more than 100 B738´s and I had another flight on this machine late last year.
Faro airport is airy and spacious, not that much traffic these days prior to the summer season, nearly all other departures today to UK/Ireland.
Boarding started immediatelly after our machine was parked. Interesting this time, pax with children or priority first. I thought they cancelled the first with children boarding.
So we´re in the first bus, yes, bus boarding with around 25 other pax, all the others later.
Interesting visitor at FAO: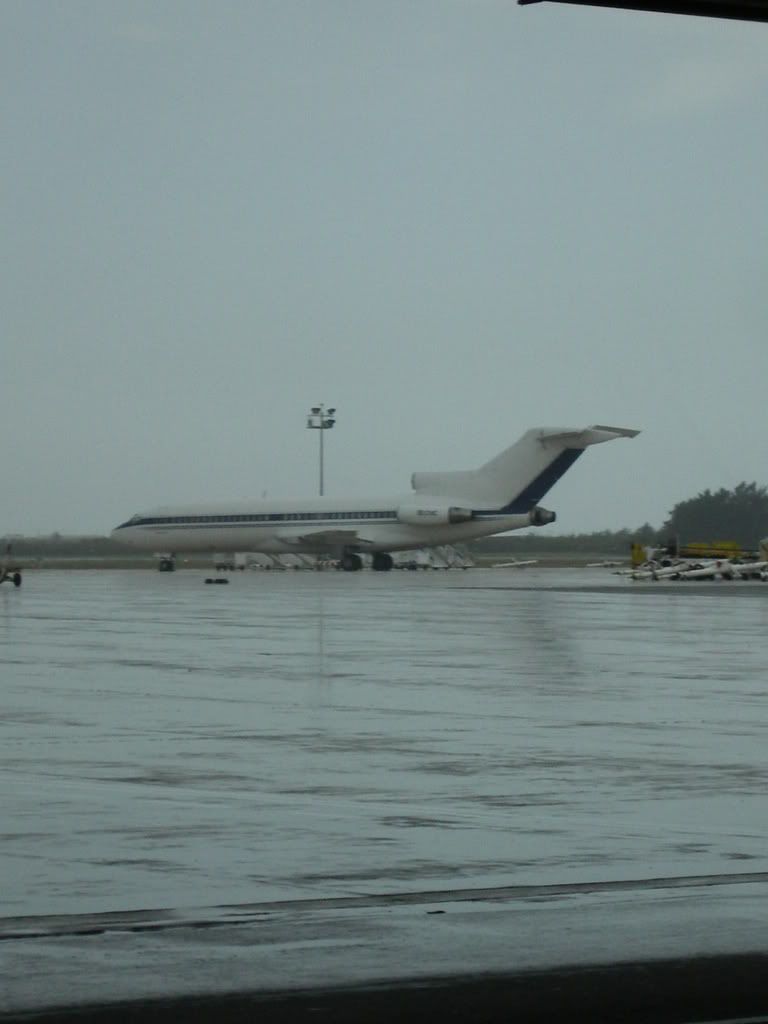 Our machine to MAD: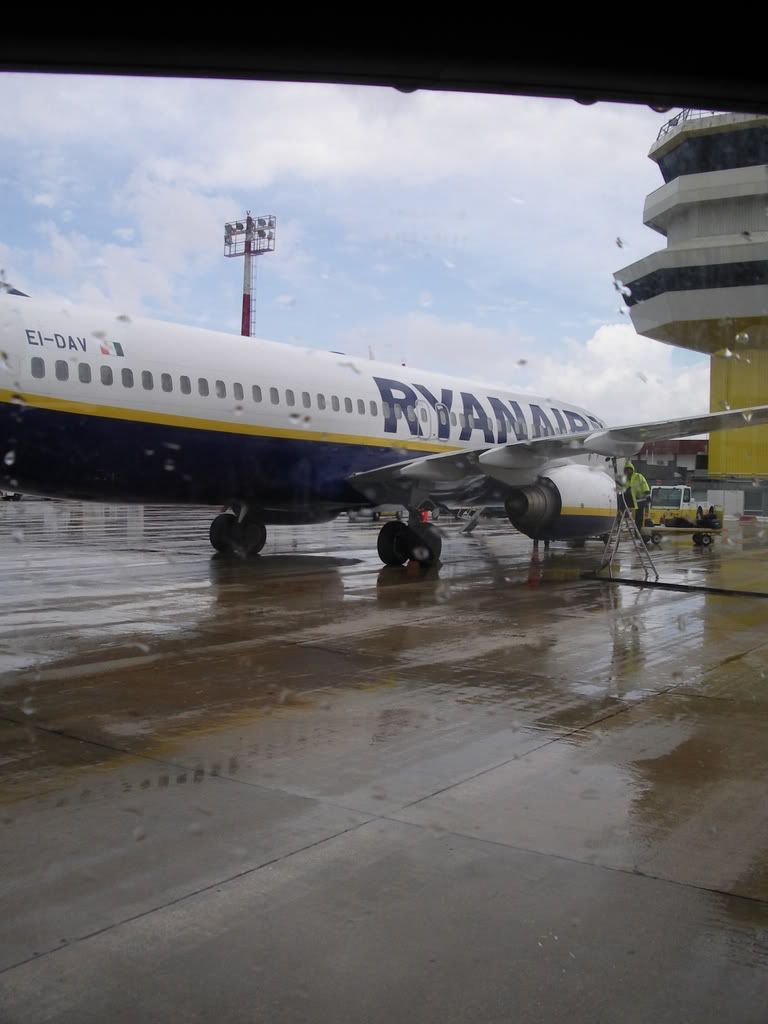 Rainy boarding at FAO: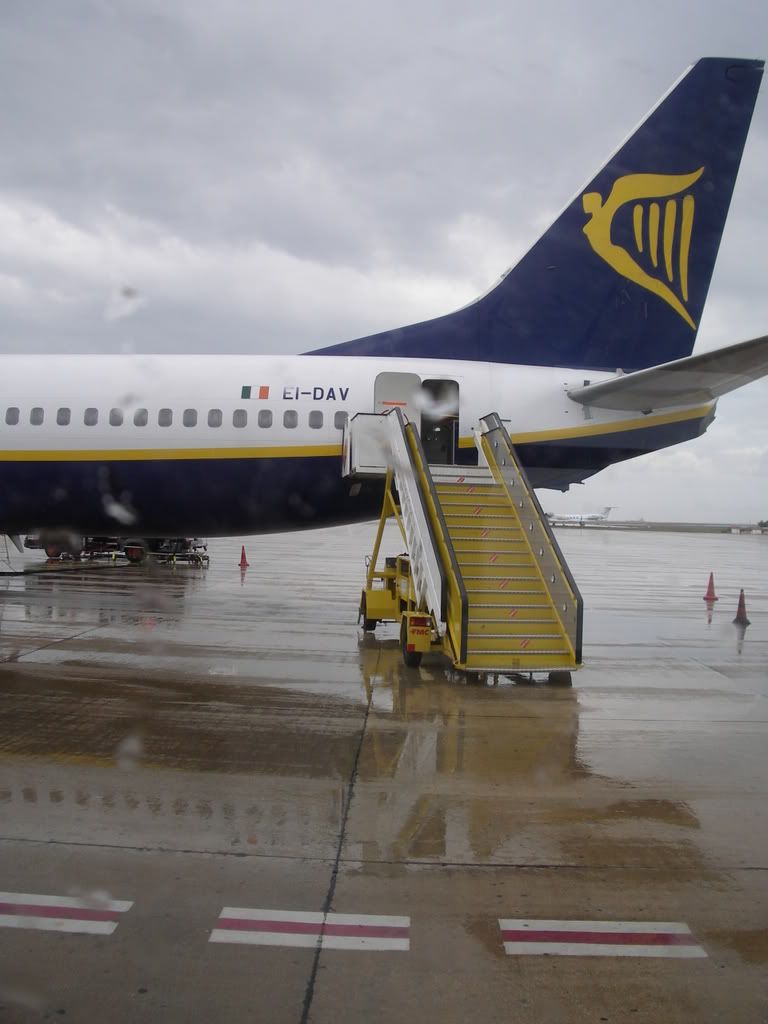 No problem to take some window seats.
Two male, two female FA´s, ok so far today, the typical dark, blue leather seats, cabin slightly dirty.
The captain introduced himself as Alexander and the FO as Nikolai.
Departure from runway 28, no further informations about the route to MAD.
Flight level 34.000 ft.
We circled around a thunderstorm near MAD during approach and landed on runway 33L, taxi along T2 and a gate posititon at T1 for deboarding.
Some errors during taxi, we´re passed our gate, turned around and turned left to another gate, stopped and further back to the taxiway and reached finally our gate.
That was a kind of an unreal situation, Ryanair B738's at the gate between Lufthansa and AirFrance planes.
Finger deboarding at MAD: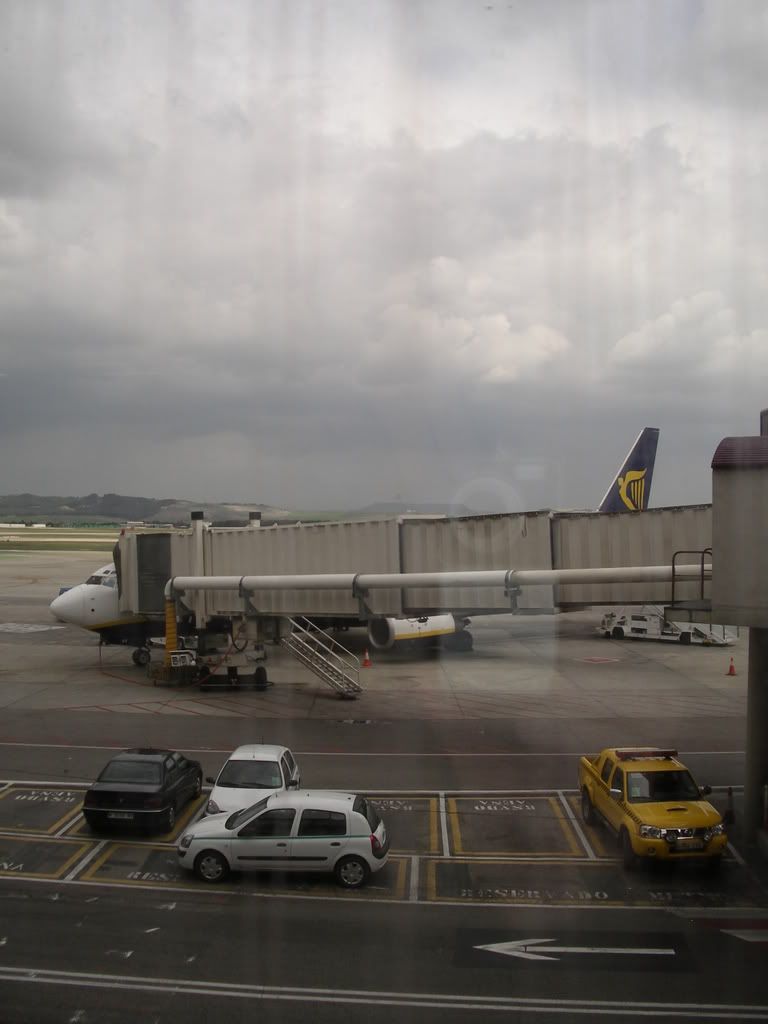 A quick deboarding, a long way to walk for the bags in area 2, some ten minutes to wait there and than the long way to T2 for the next check in.
MAD is nowadays more like a great construction site than anything else, diversions, wrong signs, blocked walkways, not the real thing for less experienced travellers.
(3.)
Thursday, 12.04.2007
MAD (Madrid-Barajas) - DUS (Düsseldorf-Rhein-Ruhr)
LT 197 operated by LTU A320 D-ALTF
Scheduled: 18.35 // 21.00
Actual: 18.45 // 20.50
Gate: C? Seat: 24B
Load factor: Near 100%
Fare: 90.-- per pax
Flight no. 30 on the A320 and the first on this machine
History:
Delivered to LTU: 26.09.2001
In service with LTU Austria: 29.04.2005
Back to LTU: 04.05.2006
Nearly three hours to connect in MAD from T1 to T2 and that was not to much.
We arrived at the not yet opened but on the screen announced LTU counters around 2 hours prior to departure.
Long lines there, we joined the queue.
After 15 minutes two agents arrived and opened two counters. Later a third. Check in goes slowly forward. A young
male agent send our bags to DUS and gave me the seats I asked for. Now it was 5.15 pm.
Ten minutes more to wait at security and at the gate at around 5.30 pm, the plane inbound from DUS arrived only minutes later.
EC registered AB A320:
Arrival D-ALTF: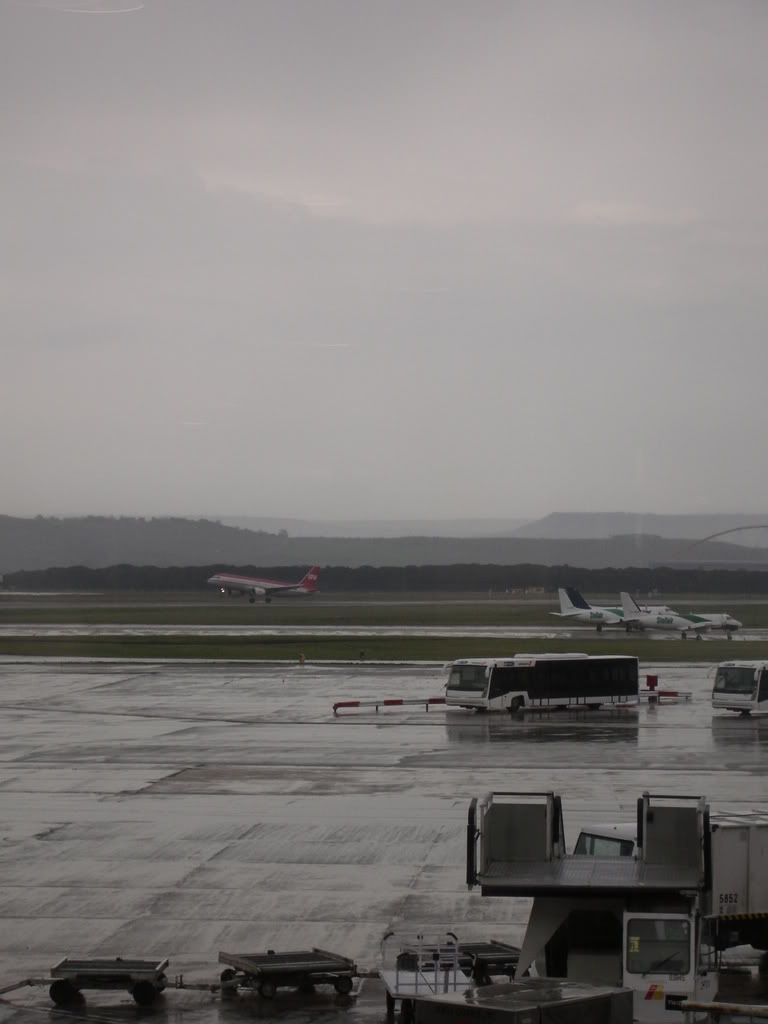 Taxi D-ALTF: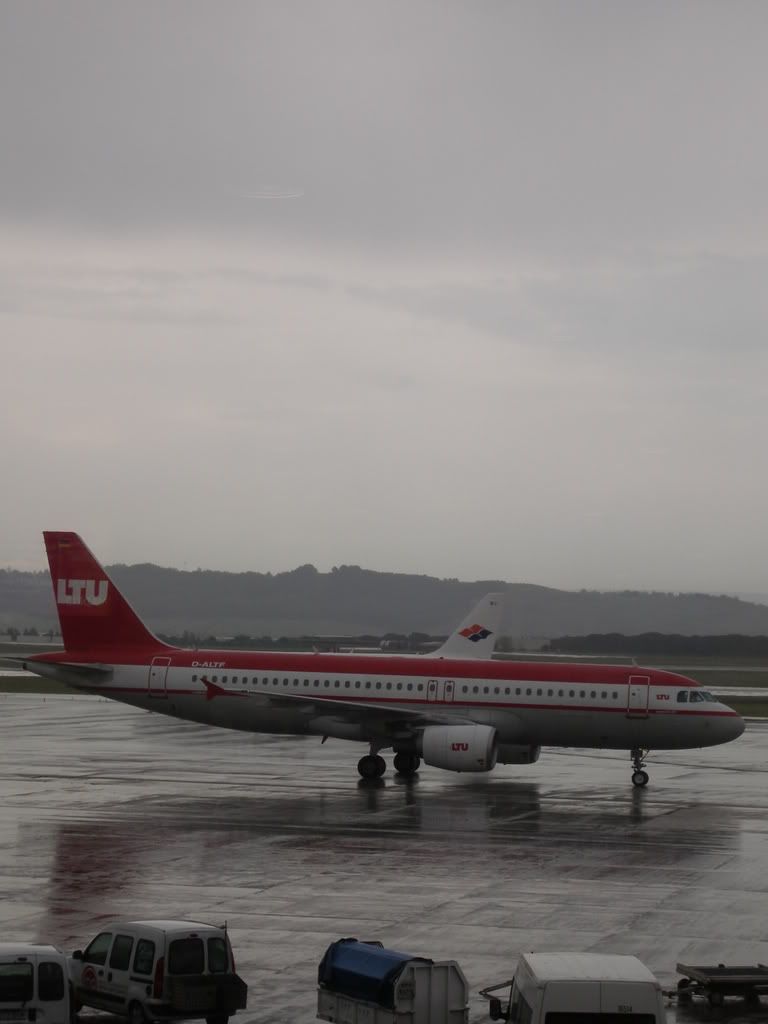 D-ALTF at MAD:
First time on LTU: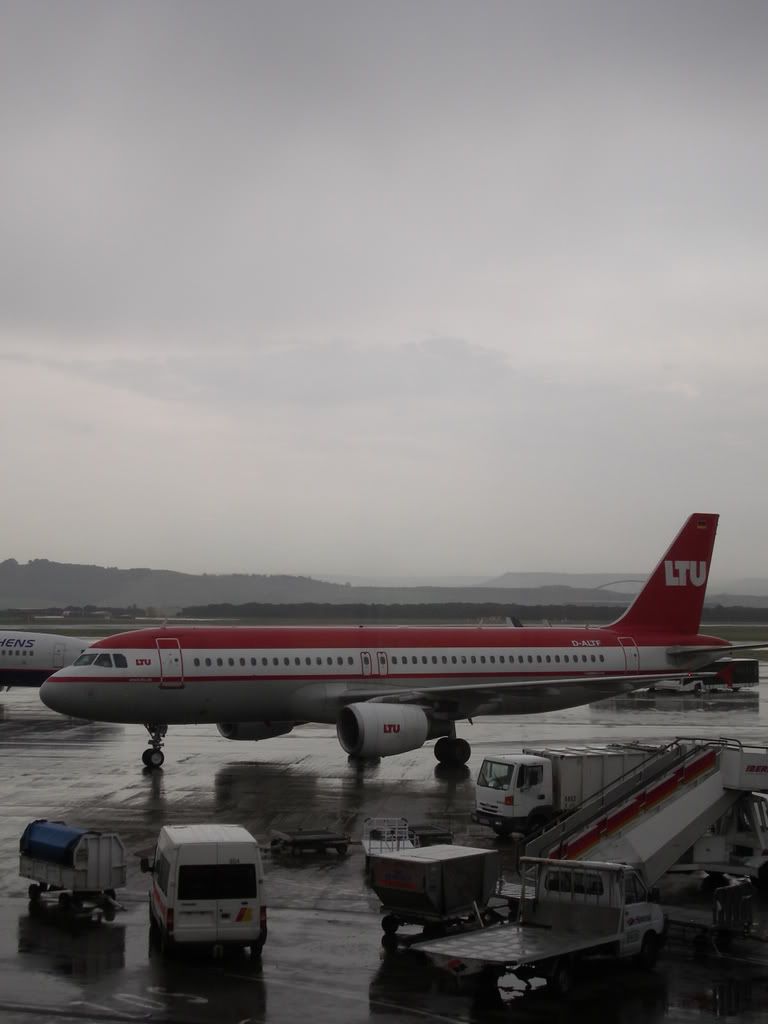 Boarding started as announced at 6.00 pm. A friendly welcome from the three female and the single male FA.
Free magazines at the planes door, later the FA´s offered more free newspapers.
Dark, blue fabric seats, legroom was ok, clean machine.
The purser introduced the captain as Frank Dietmann and the FO as Andre Naumann.
Really detailed informations in a friendly way from the flightdeck.
Interesting was the announcement from the purser: Welcome on board this LTU flight to DUS ..... in cooperation with our parent company AirBerlin.
I mentioned that the second part of the announcement was not easy to speak out for the purser.
A long taxi and departure from runway 36L to Brest,Paris, Luxemburg and further to DUS.
Flight level 34.000 ft. Mainly clouds over spain and france.
Serivce: A hot pasta meal and free beverages, coffee.
Back on earth DUS runway 05R ten minutes ahead to schedule.
Five minutes to wait for the bags and then we started the last part of the journey by Budget rental car (Fare 58.-- EUROS) four nightly motorway hours
back home.
When you notice that a single FAO-STR flight on TuiFly/Condor/Germanwings costs around 300.-- EUROS = 1.200.-- EUROS for my party
and you further notice that our whole trip costs around these 1.200.-- EUROS, than you know how to make money with the
school holiday travellers.
All flights ontime, one new airline, two new airports and three new routes for my log, a recommendable hotel, nice wheather for sightseeing and also to relax at the beach that means we had a good time there.
Comments always welcome,
Markus (FLIEGER67)