BOG-ATL-YYZ on Delta (pics)
My school does a one-month trip to London, Ontario every year. This was my fourth time going as Canada is my second favorite country after Colombia. We were to depart on March 26 and fly Delta Airlines, the carrier I had flown for the last three times I went there (first time was AA). As the day of departure came closer, I started getting everything ready and packing, and the night before everything was set.
March 25, 2007
Flight: DL298 (BOG-ATL)
Sched. Departure time: 9:30AM
Actual pushback: 11:15AM
Actual takeoff: 11:48AM
Total flight time: 4hrs35min
Load: 100% in both classes
Aircraft: N751AT (new interior!)
Seat: 36B
I woke up at four thirty in the morning and finished packing. I took a shower, dressed up and had breakfast. By 5:30, my mom and I were ready to go. We took the usual route for the airport, Circunvalar-26th Street-El Dorado Ave. and got there at about 6:00am for the 9:30am departure, a bit early, but since I was in a group of 28 it would be a slow process.
I got on the line which was huge but moved at a good pace. Since BOG has got no space left for new counter spaces and Avianca does DL's ground handling, that meant it was a disaster. I finally got to the tax booth, paid my duty and proceeded to the "are you a terrorist who wants to blow the plane" booth, and then I finally after 15 minutes, I gave her my passports, ticket and Skymiles card and checked in. The girl gave me seat 23D, which was an aisle, but then I changed with one of the girls in the group to be in the same row as my friends.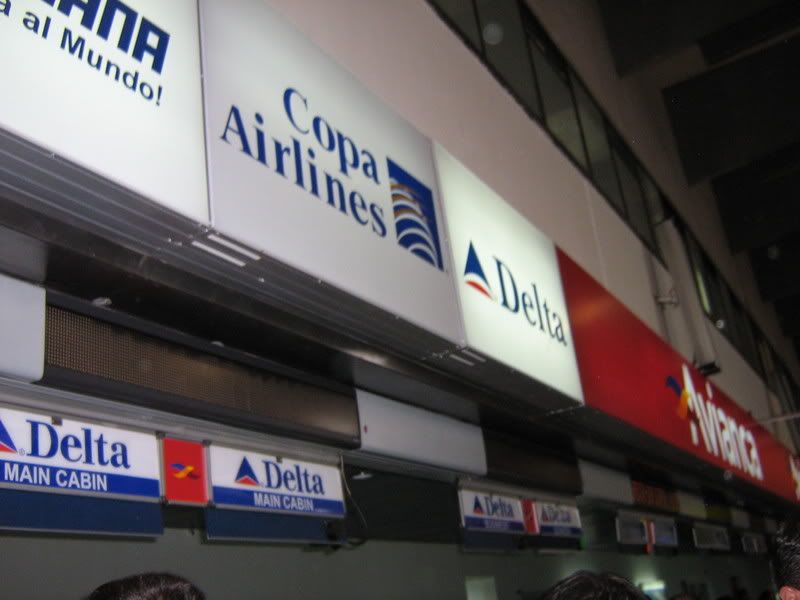 When I was turning away, she called me and said there was bad news; our flight had a 2 hour delay due to crew rest issues, so we would miss our connection in ATL. Since the later flights were full, the manager told the chaperone that we would have to sleep over in Atlanta, to DL's expense, so we shouldn't have to worry.
We finally went upstairs to the Dann restaurant where Delta had complimentary breakfast for us. We loomed around and at 8:00 my mom had to go as she had an important meeting downtown, I said my goodbyes and she said hers and then I found my friends. We sat at the Juan Valdez for a while and I did some spotting, including two Avianca narrowbodies, two Aerorepublica MD-80s, the tail of what I think is a C-5 galaxy and an Aerogal 737-200.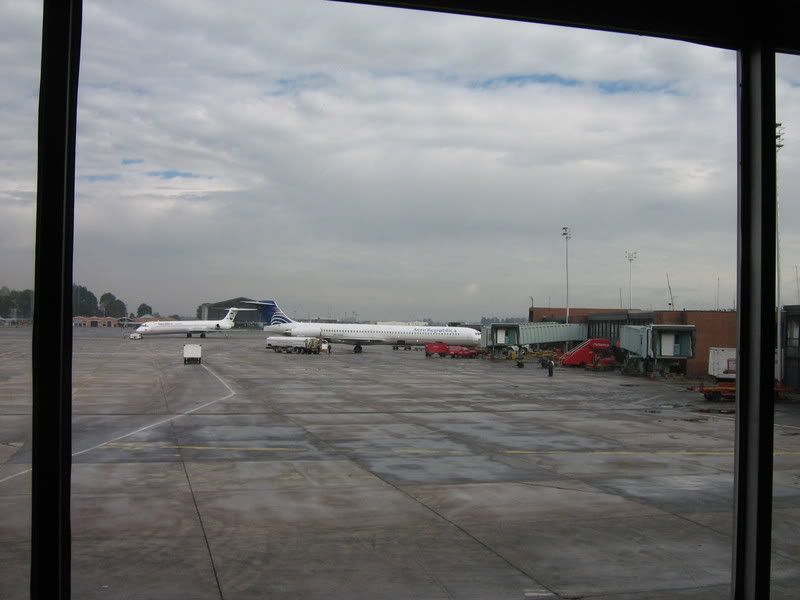 At 9:00 we proceeded to the semi-renovated customs area, which will work until 2011, when the new terminal opens and that concourse becomes domestic, there was practically no line, as the AV morning bank was already departing, so everyone was either at their gate or on a plane.
We went trough duty-free, bought headphones as my ipod's went bust, through BOG's tight security, and on to the concourse's smoking lounge. As boarding was still in one hour and something, we had plenty of time to have our last cigarettes until Atlanta.
I took some views from the smoking lounge (AV 762 to MIA, AA A300 resting before flight to MIA, our 757, AV 762 "Colombia es Pasion" arrives from deep South America and AV MD-83 taxiing for departure to UIO: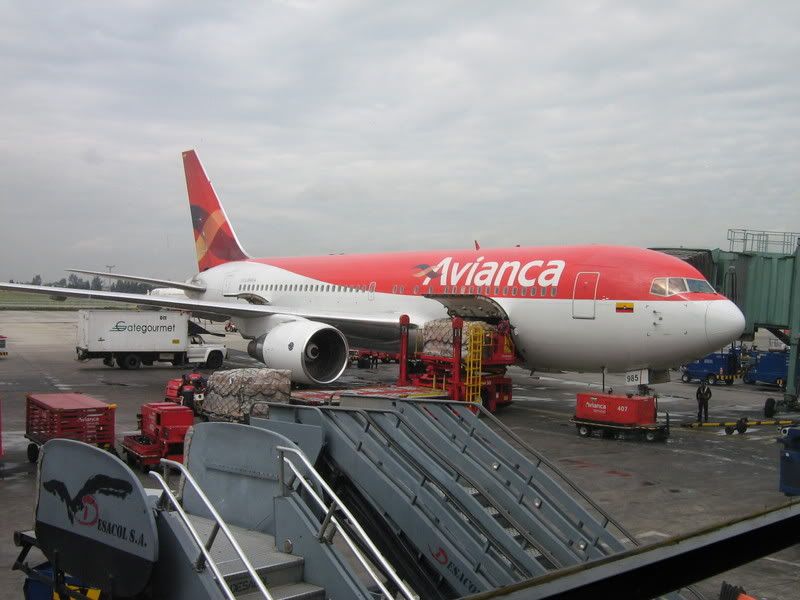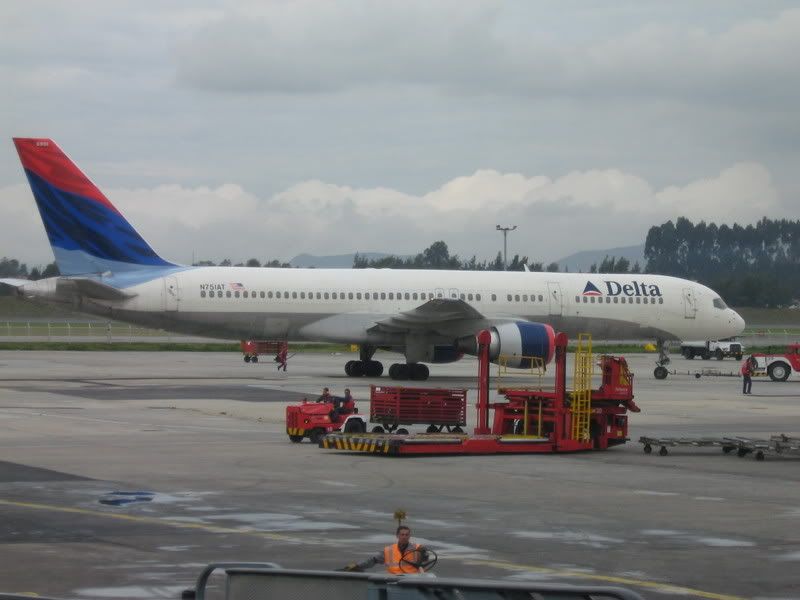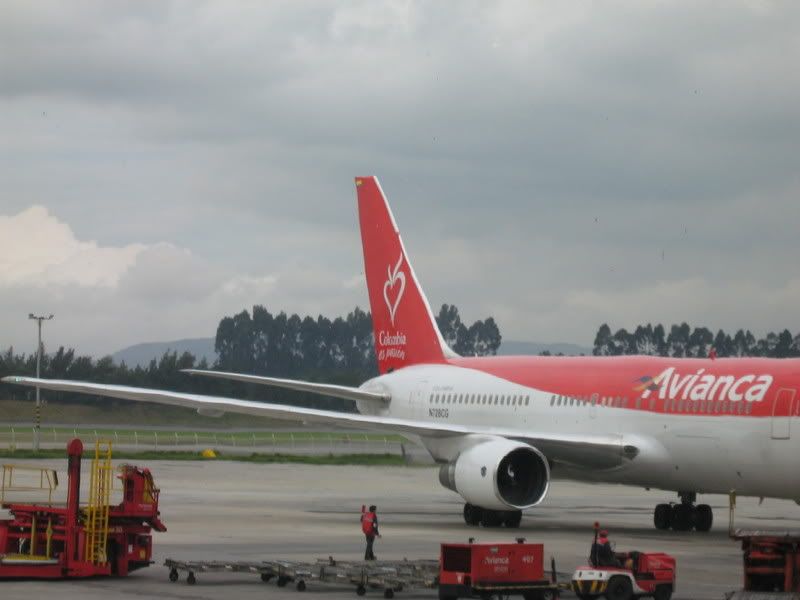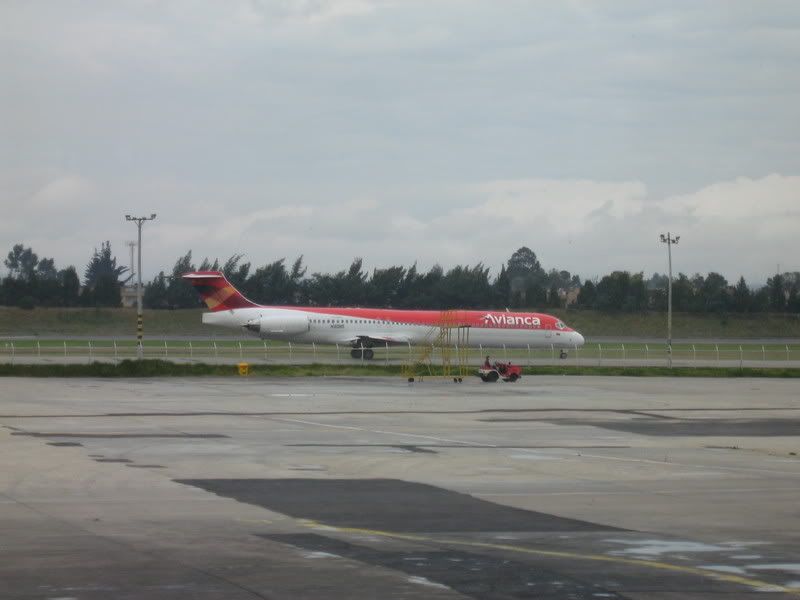 As boarding time approached, we went to our gate (on the way I took pics), got screened again and finally sat and waited for about ten minutes, until boarding started.
AV757 to FLL, gate area, our aircraft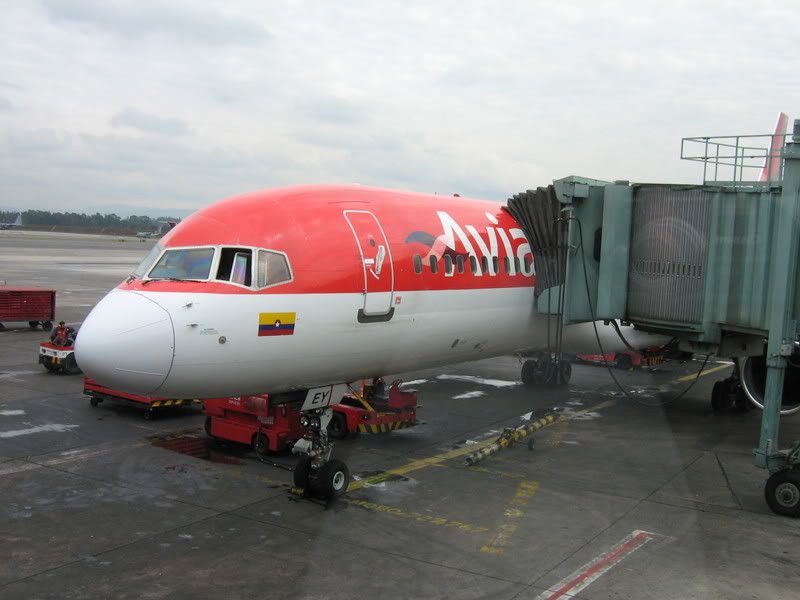 When we got called, I went in to find two cool things; first, the flight was packed to the gills, even on biz. I had never seen an oversold DL flight in the middle or March. And second, the aircraft was in the new leather interior!
We sat down, and finally, at 11:15, we push back and the safety video starts. Our flight attendants today were a really fat woman, a 150 year old lady (both with a heavy southern accent), a Japanese lady who was always smiling and a Puerto Rican guy, who was very gay. I though it was an odd crew but later through the flight they would prove me wrong. Our captain was from Savannah with a really cool southern accent and our F/o had a well marked NY accent, though he claimed himself a Bostonian.
Pics of the ramp: AV 757 next to us and two P5 EMB-190s.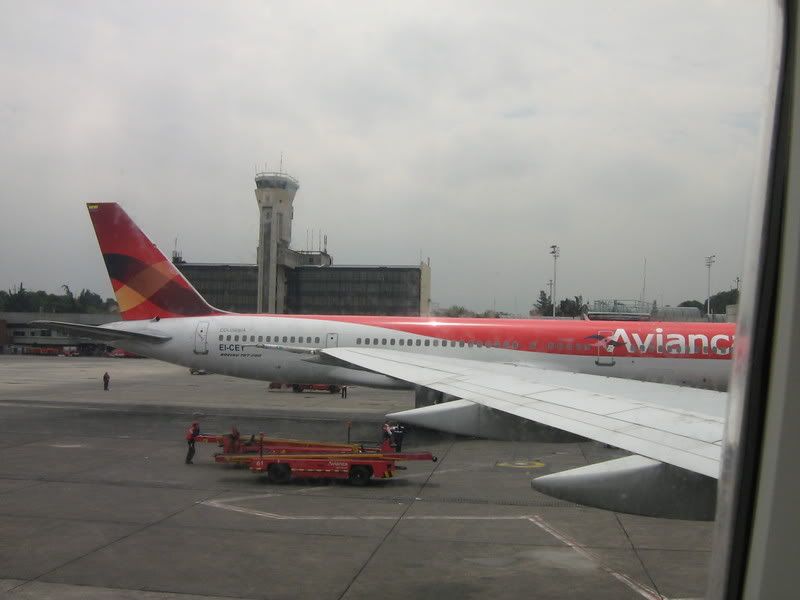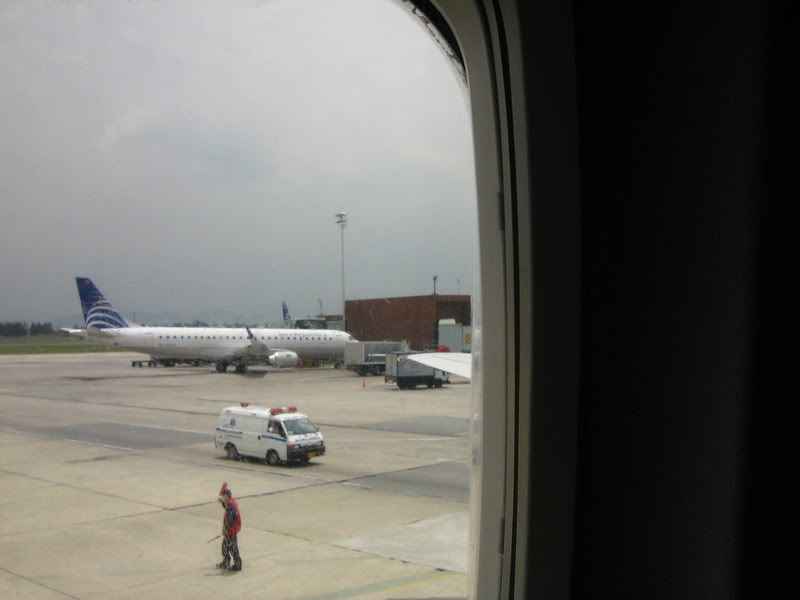 We stopped in the middle of the ramp and started going to the north. At first I though we would depart runway 13L (very unusual as it is only used by AV domestic operations and cargo flights). Then, we stopped near the AV domestic terminal and we turned right. The captain explained we had been randomly chosen by the control tower to be weighed, as there had been some problems with flights taking off overweight so they picked anyone three times a day to pass the test. Yay! Those were another 20 minutes on the ground, but I did take some nice pics, especially on our way to 13R for departure.
AV maintenance area, main terminal (can you tell a AV is based here?), and the lovely Satena EMB-170.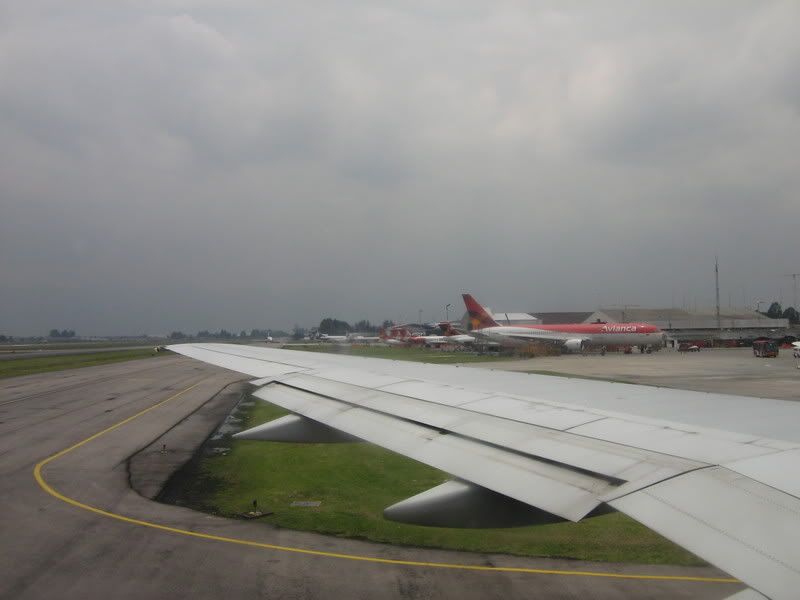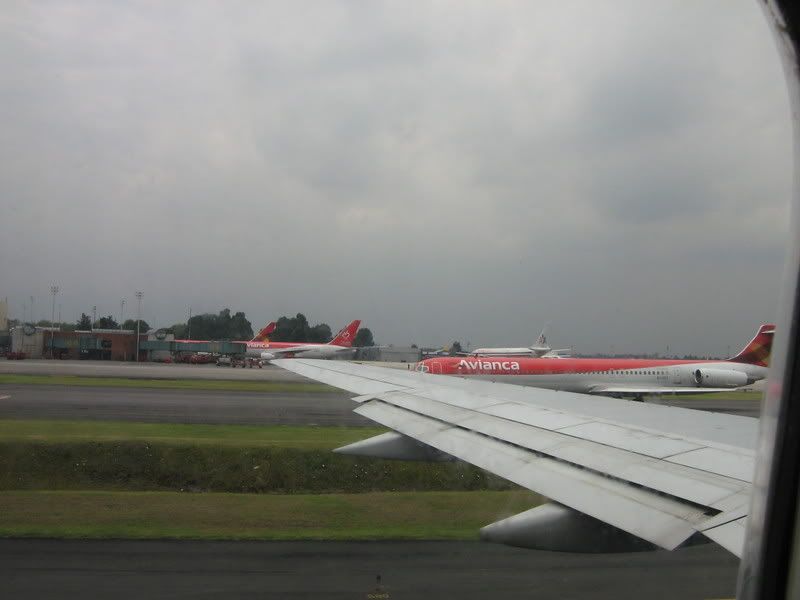 We were number three for takeoff, after an Avianca Fokker-50, and an EMB 190 from P5. We also had to wait for an AV MD-83 to land. Behind us were the Satena embraer, an Aires Dash-8 and an AV MD-83. Busy time of the day.
Finally, at 11:46 we lined up on the runway, the engines spooled up some seconds later, and we were lifting off at 11:48.
DL298 on the runway, AV domestic terminal, city of Bogotá.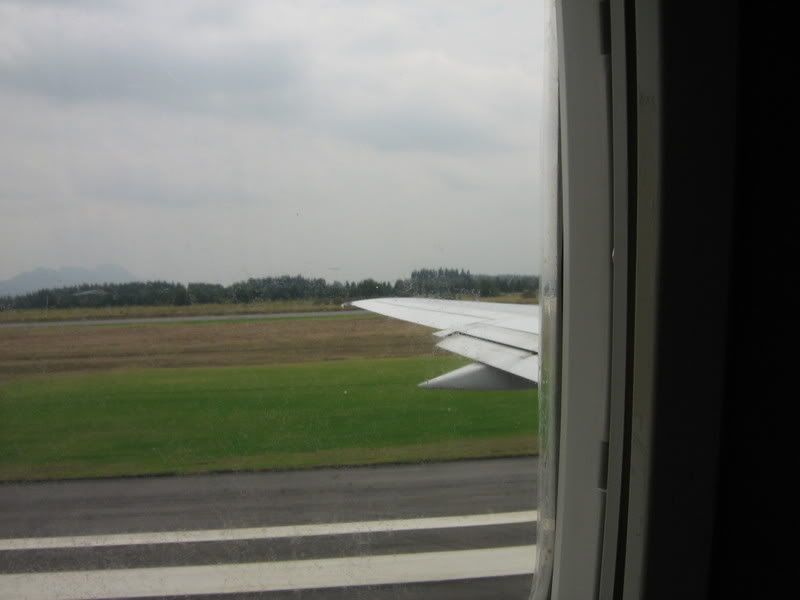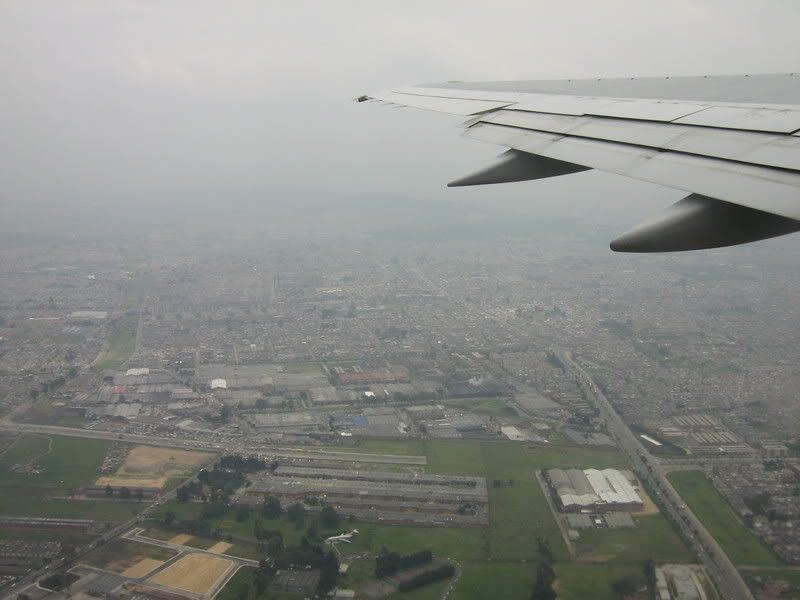 We leveled some minutes after and took a northerly route towards the Colombian coast.
The movie shown today would be "Night in the museum", and our choices for lunch would be either Pasta or Chicken.
When we were over the southern Caribbean, lunch started to be served. The chicken was very good, and according to my friend, the pasta was too.
After the meal and the flick, I started filling out my immigration and customs cards. I used my Colombian passport to enter the US this time.
When I was done with it, I took a look at Delta's Sky magazine, which actually has good articles, but 75% of it is advertising. I know its costly to have mags on board, but you don't need that amount of publicity to cover the cost.
I was also amazed at the amount of Americans on the aircraft who weren't embassy staff but actually tourists! (You don't know how rare it is to see an American tourist in Colombia). There were at least 25 of them, in coach. Counting all of the Americans on board, I day it was 60% Colombians and 40% North Americans of the flight. Our country has finally started to receive some attention from international eyes!
I fell asleep for the remaining of the flight until approach to ATL. We did a sharp right turn, then left, then right again and we lined up with the new 5th runway (I could tell b/c it took us a year to get to our gate). We finally had a strong but not nasty landing on our lovely 757.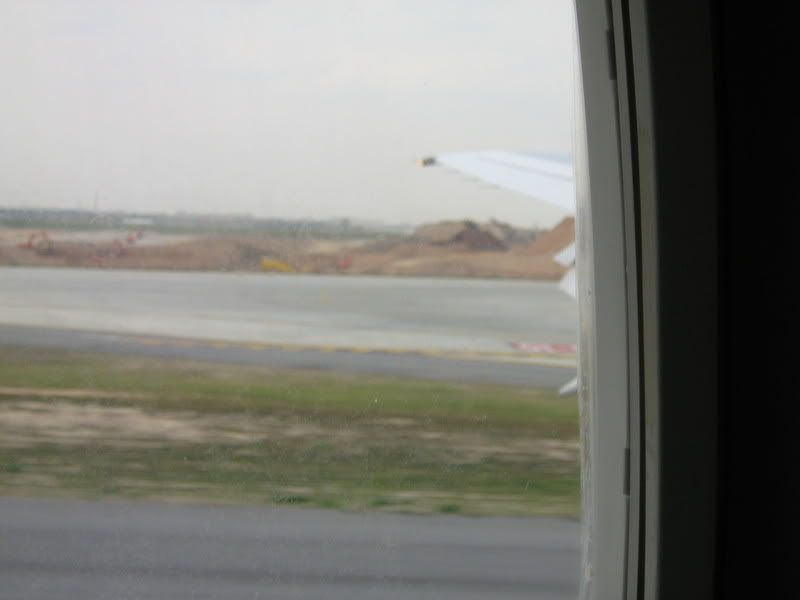 It took us a while to get to the gate, was we landed in the new 5th runway which is far away from the terminals. We finally parked next to an Air France 747 at the E concourse.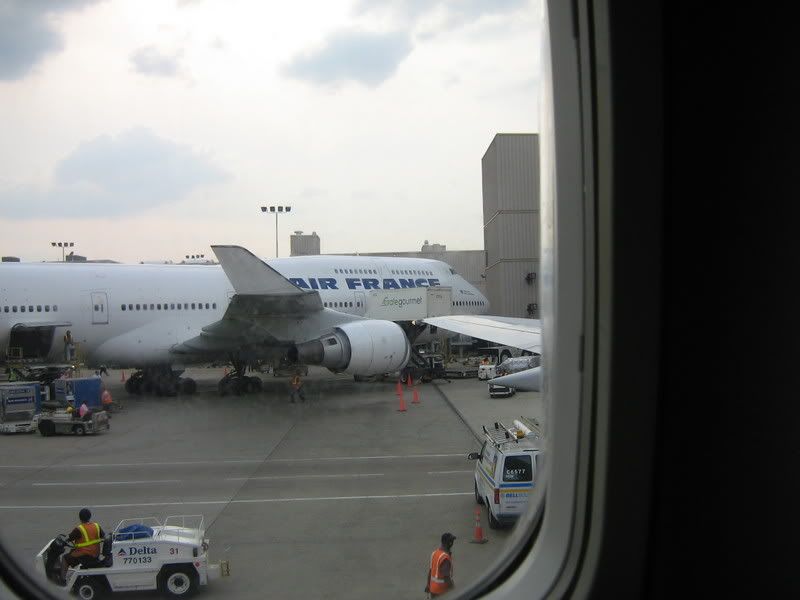 We disembarked and went through customs, and then to baggage claim. We got our bags and went to the "missed connections" area that right before you drop off your bag for the next flight. After spending a lovely thirty minutes talking to the representative, she gave us a hotel and food vouchers. We then dropped off our bags, making sure none of the 12-year-olds was missing, and walked to the food court upstairs to have dinner.
An hour later, we went up to pick our bags, and the obvious happened, half of them were already taken to baggage services, so that meant another 3 hours of making the line and asking for the bags.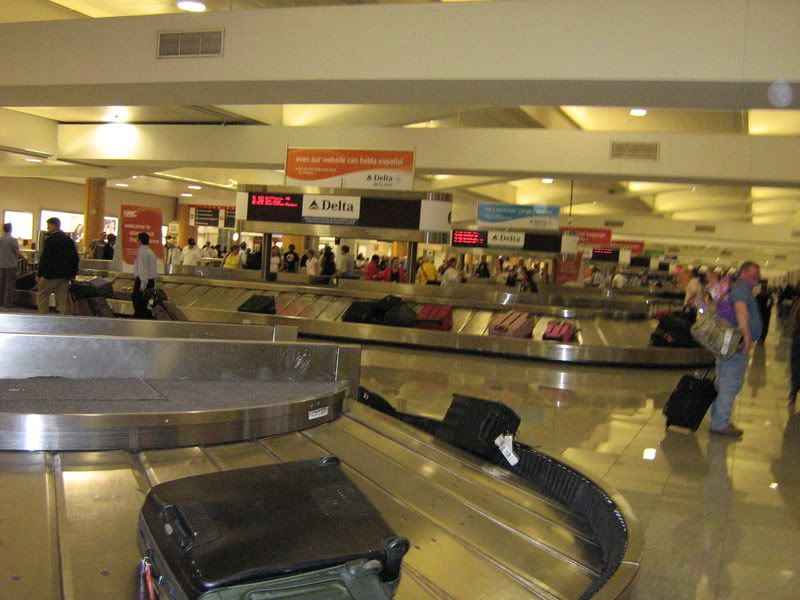 [Edited 2007-04-18 04:21:13]