Monday April 9th, 2007
KLM
Flight 1008
PH-AOF
LHR - AMS
Seat - 40F
Departure Gate: Terminal 4 - Gate 11
Arrrival Gate: D3
Scheduled Departure Time: 10:05am
Scheduled Arrival Time: 12:25pm
View Large
View Medium


Photo © Dan Barnes
Usually on this route they use the 737. When I did my online booking, I chose the A330 flight they have, as I haven't been on the A330 yet. I also chose KLM because I have some NW miles that were getting stagnant, and probably need to add a little, before I lost them. Well, I checked in online the day before, choosing seats 17H and J, for my sister and me, and 18J for my brother. Since I didn't have a printer, I was given the option to print the boarding passes at the airport.
The next morning, we get up around 6am. We put our things together quickly, and then checked out of the airport. We walked across the street, and up the next to get to the bus that would take us to Terminal 4. The bus came, and took us to the terminal. We were dropped off on the arrivals level, so we took the elevator to the departures area. We went to the kiosk to print out the boarding passes, and as soon as we put our passports in the machine, it told us to go to the desk. I guess since we were neither UK, or EU citizens, they need to check us out. I guess since we had to go to the desk, we also lost our previous seat assignments. We were given 40 D, E, and F? I think. I was expecting 4 seats with someone being the prisnor. It ended up being close enough to the back, where the plane tapers, and we had 3 seats to ourselves. The plane ended up not being all that full. We had also put some of our Iceland gear into another bag, just in case ours were overweight with the idea to drop it off at left luggage just in case. They accepted the bag, so we were able to take all our stuff. Since this is a 3 day trip to AMS, they probably didn't know what to think with all of the stuff we had for a 2 week holiday.
After we checked in, we went directly thru security. UK security is much easier to go thru, than US security. I set the alarm off, but only had to go thru a quick patdown, rather than an extensive cavity search. We found a little cafe to get breakfast, and something to drink. I had an egg mayo sandwich, and a Diet Coke. While there we watched some of the action outside: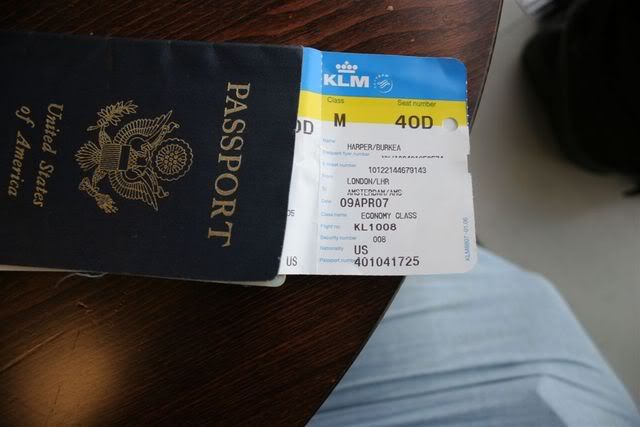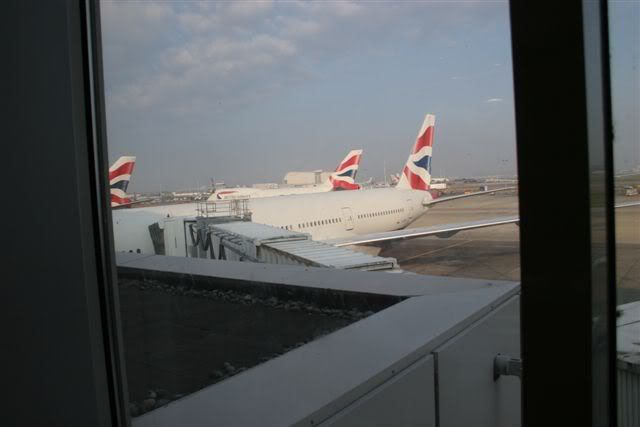 I also visited the smoking section every once it awhile to ease my bad habit. After eating, we decided to check out Terminal 4. It seemed pretty small, but maybe I didn't see enough. I also looked at some of the prices at the duty free shops, and wasn't impressed. It may seem like a good deal for the people here, but not for me. We decided to camp out, while they decided which gate they were going to put the plane. We saw the plane come in, and sit on the tarmac for quite awhile. It ended up being an hour, after the plane landed, that they put it in a gate. It was gate 11, which was right beside us. The plane was finally parked at about 9:30. The scheduled departure time was 10:05.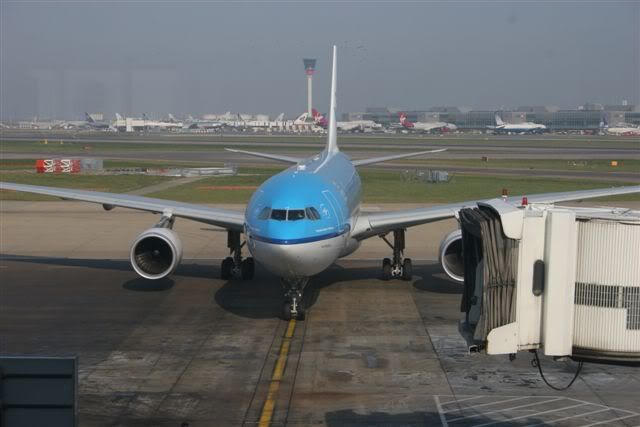 We sat in departure area until about 10:10. They called for boarding, but the line to get on the plane, made it look like an Easyjet/Ryanair/Southwest Flight, with no boarding zones. They had 3 agents collecting boarding passes, so it went rather quickly. We went down the long pathway, and finally got on the plane. Since this was the first time I had been on an A330, I had to take a few pictures of things: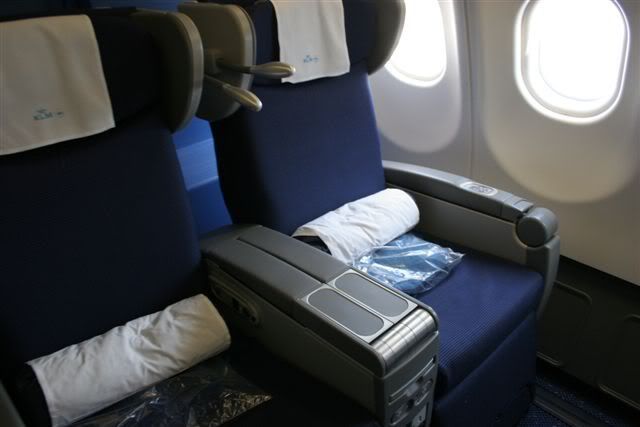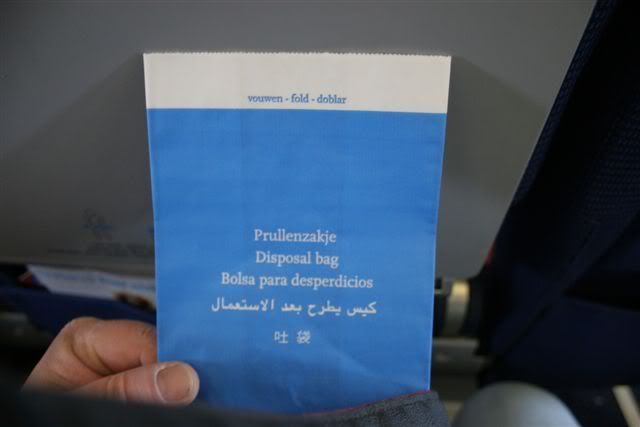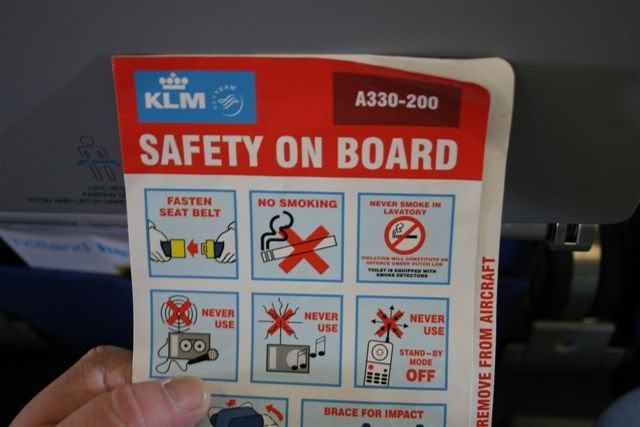 Everyone was boarded quickly, and before I knew it, we were pushing back. I expected a long taxi to the runway, as they were using the north runway, going west for take offs. We also didn't have to wait long to do so. The captain turned the seat belt light off around 5000 feet, which suprised me, as they usually wait until after 10000 feet. Right after that, the flight attendants started a quick drink service, and I got a Diet Coke, and a snack bar: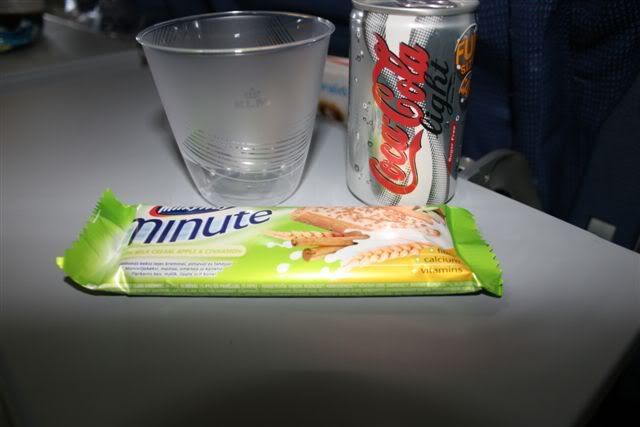 I didn't get to drink the drink, because, as I was putting the camera away from taking that picture, I knocked the drink over, and made a mess. Seeing as the FAs were doing the drink service, I couldn't find one for towels, so I grabbed one of the wrapped up blankets, and used that to mop up the drink. Before long, we were over the English Channel, and made landfall north of Amsterdam. We descended, and landed on the Poolderbaan ? (The far runway) There were plenty of spotters looking out, so hopefully someone could pass along a picture of the plane while we were in it. We taxied forever, finally parking at D3. It was a short walk to immigration, and passed with no problems. After that we collected our bags, and headed out to get our rental car. It is a Volvo Wagon, in case anyone is keeping track.
KLM
Flight 1019
PH-BTB
AMS - LHR
Seat - 20A
Departure Gate: D Concourse
Arrrival Gate: Terminal 4 - Gate
Scheduled Departure Time: 2:50pm
Scheduled Arrival Time: 3:15pm
View Large
View Medium


Photo © Patric Borg
I checked in online for this flight the day before, and chose 20A, B, and C for my party. On the morning of our flight, we packed our things, and checked out of the hotel. On our way to the airport, we fueled up the car, and then turned it in to the rental company. After entering the airport, we tried to get our boarding passes from the self check machine, but it wouldn't let us this time either. We had to go to the check in desks to get this accomplished, and to check our bags.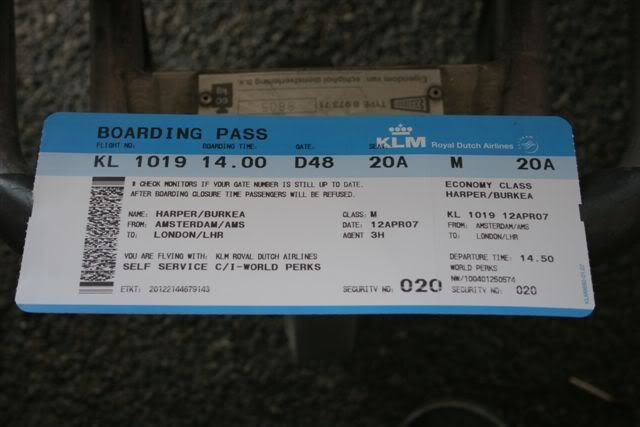 Even with all that we were carrying, we were still under the allowed 20kg for each bag. After we had did all that, I went outside for a few cigarettes. After that we went thru passport control, and got our departure stamps. There were no security checks just past passport control, like I had remembered from the last time I was here. I assumed they would check at the gate like they did the last time. I seem to like this approach better, as there are no huge lines at one particular security check, and allows (I assume) for different checks depending on the arrival country. After passport control, we went to a restaurant area located on the floor above, which had a Sbarro, McDonalds, an Asian type place, and a sandwich type place. I got a slice of pizza, and a hamburger from McDonalds. After that, we decided to spend the rest of our Euros in the duty free shops. I bought a flag with the XXX on it, and a beer mug. After this we went to the gate, and found no chairs prior to the secure area. We had to wait for a bit for the security people to show up, so we could sit in the gate area. Security finally showed up, and checked us all out with the usual metal detectors, and x ray machines. This was one of the quickest checks we had on the whole trip.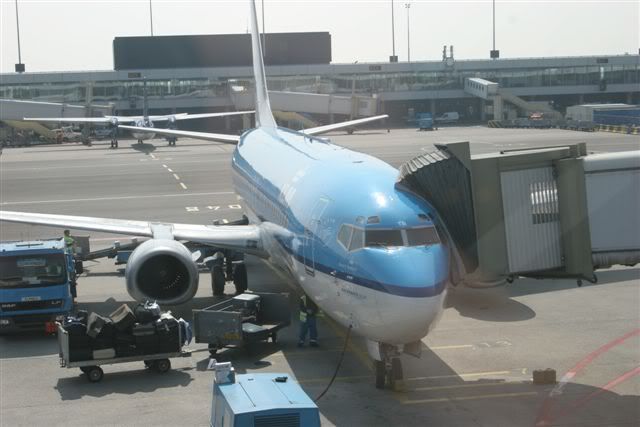 After waiting in the gate area for a bit, the KLM staff showed up. They took our boarding passes, and we went to another side of the gate area. We were there for a few minutes, and then we started boarding. We took our seats and waited for everyone else to board.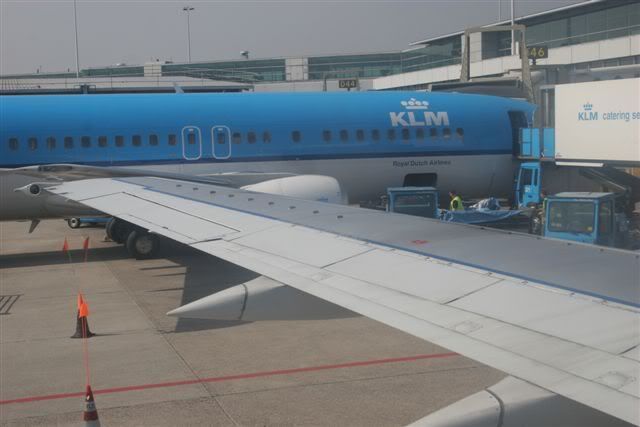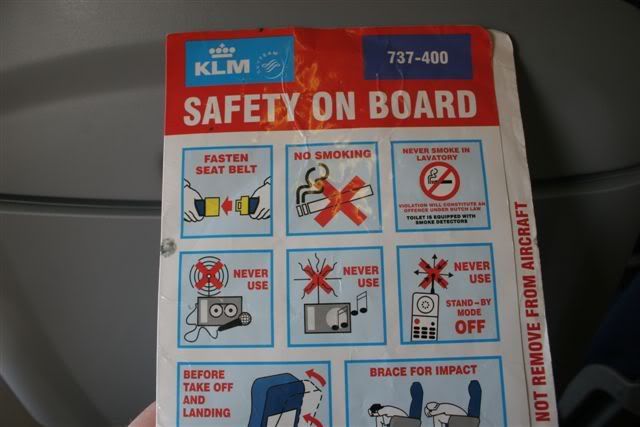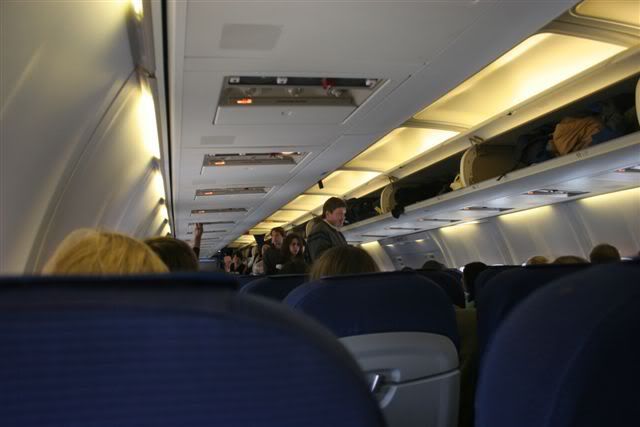 We pushed back a little early, and taxied to the far runway, the Polderbaan.
It took quite sometime to get there, as it is quite a ways away. After reaching the runway, we immediatly turned onto the runway, and took off. We passed over the coast of The Netherlands, and shortly thereafter, the crew served us a drink and a snack bar.
This time I was able to drink my drink without spilling it. The snack bar was also pretty good. The crew passed thru again, and took our trash. It wasn't long before we passed to the far side of London, and landed.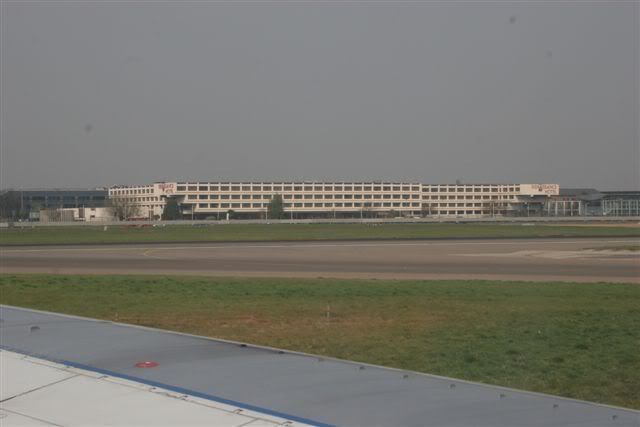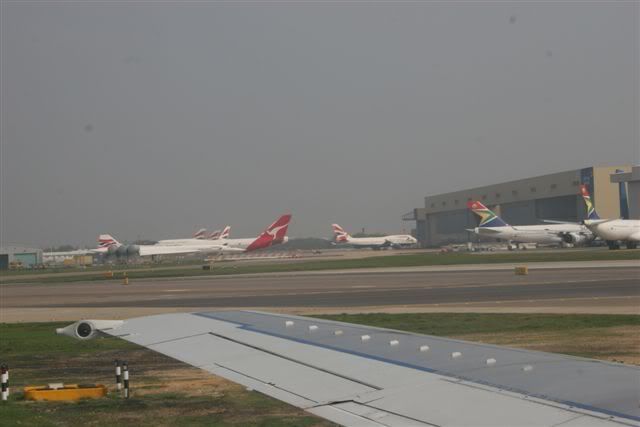 After landing we waited on the taxiway for a gate to go to. We deplaned, and headed for passport control. A plane from another area had also just come in, and had some of the most foulest smelling people I have ever smelled. I almost got sick in the queue for immigration. I would have really hated to spend any amount of time on a plane with this kind of smell. We got to the other side of immigration, and collected our bags, and then went thru the nothing to declare lane. We went downstairs to the Terminal 4 Underground station, and bought tickets for our adventerous trek to Gatwick.