After the disappointment of being declined an Iran visit visa in August 2006, I had to take a trip to Iran for work in December. After several weeks of getting nowhere with the visa process I had almost accepted that I was never going to get to Iran. Finally however, with some help from inside Iran, the administrative problems were sorted out and I finally had the long-awaited visa in my passport. This was to be a work trip but naturally I had my own personal plans too.
I arrived at the Imam Khomeini International Airport (IKA) in the middle of the night on a direct flight from AUH with Etihad Airways. The flight was very pleasant – as are most flights on the Boeing 777-300ER. The airport is impressively modern but has the feel of being somewhat underused. Immigration was easy and I was welcomed into Iran. As I stepped out of the terminal to meet the driver who would be taking me to the hotel it reminded me of home in the UK - it was bitter cold. Central Tehran is quite a distance from IKA and it took quite some time to reach the Homa Hotel where I would be staying. When I got to my room I went to bed and slept well into the day. It was Friday and I was not due to work until Sunday but the main event of the trip for me was planned for the Saturday. The main thing I remember about the day I arrived was the view when I opened my curtains. The mountains surrounding Tehran are just breathtaking. Unfortunately it was a very grey day so I will share this view with you, taken a couple of days later.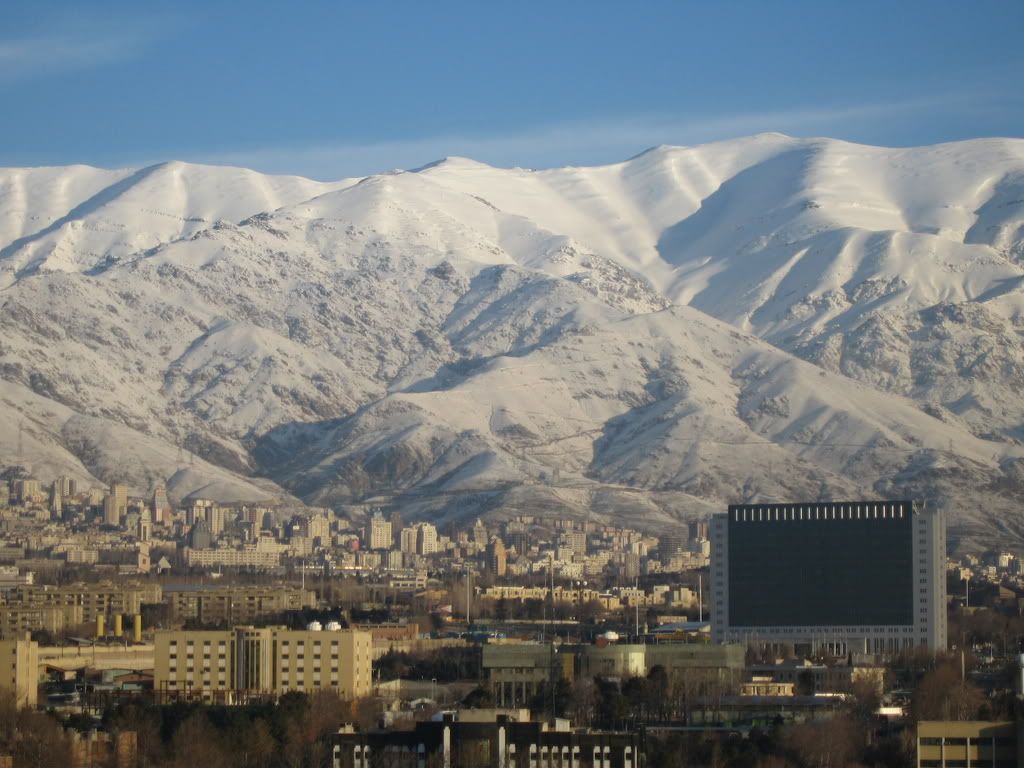 The next morning I awoke early having arranged the day's agenda and collected the flight tickets with my friend in Tehran the previous day. We met outside the hotel at around 0830 and headed for the city's Mehrabad International Airport (THR). We were not yet going to the airport itself as we planned a visit to the Aerospace Exhibition which is in the Mehrabad area. The highlight for me is not so much the exhibition itself but some of the stored aircraft in a remote part of the airfield which can be directly accessed from the exhibition.
After paying the small fee to enter we made our way to the first exhibits which could be seen. The first aircraft we came to was a DHC-4 Caribou. Apparently there is a lot of interest in this aircraft among foreign enthusiasts. It is rumoured to be an ex-US Air Force aircraft but it seems no one has managed to find any construction number for it.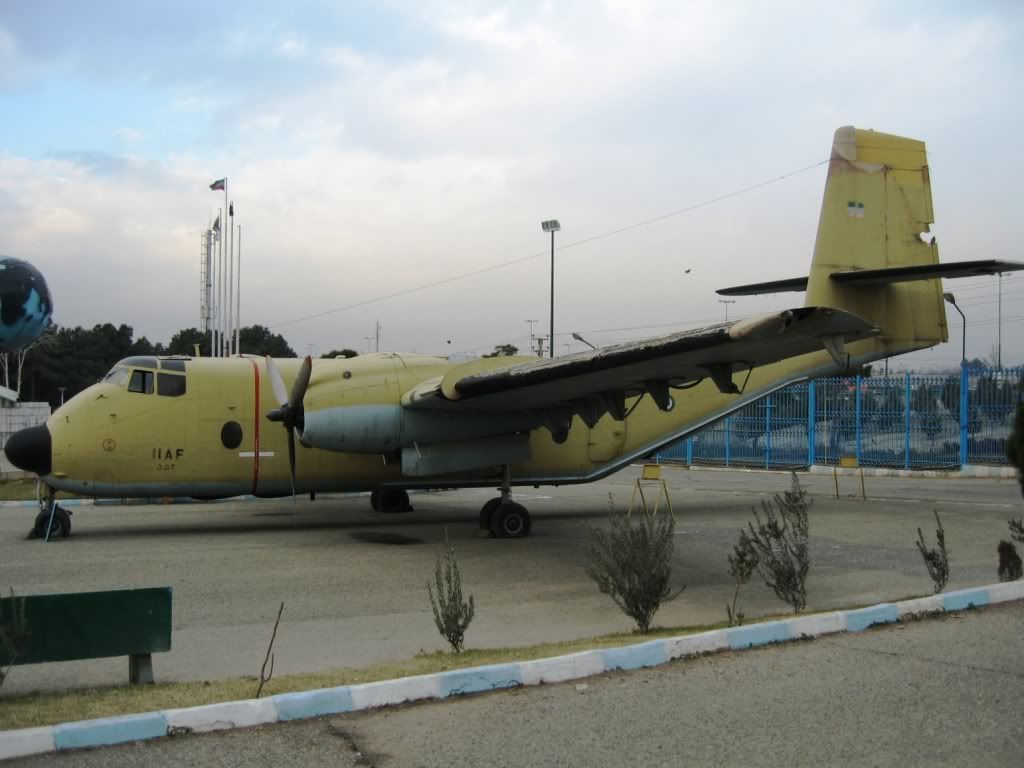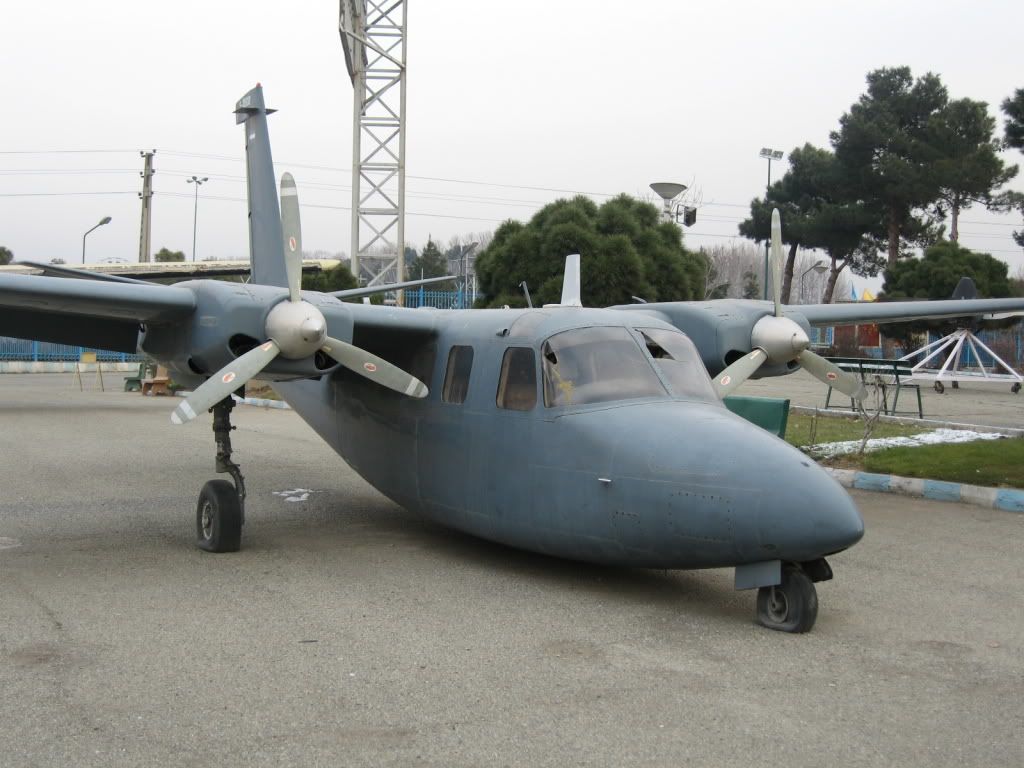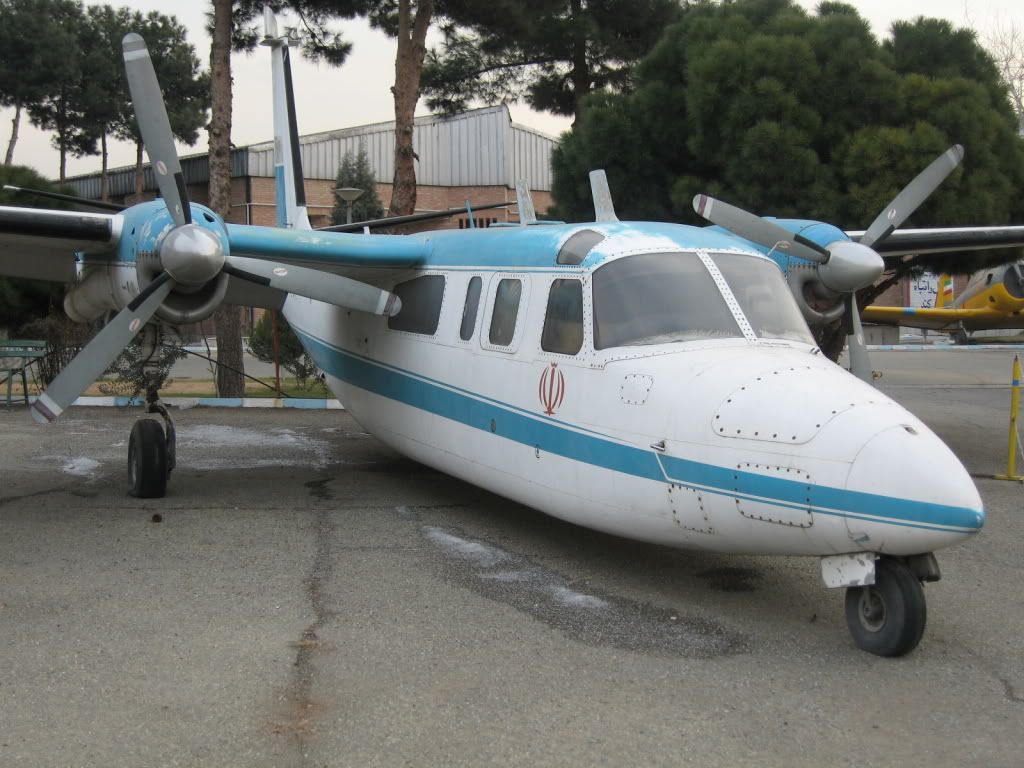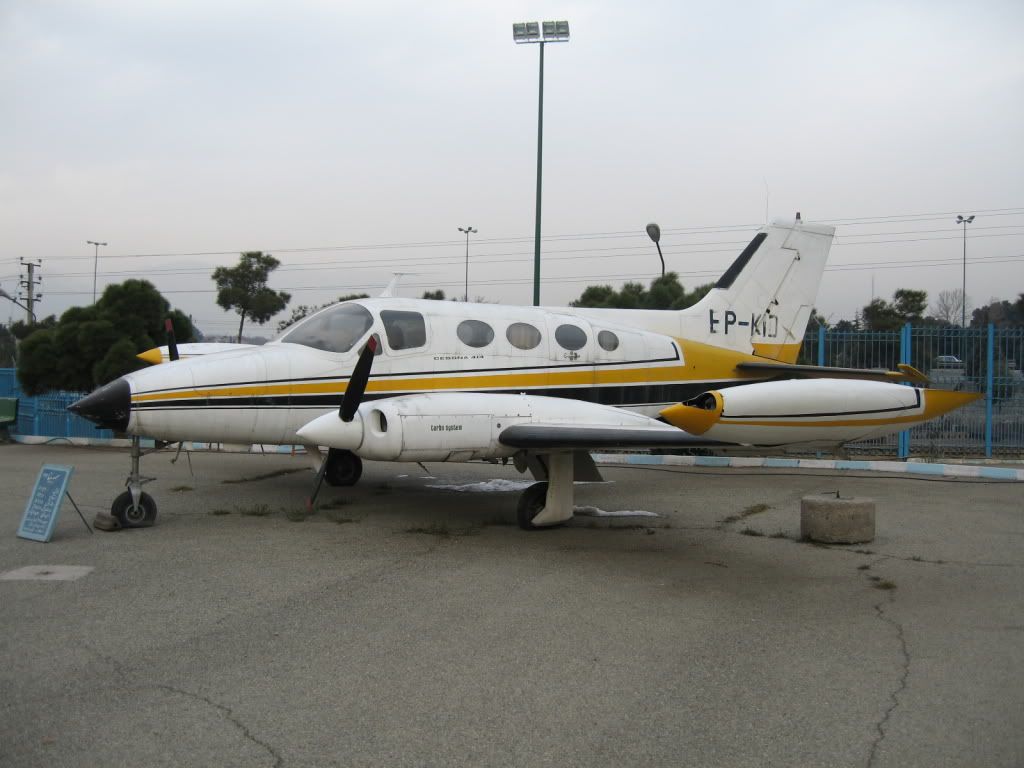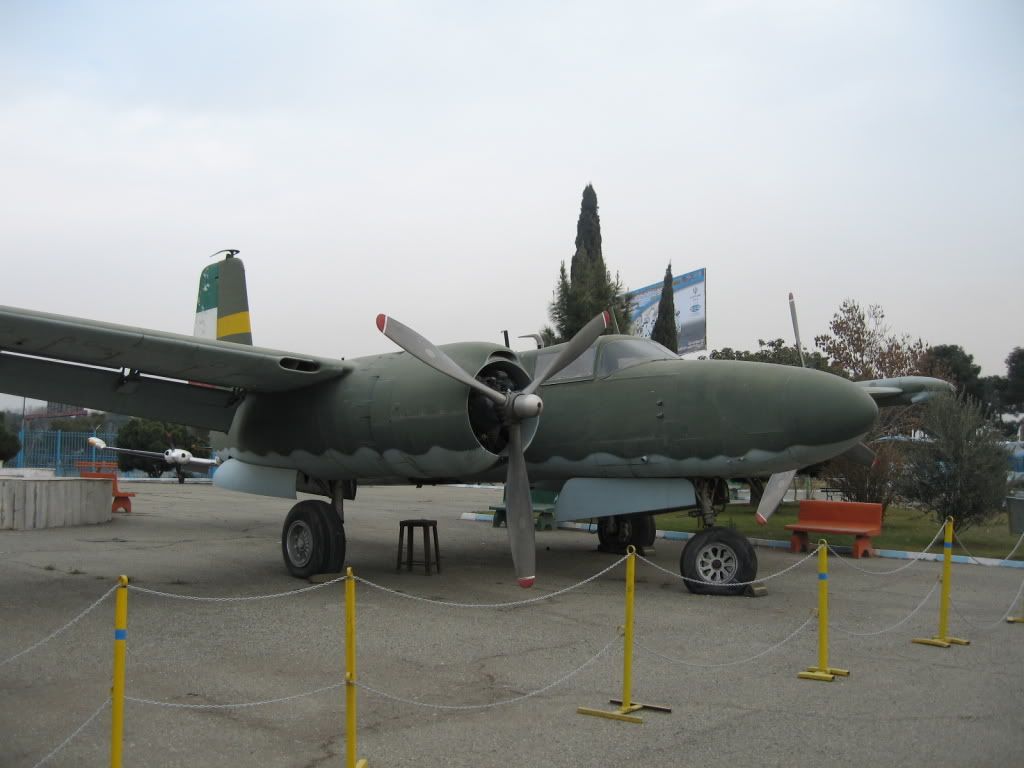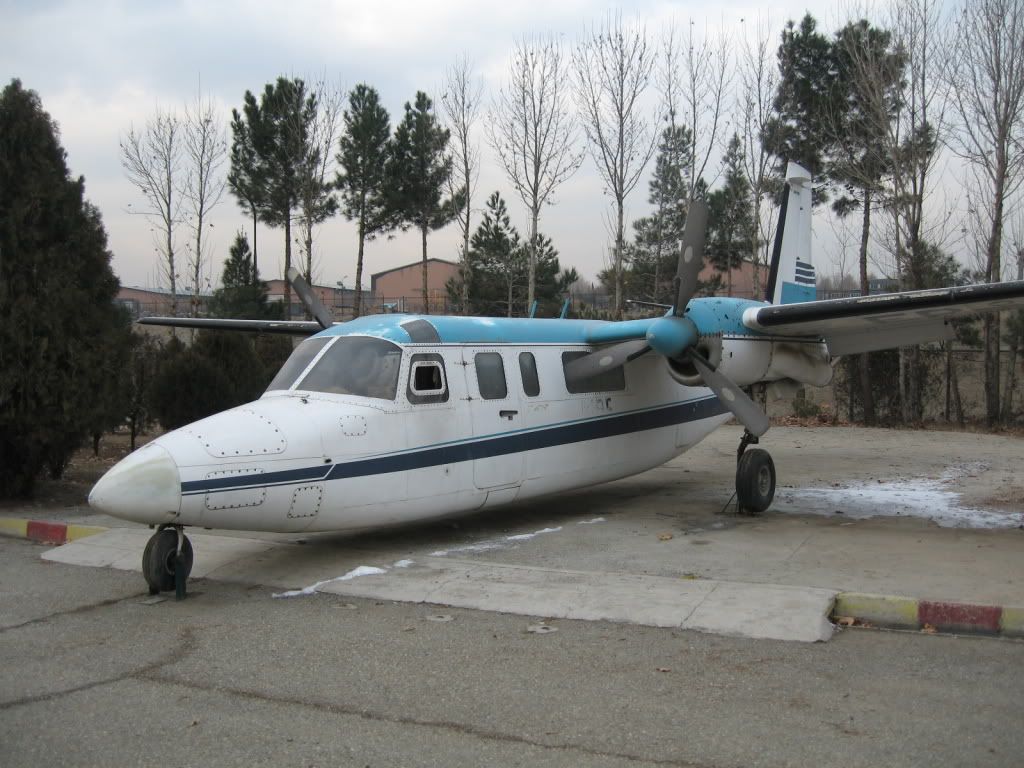 The further we walked around the exhibition area the more I felt it was not so much an exhibition of preserved aircraft but more of a dumping ground for unwanted aircraft. There did not seem to be much effort put into the restoration of many of the aircraft it seemed.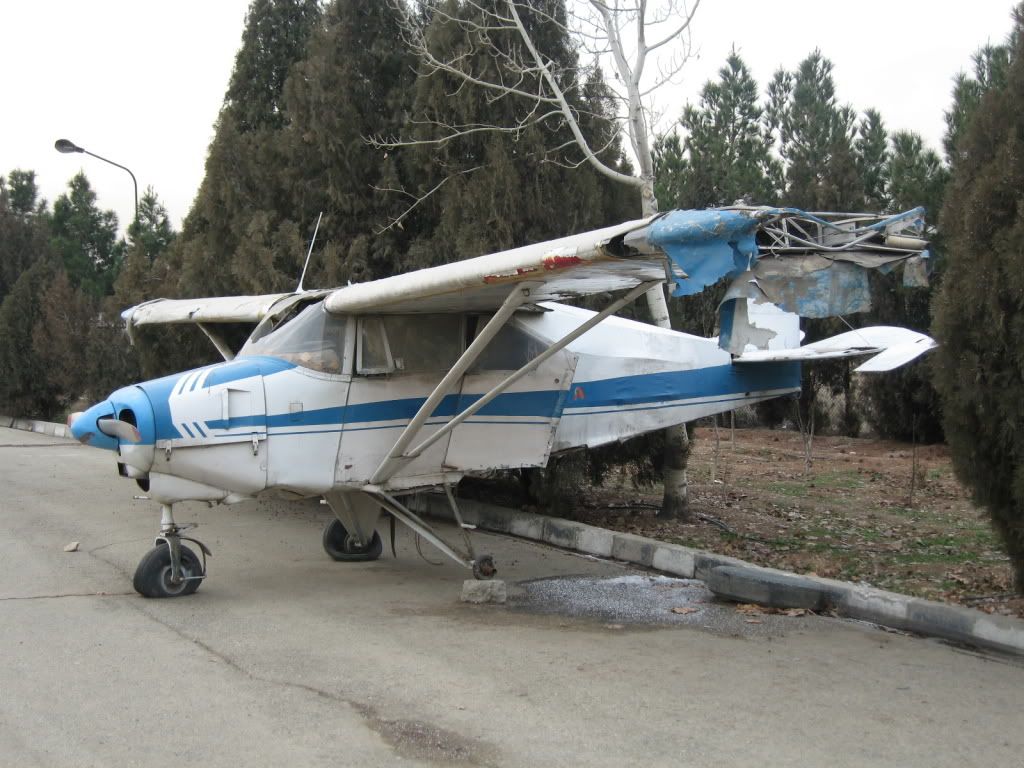 Now this was an interesting one – and an airliner too. Not a Fokker F-27 as it may appear at first glance, but a Fairchild Hiller FH-227. I do not knowingly recall seeing one of these in person before, so it was nice to get a close look at this aircraft. It is an ex-Iran Asseman bird as can be seen by the colourscheme, but sadly the interior is totally derelict.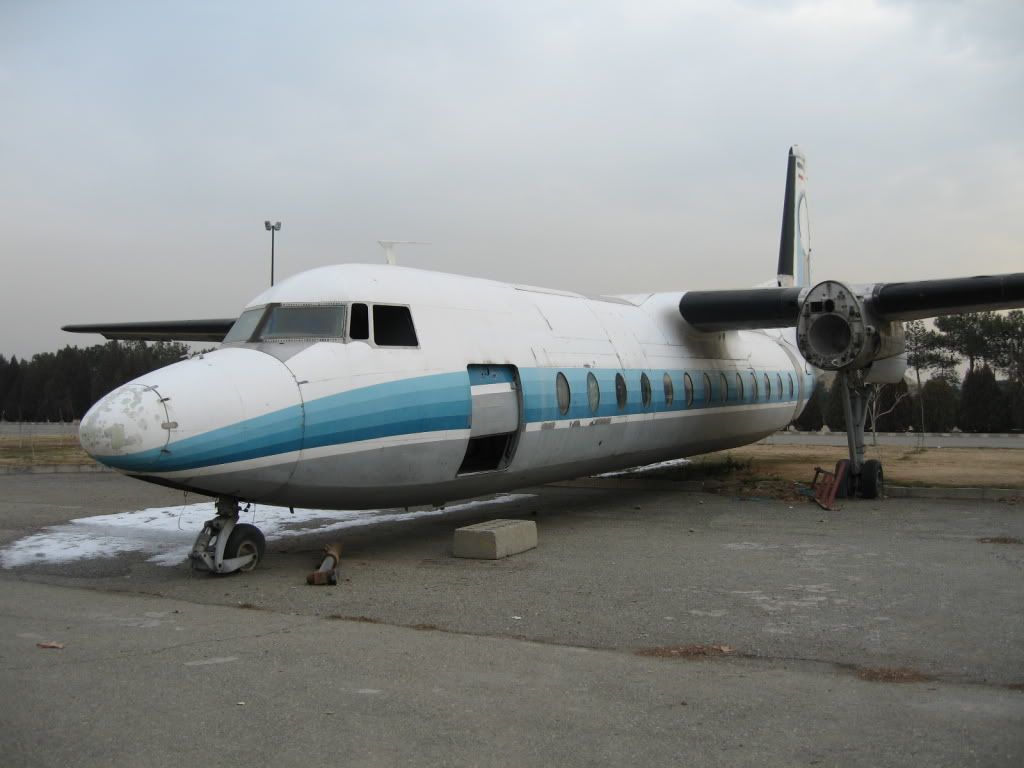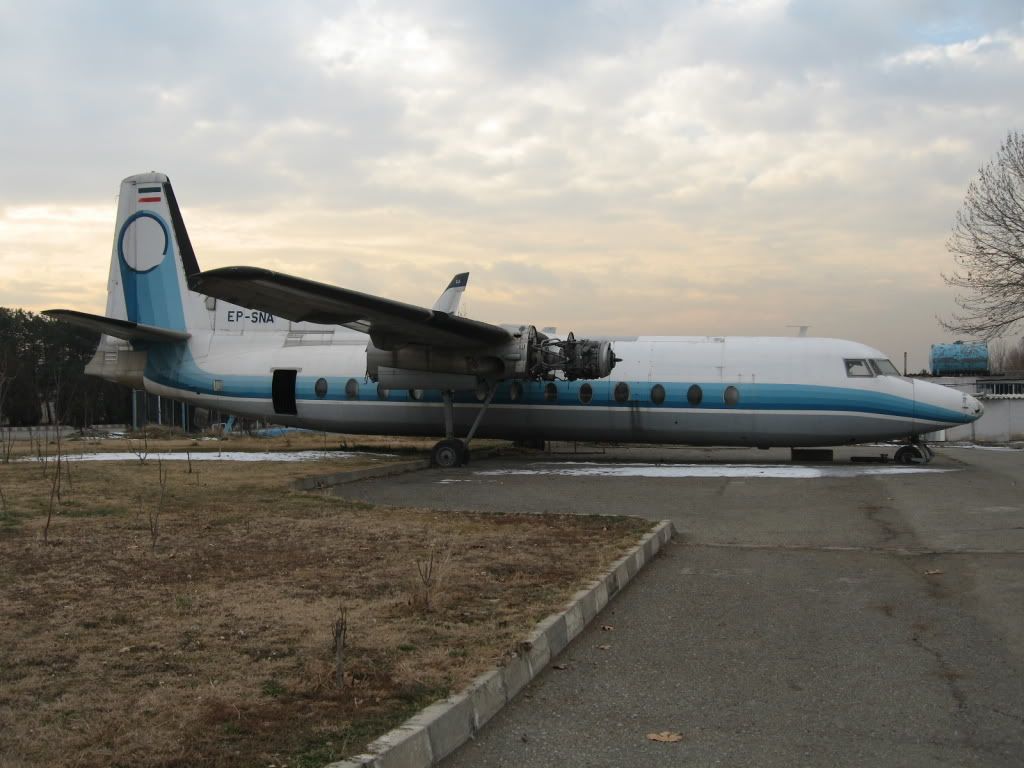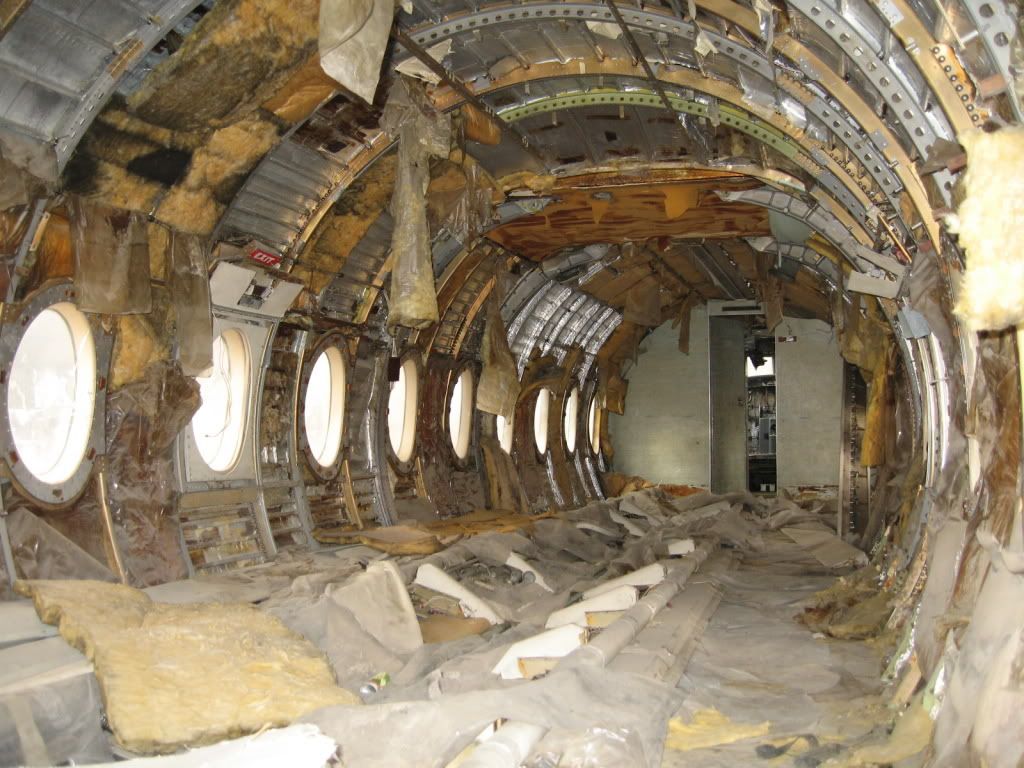 Another aircraft I was particularly interested in was this one which was unceremoniously dumped in a remote part of the exhibition area– I believe it may be an Aero Commander. To me this looks like the Cubana colourscheme. I took a closer look at this aircraft as a Mahan Air A300 took off overhead. The registration EP-ABD had been painted over and was barely readable. If anyone knows anything at all about this aircraft and its history I would be extremely grateful for the information.
EP-ABD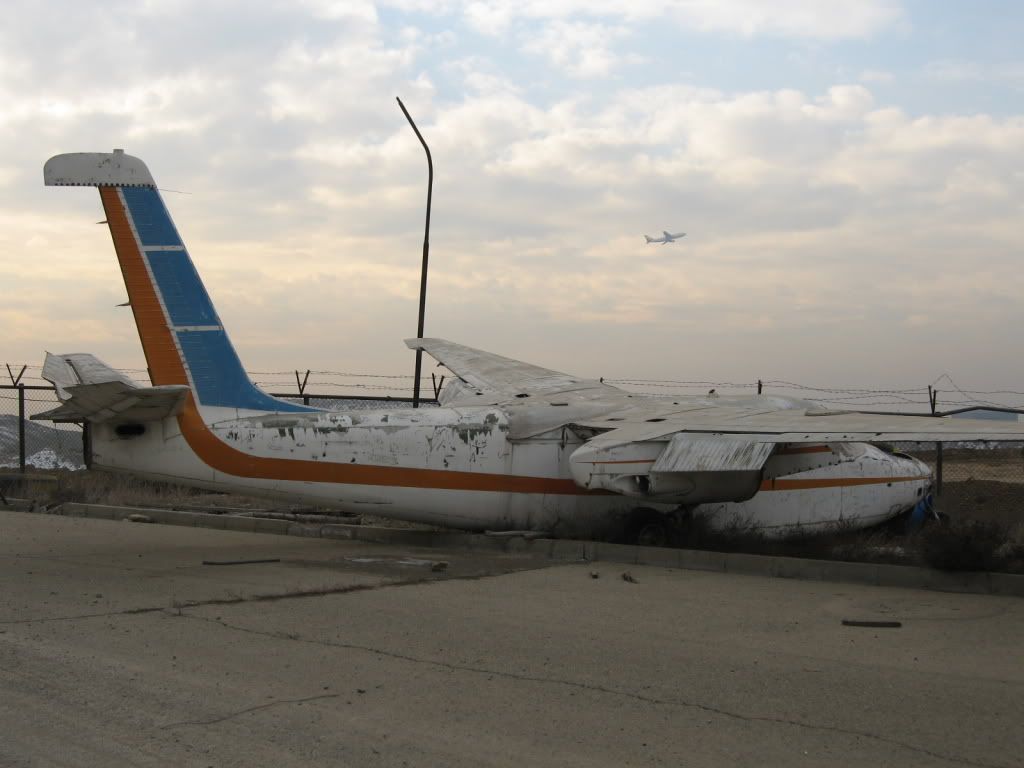 Having spent about twenty minutes wandering among the array of random aircraft at the exhibition it was now time for the serious stuff. Behind the bushes and a small road on one side of the exhibition the tails of some much larger aircraft could be seen.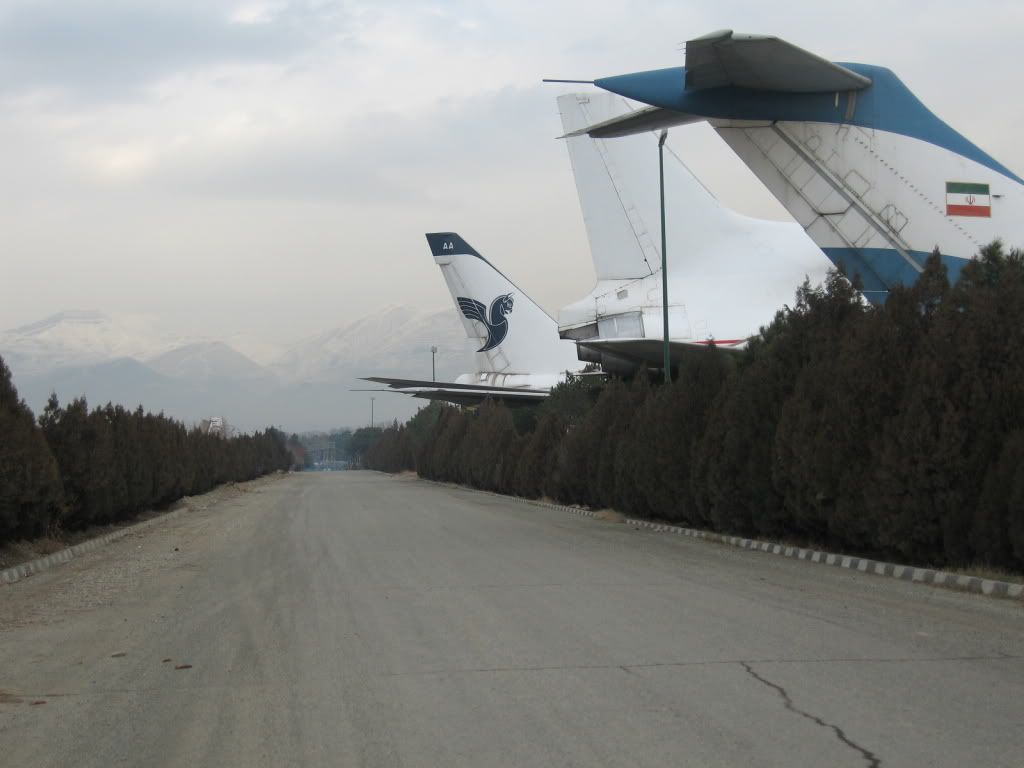 We passed through a hole in the fence onto the road and walked for a few yards to where there was an open gate leading into the storage area. This is what I had been looking forward to. Before proceeding through the gate I took a quick photo of three Iran Air tails which were nicely lined up in the form of two B737-200s and a B747-200F.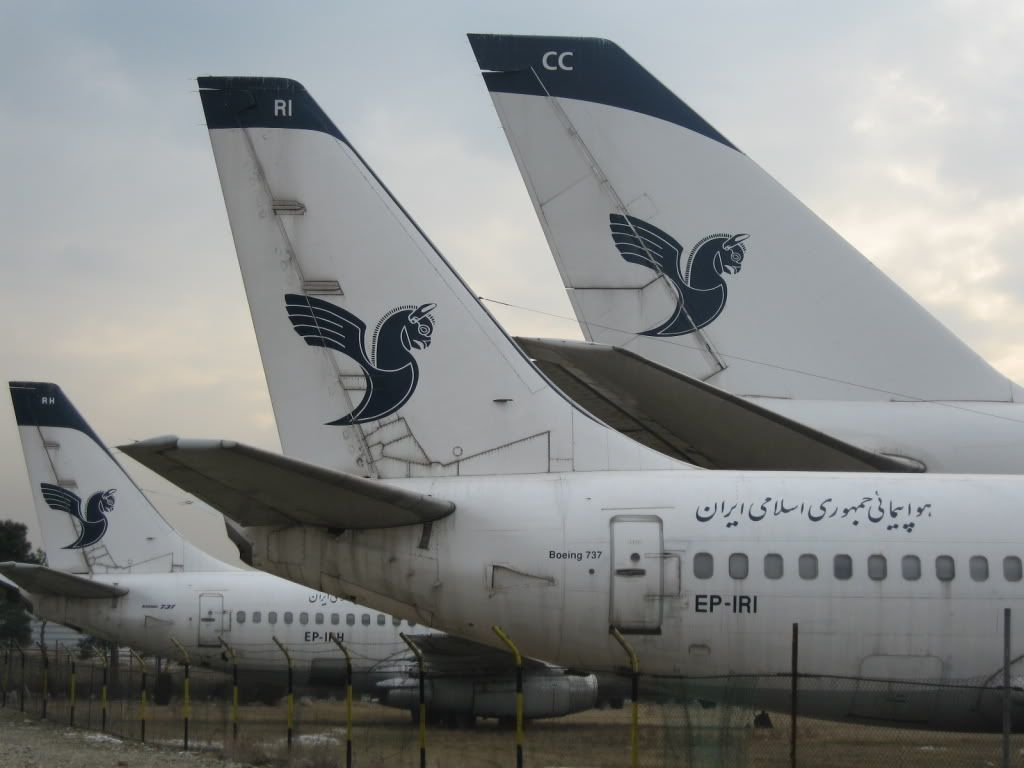 Immediately on the right as we walked through the gate was Iran Air's first B747SP, EP-IAA 'Kurdistan'. This aircraft was missing two engines but still made for a beautiful sight.
Iran Air, Boeing 747SP-86, EP-IAA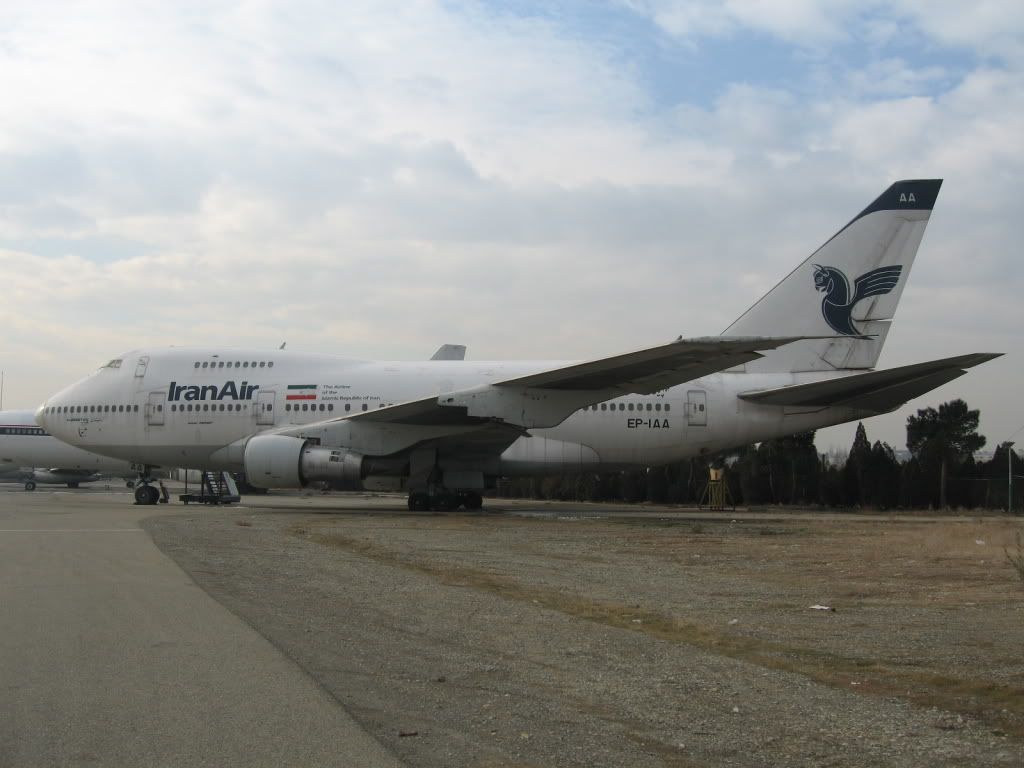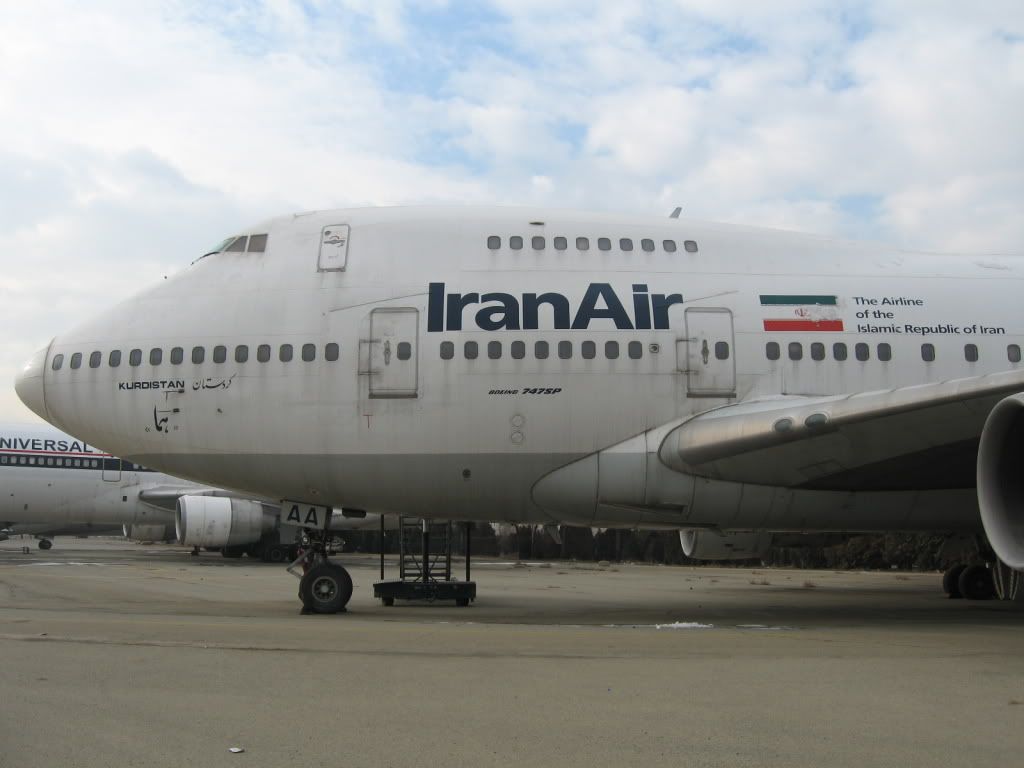 We were flanked by B747s to both sides – to the left was Iran Air Cargo's B747-200 Freighter, EP-ICC.
Iran Air, Boeing 747-2J9F, EP-ICC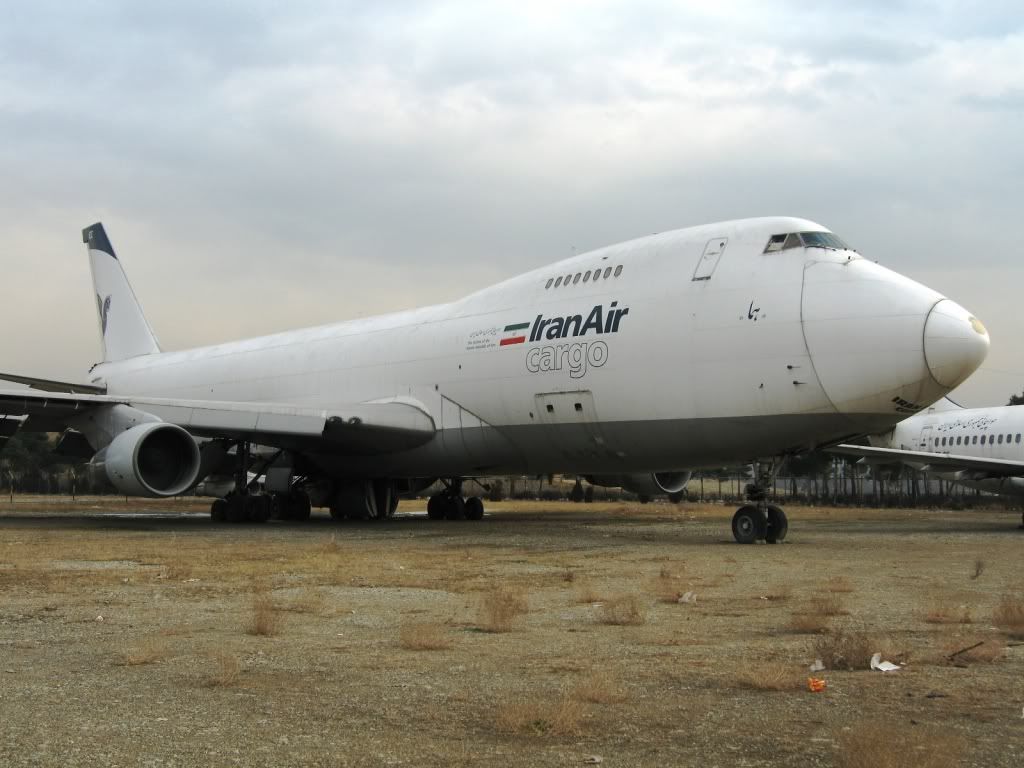 I spent the next minute happily photographing the nearby aircraft, even though I could see a man walking towards us from a nearby building. He was not walking in a threatening way but I had a feeling it was to do with us taking photographs. Knowing he had seen me already I carried on photographing until he arrived, figuring I should get as many as possible if he was going to tell us to stop.
Iran Navy, Fokker F27-600 Friendship, SN-4101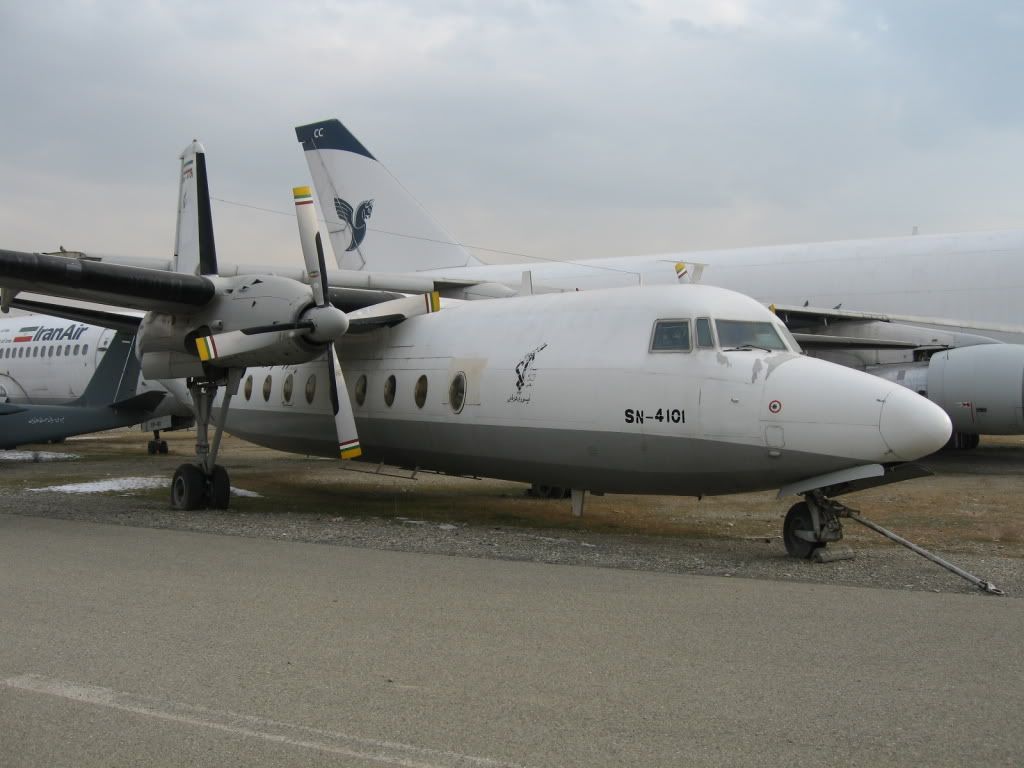 Iran Air, Boeing 737-270C/Adv, EP-IGA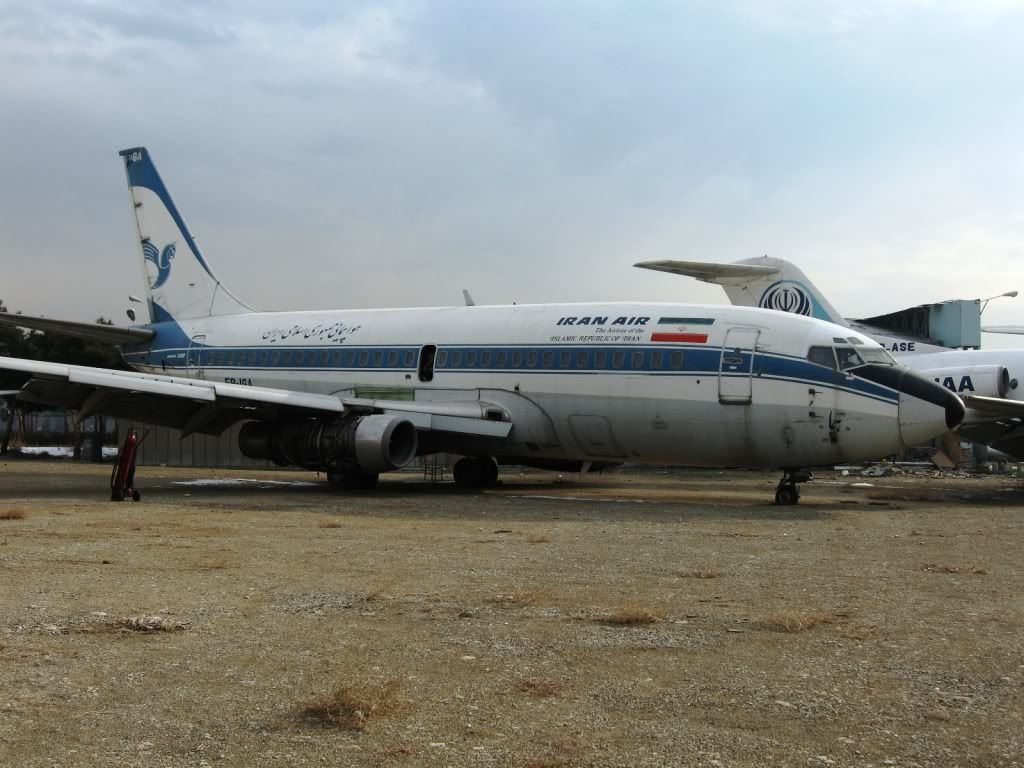 Air Universal, L1011-100, 9L-LDC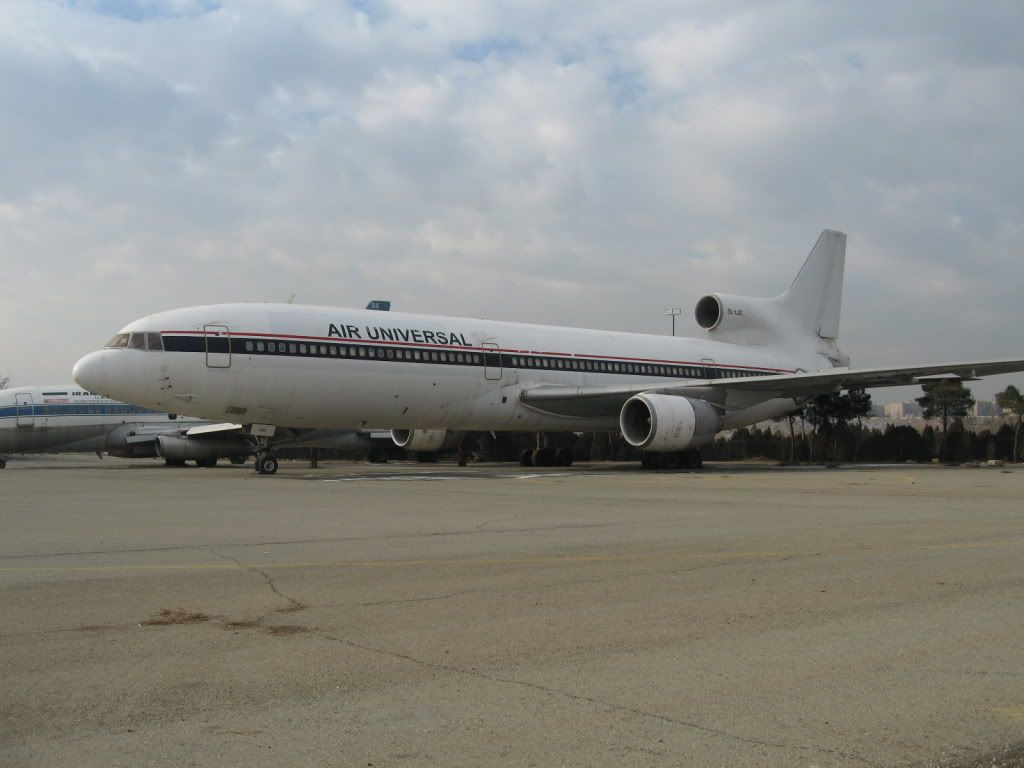 My friend talked to the man while I stood by waiting and after a minute or so he headed back to the building. My friend advised me that we would have to stop taking photographs but that it would be okay for us to continue walking among the aircraft. Not only that but it would also be possible to take a look inside one of the two Iran Government B727-100s. I was disappointed that I did not get to photograph some of the aircraft but undeterred we headed towards EP-PLN, an Iran Government B727-30 which was used by the sister of the Shah before the Shah was overthrown during the Islamic revolution in 1979.
Before we got to EP-PLN, I suggested we take a walk to the other side of EP-IRC, an Iran Air B727-86 which had been partially dismantled so the cockpit could be used as a simulator. 'RC was now between us and the building where the man was. We discreetly took the opportunity to get a quick photo of 'RC.
Iran Air, Boeing 727-86, EP-IRC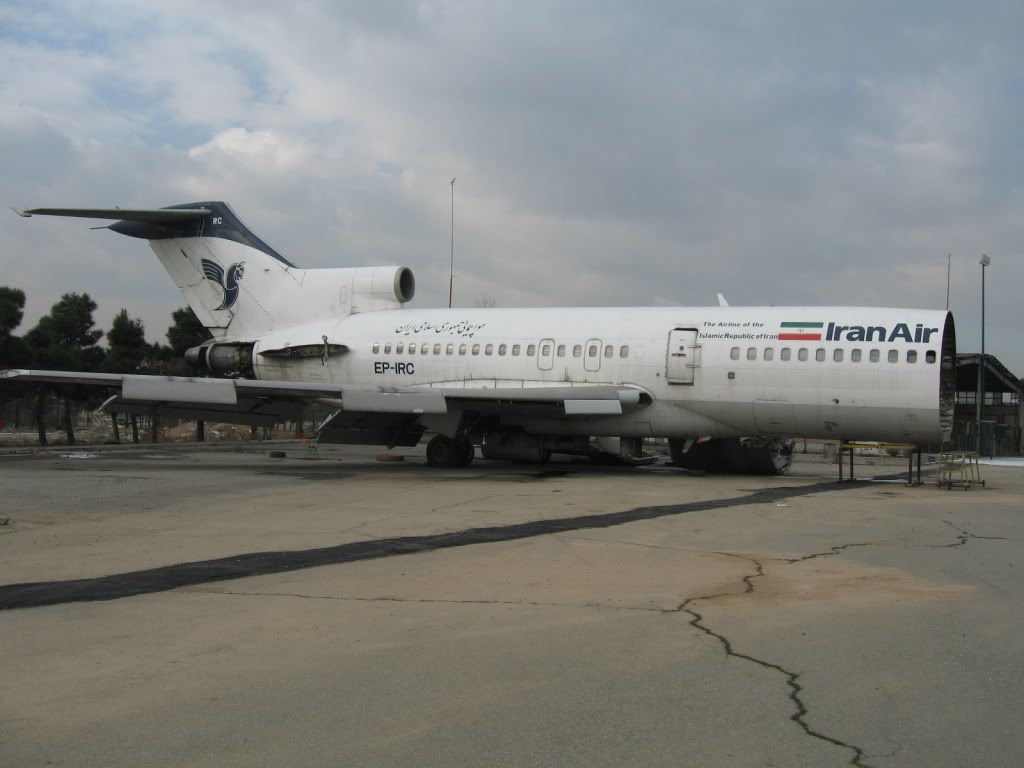 We then headed to EP-PLN which surprisingly we had permission to enter unescorted.
Iran Government, Boeing 727-30, EP-PLN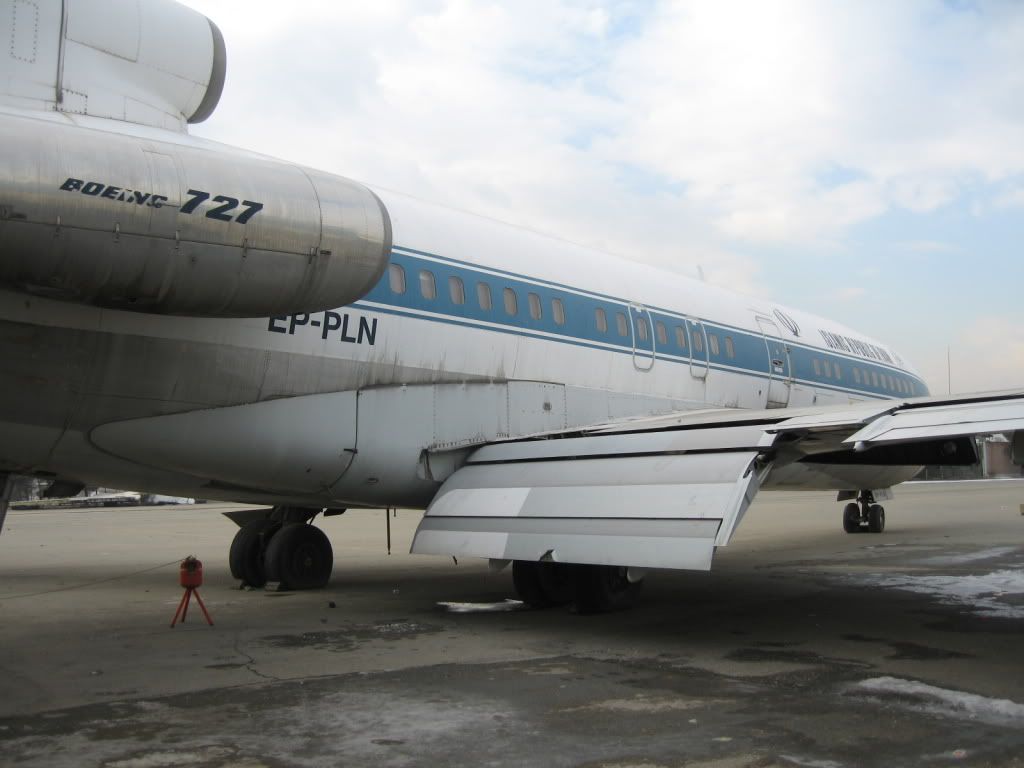 We entered the aircraft the real 727 way - via the aft airstairs which were in the down position. I would still rather have been entering it as a passenger as I never had the chance to fly on the -100 series aircraft. Still, this was a rare opportunity and I savoured every second aboard the aircraft.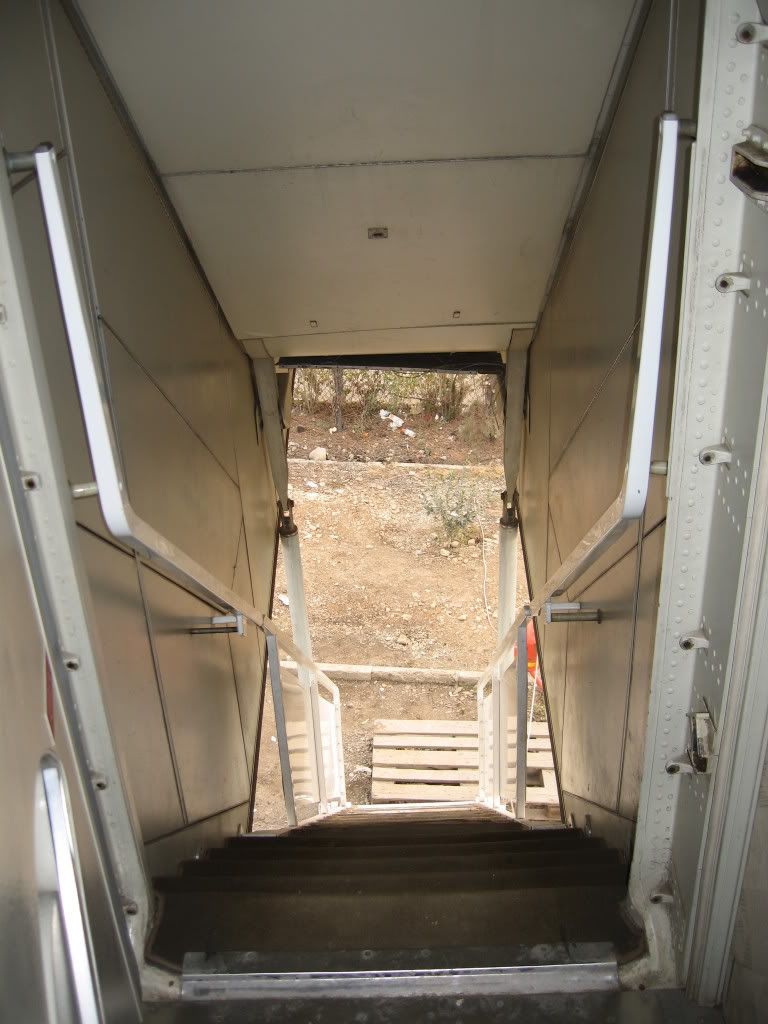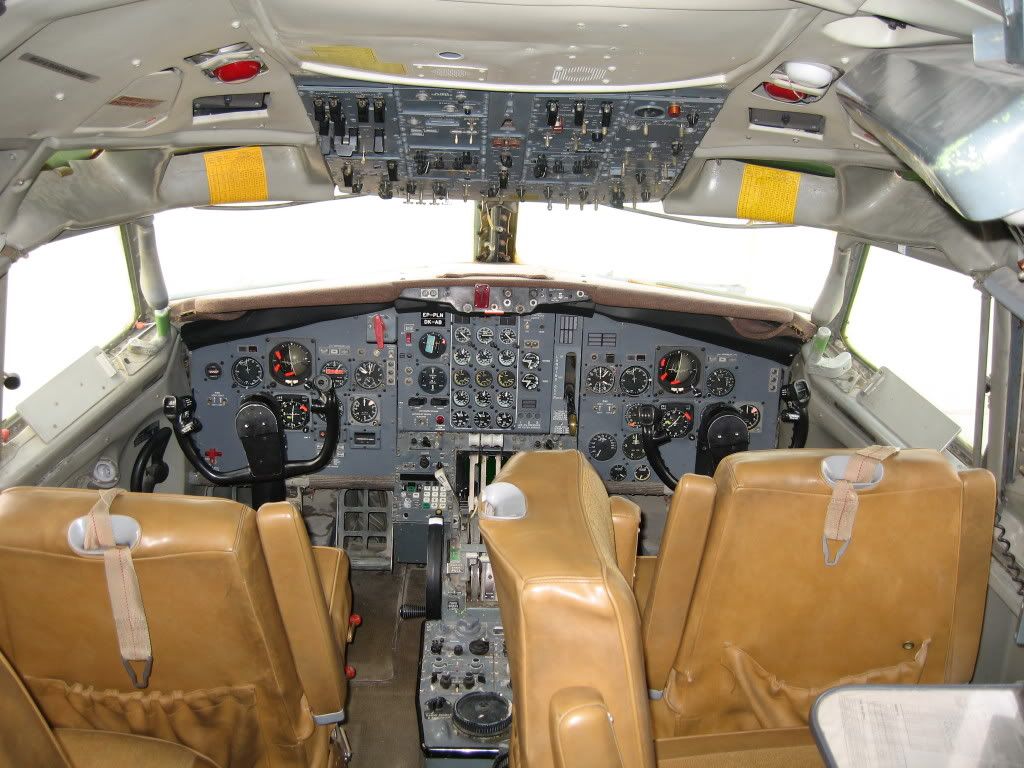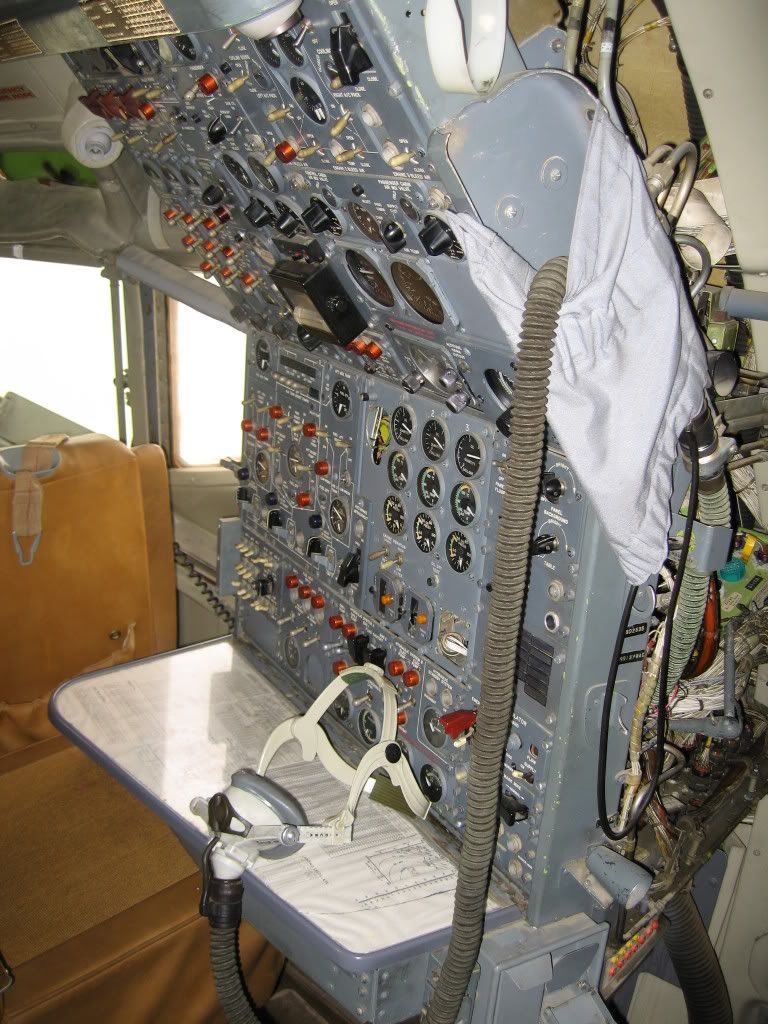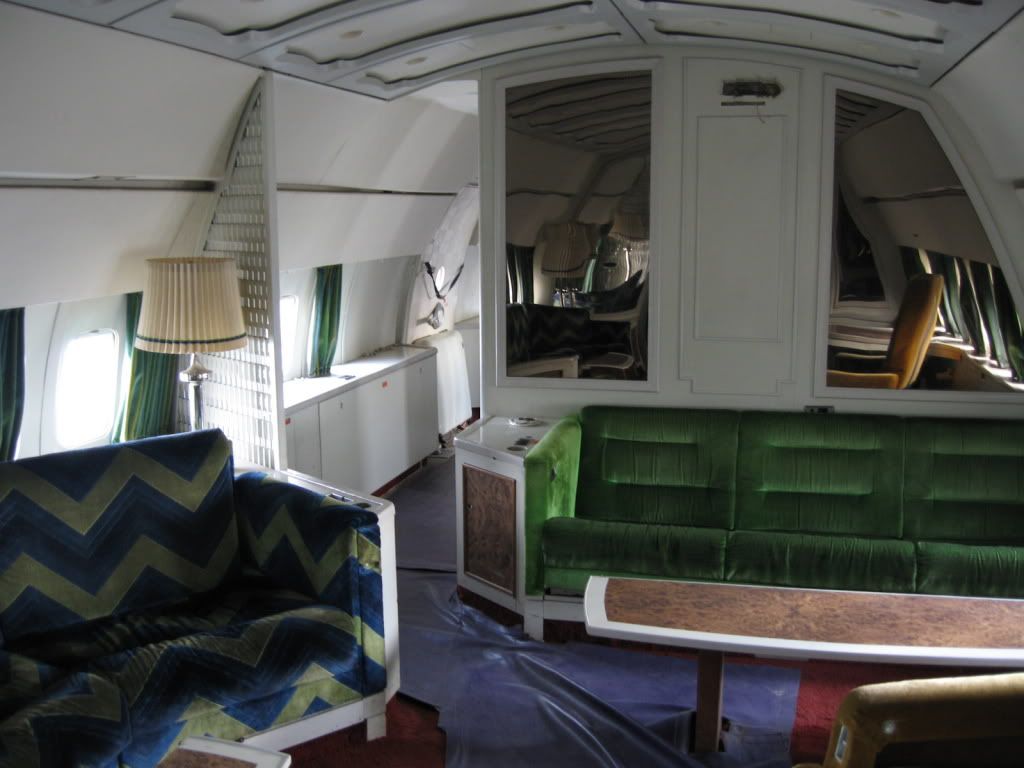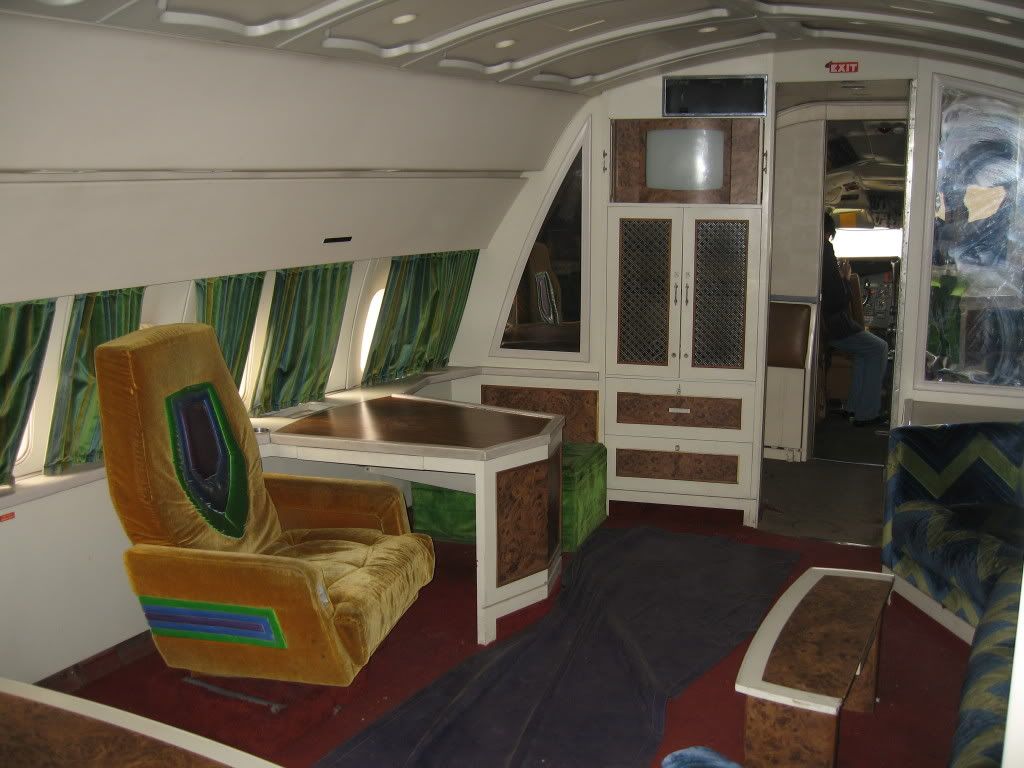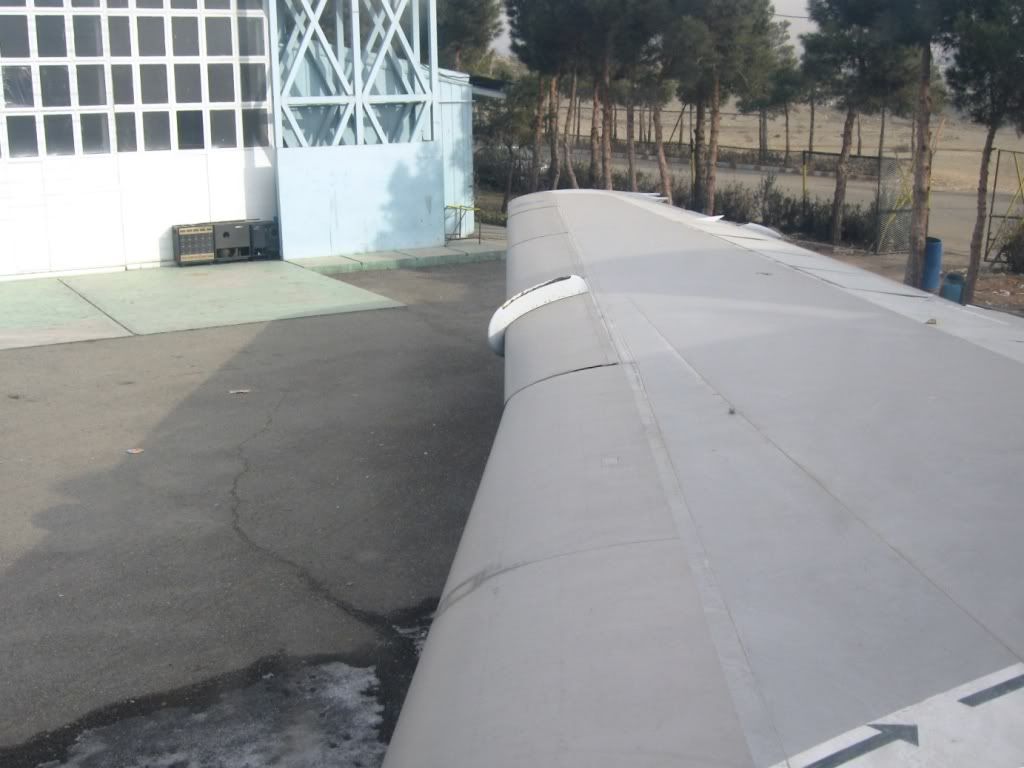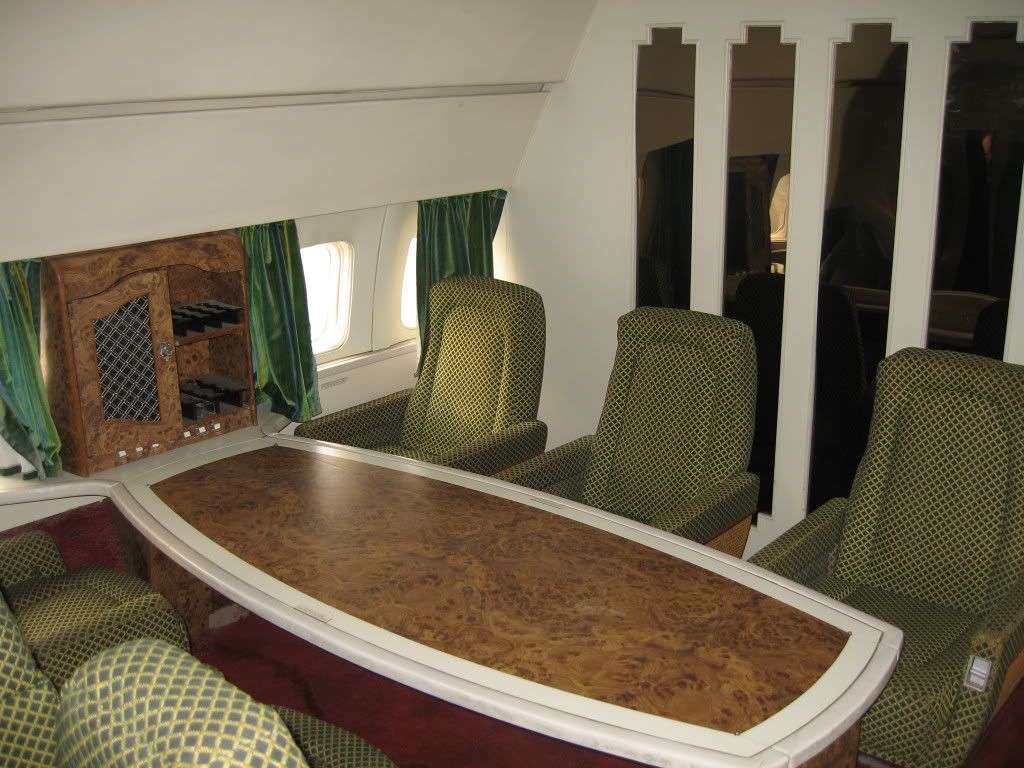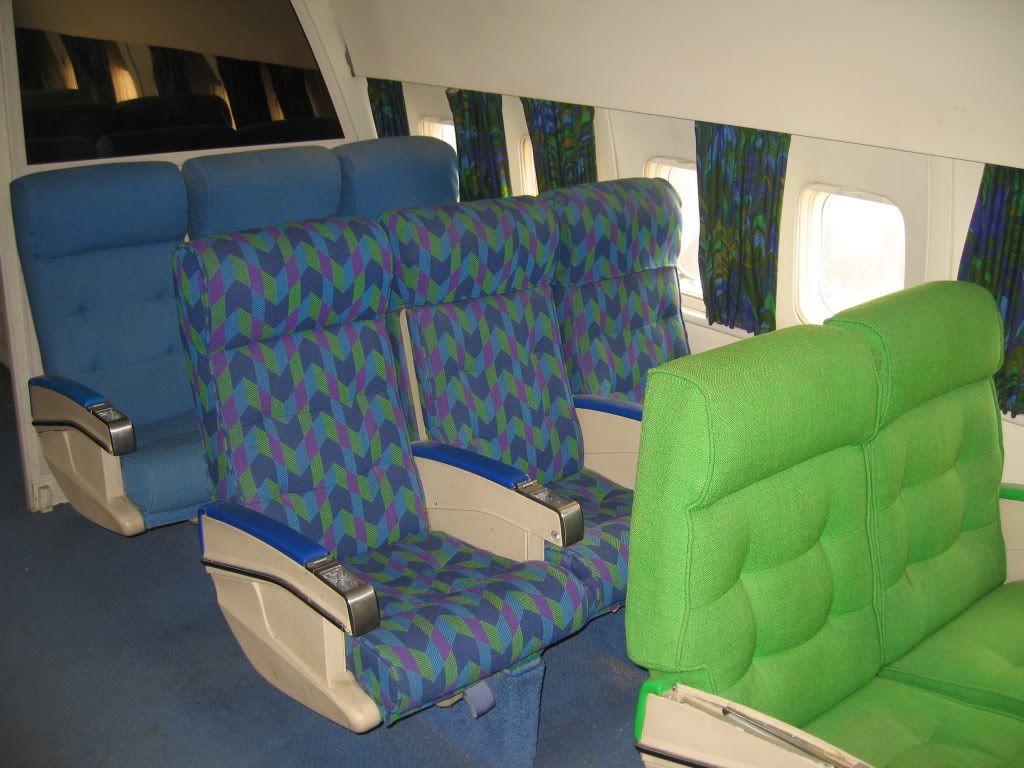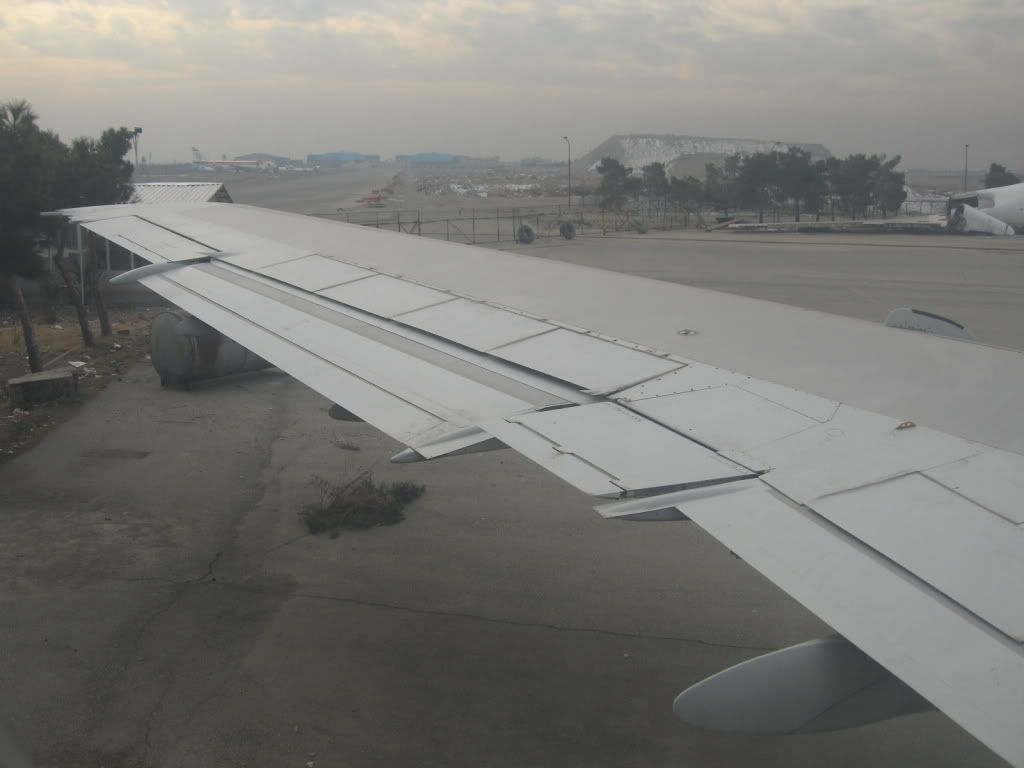 After spending ten to fifteen minutes aboard EP-PLN, it was time to leave. I just wanted to photograph one more aircraft. Luckily, to the right side of EP-PLN we could not be seen and I managed to sneak in a quick shot of an Iran Aseman Fokker F28-4000 Fellowship.
Iran Aseman Airlines, Fokker F28-4000 Fellowship, EP-ASE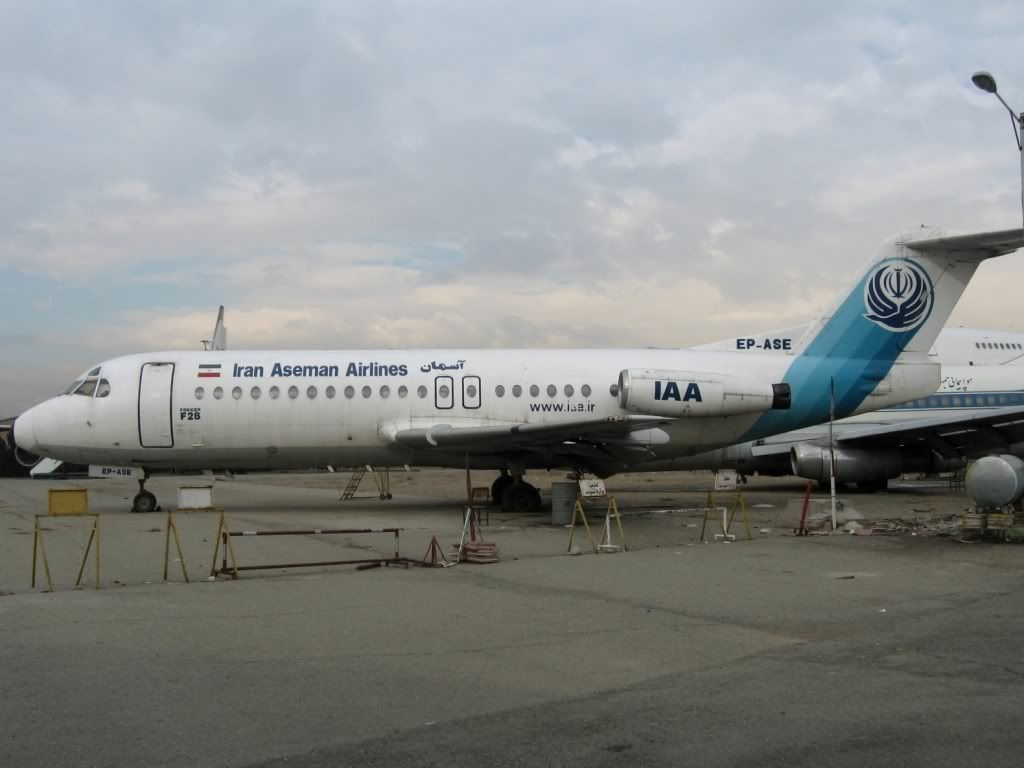 It was now time to leave having seen what we came to see. As it was still a few hours before the flight we went to a favourite spot of my friend where great views could be had of landing aircraft. After ten minutes or so we had watched a couple of Fokker 100s and Boeing 727s landing which was very nice. We then spent a few seconds speculating over what the next aircraft would be as we saw it in the distance and then at the same time we both said "707!". As the non-hush kitted Saha Air B707 screeched overhead a minute or so later I smiled to myself knowing what a memorable day this was going to be.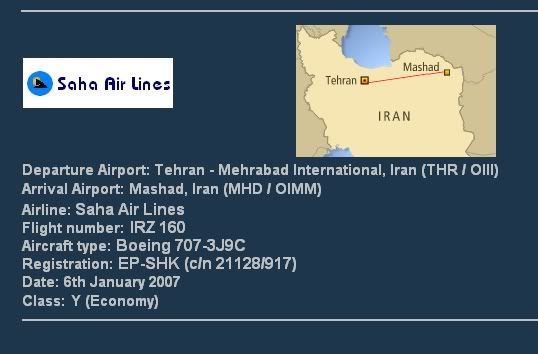 View Large
View Medium


Photo © Shary(Shahram)
We arrived at the airport about an hour and a half before the flight and headed straight for the Saha Air check-in desk. The terminal at Mehrabad is old and provides quite a contrast to the new IKA airport with a constant feel of hustle and bustle. As I mentioned earlier, we had purchased our tickets from the Saha Air ticket counter the previous day. The ticket envelopes even feature the B707.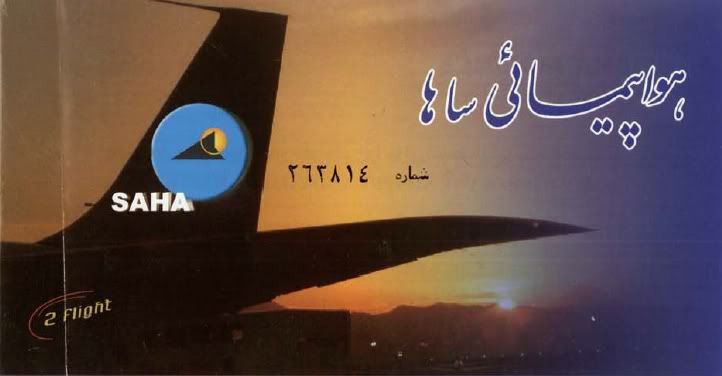 Above each check-in desk are high-quality Samsung monitors which show the airline logo and flight details with excellent clarity. As there was only one passenger in front of us it was not long before we were checked in. Check-in was performed manually using the sticker type seating chart and manual boarding passes. We chose our seats so that we would be forward of the wing and have a nice view of the classic PW JT3D engines.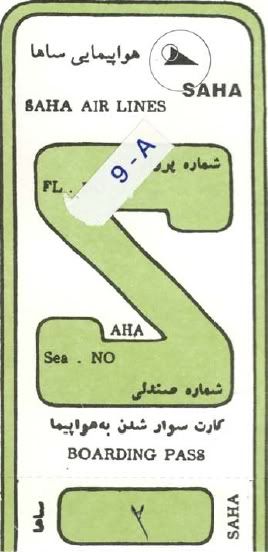 After checking in we sat in the terminal and chatted for a while before heading to the departure lounge. The departure lounge in the domestic terminal is just one large room with several gates – all of which lead out to the coaches. All departures at Mehrabad involve coaching. As departure time edged closer, there was no sign of boarding for our flight. It was only at departure time that the word 'Delay' appeared against the flight on the departure monitors. I was already concerned about the rush we were going to have at Mashad, as we were planning to return to Tehran with the same aircraft. I was hoping check-in would not have closed by the time we reached the desk at Mashad.
It was only a few minutes later that boarding actually commenced, and we were soon making our way onto the Saha Air coach. We both had our cameras discreetly at the ready, but I was much more careful than my Iranian friend, passing the opportunity of some classic aircraft shots as we made our way along the domestic apron and past the international terminal. Still - better safe than sorry.
After a few minutes we arrived at the aircraft, both of us remarking that it was EP-SHK, Saha's latest B707. Boarding this classic was a great feeling and I just had to take a quick photo to capture the moment.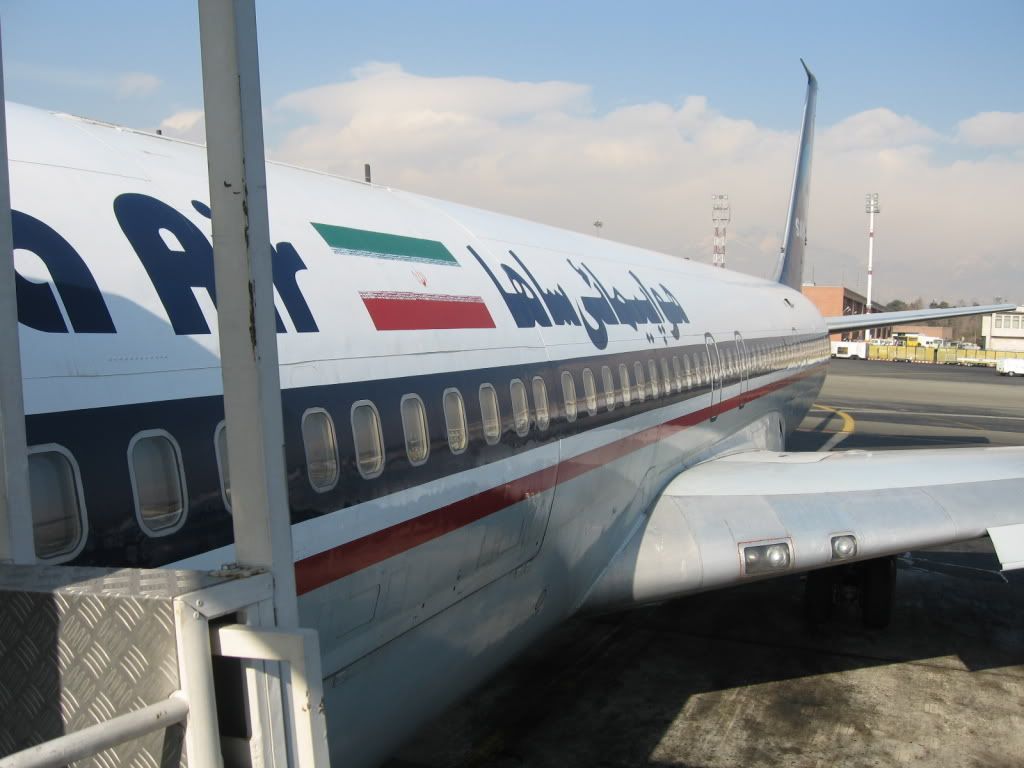 Entering the aircraft was like a trip back in time. Before we entered the main cabin we passed through the classic 'lounge' with seats facing each other over a table. This was now just used by the security guard. We made our way to our seats but as always seems to be the case when I travel, someone was sitting in my seat. Knowing that the load on the flight was light I took a different seat across the aisle and ended up staying there as no one else tried to claim it. I also had three seats to myself which was an added bonus.
The thing which surprised me most was that as the aircraft was parked on an open stand I was expecting to hear the JT3Ds whining into life, but we were soon on the move without me having heard such a thing. I assumed that the only noise I could hear was the APU but it became apparent as we taxied faster that we were not being towed but in fact were taxiing. It really surprised me not to be able to hear the engines starting.
Whilst taxiing one of the cabin crew made a PA in both Farsi and English and even made reference to 'this Boeing 707' during the PA. She spoke English quite clearly and I was impressed by this touch. After a somewhat fast taxi out we were soon lining up for take-off. After lining up, the parking brake was set and the engines roared into life.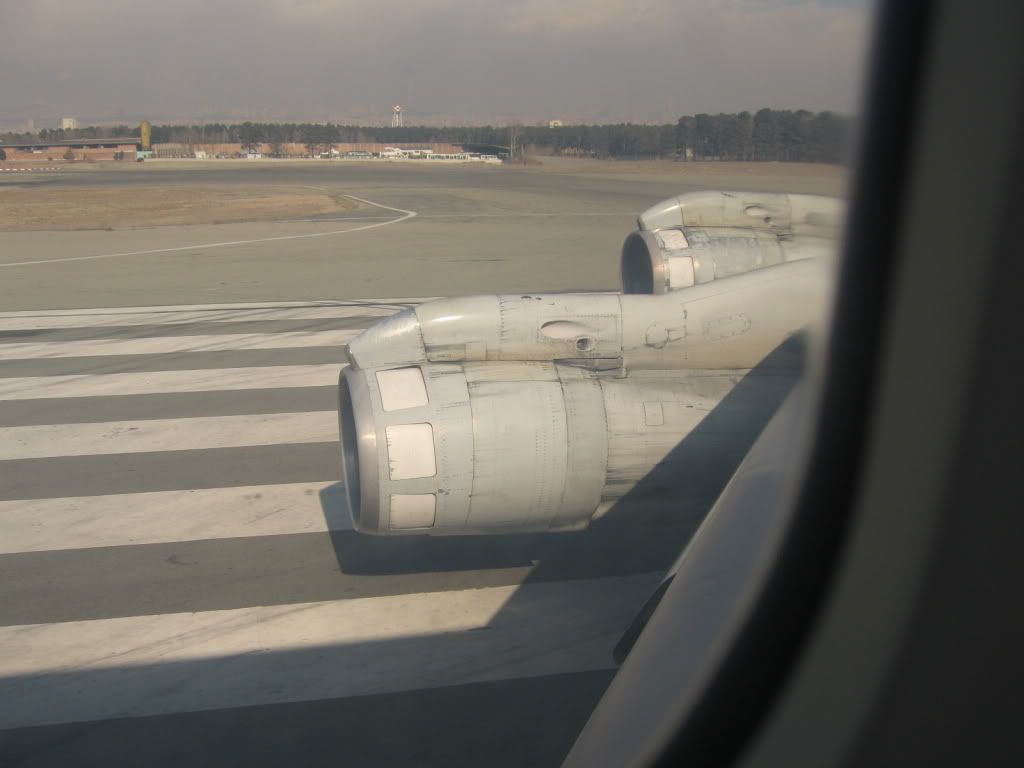 The sound was incredible. After what seemed like quite some time, the brakes were released and 'HK was soon thundering along the runway and climbing out over Tehran. After take-off the aircraft made a long bank to the left.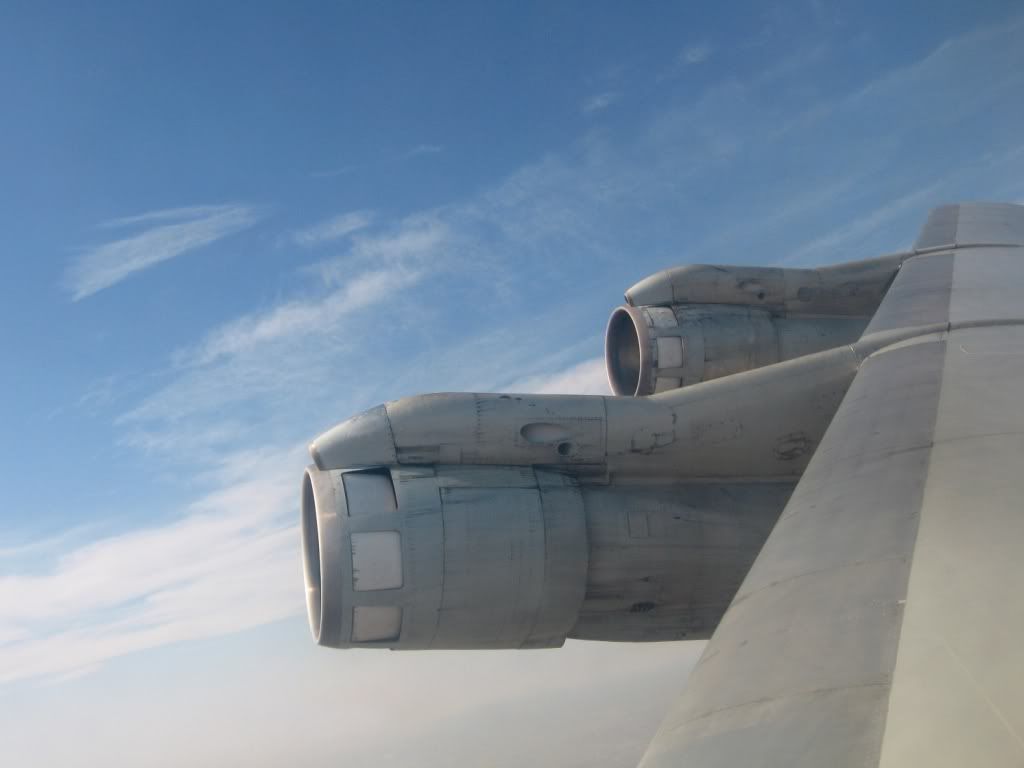 Unfortunately I was now sitting on the wrong side of the aircraft for photographs as the sun was on the right hand side as we headed towards Mashad.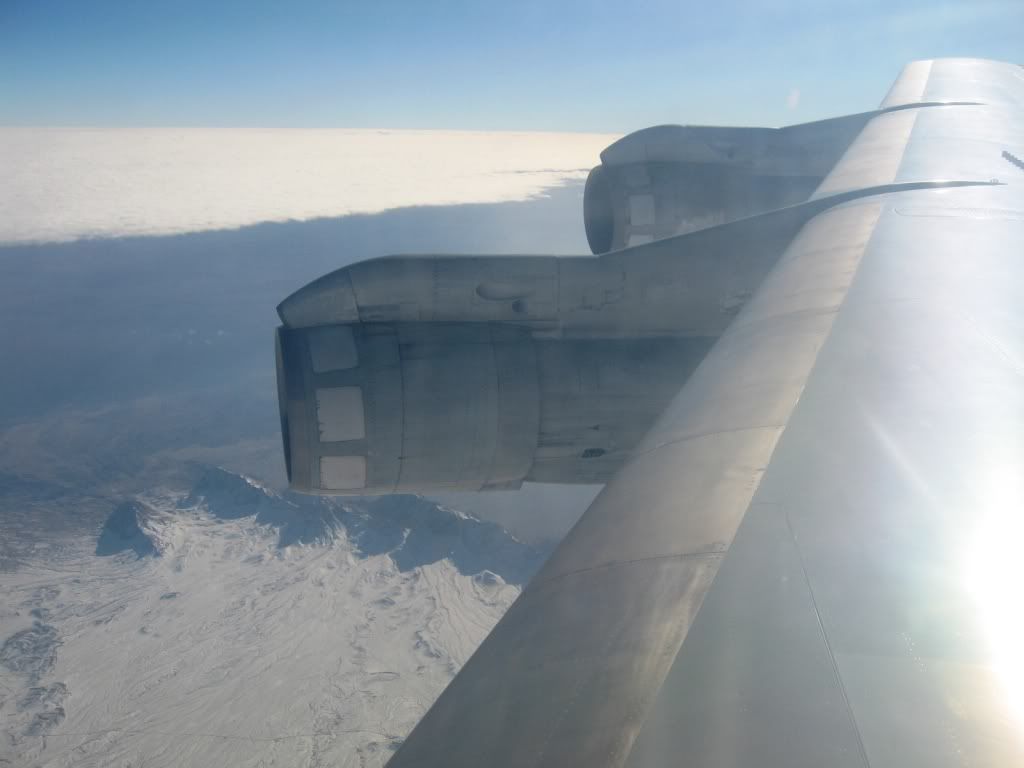 It was very much winter in Iran and the snowy peaks and landscapes below made for a very pleasant sight.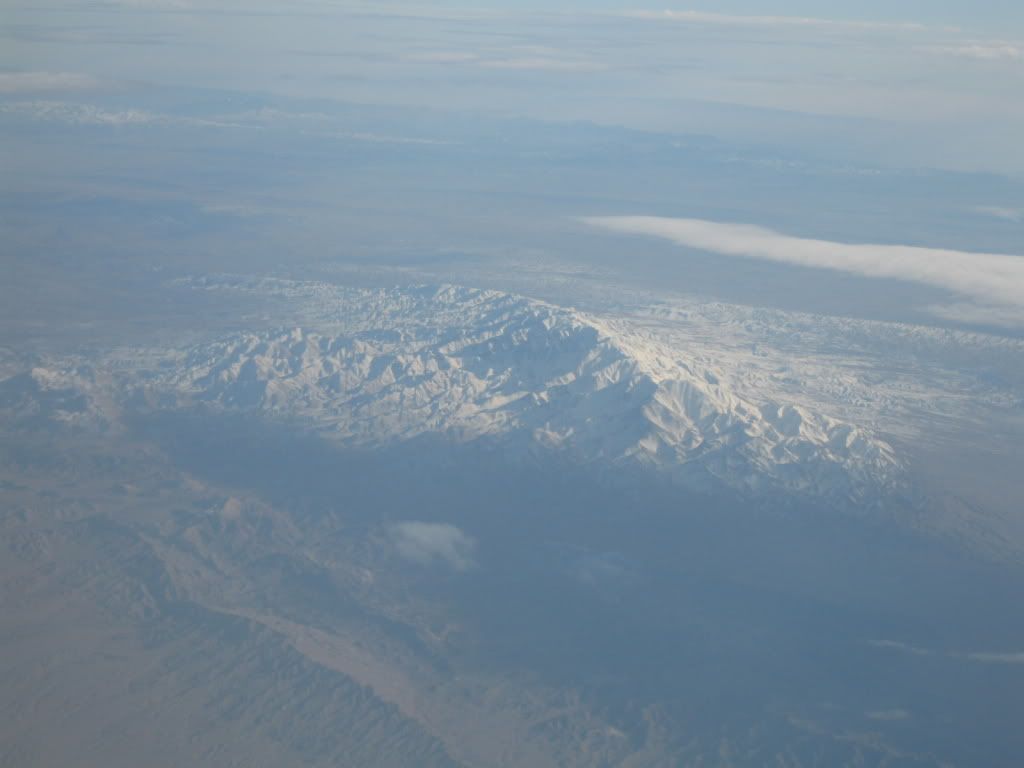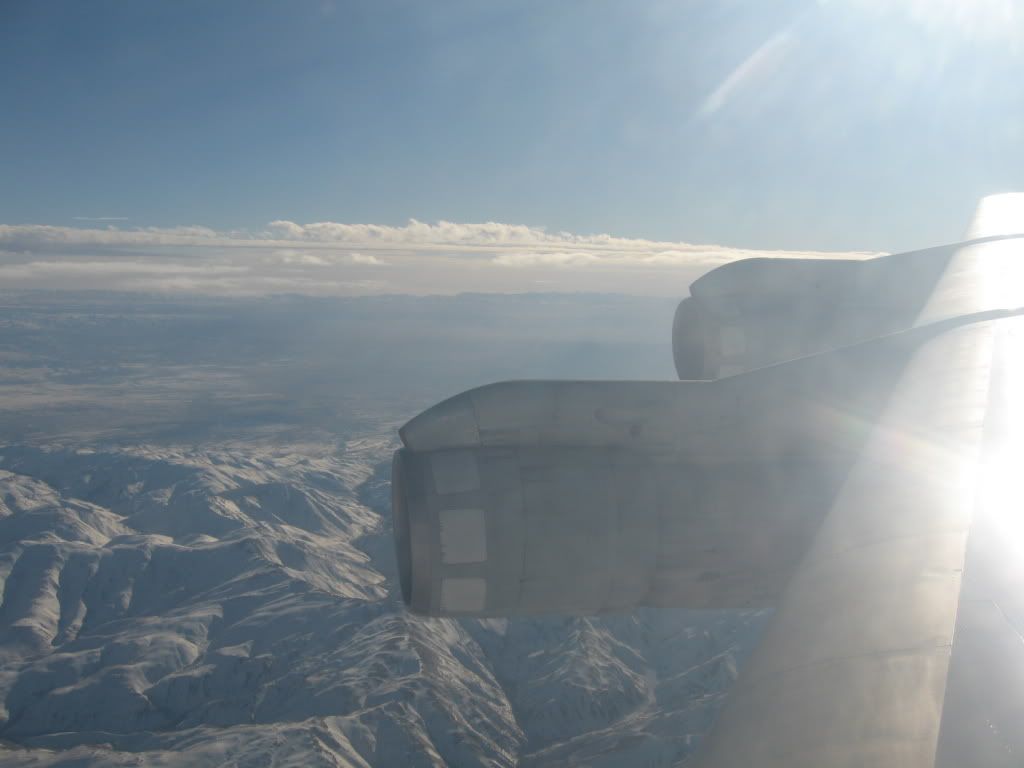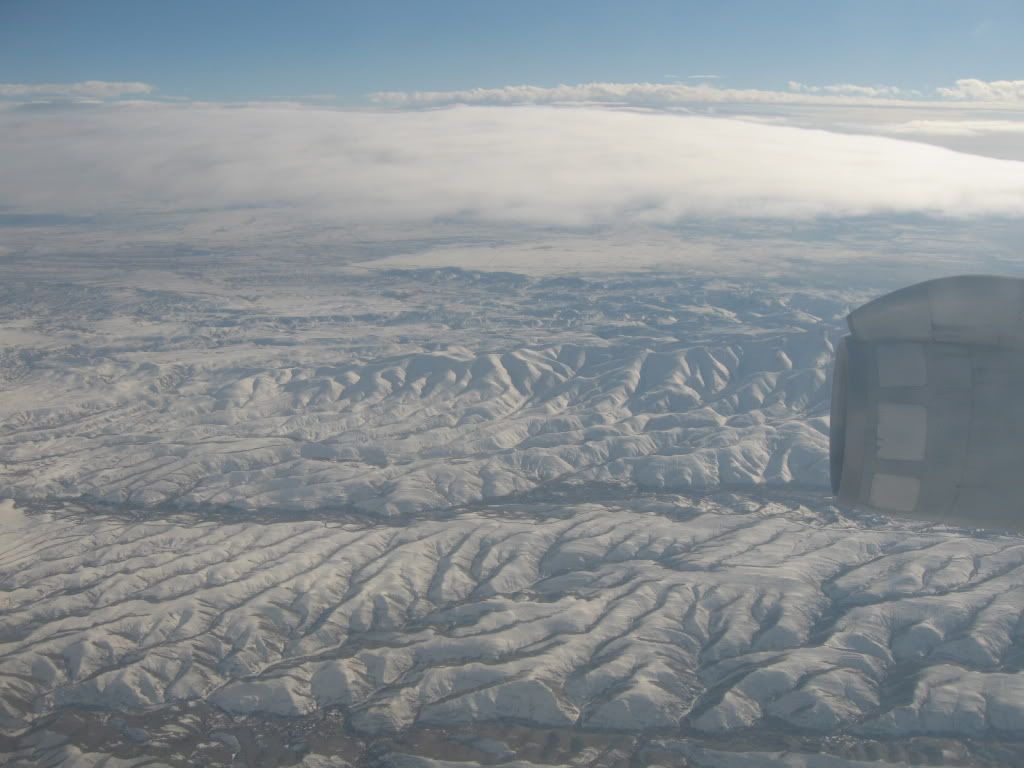 I had no idea what to expect in the way of inflight service but I was certainly not unimpressed. A hot lunch service was provided which included typically Iranian chicken kebab with rice and fries. It was very nice and more than I expected on such a short flight. Also, all of the sachets and napkins were adorned with the Saha Air Lines titles and logo.
I don't remember anything particularly noteworthy about the rest of the flight – I think I just kept my face glued to the window and it was not too long before we started our descent towards Mashad where there was more snow on the ground than back in Tehran.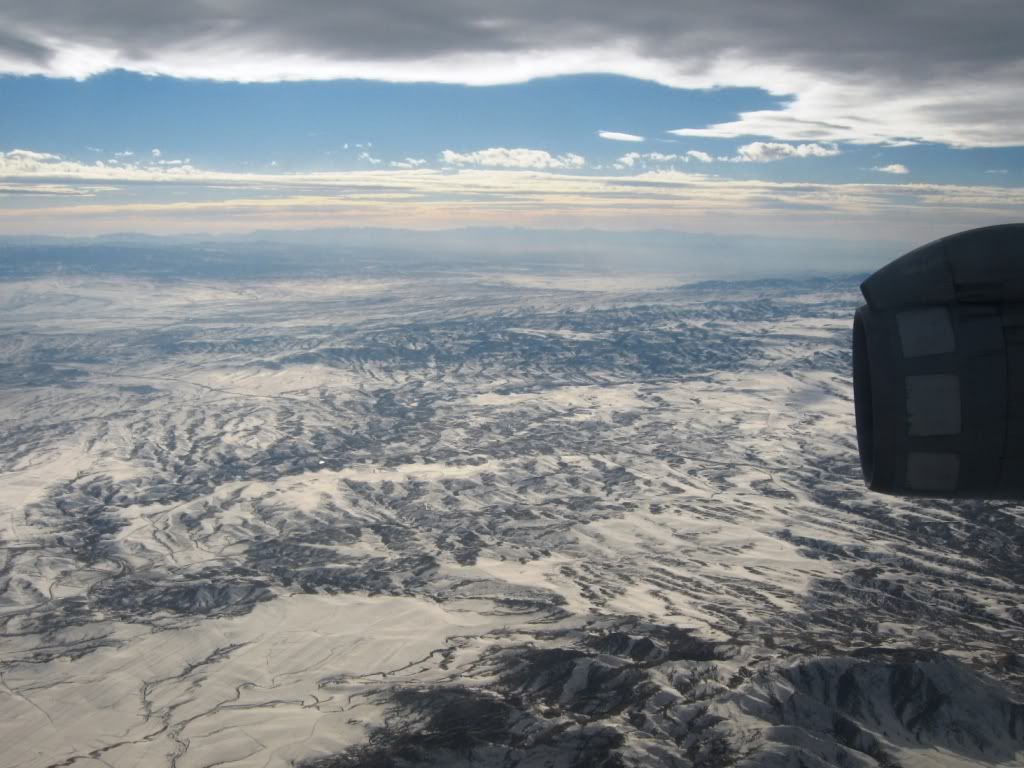 During the descent we made a long bank to the right and I managed to take a short video which includes some beautiful sounds from the JT3Ds.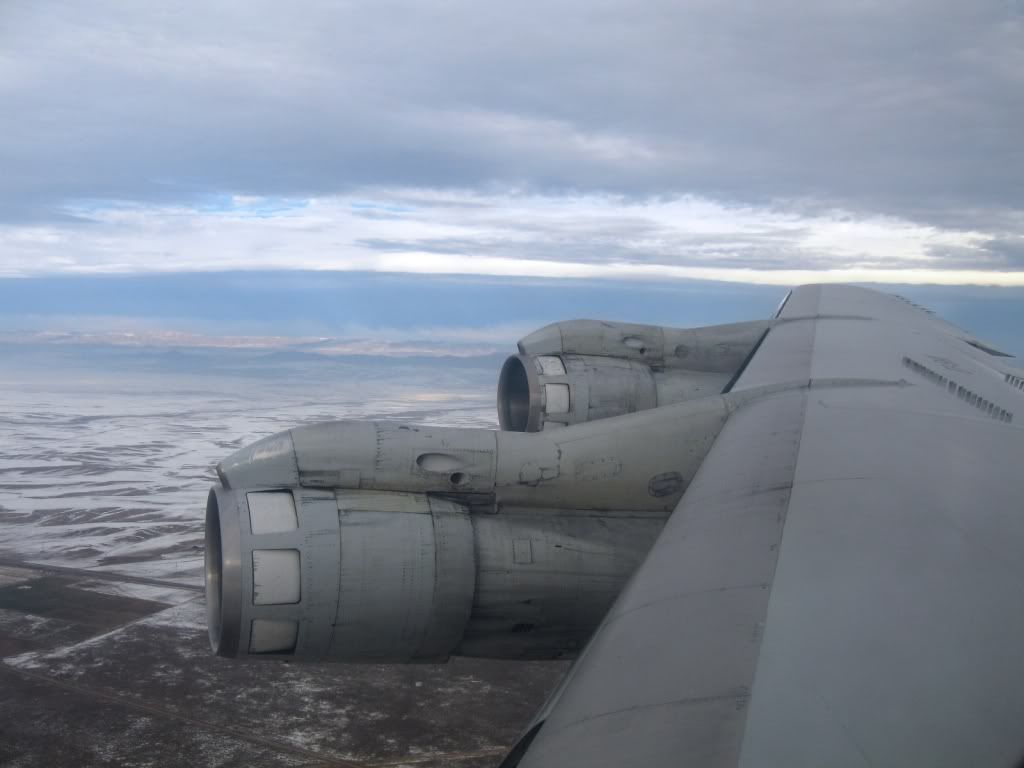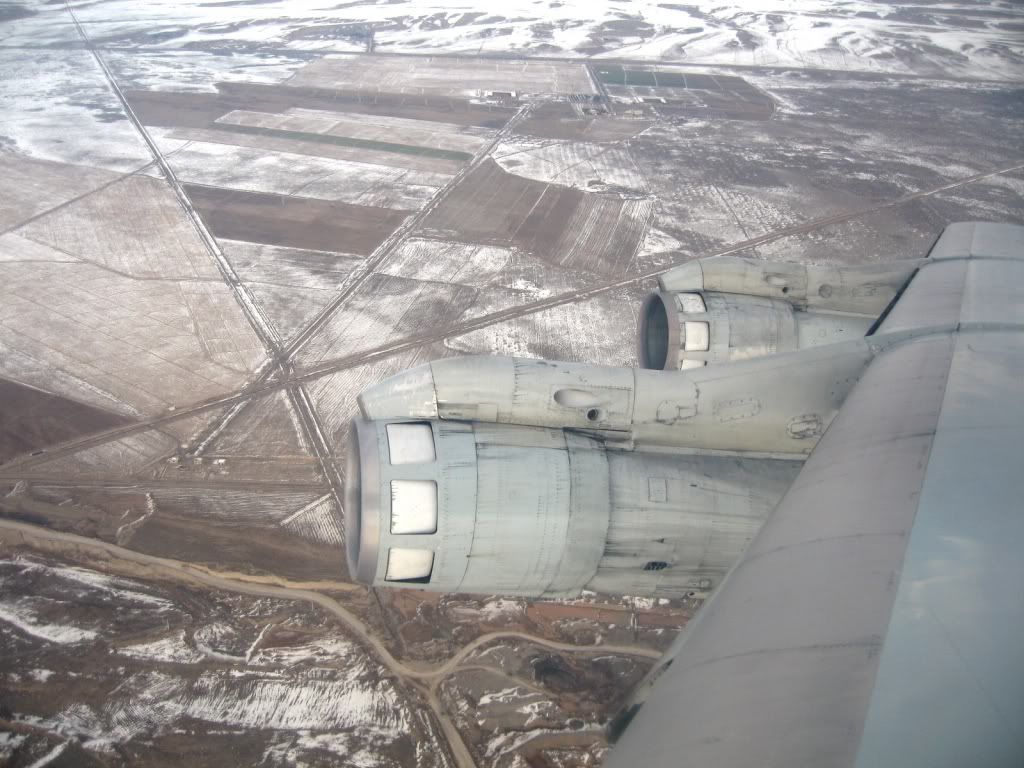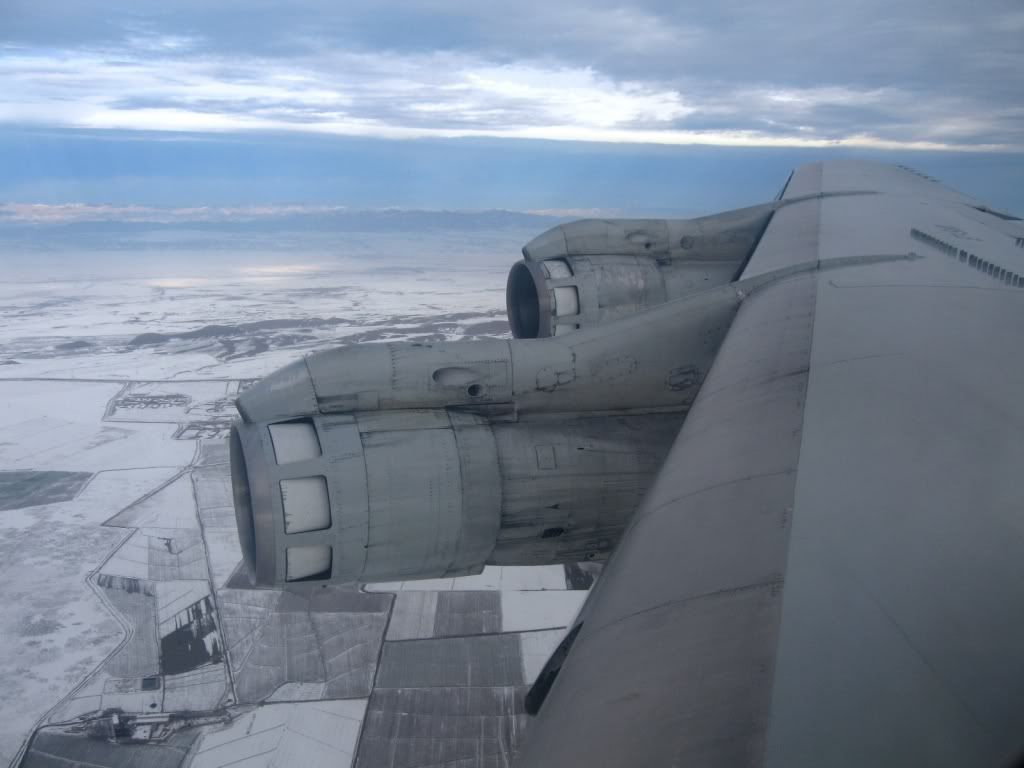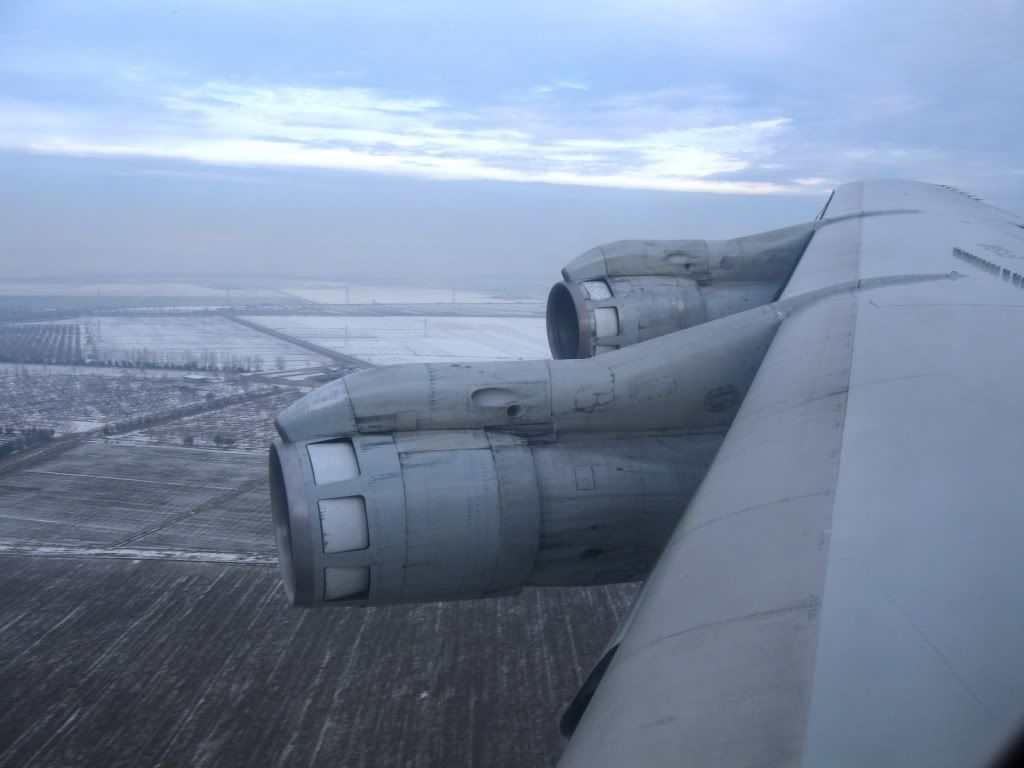 We touched down at MHD not too far behind schedule and the aircraft hastily taxied to the apron where there were a few other aircraft including a couple of TU-154s. Before we disembarked we asked if it was possible to take a look on the flightdeck. We were granted permission but were told we could not take any photographs. After a couple of minutes on the flightdeck we disembarked onto the apron and headed straight out of arrivals and straight to the Saha Air check-in desk. Luckily it was still manned and there was a gentleman checking in ahead of us. The check-in agent was clearly in a hurry due to the time before departure and checked us in within seconds. We then headed through security to the gate where the return flight was already boarding.
[Edited 2007-04-21 00:08:15]