Jetstar / Valuair VF 505
Changi International Airport (SIN) – Soekarno-Hatta International Airport, Jakarta (CGK)
Airbus A320-200 (9V-VLB)
Seat 26A
ETD: 1955H
ATD: 2012H
ETA: 2125H
ATA: 2150H
Duration: Approx 1h 35min
19 April 2007
Background to this trip…
I travel to Jakarta so often that it is almost like 2nd nature now. That city almost feels like another home to me and I have always flown there on SQ. Back and forth so many times that I have since stopped writing anymore reports because of the repetitive nature of the flights – and the catering… yucks!
However, this time was a little different as this trip was a personal one – to attend a funeral of a loved one. And since I had to pay out of my own pocket, the cheapest option available for a last minute ticket was via the Jetstar website.
Received the horrible news on Wednesday, and the whole of Thursday was spent at the office trying to arrange for a plane ticket while juggling work commitments. Thank god I work at the airport so I just left my car there at the end of the day and got a lift from a colleague to Terminal One.
Why the need to write this report
I last flew Valuair in June 2004 when they were only 2 months old. There was an air of excitement brimming on all the employees back then. However, things have changed very drastically since. They are now no longer the only budget carrier in Singapore as two others have formed. What's worse, they are also no longer a sovereign carrier having joined hands with Jetstar slightly more than a year back.
To make things sound nice, it was described as a merger. However, we insiders know that Valuair was bleeding to death since its formation, and Jetstar could not get the rights to fly to Indonesia. So this was a marriage of convenience and the brand of Valuair was retained in order for Jetstar to continue ops into Indonesia (CGK, DPS and SUB).
This report aims to compare the Valuair of yesterday, to the one of present day and see the changes that have occurred since.
Departure day…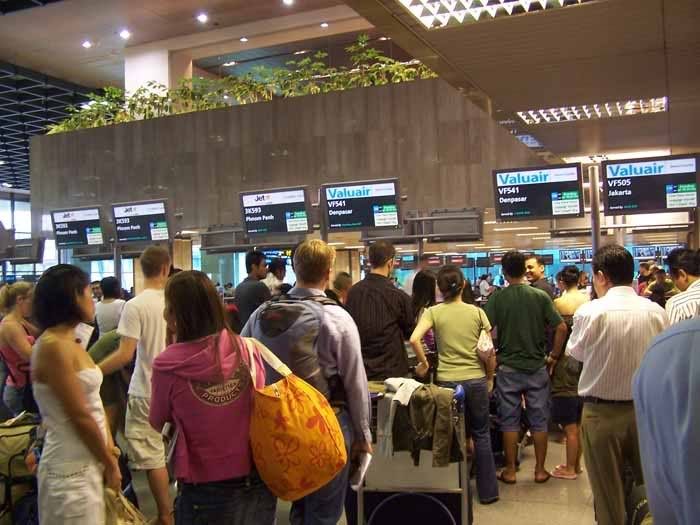 Ever since the "merger", Valuair has been using SATS as their ground handling agent similar to Jetstar. The scene was a little chaotic at check in because the lines were not clearly formed. People were walking about asking those in line where were they going to before deciding if they were in the correct queue. Not a good first impression…
Check in was for flights on Jetstar and Valuair bound for Phnom Penh, Bali and Jakarta.
Since I booked the ticket online only a few hours ago, I could not use my credit card but had to pay cash. I was failed to be informed that payment had to be made before I checked in. Therefore, only when I got to the beginning of the line was I then directed to the services desk at the side to make my payment. As frustrated as I was, after making a fuss about the lack of signs, all the SATS employees could do was shrug their shoulders and whisper among themselves "There goes another diva…"
Despite what happened, I was still able to secure a window seat at 26A. The loads must have been light for this flight being a weekday evening.
Paper itinerary and boarding pass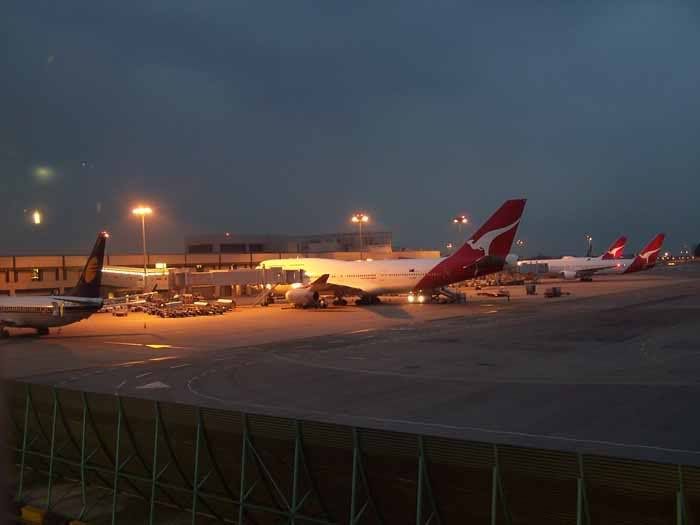 Tarmac scene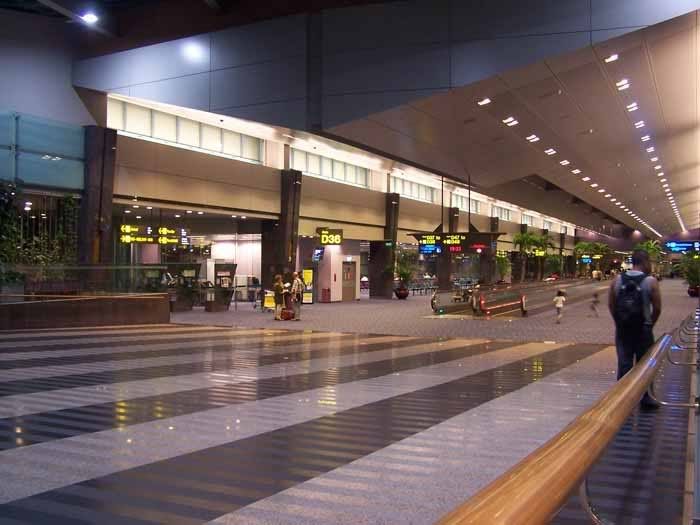 Departure gate assigned was the furthest possible D38. Boarding was called at 1950H for a supposed ETD of 1955H. We all knew that was not going to happen!
Best shot I could get of 9V-VLB from the boarding lounge of D38
"Hello, Sir! Welcome on board…. Jakarta? Visiting?"
That was a warm welcome given to me by a very motherly looking Josephine. She was obviously the leader for tonight's crew as she later identified herself over the PA using a very QF-esque title, Customer Service Coordinator. She was probably in her late-40s and the Jetstar Star Trek inspired uniform looked almost ridiculous on her. A more subdued outfit with Mandarin collar and dark pants would have suited her better. I noted that despite the uniform, they were all wearing Valuair nametags.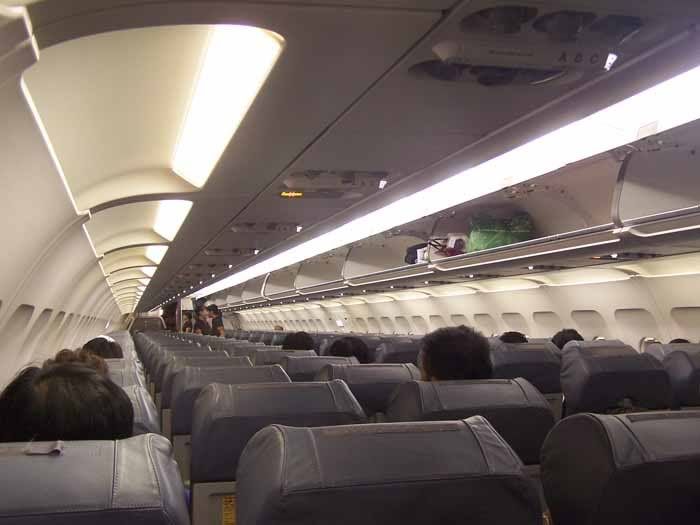 Josephine is standing at the entrance
Raheeda was standing further down but did nothing to help us with our seats.
2 more members of the crew appeared out of the galley, Orange (what a cool name!) and Fanny, who at least appeared to ask the passengers if they knew where their seats were located.
9V-VLB was my ride tonight. When I first flew them back in 2004, the aircraft was factory fresh and now, it seemed jaded and frayed. The leather fabric was sagging in places and was screaming to be moisturized big time.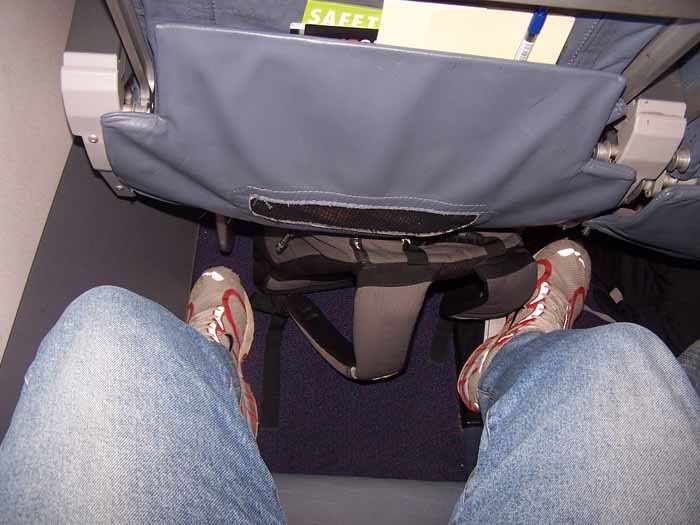 Pitch is still great as before, but the condition of the leather looks really bad.
2000H: "Ibu ibu dan bapak papak…" The Indonesian announcements tonight were done by Raheeda but in a malay accent.
After the welcome announcements were completed by the flight deck and Josephine, the doors were finally armed at 2010H and pushback 2 minutes later, almost 15 mins behind schedule.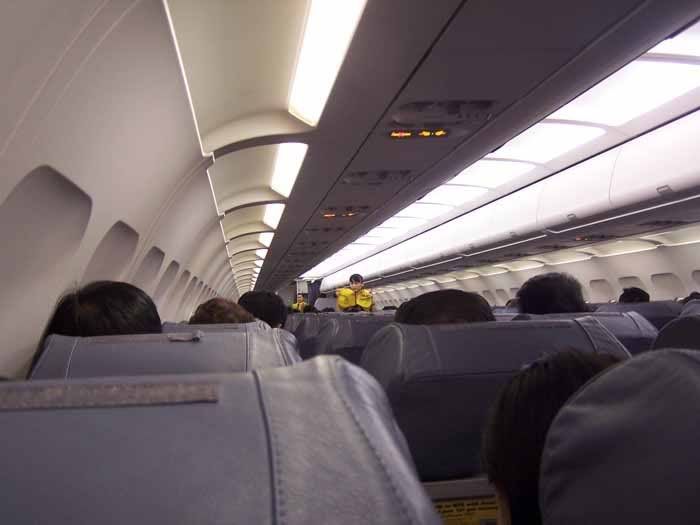 Raheeda and Orange have the honours of demo-ing tonight.
After the safety demo, Josephine walked down the aisle and mumbled "short taxi, short taxi" to Fanny and Orange along the aisle, presumably referring to the short taxi time to Runway 20C.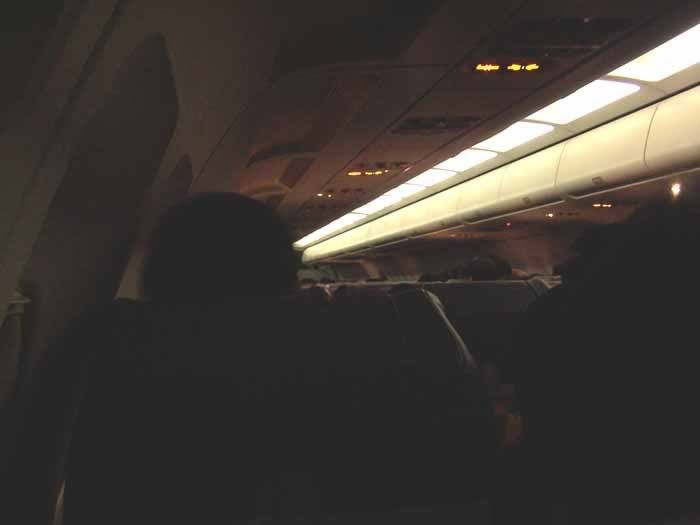 True enough, the lights were soon dimmed and engines revved at 2025H. Take off soon followed behind a SQ 777-200 and a QF 747-400.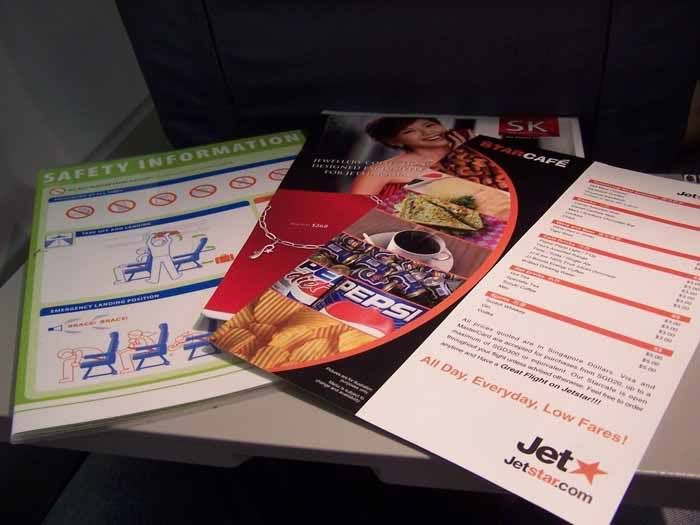 The cheekiness of Valuair still permeates occasionally…
2034H: Once steady on a gentle climb, the seat belt signs were pinged off and the lights came back on. Surprise, surprise… Josephine came on the PA and announced that they were soon serving complimentary meals! This was a welcome gesture as I thought that Valuair would go down the road the rest of the budget carriers as well without any free food.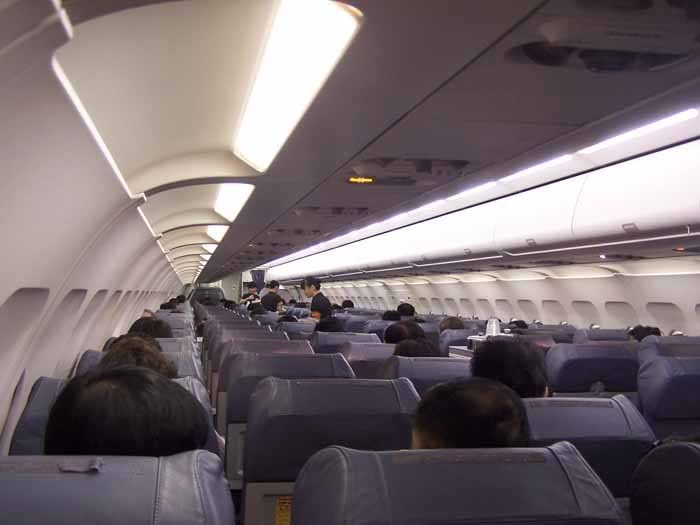 2045H: Fanny and Orange man the aft half of the aisle with a meal cart while Josephine and Orange take care of the front.
"Char siew…? Char siew, anyone?" Fanny gives out pieces of napkins and proceeds to place a piece of char siew filled pastry on top of it. For those uninitiated, char siew means sweet barbequed meat in Cantonese. There is also a choice of coffee, tea or water.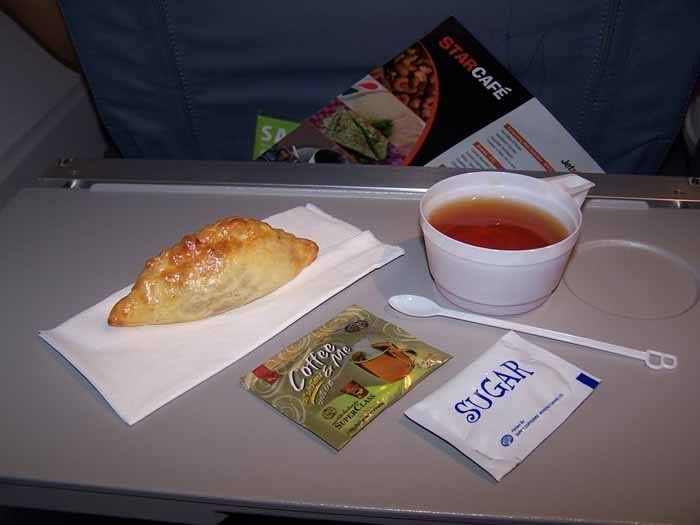 Although the pastry was tasteless and the origins of the meat rather mysterious (chicken or pork?), one must be grateful that frills like these are still commonplace in our competitive environment.
2120H: FL 320, 120 miles from CGK.
The first signs of descend were felt as the flight deck announced that we were nearing our destination.
2125H: Cabin crew prepare for landing.
The seatbelt sign pings on as the plane continues to descend. Meanwhile, the cabin lights are darkened as per regulation.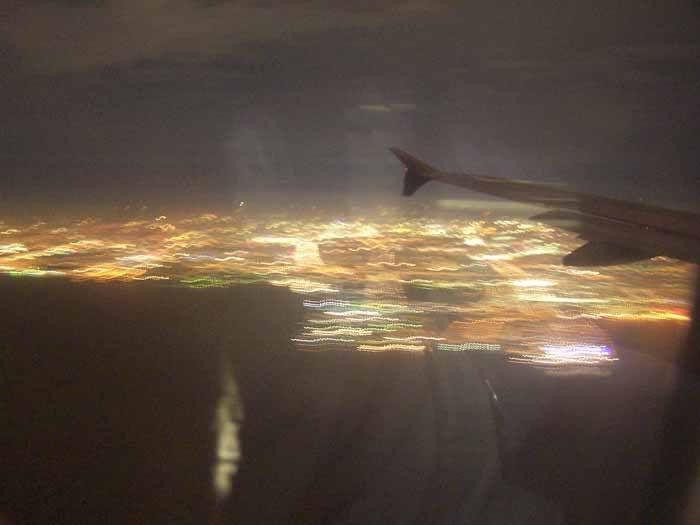 The shoreline that made out Jakarta and her busy port shimmered outside my window as the familiar sights of Tanjong Priok and Cengkareng welcomed me back again under vastly different circumstances.
2144H: Gears lowered
Touchdown was on the perennial Runway 25R like almost all international flights into CGK. The usual suspects of a CX A330, JL 747-400 and a KE 777-200 were seen milling about followed by the same smattering of the supposedly "unsafe" Garuda jets of the 737 and A330 kinds. In the dark corners of the apron, the Adam 737s were lurking and I curiously saw one BMI Baby 737-400 parked together with the Adams. Is there something going on here?
2150H: Local time is now 2050H and we come to a stop at Gate D5, next to the JL 747-400.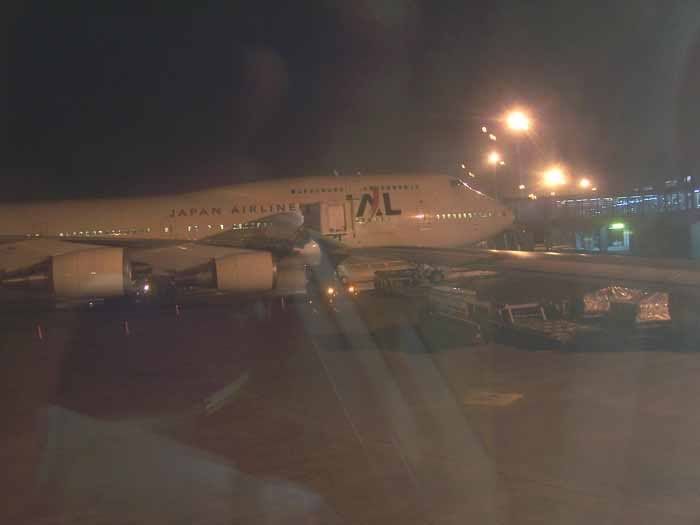 Scores:
Departure: 4/10…
I get a strange feeling that SATS is sidelining Valuair with the kind of half-beat service that they provide. Chaotic check in, lack of proper signage for cash payments and indifferent staff, all amount to an experience that is really un-Changi.
Inflight service: 6/10…
I am comparing this to the Valuair of the old. Gone are the crazy crew, gone are the jokes over the PA, the singing, the dancing… Gone… all gone. Now the service is back to the old-school prim and proper SQ-like poise. While not bad, it is not warm. Marks given here are all entirely to the credit of Josephine only, who provided an inkling of service.
Meal: 9/10…
The only reason I am giving this quotient a score, is that a meal was actually given at all. This is supposed to be a budget flight, remember? This mark is not indicative of the quality of the snack.
Arrival: 10/10…
Probably it was that time of arrival. But can you believe that I cleared immigration and customs, and was out of the airport within 30mins? This is CGK we are referring to and to me, that is a feat of achievement.
Overall: 72.5%
As Jetstar prods along the LCC business from Singapore, they have all but left a shell that is a former existence of the cheerful carrier that I once knew, Valuair. Only the plane retains the corporate colours, while the crew manning the aircraft all hail from the former. The cabin looks sad with their sagging grey leather seats that have seen better days and somehow still retains the distant echo of faint laughter from the old Valuair crew in their dark blue polo t-shirts and kaki pants, all up in arms singing and entertaining the laughing passengers.
I cannot help but feel a tinge of sadness as I stepped out of the A320 of what used to be a great airline, but is now nothing but a lifeless puppet that has no soul.
RIP, Valuair…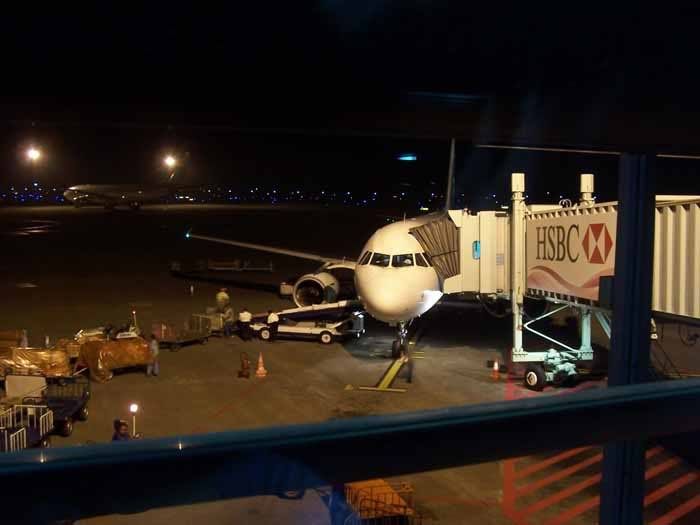 For the benenfit of comparison, I have included links to 2 of my former Valuair reports written in 2004 to give readers an idea of of the vast difference. Note that the photos are no longer there...
S'pore to Bangkok on Valuair
Bangkok to S'pore on Valuair