AA1250
AUS-DFW
MD-82
N75024

Departure Gate: 17
Scheduled Departure: 0640 local
Actual Departure: 0832
Departure Runway: 35L
Airborne: 0842
Route: AUS AUS2.LZZ JEN.JEN8 DFW
Cruising Altitude: FL230
Arrival Runway: 36R
Touchdown: 0916
Scheduled Arrival: 0740
Actual Arrival: 0924
Arrival Gate: A13
Seat: 4F First


Remarks:
I woke up at about 0605 for my scheduled 0830 departure to DFW on AA1067. The first thing I did was check the flight status on
www.aa.com
only to see that my flight was delayed 30 minutes to 0901. That would only give me 30 minutes in DFW, which would be plenty, but I'd rather be safe than sorry. I get to the airport about 0700, and ask about getting on an earlier flight. She said there were no F seats left, so I just take my boarding pass for AA1067, departing out of gate 14. I go through security, and with so much time, decide to head up to the Admirals Club, where I decided to fork over $50 for a day pass. (worst investment of my life, I was in there for about 15 minutes lol) While asking if I should buy one, the nice front desk lady asked me what flight I was on. I then mentioned my concern about the connection, and she told me there were 3 open F seats on AA1250 (I was confused/surprised), and I decided go ahead and get on that, knowing my bags wouldn't be far behind on my scheduled flight. The flight pushes back nearly 2 hours after scheduled, but as far as I was concerned, it was 15 minutes early (all the departure boards said Now 0847).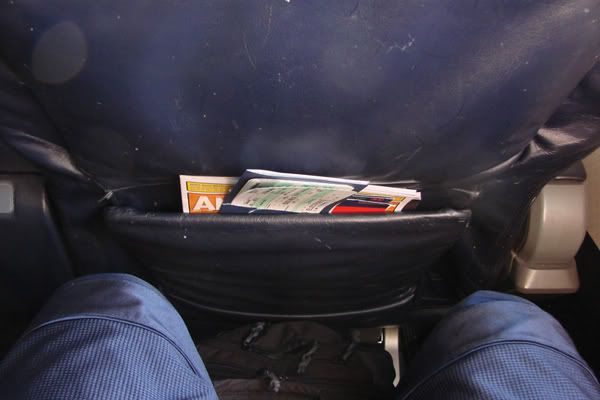 legroom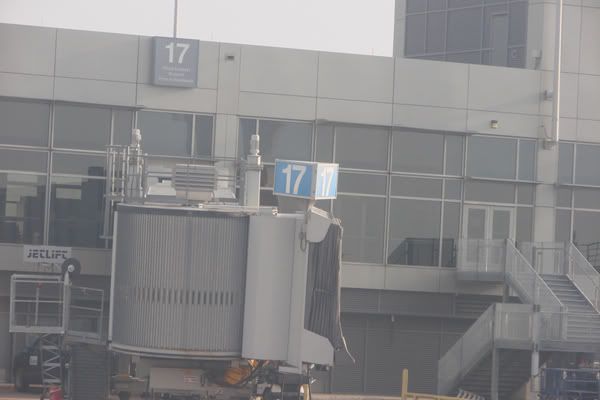 our gate
10 minute taxi to 35L and away we go.
Smooth, quick, uneventful flight up to DFW. Full beverage service in F with Biscoff cookies. Straight in approach to 36R, quick taxi across the bridge to A13.
New Dallas Cowboys Football Stadium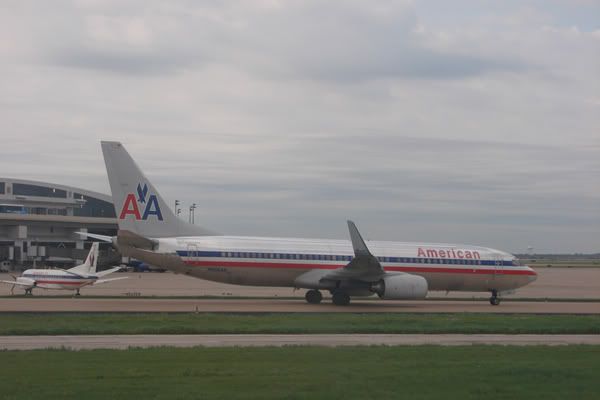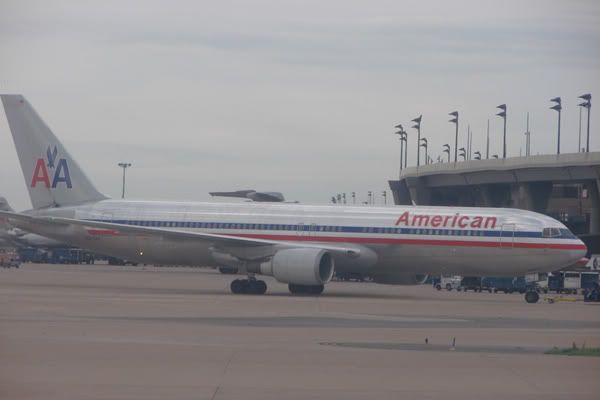 shots during the taxi
Connection at DFW:
I had about 35 minutes before the flight was scheduled to board, and my arrival gate was right below the Skylink station, so I hopped on over to Terminal D. I bought a $70 pair of Sony Noise Canceling headphones (they work well!) and made my way to D17.
AA2063
DFW-CUN
757-200
N624AA

Departure Gate: D17
Scheduled Departure: 1030 local
Actual Departure: 1030
Departure Runway: 36R
Airborne: 1101
Route: DFW NEYLN2 ACT SAT LRD MAM MID CUN
Cruising Altitude: FL410
Arrival Runway: 12
Touchdown: 1358
Scheduled Arrival: 1305 local
Actual Arrival: 1405
Arrival Gate: remote stand
Seat: 4A, 4F C

Remarks:
Nice chat with the pilots (even though the FO was an Aggie), found out that this was going to be a LONG flight. There was a big weather system over east Texas and the Gulf of Mexico. Scheduled flying time is 2 hours and 51 minutes, about 35-40 minutes longer than normal.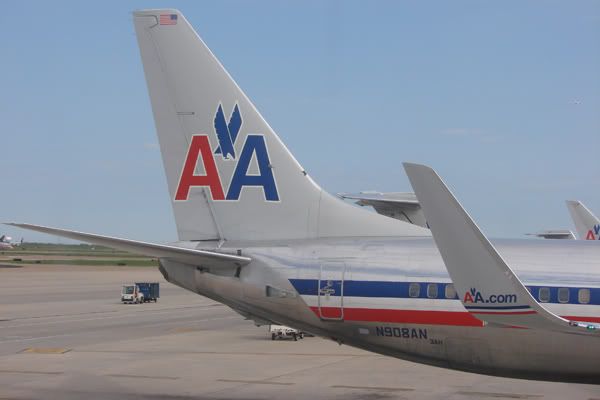 view from window
AA 777 being towed past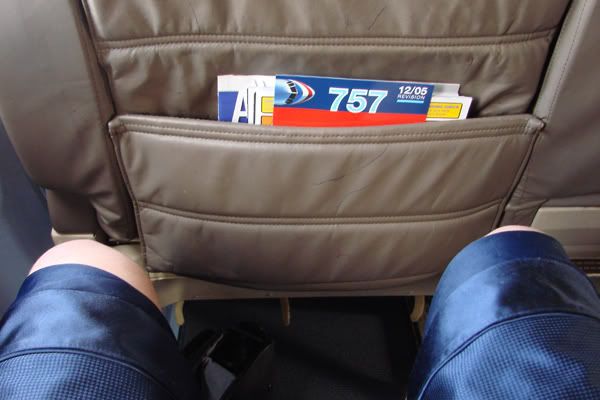 legroom
We pushed back right at 1030, and quickly taxied out to 36R, where the captain informed us the tower gave us a departure time of 1102, so we sat at the end, and shut down the engines. It gave me a good opportunity to switch sides, since C was only 10/22, and snap away. As a matter of fact, I had the whole row to myself. Here are some: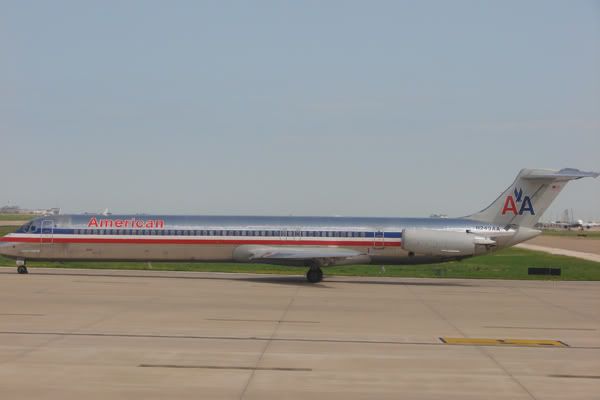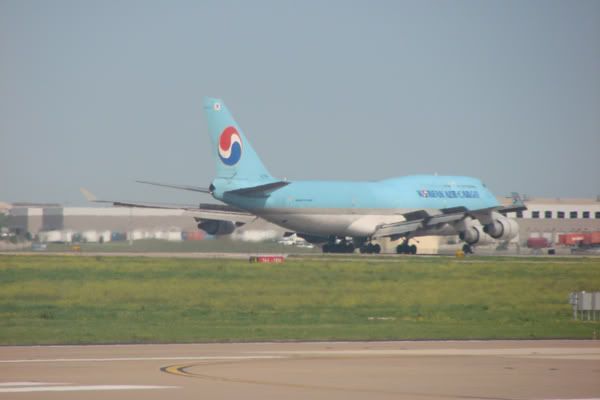 Engines started up at 1056, and after an AA 738 and an American Eagle E145, we lurched onto 36R and thundered into the air.
It was a really short takeoff roll (we were probably 1,500 AGL before the end of the runway), and made a turn to the west, and then back to the south. Waco, Austin (I saw my house and my school!), San Antonio, Laredo, Matamoros, then out over the Gulf direct Merida. We leveled out at FL280 for a little while over South Central Texas, then climbed all the way up to FL410. I'm proud to say this is as high as I've ever been (I've hit FL400 a couple of times). A little bumpy at FL280, but smooth sailing up at FL410. I watched Casino Royale with my new headphones, and enjoyed my food, which was actually really good: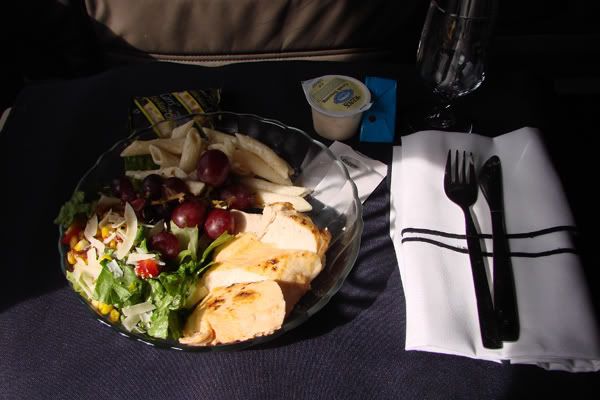 Uneventful flight, and we began our decent just as we came across the western shore of the Yucatan Peninsula.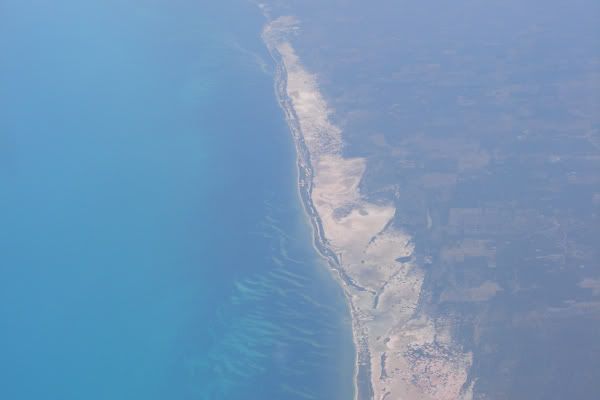 Straight in approach to runway 12, nice landing.
We had to hold on the taxiway to wait for planes to pushback and taxi for about 5 minutes, and then taxied to a remote stand.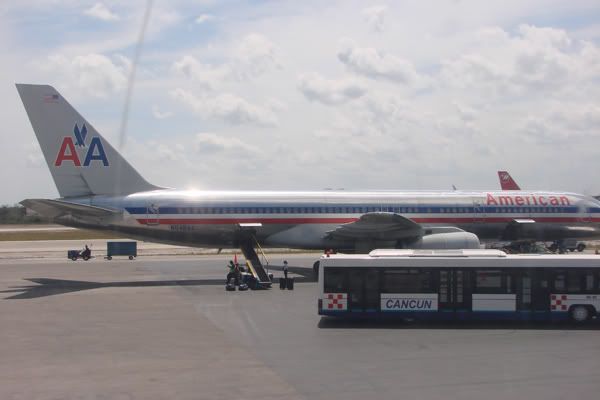 company 75'
Here are some pictures of N624AA while waiting for the rest of the passengers to deplane: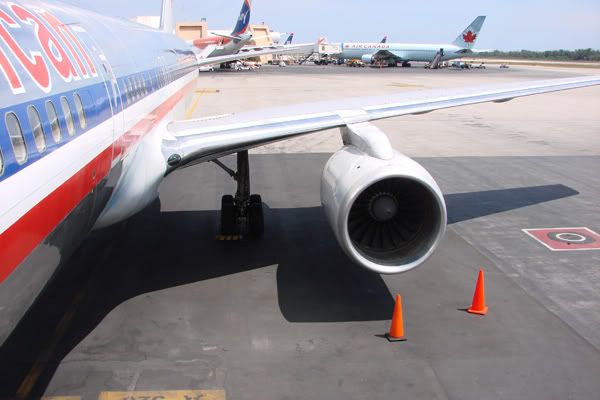 Immigration was MOBBED, but we lucked out, and they opened up the line to get in some of the lines at the far left that weren't as full, because the queue enters from the right. It still took a good 30 minutes, but I'd imagine some of the people were in line for close to two hours. My bags were waiting for me, and through the quick moving customs line, and out to the van to get to my resort.
me in Isla Mujeres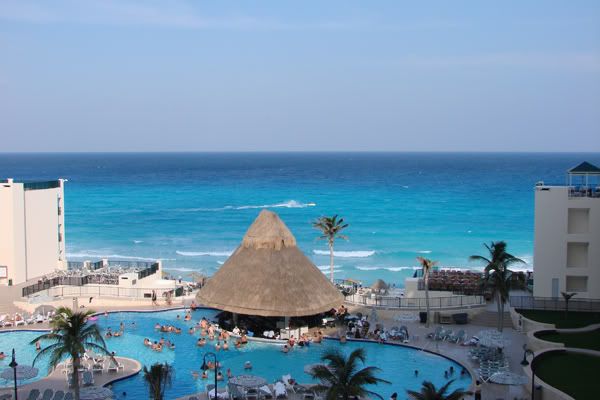 my friend's nice resort
After a great vacation, time to get back to reality. My mom upgraded us the day before, but I couldn't get into F from DFW-AUS due to my fare class.
AA1108
CUN-DFW
737-823
N961AN

Departure Gate: A5
Scheduled Departure: 1635 local
Actual Departure: 1725
Departure Runway: 12
Airborne: 1736
Route: MMUN KEHLI Sabine Pass CQY6 DFW
Cruising Altitude: FL410
Arrival Runway: 31R
Touchdown: 1948
Scheduled Arrival: 1925
Actual Arrival: 2011
Arrival Gate: D33
Seat: 4A

Remarks:
My mom arranged for our transportation before we upgraded, so the van picked us up a little before 2. We got to the airport about 1420, and were through security by 1435.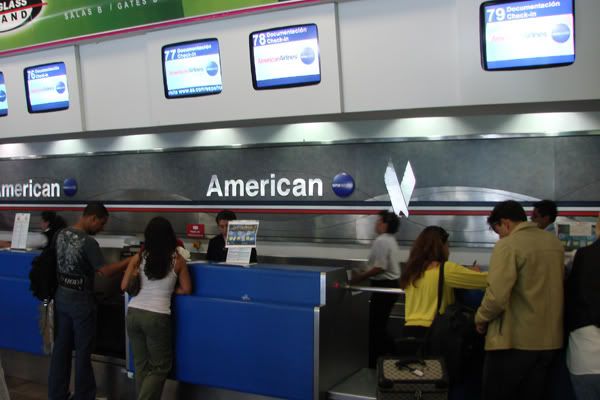 check in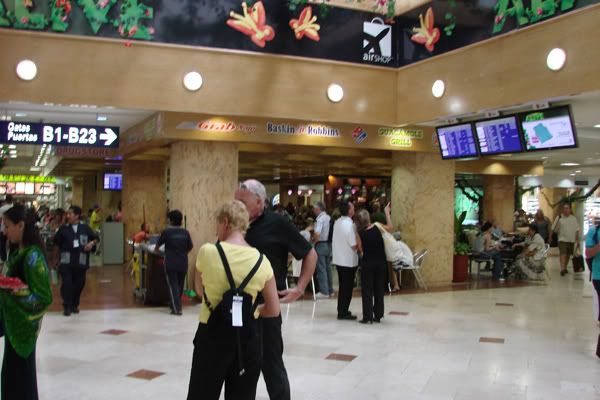 food court
I went to Burger King, and went up to gate A10. I took lots of pictures, here are some of my favorites: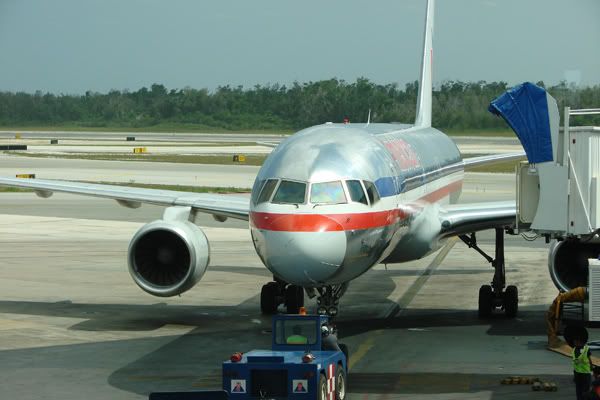 AA 757 to JFK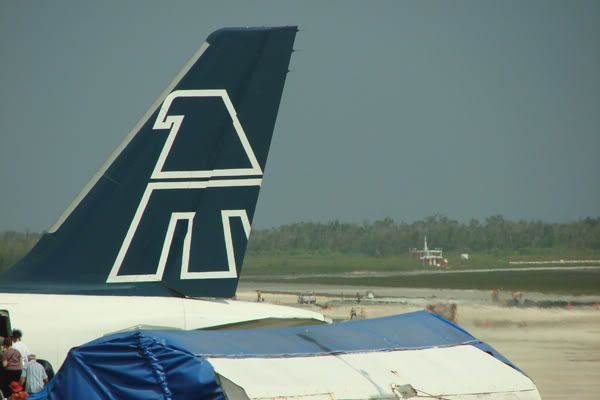 MX A318 and CUN VOR in background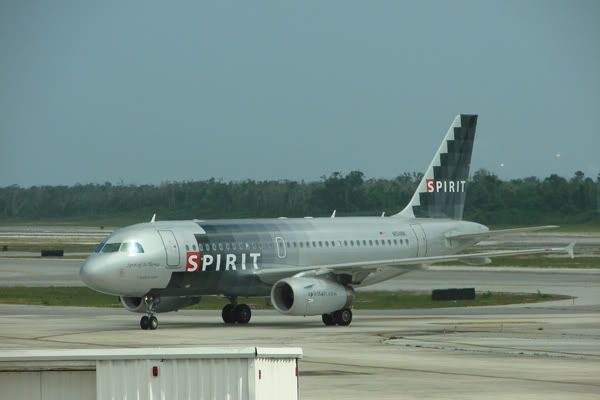 NK A319 landing from FLL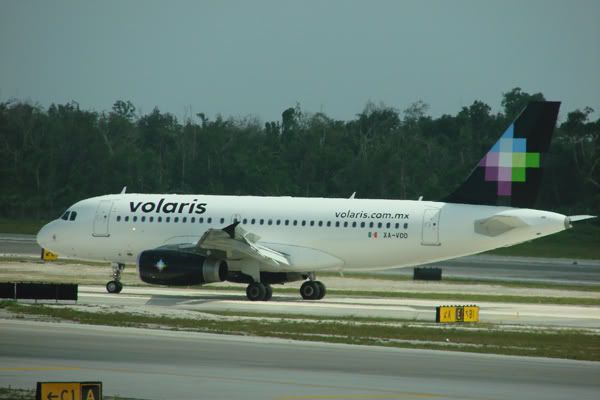 Volaris A319
CU Yak 42 to HAV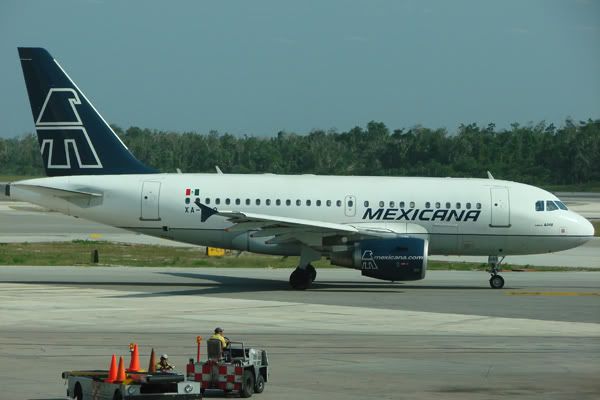 the same MX A318 to MEX
About 1640, they switched our flight to A5, and a CO IAH bound flight to our gate. Much to my surprise, a 737-800 landed and taxied to our gate.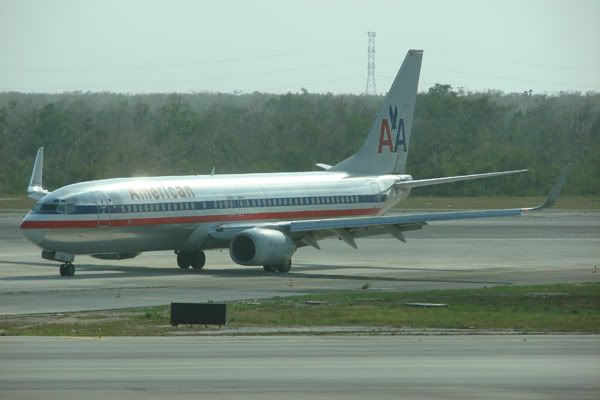 N961AN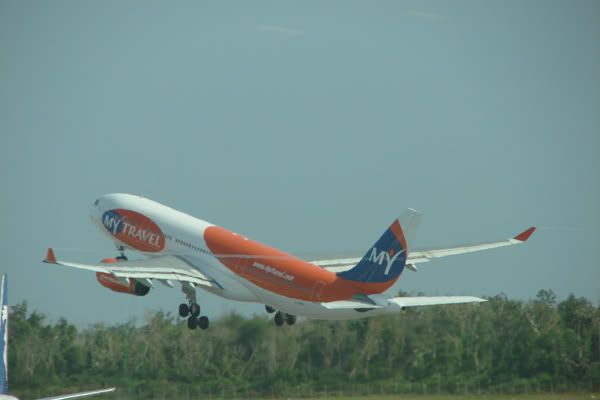 My Travel 32 to MAN
There is something about going to Cancun and flying on 757s that I love, but the 737-800 is very comfortable in F. It deplaned, a quick cleaning, and they started boarding AA1108 to DFW. The pilots were very friendly, and encouraging about my wanting to be a pilot.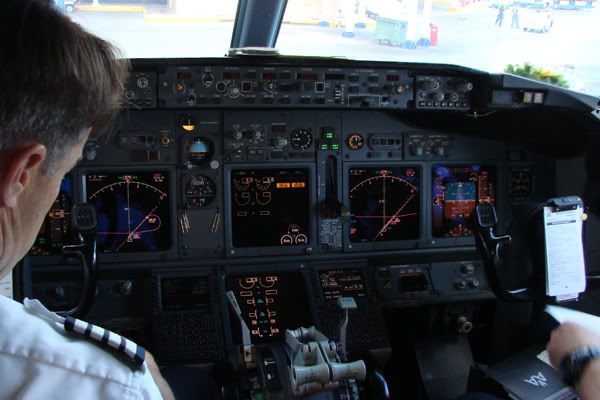 cockpit shot
The flight attendants were really really friendly, and hilarious, too. Originally we were going to get CBS Eye on American, but the F cabin talked her into a movie. She had Dreamgirls, The Pursuit of Happiness, and Night at the Museum. With our help, we decided on Night at the Museum, because it¡¦s funny. You have to love democracy on an airplane! :-P We pushed back 50 minutes late, and a quick taxi to the runway, and with no one in front of us, were immediately cleared for takeoff.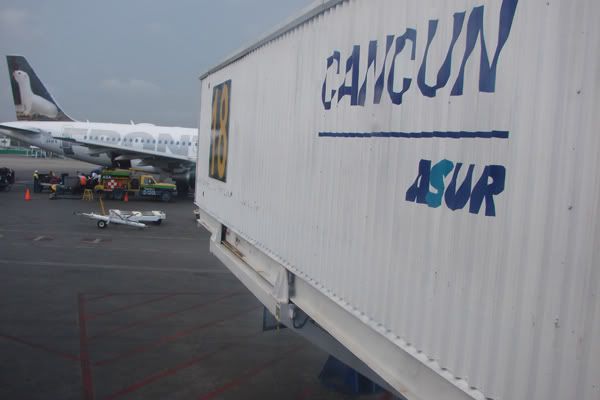 view from 4A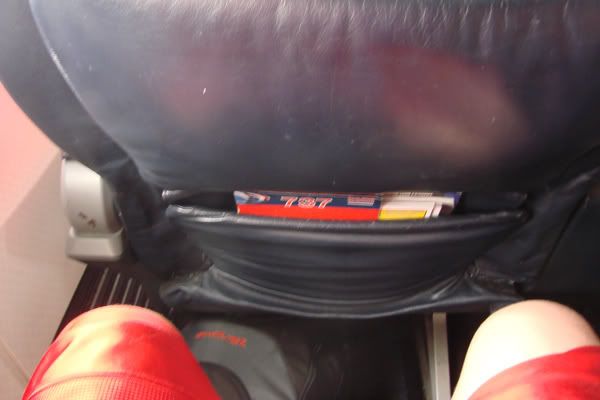 legroom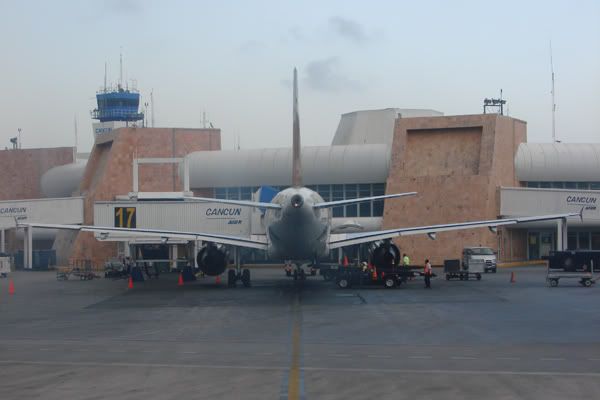 F9 A319
Oftentimes, especially if you leave earlier in the day, it's common to have 10 planes in front of you taking off, plus all the ones landing. It can make for quite a lengthy delay. A quick turn right after takeoff to the north, and then northwest. We flew around most of this: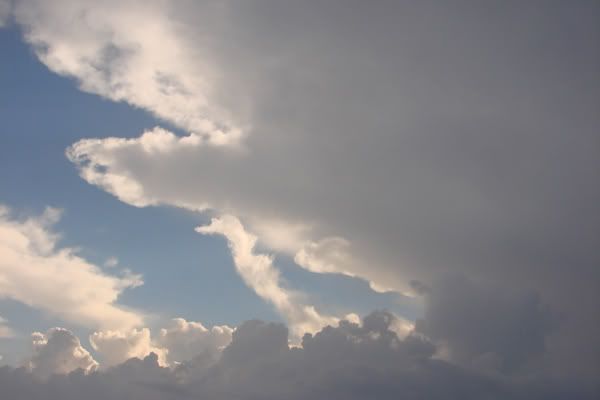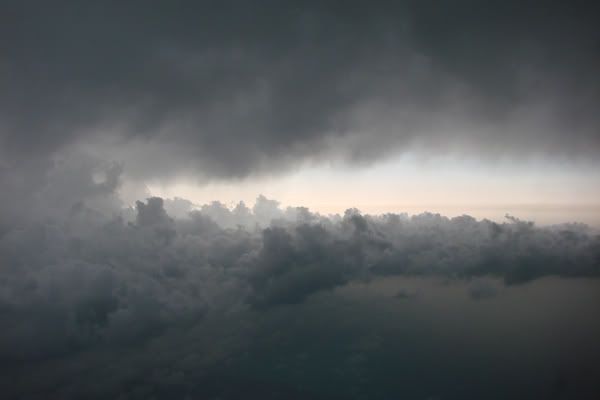 but we still hit a few bumps, especially right at the back, in open sky. I settled in, and had the Chicken Empanada, it wasn't quite as good as the chicken on the way down, but it was still satisfying. I loved the cake!
food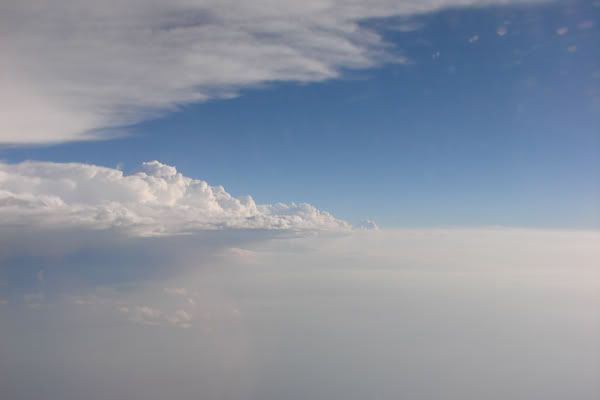 smooth sailing
We came onshore over the Sabine Pass VOR, and shortly thereafter, began our decent into DFW. Flew over south Dallas, just north of Dallas Executive, RBD, and flew straight in for 31R.
A funny story, just as we had begun our decent, the F/O (his leg), had just come out to go to the bathroom, and was standing chatting with the flight attendants. Just then, the captain came over the PA, and announced our decent, and informed the cabin that the First Officer would be landing the plane. He then snuck in a quick jab, something to the tune of, "Hopefully he'll make a good landing, those ex-Navy guys aren't known for that." The whole plane had a good laugh at the F/O's expense. He looked right at me (he was still standing out in the galley), shook his head, then buried his head in his hands. Gotta love airplane humor!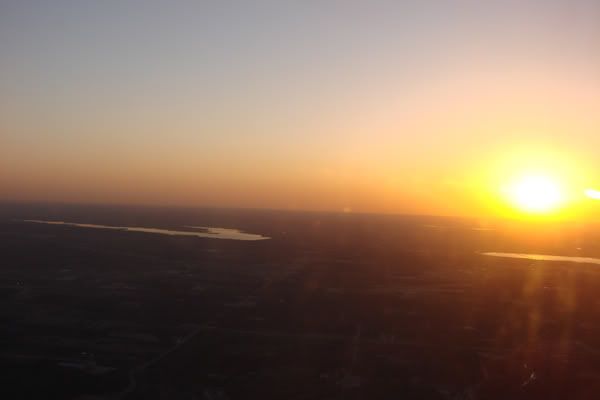 sunset on final for 31R
He did make a nice landing, though the nose gear was just off the centerline, and incidentally right on the centerline lights (which any aviation enthusiast knows are not quite dead center), so we thumped down the runway. A fairly lengthy, though relatively quick taxi across the Zulu bridge, and down to D33.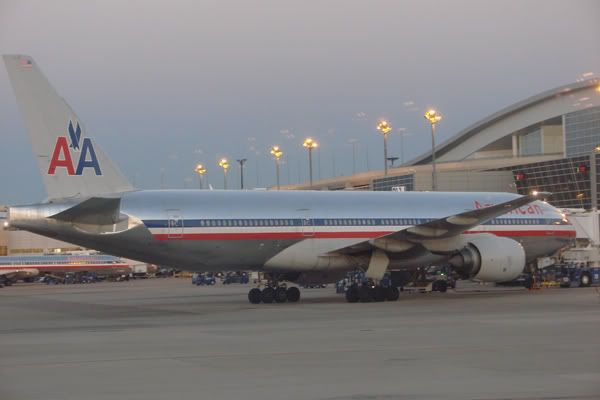 AA 777
We made our way off the plane, and trekked over to immigration. That was pretty quick (we just beat a flight from SJD), but we wound up in a line that had a couple of families who didn't have their stuff together, so it took longer than it normally should. After that, we went downstairs, and our 3 bags were in the first 10 that came off, and quickly made our way over to a particularly cranky customs agent. He sent us into another room, with a heavy duty X-ray machine. After that, upstairs to security. Again, we got lucky. I had to go through a new machine they have that checks for explosive devices, by blowing strong poofs of air at you really quickly. It's a contraption, built by G.E., that looks more or less like a metal detector, but it has plastic doors on the front to keep you in while it works. Anybody know what I¡¦m talking about? After that extravagant experience
, I go over to get my bag, only to realize I had accidentally left a can of spray on sunscreen, larger than the TSA bullshit regulations, in my bag in Cancun, so that got yanked, and then off we went to the Skylink, and over to A23.
Connection at DFW:
We had about an hour after making it back inside security, so after a quick bathroom break, we parked ourselves at A23. The first thing I did was to go up to the gate agent, ask him about possibly getting upgraded to sit with my mom (though it certainly wouldn¡¦t have been life or death, it's a 30 minute flight), and he said he¡¦ll put me on the upgrade list, and "make a special note," whatever that meant. Next thing I did was to see about a window, as I was in 12B. That he could definitely do, and I gladly swapped 12B for 16F. I sit around, talking to my mom, and sooner rather than later boarding begins. Right as they announce F boarding, I get paged, and very graciously and happily take my new boarding pass for 5F. It was really nice of that gate agent to upgrade me, considering my fare class wasn't supposed to be upgradeable. I doubly thanked him, once at the counter, and once as he was preparing a stroller on my way down the jetway.
AA367
DFW-AUS
MD-82
N442AA

Departure Gate: A23
Scheduled Departure: 2130 local
Actual Departure: 2134
Departure Runway: 36R
Airborne: 2148
Route: DFW JASPA2.WINDU BLEWE1 AUS
Cruising Altitude: FL230
Arrival Runway: 17R
Touchdown: 2222
Scheduled Arrival: 2225
Actual Arrival: 2231
Arrival Gate: 13
Seat: 5F

Remarks:
I had a nice long chat with the pilots about how familiar the cockpit looked, because of my new Super 80 plane in Flight Sim. They were impressed with my knowledge of the plane, and I offered up my first class seat to the F/O for his. He gladly accepted, of course, but it was mutually understood that it wasn¡¦t going to happen. I went back to my seat, sat down, and had a nice chat with my seatmate about different things, everywhere from fishing for marlins in Cabo San Lucas, to my obsession with planes (he mentioned he had a friend who was so extreme he collected the safety cards, I, with an angelic look, reached into my backpack, to find my fresh new AA 757 card that I got on the way down (sadly I crinkled it at bit, grr), to college, and our respective families. Oh, did I forget to mention that we taxied down Kilo, across the Bravo bridge, and down to 36R. We wheeled and dealed onto the runway, and away we went. A quick left hand turn, and we were pointed in the right direction. A typical, very uneventful flight. Before you know it, you're cruising, and before you can realize that, you're on your way down again. A straight in approach to 17R, and a smooth touchdown. The most eventful part of the flight was when we missed the last runway turnoff, about 6,500 feet down the runway (approximately), and would have had to "drive" a mile down to the end of the runway. Not these guys, though. They turned the plane off to the side of the runway (it's flanked on either side by concrete with yellow arrows, like you see at the ends of some runways), I swear they turned the nose wheel between two vertical lights (like the blue taxiway lights, except I think they're white), and turned around. It was actually kinda funny to a plane nerd like me. We taxied to the gate, and spent a little time down in baggage claim waiting for the belt to start. Got the bags, caught the shuttle back to Airport Fast Park, and drove home, satisfied after a week vacation.
Hope you enjoyed it!
Cheers,
Cameron