This was a ride I was planing for years... Saving so many miles to fly to Australia for free...
THE BOOKING
Well, it goes like this:
I was planning to go to Australia and another city in Asia. I analyzed many options, the two runners up were Singapore and Hong Kong and finally I chose HK. After all, I thought that CX in the map would make miles changing easier. I was wrong.
I checked the map and tables (now I know I didn't understand well the system), and I thought than since SCL/SYD is always full, it would be much easier and even miles saving to try the ride via LAX.
I wasn't able to book it on LAN.com due to partner airlines, so I went the agency. Short tale: CX was absolutely close to exchange LA miles. LAX was then not an option anymore.
In middle January, I look everyday in LAN.com the lan pass prize status for SCL/SYD. Finally, I got the flights: first reservation leaving SCL in March 08 and returning March 25. Then they took the reservation in the agency looking for adding the HK flights. All I got was QF just in the middle of my plan (I didn't want to leave Australia, go to HK and back to OZ to continue the trip). Even worst: only daytime flights, so I would lose 2 days of an already tight schedule. The girl at the Lan agency made the reservation, but didn't issue the tkt in case some of the flights moved for my convenience. They would charge me 190.000 lanpass kms.
I went over and over and nothing. They warned me in late January that I would have to go next day for they wouldn't wait me longer for issuing. That night I looked in the web hoping I could leave/return SCL 2 days before/later for gaining those daytime flights. I was no lucky.
The issuing day arrives, I'm one more time at the agency. All I got was to move 2 days in advance the HK trip, but via BNE. Since I was making two stops in Australia, they considered I was exchanging 2 prizes, for a total of 235.000 lanpass kms. I agreed. And then the miracle happened:
LAN charges US$20 for ticket issuing in agencies, so I had to pay US$40 for issuing both prizes. I then told the lady to issue only the HK flights while I used the computer connected to LAN.com inside the agency for issuing the SCL/SYD and hence save the US$20. And guess what: the availability moved and now, if I leaved 1 week before I got 2 more days (returning on a Tuesday instead of a Sunday). And then I got the best idea: I did not pay for the flight, leaving only the reservation that would expire in 3 days.
I went back to the lady and did the maths: "hey, under this new reservation, if you find me the HK flights only one day later, the flights there will be less than 24 hours since I arrive in SYD from HKG and when I leave SYD to SCL, so it will be only a stop, not a stopover. Hence: one prize".
She wanted to kill me for making reverse all the paperwork and look for the new flights I was requesting. Guess what: she got them!
She told me "OK, you are one lucky guy, under these conditions, you are only exchanging 1 tkt to HK via SYD, with only 1 stopover in SYD". You owe us 140.000 lanpass kms!
Yes, in only 10 minutes, I save 95.000 kms, so I can still fly for free to USA!
My lanpass tkt: SCL/SYD/BNE/HKG/SYD/SCL. All I had to buy were the domestic Australia flights, which I did by first choosing my domestic destination and itinerary, and then by web searching in the three airlines (Qantas, Virgin Blue and Jetstar) which one had the best rate for it.
SCL/SYD March 1 A343 CC-CQC
I was lucky enough to get a window seat in the front of cabin. After waiting in Neruda lounge at SCL (great as usual), I boarded an absolutely full flight, with a 10 meters tall guy next to me (the poor boy just could fit in the seat!).
Departed on time, and very smooth 13 hours flight to AKL. The usual LAN dinner: salad, rice and chicken and some milky dessert. I try to watch a couple of movies, too bad they had announced several titles at the magazine that were not available at the flight; I hate when you get expectations that are finally not fulfilled.
I've read many times some arrogance in LAN Oceania crew, and you know what? I think there's kind of true about it, they were even kind of rude; for instance, shortly after dinner they passes handling immigration papers for passengers disembarking in New Zealand. The tall guy next to me was sleeping, and the male f/a just didn't care and woke him very rudely to ask if he needed the papers.
Since I had to work that day, I was very tired, so I got to sleep a lot.
Many hours passed, many passengers I talked with at the rear galley, breakfast and descending. We were all demanded to deboard the a/c, although cabin luggage could stay onboard. Considering that it was something about 0430 a.m. AKL was very inactive, but still we got so see some shops. I had to wait about 20 minutes till QF lounge opens, and I got in there. Kind of disappointing: bad food, few computers, nothing special.
They call us to board again for continuing to SYD. As told, nice airport in AKL. I don't want to be rude, but there was now a very large girl in my next seat. She even fit in hers, so she had to use some of my backrest! I just wanted to sleep, but everytime she moved I woke up!
Anyway, arriving is SYD at yawn, beautiful sunrise I got to see at the horizon from the a/c. Lading as smooth as the whole flight.
Airport immigration was fast, although at costume (and as usual for me), I got inspected for a long time, with papers, questions and luggage opened...
Sydney? What can I say, Congratulations Australia, what a wonderful city!
SYD/MEL March 8 QANTAS Boeing 763
After arriving by train to the airport (if I new it was the same cost, I would have preferred to arrived in shuttle), I went to my terminal and check in. After metal detection control, went to the lounge, exactly like AKL: same food, furniture, facilities, etc, although much bigger.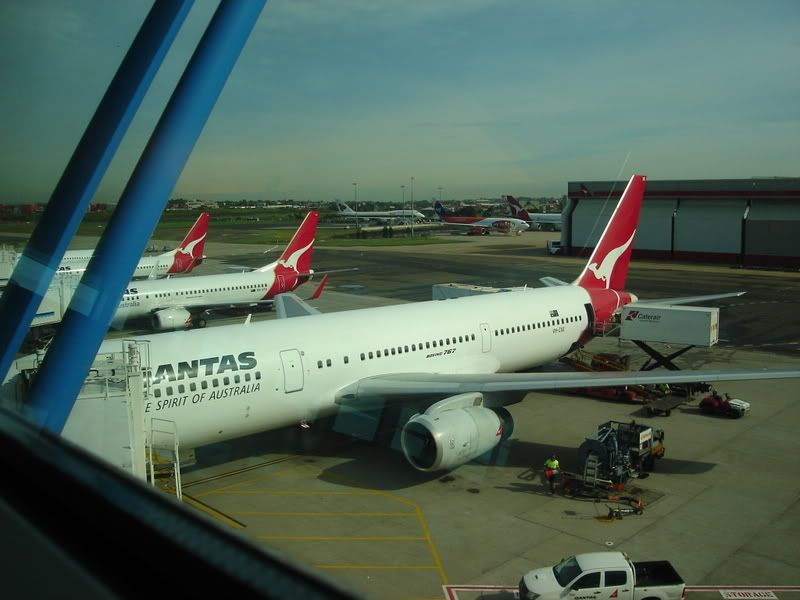 Few days after the Garuda crash in Indonesia, all Australian news reported about was the accident. I understood that when newspapers headlines has aircraft crashes, they wouldn't give new the papers. As you can see, I was wrong!:
Out Boeing 767 looked kind of old and dark inside, but my first QF experience was very nice: great snack, smooth flight. Actually, there's nothing much to talk about this flight.
MEL has some baggage claim that I've seen many times before and just don't know how this work: how come you have the belts right next to the exit doors? How come you are sure that no one would enter (because there's no security barrier), steal your suitcase and just leave?
Melbourne? Nice city, too bad for them that they are in the same country than Sydney, they just "can't compete". I recommend the great ocean road
MEL/MCY March 11 VIRGIN BLUE Boeing 738
Again, time for first times: Virgin Blue, some 737 NG... none of them great experiences...
I think for the people that are not very aware of the local Australian numbers, you just can't sell a ticket that says "Sunshine Coast" (even in the boarding pass) and announce at the gate "Maroochydore", because sometimes you just never heard that name before. I had to ask the lady at the gate if my destination and this flight was the same.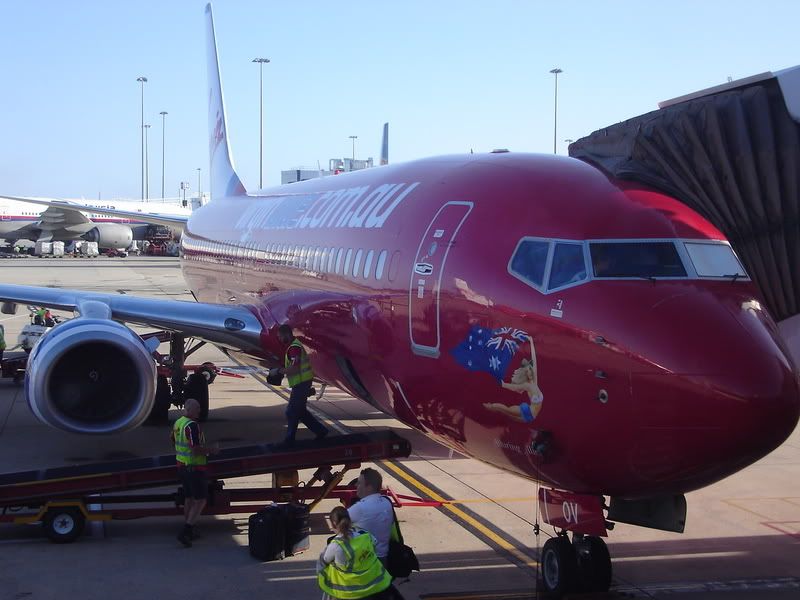 Then it was the plane. I really had ear pain while climbing, so I had to swallow every five seconds to avoid the pain, and (sadly) picturing a lot of scenarios in my head: was the pressurising OK? Any mask dropping?
I remember back in 94 what I was in another 737 that my ears suffered the same and the pilot just turned the aircraft back to the airport, as the pressurizing system failed
Well, of course I got "calmed" by the fact that no other passengers seemed to complain, and the pilot turned not.
I bought some soup, was actually very good. When arriving in the nice airport of Sunshine coast I almost melted, it was so hot!
After taking my luggage (again, with no special custody) I went to my destination at Coolum
Sunshine coast/Queensland, what a wonderful way to say Australia Good bye!
MCY/SYD March 14 JETSTAR Airbus 320
My price tkt continued from SYD to HKG via BNE, but when booking, the lady at Lan office told me "you HAVE to take all the flights, so don't be tempted by losing SYD-BNE flight and just taking BNE-HKG leg, because you'll annul the whole tkt left".
So even when I was so close to BNE, I had to return to SYD to fly back to BNE and continue to HK...
I almost lose this flight; that day I rented a car and got lost on my way back to the airport. I arrive 5 minutes before rent a car booth was closed, and 30 minutes before flight departure...
It was a very hard time, but I made it. Besides, this flight leaved a couple minutes late. I got left window, and a gorgeous night view of Sydney when descending.
I booked a night at some airport hotel...
SYD/BNE March 15 QANTAS Boeing 738
I walked from the hotel to the ... wrong domestic terminal, so I had to hurry up to change the terminal and book for my flight, I used one of the self attention phones at the airport, for I wanted to change this combined flight to HK and just try the direct flight that leaved a couple hours later, but since it was a prize ticket, they say no.
So I went to the counter, where the lady took forever to register me! The only good part is that I was checked all the way to Hong Kong, the bad part is since she took more than 20 minutes doing so, I had to almost run to the gate!
Nice flight again, although I'm sure I wasn't that comfortable about the cabin pressure again. I just didn't like the 737 next generation and convinced myself that the 320 family are much more gentle aircraft.
I freely changed terminal at Brisbane. BTW, very nice airport you have there, people! The architecture reminded my a lot to SCL. I made some shopping and waited at the lounge...
TO BE CONTINUED...
BNE/HKG
HKG/SYD
SYD/SCL
Regards )( Arcano