So it was just one of those days in which I was sitting in front of the computer waiting for something exciting to happen. And it actually did! JC ( or Doc) came as fast as a thunder to tell me that Volaris was about to release 45,000 seats that had a promotion of 50 USD roundtrip with taxes included to any of their destinations! At first I thought that it would be something useless, but my airliner instinct told me that I HAD TO AND Bunbury (BUY / YBUN), Australia - Western Australia">BUY ONE. After that I spent the last hour trying to convince my mom to give me her credit card in order to buy the ticket and when I finally did the possibilities were just to many!
So JC, Rich and I decided to go to CUN in order to have this huge, so much waited, spotting trip to CUN in order to get a brand of the most exotic aircrafts and airlines that we don't have in MEX. Volaris said that starting midnight the sale of those tickets will be out to the public. So the three of us punctually went into the web page just to find out that all Mexico was online to get one ticket. AND even if if you had the luck of selecting a promotion fare you would just end in a dead ally as the page went upside down... JC and I tried again at wonderful 4 in the morning only to find out that CUN was just impossible. So our only options were TIJ, GDL or MTY... After 40 minutes of an intense spotting philosophy debate we decided that GDL was our best bet!
School was just a disaster, exams all over the place and my life seemed to be a huge pile of papers full of calculus problems and probabilities to be discovered. Basically I only expected to sleep the whole weekend only to find out that on Saturday I was hitting the airway in order to go to sunny Guadalajara!
Only the day before did I started to worry about my camera and stuff in order to have a day without problems. I decided to go to sleep at 12:20 at night in order to have some good hours to sleep...Or at least I thought cuz my dad woke me up at 2:15 in the morning only to get ready for him to leave me at JC house.
After a few shots of cold water in my face and the sound of my brother coming home from a party I was ready fot this spotting day. At 3am I left my house and after avoiding some drunk people driving I safely arrived at JC's house and leave to the "VIRTUAL" terminal of Volaris in Santa Fe were we waited for Rich to arrive.
The "VIRTUAL" terminal was just fine as it looks like a kid playground where kids play to baggage handling and checking in clients. Service was just fine and we were soon on our first gate of the trip...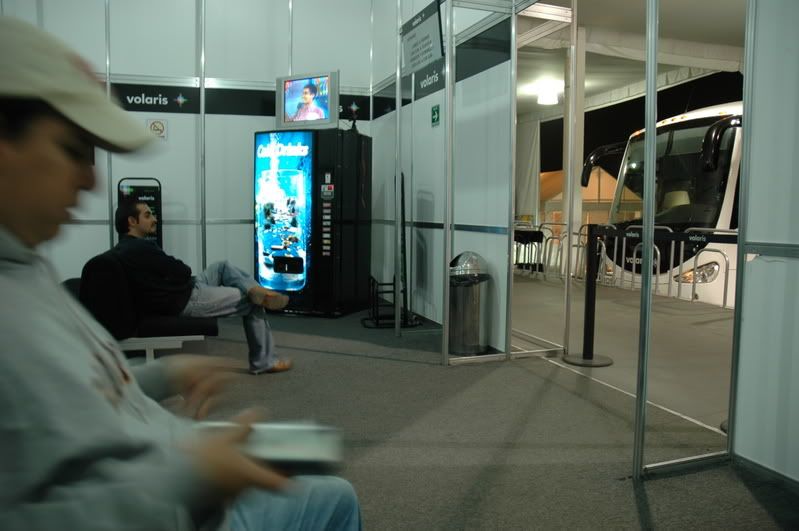 JC thrilled to be waiting for the bust that would take us to TLC for our flight to GDL.
10 minutes later we started boarding a somehow comfortable bus that would be our ride to TLC. They were clean and they turned off the lights so people could sleep.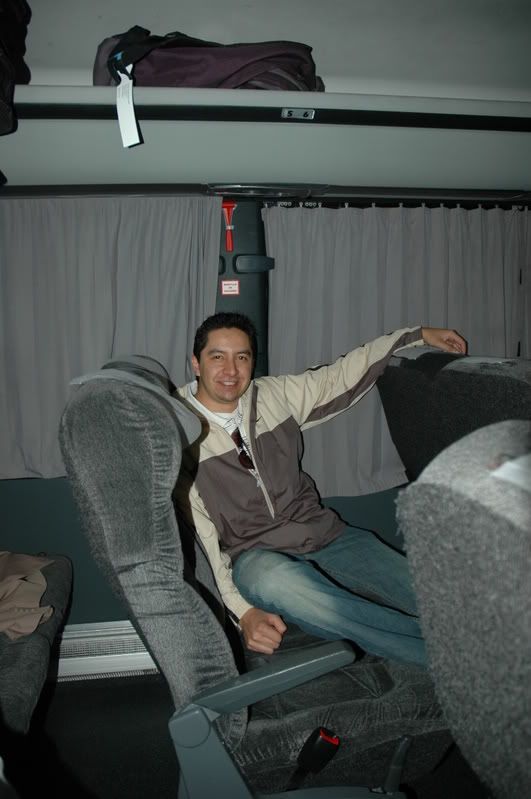 Rich as happy as he could be as he just couldn't contain his excitement about the trip!
The bus ride lasted about an hour and I took the opportunity to sleep for some minutes after talking some Jaime Duende jokes and imagining what was what we were planning on shooting today.
We finally arrived at TLC just to see the new LCC sort of terminal they opened some months before. But it seemed just fine as it was quite spacious and lots of chairs to sit on the boarding gate. Of course, as in any Mexican airport, a band of cops quickly arrived to avoid the shooting of pictures inside the terminal. Our last option was to just point and shot without looking and hoping for the result to be just fine.
A view of the new check-in area for LCC in TLC.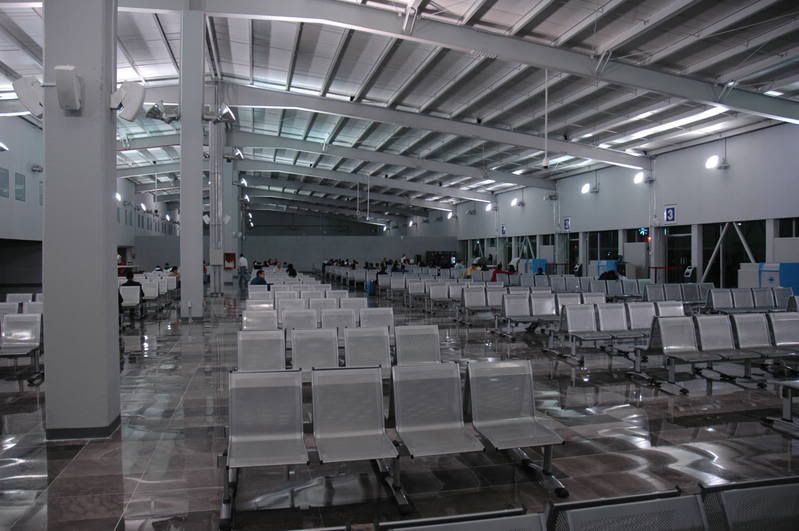 Boarding gates at TLC
After some waiting and some mixes of electronic music powered by Tiesto (as I had no iPod with me JC and Rich lend me one earphone each and listened to two different songs at the same time) boarding was announced on this improvised speakers as it was time for Volaris flight 150 to Guadalajara to commence boarding. We headed right to the door and boarded another bus that in 5 minutes took us to the our airplane.
Volaris 150
TLC-GDL
Airbus A319
XA-VOL
Departure Gate: Remote Stand 2
Scheduled Departure: 06:50
Actual Departure: 6:58
Departure Runway: 15
Cruising Altitude: FL280
Arrival Runway: 28
Touchdown: 7:42
Scheduled Arrival: 8:00
Actual Arrival: 7:50
Arrival Gate: some remote stand
Seat: 14F
Boarding commenced without problems and passengers went into the airplane as easy as butter spread in a bread (a fresh one of course). After obtaining permission for the Meet & Greet with the captains, the three of us had a great chat with the captains and JC obtained the lucky strike for the rest of the flight. While Rich and me went into our seats to spend the rest of the flight without any exciting events.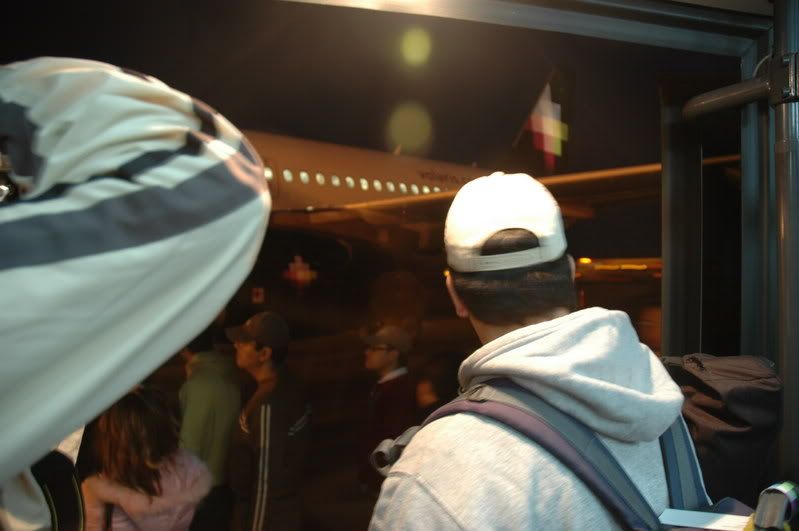 Arriving to our plane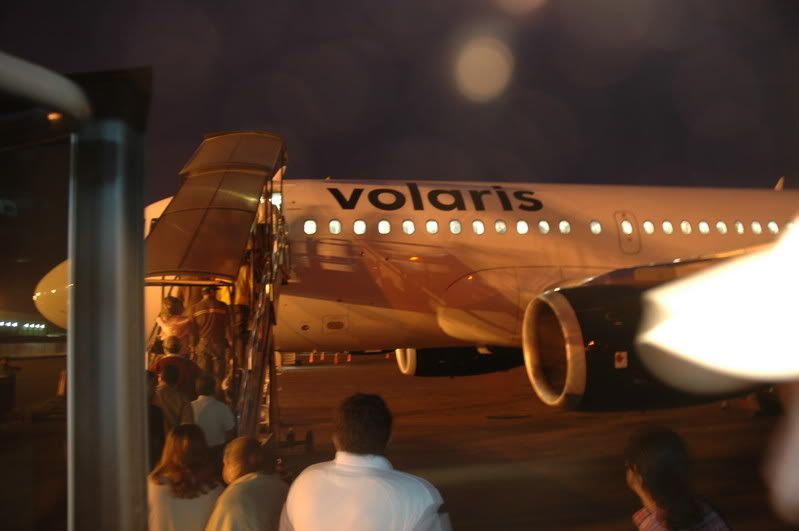 Boarding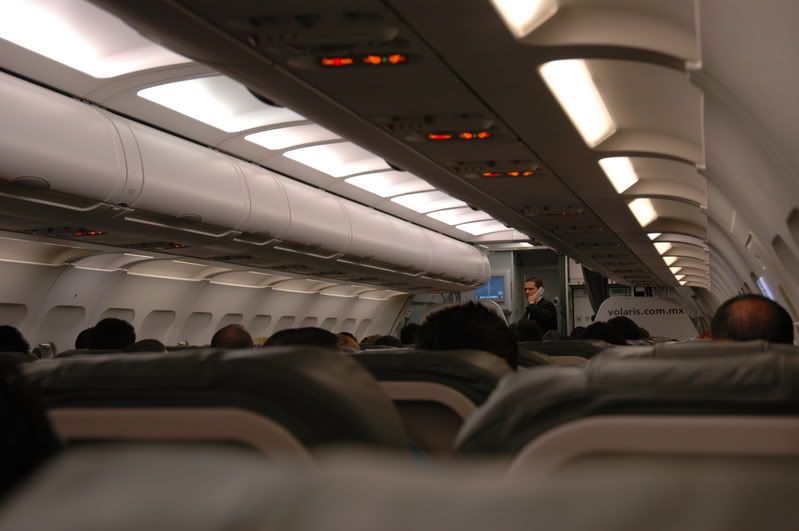 The purser enjoying every second of his work as he felt as if the front of the airplane was his performance stage.
The airplane started to pushback and the excitement was starting to fill our blood...or probably it was just adrenalin... Anyway, for our excitement Volaris famous safety video started playing...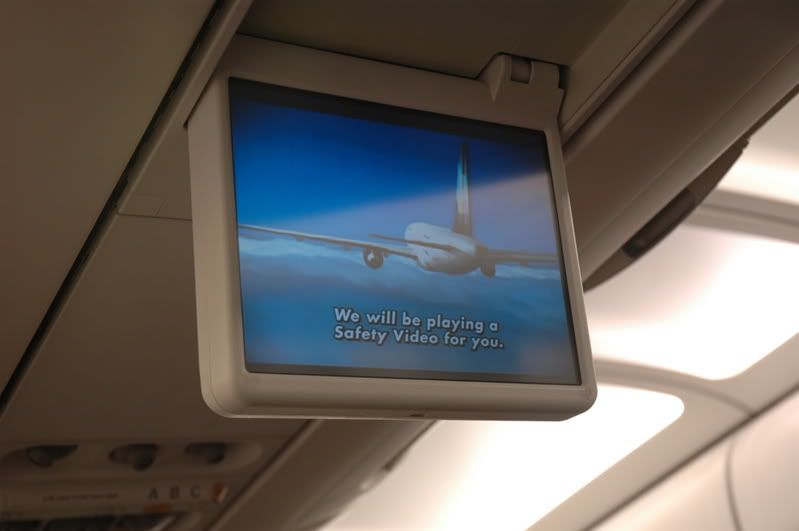 Beautiful Jacqueline giving us safety tips with full detail for male excitement!
Some minutes later our captain applied full chancla and we departed TLC in a powerful takeoff!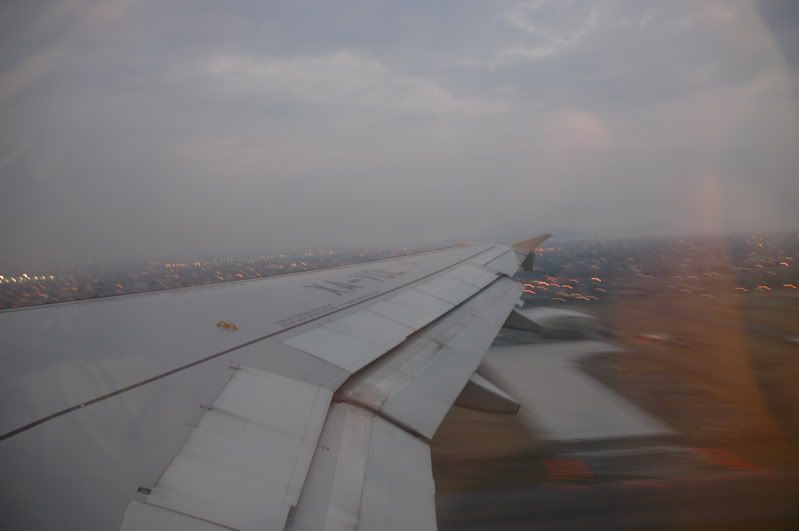 Very quickly we were on our asigned altitude and our smily F/A's started the drink and snack service which consisted in whatever non-alcoholic drink you liked and some cookies. Just in time for a beautiful sunrise!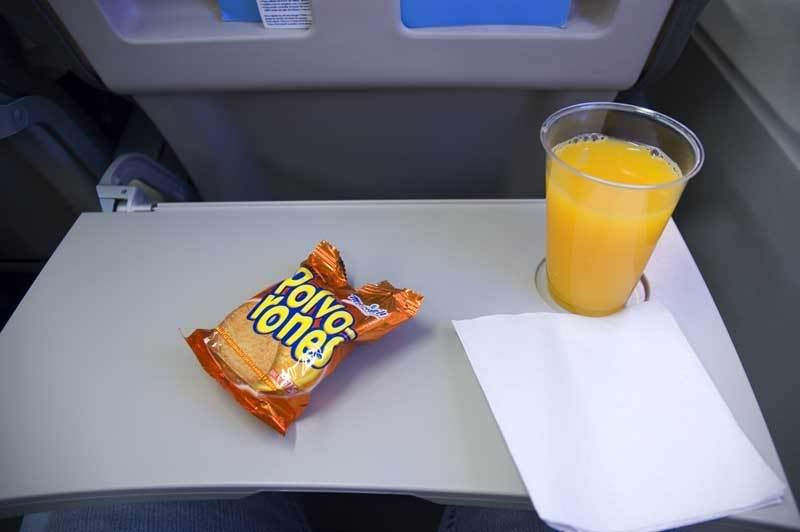 Drinks and cookies someone?
Our almost famous but well trained and professional F/A delivering the drink and eat act...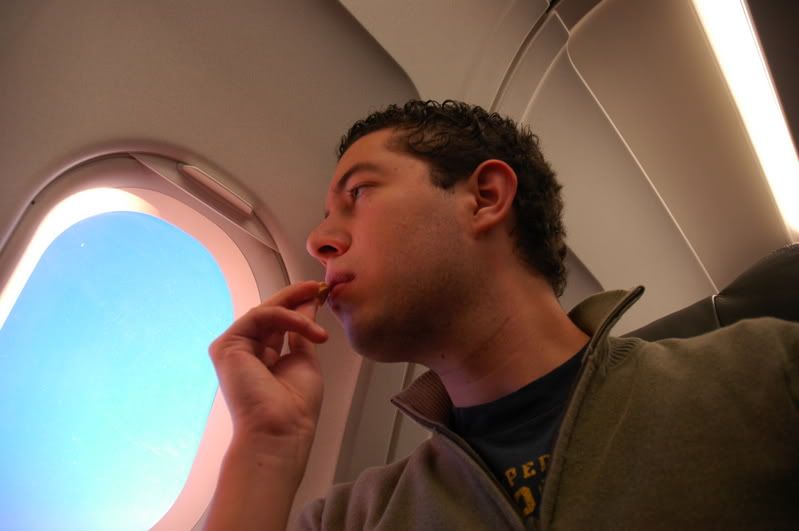 Me feeling like I could do a Hugo Boss ad...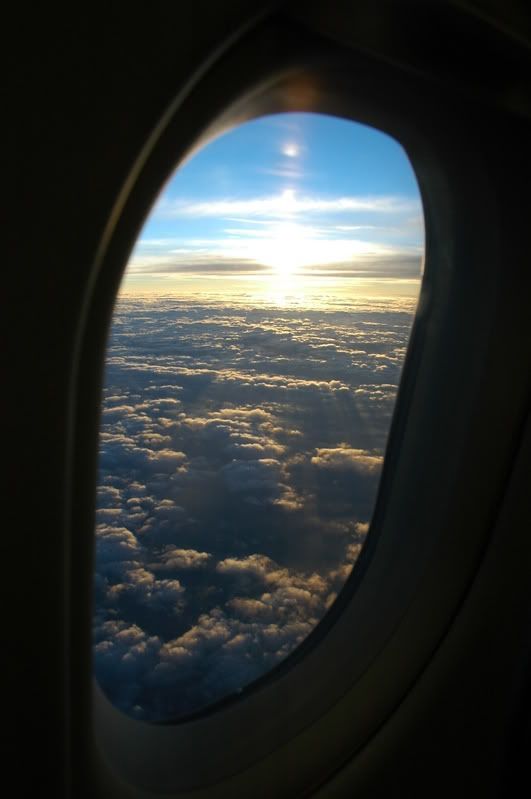 The beautiful sunrise that opened us the way to Guadalajara...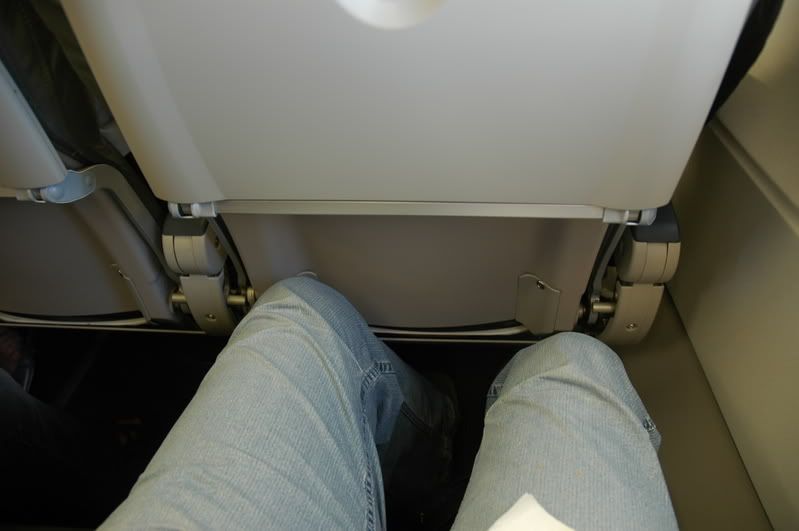 I found legroom pretty well as my knees felt free all the flight when I generally feel trapped due to my height.
Only when I was just starting to feel the rush going down (basically cuz I was starting to sleep due to heavy tiredness) the airplane started to descend. Then again I was just starting to get somehow bored as the 2 girls at my left were sleeping as if there's no tomorrow and there was no inflight magazine to check.
Yes!
Oops! too fast
Great landing!
After a 40 minute flight we were on Guadalajara for a day we will never ever forever forget! People started getting off the plane and when everybody was down we went to say goodbye to the captain and the FO for this wonderful but uneventful flight!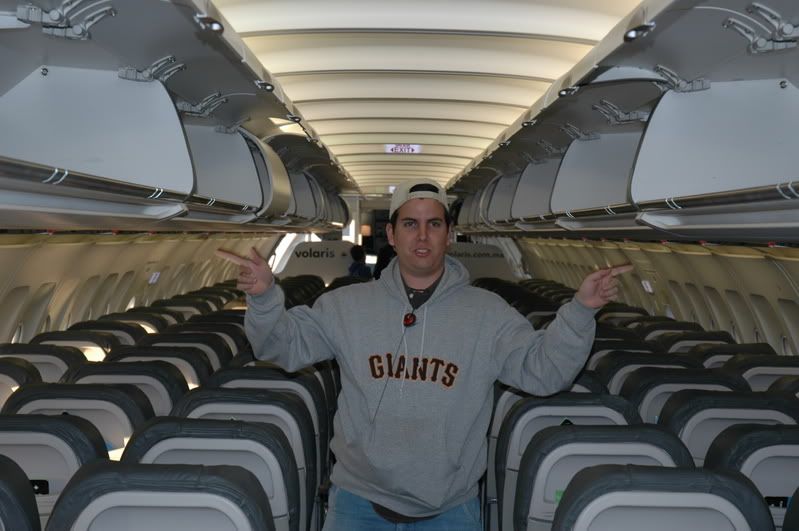 JC rethinking his profession.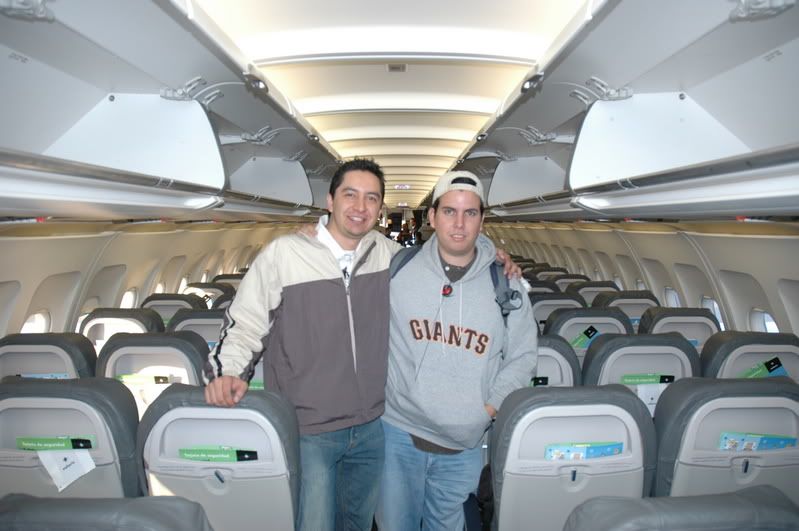 APM on tour excited to be in GDL.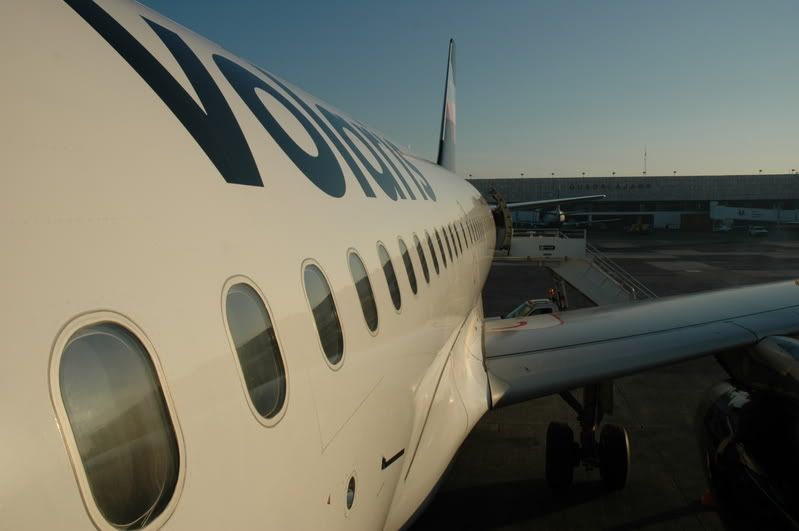 uffff
We never miss an opportunity
We took again a bus to the terminal which seemed really nice and just appropiate for the size of annual traffic that goes through GDL. We waited for an hour for our Guadalajara's host Victor and Edgar which would take us to the famous spotting places of the local airport and for hour 12 hours shooting session.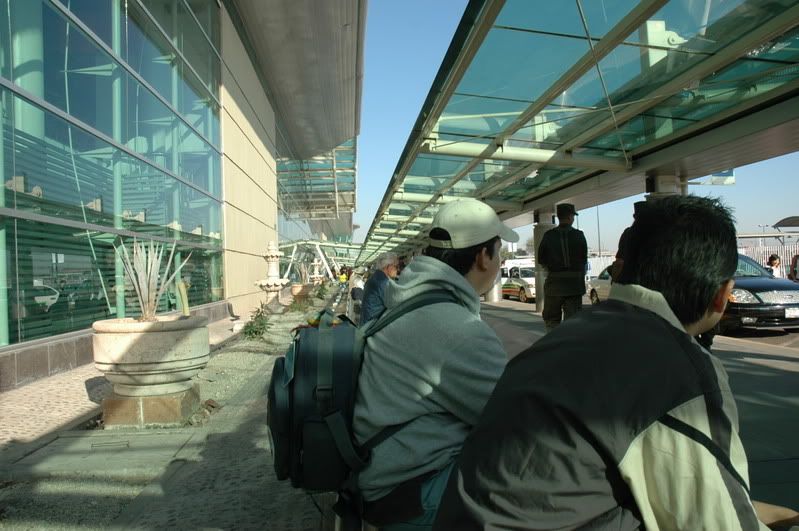 Waiting for Victor and Edgar
When they arrived they gave us a warm welcome and quickly took us to the first stop of the day: El Arbol. Though there was no arbol anymore and we went to this terrace in which they do the GDL parties to spot. It was definitely a good hide from the sun and also a great view for planes landing and departing.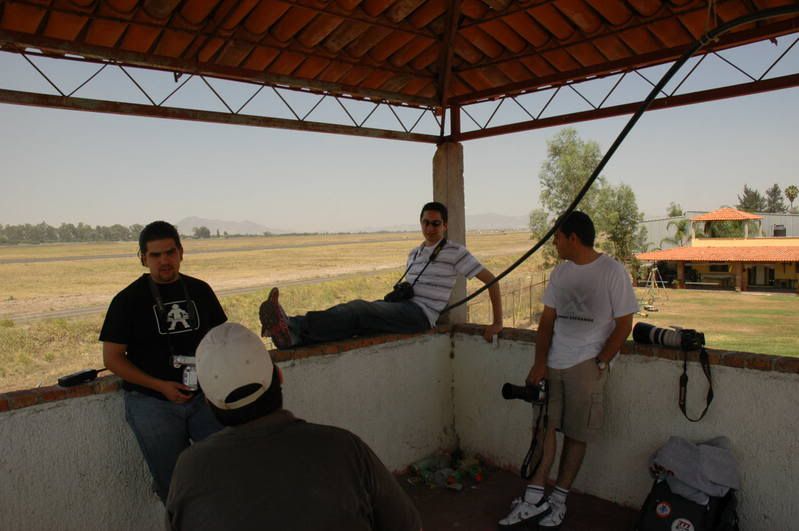 Just beers missing...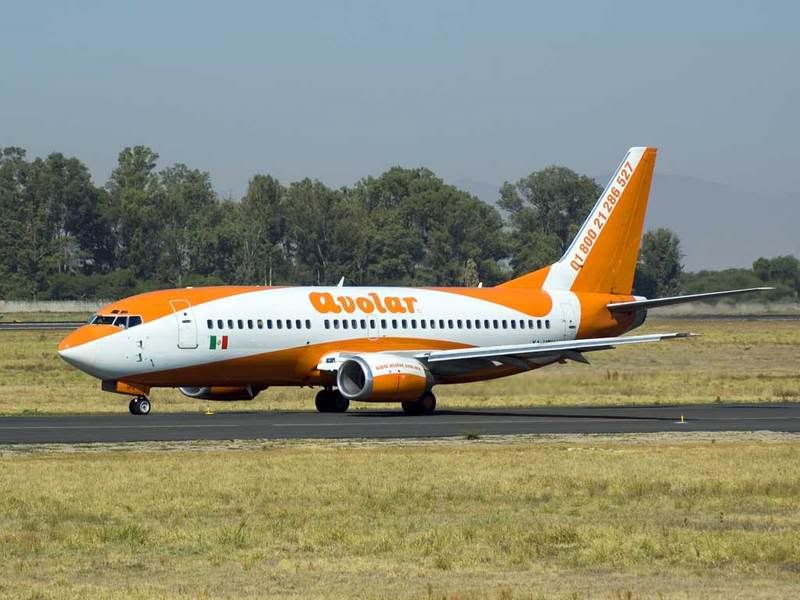 After 4 hours, a nap on the floor and breaking my jeans we decided it was time to eat. We all gathered our things and went to this Burritos place near the airport that makes you feel that you're in a sort of In and Out place. All of the guys ordered this 18 inches burrito except Rich cuz he was sick for some reason.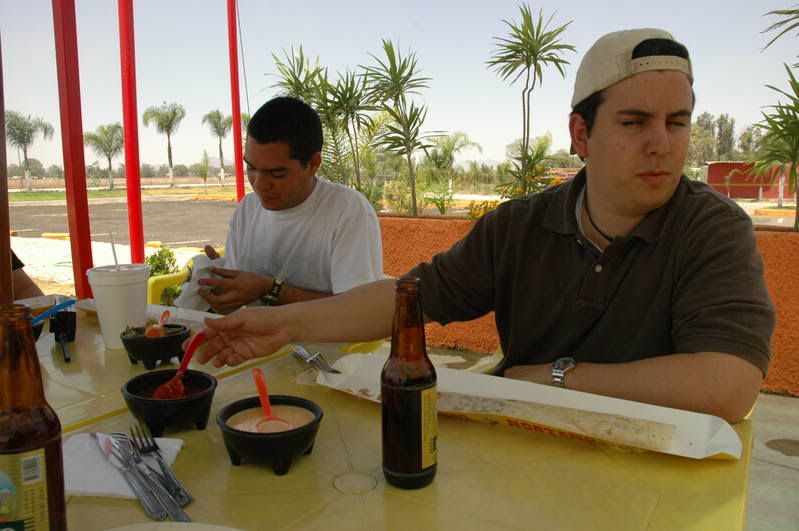 JC and victor couldn't believe what they were seeing with this huge burrito.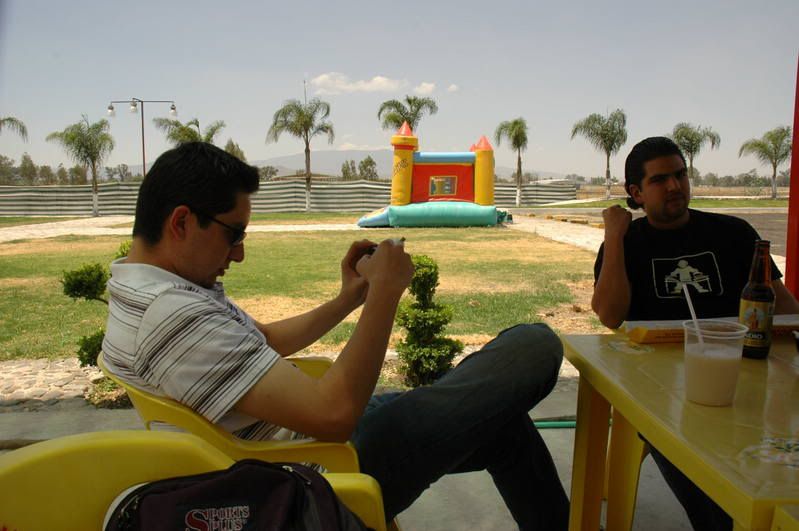 Rich and Edgar talking about Mexican Aviation while JC took a nap in the kids game in the background... A thing which I did in another one just some minutes later.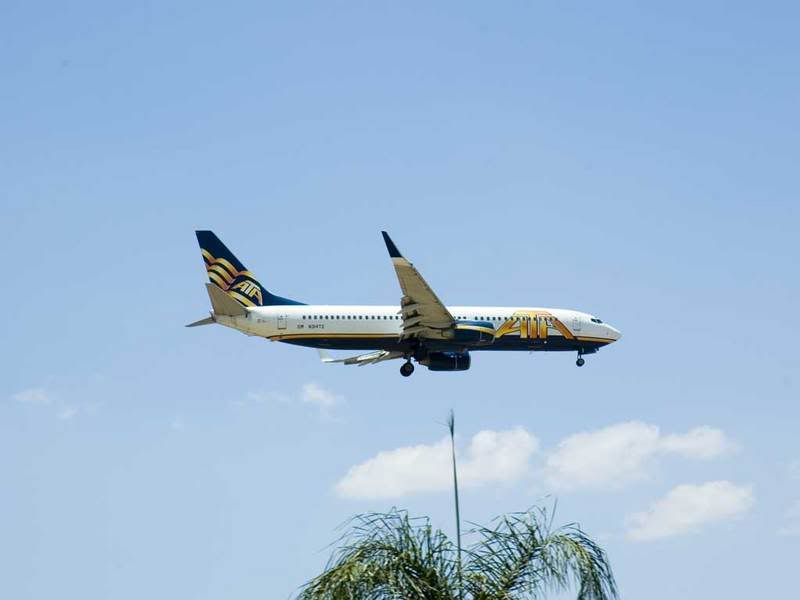 LAX anyone? ( Never been there, but they told me it just has the same feeling)
After the tremendous burrito and the infamous digestion we were starting to have we all went to the west side of runway 28 to a place called El Zapote to take pictures from a different perspective.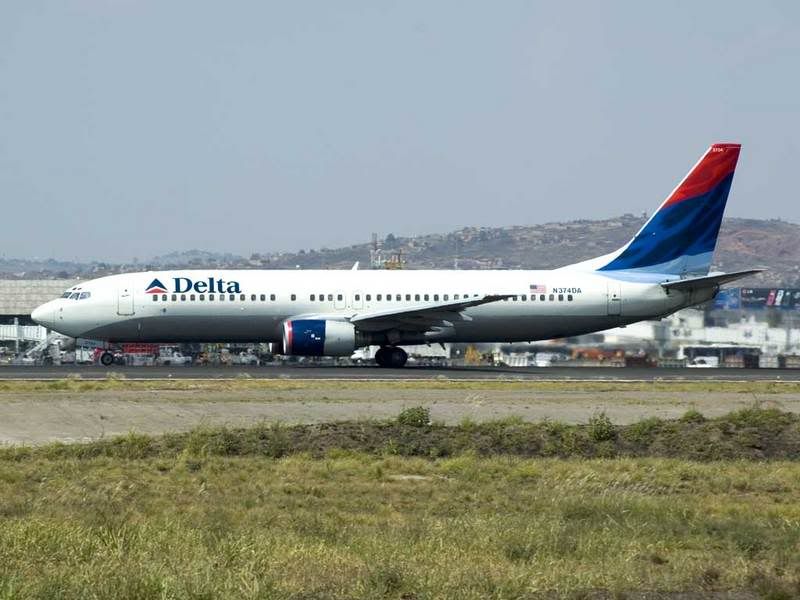 Straight from Atlanta
We spent the rest of the afternoon in this spot in which I discovered that I broke my jeans when I felt something ticklish around my legs. Suddenly I found out what the situation was and felt like it wasn't that of a great idea to be sleeping just on top of the red ants line. Fortunately my butt is just fine as the ants were kind enough of not biting it. The sun was as shinny as it could and we started to get sunburned and thirsty. But we were doomed as the closest store was many miles away until Edgar and Victor heroically went to the store to bring us water and soda for the rest of the afternoon. We spent hours talking about this and that and I learned new ways to get people drunk in parties (which made the trip even more worthy!) After many hours of laughs and songs it was time to leave...
BUT WAIT Fedex's DC-10 was just going through pushback and there's never a last picture! So the whole group decided that it was a good idea to sacrifice our ticket back just for a good picture. Tension grew as our plane taxied to the gate and Fedex was pleasently going through the taxiway towards the runway. Finally it took off and so did we almost did... As Victor drived at a speed so fast he could just have departed from the highway as well...
After 10 minutes of exposing our lives to the road we arrived safely at the airport just to see our very punctual plane not being ready for departure...
Volaris 153
GDL-TLC
Airbus A319
XA-VOB
Departure Gate: Gate 10
Scheduled Departure: 20:30
Actual Departure: 20:42
Departure Runway: 28
Cruising Altitude: FL290
Arrival Runway: 15
Touchdown: 21:22
Scheduled Arrival: 21:40
Actual Arrival: 21:32
Arrival Gate: remote stand 4
Seat: 9A ( row infront of exit row)
We boarded our plane with a bunch of guys that didn't stop shouting about everything they saw on the airplane. After some laughs they apparently shut them so people could hear the safety demo from Jacqueline. Fortunately for me I had the whole row to myself and decided to get comfortable as soon as we took off. It was the only thing Volaris could do for me for putting me on the row that doesn't have a reclining seat :P Some minutes later we started a very quick taxi towards runway 28.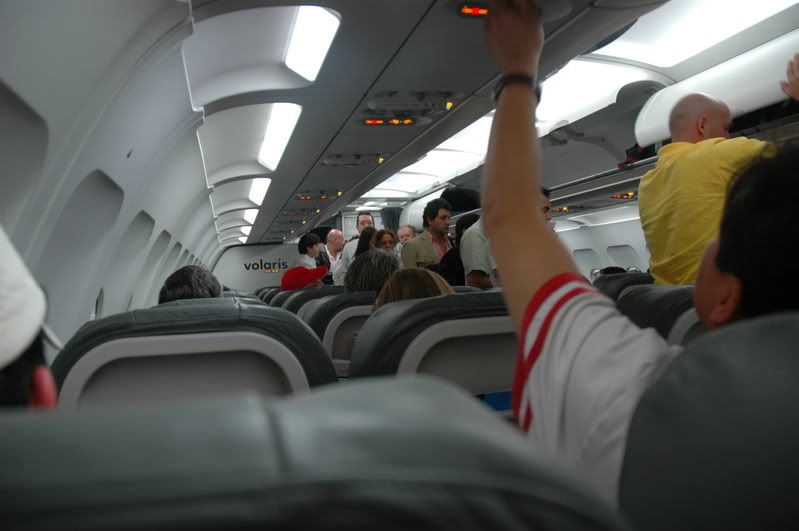 Boarding
Happy after this excellent day!
On your marks...get set...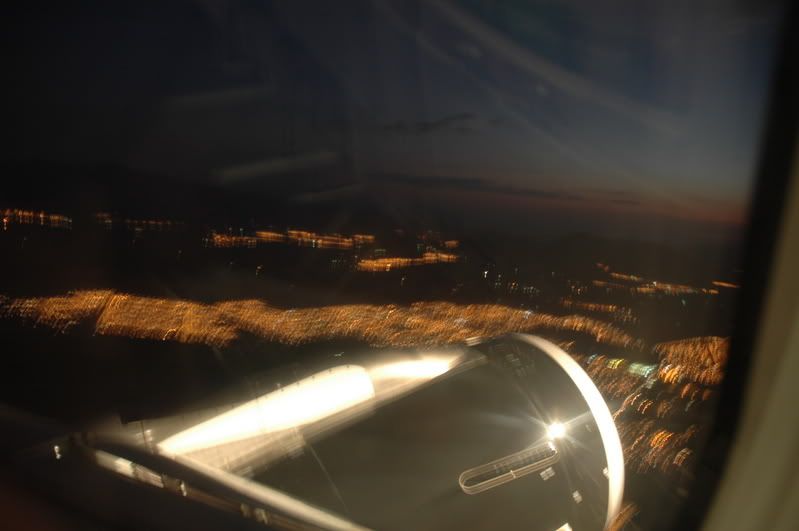 GO!
The flight went on with a little bit of turbulence but it was just perfect as I decided to sleep half the flight or at least until the F/A's gave the drinks. Unfortunately las huevonzasas ( the lazy...)de las FA decided that "turbulence" (you can't call that rubulence) was just too bad for them to serve the drinks. Two minutes later they announced that we were landing... so nobody actually catched up what was going on. They could at least give the cookies :P Nevertheless the flight was amazing and I enjoyed it very much.
We finally arrived 40 minutes later to TLC with a spectacular landing and ended up this suicidal day in which we stood for 12 hours at the full rays of the sun. But we were all happy despite having dust on the ass.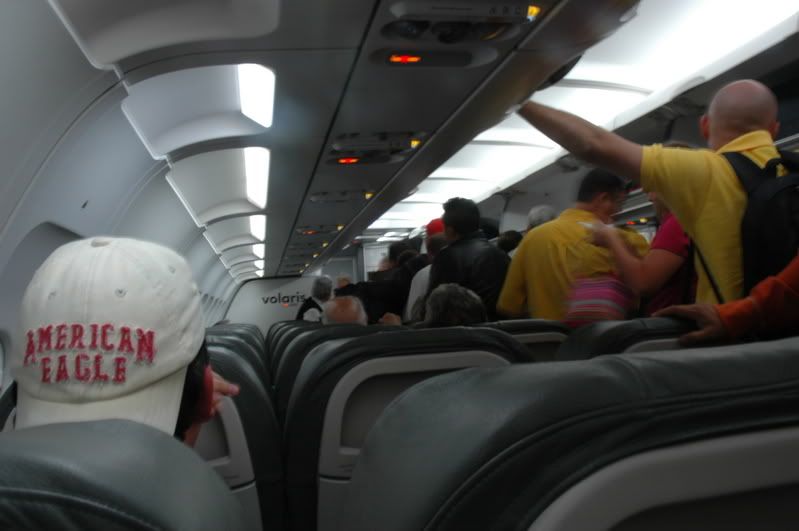 After an amount of minutes or hours I finally arrived to JC's house and my dad picked me up. I ended up exhausted but happy! I had been almost 2 years without riding an airplane so that just made my day perfect.
Overall Volaris has a great product! The airplanes are very very clean, the seats are comfortable and they have a great service. The shuttle, the check-in counteres, the virtual terminal and the boarding gates are just fine for a LCC product! They really exceded all my thoughts about them. I can't wait now to take them again.
I hope you enjoyed reading this trip report and thanks for doing so!
Thanks also to Edgar and victor for a wonderful day at GDL and to Doc and Mij for being a great company.
Cheers!
Alonso