SIN – PER – SIN
Airbus 330-300
QF 78
Seat 55F changed to 54A but then asked to change to 55D
Boarding Time: 1845
Departure Time: 1925
Actual D.T.: Don't know
Arrival Time: 0130 (DST I think)
Actual A.T.: AFAIK A few minutes late
Date: 17/02/07 ( A little late but had my exams going on)
This time it was another school trip, but this time I was going to Perth on Leeuwin II. For those of you who don't know, it is a ship made for youth development in Australia. In my school you have to do one activity which takes you out of your comfort zone. For this I chose Leeuwin II. I was the last one to get accepted because the whole grade wanted this activity.
It started of in the afternoon, with my parents driving me to school. We arrived a little late. As soon as I arrived I checked in with the school, that I am present for the bus. We left a little late then the scheduled time and headed towards Changi Terminal 1 on the bus. The bus ride was quite long, but I chatted with a few other people on a challenge.
We finally arrived and waited for other people who were meeting us at the airport to come as well. When they all did, we were given our passports and told us that seats have been assigned, and no switching is allowed due to some people having special meals. For some reason my passport was with someone else, who I still don't know. She was holding my passport but clearly wasn't from Qantas.
We were given our passports and we proceeded to the check-in area. My baggage was only 15kg. We got our boarding passes and proceeded through to the departure hall. We had a hour to kill so we went to McDonalds and passed time there. Here are some pictures taken from there. Not a clear view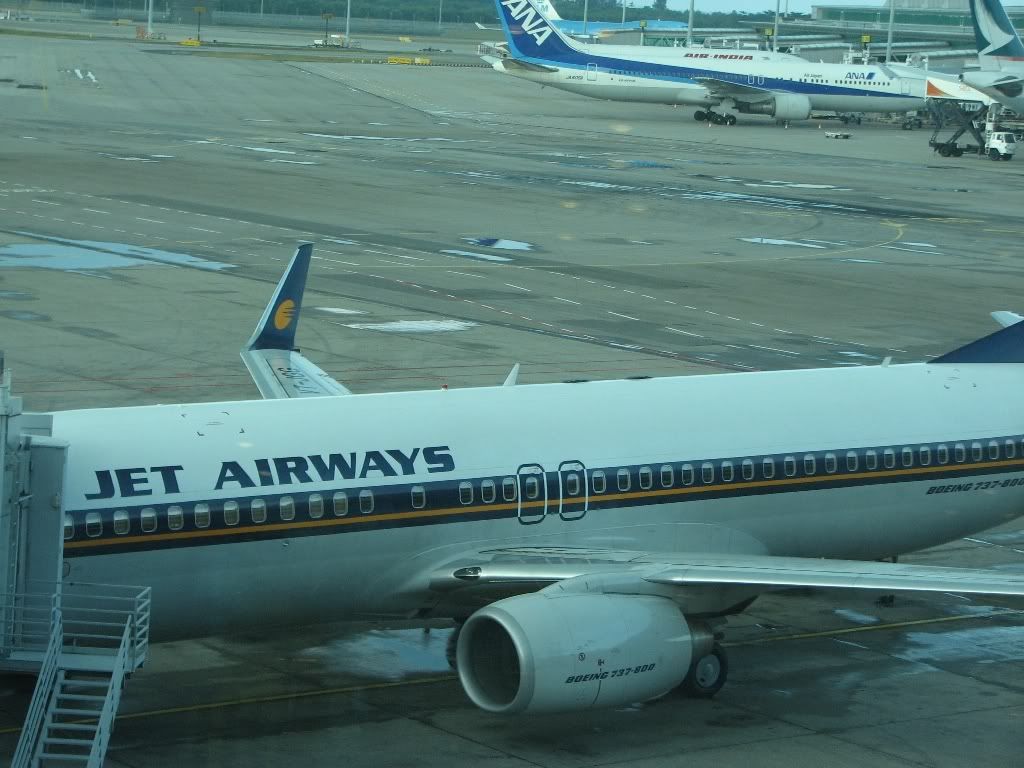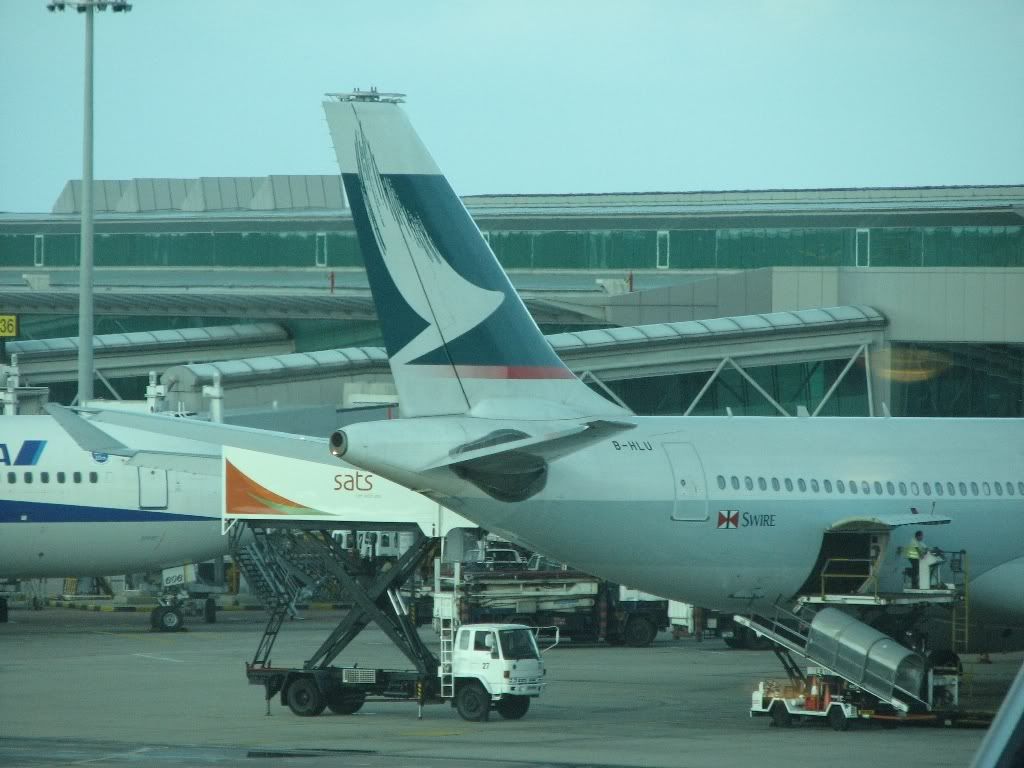 Straight after McDonalds, I proceeded to the gate area. If anyone has read my SIN – ADL report also with QF they would know that I lost my boarding pass only to find it in the dustbin, so this time I was VERY careful with it.
We all sat down and were told once again no switching seats. Soon our boarding call came and we proceeded to our seats. I was stuck with my two teachers and another student who had the same last name as me. It was sorted out alphabetically as I realized a few seconds later. I was sitting in the middle seat. I did have an Indian Vegetarian meal ordered but I had to move from the middle seat to an aisle so a group of three could sit together. They also had the same meal as me so they said it wouldn't make a difference. I didn't comment after that.
Here is a picture of the leg space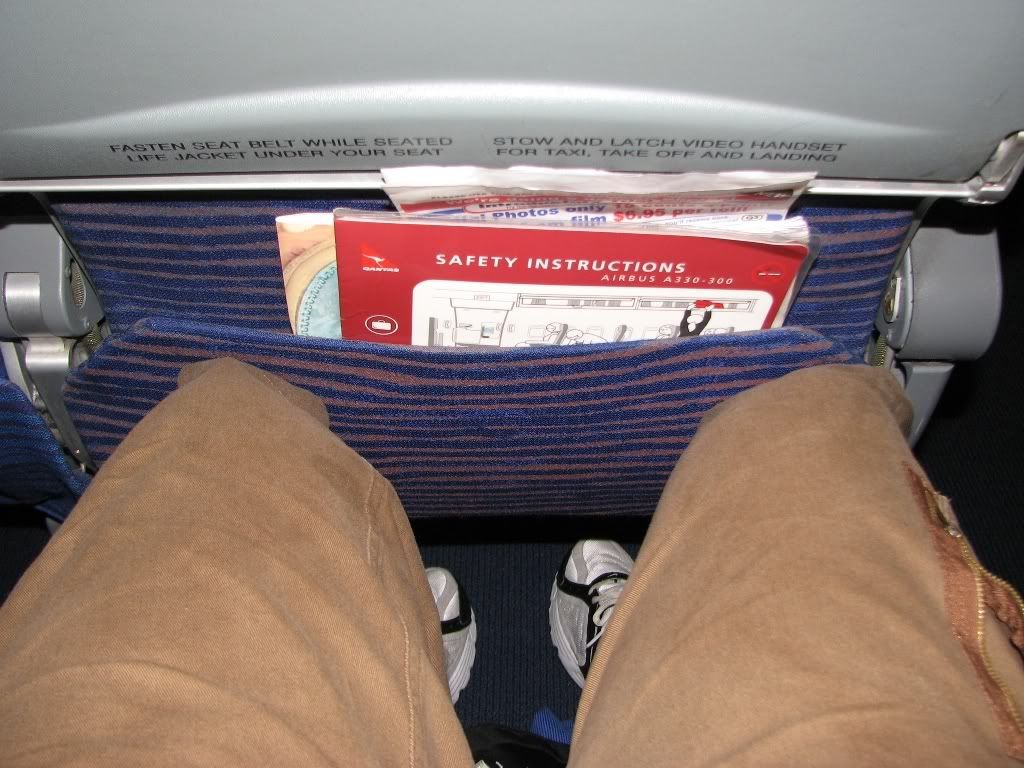 Take-off was fairly smooth, and straight after lift-off everyone turned on their IFE. The first thing the whole group including the teachers did was to watch Borat. In Singapore it was rated R21, so no one could watch it, but it was on Qantas as PG-15. Sadly the IFE was still buggy after my first trip on QF. It was real annoying but everyone had to do with it. The girl sitting next to me, her IFE crashed and she asked me to get the flight attendant. I told her if I see one coming by I will ask her but don't on the buzzer. She agreed but wasn't happy. Soon after she came and the announcement came that many were suffering the same problem and that the whole system was to be reset.
While watching Borat, my meal came. The people sitting next to me asked where was their meal, but they said they didn't have it on board. The difference was that my school ordered theirs and I ordered mine. Here is my meal: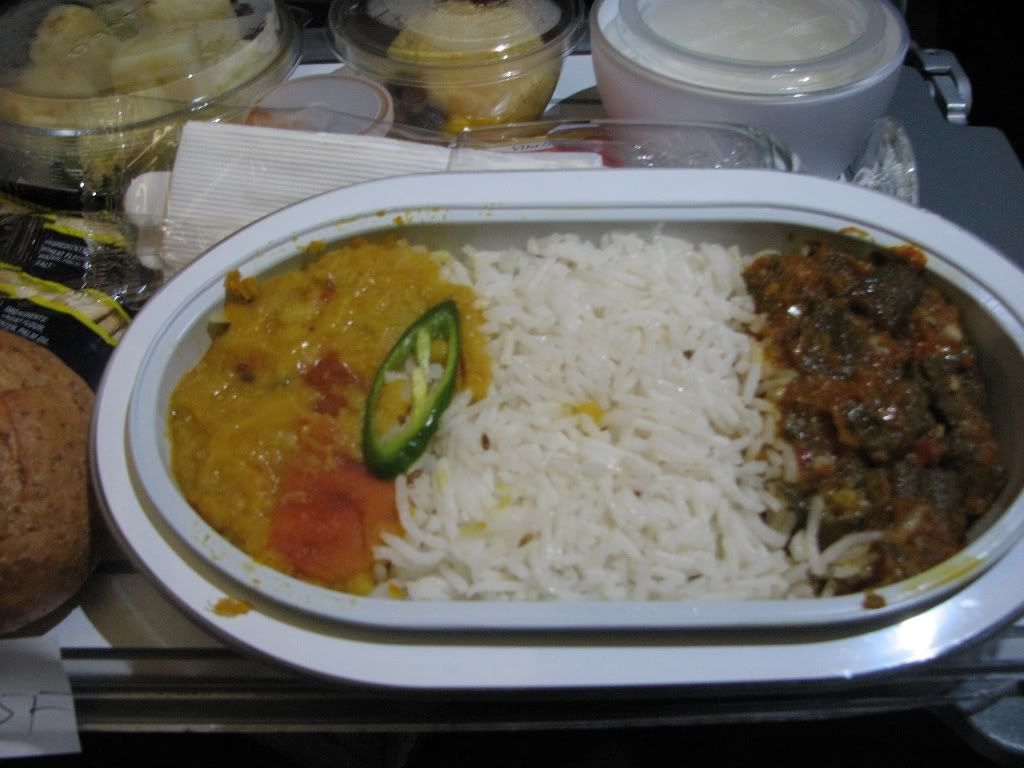 Thats some lentils, rice and lady finger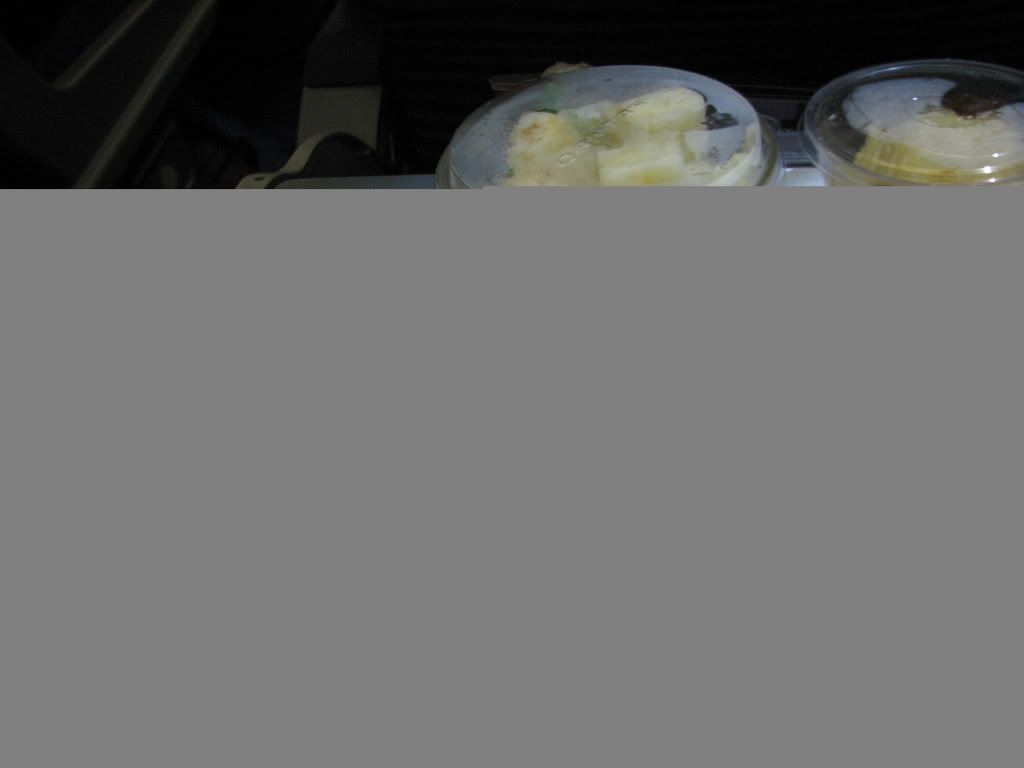 Thats some more indian delicacies (Pakoda)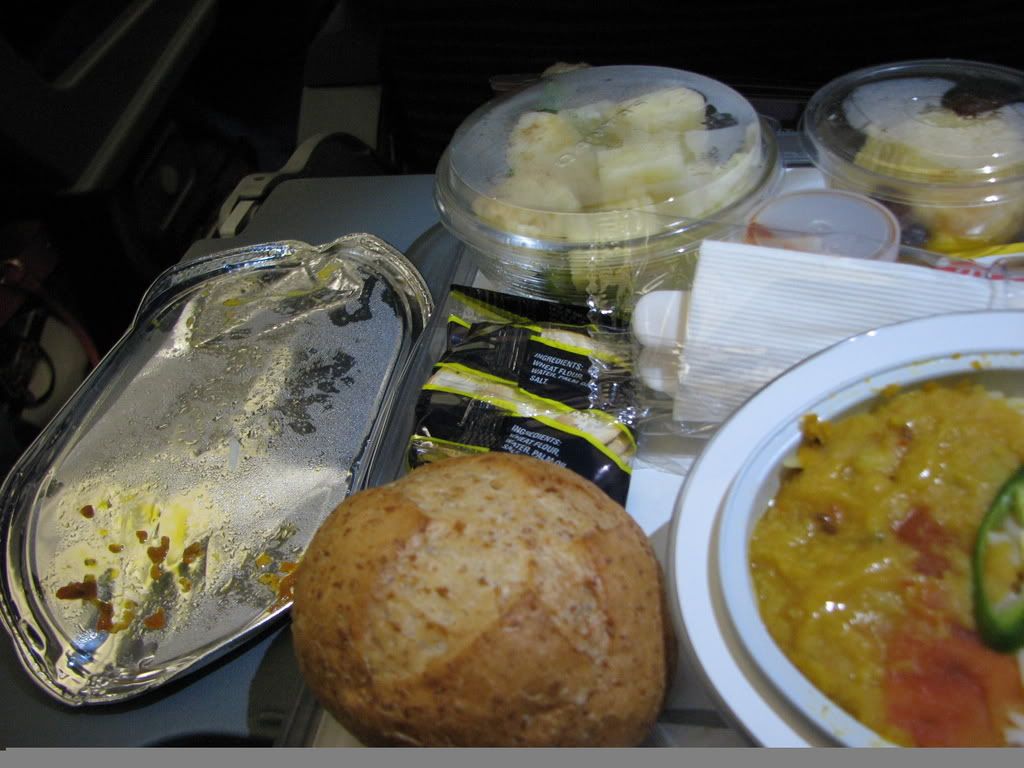 There is the bread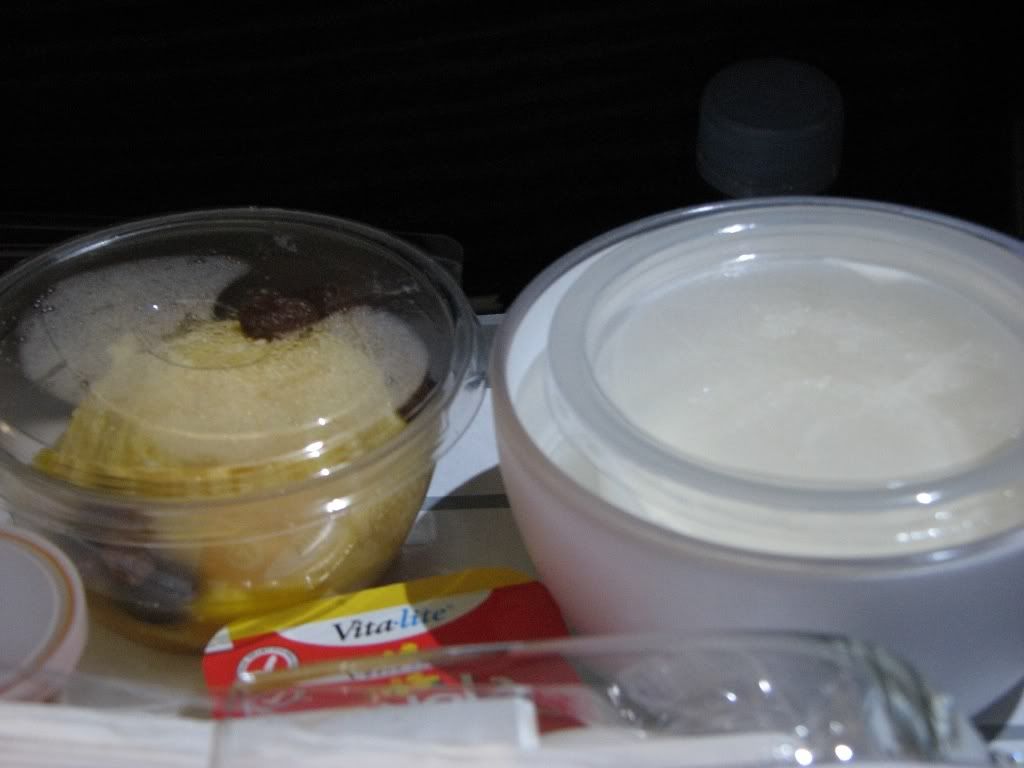 Another great meal, though it was better while watching Borat. I finished my meal even before the groups came as we were sitting in the last rows. The Flight Attendants managed to skip our row for some reason, so not only my row didn't receive the meals but they didn't get anything to drink. I don't think they realized it as they were engrossed in the movie. Soon after I called the Flight Attendant for a drink, and with that everyone asked where their meal and drinks were. She said that the meals were not onboard but if they wanted something from the bakery they may do so. They all took the bread and chocolate which was offered.
After Borat I started another movie, and right before finishing we started descent. We landed smoothly and proceeded through the immigration. As everyone probably knows that the customs in Australia are very strict, and I did write I was carrying medicine. My teacher told me to say no, but tell the custom officer. I followed her instructions. It took quite some time for the immigration and customs to be done.
As soon as customs was over we went to the arrivals area where out bus driver was waiting. He was very cheerful, and we went to a flying club.
There our amazing trip started
I will post the return on the same thread but at a later time.
Now some comparisons between SQ, SIN - DEL
The IFE was miles better
The screen quality was much better
The staff were good, although I think could've been better. Maybe the idea of having a large school group put them off
The meals were excellent, while the one on SQ seemed inedible
The leg space I thought was a lot even with the box disturbing me
After this trip I have been put off with SQ.
Here are some pics from Leeuwin:
What a great ship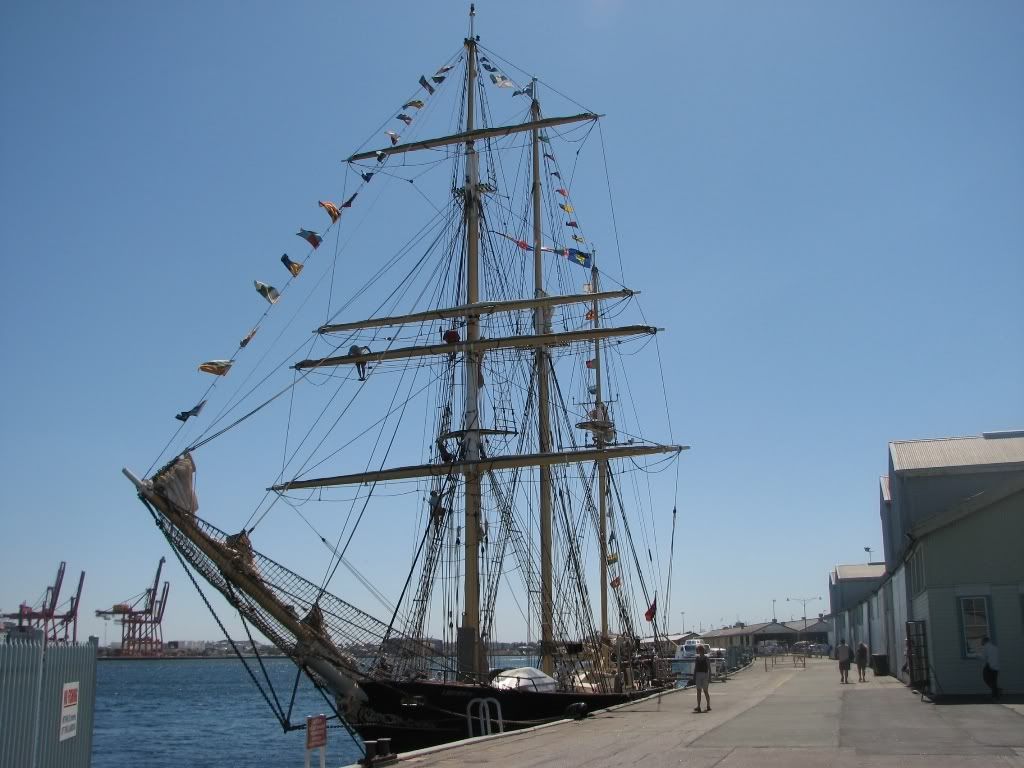 Just minutes later I would be back on the bus for the airport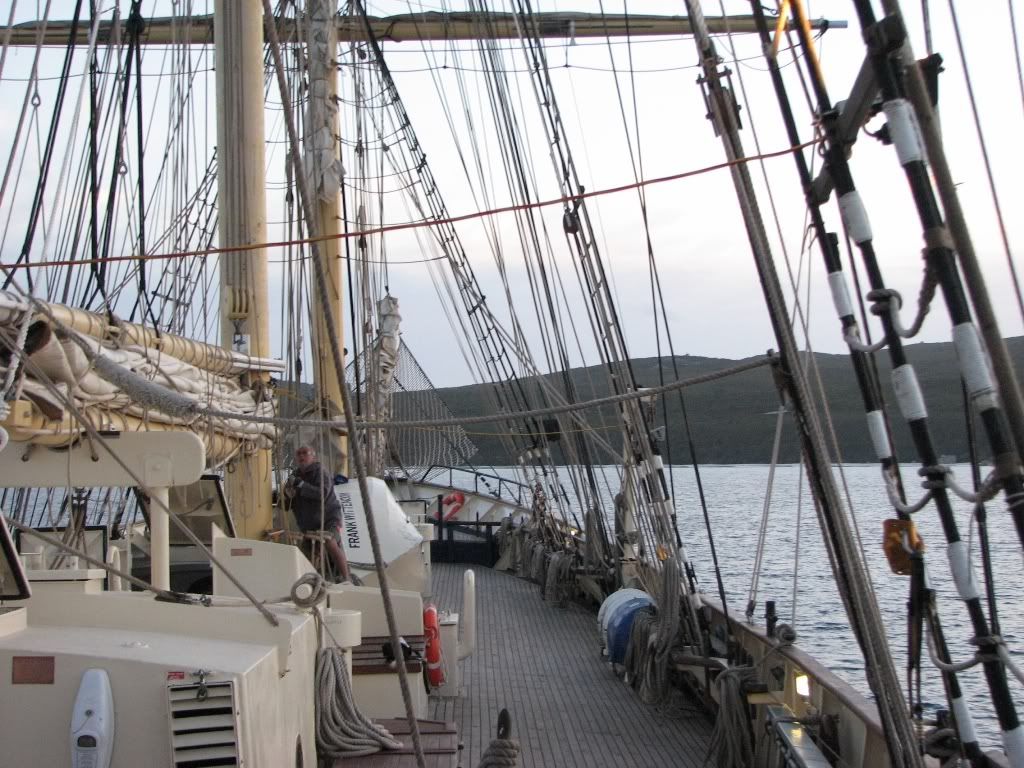 AHHHH!!! We are all gonna die, with me operating the ship
Thats it, as I said earlier the return will also be on this thread
Edit:
For the Adelaide trip report -
Click Here
For the SQ trip report -
Click Here
Regards
Ag92
[Edited 2007-05-05 13:35:10]