This week my company sent me on a short business trip to Athens. The flights were booked on Olympic. But as OA seem to have insufficient aircraft at the moment, probably due to the retirement of the B717s, they are currently wetleasing additional aircraft. Just like in my case, where both flights were operated by French charter airline Axis Airlines. And regarding the title of this report, don't get me wrong - the flights were excellent. It was just that some Greek passengers were unhappy not to fly on an Olympic aircraft, but apart from those emotional criteria, Axis was really not bad at all.
STR-SKG-ATH
OA192
Scheduled departure: 13:00
Actual departure: 13:13/13:20
Scheduled arrival: 17:45
Actual arrival: 17:35/17:40
B737-300(QC)
F-GIXG
Seat: 21A
Number of passengers: STR-SKG 35, SKG-ATH about 70
View Large
View Medium


Photo © Tis Meyer
This aircraft was built and delivered to TAP in 1989, then converted to a QuickChange and sold to L'Aeropostale. In 2002, it became afaik the first aircraft in Axis' fleet.
View Large
View Medium


Photo © Alsatian Spotters
I arrived at STR around noon and checked in at one of the three Olympic counters in Terminal 3. No queue here of course, as there would be only 35 passengers on this flight today. I asked for a window seat in the rear part of the cabin and got seat 21A. Apparently the check-in system couldn't find a seatchart for this unusual aircraft, so the boarding passes were printed as "free seating", and a sticker with the seat number was then put on the boarding card - please also notice the old-style carbon paper ticket: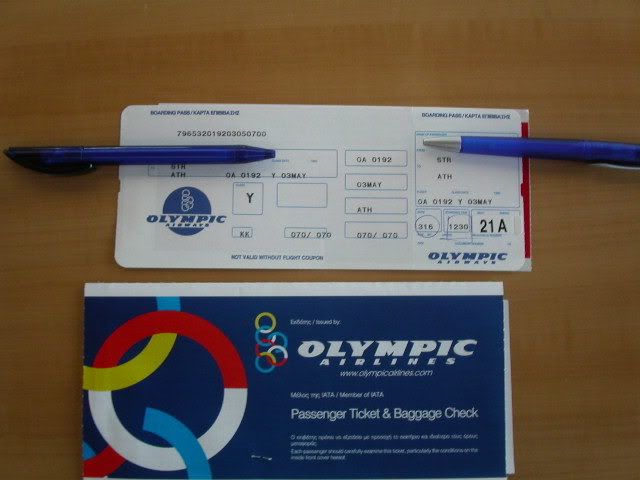 The seatchart of F-GIXG:
http://web.lerelaisinternet.com/Axis.../stories/plaquettesavions/ccxg.pdf
I went through security to gate 316, where I saw our aircraft arriving at the jetway at 12:30. Boarding started by 12:55. In front of the cabin door, a variety of German, Greek and English newspapers were offered. One of the three female f/as checked each passenger's boarding pass receipt.
It was then that I noticed that this is a QC aircraft: you actually walk a small ramp up to get into the cabin (about 5cm), because the floor construction is a bit higher than on "normal" 737s. This also means that the windows appear to be lower, simply because you sit higher in the cabin. It's a feeling a bit like flying on a CRJ
The aircraft was equipped with 147 grey leather seats. The cabin clearly showed it's age, yet it was clean and in good condition, so there's nothing to complain about. The seats had the Olympic Airlines headrest covers, but signs in the cabin made it clear that this is an Axis aircraft: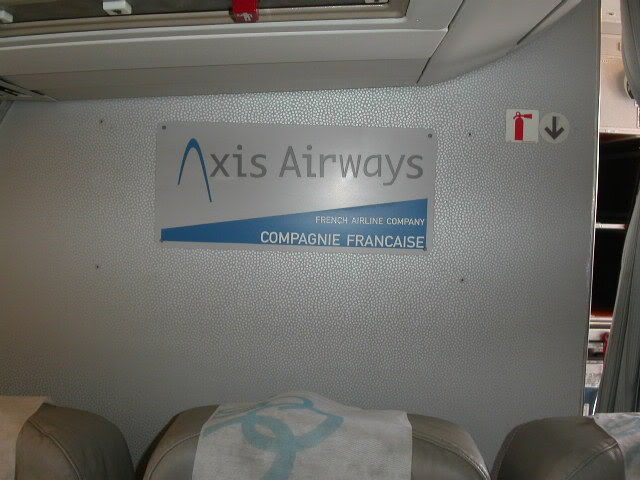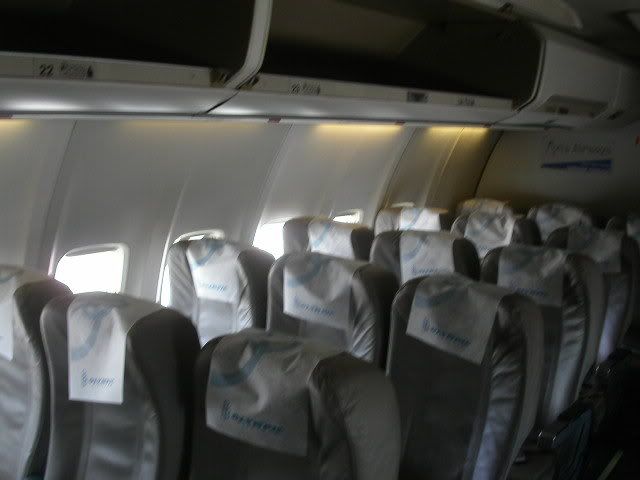 Axis safety card and sickbag: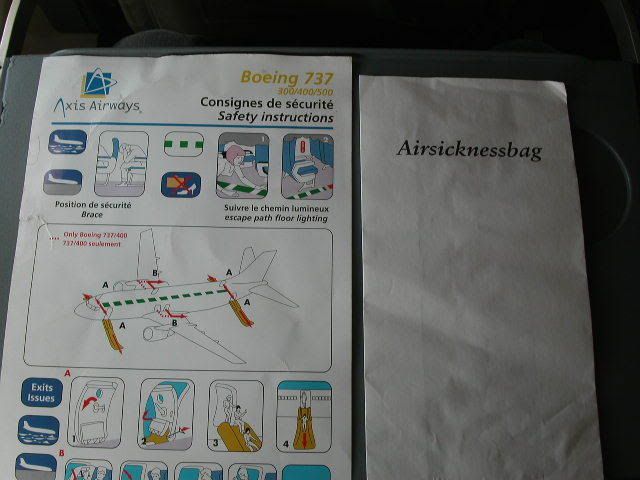 Only 35 passengers on this flight (14 of them flying all the way to ATH), so one would have thought that there's space enough. But a mother with infant changed her seat to 21D, E and F(!), with the grandmother changing her seat to 21C, and 21B was used as a stowage for the dozens of newspapers. The infant didn't scream at all - but the
loud
conversation between mother (21F) and grandmother (21C) throughout the whole flight was really annoying. I seriously thought about changing my seat.
Of course the crew didn't speak any German or Greek, but even their English had such a strong French accent that their announcements were really hard to understand. In addition to that, they were giggling throughout the safety announcement, so this was a bit unprofessional.
We pushed back and took off from runway 07: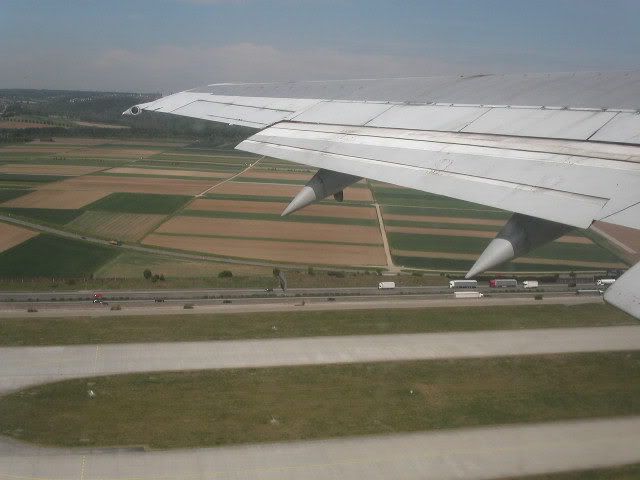 The city of Esslingen, with the River Neckar: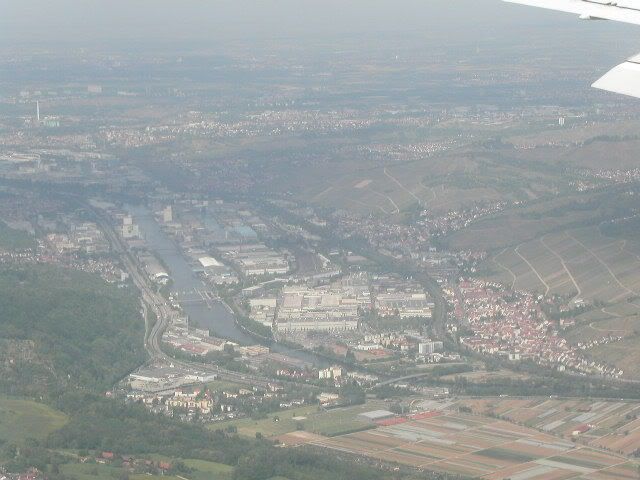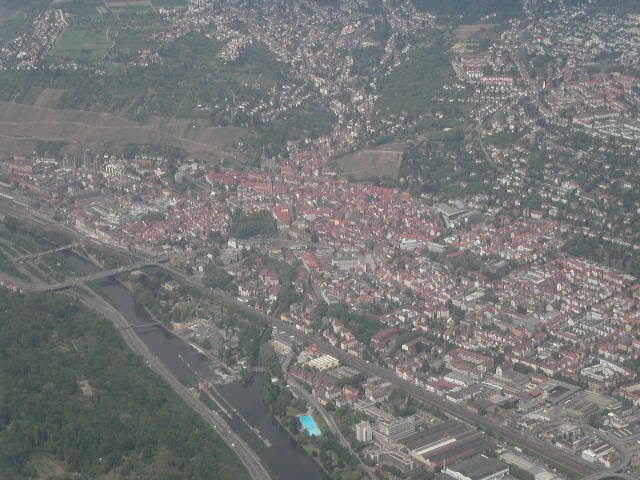 This might be the city on Ulm, but I'm not sure: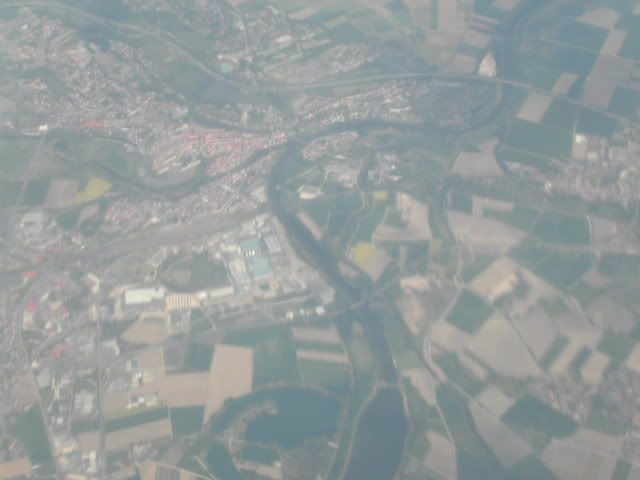 MUC: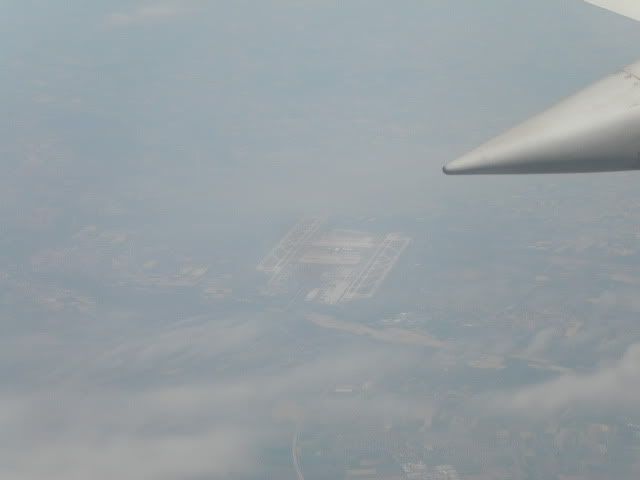 The city of Munich: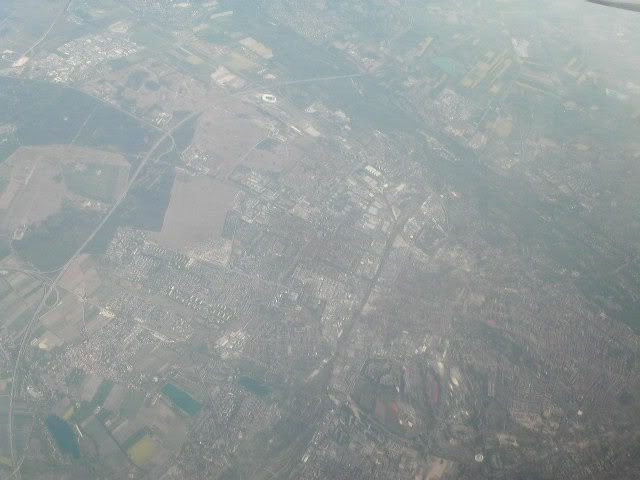 Nothing more to tell about the routing, as it became overcast soon. The crew started their inflight service. And yes, it's true what people say about Olympic: their catering is far above average! Here:s the meal, consisting of fish (eel), ham and bacon. Hidden below all that, there was cold pasta, potato salad and some salad. Then a greek salad with cucumber and greek cheese, a roll, and for dessert a pice of "blackforest cherry cake". In case you ever wondered if you get metal cutlery or plastic - please note that you actually get BOTH: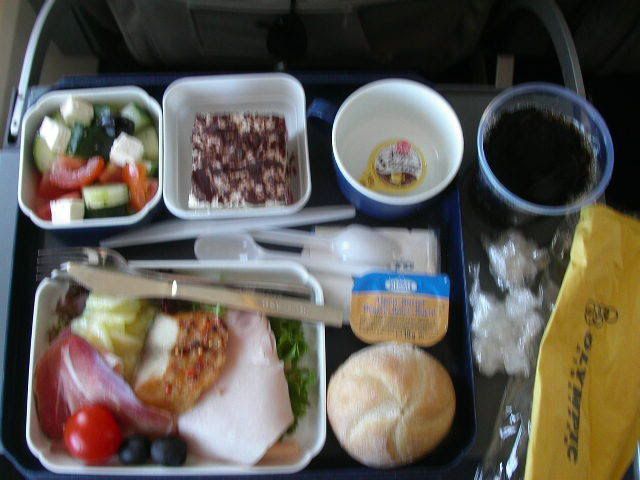 I asked for a coke, but the f/a apologized, she only had Pepsi. Great, as I prefer Pepsi over Coke anyway.
Once again a word about the crew: They were definitely all very kind and friendly, and you really can't blame them for their lack of German or Greek language skills. But their lack of professionallity was shown once again after the meal service was finished, when two f/as attached a sticker "Property of Axis Airways - Do not offload" to the back of the third f/a, and then hysterically laughed as she was passing through the cabin. I mean, you simply wouldn't see that on a LH or BA flight, and certainly not on OA either.
After two hours, we were landing for our stopover at SKG: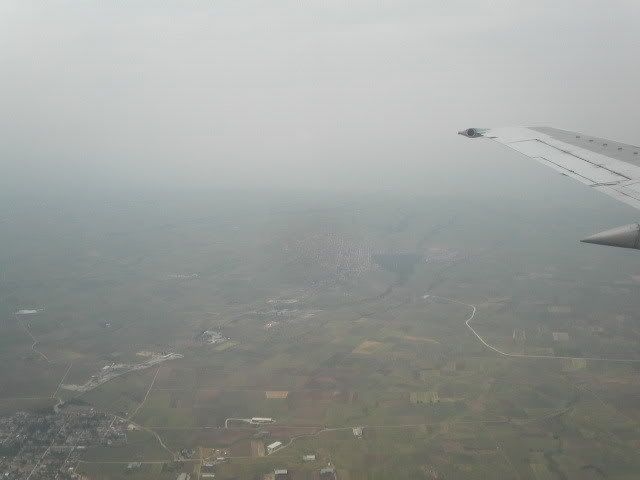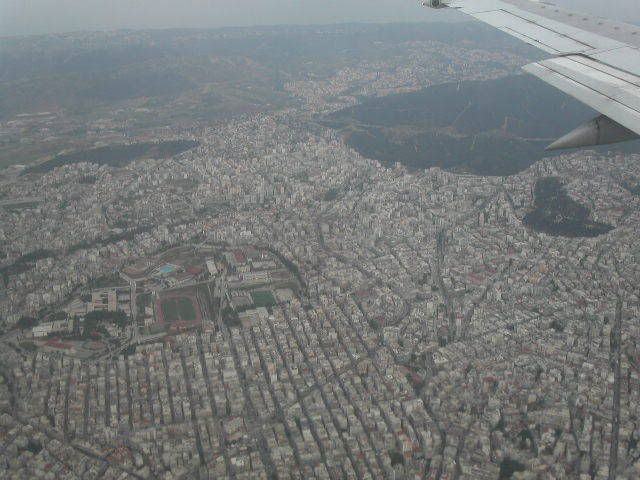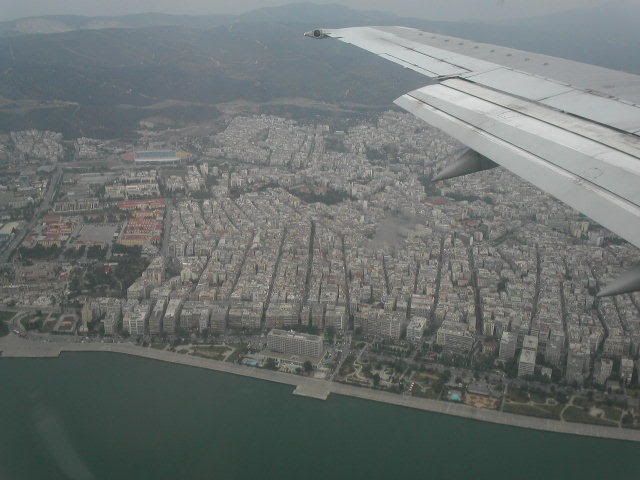 An ex-Malev Tu-154, which was demaged beyond repair during a landing accident in 2001: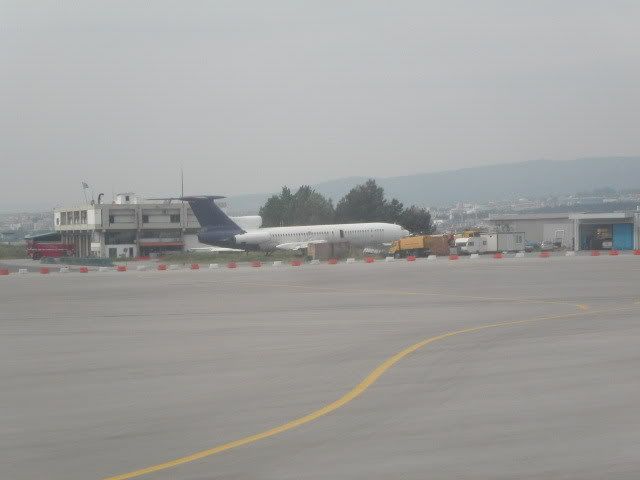 The crew made their announcement: "Welcome... hihi... to... err... Saloniki, hihi... it is now... 15 o'clock 10 local time". In fact it was 16:10 local...
The SKG passengers were bussed to the terminal, the ATH passengers stayed on board. A cleaning group arrived, but was sent away again, there was indeed no need for transit cleaning, so the flight attendants just collected the old newspapers.
After twenty minutes, the new passengers arrived for this domestic flight to ATH. While STR had changed the free seating to manually assigned seating, SKG had kept this flight free seating. But with only 70 pax total, and the Greek's preference of sitting in the front rows, I had a row for myself from now on.
MAPjet MD-83, also operating for OA: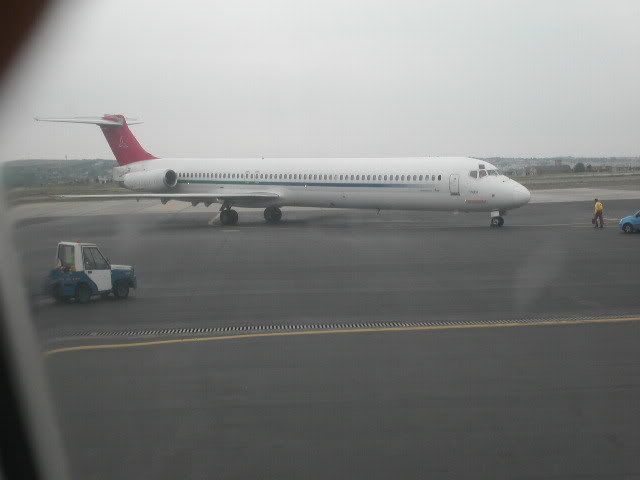 Airport overview: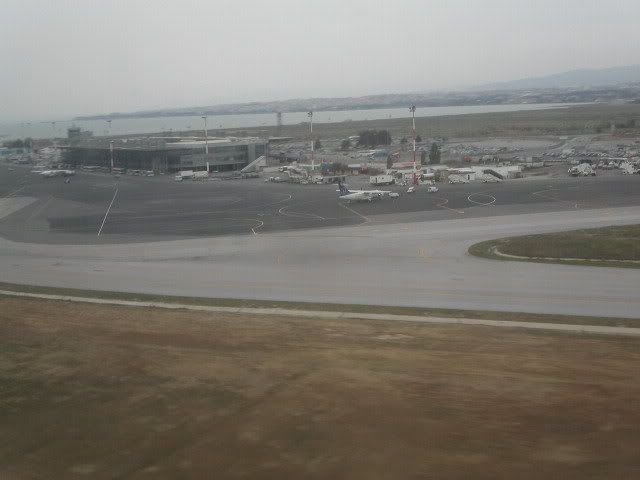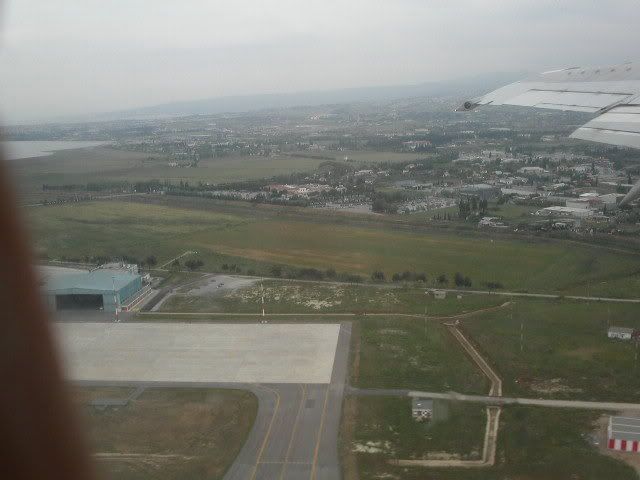 Somewhere over the Aegean Sea: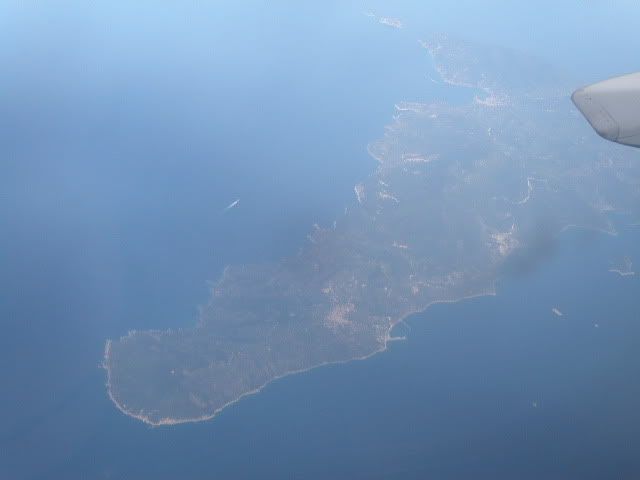 Only beverage service on this short 35 minutes flight, I had a 7up. Then we started our approach, but unfortunately I was told by the f/a that I no longer may take any photos during approach, as all electronic devices have to be switched off. What a pity, as we had quite a spectacular approach over the city of Athens (which is huge!), then out over the sea were we made a steep 180° turn, extended the spoilers and then approached with the nose down - once again, it was just like flying on a CRJ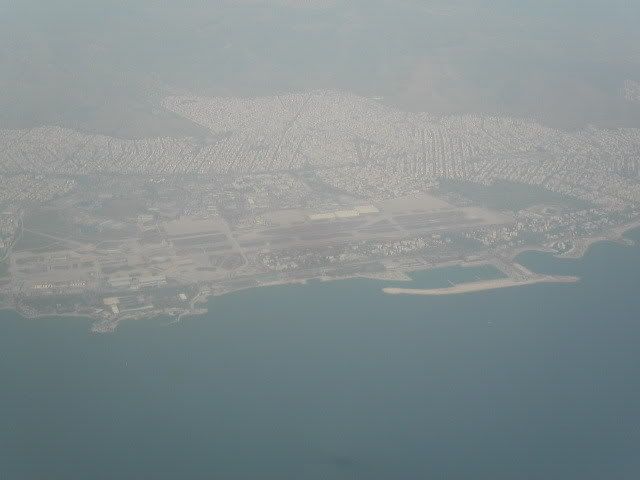 Final approach - Finaval B742, Maersk B762, Air Universal B742: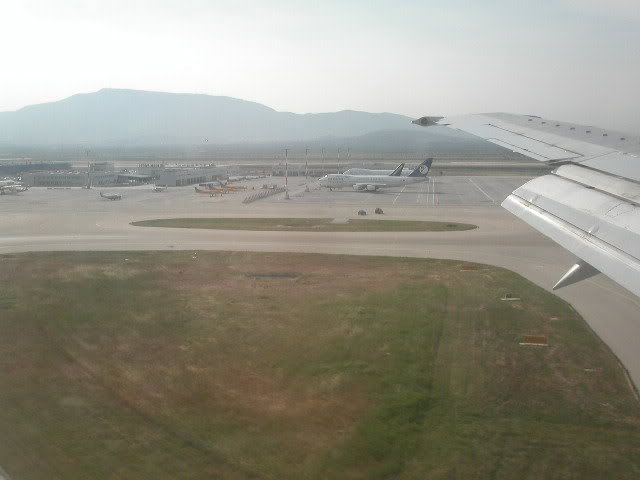 The terminal: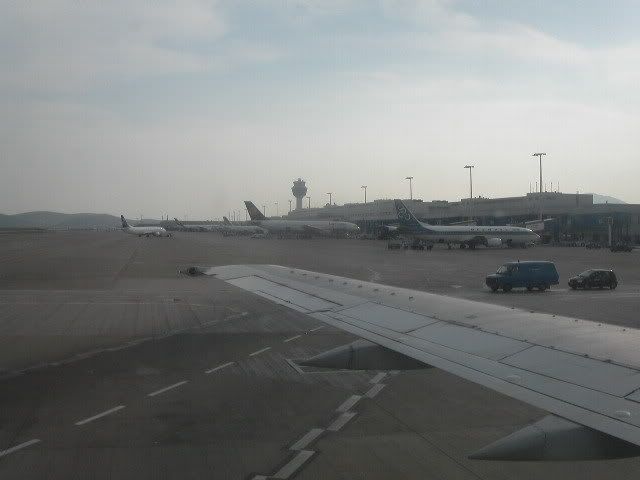 Deboarding: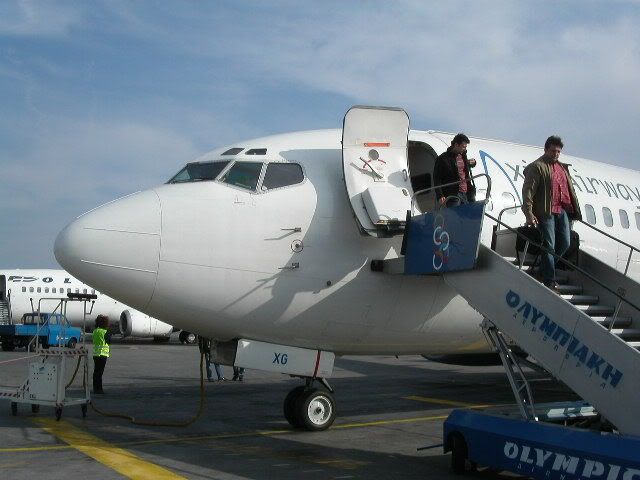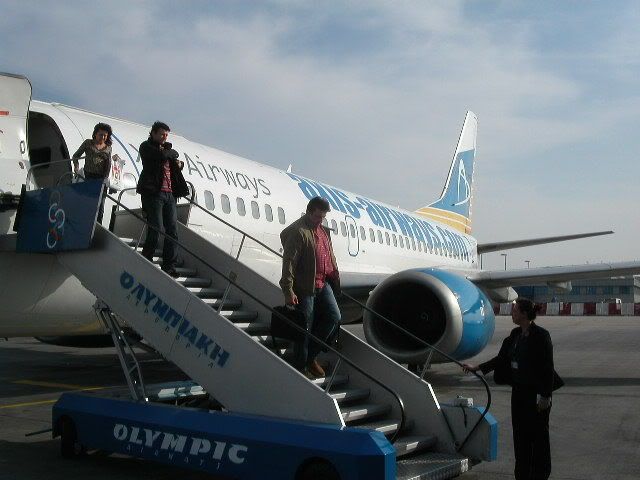 A bus brought us to the arrival hall, where my bag arrived 25 minutes after on-block. As the others of our group had arrived already around noon, I didn't spend too much time exploring the airport, but instead took a bus to the hotel as soon as possible. According to the information desk, the X96 bus would take me straight to my hotel in Vouligmeni, 3,20EUR. However, the bus driver told me that he doesn't serve this area directly. He told me when to leave the bus, then I walked the remaining 2km to the hotel.