LEJ for the first time from STR
Hello, dear readers,
I´ve heard some ,stories and saw lot´s of pic´s from Leipzig.
So I thought what about a short trip to have a view for myself.
The possibility to collect 2000 extra Bluemiles per leg was also not bad.
Booked only two weeks in advance.
Wednesday, 02.05.2007
STR ( Stuttgart-Echterdingen) - LEJ (Leipzig-Halle)
X3 300 operated by Germania in Tuifly colours B737-300 D-AGEG
Leisure flight no. 28 on the 733 and the first on this machine.
Scheduled: 07.00 // 08.05
Actual: 07.20 // 08.15
Gate: 361 Seat: 25F
Load factor: Around 95 %
Fare: 34,38 EUR
History:
Delivered to Euroberlin: 21.10.1988
In service with Germania: 31.10.1990
Leased to Ukraine International Airlines: 12.01.1998
Back to Germania: 01.10.2002
In service with FlyDBA: 29.06.2004
In service with Tuifly since: 15.03.2007
As I am always interested in new features, I want to try Internet-Check-In offered since not to long ago on Tuifly.com.
Checked in online, interesting redirected to a KLM.com website, plenty of seats available, finished quickly and want to print my
boardingpass, but no more action, it was not possible to open the page.
Called the helpdesk, a friendly guy there, operated by HAS, Hamburg airport services, send me the documents by mail
withhin minutes, good job.
So, checked in, no bag to leave at STR, the chance for a late arrival at the airport that Wednesday morning.
Arrival at around 6.00 am, queues at all security checkpoints, T1 was the fastest opinion and at my gate,
a bus gate at the groundlevel, at around 06.15 am. I had a view around the corner and was really surprised as boarding
had started when I was back there. The first bus filled up quickly, some plane pics, a friendly welcome and I was in my seat
20 minutes prior to scheduled deaprture time.
Early morning at STR:
Boarding D-AGEG: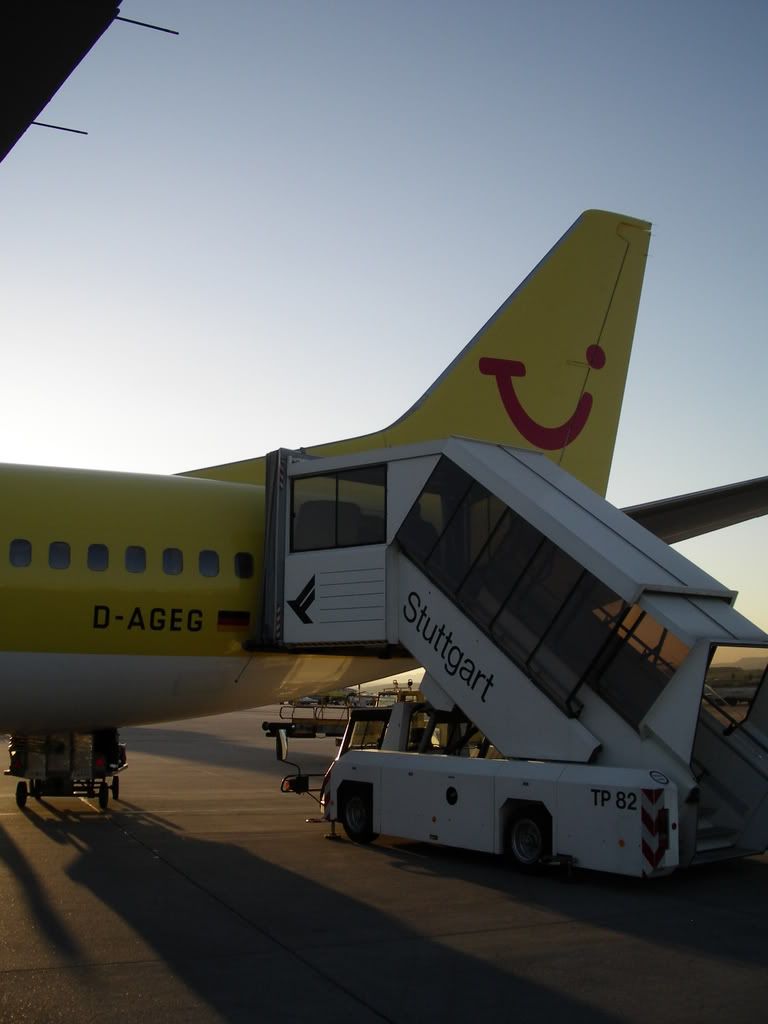 Three friendly female FA´s. The plane with a nice new paint from the outside and
really oldie style inside. A bit worn with bright grey leather seats. The purser introduced later the cabin crew by name and also the captain named
Burkhardt.
The second bus arrived, the machine filled up quickly. Tuesday was bank holiday in germany, a lot of people managed a long weekend
with also a free monday, so the load was mainly business but also some other travellers.
Departure time comes and go, the captain was on the interkom and explained the delay with some differences between the checked and the actual load.
Background: Not transferred dates from internet check in.
Short thereafter we´re ready to go as no. 5 from runway 07 in eastern direction.
No further information from the flightdeck beneath the info that the FO was pilot flying today.
Nice wheather,good views during the whole flight. Nothing special about the service today.
Nice colours near LEJ:
Ten minutes late arrival on LEJ´s runway no. 26 and deboarding by a finger gate in area B.
Deboarding at LEJ: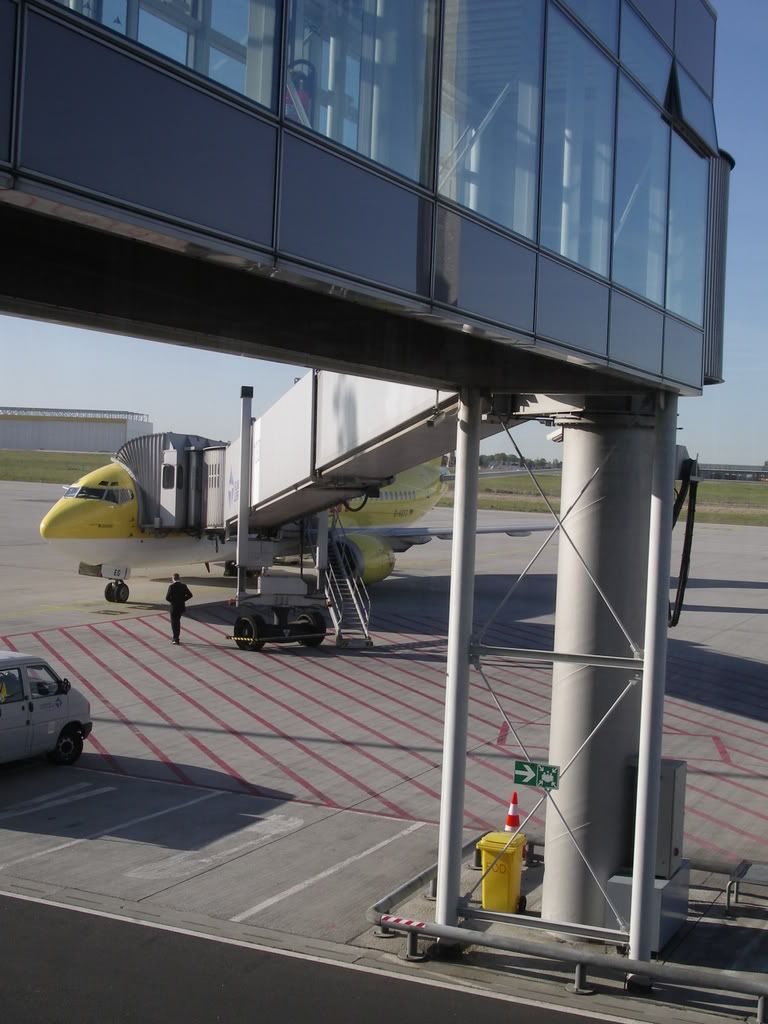 Walk around D-AGEG: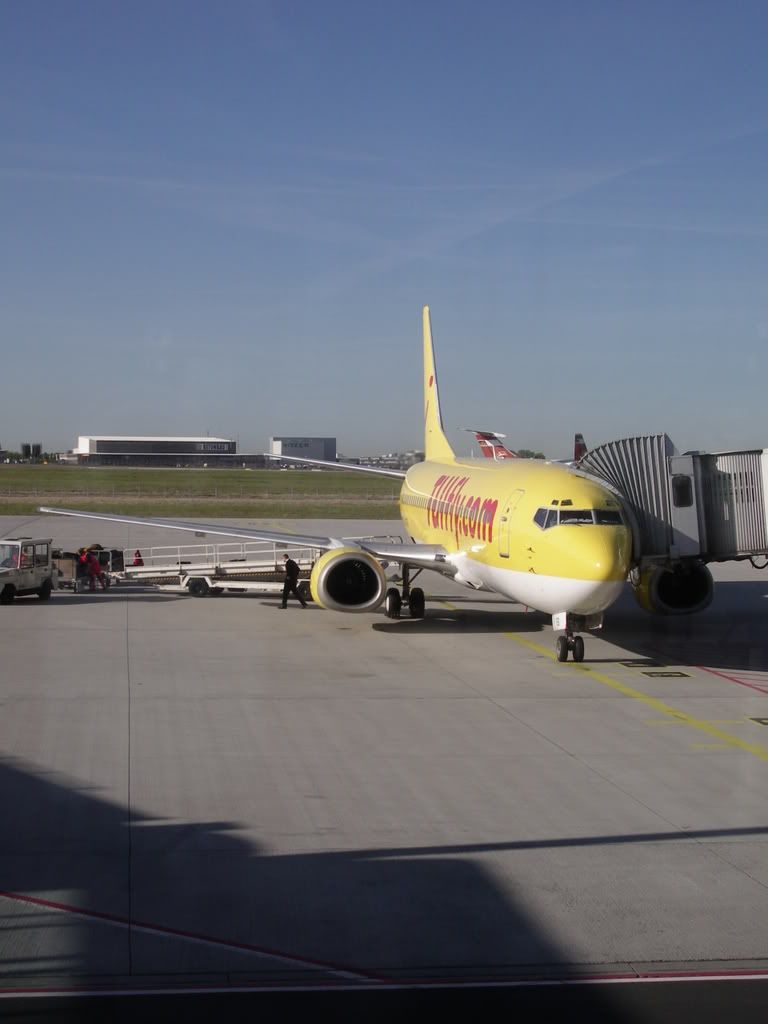 Pushback to STR: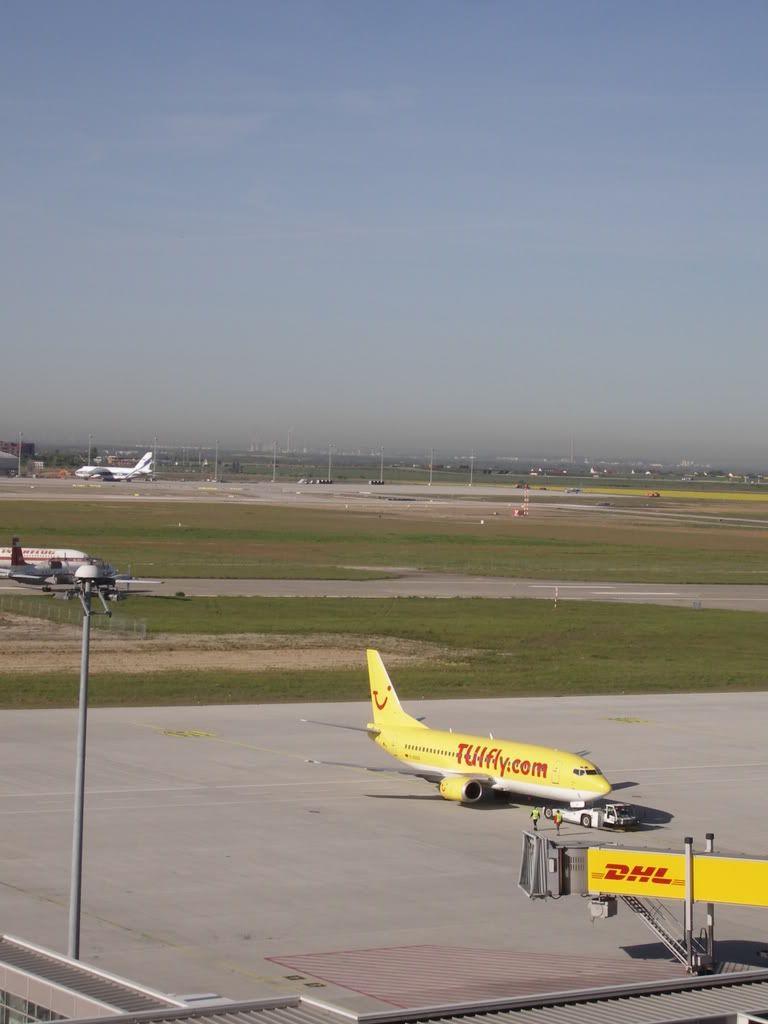 Interesting planes in the background: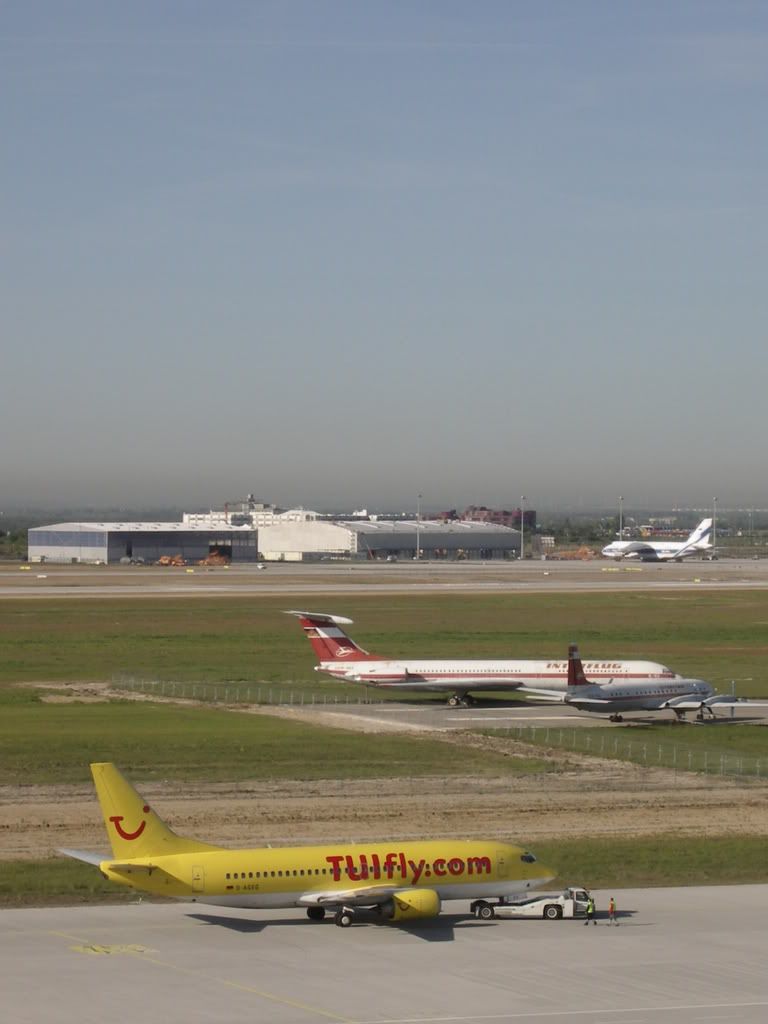 So I had the whole day for some spotting and a city visit.
Do you know Goethe?: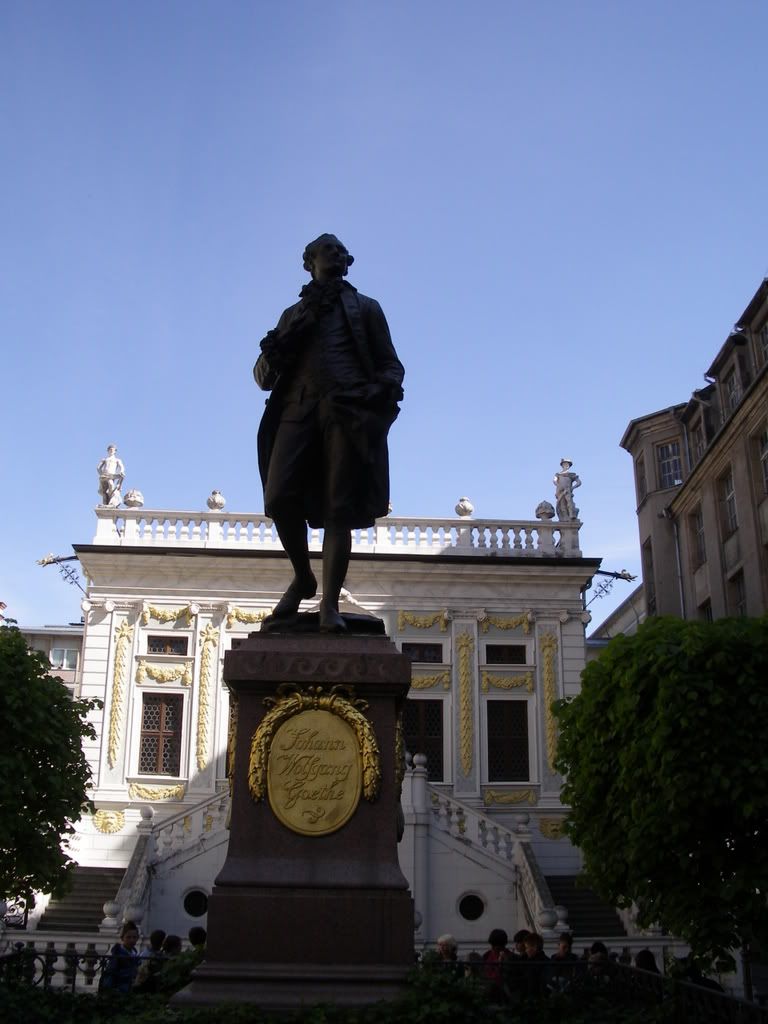 ... or Bach?:
Coke, the love drink!:
Recall Napoleon, Völkerschlachtdenkmal: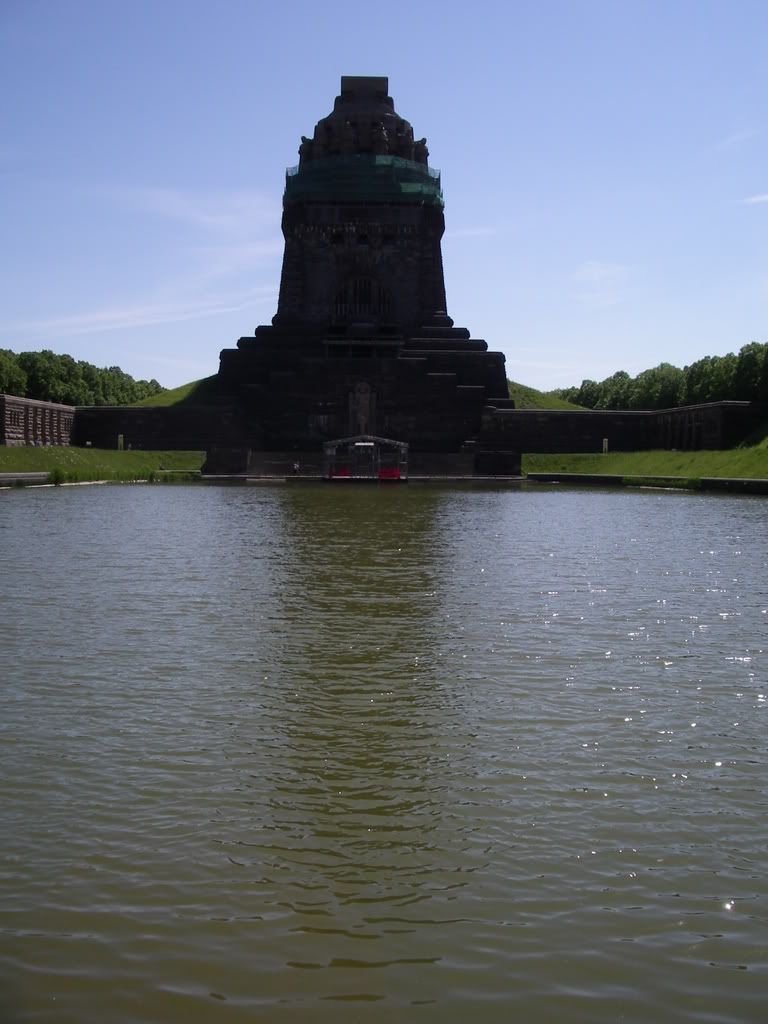 Wednesday, 02.05.2007
LEJ (Leipzig-Halle) - STR (Stuttgart-Echterdingen)
X3 303 operated by Tuifly in HLX colours B737-800W D-AHFS
Leisure flight no. 23 on the 738 and the first on this machine.
Scheduled: 20.45 // 21.50
Actual: 21.20 // 22.10
Gate: ? Seat: 30F
Load factor: Around 60 %
Fare: 31,78 EUR
History:
Delivered to Hapag-Lloyd: 21.05.2000
Leased out to AirBerlin: 27.03.2003
In service with HLX: 15.03.2006
In service for Tuifly since: 15.01.2007
After an real interesting day, I was back at the airport at around 6.00 pm, check-in was done by internet, so directly to the security, no time to wait there.
LEJ operates the wait in lounge concept, there is a spacious central area with shops and places to rest.
The gates are located on an upper level without any seats, the passengers rush to the gate when the flights are called.
I was on this machine around six weeks ago, skyline in the background: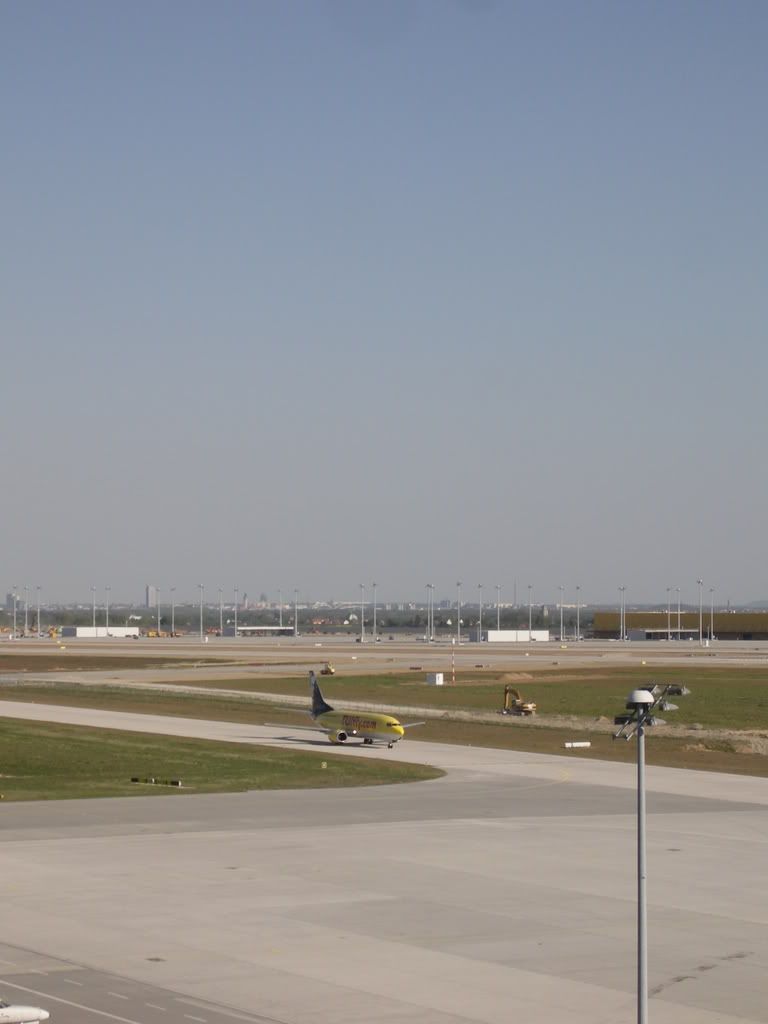 No arrival information about my flight at around 8.00 pm, the best sign for a delay. It´s always interesting to follow the other pax when something goes wrong,
some elderly travellers had a loud discussion about how to claim Tuifly by European law, a 20 minutes delay in the end, so silly!.
Short thereafter there was an announcement about the late arrival from STR at around 8.45 pm, the scheduled departure.
Time goes by and my flight was the last scheduled of the day while all the others domestic to MUC/DUS/FRA and Vienna departed.
Some action by the ground handling guys show me that my plane had arrived at LEJ and only seconds later it showed up.
The planned B738, this time in the old HLX colours.
D-AHFS, arrival from STR:
Beacon flashing: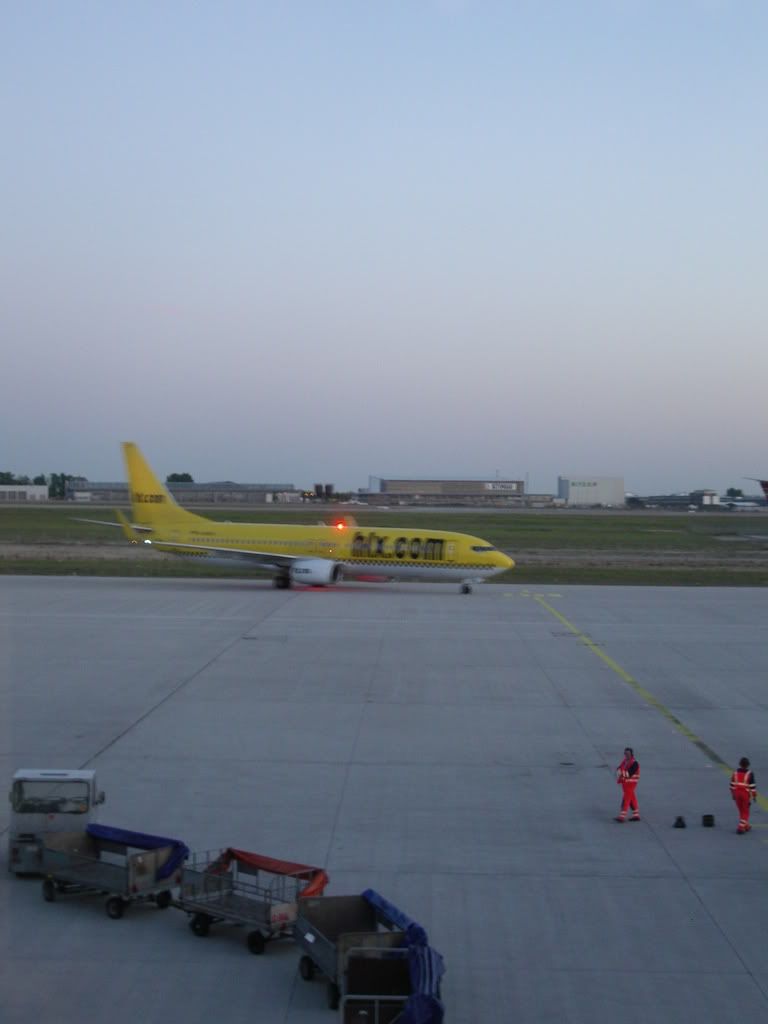 D-AHFS on short finals to the gate:
and parked:
It parked at the gate, pax disembarked and only minutes later boarding for STR was called.
A friendly welcome, this time three female and two male FA´s. Clean and good looking cabin, fitted with the real hard recaro fabric seats.
The captain introduced himself as Frank Moser and the FO Schneider as pilot flying for this leg.
He explained the delay with the planes late arrival from the Canary islands into STR prior to this leg.
Very detailed and informative.
A rolling departure from runway 08, the route good to follow on the map system via Erfurt, near Nuernberg and further to STR, runway 07.
Flight level 24.000 ft.
The usual bus deboarding at STR. The delay was reduced to 20 minutes.
That was a nice day in Leipzig, an real interesting city.
Small delays on both Tuifly services, no problem at all to fly them again.
The most difference IMO was the lack of information on the Germania operated service, the pilots there gave me not the feeling that they are real enthusiastic with their job today, much better on the return operated by Tuifly itself.
Comments always welcome,
Markus (FLIEGER67)