Jetstar International
Bangkok to Melbourne
Background
Last July, Jetstar International, the low-cost branch of Qantas, announced they would begin flying nonstop service three days a week between Melbourne and Bangkok in November. A large advertising campaign ensued and an extremely attractive promotional fare was offered: just 1000 baht (about US $27 at the time) each way, plus taxes and "fees".
Jumping on the internet that afternoon, I looked for a weekend trip available in that fare category. The earliest date available: the first weekend in May, 2007. In a rare occasion of tremendous advance planning, I went ahead and booked tickets for a flight a full ten months ahead of time.
With the addition of taxes and other miscellaneous fees, the total fare for Tawn and myself was only 25,000 baht – US $675. Not too shabby for a nine-hour flight for two people. The fare included the addition of the various in-flight services of which we wanted to avail ourselves: Jetstar's method of operation is to offer a base fare for getting you between two cities, and then to charge for literally
everything
else you might want: drinks, food, amenity kit, blanket, pillow, and portable digital video player.
Many price-conscious customers appreciate this approach, as it allows you to skip paying for a service you do not wish to have. Other airlines have adopted the approach, too, and after experiencing it, I've decided I like it. Not being experienced in this
a la carte
method of buying airplane tickets, I went ahead and purchased all of the available items for both legs of the trip in advance. A discount is offered for doing this, and I didn't realize that some of the items (blanket, pillow) would be ours to take and could be used again.
This is our trip on Jetstar:
Thursday, 3 May 2007
BKK-MEL
JQ 030
Depart:
21:00 / 23:05 (Scheduled/Actual)
Arrive:
09:00+1 / 23:00 +1 (Scheduled/Actual)
Equipment:
Airbus A330-202
Cabin:
"JetSaver" Economy
Seats:
32 H & K
The schedule seems at first to be a good one: not leaving too late (and in fact, leaving well before Bangkok's usual "midnight madness" rush of incoming and outbound flights), and arriving at a reasonable hour of the morning. The problem, though, is that a 21:00 departure means you're heading to the airport smack-dab in the middle of rush hour, which in Bangkok is something just shy of a death sentence.
Our taxi driver rather adeptly wove his way through the gridlocked traffic on our
soi
and just thirty minutes later we were on the expressway for smooth sailing all the way out to Suvarnabhumi. Arriving just before 19:00, I was expecting we'd find a long queue at the Jetstar counter. After we found the right counter – Jetstar Asia's check-in in row H is not differentiated from Jetstar International's check-in in row U at the other end of the world's second-largest terminal building – there was only the briefest of waits as the agent checked our bags, confirmed our advance purchase of amenities and meals, and informed us that the inbound flight was delayed and so our departure time was now 22:45.
Check-in counters at row U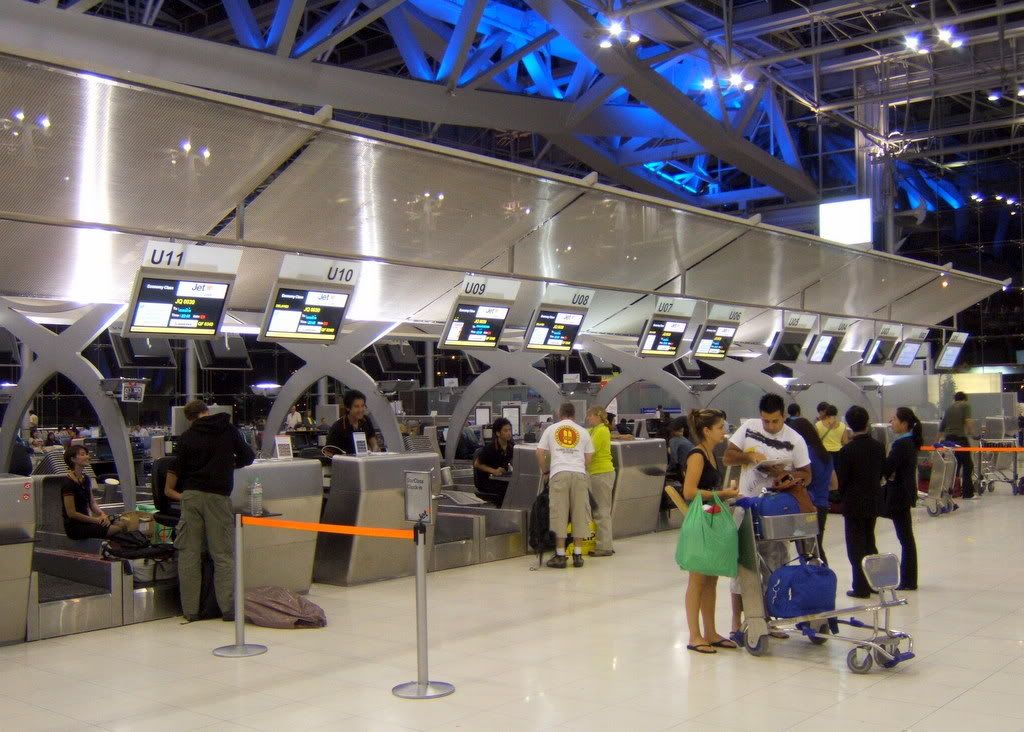 JetStar boarding pass
This gave us a little more free time than we expected, time for a little shopping and a bit to eat. The branch of S&P Restaurant on the middle level between Arrivals and Departures offered an inexpensive dinner and we were through with dinner and finished with immigration in no time at all. Alluding to the usual long lines at the airport for night-time departures, "This is great," I said to Tawn, "we should travel this early in the evening all the time."
Low-tech and poorly spelled signage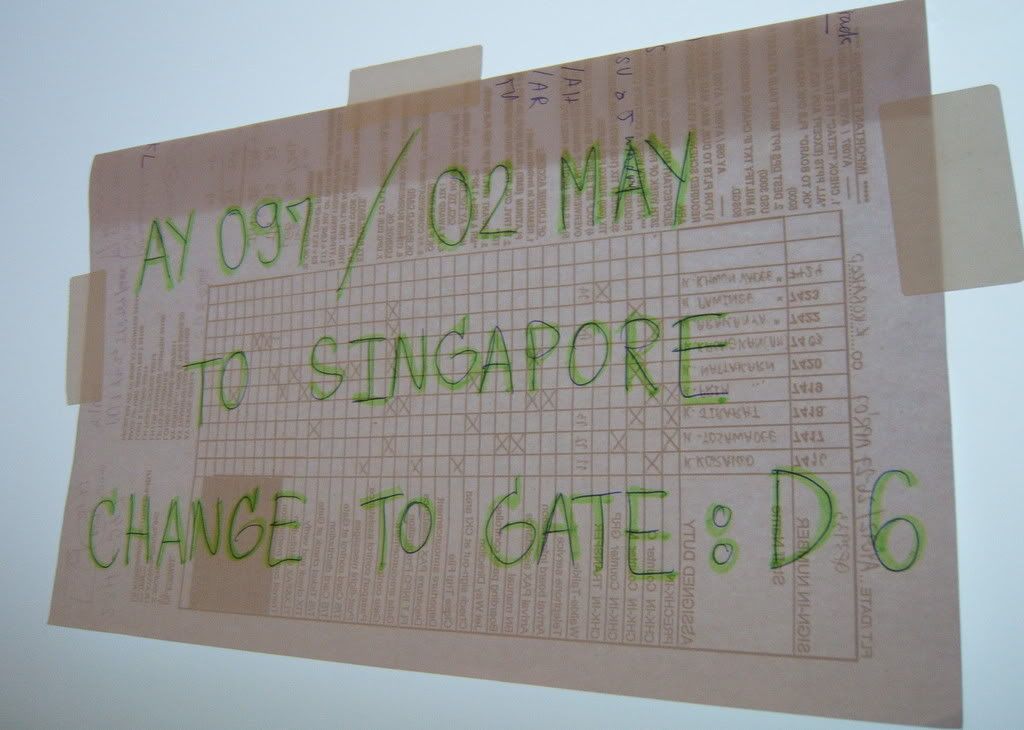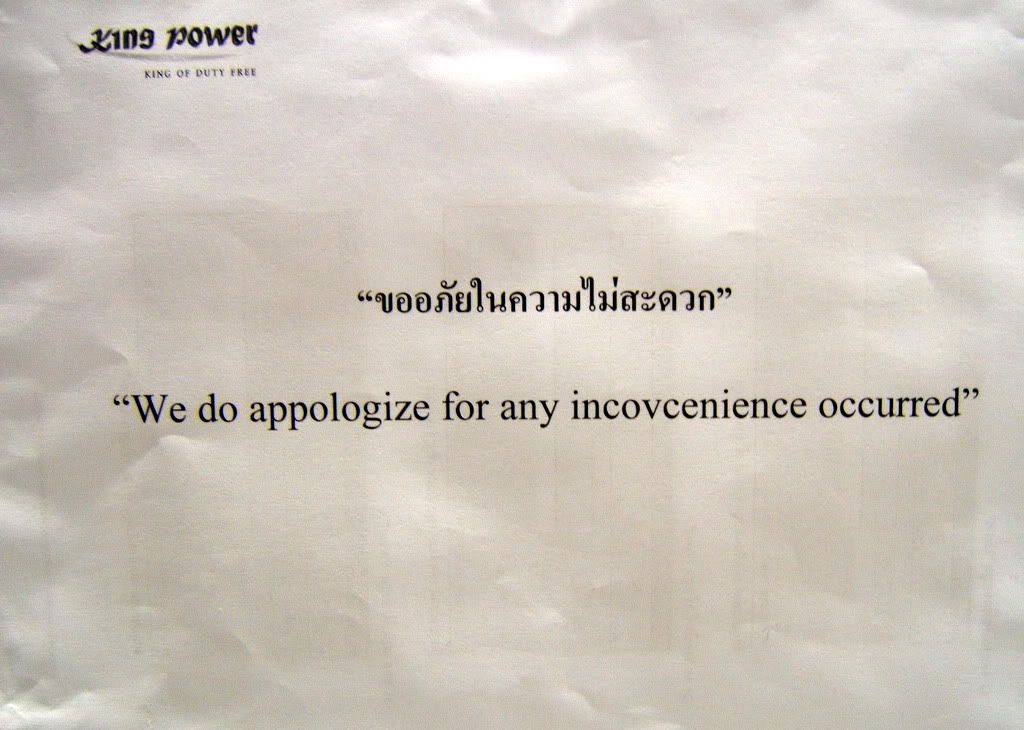 Our friends in Melbourne had given us a long list of duty-free items to purchase for them: perfumes, cosmetics, and the like. Thankfully, we asked the young lady working the duty-free counter to confirm that we'd be able to bring our purchases aboard the flight, given the patchwork of liquid restrictions now complicating travel around the world.
"No, I'm sorry" she told us, explaining that we would be able to retrieve our purchases once we returned to Bangkok.
Since the purchases were for our friends in Melbourne, there was little point in retrieving them upon our return to Bangkok! She acknowledged that it was inconvenient and told us that they had seen a drop in sales because of the rules.
Suvarnabhumi Shopping Mall… er, International Airport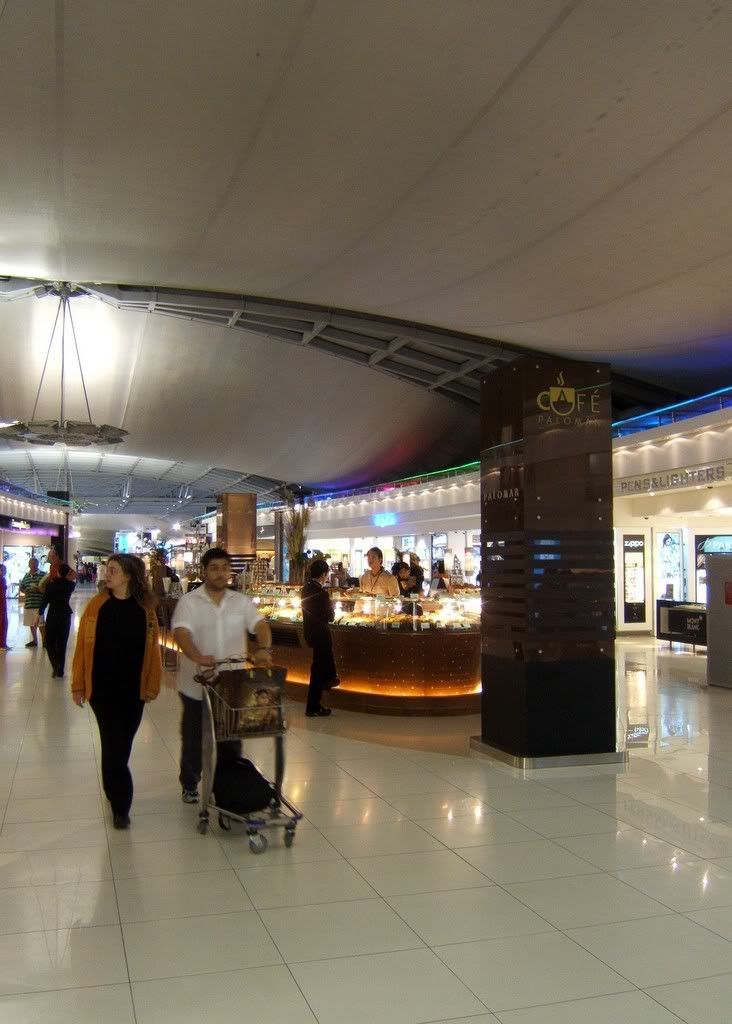 Our shopping excursion quickly truncated, we headed to security. The design of the Suvarnabhumi airport is doubly inconvenient: you walk through a mall's worth of shops and services only to then pass through security into the wasteland of the gate area, where you cannot even purchase a bottle of post-screening water. It seems obvious to me that if the security area was moved directly behind the immigration counters (there is room for this at each of the screening areas) then duty free sales would be boosted, customer service would be increased, and everyone would generally be happier about the experience.
The gloomy E concourse
I had assumed that the security screening was looking for liquids, having read in the Bangkok Post a few weeks ago that the airport was going to adopt the increasingly standard "only in a zipper plastic bag" liquid restrictions. To my surprise, when we reached gate E6 well along the gloomy concourse, there were two tables and eight security personnel set up to go through all of our cabin baggage
by hand
to look for prohibited liquid items.
Of course, at this point you're past security and all the shops so if you have any items not traveling in a zipper bag, you would have to dispose of them. Or, as it happened, the guards had boxes of Ziploc brand bags, available for sale at 20 baht each. Twenty baht! A box of fifty of the bags costs perhaps 40 bags at the store, so you can imagine the beer money that these entrepreneurs were making from a single flight.
Thankfully, we had anticipated the restrictions and were traveling with our allowed quantities in the approved plastic bags, so we were not subjected to the highway robbery.
Contrast this to our experience in Narita six weeks ago, where the security personnel were providing complimentary plastic bags, had tables set up, and personnel available to help explain the restrictions and get you organized. Once again, Suvarnabhumi makes a clever play to achieve "least favourite airport" status at this year's Freddy Awards.
Boarding began just a few minutes later, at about 22:30. There was an announcement made, barely audible, that the Star Class (de facto business class) would be first, then such-and-such a range of rows, then the remainder of the cabin. Since the announcement was difficult to hear, everyone promptly got up and queued. Our boarding passes had already been torn and passports checked upon entering the gate area, so at the jetway door there was only a cursory nod hello as the agents clicked counters, to tally the boarded passengers.
The flight used two jetways to board but since there had been a wholesale rush to follow the Star Class passengers, the entire queue snaked up the front jetway and nobody was using the jetway leading to door 2L. An agent finally came down the walkway and discovered this, so waved some of us over to the second bridge.
Snaking line in the Battlestar Galactica-styled jet bridge
We were greeted aboard by a friendly Thai flight attendant – the entire cabin staff, minus two, were Thai nationals – and were directed to the right-hand aisle. The aircraft cabin was clean and in good condition: economy class seats are uniformly dark beige with a slim-line design that seems to make the seats very thin but still comfortable. My headrest wasn't much use, as when it was pushed up instead of staying in place is would just slide right back down. Thirty-two inch pitch was adequate but not overly comfortable and recline was sufficient for a nighttime flight.
Approaching departure time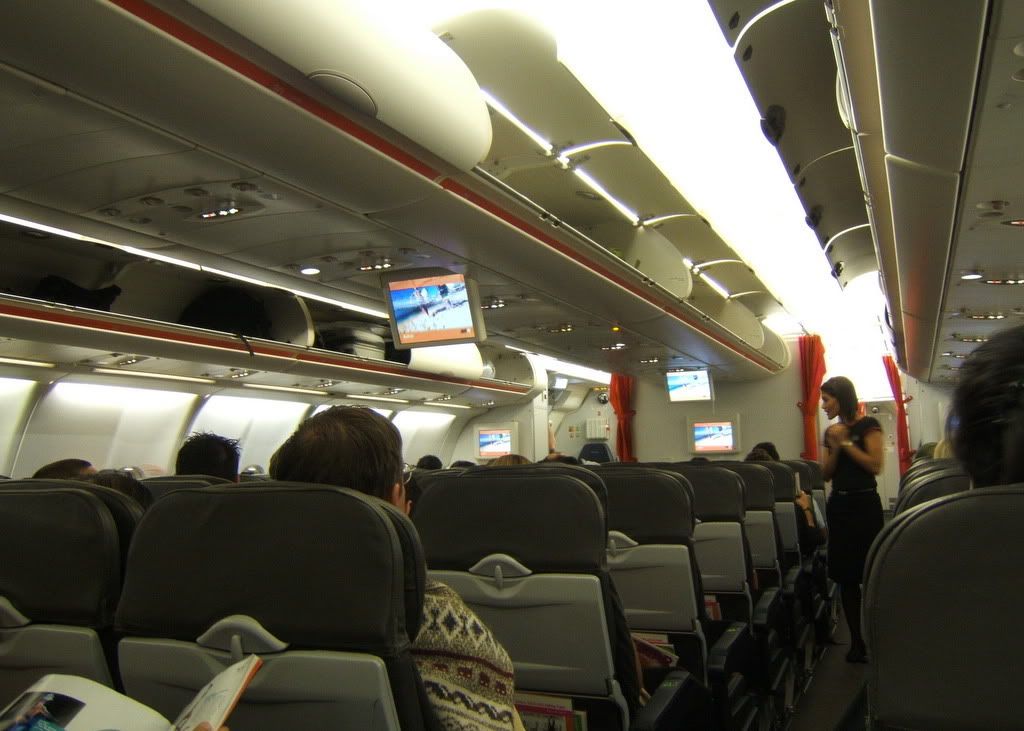 There was a bit of a delay after boarding and we didn't push back until just after 23:00. The first officer came aboard the PA system and greeted us, apologizing for the delay and explaining that it was due to a mechanical issue in Melbourne. He also informed us of an eight hour, thirty-five minute planned flight time, initial cruise of 31,000 feet and then after the fuel burned off, up to 41,000 feet. Also, because of noise abatement, we would be departing from runway 19L on the other side of the airport.
The safety demo was cheeky in a straight-forward, "Hey, you! Pay attention!" kind of way. Flight attendants stood in the aisles, demonstrating the seatbelt, life vest, etc. in time with the video, the first time I've seen both the live demo and video used together.
Small bottles (300ml) of complimentary water and the audio headphones were passed out. Normally five Aussie dollars are charged for the headphones but I think because of the delay they were provided free of charge. Based on what I read on the in-seat menu and on the website, I was under the impression we'd have to pay for additional water throughout the flight, but every time I asked for water it was provided free of charge.
After a long roll we lifted into the air for the usual strained climb that Airbus widebodies seem prone to, gradually gaining altitude as we headed out to the Gulf of Thailand. Cabin lights came on just at about the point when most passengers had drifted into a nap, and the flight attendants passed through the cabin several times to distribute the different amenities:
Immigration cards were first, followed by amenity kits, then the digital video players.
The amenity kits, available for AUD 12 on the flight and AUD 10 in advance, are rather clever: a generously-sized black fleece blanket rolled and carried by a bright orange Jetstar logo handle that contains two pockets: one with an inflatable neck pillow and the other with amenity items such as ear plugs, eye shades, toothbrush and toothpaste. While we were in the gate area, I noticed a number of Aussies who were returning home had their kits with them ready to re-use. Had a realized how substantial the kit was, I would have saved money and ordered it for only the outbound flight. But since it was pre-purchased, I'll just have to send an extra kit to Toronto. (Kevin?)
"Comfort Me" packs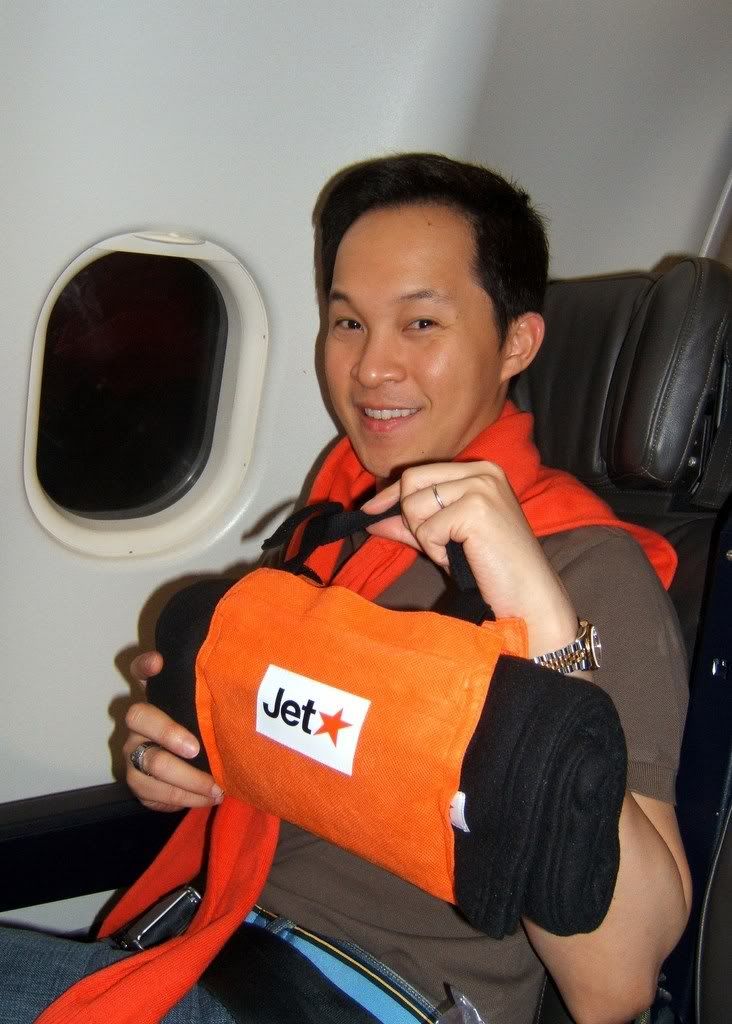 The video players are also sort of a useful item. They have ostensibly a six-hour battery life although mine crapped out halfway into a second movie. They are pre-loaded with about ten movies, another ten television shows, some music videos and some other features. There were greasy fingerprints on it, disgusting really, but it wasn't until morning when I figured out where they had come from.
The biggest problem with the video units is that they have to be propped up on the tray table. When the person in front of you reclines, you have a pretty steep angle of looking down at the screen, which isn't comfortable in the neck. Still, I think it is a nice item to offer. Upon reflection, since a movie is shown on the main screen along with a few TV shows, that would have been sufficient for the flight out since it was a nighttime flight. Also, even though it was already the third day of May, the previous month's videos were still loaded and the selection was not nearly as good as what was listed in the in flight magazine.
"Entertain Me" video on demand unit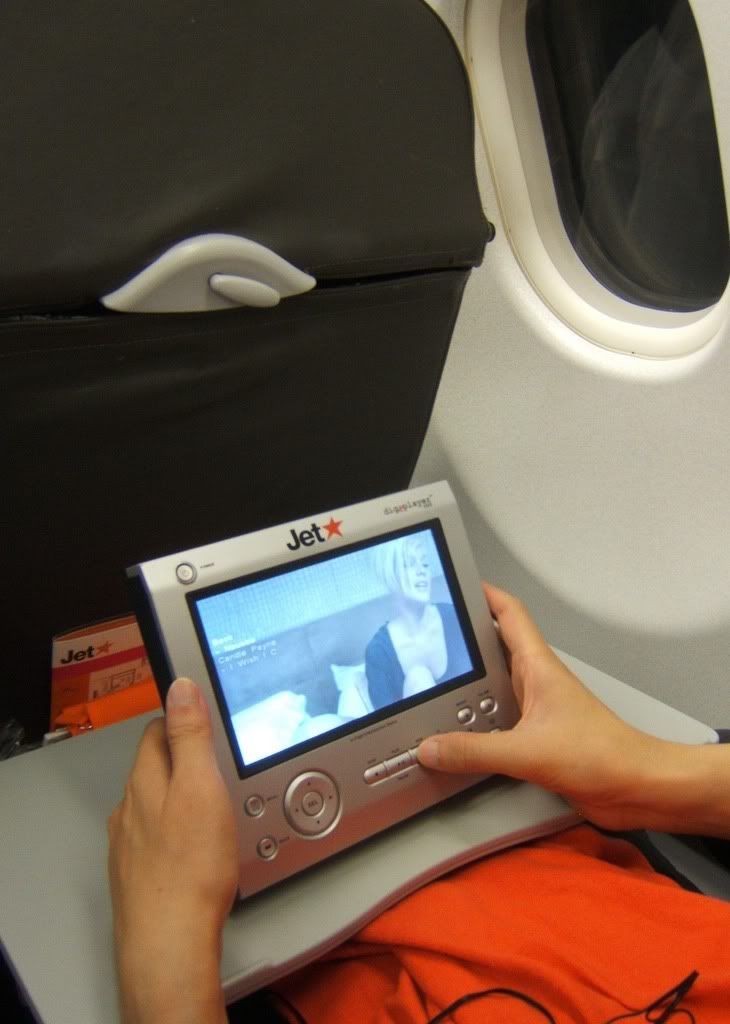 About an hour after take-off meal service began. This was another pre-order item: order in advance and you not only receive a discount, you're also guaranteed a meal. After the pre-orders are served, everyone else has an option of buying. I suspect that on the overnight flight people probably don't buy much and that the return daytime flight has more takers.
The meal was something I was quite curious about: airline food is usually not too exciting and I was worried that I'd be paying for a very poor meal. In this case, the dinner service was about the same as on other carriers. The meal choices were a stir-fried fish over rice, chicken with pasta, or a vegetables and noodles Asian-style dish. Tawn had the fish and I had the chicken, and both were tasty. The quality of the food itself was good, but I thought the portions were a bit skimpy. If there had been another side item or a little appetizer or something else, I think that would have been nicer. Especially since I'm paying for it, I expect it would be a good value.
Meal service
People settled in for the flight, most opting to sleep in the 70% full flight and a few lucky people having two or three seats to stretch out over. I slept for a little while, awoken by a wailing baby, and then watched one-and-a-half movies.
During the flight, it seemed that of the three mid-cabin lavatories, only one was actually in use. Waiting in a long line, only one of the lavatories ever opened up. There were two others in the rear of the plane which passengers didn't seem to be as aware of. There would be a queue in the center of the cabin while almost no wait at the rear.
Flight attendants passed through the aisles pretty frequently and whenever I asked for more water, the request was promptly and politely fulfilled. I expected to have to pay, but was never asked for money.
The buttons in the armrest were a bit anemic in their response. You really had to press hard to get the lights on or off, often pressing several times to get the desired action to occur. Still, the seats were pretty comfortable for economy, the cabin was clean, and the temperature just right for the flight.
Morning over the middle of Australia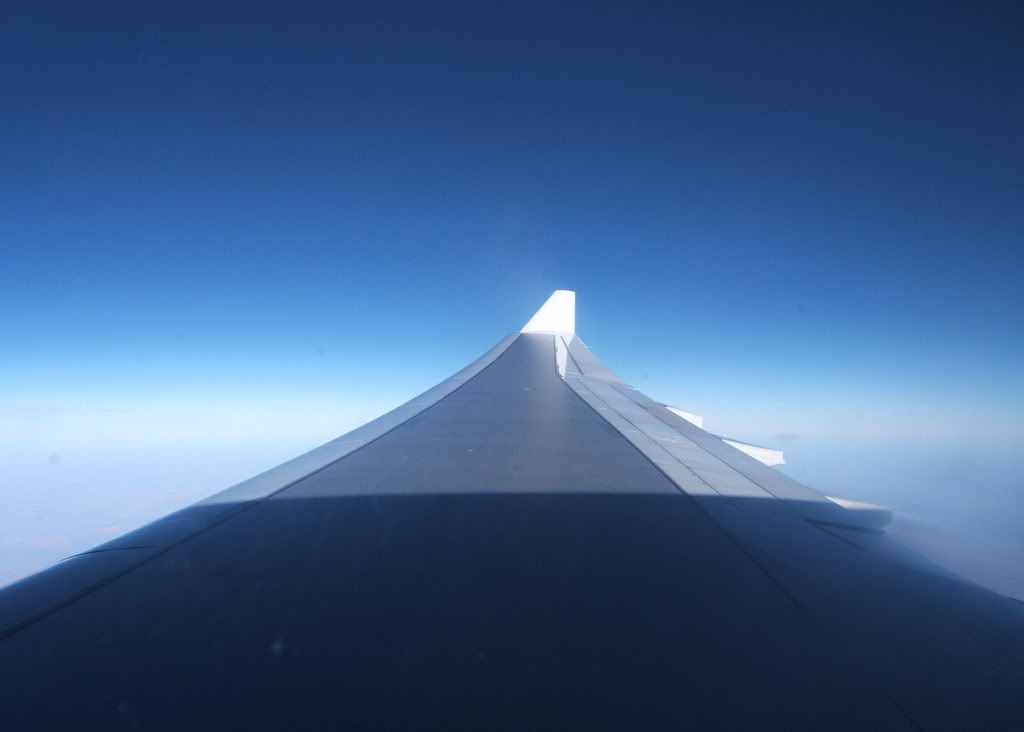 About two-and-a-half hours before landing, the cabin lights were brought back on and a slap-dash breakfast service was offered. Some sort of an attempt at a Panini sandwich, the dry ciabatta bread had cheese and a thin slice of ham inside and the melted cheese had made the entire thing oily, thus explaining the greasy hand prints on the video players: they didn't collect the players until after breakfast.
Breakfast snack
Descent into Melbourne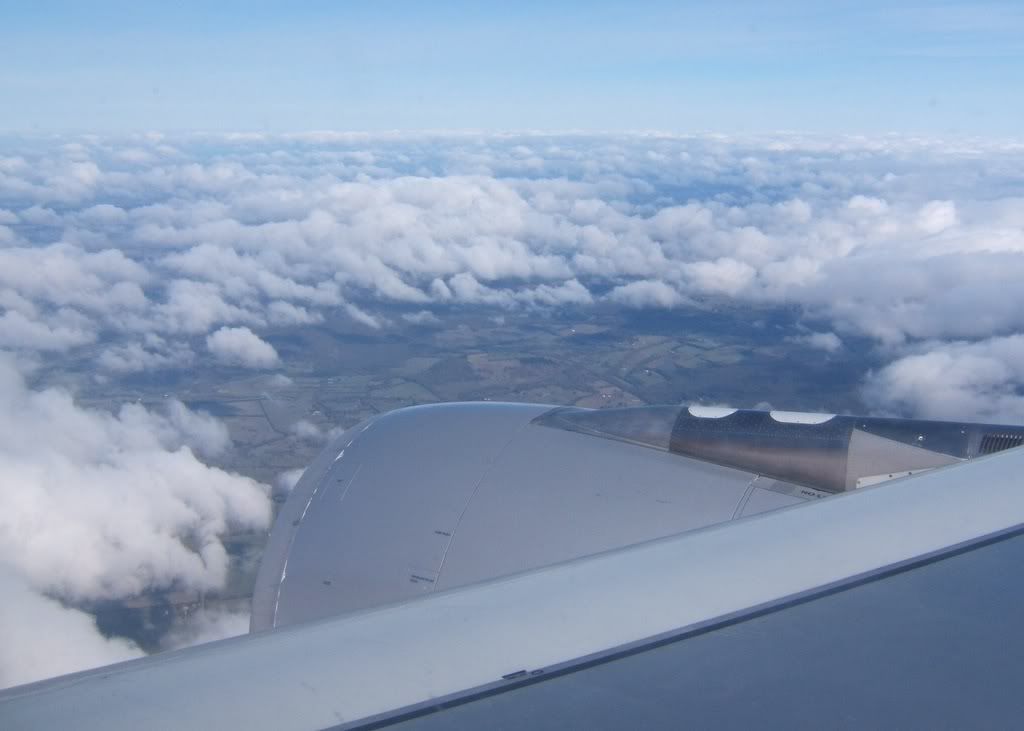 We approached Melbourne from the west, landing smoothly on a cloudy morning on runway 9. There was a brief delay on the taxi in as we waited for another Jetstar plane, this one a domestic flight, to clear the alley so we could pull into the gate.
Exiting runway 9
Other traffic at the airport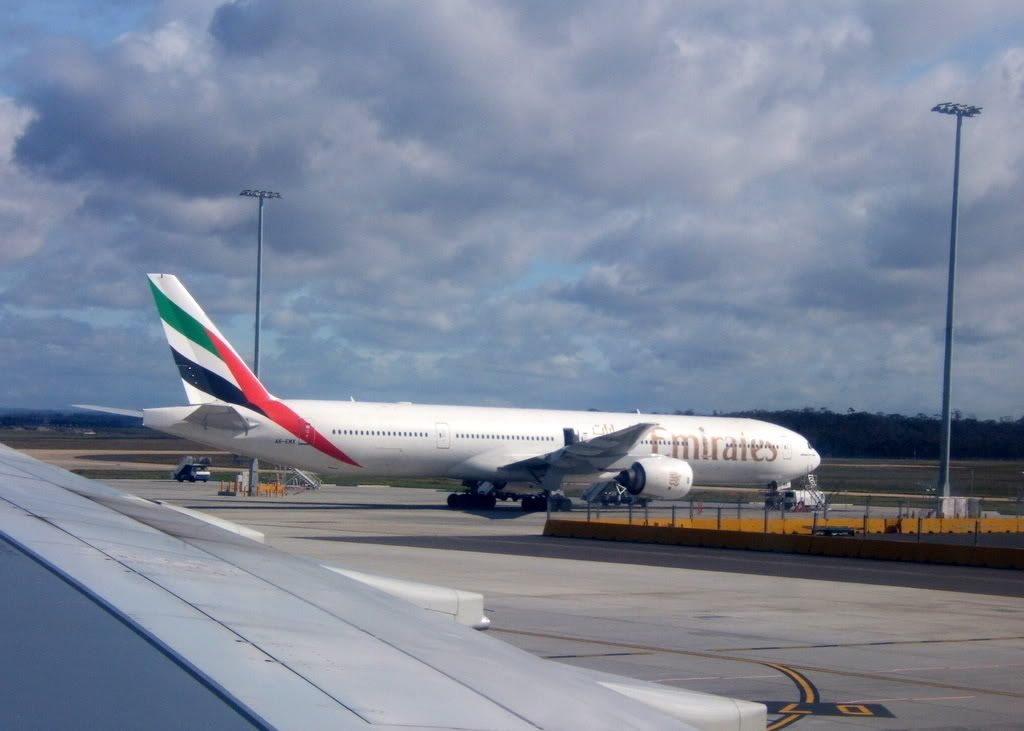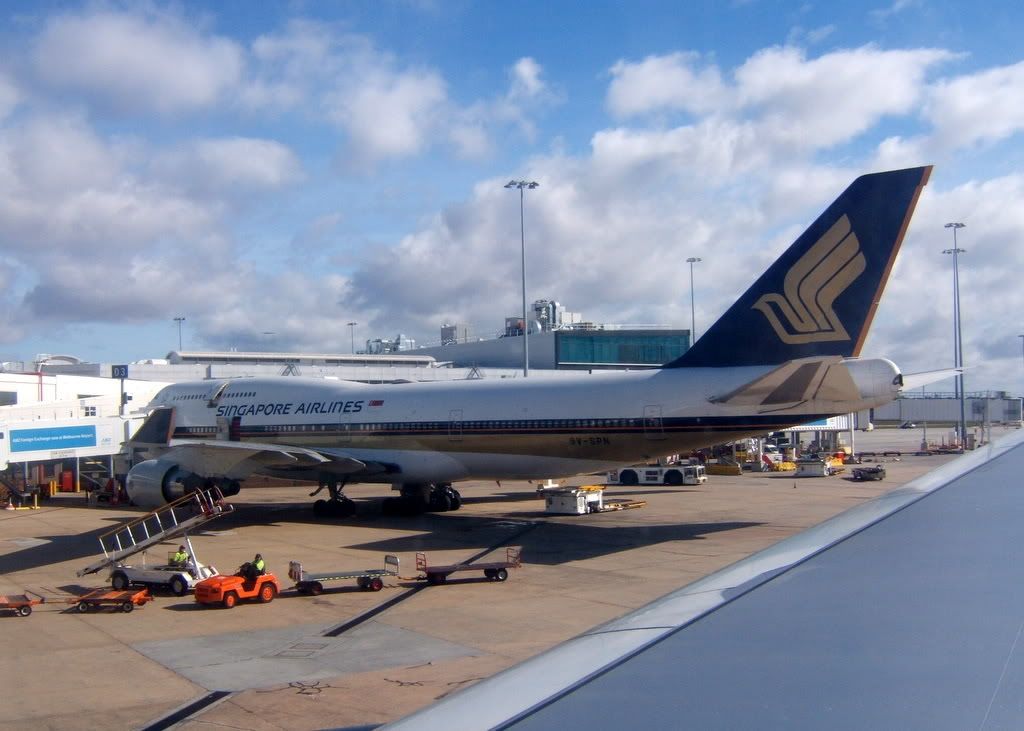 Unlike
my flight last November
, this time immigration was smooth and almost pleasant. Baggage was quickly reclaimed and we were at the rental car center within about twenty minutes of landing.
All in all, the outbound flight was pleasant and as comfortable as could be expected for economy class. It compared favorably with other carriers and if money were the only factor, would be a good value.
Melbourne Montage
The Yarra River passes through the heart of Melbourne, with the Southbank district on the right side of the picture. It is lined with restaurants, a performing arts complex, and office and condo buildings.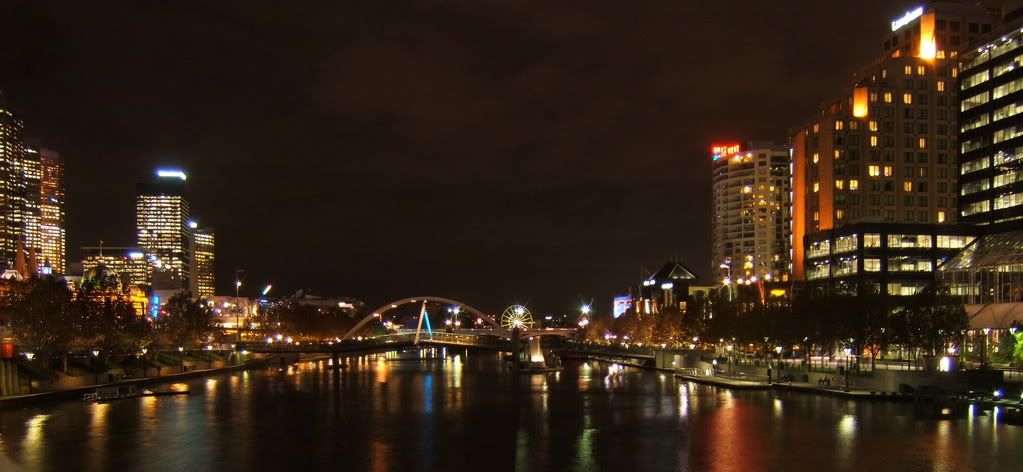 The Yarra Valley is one of the primary wine producing regions in Australia. It was autumn, the grapes had been harvested and the leaves were turning golden.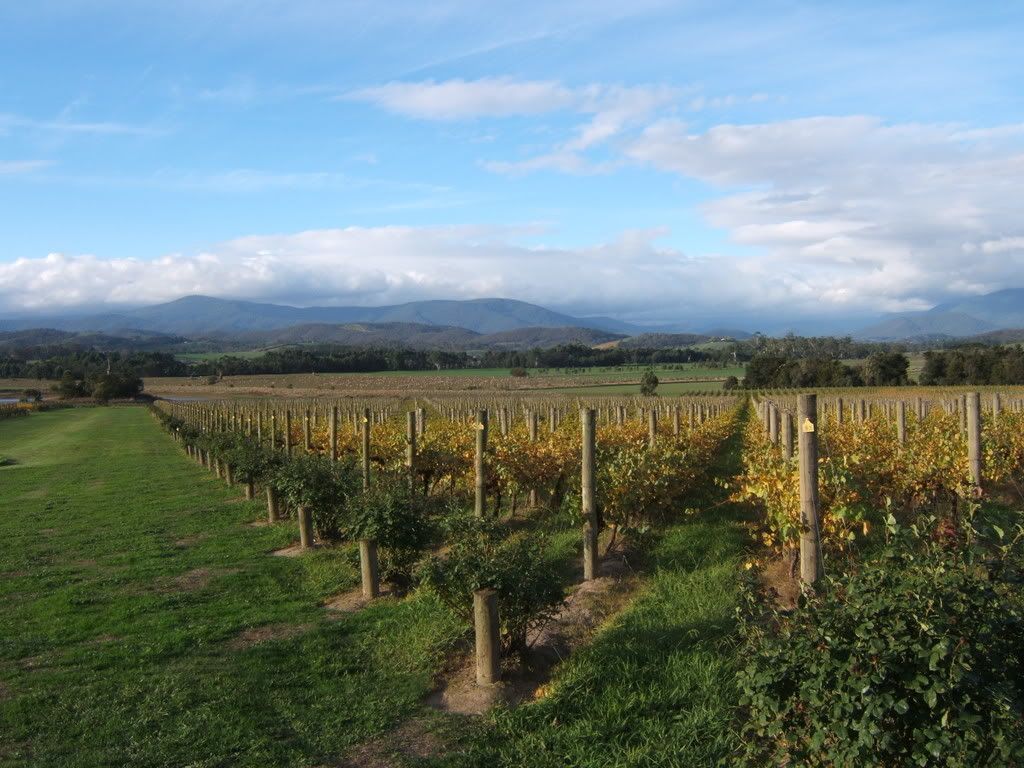 After eighteen months of enjoying Thai food, this visit to Melbourne provided an opportunity to enjoy some of the foods that are more difficult to find (and afford) in Bangkok. A flight of Domain Chandon sparkling wines and a platter of antipasti.
The Return
Monday, 7 May 2007
MEL-SYD-BKK
JQ 7029
Depart:
13:10 / 12:50 (Scheduled/Actual)
Arrive:
19:40 / 22:45 (Scheduled/Actual)
Equipment:
Airbus A330-202 (VH-EBD)
Cabin:
"JetSaver" Economy
Seats:
33 H & K
After a glorious but too short three days in and around Melbourne, we drove our rental car back up the Citylink toll way to Tullamarine Airport. Along the way we passed Essendon Airport and I spotted a vintage DC-3. After returning home and doing a little internet research, I discovered that there is a tour outfit based there that offers excursions in their classic Douglas plane: Air Nostalgia.
Tullamarine's Terminal 2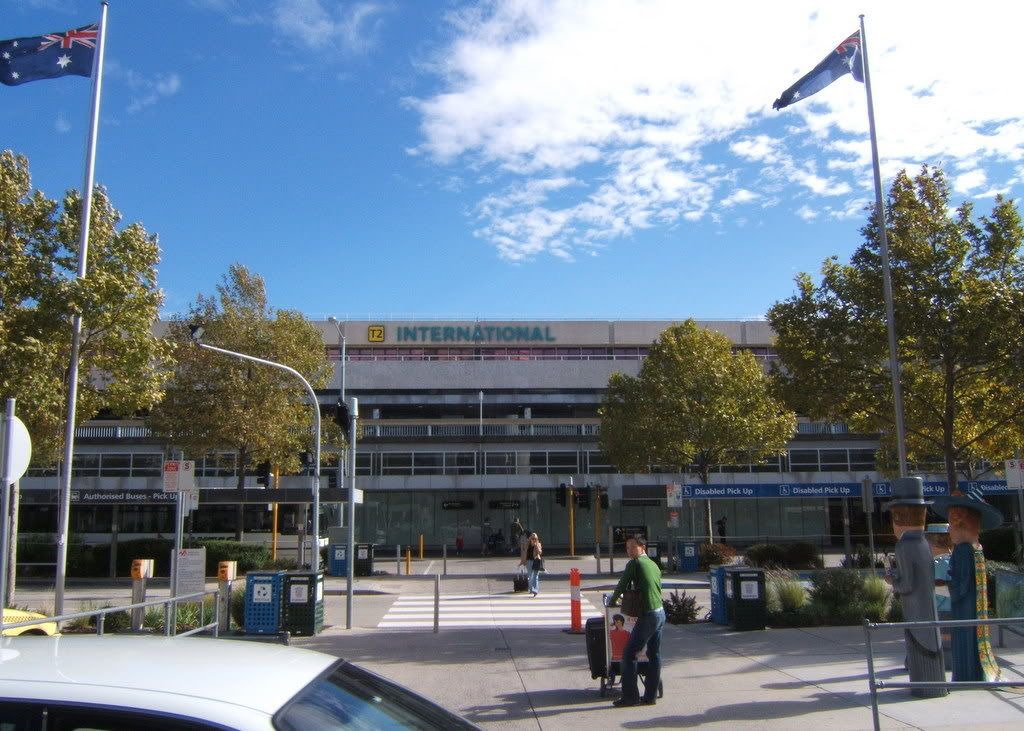 Arriving about two hours before the flight in a departure hall that is undergoing serious renovation, we found nobody in line at the JetStar counter. As we checked in, the agent asked whether we had been informed of the schedule change.
"No," I responded.
"Oh, I'm sure someone tried to get hold of you," she said, explaining that because of maintenance reasons, the flight had been rescheduled with a stop in Sydney. As later became clear, JetStar had just combined their Melbourne-Bangkok flight with the Sydney-Phuket flight, resulting in a two-stop flight running MEL-SYD-BKK-HKT.
She handed us a photocopied letter from the General Manager of Customer Service, outlining the new flight times and telling us that we would receive complimentary non-alcoholic drinks on all flights and meals on the Sydney-Bangkok leg.
"We've paid in advance for our meals," I told the agent. "Does this mean we'll be getting that charge refunded?"
She said she didn't know and we'd have to ask the cabin crew, which seems a little silly as I wouldn't expect the cabin crew to have an answer for that question.
Taking a positive approach to this news, I decided that at least I would get a free opportunity to see Sydney Airport.
An empty check-in queue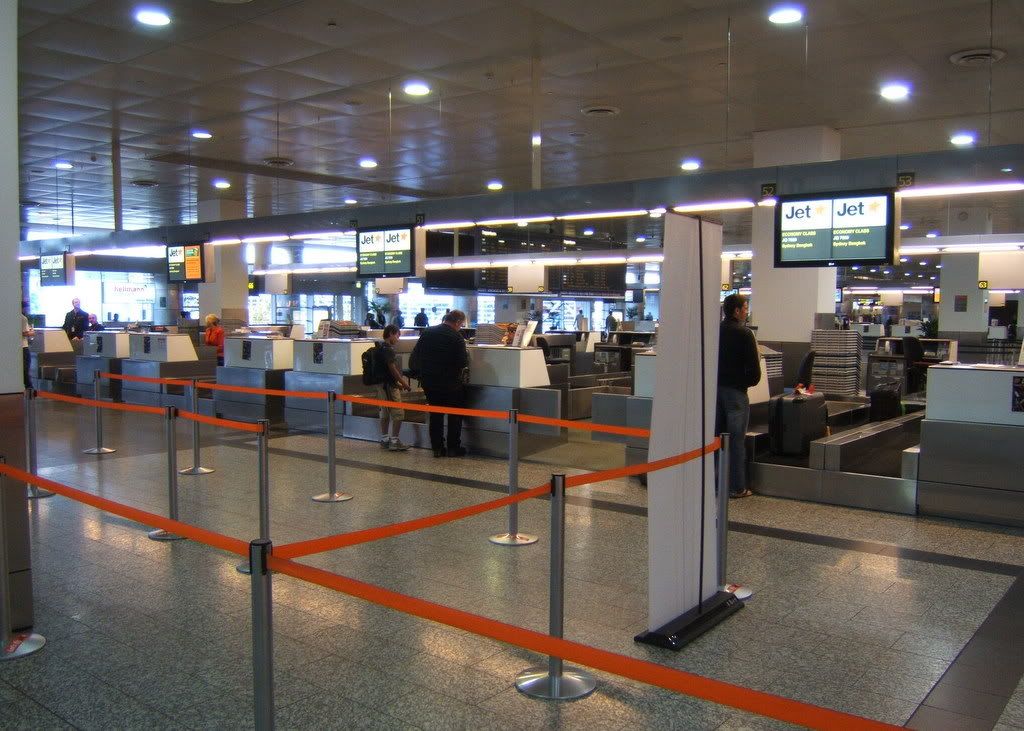 We had time to eat a light lunch and then to browse for some frozen abalone for Tawn's father. This stuff is expensive! We paid AUD 92 for two fit-in-your-palm sized abalone. Of course, before paying we confirmed that we could take frozen abalone through security and onto the plane.
Spotting at Melbourne: United's flight climbs towards Sydney. We'll catch up with her at Sydney.
Air New Zealand, off to Auckland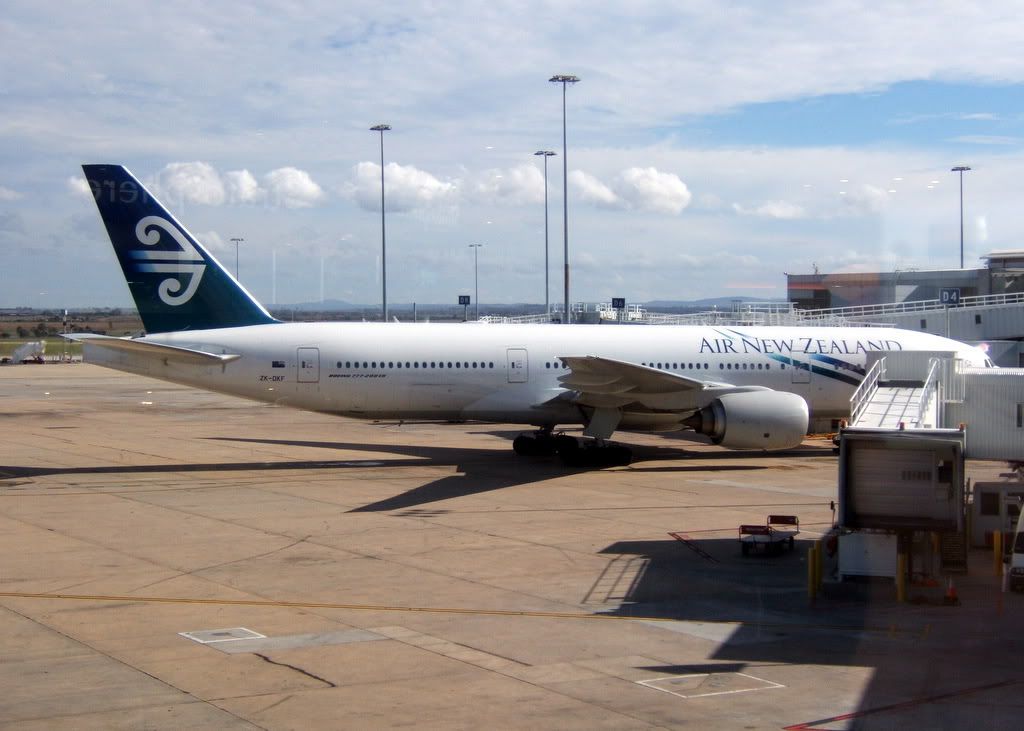 Virgin Blue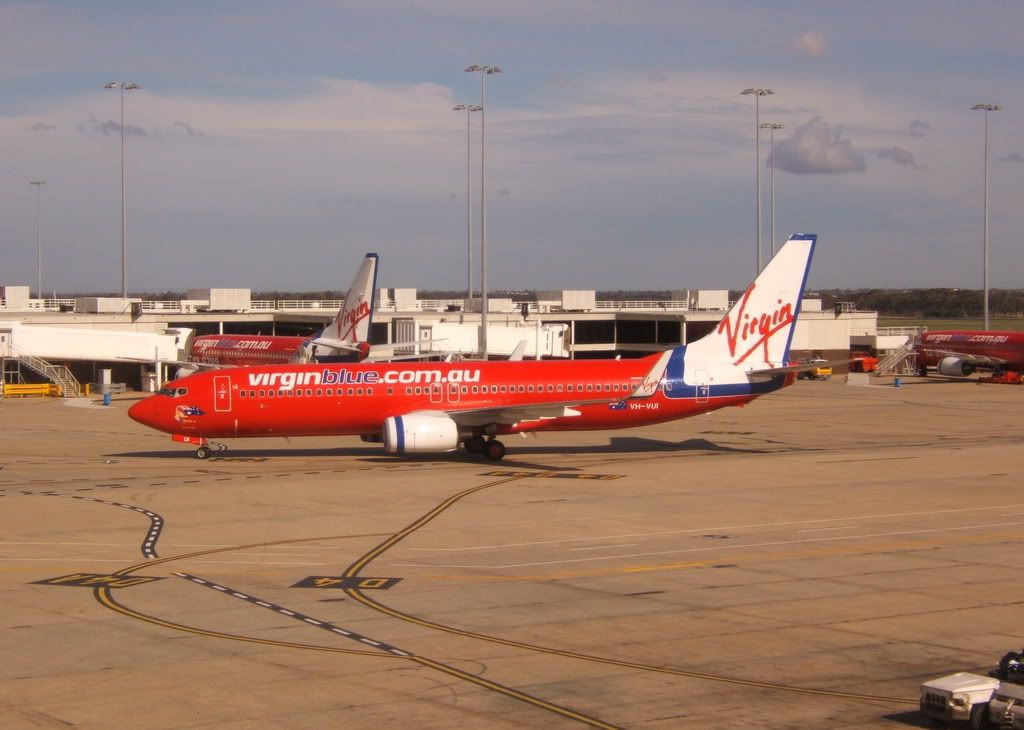 Our plane to Sydney and Bangkok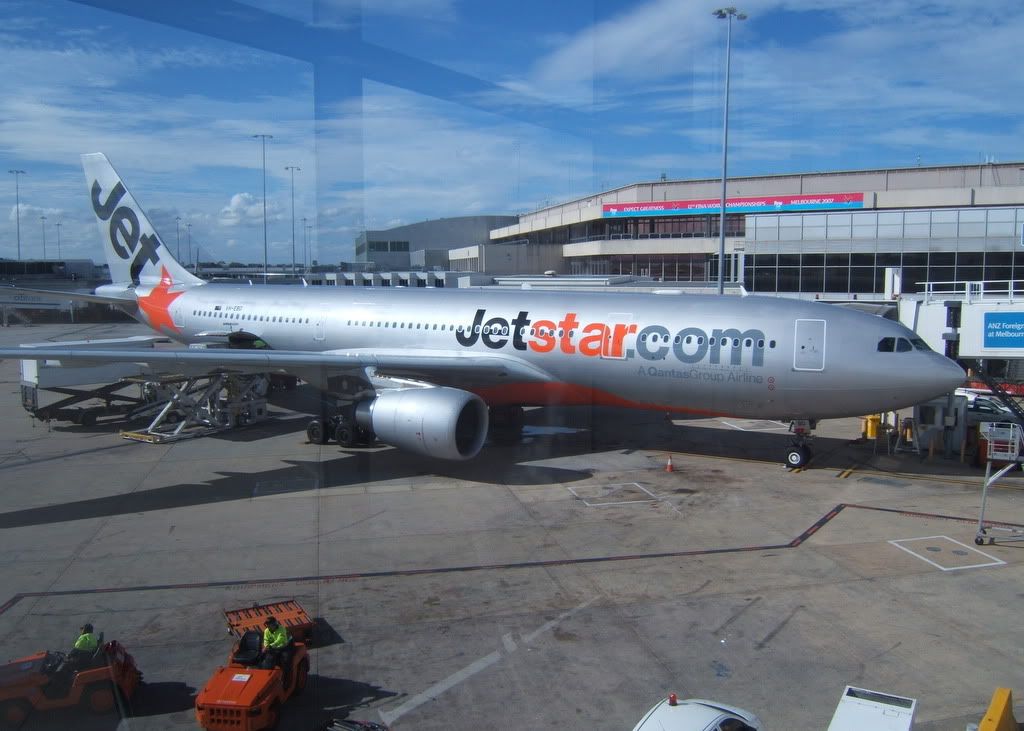 After proceeding through immigration and security, I stopped to buy some 42 Below vodka (which I continue to mistakenly refer to as Level 42 vodka, referencing an otherwise obscure 80's band). At the gate there were only a few passengers.
Boarding commenced a little early and with a light load out of Melbourne, maybe 20% capacity, we departed about twenty minutes early via runway 34.
Departure from Melbourne
The cabin on this plan didn't seem to be as clean as our flight out of Bangkok had been. There was a bit of rubbish in the seatback pocket and the lavatories didn't smell very nice.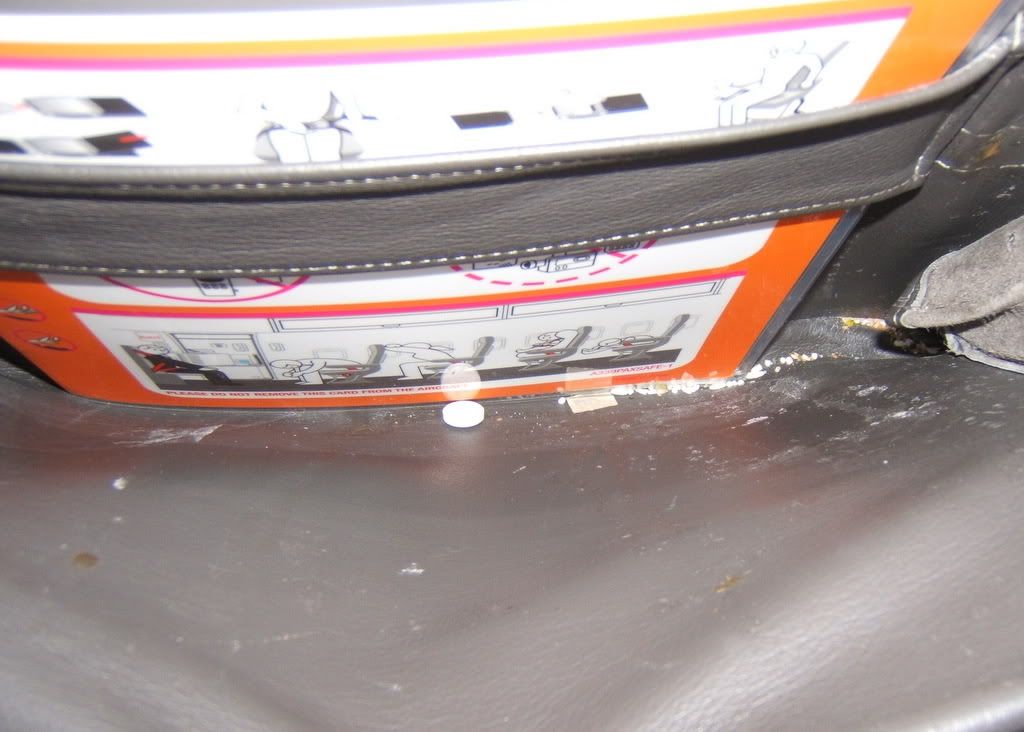 Safety card with lots of emphasis on brace positions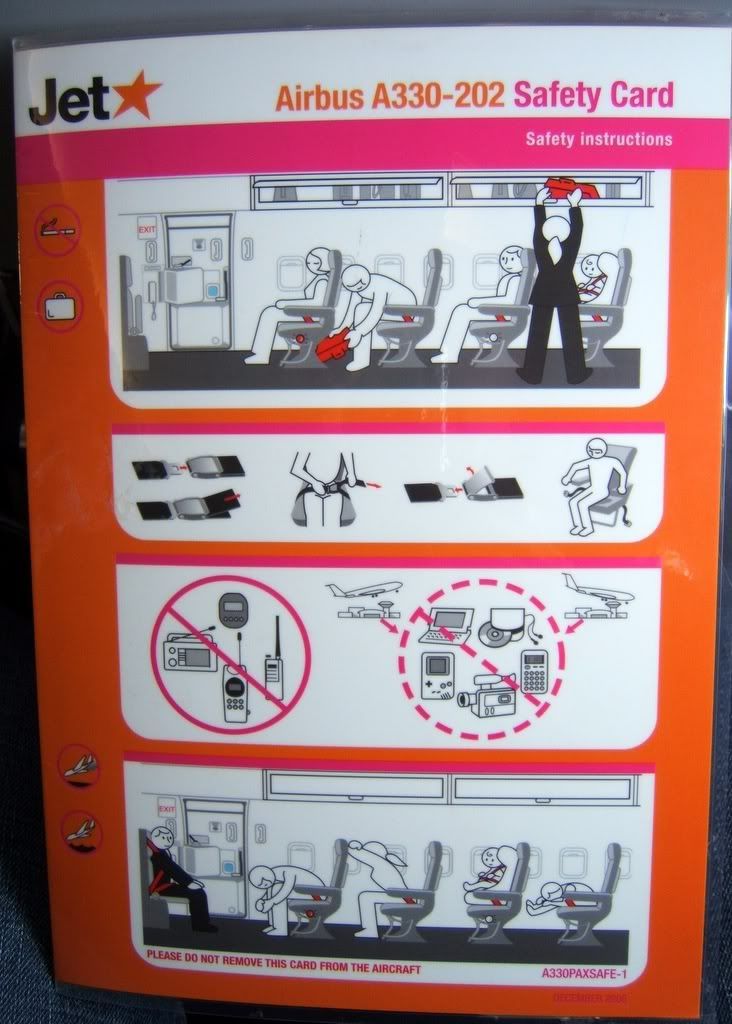 The flight over to Sydney's Kingsford Smith International Airport took only an hour and we landed on runway 7, having a long taxi to the terminal. There was an interesting mixture of planes including Malaysian's hibiscus themed 747, THAI's Star Alliance logo 747, and a Virgin Atlantic A340-600.
On short final to runway 7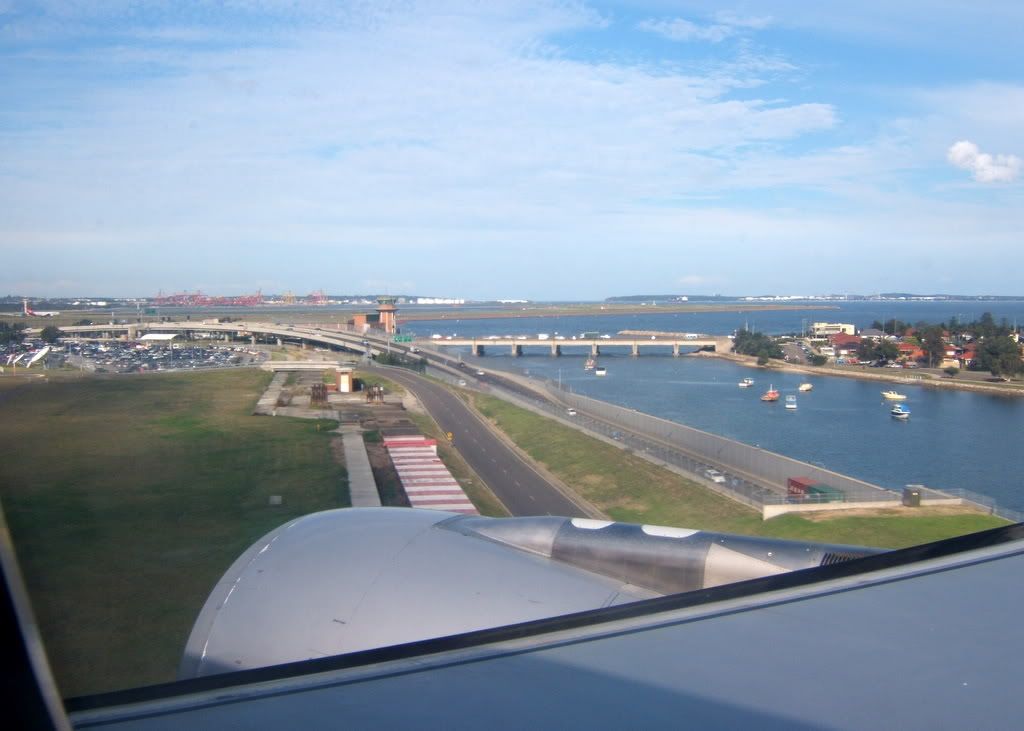 We have caught up with the UA 747 that departed shortly after we arrived at Melbourne's airport
Spotting in Sydney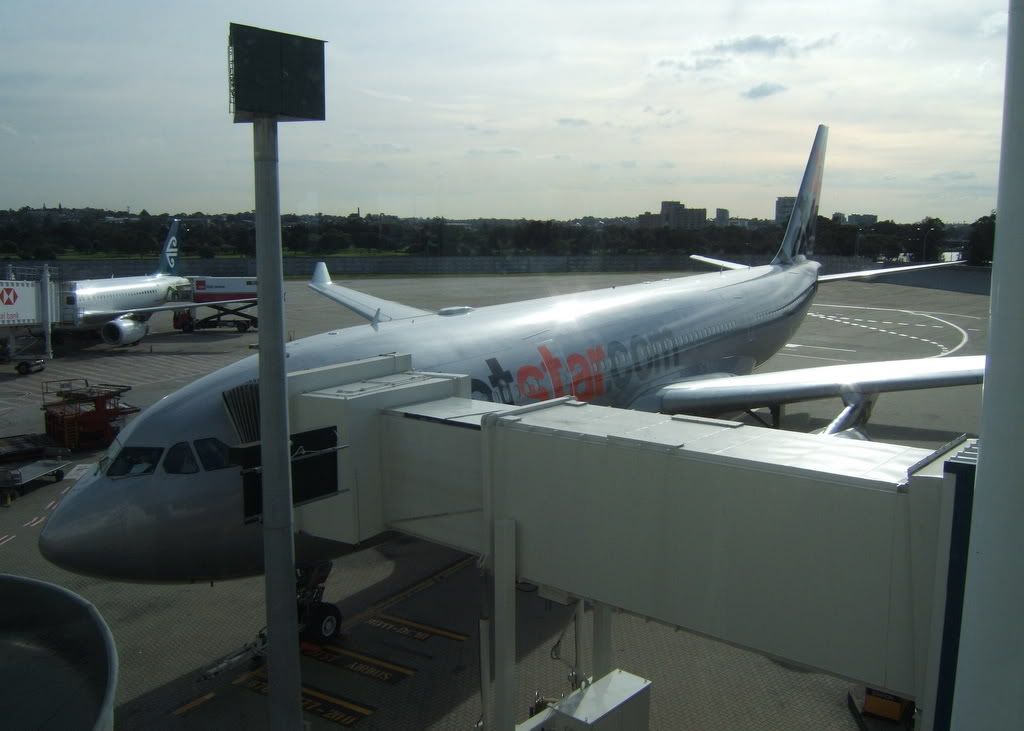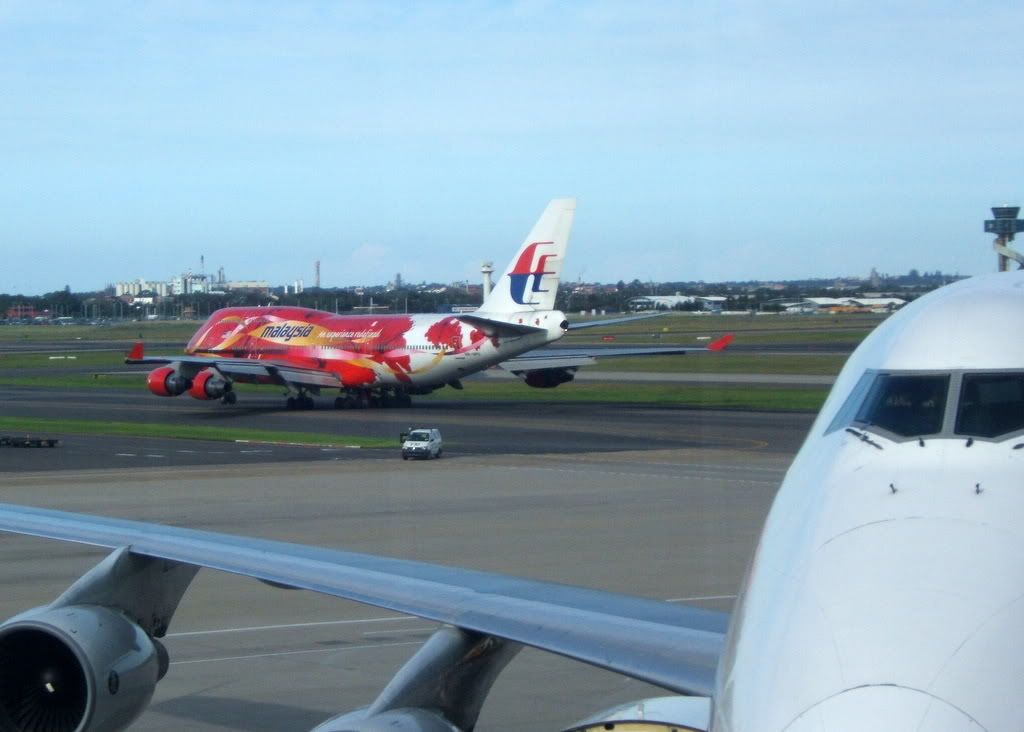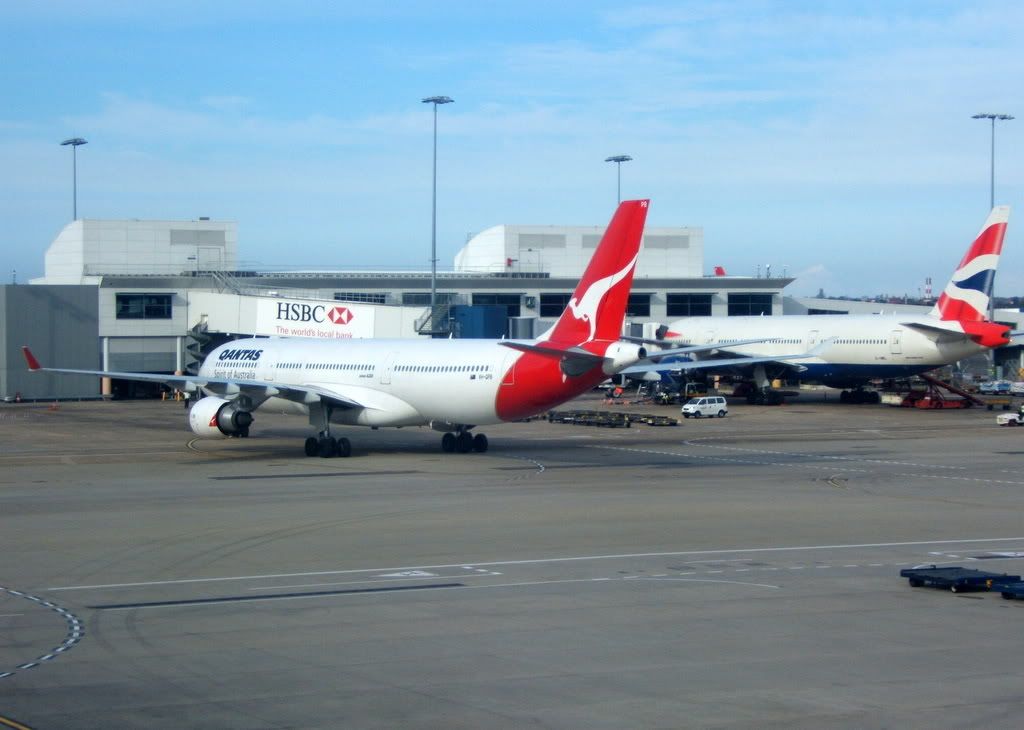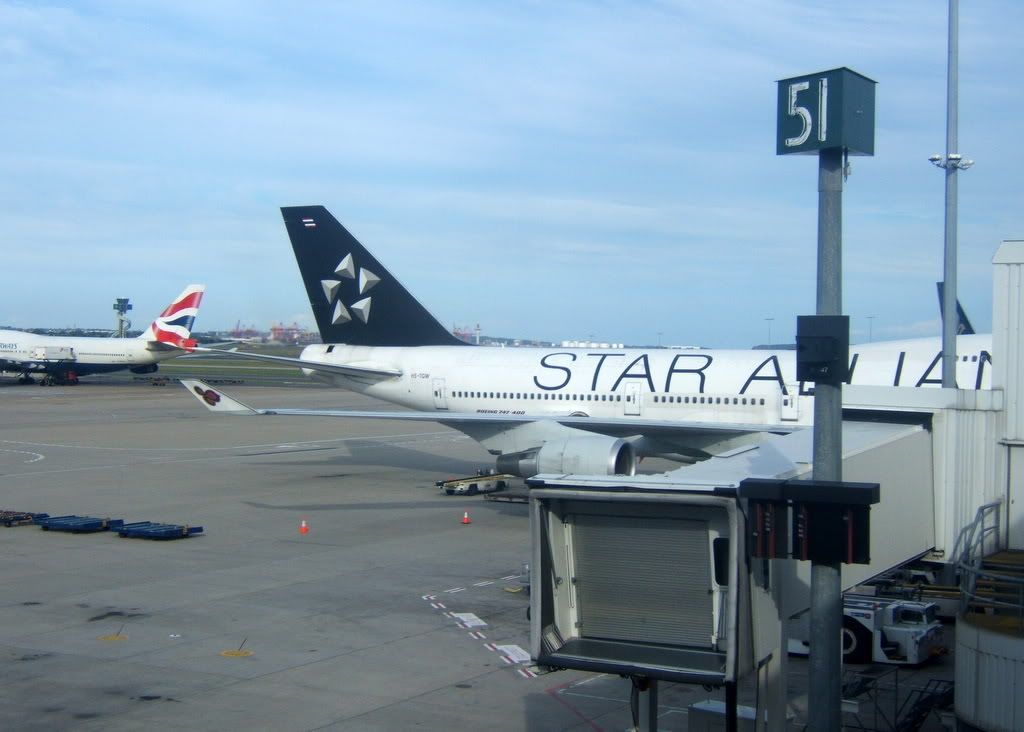 As we departed the plane we were given laminated transit cards and instructed to remain in the terminal area as we had already cleared immigration at Melbourne.
Transit card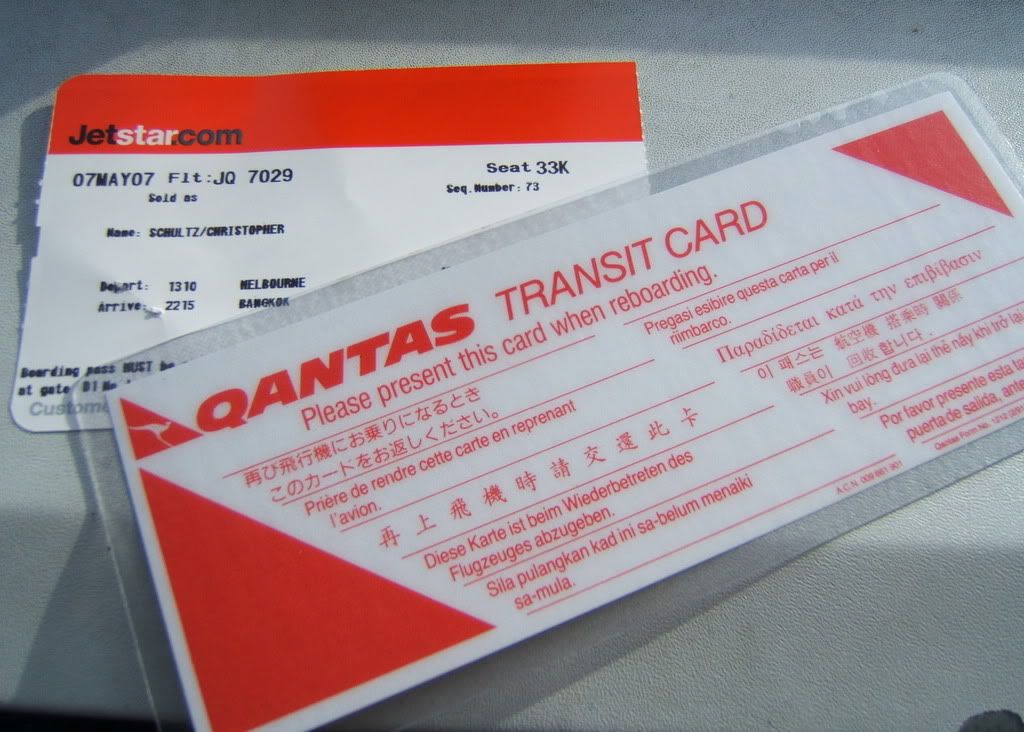 This gave me an opportunity to poke around the terminal a bit, snapping pictures and looking at the interesting airplanes. When boarding commenced, transit passengers were invited to board first. The boarding process was slow and I thought that the flight was going to be very light when, twenty minutes later, the plan was only 40% full. But the other passengers finally boarded and we departed with a load factor in the 90% range.
Moments before boarding
Safety demo
We were scheduled to be on the ground for only ninety minutes, but our flight left several minutes after the rescheduled 16:00 departure time. A long taxi out to runway 34L as the sun was getting low on the horizon made for some nice views, and once we were airborne the whole of downtown Sydney was visible off the right side of the plane. Being positive about the flight change, I thought how lucky I was to be able to see the Sydney Harbour Bridge without having to pay for a ticket to Sydney!
Taxiing to runway 34L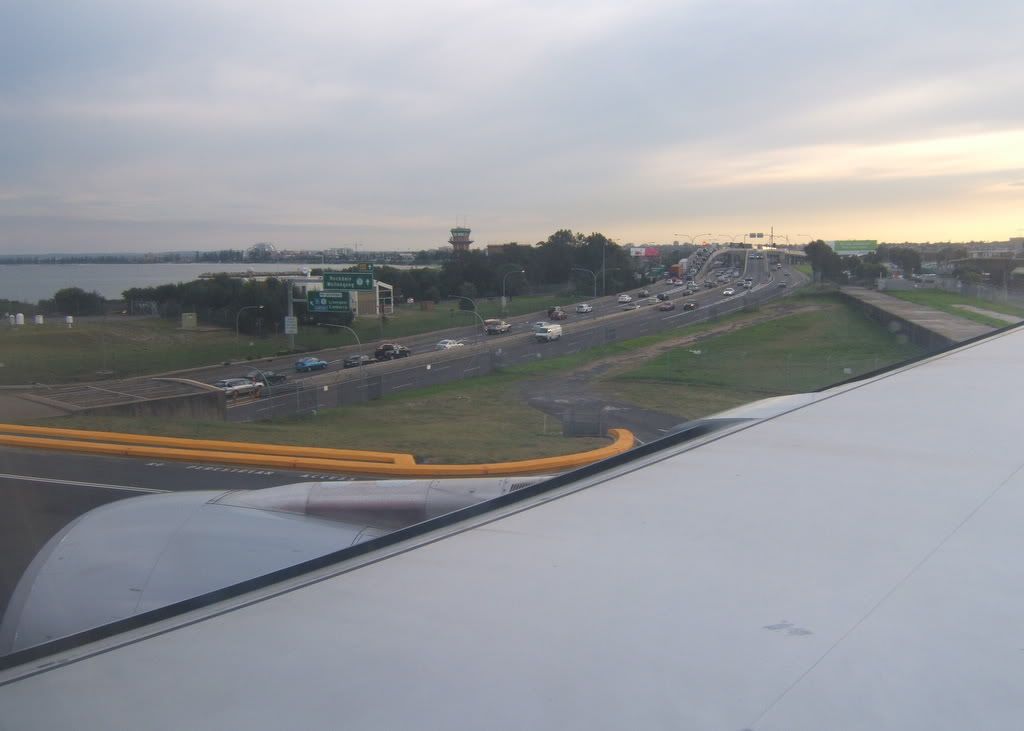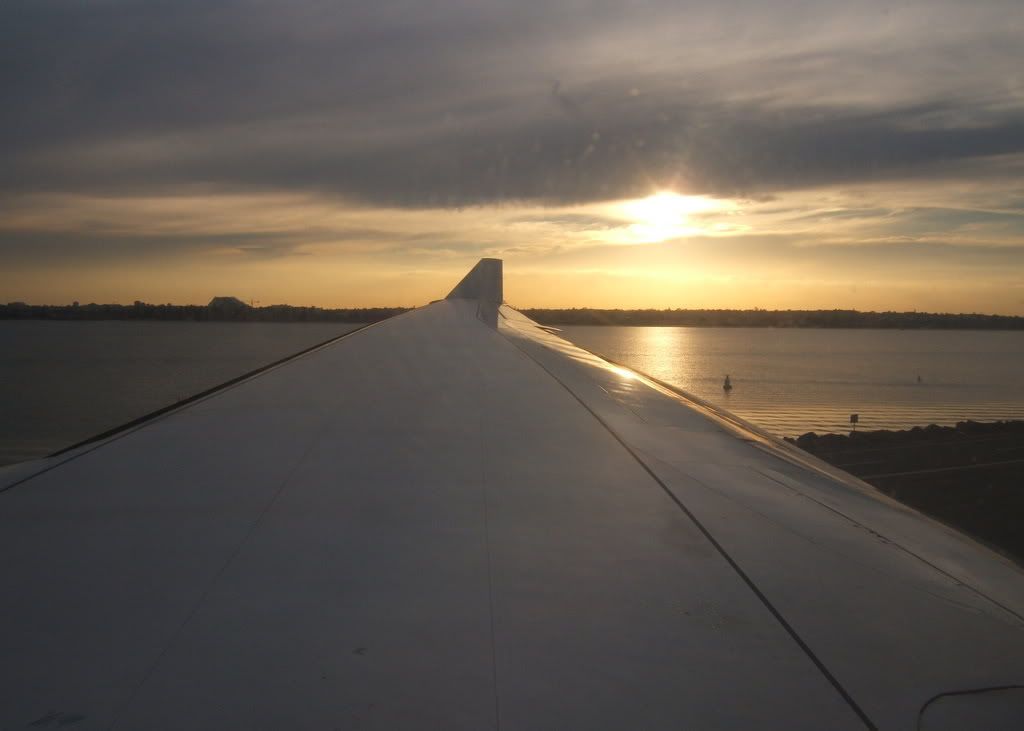 Departing Sydney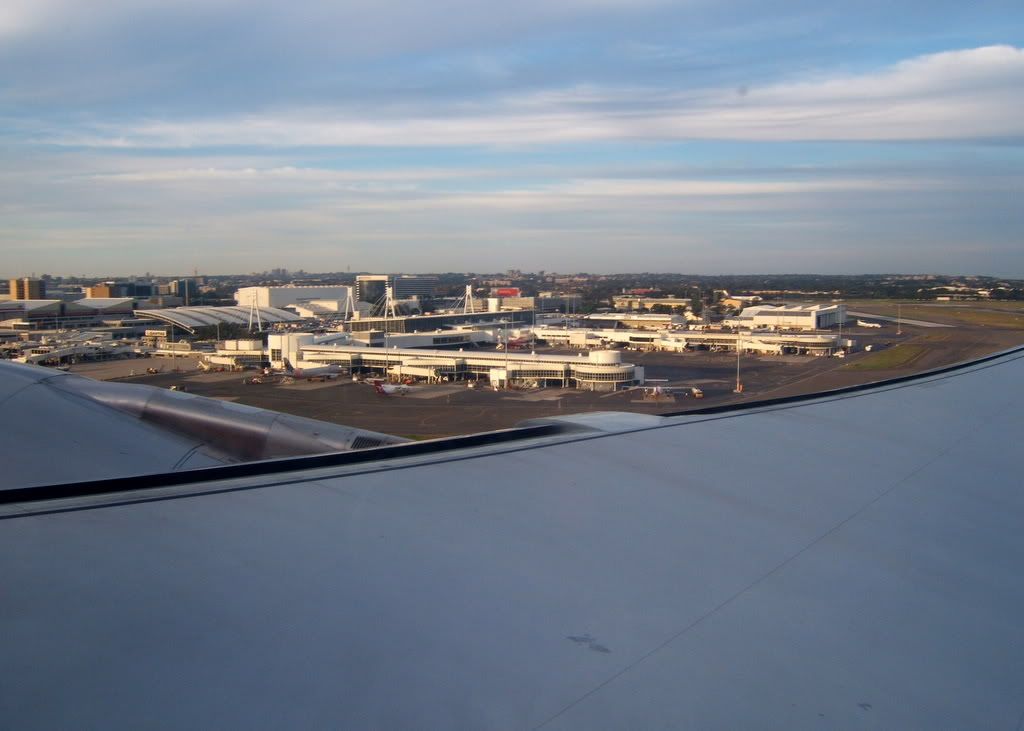 Most of the crew that worked the MEL-SYD leg had stayed on, although the captain was replaced and I think a few new flight attendants were added. Most of the cabin staff was once again Thai, and as one of the flight attendants explained to us, it was the end of a thirteen-day rotation for them in which they had flown every day including flights to Bali and Hawaii. Must be incredibly tiring!
The flight back had a few hiccups: The free meal service never materialized and with the change in the schedule, our pre-paid meals (and amenity kits and video on demand players) were no longer noted on the manifest. Fortunately I had a print-out of our itinerary. I was finally able to flag down one of the Australian crew members after she had finished handing out the video units. She spent a few moments reviewing our itinerary and then retrieved two units for us. The one Tawn was given had a broken stand so it had to be replaced. The replacement had a faulty audio plug so in order to hear stereo you had to pull the headphone plug
out
just a little. At this point, it didn't seem worth it to demand a third unit, so he just put up with it, adjusting the plug from time to time when it slipped back into mono or complete silence.
Sunset at flight level 31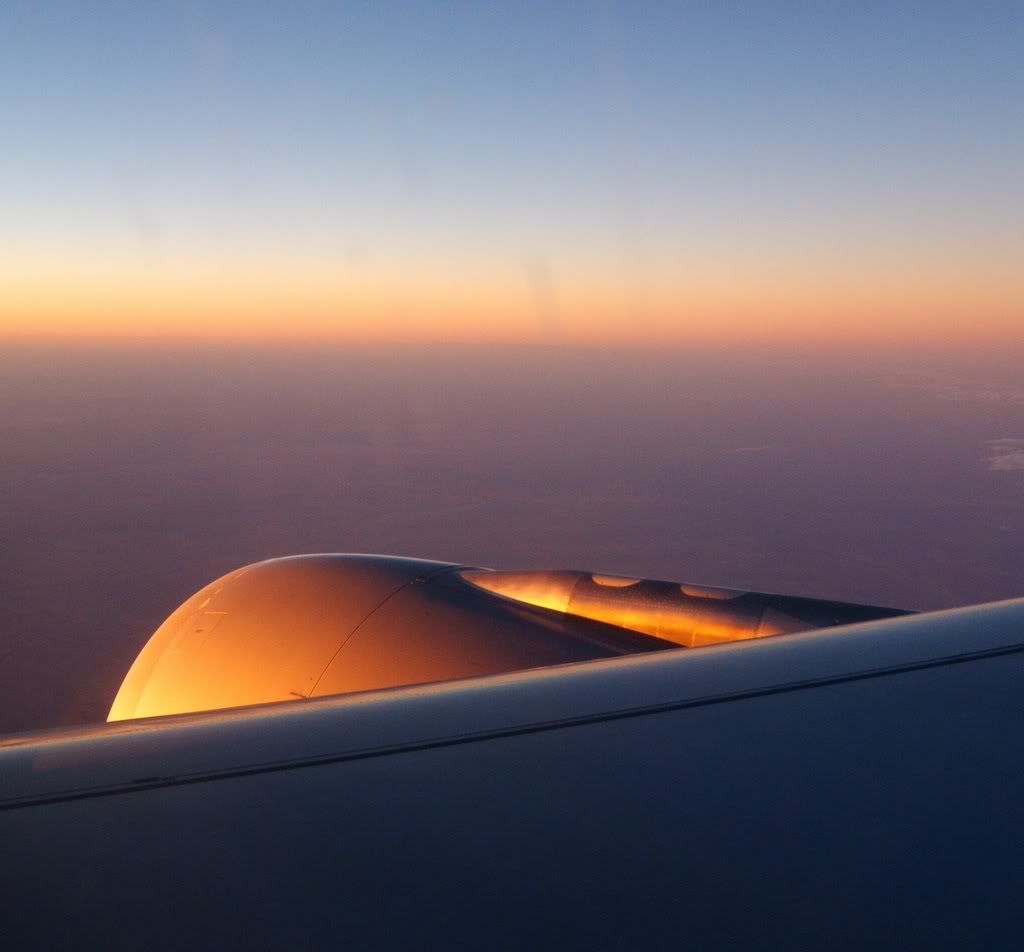 You would expect that since this Australian flight attendant had reviewed our itinerary and saw that we had paid for the full range of service, that when she and her flying partner came down the aisle with the meals, she would have seen us and remembered, "Oh, that's right, their video units didn't appear on the manifest but they had paid already, so perhaps I should stop and see if they ordered the meals, too."
No such luck of course, so we had to flag the second flight attendant down, pull out the itinerary again, and go through that hassle in order to be served our fantabulous chicken and rice dinner. We also had a choice of a vegetable dish and a beef and noodles dish.
Dinner
After dinner we had to flag down two flight attendants in order to finally get the amenity kits that we had bought in advance. Of course, now that we had flown already we had kits (and blankets) that we could re-use, but since we had paid already I wanted to make sure we received what we had paid for.
This whole episode was just a minor hiccup, though, and overall the crew's service was friendly and professional despite their extended work day. I had time to watch several movies and made it a point not to sleep so that I'd be able to sleep once I returned home.
A full two-and-a-half hours before arrival in Bangkok we received our second meal which was… well, what
was
it? Sort of a frittata, omelet thing with a tomato-chili salsa and a mango crème bar. Actually, it was tasty. But I was a little confused why they had the meal service so far before the end of the flight. The video players were also collected and hour-and-a-half before the end of the flight, leaving a little time to kill.
Snack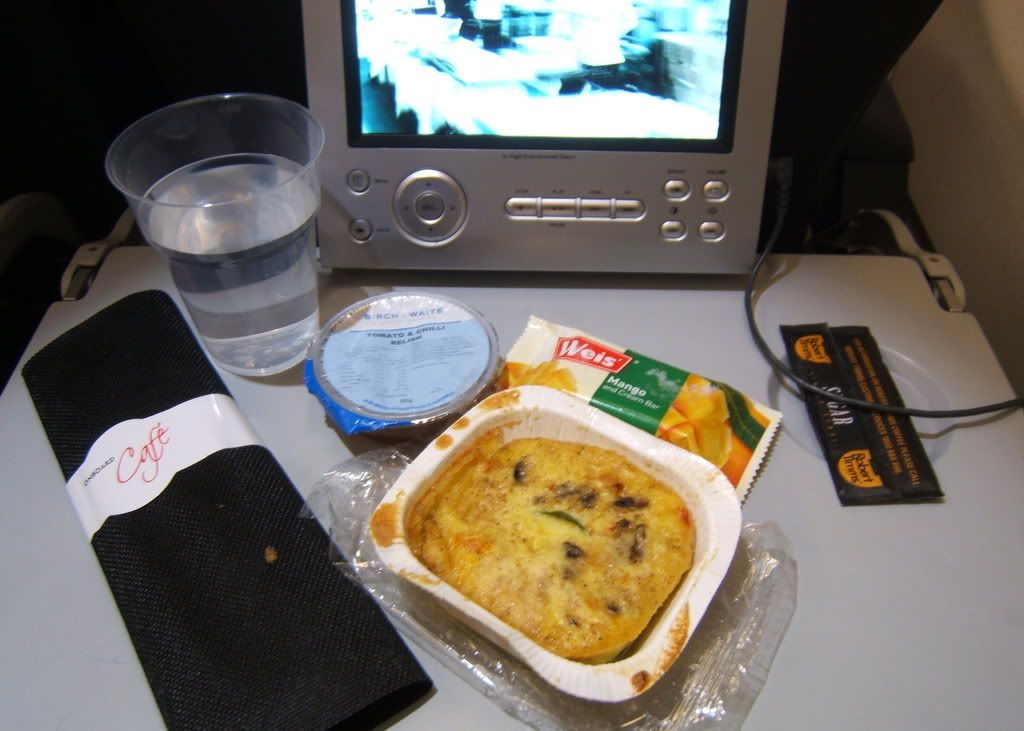 We approached the greater Bangkok area from Vietnam and Cambodia. We then headed east and north of the city, completing our down wind and base legs and descending over the rice fields, temples and mosques of Minburi where I go bicycle riding most weekends. We landed at about 22:45 on runway 19R, the pilot riding the brakes so we could vacate the runway quickly. We pulled into gate E9 and since only some of the passengers were deplaning, the rest staying aboard for a quick continuation down to Phuket, there wasn't a mad rush for everyone to get up and grab their things.
Thankfully, despite a late evening arrival, immigration had lines only one or two people deep: either we had managed to slip in before or after most of the other flights (late evening is a busy time at Suvarnabhumi) or they had all arrived at the other end of the airport and were using that immigration hall.
We cleared immigration, collected our bags with only a five-minute wait, and then breezed through customs in less than fifteen minutes. The taxi queue was equally short so for the first time ever, we made it from gate to home in less than forty-five minutes!
Waiting for our baggage and bottles of wine
As a summary, I think that JetStar provides a competitive quality product, especially given the generally lower airfares that are available. It will be interesting when Tiger Airways arrives in Australia later this year. They are setting up their base of operations at Melbourne Tullamarine, so this will likely result in stiffer competition between Southeast Asia and Australia.
Hope you enjoyed the report. Feedback is always welcome.
If you enjoyed this report, you may be interested in these other reports: