It has been some time since we flew to the US with DL, last trip was in 2003 on BRU-JFK-BRU with an excursion to San Juan. We won tickets from American Express sweep takes on BRU-JFK-BRU route, and combined a free trip to NYC with a bit of Caribbean gateway (everytime i type the airport code for San Juan, i get a very long automatic sentence with full airport name, and a bit of "and' and 'to"s around!)
Here is the report from the last DL flight:
We took off with DL the week the company filed out of bankruptcy after 19 months of reorganization.
Overall the experience was very pleasant, and business class offered much more than anticipated!
POSITIVES:
- CABIN CREW: All were the most friendliest crew I have ever seen so far. Our cabin purser Barbara greeted all passengers individually, introducing herself with a firm handshake. This personal touch immediately won our hearts, and put us at ease prior to take off.
- RICH SERVICE DURING THE FLIGHT: Taking into account that we were on a US carrier which usually tends to cut every single olive and toothpick to pinch few pennies, we found the offer quite rich. To an extend that it was more generous than LH on similar 9 hour routes as FRA-JFK or FRA-MIA.
- IFE: Video on demand option provided a wide selection of movies, TV programs, music. The system was very easy to operate, and the TV screen size was adequate.
NEGATIVES:
- POOR NOISE REDUCTION ON HEADSET: Most often, I had to press the headset hard to eliminate some of the noise coming from engines. Even though the sound was at maximum, there were times I missed dialogues during the movies!
- NO MAGAZINES ON BOARD: A cost saving element after Sep 11 events- as I was told.
- VEGETABLES ON MAIN DISHES WERE DRY AND OVERHEATED to an extend that they were not edible.
FRA- CVG 767-300 ER:
Duration of flight: 9 hours 7 minutes
Seat: 6A
Route: Frankfurt, North of Wiesbaden following Rhein river along Mainz, north of Brussels, Edinburgh, reaching Greenland, south of Nuuk, over Labrador Sea, entering Canada, over Columbus, Cincinnati.
The check-in was in Terminal 2 which is quite small and boring- kind of soulless!
The crew at DL check-in was fast, yet bored us with unnecessary questions. Just because Cincinnati hosts the HQ of one of the biggest companies in FMCG category, it does not necessarily mean that all people fly to Cincinnati for P&G. Also, during a short chat with other fellow passengers, it was interesting to hear that for those who work for P&G were "kindly" requested to show their company badges / IDs to check-in screening lady! Wow, what is this now? Valid passports, hotel reservations, a confirmed return business class ticket are not enough to get passengers on board anymore?
After check in; next stop was the Delta Crown Room. It was below average business class lounge.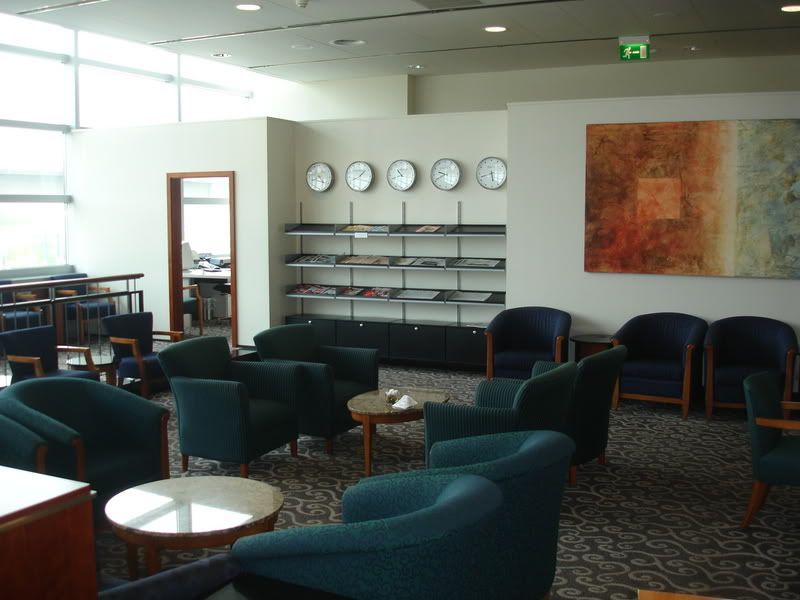 No English newspapers at 10am in the morning, a very limited choice of food on display (dry caramel cake, peanuts, bread basket, butter and jam, fresh fruit). Yet plenty of alcoholic beverages on display if anyone interested at that hour!
The boarding started at 10.45am, with a bus from terminal to the plane on the tarmac.
When on board, I found a plush blanket, pillow, amenity kit, a bottle of water on my seat. Boarding was complete at 11.30 and plane was ready to take off as scheduled at 11.45am.
On the FRA-CVG route there was no welcome drinks. Right before take off, Barbara comes to each seat to take the menu orders for lunch.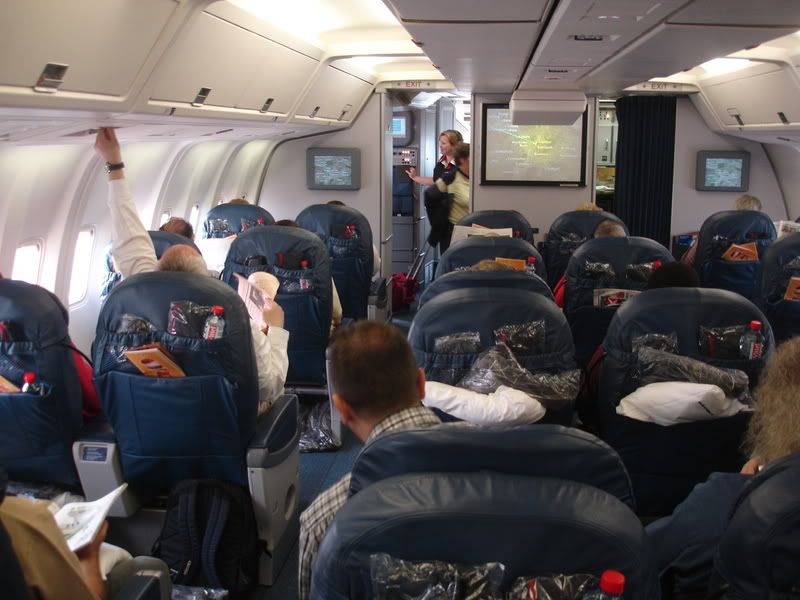 Taking off from FRA airport:
Entertainment program started at 12.30pm. There were many movies on the program that I have not seen yet. I opted for:
- Stranger than Fiction
- Thank You For Your Consideration
- Deja Vu
I also watched the British comedy Little Britain, and listened to Madonna's Confessions on A Dance Floor album.
Seat comfort was good, offering large amount of legroom and personal space. The configuration was 2-2-2 on this B767-300 ER. The seat offered electric foot rest, decent recline, personal video monitor, lumbar, and overhead lighting as well as personal lighting.
Amenity kit was filled with useful items. I especially liked the red socks.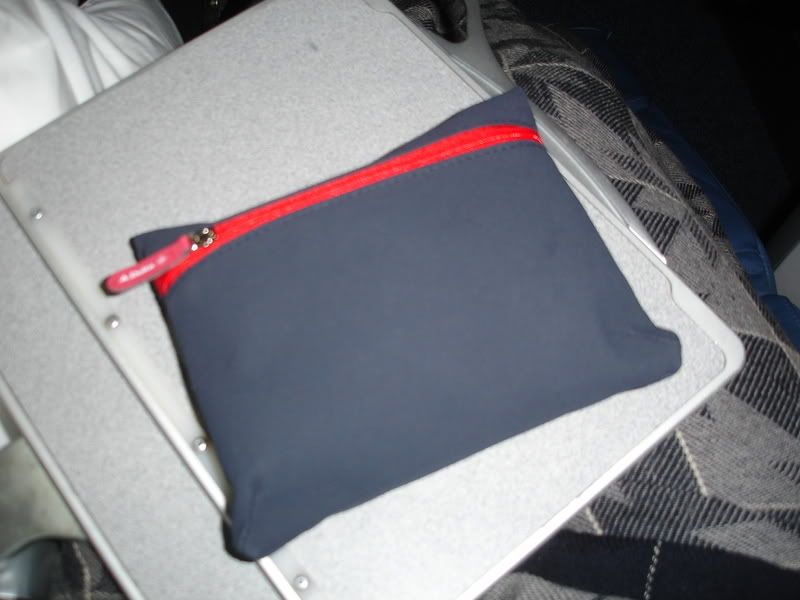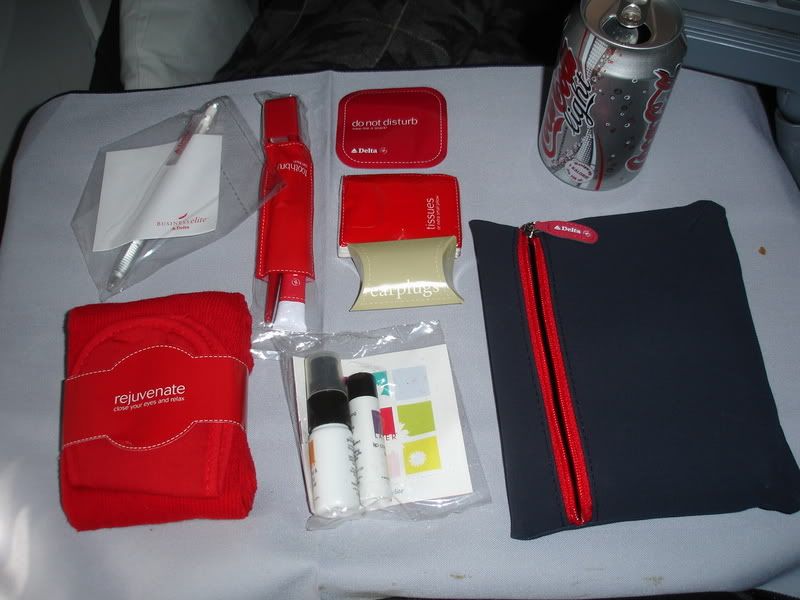 The service started with warm nuts and choice of drink. I chose a full bodied Australian chardonnay, then Pere Ventura Chardonnay from Penedes, Spain.
Lunch was served at 12.50 pm.
Appetizer: Italian salami with grilled long stem artichoke, red and yellow bell peppers, and kalamati olives.
Starter: Fresh mesclin lettuce mix with cherry tomatoes and daikon, offered with oil olive and balsamic vinaigrette dressing.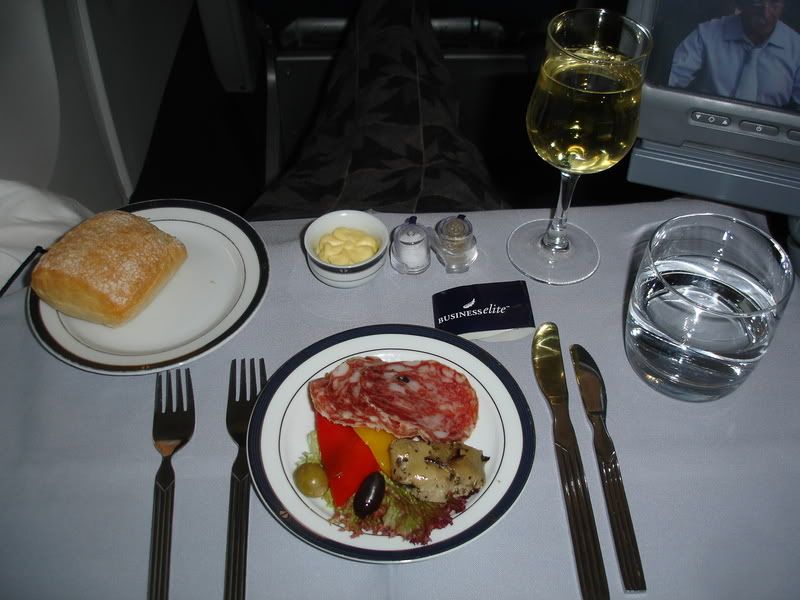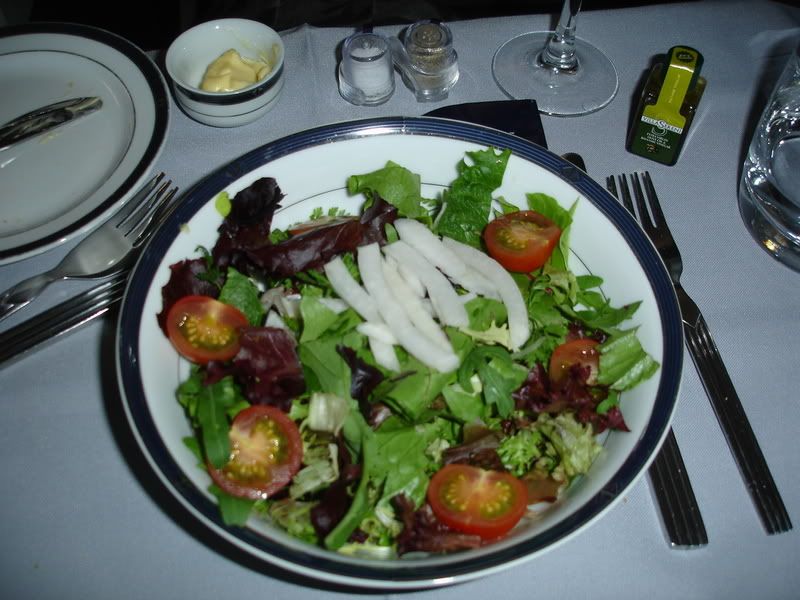 Main course: Pan roasted South American tenderloin beef enhanced by demi-glaze, presented with sliced red potatoes, sauteed carrots and squash. The tenderloin beef was delicious, juicy and tender, however the potatoes and carrots were overheated and dry.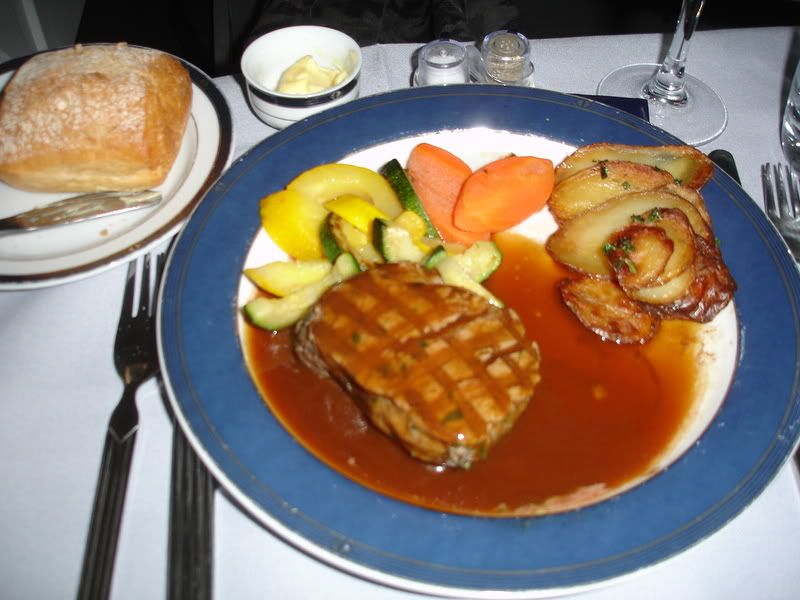 A cheese plate was next with fine cheeses selected perfectly complement one another in flavor or texture, offered with grapes. I ate my plate so fast that I forgot to take a picture of it!
To finish, premium vanilla ice cream sundae with chopped nuts and whipped cream.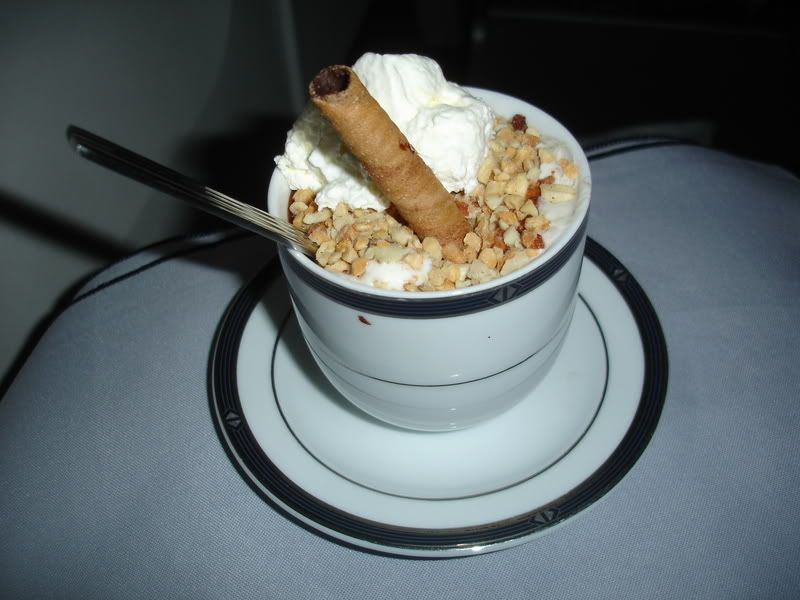 By the time lunch was over, we were close to Greenland. None of my previous day flights to the US flew over Greenland, so this was quite an extraordinary experience for me. Vast amount of ice, emptiness, dramatic landscapes, also seeing the melted areas.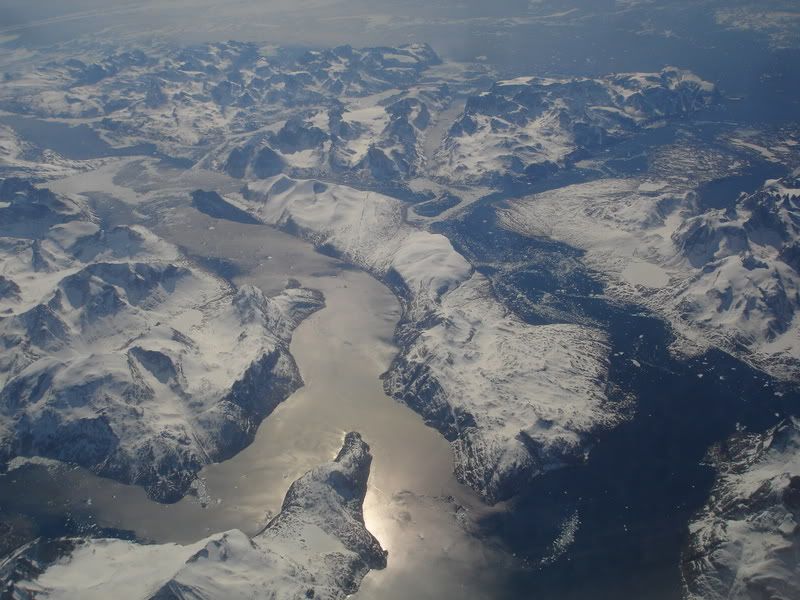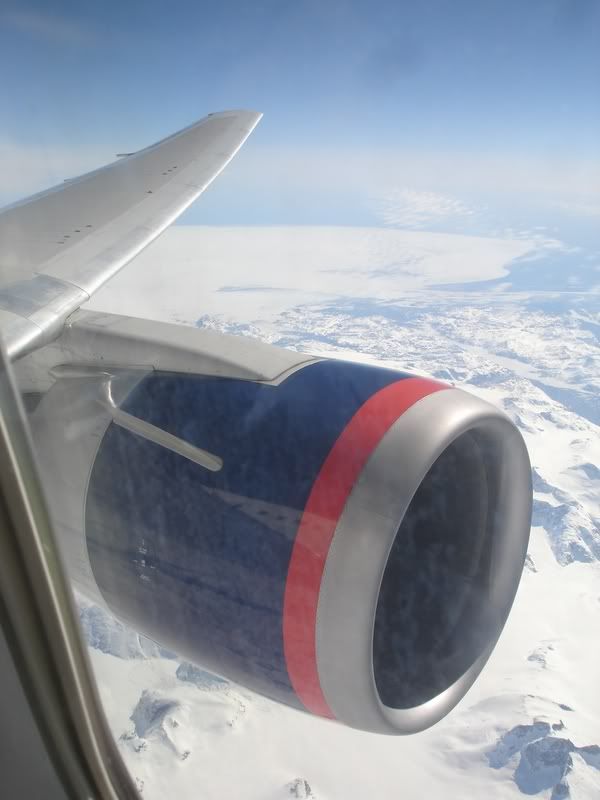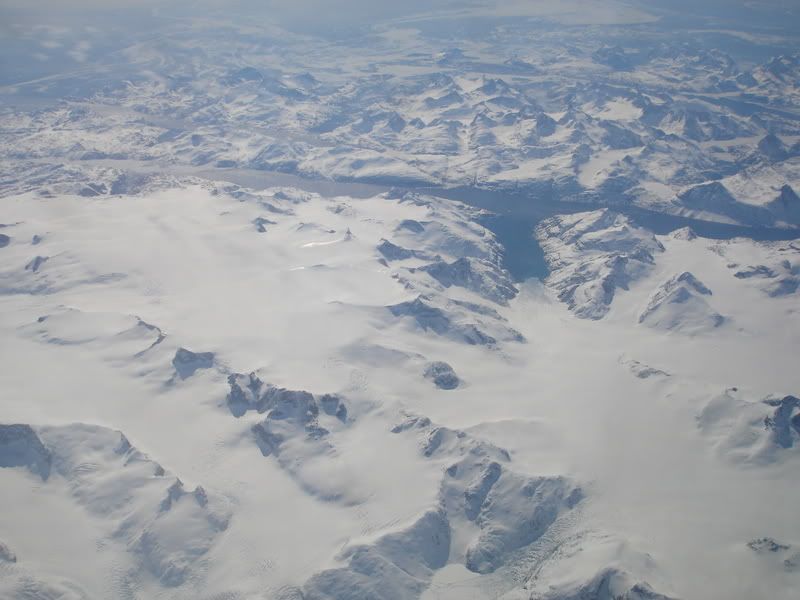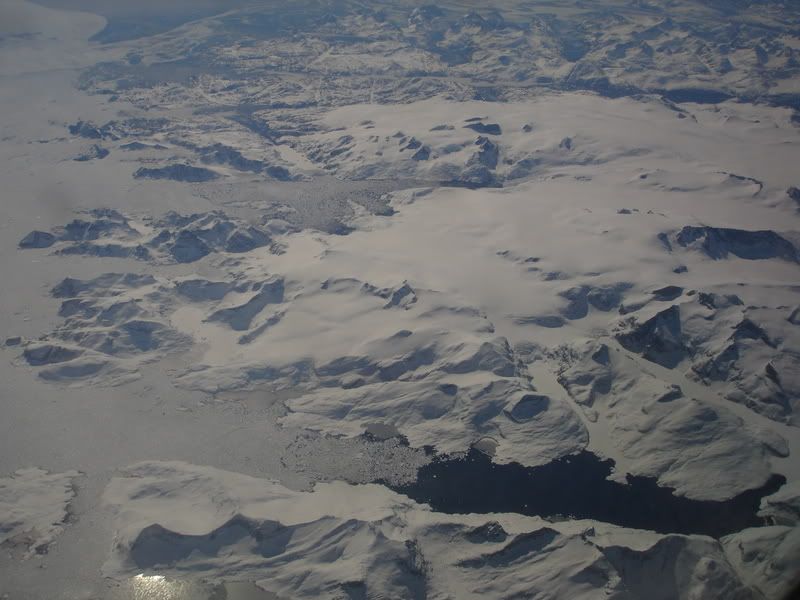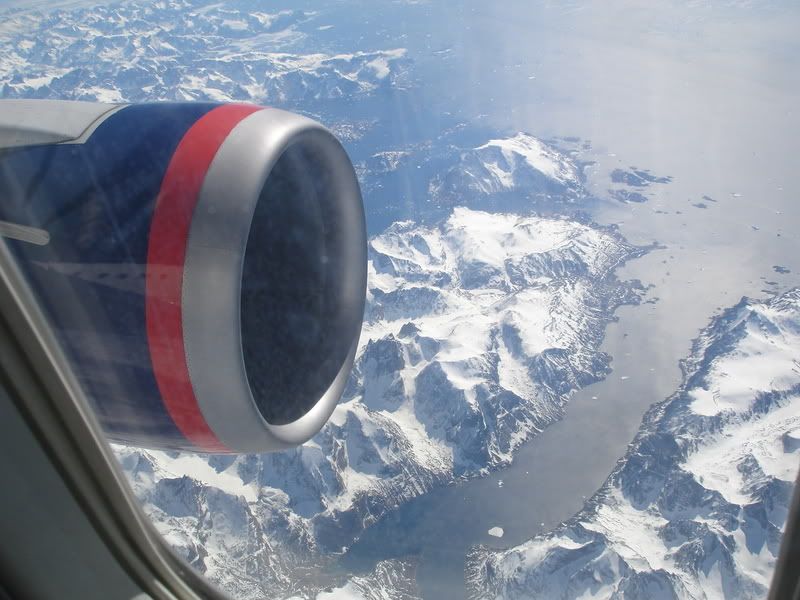 I tried to sleep a bit, could not manage. Instead walked around the cabin to see what was on offer! The snack buffet was simple, what I liked was the availability of plentiful soda drinks and candies.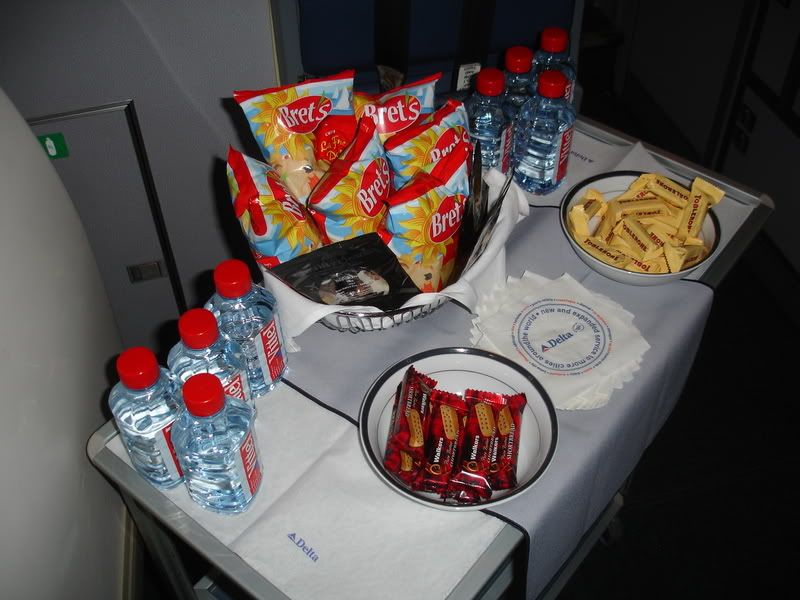 Strangely, I was not able to move around the cabin to stretch my legs. I was confined to the Business Class section, and due to FAA regulations passengers were not allowed to move from one class to another!
How much can you walk around 6 rows of seats so I got bored quickly and returned to my seat.
Luckily in few minutes after refreshment service started. A giant grilled hamburger was on the offer, served with lettuce and tomato, accompanied by Red Bliss potato salad.
On the side, the most delicious warm chocolate chip cookies were served. When I asked if I could get an extra one, Barbara offered me 2! I loved her more every second.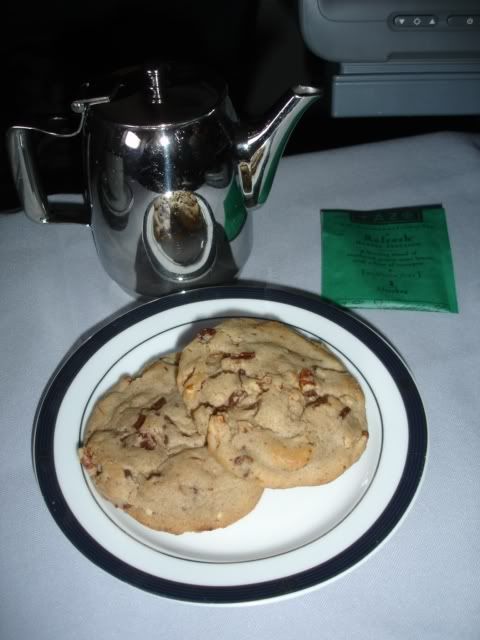 The views over Canada and the US was clear. We passed over Columbus, seeing the airport clearly.
Approaching Cincinnati over Ohio River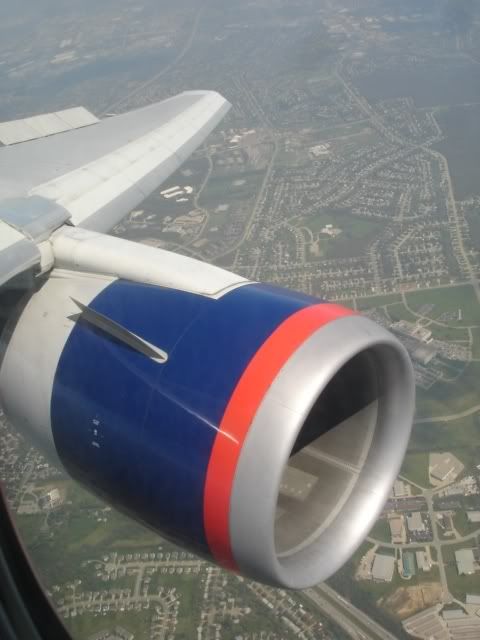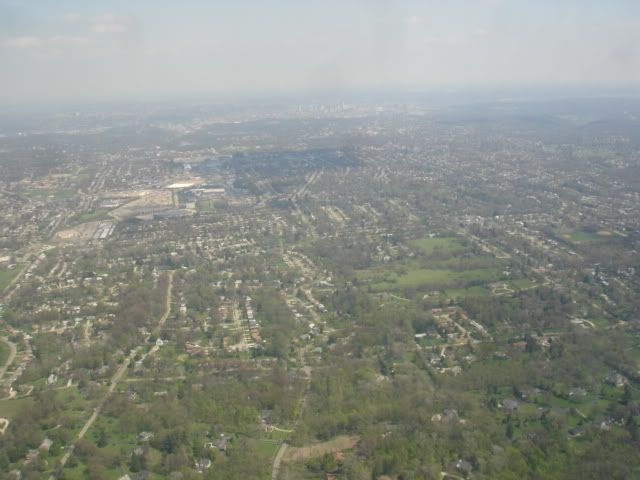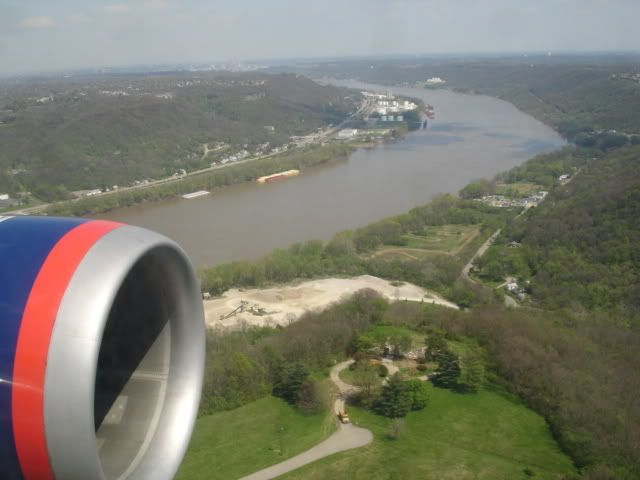 And touchdown at CVG
CVG-FRA B767-300 ER:
Duration of flight: 8 hours 40 min
Seat: 2A
Route: Cincinnati- Columbus- south of Cleaveland-Boston- Halifax-flying over Labrador Sea and Greenland, entering Europe through Southern Ireland, over Cardiff, London, Brussels, reaching Frankfurt via following Rhein River.
We arrived CVG airport 2 hours prior to departure. Check-in was super fast, within minutes we were heading to the passport control and Business Elite Room. Now this is a difference vs. the Crown Room in FRA! Plush furniture with views over the runway, a rich buffet, friendly welcome team. The best feature in the Elite Room was the massage chair offering plenty of programs! I was already in the skies long before the take off..
View of the pist from the Elite Room: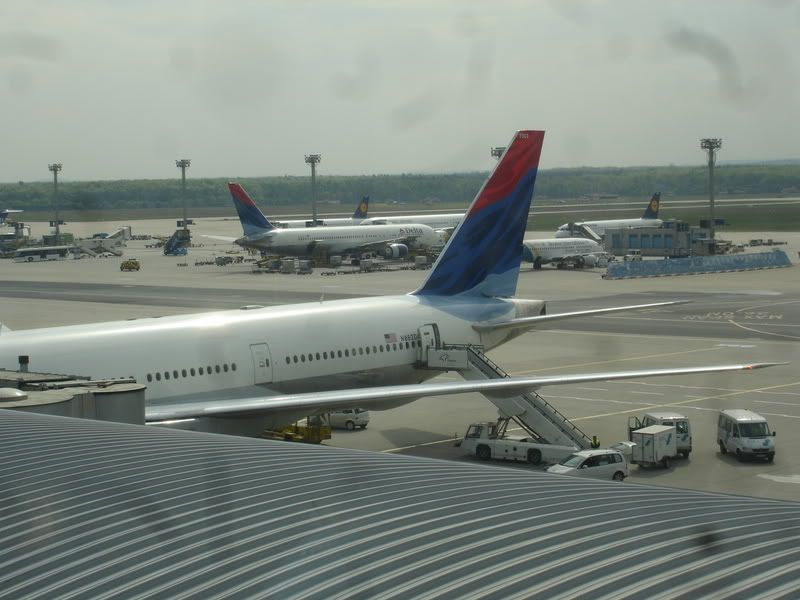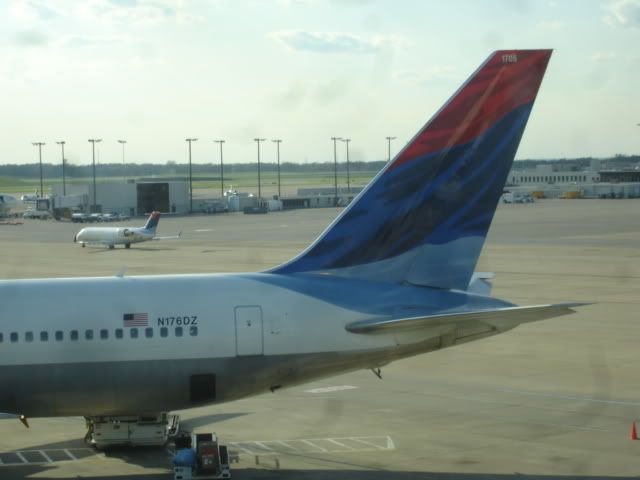 The buffet was rich, offering bbq meatballs, vegetable kiche, ham and cheese sandwiches, fresh vegetables and fruit, humus and pita bread, Pringles chips, candies, cheddar cheese.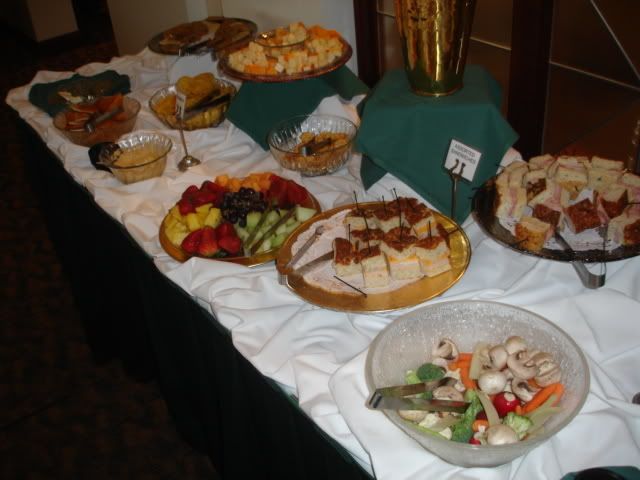 The drinks were asked through the barmen which I did not like. Waiting for other customers and hearing over their small chit chat with barmen was not that pleasant. OK, he is from France, and you had been to South France once but you think he cares?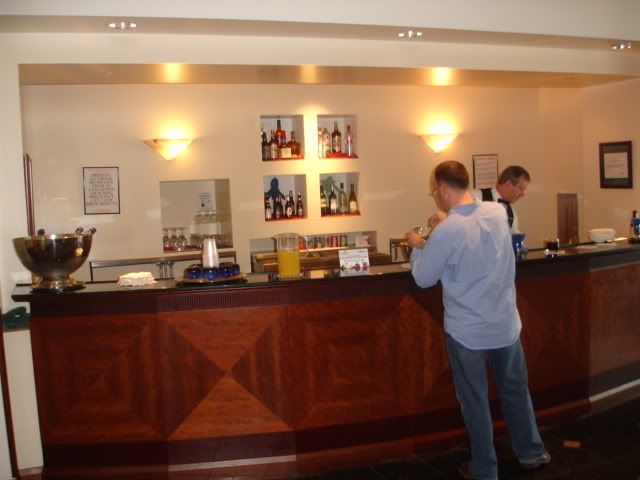 The boarding was delayed by 30 minutes due to not having a third pilot ready on time. Apparently the third pilot could not make it to the flight today, and finding a replacement was not easy. Our third pilot was arriving soon to CVG thus we waited till his plane arrives to CVG.
Push back was at 20.10pm instead of 19.40pm. Different vs the service on the FRA-CVG route, we had welcome drinks, champagne or orange juice. Although our cabin attendant did not greet us with a handshake (once you are spoiled you always ask for the same kind of service!), she was very friendly.
At 21pm, welcome drinks and warm nuts were served. I chose a Mojito which was made to perfection.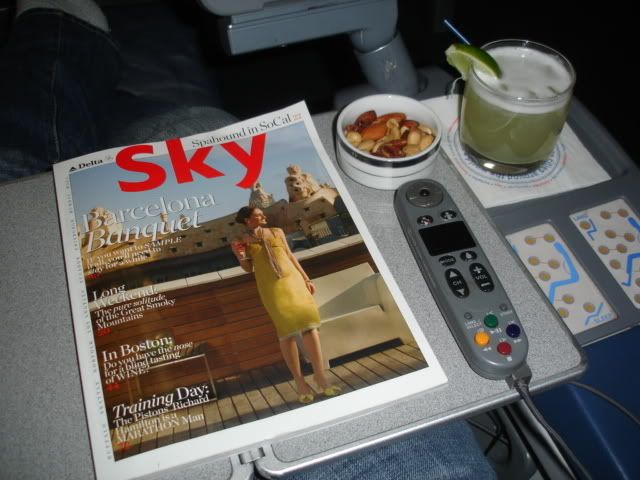 Appetizer: Sesame chicken with cucumber accompanied by pecan smoked trout and a goat cheese round with sun-dried tomatoes.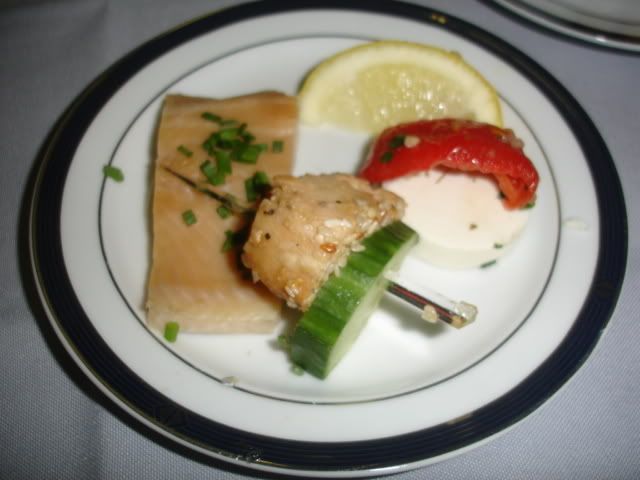 Starter: As I had the mesclin salad on the previous route, I decided to try the Thai Chicken Coconut Soup with red curry and lemongrass. When flying with ANA from NRT to FRA, I saw how an udon soup was prepared in the plane! After this quite chemical process, I was sceptical ordering the Thai Chicken Coconut Soup, but no matter how it was prepared, the soup was just excellent!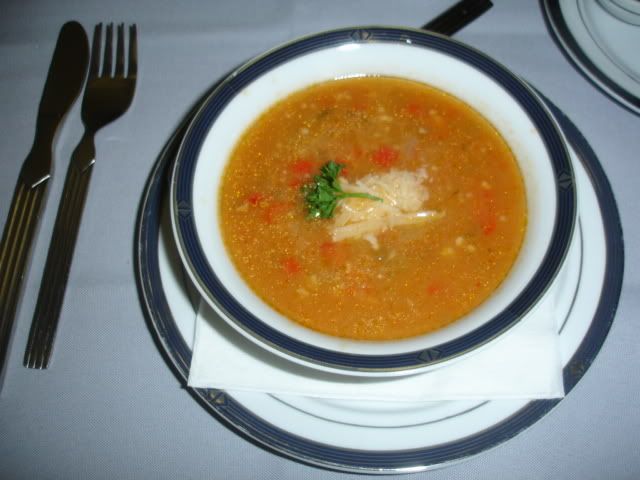 Main course: Herb crusted loin of lamb enhanced by garlic herb sauce, presented with Yukon gold potato wedges and green bean, leek and corn medley. Unfortunately I can not say much positive about the main course. The vegetables and potato wedges were overheated and dry, and the lamb was chewy. In net, I can say disappointing main course.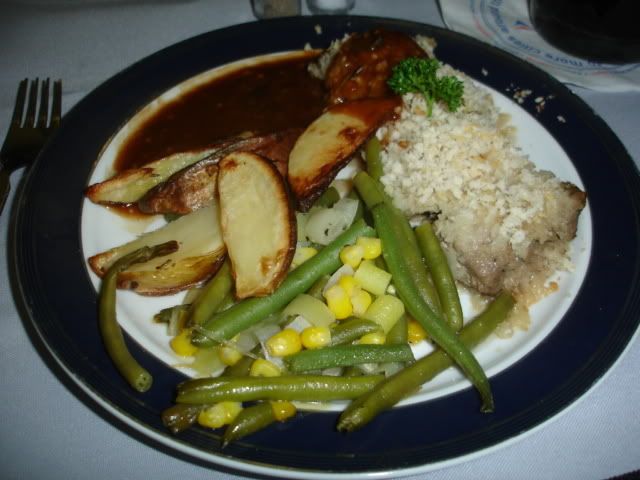 A plate of fine cheeses and premium vanilla ice cream sundae were familiar items on the menu from previous FRA-CVG route. This time I remembered to take a picture of the cheese plate.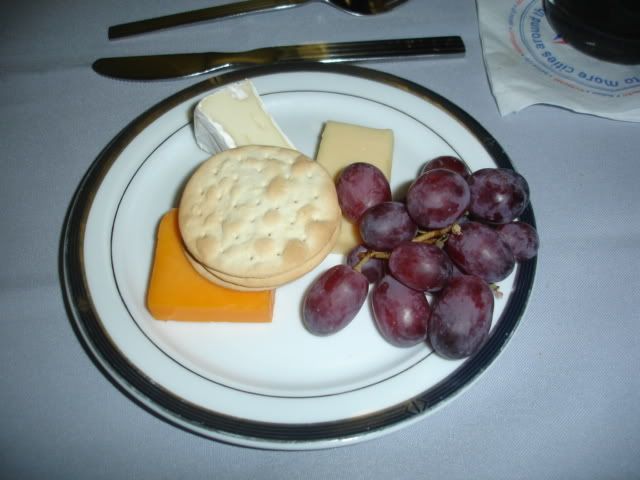 Movies I chose during the flight:
Night At Museum
Ms. Potter
As I had to go to office directly from the airport, I tried to get some sleep.
A thee hour sleep was enough to energize me during the next day.
Breakfast was served as we were flying over London. Here is a photo of Thames River, Millenium Dome and London City Airport.
And over Brussels, the Zaventem BRU airport was visible clearly: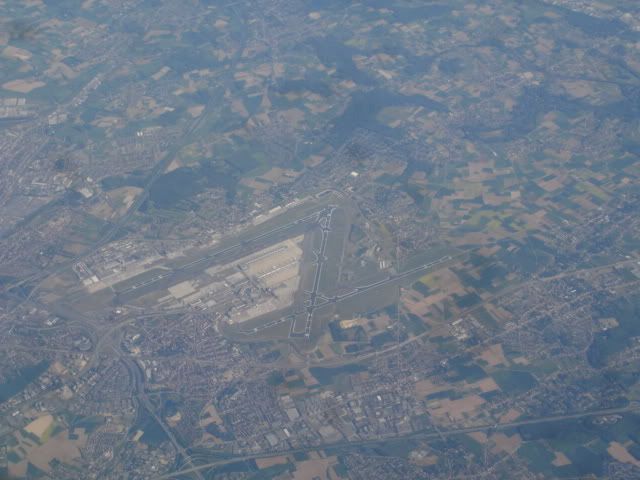 For breakfast, I chose Quesadilla filled with herbed scrambled eggs, pepper jack cheese and Turkey canadian bacon.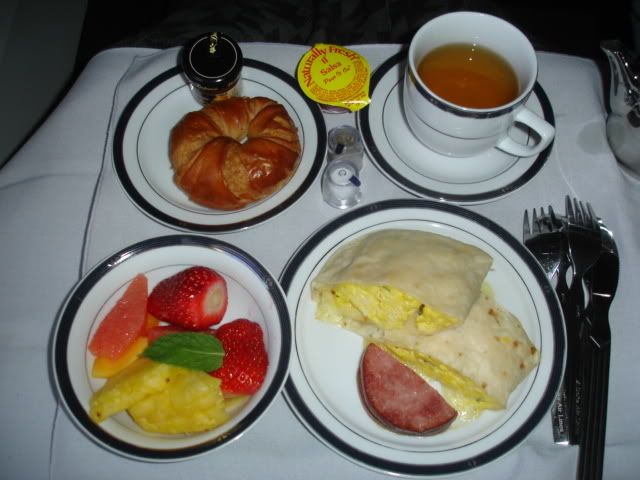 It was a clear day with plenty of sunshine, during descend, I took the following photos on German landscape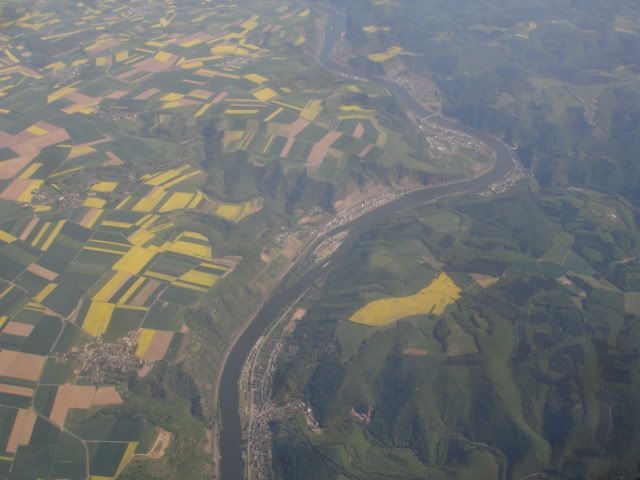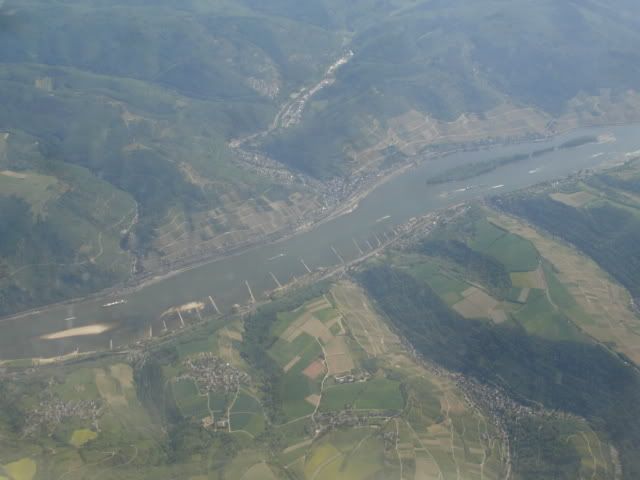 Landing at FRA: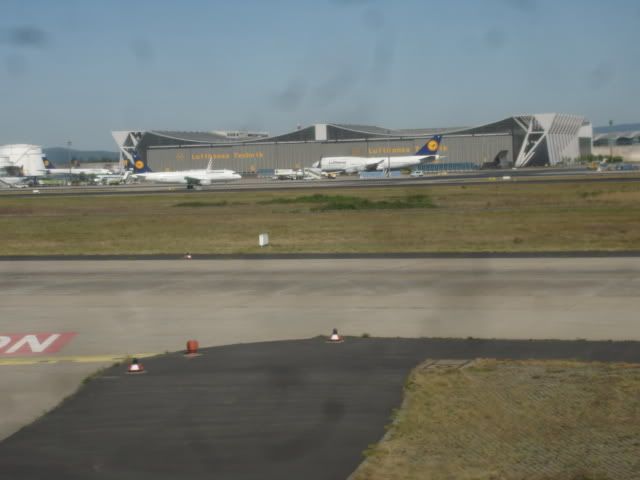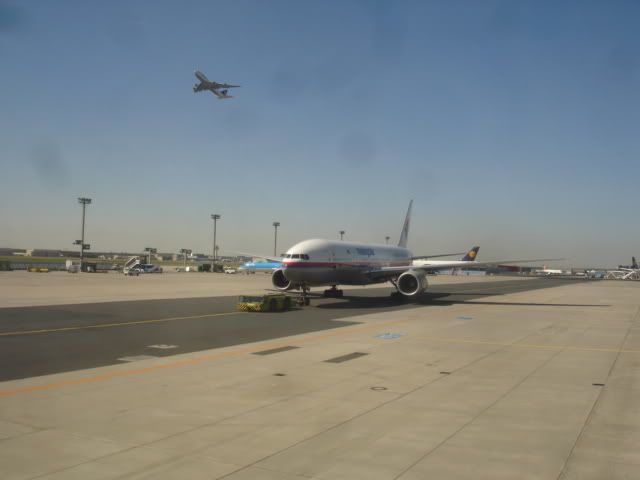 I left the aircraft fresh and with a full stomach although I missed the snack buffet while sleeping.
I liked DL business class service; clean cabin, friendly crew, generous food offer, rich entertainment program!
Can not wait for the next long haul trip. Most likely to BKK with a stop at USM!
Hope you enjoyed the report!