First trip report...note that this trip was taken in Nov 2006 when British Airways "New Club World" was something quite different from the Next Generation Club World gradually making it onto their long-haul planes this year.
BRITISH AIRWAYS
Flight: 2226
From: Atlanta to London Gatwick
Seat: 6E/6F
Class: Club World
Aircraft: Boeing 777 (3-Class Configuration)
The trip was one my other half purchased for me for my birthday…well I found the airfare and wanted to fly BA and did that part. While we're DC-based, there was an excellent Business Class fare sale going on from ATL-London, so we snapped up a good fare. I arrived in ATL from PHF on a fairly comfortable Delta flight (but won't go on about that in this report).
I left the main Delta concourses in ATL to wander the airport. After getting some fresh air outside, and waiting for my companion to finally turn up on a DCA-ATL flight, we decided to check in (despite having printed our international boarding passes online). My partner was checking luggage.
The check in area is fairly small but it did the job – despite checking in online, we were told that you have to come to the desk for Passport inspection in any case.
ATL Check-In Area for British Airways: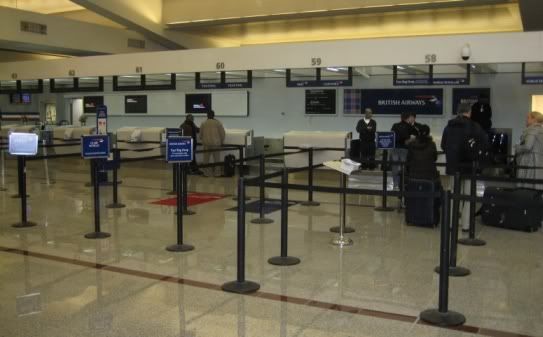 After clearing security, we made our way to the BA Terraces lounge in Atlanta. This was easily the smallest I'd seen – and at 98% capacity once we arrived! We did find two seats together, but we were very close to our neighbors.
ATL BA Terraces Lounge: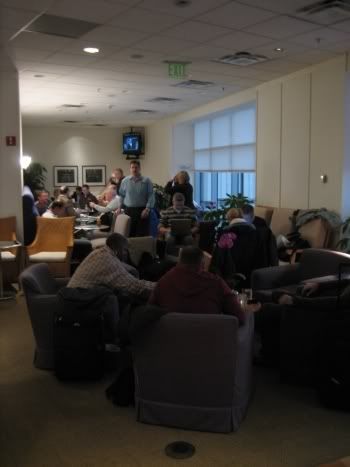 The food & beverages in the lounge were of the high quality I'd expect from British Airways. I helped myself to quite a few sandwiches of which the chicken/lettuce/mayo combination was probably the best – very tasty. I also had a Smirnoff Vodka (not a great choice), and a couple of glasses of white wine, which was excellent.
Around 40 minutes before the flight was scheduled to depart, we decided to leave the lounge – after all, it wasn't that comfortable with so many people and such little space. We stood at the gate around 5 minutes before boarding began – First & Club World. The line was quite long. I had a 20" carry on and a laptop bag – a passenger behind me in the line asked her travel companion how I had managed to bring all of that on but I turned around and joked that you can bring that amount of stuff in the US. We all had a good laugh and everyone seemed in good spirits for the flight.
Upon arriving in our seats, 6E & 6F, we were both a bit disoriented at exactly how we got into the seats (the only other time I'd flown Club World, it was a window upper-deck seat on a Boeing 747). On top of that, I had a BA staff member trying to get to Economy walking behind me the whole way so as I blocked the aisle to put my bag up she basically pushed past. Maybe she thought I was in the wrong class. In any case, we figured it out and, after putting our bags up into the overhead lockers about 3 times each ("oh I need my iPod"…."oh, do you have a pen for the landing card? I'll get one out", etc), we were seated comfortably in the two rather private, rear-facing seats.
I won't go into the seats themselves too much (as one can explore the BA website for that) but I will say that I'm a huge fan of this business class product. The clean, navy blue materials, the soft pillows, the sensible seat controls, and the drink stands are all excellent. The fully-flat position truly is, in my opinion, superior to the 'angled lie-flat' seats (I'm comparing to Qantas J here, which I also adore). The upright position of these seats, even when facing the rear of the aircraft, is extremely comfortable, as is the gradual recline when watching TV, or working on a laptop.
BA Club World Seat: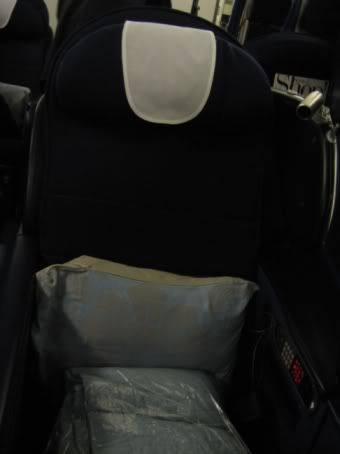 6E/6F really are, as seatguru.com attested, great seats for traveling with a partner. Despite a completely full Club World cabin, we had great privacy in these seats. In fact, when you sit back to relax, you cannot see any other passengers in the line of eyesight – I'm sure BA designed it this way. You are very close to the other middle passenger, so I would imagine these are the last seats to go for single travelers.
View from seat, facing the rear of the aircraft: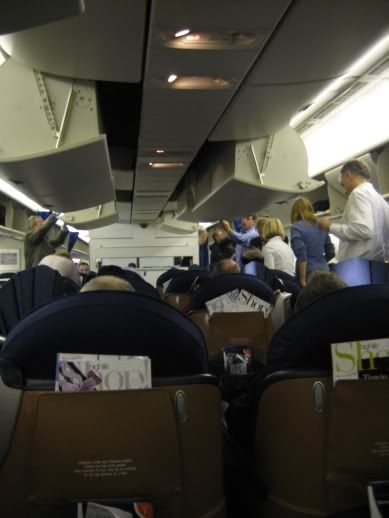 Around 10 minutes after take-off, the pilot and head purser both noted that this was a 'newer' Boeing 777, while the pilot described the flight path – normally I'm quite interested in these things (and would have liked to report this) but being right in the center of the plane, AND facing backwards, I gave up on orientating myself.
The remote control for the entertainment unit was a different version than what I'd seen previously and was a little difficult to operate.
A packet of 'premium' cashews and a beverage were offered shortly after take-off.
Refreshment: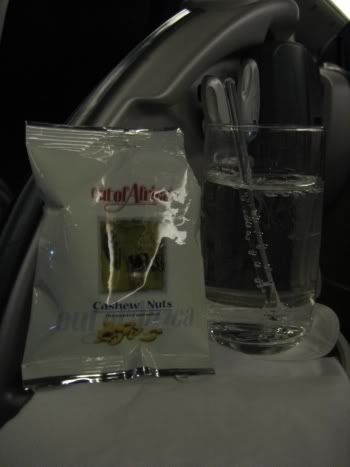 The starter (first course) was served shortly after and was delicious:
First Course: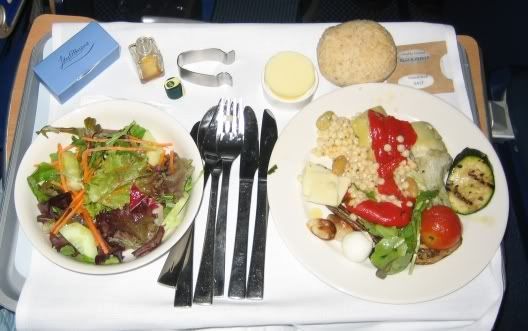 Being a novice in this trip report arena, I began the main meal without taking a photo, so here is the half-eaten version (sorry):
Main Meal:
Unfortunately, I can't report much more on this flight as I fell asleep all the way to London Gatwick. A testament to the good seats perhaps?
- - - - - - - - - - - - - - - - - - - - - - - - - -
BRITISH AIRWAYS
Flight: 2227
From: London Gatwick to Atlanta
Seat: 11E/11F
Class: Club World
Aircraft: Boeing 777 (2-Class Configuration)
Route Map: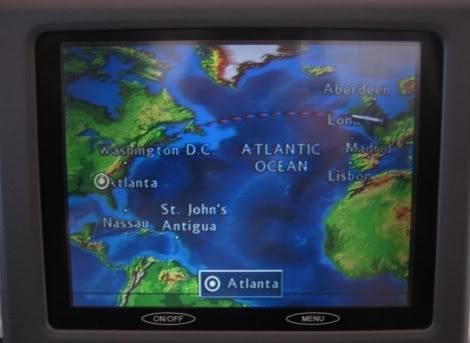 Made it to the airport with plenty of time to spare. Check-In was a breeze and our female Club World Check-In staff member was polite, cheerful, and efficient. We were originally seated in 4J/4K (yin yang seats on the right side of the plane) but we requested the two rear-facing seats in the center of the plane since we enjoyed them on the way over. 4 out of the 5 rows in Club World on this 2-class Boeing 777 were empty – very quiet flight indeed.
The Gatwick BA Terraces Lounge was excellent – plenty of good food and drinks, and we had a fun time relaxing there on a very sunny weekend in London. The Gate Lounge, however, was not a fun place to be – crowded and boring.
Gate Lounge before the flight: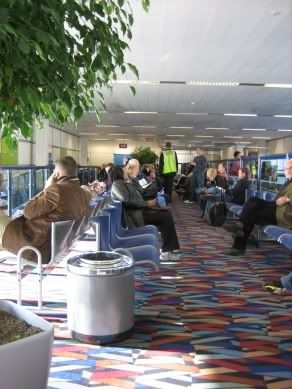 The first thing we noticed upon sitting down was how dirty some parts of the seating area were. Pictures speak a thousand words, so I'll let others judge for themselves but it just seemed that this cabin could be a little cleaner (our flight TO the UK was spotless). It may well be that because these seats have the bassinet in front of them that there is baby drool permanently etched into the fabrics – some kind of stain was clearly invisible on both privacy screens and on the seat divider. We stayed put, though, as there were no passengers seated next to us, and the World Traveler Plus cabin was fairly empty (these seats look directly into the front rows of this cabin during take-off and landing – not good seats for VIP's [of which we are not!])
Grotty Seats: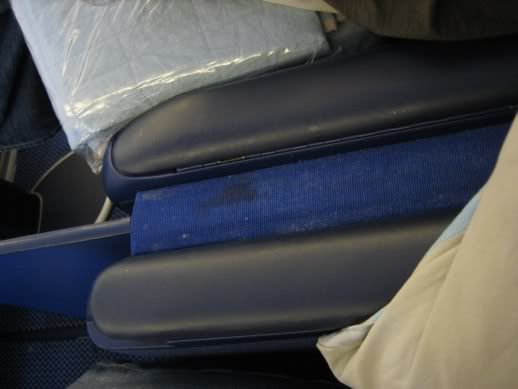 A started was served fairly promptly after take-off and was very tasty.
First Course: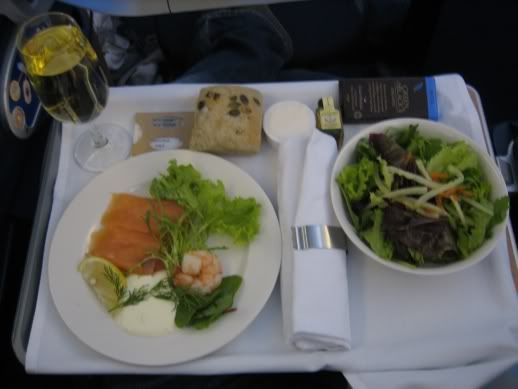 For some reason, my main meal did not come out with my companion's. In fact, it came a good 10 minutes later. Just when I was about to use my call button to ask, I overheard a question to a passenger behind me about whether he'd had his main meal already (!), so something was definitely up. Shortly after though, my chicken & egg noodle entrée was delivered with an apology, from a different crew member than the one who took the order and, I assume, made a mistake somewhere along the line resulting in the delay.
I missed a photo of my main course, but did get a photo of dessert. Not really my cup of tea, but decent!
Dessert: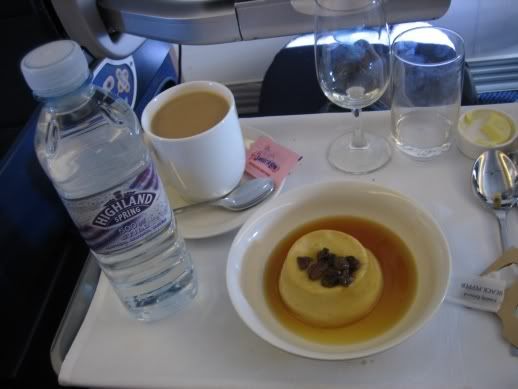 I did manage to get a shot of the 'snack' they gave me half way through the flight – if you're hungry, they'll bring out a sandwich or two for you.
Snack: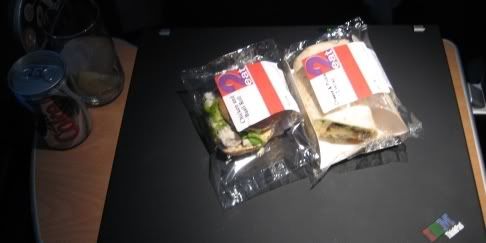 We were fed AGAIN, this time "Afternoon Tea", around 2 hours from Atlanta. The sandwiches were similar to the snack and were delicious.
Afternoon Tea: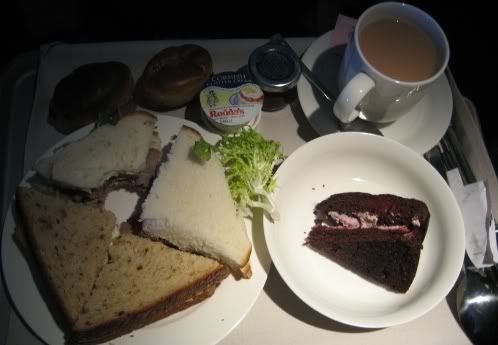 They also handed out ice cream after this meal service – very creamy and delicious British ice cream.
Ice Cream:
A BA Survey was distributed, which I filled in and gave pretty high marks for – I really enjoy traveling in Club World, so I wanted that to show.
The remote control console for the entertainment was different from the newer 777 on the way over – this plane had the standard version which, in my opinion, is less-complicated and does everything it needs to (worked well for a brief stint of Blackjack over Canada).
Standard Remote Control – B777: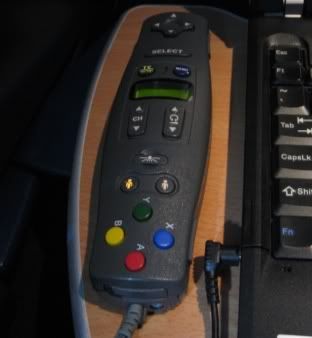 All in all, a WONDERFUL trip on British Airways in Club World.
[Edited 2007-05-14 00:48:14]