Here's a photo report of my BA FIRST flights to Sydney in March/April 2007. They were part of a booking to Papeete, report of the Air Tahiti Nui F experience will follow later.
28 March 2007
Bangkok Suvarnabhumi (BKK/VTBS) – Sydney Kingsford Smith (SYD/YSSY)
British Airways BA/BAW 009
Boeing 747-436
G-CIVA
1810-0605+1 – On Time
FIRST, Suite 2A
I was in an awful rush to Suvarnabhumi due to various happenings that day, and hit the deserted BA/Qantas counters at around 5pm. A very friendly QF employee handed me my boarding pass in a matter of seconds and gave me directions to the newly opened Qantas Club lounge. First Class section wasn't yet open, so she informed I should use the business class side.
Immigration didn't have much of a line, although I wish they had a few priority counters to bypass all the clueless tourists with incomplete details on their departure/arrival cards. TG has their own fast track for F/C, but that can't be used by even partner F class such as Lufthansa. Once through, I made my way to the abovementioned QF Club. Significantly better than the horrendous Louis Tavern CIP lounges that BA/QF used previously, but I was far from impressed. Only a small section was open, another run of the mill Suvarnabhumi lounge, nothing to write home about.
The concourse design dictates that lounges need to be long and narrow, so I guess you can't design a superb lounge like QF Club Singapore at all at this airport. Another reason why I hate Suvarnabhumi is that food in the lounges is appalling, no improvement here either, same stale sandwiches as at Don Muang. No hot food whatsoever. The bubbly was some Australian sparkling wine, acceptable, but CX/SQ/EK serve proper champagne in their business class lounges.
Gate G4 was not far from the lounge, and I boarded right away.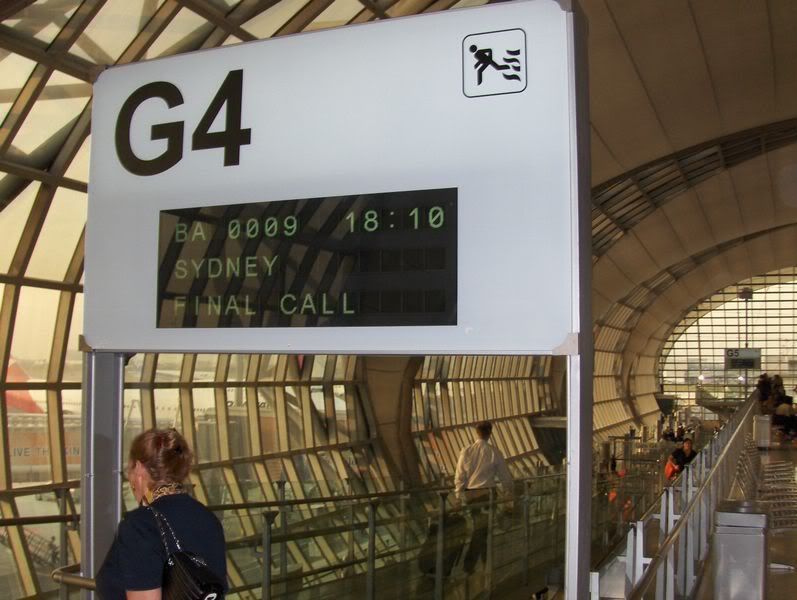 A warm welcome from the old guy at the door, and I made my way to suite 2A. First impression of the cabin was that it's more cramped than the SQ or CX equivalent, but looks very stylish nonetheless. Stowed my bag, sat down, and I was offered champagne seconds later. With it came macadamia nuts and refills were more or less nonstop – very good first impression of BA service.
Perrier Jouet Belle Epoque 1999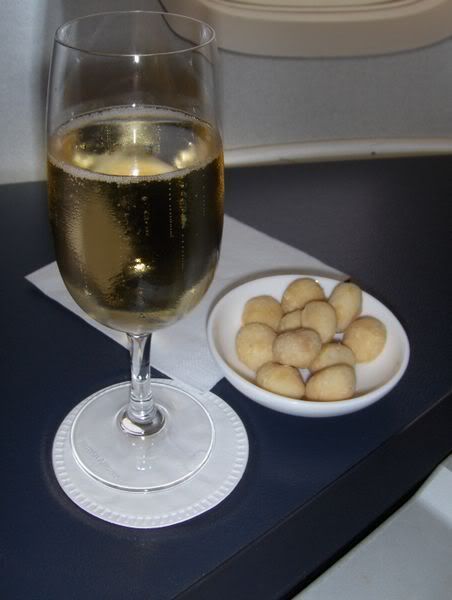 Anya Hindmarch designed BAg's were also distributed and so were the pyjamas. Next, the purser greeted everybody and handed out the menus. The brown velvet amenity kits are very nice and feature photos of old BA aircraft on the inside. Decent selection of Kiehl's cosmetics. I then changed to my PJ's, and a F/A immediately offered to hang my clothes in the closet. The way it should be.
Pushback was a few minutes early, and we taxied to 19L for takeoff. Service started with drinks and canapés, the latter of which is no longer offered on SQ or CX. Dinner orders were then taken, here's the menu and wine list.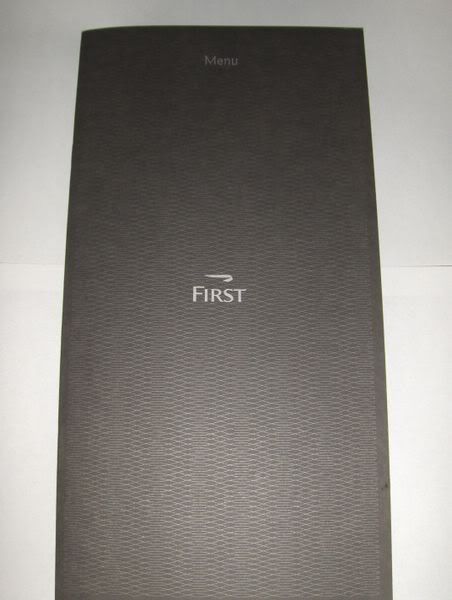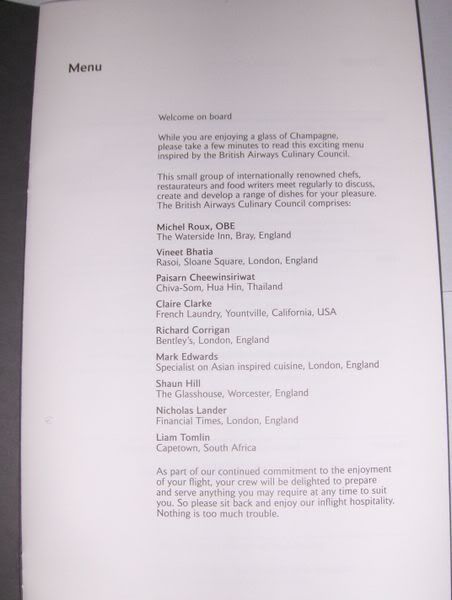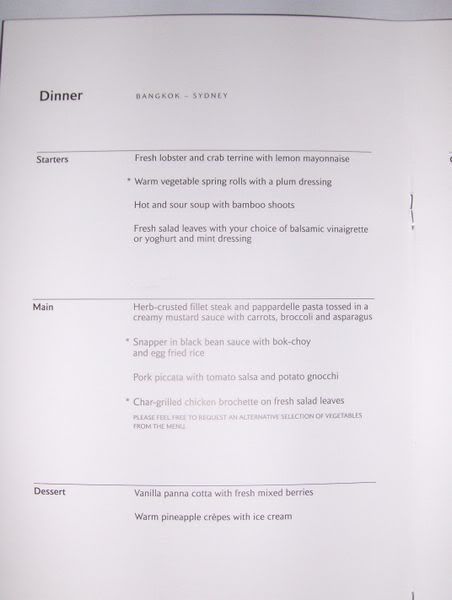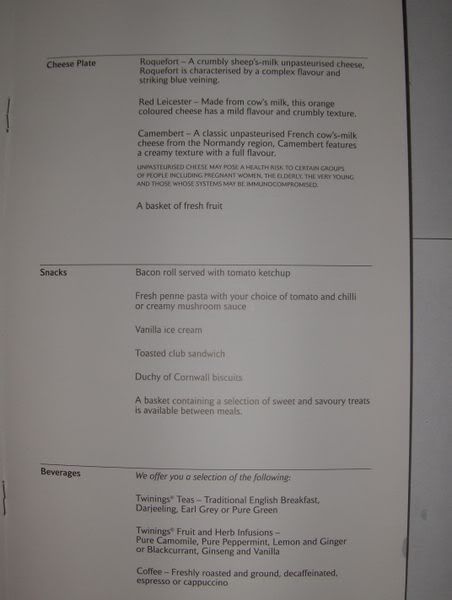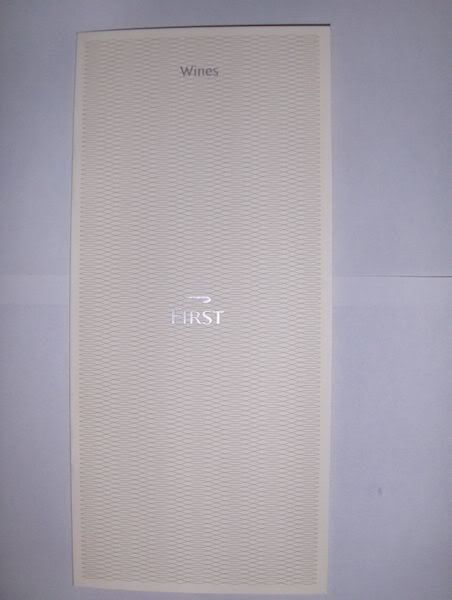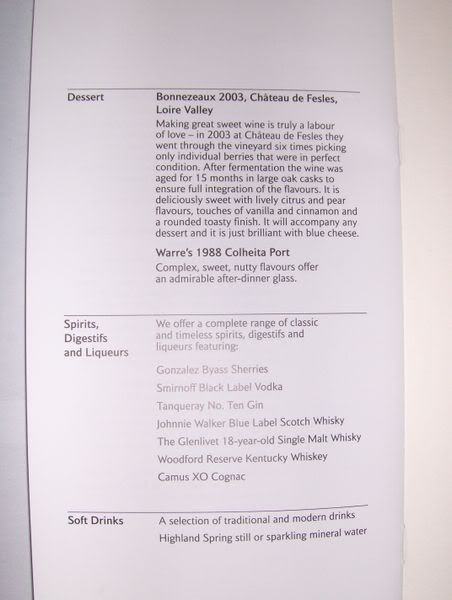 Something weird happened with the memory card of my camera, so apologies for no starter/soup/salad pictures. The return has more of the meals. I opted for the full affair, starter, soup, salad, followed by the steak, pannacotta and cheese. Service was top notch with constant drink refills, wine recommendations etc. Enjoyed plenty of the bubbly and later the Bordeaux with the steak. Plastic cutlery was used, some moronic new Australian restriction I heard since TG does this to Australia as well.
Steak main course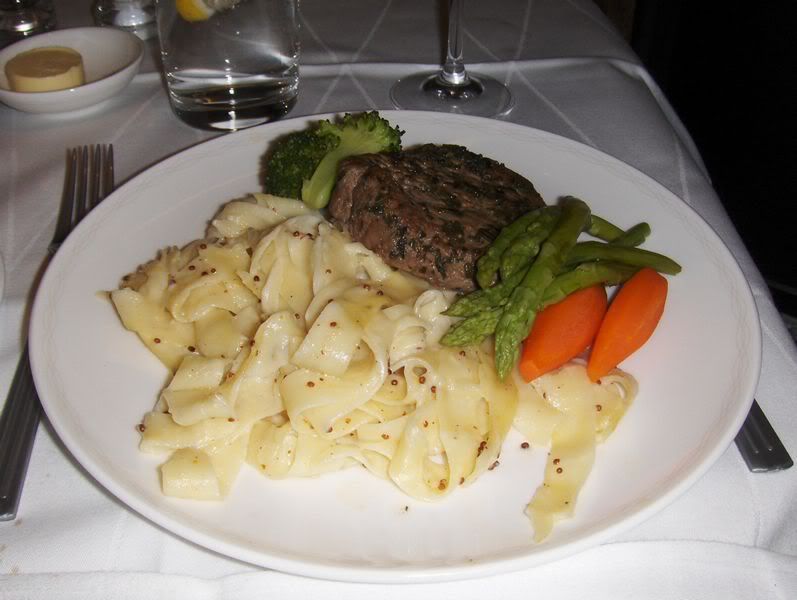 Dessert
Cheese with the lovely Warre 1988 Port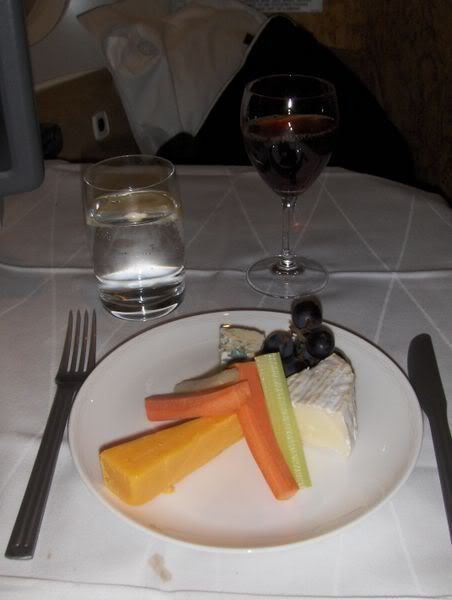 Tried to recline my seat, it needed a few kicks from the purser, but thankfully that worked. Decided to watch a movie on the pre-historic cassette player and enjoy some JW Blue Label while doing so. IFE was the only weak part of my BA experience I'd say.
A glass of JW Blue on the rocks. BA knows their drink measurements unlike CX...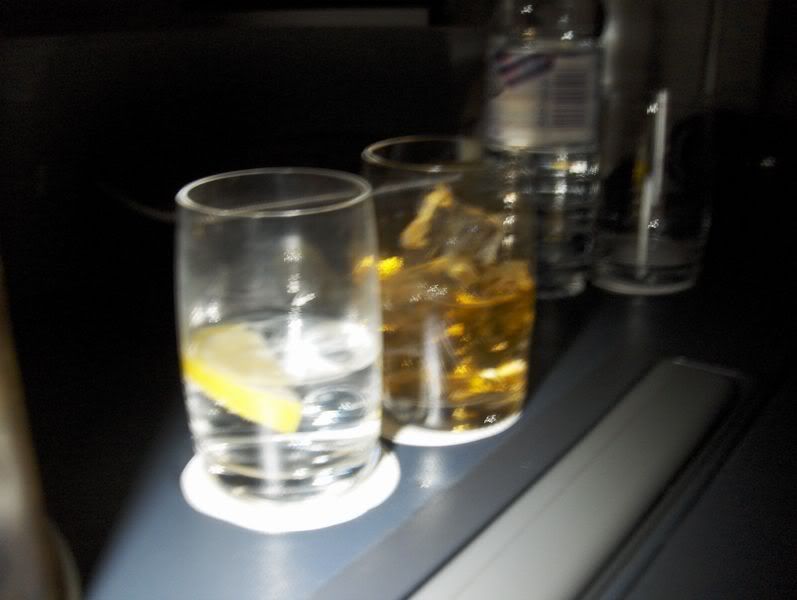 I then decided to call it a night after the movie, reclined the seat and put the mattress on it. I know I could have requested a turndown service... I hear this mattress is a new enhancement, and it definitely makes the suite a very comfortable bed. The feet area is a bit narrow, but it didn't bother me at all.
Since I asked not to be woken up for breakfast, I was only woken up 10 minutes out of Sydney, and the breakfast smoothie hit the spot. Was still full from dinner anyway.
Immigration was deserted this time, amazing what difference a few planes can cause (it was packed when I arrived on CX last time). No questions asked, and I was on the train to the Sydney Marriott in a matter of minutes. A very rare experience at SYD, where they seem to hate Asian arrivals with passion, give you a hard time at immigration and thus cause huge lines.
Sydney Marriott Hotel
This property is next to the Hyde Park, and a significant notch below the Harbour Marriott. Asked if they had any rooms ready for a Platinum at 7.30am, "I don't think we do, maybe noon". Not impressed at all considering I emailed them about it beforehand. No emails to the Harbour Marriott on the previous trip and their response was "Of course we'll find something for you since you're a Platinum with us".
Got an executive level room at 10am, although cleaning was still in progress. The front desk manager came up to apologize for the mix-up, nice touch. A large room with the new Marriott bedding, not bad at all. However, the furniture was showing serious wear and tear, and did not really match the nice bed and flat screen TV. Huge bathtubs in this property, but no separate showers.
Marriott Revive Bed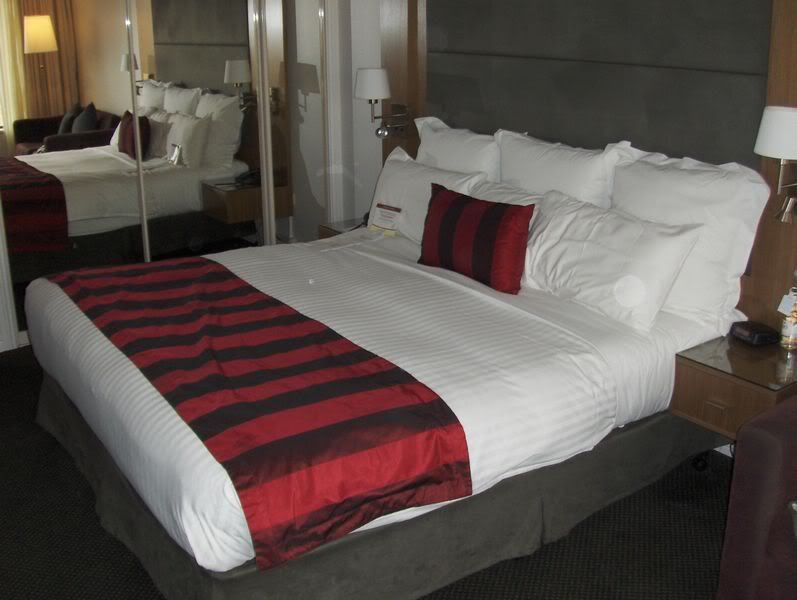 Flat TV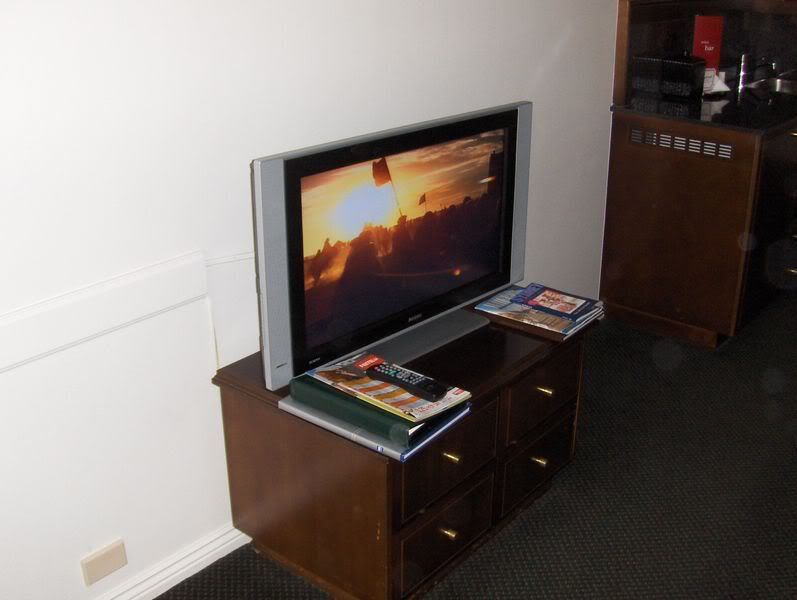 Kitchenette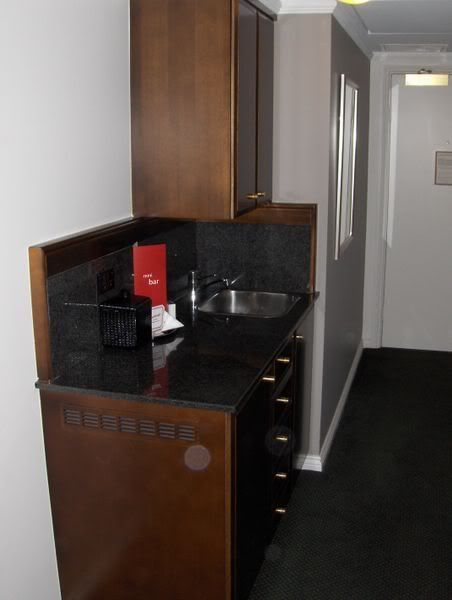 Bathtub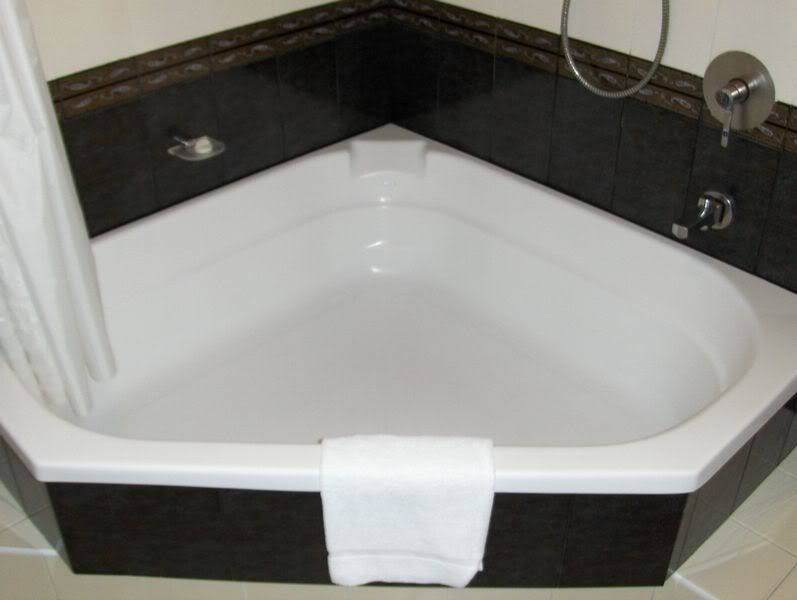 Basic amenities, love how the Singapore Marriott for example has Bvlgari in the new rooms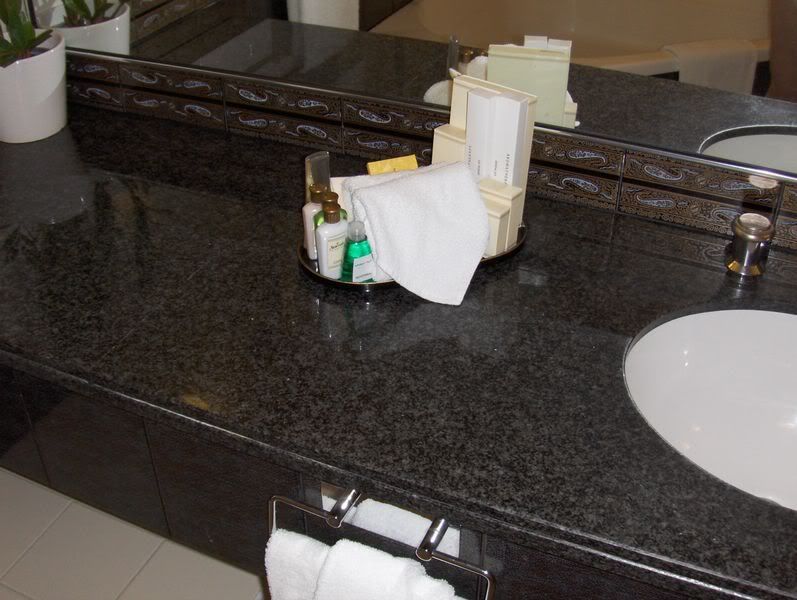 01 April 2007
Sydney Kingsford Smith (SYD/YSSY) – Bangkok Suvarnabhumi (BKK/VTBS)
British Airways BA/BAW 010
Boeing 747-436
G-BNLD
1640-2255 – On Time
FIRST, Suite 2K
I arrived on Air Tahiti Nui in the morning, thus had all day to spend at the Qantas F lounge. Unfortunately, this was still the old lounge downstairs, not the recently opened brand new one. No problems getting in although they couldn't give me a boarding pass until 2pm when BA check-in opened. Grabbed one of the sleeper chairs and unsuccessfully tried to get some shut-eye.
The bar offerings are of decent quality, so I went for the Moet&Chandon instead of sleeping... Food department left a lot to be desired, very basic continental breakfast and some cold stuff later. A couple of A330s made their turnarounds in front of me, here's VH-QPE. It came from HKG and seemed to have lots of Dell computers in the cargo hold – hope they have good packaging; otherwise half would be broken after the unloading process. One such package was lying on the tarmac for 30 minutes after falling from the cart.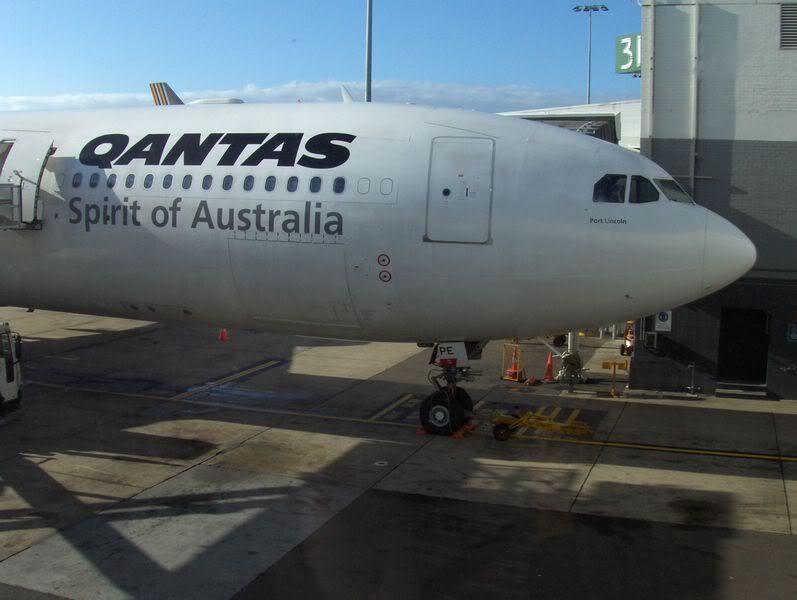 BA10 to London and Bangkok departed from gate 36 this afternoon, and they had just started premium boarding as I made it there. Pre-departure ritual was an exact copy of BKK, very friendly crew, constant champagne top-ups, and the amenities handed out. Taittinger Grande Cuvee was offered on the ground, later switched to the Perrier Jouet mentioned in the wine list. Both excellent, I assume Fgbdavidson's favourite Charles de Cazenova is gone for good.
Taittinger Grande Cuvee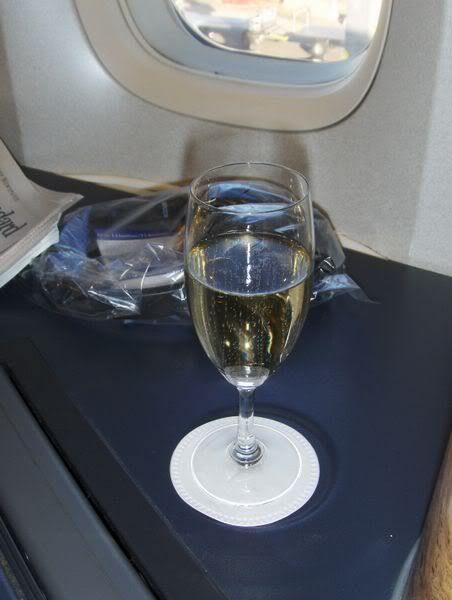 F suite view with BAg, PJs, duvets etc.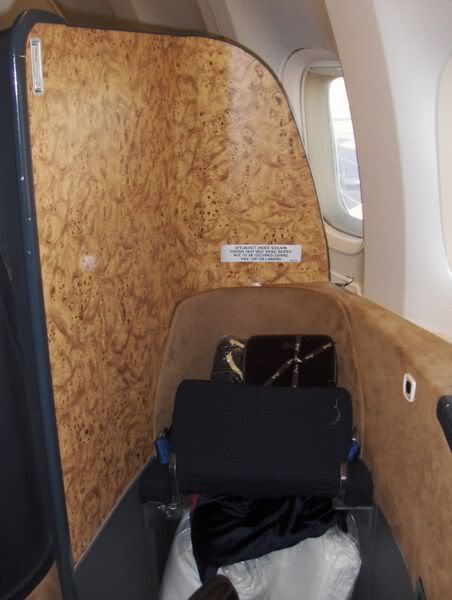 NZ A320 taxiing as we push back on schedule
Downtown Sydney in distance during our short taxi to 16R for takeoff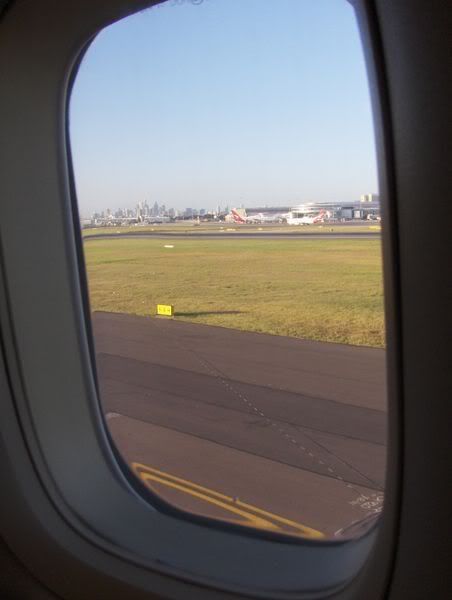 Taking off from Sydney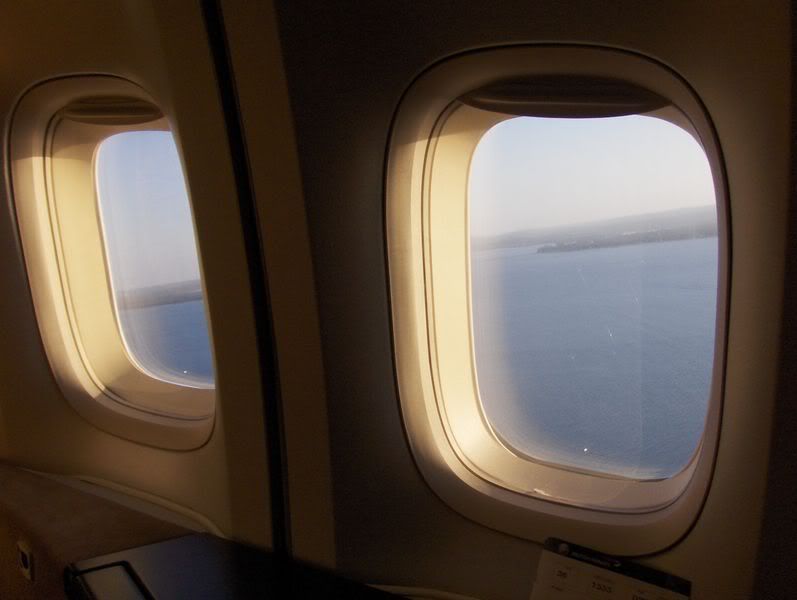 Leaving Australia behind
Service started with drinks and canapés
Table setup for dinner on BA10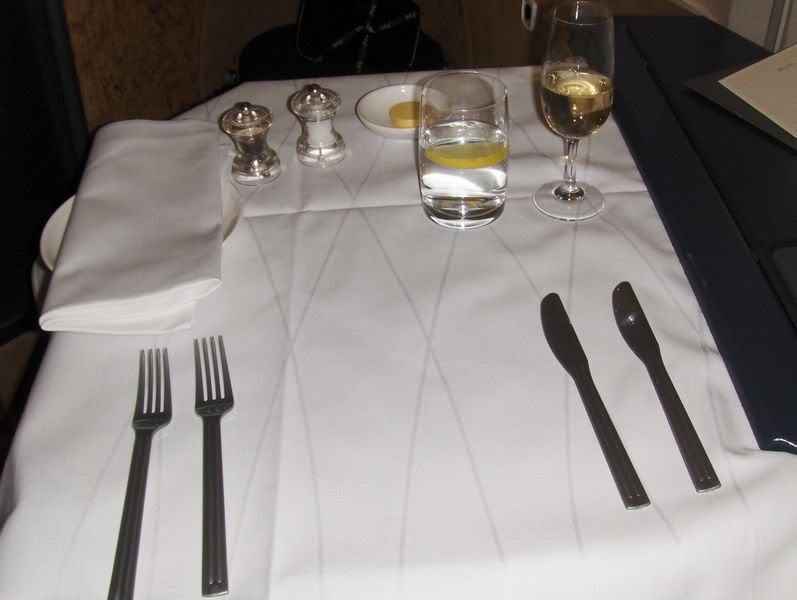 Sunset during dinner service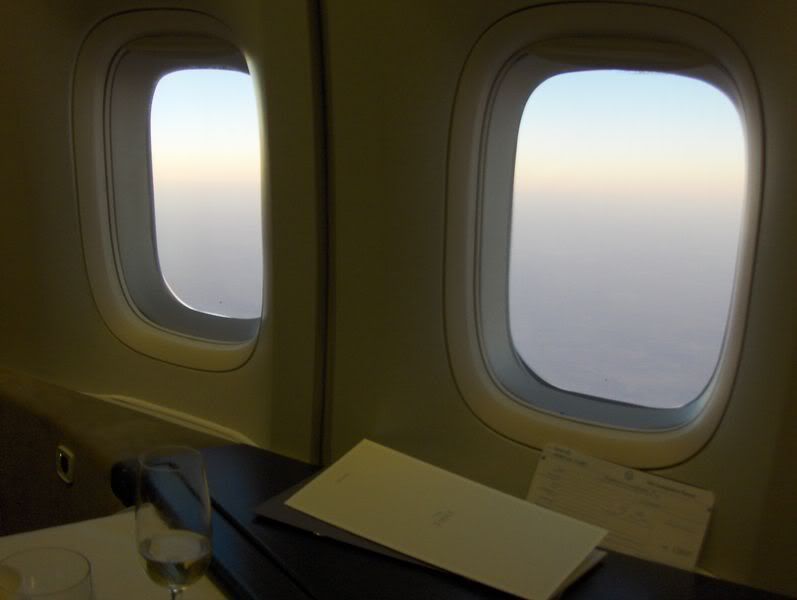 Dinner and refreshments served on SYD-BKK, here's the menu. Wine list was the same as on BKK-SYD, so I won't repost it.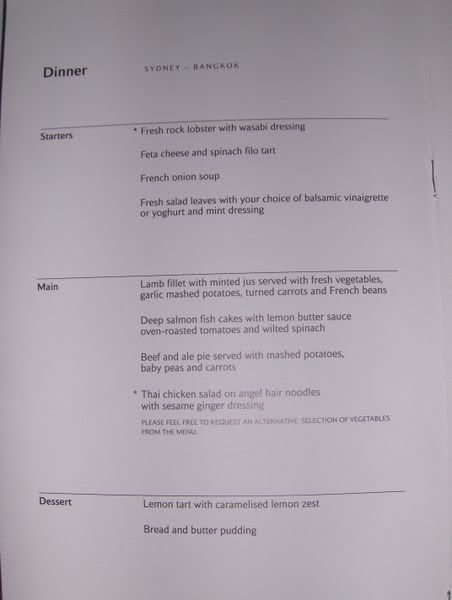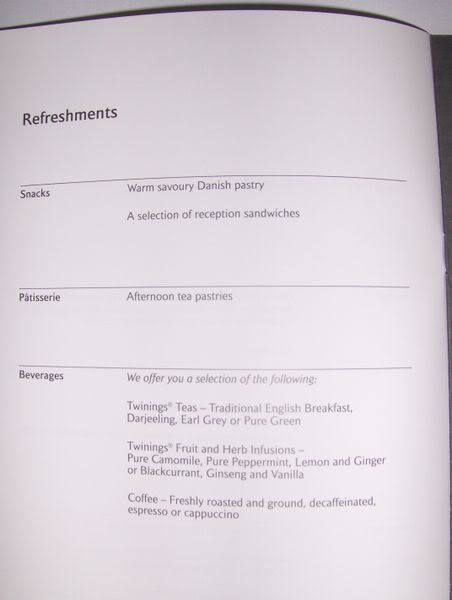 Lobster on the menu again, so that was the obvious starter. Decided to go for the soup as well, but skip the salad this time.
Fresh Rock Lobster with wasabi dressing, superb appetizer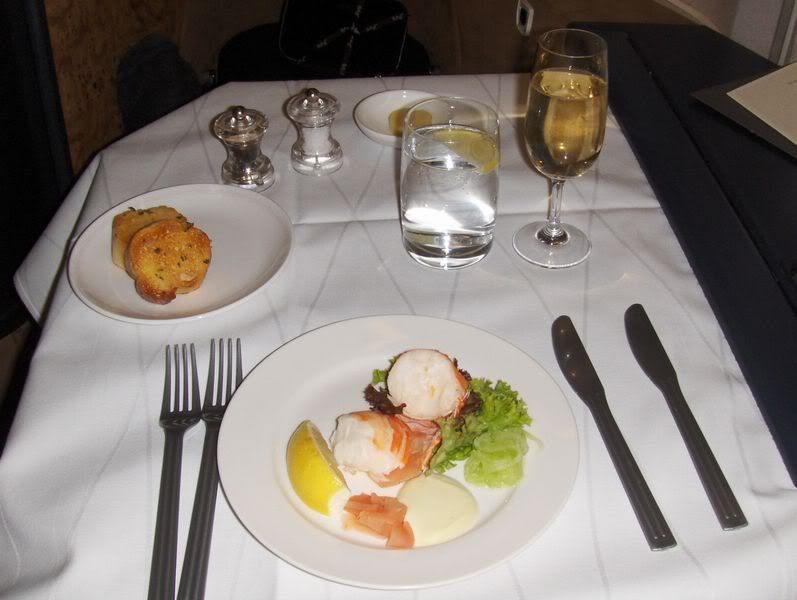 French onion soup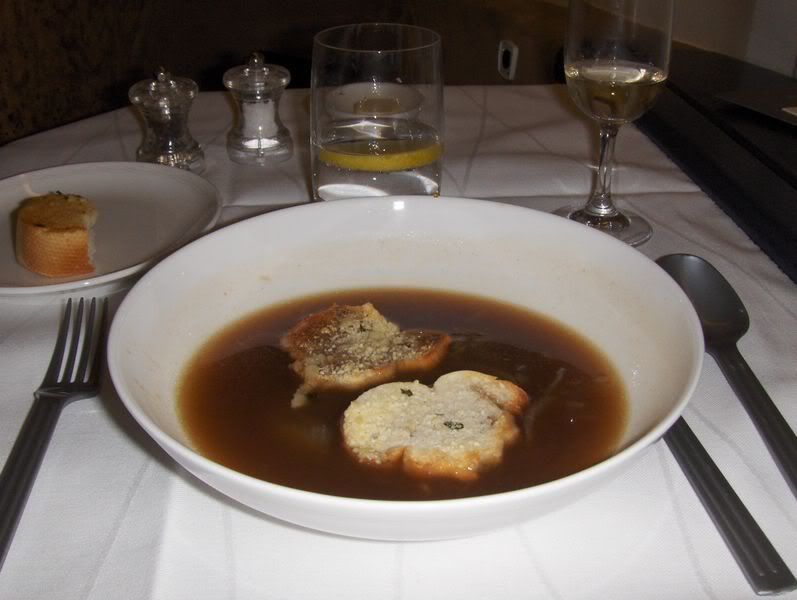 Lamb main course – very tasty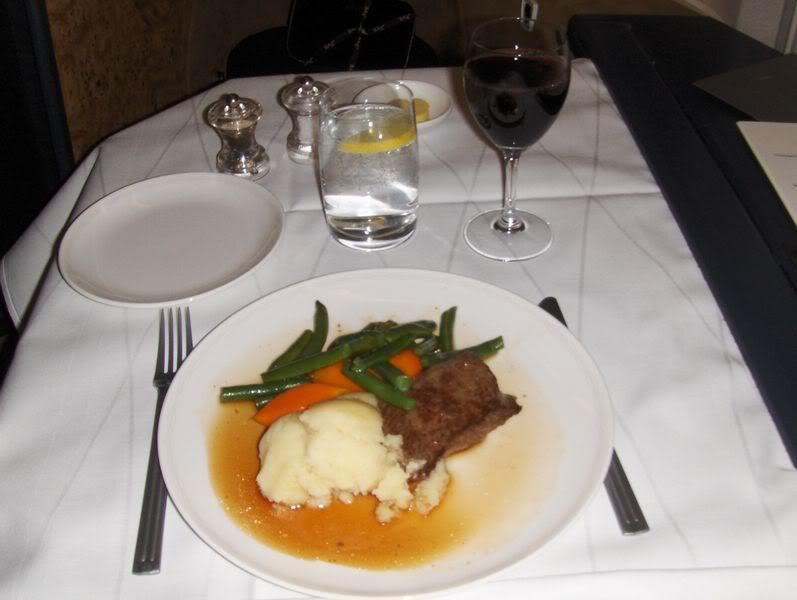 Lemon tart with Bailey's
And naturally finish it off with some cheese and two glasses of Warre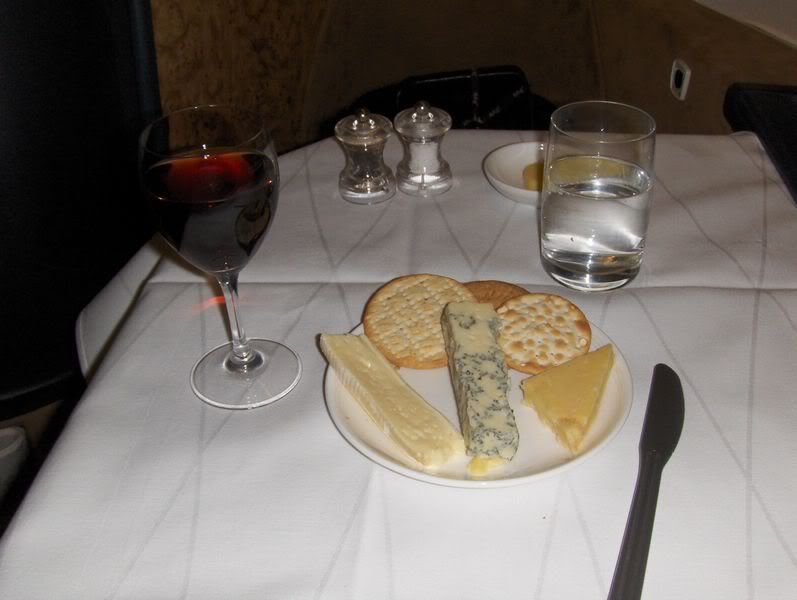 The British guy and Irish lady did a great job with service; drinks were never empty and refilled without questions as it should be. The sad fact is, these days in TG First, they won't refill your Dom glass unless you ask – experienced on two TG F flights already this year.
I changed to PJs only after the meal this time, and had quite a laugh exiting the toilet. An older gentleman was complaining about his blinking reading light, and the crew promptly said "Sir, that's because the disco opened after dinner!" The crew was just brilliant on both BA flights, and that's a good example of that if you ask me.
I was quite exhausted after the TN flight and day at SYD airport, so decided to make full use of the F suite after this. Had a couple of hours of sleep, and woke up perhaps two hours out of BKK. Was promptly offered some sandwiches – I'm not a great fan of this afternoon tea service, but something more substantial would have been too much for this short flight. Unless of course, it's a plate of caviar as I requested on Cathay. Had some JW Blue with the snacks and all too soon we were descending into Bangkok Suvarnabhumi.
Approaching BKK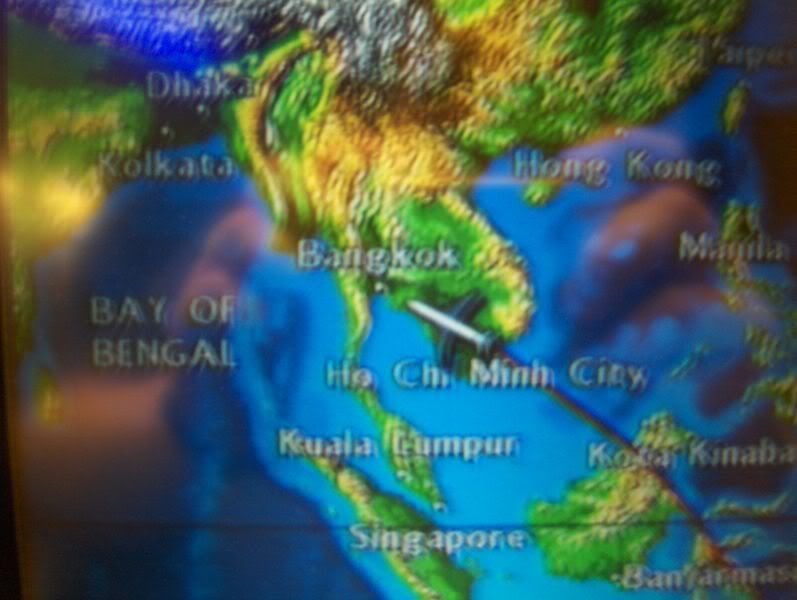 Landing was a few minutes early, and turning into the G gates, the captain came on and announced "Ladies and gentlemen, as you can see we're turning to our gate bang on time, it's 10.55pm local time. I suppose that was pure luck, but I'll take the honour of that anyway." The cabin burst out laughing. Immigration was thankfully relatively fast, and I was home about 40 minutes after landing.
I was very impressed with my first BA FIRST flights, far exceeded my expectations. Great crews, and the food/beverage department was much better than expected. Either BA has improved a lot or CX has cut their F – comparing my recent CX SYD run and this one – I frankly don't know which one to prefer. CX is definitely not light years ahead as some claim.