Dear readers,
It took me a while to get the time again to write another tripreport from one of my latest flights. This time I decided to cover a report on Arkefly – TUI Airlines, the Dutch section of this large European airline operator. Arkefly used to operate 3 Boeing 767-300ER's only for a while, although due to the demand on some Mediterranean holiday destinations, they decided to lease in a couple of Airbus A320/321's for the 2006 summer period.
When we got our tickets for the one week holiday package for Kos, an island of Greece, I saw that our departure time was quite late on the first day. Always a pity, because you loose the first day of your holidays. Mostly resulting in an also late return flight back home. This was the case with us as well. No big deal of course, but personally I don't like late return flights, as you always have to leave your hotelroom around noon latest. And with temperatures over 25°C, I usually want to take a shower before leaving for the airport to catch my flight back
. Anyway, we can't change such things…,
We headed for the airport by taking the public transport, which is running very frequently in my neighbourhood and arrived at the airport around 2½ hours before departure. We saw that checkin counter at desk 30 were open for us to checkin ourselves and drop the luggage. As we were holding tickets in Comfort Class on this journey, we didn't wait long. Arkefly is providing dedicated counters for these passengers.
AMS-KGS
Flight No.:
TFL287
Date:
05OCT06
STD:
1815
ATD:
1807
STA:
2235
ATA:
2225
A/C:
Airbus A321-231
Reg No.:
G-MIDM
Seat:
03F – Comfort Class
My third ride on an Airbus 321, and the second on this same machine.
View Large
View Medium


Photo © Tim de Groot - AirTeamImages
When we headed for our gate B19 I noticed that the only Arkefly aircraft was the A321 on lease from bmi british midland. A pity, because I was hoping to jump on their leased A320 from Iberworld. It would become my second ride on G-MIDM, having flown it in the past to LHR when operating for British Midland Aiways.
Boarding started early and finished quickly, doors were closed a few minutes early as well. That was a good sign. We departed even ahead of schedule! Way to go here for Arkefly (I know thay can't promise these things when you fly on their 767's
)
The load was not very full, maybe just reaching 75%. This was mainly caused by the time of the year. Dutch school holidays were over, and only the older youth, your parents with children, or the no-children families were travelling. We don't have problems with this season, as the prices for this period are much cheaper then in high-season. And usually the weather is the same
The pre-departure safety video was original 'bmi' with their typical British cartoons. Also the announcements from the flightdeck came with British accent, so I think that the flightcrew was 100% 'bmi' as well. Although the cabincrew was 100% Dutch and from Arkefly themselves.
We took off not much later at runway 24 'Kaagbaan' and turned sharp to the left and heading on our South-East course towards Greece and the sun! Soon after takeoff a Arkefly video came on the dropdown flatscreens and showing their destinations. Also a nice holiday-song, specially made for Arkefly was yelling through the cabin.
To be true, I have to say that I felt very comfortable in the blue fabric bmi-seats. Comfort class is providing 84 cm of legroom which is generous enough to have on such a flight. This A321 was offering a total of 45 Comfort Class seats. Don't know exactly how many Economy seats were behind the curtain.
The crew offered headphones for 3 Euro's each. You can listen to the audio/video channel which is located in the armrests of the seats. We listened to our own MP3 players, and saved 6 euro's here
. Little later we spend this money to buy 2 cappuccino from the bar.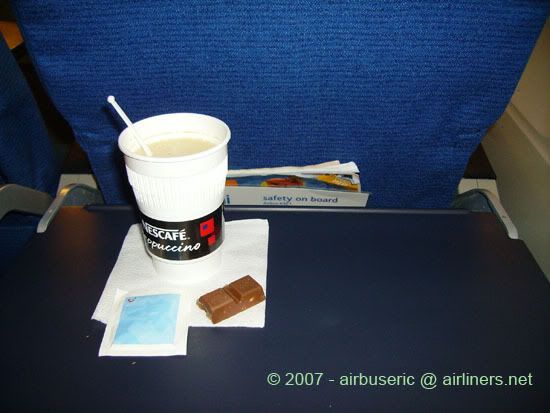 All prices and information were shown in the Arkeflyer, their inflight magazine. Also some destinations were covered, what to do there, about Mediterranean food, about the airlinecompany etc. was written down in this magazine.
We cruised at 33,000ft , via Vienna – Croatia – Bosnia towards Greece. This information came from the flightdeck and they estimated an early arrival at 22:30hrs local time. Weather forecast was 25°C
at the time of landing.
About 1 hour after the first bar-'service' the crew came along the aisle a second and last time. Also the selling of perfumes, toys and other articles was done at this moment. They finished quickly, so I guess the crew were no good sellers
.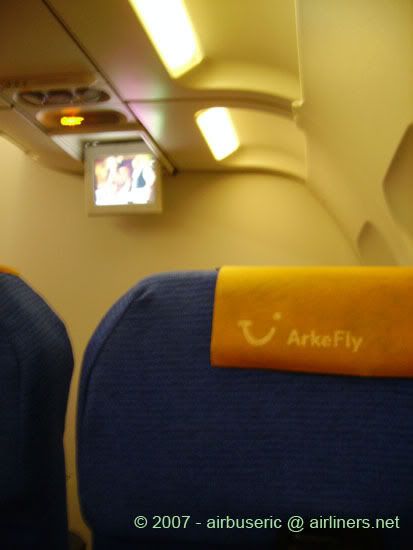 During the whole flight, short movies were shown on the dropdown screens, including Tom & Jerry cartoons, Mr. Bean, Allo Allo, the comedy 'Joey' and an British television edition about cars back from 2004 (!). I think that's a bit to old. The cars shown are widely available now on the second-hand market and not special anymore
.
When descending for KGS, there was not much to see outside as it was completely dark and it was very uneventful. We landed at runway 33 and parked little later on the apron. Buses were driving us to the terminal building. This drive took about 1 minute, you guess how short the distance was.
We had to wait about 20 minutes at belt no. 2 to get our luggage, but it arrived in good condition. Nothing lost or open. Our holidays started in a good and comfortable way…
~~ ~~ ~~
During the week we enjoyed temperatures between 20°C~28°C and enough sunshine, the nice food. We did some cycling on the island and had a trip to the island of Nissyros were we visited an active volcano.
~~ ~~ ~~
Our touroperator arranged a shuttlebus back to the airport, directly from our hotel. As we used this service, we took the risk of arriving late at the checkin counter, and that we had to queue in a long line of other passengers. But after all we arrived well on time, and it was not very busy at all. Our flight was being checked in at counters 6 & 7. On this way back we were rebooked into Economy Class (we were informed about 4 weeks in advance, so no big deal) and therefore we got seats (window+middle) in the back of the cabin.
KGS-AMS
Flight No.:
TFL288
Date:
12OCT06
STD:
2335
ATD:
2359
STA:
0205
ATA:
0233
A/C:
Airbus A321-231
Reg No.:
G-MIDM
Seat:
23B – Economy Class
My fourth ride on an Airbus 321, and the third on this same machine.
View Large
View Medium


Photo © Cees de Krijger
Boarding at gate number 3 started at 2330hrs. At such an airport that means always having a delay. You just can't board an A321 in 15 minutes when you are at KGS. Everybody looked tired, and temperature in the cabin was hot, so you even got more sleepy.
When we finally reached our seats (difficult when you are in the back…) I found out my biggest surprise: the legroom!
There was almost no 'room' …, and for the whole flight I really wasn't able to move my legs around. Pff,… one of my worst flights ever, on this fully loaded A321!
I had to ask for a lifevest, because the container underneath my seat was empty. No advance check done by the ladies: very, very bad! It's against all rules and flight safety. I pushed the button above twice before I was able to request a lifevest. Of course I got one from the crew after asking.
Before takeoff I noticed a lot of traffic on the apron:
G-MONB B752 Monarch for LGW
G-ERAA A320 MYT for GLA
PH-HZL B738 HV for AMS as well
OO-TCI A320 Thomas Cook for BRU
743, a C130 of Hellenic Air Force arriving.
We took off the next day from runway 33, back home. The estimated flight time was almost 3½ hours, and I was trying to sleep and hoping that the flight was passing by quickly. I didn't give much attention to the 'service' and crew performance at all now, so can't write about it.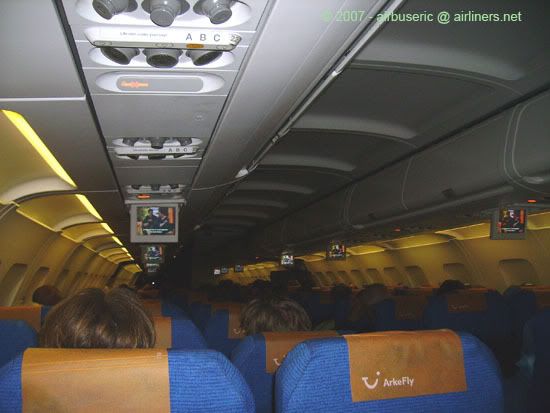 After this miserable flight we touched Dutch soil of runway 06 again. I'm surprised to see how often I actually use this runway. It's definitely on 75% of my flights. The aircraft was heading for spot D6, and I was surprised to see that the engines were stopped on the taxiway and we fully braked. We were waiting about 10 minutes for a towing truck to get us on stand. Nice touch… not ! This was caused due construction work on gate D8 and the taxiway, and done for the safety of the construction workers, but please, why didn't we get another vacant gate. It's so quiet at AMS in the middle of the night! And now we even got more delay
.
After disembarking the Airbus (yes, it took a while also), we were soon in the baggage reclaim area. And it was good to find our luggage on the belt within 10 minutes waiting
. So, finally we have something positive here. Our parents (in-law) were waiting for us, and drove us back home for a good and deserved rest!
I think Arkefly is quite a good Dutch charter company, as long as you fly in Comfort Class. Their B767-300's also offer a small Business Class. Next time we will surely book again in Comfort and pay about 50 euro's per person extra to get this additional legroom and dedicated check-in at AMS (no dedicated check-in at destination airports). This year's the company leased a Futura B737-800 for the Mediterranean flights. Additionally they may lease in aircraft on adhoc demand.
The prices of the bar are on par with Transavia (maybe even little cheaper), but the other Dutch operator Martinair is still offering free drinks and a small food-kit.
I was not amused at all when I found my lifevest missing before departure back home. And I don't accept any apologies for that. It's against all international rules…and I can't understand such things.
The flights were mainly ontime, back home a minor delay, probably caused by ATC restrictions or smaller delays at earlier rotations of that aircraft before it did our flight.
I will fly Arkefly again in the future, hopefully in Comfort only. When it comes to Economy, I prefer Transavia. MP's Economy is also out of the question for me.
We'll see,… in September I have a ticket AMS-TFS on TFL again (B767-300) and in Comfort Class
. Always nice!
Critics, comments, and everything else… put it down below
Cheers,
Eric