Since having an unpleasant experience with DL right after the 9/11 events, I haven't used them on the JFK-IST route. I was supposed to fly back on 9/14, and after the events DL suspended the route. I was flying on a mileage ticket and since I wasn't a paying customer I ended up at the bottom of the list when they opened the route again. Oh well, after recently gaining Silver Medallion status from Sky miles and DL's lower fare on the route made me decide to give DL another try.
I have purchased the ticket @ delta.com 3 weeks in advance, which earned me another 1000 miles on top of the 12,000 plus I will get from the trip. On the day, I took the A train to the Howard Beach station, and on to the Airtrain. I arrived at Terminal Two for check in and it was a breeze. I was at the gate after 5 minutes. The terminal is very old looking but the margaritas at the food court help a lot.
View Large
View Medium


Photo © David Marshall
DL72 IST-JFK on April, 26th 2007
Departing Gate: 08
Take Off: 4:45pm, Actual: 5:10pm, Landing: 9:45am
Seat: 38B
Load: 84%
Type: 767-300ER, N178DN
T/O Runway: 13R
Landing Runway: 06
Flight Duration: 9:20 hrs.
Cruise Altitude: 35000
Capacity: C35/ Y174, C.I. 2/6 Total: C29/ Y147 (What is C.I. ?, Crew?)
During reservation I chose an aisle seat, but when I arrived at my seat it was occupied. I showed the gentleman my boarding pass stub and he immediately moved. I was very happy to have the window seat empty next to me, it made the flight go much faster. And the 3min. video of the take-off:
After a powerful takeoff, drink service started. I tried one of DL's mile high mojitos for $5 and it wasn't too bad. I was told that I would get a free drink with the meal. The meals are nothing to write home about.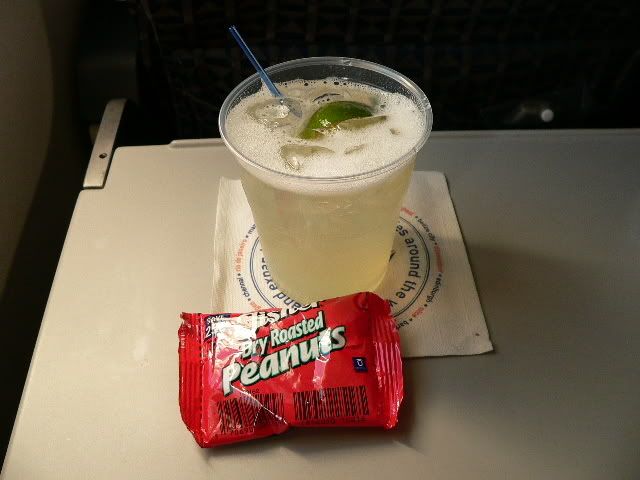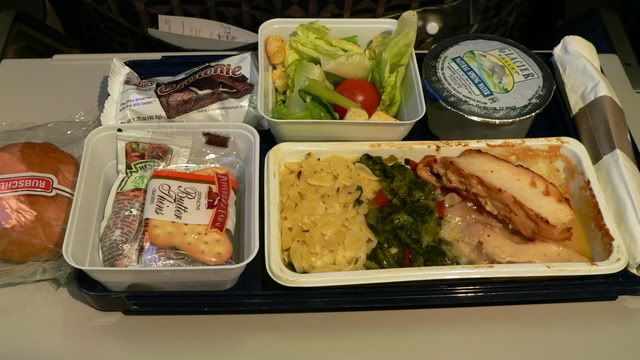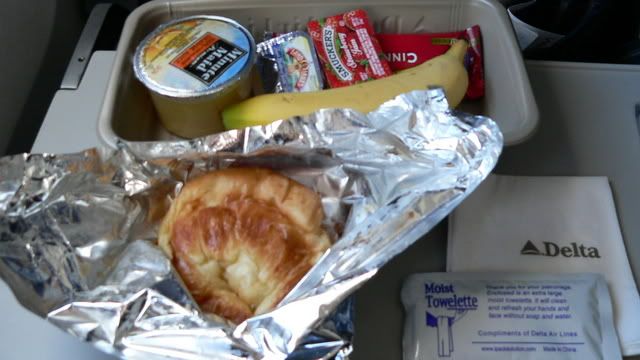 The nicest thing about the DL is the service. The crew was having fun and it showed. Our NY based, the usual, older crew was efficient and courteous. Two of the FA's were Turkish and made the announcements in Turkish. One of them, which I recognized from years back, remembered me also. She was so nice that a couple that shopped from the duty free trolley actually purchased and gave her a pair of earrings from the cart. Never seen that before. Also another time during the flight, when I was at the back galley, I heard an FA telling to another crew member how nice the guests on board tonight were. Never heard that one either.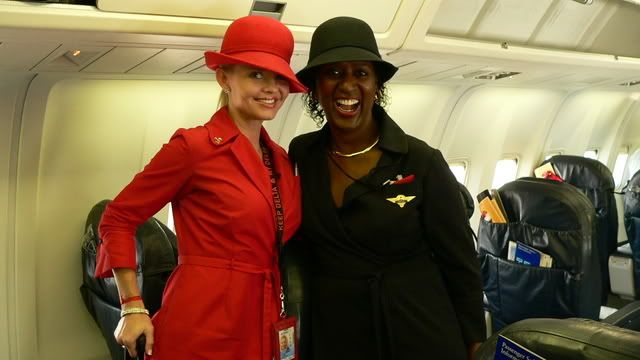 The 767 showed its age, but I still like the idea of 2-3-2 seating on a long journey like this.
There were 3 movies shown which I could care less, but the audio Channel 6 (chill outy) and Channel 9 (old Frenchy tunes) kept me happy. I guess DL is putting PTVs on their Int. flights soon, I hope they start with longer routes like this one.
This was my first time crossing the Atlantic on a Southern routing, over the Azores and reaching Europe at La Coruna, and on to Naples and IST. Another first was no kids what so ever, all adults, how wonderful.
Landing at IST:
After spending a couple of weeks in the old country, it was time to go back. In the morning I logged on to delta.com and found out that the seat next to is finally occupied, bummer. As usual I checked the weather and the turbulence forecast for both departure and the arrival cities. It all looks fine, except a system in Northern Europe.
I took the Havas bus from the Asian side of the city at 10 am for my 12:30 flight. The bus trip took :45 min and costs 15YTL ($12). The security check at the airport was a breeze. At the DL counter I was able to go to the Business Class check-in being Silver Med. which was really cool. After check-in since I can't buy any liquids or gels from the duty free, I went to the Starbucks at the end of the airport which has free high speed wi-fi. I checked my email and a.net of course and then onto the gate. Just a reminder, none of the wall outlets work, so I had to ask a nice guy that was working at TK's "Free Newspaper" stand to use power from his station.
At the gate the security check was more through, opening of the carryon bags, and a hand search and few questions. It seems like IST got those expensive X-ray machines for the checked luggage so they don't have to search them by hand anymore.
IST was fairly busy. The apron looks like the "Eurovision Song Contest like Europe", rather than the old Europe. Many Balkan, and hard to identify airliners but still there was a single LH from "Old Europe". As usual IST was a TK parking lot, and a few MNG Cargo planes parked.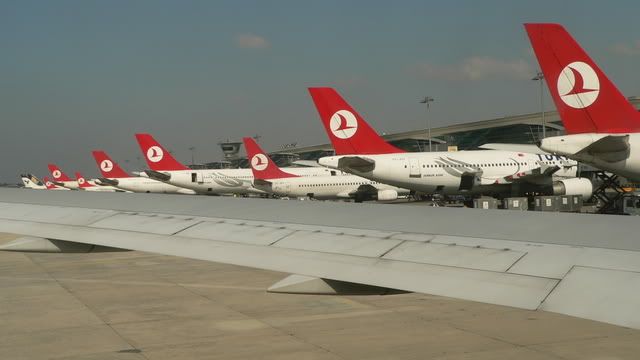 After we pushed back on time, the pilot came on and told us that the #1 engine is not starting, so we have to go park by the maintenance hangar to get it checked. After about an hour, it was all fixed and we were ready to go:
View Large
View Medium


Photo © Fatih Caliskan
DL73 on May14th, 2007 @12:30pm IST-JFK
Actual Take off: 1:30pm, landing 5:00pm
Duration: 10:18 hrs.
Type: 767-300ER N192DN
Seat: 38G
Load: 80% (25J/ 141Y)
Take off Runway: 36R
Landing Runway: 22L
Altitude: 35,000 ft.
Speed: 513mph
DL73 Take-off: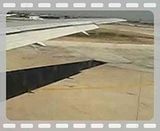 The pilot later told us that because of our delay, our routing has changed and now the flight duration will be 10:12 instead of 10:48. I'll take that. Again this was another first for me to cross the Atlantic this far north. Is this because of 767's ETOPS? After maintaining 32,000 ft. over Europe, we started our Atlantic crossing @ 35,000 ft. over Orkney Islands above Scotland to arrive North America, somewhere in Newfoundland close to YDP, Nain. Among entering the US we went upto 39,000ft.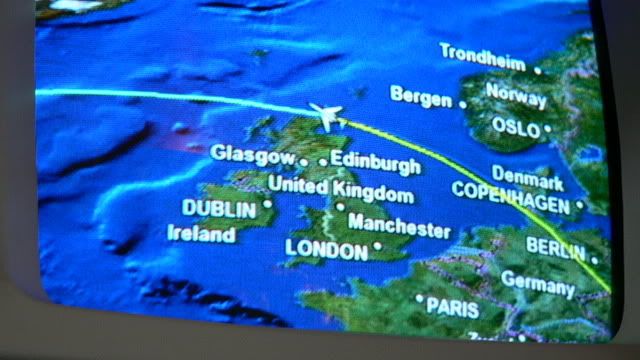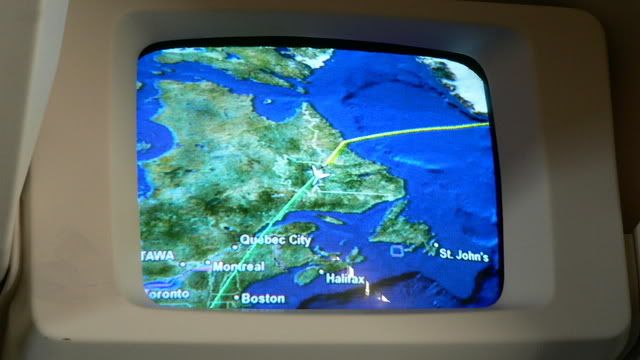 There were three Turkish FA's on board, and again one of them recognized me from the first leg. Generally this crew was even older and a bit grouchier, again very professional.
After reaching our cruising altitude we were served drinks, followed by a hot lunch; pasta or chicken. I had the penne pasta, salad, bread and butter, and crackers and smoked Gouda like cheese (pretty boring stuff).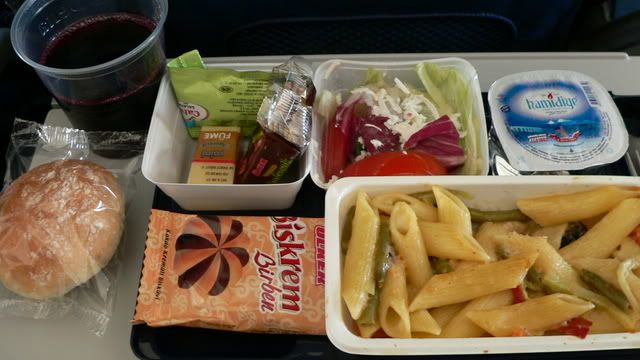 There were many movies and TV shows during the flight and the usual flight screen, which was in English and Spanish?
When passing Northern Europe the Pilot came and told the FA's to sit down, twice. We all know what that means, which was very mild and lasted only 30 mins. Which followed by the meal service. A passenger was upset and yelling that he didn't get a club soda during that 45min. turbulence. Finally the chief FA came and spoke to the men gently for some time, and at the end they shook hands, and she asked: " Are we friends again?" I thought that was really nice.
Over Iceland we were served Haagen-Dazs Belgian chocolate ice cream and beverages.
Again on this flight there was only one minor, what a treat both ways not to hear screaming kids. I should try to travel more often when kids are at school. But the pax were of a different kind the first leg. It still amazes me to see people on board that can't figure out how to open the lav. doors. There were older Turkish folks that didn't speak a word of English and needed constant help on everything from ordering food, to filling out customs forms, to how to transfer. There was an old man who was upset that there were no Turkish items on the Duty Free cart. People are strange. And as usual, Turks still insist that you can catch a cold by air conditioning and were doing some pretty unusual head and neck coverings with the blankets provided. Almost 80% of the pax were Turkish I must say.
Our second meal was terrible; an oval shaped frozen pizza, and a cookie on this 11 plus hour flight. TK for example leaves sandwiches at the back galley and drinks for self-service, whereas DL had some pretzels, nuts and leftover crackers and cheese from the first meal, all bodega quality.
If I have to compare the two on JFK-IST; here it goes:
Airfare: DL beat TK by about $100 on this flight.
Frequency: TK does better.
Airplane: TK's 330/340s are quieter, newer, better pitch.
Food: TK is way better, including free alcoholic beverages, more snacks during the flight.
Inflight Ent: Besides TK 330s, TK, DL are similar, both have plans to have PTVs soon.
JFK Terminal: TK shares with Korean and again better than DL terminal.
FA's: I find the DL crews more professional.
Pilots: DL pilots give more info during the flight, which is very reassuring.
As usual thanks for reading and here are some Istanbul and food shots from my trip: