MUC-AMS-MEM-ATL on Northwest A332 and 40-year-old DC-9
Into & Planning
In March it was time for yet another three/four-day-spotting/fun trip – and this time to the US again after excursions to Asia and Australia in 2006. KLM had some interesting east coast offers in January for some 400 Euro including tax and I found out that even Atlanta was covered. KLM's B777 and A330 were a priority and I thought about combining an AMS-ATL (A332) and a JFK-AMS (B772) leg until I found an AMS-MEM-ATL run on NWA A332 and
DC-9-50
- a type still missing in my log and a rare one, too. So I finally went for MUC-AMS-MEM-ATL and BOS-JFK-AMS-MUC. The fare difference was minimal.
I had thought about spending only one night at ATL and continuing to BOS the next day on domestic carriers but then I decided to book two nights at ATL. Arriving at ATL late in the evening and continuing to BOS early in the morning the next day on another carrier would have been risky. One missed flight missed and the whole trip would be screwed. So in addition to two hotel nights at ATL (Best Western) and one at BOS (Days Inn Saugus) I needed to find a connection to BOS.
It was very clear I would pick an AirTran B717 flight – but the task was to find a destination from where I could continue to BOS on jetBlue's Embraer 190. After a long search I decided to go via Pittsburgh, flying times and fares on both carriers were reasonable. There was a nonstop service to BOS in the afternoon and a one-stop service via JFK including an aircraft change, for only some 30 Euro more. That was a no-brainer!
Equipment change
So in the end I would get 11 flights including two new carriers (AirTran, Comair), three new types (B717, DC-9-50, E190), new airline-type-combinations (KL B772, NW A332) and some new airports for roughly 800 Euro. However, the bad news followed some weeks later. Northwest suddenly changed its schedule between MEM and ATL and the DC-9-50 was switched to a morning departure, leaving my flight being operated by a DC-9-30 (a type which I already had had before). I was disappointed for a while but then I read NWA would keep the DC-9s until at least 2011 – so enough time to try again, considering the -50s are the youngest DC-9s in the fleet. What I hoped for my trip now was either an aircraft change or getting one of the oldest DC-9-30s in service...
Online check-in
KLM offers the option to check in online 30 hours prior to departure but I soon found out I could get access to the MUC-AMS sector only. It was not possible to check in for the other flights. However, NWA's website is excellent for managing bookings, so I already had picked my seats weeks in advance. Any piece of information is shown about any single booked flight on that site, while KLM only displays the itinerary. Clear win for NWA here.
Friday, 09 March 2007
Munich (MUC) - Amsterdam (AMS)
KLM KL1792
09:30-11:10 (09:43-11:28)
Flying time: 01:09 (hrs)

Boeing 737-306
PH-BDO "Jacob van Heemskerck" (s/n 1642), delivered 12/1988
Economy Seat 17F
Check-in
Though I had arrived at MUC early I had to wait some 25 minutes in line. There was a large group of American students, each one with bulky skiing equipment which slowed down the process. Later I got my boarding passes, the NWA seat reservation had worked out fine.
Security was passed quickly and I could concentrate on spotting at the glass front. Though, Terminal 1 was deserted as usual. B737-306 PH-BDO
"Jacob van Heemskerck"
arrived on time: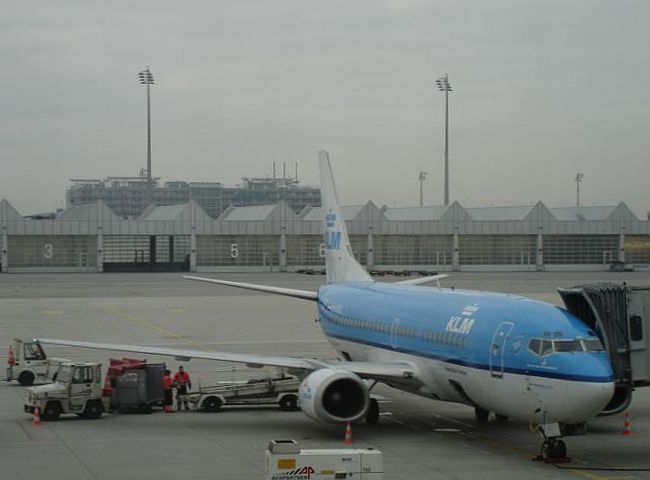 Shortly after I took my seat I realized the flight would be completely full. The group of some 30 American students also started entering the cabin and as the first five people had passed I noticed a disgusting smell of alcohol which got worse and worse – considering the look of some of these guys it seemed they had preferred to pull a booze-dominated all-nighter...
Our departure was delayed by some 15 minutes, caused by a
"problem with the boarding card scanning process"
. We were finally pushed back at 09:43 and took off from runway 26R into foggy skies.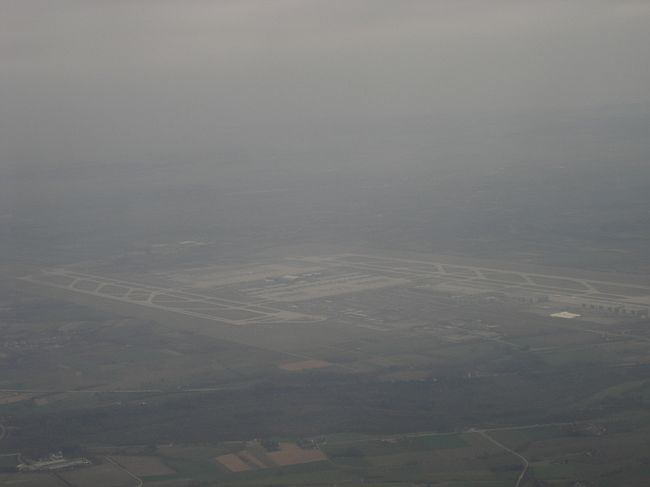 Much more enjoyable scenery only some minutes later: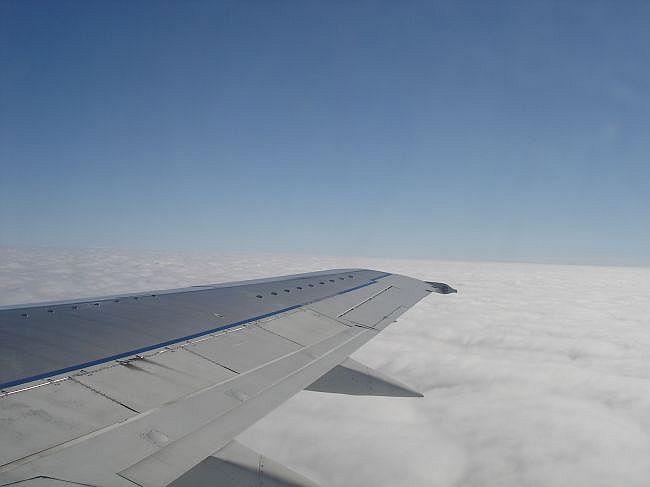 Snack
The friendly FAs distributed snack packages and I wondered about their length – until it turned out that they contained both a sandwich (ham or cheese) and an orange juice. The cheese sandwich wasn't a culinary delight, definitely too dry. At least it came with an orange juice which helped gulping...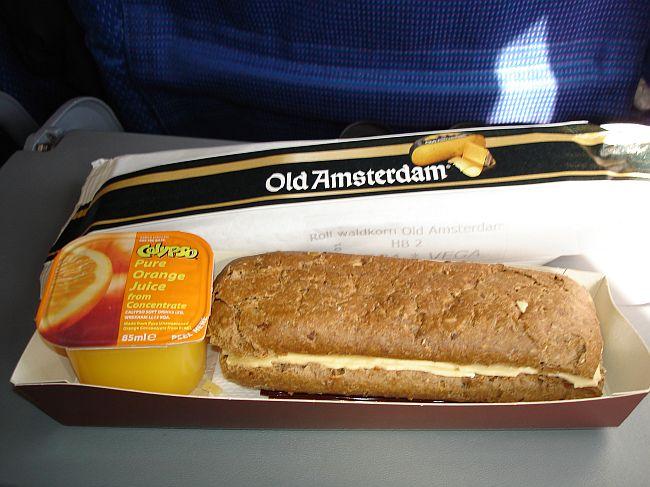 Nothing else to report from this flight, except for the landing at the distant "Polder" runway and a subsequent taxi time of 15 minutes.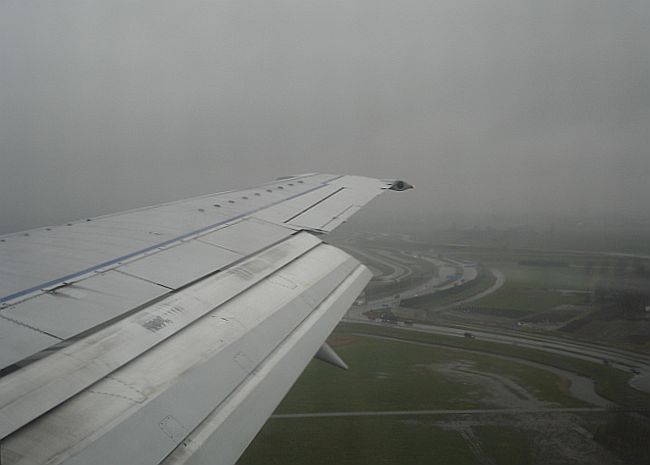 Friday, 09 March 2007
Amsterdam (AMS) – Memphis (MEM)
Northwest Airlines NW057
13:50-16:50 (14:03-16:51)
Flying time: 09:29 (hrs)

Airbus A330-223
N851NW (msn 609), delivered 07/2004
Economy Seat 37J
Window shutters
After some spotting I went straight to the concourse E where a number of KLM and NWA long haul aircraft were parked. Just when I approached my gate area I noticed that window shutters had been let down in that concourse section, preventing any view outside. Only a number of gates were affected, so sun protection can't be the reason. Anyway, it was impossible to check the registration of the aircraft so I went down to the lower floor where the toilets are located. As expected there weren't any window shutters, but a group of security staff and again I couldn't check the registration. In the end I went back all the way to the front end of the concourse and got the registration by using my binoculars. The aircraft was N851NW, the first A330-200 delivered to NWA.
Boarding
Before entering the gate I had to wait in line and answer the usual questions when flying to the US. Everyone was friendly, as usual at AMS, so I didn't mind. Boarding started early and I could soon take my seat in row 37.
Cabin shots from database:
Seating & IFE box
I had flown on NWA's A330-300 some years ago and therefore the A332's interior was no surprise. It's equipped with exactly the same seats which are really comfortable. However I was indeed surprised about the IFE box under the seat – the version on the A332 extends all across the seat's width which means one can't even stretch out one leg. I can't remember having had that unusual IFE box size on the A333. Anyhow, I wasn't really happy considering I wouldn't be able to stretch out any leg on a 10-hour flight.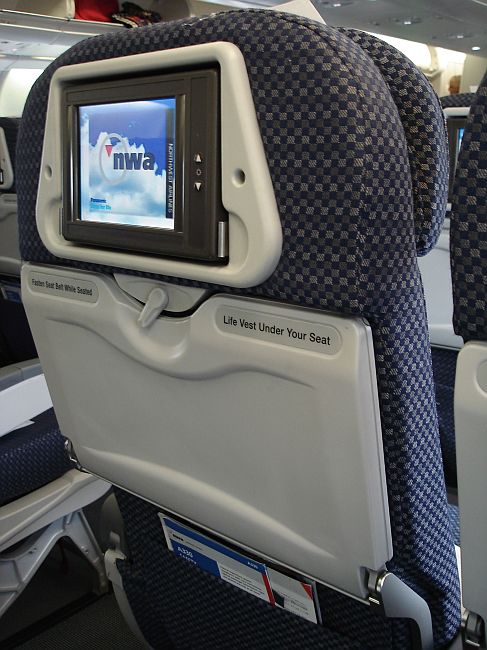 Precaution
The load factor seemed to be very high, no seat in the rear section remained empty. Most flight attendants were quite old, but really friendly which is most important. Jazz music was played over the loudspeakers which was a bit disturbing after a while. My seat neighbor was a friendly American lady in the 50s who belonged to a group of travellers which had spent a one-week vacation at Paris. Before she could even start to wonder about my binoculars, my aircraft lists and my diary full of registrations I told her about my hobby. I simply didn't want finding myself in a similar situation like in 2003 when "spotting-scared passengers" delayed one of my NWA flights at DTW and caused the Homeland Security Agency to do a personal check at MSP...
KLM B747-400 with Asia markings through a wet window: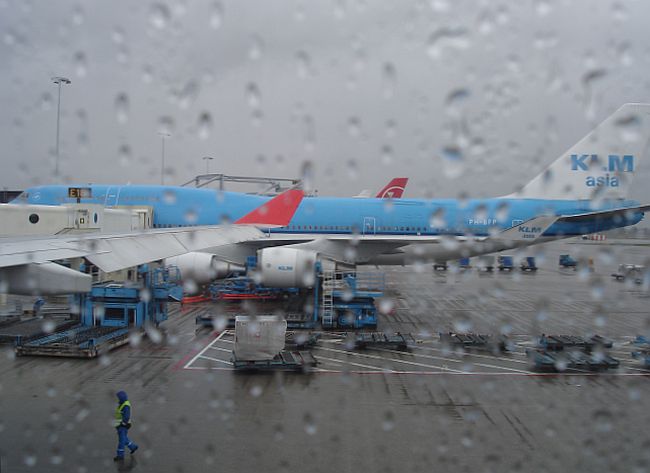 Takeoff
We were pushed back at 14:03 and again I could enjoy a long taxi roll alongside wet Dutch acres and canals to the famous "Polder" runway...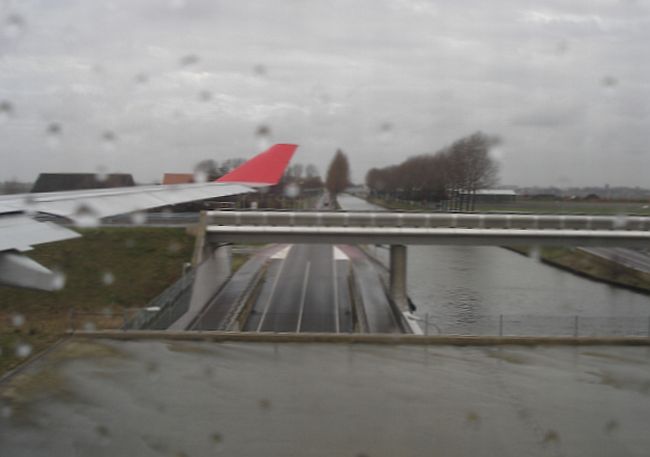 There were numerous aircraft ahead of us and the two PW powerplants had to wait until 14:26 for reving up.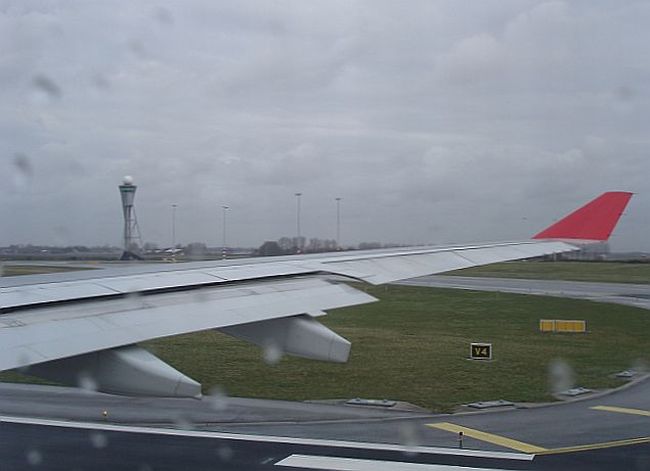 Climbout over even more wet acres…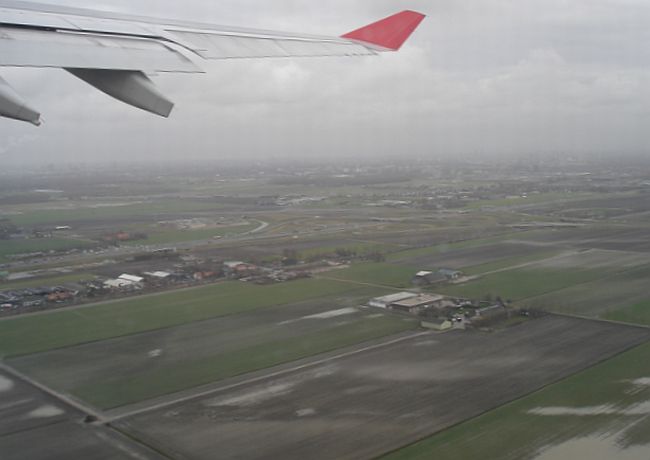 …refineries and oil tanks…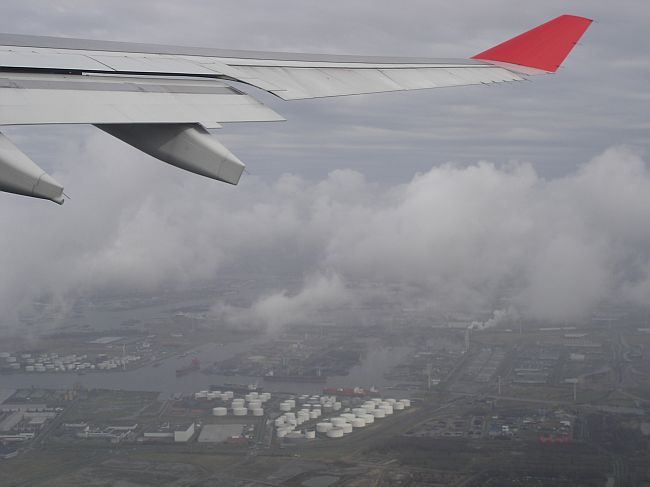 ...and the coastline.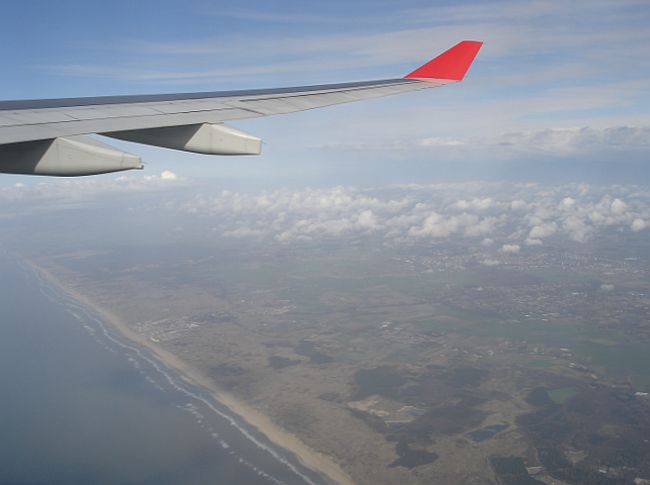 IFE
NWA uses an AVOD (audio/video on-demand) system with a big variety of options. The whole menu can be switched to German, French and Dutch (and others). Overview:


40 movies (new releases, classics, comedy, in different languages)

25 TV features

56 audio CDs

6 interactive games (two multi-player games)

High-resolution maps with zoom function and flight info

Information about NWA, products, customs

SMS message & e-mail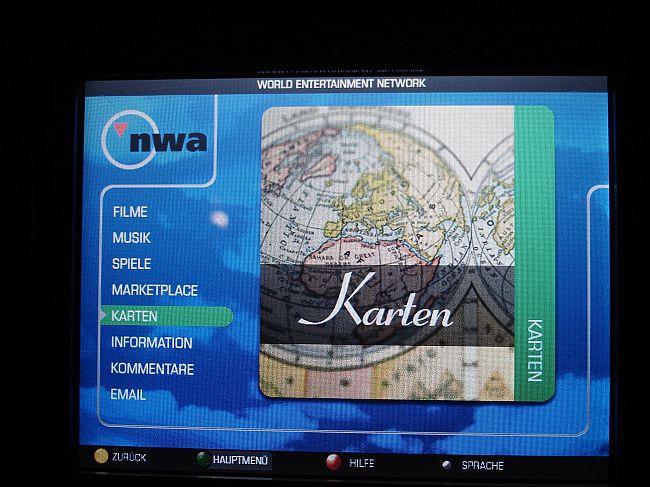 Most of the time I played around with the excellent high-resolution maps with zoom feature or played the stunning inflight trivia. It's a multi-player game but unfortunately no other passengers seemed to care, except for the last two hours of the flight. Meanwhile I also watched the new James Bond movie. The headset didn't work properly but I got a new one quickly.
Lunch
"Three cheese pasta"
or
"chicken"
was offered for lunch and I decided to try the chicken. Interestingly, the main course is a ready-made meal by Heinz: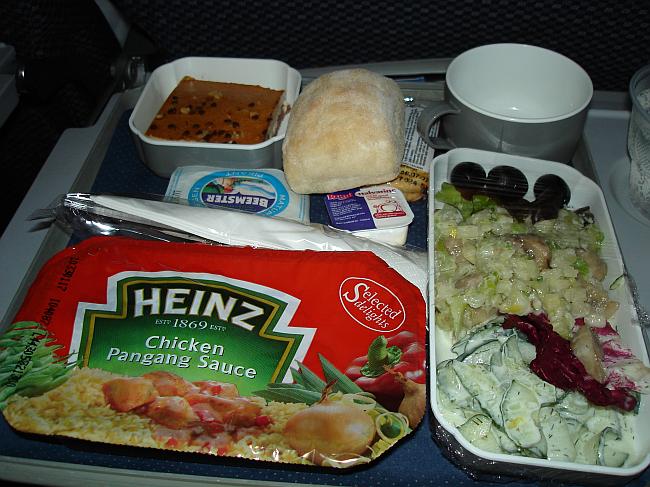 The main course comprised three pieces of chicken breast, a kind of curry-tomato sauce and vegetable rice. It was served with a mixed salad (cucumber, mushrooms, olives), a bread roll and a cappuccino cream cake.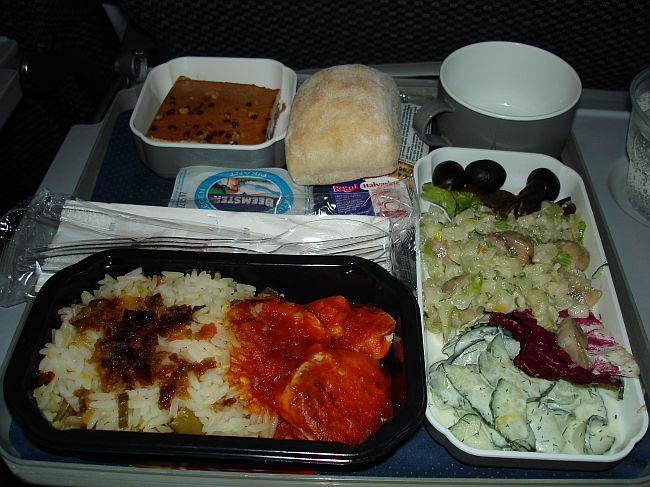 While the chicken pieces themselves and the pieces of cucumber were ok, the rest of both main course and salad weren't delicate at all. The rice was mushy, the sauce tasted strange as well as most of the salad. Best of all was the dessert. Apart from the taste, the portions were quite small and the overall appearance of the tray and the bowls was cheap and without finesse. At least the FAs were very generous with wines and beer which were free of charge.
Crossing Greenland
After watching the new James Bond I checked the map again and found ourselves over Greenland,...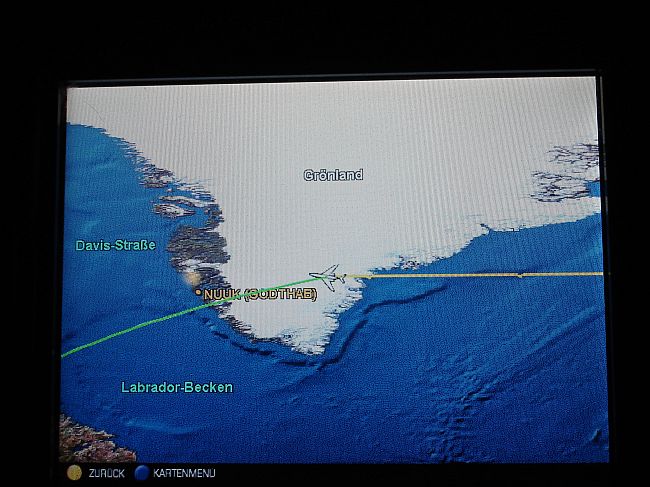 ...cruising at 11.040 meters.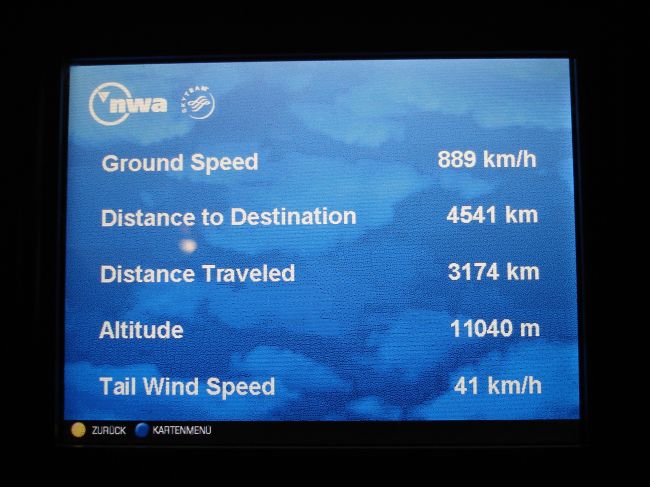 Snack
Some two hours prior to landing the FAs served a hot and greasy garlic flavoured chicken sandwich, once again not a culinary delight. The ice cream was tasty, though.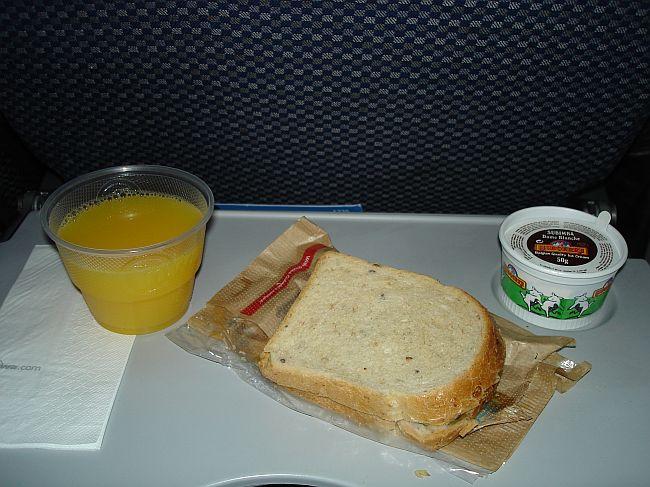 Thick clouds and tiny monocrystals: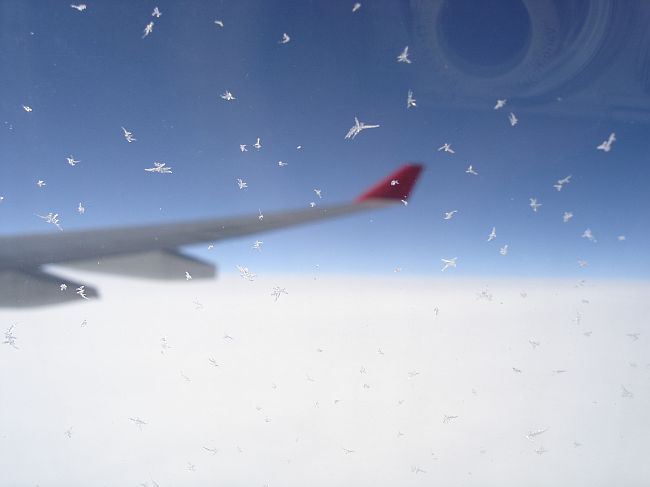 During the last half hour of the flight I chatted a bit with the lady seated next to me who. So while we were passing the Mississippi...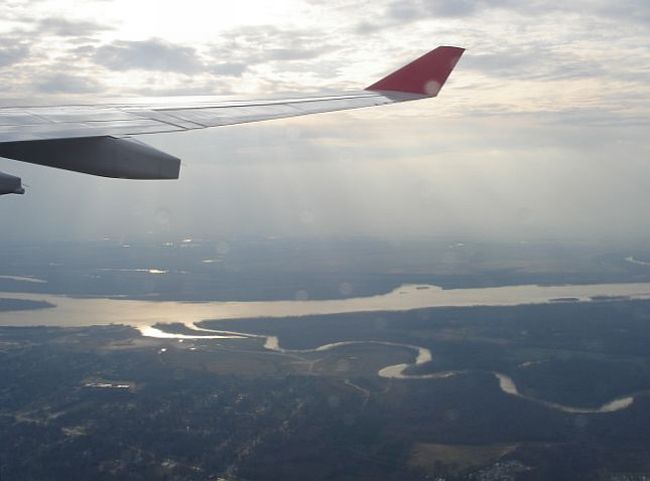 ...and the city's rather unspectacular skyline...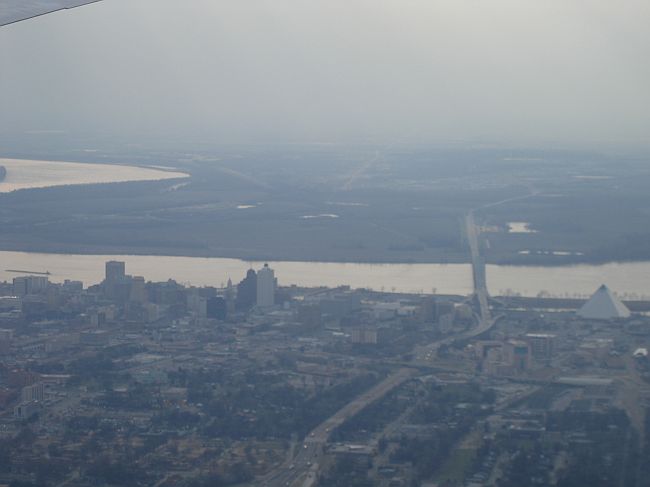 ...I learned a bit about Memphis. I told her I wouldn't stay and would go on to Atlanta and later to Boston, but I preferred not to say anything about the length and the purpose of my US visit…
Touchdown followed at 16:46 and only five minutes later we had arrived at the gate. Since I was seated on the wrong aircraft side I couldn't log a single aircraft out of FedEx's large home-based fleet...
Memphis International Airport
My connecting flight to ATL was still some hours away so there was no need to hurry. Directly after disembarking one had to move downstairs and – again – I had no chance to take a picture of the aircraft. NWA flight 057 is the only transatlantic service to MEM and the only international flight arriving at that time but the waiting time in line was still really long. After grabbing my bag I had to pass a security checkpoint where an officer was loudly shouting – well, not addressing anyone specific but explaining the new hand luggage rules.
While waiting I noticed a large sign in a corner, suggesting pretty much the following:
"...Denpasar Ngurah Rai International Airport at Bali, Indonesia, does not comply with US aviation security regulations".
A warning about Bali Airport at Memphis? What?
I finally arrived at the departure area and walked around for a while. The airport is definitely showing its age and it lacks space. Corridors and gate areas were crowded, as well as the food places. Not to forget – shops which sell souvenirs offer any kind of Elvis stuff.
Friday, 09 March 2007
Memphis (MEM) – Atlanta (ATL)
Northwest Airlines NW204
19:35-21:58 (19:36-21:53)
Flying time: 00:52 (hrs)

McDonnell Douglas DC-9-31
N8921E (s/n 096), first delivered 03/1967 to Eastern Airlines
Economy Seat 7F
40 Years in Service
I had found a place where I could spot discretely but traffic was low and the daylight was almost gone. More than an hour prior to departure I went to my gate and luckily found a window which faced a part of the tarmac. Finally an aircraft arrived but I couldn't see much in the darkness. The last hope for a DC-9-50 was crushed by the short fuselage. Then I checked the registration of the plane which changed my mood: N8921E – a DC-9-31 built in January 1967
(!)
and delivered two months later to Eastern Airlines. Actually it is even the second oldest DC-9 in service with NWA. 40 years and still shuttling across the US every day and every day – an amazing piece of engineering.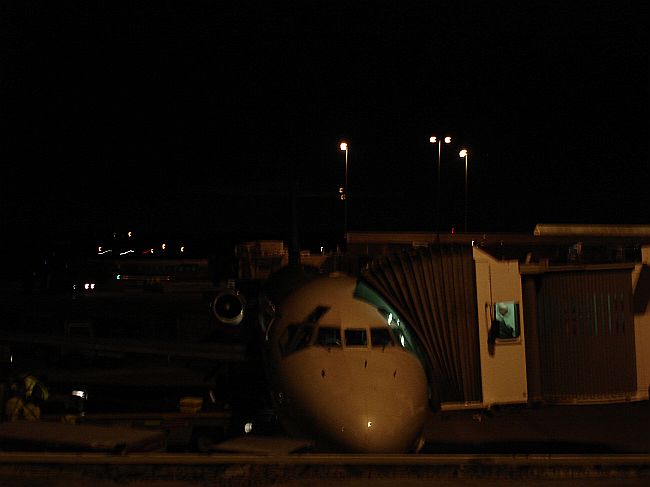 Flight
The gate was crowded and it seemed this Friday evening service to ATL would be completely full.
What would happen if I told these people about the aircraft's age?
, I thought. Probably many pax wouldn't believe it. Painted in new colors and equipped with quite new luggage bins, seats and carpets the aircraft doesn't show its age at all. The average pax doesn't notice a clear difference between a 40-year-old DC-9 and a two-year-old CRJ, except for the size. And of course, many passengers only apperceive the cabin and not even the looks of an aircraft.
Originally I had chosen a seat in the second last row when the reservation system had still shown a DC-9-50, but after the aircraft change my seat was changed to 7F, too. When I noticed that the flight was already full some weeks prior to departure I had no choice any more. The legroom is generous and once again it's ridiculous to find more space on a shirt domestic hop than on a transatlantic flight.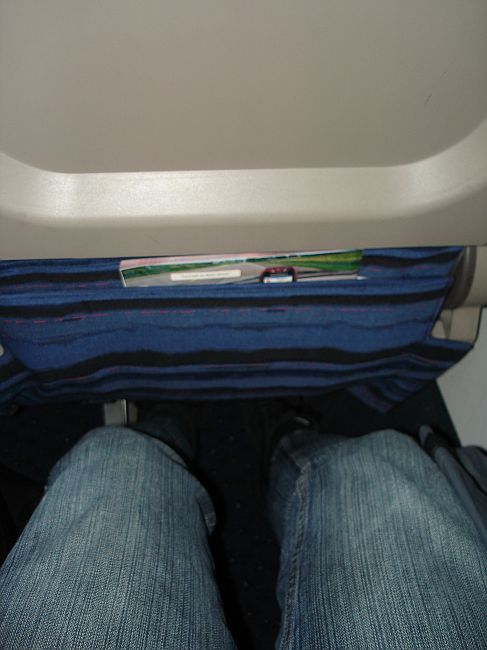 We left the gate on time and engines were started – it was just too bad I didn't have a seat in the rear section. At 19:51 we turned in and the DC-9's acceleration and steep climbout was quite impressing. Flying time was said to be less than an hour and drink service started soon. This time I ordered what hadn't been available on the long haul service – Mountain Dew with ice.
The rest of the short hop was uneventful until the landing lights at the wing tips were switched on and beamed cones of light through the dark skies. Touchdown followed at 21:43 and I enjoyed listening to the reverse thrust's loud thunder.
Cockpit shot
On disembarking I passed a flight attendant and asked him whether I could have a look into the cockpit and he said:
"Yes sure, just wait until all other passengers have left the aircraft."
Then he told the first officer about my intention and even mentioned
"camera"
– though I hadn't even asked about a picture yet. The pilot just nodded, said
"Let me just get my stuff out here"
and grabbed a large plastic bag. Then I took some pictures and told the captain about my record of having flown the oldest aircraft ever that evening. When I mentioned that the plane had been built in 1967 he seemed to think for some seconds and then said:
"It's still a good machine!"
Conclusion
The MUC-AMS sector on KLM was an average European short haul flight, not more not less. Legroom is ok, but the snack quality could be improved. NWA's long haul product does not stand out from the average. Though the seat itself is comfortable, the lack of legroom due to the IFE box is awful. The IFE itself is good and prevents boredom. Beverage service is ok, considering that other US carriers charge USD 5 for wine or beer. Both the food's quality and presentation need to be improved, the portion size should be increased. NWA's domestic service is not different from other mainline carriers. Of course I would fly NWA again, but it's definitely not my preferred US transatlantic carrier.
More reports to follow: ATL-PIT-JFK-BOS (AirTran B717 & jetBlue E190) and BOS-JFK-AMS-MUC (Comair CRJ, KLM B772 & B734)
As usual, comments, opinions and questions welcome!
Best Regards,
PlaneHunter