Date: Friday 21st May
Route: ORK-LHR
Airline: Aer Lingus
Flight no: EI724
Aircraft: Airbus A320
Reg: EI-DEO
Name: St. Senan
The main reason I went home for the weekend was to see my cousins Holy Communion and to be at what eventually turned out to be a family reunion! The weekend was great, saw most of the family and every night I had a Chinese take away, not a good idea as I later found out
I'm from Tipperary originally and when we go home we stay in Cahir, a very popular tourist destination thanks to it's nice hotels, castle and great cafes which are always full of local people and tourists many of them German and American. The weather all weekend was good, warm and sunny although it did get quite windy at night. I wanted to take lots of photos, usually my camera is taken up with wing views of aircraft and that stops me taking photos of the town, for this trip I was in the middle seat for both flights so didn't get many wing views and this enabled me to take lots of Chair and the Galtee Mountains.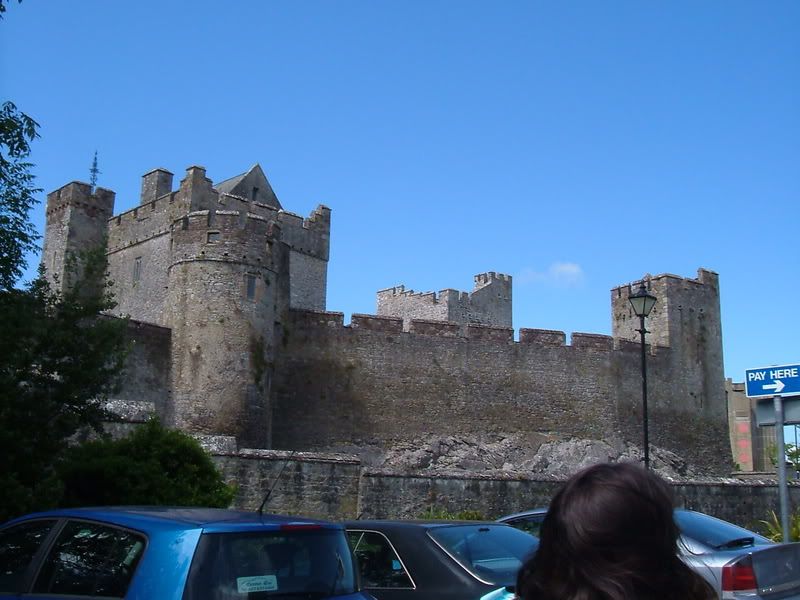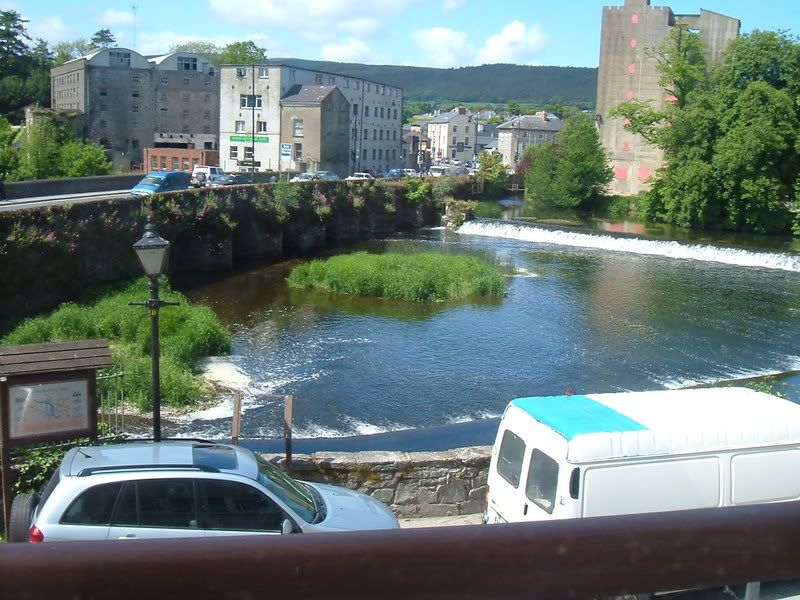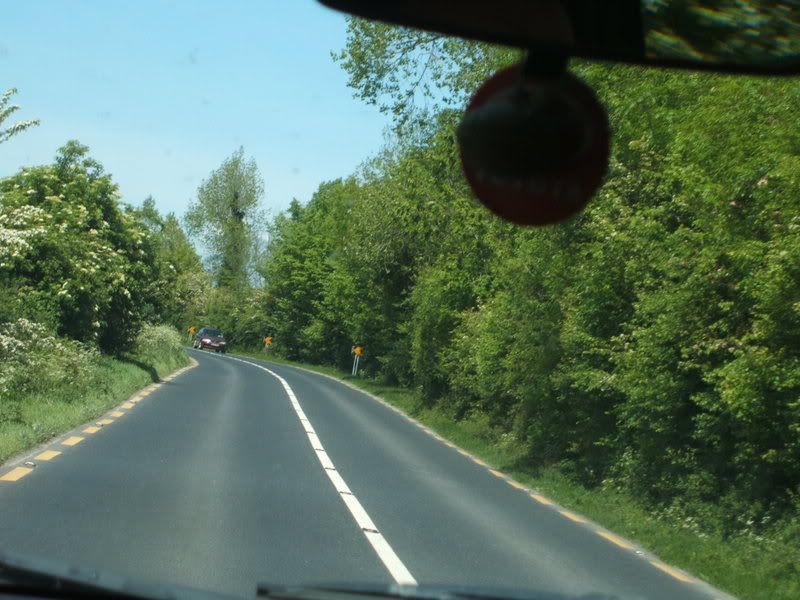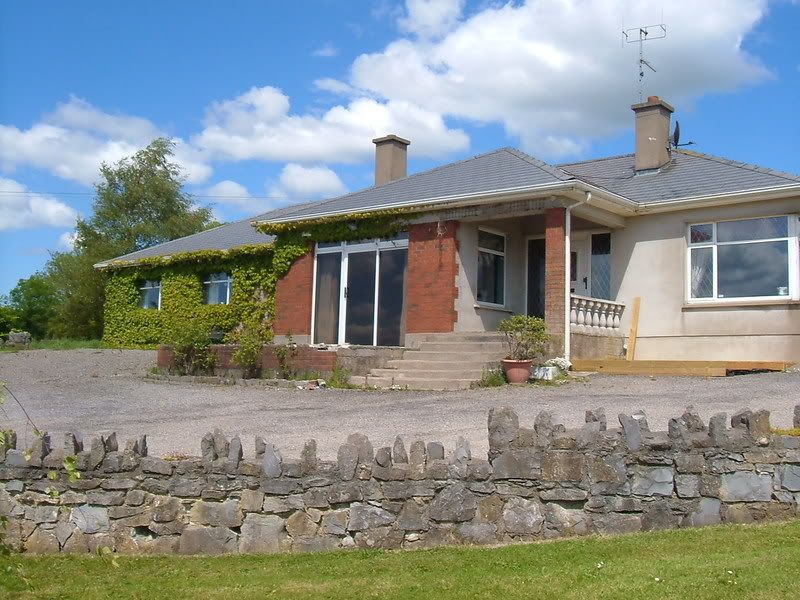 On the Monday I stayed at my grandfathers, usually my aunt would drive us to the airport but she was flying out to Spain for a holiday early that morning. We thought the traffic might be bad so we left Tipperary at 4pm, I expected the drive to be long but about an hour later we were entering the airport, Cork looks great when you drive towards it. The old terminal looks so small compared to the current one. The wind had picked up a bit making it feel fresher but it was still very sunny. The terminal building always catches your eye and I always hear people saying how nice it looks and how its got an interesting design when they see it. It took a while to find a parking space but when we finally did it was only 17.15 we had ages to wait and my grandfather felt guilty that he got us here early so he stayed with us for an extra hour but really I think it was because all he wanted was a nice cup of tea and a chocolate bar from the cafe upstairs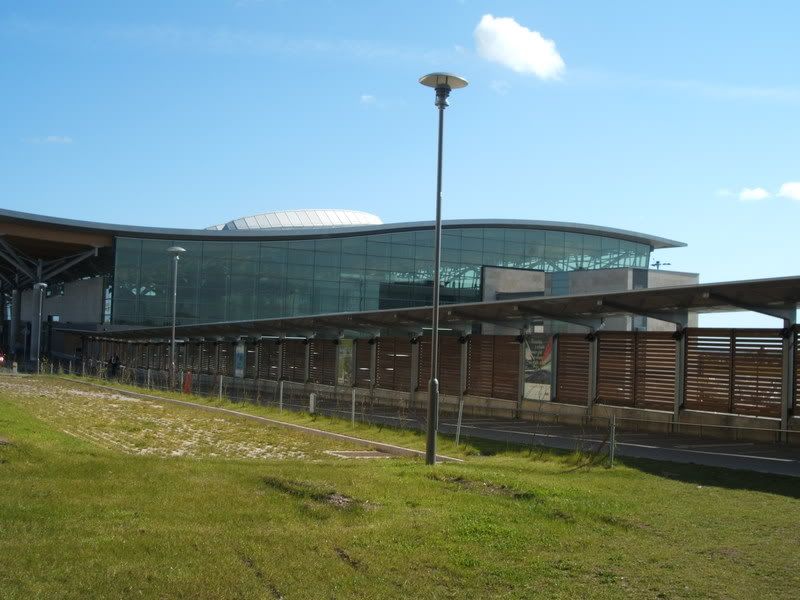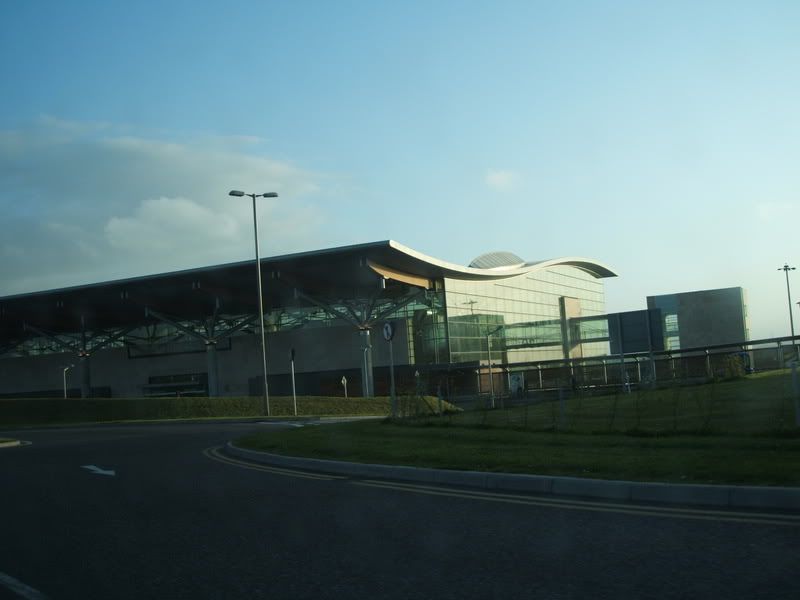 I went to the fast pass machines and checked in, it was very fast yet again, and I was the 35th passenger to check-in I assume many of the passengers before had also got here early or checked in online. The fast pass machines are all in green and so are all the Aer Lingus signs, they were red and yellow before!
Before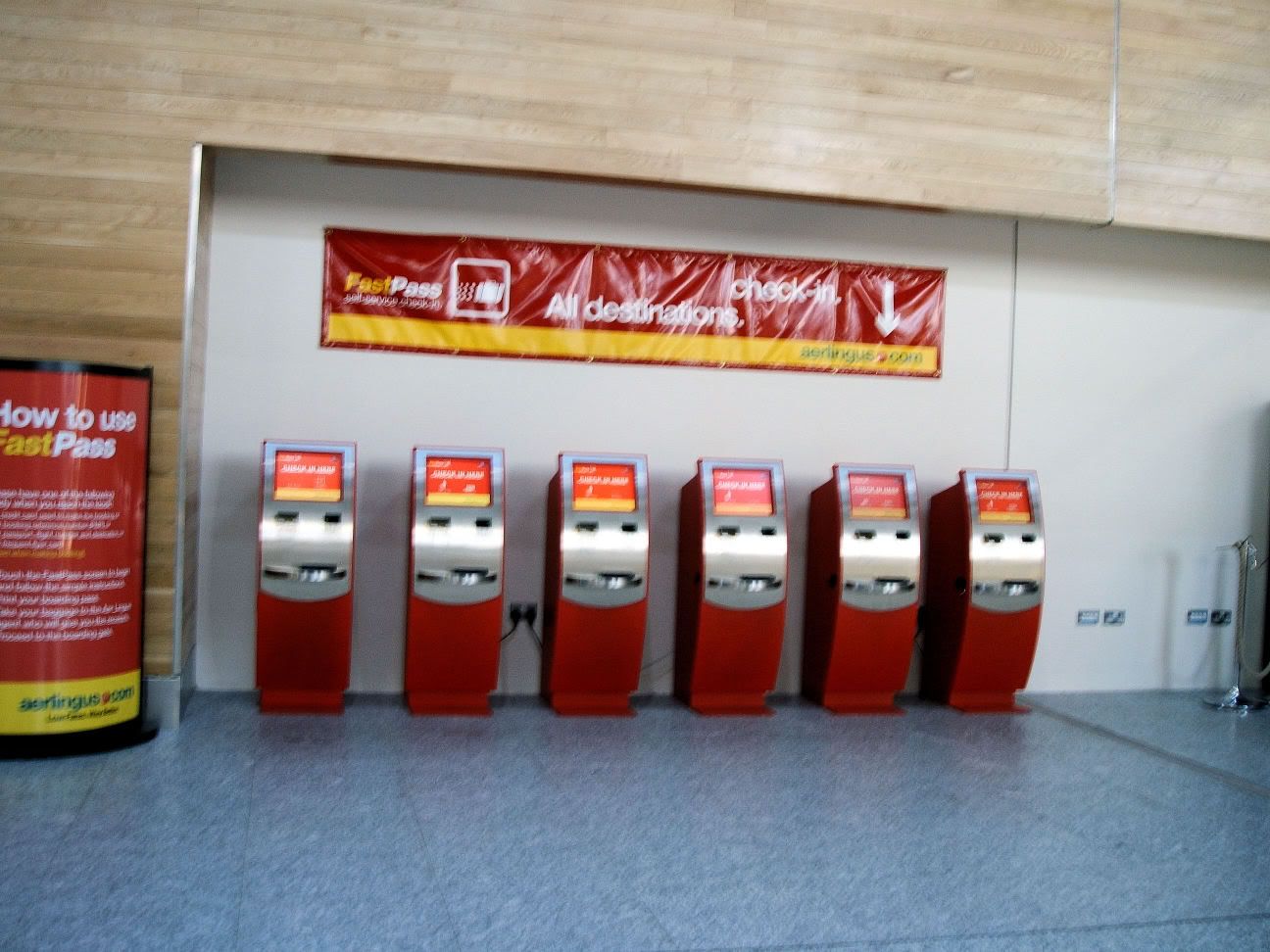 Now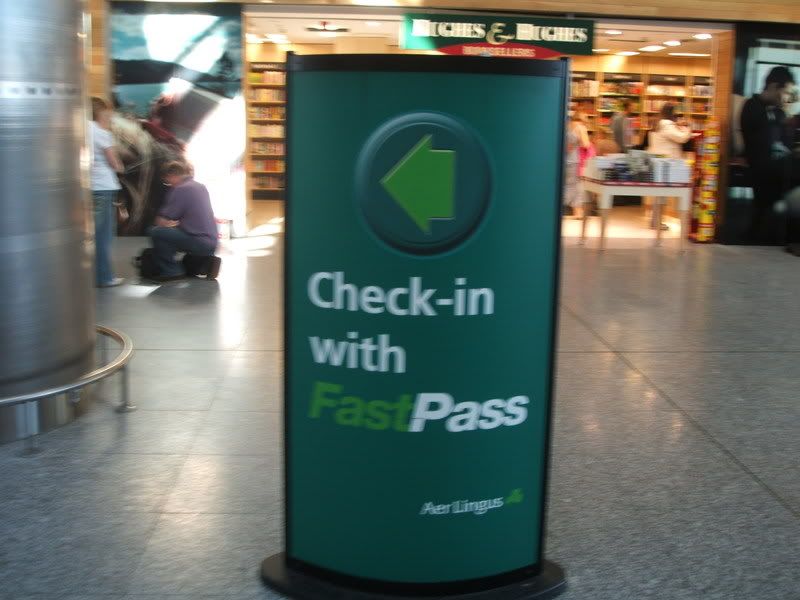 After check-in we needed to drop off our bag but we got their so early that nobody was there yet, we waited a few minutes but I was hungry (even after all the Chinese take aways I had) and went upstairs to the food market, not the best place to eat before you fly so I just had a coke and and packet of crisps, as you can probably tell I'm not a very healthy eater
I went over to the escalators to see if anyone was at the bag drop off which is right next to the fast pass machines and sure enough an Aer Lingus staff member was making her way over to the desk but not before having a chat with a collague. Once she had finished we went down and dropped the bag, took about three minutes. It was then that my grandfather and my uncle said goodbye to us. We made our way back up to the food market and by then I was very hungry, my mum was having roast chicken so I had some fish and chips, both meals were cold and not that great so I couldn't finish, no matter how hungry I was. I went back and took a few more photos of the check-in area which was quite empty.
We had nothing else to do so we went through security, fairly uneventful until this little boy with his dad was asking him if he was the army, the dad continued to say "I was never in the army" the little boy replied "so why do you have a gun" the security staff looked up with shock on their face and one calmly said, "well we haven't found anything, you cant say that you will get your daddy into trouble" the boy ran off laughing and the father was very embarrassed. To get to the departures lounge you have to walk through the duty free shop, you are immediately hit with the smell of perfume! After a quick look around we walked to the departures lounge and sat down. I noticed that the windows were very dirty compared to the last few times I had been to the airport. It was very hard to get clear photos and to be honest there wasn't much to photograph, an RE ATR, Futura 738 which was an hour late and a TNT aircraft. Our A320 hadn't arrived yet so I was looking out for it, after VIA A320 and bluebird cargo 737 our A320 arrived, EI-DEO the same aircraft that I arrived in on Friday. It landed on runway 17 and taxied past to our gate. By the time it had arrived on stand the RE ATR had done a high speed taxi to the end of runway 35, it turned around and took off to the north instead of what most aircraft were doing and taking off to the south.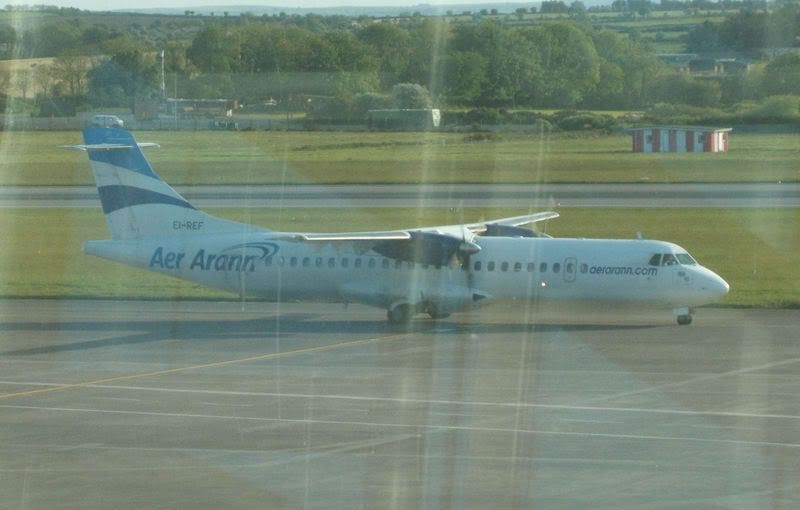 Our aircraft had parked next to the air bridge but had not used it, so we had to walk down the stairs and through moving glass doors, strangely aa a group of us got closer to the glass doors it shut and wouldn't open again, two passengers pushed the doors open with their hands and held them open until EI staff came down the stairs and called maintenance. The EI staff held the doors for all the passengers and we made our way out onto the aircraft which looked great in the low sun!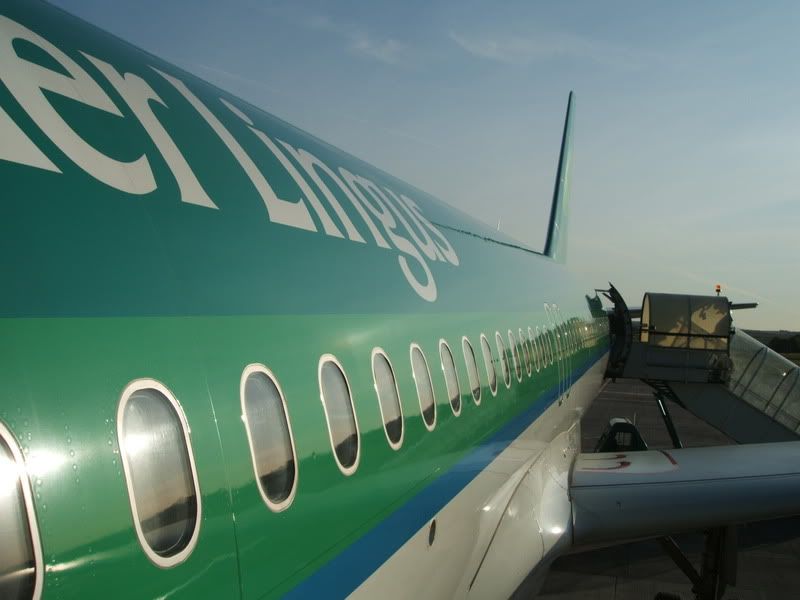 We were welcomed by two slightly older FAs very friendly but were very serious, not as relaxed as the FAs on the LHR-ORK flight. The pilot welcomed us onboard in Irish which you dont really hear from the pilots usually the FAs say it but this time both did and it was a nice touch, we heard much more from the flight deck in this flight than the last one. We departed ontime and the flight was fairly uneventful it was the usual southerly departure and left turn towards south Wales. As we past over Wales Sky Cafe was started and I noticed they had some new meals, the chicken wrap has gone but is replaced with Uncle Bens Chicken and rice meal and Dolmio pasta, I'm sure these are a hit on the longer European ops but not on this flight, most passengers had wine, soft drinks, the panini and sandwiches. I wasn't feeling very good at all after that fish and chips meal so I went for a Coke and Chicken and Stuffing sandwich, it was very nice. Many of the FAs looked more suited to the long-haul premier class, very graceful and much more mature than the usual FAs I see on this route.
The pilot informed us that due to traffic at LHR we would be in a hold for 10 minutes, fine by me but a few passengers were not happy, I mean it's only 10 minutes but I understand some of them may have had connections to catch. Anyway the flightdeck must have heard the unhappy passengers and within 5 minuted we were on approach to runway 09L. We landed a few minutes late and made a fairly quick taxi to our gate, we parked next to EI-CPF (i think) sorry it's blurry
We got our bags and walked out to the arrivals, LHR was empty and looked very nice without the crowds!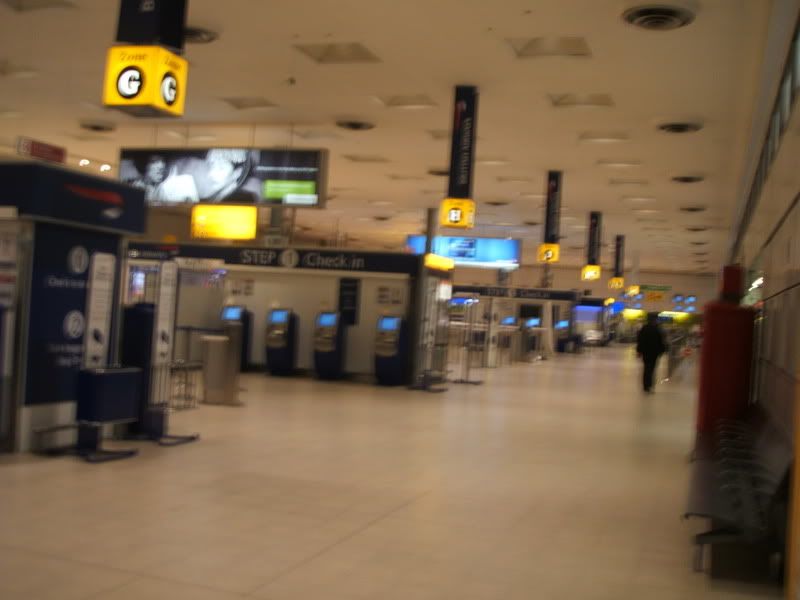 The flight with EI was as good as ever and I cant complain!
Well I hope you enjoyed my TR and thanks for reading!