Briefing....
For my latest trip, I decided to fly the new A319 service from LHR to YYT that Air Canada started in April. I have friends who live in YYT, so this flight was an ideal choice for my visit. How was it? Read on....
Leg 1:-
Date: Friday 18 May 2007
Departure Apt: LHR
Arrival Apt: YYT
Aircraft: Airbus A319 (C-GITP)
Flight No: AC831
Sched Departure Time (Local): 22:40
Actual: 22:25 (22:45 Takeoff)
Sched Arrival Time (Local): 00:45
Actual: 00:48
My first flight on Air Canada since April 2006, was taken last week. I was invited over to St. john's, Newfoundland to see some friends that I have known since my High School and College days. I have known one of them for 11 years now, and the other for 5 years. This was to be my 4th trip to Newfoundland since 2001 and I was looking forward to it very much.
My Trip to LHR was by train from my home town, to London, then the Heathrow Express to the airport. Arriving into LHR at 17:30, I made my way to the hell hole that is currently the under construction "T3". What a mess it is outside, but the artists impression of the finished product looks very good, so I guess its worth the hassle for now.
A quick check in at the Air Canada counters soon followed, where producing my "Star Alliance Gold" card gave me access to the empty "Executive Class" desk. I was assinged my "booked" seat - 14A in Economy Class.
Boarding Pass....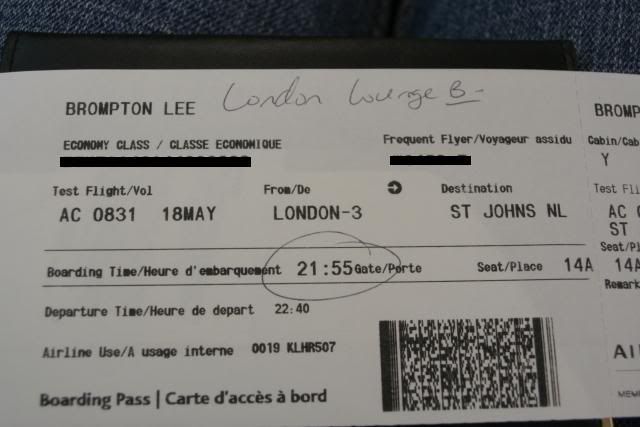 Following this, I trekked upstairs to security, to find the entrance to the screening area empty! I joined a very short line at the security checkpoint, and walked thru it with no alarms ringing, and nothing in my carry on gave cause for concern either.
The next bit was new to me, I passed to a new "secondary" screening area, where you have to remove shoes for X-Ray. I put them thru the scanner with no problems, then proceeded to passport control to have my documents examined.
Terminal 3 Departures....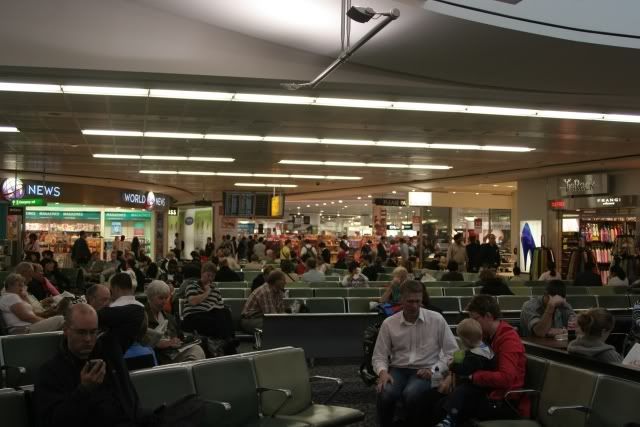 It was time to make my way to "The London lounge" (shared by AC and SK) where I could relax until my flight. I showed my FF Card at the entrance, and I was "swiped" in to the lounge by the helpful attendant. I was directed upstairs because it was "less busy" and indeed it was, quiet that is!
The "London Lounge"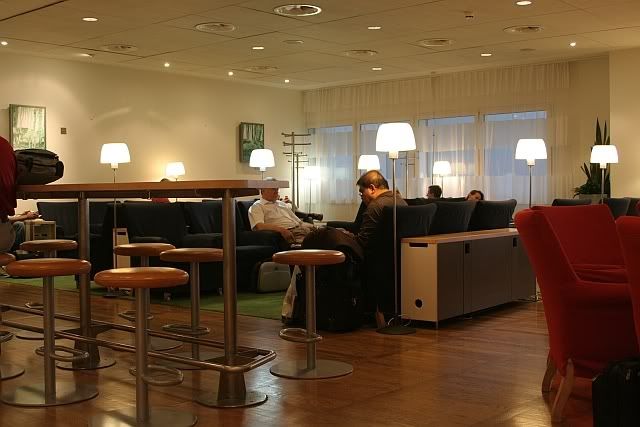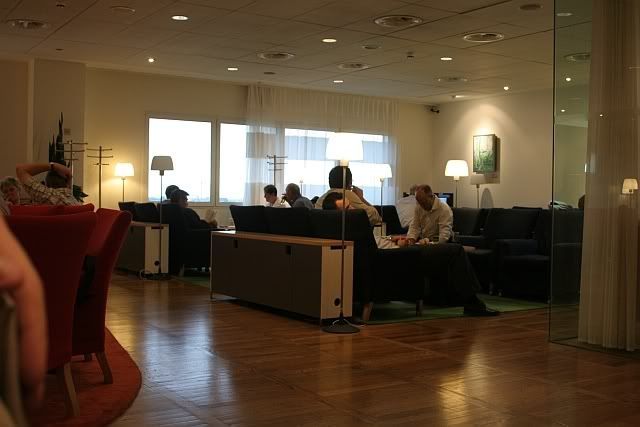 I helped myself to food and drink, and sat by the windows watching aircraft go by, while also using the lounge PC's from time to time, to chat on MSN.
Snacks....
My aircraft (C-GITP) arrived at 20:45 - it was actually booked into LHR at 21:30 - so I was indeed impressed! The air Canada website showed that the inbound flight (AC830) had made it over the Atlantic in about 4hr 15 mins. At that moment, it felt kinda strange to watch an AC A319 taxying by at LHR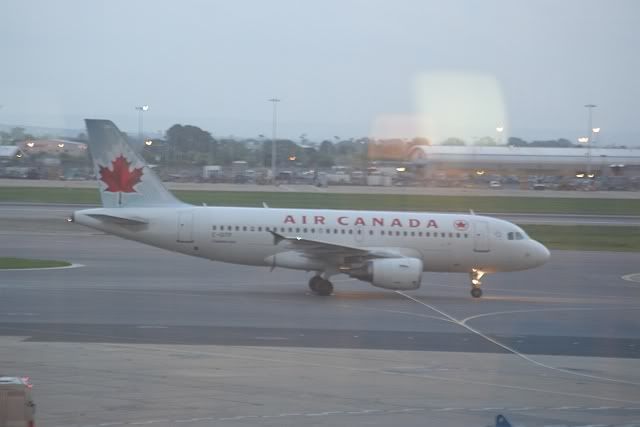 View Large
View Medium


Photo © Globalpics
The gate was shown on the departures screen at about 21:20, s I bid farewell to the lounge staff, and walked for what seemed like an age, to gate 40 (340). I approached the gate staff, and had my passport examined, before proceeding to the "podium" at the gate. The staff there looked at my boarding pass then took it off me for a few mins, typed something on the computer then printed me a new boarding pass.
When the new document was handed to me, I nearly had a heart attack, as I had been upgraded to J class (Executive class)
. From what I gathered after boarding was completed, the flight seemed to be full in Economy, so maybe it was overbooked? Who knows, I didn't bother asking, but I thanked the kind sir at the gate anyways
My new seat was now 3F.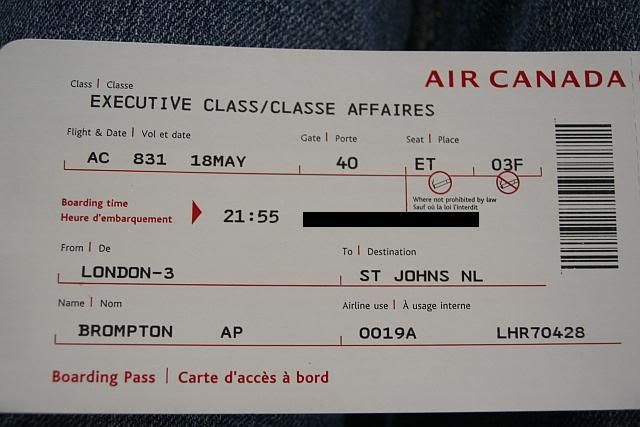 Boarding commenced on time, well slightly early actually, and was completed by 22:15. Pushback commenced at 22:25 and a taxi to runway 27R followed. On our way to the runway, I could see pilots from various aircraft looking at us, some pointing at our aircraft. I wonder what was going thru their minds??
A fairly long takeoff run at 22:45 saw us head out towards Wales, then over Ireland and onwards to the dark, lonely Atlantic.
The service commenced about 10 mins after takeoff, which for us in J comprised of a nut dish, with choice of drinks, while we waited for the meal to be prepared. Tonight we would be served a "cold plate", consisting of chicken, vegetables, a fruit dish and cheese selection.
View From My Seat....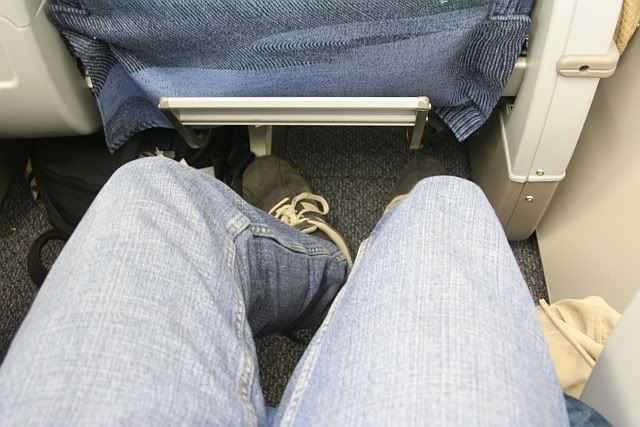 The A319s that do the transatlantic runs have already been fitted with Air Canada's new AVOD system, which was a pleasure to use. It givesyou the choice of many movies, videos, games, music and radio, all available to watch as and when you please
AVOD....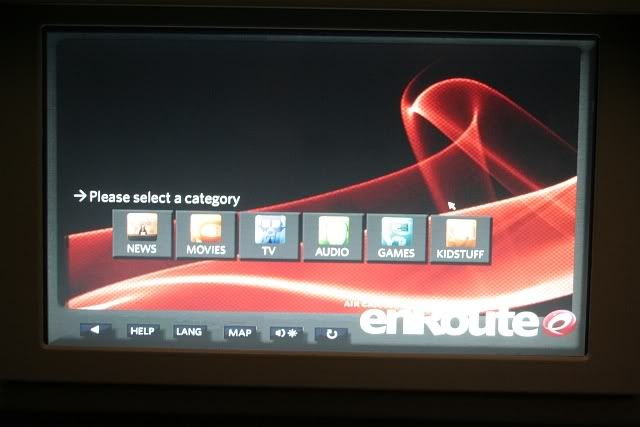 The meal....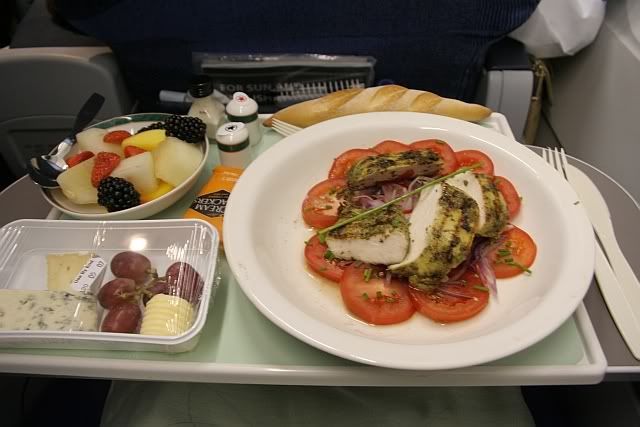 I took the time to watch "The Hunt For Red October", then listened to my favourite albums by Coldplay, Snow Patrol and Evanescence.
The Cabin after "lights out"....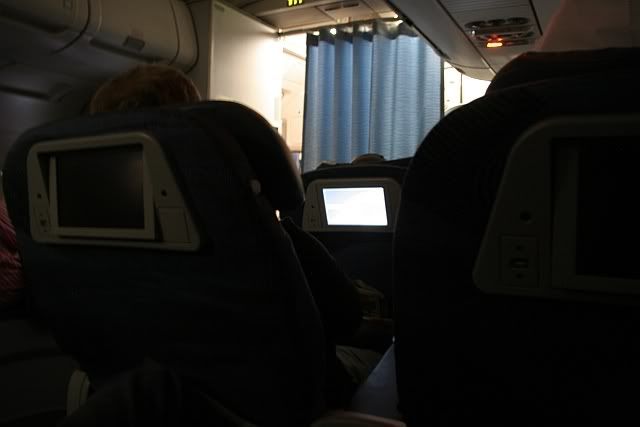 The flight eventually took 5hrs and 18 minutes to reach St John's (5hrs 40mins gate to gate), and landing was preceeded by muffins and drinks, about 1 hour before descent into YYT.
We commenced our descent at 00:20 local time, and all went well until we commenced our final approach. Only a few hundred feet from the runway (I found this out when talking to an F/A during deplaning) we suddenly hit a bank of thick fog, and I felt the engines shoot to full power - this was my first ever "Go Around".
The captain came online and tolds us we "had to go around, but will be landing shortly" and indeed we circled for about 10 mins before successfully landing on runway 29 during our second attempt.
We arrived at the gate only 5 mins after scheduled, and deplaned shortly afterwards. After quickly passing thru immigration, I had my bags searched by customs, during which my carryon was hand searched, due to the 'large amount of wiring' on the X-Ray screen that the customs officer was looking at - my camera equipment, power leads for my chargers, etc
I then made my way outside where it was 2 degrees centigrade, and quicky made my way to my hotel, for a good nights sleep (well, until about 10am)
Verdict....??
I have to say that this was a truly excellent flight, and the service provided by the crew was impeccable - no flaws at all. The A319 with the new interior looks fantastic. Air Canada, I applaud you..!!
Continued......