Hi everyone,
It has been a while since I wrote my last trip report so I decided to enlighten you with another one. I fly very often, both as passenger and as pilot, so I could probably write a trip report about every flight, however as much as I enjoy it, I do have a life and I'm sure you folks can only read so many YYC-YWG flights on WJ.
This trip report will cover my flight that took place on Saturday May 26th 2007 from Calgary AB to Canmore AB, which is located about 100 km West of Calgary, shortly after you enter the Rocky Mountains (from the East).
Banff National park starts at Canmore as well so if you ever have the chance to visit here, I highly recommend it. It's absolutely gorgeous and you'll find plenty of things to do year round. Banff, Canmore, & Lake Louise are quite popular with the Europeans, Japanese, Aussies, etc. and there are dozens of flights to YYC from many European countries bringing a lot of tourists here to enjoy the magnificent Canadian Rockies. So how is that for a little advertisement?
Now back to my trip report…
On today's flight, I was the pilot in command, with my friend Andrew as my co-pilot, flying a Diamond Star DA40, reg. C-FNAC. Some of you may have seen my previous trip reports so you'll know which aircraft I'm talking about. She's a lot of fun to fly and some of you here who have flown her will attest to that.
The photo below was taken last year, but I wanted to include it here so you can see the aircraft.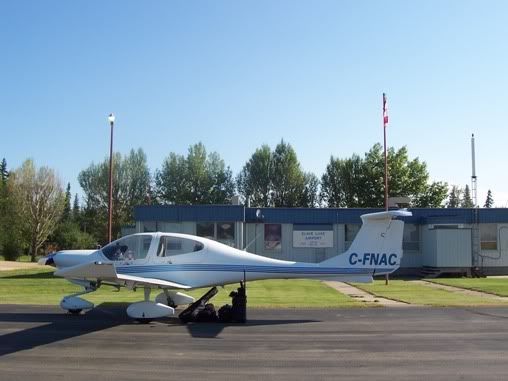 Our only passenger this day was my little Finnish friend Anne from Järvenpää, Finland. She came here for a two week vacation, so what better way to entertain her than to take her for a flight over the Alberta Rockies?
Andrew is also a certified flight instructor (and was my instructor for my night rating) so as you'll see here he took control of the airplane for portions of the flight to let us enjoy the view and take some pictures. The camera we used today was a Nikon D50 and the lens a Nikkor fisheye lens. This is the reason some pictures seem to be distorted a bit. All three of use took turns taking photos and I'd like to note that we are just amateur photographers, and we're still trying to figure out what settings to use. However I hope you enjoy them just the way they are.
After taking care of some pre-flight tasks (fueling up the plane, walk around, weight and balance, document checks, weather checks, notams, flight planning, etc.) the three of us hopped into the DA40 and strapped in.
While I was doing the pre-flight inspection, I saw a private L-39 taxi to the hangar. It belongs to a gentleman here in town and it shares a hangar with some of our school airplanes. It must be a rush to fly that.
After the passenger briefing I started the engine and completed the required checks and radioed "Clearance Delivery" with the ATIS, to get our squawk code. Shortly after it was "Ground" on 121.9 and obtain our taxi clearance to the holding bay of runway 34 for our run-up.
Taxiing from our ramp to the 34 holding bay for run-up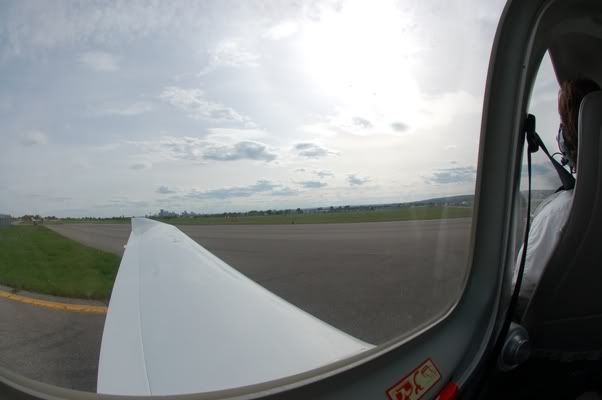 This was the 2200Z METAR. By the time we departed it changed slightly, but this was the last one I actually had printed. Of course, before contacting Clearance Delivery we got the latest one.
METAR CYYC 262200Z 14005KT 40SM FEW070 FEW150 BKN250 19/00 A2987 RMK CU1AC1CS0 SLP128=
The runways in use were 16 and 10. Calgary's third runway and the smallest one (07-25) was closed due to construction/maintenance, as well as portions of taxiway Charlie. In the distance I could see a lot of construction equipment and men working in the area I just specified, therefore the ATC instructions were a little different than normal. Usually we taxi North on Charlie 'till Uniform, but this time it was a little different. After run-up, instructions from Ground was to cross RWY 16 (at the 34 threshold), taxi North on Alpha, cross 07 and turn right on Uniform taxiway and hold short of 16.
Taxiing on Alpha taxiway, passing the Esso Ramp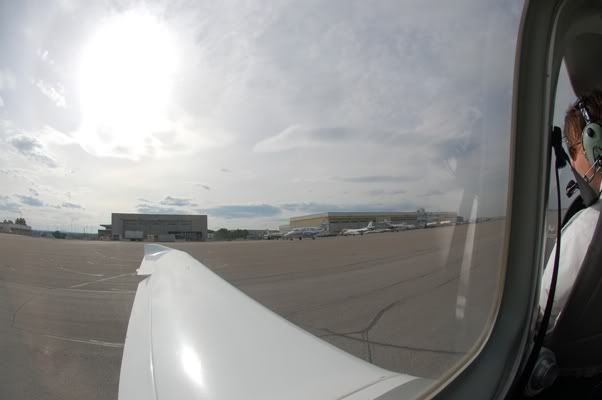 We barely got to taxiway Uniform when Tower told us to taxi to position on runway 16. Five seconds later: "November Alpha Charlie, heading two five zero degrees after take-off, not above four thousand five hundred, wind (??), from Uniform, cleared for take-off, runway one six".
Lining up in position on runway 16
I applied full power, accelerated to the required speed and rotated, climbing with T/O flaps, maintaining runway heading. At 500 feet AGL I turned gently to a heading of 250 then flaps went up, fuel pump off, landing lights off…etc.
Accelerating toward our Vr speed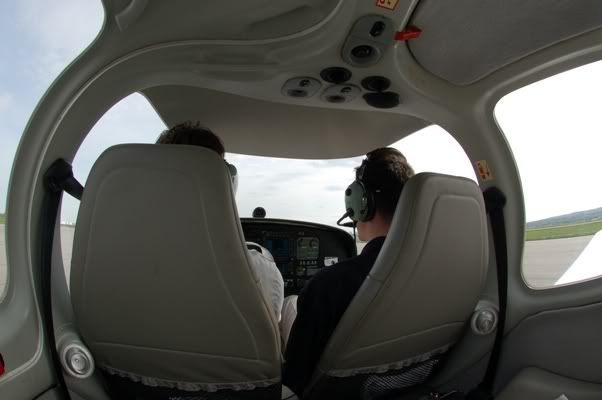 Lifting off the runway… (Picture taken from the back seat, by Anne)
Men/Women & machinery at, work on Charlie taxiway.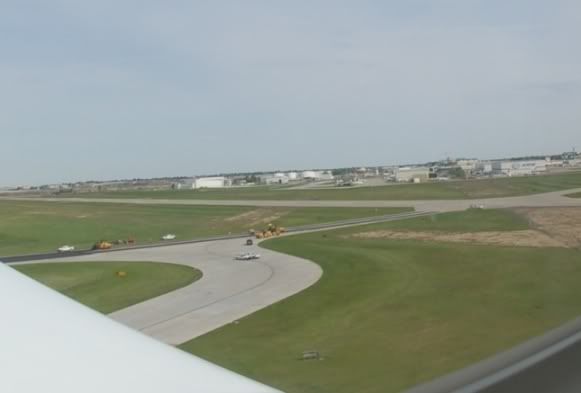 Climb away… Runway 07-25 visible just behind the wing…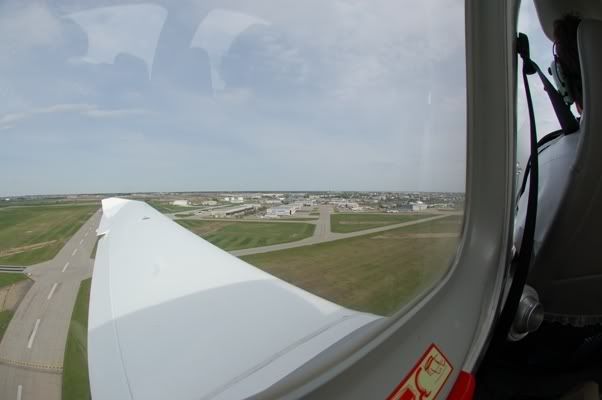 Esso Ramp and McKnight Blvd. can be seen out the rear right window.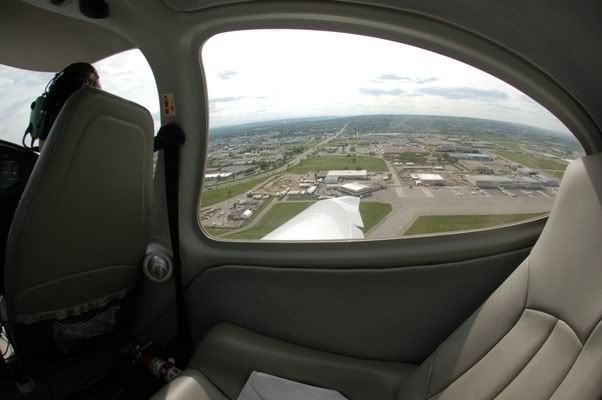 Around 4300 feet Tower came on again "November Alpha Charlie, contact Calgary Terminal now, on 119.4, see you in a bit" Calgary Terminal cleared us for the short city tour, keeping us West of McLeod Trail and South of the Trans Canada Highway. Basically we had the entire South-West quadrant of the city to ourselves. I steered the DA40 toward the downtown core.
Heading West climbing to 4500 feet. downtown Calgary can be seen to the left
Flying South, toward downtown. The freeway can be seen to our left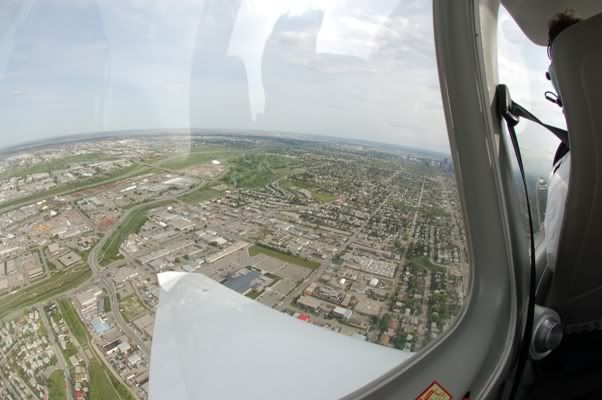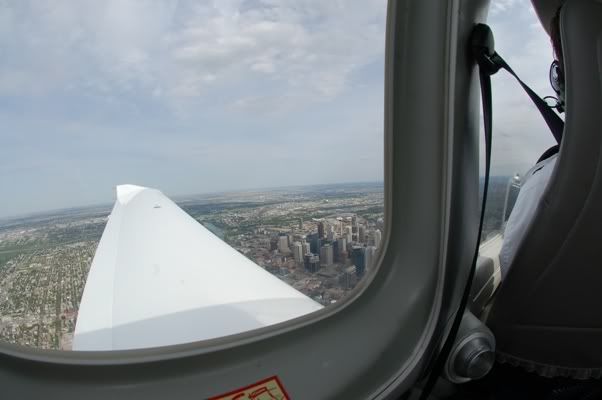 Downtown Calgary. I like the effect the fisheye lense creates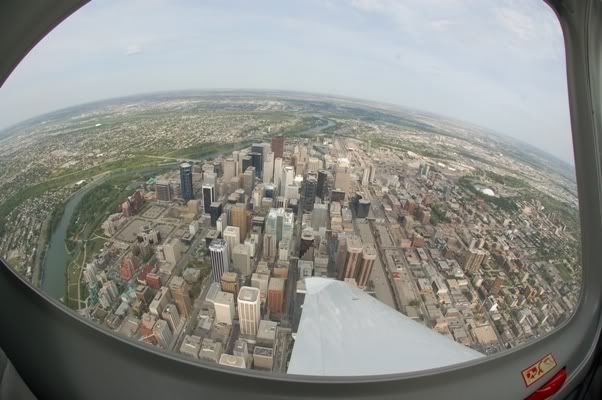 South West Calgary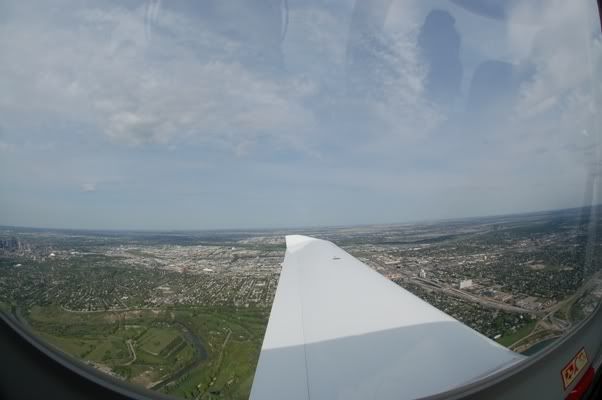 Glenmore Reservoir
Back near downtown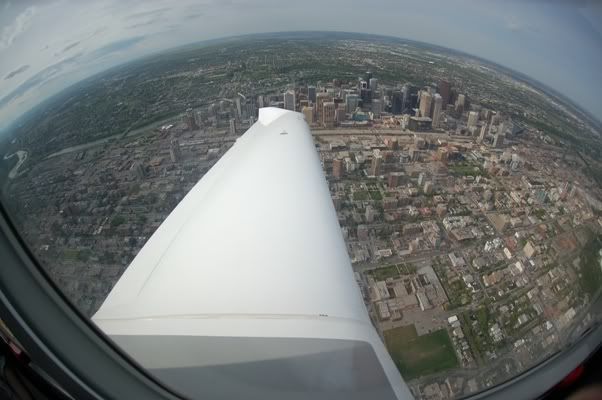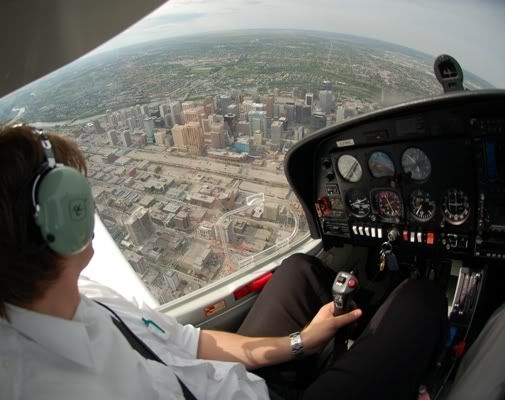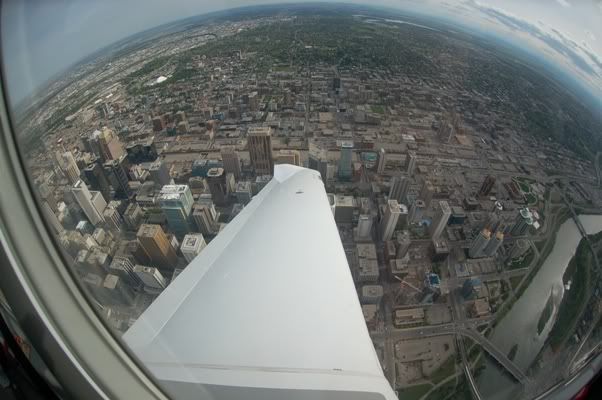 Andrew was flying from the right seat while I snapped some shots of downtown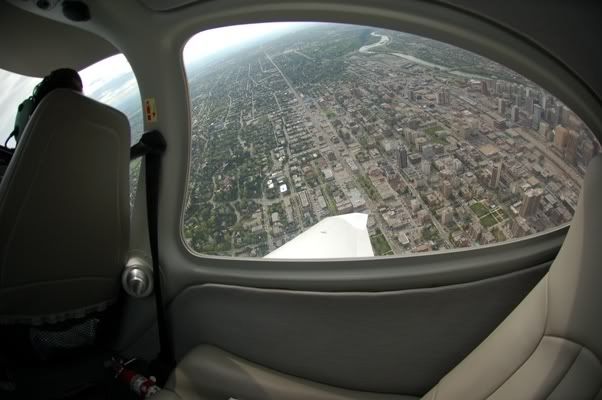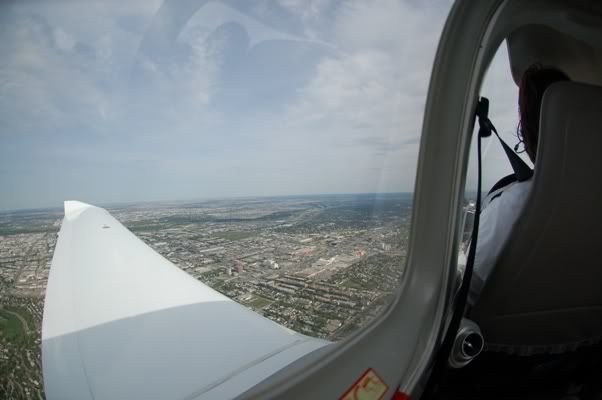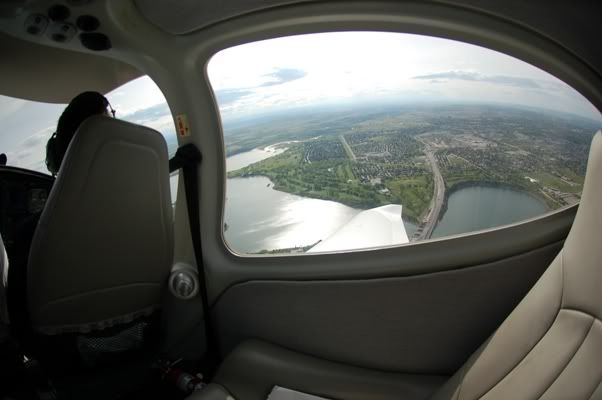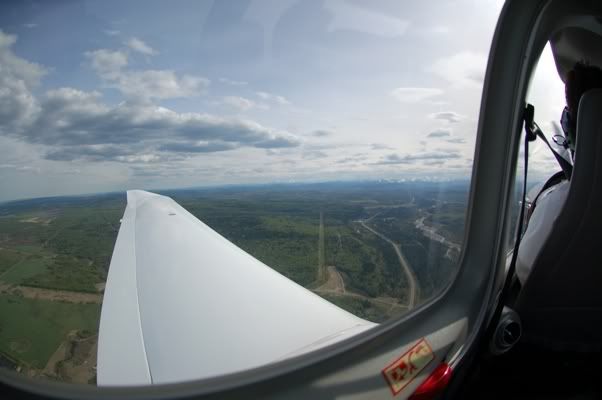 We flew from downtown toward Chinook Centre (mall) then turned over Glenmore Reservoir, coming back toward downtown. Andrew took over the controls for a bit so we can take some photos and also give Anne a brief verbal description of what was below us. Once that was over we started heading toward Brag-Creek and then to Canmore.
Flying toward Brag-Creek. Me at the controls
Climbing over the mountains in Kananaskis Country. Andrew at the controls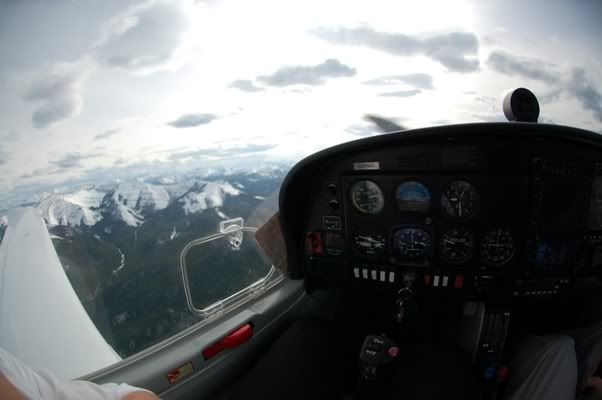 We were handed over to Springbank Tower and climbed from 5000' to 6500'. Once over Bragg Creek, we climbed up toward 8500' to clear the mountains below us. I took control while leaving the Calgary area, however around Bragg-Creek, I had Andrew fly us toward Kananaskis Country, because he knows the area way better and I wanted to take more pictures / enjoy the scenery.
You can see how high some of these mountains are. Pretty impressive view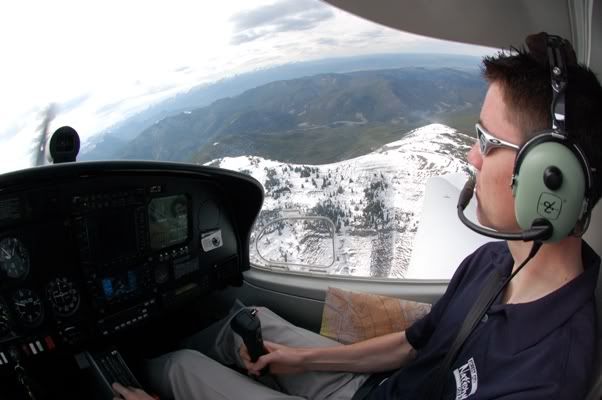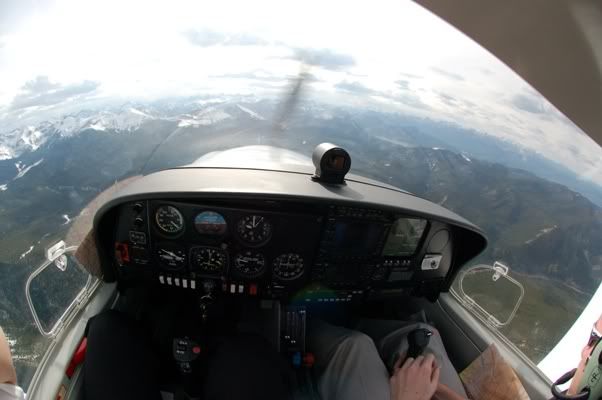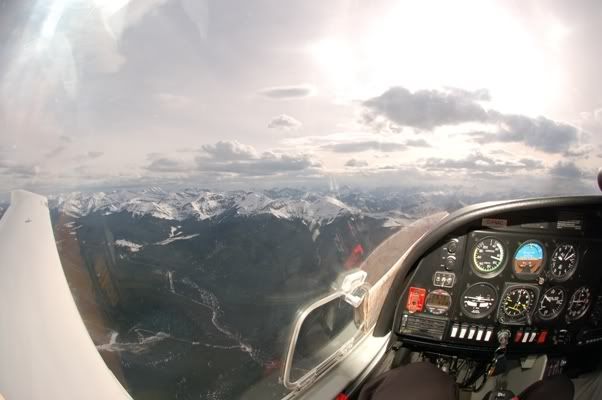 Andrew, Anne and Me (giving the thumbs up for a cool flight)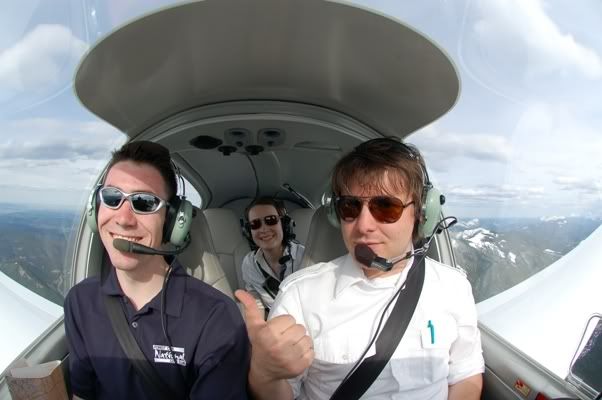 Anne enjoying the view and of course, all the room she needs . Better than first class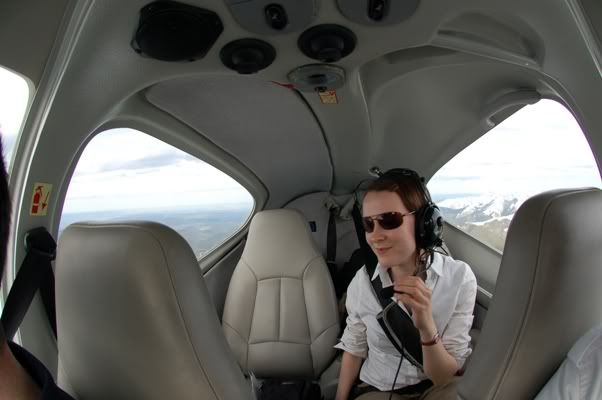 More amazing views…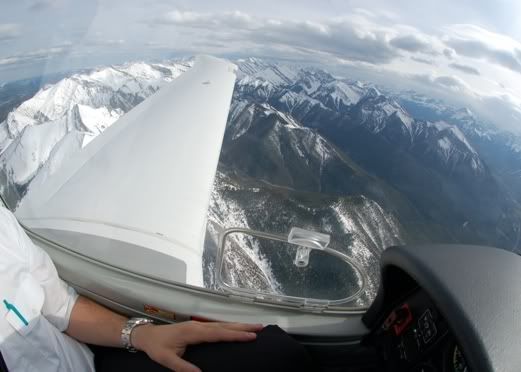 We flew very close to the Nakiska Ski Resort, where the 1988 Olympics were held for the downhill skiing competitions. (That fact needs to be confirmed, but I'm pretty sure that's where they held it), after which we proceeded toward Canmore. Once in the Canmore area, we tuned to the appropriate frequency and made our position reports. Canmore doesn't have an airfield, however it does have a heliport and there is frequent traffic of helicopters around the area. We did see a chopper cruise very low above the town, but it was of no concern to us. He was way out of our way. We continued a little more West until we crossed into Banff National Park, then turned around and started heading toward Calgary, this time though, following the Trans Canada Highway. Andrew flew most of the time while in the Canmore area, however as we exited the mountains, I took control and flew the remainder of the flight.
Heading toward Canmore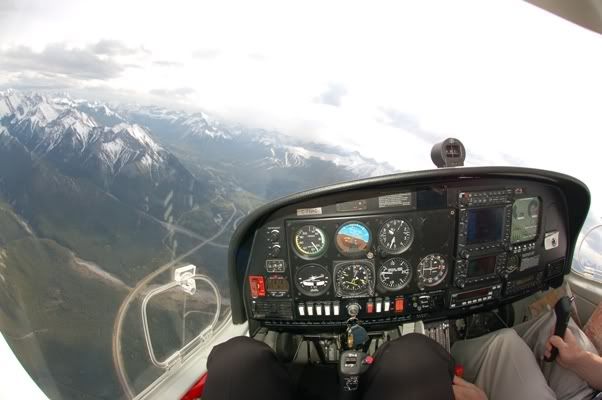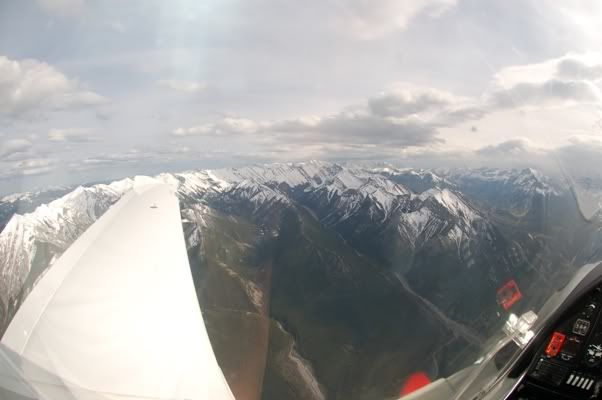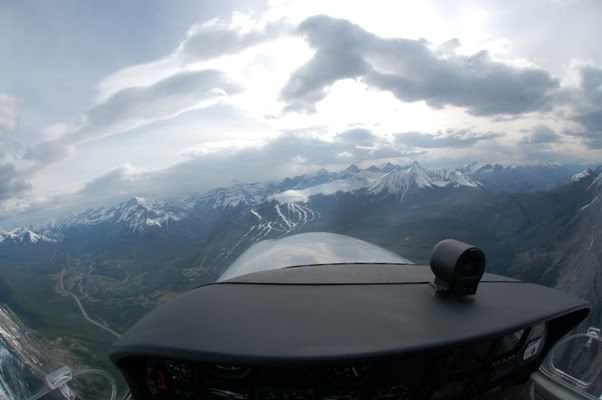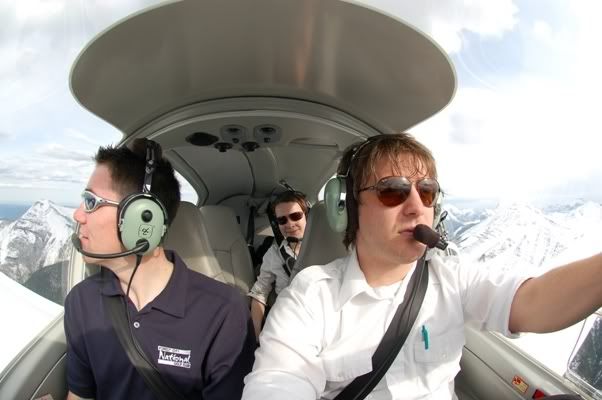 The town of Canmore, Alberta
Andrew and I checking the map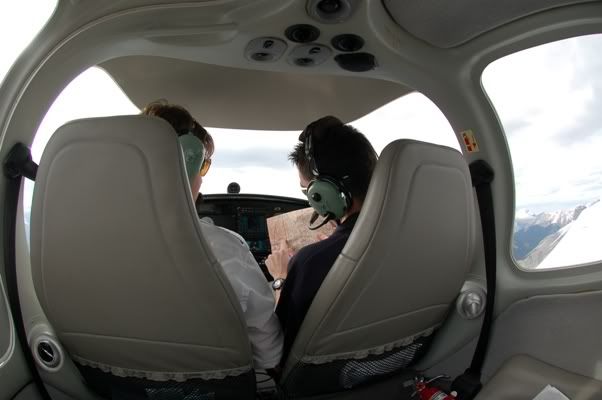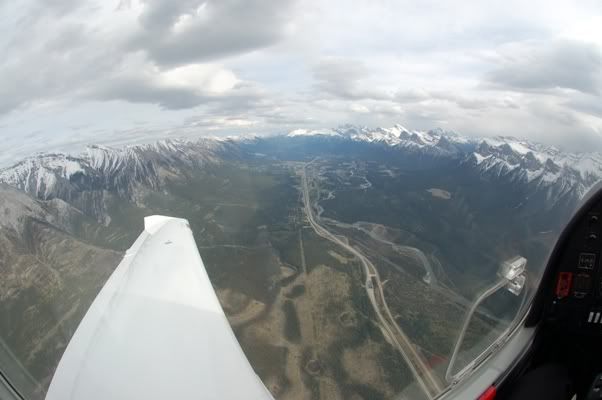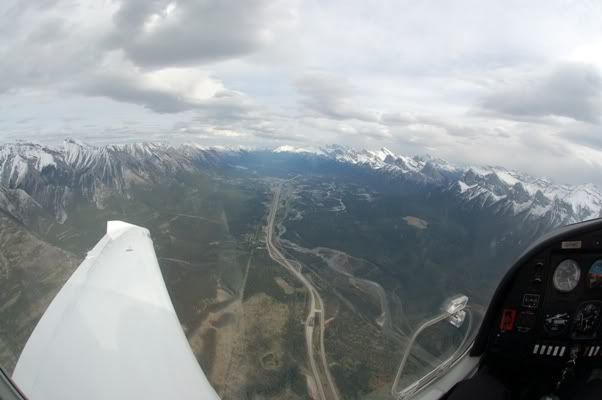 Heading back to Calgary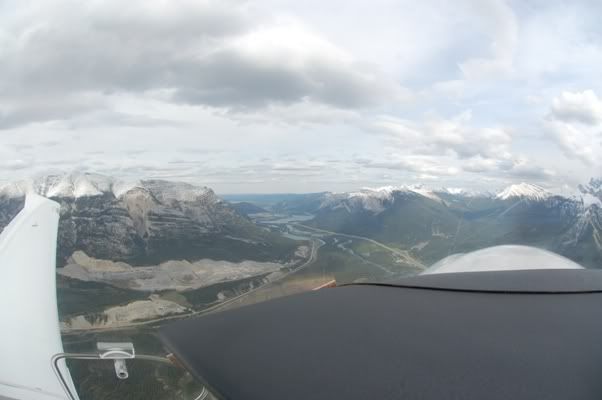 Anne checking out the view… Must've been quite captivating
Exiting the mountains…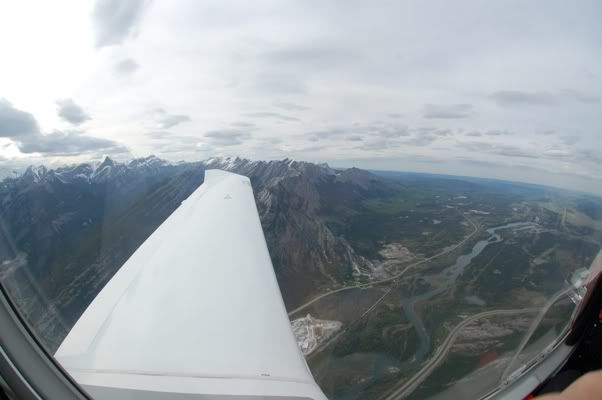 With me at the controls again, we headed back flying along Trans Canada Highway, flying toward Springbank.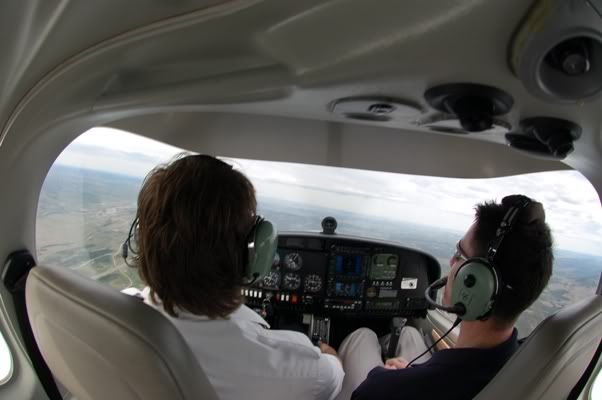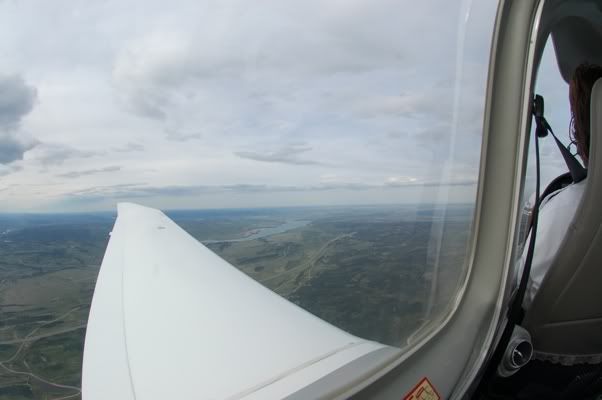 Leaving the Rockies behind us…
Back in CYBW's airspace (Springbank), we were cleared to 5500, then to 5000 and followed the "Banff Coach procedure" to enter CYYC's terminal airspace. We were cleared right base for runway 16, so I took a NE heading and flew over Country Hills and NorthWest Calgary.
Over Springbank, heading toward YYC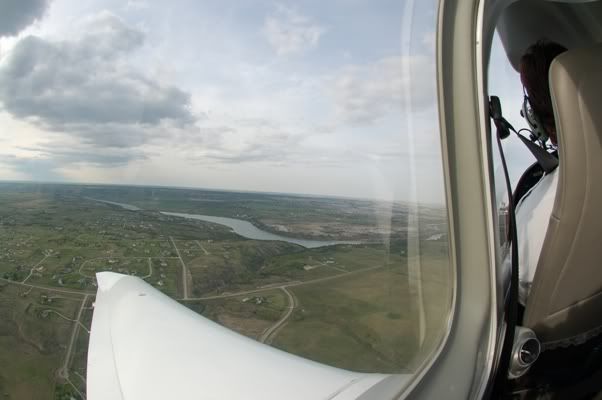 North-West Country Hills
Andrew tuned the ILS for 16 and we used it as a reference while maintaining VFR at all times. An Air Canada A330 (headed to either Frankfurt or London Heathrow) was holding short for us. I've said it before and I'll say it again. It really makes a difference flying to and from a big airport. The landing fees we have to pay are worth it. It's a great feeling to see a heavy hold short for you, plus the experience you get here at YYC is fantastic. I wonder what those A330 pilots were thinking seeing our little single engine landing right in front of them.
Approaching Runway 16 at Calgary International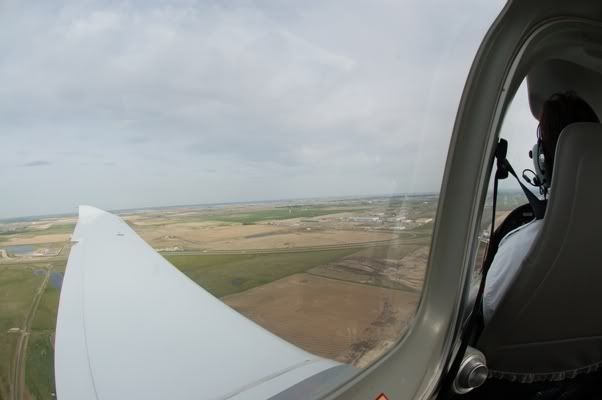 Short final, runway 16…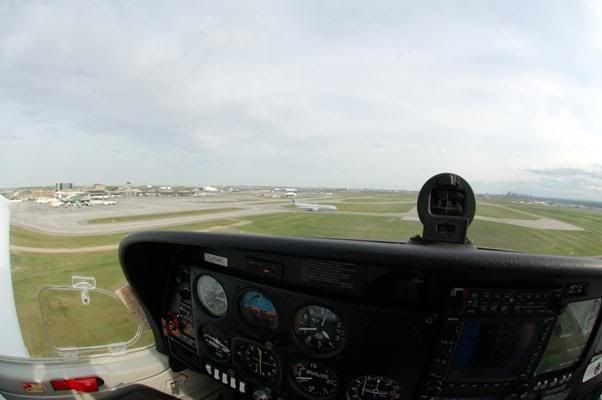 Air Canada's A330 holding short for us…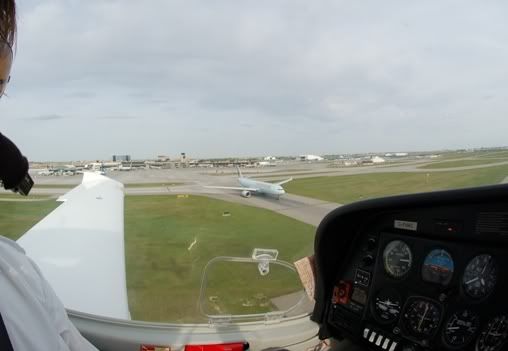 I have to say I touched down pretty smoothly and got a nice compliment from the girl in the back "Nice landing Vio."… yeah I know… show off… Hey, I take pride in good landings. Tower told us to keep our speed up a little and exit on runway 07, then contact Ground. We did just that and ended up taxiing right by the hard working men and women who were fixing up the taxiway. I waved to one of them and got a wave back.
After touchdown on runway 16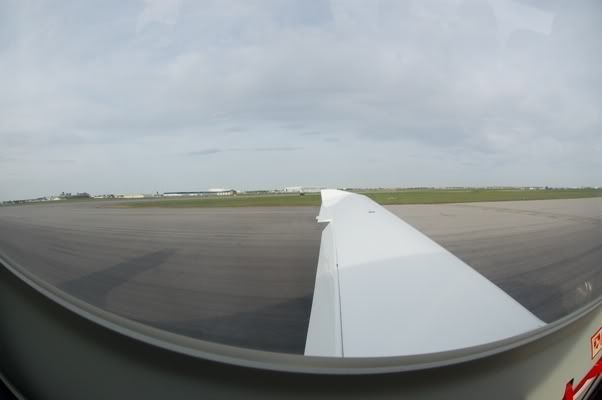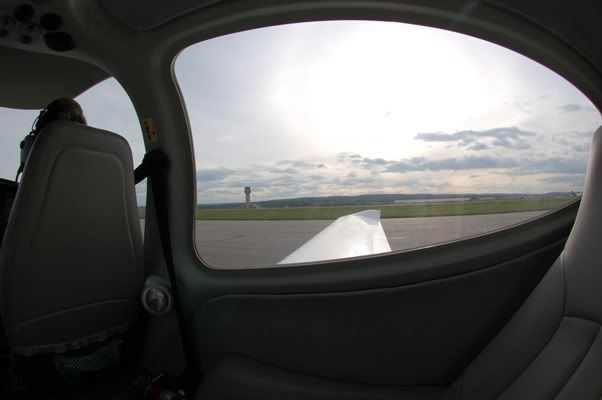 After obtaining clearance from the Ground controller, we taxied Charlie the rest of the way to our ramp on the South-East side of the airport. Just as we shut down the engine, the Air Canada A330 lifted up toward the sky, starting her long flight across the pond to Europe.
Taxiing on Charlie taxiway toward the South East Ramp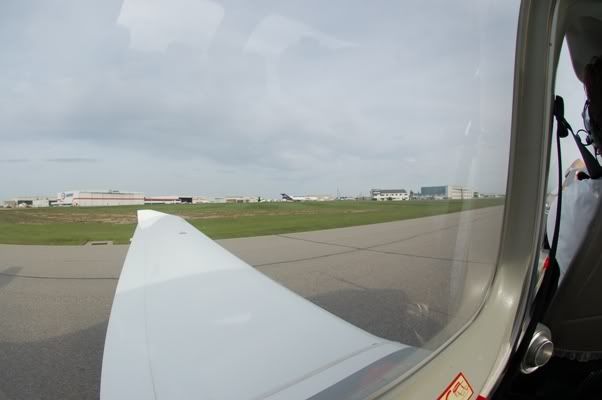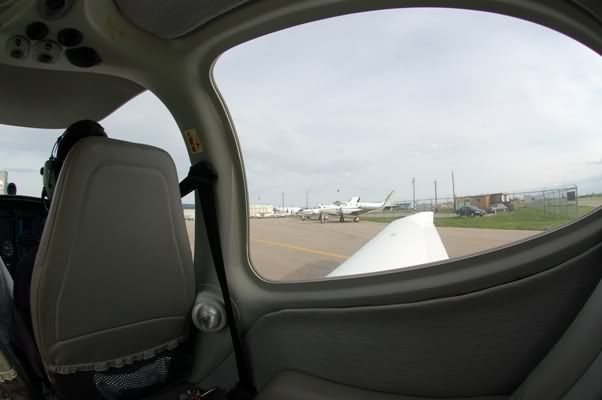 Air Canada's A330 taking off 16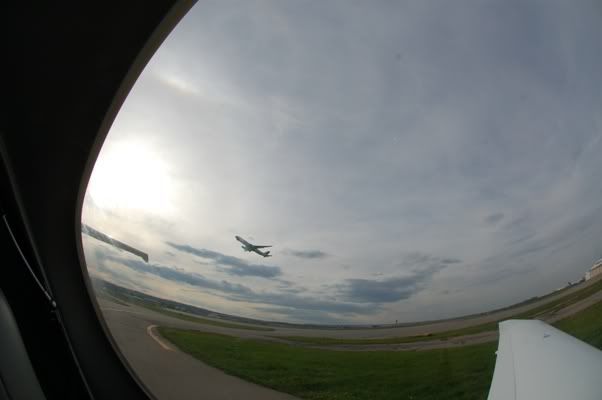 With a total hobs of 1.5 hours and 1.3 hours in the air, I have to say this was a very enjoyable flight. A little turbulent in the mountains, but that's something to expect. I love flying the DA40 and I love flying around Calgary. The scenery is breathtaking and flying wise… it's never a dull moment. Plenty of things to keep you busy, especially coming in to land at CYYC.
… some photos of our little bird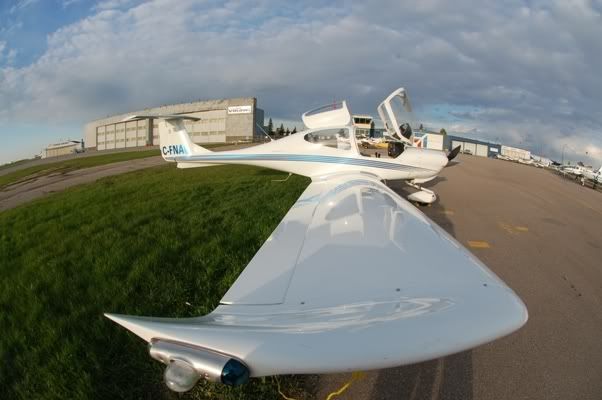 I hope you enjoyed my trip report and the photos. Please leave a comment (or questions) and let me know what you think. I've put quite a bit of effort in this report, so even a few lines would be appreciated.
My next trip report will be of my upcoming trip to Boston, however this time, I'll be just a passenger flying with Air Canada, via Toronto (outbound) and Montreal (return). Thanks again everyone.
P.S. Below, I've included some photos of Canmore, Alberta. They were taken by me about a month ago. This is just to give you an idea of how the town looks from "below".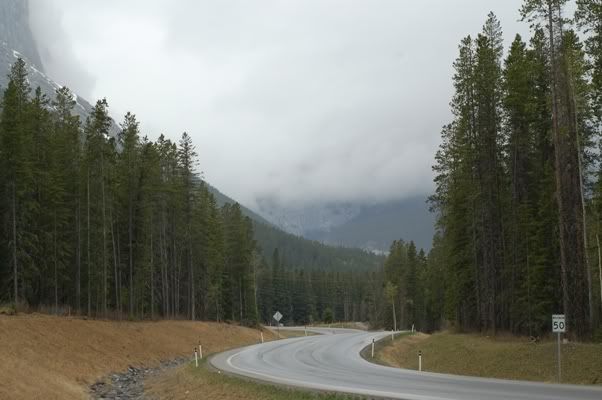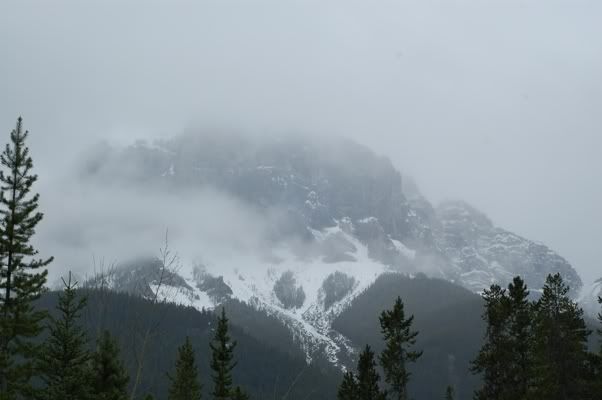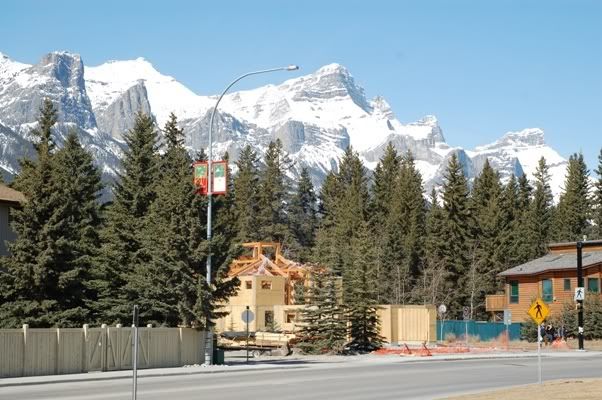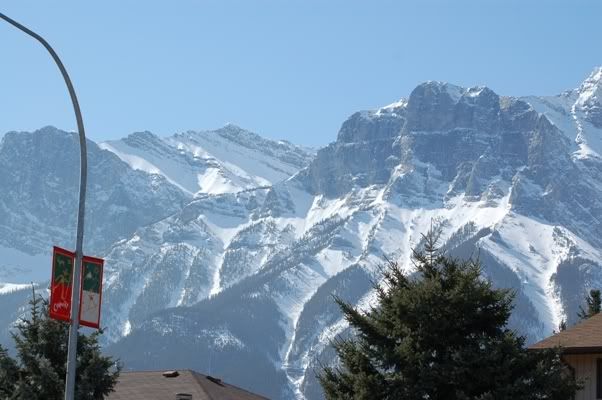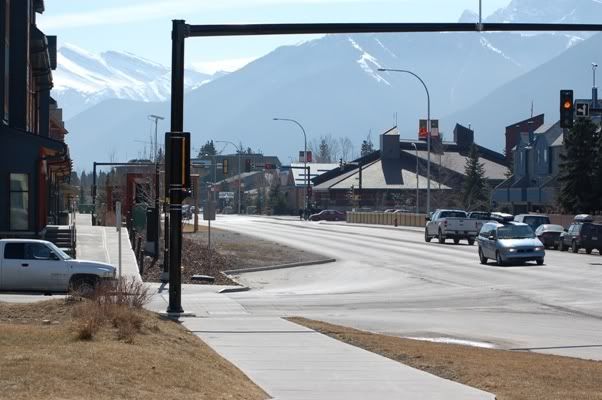 Happy flying,
Vio Ludusan,
Calgary, AB, Canada