Hello again!
After a long time of staying in one place, I was finally able to join my family in Orlando, FL for a week vacation. Initially, I wasn't sure if I would be able to take go for an entire week so I wasn't able to book the trip until about 2 weeks before. I got a pretty good deal on American Airlines through expedia.com.
This was my first time flying AA for about 3 years, so I was excited to fly a different airline!
Normally, I would fly out of my hometown of Albuquerque, NM, but I was already in Denver visiting my family. As such, I flew in and out of DEN. I connected in ORD on the way, and DFW on the way back. While ORD is in entirely the wrong direction, both flights were short enough to split up the trip quite nicely.
Date: May 19, 2007
Segment: DEN-ORD
Flight: AA1174
Aircraft: MD-83 (N594AA)
Departure Gate: C39
Arrival Gate: H10
Departs: 1500
Arrives: 1825
Seat: 21F (exit row window)
Departure Runway: DEN Runway 34R
Arrival Runway: ORD Runway 27R
Out of all 4 of my flights, this was the only one that I was not able to reserve a window seat ahead of time. As a result, I got to the airport about 3 hours early to see if there were any available day-of-departure. As I thought, the ticket counter was quite empty, so I approached one of the agents to see if there was a window available. He told me that the exit row was available and of course, I took him up on his offer!
AA Ticket Counter in DEN:
After checking in, I headed to the gate. While American uses Concourse C, I still took the A bridge since I had a lot of time before my flight. It also gives me the opportunity to take some pictures.
DEN Main Terminal:
Flip the Dolphin just pushed back. He was operating the charter operation to HUX today.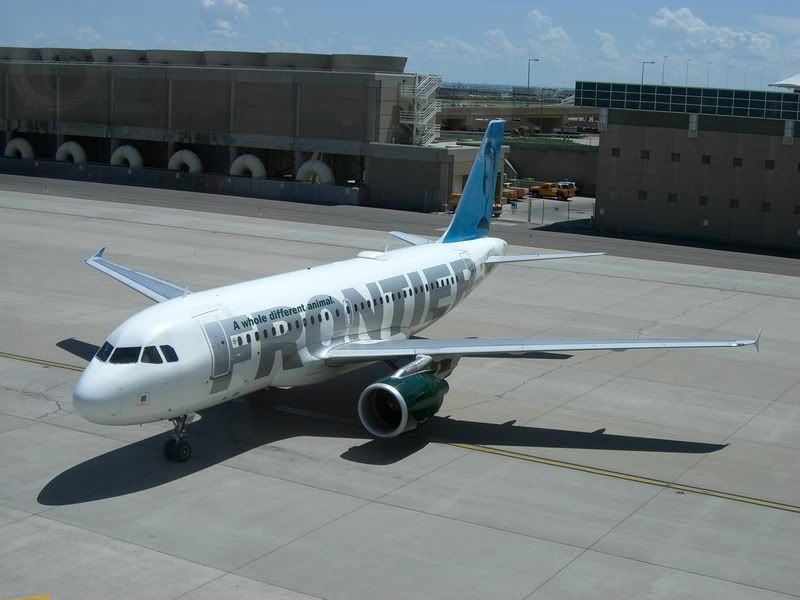 Overview of Frontier's newly-acquired gates from UA, taken from the bridge:
LH 343 operating the daily MUC flight: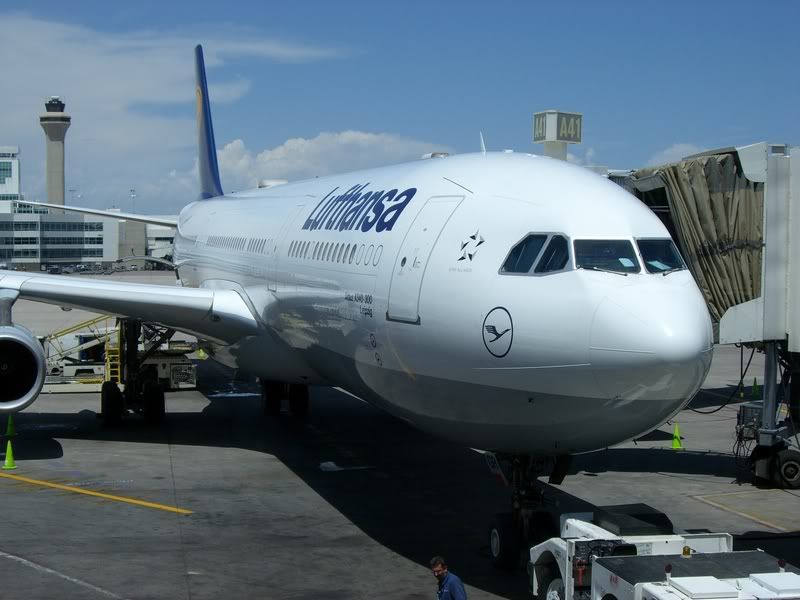 After watching the LH flight for a little while, I decided to get on the train and head out to the C Concourse.
Center of the C Concourse:
My gate, C39:
The flight boarded on time, and I settled into my seat for the 2-hour flight to ORD. As I expected from the lack of seat options ahead of time, the flight was quite full. The door closed on time and we taxied out to Runway 34R for takeoff.
Service on the flight was standard domestic service we have come to expect these days, with free beverage service and snacks available for purchase. I was given the whole can of Sprite, but I did not indulge in the snack service.
Before I knew it, we were on approach into ORD.
Hazy view of the Chicago skyline:
Coming from the west, we flew north of the airport and circled around 180 degrees just shy of the lake shore for approach to Runway 27R. We landed on time and pulled into Gate H10 shortly after.
The aircraft that brought us from DEN, parked at the gate in ORD:
I had just less than an hour before my connecting flight, so I wasn't able to explore outside of Terminal 3. I took a few pictures and ate lunch/dinner in the food court between the H and K concourses.
View from the concourse between H and K - The 777 was being prepared for its flight to LHR. The Sears Tower is barely visible above the APU exhaust:
Date: May 19, 2007
Segment: ORD-MCO
Flight: AA1772
Aircraft: MD-82 (N583AA)
Departure Gate: K4
Arrival Gate: Airside 1 (not sure on Gate!)
Departs: 1920
Arrives: 2255
Seat: 18A (window)
Departure Runway: ORD Runway 32L
Arrival Runway: MCO Runway 36R
View of the Orlando gate, K4:
My aircraft parked at the gate, note the AS.com livery 737 in the background:
Boarding was once again on time. I boarded with group 4 and found my seat. This time, I was on the 2-side. This flight was also quite full, and there was a gentleman in the aisle next to me.
View out of the window. The 767 was being loaded for its flight to DUB.
We pushed back on time and started our taxi to 32L.
International Terminal:
The flight was similar to the last flight - Whole can of soda and snacks for purchase. Since I had already eaten in ORD, I did not buy snack but had a can of Sprite to drink.
After arriving in MCO, I had to wait a little while for my family to come and pick me up. They had flown into TPA earlier on UA and drove across. (It was a little cheaper at the time).
While I was waiting, I walked around the terminal and took a couple of pictures.
Deserted AA check-in at 11pm:
DL ticket counters. Note the new logo!
My family arrived shortly after and we drove to our rented villa where we would be staying for the next 7 nights.
During the week, we spent 3 days visiting Walt Disney World and 2 days at Universal Studios. I won't go into to much detail, since this is an aviation forum, but I will post a few pictures!
Tree of Life at Disney's Animal Kingdom:
Animal Kingdom's newest ride: Expedition Everest:
Sorcerer's Hat at Disney-MGM Studios:
Spaceship Earth at Epcot, I am quite pleased at how well this one came out!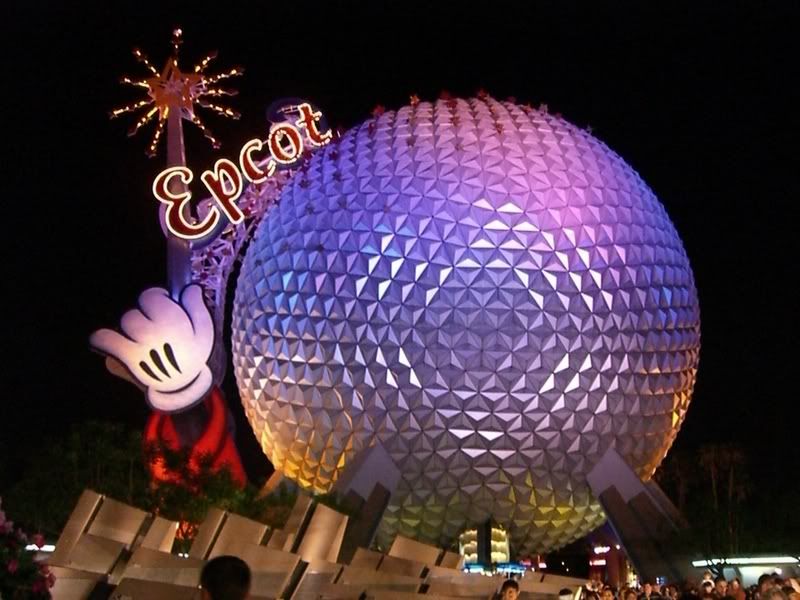 IllumiNations at Epcot:
Cinderella's Castle at the Magic Kingdom:
Somewhere in the middle of "Wishes" at the Magic Kingdom:
Entrance to Universal Studios Orlando:
Entrance to Seuss' Landing at Universal's Islands of Adventure:
Jurassic Park at Islands of Adventure, I was a little annoyed that both torches weren't lit - Oh, well!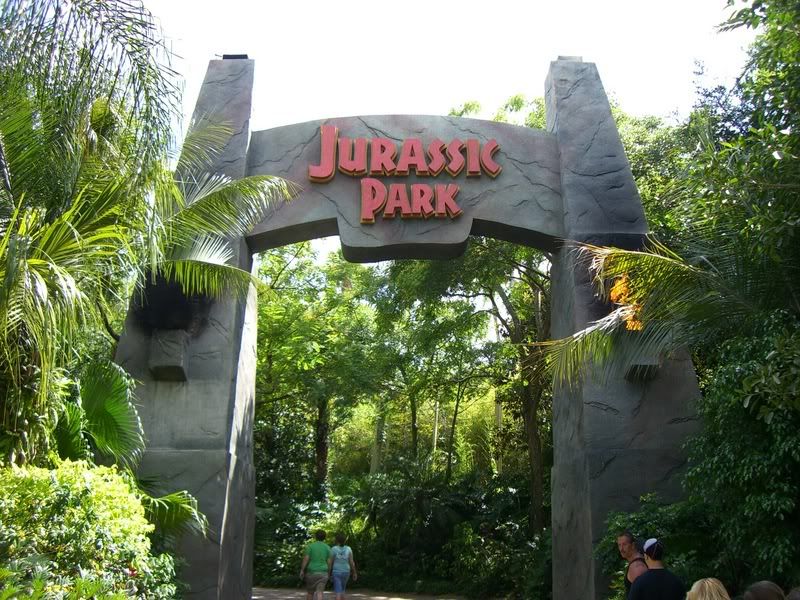 Toon Lagoon:
Overview of the lake at Island's of Adventure, featuring the Hulk Coaster:
After a long week of walking and numerous early mornings, it was time to go home
My family were flying back on Ted non-stop to DEN, but since I booked my ticket at a different time, I had to connect through DFW on AA. I wasn't too disappointed, though, since it had been about 4 years since I was last in DFW!
Date: May 26, 2007
Segment: MCO-DFW
Flight: AA825
Aircraft: Boeing 757-200 with winglets! (N188AN)
Departure Gate: 14
Arrival Gate: A15 or 16
Departs: 1655
Arrives: 1845
Seat: 12F (window)
Departure Runway: MCO Runway 18L
Arrival Runway: DFW Runway 17C
I spent about an hour waiting with my family on Airside 3 by their UA gate until it got a little closer to departure time for my flight. Since Airsides 1 and 3 are accessible via the same security checkpoint, I waited until about 10 minutes before the scheduled boarding time and took the train from Airside 3 to the terminal and walked across to the train for Airside 1. I made it with plenty of time to spare. Since I had some time, I took some pictures in from Airside 1.
Copa 737 completing boarding for its flight to PTY. A Martinair 767, just arrived from AMS, is in the background:
AA MD-80 bound for ORD. The Martinair 767 is in the background. If you look closely, you can see the winglet of the Copa 737 that has just pushed back:
My aircraft at the gate - 757 with winglets!
View out of the window at the winglet and CO gates in the background: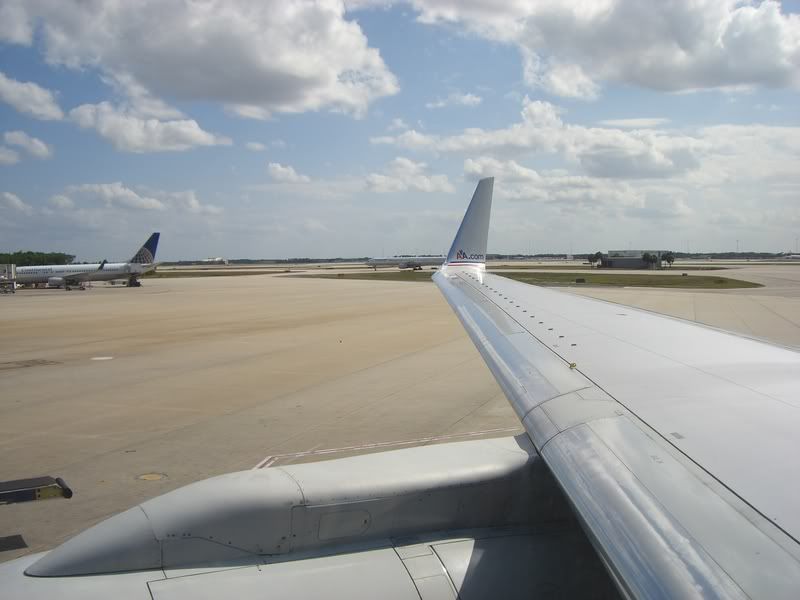 The flight boarded on time. I was in Group 6 this time, so I had some time to wait. Once on board, I was pleasantly surprised to see that the middle seat would remain open for the entire flight. Shortly before the door closed, one of the flight attendants made an announcement for us to close the overhead bins! I have never been on a flight where the flight attendants were too lazy to make the one-minute walk down the aisle to close the remaining open overhead bins! Has anyone else seen this???
Other than that, the service was the same as my flights down to MCO - Whole can of Sprite and snacks for purchase. The movie on the flight was "Because I Said So," starring Diane Keaton and Mandy Moore. I didn't watch, though, since I had my portable DVD player.
Since we left on time out of MCO, we arrived early into DFW. Too early, in fact, which caused us to wait for our gate to open. We were still in the gate early, so I had about an hour and 20 minutes before my connecting flight to DEN. I had not been to DFW since they opened the new Airlink train, so what do you think I did..?
Interior of the train:
American Eagle at the gate:
ATA 737:
Lance the Ocelot, heading to DEN:
No question as to who has a hub in DFW!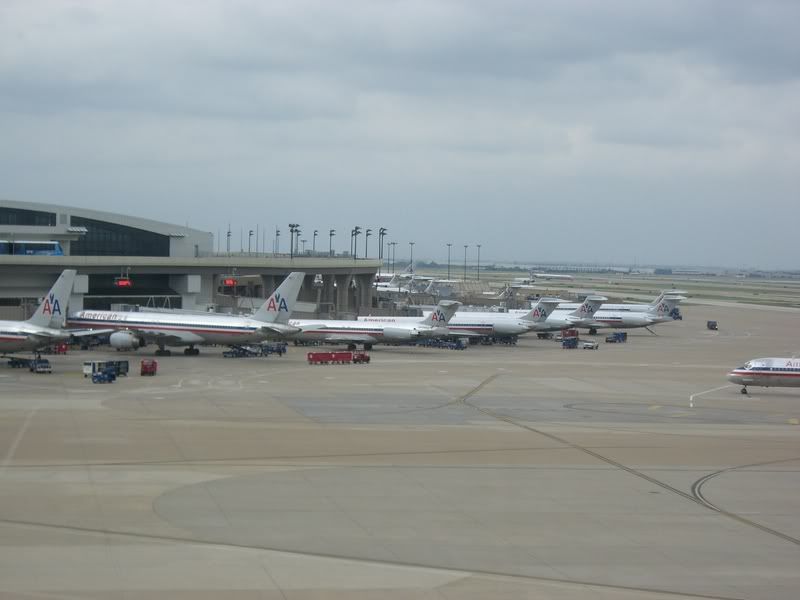 After circling the entire airport on the Airlink train, I arrived at the D Concourse where I would find my departure gate. I looked at the information board and decided on Cousin's Bar-B-Q for dinner. Unfortunately, it took quite a while to circle the airport on the train, and I had to eat it quite quickly! It turned out, however, that my flight was delayed 30 minutes due to a late arriving aircraft - Great, I gave myself indigestion for nothing!
Date: May 26, 2007
Segment: DFW-DEN
Flight: AA1187
Aircraft: MD-80 (didn't get the registration)
Departure Gate: D30
Arrival Gate: C37
Departs: 2000 (actual 2030)
Arrives: 2100 (actual 2110)
Seat: 12A (window)
Departure Runway: DFW Runway 18L
Arrival Runway: DEN Runway 16L
Overview of Gate D30 in DFW:
International Terminal D in DFW:
The aircraft arrived and we began boarding. I was actually quite impressed with how quickly the DFW team turned it! We were closed an on our way in only about 25 minutes! Not bad, considering the flight was almost entirely full.
Luckily, it was a short taxi and we were soon on our way. The flight was quite bumpy to begin with due to some storms in the area, but once we got through, it smoothed out. This was the only flight where I didn't get the whole can, but it was also the shortest, so I didn't mind too much!
Overall, I was quite pleased with my AA experience. Besides the lazy flight attendants on the MCO-DFW flight, the service was comparable to any US airline these days. 3 of 4 flights operated on time - The only delayed flight was due to weather, which I can't really blame AA for!
Thank you for reading, and please keep an eye out for my next trip - Wherever that my be!