ATL-PIT-JFK-BOS: AirTran B717, jetBlue Embraer 190 and Delays
Intro
The intro is rather short today because I already explained the background of my short spotting trip in the first report (MUC-AMS-MEM-ATL). Here's the link for all those who didn't read it:
MUC-AMS-MEM-ATL On NWA A332 And 40-year-old DC-9
(by
PlaneHunter
May 21 2007 in Trip Reports)
Atlanta Spotting, March 10
Early in the morning after my late evening arrival I first enjoyed a large breakfast at the Best Western Atlanta East and then headed to the airport. I went around the whole terminal and soon found out indoor spotting was not possible. Only passengers get access to the five concourse satellites which are connected by a train. So I walked down all the way to the Southern parking garage which offered excellent views of the line-up. There was a permanent crowd of between 10 and 20 aircraft waiting for takeoff, most of the time spread over two taxiways. However, I didn't feel comfortable because numerous cars passed and I wasn't sure about observation cameras. I wasn't interested in engaging anyone's attention with my binoculars – in the past I had been checked several times by the cops at or around parking garages. Then I walked to the Northern parking garage on the opposite side where I had excellent views of the arrivals. But again, I decided not to stay too long – there was simply no way to hang around and spot discretely.
A.net mini-meeting
At noon I contacted a.net user
DAirbus
. Prior to my trip I had asked some ATL-based users about a possible meeting and
DAirbus
had suggested he would probably have time on Saturday. So we finally met in the afternoon and went to the Southern parking garage. He had an airline ID so there was no more reason to be concerned of unpleasant visits by the police. We spent several hours there, watching all the departures and writing down registrations. The line-up was spectacular at certain times, here's an impression from the database:
View Large
View Medium


Photo © Adam Wright
I wrote down more than 200 different aircraft in a few hours – very few airports can match up to that traffic volume. In the evening
DAirbus
dropped me off at the hotel and I prepared myself for the next three sectors on Sunday.
Sunday, 11 March 2007
Atlanta (ATL) - Pittsburgh (PIT)
AirTran Airways FL980
08:20-10:05 (08:19-09:51)
Flying time: 01:17 (hrs)

Boeing 717-2BD
N899AT (s/n 5143), delivered 05/2005
Economy Seat 24A
Check-in
I took the shuttle bus at six in the morning and immediately went to an AirTran self-check-in machine. I picked seat 24A, grabbed my boarding pass and left my luggage at a dedicated drop-off counter. Ten minutes later I had passed security and took the train to concourse C. It was still dark outside so I had to wait until I could write down the first registrations. Later I found out N899AT would operate my flight: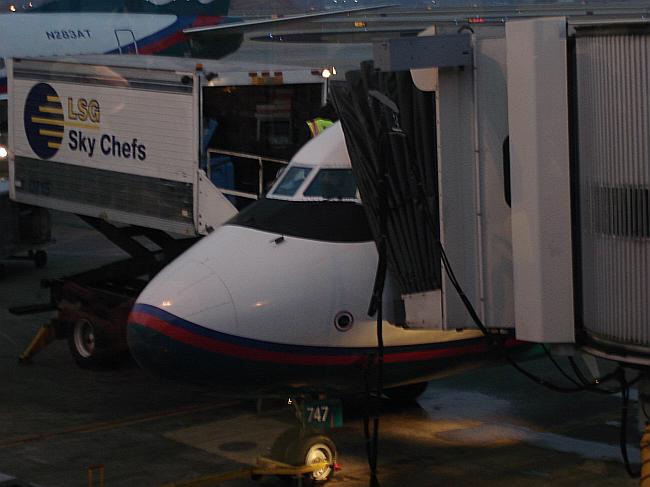 Boarding & Cabin
Boarding started on time, the crowded gate area and a long queue indicated a high load factor. Though the flight was quite full I was lucky and had the row of two seats for myself. Seat comfort and pitch were ok, but nothing special. Cabin pictures from the database:
Pushback followed at 08:19 and I could start logging some more registrations. Parked next to us was N930AT, still painted in AirTran's old colors which I personally liked much better than the current livery.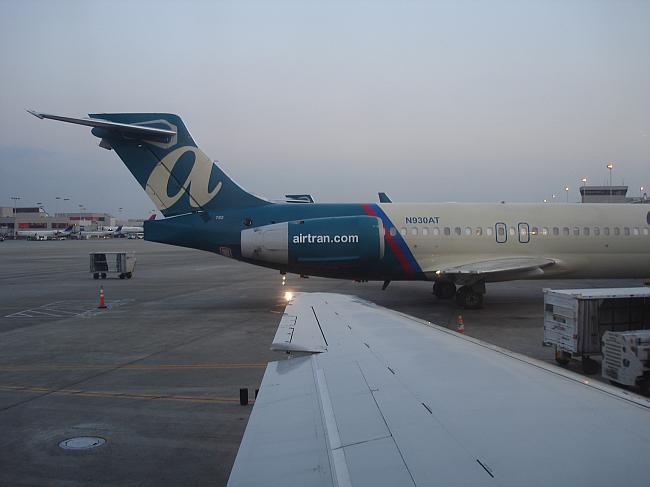 Takeoff
We passed many aircraft on the way to the runway and I was glad the seat next to me was empty – one person less who could wonder about my rush of watching and writing…
There weren't many planes ahead of us lining up and the two Rolls-Royce BR715 engines rather quietly accelerated the aircraft for an unspectacular takeoff. Some FedEx and World Airways freighters parked at the cargo terminals: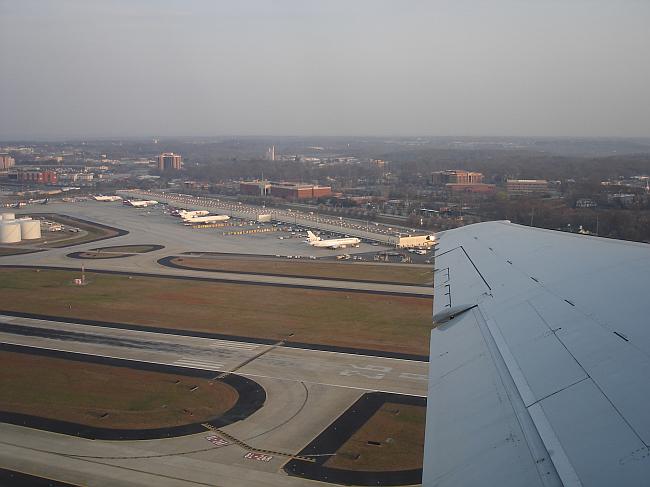 Atlanta's skyline partly illuminated by the early morning sun: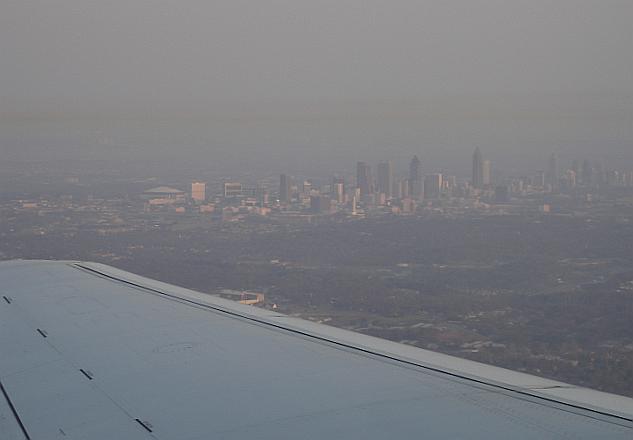 Snack
Some 25 minutes in the flight the FAs started serving drinks and two small biscuits. I ordered an orange juice – served with the obligatory load of ice: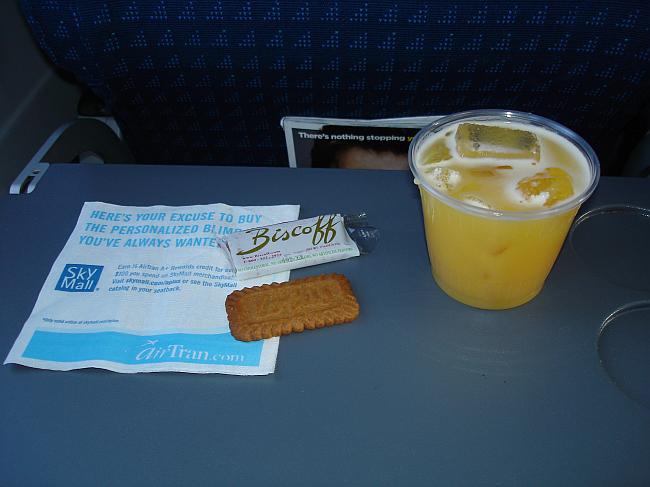 There was no IFE available on the B717, but the scenery below was just as interesting as watching any TV feature. Low clouds covering valleys and cities: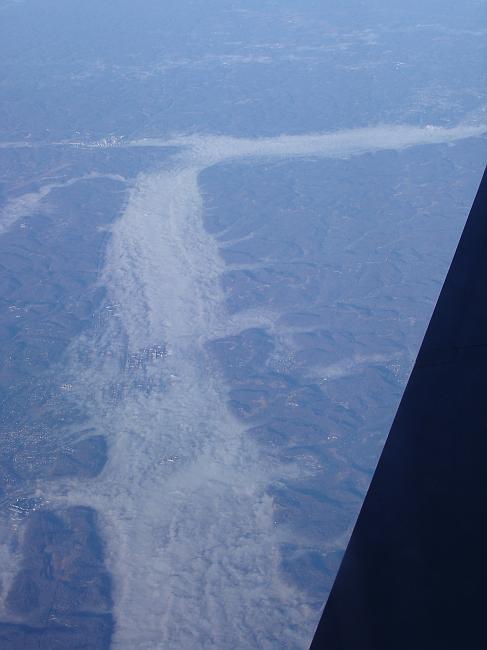 After we started the approach I spotted two large powerplants – a moving map would have been useful now. Would be interesting to know the kinds of powerplants we passed.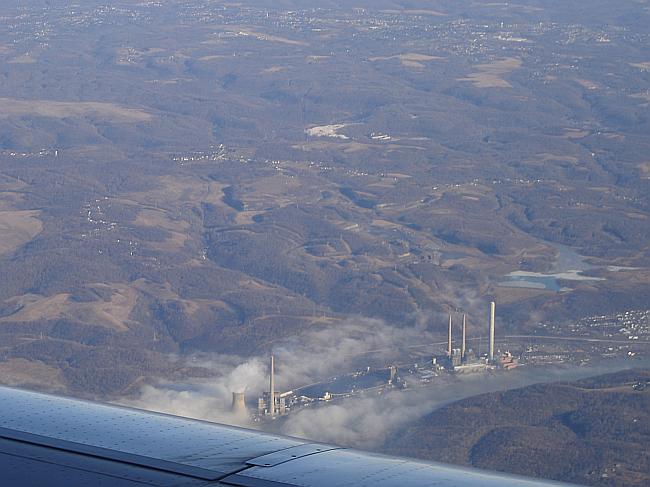 The landscape around Pittsburgh looked beautiful in the bright sunshine and I noticed many hills and apparently noble housing areas, some of them built close to steep hillsides.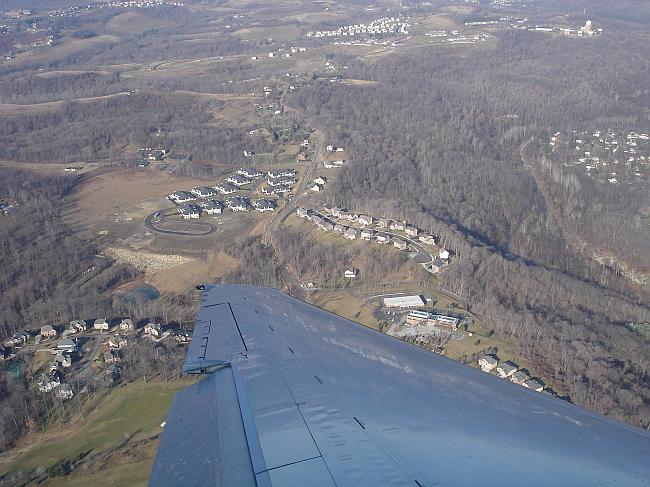 After a shaky final descent we touched down at 9:49 and arrived at the gate only two minutes later. Only few planes were around and the only ones I could log were two ExpressJet ERJ145s.
Flightdeck
Before leaving the aircraft I approached the open flightdeck door and asked the pilots whether I could have a short look at the cockpit.
"Sure"
, the captain said. They were still busy and I didn't want to keep them off from work. Though, I told them I had flown on a 40-year-old NWA DC-9 two days ago and that it were nice to see the difference.
"This is a very modern DC-9"
, the captain answered and smiled. Then he added, referring to the old DC-9:
"That shows what great maintenance can achieve."
A last shot of N899AT parked at the gate: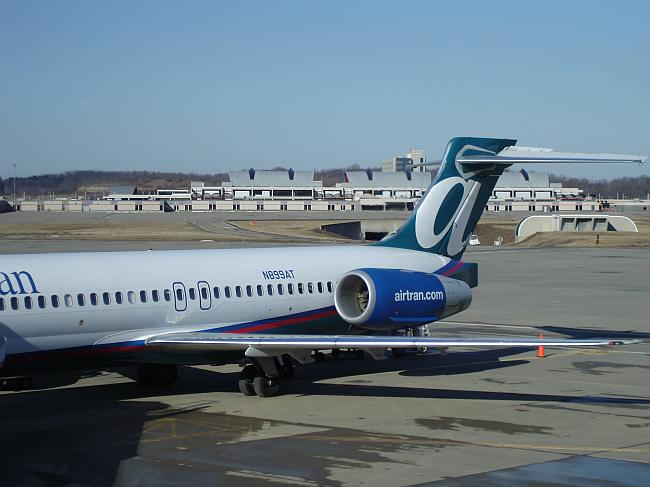 Pittsburgh International Airport
Just when I stepped off the aircraft I noticed PIT is a nice airport to arrive at – modern interiors and bright gate areas. Since I had arrived at the midfield terminal (opened in 1992) I needed to take an underground train in order to get to the landside terminal. On my way I passed walked through the airside mall which comprises more than 90 shops and restaurants – again I was impressed by the modern architecture and the pleasant atmosphere in the terminal complex. Within a few minutes I stepped off the train at the landside terminal and walked to the baggage claim. Though the landside terminal is much older than its new midfield counterpart, it's not less convenient.
It's no surprise that PIT has been frequently recognized for its quality in meeting travelers' needs. The OAG Worldwide listed the facility to its short list of the world's best airports for four consecutive years. JD Power and Associates named PIT among the top five airports in two recent customer satisfaction surveys. Conde Nast Traveler's Magazine named PIT among the best in the United States and in the world.
Here's an aerial view with the midfield terminal (in the middle) and the landside terminal (next to it on the left) – btw, PIT occupies more than 12,900 acres (45 km²), making it the fourth largest airport in the nation.
View Large
View Medium


Photo © Ron Peel
Check-in
After grabbing my luggage I immediately went to jetBlue's check-in counters. I had reserved my seats at the time of booking already so there was no reason to worry about getting a good seat. I fed a self-check-in machine with my data and got an error message – or better said a printed piece of paper.
"Oops! You are too early to check in"
, it said and I read that passengers with bags to check can do so no earlier than four hours prior to departure (two hours for travellers with hand luggage only). I walked around for a while and finally got my boarding passes.
Abandoned Gates – Undisturbed spotting
There's no option to watch any traffic from the landside terminal so I passed through security and took the train to the midfield facility. I soon noticed that large parts of the four concourses are used only sparsely, some areas seemed to be simply abandoned, with not a single person being around – that's the aftermath of US Airways' decision to drop PIT as a major hub in 2004. I took a seat at the glass front and stayed there for several hours, enjoying undisturbed spotting. Quite odd to be surrounded by total silence in an airport building.
Sunday, 11 March 2007
Pittsburgh (PIT) – New York (JFK)
jetBlue Airways B6 1056
15:30-17:10 (16:23-18:11)
Flying time: 01:12 (hrs)

Embraer ERJ-190AR (190-100IGW)
N236JB "Blue By Design" (MSN 19000035), delivered 06/2006
Economy Seat 24D
View Large
View Medium


Photo © Josh Akbar
MyAviation.net photo:


Photo © Jeremy Lindgren
On-time arrival
About 45 minutes before the scheduled departure time I walked back to concourse C and my to gate 56 (very appropriate for flight B6 1056). Embraer 190 N206JB was just being pushed back for its nonstop flight to Boston. Originally I had evaluated booking this nonstop service, but then I had found a connection via JFK which wasn't much more expensive. Then I was glad about spotting N236JB at the tarmac, arriving on-time from JFK.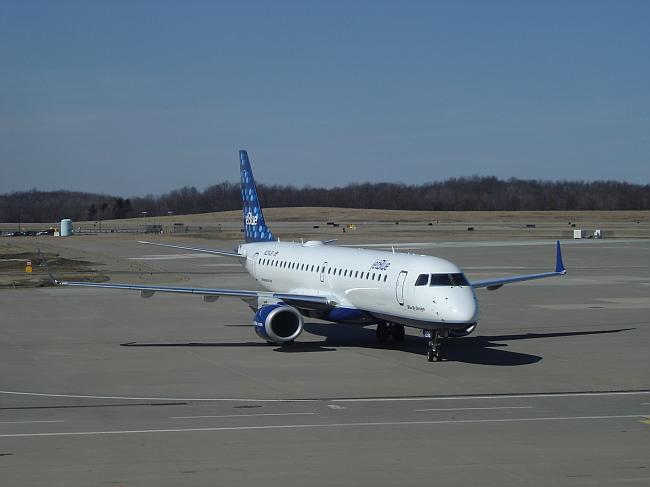 Concerns
In the weeks before my trip I had carefully followed the reports about jetBlue grounding the E190s in order to eliminate software glitches. Two E190s had to be grounded at one time over several weeks and jetBlue replaced them with four ERJ-145s leased from ExpressJet. So until I spotted N236JB I had always been concerned about a possible aircraft change or other consequences. N236JB is named "Blue By Design", wearing the "Super Dots" tail: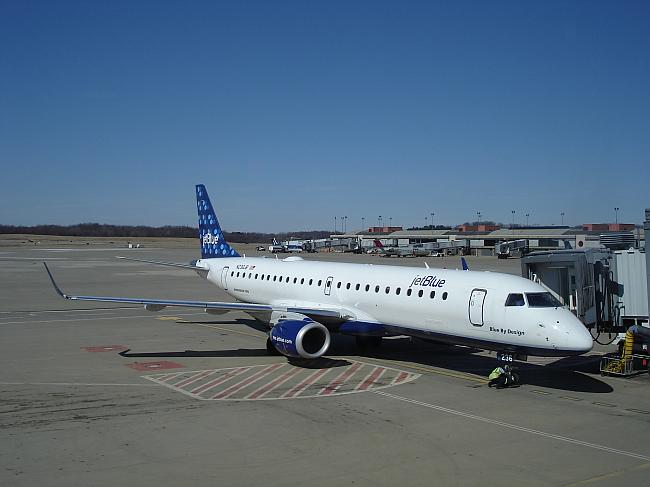 Delay!
Preparations seemed to proceed normally and I was waiting for the boarding call, when a bald guy in a blue shirt (who later turned out to be the captain) took the microphone:
"…beautiful weather on today's Sunday afternoon all along the East Coast and everybody wants to go to New York. So the ATC has stopped accepting more aircraft in the air and we have to re-schedule. Our new departure time is 16:40."
That meant my transfer time at JFK would shrink to 25 minutes and a further delay could even screw up the connection. I went to the desk and talked to the captain who was willingly answering passengers' questions. I asked him about the consequences of a missed connection and he replied that I would be transferred to another flight. I still remembered that even months ago some of the later services to BOS had been sold out.
"What if the others are full?"
, I asked.
"Then you get a flight on the next day"
, he answered. Though, he added, I wouldn't get a free accommodation because the delay was beyond the airline's control.
"But I'm sure we will make it to JFK in sufficient time, flying time will be less than an hour"
, he said. I was glad my return flight from BOS on the next day wouldn't depart until 19:00 in the evening...
Boarding
Time passed and I noticed at least one mechanic entering and leaving the aircraft several times. Really an ATC delay or rather a problem with the Embraer?, I thought for a moment. My concerns disappeared quickly:
"Thanks for waiting, we are ready for boarding"
, the ground staff announced a few minutes after 16:00.
Cabin
Friendly FAs welcomed me on board and I was right away impressed by the spacious and bright cabin. Pictures from the database:
View Large
View Medium


Photo © John padgett
I went down to my row and the next positive surprises were the more-than-generous legroom, the comfortable leather seats, the large window and plenty of headroom. No curved wall as common on many other types: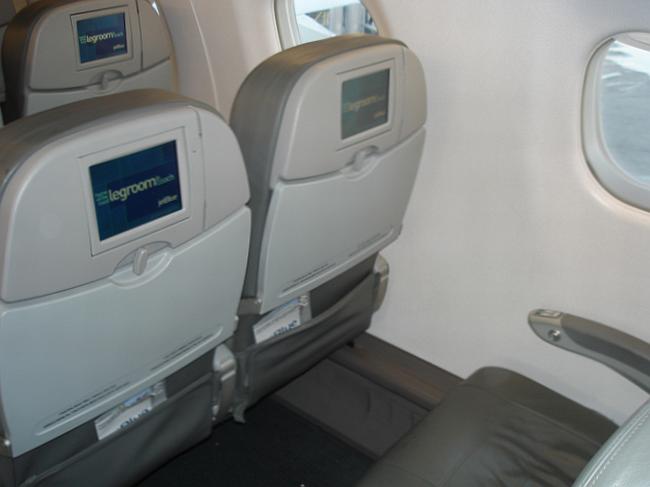 The seat pitch was simply amazing. I knew B6 had increased the pitch since my last ONT-LGB-ONT flights some years ago but I didn't expect so much. Another positive aspect: no IFE box. Transatlantic travel would be like heaven with such a pitch in Economy...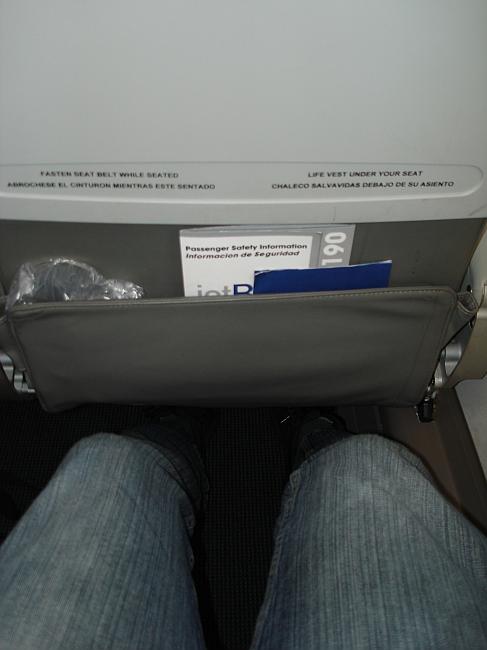 Waiting again...
The captain announced boarding had been started early so that any chance could be taken to leave the ground sooner than expected. Though, our pushback was delayed for a while because some passengers had not been back at the gate yet. Finally we were pushed back at 16:23.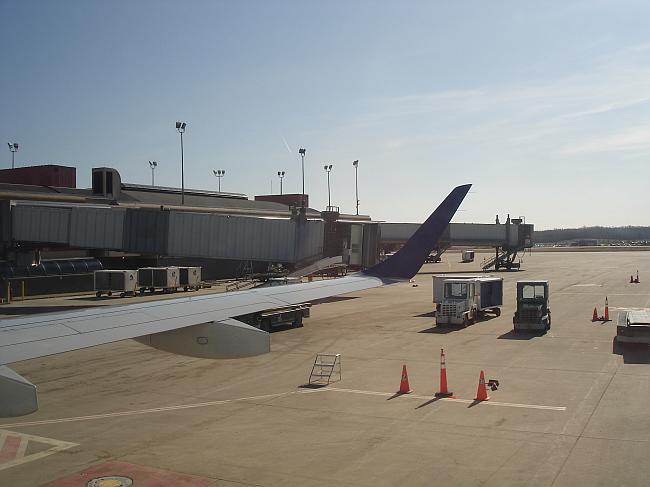 Takeoff
On the way to the runway we even overtook an ExpressJet ERJ-145, but then we stopped again and had to wait more than 15 minutes for final clearance. Exactly at 16:45 N236JB started accelerating and I was impressed by the powerful takeoff.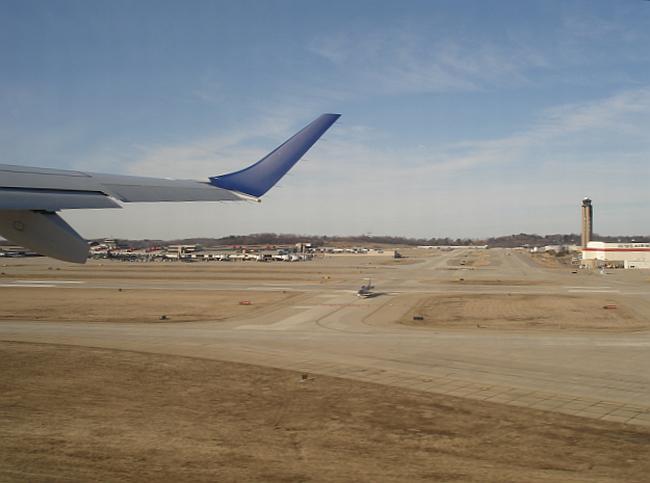 Passing the midfield terminal…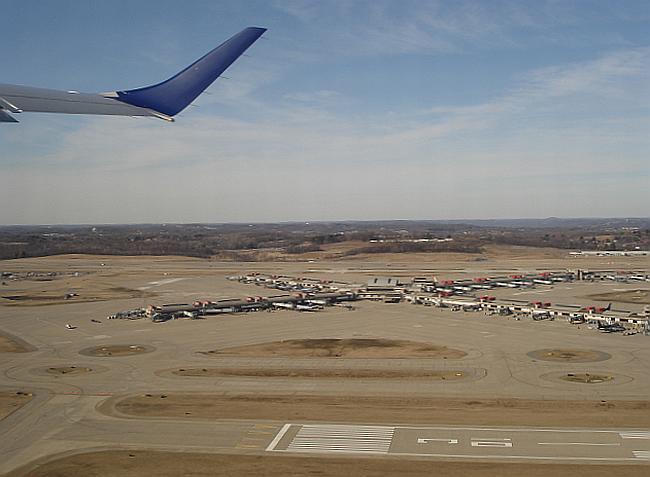 …the landside terminal…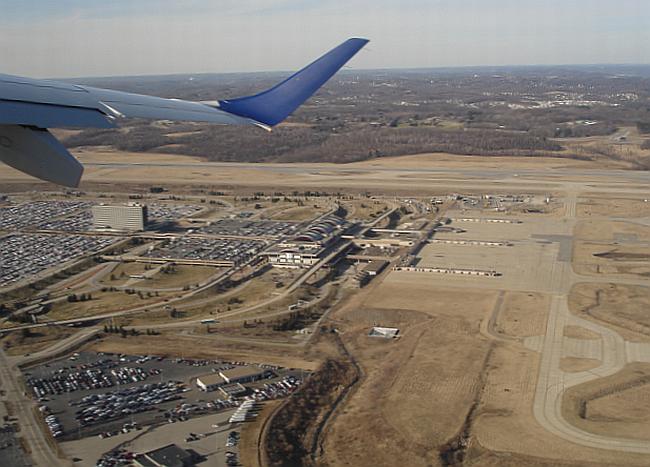 …and a large car park: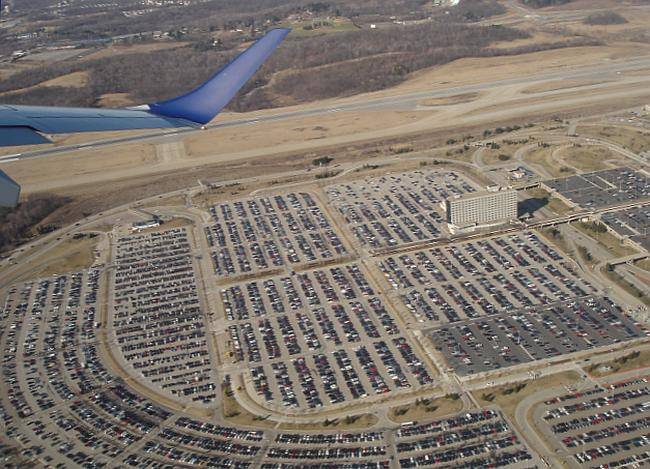 Airport overview…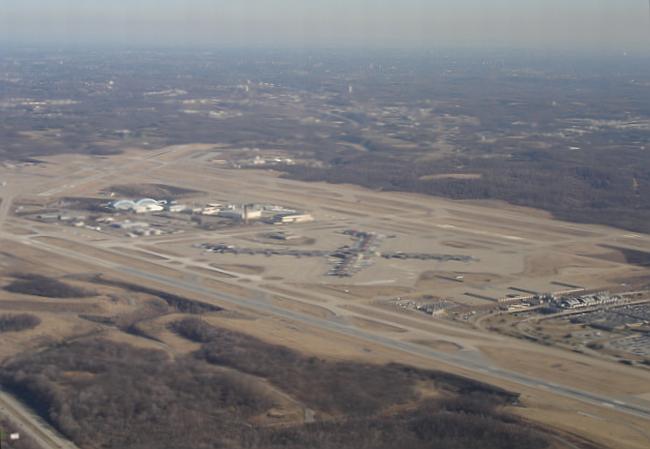 …and the skyline of Pittsburgh in the background: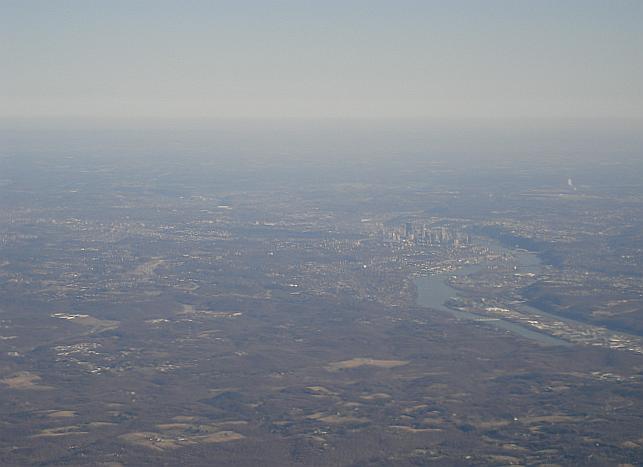 IFE
jetBlue's famous IFE comprises
DIRECTV
with a selection of 36 channels of live television, a moving map, 100 channels of XM satellite radio and, at extra charge, FOX inflight movies. Interestingly, we first headed north before turning east: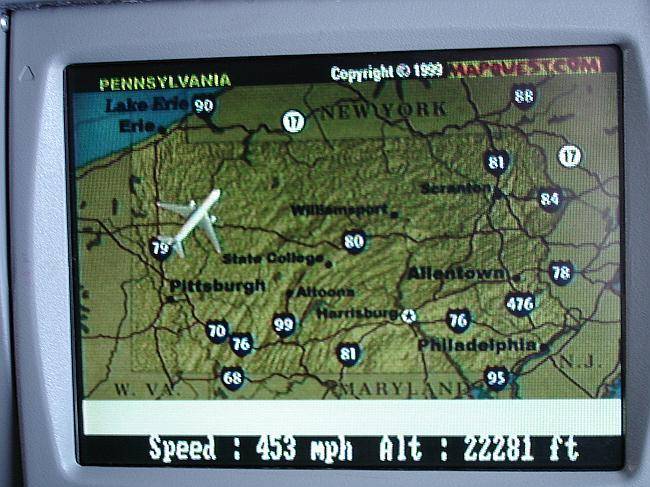 The moving map channel was regularly interrupted by jetBlue advertising – actually very funny to watch: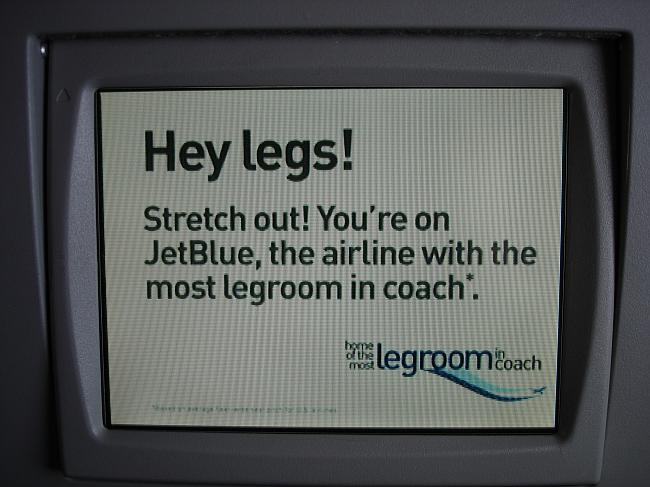 No further comments necessary!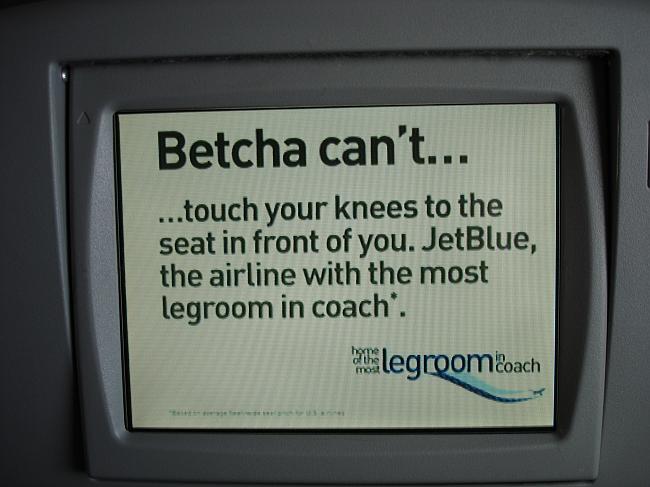 Updates
Some passengers asked the FAs about the arrival time and I did the same – a male FA promised he would be back with an update later. Meanwhile I enjoyed the scenery from 37,000 feet: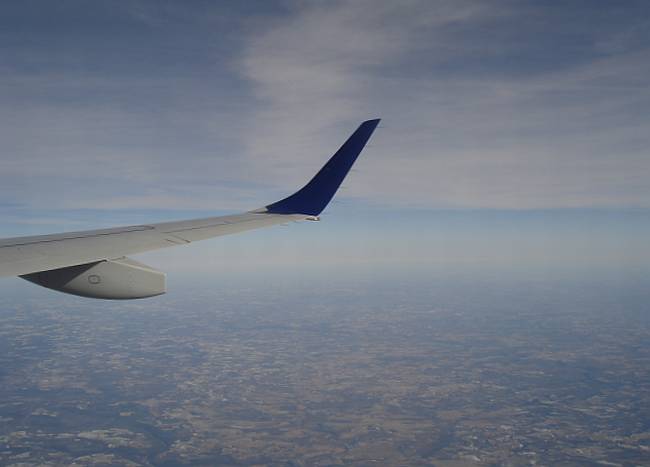 Snack
On-board service started and the FAs announced that due to the short duration of the flight only Sprite, Coke or water would be available. Though, they also offered a second drink so I took a bottle of water and Sprite on ice. Several snacks were offered in a basket, e.g. the famous
Terra Blues Chips, Chocobillys chocolate chunk cookies and Mrs. GoodCookie Jungle Crackers
. I went for the cookies which were quite tasty.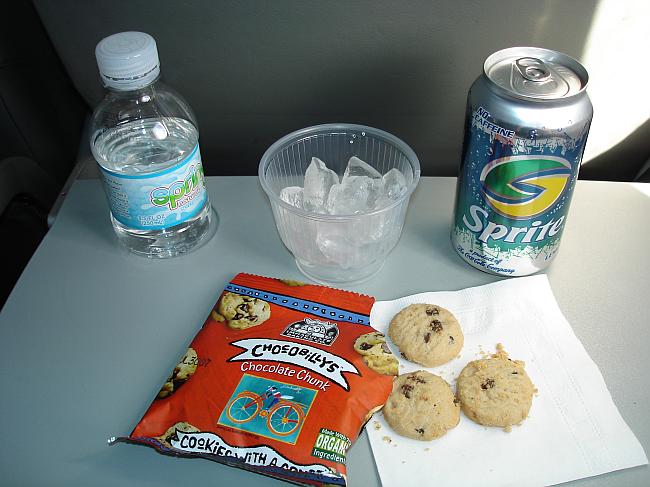 Descent
The FA I had asked earlier came back after a while and told me the new planned arrival time at the gate. Descent was started and after spotting Newark Airport I knew Manhattan would emerge straight away. Too bad I faced the sun which negatively affected the pictures' quality. Manhattan…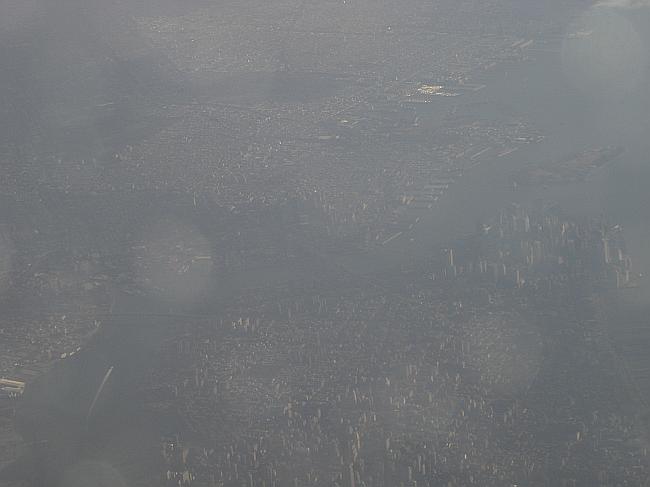 …and John F. Kennedy Airport: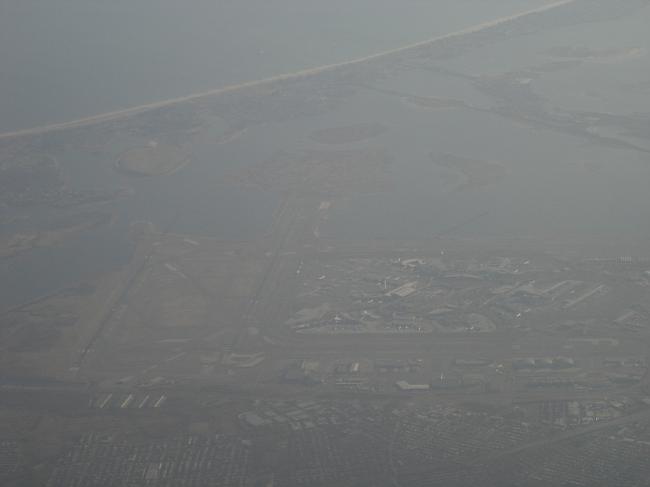 We headed towards the ocean and had to fly several wide loops before starting the final descent into JFK.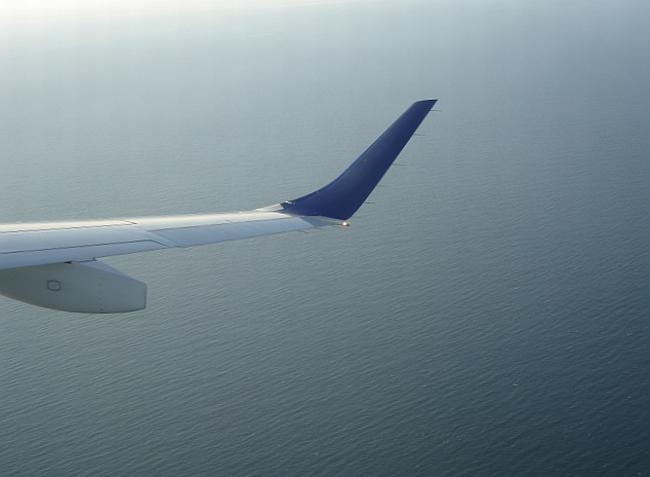 We had already passed the anticipated arrival time and I was getting a bit nervous again. I didn't worry any more about changing planes itself because the FAs had announced the BOS flight would depart from the adjacent gate. However, I wasn't sure whether my luggage would make it.
The coastline in beautiful evening sunlight: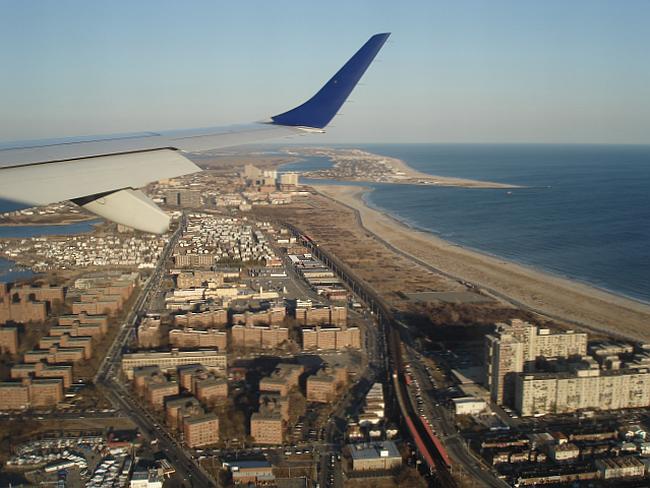 Moments from touchdown…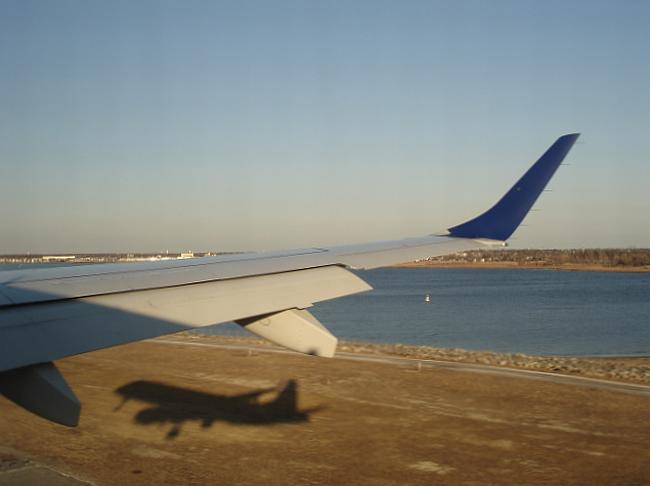 …which followed at 17:57. Then we were stuck at a taxiway and had to wait several minutes until we could cross another runway. Soaring into the sky like a rocket: the Empire State Building.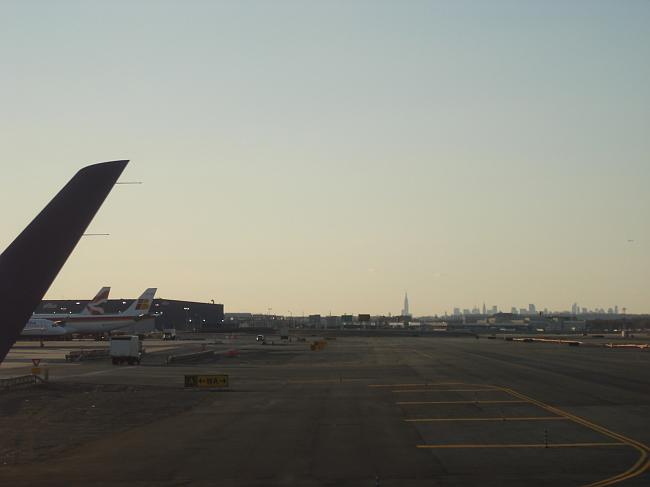 Engines were finally shut down at 18:11, exactly one hour late.
JFK – chaos at Terminal 6
When I stepped off the aircraft I was surprised to find myself in the middle of an overcrowded terminal, with masses of passengers standing around in queues or sitting on the floor due to a lack of seats. I went to the counter at the gate where my flight was scheduled to depart and asked a jetBlue agent about the luggage transfer. Just in the moment when he said everything would work out I realized that the flight number at the monitor was a different one – actually my flight to BOS was delayed more than two hours to 21:00. Most other flights were delayed as well, some of them severely. That explained the chaos in the concourse which was simply too small for the masses of delayed passengers.
Spotting was no option due to limited views, sitting down in the gate areas wasn't possible either and so I explored some shops and restaurants in the central terminal area. The same here, masses of people – and long queues at the jetBlue transfer and information desks. Only a few weeks after the airline's Valentine's Day ice storm debacle many more customers would be frustrated again – this time due to ATC congestion. Interestingly, there were provisional additional security checkpoints close to the restaurant area – that terminal hopelessly lacks space. Hopefully these circumstances belong to the past soon. In 2008 jetBlue is expected to move to its new home, terminal 5 – once an architectural masterpiece owned by TWA and vacant since 2001.
Sunday, 11 March 2007
New York (JFK) – Boston (BOS)
jetBlue Airways B6 1016
18:45-20:20 (20:53-22:22)
Flying time: 00:40 (hrs)

Embraer ERJ-190AR (190-100IGW)
N183JB "Azul Brasileiro" (MSN 19000007), delivered 09/2005
Economy Seat 22A
Boarding
After I had somehow spent more than two hours in the crowded gate area boarding was started at 20:30. The aircraft was N183JB, wearing the "Harlequin" tail design – the first ever Embraer 190 delivered to jetBlue on September 13, 2005. It was named appropriately "Azul Brasileiro" back then. Boarding was completed soon but pushback wouldn't follow until 20:53.
Waiting in line…
While we headed to the runway the captain apologized for the delay and explained we would have to wait again due to the large number of departures. Then we waited some 40 minutes (!) on a taxiway – for a 40-minute-flight.
After a Turkish Airlines A340-300 we could finally turn in and depart at 21:37.
After climbing out over countless lights the flight remained uneventful. Drinks and snacks were offered, this time I grabbed the famous
Terra Blues Chips
and watched the airshow channel.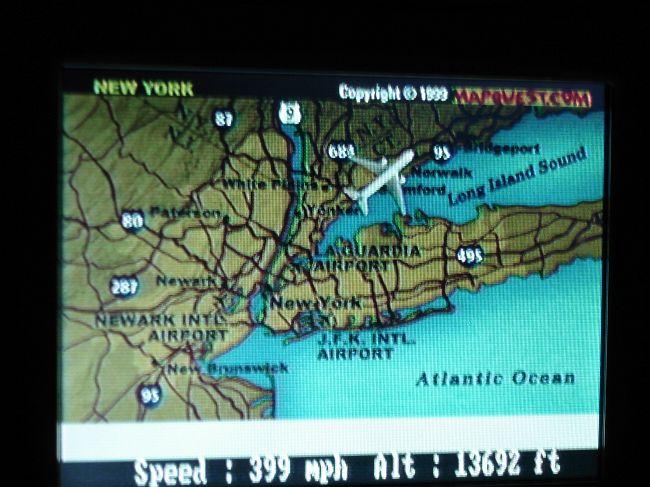 Some funny ads appeared again. First I learned about the "Shut-Eye Service" and then…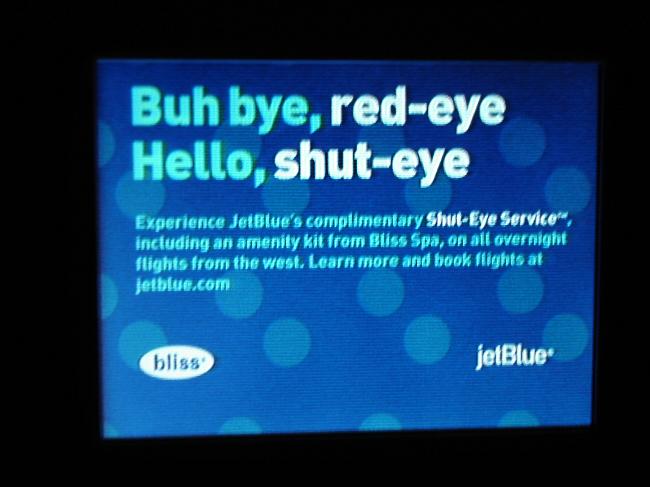 …followed my favourite: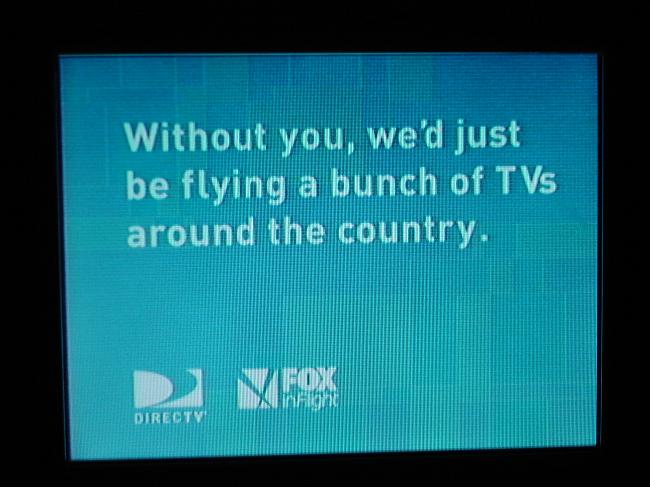 Safety card
We touched down at 22:17 and arrived at the gate within five minutes. I asked to take a safety card (with the "Mosaic" design on the cover page) and a friendly male FA gave a me a brand new one from a storage compartment.
I was glad the trip had worked out in the end and all I needed was my luggage. After waiting further 30 minutes I could grab my bag and called the Days Inn Shuttle which arrived only 15 minutes later.
Conclusion
AirTran Airways
is a convenient LCC that flew me to my destination on time – but there's nothing special about it. Seating comfort was ok as well as the limited service. I would fly them again if necessary or if the fare is attractive, but it's not my carrier of choice. One negative aspect I remember is the online booking process. When I entered my data I could choose a country, but then I had to choose a US state or a Canadian province from a list. Unless doing so it was not possible to finalize the booking.
Since I wanted to get the fare I simply chose a Canadian province – which automatically changed my country to Canada. Then I informed the customer service via email which reacted within two days and changed my data manually. At least the friendly agent had promised to pass on the issue to the IT department. I don't know whether the problem still exists.
The
jetBlue
experience already started when I booked my flights. They run an excellent website with personal touch. Booking is very easy and you can immediately choose the seats for all sectors. Flying jetBlue has become even better since last time in 2002 – usually it's the other way round and airlines cut their service. The IFE is a very welcome feature but what's the best is the enormous legroom. All that in combination with the Embraer 190's spacious and quiet cabin results in an truly enjoying and relaxing flying experience. It's also nice to see jetBlue is more generous with snacks and drinks than many other LCCs. Though, they should evaluate the option to buy food, probably on the longer flights. What I also noticed once again is the motivation of ground staff, FAs or other employees. Where else do pilots ask questions of concerned passengers? jetBlue has the personal touch which most other carriers lack.
I was delayed twice, by a total of more than three hours, but it wasn't the airline's fault. After returning home I was surprised to find a 50 USD-travel voucher in my email-box. According to their "Bill of Rights" that was a compensation for the two-hour delay of my Boston flight. Too bad the voucher can only be used for telephone reservations, but I can't use it anyway in the near future.
jetBlue's current terminal 6 at JFK is awful and a pain to transfer when anything goes wrong – but that problem should be solved with the opening of their new home next year.
jetBlue
continues to belong to my favourite carriers and the
Embraer 190
(or better the Embraer E-Jets) now belongs to my favourite aircraft.
I can't wait to test the other family members, too.
Next report: BOS-JFK-AMS-MUC (Comair CRJ, KLM B772 & B734).
As usual, comments, opinions and questions welcome!
Best Regards,
PlaneHunter
[Edited 2007-05-30 14:42:45]