MUC-DXB
EK050
20 May 2007
STD: 15:45 on-time
STA: 23:45 on-time
Seat: 20J
Load factor: about 70% in Economy
A330-200
A6-EAO
Built and delivered in March 2003
View Large
View Medium


Photo © Konstantin von Wedelstaedt
A friend and I have been thinking about visiting Dubai for years. This year, we decided to finally do this trip, booking a five-days holiday and flights on Emirates. We're both living near Stuttgart, and as there are no direct flights STR-DXB (yet?), we booked flights from/to MUC. We took the car to MUC, where I gave my car key to a friend of us (who is working at MUC airport), she took care of my car during our holiday so I wouldn't have to pay for parking fee - great!
Emirates check-in is located in Terminal 1, which was not really busy this early sunday afternoon. Three counters open, only five minutes in the queue, then a friendly female agent checked us in. We got boarding passes with assigned seats 20J and 20K, a window/aisle combination. Then we went through security and had a drink at the bar in front of our gate, where I took this photo of our aicraft: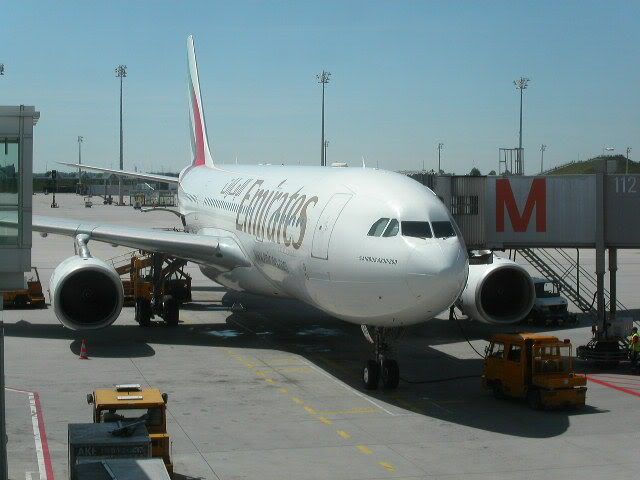 Soon boarding was called, and it became clear that this flight wouldn't become full, I guess the Economy load factor was about 70%. The friendly, multi-national crew welcomed us at the aircraft door, and we took our seats.
View Large
View Medium


Photo © Keattisak Thiensiriyakanon(Aerosurfer)
Economy configuration is the normal 2-4-2 (by the way, I was surprised they had 2-3-2 in Business!), the seats are comfortable and legspace at least sufficient. PTV, which is important to me - with the PTV boxes under the window seats, so that didn't disturb me as they were in front of my friend's seat
and she didn't mind about that.
The cabin crew made their welcome announcement, informing us about the languages spoken by the cabin crew: Arabian, English, Mandarin, Serbian, German, and some other languages I can't remember. Wow, those Emirates crews are really international! Anyway, the only German f/a was working in the front classes. The pilots also made an announcement about flight time and routing, apparently both our pilots were US-Americans today.
Doors were closed, and we started rolling towards runway 08R. It was nice to follow push-back and taxiing on the PTV / front-view camera. Take-off a few minutes later.
The routing:
Munich-Austria-Yugoslavia-Greece-Cyprus-Lebanon-Syria. I thought we would be flying over Iraq, but as you can see, our captain avoided Iraqi airspace: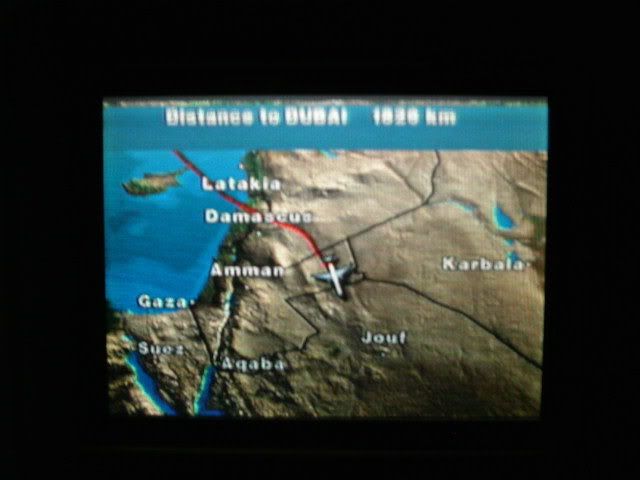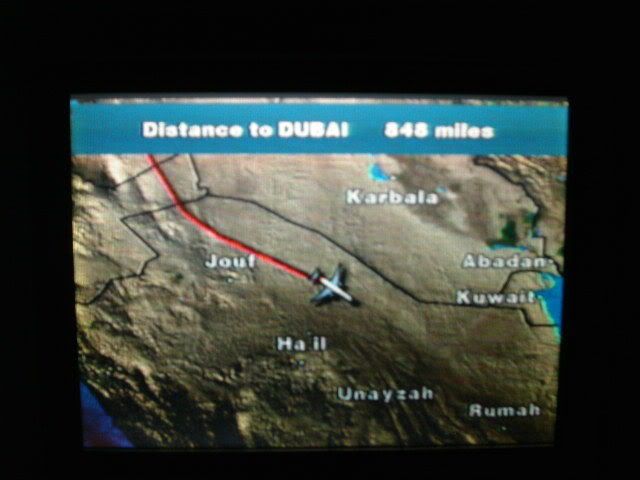 Then along the Saudi-Arabian/Iraqi boarder, Doha, Persian Gulf and finally Dubai.
The inflight entertainment:
Video: Inflight entertainment was started a few minutes after take-off. There were 15 TV channels (but no AVOD), plus 3 airshow/on-board-camera channels. I didn't watch any TV on this flight, but according to the inflight magazine, they were showing e.g. Romeo&Juliet and Ocean's 12 on this flight.
Radio: A feature I used much more on this flight was the radio programm. 25 radio channels, which show how international the Emirates passengers are: all sort of music from all parts of the world. And they even had a channel "the holy Qur'an" which I unfortunately didn't find too entertaining to listen to... So I spent quite some time listening to the two German radio programmes, where they played some great music. By the way, the German radio programms were presented by Kristiane Backer. I hadn't heard anything about her for years. So you see what happens ten years after you have left MTV - you're qualified to present Emirates' in-flight radio program
Games: dozens of video games, but apart from some "tetris" (good old times!) I didn't play much.
Meals
30 minutes after take-off, beverages and pretzels were offered. "All drinks served are complimentary with the exception of champagne (8USD)". We both had only non-alcoholic drinks, mostly water, juices or Pepsi.
Meal menu cards were given out. Today's choice was between Chicken tikka served in a creamy masala sauce, with basmati rice, aubergine, tomato ragout
or
Roasted fillet of salmon, served with mustard and lemon sauce, with tagliatelle, broccoli florets and carrot batones.
Appetiser of both meals was Bresaola (air-dried beef with vegetable salad), salad with dressing, and a "Banoffee torte" for dessert.
I had the chicken: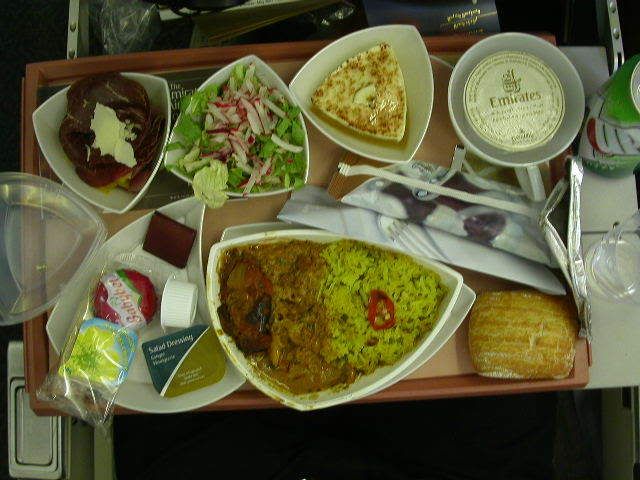 My travel companion had the salmon: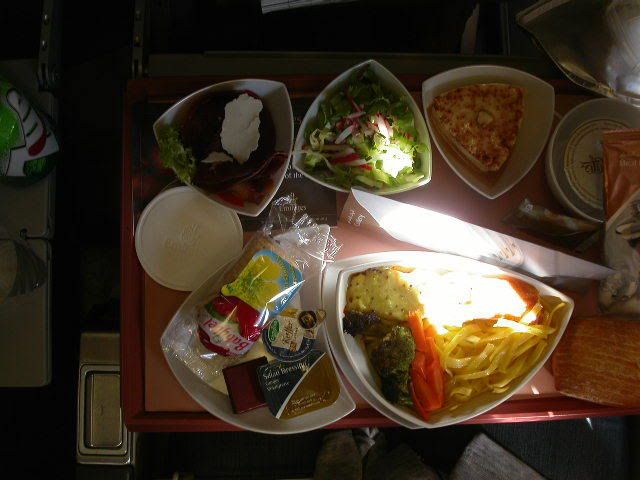 Meal was quite all-right both quality- and quantity-wise. Nothing more and nothing less than what I expected on a 5.5 hours flight.
Not much more to tell about this flight, it became dark outside. I addition to that, we were sitting above the wing...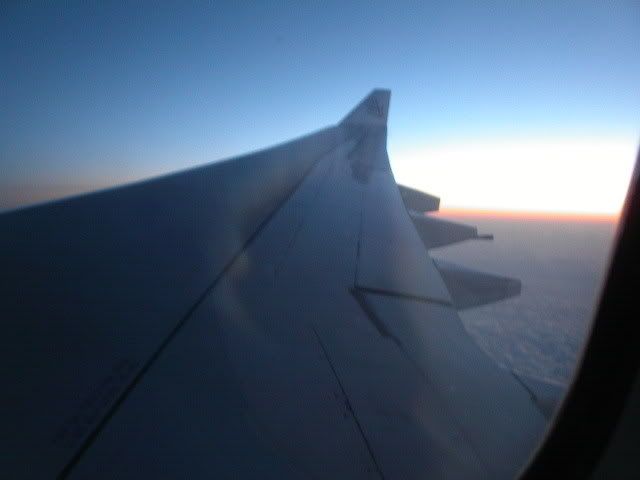 ...so I can't even bore you with my infamous air-to-ground pic selection
It's a pity that we were sitting over the wing, because according to the "Aaaah"s and "Ooooh"s of the passengers sitting behind us, the nightly approach into DXB must have been nice: We approached Dubai from the North, passed it in the East, and then made a 180° durn to the right, and then landed in Northwestern direction. Anyway, all we could do was following the approach on the PTV / front-view-camera.
After landing, an announcement was made that we were going to be bussed to the terminal. Who would have thought that, on a large airport like DXB? But it was midnight local-time now, quite a busy time at DXB, so there were really all jetways in use. When doors were opened, the curtains between Economy and Business were closed again, in order to let the Business passengers leave the aircraft first. I always get an impression like if I'm travelling on the Titanic when they do this... Anyway, five minutes later we were allowed to leave.
The bus gave us a complete airport tour, we passed dozens of planes (mostly Emirates), it's really amazing how huge but DXB airport and Emirates are. Another 10 minutes queueing at passport control, so when we arrived at the baggage reclaim, our bags were already there.
We took a taxi to our Hotel, the Habtoor Hotel Jumeira Beach, a great hotel where we spent five nice holidays. Some Dubai impressions, for those who are interested:
http://img.photobucket.com/albums/v5...1/ContactAir/DXBMay07/PICT0288.jpg
http://img.photobucket.com/albums/v5...1/ContactAir/DXBMay07/PICT0289.jpg
http://img.photobucket.com/albums/v5...1/ContactAir/DXBMay07/PICT0300.jpg
http://img.photobucket.com/albums/v5...1/ContactAir/DXBMay07/PICT0304.jpg
Dubai Skiing:
http://img.photobucket.com/albums/v5...1/ContactAir/DXBMay07/PICT0297.jpg
Our hotel (as seen from the beach):
http://img.photobucket.com/albums/v5...1/ContactAir/DXBMay07/PICT0313.jpg
The beach at night:
http://img.photobucket.com/albums/v5...1/ContactAir/DXBMay07/PICT0311.jpg
We really enjoyed our stay at Dubai. The city is very impressive, everything is huge and luxurious, but with construction sites everywhere, so Dubai is becomming even bigger. And of course some nice beaches. One thing that we wondered about: visibility around Dubai was quite low, and we both couldn't really tell if this was caused by smog, sandstorms, huminity, or maybe a mix of everything.
Five days later, it was time to fly back.
DXB-MUC
EK051
25 May 2007
STD: 16:30 on-time
STA: 20:55 20 minutes ahead of schedule
Seat: 38B
Load factor: about 80% in Economy
A330-300
A6-EKT
Built and delivered in August 1999
View Large
View Medium


Photo © Florian Kondziela
Our taxi arrived at Terminal 1 four hours before departure, because 12:00 was latest check-out time at our hotel. At DXB, you go first through a security control wher your bags are x-rayed, then you go to the check-in counters. Just like everywhere in the world, those stupid check-in machines were also here in Dubai. But we preferred to go to a staffed counter, there were no queues there anyway. The friendly female agent checked us in, our bags were still not over-weight (I had my fears, I didn't buy much at Dubai, but, you know, women do...). As we didn't want to sit over the wing again, we asked for a window/aisle combination in the rear part of the cabin, and got 17E and 17F (aisle and middle). Once again we repeated our preferred seats, and she changed us to 21J and 21K. When we once again repeated our preferred seats, she changed us once again, this time to 38A and 38B, the very last row, and those seats were much better because they do offer some nice view outside.
Passport control was quite unfriendly. I don't expect much, in fact all I expect from them is a "good afternoon", a stamp into my passport, and the a "goodbye". The woman there said neither "good afternoon" nor "goodbye", and she also mis-placed the stamp in my passport.
While my friend was desparate to do some more shopping now, I wanted to explore the airport, so we split up.
Dubai airport is a huge duty-free shop paradise: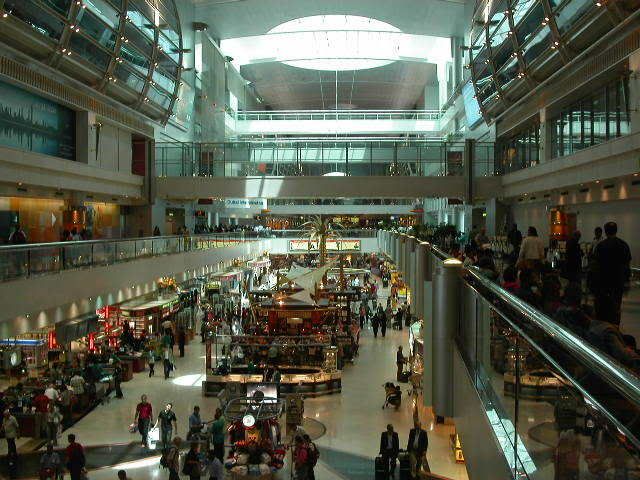 But it also offers some nice views outside: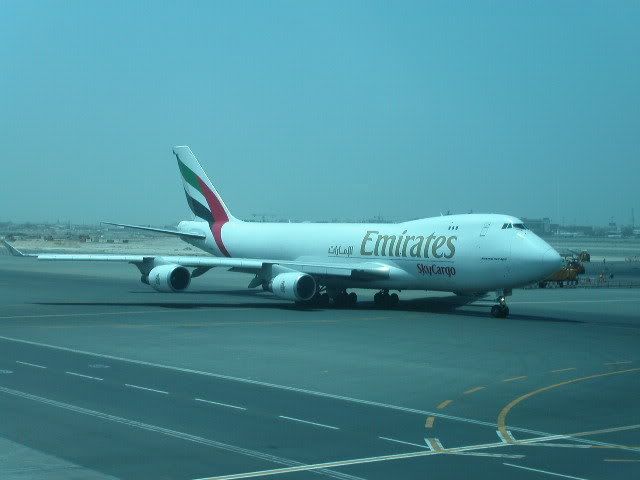 At 15:00, our aircraft arrived. Our parking position was quite narrow, the aircraft parked so close to the terminal window - literally only about 1 meter from the terminal window to the winglet of our aircraft: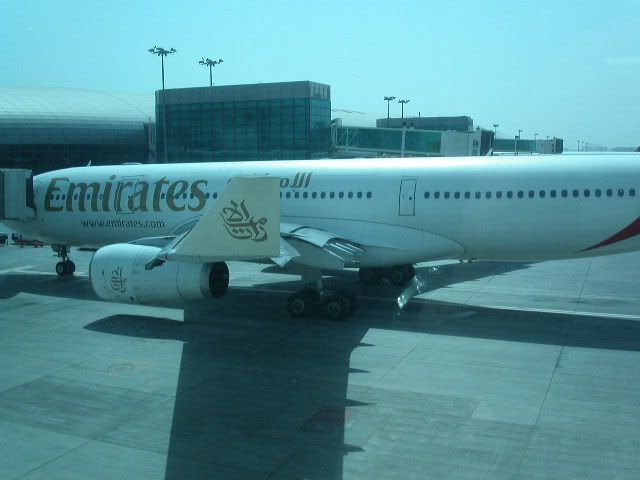 Boarding was called at 15:45, this time it was a jetway, or better: two jetways, one for F and C, the other one for Y. We took our seats in the last row, and watched the aircraft filling up, load factor this time about 80% in Economy.
Just like on the outbound flight, the crew welcomed us via the PA and informed us about the languages spoken by the crew. Once again, German f/a's only in Business/First. We pushed back on-time and took off in northeastern direction: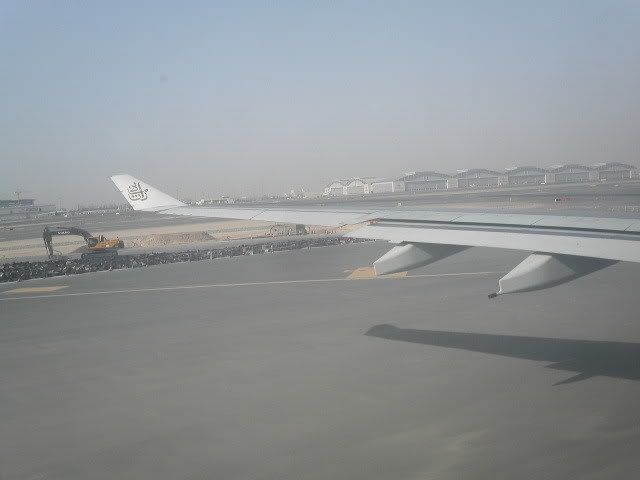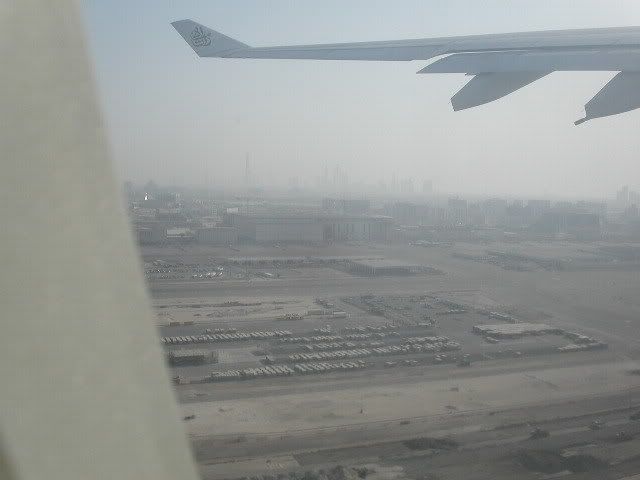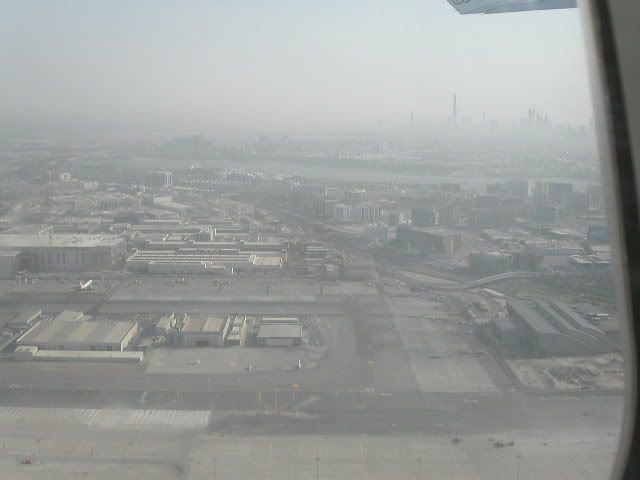 Dubai: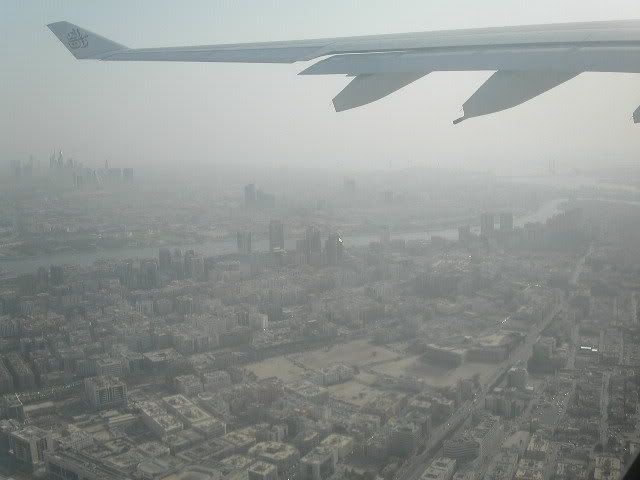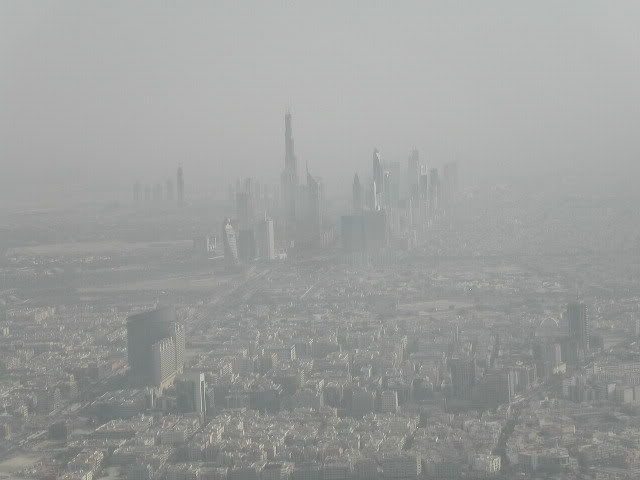 Just like the whole flight, our routing was similar like on the outbound flight, once again we avoided the Iraq: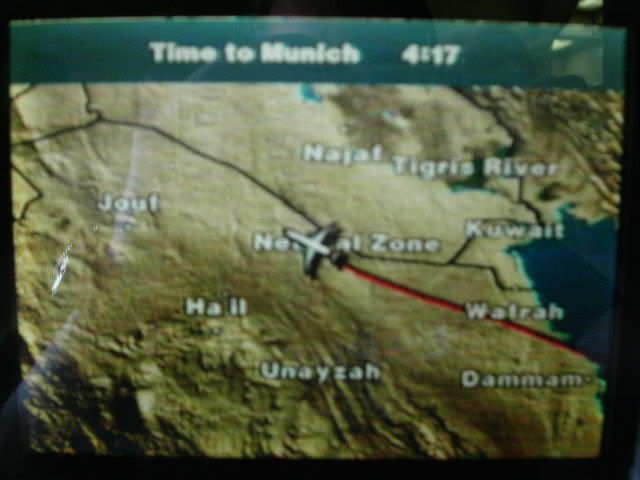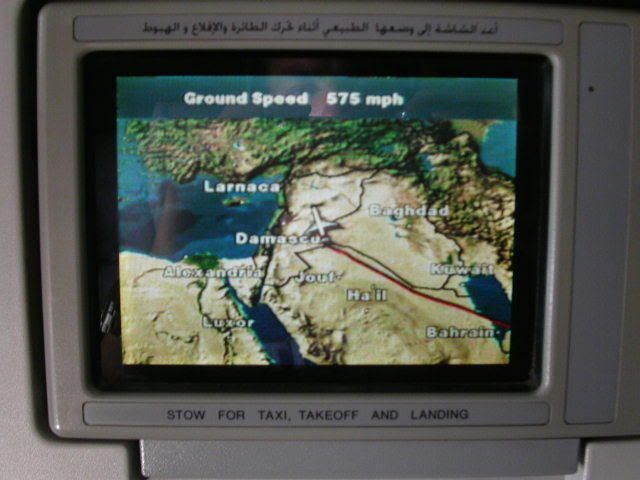 Then we flew over Syria, Turkey, Romania, Hungary, Austria: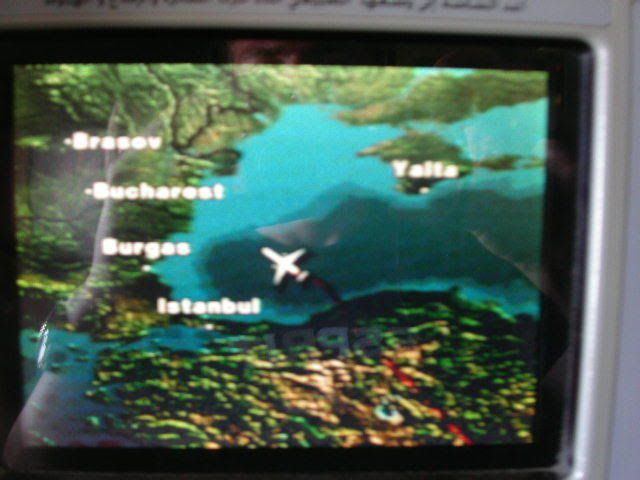 The meals:
Choice between "Beef rendang" accompanied by steamed jasmine rice and wok-fried vegetables
or
"Peri Peri Chicken" topped with tomato and cardamom sauce, served with fried potato cubes and assorted vegetables.
Appetiser was a "poatched salmon roll" served with an artichoke salad and pesto yoghurt sauce, and a salad with dressing. Desser was a chocolate caramel pudding.
I had the beef: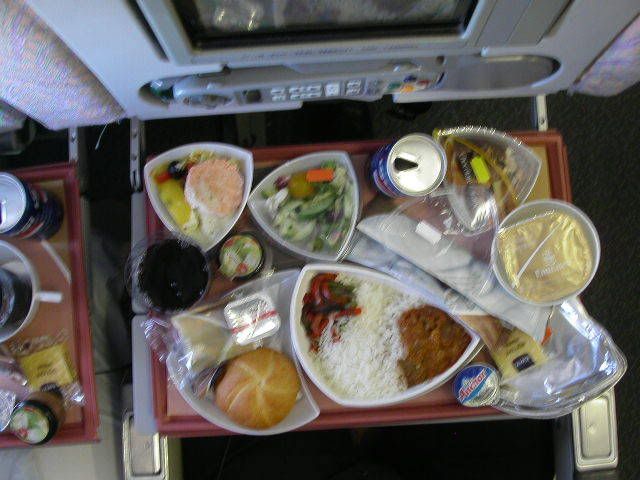 And here's the chicken: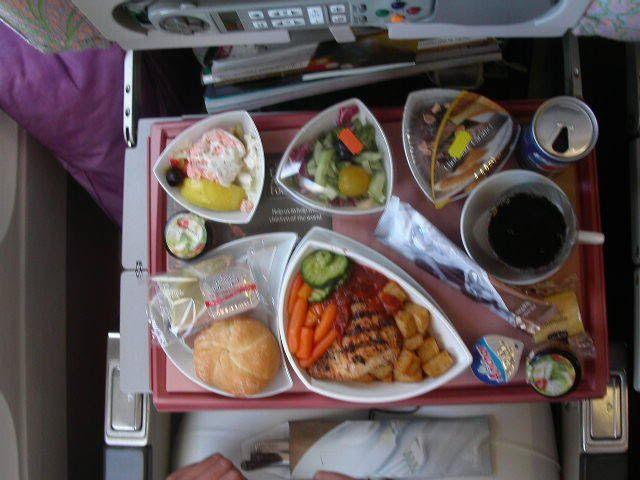 Once again, I didn't watch any movies, but listened to the German radio programs. Nothing is better than having spent a week abroad and then coming back, finally being able to listen again to Oli P., Modern Talking and Xavier Naidoo... Furtunately, this was just some exceptional bad taste delection, because apart from that, they really had all my favourite bands in their program, including e.g. Juli, Joy Denalane, Die Aerzte, and 2raumwohnung - "Besser geht's nicht!".
Those 5.5 hours went by quick, and we were already approaching MUC's runway 26R: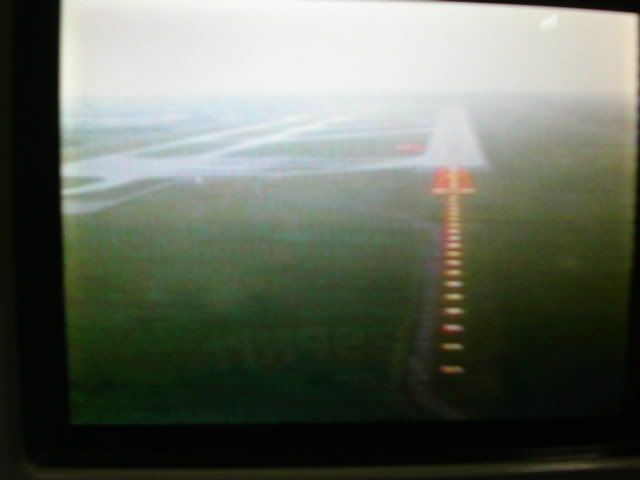 Deboarding via jetway, about 15 minutes to wait for our bags. Back home by car, the end of a really nice holiday.
Conclusion:
Dubai was a really fascinating experience! Maybe this had to do with the fact that I hadn't travelled through the Arabian world before, so this was something new and interesting to me. Regarding Emirates: They certainly offered a decent service, flights were on-time, crews friendly. Nothing more and nothing less than what I expected. A good airline, but I wouldn't go out of my way to fly them again. My recent longhaul experience is limited to several flights on LX, and one flight on LH. EK was above LH (mostly because I really like to have my own PTV on longhaul, even though I didn't use it much this time), but LX was certainly even a bit better than EK. Swiss' A340 had AVOD (I know, LX' A330s don't have AVOD either), the meals on Swiss tasted better (but that's just my personal opinion, of course), and of course the variety of German movies and radio channels was much bigger on Swiss. Alright, I can't expect Emirates to offer as many German movies and radio channels as Swiss. But if the fares are equal, I wouldn't go out of my way to fly Emirates again.
This is the end of my report, I really hope you enjoyed reading. Feel free to ask questions and leave your comments, looking forward to reading them. So long and regards, Alex.