Emirates EK206
A6-EBG
B777-36N/ER
Seat 29K
KJFK-EDDH
Scheduled 11:15 PM EST (2/15/07)
Departed 12:30 AM EST (2/16/07)
Terminal 4 – Gate A6
Flying Time – 7 hours
February 15th, 2007
FL330
*Caution, rant alert!* First off, I would like to say that the Emirates New York corporate offices are some of the worst I've dealt with. They originally didn't book my reservation over the US 800 number (I believe I was speaking to India) even though I provided my credit card and even received a confirmation number. After a few days I did not receive a confirmation or see the charge on my bank, so I called the reservation office again. I was dumbfounded to find that my reservation was not processed because they didn't have the three digit security code on the back of my credit card (which they never asked for). I never received a call, email, etc. regarding this. Imagine if I found this out at JFK the day of departure! The representative reprocessed the reservation and I had to pay a higher fare than originally quoted ($358 vs. $297 USD). When I called the Customer Relations office in NY to protest, all I ever got was a voice mail. I left five of them over a five day period with no return call.
Okay, now that I've got that out of the way, let's get into the high-point and only reason for my venture to Hamburg, the flight on a 77W! EK206 was departing out of Terminal 4, gate A6. The security queue was short and I was soon in the departure terminal. The EK staff congregated at an empty gate, most likely briefing the upcoming flight. The captain broke off from the group and took a seat at Delancy's to review his charts. I quickly said hello to him and said I was enthused to fly on his 77W. He was very personable and took a few moments to advise me that the weather looked good and to expect a smooth flight, adding I should continue on and check out Dubai. "Maybe next time!" I exclaimed and left him to tend to his business.
We were delayed an hour and fifteen minutes to a 12:30 PM EST departure time. There was no reason provided, but I really didn't mind due to it being an overnight flight. I took this time to leisurely snap photos and watch a few neighboring departing flights which included: a Kuwait Airways A343 heading to KWI, a KLM 744 heading for AMS, an Emirates A335 heading to DXB and a Lan Chile 762 heading to SCL. After they departed, I played a few games of Galaga.
Soon they announced boarding of EK206 and I was on my way.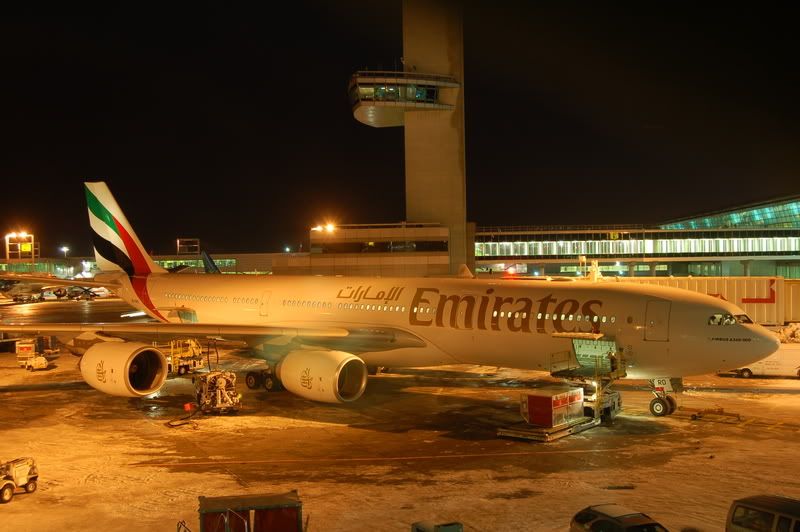 Gate A6, and most of the gates at Terminal 4, at JFK are not your typical jet-way to the aircraft. You need to go down several ramps before you get to the jet-way itself. These ramps, coated in a black, rubber flooring, were quite slick. I was making a mental note to be careful when an Indian woman went down right in front of me. Thankfully her family was right there and helped her up. I later saw her being removed by medics in Hamburg in an arm sling. So be carefully on those ramps in Terminal 4!
The cabin of the 777-300ER is quite amazing. The Boeing Signature interior is modern, fresh and downright beautiful. I had an exceptional view of the wing, flaps and spoilers from 29K. The seat pitch of 34" and width of 17" was plenty of room for my 5'11", 250lb frame. The very light load provided almost everyone an empty row to stretch out. Before we pushed back we were provided the usual warm hand towel. I checked the nose view camera as well.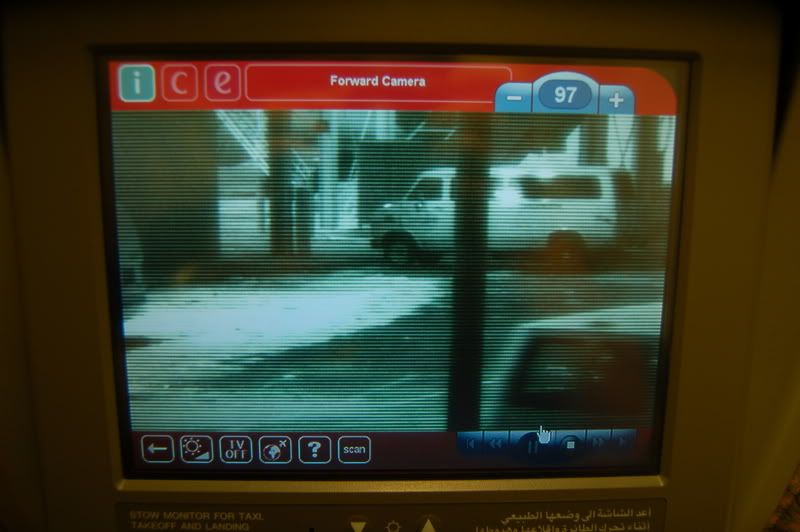 Although I am not too keen on EK's FA uniforms, most of EK's staff were warm and friendly. There was one FA I noted that was quite brusque and snapped abruptly at a couple of passengers. Thankfully she tended to the port side of the economy cabin. Before long we were underway to a 31L departure. The take off roll was probably one of the shortest I've experienced. I was capturing on video the nose cam view and was caught off guard at how quick we rotated! Wheels were up at 12:50 PM EST.
Soon we were crossing over Connecticut via the MERIT and HFD waypoints towards Boston. Normally I sit home on my deck in Manchester, CT and watch these flights overhead on their way toward the Atlantic. I was ecstatic to finally be on one of them! I decided to switch on my GPS unit to see where I was.
After we passed Boston, I played around with the IFE system, appropriately named "I.C.E" (Information, Communication and Entertainment).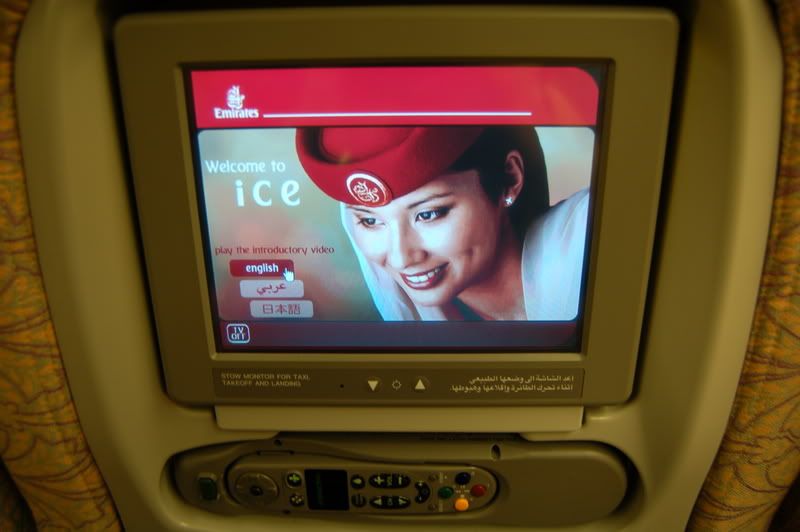 The nose and downward cam channels were quite cool. Of the hundreds of channels and games available, I decided to watch an oldie but goodie, Raising Arizona.
Meal service commenced and I decided on a chicken dish. It was okay to say the least. I can add that the desert was tasty!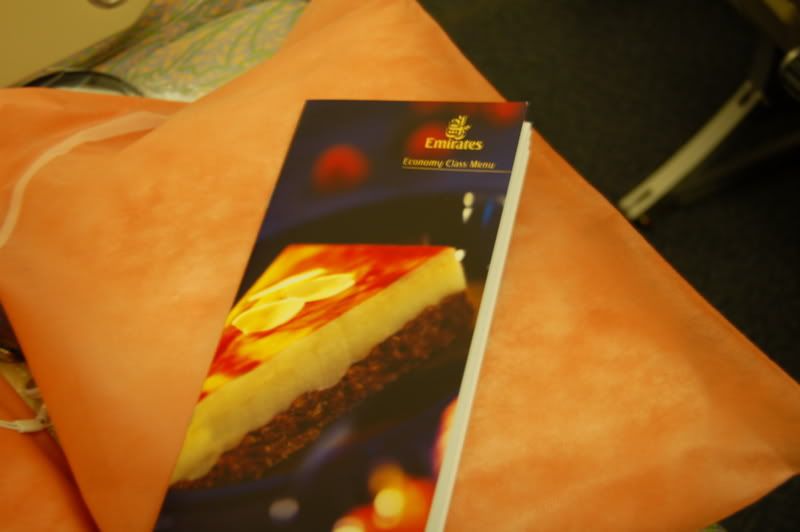 The lighting system on the EK 773 is wonderful. It simulates the night, sunset and finally day. Vice versa at dusk to night. Here is a clip of the night sky on the ceiling:
I had dozed in and out during the flight which was smooth all the way to HAM. We were offered several snacks and drinks for the remainder of the flight. Actually water and juice was offered often to keep us hydrated. As the sun peaked ahead of us and Ireland passed under us, they offered us sandwiches. I don't recall what type of sandwich, so it must not have been that impressive or appetizing.
I observed that I could see the contrails from the GE90 from my window! This was the first I had ever seen our own contrails.
We then began our decent into EDDH. I tuned into the downward cam for our approach. We touched down gently onto runway 15 at 1:50 PM CEST.
The return flight will continue shortly…
[Edited 2007-06-01 06:28:22]