This time I was on a rare multi-destination trip, to both Singapore and Tokyo. Also unusually, I had Mrs. 01 with me. As usual, I will try to hit a little of everything rather than focusing specifically on technical, service, or spotting details.
We got dropped off at the SFO international terminal. We had checked in online about 23 hours before flight time to ensure there were no issues with involuntary downgrades or seat re-assignments or anything else – not that we would likely be the victims, since we weren't upgrading, but better to be sure, given that SFO-HKG on a Saturday would likely be a very full flight in all cabins. Anyway, we went to the very first station, "online check-in bag drop," rather than the 1K/business class line since it was closer and had no line (while a few people were waiting in the 1K/C line). Soon enough we were unburdened and had boarding passes for both legs.
We stopped at Emporio Rulli for sandwiches and a pastry, then went through security (painless enough) and up to the Red Carpet Club (International Terminal). The RCC was absolutely packed with people, very difficult to get a seat or a bathroom stall. Mrs. 01 (AKA "43") said, "why is it that I'm stuffed with really good food and yet those stupid little plastic packages of processed cheese look good." I told her she'd have access to the same ones mid-flight, and she regained control and moved on to make herself a cup of tea.
I went to the bar and grabbed some sparkling wine.
The lounge emptied out some as a couple of flights before ours were called, and we were at least able to charge my laptop and her Nintendo DS, so at least it was useful. Soon enough our flight was called for boarding.
Flight: UA869, SFO-HKG
Aircraft: N187UA, B747-422
Seats: 17G/H (upper deck)
STD: 12:39pm
STA: 6:00pm (next day)
We went upstairs, and found 17H occupied. I'd hoped to beat that person there, since we wanted to trade seats – I had the coveted 17A, but our other seat was 17G. I didn't think it was right to even ask the person in 17B to move, so my plan all along was to offer the mini-upgrade to the person in 17H. She accepted, I think out of general kindness not knowing it really was a better seat, instant karma -- been there, done that.
Pre-flight beverages offered were the usual water, faux-J, and champagne (all in plastic), all of which I turned down since I figure I'd rather wait for a glass. Menus were distributed, and orders taken.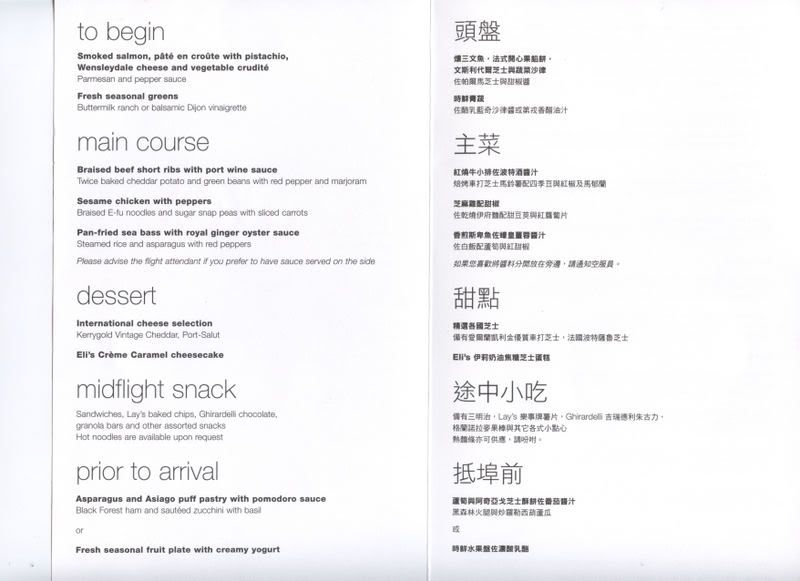 There was a recent flyertalk thread about order-taking on UA for people traveling together when one has status and the other one doesn't. In this case, they said, "Mr. and Mrs. 01, what would you like for dinner?" and 43 said, "we would like the chicken and the fish," which let them prioritize as needed I hope.
Channel 9 was off all flight
as were all the XM channels higher than 10 (which was a bummer, since we like Lucy, on 11). We pushed basically on time and taxied to the 28's, with a JAL 747-400 holding in position on 1R as we crossed it. I was in the aisle for this leg and didn't watch carefully, but I assume we used 28R, especially for a westbound HKG flight.
We took the usual departure, out over Pacifica, right turn paralleling the coast past the Golden Gate and Marin. The Captain announced that we would fly far north, over Anchorage, and we did continue up the coast. The filed route according to FlightAware was this:
MOLEN3 MOLEN BOXER B453 KATCH B453 MDO
J804R NOWEL J804R ANC J111 OME YUREE
G212 VALDA G212 UHHH G212 ARGUK G212 JMU
G212 KR B458 WXI A461 LIG R473 WYN W18
NLG W23 ZUH R473 SIERA
which looks something like this: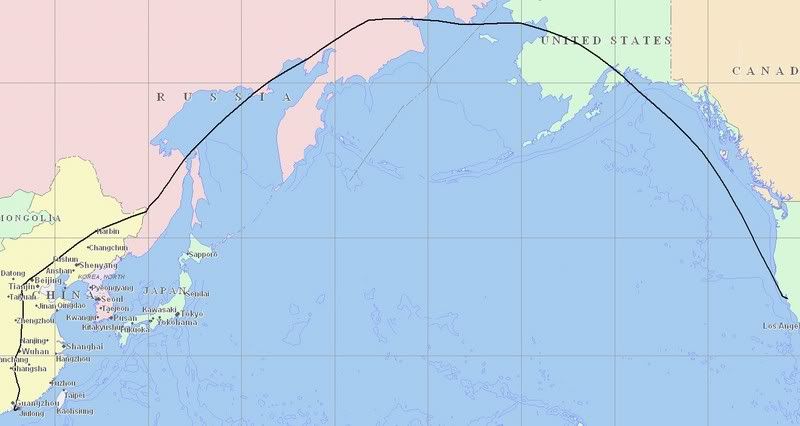 and that was in fact what we appeared to fly from watching skymap.
Hot nuts were distributed with beverages – I had champagne, which was the Billecart Salmon on this flight. Hot nuts and drinks were both refilled. There were hot towels too – I think after the nuts/drinks.
The appetizer plate was a lot more food than I remember on UA in the past. The smoked salmon was a huge piece, more than one often gets with a bagel, and the pate en croute was enormous too. The salad was decent size and quality too.
When they came with the two main courses, we randomly put the fish on my tray and the chicken on my wife's. We wound up mostly eating what was right in front of us. The fish was way better than I'd expected – not overcooked at all. The rice was also surprisingly good. The asparagus and red peppers were pretty boring, under-seasoned I guess. I love vegetables on the ground, but I rarely like whatever ones UA has in their biz-class meals. The chicken was OK, not my favorite style, but pretty good for what it was I guess. The sugar snap peas were actually very good – best veggie I've had on UA in memory – but the carrots were just as bad as the asparagus and peppers. The noodles were a disaster, fast-food quality but with less flavor (not fried with any vegetables, and again probably underseasoned). Given the size and quality of the first course, and how good the fish was, the bad veggies and noodles was bearable.
With the main I requested a glass of the Laboure-Roi Chablis, and the FA said, "we don't have any Chablis," and as I reached for the menu she said, "don't pay attention to what's in there, sometimes we have what it says, sometimes we don't." I asked for a French white, and she produced a Jaffelin Ruly Chardonnay, which I've had on previous flights.
For dessert I had the cheese, with a glass of the Chateau Donissan Haut-Medoc, which I actually really liked, much better than that Sandeman Founders Reserve Porto they have. 43 was shocked that I didn't get port, since I really like port on the ground, but I generally prefer tawny, and most of what I drink is better than the Sandeman Founders Reserve anyway, and on top of that I'm just sick of the same port they've had ever since I first got into the C-cabin on UA.
Especially with cheese that was not the slightest bit sweet, the Donissan was a lot better, even though it's, uhhhhhh, cheaper.
While we ate, we watched Children of Men. I can't imagine watching it on any smaller screen, just wouldn't work. I'm glad we were watching it on our outbound, would have been just too depressing heading home.
Afterward I slept for a while (she did not), and woke up somewhere over western Alaska. Her visit to the snack cart produced one small sandwich, which she declared a disaster (our first international flight was on Garuda in economy in 1995 and they had these amazing little sandwiches between meals, and we've never found anything quite so satisfying in genre since), and some ghirardelli squares, but the highlight was a package of jelly bellies, with the little piece of paper that shows all the flavors, and we tried in the low light to figure out which ones we really had, which was often amusing when we were spectacularly wrong. I also had a bowl of the instant noodles, which I actually really like (better than most supermarket instant noodles, and perfect on a long flight). Looking at skymap, we saw we were over Siberia, and periodically checked to see if we could see the ground. For a while it was overcast, but one time we opened up the shade there were mountains, snow, etc., and naturally I had to take some pictures!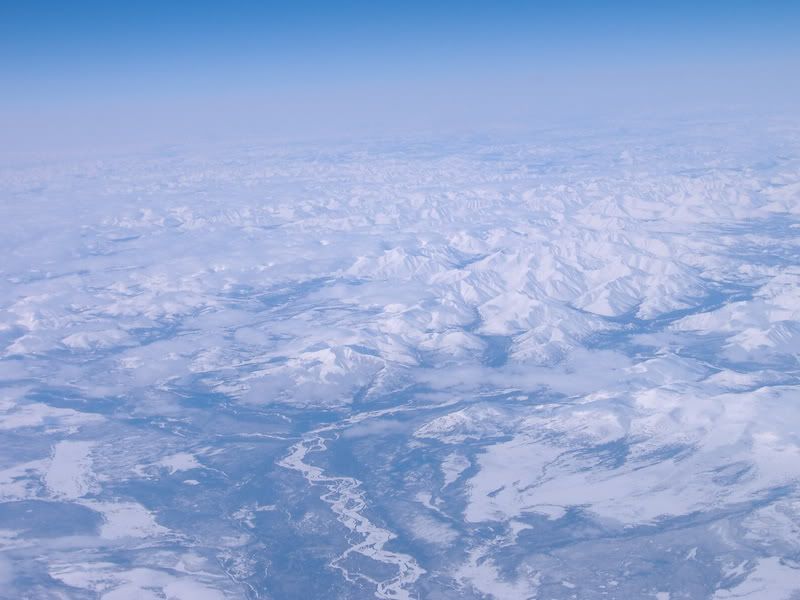 Afterwards we both slept, and I woke up after a couple of hours to check skymap and see that we'd flown just west of Beijing, so we may have been able to see some interesting stuff if we'd looked, but we were well beyond that point by then. Mrs. 01 was still asleep for a while. I took a walk downstairs, and decided to head all the way back to the tail, confirmed the reg of the airplane, used the far-back lav (being reminded that I had asparagus as part of my dinner, and wondering if the next user would be confused if they didn't have asparagus in economy), and then went back to my seat, watching skymap and basically being a human vegetable. Eventually, as we headed south over China, they came around with the second meal. I wasn't at all hungry, and was expecting to eat on the ground in HKG, so I just had the fruit/yogurt, and in fact didn't eat the yogurt at all, had forgotten that most people eat these super-sugary yogurts that I don't like. Mrs. 01 had the puff pastry, and ate it all, after commenting on the oddness of having asparagus in both meals.
After we ate, 43 asked for a Coke (this was 5 days after UA switched from Pepsi to Coke, and the flights were mixed, but she'd had a Coke 12 hours earlier with the first meal), and the FA came back with a glass tumbler full of cola and ice and said, "we're all out of Coke, here's a Pepsi," which was a bit awkward, since she thinks Pepsi is vile but didn't want to just send it back, but really would have been better if the FA had asked before opening and pouring.
Pretty soon they were preparing the cabin for landing. It was a beautiful time of day, lighting was absolutely great. Unfortunately we landed on 7L, so no views of the city, but a few small islands and some boats in the sea. From 7L it's a very short taxi to the UA gates, and we went to 63, with the other United 744 already parked at 61.
We deplaned, got our little transit passenger paper, which I seem to have lost so can't scan.
This one wasn't hand-edited like last time.
We cleared security, and immediately took a few pictures.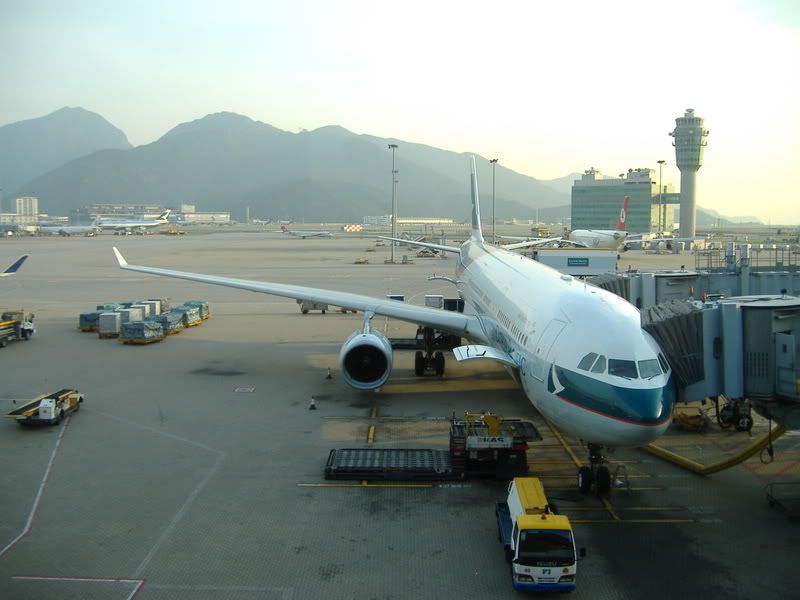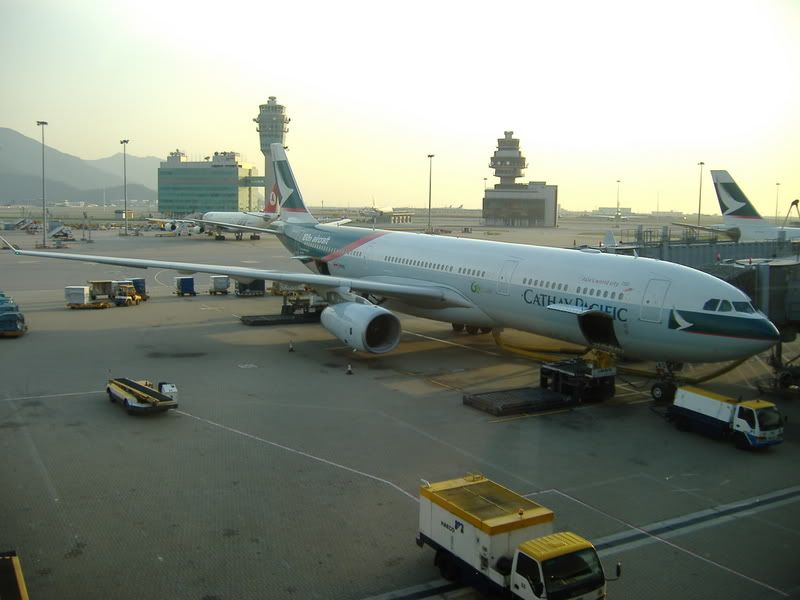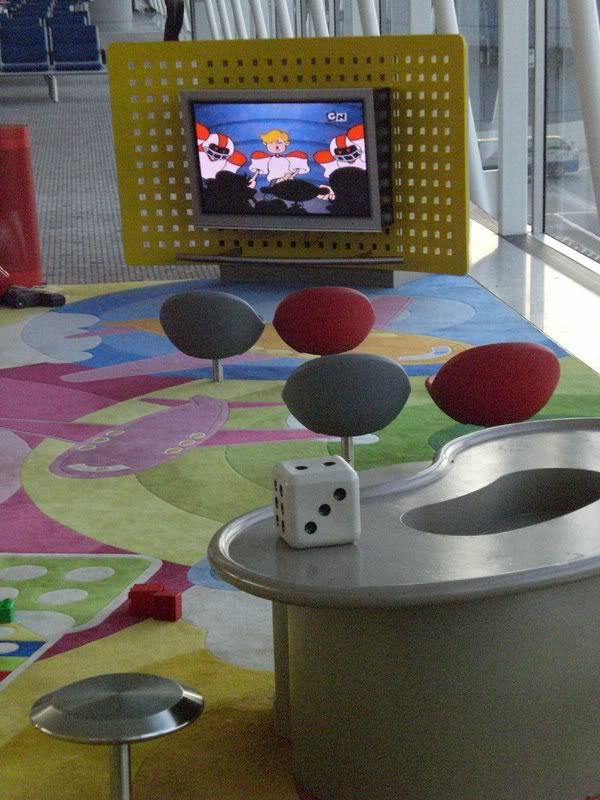 (This one was our plane, both inbound and outbound)
We went to the RCC, which I'd really liked during a very short connection in the other direction on my
last trip to Singapore
. The hot food was grim as before – fried rice and pasta Bolognese – and the dim sum selection was exactly the same, meaning four or five things of which I would only maybe eat one. Sadly, they have no more San Miguel, only Carlsburg, which I think is a major downgrade, especially if one is eating dim sum. Mrs. 01 was more disappointed that Pepsi is still there rather than Coke, but tried a grape Fanta (visible in foreground here):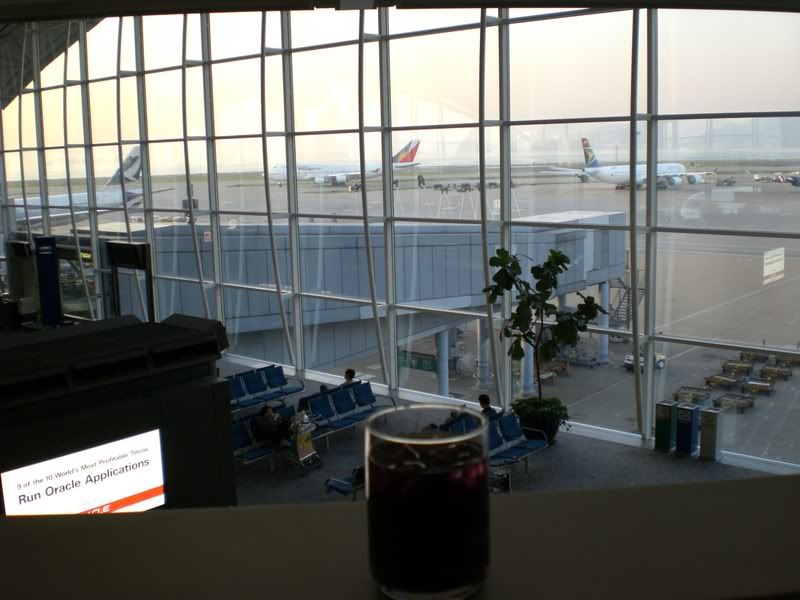 The wireless still has the same silly password, but I couldn't connect at all, and wound up using the airport wireless anyway. There's only one shower and no sign-up sheet, you just have to show up at the right time (or nerd it out and wait outside the door), but I got lucky. Showers are great no matter what, but this one was probably the least nice of all I've been to on four continents. Whatever. Soon enough we decided to leave the RCC and go get her a Coke and me some food. Fortunately the terminal was nice and quiet and empty.
We went to Taiwan Noodle restaurant near gate 65, and I ordered a spicy beef stew noodle soup, and she got a Coke, which came in a festive can with balloons(?) around it: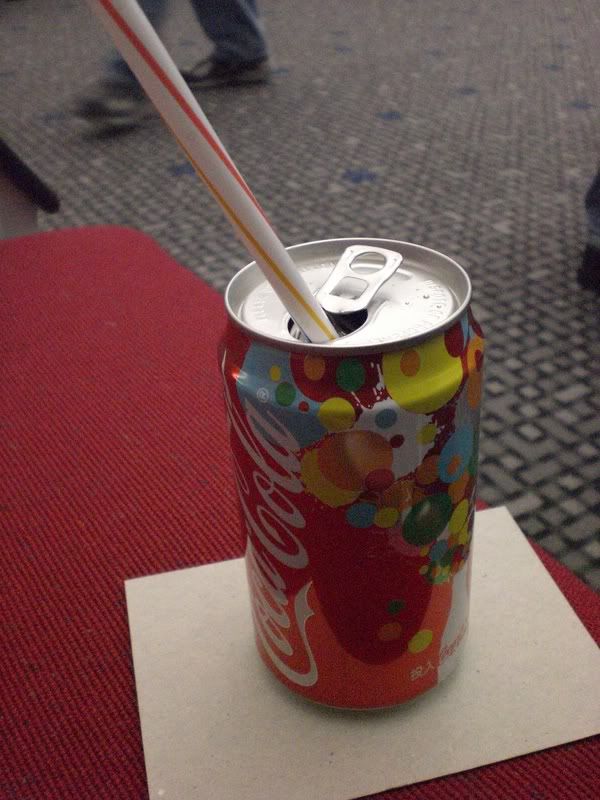 We walked over to the gate to eat and drink, and made a good decision to do that right there and not wait until boarding, since they confiscated even locally-procured liquids at the end of the jetway.
Flight: UA895, HKG-SIN
Aircraft: N187UA, B747-422
Seats: 17A/B (upper deck)
STD: 8:00pm
STA: 11:35pm
We got on board and I immediately recognized the different uniforms of a non-AFA crew, and sure enough they announced themselves as being Singapore-based. They were… fantastic. Not that I had bad AFA crews on this trip, they were actually good. But these guys were somehow better. Could be just shorter flights lets them have a higher intensity level, or could be something else, who knows, but they radiated energy.
Channel 9 was on.
I love HKG for Channel 9, love the accents (although one of the controllers tonight was an American), the collection of traffic, everything. Menus were distributed, and orders taken, before we pushed.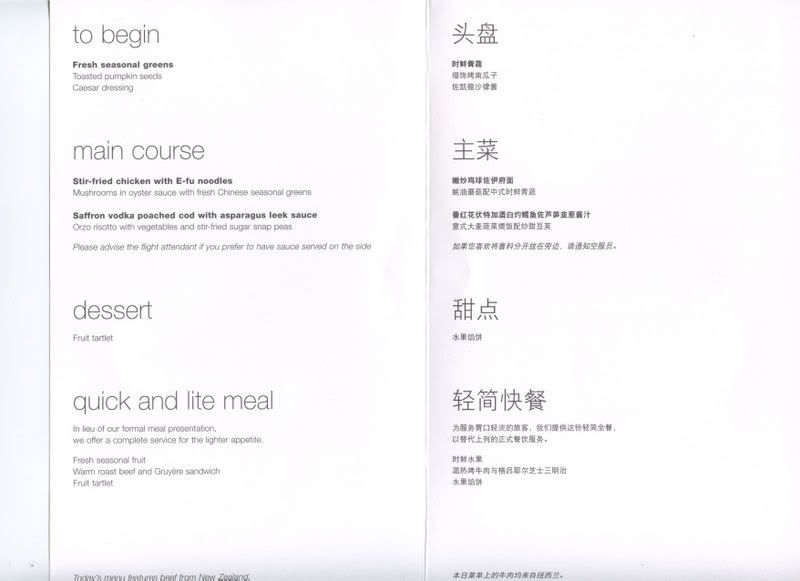 We both picked the fish, a dish we noted could have been assembled almost entirely from the combined contents of our first meal (the two choices we selected) on the previous leg. There's that darn asparagus again!
We taxied to 07R and waited for 2 or 3 departures in front of us, then had a relatively short takeoff roll. I don't know my Hong Kong geography, but I got a quick glimpse of the, uh, main central area or whatever out my window the left (to the North), realizing I'd missed it last time arriving on the 25's also on the left so looking South. It was all lit up and looked very festive. Pretty soon it was completely dark, though, so I shut the shade and took a quick nap.
When I woke up drinks were coming out, and hot towels and then meals came out pretty soon thereafter. I even tried taking a picture: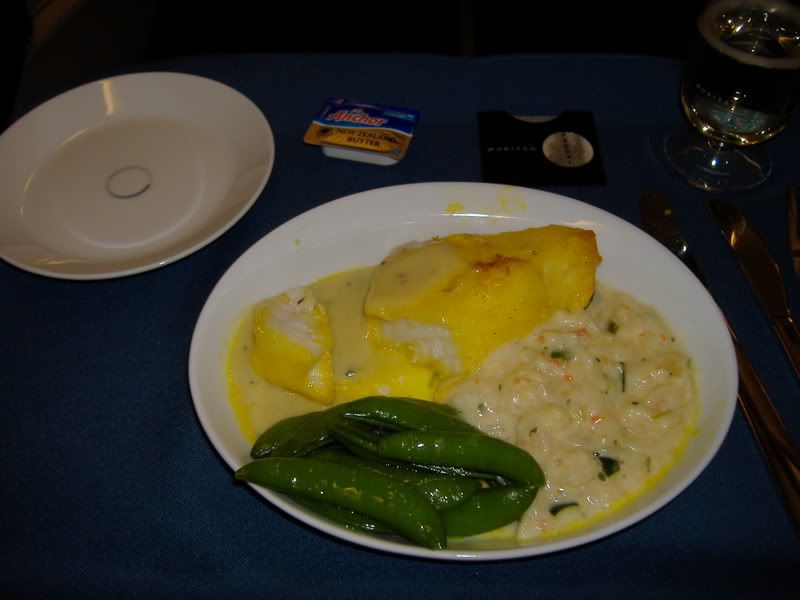 I had champagne with this meal, and on this flight it was the Duval Leroy. As for the food itself, the fish was great, once again not at all overcooked, the sauce had plenty of saffron flavor which went great. The sugar snap peas were plenty good. The so-called risotto, though, was disgusting, tasted like something from a box but with double the spice packets added or something. The salad was OK, I really like the pumpkin seeds but I seem to remember picking about half the veg out of it, leaving the rest. I actually got the dessert, because it looked great, and it was indeed fantastic. I've heard people tell me the UA C-class desserts are all good and I should eat them, and in fact 43 liked all the ones she had on these flights. For me, 1/1.
At some point I was looking out the window, and Skymap showed us East of Vietnam off the coast, and I was looking further east, but it looked like we were over land, lots of lights on the surface. I guess they could have all been boats. We watched the nearly-full moon (4 days after full) rising over the sea to the East, very nice.
Eventually we were cleared for an approach to 20R, and taxied to gate C22. We got off the plane promptly and moved very quickly to the immigration area; last time I arrived in SIN on the UA flight from NRT, it took me at least 45 minutes to get through. This time we got there to a completely empty hall with all lanes open. We walked right up to one and were through almost immediately, complete contrast. Also last time I spent 20 minutes in a snaking line for a taxi; this time we walked right up to the front, no line at all. I don't know if these are related to arriving on the HKG flight, which gets there before the NRT flight, or if something else was different – it was the same day of the week, but about six weeks later. In any event, relative to landing, we were at our hotel a good hour earlier than the last time I was there.
Singapore was great, and I'll include one photo that my very amused wife took – is this what "Airbus" really means?
After about 80 hours on the ground, we were back at Changi for our flight to NRT. No luggage searches this time, just boarding passes and lounge invitations. Before going to the lounge, we walked around finding local coffee and kaya toast (as well as a jar to take home, oooops, should have gotten it earlier for 1/4 the price). We had just a few minutes to check out the SATS lounge, which had lots of hot food, mostly Malaysian and Indian, pretty decent stuff actually. I stuffed a bunch into myself, given our time pressure, and then we split for the gate, which turned out to be a much longer walk than I expected to gate C24 (well past where the HKG flight arrives and departs, even though it looks adjacent from the planes).
Flight: UA804, SIN-NRT
Aircraft: N216UA, B777-222/ER
Seats: 14A/B
STD: 7:15am
STA: 3:15pm
This was another SIN-based crew. In fact, one of our FA's from our HKG-SIN flight, working on the opposite aisle, recognized us and came to say hi – "wow, such a short stay in Singapore!" They were once again really nice, and again provided fantastic service.
Menus were distributed: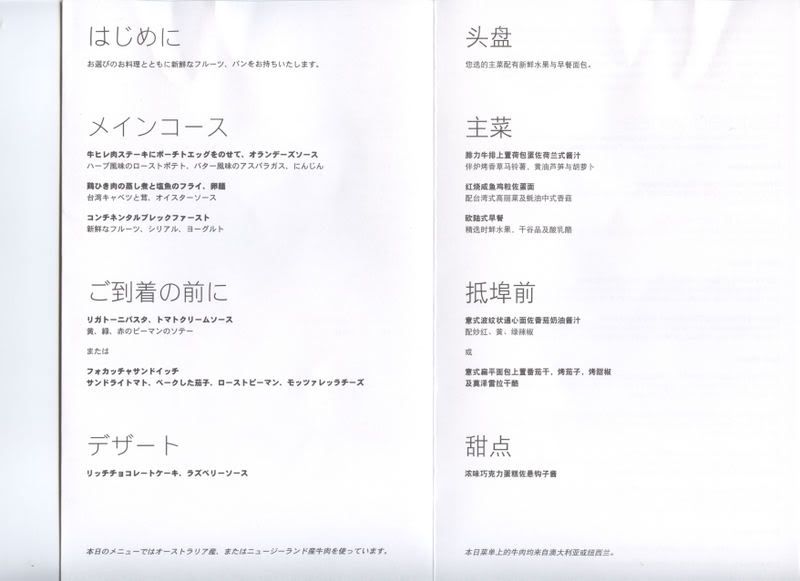 While taxiing out I took a picture of a SQ 744 under tow:

and pretty soon we were rolling on takeoff – my notes say on 20R, but my memory says it had to be 20C, we looked out the left-side windows at the military apron, not the terminal.
This flight is blocked for 7 hours but was planned for only 6 hours in the air. Our route started out with a big loop around the East and the flying north to VMR (Mersing, Malaysia), then a right turn on N884, looking something like this: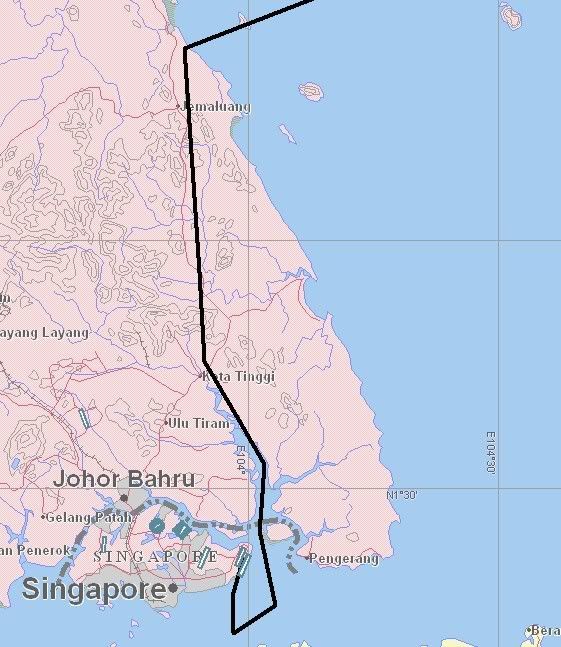 I'm pretty sure we were supposed to go to LUSMO to turn left only L625, but somewhere between LENDO and LIPRO we were given a short-cut direct to AKMON. We continued up in roughly a straight line, although much of the time we were 10 miles or so parallel to our filed course avoiding weather. I think our original planned route looked something like this:
After takeoff they came around to take breakfast orders. The steak and eggs actually sounds like a decent combo, but I'd eaten so much at the lounge (plus the kaya toast) and I like to stick with the Asian options anyway, so I picked the noodles. Mrs. 01 was still scared of any noodles on UA and decided she wanted to dodge the asparagus for a change (4th straight meal on UA containing it) and just got the fruit/cereal/yogurt.
The service was great – drinks, hot towels, food (not off the cart), and just overall energy again. Both SIN crews consistently called us by name without ever visibly looking at a manifest. I don't remember much about the noodle dish, but it was good enough. I drank champagne before, during, and after breakfast, while mostly working on my laptop, while 43 was mostly playing her Nintendo DS. At some point I went to the lav, and when I got back, before I could sit down, 43 said, "could you see if they have Coke?" I went back to the galley where three of the FA's were, and they immediately all looked up and one said, "Mr. 01, what can we do for you?" I said, "is this a Pepsi flight, or a Coke flight?" and all three enthusiastically yelled "Coke!" I said, "my wife would love a Coke, in that case," and they said, "we'll bring one right over." They did indeed, and kept walking back with cans to re-fill it, very nice.
For our second meal we got one of each, and I mostly ate the sandwich, thought it was surprisingly good. It did seem odd to have two different meals with so much in common in terms of ingredients and style. They served hot garlic bread with both these choices, and it had a great flavor but an odd texture. I tried the Warburn Shiraz, thinking it would go better with such sweet food, but I didn't like it at all – it just tasted washed out. I didn't have any of the cake, but 43 again told me it was pretty good.
We landed on 16R, loved the cutely-shaped sand traps on the golf course just north of the airport. We taxied to gate 32, and I took a few pictures while we taxied in;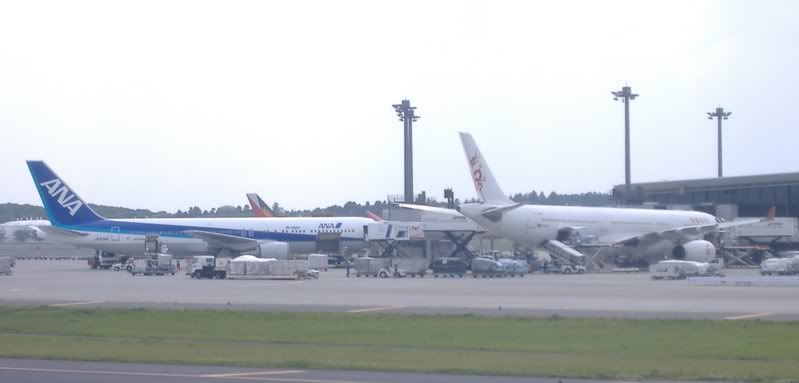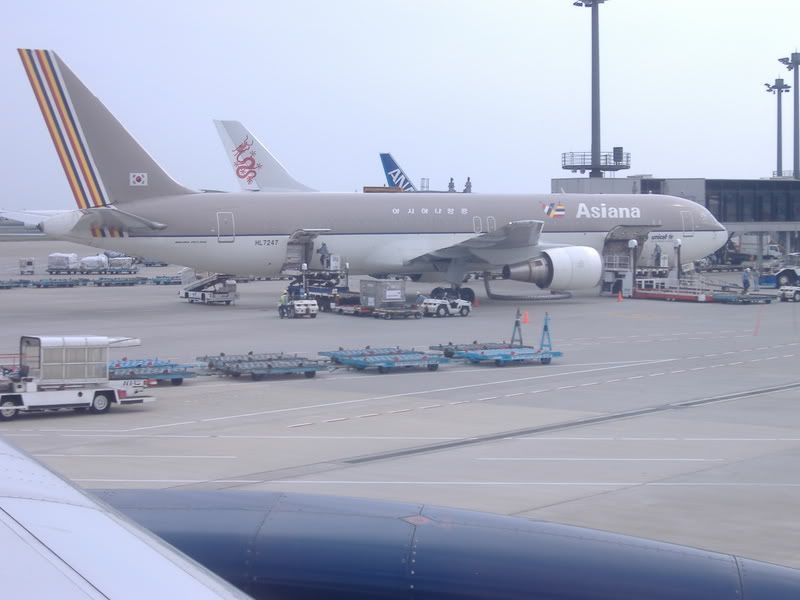 And then after deplaning, took a couple more:
(This one was our plane)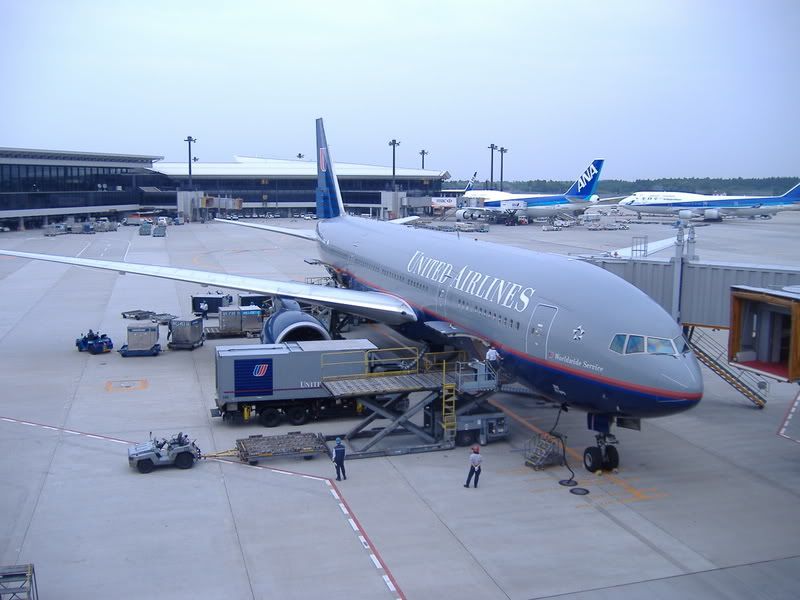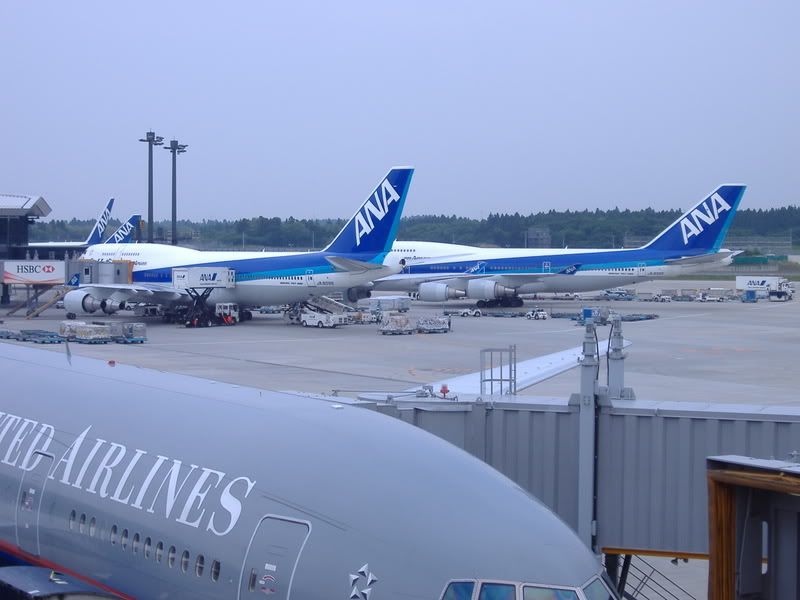 I'd always wondered how many people flew these UA (or NW) flights intra-Asia just point-to-point without a continuation or connection, and the answer on this flight was, "not very many!" I was actually surprised at how few, given that some people would likely be doing stopovers like us. Almost everyone went to the line for connection security – in fact, the only others we saw heading towards immigration were flight attendants. There was no line at all, and soon we were claiming checked bags, and out in the terminal, right in front of the orange "Limousine" bus counter, where we bought tickets to head to our hotel. Before heading out to the waiting area, I took a picture of the traffic conditions map nearby:
We had a great time in Tokyo. The big advice I can give people going there is to bring Wienerschnitzel bags, since apparently they're highly sought-after:
I also had the opportunity to continue my tradition of taking photos of room service breakfast: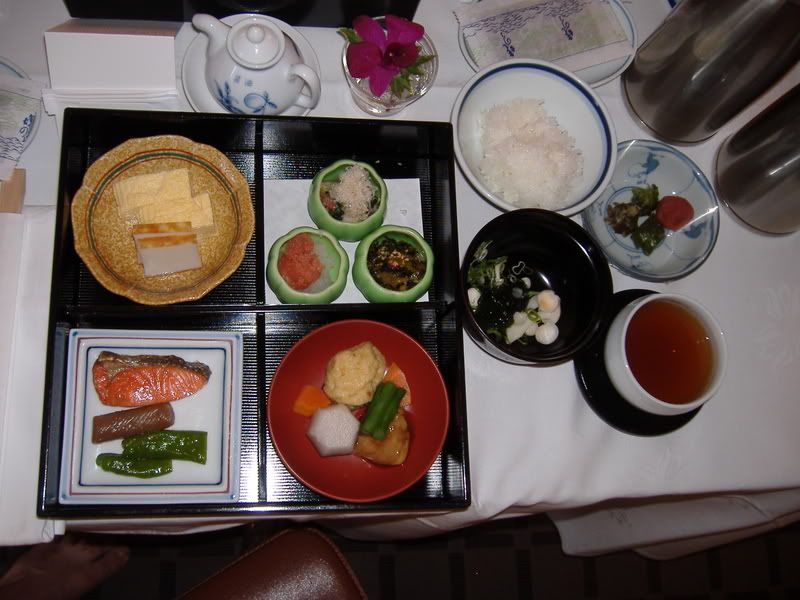 After just 70 hours or so, we were back at NRT for our flight home. After checking bags, going through security (with an undetected large Swiss Army knife in one of our bags!), and going through immigration, we headed to the ANA Food Court for some food. We went to the Soba counter but didn't get any Soba, instead just ordered a bunch of tempura items (meant to be "extras" on top of your Soba as far as I can tell), with a side order of "edible wild plants." With that I drank a glass of Yamazaki 12-year-old Japanese single-malt from the bar. I had wanted to try it to see if it was worth bringing any back, and decided it was – found a two-pack of small bottles in duty free, one of the Yamazaki 12-y/o and one of a 17-y/o Suntory (apparently in the US they sell an 18-y/o but not the 17).
Mmmmmmm, shrimp legs: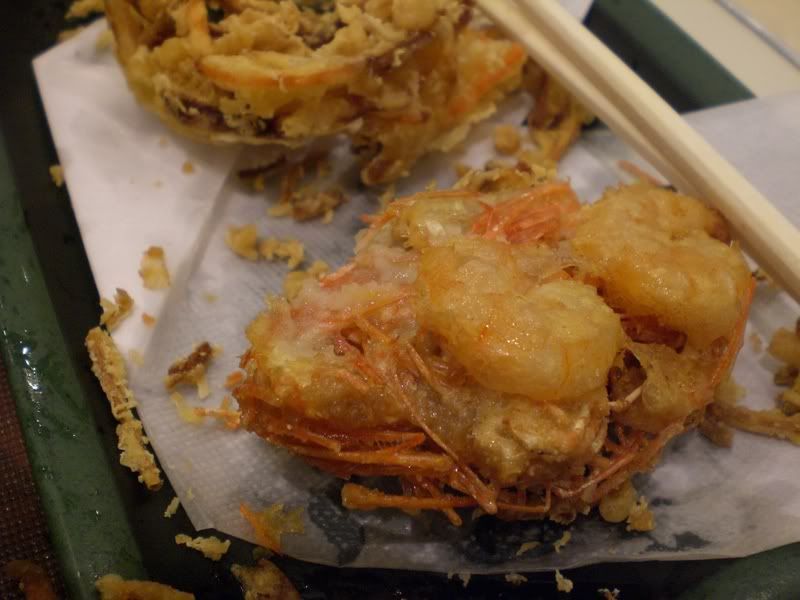 We did a little duty-free shopping, stopped to take a few pictures…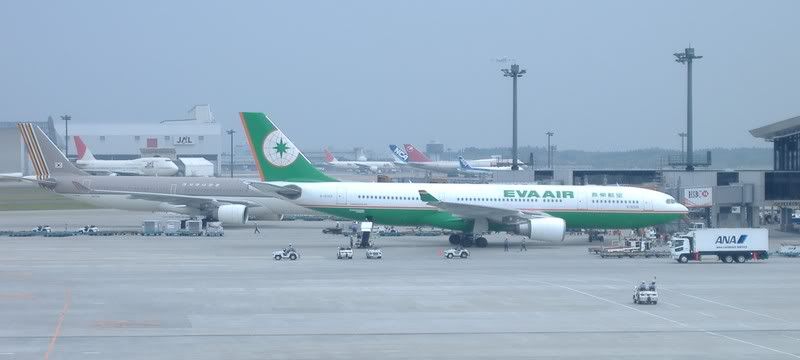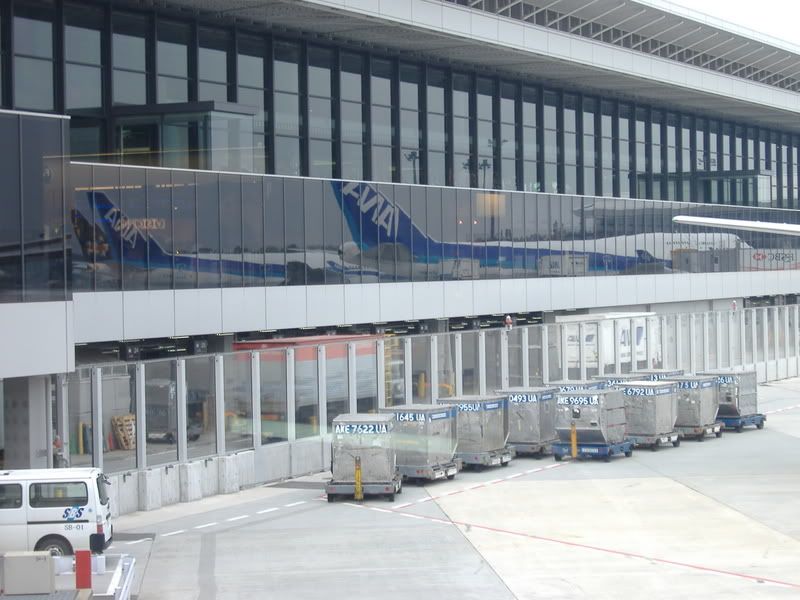 … and then headed towards the gate – the NRT RCC has no real allure when you don't need a shower in the middle of your connection. I got to use the famous 200 Yen massage chairs, and initially had a great view of the ramp until a UA 777 taxiied in. I caught it all on a movie (complete with vibration from the chair), and it turned out to be N216UA, the aircraft we'd flown in from SIN on three days earlier.
After my 10 minutes was up, I returned to our gate area, and we charged batteries and basically avoided boarding until near the very end. I did take a picture of our aircraft:
and of two adjacent ones that were in the new paint (the first one from the gate, the second from on the jetway):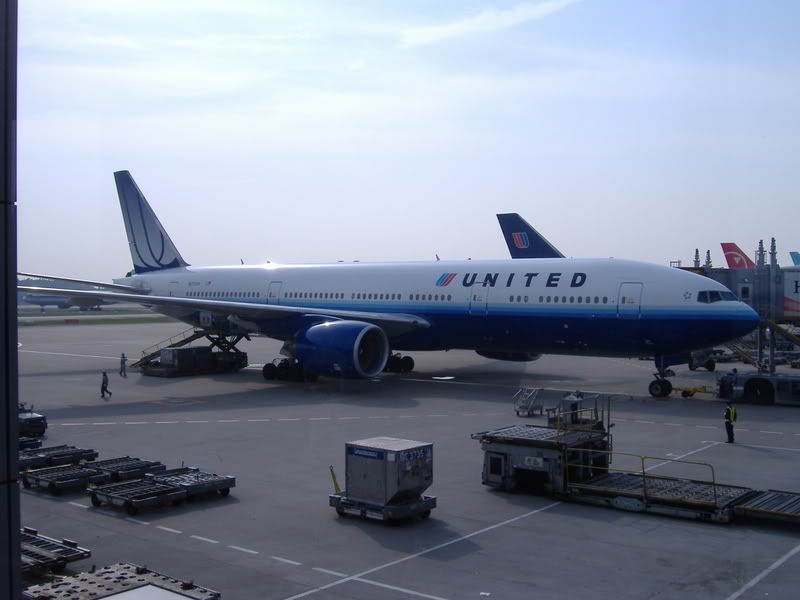 Flight: UA838, NRT-SFO
Aircraft: N182UA, B747-422
Seats: 16A/B (Upper Deck)
STD: 4:05pm
STA: 9:10am
Flight attendants on the upper deck were a 50-ish American woman who spoke to the other FA's exclusively in Japanese and a younger Asian woman who spoke great English and Japanese. As for all the other legs, pre-departure beverages were water, faux-J, and champagne; Mrs. 01 took a champagne, and I had some water. Menus were distributed:
I can't remember when the Asian FA started taking dinner orders, either it was before pushback she had to stop to do the safety instructions, or it was after takeoff and she had to stop for, well, you'll see, but she stopped right before us. When she resumed, she told us she had our pre-orders for the obento, and thanked us profusely for pre-ordering, that it made life much easier on her. Seemed a bit odd, but I guess specifically with the obento, it means fewer people they have to apologize to. The Japanese guys across the aisle both ordered the bento and got it. The guy in 17A said, "whatever you have left over, just surprise me," and the FA quipped, "you probably wouldn't be able to tell the difference anyway."
We taxied to 34L and were about number 5 for takeoff. Channel 9 was on, and we were preceded by several other flights to the US, including UA804 to IAD and some CO and AA flights. As we were taxiing, I attempted lots of pictures. Saw a couple of JAL 747-300's, including a Japan Asia Airways one in the Yokoso scheme: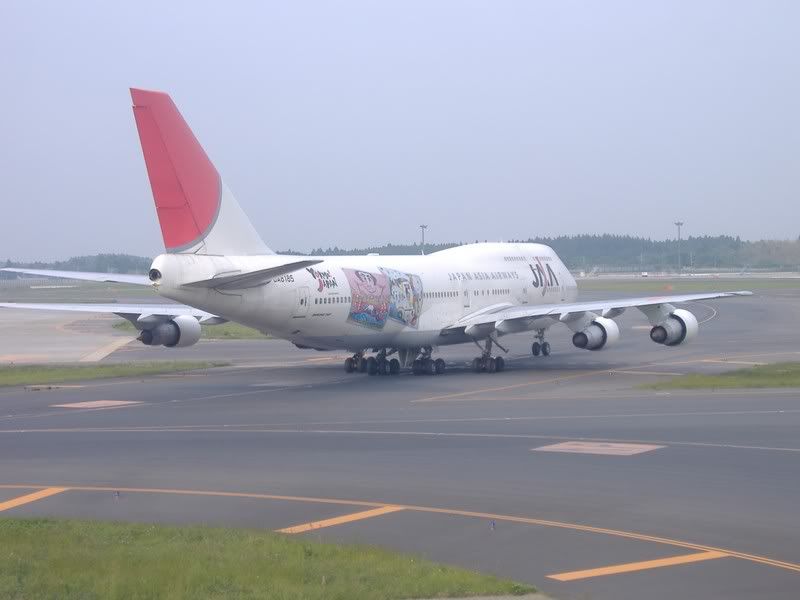 Soon enough we were off, and there were a lot of clouds so not much to see, and then it got really super bumpy, and the FA's had to sit for a good 15 or more minutes after they'd been up. Eventually it smoothed out and they could begin service. Actually I took a short nap and woke up to find hot nuts on the center console and 43 with a glass of champagne. They had just given it to her, so I was in time to ask for one as well. Mrs. 01 said, "I asked for Coke, and they said, 'is Pepsi OK?' and I said, 'no, I'll have champagne instead,'" so UA paid the hidden cost of not switching to Coke fast enough. (Actually I guess it saved them $$$, they probably didn't have to open an extra bottle of champers just for her, and would have had to give her one or more cans of Coke!)
Our filed route of flight according to FlightAware was:
GUPPY OTR8 KAGIS OTR11 ABETS OTR9 ETRON 4200N 16000E 4400N 17000E 4600N 18000E4700N 17000W 4700N 16000W 4700N 15000W4600N 14000W 4300N 13000W MITOH ENI GOLDN4
Which is actually very close to the great circle, looking something like this:
Nuts and drinks were both refilled, and then the first course of dinner started coming around, on the cart this time. The first course of the bento was one long rectangular dish, one square dish, a bowl of noodles, a cup for green tea, and a new wine glass. In the square dish was seared tuna with microgreens and miso dressing – this same "sashimi salad" seems to have gotten really popular worldwide, did it originate at Nobu or is it older than that? The noodles were cold, very thin (like angel hair), with a couple of slices of okra and some other vegetables sitting on top of some cold sauce, artfully presented in a twisted bundle. The rectangular dish had one large section and two small ones. One small one had two small, thin slices of beef, and the other had, um, something, some little beans or something? The big section had one big cube of pumpkin cake, two pieces of chicken with pine seeds, and the spiral of smoked salmon with (chicken) egg.
At one point during dinner I peeked out the window to see nice clouds with some pink from the setting sun.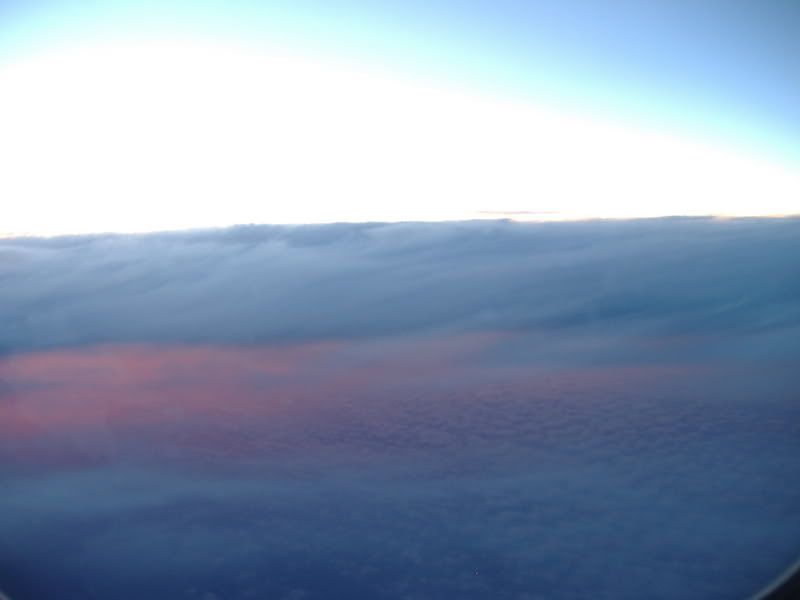 The next course was in a lacquered box with four sections. In one was rice, molded into a star shape, garnished with black sesame seeds and wrapped in a leaf. In one small one was pickles, 3 kinds, not bad but not as good as most of what we'd had on the ground in Japan. In a small container were 2 shrimp (steamed or boiled) with some raw cucumber and cherry tomato, maybe some seaweed, can't remember, easily the most forgettable component of the meal actually. In the biggest compartment was a dish with a pretty big piece of teriyaki hamachi filet, two small pieces of the ever-present asparagus, one mushroom, one slice of boiled carrot cut in the same shape as the rice, and a piece of tofu. It was OK… better than most (maybe all) of the food I've had on United even in C, but not as good as most of what we ate on the ground. Still, clearly the correct choice, and definitely filling – granted, we'd eaten tempura 2 hours before flight time, but I turned down cheese or dessert and wasn't hungry for the rest of the flight. I did have a cognac. Mrs. 01 had the apple cheesecake and a cup of coffee – apple cheesecake seemed like a strange combination to me, but she said it was yet another good dessert from Eli. Right as they were pouring our coffee and cognac we hit some pretty intense turbulence, and I had fun watching the cognac slosh around in the glass for a while, not daring to try to drink it.
I played a computer game for a little while after dinner, then fell asleep and stayed asleep until we were about 3 hours out – snack carts had already been removed. I took a walk down the stairs and all the way to the back to see what economy looked like, and was surprised how light it is – they keep the cabin lights on (or maybe already had them on in preparation for breakfast?). They were at a pretty low level, but still it's no where near as dark as upstairs, one of the real benefits of the upper deck (dark and quiet). I had no trouble falling back asleep, and in fact didn't wake up until I'd already missed breakfast.
We flew south just off the coast with great views of San Rafael, Sausalito, the Golden Gate, San Francisco (beautiful clear morning!), and then turned left base over Palo Alto. My camera ran out of batteries (too many movies at NRT!) and 43 gave me hers twice but, although it's better than mine, I didn't get such good results. The second time she really wanted me to get the salt flats, but I didn't realize and just took a picture of Redwood City, with just a bit of the flats in the corner:
We landed on 28L and went to a gate on the odd side, maybe G95 or G97. We were following a UA777 inbound from somewhere else in Asia and he stopped out at the end (G99 or G101) but we were all one mixed-up mass of people heading towards customs. Fortunately many more people were going to the non-US side (which really surprised me!) so we had virtually no wait to get through immigration. Our bags took a while though, maybe 15 or 20 minutes waiting. Still, we had them and were out in the open before long and headed up to end the trip where we started it – at Emporio Rulli for a cappuccino. All three legs of the trip were comfortable and either on time or a little bit early, and I was able to sleep a lot and keep my belly reasonably happily filled.