Spanair Full-Charter and the Flying Pencil: STR-PMI-STR
Hello, dear readers,
today I will serve you a short story together with some pix about my latest trip experience this week to Mallorca.
School holiday´s in southern germany and two free days in my calendar.
Not that much offers on the market, the classic airlines and the low-costers busy and expensive.
Some days earlier I noticed a PMI roundtrip with an acceptable fare, one night, departure late morning, but return
early morning the next day, not the real thing.
When I checked the market again, Tuesday evening, there was the same offer, but suddenly with an evening return.
The offer was from START, typical problem in such cases, no guarantee about the flight times, changeable by the tour operator (Neckermann).
So I've called START, the friendly guy there told me to book and he will do a notice that the flights will be as announced.
Another call the next day directly at the tour operator confirmed, tickets with the original schedule printed.
Thursday, 31.05.2007
STR (Stuttgart-Echterdingen) - PMI (Palma de Malloca-Son Sant Juan)
JKK 2004 operated by Spanair A320 EC-HRP
Scheduled: 10.05 // 12.00
Actual: 10.25 // 12.20
Gate: 361 Seat: 28E
Load factor: near 100 %, 172/180
Fare: 39,50 EUR per pax per leg
History:
The first ever Airbus plane in service with JK, mainly used on touristic services, delivered 06.12.2000.
Flight no.31on the A320 and the first on this machine.
Arrival at the airport at around 08.00 am, P8/11 was again busy, so parked at P2.
What a nostalgic feeling, so I thought, we had to collect our printed tickets, usually electronic ones on my flights, at the tour-operators desk.
No problem there. Three counters open in T3, not more than five minutes to wait till a friendly LH girl secured us the seats
we asked for and send our bags to germanys touristic destination no. one.
This was a full charter flight, therefore no informations about the plane type in the systems.
I hoped for a MD, but STR INFO shows me the day before an A320.
No time to wait at T1 security, downstairs to a well known gate, the same like two weeks ago to CTA.
We settled down, followed the traffic and waited for the JKK arrival from PMI.
Announced was 09.00 am, ontime.
Arrival JKK from PMI: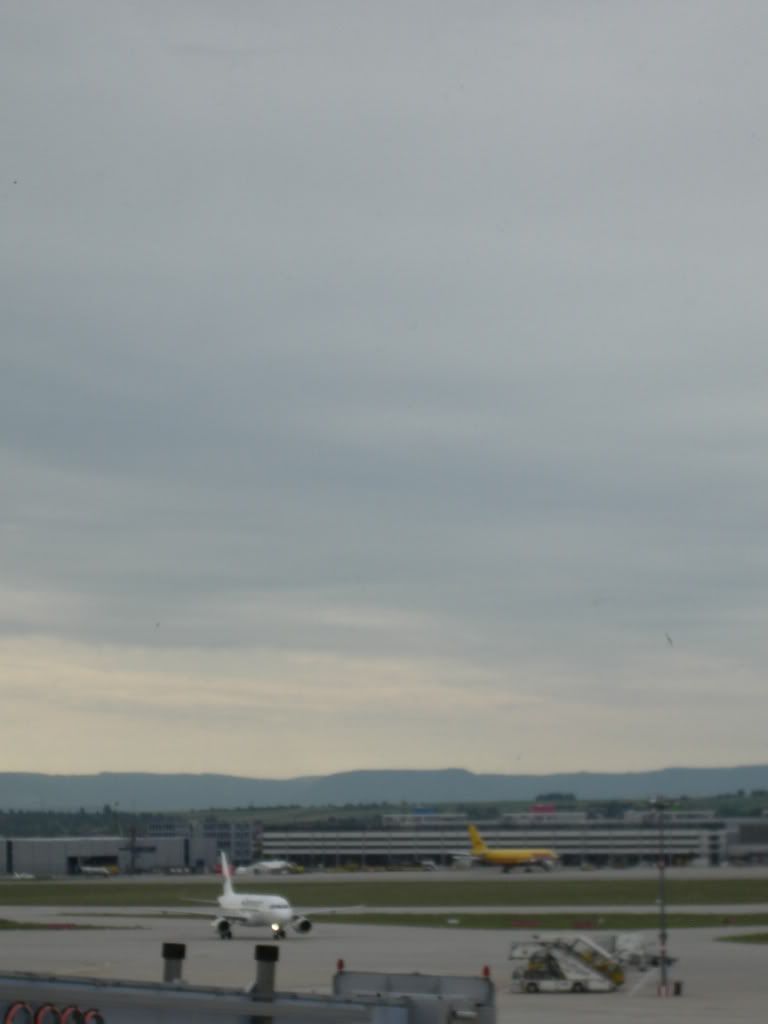 So it was, the scheduled A320 leave the runway and while we´re back on the upper level, in preparation for a good taxi pic, what do you think where the plane is parked?.
Eastern apron, not far from our gate.
Ground staff in action:
Boarding time comes and goes, lots of pax at the gate.
We´re finally called at 09.45 am, neither impossible to board and depart ontime with a fully load of mainly not frequent travellers to a holiday destination.
Bye-bye Stuttgart: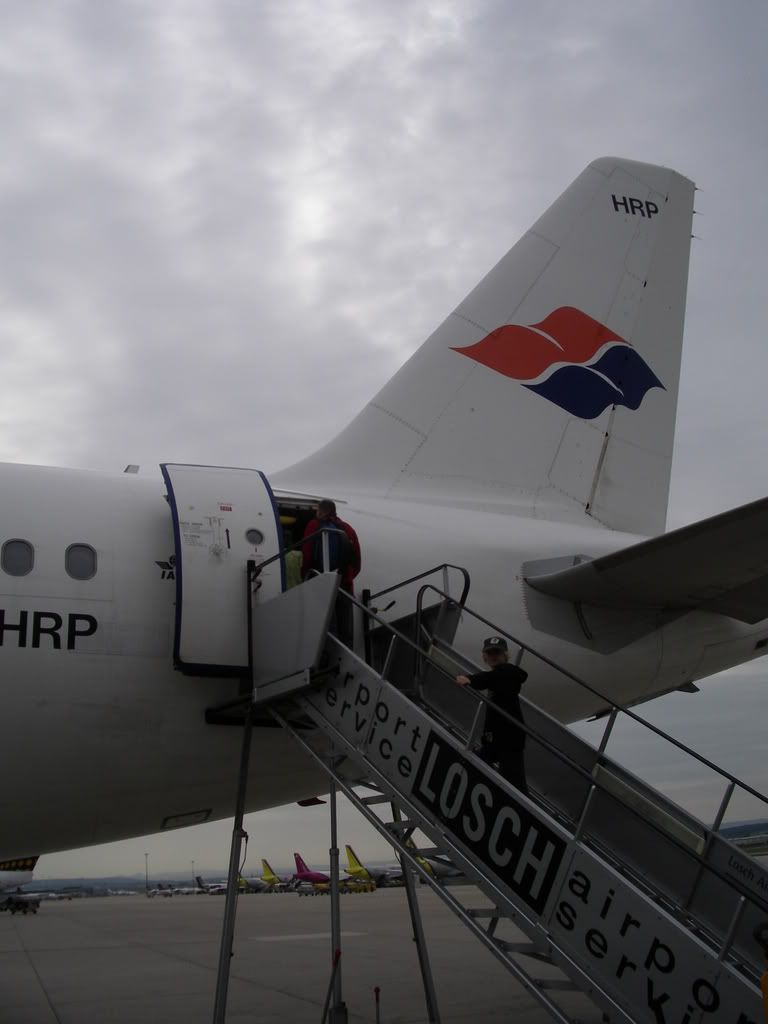 We take the second bus, the seat beneath remained empty, it will be still so?. No, a third bus with some "lost" pax arrived and we´re ready to go at around
10.15 am. Duration 1 hour, 50 minutes. Very detailed informations from the male purser, total 5 FA´s, two male, three female, all friendly and all fluent in german
and he introduced the captain for this flight: Soriano. All annoucements in german only, the purser asked if there is a pax in need of english informations on the flight,
surely no one!.
The cabin fitted with dark, blue fabric Recaro seats, legroom was rather low from my point of view.
No. three to depart after a ContactAir ATR and an Eurowings Avro from runway 25 to Basle-Geneva-Marseilles and Palma.
Approaching the north-eastern part of Mallorca: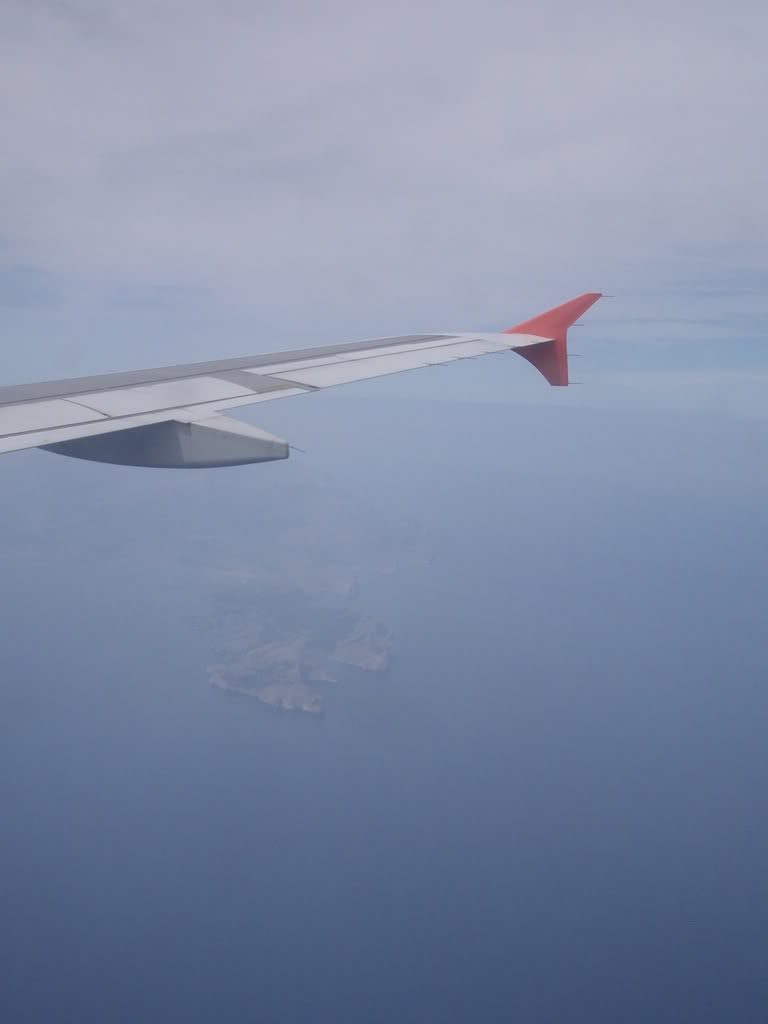 Flightlevel 10.700 meters.
Service: A free snack box with a bread roll, sweets, soft drinks, coffee, tea. Catering was also from Spanair.
Drop down screens with the map system, the route good to follow.
Arrival around 20 minutes delayed on runway 24 R, taxi around the whole terminal and parked near the other runway, deboarding by bus.
Welcome to sunny Mallorca: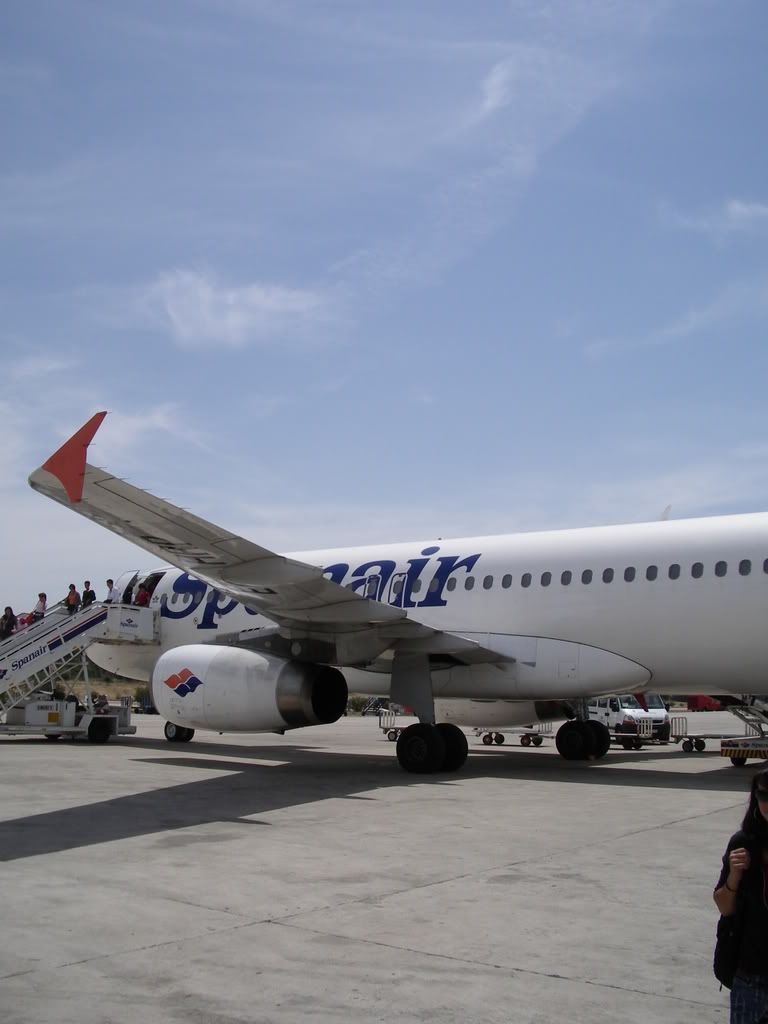 Leaving our machine on the apron:
Some 15 minutes more for the bags and we´re on the way to the Sixt shuttle to collect our car. The cheapest offer was from AutoEurope at around 50.-- EUROS,
they accepted my booking, but send me later a mail that the cars are sold out, new fare more than 70.-- EUROS, I declined and secured Sixt at around 60.-- EUROS.
A new Peugeot 107, friendly employees, no time to wait, a good decision till now.
Accomodation was the "Globalia Punta Amer" in Sa Coma, newly renovated in a minimalistic style, four stars with indoor/outdoor pool, fare unbeatable 50.-- EUROS B&B by HRS.
Main target was to "ride" the historc Soller train, some pics:
First the "Ermita de Bethlem":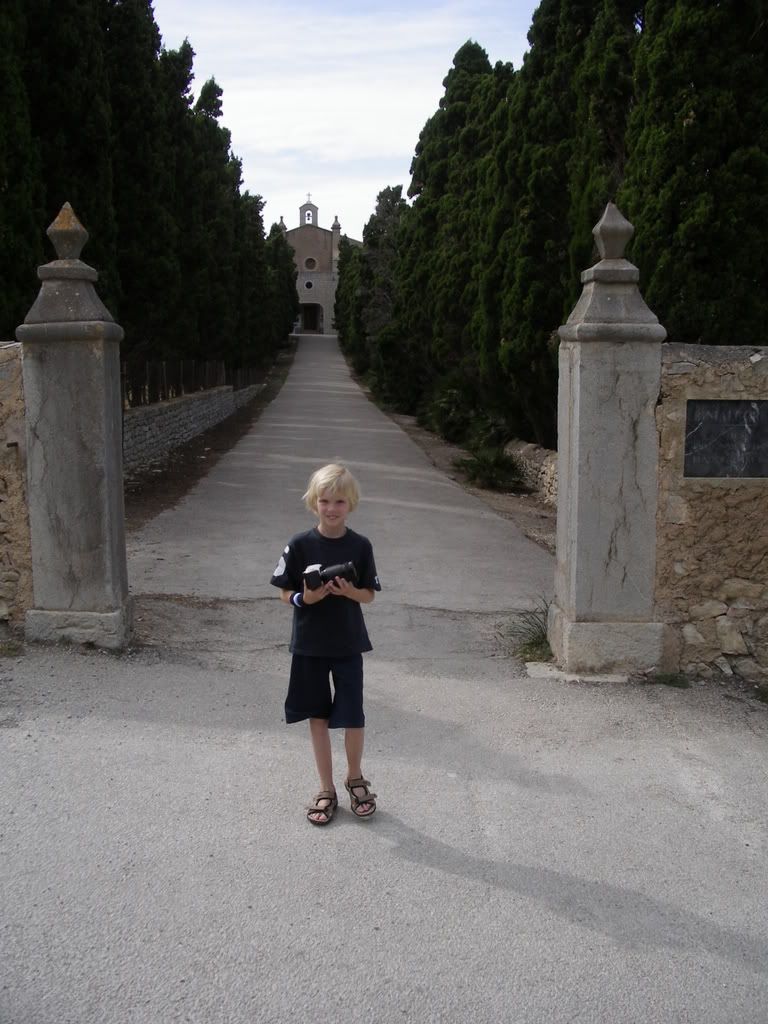 Ermita detail: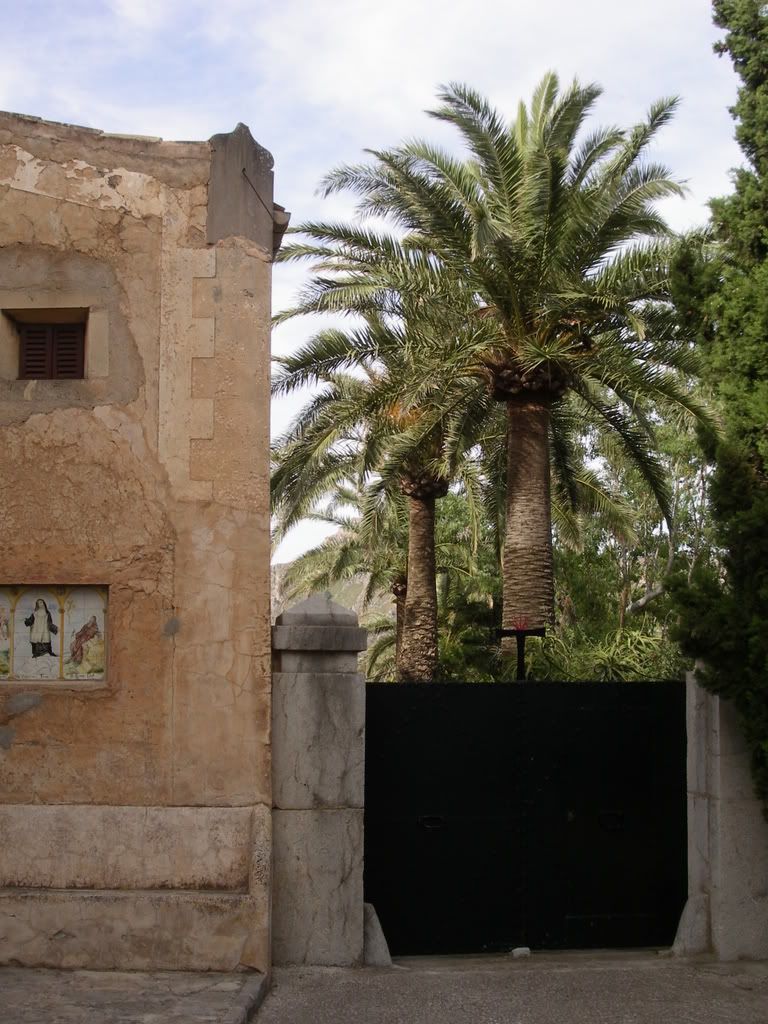 Hola, train rider: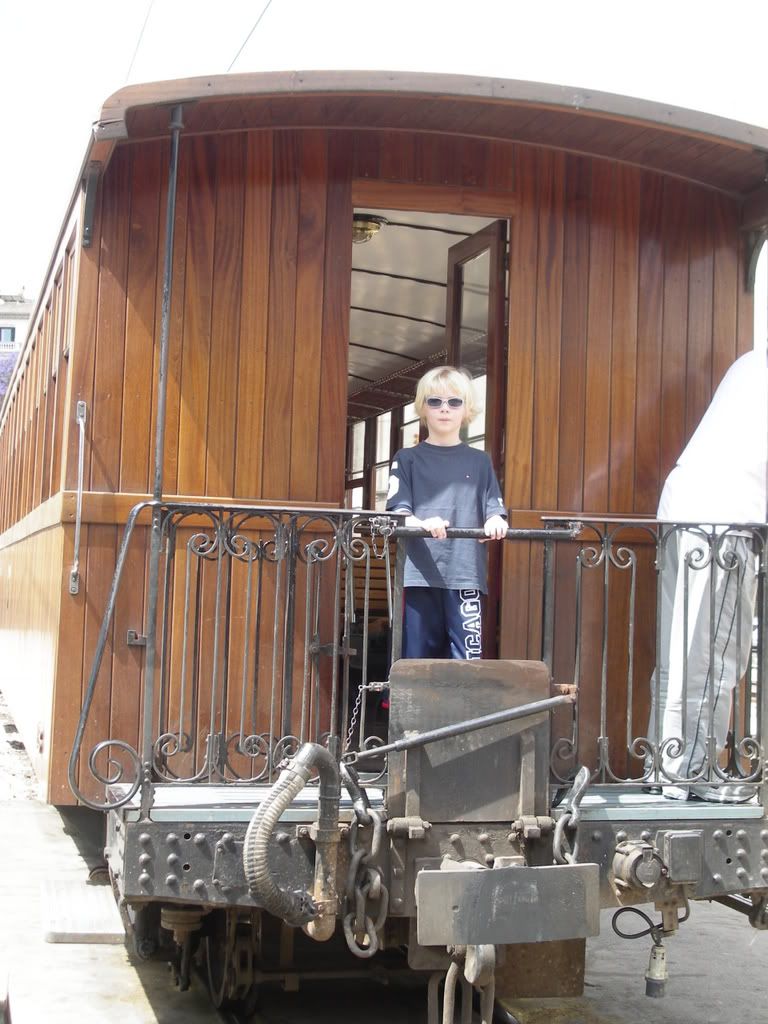 The train in Palma: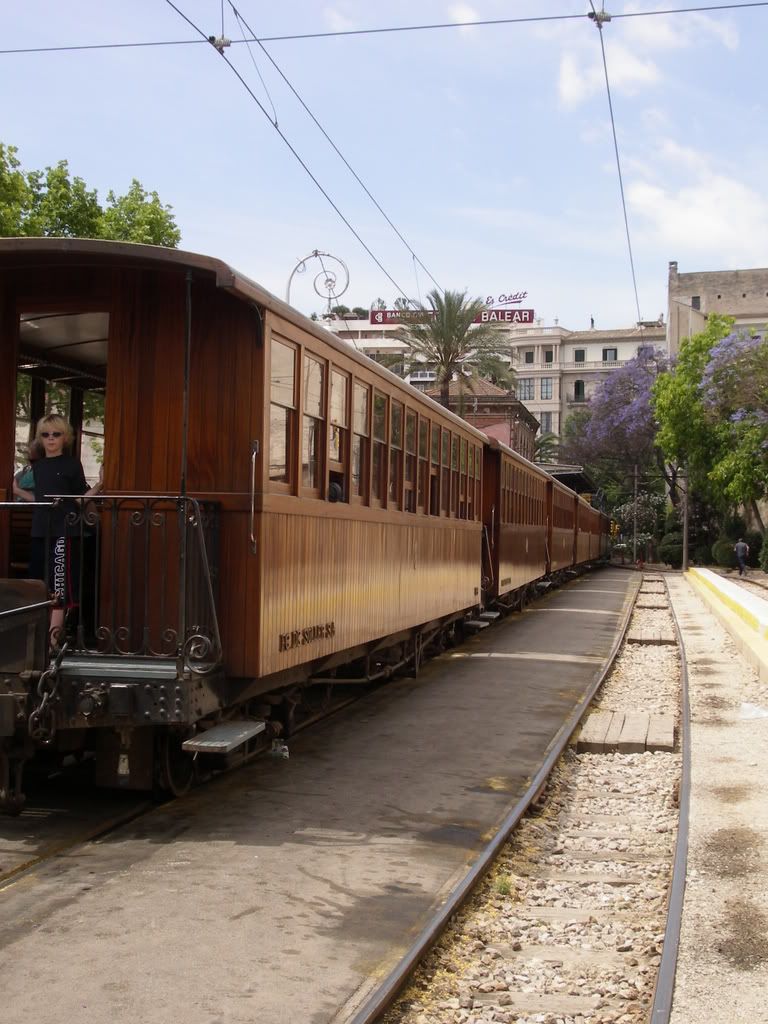 The engine on short finals: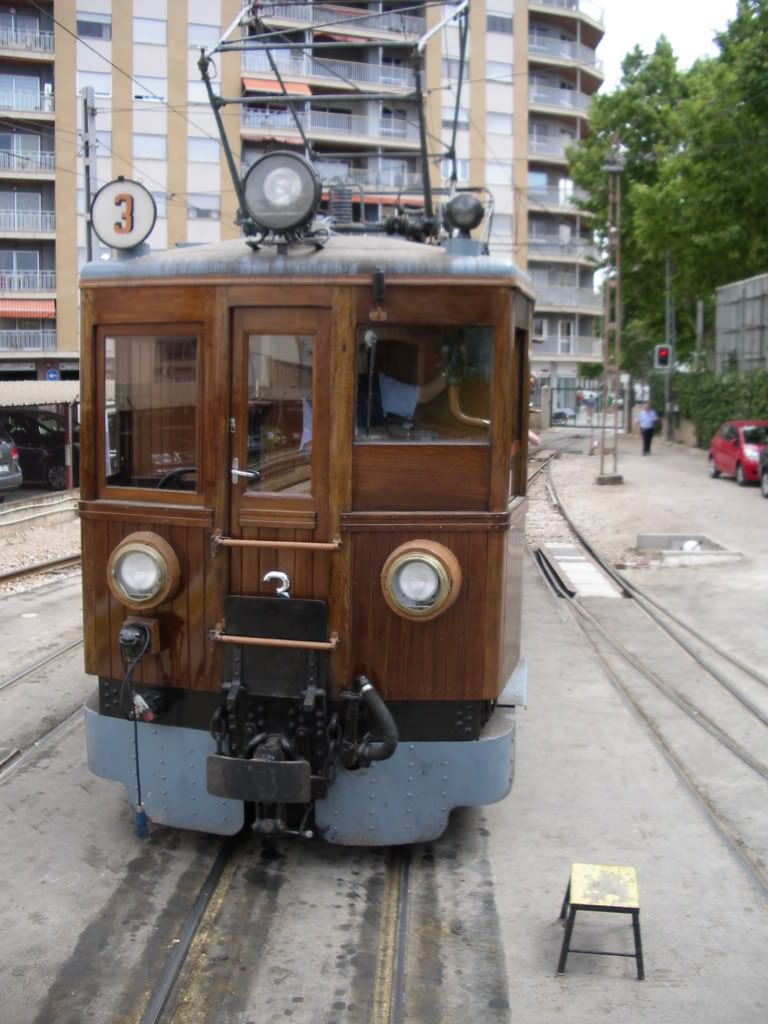 In Soller, ready to depart back to Palma:
Friday, 01.06.2007
PMI (Palma de Mallorca-Son Sant Juan) - STR (Stuttgart-Echterdingen)
DE 5823 operated by Condor B757-300 D-ABOF
Scheduled: 21.15 // 23.15
Actual: 21.45 // 23.30
Gate: D ? Seat: 49B
Load factor: Around 85 %, 215/265
History:
13.03.1999: Delivered to Condor
31.03.2003: Leased out to Transavia
01.09.2003: In service with Thomas Cook
28.05.2004: And back to the roots with Condor
Flight no.5 on the B757-300 and the second on this machine.
After another nice day at Mallorca we´re back at the Sixt office at around 7 pm and finally in the terminal two hours prior to departure.
Five or six counters staffed by Ineuropa-Handling open for all Condor flights, no time to wait. A not to friendly guy accepted our bags and printed some boarding passes.
I asked for window/middle in the back of the plane, result: Aisle and middle in front. New ones printed withhin seconds and further to security, not more than five minutes to wait there. He dont´accepted my Miles and More Card, later I read that departure from germany is necessary for a DE credit.
PMI during the summer travel period is always interesting, planes from all over Europe there, nice to follow.
Interesting, push back in the wrong direction: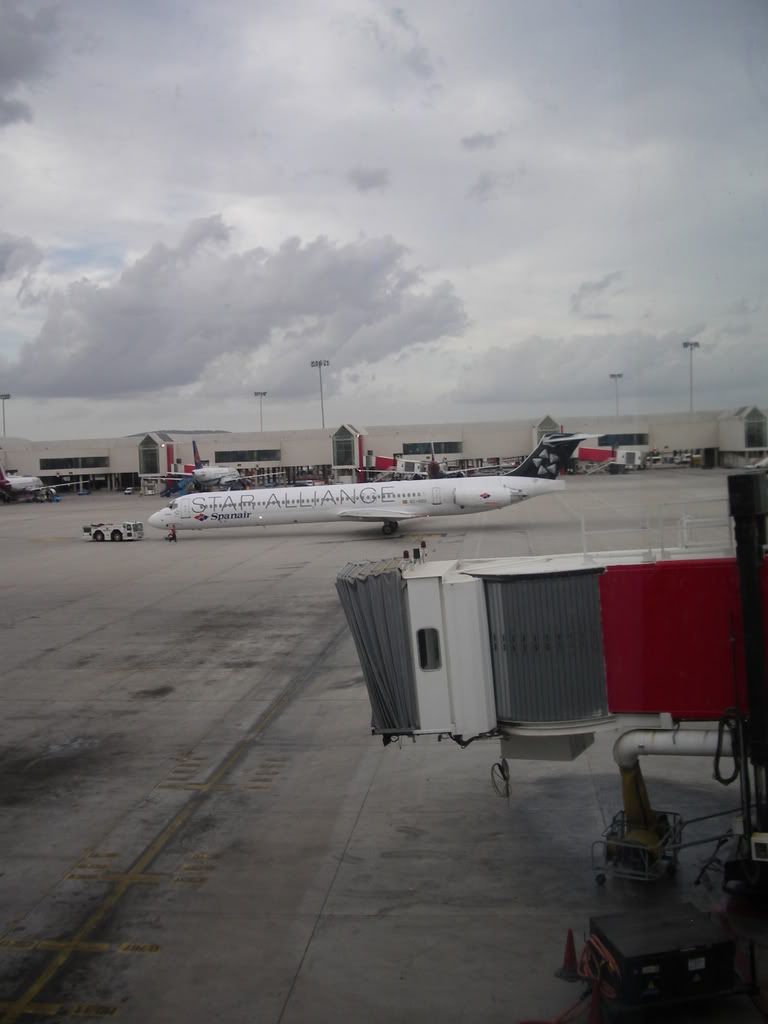 And turned around the departure: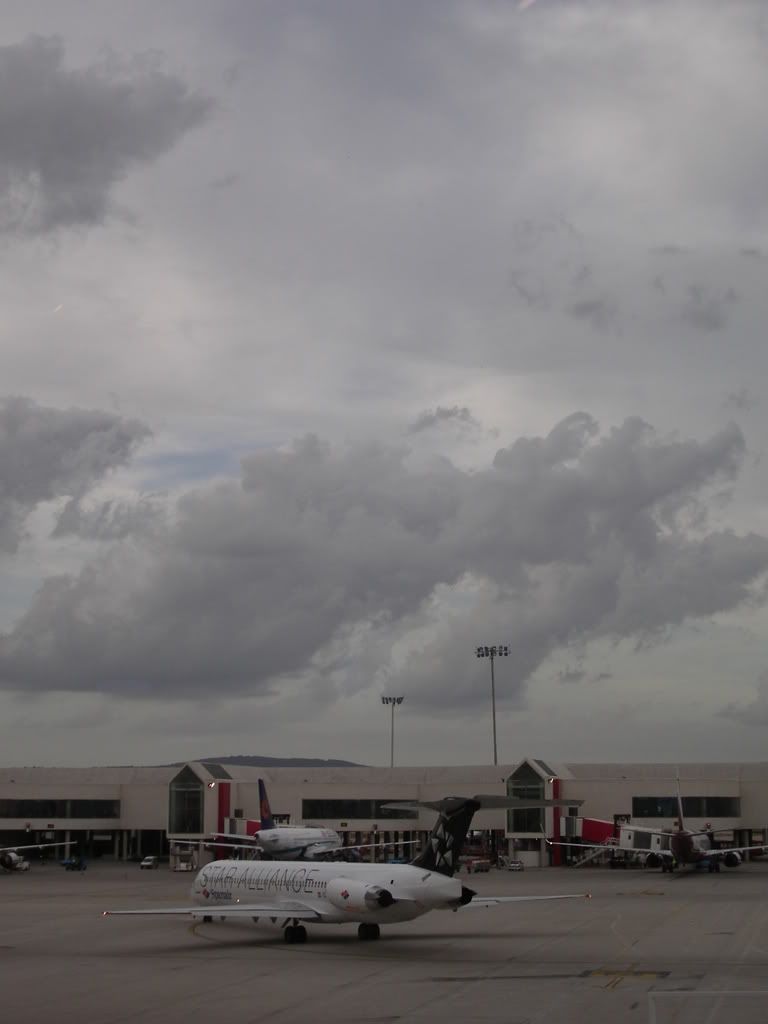 Lots of delays on the screens, for example AB to STR with nearly two hours, but no special information for our flight. A bus gate was announced.
I managed some pix from a DE 753, on taxi past the D area, now, that´s a long machine, our plane?.
The flying pencil just arrived:
Taxi to the apron: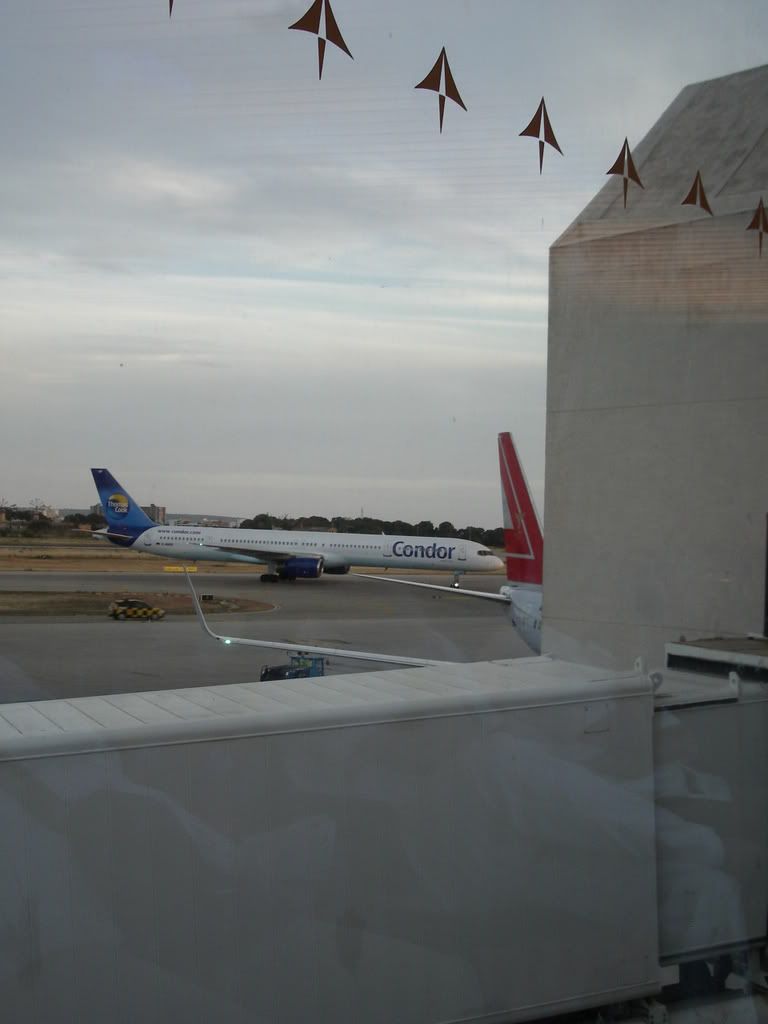 Once again boarding time comes and goes, no action.
Boarding started than at around 9 pm, the bus full like Tokyo´s subway in the rush hour, with some typical tourist comments.
And finally bye, bye Palma:
It was our machine, my second ride on this particular plane, welcomed by a real friendly female FA. Some 50 seats empty, mainly in the back of the plane, so a real
comfortable flight. Bright grey fabric seats, legroom much better than on the outbound leg.
Total six FA´s, five female, one male, the three in our cabin part all friendly.
I managed no cabin shot as we boarded late and deboarded first, but my impression was once again, what a real long machine.
Detailed informations in a also friendly way from the Captain, Alf Kohler today, pilot flying was the FO Alexander Ott. He explained the delay with the planes strong schedule, three returns to PMI today.
Nearly no time to wait for departure from runway 06R after an AB A320 and followed by another AB B738 to Marseilles-far east from Geneva-Zurich and STR.
Flight level 36.000 ft.
Service: A freed bread roll, non alcoholic drinks, sweets. Time goes by quick, the route was quite fast and so we arrived with only 15 minutes delay real hard,
like a wake up sign for the pax, on runway 25 back home in STR.
Only some minutes for the bags and home by car.
So, thumps up for Spanair, I expected not to much for my first full charter flight after a real long time, state-of-the-art aircraft, friendly FA´s, service more than expected.
Negative from my point of view was the low legroom, 180 seats in the A320, not bad for the company and the lack of statement from the flightdeck.
Don´t get me wrong, but I always prefer to hear that there is a real human in front.
The Condor service was comfortable, friendly FA´s, especially the female with the seat in the rear galley, not bad, we will see what´s going on there with DE´s 753´s,
the outsorcing to Cirrus is cancelled, sounds like an interesting upcoming summer season for DE and its passengers.
And what about Mallorca, perfect with its whole tourisitc infrastructure, we had two nice days there.
Last the statement from my son: What about another trip next weekend?.
Comments always welcome,
Markus (FLIEGER67)