A short report of my recent experience in Austrian's new business class, with photos of course. I'll include the HEL-VIE leg in Y, but that will be very brief.
21 May 2007
Helsinki Vantaa (HEL/EFHK) – Vienna Schwechat (VIE/LOWW)
Austrian Arrows OS/AUA 348 (Operated by Tyrolean Airways)
Fokker 100
OE-LVI
0800-0940 – On Time
Economy Class, Seat 11C
OS has two very bad connections from Helsinki if one is connecting to the Bangkok flight – one in the morning and another in the afternoon. I took the morning one as it meant I didn't have to take a bus to the airport with one transfer and a travelling time of about 3 hours. Was dropped off at the airport at around 6.45am, and made my way to SAS Self Service machines. Just to learn they won't work for OS flights... neither does OS web check-in from HEL. Thankfully the SK lady manning the helpdesk for the machines proceeded to check me in, so I didn't have to queue at the regular counters.
Off to the SAS lounge, refused access as they claimed same day C class boarding pass for OS25 is not enough for access. I disagree, but he let me in after I showed a printout of my TG account indicating ROP Gold status (no card at that point yet). The lounge was very quiet despite this being Monday morning. I had some sandwiches and a cup of tea for breakfast.
OS348 was using a bus gate as usual, and the aircraft was parked near Finnair's maintenance hangars. I was behind the exit row on VIE-HEL, but this time in front of it (11C). Huge difference in legroom, 11C was bearable while 17C on the VIE-HEL was completely unbearable. We were pushed back on time and took off from 22R a few minutes later as there was no queue.
Service started soon after takeoff, OS is back to hot meals on these flights but these gourmet creations are not much to talk about. Meals were double catered in VIE, have fun eating these breakfasts when they have sat onboard all night in the summer months...
Service underway in Y
Tiny hot breakfast HEL-VIE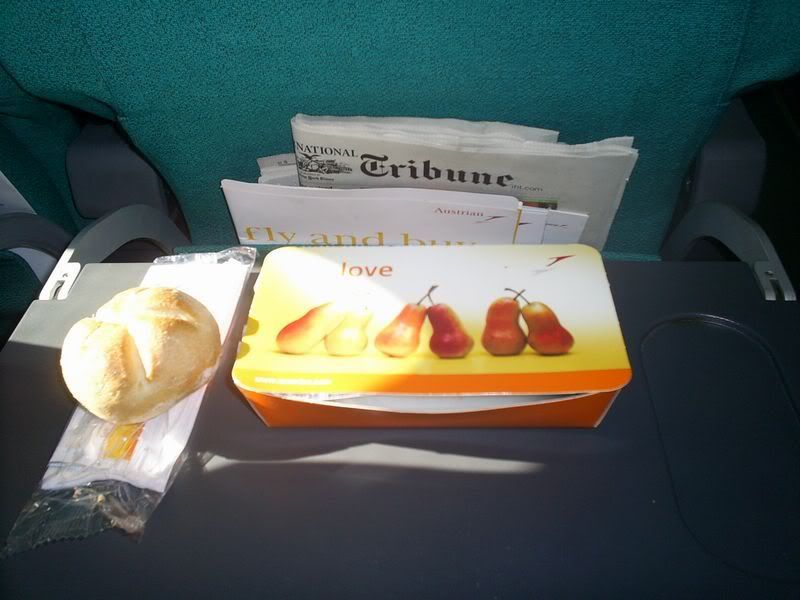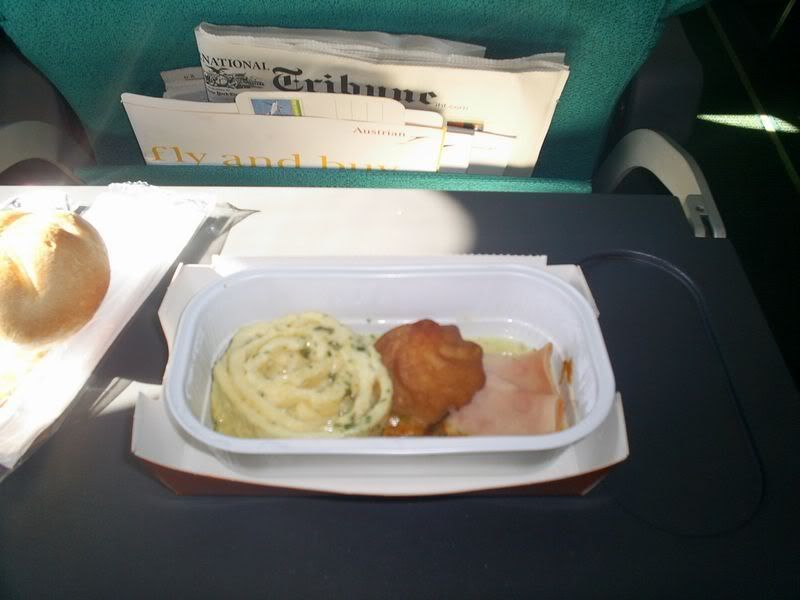 Had some Coke and water as well – the former was likewise opened on VIE-HEL the previous night and I might have just as well handed it right back. Disgusting. For those interested, they serve two alcoholic drinks and you can't even pay for more. Absolutely appalling for an airline that charged me over 1000 EUR for this Y-class BKK-HEL-BKK ticket.
It took me about 3 minutes to finish the tiny breakfast, and I slept the rest of the way to Vienna.
Vienna Lounges
I first went to the Schengen side Senator Lounge – not a single vacant seat to be found, so I left for the Business Lounge nearby. It's very large and newly renovated, I went to the "panoramic view" area and managed to get one of the sleeper chairs there. Comfortable and a nice view. The food is excellent too, some soup, pasta salad and beef stew was available for lunch. Good selection of drinks too, including Baileys and some decent sparkling wine.
Schengen OS Business Lounge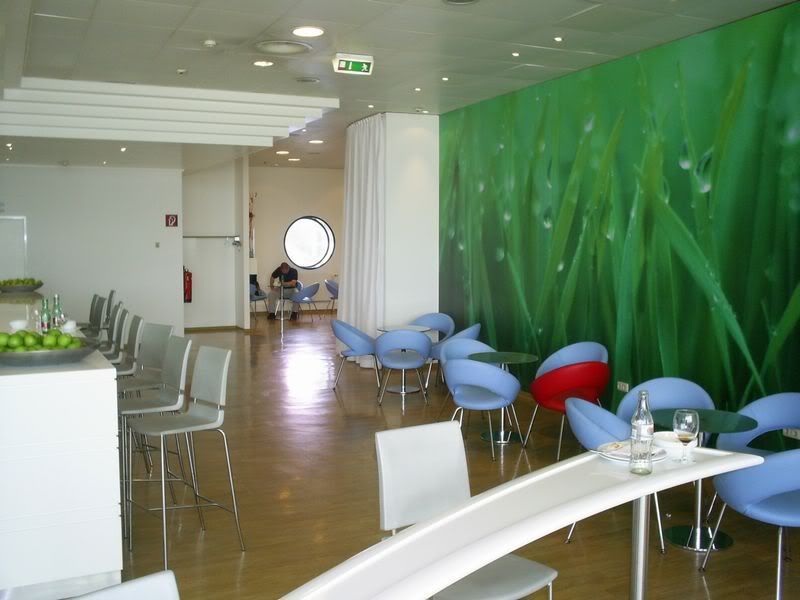 Seating
Buffet area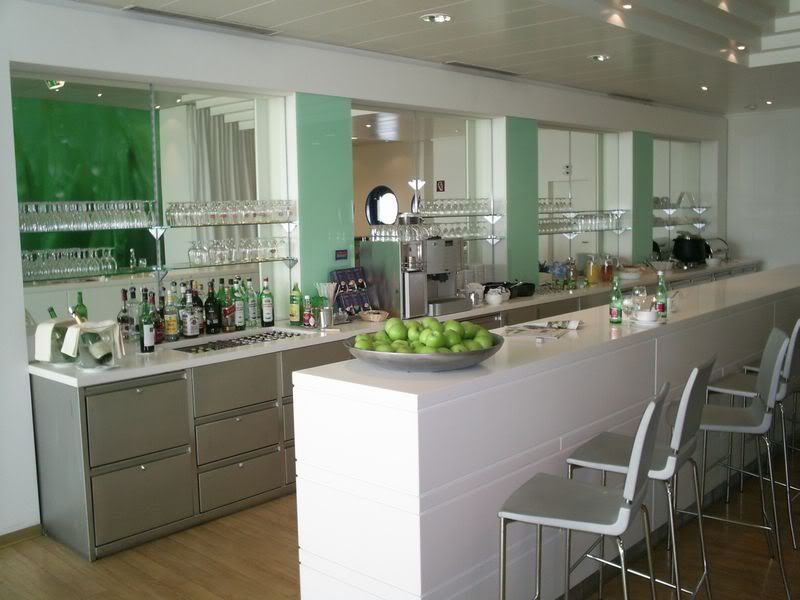 I later went to the Senator Lounge in the non-Schengen area, equally packed, but it had excellent dinner available. Sirloin steak with creamy garlic potatoes – top notch for lounge food. Some vintage sparkling wine was available as well – those were the only differences to the Business Lounges that I noticed. The Senator lounge later closed and I went upstairs to the non-Schengen Business Lounge.
21 May 2007
Vienna Schwechat (VIE/LOWW) – Bangkok Suvarnabhumi (BKK/VTBS)
Austrian Airlines OS 025
Boeing 777-2Z9 ER
OE-LPA
2320-1420+1 – On Time
Business Class, Seat 2D
Boarding pass
OS25 was leaving from A2 this evening, and I went to the gate rather late knowing they have security screening there. No lineup, but the plane wasn't boarding either. The guy made a note I should go to the business class area, but it was roped off and nobody made any effort to get me there. So I went to the desk and a woman let me in, looking like I had inconvenienced her somehow.
Boarding started at around 11pm, and it was obvious the load in the back was very low this evening. My seat was in the second row, 2D.
View from my seat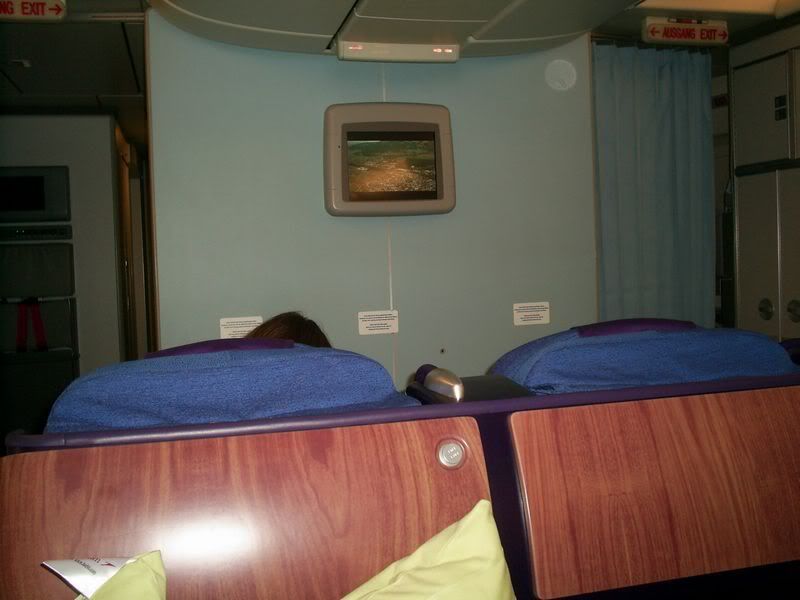 Pre-departure drinks were only offered once most passengers had settled in – warm sparkling wine. I absolutely hate this LH and apparently OS policy to serve some cheapo piss on the ground as they're too cheap to pay the tax on some decent stuff. No refills were offered, very robotic service like in LH's large business class cabins. Amenity kits and menus were handed out as well. The Austrian Sky Spa kit is a bright yellow bag with decent contents – some lip balm, moisturizer, eye mask, earplugs, socks etc. The menu also had a breakfast order card attached – I filled it out and handed back to the crew.
Pre-departure sparkling wine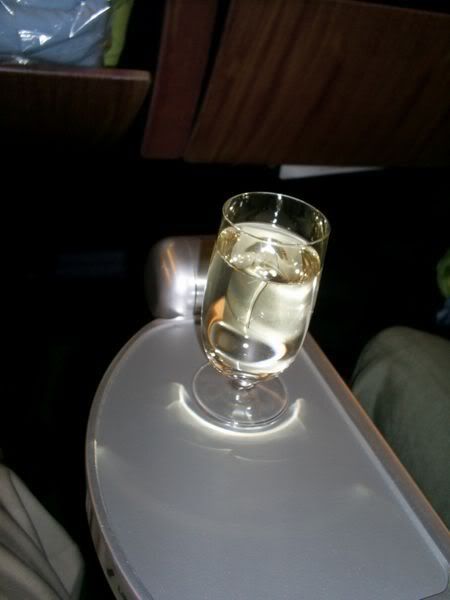 We were pushed back on time, and took off shortly thereafter. I was getting really tired by now after the day in Vienna, but really wanted to try the meal service. Here's the menu.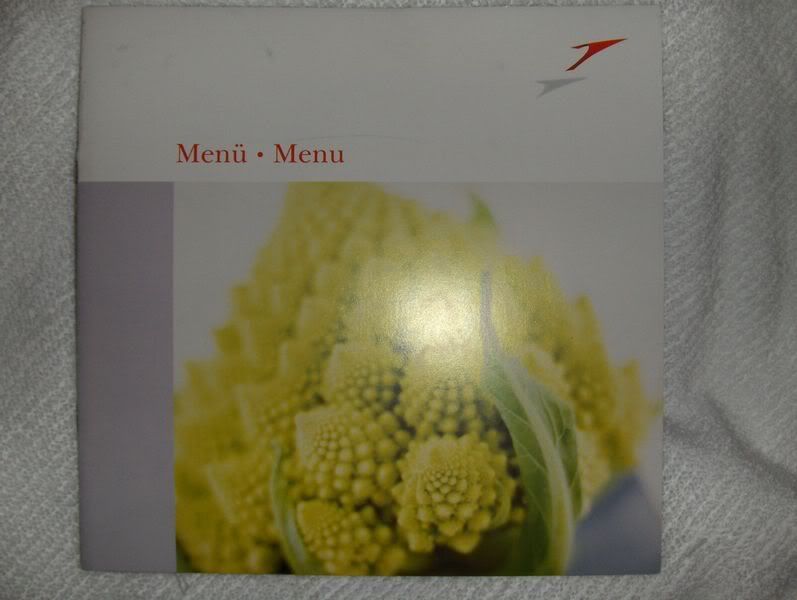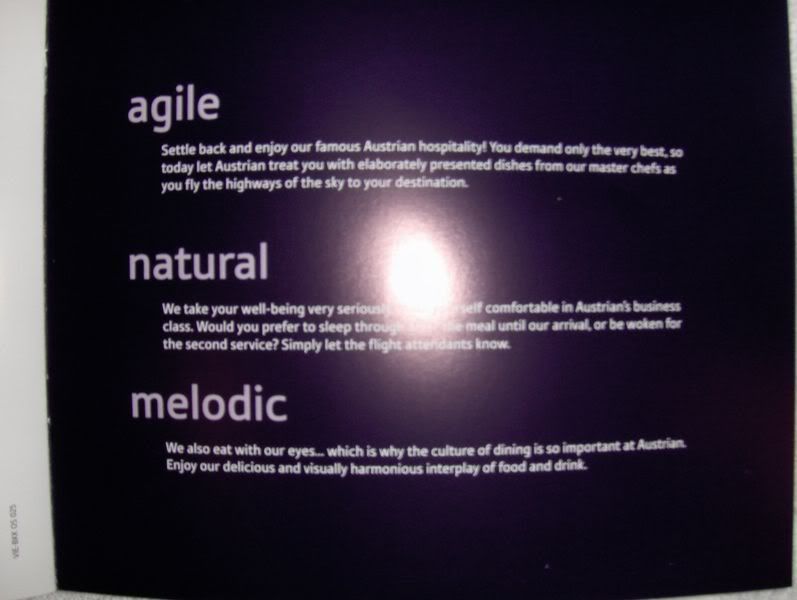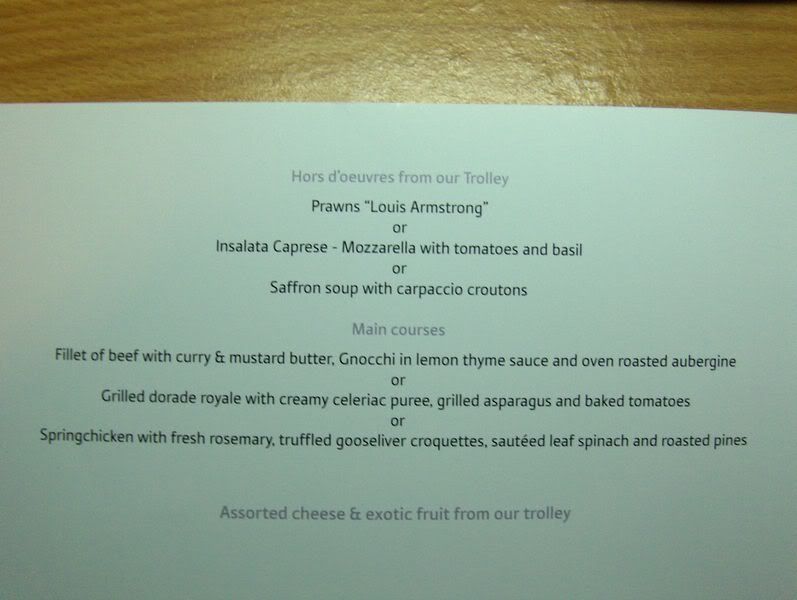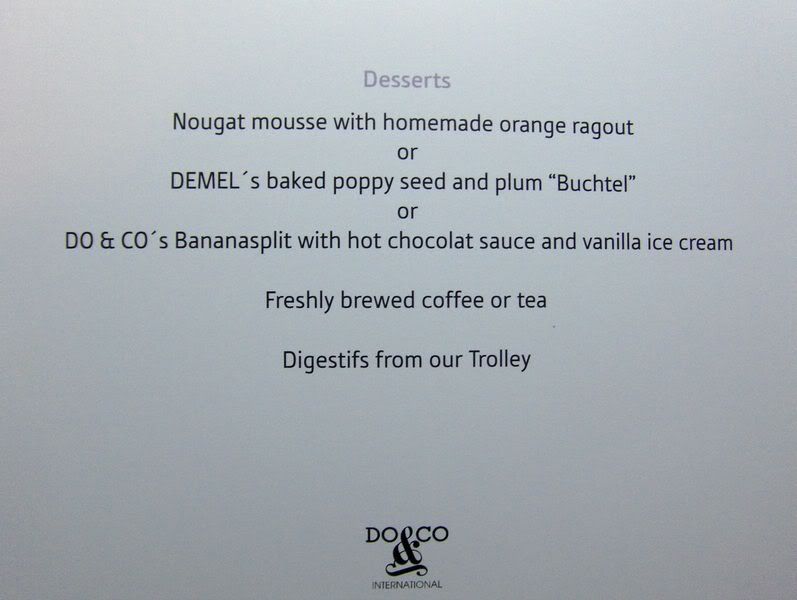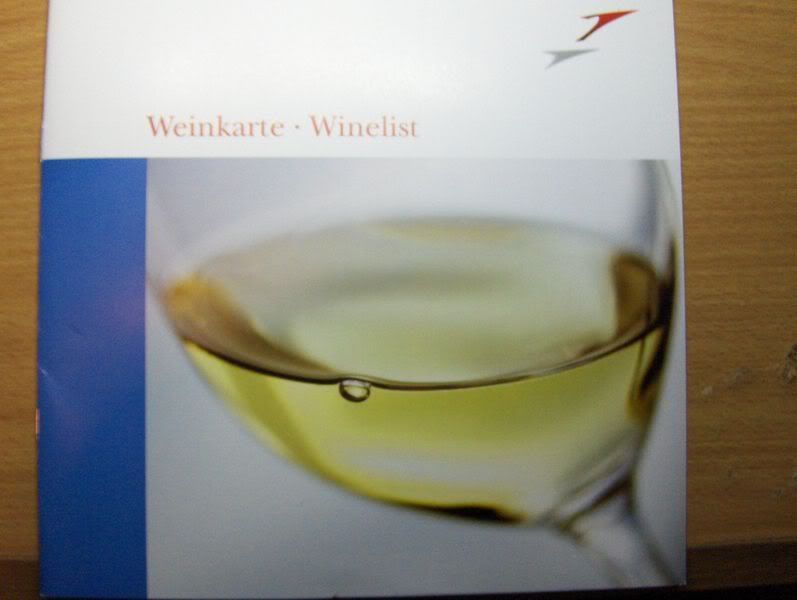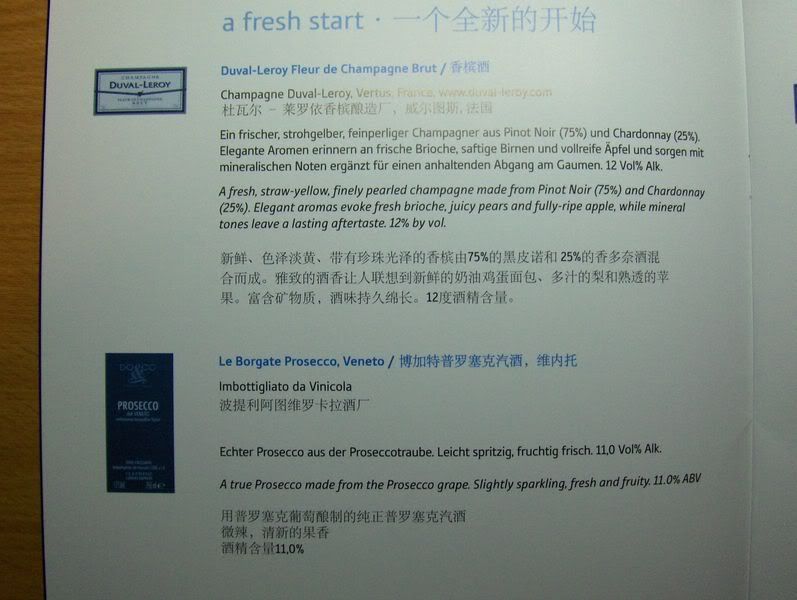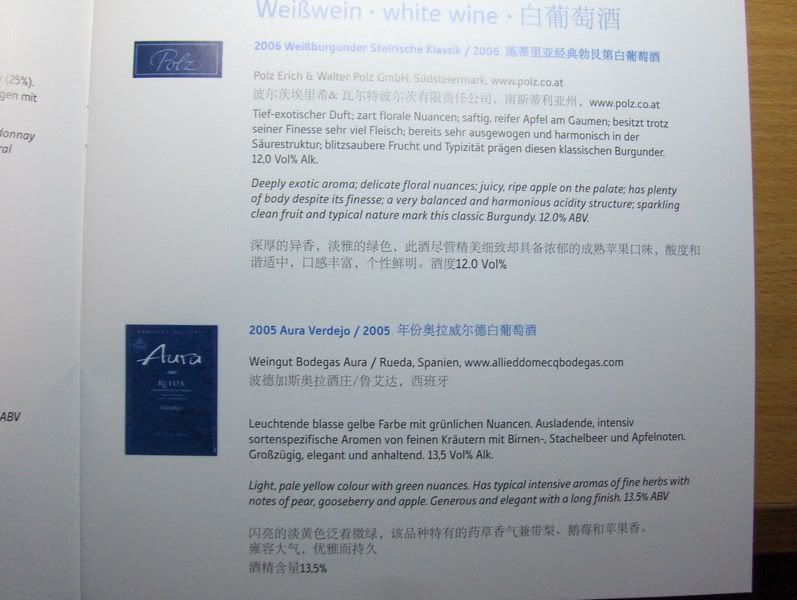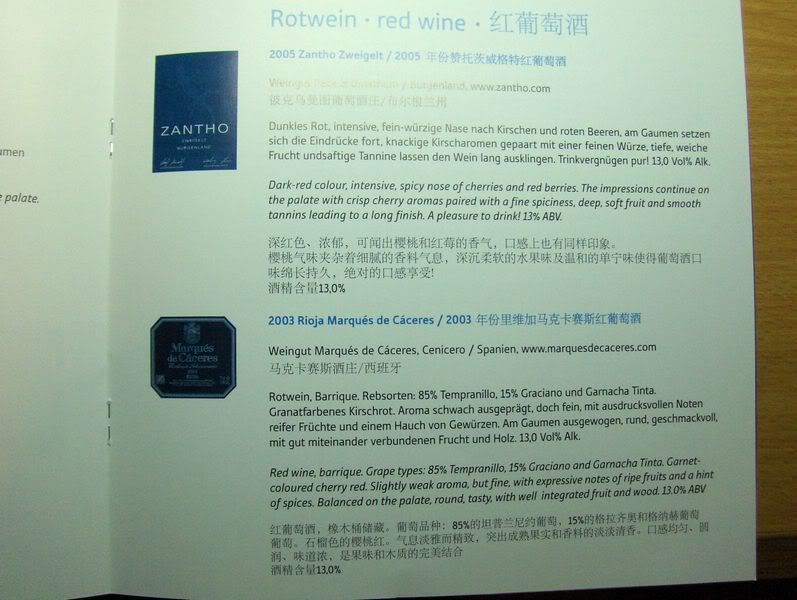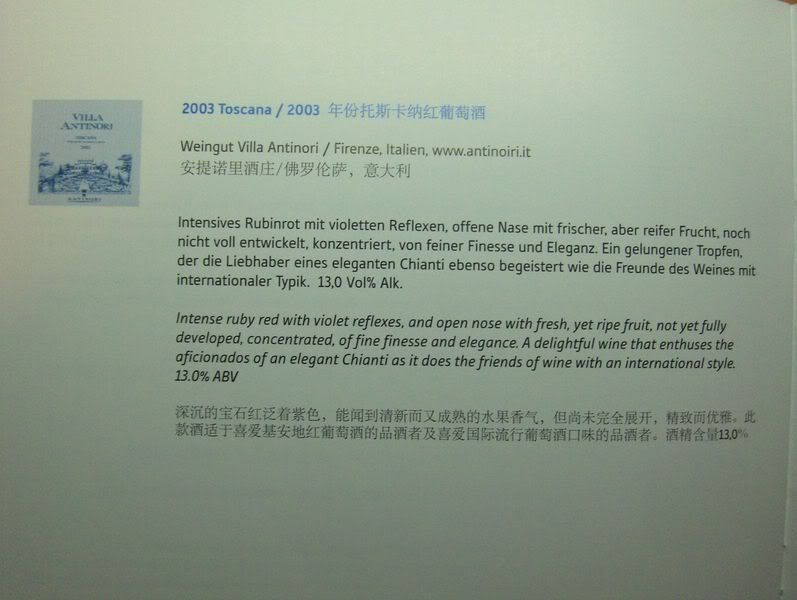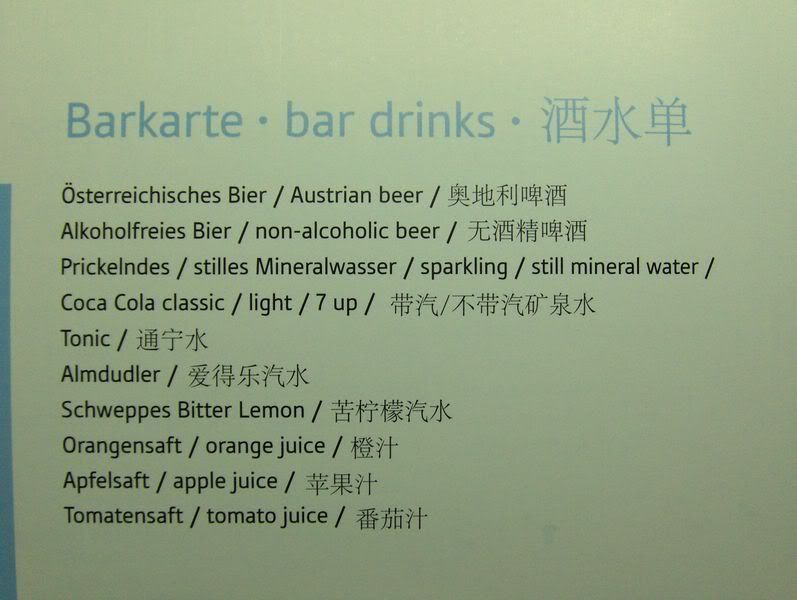 I tried to find some decent music to listen to, but unfortunately the IFE system is non-AVOD, actually I think it was the exact same as Lauda had when I flew VIE-KUL-SYD on OE-LPA. Meal service started somewhere over Hungary. No pre-meal cocktails or snacks.
Skymap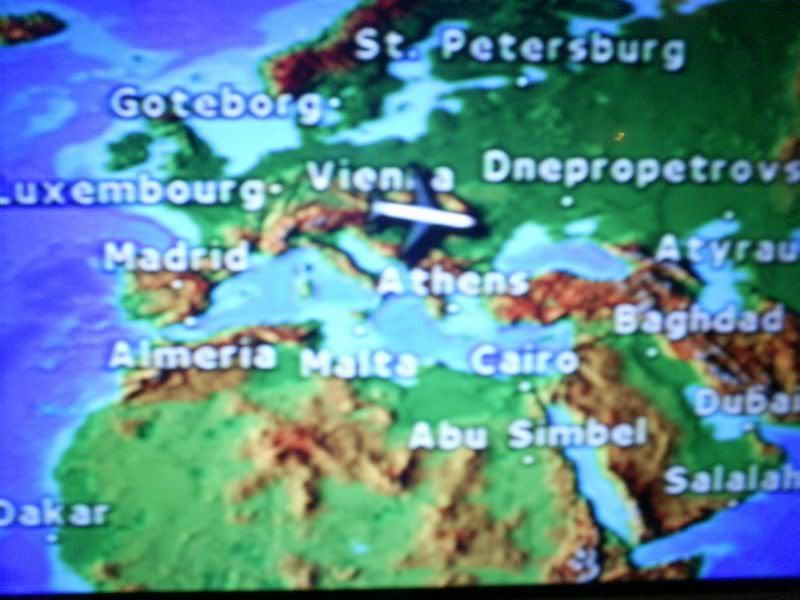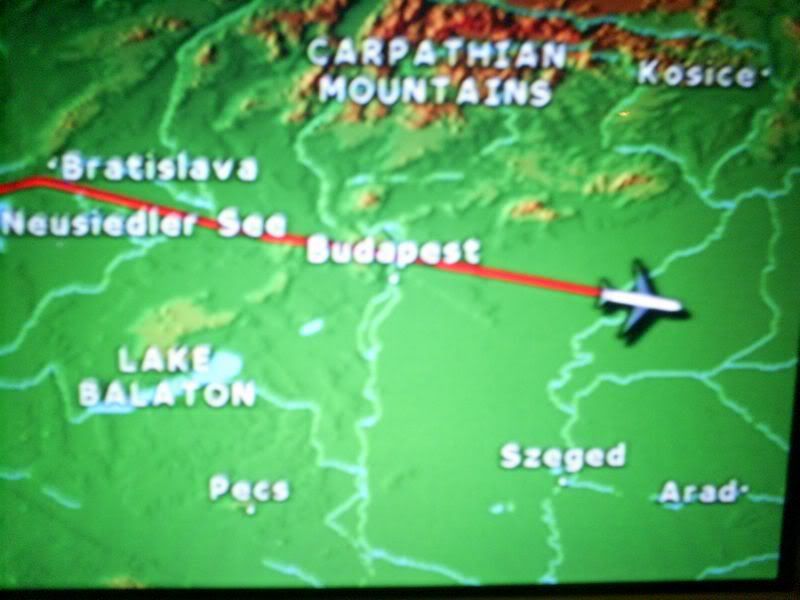 The meal choices sounded excellent, still catered by DO&CO like back in the Lauda days. No trays used for the dinner service, individual table setup like in most first classes.
Table setup and canapes
Prawn appetizer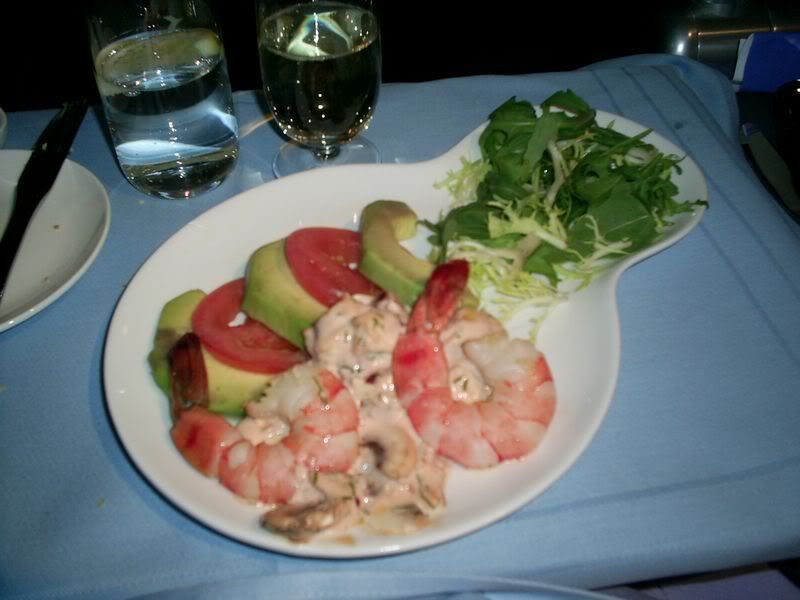 Steak
Banana split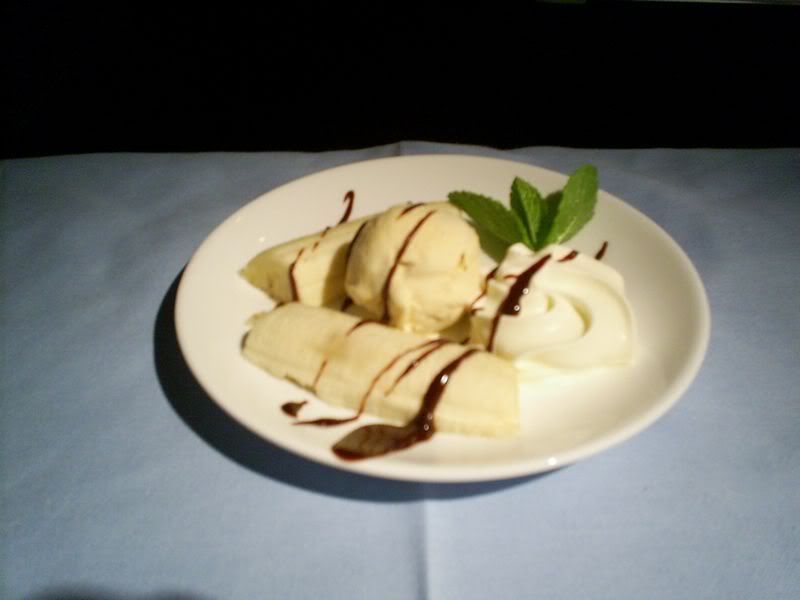 Baileys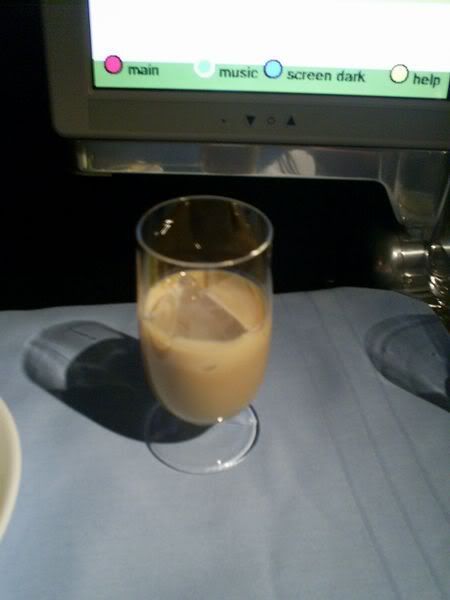 A specialty coffee service followed (a menu was handed out, I seem to have misplaced it)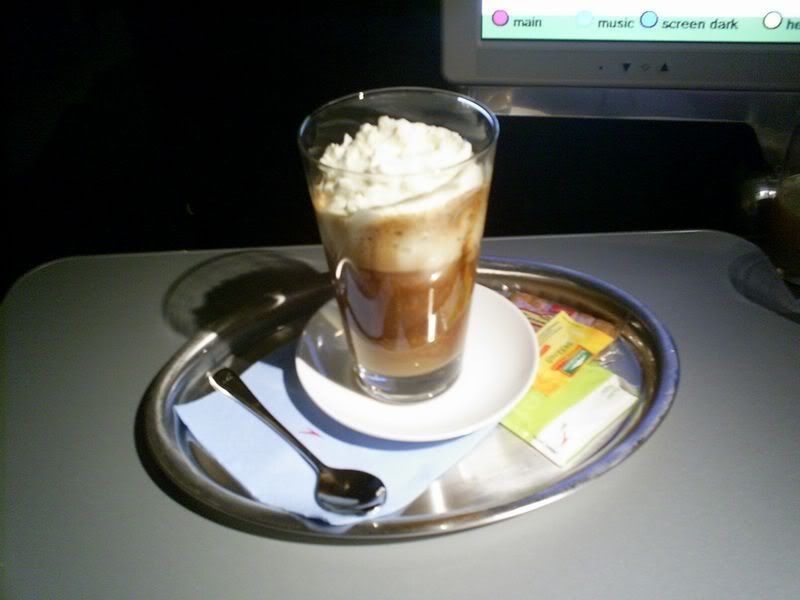 The food was absolutely fantastic, I should have skipped some steaks in the Senator Lounge! Unfortunately the Duval Leroy champagne was totally warm... The onboard chef provided great service wearing his Lauda "Service is Our Success" uniform, but some of the ladies, especially the purser, seemed totally disinterested. I don't know how the OS longhauls are crewed, but it seemed too obvious who was ex-NG and who was from OS.
The seats are same as Finnair, and frankly I don't like them one bit. First, who on their right mind would install lie flats aka ski slopes on their planes when BA comes up with their second fully flat product? Second, they're in 2-3-2 config and the cabin feels cramped. I couldn't sleep at all in the flat mode, the seat is too short and I didn't feel comfortable with my feet confined in that small space. The "relax" position was ok, but completely defeats the purpose of these seats as this position is about what one can achieve with old style cradle seats. I managed to sleep in that position and woke up as breakfast service was starting.
Breakfast tray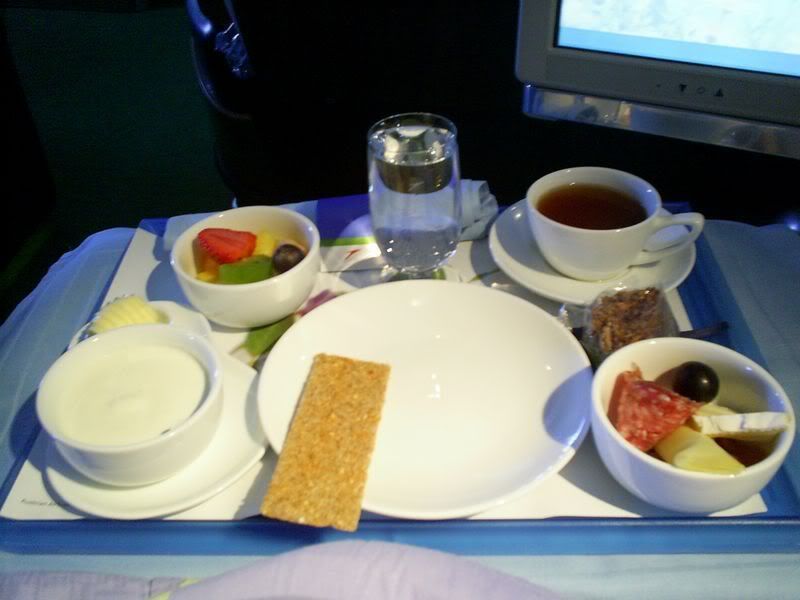 Nice eggs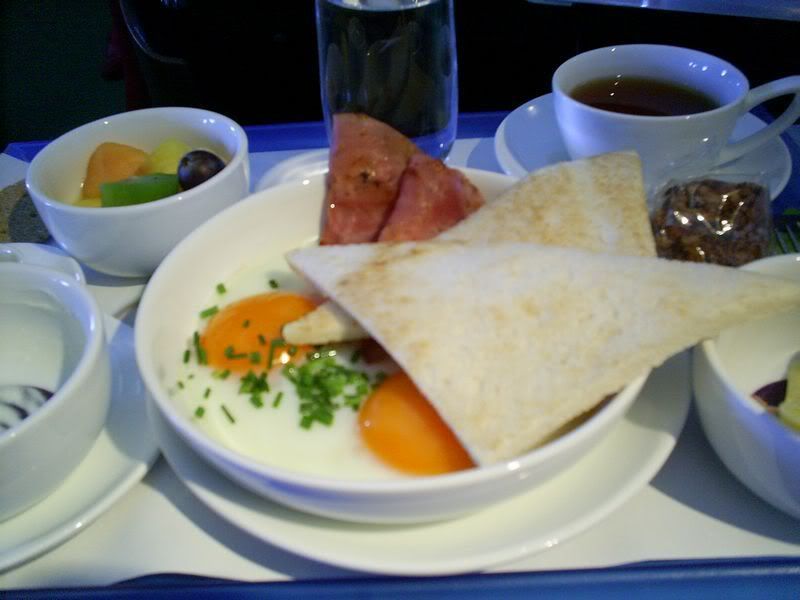 One could choose the side dishes, I took the cold cuts and yoghurt, the main dish, and how the eggs should be prepared. Very nice breakfast, although they never provided the hot chocolate I ordered with the same order slip.
We started our descent a little after passing Yangon, and the cabin was prepared for landing. Apart from the HON in 1A, everybody was asked to put seats upright and headsets were collected. Too early in my opinion, but in line with that LH's robotic service of a large business class cabin. We landed at Suvarnabhumi in time, I cleared immigration quickly and got my bag. Then off to the madhouse called arrivals hall... These idiots said the taxi touts would be taken care of – result is there are even more of them. Man how I hate this airport, more and more each time. Never mind one can't get taxis from the arrivals level – nice to rip off tourists and direct them to some corrupt AOT Limousine service. Appalling.
The food on OS Business was superb, otherwise a very average business class product. Senator/Star Gold lounges in Vienna are way too small. A big minus for the booking process – I booked online and BKK was unable to issue the etix as they were closed. I called OS Internet support and they advised me they will charge the fare in EUR. Sure, no problem. But these idiots charged a ticket service charge of EUR 45 on top of that without telling me.
Hope you enjoyed.