Hello people
I am a constant visitor to this site but a seldom poster. I love the trip report section, as [obviously like us all] I love flying. I log onto this site every day eager to see a new trip report and to imagine myself being lucky enough to be on that flight. I present to you now my second trip report [the first being in 2005 for my trip to Malaysia].
Tuesday, 15 May 2007
QANTAS AIRWAYS FLIGHT QF 025
MEL-AKL-LAX
ALASKA AIRLINES FLIGHT AS 673
LAX-YVR
15 May 2007 was finally here – the start of a MUCH anticipated trip. It was the trip of a lifetime as a matter of fact – a 12 day tour around the Canadian Rockies including a 2-day trip on the Rocky Mountaineer train, followed by a 7 night cruise through Alaska on the beautiful Norwegian Sun cruise ship. I saved very hard to make this trip and booked it a year in advance – it was a long time coming! These Canadian tours are quite popular in Australia, advertised everywhere – so it was not surprising to see the large number of Australians in Canada throughout my trip.
My Qantas flight to LA via Auckland was scheduled to leave at 10.55AM from Melbourne International Airport, Tullamarine. I was actually looking forward to going on the direct flight from MEL-LAX that Qantas also offers, but as I booked this trip through a tour company, it's up to them which flight they book you on. The flight via Auckland arrived in LA closer to the connection time with Alaska Airlines for the onward flight to Vancouver, whereas a wait in LA for up to 7 hours would be impending if I flew direct… so this was better, and hey – it gave me the opportunity to see another Airport!
My parents offered to drop me off for this trip, and we left my house in Geelong for the hour or so drive up to Melbourne Airport at 6.30AM. Heavy traffic along the Melbourne road made us arrive at Melbourne Airport by 8.00AM. It was then we saw that the flight was delayed 20 minutes [11.15 instead of 10.55 – this may have been because of fog in Sydney?]. I went to the large check-in lines for this flight. The check in line was HUGE – mainly because for some reason Qantas decides to have check-in counters for 4 international flights at the same desks! The line was for passengers for both flights to LAX [one direct and one via Auckland], a flight to Japan and a flight to Wellington. I noticed another line to the left which was less busy, and noticing it was for my flight as well, I quickly made my way there. Mum then told me the bad news – it was the line for Business and First Class! Shoulda known! So back in the Cattle Class line I went…!
Eventually I made it to the counter and requested [and received] a window seat all the way through – I like to see what's going on outside!
The excitement was building as we then had a quick bite to eat at the Airport restaurant.
I said my final goodbyes and made my way through customs and to the gate. Was not too bad for this time of morning – not much waiting and before I knew it I was through. I got my first glimpse of the bird that would be taking me to LAX – and it was very exciting – my first time on a Jumbo since 1990 and my first time EVER on a 747-400! I made out that the registration was VH-OEE.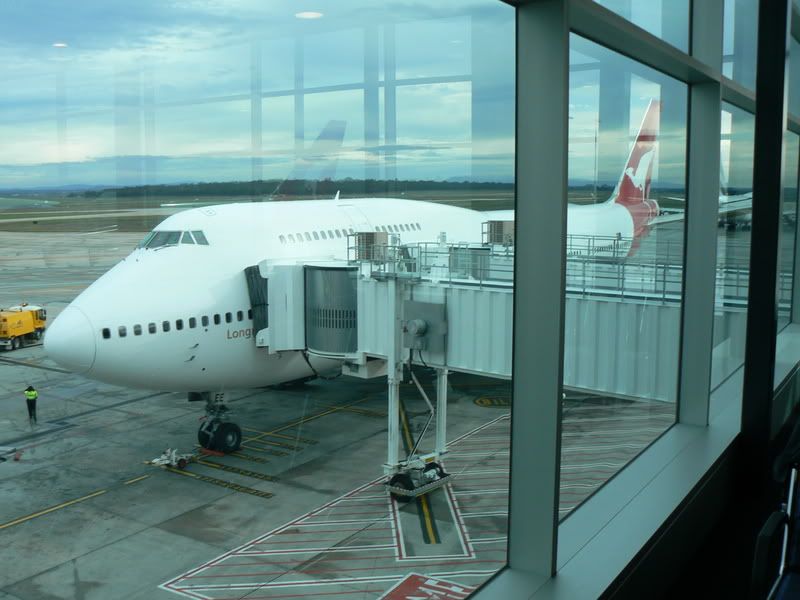 The departure boards indicated that the United Airlines flight from MEL-SYD-LAX was cancelled – and thus a portion of those passengers were transferred to the two LAX bound Qantas flights this morning – which made both planes 100% FULL! [Well, in Economy at least!] The boarding announcement finally came and, very excited, I made my way onto the plane!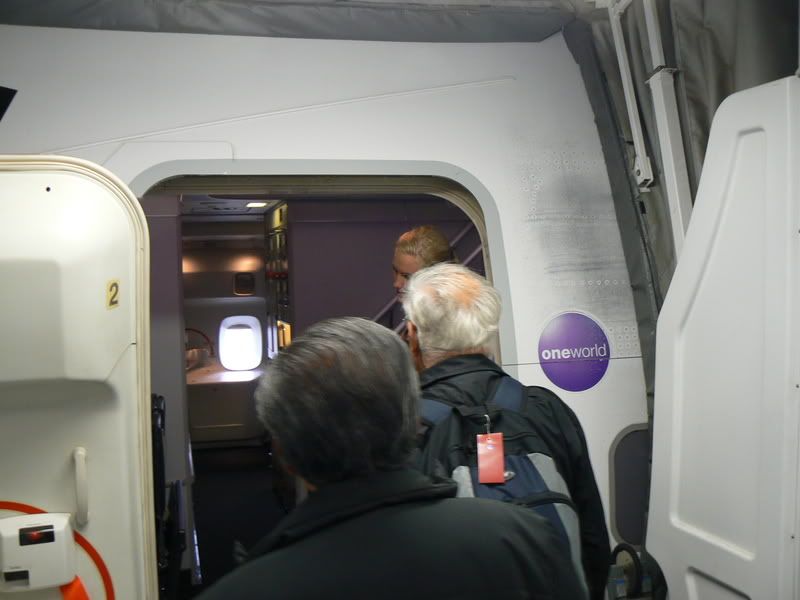 I got my window seat [row 55] and was seated in the same row as the 4 other people that were going on the same tour in Canada with me! It was lucky to meet them so early – because, as travelling alone, it was handy to have someone else to walk with while trying to navigate our connecting flight out of LAX!
11.15 came and we pushed back and taxied to our runway before the powerful take-off roar which sent us into the sky for the first leg of our flight across the Tasman. Being 6ft 4" it was very cramped for me in the window seat but it was OK for the 3 or so hour flight to Auckland. I checked out the video on demand units. My favourite feature - the flightplan airshow map – was not working for this leg , so decided to watch a few episodes of The Simpsons. Lunch was served. There were 2 options [forgot what the second one was], but since we were at the end of the zone, by the time the trolley came to us, there was only the one option left – Spaghetti and Meatballs! I've never had that on a plane before! The friendly flight attendant gave me the choice of 'Would you like spaghetti or spaghetti for lunch today sir?' so you can guess what I chose. Quite nice and tasty as a matter of fact!
We arrived in Auckland in no time. While descending, I noticed how green Auckland and New Zealand looked from the sky. Quite a contrast to the brown and drought-ridden Australia which we left behind!
Disembarked the aircraft and walked through transit and back to the gate to rejoin the flight for the 11 hour continuing journey to LAX.
Waiting at the terminal in Auckland: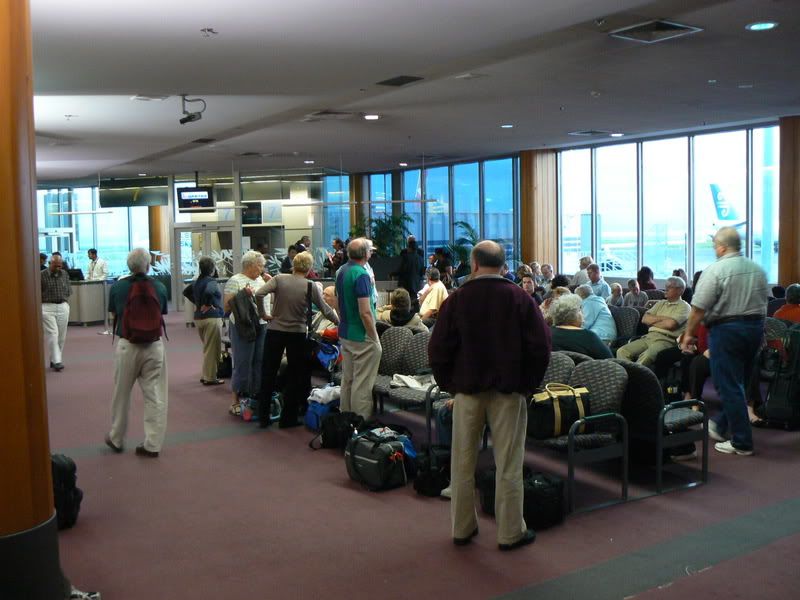 One of the things that stood out in my mind was that the unisex toilets were very dirty at this terminal. Re-boarded the aircraft as darkness fell and retook my window seat. This was the worst flight of the lot. The first few hours were bearable, but when the lights go out and you are supposed to sleep it became unbearable. Legroom – when stuck in a window seat or in the middle – is UNACCEPTABLE – especially on an 11 hour flight. WAAAAY too cramped and you just cannot get comfortable – and if you are not in an aisle seat you are stuck [plus, there is nothing to see out the window at night anyway]. If you need to use the toilets on a 100% full flight like this you have to bother the two people sitting next to you to move for you first. The airshow was working for this flight, and, while interesting, it seems to make the flight last even longer! I still love flying and always look forward to it, but long, long, cramped, tiring legs like this one always push the limits!
Gradually the time went by. After the meal service we were given Qantas snack packs, of a bottle of water, sweets and potato crisps. Good idea I think. Watched 'Kenny' then tried to get a bit of sleep – but its hard trying to nod-off sitting upright with the guy in front of you reclined for the entire journey!
Window shades were asked to be put down by the flight attendants when the lights went out. The flight attendants on this flight were kind, serviceable, but generally unremarkable.
With a couple of hours left in the flight, hot towels were handed out to wake up anyone who was lucky enough to get to sleep. I opened my window shade and the stream of light that came through confirmed that the sun had came up as we approached LA. The lines for the toilets were long, as a lot of people [especially the girls!] used them mainly to freshen up and comb their hair and put make-up on. There were even people standing in the exit rows doing morning exercises!
There was a choice of two breakfasts – hot and cold. I went for the hot breakfast but wished I had of chosen the cold breakfast [cereal], as the hot breakfast of baked beans and a soggy sausage and frittata was rather unappetizing.
After breakfast, we finally started our approach into LAX. It was overcast everywhere and you could not see the landscape/cityscape until the last 40 seconds or so before touchdown. Just as we went below the clouds we suddenly climbed again, with the captain coming on the PA saying that air-traffic control had told us to abort this approach since we were too close to the aircraft in front and we had to turn around and make a second approach. Around the clouds we went again and descended into the smog once more. The whiteness vanished and we caught our second quick glimpse of the LA surrounds under overcast sky moments before touching down on the LAX runway.
Here we are – LA! My first time this far away from Australia since 1990! Looked like a bit of construction work was going on around the runways. After landing, we started our taxi to the gate. We were going at a fair speed before the plane braked again suddenly, forcing people to shoot forward on their seats. It seemed we had to avoid running into a ground crew vehicle [at least, that's what it looked like out the windows]. We then continued our taxi to the gate, but had to wait a few metres away from it as they had an error with the airbridge controls. The captain's request for everyone to remain in their seats until we reached the gate was ignored as just about everyone got up. The plane then moved forward again slightly and finally we could get off!
My first impressions of LA – horrible! I imagined LAX to rival airports like Singapore or Hong Kong, but I'm sorry to say it was completely the opposite! Very dark, gloomy, dirty and uninviting. It seemed we had to walk for miles down this long, dark passage which finally led to the immigration lines. A long wait there as well. The immigration officers seemed down in the dumps as well – I don't blame them for being like that by having to work in such depressing surrounds! Even though my bags were checked right through to YVR I still had to grab them off the luggage belt and transfer them myself to the transfer belt.
LAX is also an airport easy to get lost in. Luckily I was not alone and was walking around with my fellow tour-goers that were on the same connecting flight to Vancouver as me. We finally found someone that gave us directions to the Alaska Airlines terminal that we could understand. Had to walk outside for around 10 minutes in the horseshoe configuration to the other side where the Alaska terminal was.
I then had my first taste of the strict USA customs and immigration procedures. Fingerprinting, photo-taking, and shoe removal [gasp] was more an inconvenience than anything – but hey – its all part of the parcel in the world we live today.
Got to the Alaska Airlines terminal and saw the bird that would take the very tired me on the final leg of my journey today from LAX to YVR.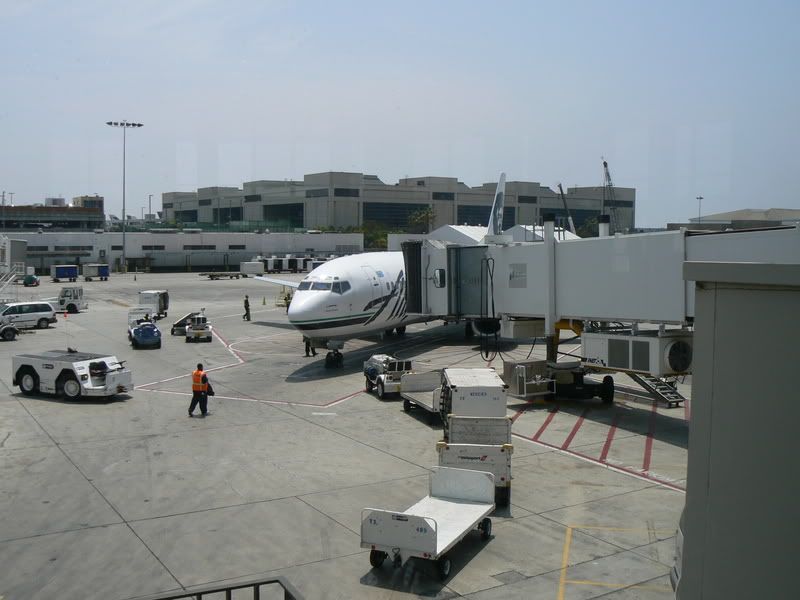 This flight was scheduled to leave at 2.08pm but was delayed 20 or so minutes. Those joining this flight from another airline [which included me], were asked to board first – and they actually read our names out over the intercom – the first time I've ever experienced that!
Got on board. This plane reminded me a bit of a no-frills low-cost carrier, but I must admit, the head flight attendant was one of the nicest I've encountered. Very friendly, said a few funny jokes and made you feel happy being there. Just before take off he came and said 'We need some volunteers to sit in the exit rows! Nobody's there! There is more leg room!' I put my hand up straight away with two others. I was glad to get there, because there was indeed plenty more leg room – and I really could have used that on the long Qantas leg! I missed out on the window seat in this row [I was looking forward to taking pictures of our descent into Vancouver] but was more than happy with the leg-room compensation. For our trouble the flight attendant said we could have a free alcoholic drink for helping him out. There you go – extra leg room and a free drink! No complaints there!
We took off for the 3 or so hour flight to Vancouver. The guy on the window seat pulled the window shade down for the whole flight – what a waste of a window seat! I almost went to ask him if I could have it, but decided against it. No meals were served on this flight, but we had 2 drinks services. I chose a 'V' instead of alcohol for my free drink. We descended into YVR on time – would have been nice to look at if the ungrateful window seater had his damn window shade up! Despite this, the Alaksa flight was surprisingly the best leg of the 3 flights I took today. Upon touchdown, the flight attendant came on the intercom saying that it was the other attendants 25th birthday today and we all could say happy birthday to him as we disembarked!
Vancouver airport was beautiful – such a contrast from the ugly LAX. Waterfalls and sculptures everywhere – a much warmer welcome.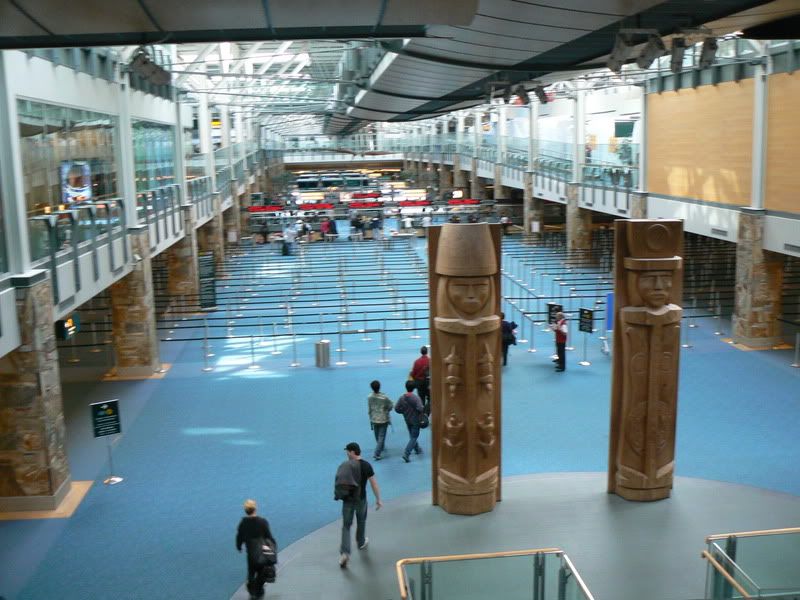 The next 3 weeks produced an unforgettable trip in which I enjoyed every minute and was worth every cent. The Rocky Mountaineer train trip was OK – but I actually thought we saw much more scenery on the bus ride around the mountains. Got to see Sulphur mountain, the Columbia icefield, the beautiful towns of Banff and Jasper, an all-too quick stop at Whistler, a ferry ride to Vancouver island and pretty Victoria, before an unforgettable cruise through Alaska on the Norwegian Sun cruise ship.
Sunday 3 June 2007-06-06
ALASKA AIRLINES FLIGHT AS 692
YVR-LAX
QANTAS AIRWAYS FLIGHT QF 026
LAX-AKL-MEL
Unfortunately, all good things must come to an end – and I was really not ready to go home – I was loving being on the cruise ship and really could have used another week on it. But it was time to go home. Time to go back to reality – back home and back to work
.The first leg of my flight for the long trip back to Australia was due to leave at 2.20PM.
I caught a yellow cab from Canada place for the pleasant drive to Vancouver International airport – here are some pics I took as we drove there: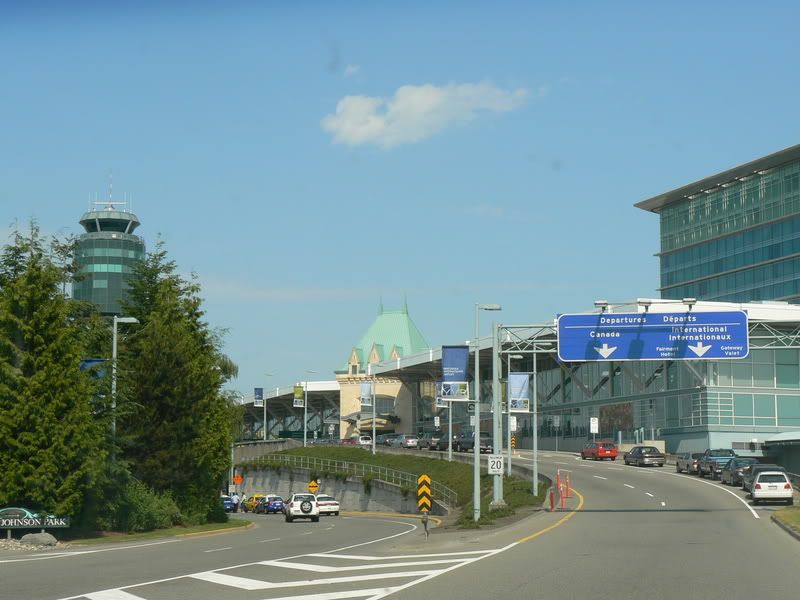 I had to get to the airport straight from the cruise ship terminal as I had nothing to do in between, and as a result I arrived at the Airport 10.30AM, and found that I could not check into Alaska Airlines until 3 hours before departure. I waited an hour with my bags and then was one of the first to check in with my fellow tour-group travellers, many who had to wait longer than me for their flights to other parts of Australia. Here we are waiting at YVR before check in: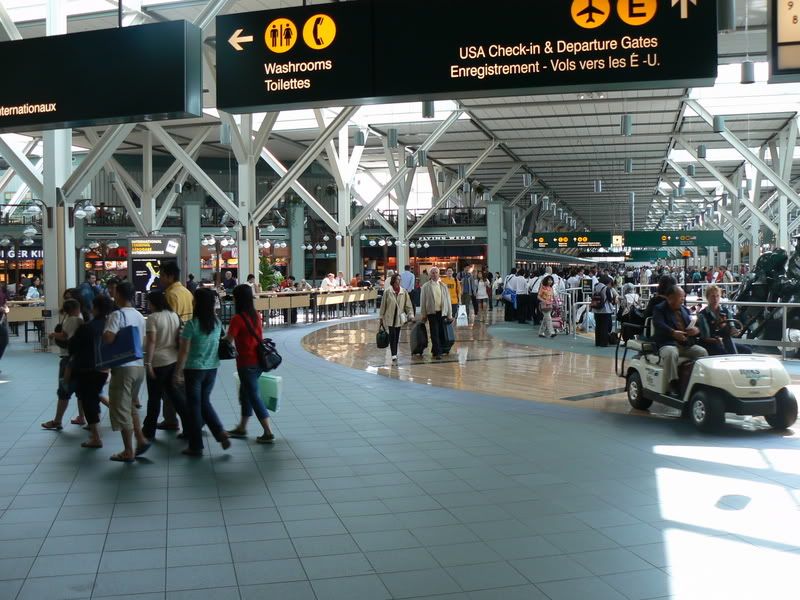 I requested an exit-row window seat on the Alaska flight to LAX [which was granted] and an exit row aisle seat on the Qantas leg, but was told that they cannot choose seats for me on the Qantas flight, so I would have to wait and see what I got for that one. It ended up being an aisle seat after all [but not an exit-row].
Had to wheel my checked bags myself to the luggage belt and go through all the rigaramoll again – the shoe removal, fingerprinting, liquid and gell declaring and photo-taking.
Had a long wait in the terminal for the 2.20 flight, which was delayed to 3.25 and a new gate. Vancouver airport is actually a nice airport to wait in, with plenty of shops and nice surrounds. I found the US$1 for 10 minute internet terminals quite good as well [and an opportunity to check the Australian Football League results!!].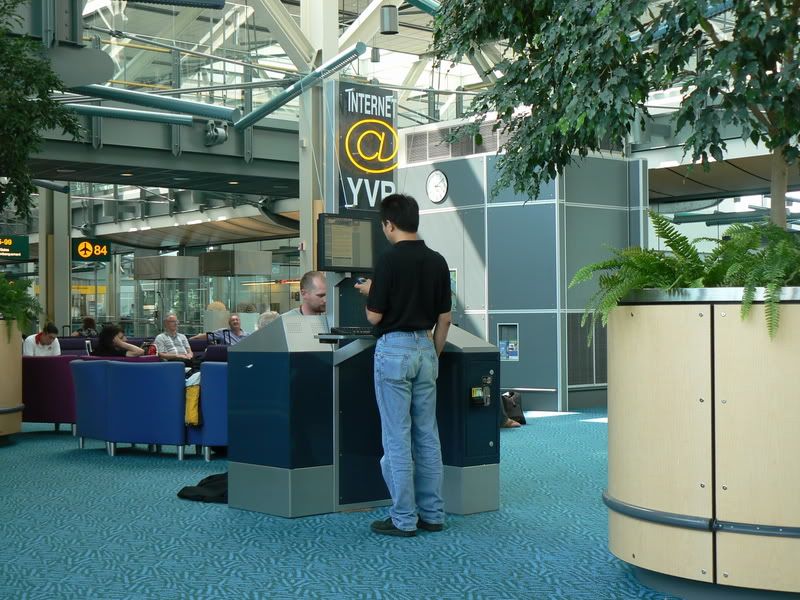 Boarded the Alaska Airlines flight AS692 to LAX – the first leg of the marathon 24 hour journey back to Melbourne, Australia.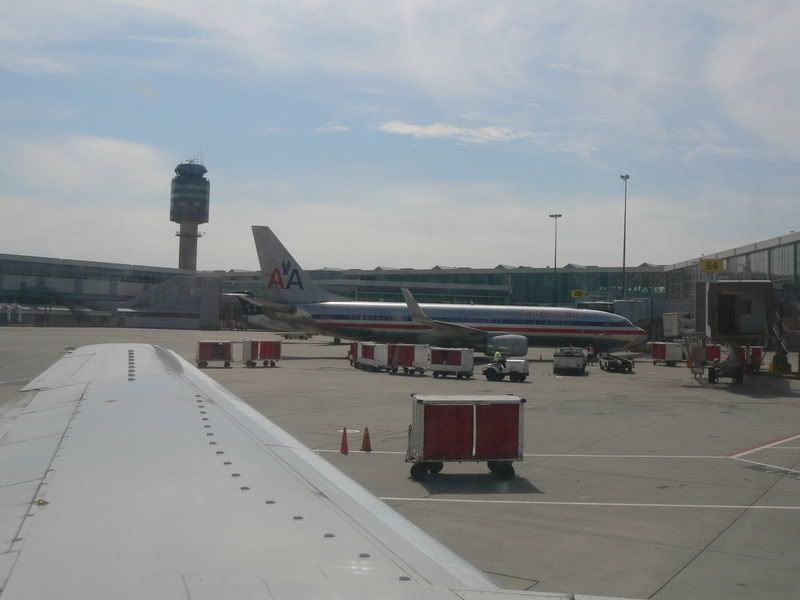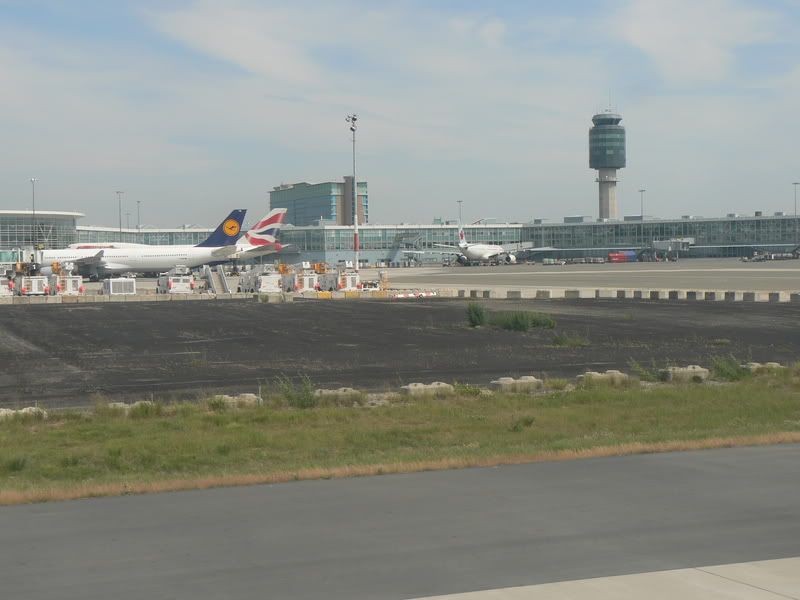 …and off we went into beautiful Vancouver skies! I'll miss you Canada – I had a fantastic holiday here and I did not want to leave so soon!
This 3 hour flight was rather uneventful and quite comfortable sitting in the exit hatchway row seat. 2 Drink services were offered for the flight, and in what seemed like no time we started our descent into LAX. Los Angeles was surrounded in smog once again.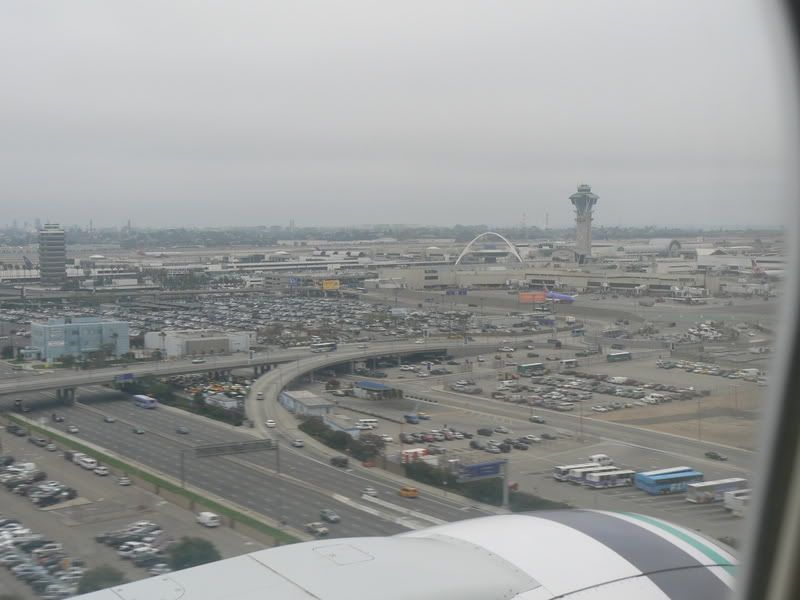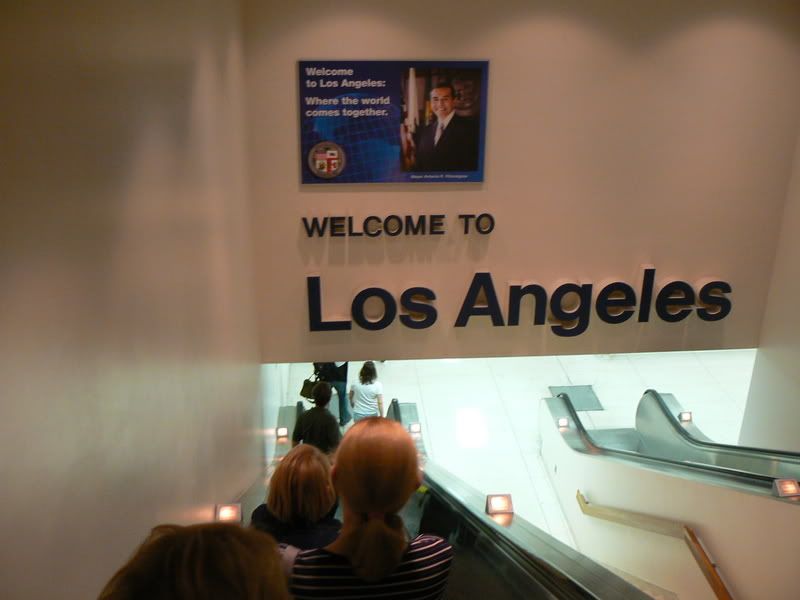 Once again I had to endure the horrible Los Angeles Airport. For a major airport like this, it is WELL behind other hubs like Singapore, Hong Kong, Bangkok, Sydney and Vancouver [although I cannot compare it to London Heathrow – an airport I'm yet to visit]
We had to walk outside of the Alaska Airlines terminal to the Tom Bradley terminal, where Qantas flights to Brisbane, Melbourne and Auckland leave from. Busy, dirty, uninviting – I'm sorry to say these are the main memories I took away from LAX. Once again, lucky I was with the Melbourne-bound members of my Canada tour group and I did not have to navigate this airport alone. It took us a while to find the Qantas gates – we had a 3 hour layover [The Alaska Airlines delay brought this back down from 4], and had to go to the Information desk to ask where we had to go to catch QF 026. We were told the gate number, but also told NOT to go there yet – as there was NOTHING to do there once you went through security. We were advised to have a bite to eat in the public terminal first.
We lined up at the Qantas check-in and asked if our bags were checked through all the way to MEL. They were, and we had to hand over our already issued Alaska Airlines boarding passes to get new Qantas ones for QF 026.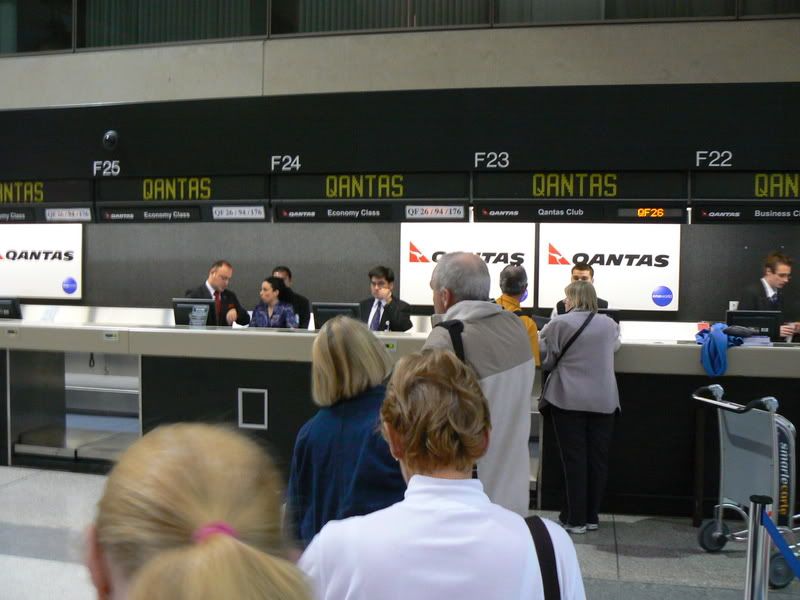 We went up to the eatery and struggled to find a table for 5 at the cafeteria. Once there, my fellow travellers went off to buy some fast food, while I decided to wait for the immanent airline food we'd soon receive. It was busy, noisy, dirty – a lot of the airport seemed to be in renovations – and you could not hear any announcements made over the PA system so we had to keep checking the departure boards ourselves. The fire-alarm went off with a piercing noise for around 10 minutes – obviously a false alarm as nobody took any notice apart from blocking their ears. No announcements or anything was made.
I took my camera and decided to take some pictures of the check-in area of LAX. I was told afterwards that it's not wise to take pictures like this in an airport due to security nowadays, but I got away with it.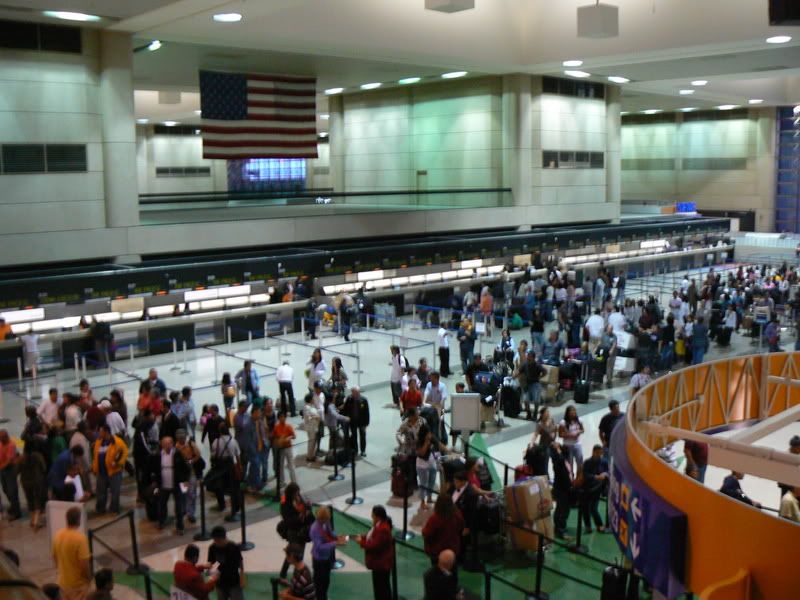 QF 026 LAX-AKL-MEL was the first Qantas flight to leave tonight – with others direct to Melbourne and Brisbane [and perhaps Sydney in another terminal] leaving after 11pm. I was glad I did not have to wait until then, even though we had to have the Auckland stopover.
Went through customs again – removed my shoes, separated liquids from my luggage, took all the change out my pocket [the tub I put it in fell off the ledge and the coins went everywhere – not what I needed!]… but we got through to the gate at 8.30PM and the plane was already boarding for the 9.05PM departure.
The Information desk was right – there is nothing here past security except gate lounges and dark, uninviting hallways– if we had of got here sooner the time would have dragged even more. Life your game LAX!
On board we went – nice to hear an Australian accent from the flight attendant who welcomed us aboard. Took some shots of my fellow travellers ready for the long 12-hour flight across the Pacific to Auckland.
Safety demonstration: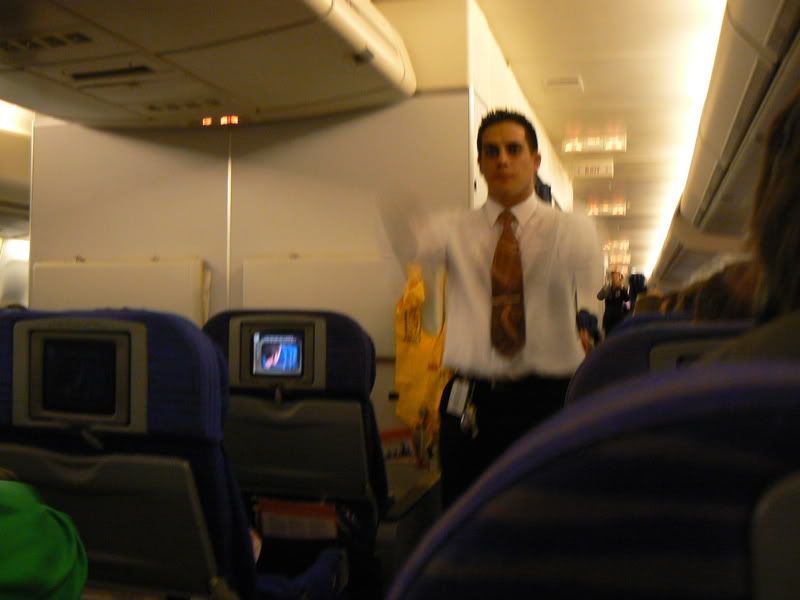 Unlike the inbound flight, this aircraft was only ¾ full, and once we took off there was room to walk around and find a better seat if we desired. I had an aisle seat in row 66, but noticed 2 free exit row seats up ahead that I'd head to once we got airborne. My seat-partners in row 66 was a girl and her mother going to New Zealand as part of a school trip – and their first time on a long-haul flight like this.
After a LONG taxi we finally took off into the dark Los Angeles skies. Within minutes the guy in front of me reclined his seat – so as soon as the seatbelt-sign went off I got up and made my way to the exit row. Unfortunately, there was a note on the seat saying 'NOT FOR PASSENGERS', and I asked a flight attendant about this and he said that the crew had to sit there as the main crew seats were broken. But he was nice enough to escort me to the front-row seat in front of the baby bassinet [behind the galley]. Not as good as an exit row seat, although at least there was no seat in front of you so you did not have to worry about anyone reclining.
The lady sitting next to me in this row was returning from a Canada trip similar to mine, and we had a lengthy chat about both trips and showed each other our photo's on the digital camera.
We were given a meal [Chicken or Pasta – I took the Chicken], followed by a Qantas snack bag consisting of a bottle of water, a bag of potato chips, some life-savers and some oreo's. A good idea to keep you happy during the flight!
This flight was much better than the flight on the way up. More room, I did not have to bother anyone if I had to get up, and I actually managed to get around an hours sleep [Quite an achievement for me in a plane – even for a 12-hour trip!!]
I watched the 'Blues Brothers' on the PTV and then kept switching to the flightplan.
Half-way through the flight I got up and took a picture of the cabin.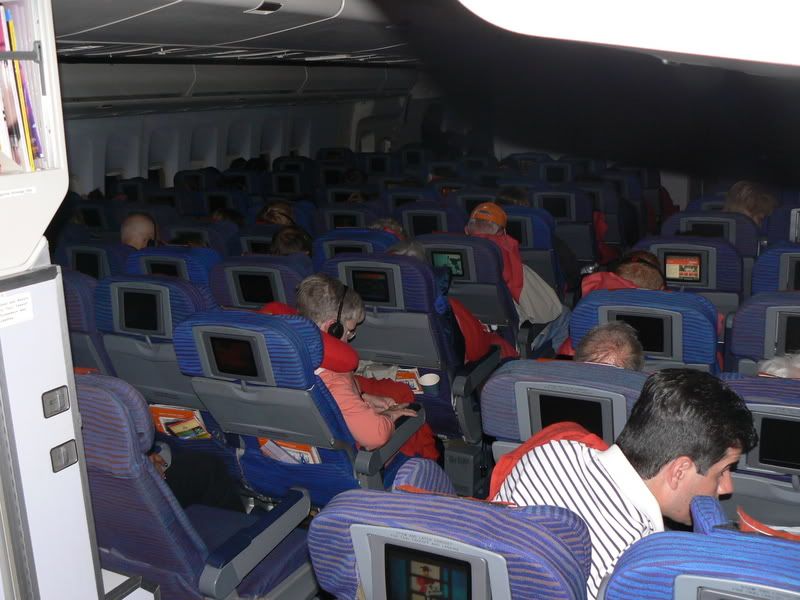 The flash on my camera went off which caused quite a reaction from the flight attendants – I could imagine them thinking 'Whats this guy taking pictures of?'
The economy-class cabin at this time of night is a sorry sight – full of uncomfortable people trying to sleep and cramped in like sardines. Many had the flightplan going on their PTV indicating we still had another 5 hours to go.
A poor, overweight lady was in a window seat and had to get up to use the toilet, and needed assistance to get out from the very kind flight-attendants. Other passengers had to get up to let her out, and she waddled bit by bit down the three seats and needed help to stand up in the aisle. She then realised she had lost her shoes that she had removed, and the flight attendant had to get down on her hands and knees and crawl under the seats with her torch to try and find them… they don't call this cattle class for nothing.
I retook my seat and watched the flightplan, and gradually the long hours passed. After the hot wake-up towels, we were served breakfast. I chose the cold breakfast of cereal this time, which was much better. I asked the flight attendant if we'd get another meal on the AKL-MEL leg, and he said 'Breakfast again – but it should be a different one'. After watching a New Zealand welcome video, we finally descended into Auckland.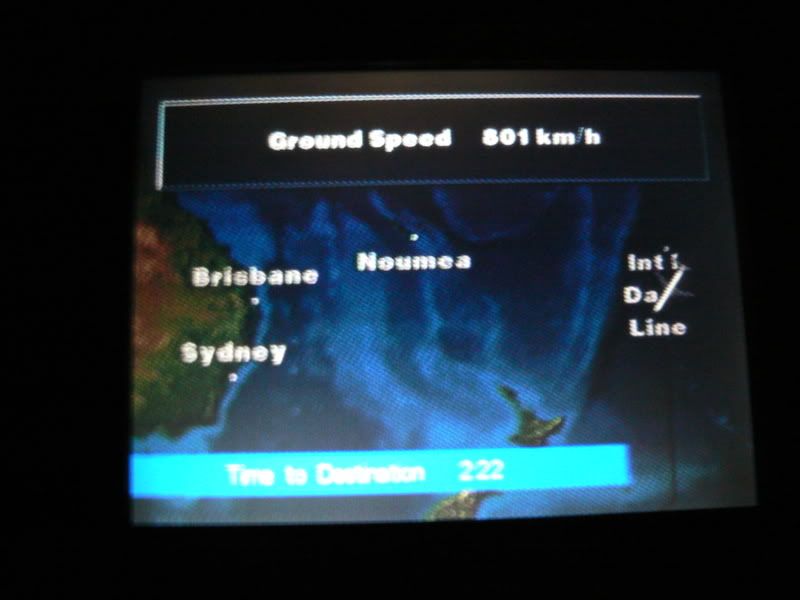 Nearly there! We got off the plane at the deadly hour of 4am and walked down the corridor at Auckland airport and back around the transit area, back through the X-rays [this time they gave me the metal detector wand] and then back to the gate.
On board again, and this flight on the Qantas 747-400 was now only half-full. I started off with 3 seats to myself and a window seat. One of my fellow tour-group travellers asked the flight attendant if they had any spare beds up-front for 5 weary travellers that had travelled all the way from Vancouver. With a laugh, he said with this flight so empty it was probably better back here!
We took off from Auckland and I put the two armrests up, but just before I was ready to stretch out a Chinese gentleman took the 3rd seat, so I missed out on the whole row to myself. Oh well!
Breakfast was served – and I chose the cereal again. Guess what – it was the same as I had just before!
This was an uneventful 3 hour flight, and we approached Melbourne as the sun started to rise, and touched down half an hour early at 8am.
And there you go – the end of a fantastic and much anticipated trip. It all ended too quickly – as I write this I wish I was still sailing around Alaska on the cruise ship!
The flights were OK but something has to be done about the leg room. I know its Economy class, but the legroom for long haul flights like this on Qantas is unacceptable.
Melbourne, Auckland and Vancouver Airports were pleasant to navigate and wait in [especially the latter], but LAX was a MASSIVE disappointment and needs urgent renovations. It produced a very dark, sad, sombre and uninviting entrance to the USA.
Flight attendants on Qantas were serviceable but unremarkable, basically resigning to the fact that everyone just wanted to sleep. On Alaska Airlines they were much more cheerful.
Once again, I had a great holiday – but next time I'd seriously consider travelling Business class – even if it's only for one leg on one way of the trip.
Cheers, and thanks for reading, people!