Between Flights
Walking off the plane and saying goodbye to the crew I headed over to the nearest flight board to first tie my shoe, turn on my phone, and check where my flight to NRT would be departing. Having found this, I made my way through T6 to the cross-section with T7 while taking a few mintues to look out at the gate operations of some UA and CO planes.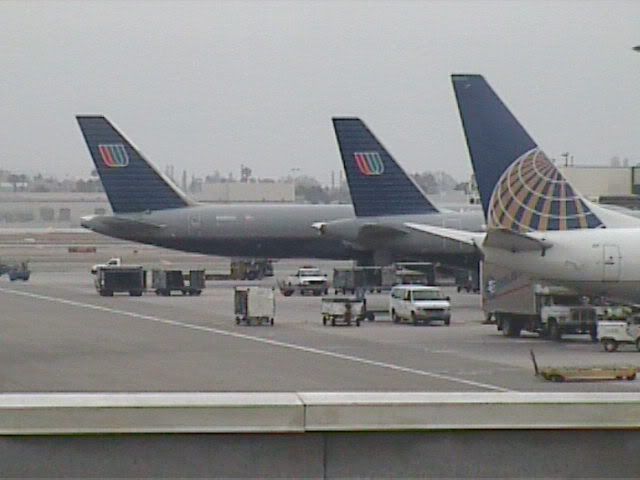 Seeing it was about an hour until boarding, I started to head over to Gate 76 so that I could relax and such before my flight. However, on the way I went over to the currency exchange booth and exchanged my $300 cash for 16000 Yen and then went into a few shops to pick up a NY Post to read on the long journey. After doing that and just walking around to sample the differnet resturants and gates in terminal 7, I went over to Gate 76 where I put my stuff down on the floor and then pulled out my cell. I made my final call before the flight to mom who was on lunch back home. Pretty much I described how the flight to LAX was and how I would call her and my family (who would be heading for Tampa in two days) from Tokyo. Saying my goodbyes to her, I put my cell in my pocket and tried to relax.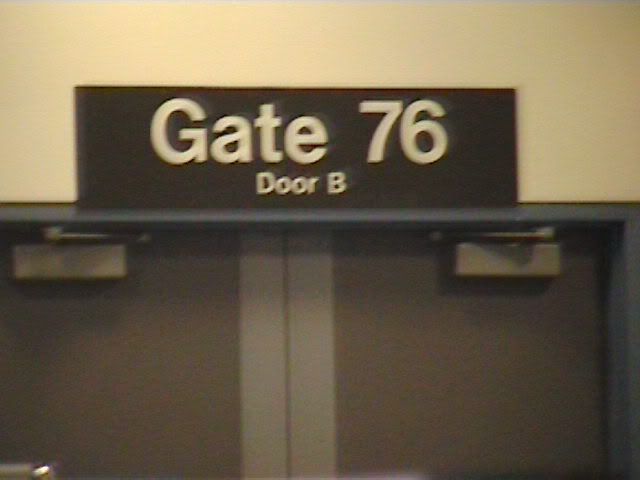 Route: Los Angeles, California (KLAX) - Tokyo, Japan (RJAA)
Airline: United Airlines (UA)
Flight Number: UA0891
Seating Class: Economy
Seat: 51K
Load Factor: 100%
Aircraft: Boeing 747-400
Date: March 26, 2007
Departure Gate: 76
Boarding: 11.55
Blocks-Off: 12.23
Scheduled Departure: 12.34 Pacific Standard Time
Actual Departure: 12.53 Pacific Standard Time
Scheduled Arrival: 15.55 Japan Standard Time
Actual Arrival: 16.14 Japan Standard Time
Flight Time: 11 Hours 21 Minutes
Average Speed: 499 Knots
Average Altitude: 38,000 Feet
Arriving Gate: unknown
Tail Number: unknown
BOARDING
Throughout the hour the boarding area began to quickly fill up and by the time published on my ticket, boarding started to begin. Even though only seating gropu one and star alliance high-rank members were called first for boarding, it seemed as though everyone on the flight was rushing towards the gate. This formed lines going in every direction and by the time seating group two was called (my group) I had no idea where to stand to get on board. Things soon sorted out and soon enough my boarding pass was scanned and the joy of finally setting off for this week of excitement was felt.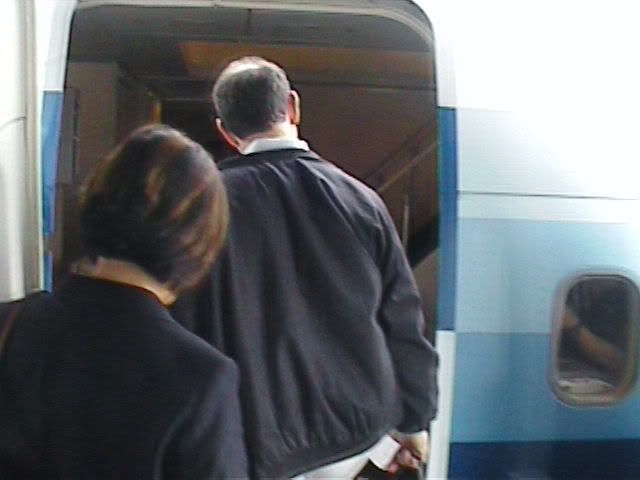 THE FLIGHT
After walking some twenty to thirty rows, I finally was able to locate my row and began the process of pulling out stuff I wanted with me during the flight. This would include my ipod, book titled "5 Biggest Lies Bush Told Us About Iraq," and just a notebook to write thoughts and this trip report down on. As soon as I sat down, my other two seat mates would join me. While waiting for the rest of the passengers to get seated, I tried to relax somewhat by listening to Channel 9 and just looking out my window to see what activity there was next to us. While doing this, I noticed how a bag looking similar to mine was waiting to be loaded on the flight. As I watched this bag, I happened to catch the ramp agent on the ground signal to others to take the bag off the flight. Now seeing this, I started to panic and worry that I would be f***ed out of my luggage in a place thousands of miles from home. This thought came to dominate me for a while, yet I tried to get my mind off it. Anyway, maybe ten to fifteen minutes later, all passengers were finally in their seat and announcements regarding safety were done and we started to pull back from the gate. As we taxied to the runway, was able to spot a few nice birds here and there (as you see below). Within ten mintues or so, we arrived at the runway and as soon as ATC gave us the clearence, we moved into position for takeoff. With the throttle at full blast, we rocketed down the runway for what seemed ages until finally lifting off over the Pacific Ocean. As the plane started to lift, I caught a few photos of the ground and said a goodbye to the US for the first time.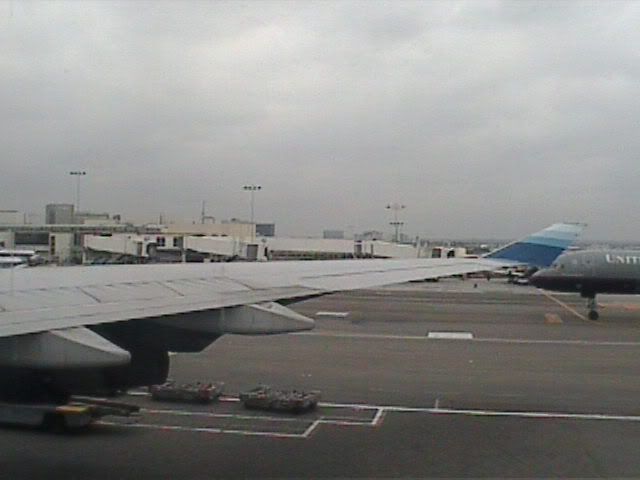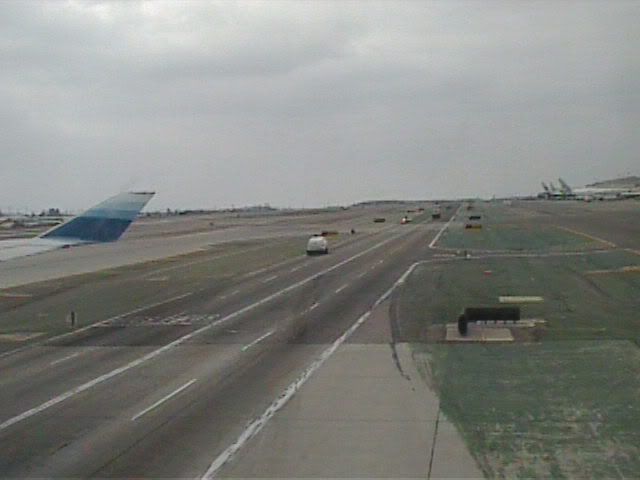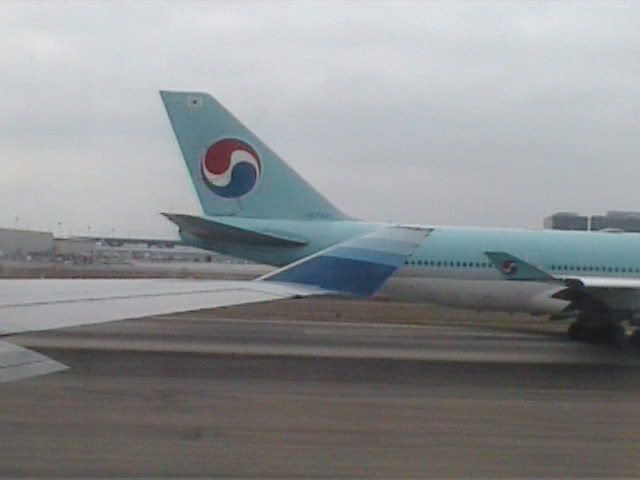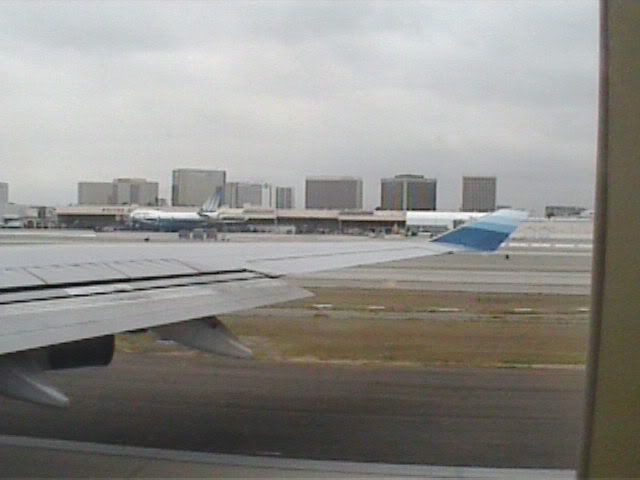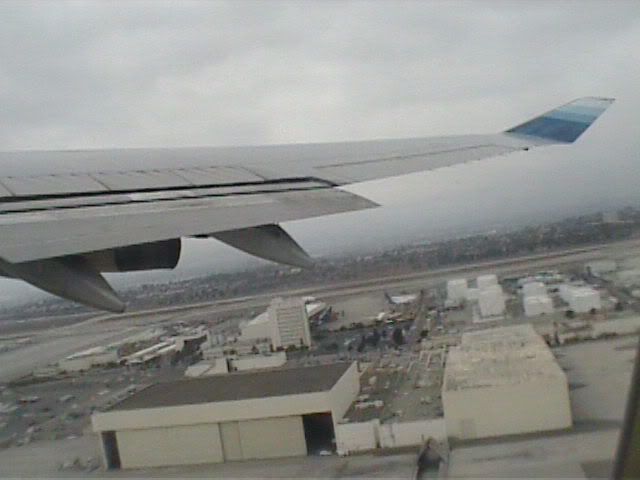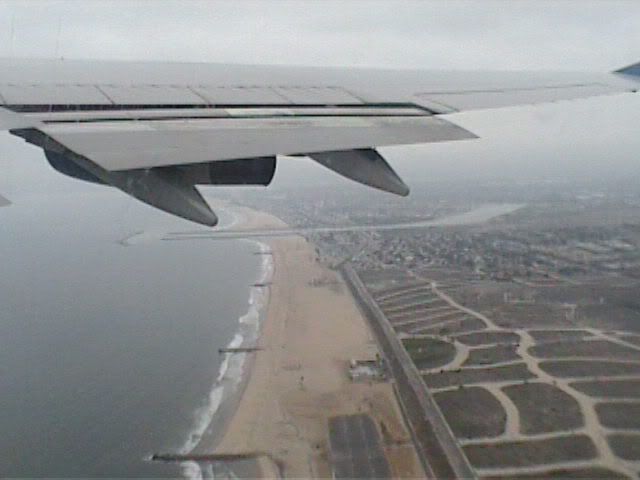 Around ten minutes after this, flight attendants started to come around with drinks and snacks. For myself, decided to start with 7 Up since Mountain Dew apparently wasn't brought on this flight. Anyway, about another ten mintues passed before the IFE started with first the showing of BBC's Hardtalkers and various other programs from BBC on movies. During this time, I took the oppurtunity to lsten to my Ipod and look out over the coast of the US and Canada.
Once the BBC programs were done and a second round of drinks came by, 'Stranger than Fiction' started to play on the screen. Unfotunately I have to say it was a pain to watch this movie. It seemed as though this had no consistant plot or something to follow. So instead of watching it, I just tried to sleep, but really couldn't. Seeing this, I got out my book and started to read a little more into it. Following 'Stranger Than Fiction' was about ten minutes or so of the air show on the screen with current position (now over southern Alaska) and time til arrival in Tokyo. After this, 'The Prestige' started to play on the screen and flight attendants came around to hand out the first meal. Feeling a little woosie and all, I declined the meal and just stuck to looking out the window and doing whatnot to pass time. Once the second movie was over, the airshow came on again and this time we were somewhere over the coast of Russia and getting closer to Tokyo. With that the third and final piece of entertainment came on with the showing of "Night at the Museum." This was perhaps the only movie I could see again as it was somewhat entertaining and enjoying yet wasn't one to put up in my top ten. Anyway I watched the movie and by the time it was over we were just about to reach Japan.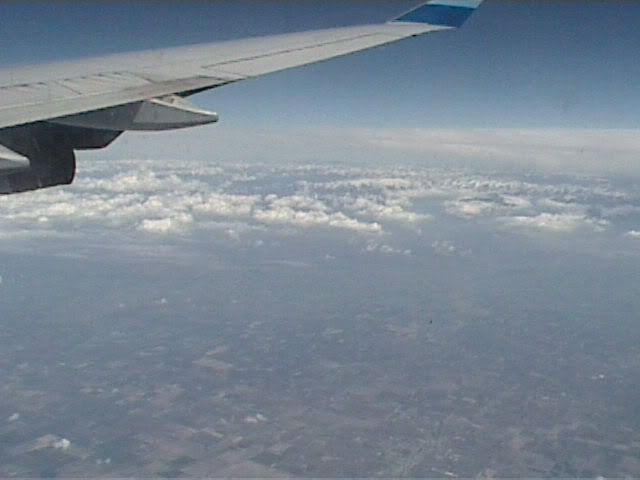 At this time my fellow seat mates and I started to chat for the first time. Turns out the girl in the aisle seat was moving back to Tokyo after spending years in L. A. helping rock starts and such learn Japanese for their tours in the country. I forget her name but she was very nice and even told of a few places to relax and hang out in Tokyo. The guy in the middle seat was named Mark I believe and he was traveling all the way to Okwinawa as he is a surgeon assistant in the Navy and apparently his squad was training on being sent to Iraq. With that we talked about the war, entertainment, Japan, and other such stuff for about an hour or so until landing started to take place.
The landing into NRT was a little bumpy in the beginning but started to level out. As we descended, I got my first glimpse of Japan and the fields surrounding the coast as you come in. The very sight of the country gave me great excitement for the week I was going to be there and for the first time it hit me that I was away from the US. Anyway, within ten to twenty minutes or so we were on finals and with that came to a thumping stop on the ground in five minutes. Few moments later we were at the gate and as I did in LAX, I waited until just about everyone else was off to exit my seat. Exiting the plane and just going off to the side quickly to tie my shoe, I then proceeded to Passport control which was a ways to walk to but was easy getting through. After this I headed down to get my bag. As I told you before, I had worries that my bag had not made it onto the flight and as bags started to come out of the carosel this fear once again took hold of me. For mintues I started to think what I was gonna do. Yet finally after twenty minutes or so my bag finally came and out and I eagerly grabbed it. From here customs was a breeze and soon enough I was in the main terminal and heading downstairs in order to purchase my train ticket to Asakusa.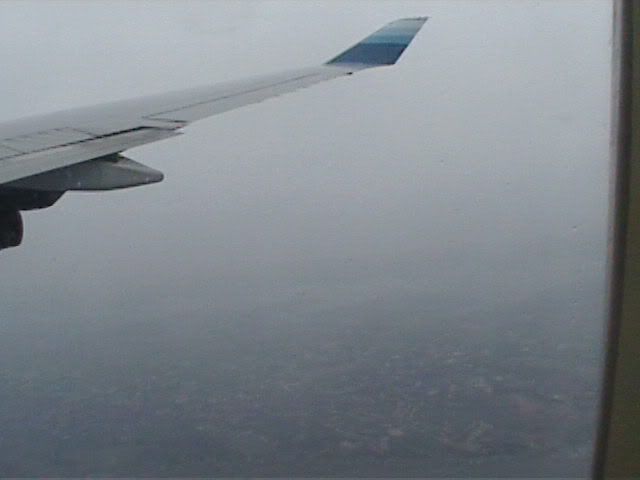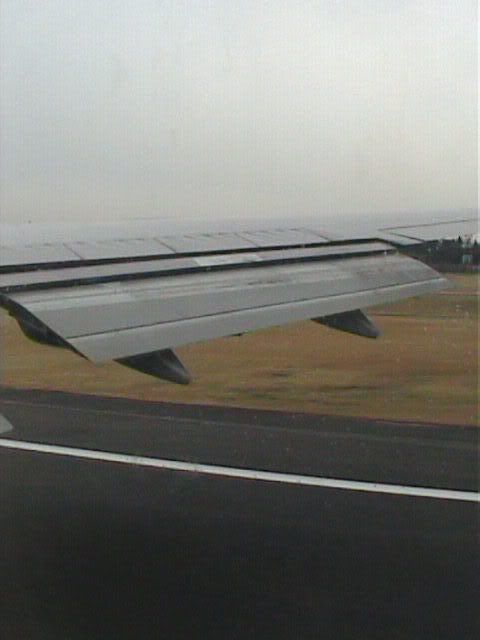 Overall: For my first flight to Asia, I have to say that it wasn't all that bad. Service was respectable and everything else was alright. The only complaints I have were the time as the eleven hours or so started getting to me and it seemed forever just to get over there. Yet I have to say on my next long journey such as that I will be more prepared and bring along something that can entertain me for eleven hours.
Please tune in for the Thrid Report of this journey. This will be my return flight back to the United States through San Francisco and the end of my week in Japan. Thank you.