I decided to go for a more interesting routing for the latest Surabaya trip, so here's another report on various Indonesian domestic airlines. Adam and Batavia are in category 3, apparently being some of the worst in the country when it comes to safety. Anyhow, I enjoy flying on them. Two new airports for me this time, namely JOG and SRG. This is part 1: CGK-JOG-SUB with Batavia and Adam. Sriwijaya report to follow later.
Let's start with some pictures from Soekarno Hatta terminal 1.
SJ B737-200s lined up at 1B for their morning runs and two retired 7P examples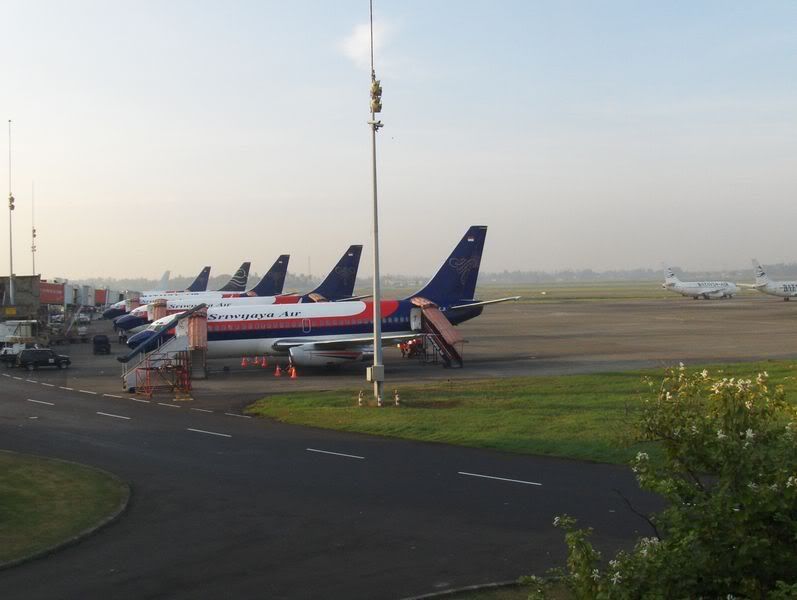 Top Air, MAI and Jatayu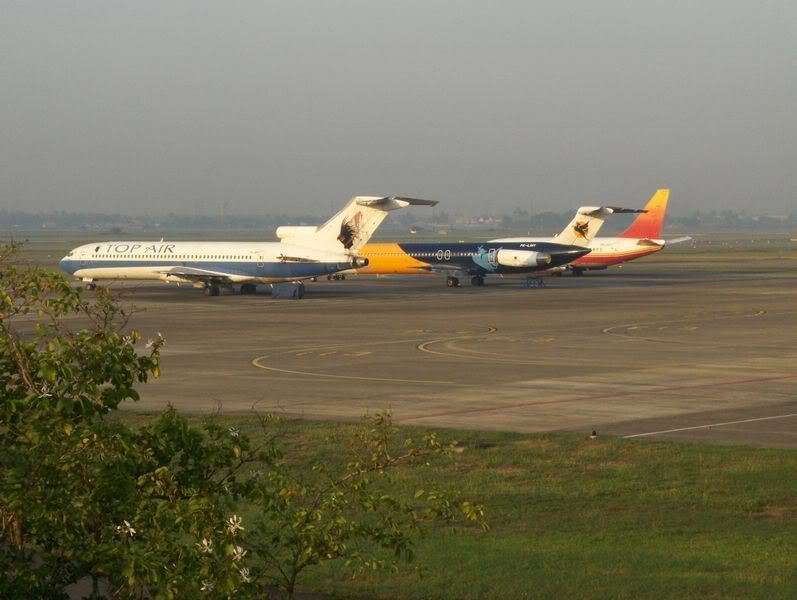 One of the last remaining Mandala B737-200s, PK-RID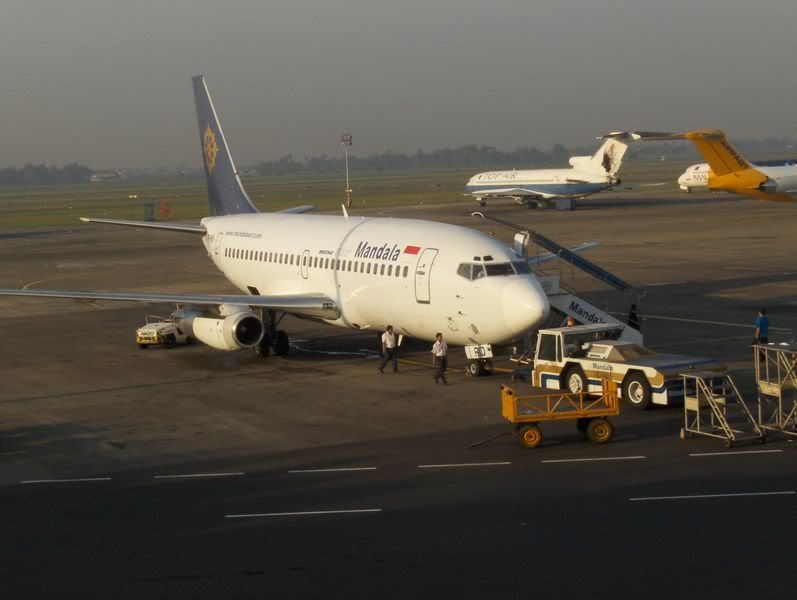 Airfast MD88 ready to depart for Timika, New Guinea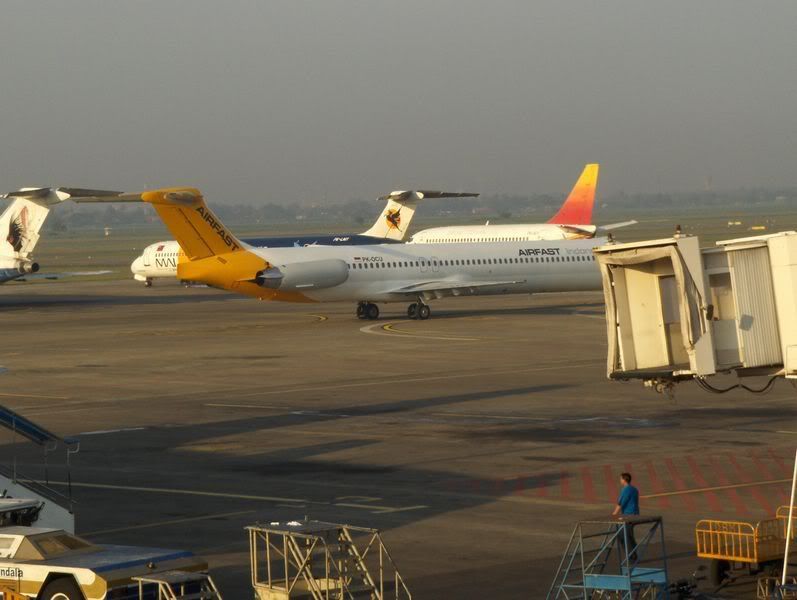 09 June 2007
Jakarta Soekarno Hatta (CGK/WIII) – Yogyakarta Adisutjipto (JOG/WARJ)
Adam Skyconnection Airlines KI/DHI 106
Boeing 737-33A
PK-KKM [Delivered to VASP 07FEB1991]
0750-0850 – On Time
Economy Class, Seat 1A



Full history courtesy of Airfleets.net (No pics of the other liveries on A.net, including KI)
07/02/1991 VASP PP-SOD
01/12/1992 WTC N222AW
21/04/1993 Jet Airways VT-JAB
19/04/1999 Rose Air TC-GHB
10/03/2000 AnstWW N791AW
01/07/2000 Rio Sul PT-SSJ
15/09/2002 Varig PT-SSJ
29/08/2006 AdamAir PK-KKM
This ticket was booked online, the Adam Skynet booking works fine and spits out E-Tickets immediately after booking. Fare was IDR 289,000. No check-in desks listed for KI106, but there were plenty of Adam staff directing passengers, no problem. They have a rather surprising system for an Indonesian LCC for etkt passengers – your photo is taken, they scan your credit card and you electronically sign using these terminals as well.
A few minutes later I was on my way to the gate with seat 1A assigned.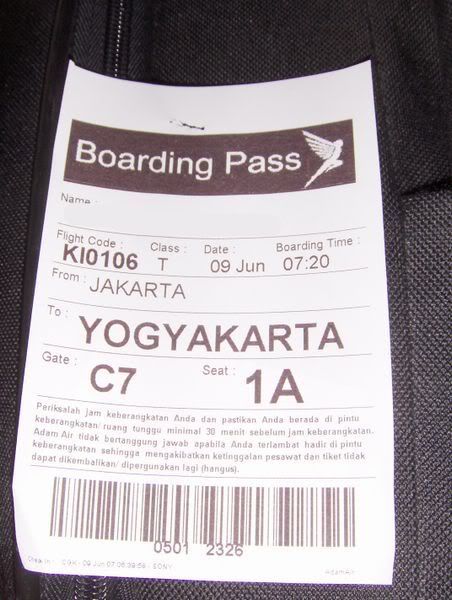 Check-in hall and Adam ticket counters at terminal 1C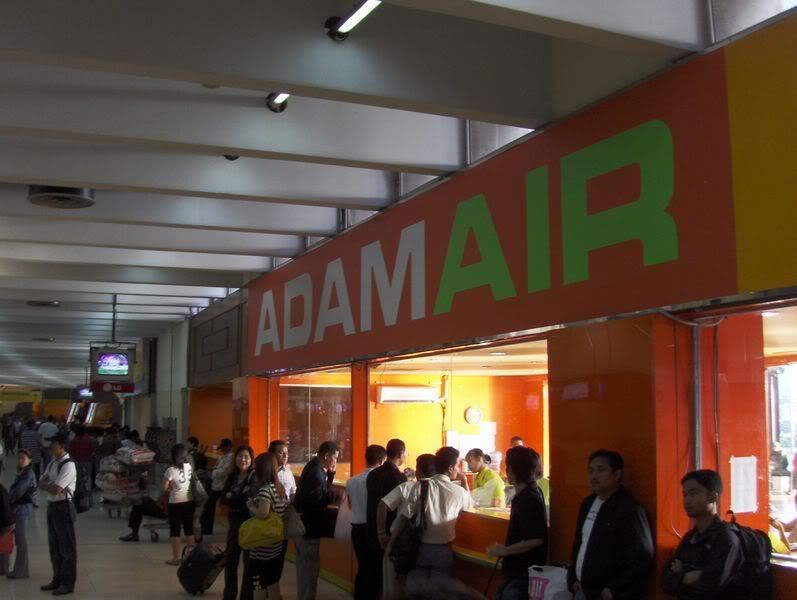 Security was a breeze obviously, I think you could get just about anything through these domestic screening points. Gate C7 assigned today.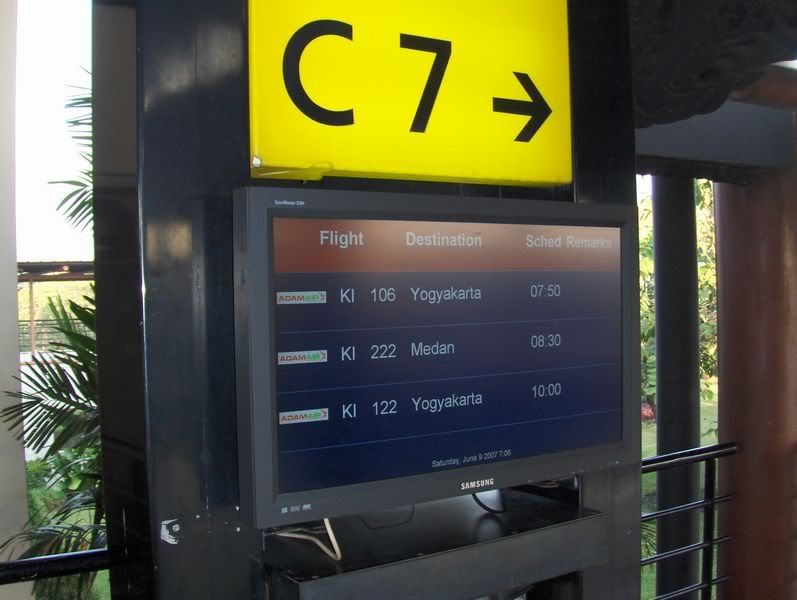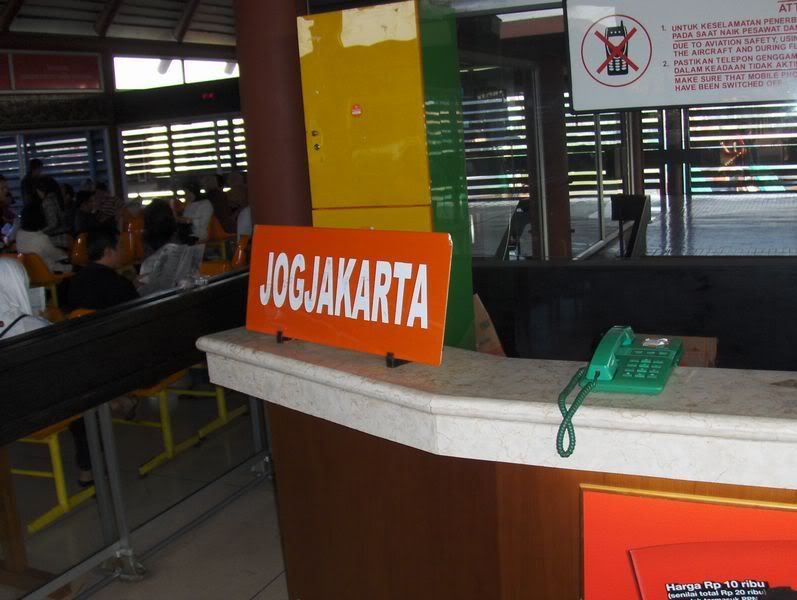 Boarding started on time, a first for me at Jakarta CGK terminal 1 I believe.
PK-KKM assigned for KI 106, a 300 series as expected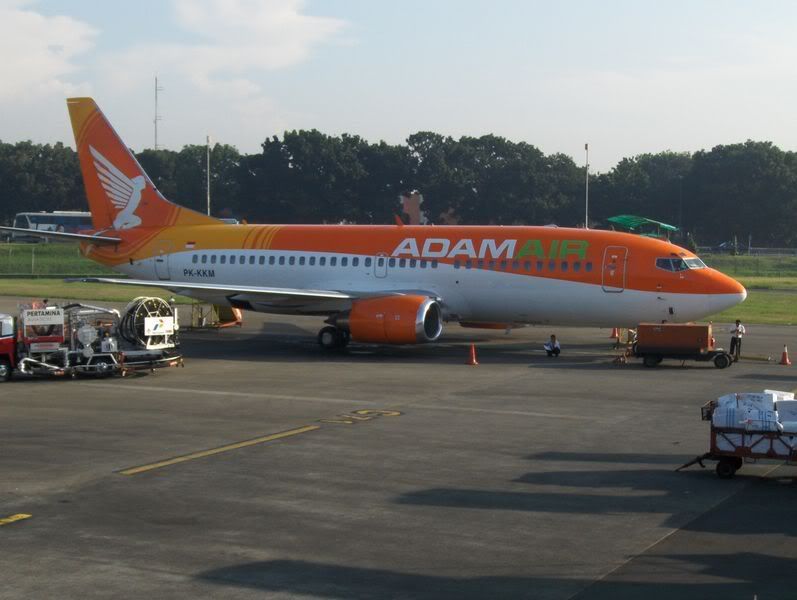 Other Adam B737s at T1C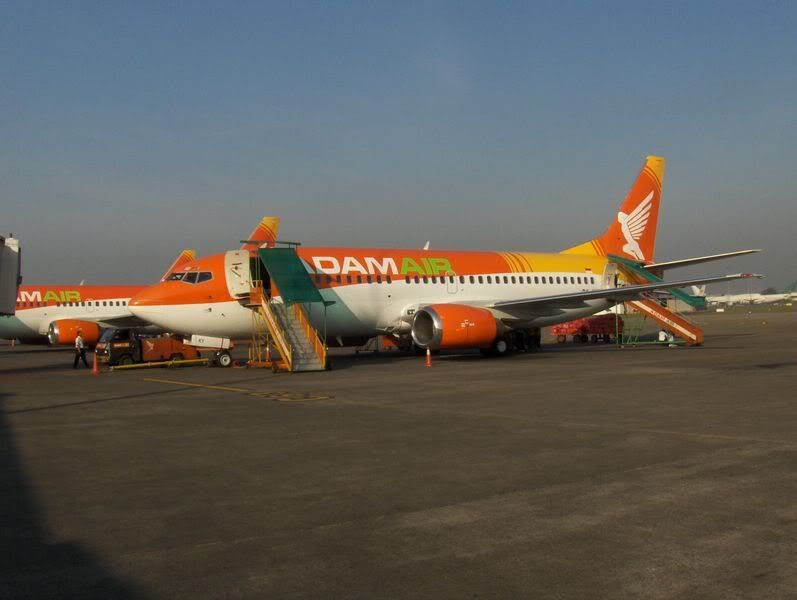 PK-KKM again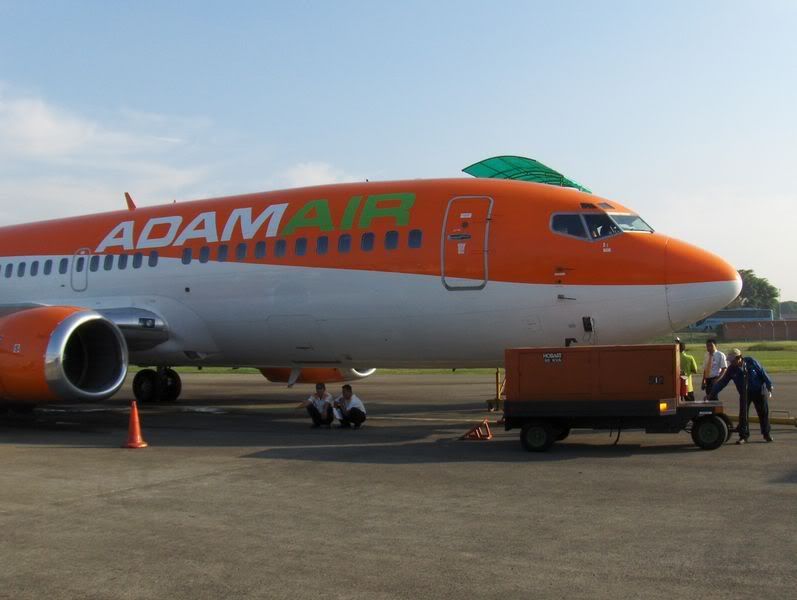 Lion should adopt this sort of signs – I have once ended up on the wrong plane with them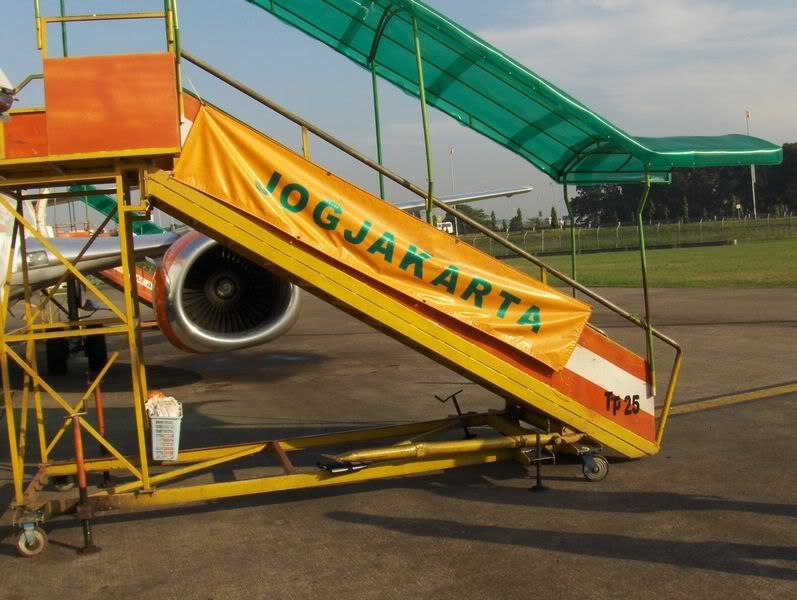 KKM again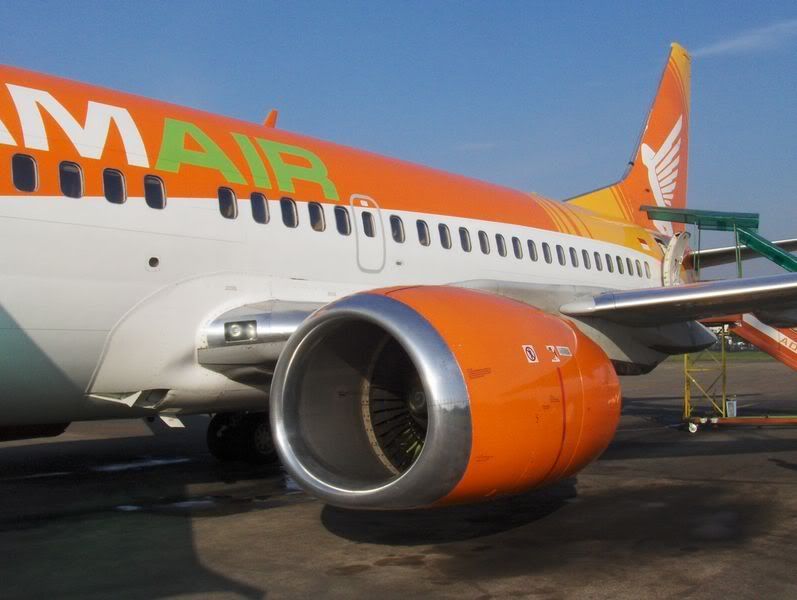 Decent looking seats in the very worn cabin of this B737. The bright headrest covers had nice embroidery about their LCC of the year award and website address.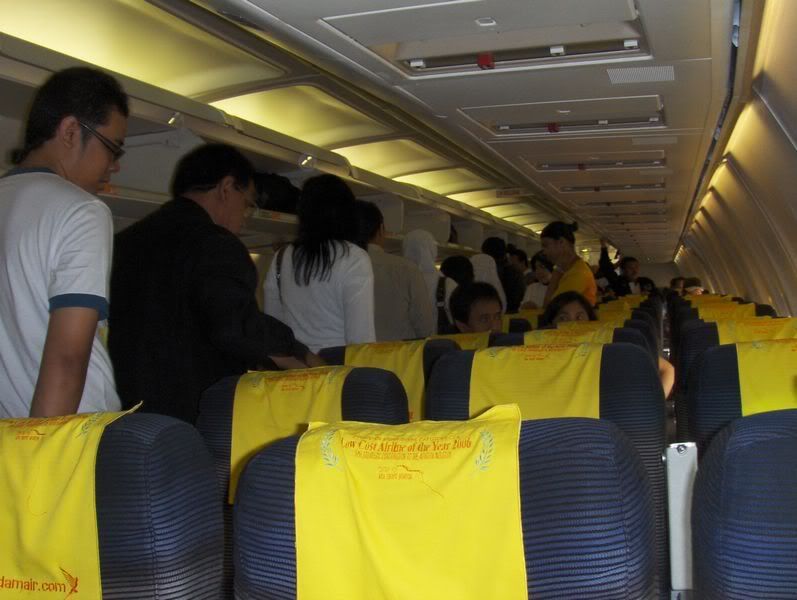 Legroom in row 1 was very poor, my knees were right against the bulkhead. The cabin seemed to be in an appalling state, one could see behind the wall panel, and the straps of some oxygen masks were hanging out of the overhead panel.
Nice wall panel
Safety card, didn't steal it as it might actually be needed on Adam...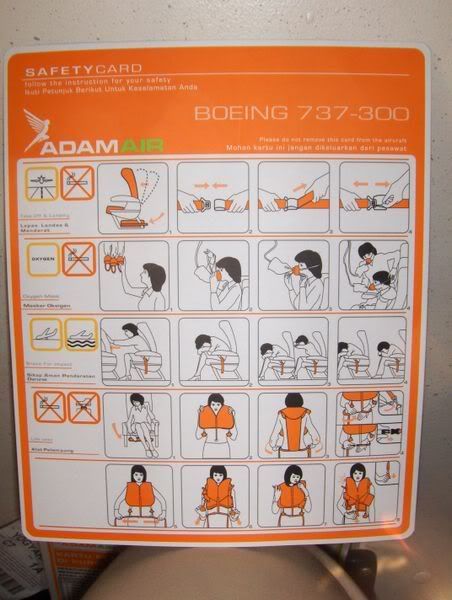 It was extremely hazy and sunny at CGK this morning, so my takeoff pics didn't turn out to anything presentable. We pushed back on time, taxied past T1B and T1A and took off without delay. Spotted a Citilink B737-300, possibly going to Batam.
The flying time was 45 minutes if I remember correctly, a cup of water was served by Adam's Angels or whatever they're called. Some very nice looking ladies there, but this tends to be the case on most Indonesian LCCs anyway.
Great scenery enroute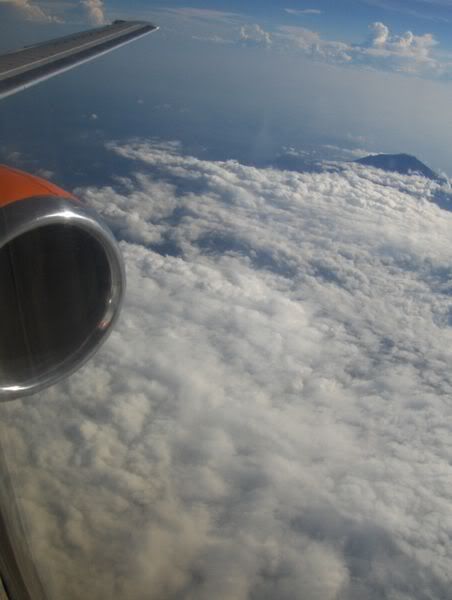 I was quite happy when we started our descent, the comfort of my seat wasn't exactly designed for anything more than an hour. The descent was very nice, all of a sudden it felt as we were sinking into the mountains.
Jogja came into view
Landed on the short runway, and backtracked back to the terminal building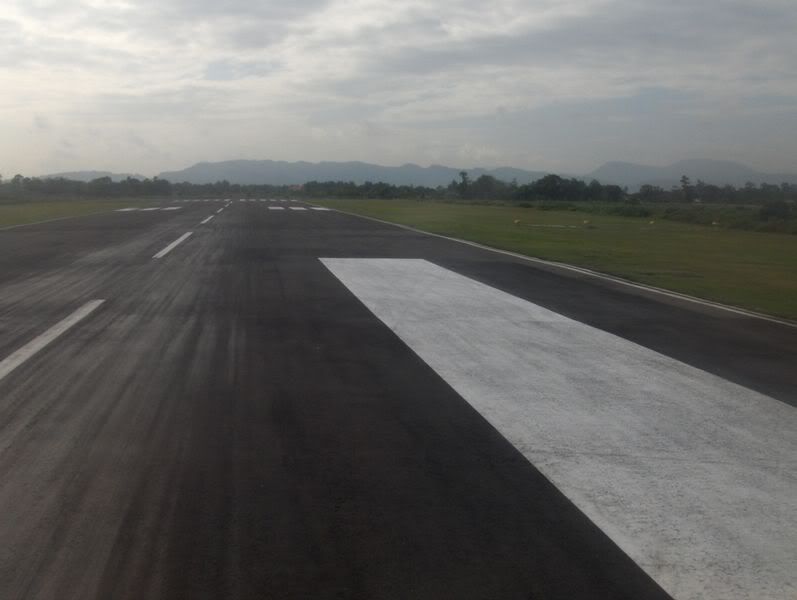 Disembarkation process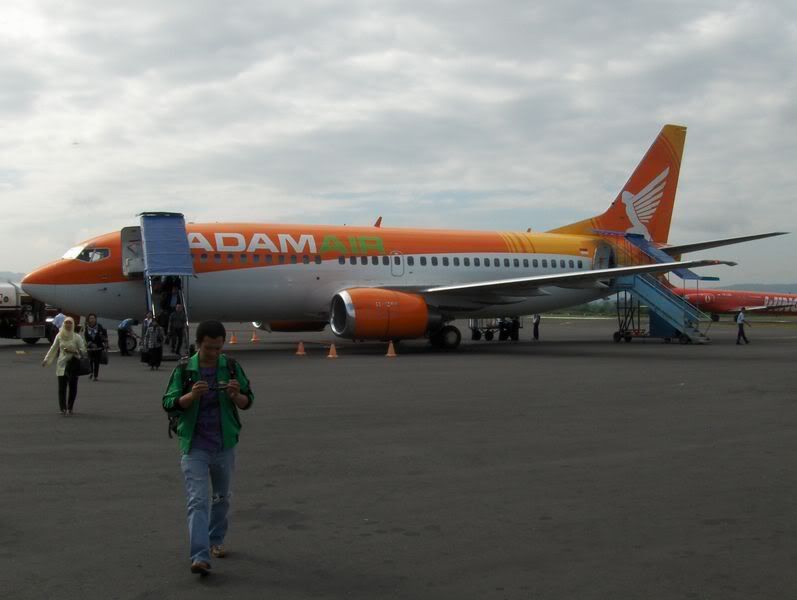 As I was walking towards the arrivals door, Garuda's PK-GZP took off for Jakarta. This one is the replacement for the aircraft destroyed at the very same airport a few months ago. A Wings MD82 also took off, but to the opposite direction.
Arrivals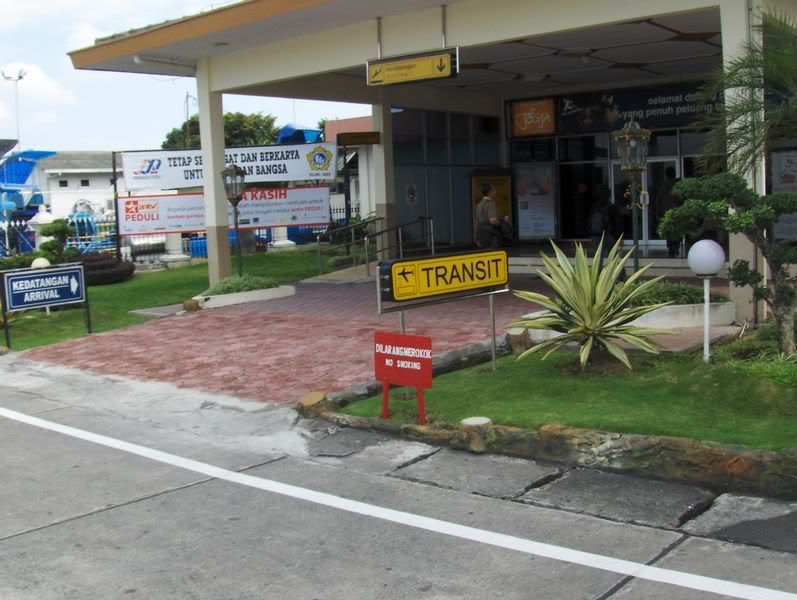 I took this picture of the ticket counters and went to the observation deck since Batavia check-in wouldn't be yet open.
There's an entrance fee of IDR 2,000, and the deck provides nice views. It was totally packed though with various school groups – perhaps since it was the start of local school holidays apparently. There are windows towards the apron, but decent pictures still possible.
'KM departing back to Jakarta with a Garuda 737-300 reversing in the background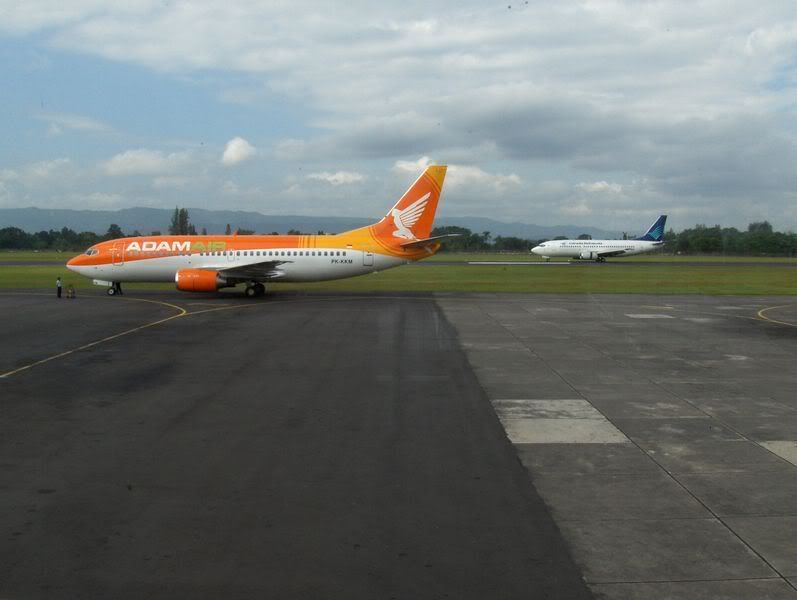 Had a chat with a local hotel owner, but I'm still not convinced his IDR 50,000/night rooms are comfortable as he claimed. Unfortunately, the Sheraton Mustika is closed until further notice due to structural damage, I was planning to stay overnight next time.
Made my way to the departures area as Batavia's Jakarta flight was called for boarding. I figured they'd open SUB check-in after CGK departed, and that was the case.
09 June 2007
Yogyakarta Adisutjipto (JOG/WARJ) – Surabaya Juanda (SUB/WARR)
Batavia Air 7P/BTV 231
Boeing 737-281/ADV
PK-YTR [Delivered to ANA 29JUN1979]
1220-1310 – On Time
Economy Class, Seat 11F (Exit Row)






Full history courtesy of Airfleets.net
29/06/1979 All Nippon Airways JA8452
01/09/1992 Air Nippon JA8452
15/03/1999 WestJet Airlines C-GXWJ
05/03/2002 WestJet Airlines C-GXWJ Stored 15/05/05 at Calgary - reg 13/07/05 as N738AP - Exported to Indonesia
26/07/2005 Batavia PK-YTR
Check-in hall at JOG
My ticket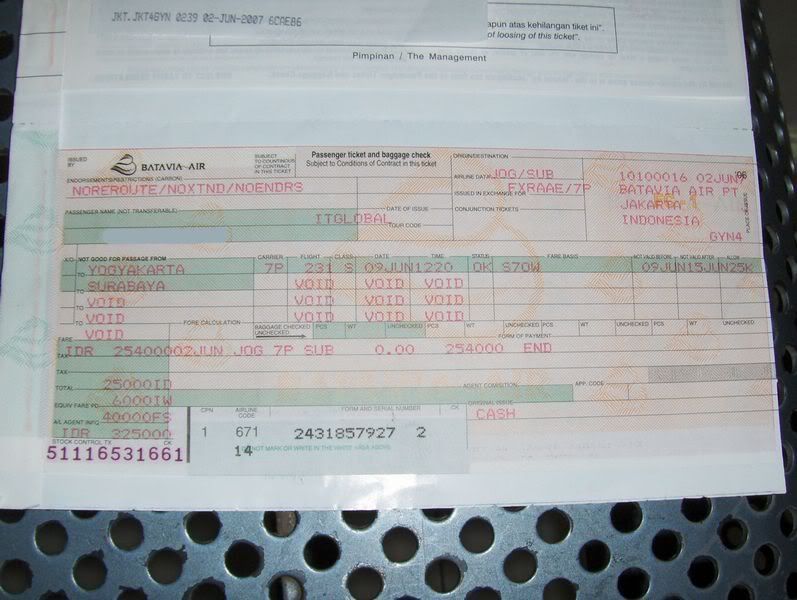 There was one counter for 7P231, and I had quite a shock when the agent pulled a "B737-400 TRANSIT SEATING" map out of the drawer. Thankfully my fears were not justified, she folded away a couple of rows and typed "YTR" on it. I was assigned 11F which turned out to be the exit row. Thoughtful of the friendly agents to do so. 7P has switched to supermarket style receipt boarding passes at least in JOG.
Paid my IDR 25,000 departure tax and went to have some food at the restaurant in the departure hall. Fantastic views of the apron, but the food was overpriced crap.
PK-GGP of Garuda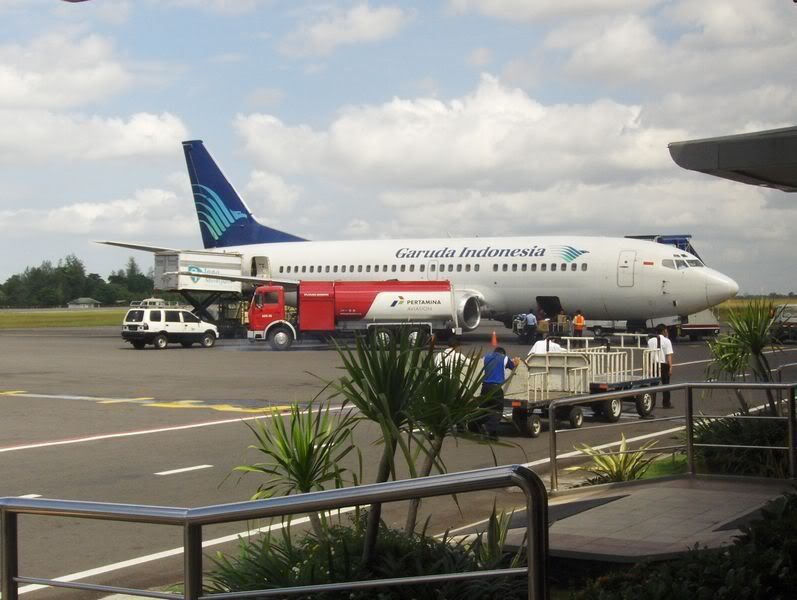 Mandala B737-400 PK-RIT arriving half an hour late from Jakarta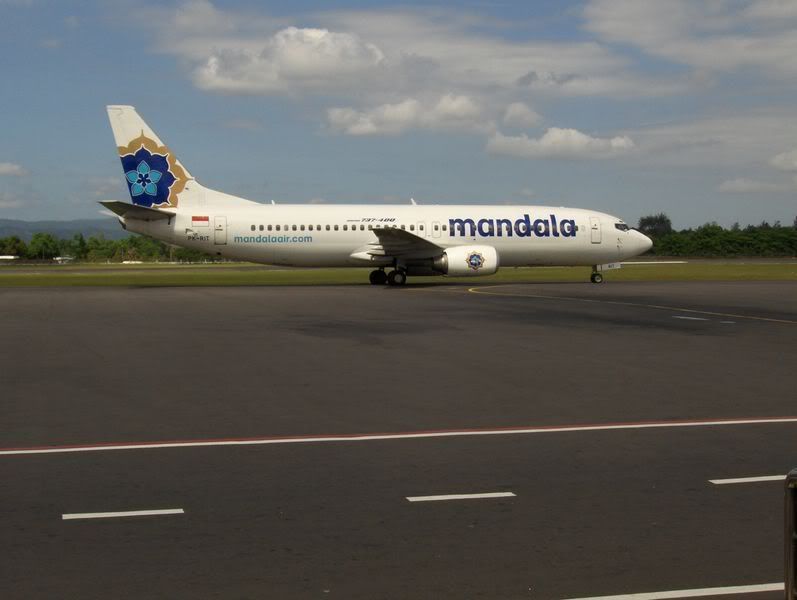 Batavia's PK-YTV departing for Jakarta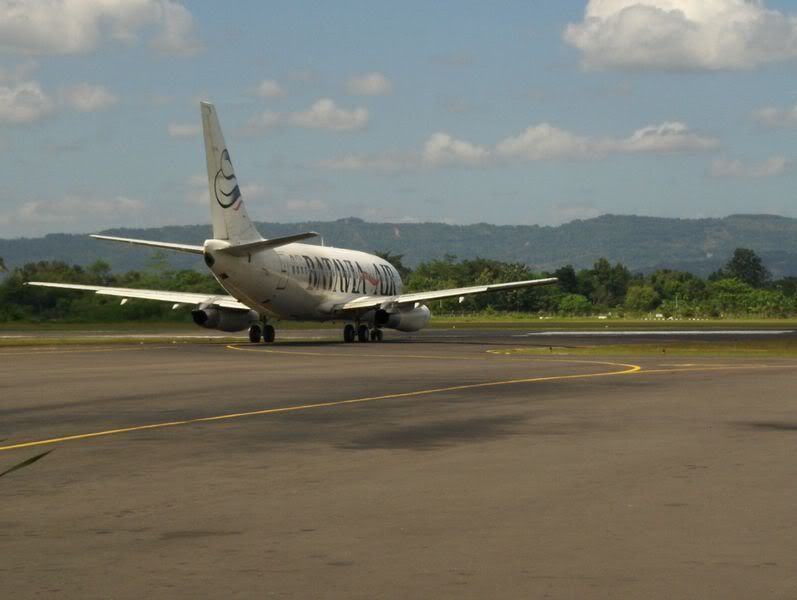 The next Adam arriving from CGK, PK-KKZ. Flew on her to SIN.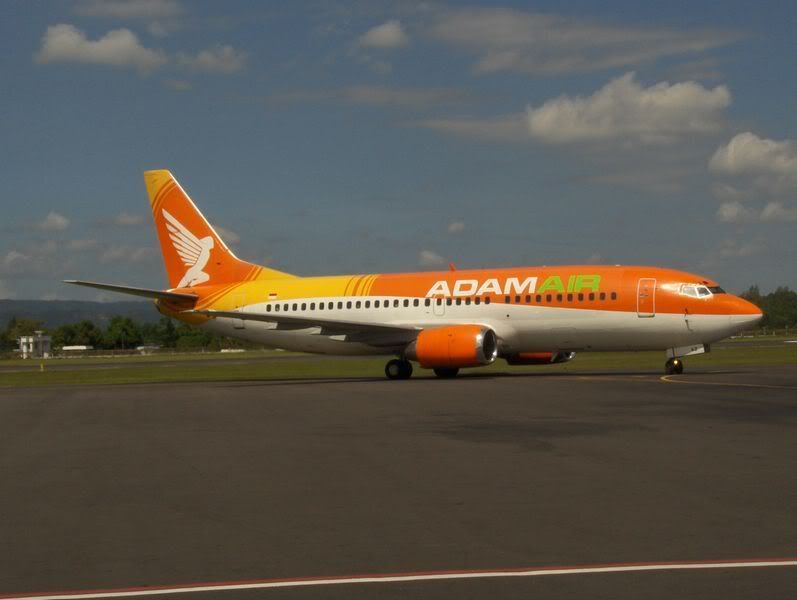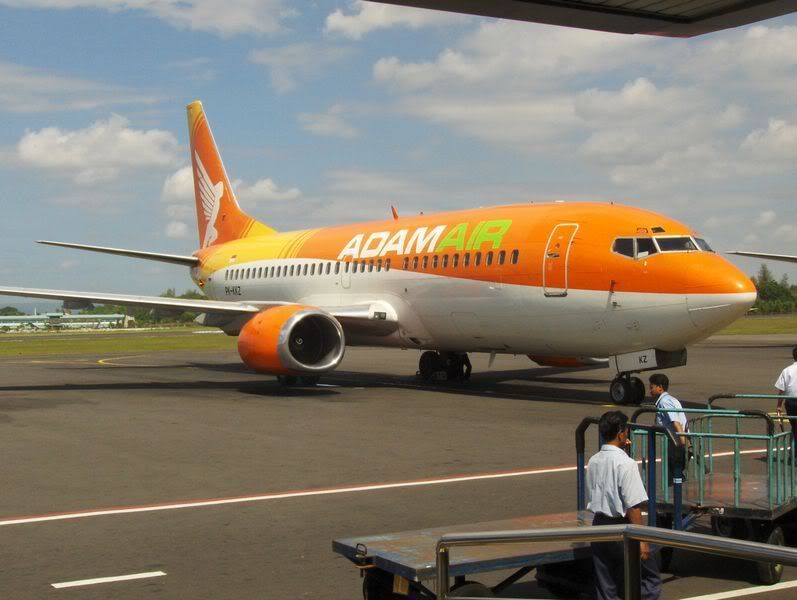 GA departing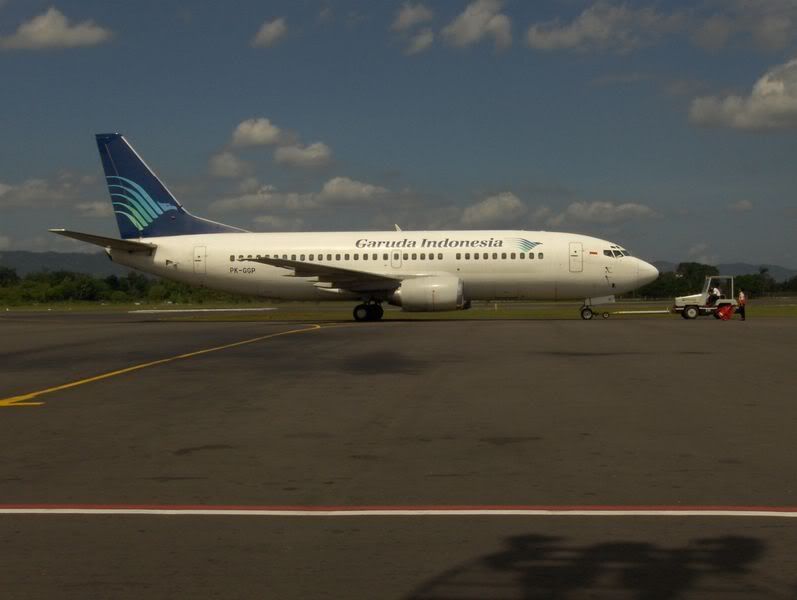 PK-RIT continuing to Borneo I believe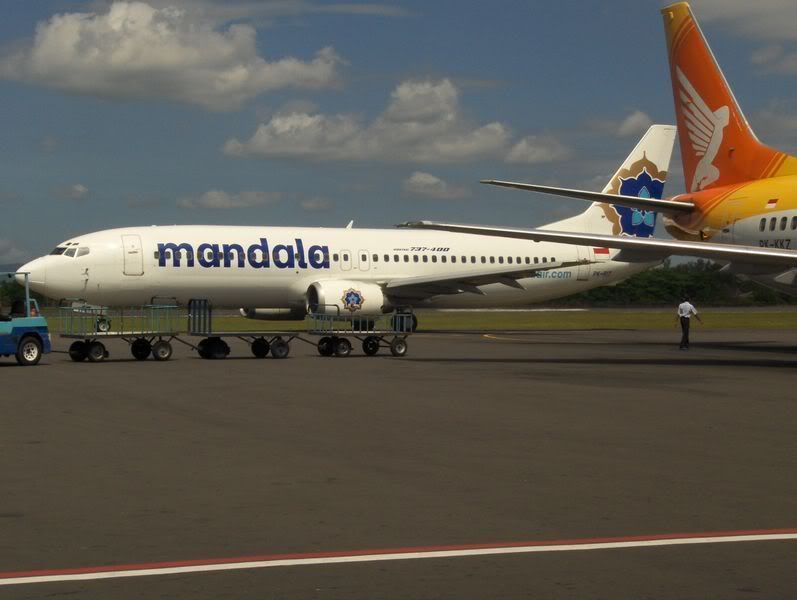 And finally, the long awaited Batavia 737-200 arriving from Pontianak. Never managed to get one from CGK to SUB.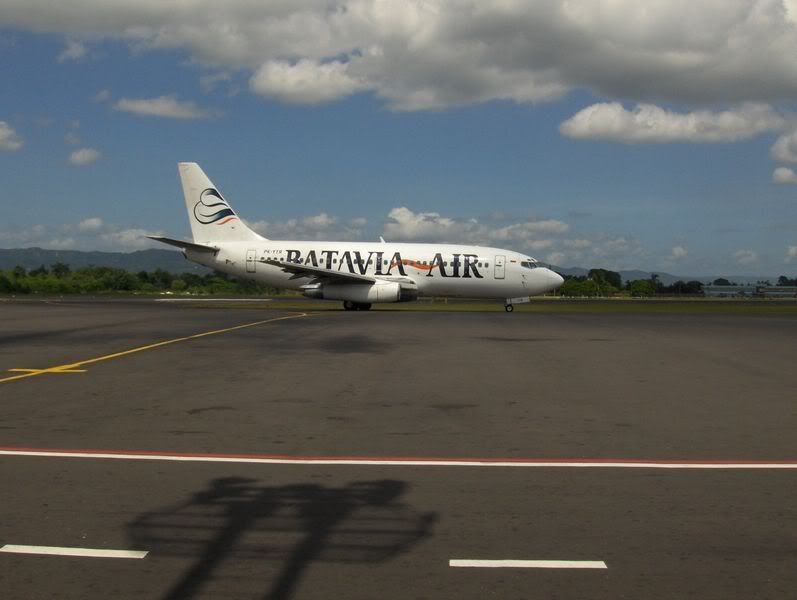 I then went to the gate area, very quiet since 7P 231 was the only departure within quite some time. Boarding started on time from gate 1, a nice walk to the old classic.
PK-YTR, ex-All Nippon Airways, Air Nippon, Westjet.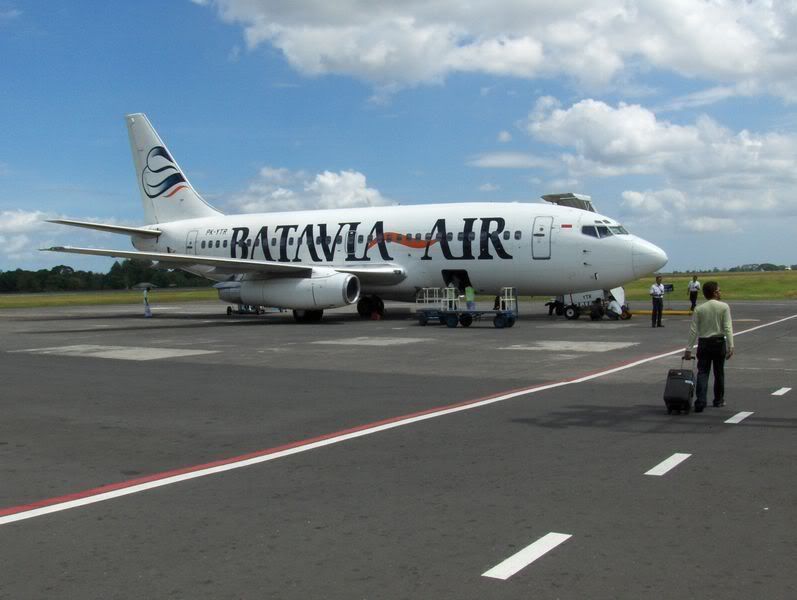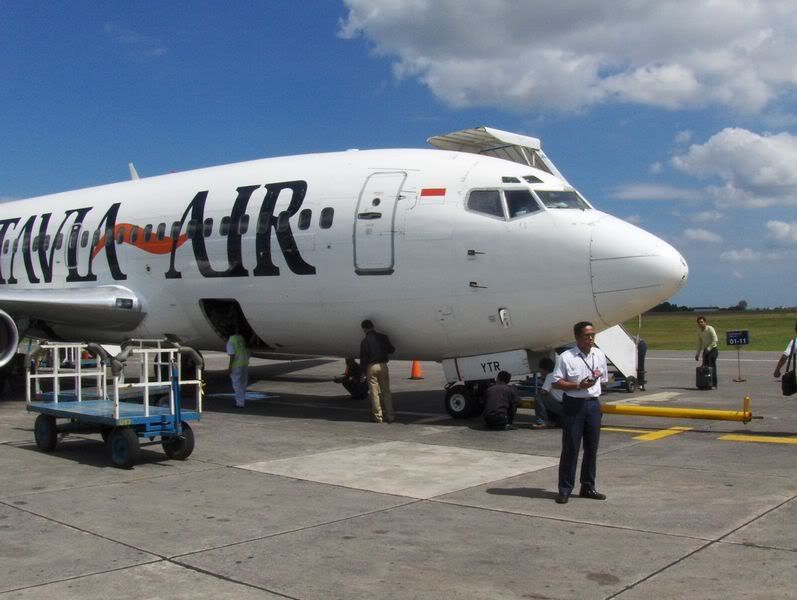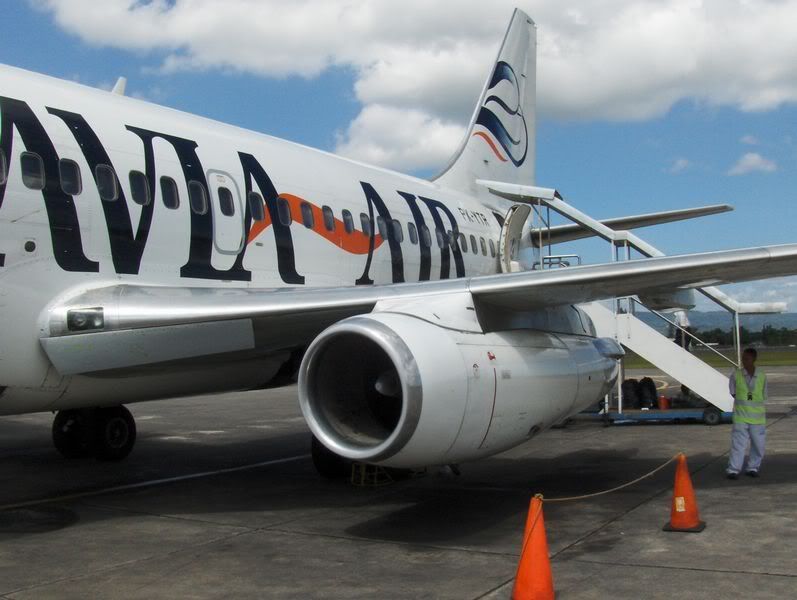 Probably a very high cycle aircraft, look at all the rivets on the fuselage. I assume those are some structural reinforcements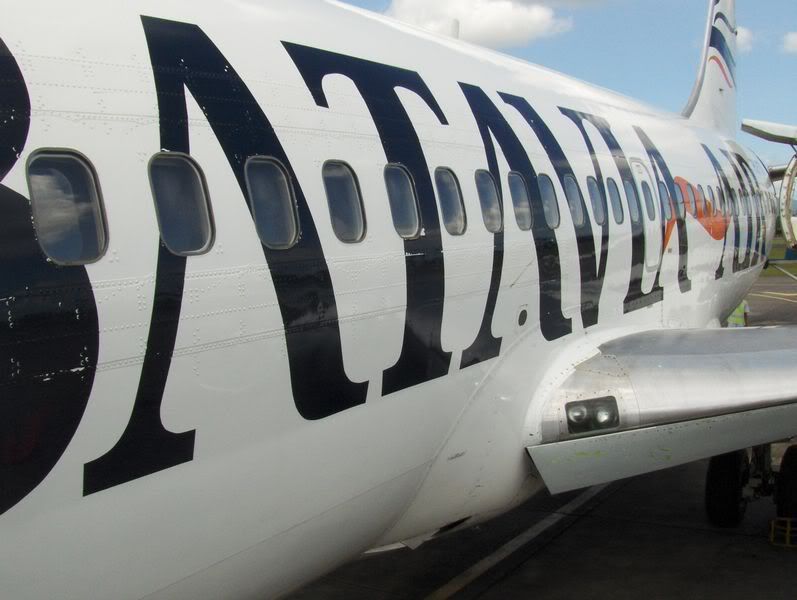 The cabin didn't look too shabby, and legroom in my exit seat was great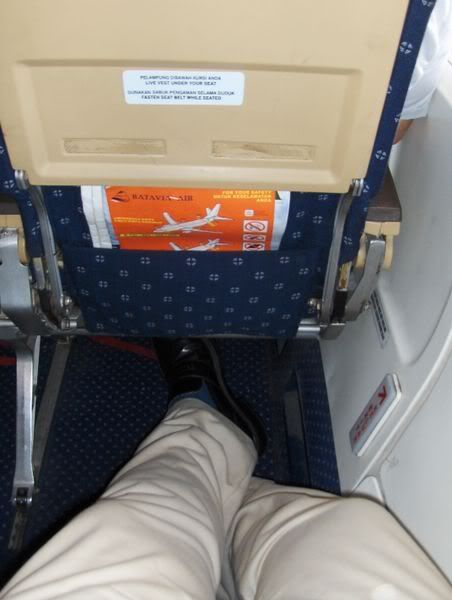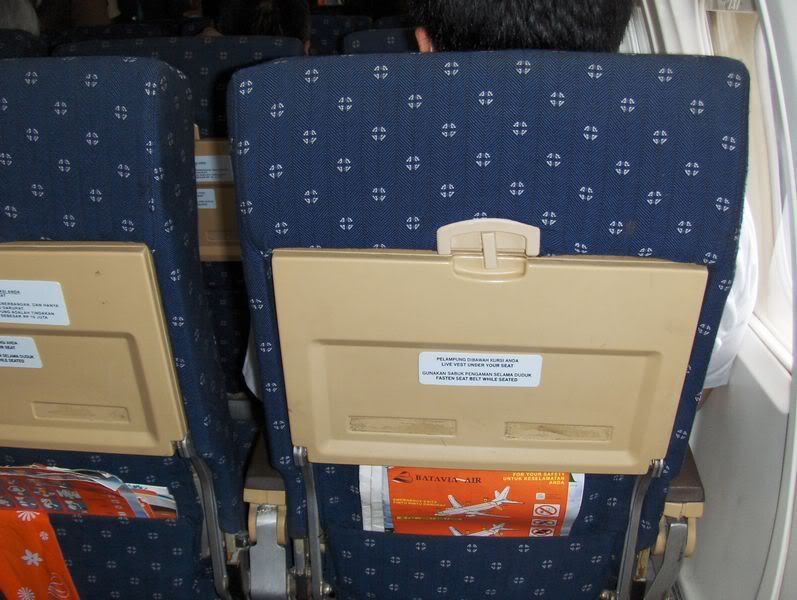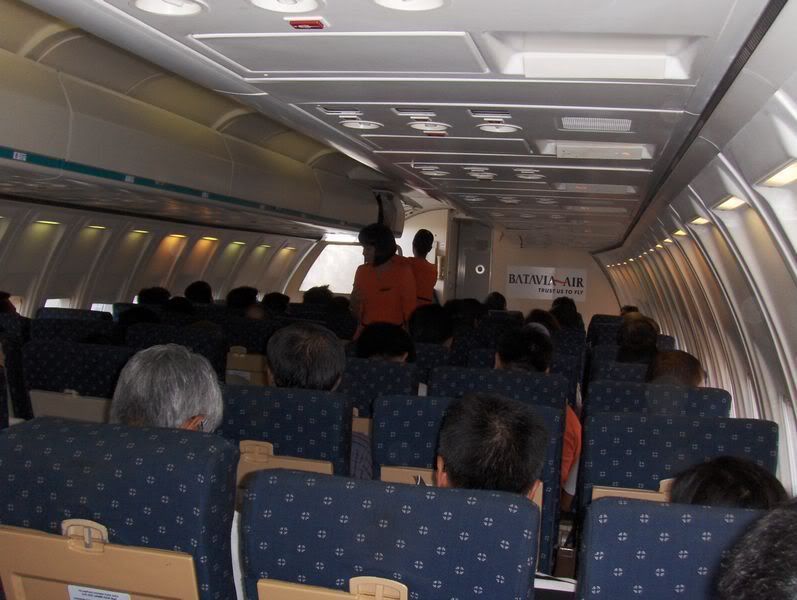 Jogja airport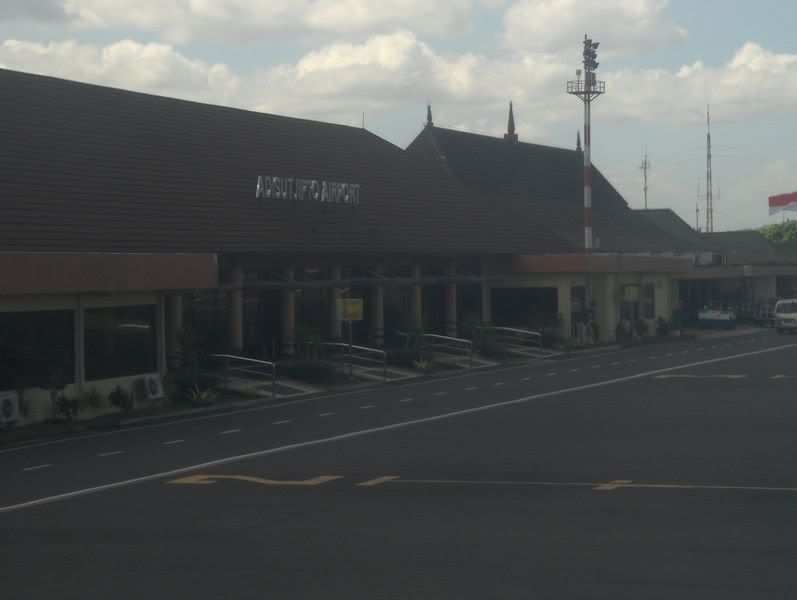 We pushed back a few minutes early, and took off a few minutes later towards the mountains. Interesting takeoff, engines spooling up first, then brakes released and off we go. Wouldn't want to have an engine failure on a B737-200 with those mountains in front. Seats weren't properly bolted to the floor, the whole row moved back significantly as we took off...
Climbing out of Yogyakarta towards the cruising altitude of 20000ft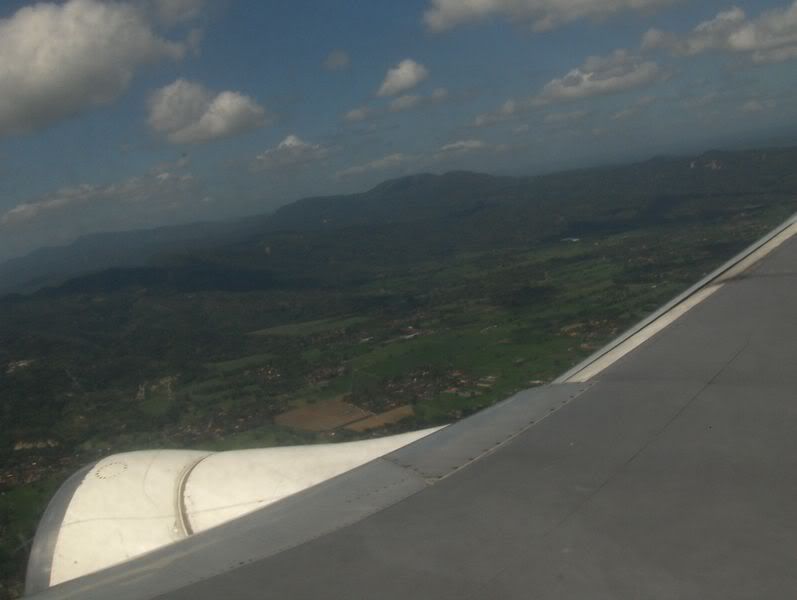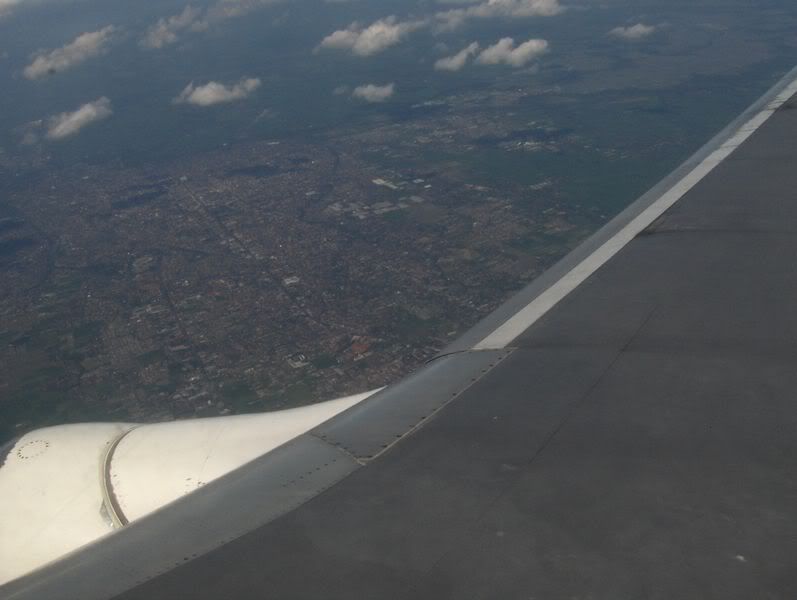 Cabin view from the back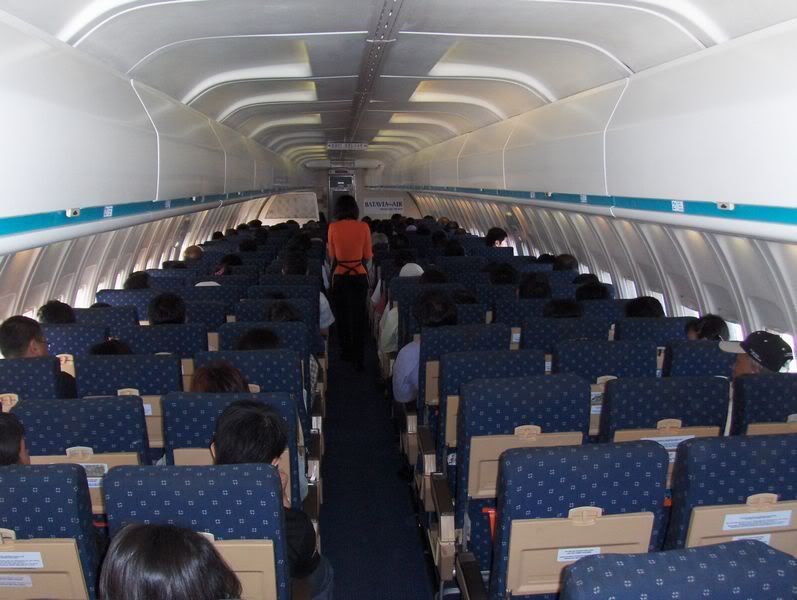 Lavatory check, note the Japanese signs from ANA times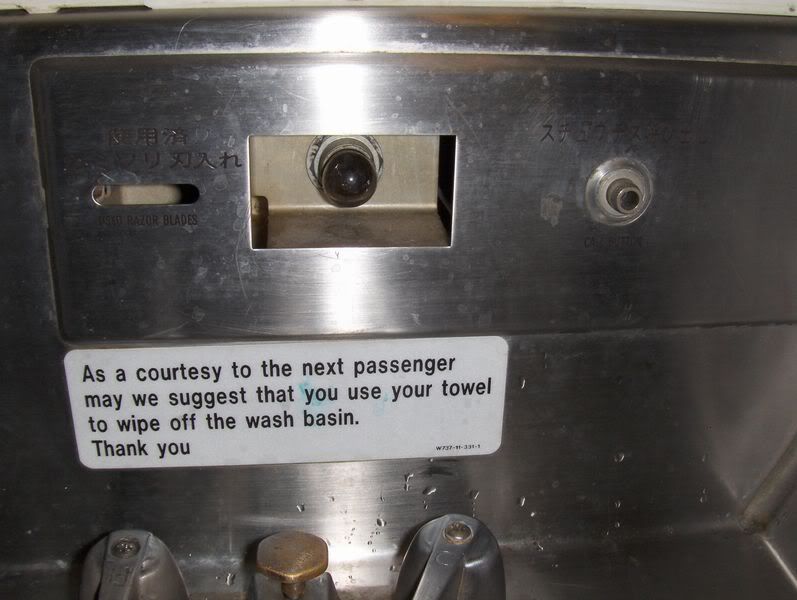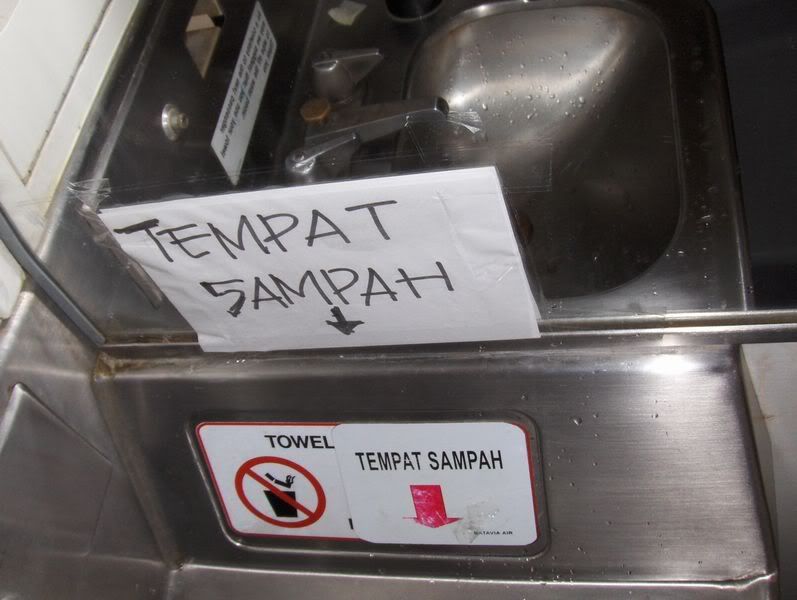 Another cabin view
A snack was served despite the short flying time of 30minutes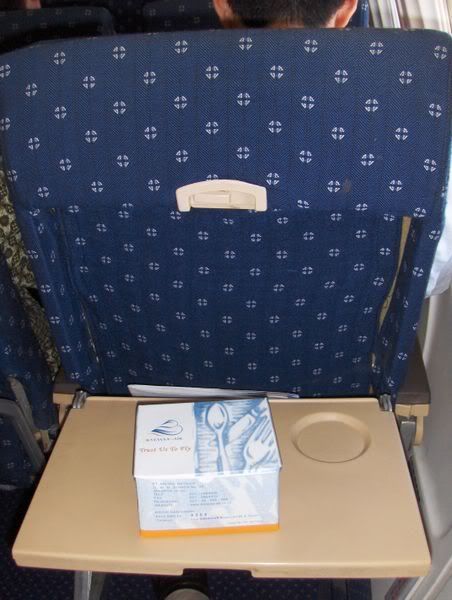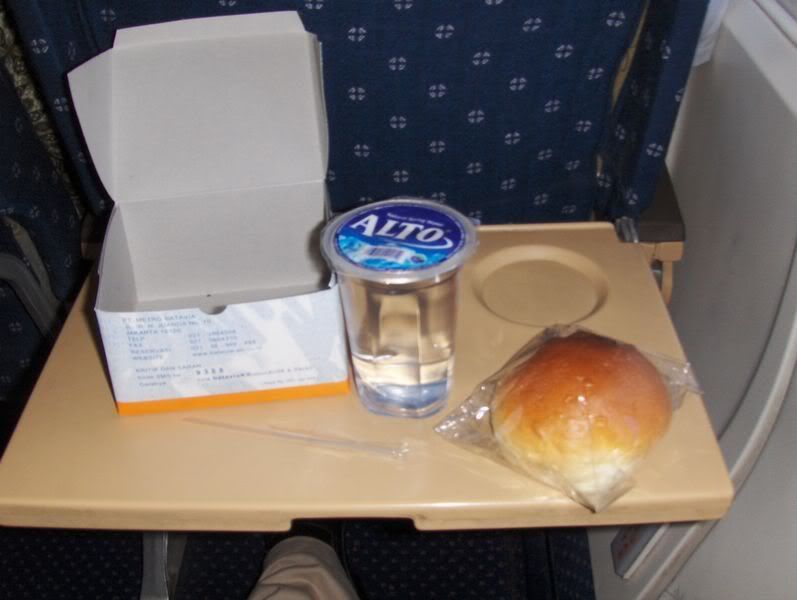 After reaching cruising altitude
Better not steal the lifejacket, I think that sign mentions a fine of 10M Rupiah.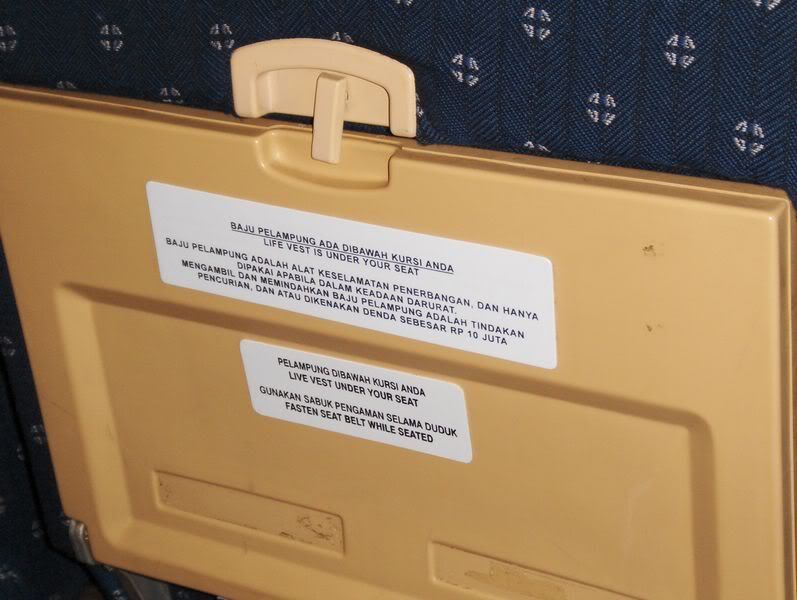 Rough looking exit door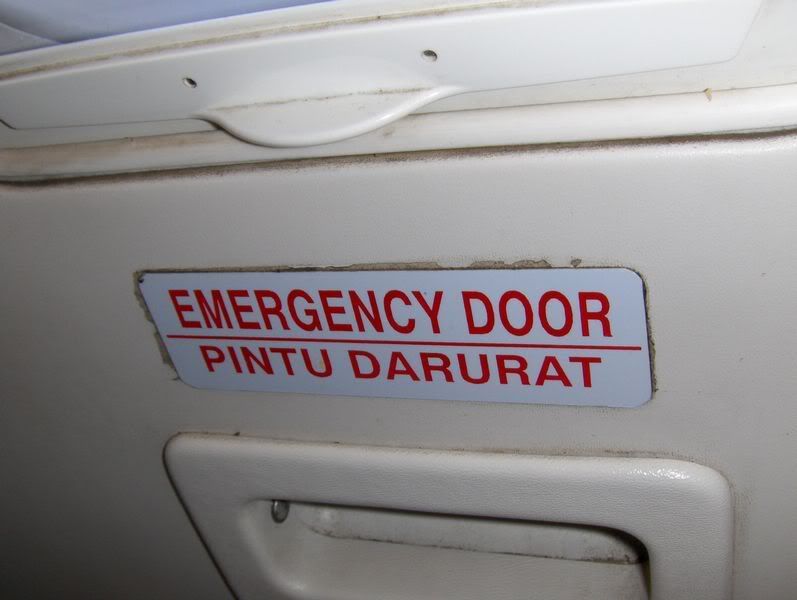 The flight was very short, and soon we were on descent to Surabaya Juanda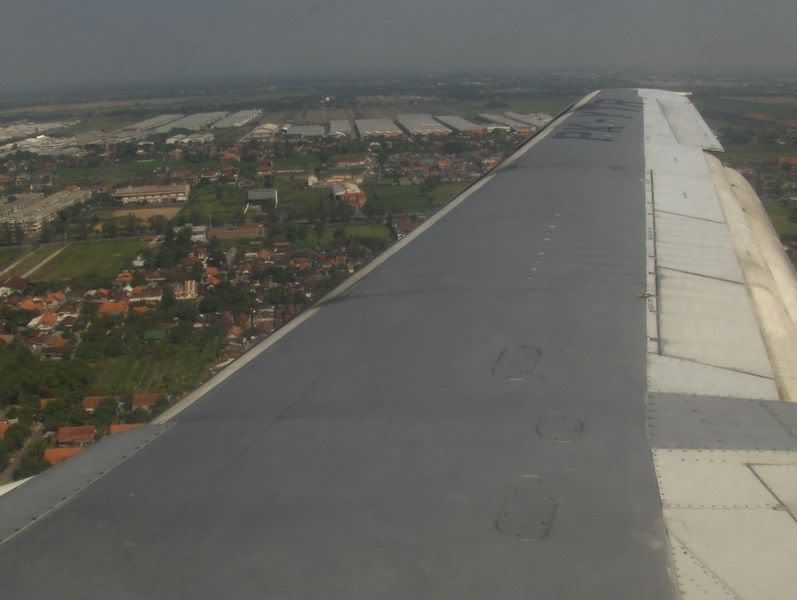 Exit row view
At gate, note the absurd markings for MD11 and A300. Nobody flies these in Indonesia AFAIK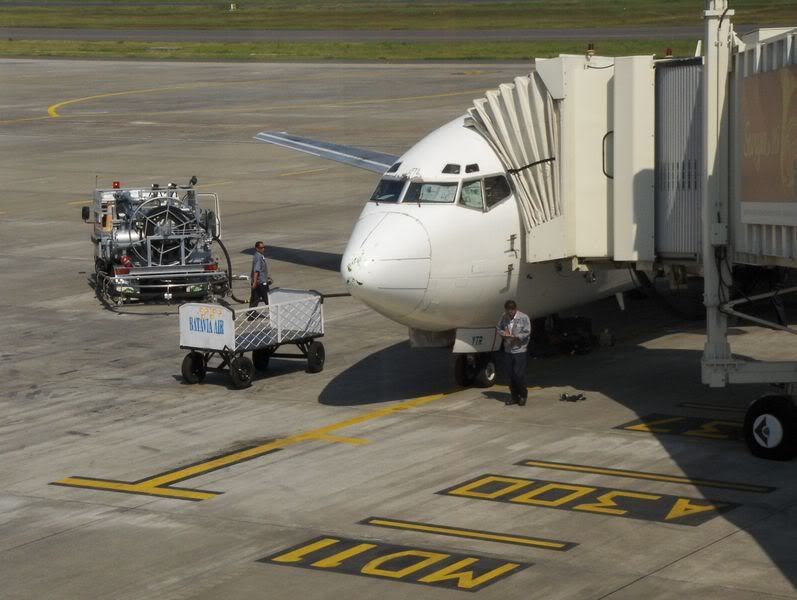 The cracked Adam 737-300 had company - apparently they had had a tailstrike in Surabaya since PK-KKS was parked there with stuff hanging from its tail. Good old Adam at it again.
Highly enjoyable Sriwijaya SUB-SRG-CGK will follow later.