May 29, 2007

AA2167
AUS-DFW
N195AN

Scheduled Departure: 3:35 PM
Actual Departure: 3:32 PM
Departure Gate: 15
Seat: 4F
Departure Runway: 17R
Wheels Up: 3:40 PM
Route: AUS AUS2.LZZ JEN.JEN8 DFW
Cruising Altitude: FL 230
Top of Descent: 4:04 PM
Arrival Runway: 18R
Touchdown: 4:25PM
Arrival Gate: D26
Scheduled Arrival: 4:35 PM
Actual Arrival: 4:30 PM
I finally got to go to St. Maarten. That's pretty much all I needed to say on this particularly fine Tuesday. Gee, I wonder why.
I'd seen the pictures, read the reports, now, it was my turn. We got to the airport about 2, easy check-in, although it took between 5-10 minutes for the 1 group in front of us to check in, and they had already been up there when we got in line. Checked our bags through to Miami, where we'd be spending night. A fairly long security line only took between 5-10 minutes, and we made it through without incident. We had a late lunch at one of the fine restaurants at the Austin airport, and I got some Amy's Ice Cream. Sooner rather than later, our 757 showed up as AA 1810 from SJC, and we started boarding really early, at about 2:50.
N195AN
Typically, the boarding passes say boarding time is 30 minutes prior to departure, and very rarely have I ever seen it begin boarding that early. This one said boarding time was 2:45, a full 50 minutes before scheduled departure time. Any idea why? A nice, long chat with the pilots about the weather north of Austin, among other things, and made my way back to seat 4F.
A Company 757, N697AN, to SJC
legroom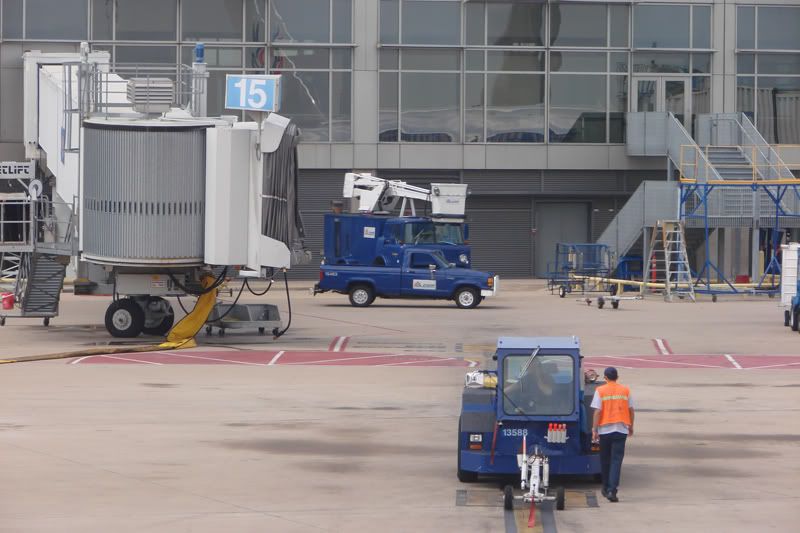 gate 15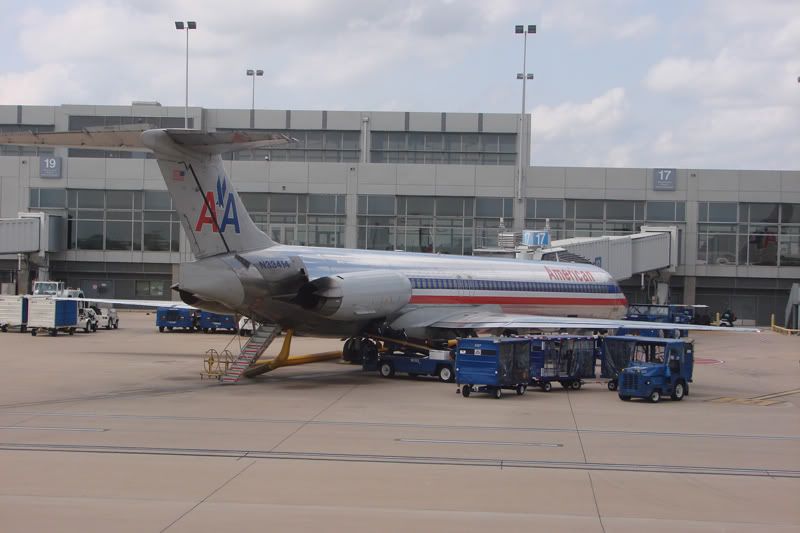 A Company MD-80, N33414
We pushed back a little early, and made a quick taxi out to 17R. A rolling takeoff, and after a real short takeoff roll (maybe 3500 feet), and we were airborne.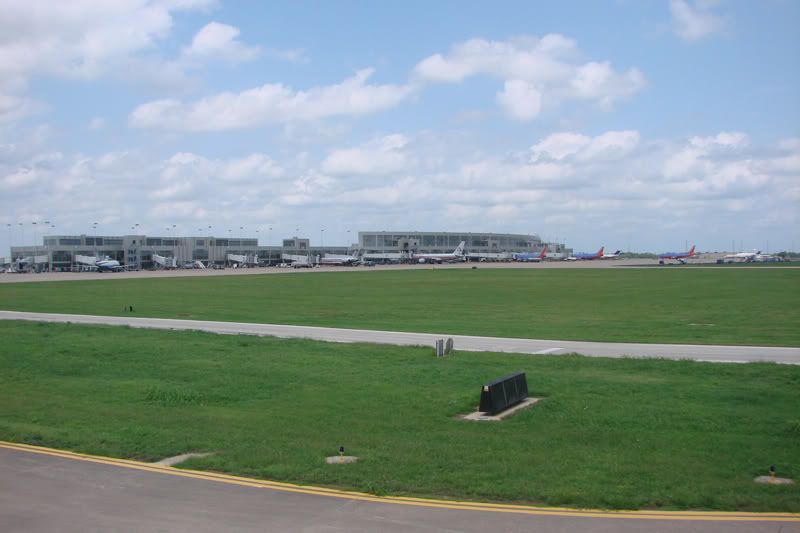 Barbara Jordan Terminal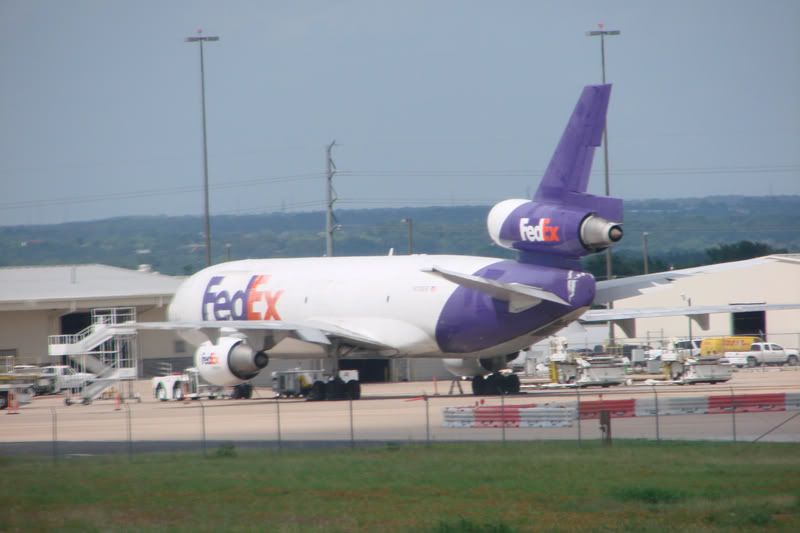 A FedEx MD-10
A quick turn to the northwest, and we began our short flight up to DFW.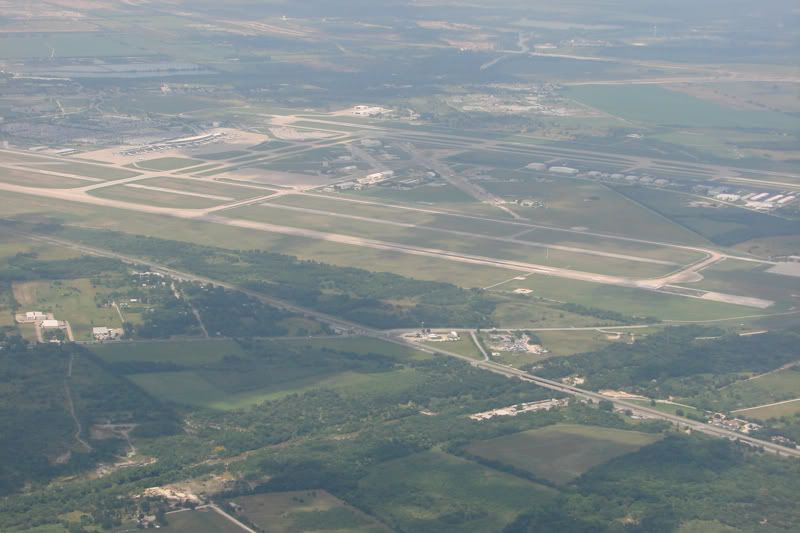 AUS from the air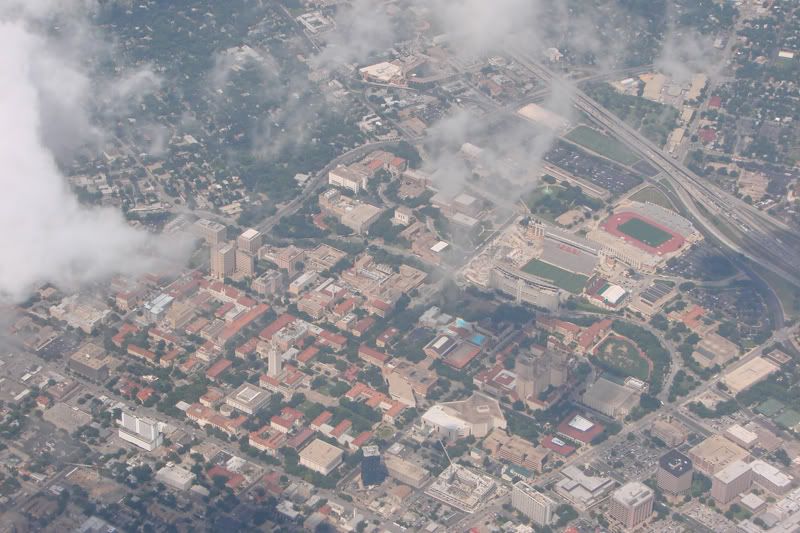 The University of Texas at Austin Hook'em Horns!
We flew past some of the aforementioned weather, some towering cumulonimbus, roughly over Waco. Shortly thereafter, we began our descent. We made a turn to the northeast over the JEN (Glen Rose) VOR, and followed the JEN8 arrival into DFW. After a turn north, we passed the airport to the west, circled north, east, and then a southerly turn to final for 18R.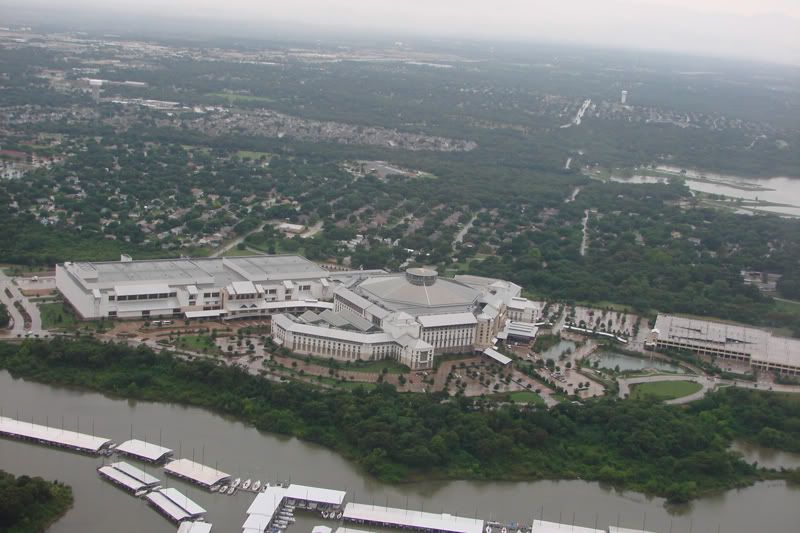 Can anyone tell me what this building is? It's on final for 18R, right close to Grapevine Lake. It looked cool, so I took a picture of it.
Quite possibly the smoothest landing I've experienced found me in a wet DFW. It wasn't raining, but it was readily apparent it had been recently.
We didn't stop once we had landed, except for a couple of seconds waiting for a North American 767 to vacate the D terminal ramp, and we, as well as an Air Canada Express E170, taxied to our gates.
Connection at DFW:
We only had an hour and 20 minutes in DFW, but I decided that would be plenty to head over to the DFW Employee Store, and buy an AA polo shirt. I found the Skylink station, and began my ride around to the south, not knowing there was a bridge that ran from the D terminal straight to C2, basically. I did find it on the way back, though. Anyway, on the ride around, as we were just about to leave the 2nd terminal E stop, the system had a temporary failure, which was resolved, but delayed the trip a little less than 5 minutes. No biggie. They (being the person in Skylink control) came over the intercom and announced they were aware of the delay, and would be fixing it in just a matter of minutes.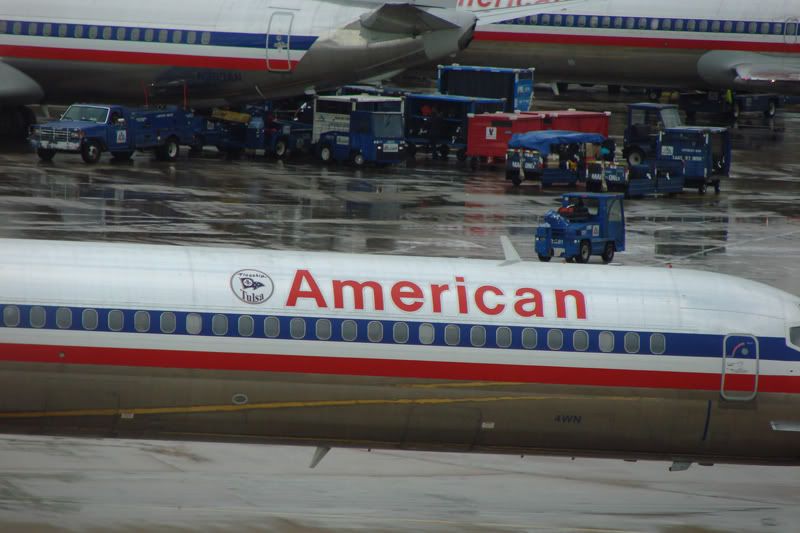 Flagship Tulsa
The first of several meetings
The rest of the ride was uneventful, and I found the store without incident, and bought a nice navy polo with an AA patch. I took the long walk across the bridge, thankful there were moving walkways. I was a little worried about making it back before they started boarding. I did, and we began boarding shortly thereafter.
AA408
DFW-MIA
N772AN

Scheduled Departure: 5:55 PM
Actual Departure: 5:54 PM
Departure Gate: D27
Seat: 3J
Departure Runway: 17R
Wheels Up: 6:24 PM
Cruising Altitude: FL 410
Top of Descent: 9:13 PM
Arrival Runway: 9
Touchdown: 9:38 PM
Arrival Gate: E10
Scheduled Arrival: 9:35 PM
Actual Arrival: 9:48 PM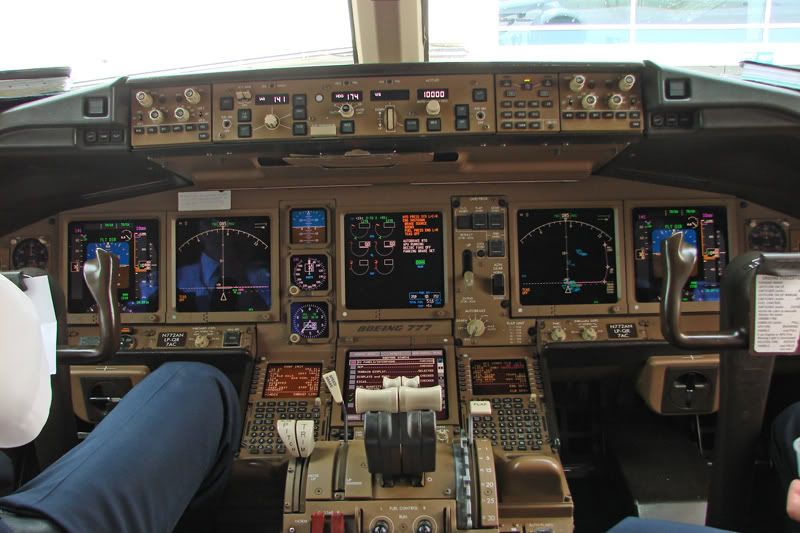 The Mighty 777 Cockpit
I love the 777. I don't care where I'm sitting, up in the front, back in the back, I love the 777. This particular ship, N772AN (fitting), was fitted with the coffin (2-2-2) configuration. Still very comfortable, albeit a little more crowded.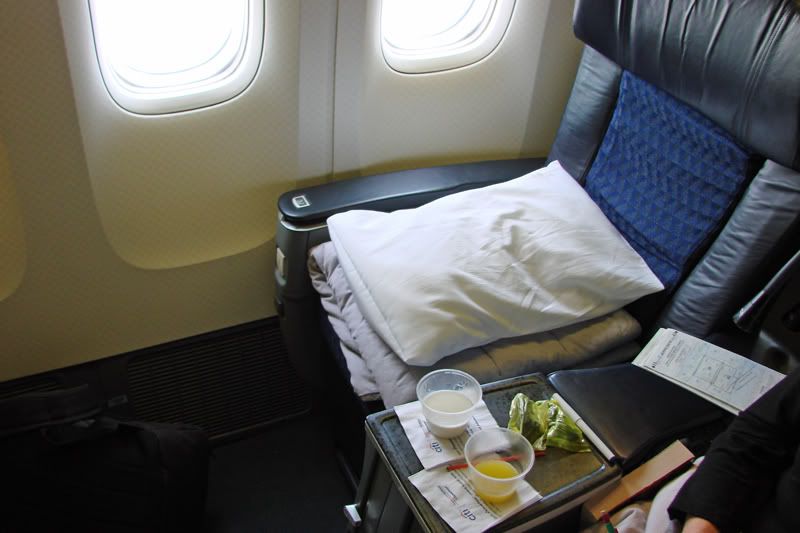 View from 2J
We pushed back a little early, and taxied over to 17R to join every other aircraft in the greater Dallas area waiting to take off.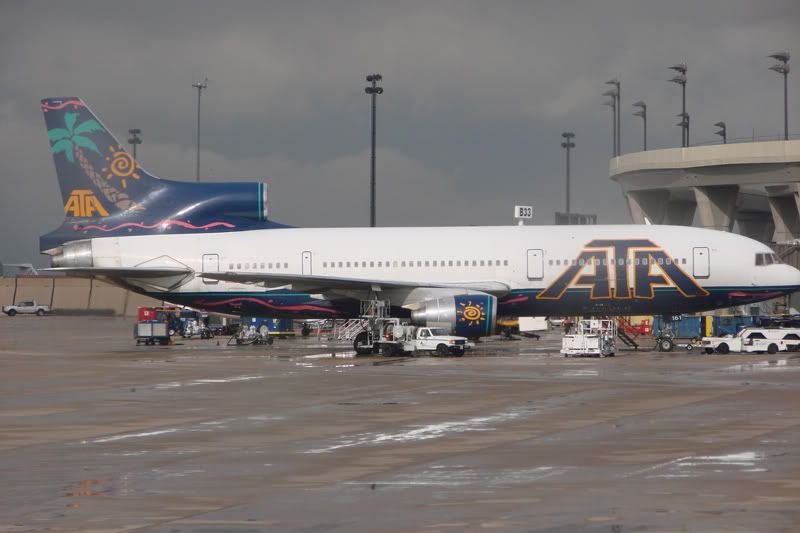 ATA L1011
We were 15th in line for takeoff, and we were ahead of several others who we seemingly just skipped.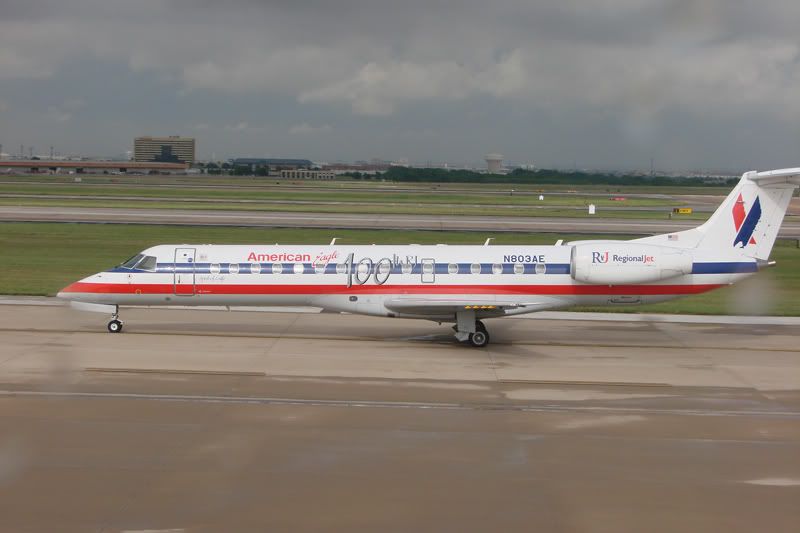 100th ERJ
The ones we skipped. Suckers.
Time passed, and at 6:21 PM out time had come. We turned onto the runway, sat, and waited for an AA 763. Eventually we spooled up our glorious Trent 892s, and away we went. It was a really long takeoff roll (the pilots told me they would use the lowest power setting), but eventually we jetted away into the still Texas evening.
A turn to the east, and slowly into the night. The food was REALLY good. I had the ravioli. My dad said the beef ribs were good, too.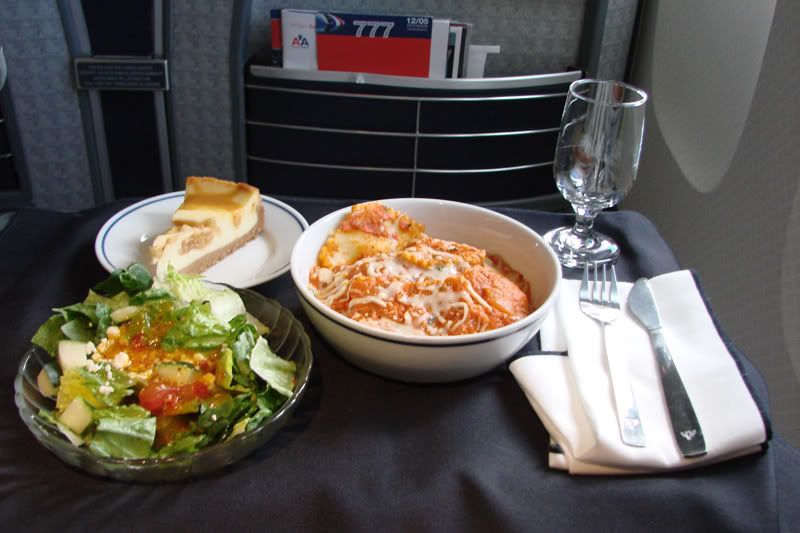 Mmm Mmm Good.
I read the book A Spirit of Greatness, a collection of stories from the employees of AA, which I had purchased for a dollar at the employee store. It was an otherwise uneventful flight, and I reclined flat into a bed, and dozed for a little while.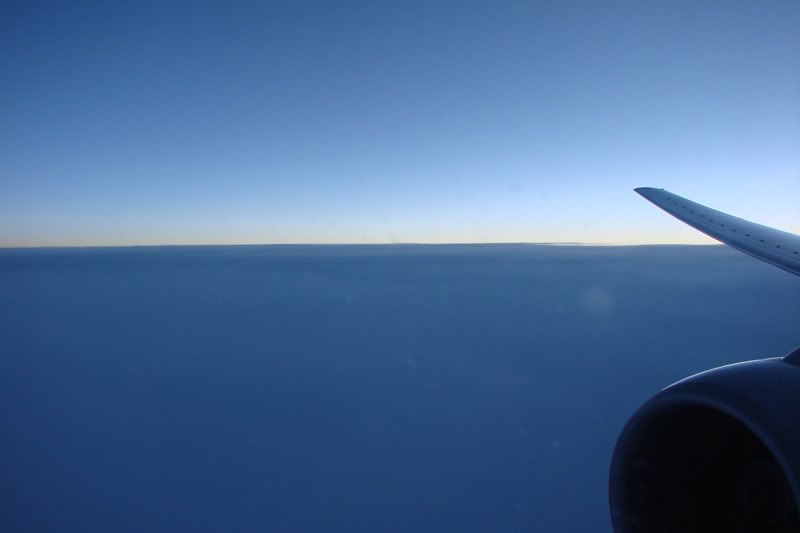 From Day into Night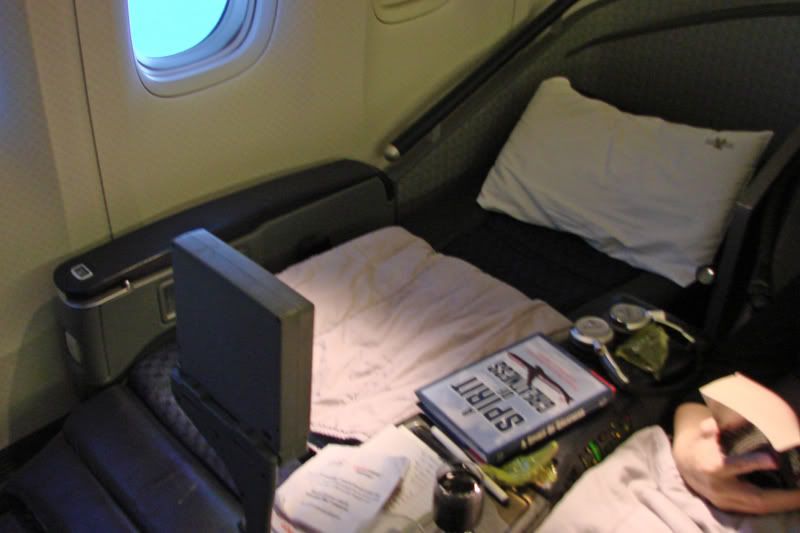 In bed mode
We began our descent, and slowly moved toward the lights of the metropolis, and away from the dark of the Everglades (off in the distance anyway
). A straight in approach and landing on runway 9. I saw the Astrojet again, parked at E6, it must have come in as AA 1072, leaving DFW at 5:05, waiting for a flight to BNA in Miami. A (ridiculously) long walk to the baggage claim, and back upstairs to catch the shuttle to the airport Wyndham, and we'll call it a night.
May 30, 2007

AA687
MIA-SXM
N620AA

Scheduled Departure: 11:20 AM
Actual Departure: 11:13 AM
Departure Gate: D45
Seat: 4A
Departure Runway: 12
Wheels Up: 11:25 AM
Cruising Altitude: FL 390
Top of Descent: 1:20 PM
Arrival Runway: 9
Touchdown: 1:45 PM
Arrival Gate: A4
Scheduled Arrival: 2:05 PM
Actual Arrival: 1:49 PM
Yesterday didn't count. Today, I could actually say I was going to the vacation spot of my dreams: St. Maarten. We arrived at terminal D about 9:30, and did the self check-in, as there didn't appear to be any other option. Is there? Then we were told by the agent who gave us our bag tags that there was no First/Business line for security. Was there: yes, of course there was, but we didn't discover it until we had spent 15 minutes in line. Nevertheless, it proved to be much faster than the regular line, and we finally made it through. We made the long walk down to D45, and boarding began about 25 minutes later. I had another chat with the pilots who were, as usual, impressed with my knowledge of airplanes, airlines, and airports. I made my way back to my seat, and when I got there, much to my surprise (though quickly fading surprise at that), was none other than the Astrojet parked at D47, waiting for a flight to DCA.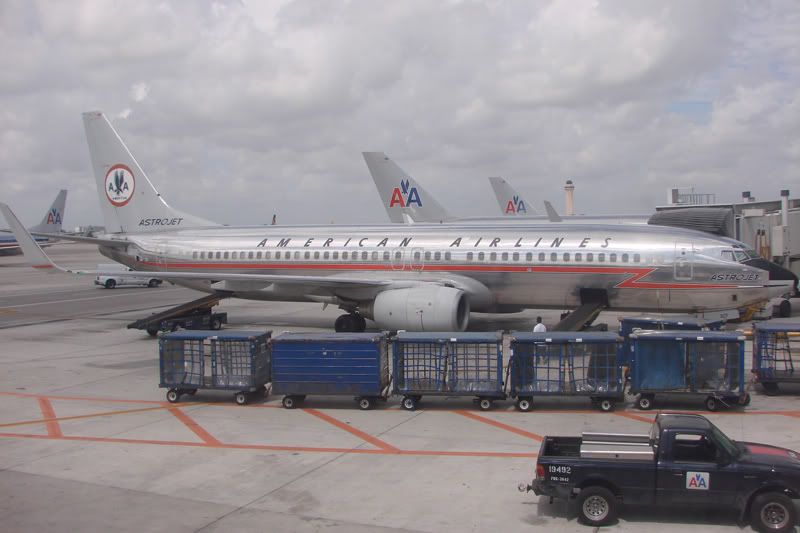 Well well well, look who we have here.
That is 3 separate times that I've seen the Astrojet thus far. The door was closed, the jetbridge removed, and the 757 that would take me to SXM was pushed back.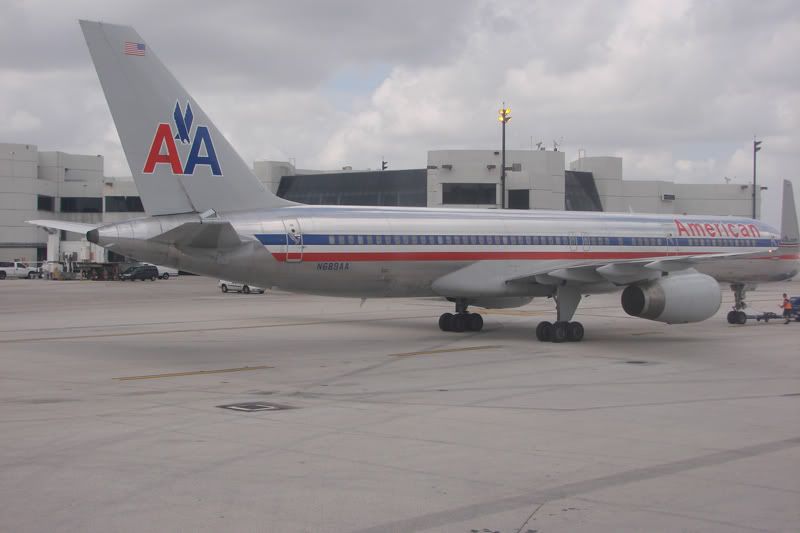 Company 757, N689AA
A quick start up, followed by a quick taxi to runway 12, where we were number one for takeoff.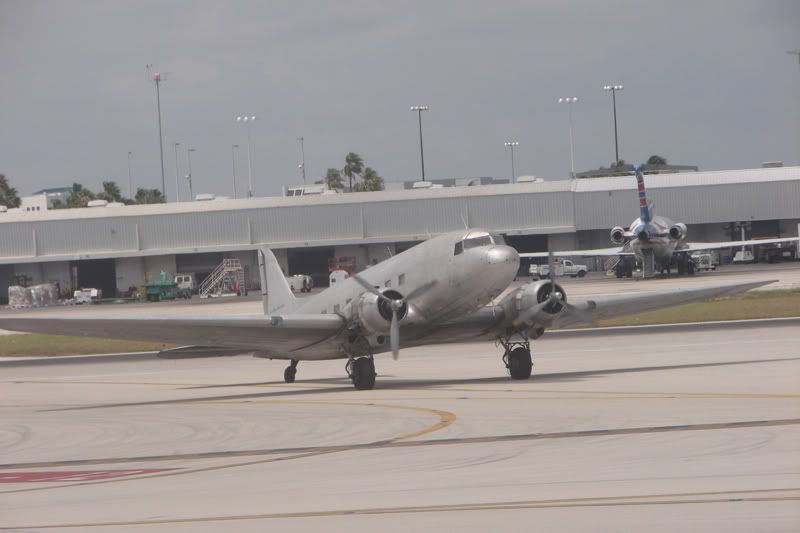 A little bit of history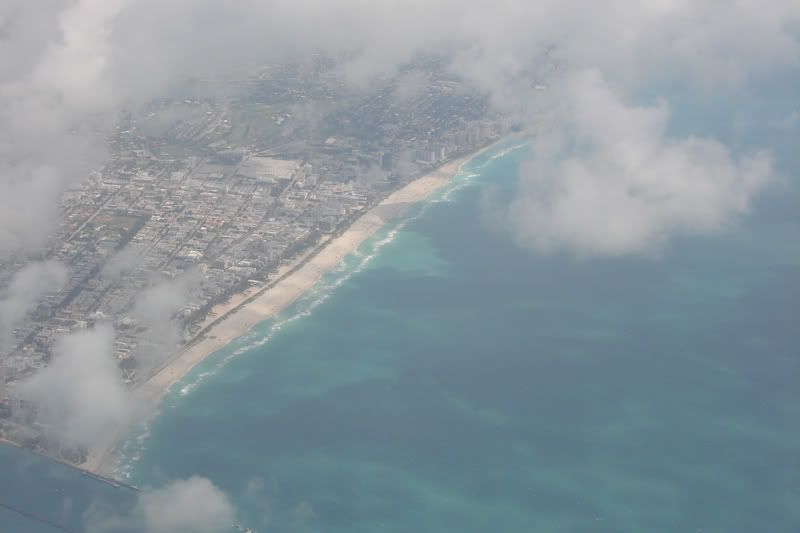 South Beach
Quickly out over the ocean, the IFE began, as did my misery. I had had a sinus infection (past tense, or so I thought, it wound up actually getting dramatically worse over the course of the trip, and I'm still not completely over it two weeks later), and my ears just started throbbing, all the way down into my throat. It was utter misery, but the one ear that was giving me the most trouble finally popped (well, actually it squeaked for about 10 seconds), and relieved the pain. For lunch, picture the last meal I had, substitute a Caesar salad, and Chocolate cheesecake, and you've got it. Even better, because I LOVE Caesar salads, and this one was particularly good. The flight progressed, and I got bored, and probably more so, anxious/excited. I was constantly checking my watch, but we were making good time. My whole ear episode had eaten up a good bit of time, and we eventually began our descent. It was a quick descent, and eventually I could see the airport out in front of us. We made our turn to final, and I'm glad I had my camera on video, because if I had blinked, I would have missed the famous approach. I can't believe how FAST everything goes by. My goodness!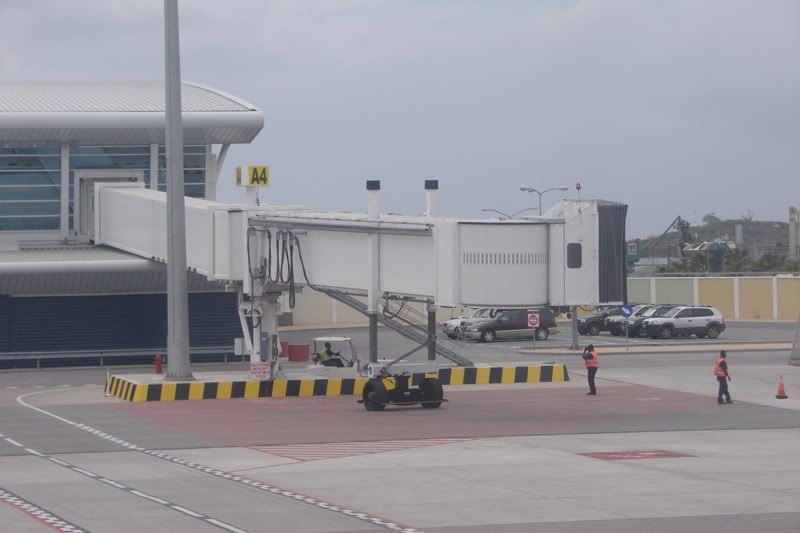 Gate A4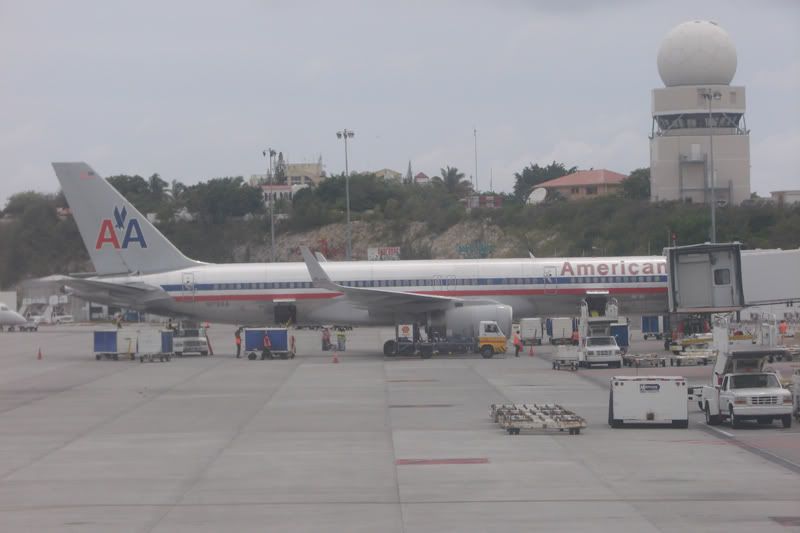 Company 757
Regardless, it was really exciting, and I was SO glad to finally be here. We turned around, and quickly taxied to the gate. We walked down to immigration, walked right up to passport control, got our passports stamped, walked down to baggage claim (maybe 50 feet), our bags had all just come out, and I kid you not, at 2:05, I was in my hotel room at the Sonesta. Talk about efficiency. Wow! What a way to begin a vacation. While sparing you details about my stay, I had a grand time on Maho Beach, and in my Room With a View.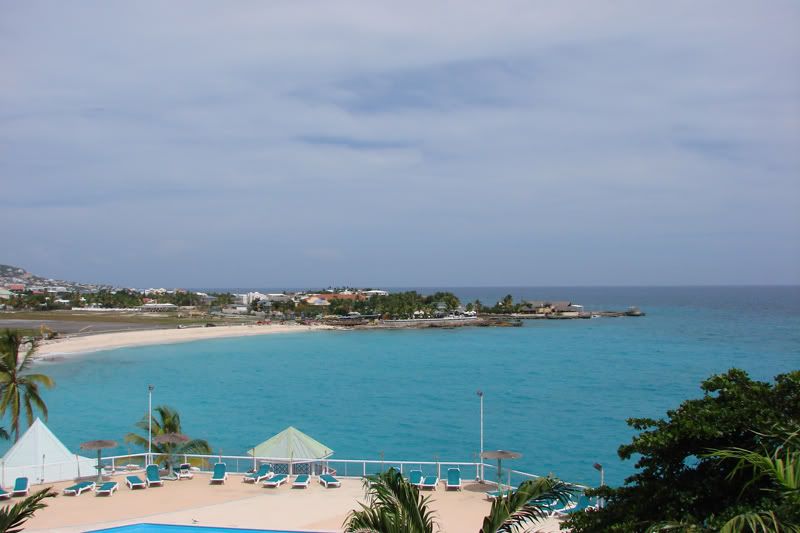 The Aforementioned Room With a View
[Edited 2007-06-14 03:11:49]