I haven't written a trip report in a while since everywhere I've been so far this year I have covered in other trip reports in the past. Well my travel plans have finally changed and I needed to go to Lexington, KY to meet with a client. So I go to my trusty Delta.com and discover that with a week's notice I can't get a ticket into LEX, CVG, or SDF for under $1300 and that was by selecting a SuperSaver ticket. The costs only went up from there. Normally I'm not one to complain about high prices but these prices were about ridiculous. One of my coworkers flies into LEX from PHX for $300 or so with a connection in Charlotte or Chicago.
Since I didn't really want to drive from Atlanta I looked at other airports semi close by which gave me Dayton and Indianapolis. Checking the schedules I found I could fly into DAY on a CRJ-900 and out of IND on an EMB-170 which are two planes I've never been on before for just over $600 and get automatic upgrades to First so I jumped on it.
Some of you that have read my reports before know I'm usually late getting out the door for the airport and sure enough I wouldn't want to disappoint you all this time. I wasn't rushed by any means but I always like to try and give myself some extra time to wander around and it just never happens. I suppose having a 4 month old at the house and taking care of him puts a damper on lollygagging around Hartsfield anymore. For a Monday afternoon the airport was packed and I had to go to the Park and Ride lot versus my normal daily garage parking area.
June 11, 2007
DL 1983 operated by Skywest
Lv ATL 1614 (1743 actual)
Ar DAY 1800 (1842 actual)
Plane: CRJ-900
Registration: N804SK
A view of the new ticket counters for Delta. Very open and airy compared to the older counters.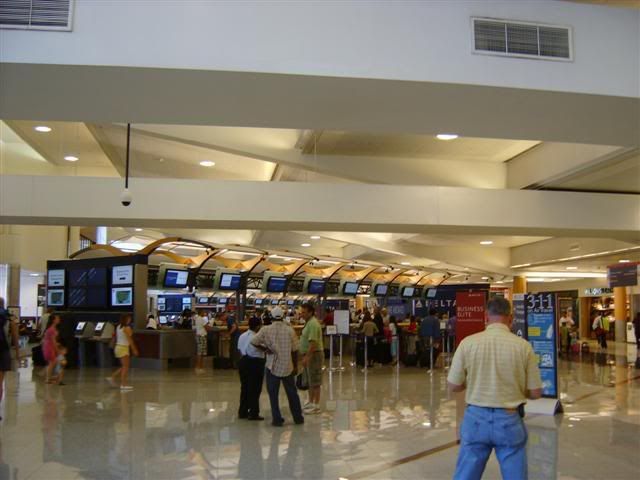 Another view of the counters and kiosks.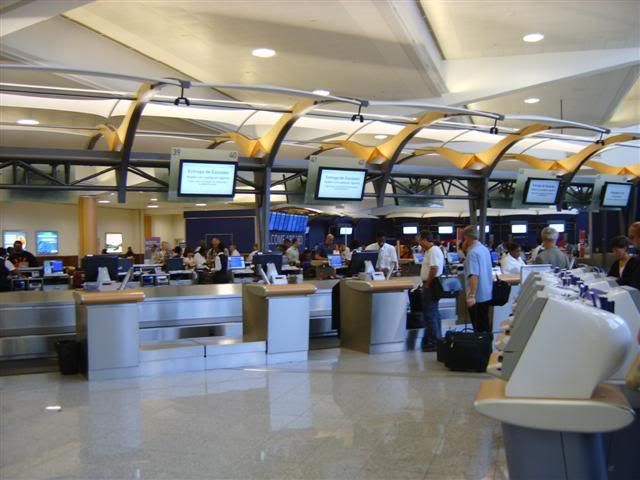 Departure LCD screens with lots of flights to almost everywhere.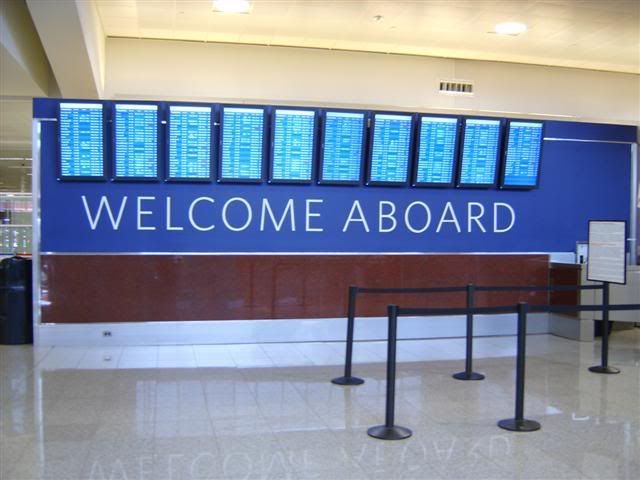 Getting checked in via the kiosk is quick and easy and I had my boarding pass and receipt to send me on my way within a minute or so.
Looking down the B Concourse with the tiled floors that have replaced the carpet over the last few months.
New Delta signage at the gates.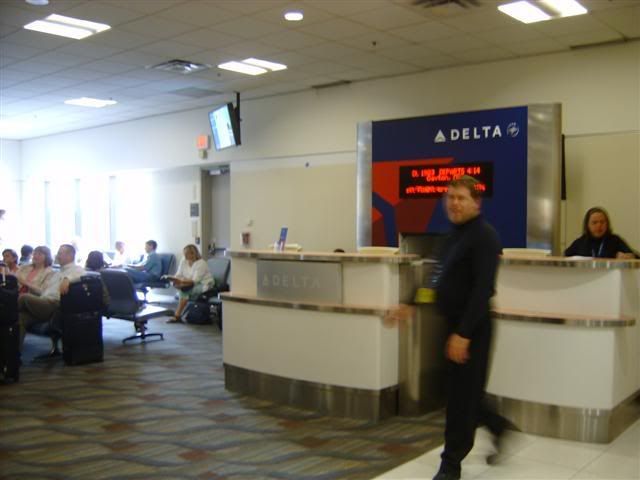 Our trusty steed today. I suppose I should have brought our good Canon EOS camera to get a picture of it for the database. Oh well.
We boarded on time and were greeted by a wonderful stewardess named Amanda. She looked a lot like a girl I used to date many a moon ago but was a few inches taller. Cute with dark brown hair, tanned skin, and incredible light blue eyes but I'm married so I just took a quick glance and got settled in. She made her way through the cabin to take drink orders and welcome us aboard. All in all I was impressed by the First Class cabin on this little Barbie Jet. It was bright and airy and looked like the inside of any mainline jet with the blue leather seat covers. I didn't check to see if there was fake wood flooring in the head though.
Decent legroom in the First Class section of the Barbie Jet. They say 37 inches which was about right in the pitch department. They also say the width is 18.5" but it felt just a wee bit wider than the same width on the DL 767s.
Looking across the cabin to see the pitch. What is up with the missing windows on the 900? Every seat in First looked right into a blank wall. The windows were a little bit in front and behind each seat so you have to crane your neck to look out the window. Oh well, I'll survive.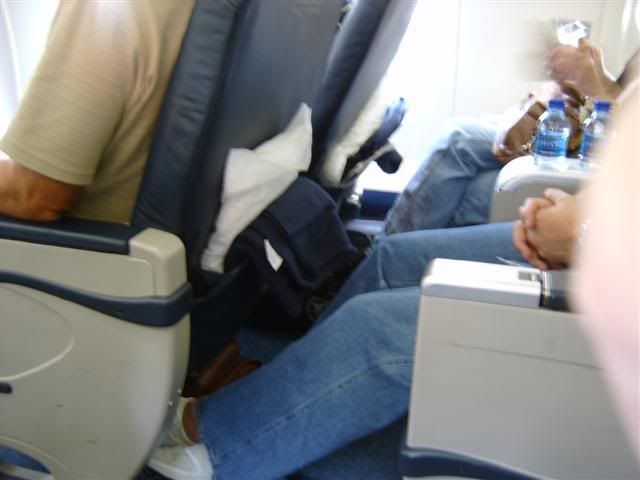 Little tiny overheads that could barely fit my laptop backpack.
We departed on time and then proceeded to sit out on the taxiway. The pilot got on the blower after about 10 minutes to tell us that all northbound departures were on hold until the thunderstorms north of the city moved away. So we sat, and then sat, and then sat some more. They shut down an engine, turned off the seatbelt sign, and let us wander the cabin, get something to drink, and use our cell phones and iPods. After 30 minutes or so they said we would be routed out to the west to get around the storms but to do that we needed to go back and get some more gas. Ughhh! When will we ever get there? We started to taxi back towards the gates for fuel but as we approached the threshold for 8R the pilot came back on the blower and told us that they had pulled some strings and would be leaving right now to the north. Good, I was ready to go. Sitting up front made it bearable but I wouldn't have been too happy sitting in the back of the plane.
AirTran's N240AT taxiing for takeoff behind us.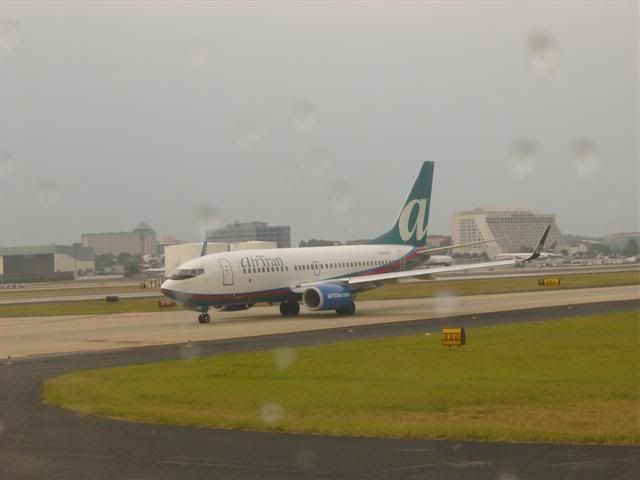 N924AT and N685DA taxiing for takeoff as we were rolling.
Delta HQ in the distance.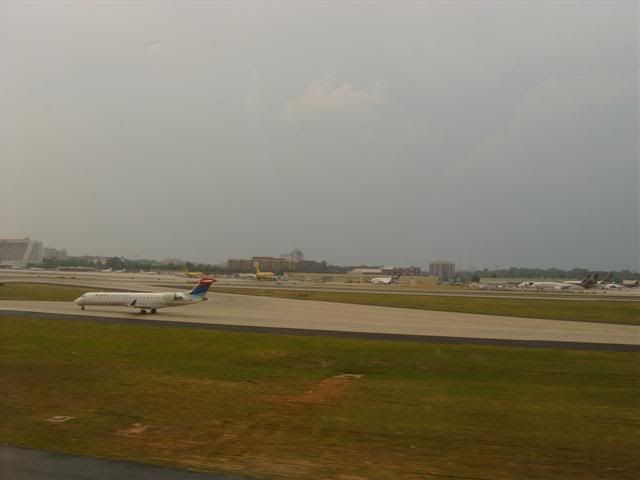 The northern cargo area.
Poor Superfly is crying somewhere since Ford has closed this plant down in the past year.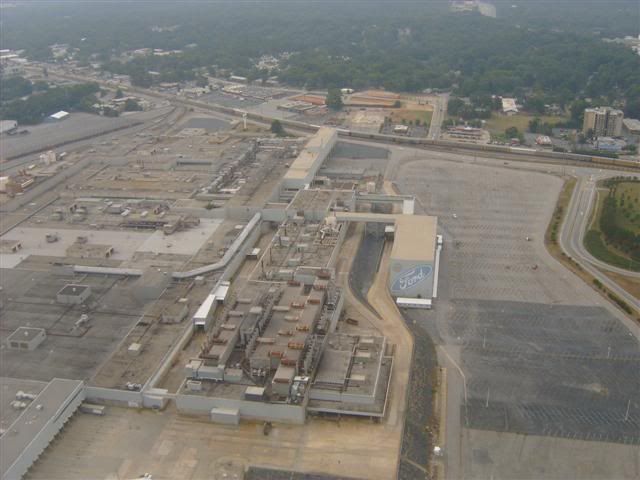 Lexington, KY from 37,000 feet. Can you please pop the hatch and let me parachute out since I'll be back here in a few hours?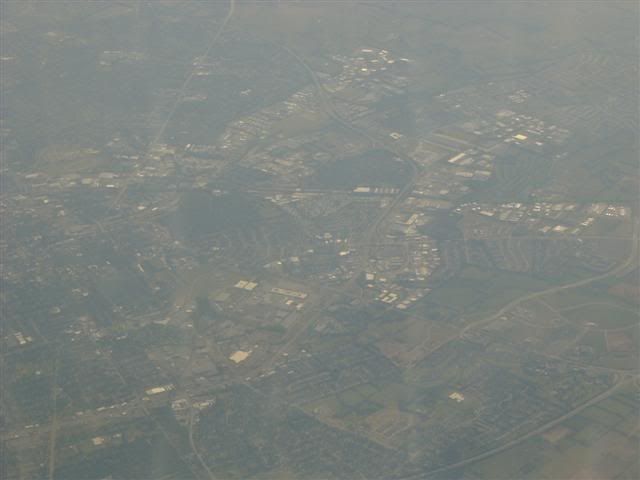 The Toyota plant in Georgetown, KY. Unlike the Ford plant back in Atlanta this one won't be closing any time soon.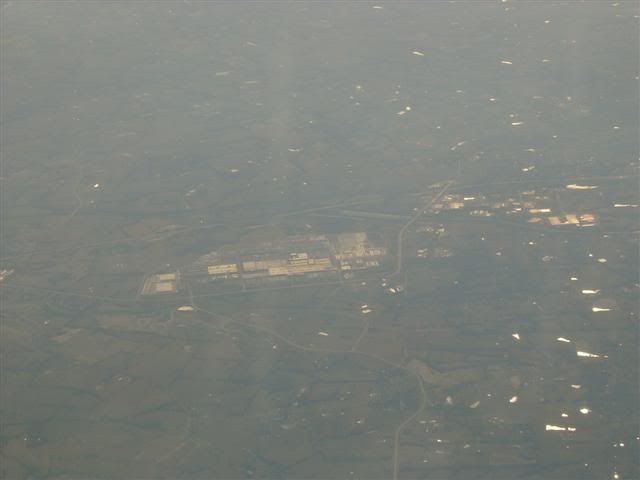 CVG off in the hazy distance.
The flight was uneventful and service was equivalent to mainline service with drinks and snacks from the basket. Nothing fancy but Amanda kept the drinks full which is always a plus. We arrived about 45 minutes late and I was off the plane quickly, grabbed my bag at the bottom of the steps and made my way through the concourse to go get the rental car. I expected more from Dayton since they have a reputation of stealing traffic away from CVG because of the high costs there. The terminal is nothing fancy but it does the job required of it.
A replica of the Wright Flyer hanging in the airport lobby.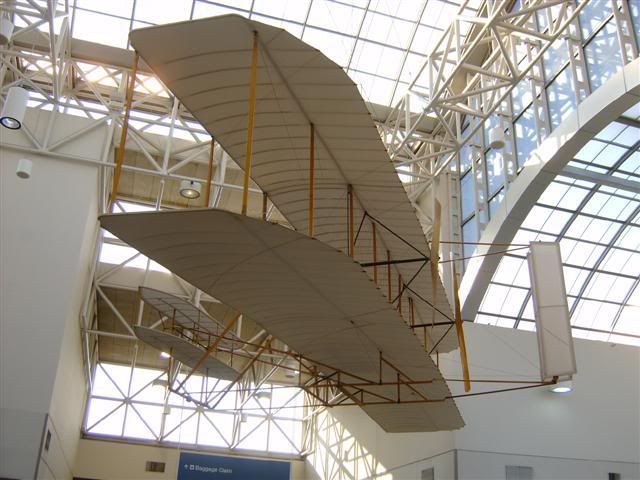 Inventing flight that is now a bit outdated.
All in all the Dayton airport is easy to navigate though the signs to the rental cars could be a little bit better. I was on my way within 20 minutes of landing which is always good, especially when faced with a 2+ hour drive back down to Lexington.
On the way down to Lexington I snapped a picture of a state park sign on the interstate. Is this state park a porn movie location? Big Bone Lick...sounds like something Paris Hilton would do.
Sorry, I couldn't resist.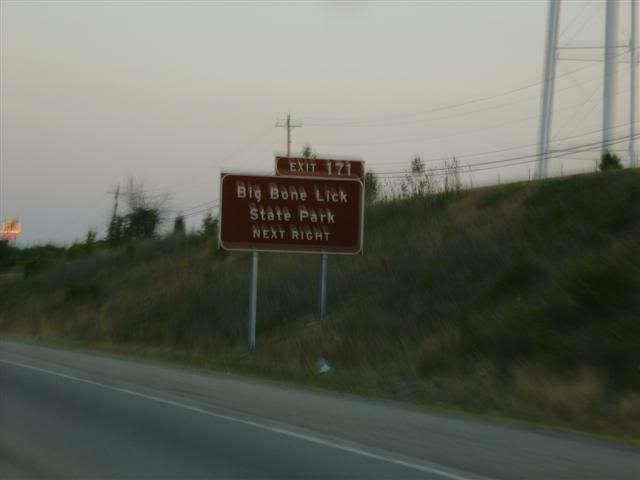 Since I was flying out of Indianapolis I took a quick visit to the Louisville Slugger Museum and Factory in, wait for it....Louisville, KY. I stopped briefly and got the old lady and rugrat some goodies from the gift shop. I unfortunately didn't have time to go on the tour as I had been running behind that morning due to meetings at the office. Maybe next time I'm in town.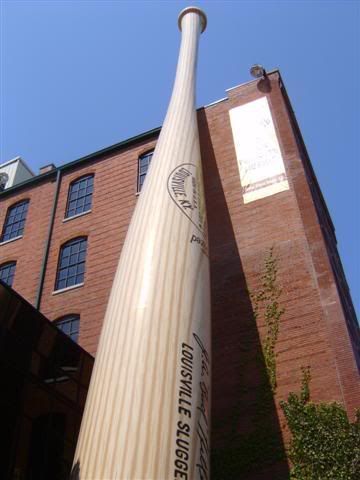 June 14th, 2007
DL 6449 operated by Shuttle America
Lv IND 1455 (1502 actual)
Ar ATL 1635 (1612 actual)
Plane: EMB-170
Registration: N855RW
After putting up with slow drivers the entire way up I-65 from Louisville I finally made it to the airport in Indy. Luckily it is on the SW side of town so I could take the bypass around the city and avoid more slowness. With no time to visit my family here in town (that'll be my next trip) I raced to the rental car return and got to the terminal with about an hour to spare before my flight so I was good to go.
Here's an inside shot of the terminal. I don't remember it having such low ceilings but it has been a few years since I was here. Big enough to have a fair amount of carriers but small enough to get around which is nice.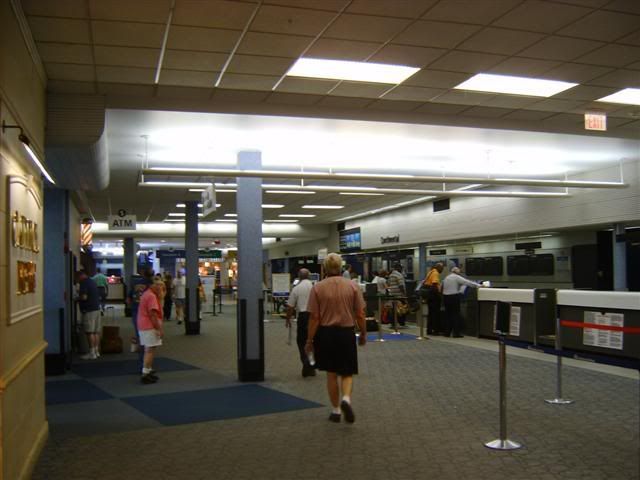 Looking towards the Delta gates in the B Concourse.
The ATA hangar off on the north side of the field. I have a cousin who has worked for them since almost their inception but I honestly forget what he does with them. It isn't flying or stewarding but a desk job of some sorts.
The new terminal off in the distance. The plans look great and big. They are definitely taking a chance. Good luck.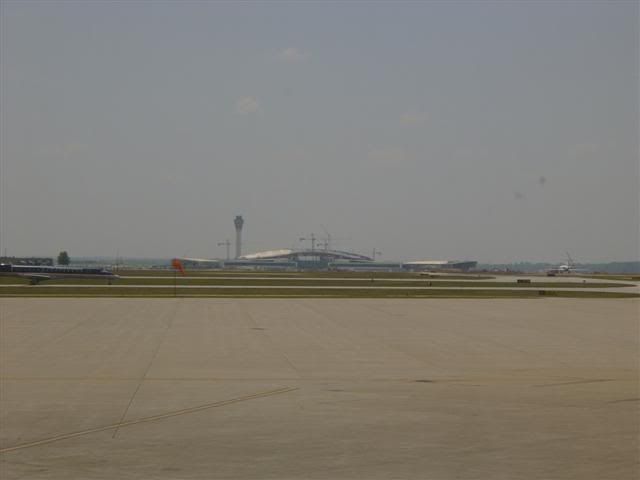 American Eagle N636AE I believe flying up to O'Hare.
When will it be retired? Ex Delta and Avensa bird that was originally delivered in 1967. Good times!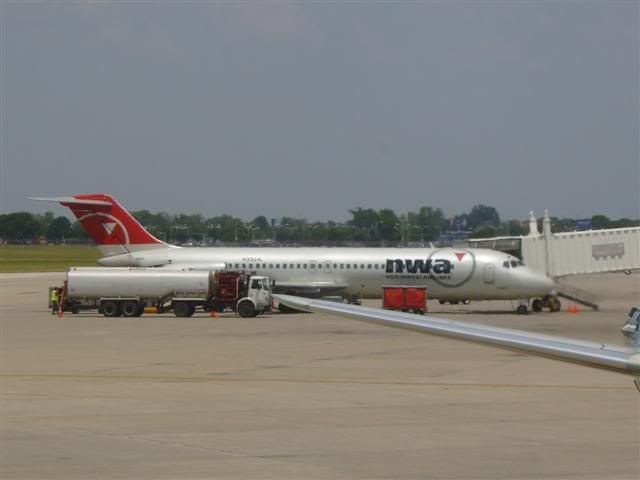 Our plane home today was N855RW.
We boarded on time and unlike the CRJ-900 on the way up this plane is damn near big. I thought I would have to gate check my carry-on but it fit perfectly with room to spare. I dare say the overheads on this Jungle Jet are bigger than the MD-88 and the 757 on Delta. My bag slid right in wheels first with no issues while it usually only fits sideways on the other two planes and is a tight fit.
I settled into my seat in the F cabin and was pleasantly surprised. the seat was plenty big with room to roam in it. I was in the bulkhead aisle so I did get stepped on a fair amount by the herd coming in the front door but it was not too bad.
Unlike mainline or the Skywest flight to Dayton there were a bag of chips waiting for me as well as the usual bottle of water which was nice. Boarding was quick and we left on time and taxied out for takeoff. I didn't even realize it until I went to flip on my iPod at 10,000 feet but my noise reduction headset had been off the whole time and I really didn't notice it. This plane is super quiet which is nice.
Drink service was the normal setup like mainline with 'free' booze up front and as much as you want to grab from the snack basket. I settled for a Diet Coke (just wasn't looking for alcohol right then), a pack of crackers, and a Biscoff cookie. Once finished I closed my eyes, stretched out my legs with one big ass foot (size 14 clodhoppers) sticking out into the galley and fell asleep for the remainder of the flight. The stewardess woke me up as we were on final and the last 5 minutes of the flight were uneventful.
We taxied to the gate quickly and then waited because the guy running the jetway couldn't figure out the door wouldn't open if the jetway was blocking it. A few minutes later he finally figured it out and we were on our way. I was at my car within 30 minutes of getting off the plane which in ATL is a decent time.
I'm going to be flying back up to Indy in two weeks for business and I'll be going out of my way to find the flights operated by the EMB-170 again. A great plane and an excellent ride. Delta and Delta Connection continue to provide a decent service and get me where I need to be when I need to be there. I only wish Critter would fly to Kentucky so the fares will drop a little bit. Other than that a decent set of flights and good service.