BOS-JFK-AMS-MUC: SSSS-Check and KLM 777
Background
This report is the last part of a series of three - here are the first two:
MUC-AMS-MEM-ATL On NWA A332 And 40-year-old DC-9
(by
PlaneHunter
May 21 2007 in Trip Reports)
ATL-PIT-JFK-BOS: FL B717, JetBlue E190 And Delays
(by
PlaneHunter
May 30 2007 in Trip Reports)
Intro
After spending a night at the Days Inn at Saugus some 10 miles from Boston Logan I checked out at noon and took the shuttle to the airport. My Delta Connection flight to JFK wouldn't depart earlier than 19:00 so I hoped to find a good place for spotting at BOS.
When I had searched for flights on KLM's website in January, I was offered a list of numerous flight combinations to choose from - but KLM's B777 (which I wanted to get) was only available in combination with a rather late connection to JFK, departing at 19:00. All earlier BOS-JFK flights were combined with KLM's B744.
Check-in Confusion
All my flights showed a KLM flight number so I left the shuttle at the international terminal and headed for the combined NWA/KLM check-in area, run by NWA. I tried to enter my booking code into a self check-in machine and I got an error message. After trying some more times I went to a counter with a rather unkind female agent. She tried and told me should couldn't find my reservation. She asked where I would go to and I told her I would fly via AMS to MUC after connecting to JFK. She seemed to be confused and said that there would be a nonstop from BOS to AMS on Northwest. Then she asked me which carrier would fly me to JFK and when I said
"Delta Connection"
she answered I should go to a regular Delta check-in counter.
"We don't have access to Delta"
, she added. The fact that all flights showed a KL flight number didn't matter. So I grabbed my luggage and walk all across the airport to Terminal A...
KLM Seat Map? No Access...
At a DL counter a very kind agent checked my reservation and wondered why I wanted to check in so early. She immediately offered me to take an earlier flight to JFK and I agreed. Then she printed a boarding pass for a confirmed flight at 18:00 (at least one hour earlier than planned) and gave me a standby boarding pass for a flight at 14:00.
"But I think this one will be hard to get"
, she added and told me to ask at the gate for a free seat on any of the consecutive afternoon flights.
The next surprise:
"I can't get access to the KLM seat map"
, she said.
"I can print a boarding pass but only with a randomly chosen seat."
The boarding pass showed a middle seat (B) and she advised me to ask for a new seat at a KLM counter at JFK. Therefore I really hoped to get to JFK as soon as possible because I wanted to reserve a window seat. It had been much easier for the NWA flight to MEM because one can reserve seats on NWA's websites in advance. KLM doesn't offer such a genial feature.
Spotting
Before I passed security I went back to the parking garages and tried to get some registrations. The roof offered nice views but several construction workers were around so it would have been a matter of time until someone called the cops. The Boston skyline: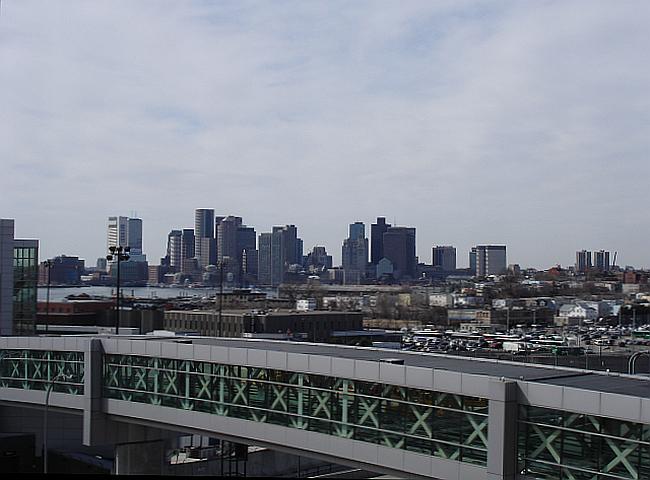 Monday, 12 March 2007
Boston (BOS) - New York (JFK)
Comair DL5511
14:00-15:23 (14:47-15:47)
Flying time: 00:43 (hrs)

Canadair CRJ200ER
N528CA (MSN 7481), delivered 09/2003
Economy Seat 11A
Passing the Puffer
Just when I had put my hand luggage on the x-ray machine a TSA guy asked me to pass one of the new "puffer" machines which are designed to test for explosive traces or other chemicals. I had never had the "pleasure" to walk into that apparatus and the TSA agent explained what to do. He told me I would be shot by air and I should stand straight until the door opens again. Within seconds air shot out of dozens of nozzles and after it stopped I waited for the green signal. It took some 20 seconds, which can be quite a long time in such a machine...
After I had grabbed all my stuff I walked to a desk where a TSA agent was apparently watching the events at and around the apparatus. I asked him about the function of the machine and he willingly answered, explaining that the air releases microscopic particles from clothes and skin for an analysis.
"Very expensive machines"
, he said and added:
"The analysis still takes too long and we have about 20 false alarms per day."
I guess such a false alarm can REALLY screw up your day...
Waiting on Standby
At the gate area for the BOS-JFK shuttle flights I noticed some delays and could log some more registrations, though views were limited. A while after boarding had started I was surprised to hear my name on the loudspeaker. I immediately went to the desk where a five-member Indian family was already waiting. Just when it was my turn a lady with her teenage son passed me from behind and pushed to the front - what cheek!
After some seven people had apparently got a seat on standby I had doubts there would be one left, but it worked out well. I received my boarding pass and was asked for immediate boarding.
Two Seats, Four Passengers
When I entered the CRJ's cabin I noticed two young guys standing next to the cockpit door - I immediately guessed that their seats had been assigned twice. I walked down to the second last row and took my window seat next to a girl belonging to that Indian family.
Some minutes later all seats were occupied and the two guys were still waiting. Suddenly an announcement confirmed my thoughts, two seats had been assigned twice. So I knew two standby passengers would be kicked off again and I wasn't amused when suddenly a grim looking female supervisor started running down the aisle...I feared the worst but then she passed and chose two other victims - and interestingly, the ones who had to say
bye, bye
were the lady and her son who had pushed to the front only 15 minutes earlier...
Precaution
Doors were closed and I could add N528CA to my list - nice that I finally got the CRJ200 after having flown only on the CRJ100 before. I noticed the Indian girl monitoring my notebook and the registration list so I decided to tell her a few sentences about my hobby. She was surprised to hear about that and asked some more questions. Definitely better than having yet another one calling the cops after landing...
Parked next to us was sister-ship N964CA, a -100 series: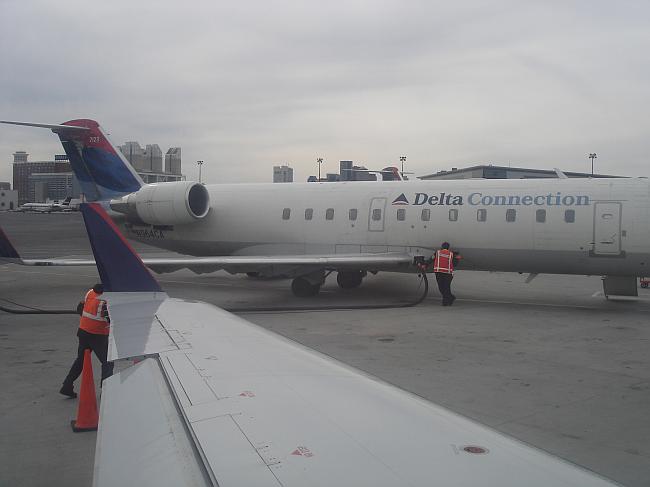 Flight
We left the gate more than 45 minutes late and finally took off at 14:57...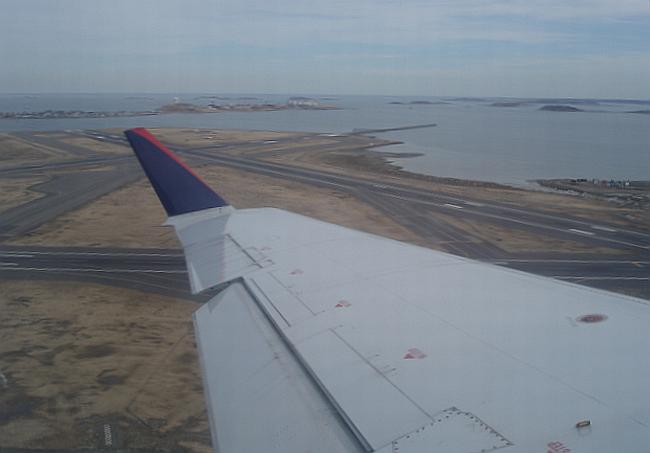 ...overflying runway 32: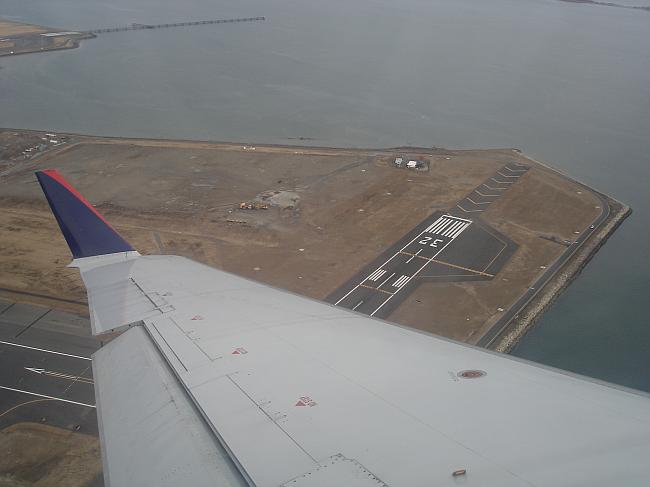 Snack
15 minutes later small bottles of water were served and the FA offered different items in a basket. I took a bag of peanuts and tasty cheese filled wafers.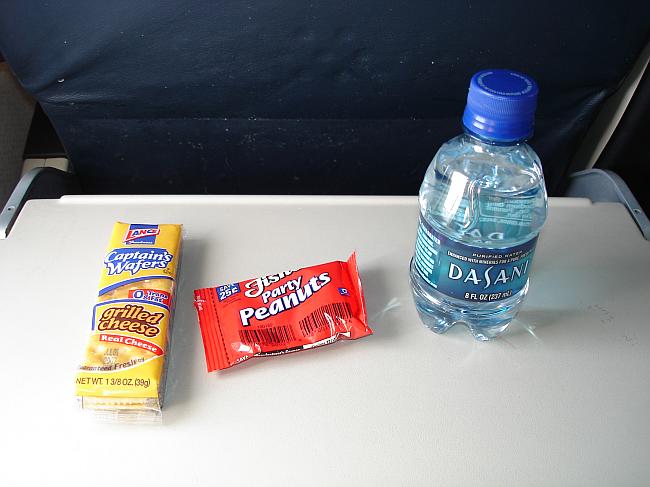 Approach
Just after I had finished my snack and put the water into my hand luggage the approach was started. We overflew another airport...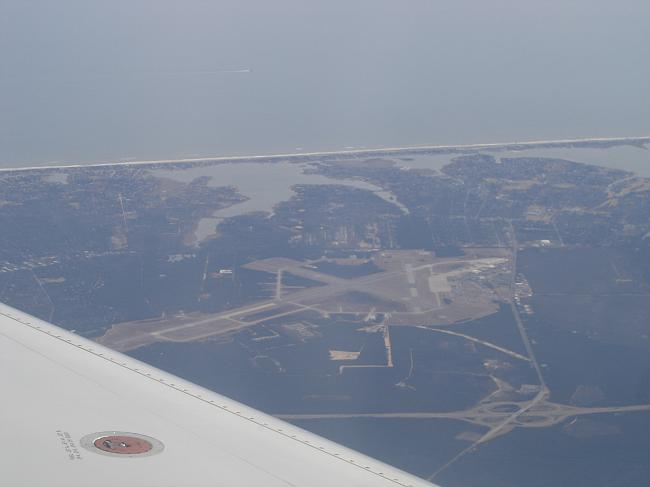 ...and large housing areas...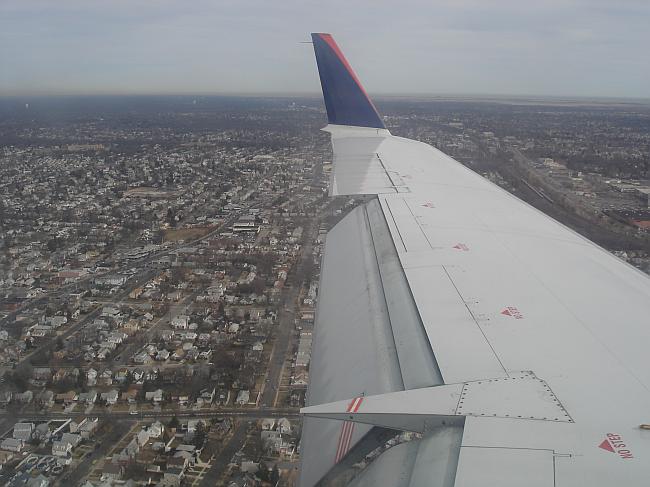 ...before touching down at 15:40. Ten minutes later we had the pleasure to walk to the terminal in cool and windy conditions - at least a part of the walkway was roofed over, looking like a long tent.
New York JFK: New Boarding Pass
I immediately left Terminal 3 and went straight to KLM's check-in counters at Terminal 4. I had to wait in line for a while and then asked a male agent to put me on a window seat in the last or second last row. When he realized I was talking about the late evening flight he mentioned that they would now be checking in pax for the afternoon flight. However he finally logged onto the seat map and printed a new boarding pass with seat 43 A. Though the flight's departure time was 23:15, the agent told me to be at the gate at 20:30 and even wrote that time onto the boarding pass with a red pen.
Some time later I discovered that instead of my last name it said
S-last name
on the boarding pass. At that time I hadn't seen the
SSSS-entry
yet and went back to the counter to ask whether that boarding pass had been correctly printed. A female agent first asked an older workmate and then assured everything would be fine...
Spotting at JFK
It was only 15:30 in the afternoon, so plenty of time left for spotting. Two years ago I had discovered a great place one level above the AirTrain station between Terminals 5 and 6. There's a corner with elevators - and with stairs located directly behind, almost out of sight for people heading to the terminal. Most travellers use the elevators so only few people go around the corner. Due to dark green glass, nobody can see you from the street level or from the walkway to the terminal. The place is high enough to provide great views of one runway, a part of the jetBlue's Terminal 6 and many aircraft taxiing to other terminals. A similar place can be found above the AirTrain station at Terminals 2/3.
Selectee!!! The SSSS-Check
After sunset I spend some time with eating and reading and finally headed for security. At all different airports during my trip the security staff checking boarding passes and IDs had been quite ok, sometimes even friendly. This time the lady looked grim and only nodded. I left my hand luggage and a basket filled with shoes and the liquids bag on the x-ray machine and passed the metal detector. One second later I faced an even more furious looking guy who just took my boarding pass and told me straight and loudly:
"You have been selected for secondary screening! Wait over here!
The guy pointed at a small rubber mat on the floor, surrounded on three sides by a waist-high barrier tape. Just in that moment, I watched another screener opening my hand luggage bag and taking out the little bottle of water from the Comair flight which I had totally forgotten...what a great coincidence I thought!
While I was standing in that tiny "penalty box", in socks and without belt, I noticed the gate area was probably just 50 meters away and some pax bound for an Aer Lingus flight were watching the scene. Suddenly the furious looking guy yelled
"Selecteeeee!!!"
I wasn't sure what he meant but after a few moments another TSA guy showed up - apparently the "selectee checker". He started talking fast like reading from a paper and told me the "triggers" for being selected, mentioning the purchase of one-way tickets, unusual routings and a number of other reasons. Then I realized the check-in agent must have put me on the SSSS-list because I requested a seat change and a new boarding pass...
Then my "personal checker" pointed at my luggage and other stuff at the shelf of the x-ray machine and asked:
"Is that your luggage and your basket?"
. I confirmed and he told me:
'Do not touch that stuff any more from now on!"
What an illogical order, considering that my luggage was three or four meters away, totally out of reach...
He took my stuff, told me to follow him to a table and advised me to sit down on a chair. Then he said:
"Now you have the chance to explain yourself."
I only thought
WHAT?
Then I wondered how much the TSA would know about my rather unusual trip and the combination of different airlines. Considering that he would search my belongings and probably find my itinerary, I simply explained that I like flying.
Before he started checking my luggage I got a body search and again the Aer Lingus pax had an interesting show to watch...the guy then checked every pocket of my hand luggage and my biggest hope was that he wouldn't have a look at my little notebook with hundreds of registrations - which, together with all the airline codes, may appear very strange to a TSA agent. I was indeed relieved when he closed the very pocket with my notebook...
Finally he wiped parts of my luggage and my clothes with a kind of cloth and then disappeared - the obligatory check for explosive traces. After three or four minutes he came back and I was fearing the worst for a fraction of a second when he started his first sentence with "Unfortunately". Though what he said was:
"Unfortunately we have to do these random checks. Thank you for your patience and have a good flight."
Yes, thanks a lot.
Monday, 12 March 2007
New York (JFK) - Amsterdam (AMS)
KLM KL644
23:15-11:20 (23:42-11:31)
Flying time: 06:16 (hrs)

Boeing 777-206ER
PH-BQK Mount Kilimanjaro (s/n 499), delivered 01/2005
Economy Seat 43A
Late Arrival
KL643 landed more than an hour late from Amsterdam and arrived at the gate shortly before 22:00. The aircraft was PH-BQK, named
Mount Kilimanjaro
.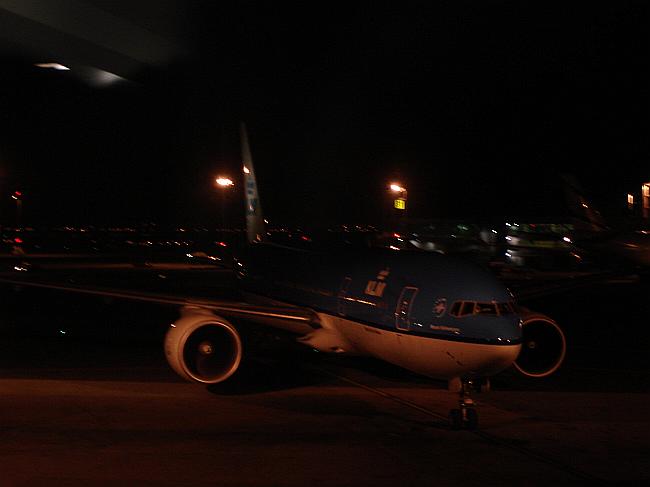 Occupied Seat and Smelly Food
Though KLM tried to start boarding on time it was delayed for a while because there was an older man to be carried in a sickbed which slowed down the process. When I finally arrived at my row I found a young lady sitting at the window, partly stretching over the middle seat and eating a foul smelling Asian meal from an airport fast food restaurant. I said
"Hello"
and guessed she would realize I wanted to go to my seat. But she only looked at me and continued eating. Then I told her the window seat was mine but all I got was an irritated look and the reply:
"I have a real mess here."
Indeed, she had created a mess with her smelly food boxes - drops of the meal's sauce had even ended up at both the middle seat and a pillow.
Meanwhile a kind female flight attendant had shown up and asked whether everything was alright. Just when I started explaining that I had reserved the window seat the young lady finally moved her back as well as her belongings, though very slowly. Somehow I got the impression she was under influence of anything. At least the middle seat remained empty, load was around 85% in Economy.
Cabin Comfort & Seat
The seats on KLM's B777 are very comfortable and the legroom is quite generous. What's most interesting - the IFE box is not located under the window seat but under the aisle seat. Very good decision, considering that passengers on an aisle seat can stretch out much easier and can stand up at any time.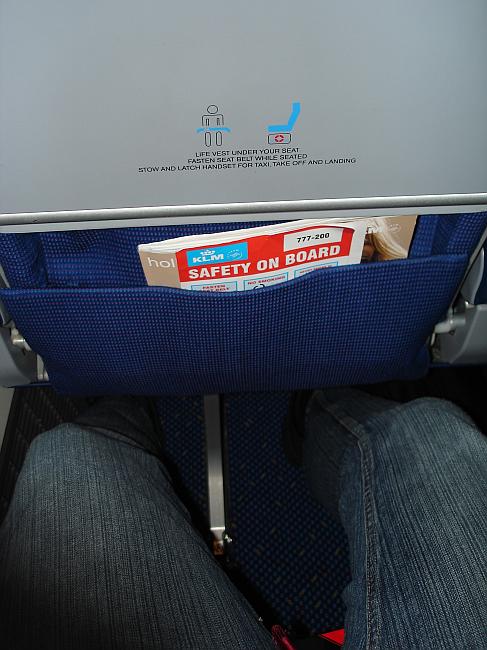 Here are cabin pictures from the database:
More Fuel...
After boarding was completed the captain explained that the delay had been caused by the aircraft's late arrival at AMS. Though he was optimistic about an on time arrival:
"I have requested some extra fuel so we can fly faster!"
Takeoff
We were pushed back at 23:42 and finally turned in for a powerful takeoff one minute after midnight. I couldn't use the flash at night and tried an alternative: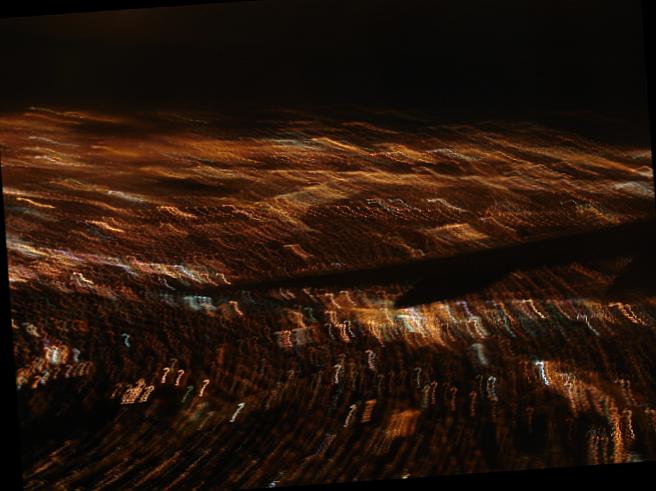 Snack
Some 30 minutes after takeoff nuts and a first round of drinks were served. I ordered Ginger Ale on ice: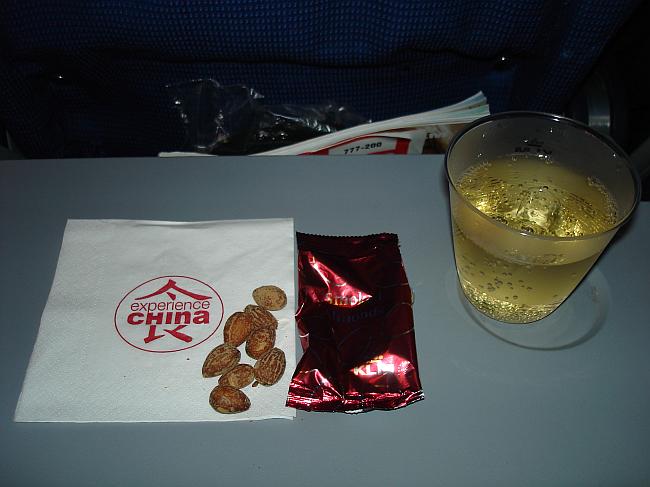 IFE
KLM's B777s are equipped with an AVOD IFE system that offers a wide range of movies, TV features, music CDs and games as well as the flight tracking channel. It cannot match Emirates' ICE system but it's still more than enough to prevent boredom on long flights. The PTVs are also smaller than the latest models on EK, EY or SQ but again they're ok. The flight was too short to explore much of the system, but I rated it very satisfying.
Dinner
According to the late departure a light dinner was served more than an hour after takeoff. I chose chicken breast with mash potatoes and green beans, accompanied by couscous, chocolate cake and a bread roll. While the presentation looked a bit cheap (especially the green tray), the food was very tasty - better than on NWA regarding both quality and quantity. An ice cold Heineken was my drink of choice: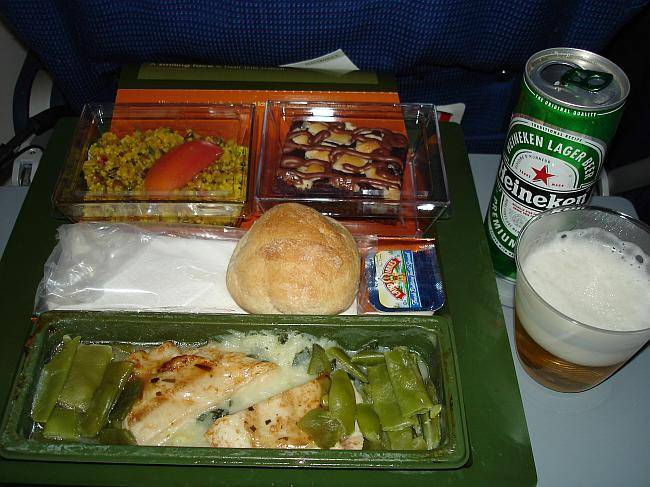 Replacing a Heineken
Only two hours ago I had wondered about the lady's Chinese sauce on both seat and pillow - now it was my turn. I somehow struck the half filled glass of beer and within a second the cool Heineken spilled over the table, my pants and the seat. I called an FA and asked for some napkins which she handed over to me only a minute later. She just smiled and said:
"It dries quite fast in an aircraft!"
Another FA, also a kind guy, offered a replacement beer after that. Btw - the young lady didn't witness anything as she had been sleeping since we had taxied to the runway...
Cruising
After dinner I tried to get some sleep and three hours later we had almost crossed the Atlantic Ocean: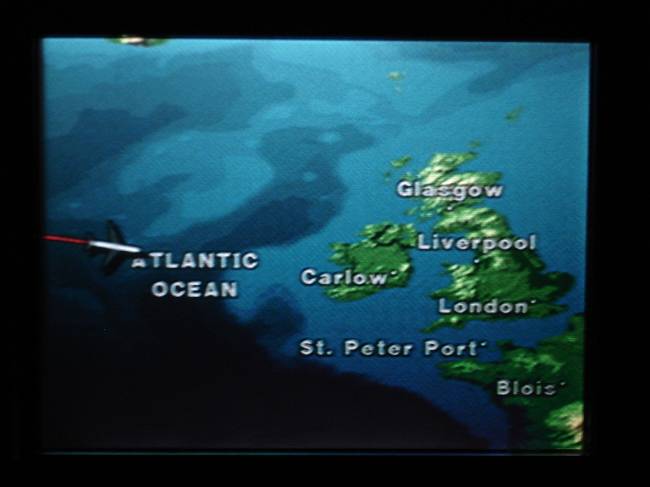 Flight data in Dutch: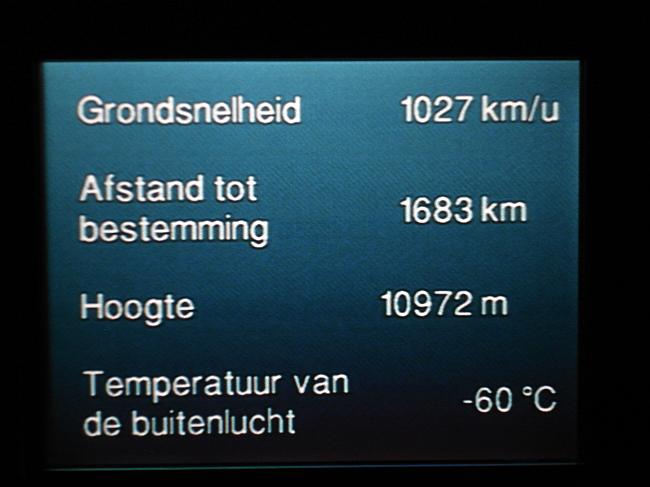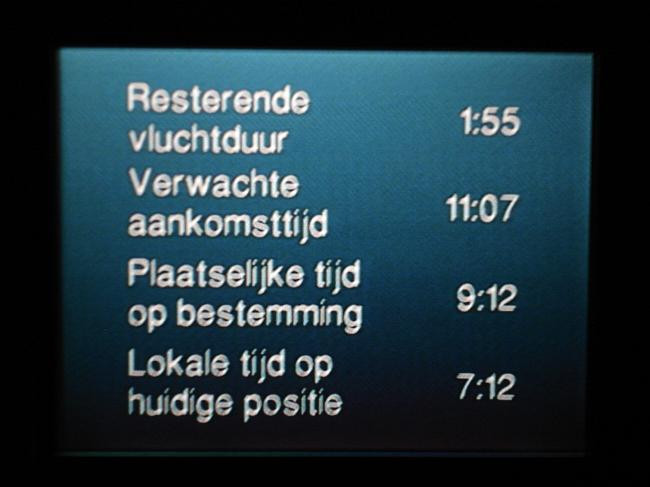 Monocrystals on the window: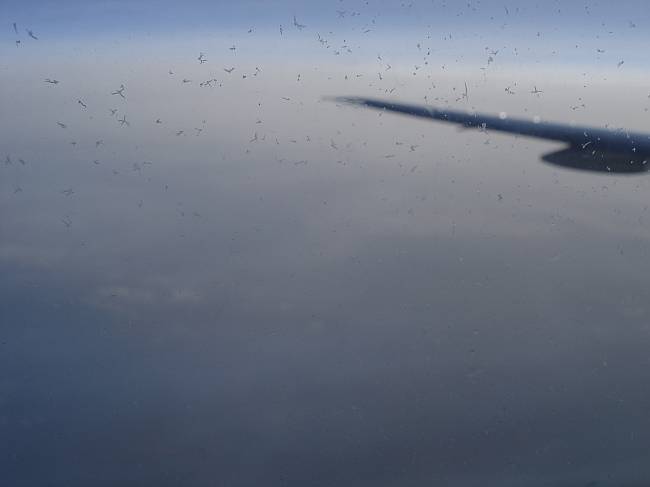 Breakfast
Some 75 minutes prior to landing a light and tasty breakfast was served, comprising orange juice, raspberry yogurt with cereals, a cinnamon granola bar and a muffin.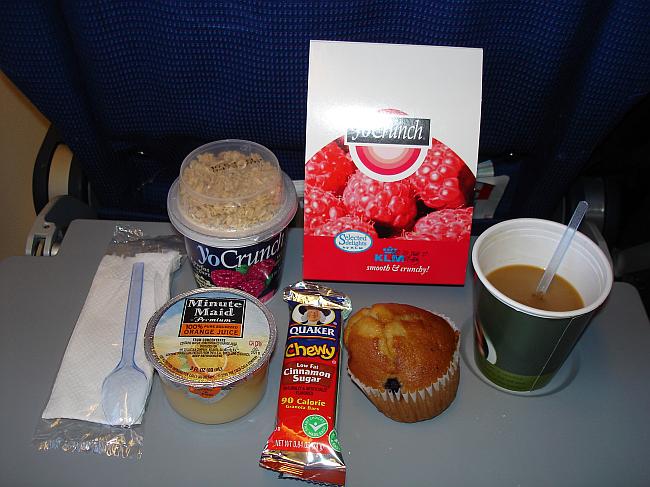 Approach
On approach to AMS we passed a large off-shore wind farm...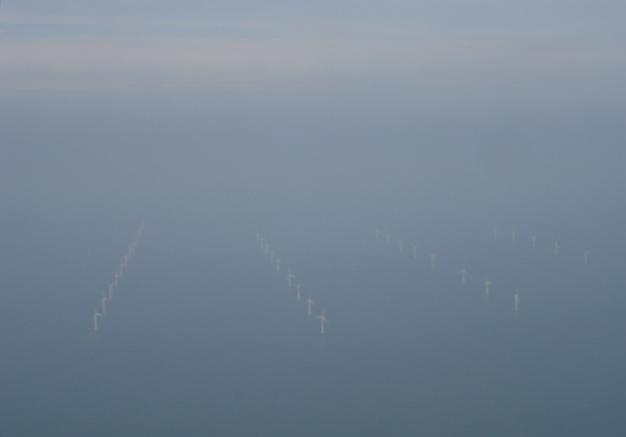 ...before overflying the coast...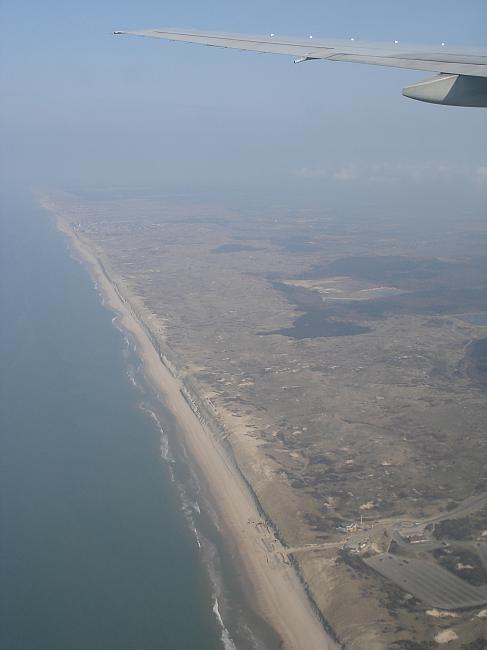 ...and diving into foggy skies: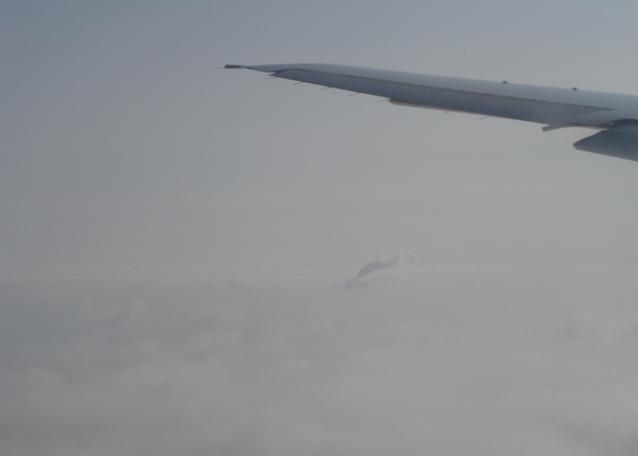 The wing cutting dense wafts of mists seconds from touchdown: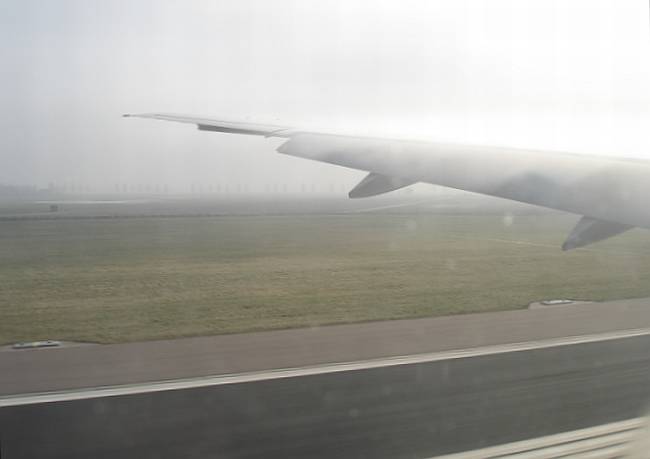 Wake-up Call...
After touching down at the Polder runway it took us almost 15 minutes to reach our gate. Everybody jumped up and was ready to get off the aircraft - but not the young lady in the aisle seat. She was still sleeping - and it seemed I had to wake her up once again. During the flight I already had woken her up twice on leaving my seat and returning a few minutes later. This time I said
"Excuse me?"
twice, the second time a bit louder, but nothing happened. Then I loudly said:
"Hello, we have arrived!"
No reaction yet - and a Dutch couple in the last row already started laughing at my desperate attempts to revitalize that lady. Finally I had no choice and gave her a push which actually worked. She looked quite confused, gave me an irritated look, suddenly jumped up and ran down the aisle...
Mount Kilimanjaro's
nose in daylight: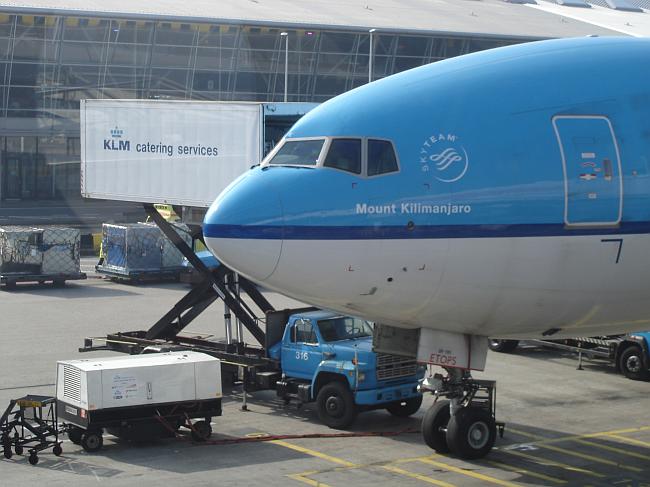 Tuesday, 13 March 2007
Amsterdam (AMS) -- Munich (MUC)
KLM KL1797
15:15-16:40 (15:17-16:46)
Flying time: 01:05 (hrs)

Boeing 737-4Y0
PH-BPC Ernest Hemingway (s/n 1747), first delivered to Air UK Leisure 07/1989
Economy Seat 11F
MyAviation.net photo:

Photo © Mike Powney

MyAviation.net photo:

Photo © Ronald Vermeulen
Spotting & Boarding
While walking through the terminals I noticed long queues in front of several transfer desks and crowded gate areas. Later I found out that numerous flights had been cancelled that morning due to thick fog around AMS. I spend the remaining hours with spotting and finally entered the last bird on this trip. This time it was PH-BPC, a B737-400 originally delivered to Air UK Leisure in 1989.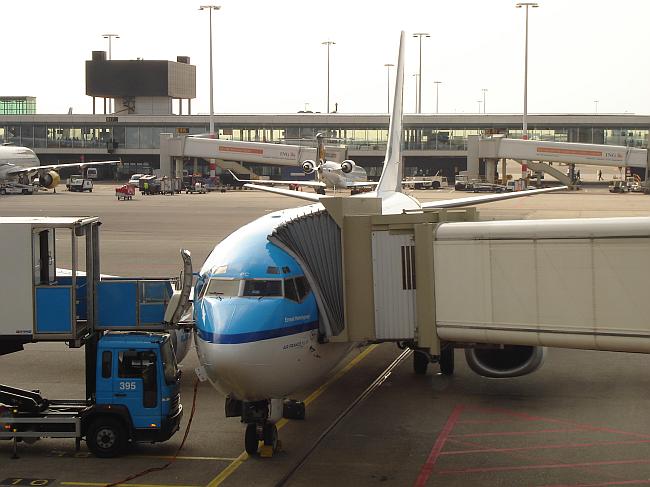 Emergency Exit
I was surprised to find my seat in the overwing exit row which offers excellent legroom. A kind flight attendant instructed me about the safety prodecures, several times emphasizing
"just in case"
...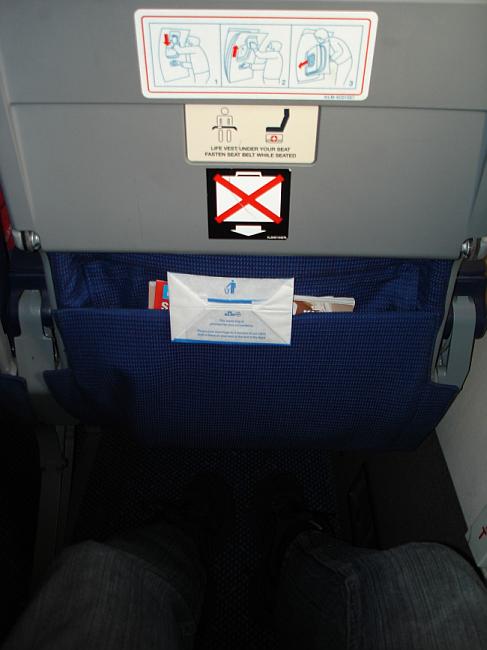 Polder, Volume IV
For the fourth time in a row the Polder was our runway of choice, after leaving the gate it took almost 20 minutes until we could take off. Views were limited due to a scratched plastic pane covering the window: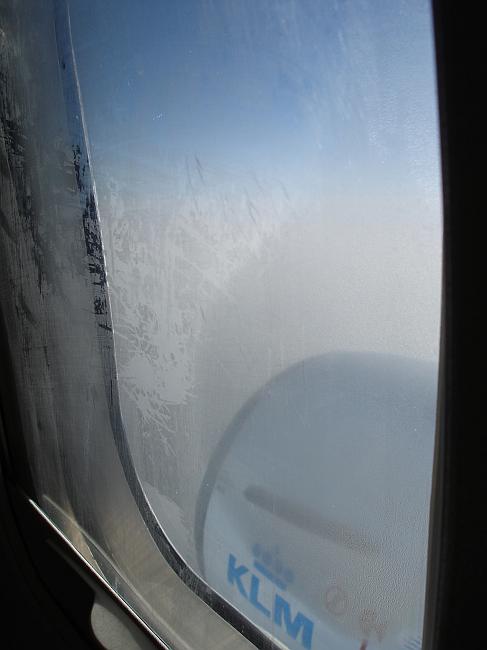 Snack
Just like on the MUC-AMS service cheese and ham sandwiches were offered. This time I tried ham and it tasted not as dry as its cheese counterpart. However, too much mayonnaise for my taste. The coffee was quite good, though.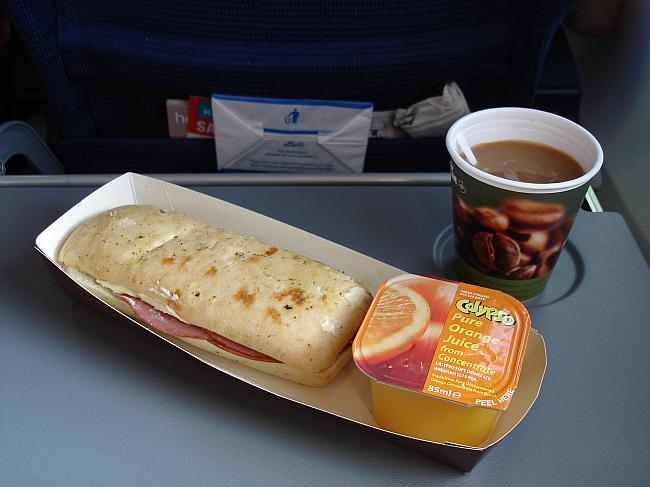 The remaining flight to MUC was uneventful and we touched down at 16:41. I grabbed my luggage 20 minutes later and headed home after a successful and enjoyable spotting trip.
Conclusion
Delta's part of the trip was very limited, but it was a positive experience. The ground staff at BOS was very helpful and they managed to get to JFK earlier than expected. However, the Skyteam partners still have to improve their cooperation so that seat requests can be handled easier. The ride on Comair was nice, but it can't match jetBlue in terms of aircraft type, cabin equipment and personal service.
Flying KLM was a pleasure yet again. Just like on my last KL long haul trip crews were very kind and helpful, both on the ground and in the air. KL's B777 is well equipped with comfortable seats and plenty of legroom. What I like most is the location of the IFE box under the aisle seat. The AVOD IFE itself offers a wide range of options, definitely enough to spend 10+ hours in the air. The B737 classics' interiors are a bit outdated but still offer sufficient comfort for short haul flights. Catering could be improved - the sandwiches on European services aren't culinary delights. The light dinner on the long haul service tasted good, but the meals' presentation should be improved. The breakfast was absolutely sufficient, but they should serve it on a tray.
KLM beats NWA in most categories (seat comfort, leg room, IFE, crews, catering and onboard service) but needs to improve its website, especially the option to view and manage bookings. I can fully recommend KLM for long haul flying - but those who rate IFE important should only choose the A330 or the B777.
As usual, comments, opinions and questions welcome!
Best Regards,
PlaneHunter