Come on, let´s fly the Baby-BUS to DUS
Hello, dear readers,
since my last trip to PMI, two weeks ago, some kind of a cold bothered me.
What about the best medicine for the airline enthusiast?.
I called immediatelly a day off, not that much acceptable announcements on short notice, so I booked the following trip.
Main target, to collect two flights with not to much flown aircraft to my log.
Thursday, 14.06.2007
STR (Stuttgart-Echterdingen) - CDG (Paris-Charles de Gaulle)
AF 1409 operated by Air France A318 F-GUGI
Duration: 55 minutes
Scheduled: 10.10 // 11.30
Actual; 10.25 // 11.25
Gate: 310 Seat: 22F
Loadfactor: Not more than 70 %
Fare: 10.000 Flying Blue Miles and 63,06 EUR taxes and fees.
History:
Delivered to AirFrance: 13.12.2004
Flight no. 3 on the A318 and the first on this machine.
I tried to use Online-Check-In, but it worked not in my case.
First flight of the day checked in, no boarding pass printed, second one not able to check in.
Ok, arrival at STR by car around 8.30 am, around one and a half hour to go.
Next try at the machines, but I was further sent to the desk.
Five minutes to wait, a friendly guy printed boarding pass one and checked me in for the second leg
without a further problem.
He asked me, if I really want to sit in the last row, sure, I answered, my personal priority!.
Arrival AF from CDG was announced ontime, so I passed immediatelly T3 security, but was to slow, my plane
was parked at the usual AF gate when I was there.
STR: F-GUGI at the gate: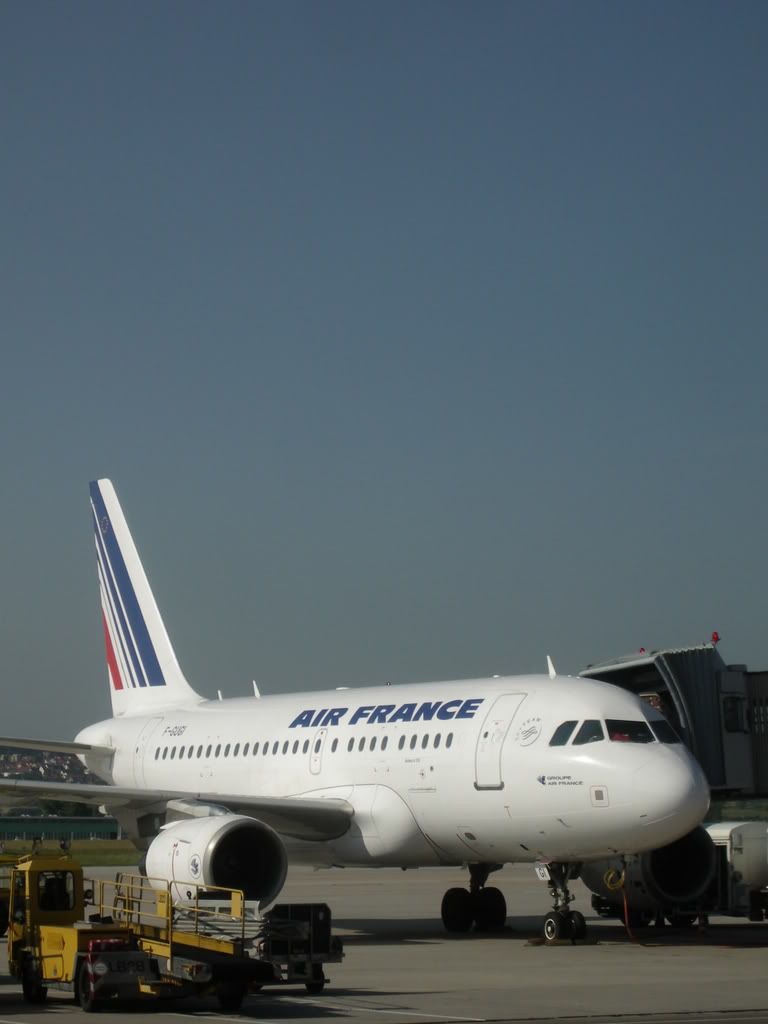 Close up: F-GUGI:
Short ahead to boarding: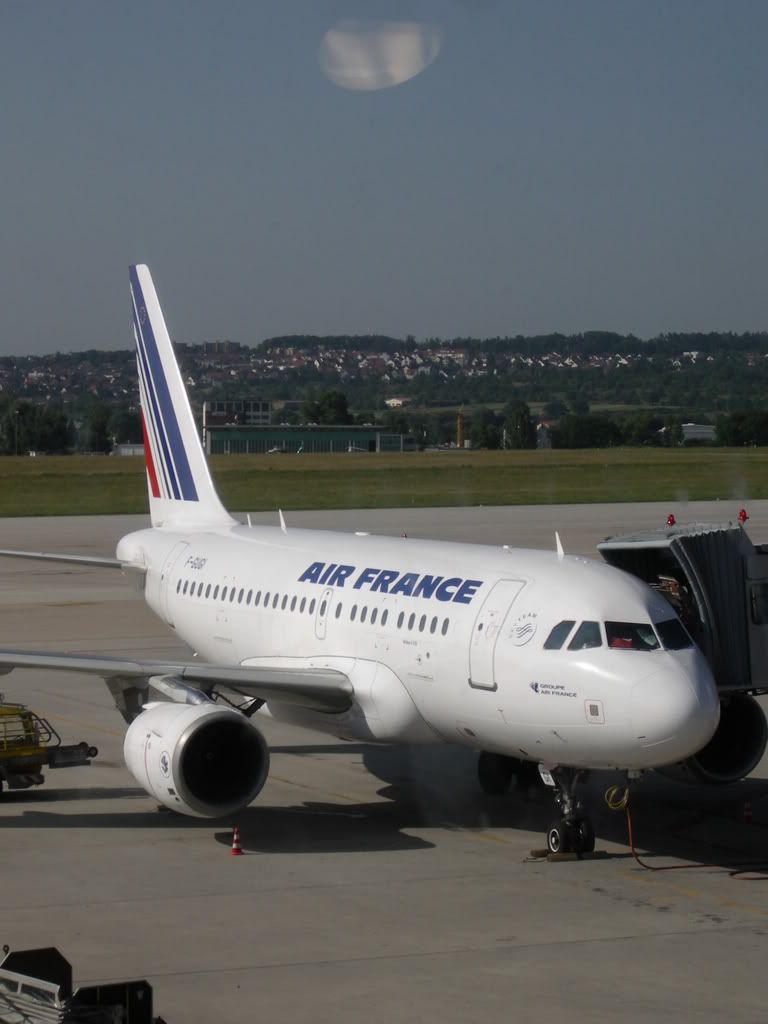 Boarding was called early, not that much pax around, so I hoped for a free seat next to me, so it happened.
Two female, one male FA on this service, friendly so far.
Also a friendly welcome from the flightdeck during boarding.
The whole crew french natives.
The machine fitted with dark blue fabric seats, clean, legroom was ok.
Announcements in french and english, partly in german language.
Departure from runway 25 after a fast taxi down to the eastern part of the airfield in direction to SXB.
Strassburg: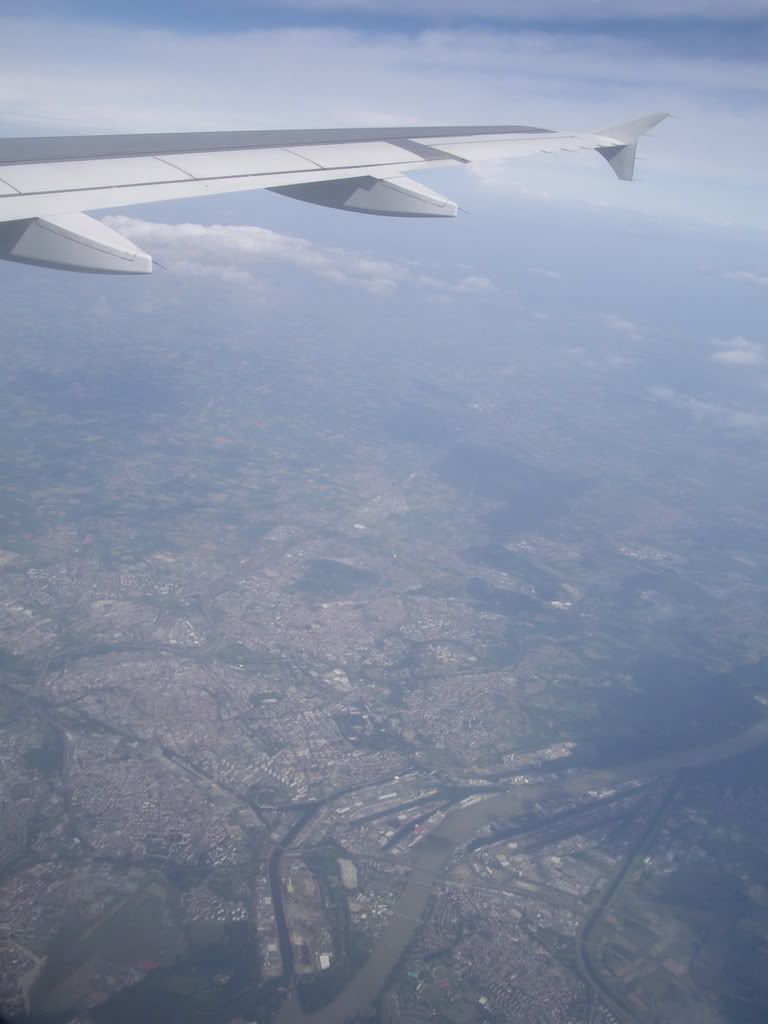 Service, water, tea, coffee and a cookie for free.
Mostly cloudy sky, no good views, but a smooth ride.
One short information short before descent but without more route or flightlevel details.
Arrival on runway 27L. Taxi around the corner along T2D to T2F, deboarding at a finger position.
My plane at T2F:
Thursday, 14.06.2007
CDG (Paris-Charles de Gaulle) - DUS (Dusseldorf-Rhein-Ruhr)
AF 1906 operated by Air France A318 F-GUGN
Duration: 50 minutes
Scheduled: 13.05 // 14.20
Actual: 13.20 // 14.30
Gate: F23 Seat: 22F
Loadfactor: Around 80%
History:
Delivered to AirFrance: 26.10.2006
Flight no. 4 on the A318 and the first on this machine.
Sorry, but everytime when I´am in CDG T2F I think about a space station, fingers and airbridges on three or four different levels,
the terminal like a labyrinth, closed ways to separate the arriving finger pax from the departure area.
I walked a bit around, but from the area not that much interesting planes to spot.
No question, AF´s homeport: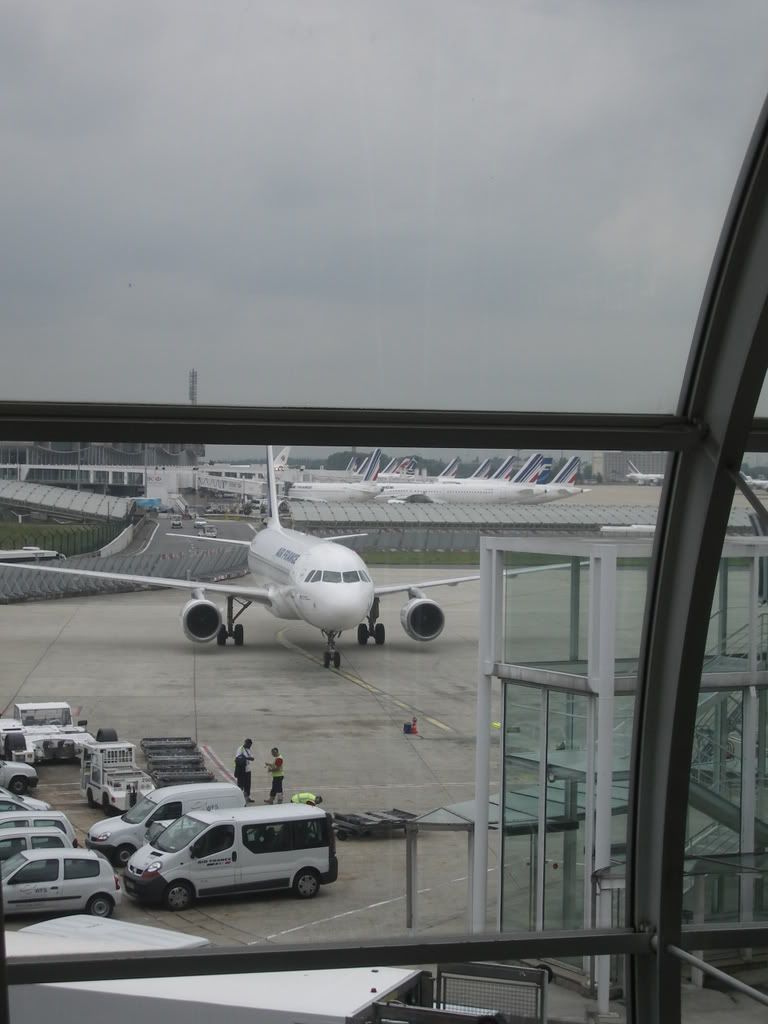 Nice MEA tail in the backround: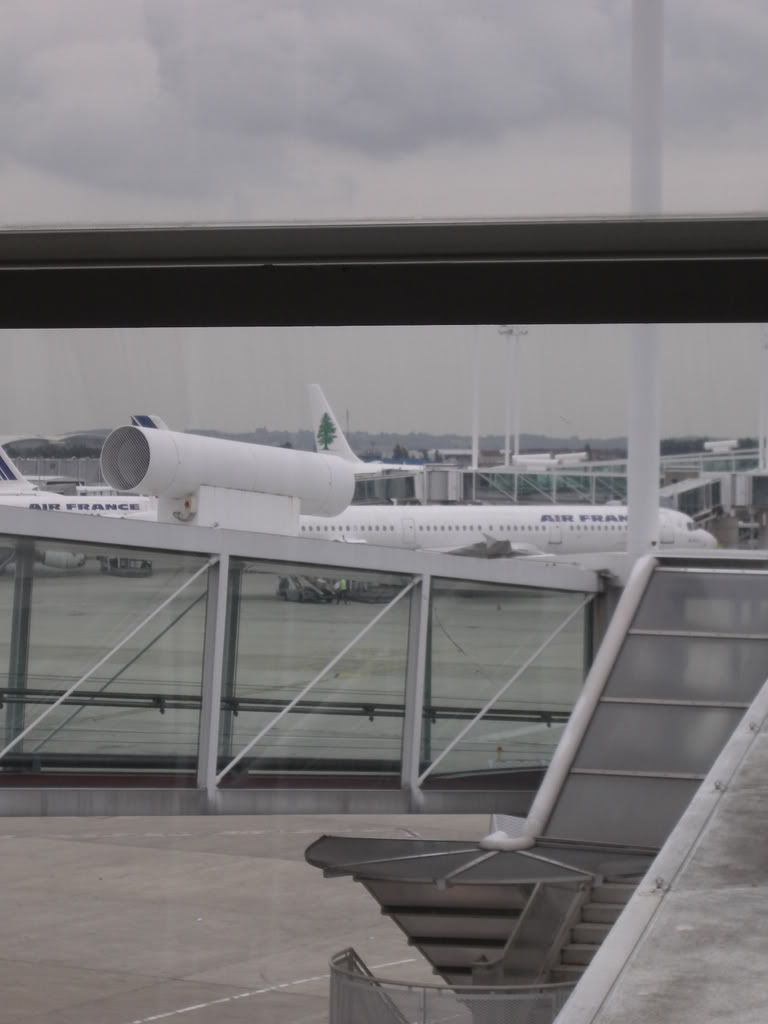 Ok, passed security again, nearly no time to wait and no problems, some shopping and pix and than my flight to DUS was called.
F23 is a small area with three bus gates on the ground level, not the place to rest while waiting for your flight.
They checked boarding pass and passport three times from the gate to the plane!.
We had to wait in the bus for some five minutes, then a ride along the new terminal extension after T2F, the plane was parked near the end of the further extension.
Only some twenty pax are allowed to leave the bus for boarding in one run, IMO they are angry if someone gone lost at the apron!.
Boarding F-GUGN: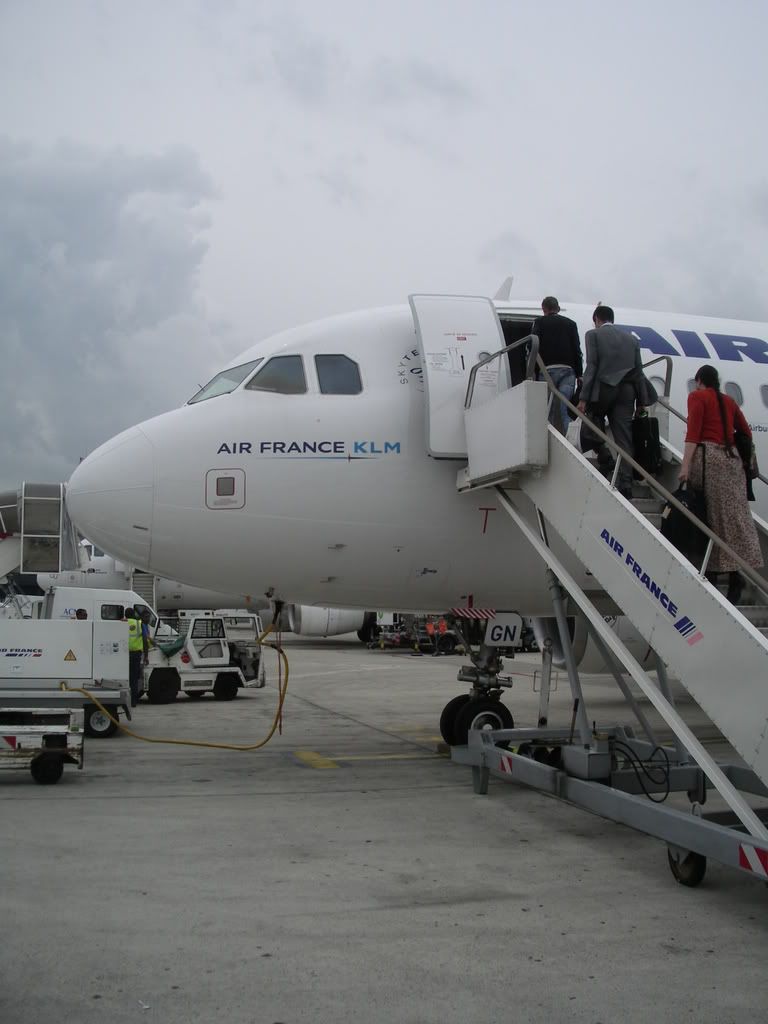 Up the stairs:
Big engine, small plane: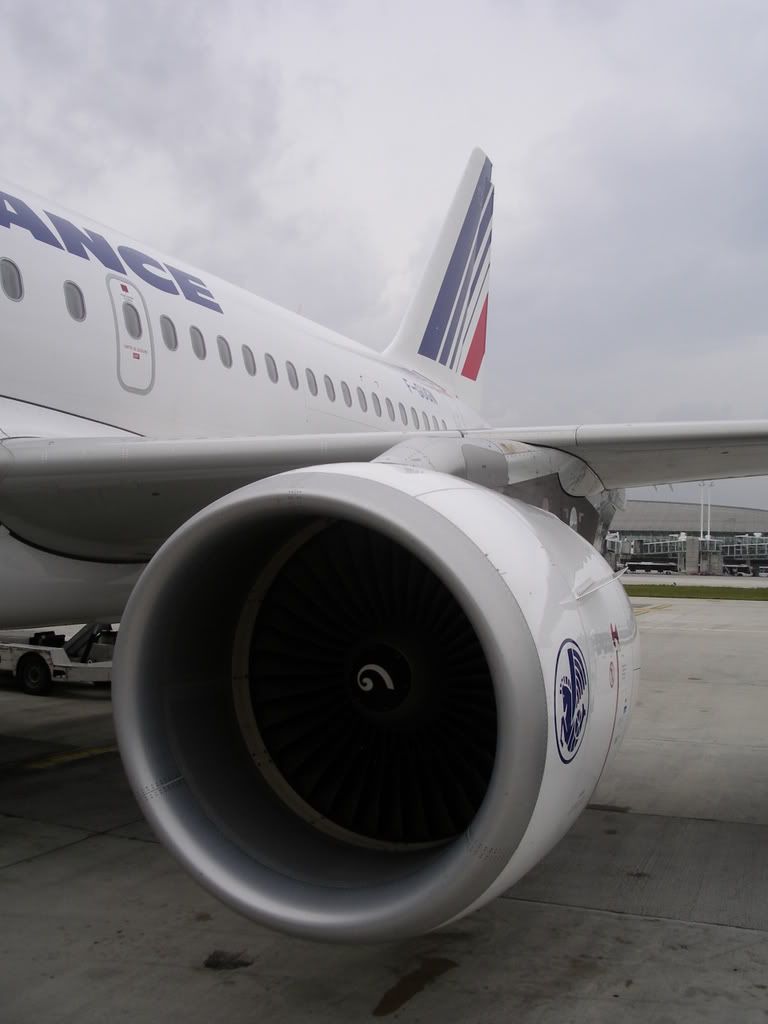 Boarding F-GUGN again: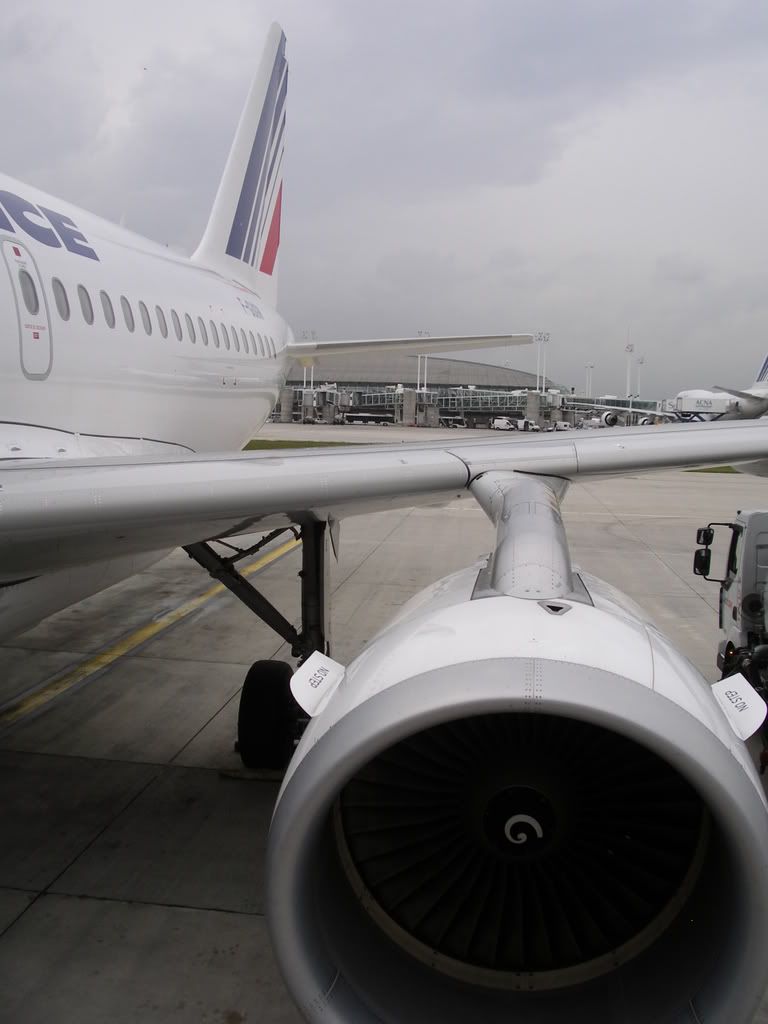 Two male, one female FA´s on this service, sounds like all french natives, also the flight deck crew.
A friendly welcome from the flightdeck, also the FA´s friendly.
Taxi to a 26R departure, two other AF 320´s and a Delta 763 short behind,a UA 777 in front.
No further information about the route and the flightlevel.
The cabin clean and good looking, a new style plane.
All announcements in french, english and german.
Service: A small sandwich and free beverages, tea, coffee.
Again clouds, no views, the captain announced some thunderstorms in the DUS area but the flight was calm so far.
He was on the com in french only later, as far as I understand, he prepared the FA´s to clear the cabin for descent immediatelly while there will be
some turbulences during approach.
What follows was really amazing, not so much from the turbulences side, some shakers ok, but nothing special, much more from the views.
There was a thunderstorm southeastern from DUS, we´re passed northern side and gone along the storm during finals.
I´ve never saw lightnings so near inflight, there was one, alongside the plane, so bright that I closed my eyes.
Water all above when we braked with trustreversers on runway 23L. .
The captain was again on the com during taxi and told us that there is no airbridge available and we had to wait some ten to twenty minutes till disembarking
while the airport stopped the busses according to the heavy rain.
Finally the bus arrived, all pax to deboard from the front door, from my point of view that was much enough rain to deboard a plane by bus, but what
will I do!.
Rainy DUS deboarding:
Au revoir, F-GUGN:
The original plan was, to spot some planes in DUS, but the rain wasn´t over, so I checked the National desk. The rental agreement was by Holidayautos,
the cheapest opinion, EUR 52.--, a nearly new Opel Corsa, not bad and no problem till now.
What about the next airport southern side, CGN, for some spotting?. Nope, a thunderstorm there with heavy rain when I was in the area.
FRA will be also in the right direction. And what do you think was there?. The maybe same thunderstorm with heavy rain greeted me on short finals.
Finally I headed home and was welcomed, no question, from a thunderstorm with heavy rain!.
OK, not that much spotting, but nevertheless two interesting flights and also two services on the A318 for my log.
AirFrance was absolutely ok, servicewise and in case of friendlyness, no problems all around.
Thanx for reading, comments welcome,
Markus (FLIEGER67)