Singapore Changi – Bangkok Suvarnabhumi
Thai Air Asia FD 3502
Boeing 737-300 (HS-AAP)
ETD: 1050H
ETA: 1150H
13 June 2007
My leisure travels lately have consisted of flying on several budget carriers that within the last few years, seemed to have changed the Asian aviation industry tremendously. This trip to Bangkok was no exception. My partner and I thought that it would be interesting to take the road less traveled (although that is not the case presently) and fly a true-blue LCC, i.e. no assigned seating with buy-on-board meals. Thus, we decided to try Thai Air Asia as they offered the best deals when we booked this trip way back in Nov 2006.
This trip would also mark my first report on Bangkok's new Suvarnabhumi International Airport, which has, to say the least, garnered more attention that it could ask for in more wrong ways than one.
Departure day
Woke up bright and early and drove to the airport. Dropped my car off at the office and a short taxi ride later, we were unloading our baggage along the kerbside of Changi Terminal One.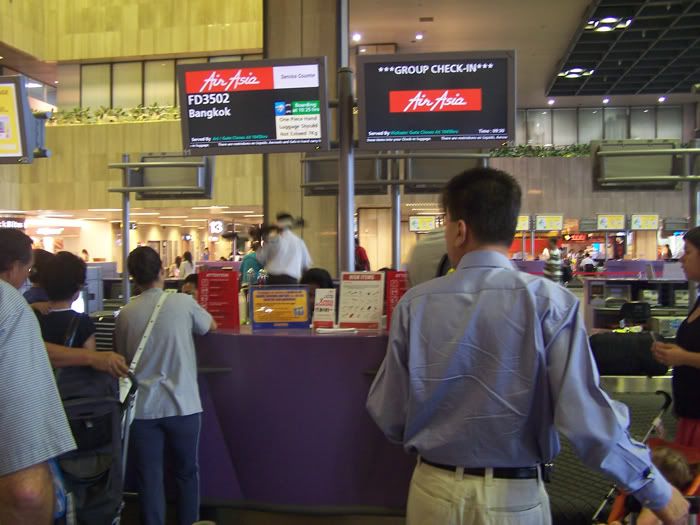 Check in was handled rather smoothly although it was rather annoying to have queue-hoarders. The kind that sends members of the group to each line and when it comes to their respective turn, in my case, one person in front of you suddenly becomes five all because "oh they are with me".
"Ok, your flight is boarding at Gate D37, boarding time is at 1030. Thank you… NEXT!"
Supermarket-receipt-like scraps of paper doubled as our boarding passes.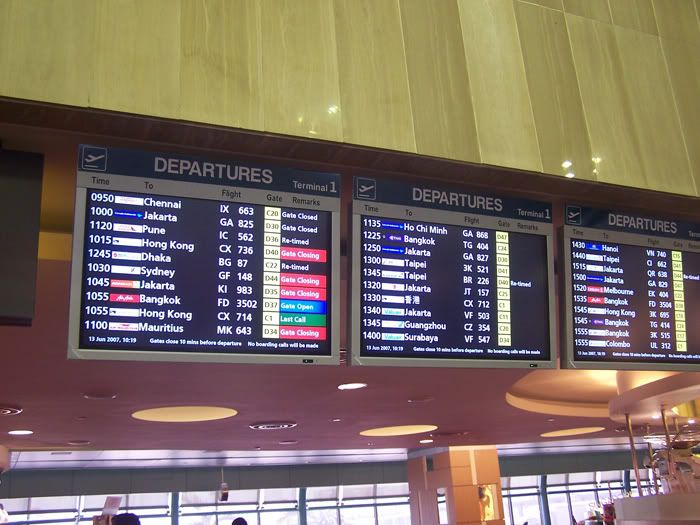 Since there weren't going to be any meals on board, we decided to have a heavy breakfast of chicken rice at the 24hr FOOD GALLERY, Changi Airport's idea of showing their transit passengers what culinary delights this surprising island of Singapore had in store if so they decided to step out of airside. Truth be told, the food was horrible. The chicken rice was tasteless and soup was nothing but hot water with 7 spadesful of MSG. To add insult to my injury, the entire meal costs me S$30.00, three times the original price of what I would pay outside.
But I felt rich that morning, thinking about what tremendous savings I have made deciding to fly FD and bunking in at my friend's condo in Bangkok, so I gobbled everything up nevertheless.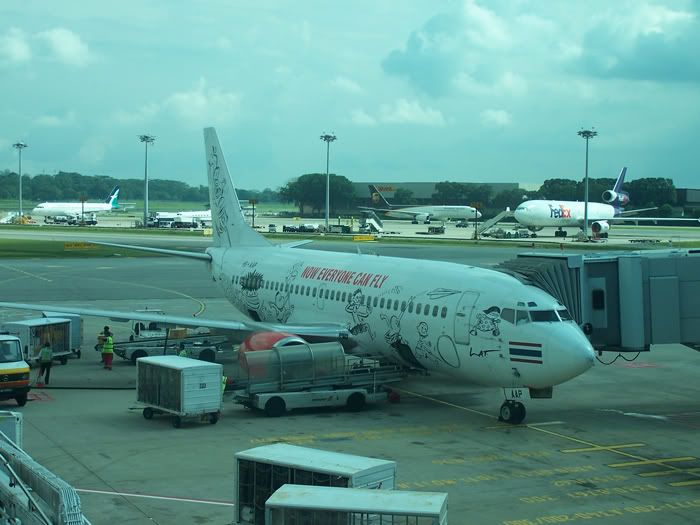 Lat is one of my favourite artists of all time, although I do not think he is well known outside of Southeast Asia!
At Gate D37, our pristine little baby Boeing basked in the morning sun ready to take on us holiday makers. HS-AAP is a Lat-jet. The normal livery of Air Asia has been replaced by the comic drawings of this famous Malaysian artist. I am assuming that the rego if this aircraft was formerly 9M-AAP!
1030H: On the dot, the gate agent that checked us in began making an announcement for people to start queuing up at the entrance to the aerobridge. Very surprisingly, people got up and formed a line without any fuss while the "X-press Boarding" passengers were being gathered at a different queue.
The latter group of passengers consisted of families with small children, who were allowed onto the aircraft first.
Since we were first in line, my partner and I stepped into the aircraft with plenty of seats to choose from. FA Onwijit at the door gave us a friendly "wai" and welcomed us on board with perfect English devoid of any heavy Thai accent.
Senior FA Arunee was further down the aisle and beamed her pearly whites and wai-ed us on. "You can take any seat, ok" beamed her whites…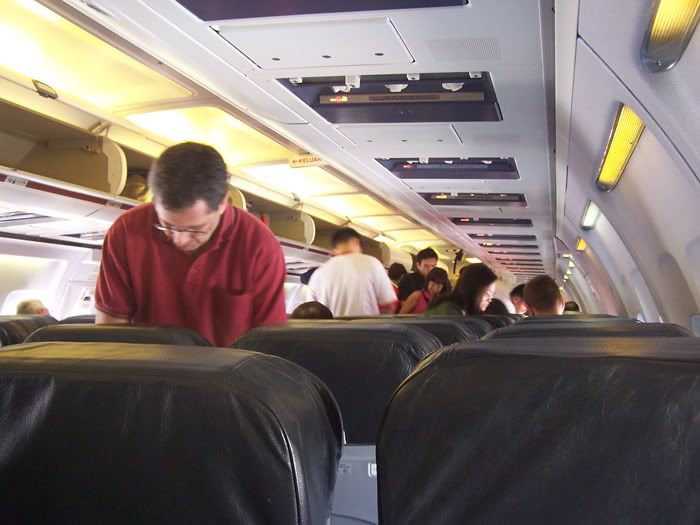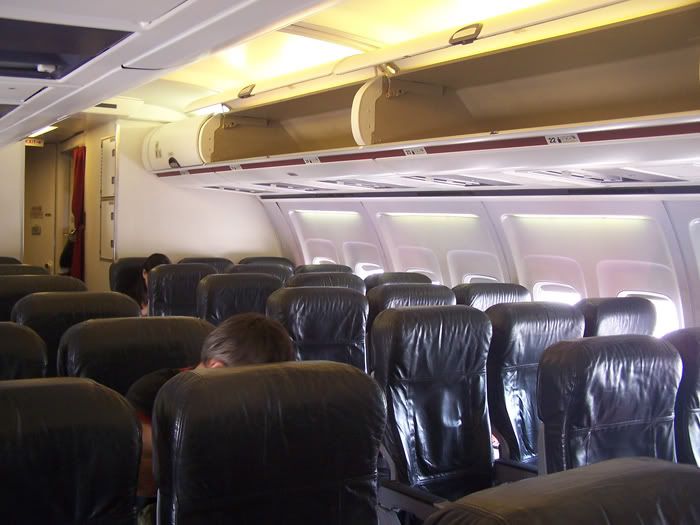 1055H: Doors closed
The flight was 70% full with only a handful of seats in my vicinity notably empty. We ended taking seats 20E/F.
A Thai announcement welcoming all on board on this flight from Singapore to "Soo-wa-na-poom (the proper pronunciation for Suvarnabhumi, excuse me) Khrung Thep". When the English announcement came on, I was simply awed by the excellent command of clarity, this I have never experience before on any Thai carrier because I can never understand any announcements when I fly TG – fasten sit-bewt?
Anyway, a cursory wai before the safety demo and off the girls went showing us the procedures to be adhered to. I observed that the Thai instructions were long as hell, but the English ones were short and curt.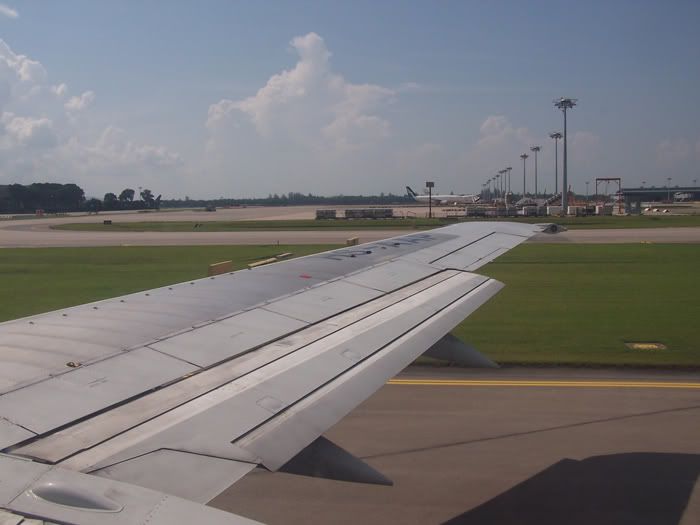 Halfway through the demo, the aircraft pushed back and we were soon on our way towards Runway 20C.
1100H: Take off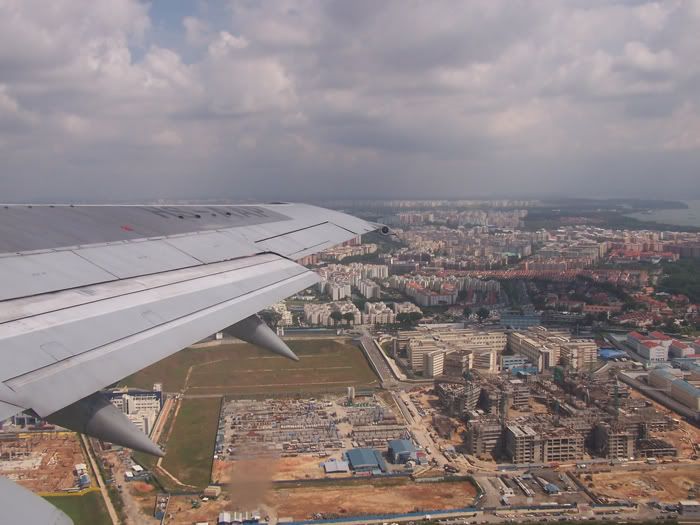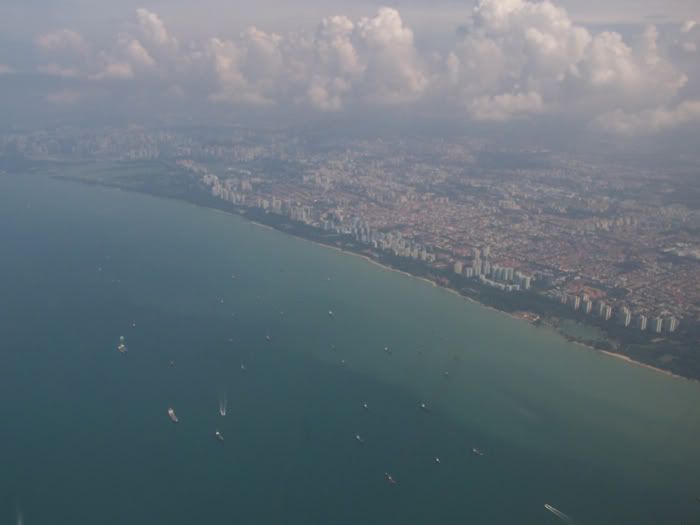 Ahh… nothing beats the feeling of saying goodbye to this claustrophobic island for the next few days for a well-deserved rest. Our southerly journey was soon interrupted by a left orbit that brought us towards the direction of Malaysia. More specifically the town of Kota Bahru, onwards to the Gulf of Thailand and finally descend into the airport after coasting in.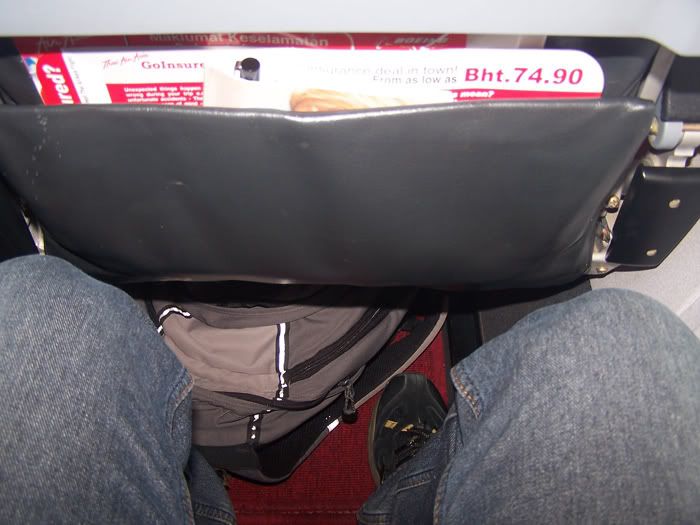 Pitch is not the most comfortable, but it is alright for this duration.
1130H: The meal carts appear manned by Onwijit and Arunee. We purchased a can of Pepsi for 40 Baht and that kept us happy for the remainder of the flight, which we were still full from our "golden" chicken rice.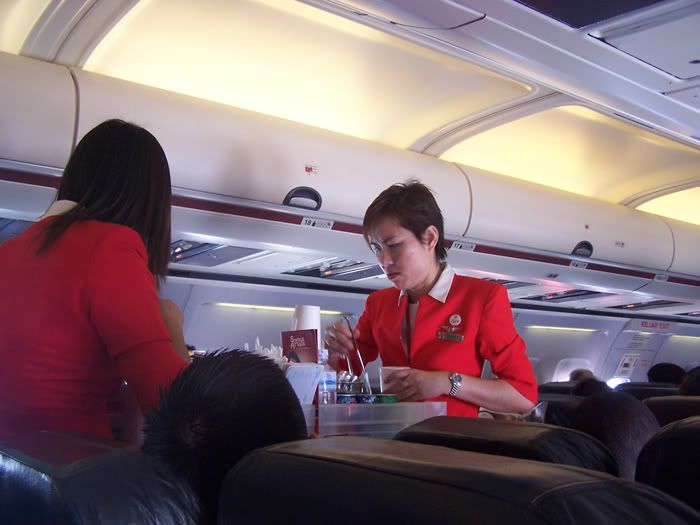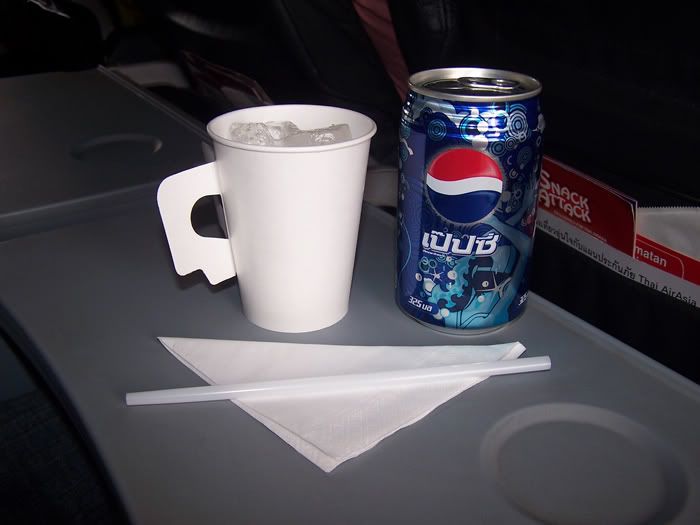 Throughout the flight, these 2 FAs were assisted by another 2, namely Pawinee and Panthi, who were running back and forth from the aft galley bringing steaming instant cup noodles and rice porridge to those passengers who ordered them. All the four worked like a team, a team that enjoyed being together and flying. Sincere smiles were dished out easily and it never waivered throughout the entire flight.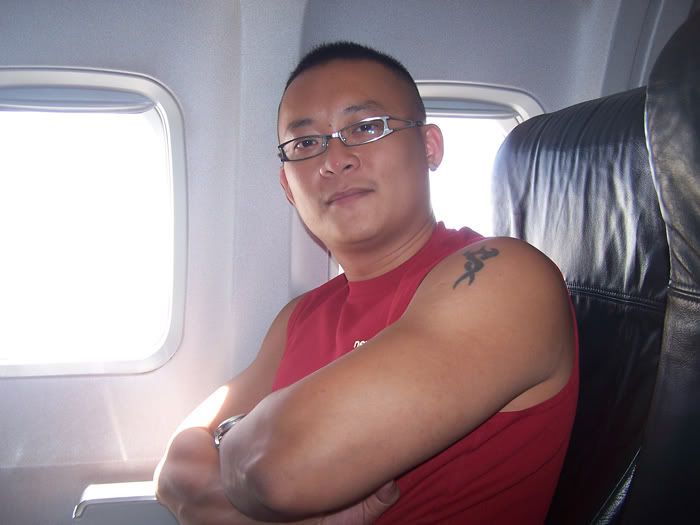 Seriously, I was happy about this trip…
Whenever they had to speak to a passenger, they would always lean on a seat, or bend down to be at face level, in an effort to be closer and more personal – something I find lacking in many airlines these days.
After the cart finished its round down and back up the aisle, all 4 of them were constantly walking about collecting rubbish with a plastic bag, attending to call buttons for some more food, drinks or merchandise – as in my case, I bought 2 pairs of Air Asia polo-t shirts in different colours. Pawinee happily accepted her well-deserved baht as I am sure this would mean commission for her.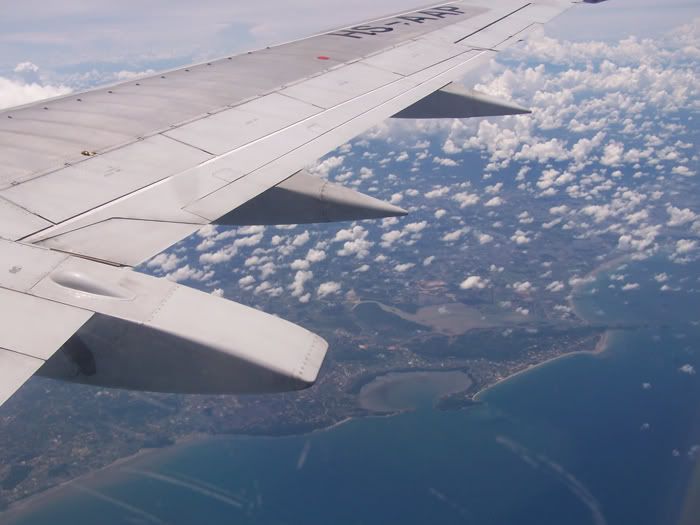 1230H: The coast of Thailand finally appeared hazily in the distance.
The arrival announcement soon came on and everyone was urged to finish what they were doing and prepare for the imminent arrival into Bangkok. Soon enough, the aircraft nosed downwards as we reached our top-of-descend.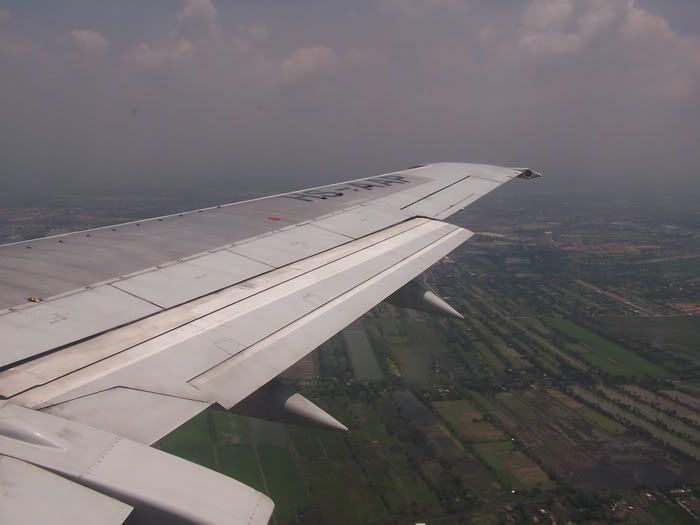 The normal fly-over the city of Bangkok was absent as in the case during an approach for DMK. This time we just flew over wide expanse of country that seemed to stretch into the distance. I prefer to old approach much better.
1300H: seat belt sign PING!
Another arrival announcement as Arunee made one final walk along the aisle to ensure everyone was strapped in.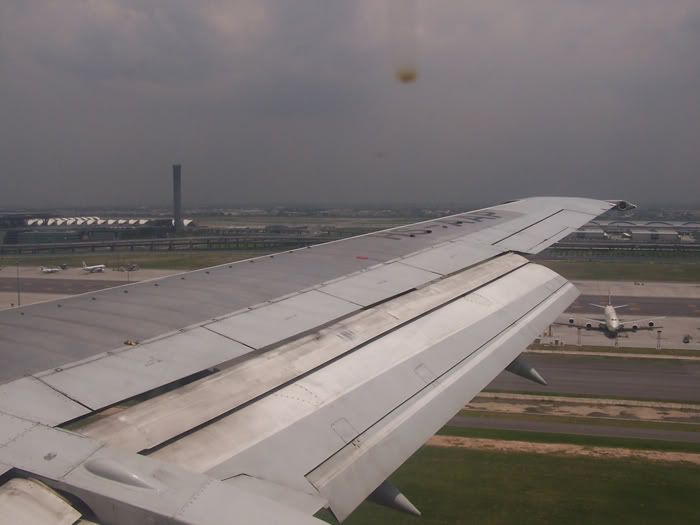 Modern looking highways began to slice though the scenery and next thing I saw was the modern looking airport. It looked very beautiful from a distance as we made an approach for Runway 19L.
1309H: Touchdown, rough!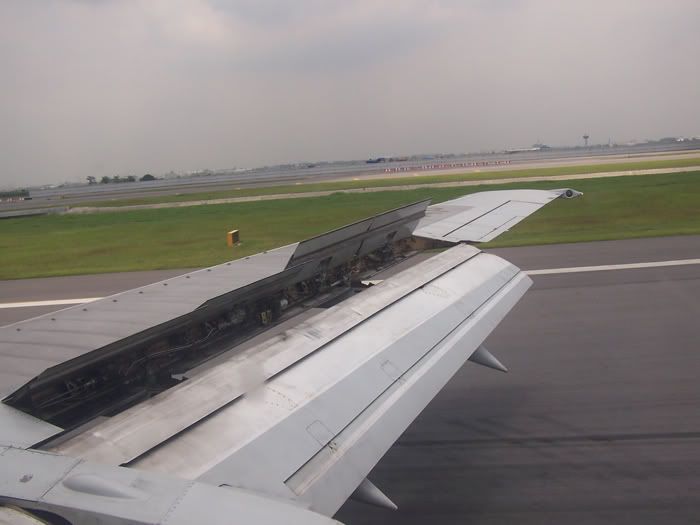 Reverse thrust was on full blast and we made a beeline for a remote stand number 108. My journey finally came to an end at 1314H and the local time was 1214H.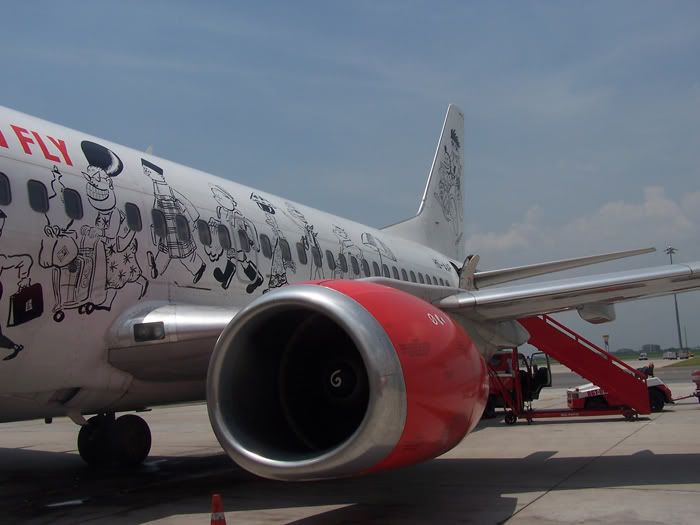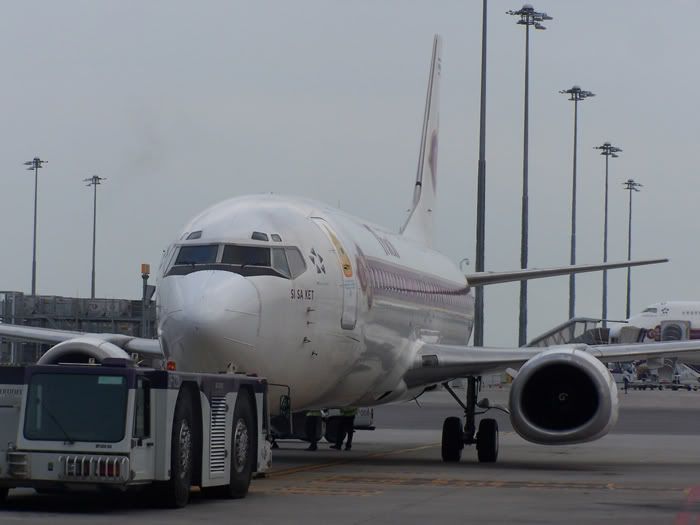 A nice bus ride brought us to the terminal building. The airport looks fantastic on the outside and it is surely a breadth of fresh air from the old and rather blah looking DMK. However, the interior sing a different tune completely opposite of the artistically pleasing exterior. I shall reserve my comments for Part 2 of this report.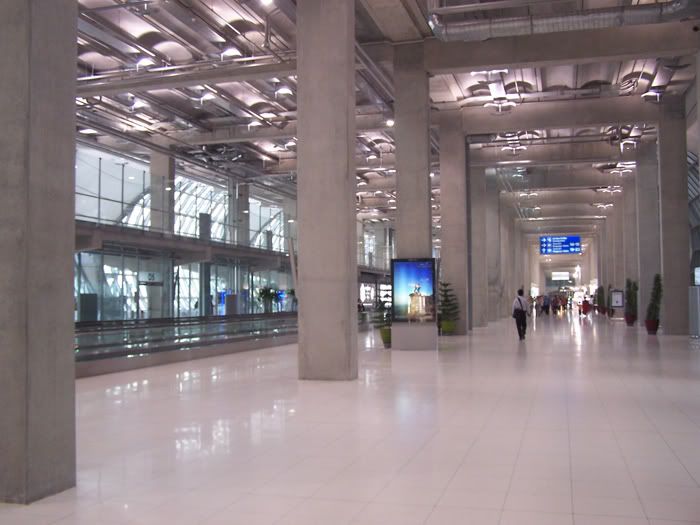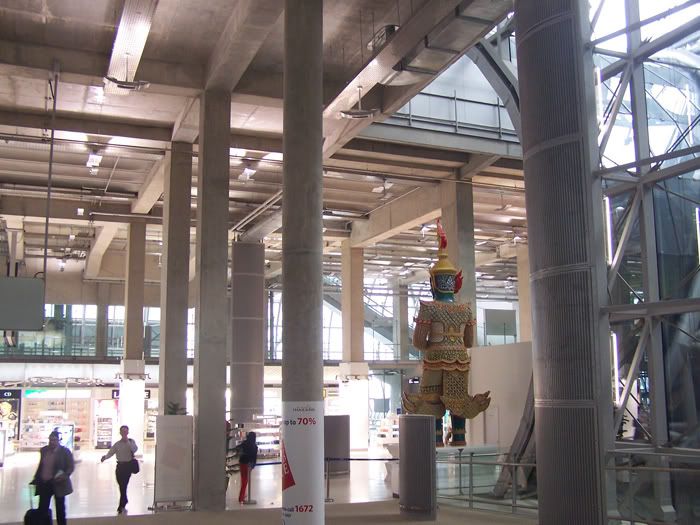 Immigration was crowded, but nothing as nightmarish as compared to my trip to Saigon. Our bags were already churning round the carousel by the time we got there.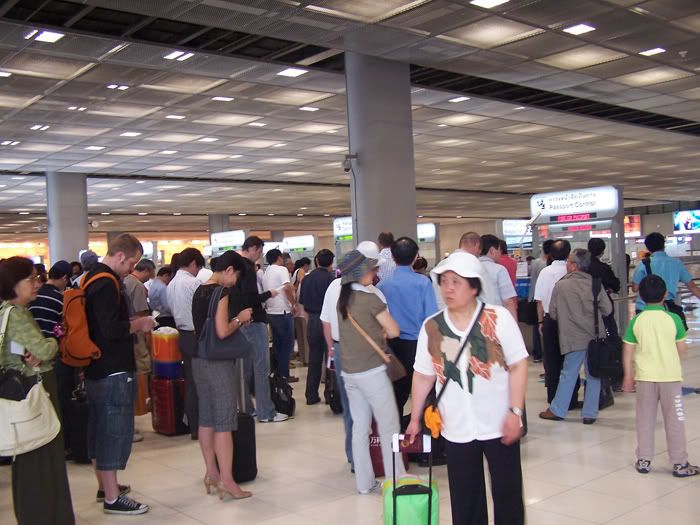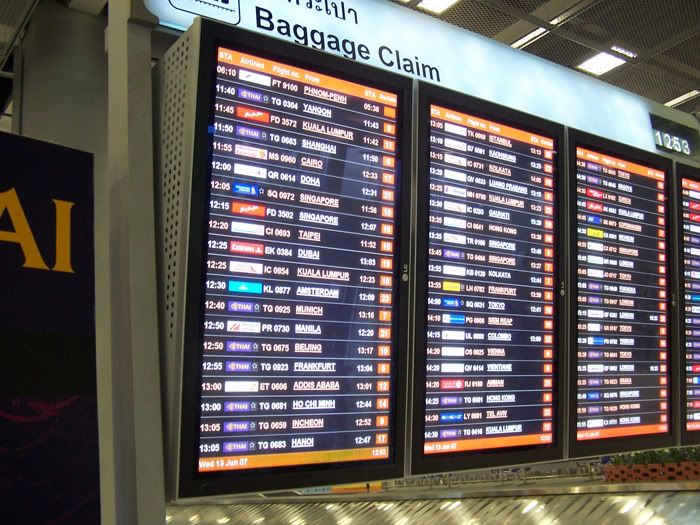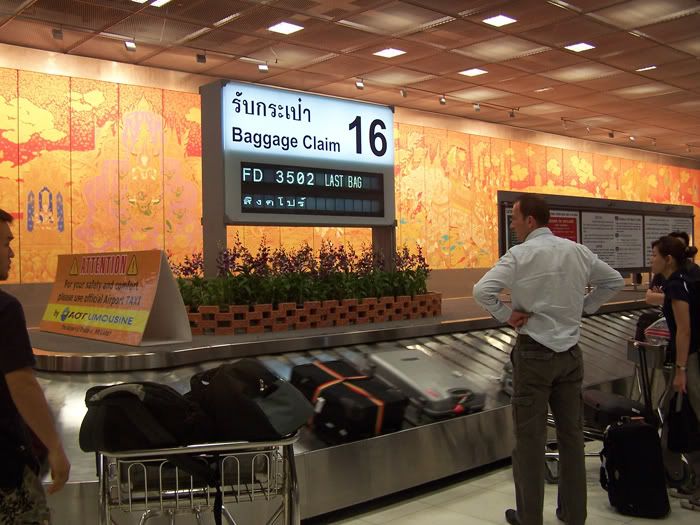 Check-in: 9/10… Fuss free.
Boarding: 10/10… Full marks for the operations here in Changi for making the process very organized. I was expecting a free-for-all rush to the doors but it was prevented by an early organizing of the line.
In-flight service: 9/10… I lowered my expectations, and got pleasantly surprised. These 4 members of cabin crew deserve every praise available there is for a FA. They were ever-friendly and all 4 spoke excellent English!
Arrival: 6/10… I liked the idea of a remote stand and being bussed to the terminal building. However, the immigration lines were long. The arrival concourse of the terminal didn't give me a sense of warmth with their clinical and sterile disposition. And guess what? Construction dust was still present after so many months…
Overall: 85%... I was very satisfied with Thai Air Asia, and very pleasantly so, might I add. After all the horror stories I have heard about Air Asia and their franchises, the whole reason my partner and I chose FD was so I could get a good source of trip report material. Instead of that, all that I saw was a text book example of how paying cheap doesn't necessarily mean getting crap.