Bangkok Suvarnabhumi - Singapore Changi
Thai Air Asia FD 3505
Boeing 737-300 (HS-AAP)
ETD: 1645H
ETA: 1945H
17 June 2007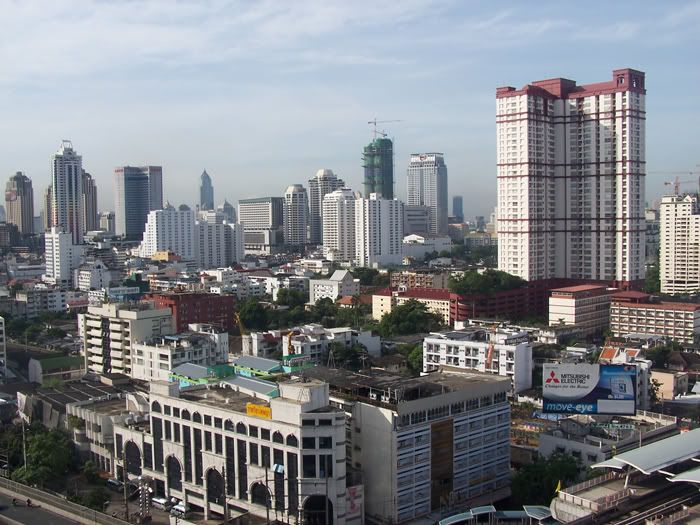 Leisure travels to Bangkok is always good. No matter how polluted the city is, somehow the grime and the grit gives us Singaporeans a form of escape from the structured and often staid environment that many seems to think we have grown up in.
My usual haunts of Mabunkrong Mall, Chatuchak weekend market and the endless stream of street vendors all fell victims to my partner's bargaining prey. I do the translation; he goes for the kill...
And the food.... Oh food, glorious food... It was Thai food for breakfast, Thai food for lunch, Thai food for dinner, Thai food for supper... Thai food is simply one of the best cuisines in the world and it is no secret I am a big fan. Lash on the chilies, I say! But alas, I fell victim to food poisoning on the last day and was promptly very humbled by the stomach cramps that followed. So much for side street pork satay!
Departure day – Let's all say it together... Soo-wa-na-poom (Suvarnabhumi)
Note: You can go straight to read about the flight if you do not want to hear my rant about the new airport.
From my friend's condo in Phaya Thai, a 20 min taxi ride and 170 baht later, we arrived at the imposing glassy facade of Bangkok's pride and joy (open to argument though), Suvarnabhumi International Airport.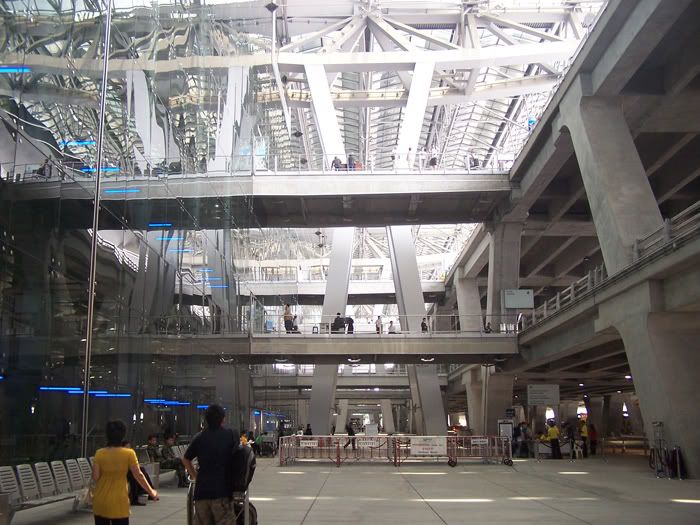 Ground level where the public taxis are located. Trust me, take a cab into the city as opposed to the 1000baht limo fare which is a total rip off.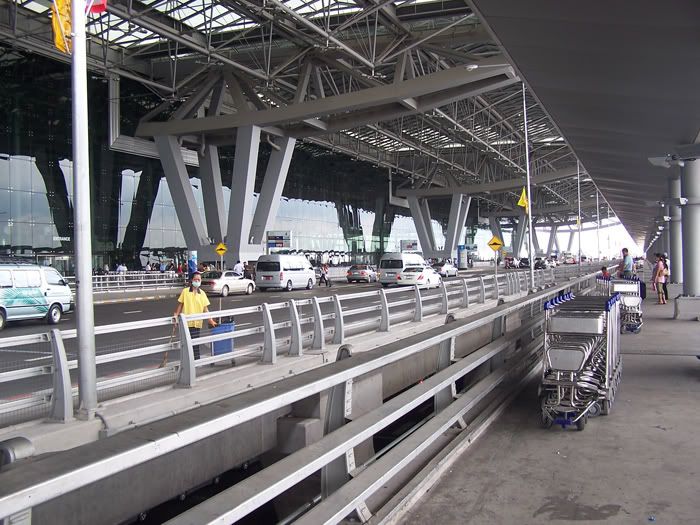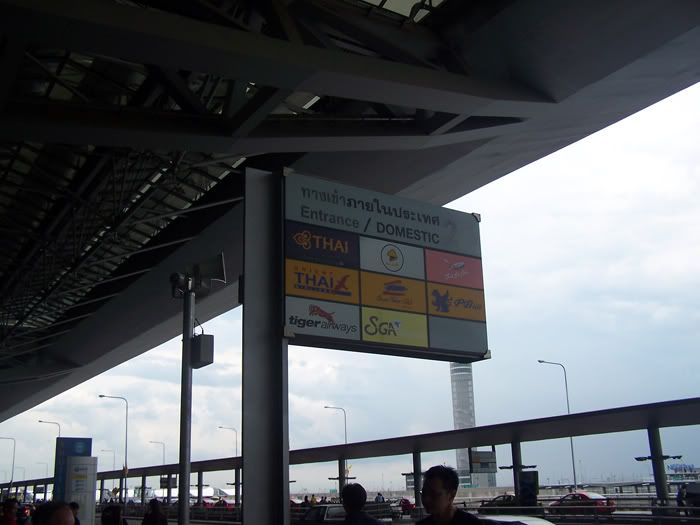 Departure level drop off.
Departure level drop off looks rather similar to any recently built airport of the same glassy design concept like KLIA, Pudong and HKIA. I have to admit that it looks awesome.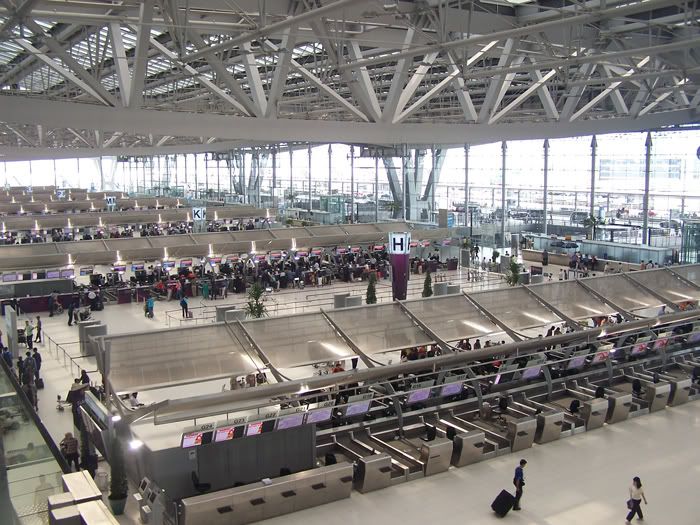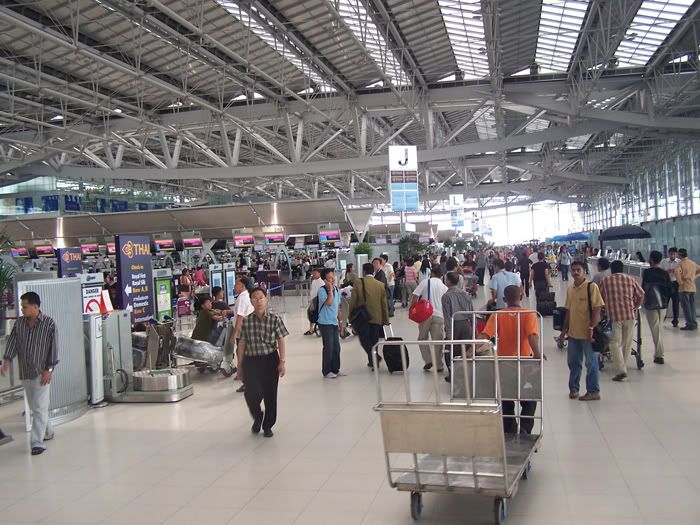 Entering the check in area, you immediately realize that people-moving management is a concept that is very foreign in Bangkok. It is a crowded and disorganized area that people cannot help but to be walking into each other. I put this down to the lack of signage, which seems to be very scarce. Alright, putting the mess aside, we needed to be looking for Air Asia's check in counters. The international and domestic check in for FD utilizes the same island.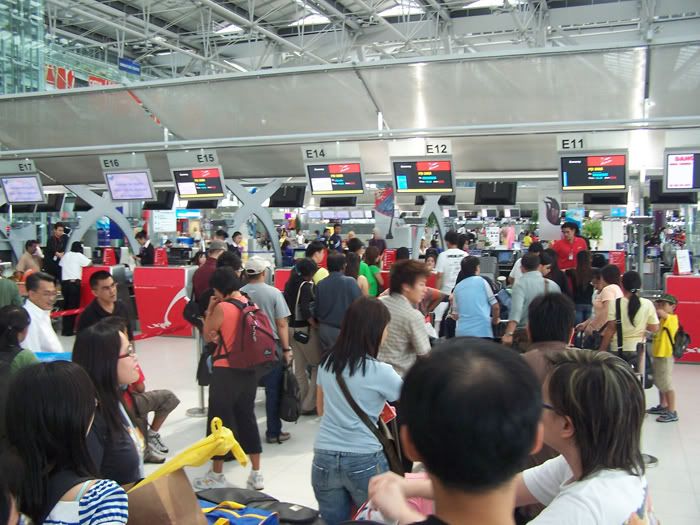 The line for FD 3505 for Singapore was long, very long at Island E. Other international flights being checked in were the ones to Macau and Kuala Lumpur. Domestic check ins were for flights heading to Udon Thani and Chiang Mai.
I was dreading this part; our luggage was obviously very overweight from all the shopping we did so much so that a fine of 670 baht was slapped on us.
After being rid of our bags, it was time to explore more of this controversial airport. Another thing that struck me was how STUFFY the entire environment was! The air-conditioning was acutely inadequate and the glass ceiling was not helping, despite it being a cloudy day. I shudder to imagine what would happen on a cloudless sunny day!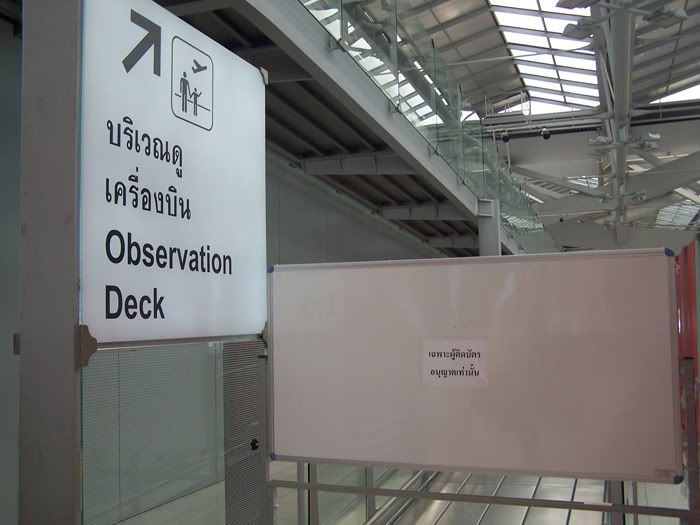 As with every other airport, a trip to the observation deck is always a must. However on this day, the deck on the upper level decided it didn't want to entertain me and quickly asked Mr. Whiteboard to block my access immediately. Not that there was much of a view. This has to be one of the worse viewing decks I have ever seen. I mean honestly, unless by viewing, they mean staring at the metal support beams!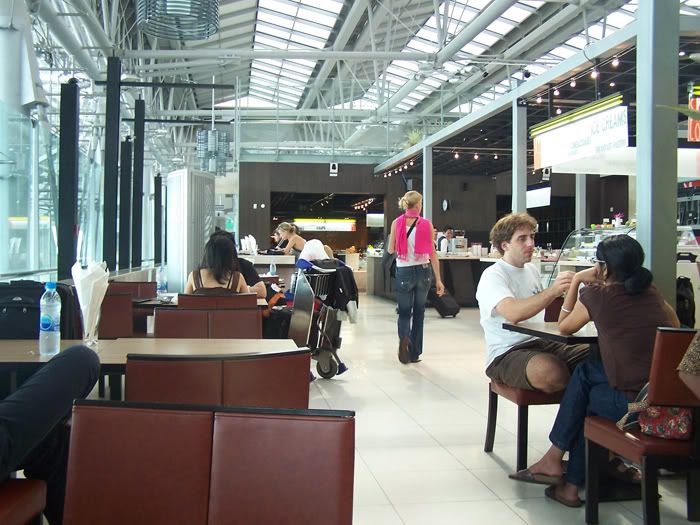 The observation deck (closed) is immediately above food counters.
Still, a trip to the Sky Loft Cafe below the obs deck was the order of the day as my partner wanted his last sweep at green curry. By this time, my stomach was still cramping and the last thing I wanted was more of the food that made me sick in the first place. I opted for a more sensible choice of a thin slice of pizza. Once again at this level, the stuffiness of the inadequate air conditioning reared its ugly head again.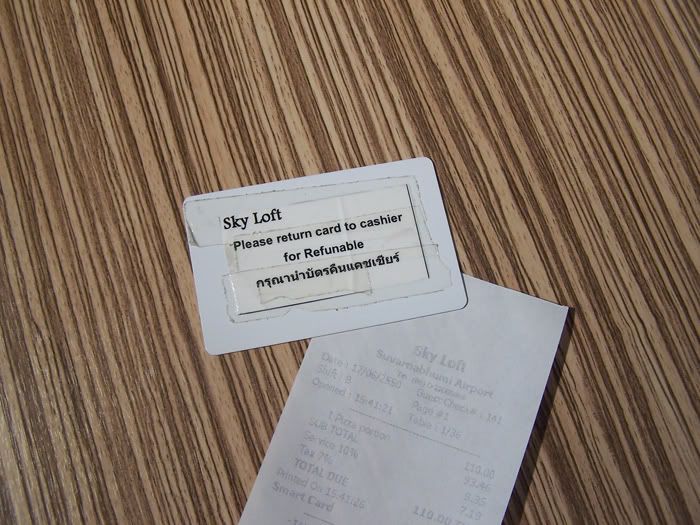 This café utilizes a cash top-up card for your purchases within. A very troublesome process as you had to go back to the counter at the entrance to top it up if the cash ran out and was insufficient for use. For God's sake just use cash, please!?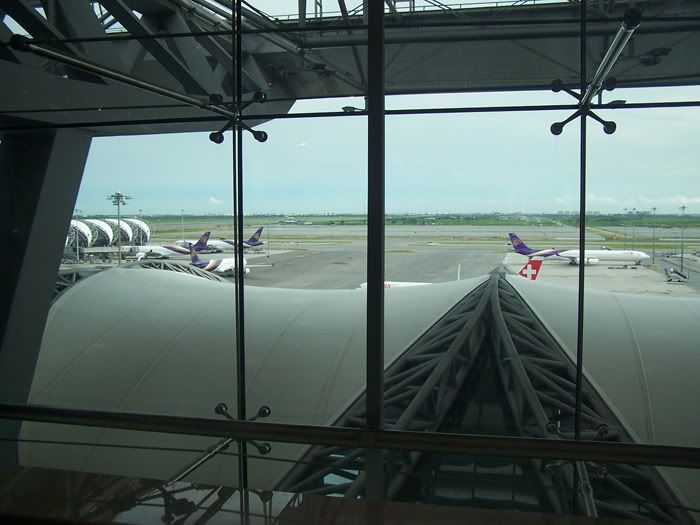 The view from the café, which is similar to the observation deck. As you can see, there is much obstruction to have a clear view of the aircraft below.
Another note was that the acoustics of the building was very bad. There is so much echo in all the announcements that you can forget about hearing your name should they be paging for you because your mother died of a heart attack at home.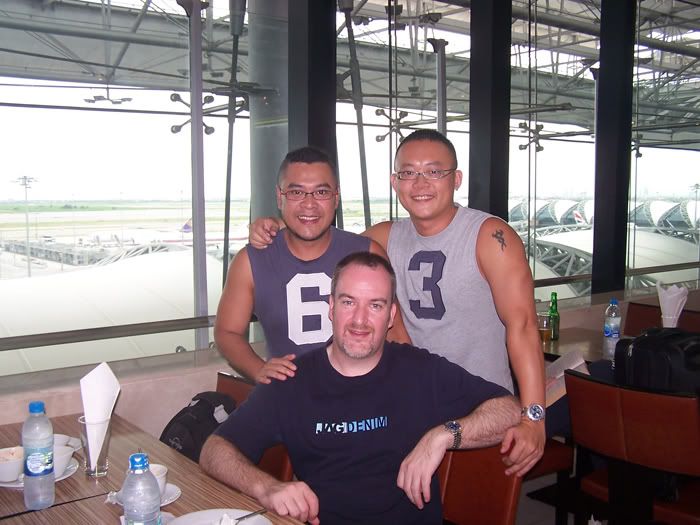 Our delightfully gracious host, our dear, dear friend Damien.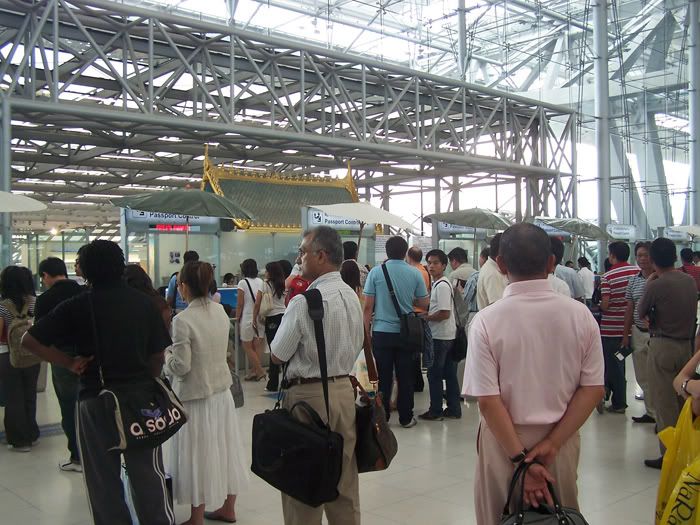 After the hugs and kisses goodbye, we headed for immigration and the lines were so long everywhere, except the ones that said "THAI PASSPORT". Still, the officers on patrol had no sense in them to send some of us there. And again, I have to point out the air conditioning problem. It was now hotter than ever and people starting fanning themselves with whatever they could get their hands on. Most of us just flapped our passports or boarding passes like Karl Lagerfeld.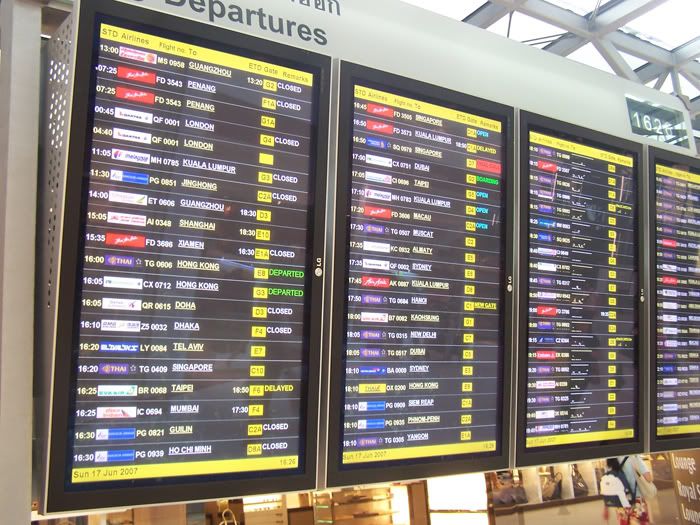 A very posh mall-like concourse greeted us after passport control and you would be forgiven thinking that you weren't at an airport at all! Kudos to the planners for this and the sudden blast of cold air was also a welcome retreat after the furnace before. Hmm... were the pre-passport areas not worthy of good air conditioning? Your guess is as good as mine.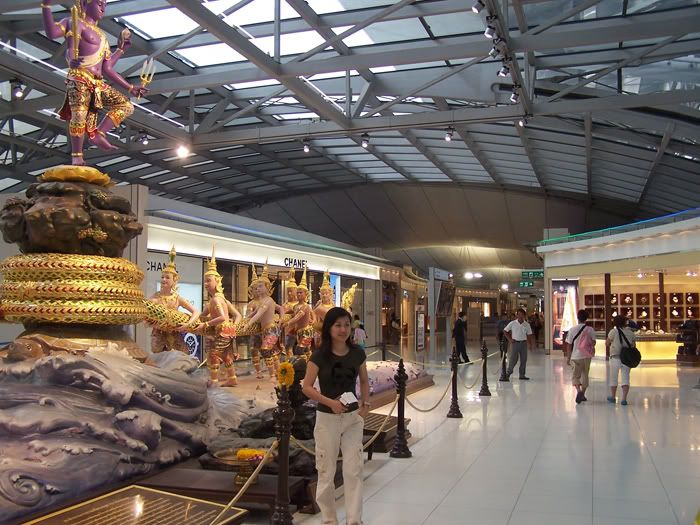 The lighting for the concourse was only there because of the shops. Once you look above into the ceiling, a dark and ominous sky looms and once you come to the end of the mall, you start to realize just how dark your surroundings are.
If you are a fan of photography, you should keep your camera and not waste your time. The design of the structure is definitely not meant for photography at all. Because of the grid design, there isn't a way to get a shot of an aircraft without being blocked by a part of the cement grid that criss-crosses. And even if you manage to squeeze past the grids, the dirty windows would create another barrier.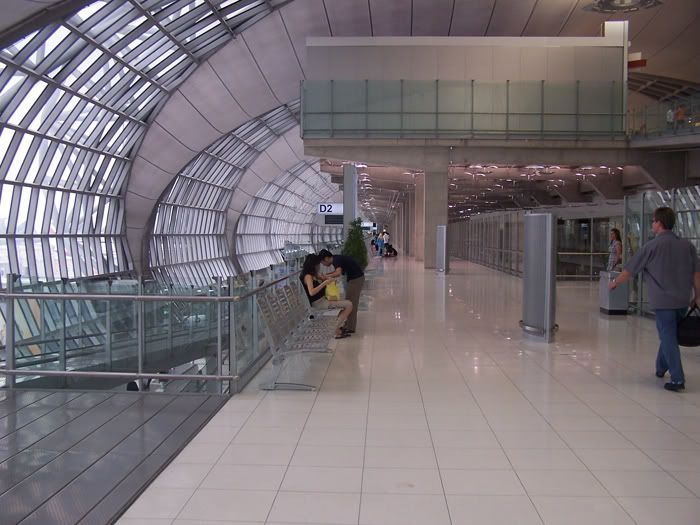 In conclusion, do I like the new Bangkok Suvarnabhumi? Aesthetically, it is a fine looker compared to the old Don Muang. However, like a lot of things in Thailand, the grandiose facade doesn't necessarily translate to functionality. For all that hype, I just wished that the government spent a lot more time making sure that all was fine before rushing to open. Now, what they have is a gigantic reminder of the country's failure with a closed down concourse and seemingly hastily put together unfinished interiors. Ok maybe the bare concrete industrial Zen looks is in, but if you want to copy, make sure you know how to paste correctly.
Let's gather at Gate 1A now, shall we?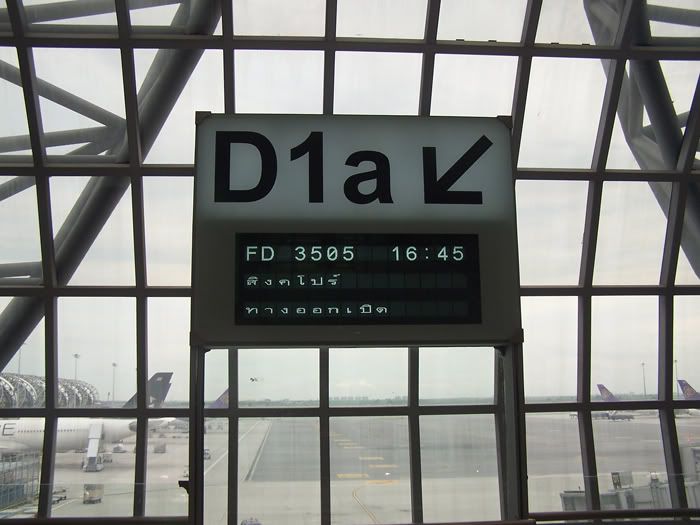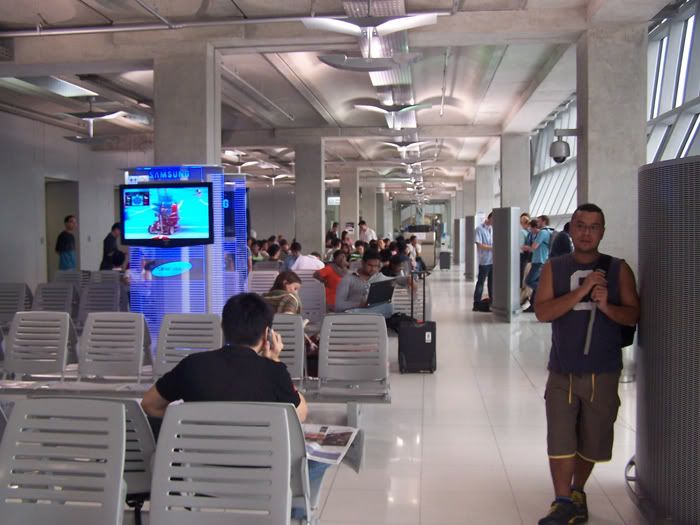 Departure holding room. Yes it was so stuffy again that those standing air condition outlets were our only solace from the heat. However, not all of them were on.
This was the designated departure gate for my flight. Rightfully so as this led down to the buses that would bring us to our plane later.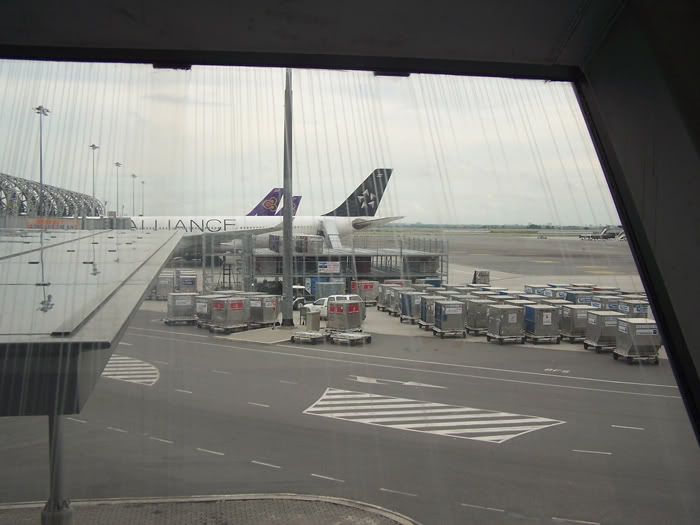 If you are lucky, you might just get a clear photograph of a plane outside these dirty windows.
1650H: For a flight that was leaving at 1645H, it was obviously late when they announced boarding for X-press Boarding passengers only. WOAH! The crowd simply pushed forward like worshippers reaching for the statue of Virgin Mary! The gate agents in their limited English tried to hold people back by shouting "X-press Boarding only naaaaa..."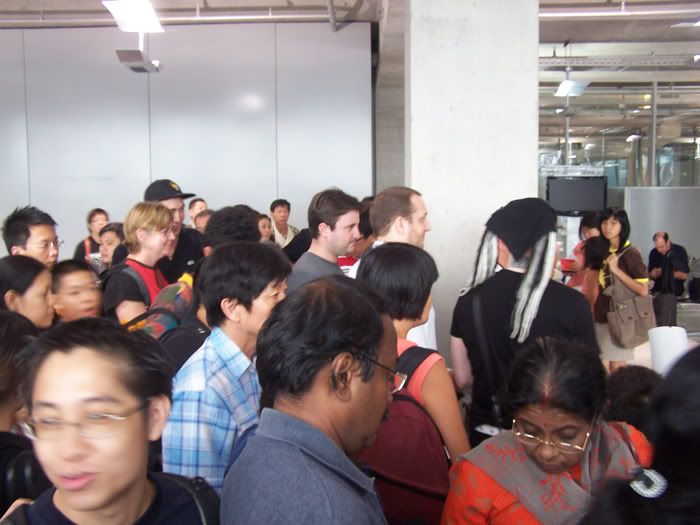 SIMON!!!! PAULAAAAAA!!! RANDEEEEEEE….!!!!! I love yooooouu!!!!
Finally, after the families with children had passed, the lines were open and RUSH like how the American Idol wannabes behaved after they were allowed into the stadium waiting area. It was an every man for himself pandemonium. Come to think of it, I was actually having fun pushing and shoving!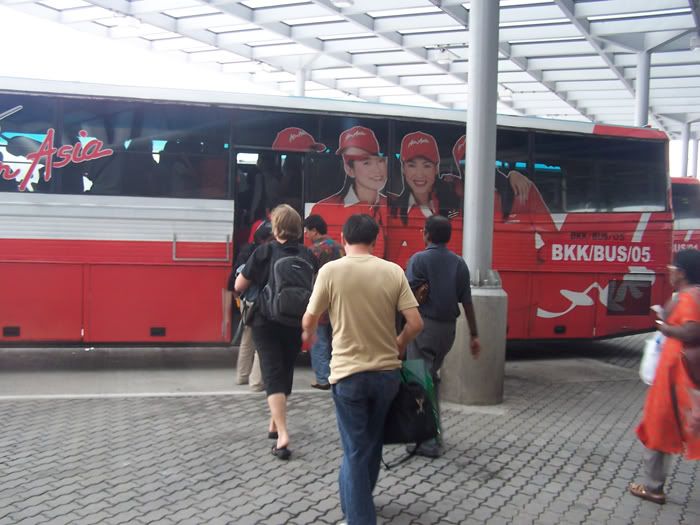 2 busloads worth of us trundled along towards HS-AAP, the same plane that brought me to BKK and at the same remote stand of 108 too!
Up the stairs and I was again greeted very warmly by Senior FA Busabong, "Hah-low sir *wai* Welcome on board..."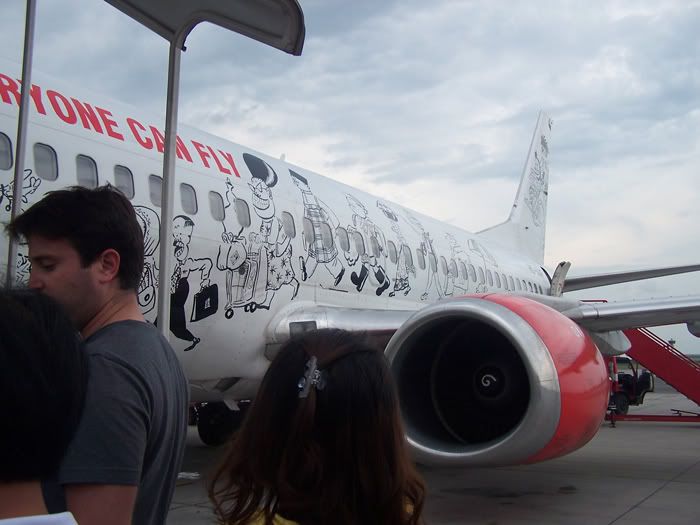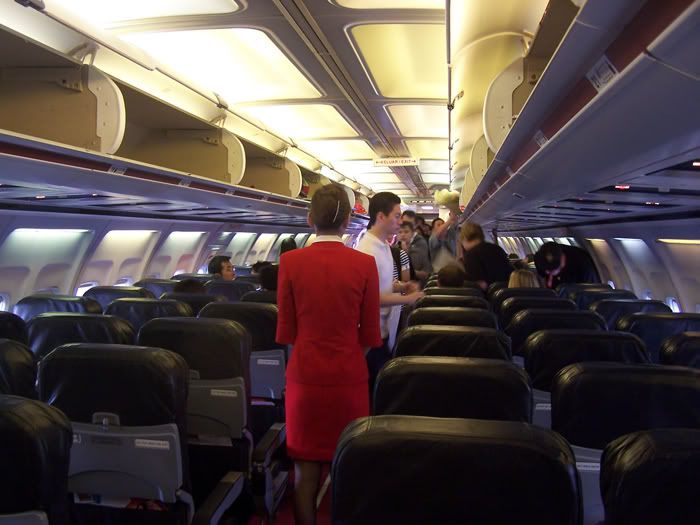 Passengers welcomed by Porn. Err… that doesn't sound right.
Smiles all around as we were ushered further down the cabin by Thanthitha and Porn (no kidding). The other 2 female FAs were equally enthusiastic and friendly. I noted that this flight operated with only 3 cabin crew members, as opposed to 4.
It didn't take long for all to be settled despite a 100% load for this sector. By 1705H, the doors were closed and push back happened almost immediately. Welcome address was done by Busabong and she must have been very tired because her voice was cracking. Even during the safety demo, she took several long pauses that Thanthitha and Porn held their seat belts in mid air, suspended in time waiting for Busabong to continue... During which they didn't forget to smile.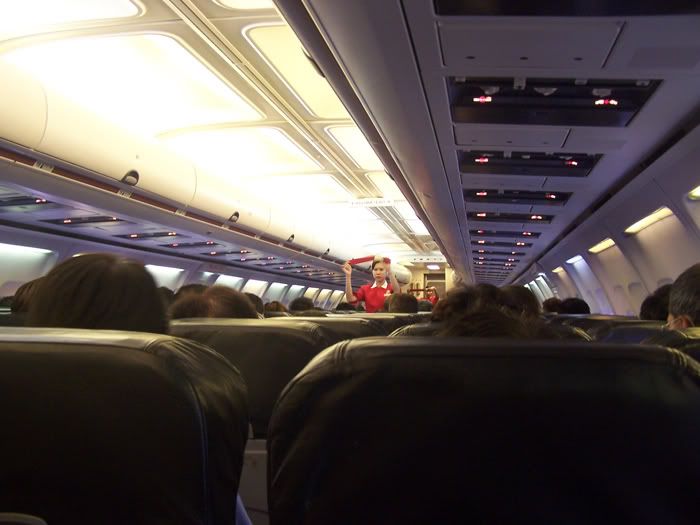 Thanthitha and Porn with the seatbelts in the air…. And it remains there for a while.
1710H: Taxi for Runway 19L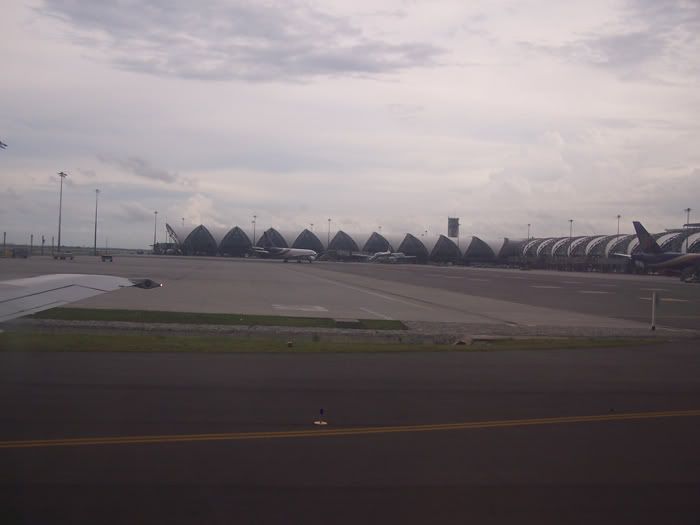 As we taxi for Runway 19L, I took the time to marvel and soak in the amazing architecture that makes up the façade of this airport.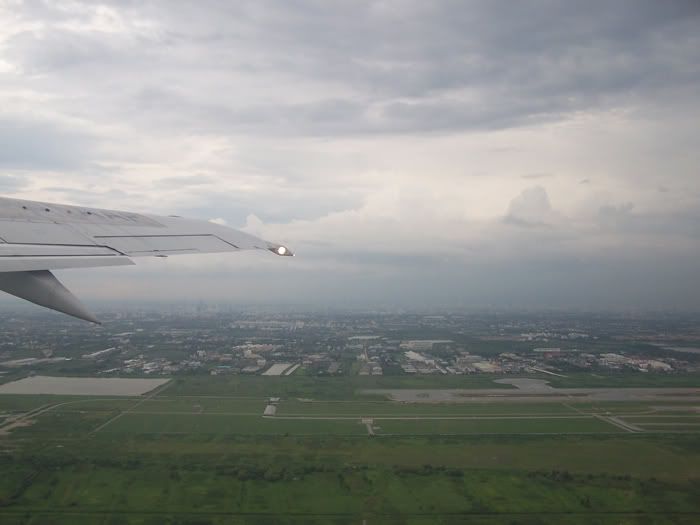 The end of 19R is clearly visible.
Traffic was light for that afternoon and take off was immediate as soon as we entered the active.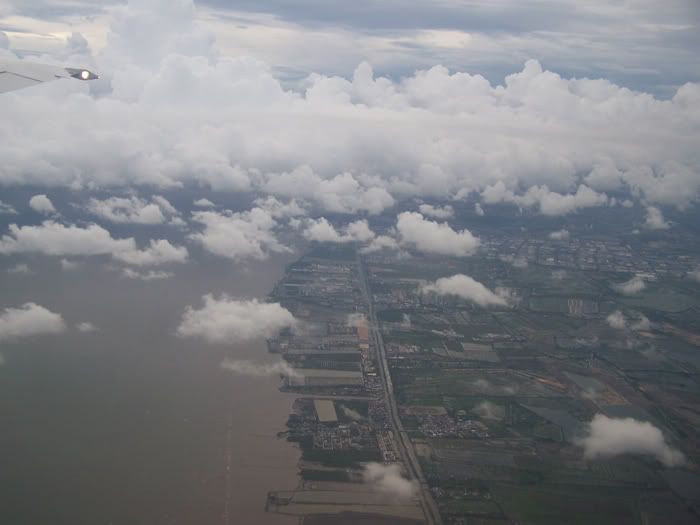 Coasting out…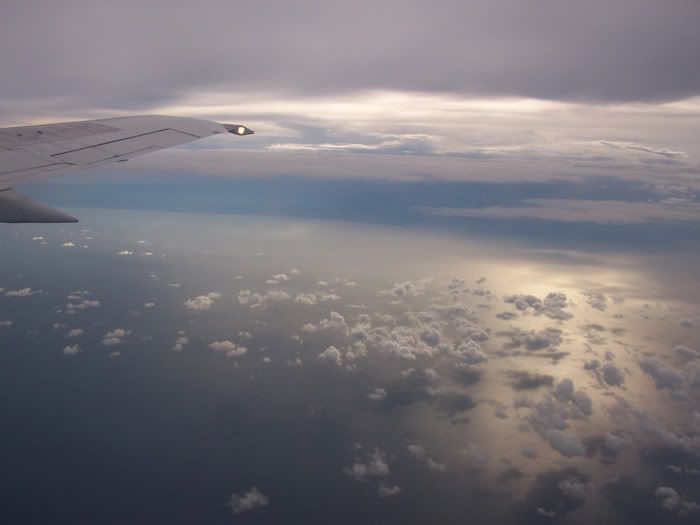 …into the Gulf of Thailand.
The southerly endeavor of our flight path remained rather constant as we headed towards the coast of Thailand and out into the Gulf. Sad... say goodbye, until the next time as the seatbelt sign pinged off.
1727H: The meal cart appeared manned by Porn and Busabong. Once again, these 3 ladies worked well together and since Thanthitha was assigned to prepare hot food from the aft galley, she would be signaled by the crew call button by the former 2.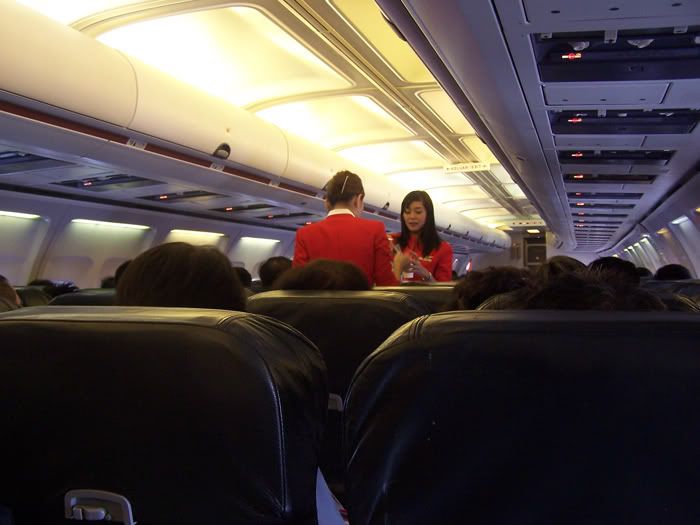 A flick of an ear lobe meant cup instant noodles, or a gentle salute over the eyebrow meant instant porridge... And it was with these signals that Thanthitha got from the ladies at the cart that had her walking back and forth from the galley. Interesting observation, don't you think?
120 baht got me a sandwich and a bottle of green tea, reasonable price for LCC catering. Plus, I had some extra baht to get rid off so this was a perfect opportunity to do it.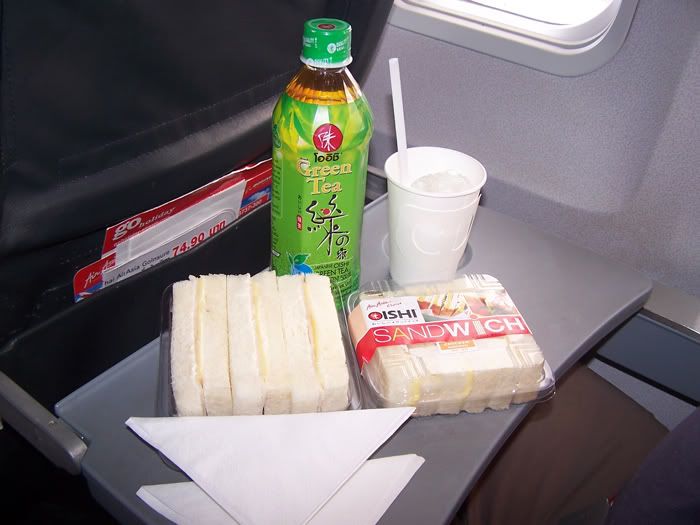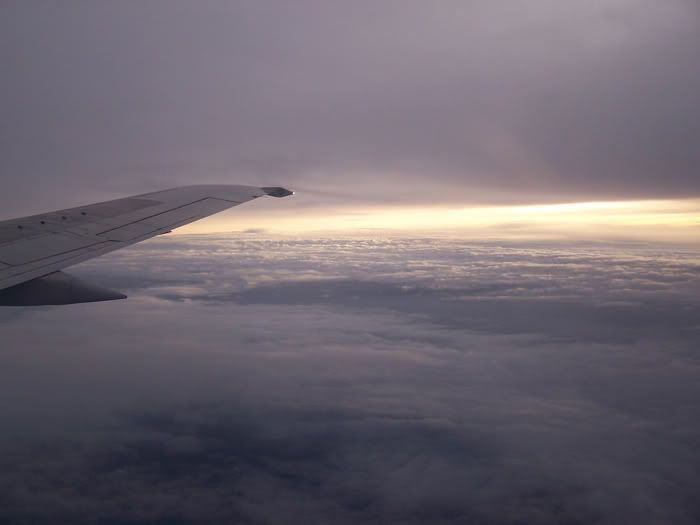 The exchange of money and change meant that the cart moved very slowly towards the front of the plane so I assume that on shorter fights, it would be rather challenging for the crew to be doing this. The cart took a total of 35 mins to complete the aisle. I have seen MAS girls dish out meals and collect the trays again in 40 mins or less on a 1 hr 10 min flight from Phuket to KL in a 737-400.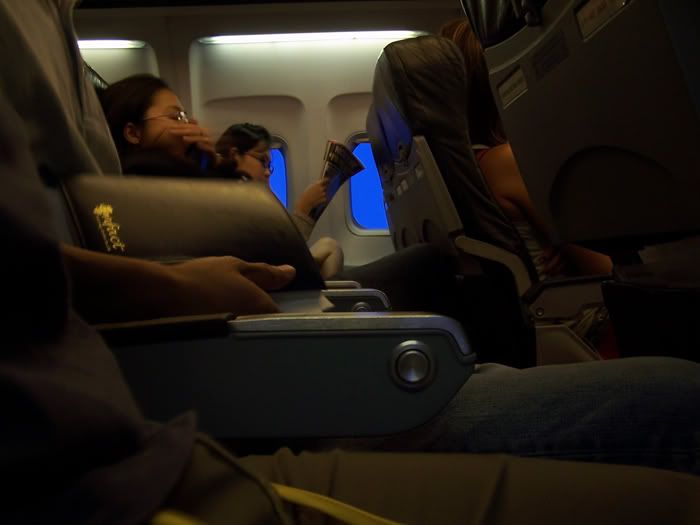 Does it look cramped to you? No one seemed to mind as we slumbered off one by one after dinner.
1805H: Porn and Busabong back step the cart towards the aft galley while taking the time to stop for some passengers who wanted to buy some more food or drinks. No one bought any merchandise on this flight though.
1847H: Descend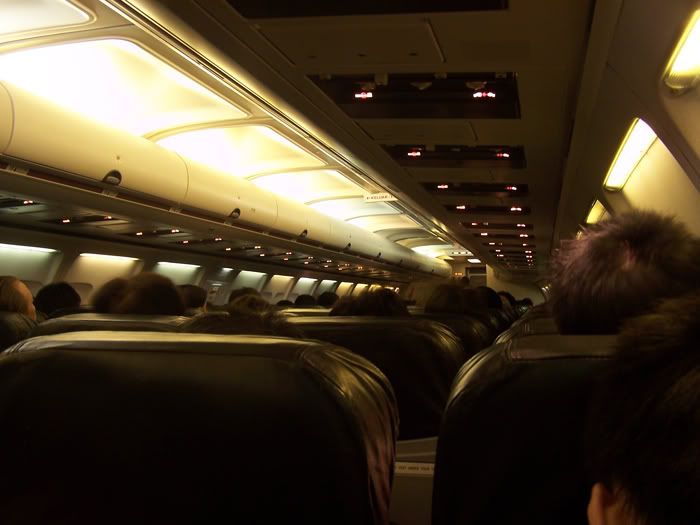 Right up to this point, the flight became pretty mundane as we cruised southwards in the rapidly darkening skies. The 3 ladies all took turns to come around with open plastic bags urging passengers to throw their trash in there.
"Rubbish?" ... smile
"Sir, your rubbish in here?"... smile
Once again, perfect English.
The arrival announcement came on the PA and that got people all up from their slumber to prepare for landing. As we were approaching from the North, there was nothing but a large expanse of darkness beneath us that was Johor in Malaysia. Thus, there was nothing of interest outside the window.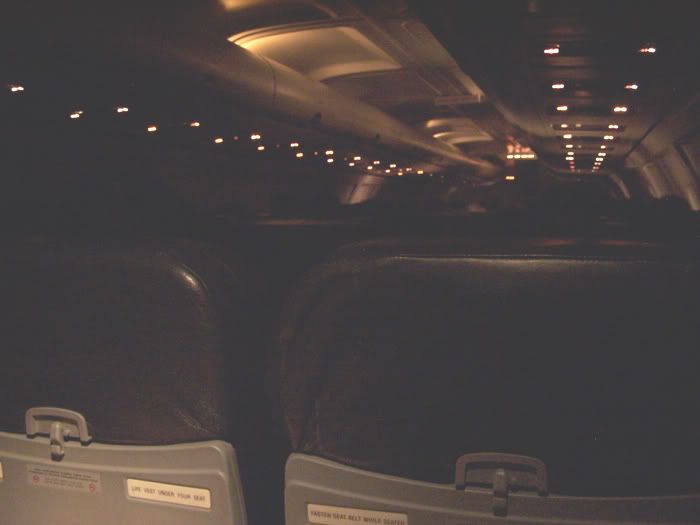 Cabin is darkened for landing.
1856H: Seatbelt PING!
Landing announcements soon followed in Thai and English and even after that, the cabin crew all disappeared and strapped themselves into their jumpseats, but not before darkening the cabin for a night landing.
The approach tonight was for Runway 20R.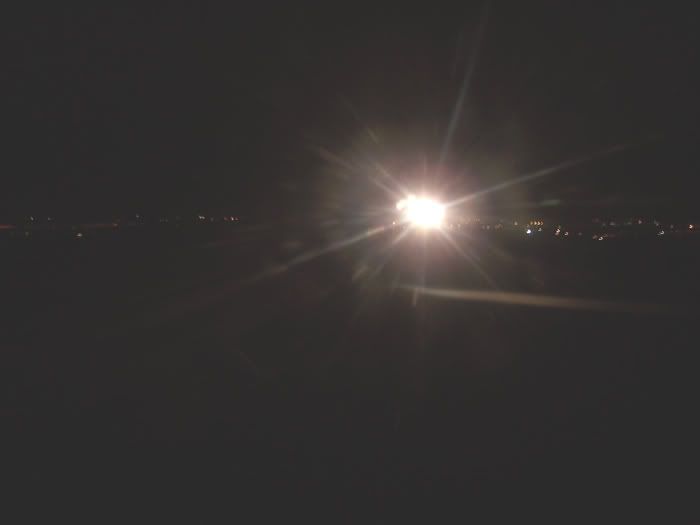 My night photography isn't all that. So this is an attempt at a shot of the vortex that was trailing off the flaps just before touchdown.
1907H: Touchdown!
Holiday's over. Not surprisingly, this entire plane load of Singaporean holiday makers weren't clapping after landing. Seriously, who wants to go to work tomorrow on a Monday morning? Urgh... Not me.
1917H: Aircraft finally inched into Gate D46 at 2017H local time. And that concludes another wonderful flight on Thai Air Asia.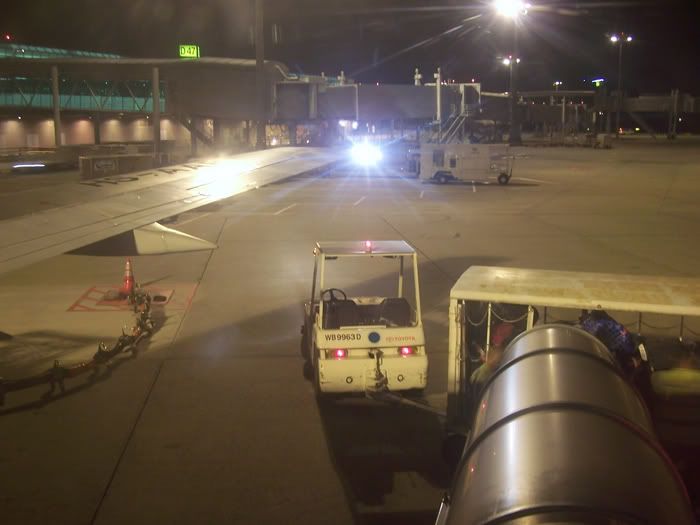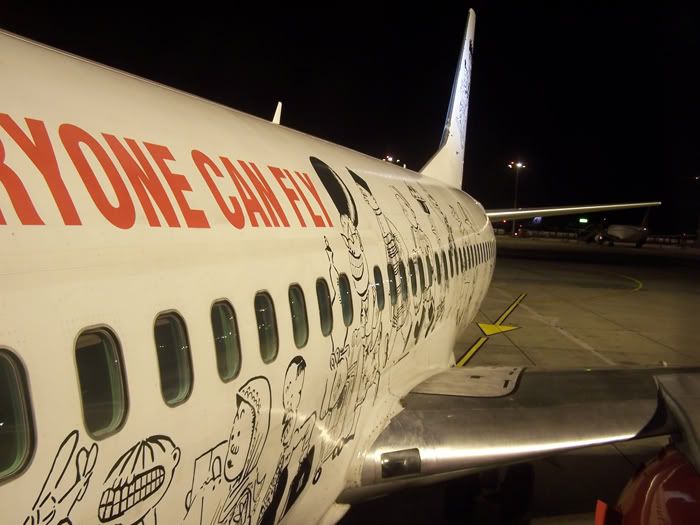 Check-in: 9/10…
Although the line was long, check in agent was doing a fast job best he could. As much as I didn't like the overweight fine, I didn't have a choice so it was no fault of his.
Boarding: 4/10…
Gate agents were not very effective in crowd control, unlike their Singapore counterparts. If only the line was organized before the boarding process began, the madness would not have happened. An old lady actually pushed my partner to the side!
In-flight service: 9/10…
Once again, I have nothing but praise for this batch of crew. They were very obviously tired from their killer turn-arounds for the day but still managed to provide stellar service. Busabong had her voice cracked throughout the flight but that didn't stop her from manning the meal cart and very vocally bantering cheerily with the passengers. Crew call buttons were responded to in quick time. US carriers, take note!
Arrival: 10/10…
This is Changi. Can any arrival process ever be faulted here?
Overall: 80%...
This return flight proved that Thai Air Asia was consistent in delivering an excellent product that was value for money. At no time was I neither disappointed by a lapse in customer service nor was there much for me to complain about, maybe except for that messy boarding in Bangkok. My solution to that problem was to stand at the entrance of the gate right from the beginning.
Otherwise, I would not hesitate to fly them again on my next shopping trip up there.