Introduction
We had booked a one week holiday to Lake Garda, Italy, through a travel agent a month or two ago. We were conveniently booked to fly from Shannon, just a half an hour away, to Bergamo-Orio Al Serio, which required just over an hour of a bus transfer to our hotel in the small town of Limione on the banks of Lake Garda. We were hoping to be able to fly from Shannon; the alternative was to make the two hour plus trek to Dublin. We were flying out on the 13th of June and back on the 20th with Ryanair who fly the SNN-BGY route three times weekly; Wednesday, Friday and Sunday.
Shannon to Milan/Bergamo-Orio Al Serio
Our flight was scheduled for 07:10 on the Wednesday morning, so I arose just before 5am. I had everything packed the night before so it was straight out the door and off on the half hour trip to SNN. We whizzed out the dual-carriageway in no time and arrived in Shannon.
__________________________________________________________________________________________________
Shannon at a glance


Passengers in 2006 = 3.7m (second biggest in Ireland)

Runway 06/24 = 3199m (longest in Ireland)

Ryanair carries over 50% of all passengers.

Designated by NASA as emergency landing site.

__________________________________________________________________________________________________
View of the airport terminal from the car park: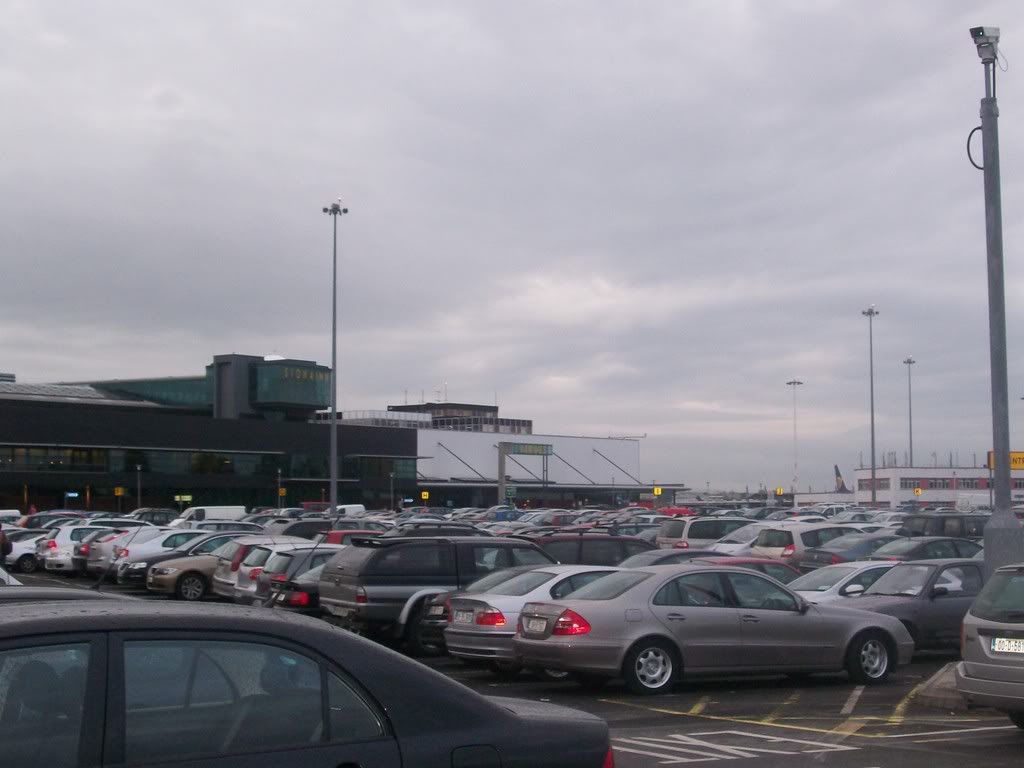 We entered the terminal which was its usual relaxed self. There were quite a few people around, however. There were flights to Reus (Iberworld), Girona (Ryanair), Prestwick (Ryanair), Stansted (Ryanair) and Heathrow (Aer Lingus) among others being checked-in simultaneous to our flight to Bergamo. We didn't have to queue for long, although there were a few passengers ahead of us who had a little bother with the draconian 15kg for a sun holiday! They were mixing and matching in order to get all the bags below the limit.
We were checked in quickly and once I had dropped my rucksack over to the out-of-gauge conveyor belt, we went up the sole restaurant in SNN for breakfast.
After a traditional Irish breakfast we went through to the departures lounge. As usual, I beeped going through the detectors and had to remove my shoes before getting through successfully. I spent a few minutes browsing around the duty-free. Interestingly, the duty free at Shannon was the
world's first duty free shop
. It was established in 1946 and "designed to provide a service for Trans-Atlantic airline passengers typically traveling between Europe and North America whose flights stopped for refuelling on both outbound and inbound legs of their journeys".
http://en.wikipedia.org/wiki/Duty_free
And here it is, still running to this very day: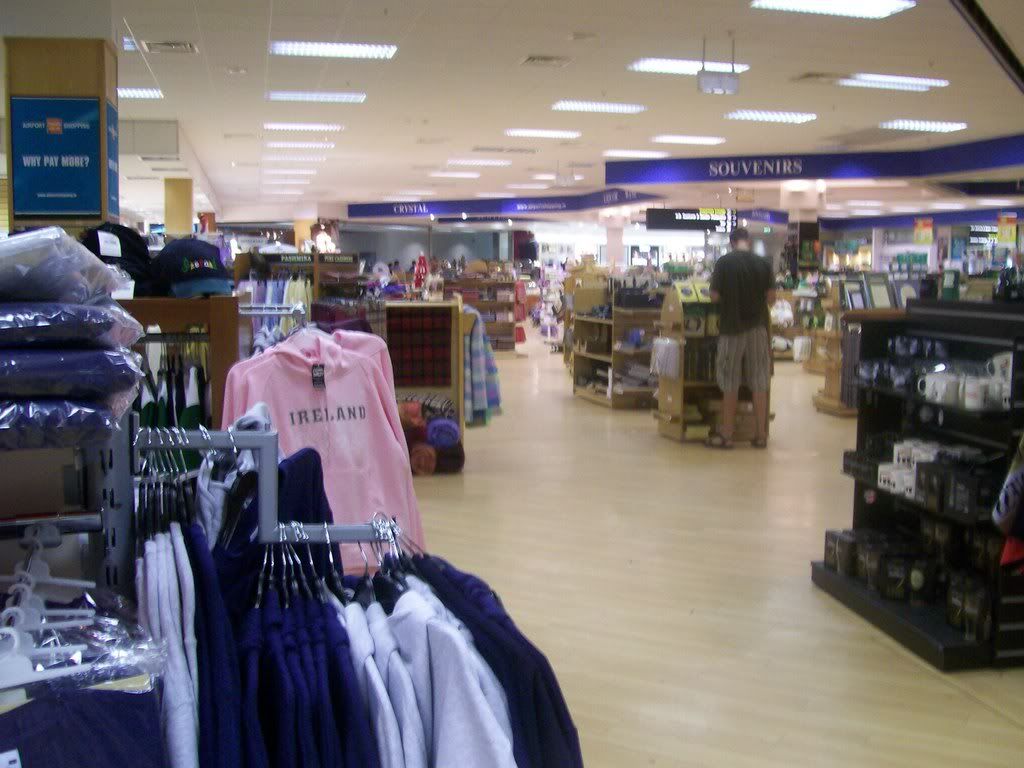 We then went into the departures lounge which isn't the most aesthetically pleasing place but is perfectly functional. There's normally a lot of U.S soldiers here as they transit through SNN but not today:
There was no gate assigned to our flight on the screens so we hung around the windows at the gate 1-5 area while we waited for an announcement of the gate. I took some pictures while I waited:
Two very regular visitors to SNN these days. Omni always have at least one aircraft at SNN whenever I'm here; sometimes there could be two DC-10s and a 757 here. Today it was just the one 757:
Three of the four 738s Ryanair have based at Shannon being prepared for early morning departures:
Off to Girona:
The first 738 was going to Stansted and the other was my ship to Italy. Maersk 762F in the background:
Has seen better days:
Aer Lingus' A330-301, EI-ORD (St. Maeve) after operating the EI132 from BOS:
There are pictures on the walls of the gate area with all the dignitaries which have frequented SNN in the past. These included U.S Presidents Reagan, Carter, Bush Senior and Junior along with a couple of Sheikhs. I thought this was a nice touch.
Still not having heard a gate announcement, we happened to venture downstairs where a single television screen held the sole confirmation that that was where our flight was to board.
Date:
13th/06th/ '07
Aircraft:
B737-8AS, EI-DLV
E.T.D:
07.10
A.T.D
07:30
Duration:
2:30 hours
Load
55% approx
A long queue had already formed. Nice. We duly took our place and our flight was called not too long later. The priority boarders were processed and then our queue began to disappear through the door. Some shots along the apron:
My chariot for today, B737-8AS EI-DLV, Delivered 01/10/06:
I boarded through the back stairs and took my window seat: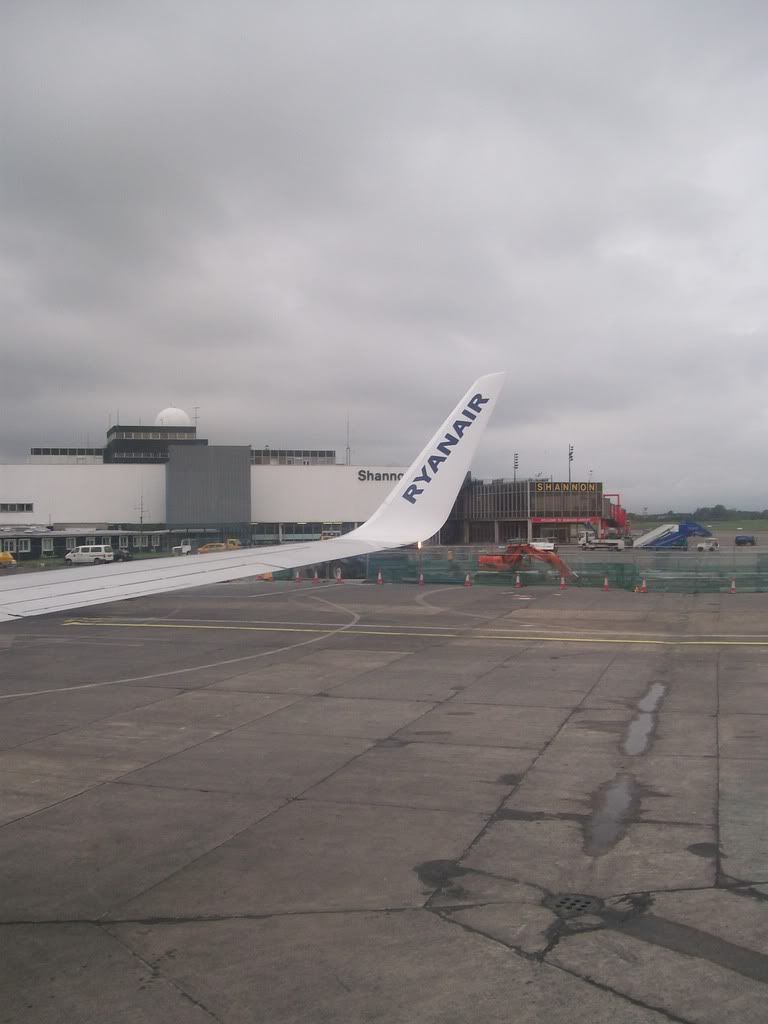 Once we had boarded, the crew (All female) went through the various checks when everyone was seated. The captain suddenly came over the tannoy and informed us that due to a "baggage count defect" (there was one extra bag) we would be delayed slightly. Not to worry. During this time I noticed there was a small army of noisy children onboard, all off on holiday. There was a large family of them there; cousins, aunts and uncles. Then the most irritating thing happened. One of the children, a boy of about two or three, started screaming and wailing once the plane started push back. When I say he screamed, I mean he screamed. I usually don't mind roaring children but he was an exception. The plane fell silent as his piercing screams ripped through the cabin.
Some movements around the apron:
OO-DAW arrived and, after briefly coming to a stop on the stand to our left, took off again and continued its journey: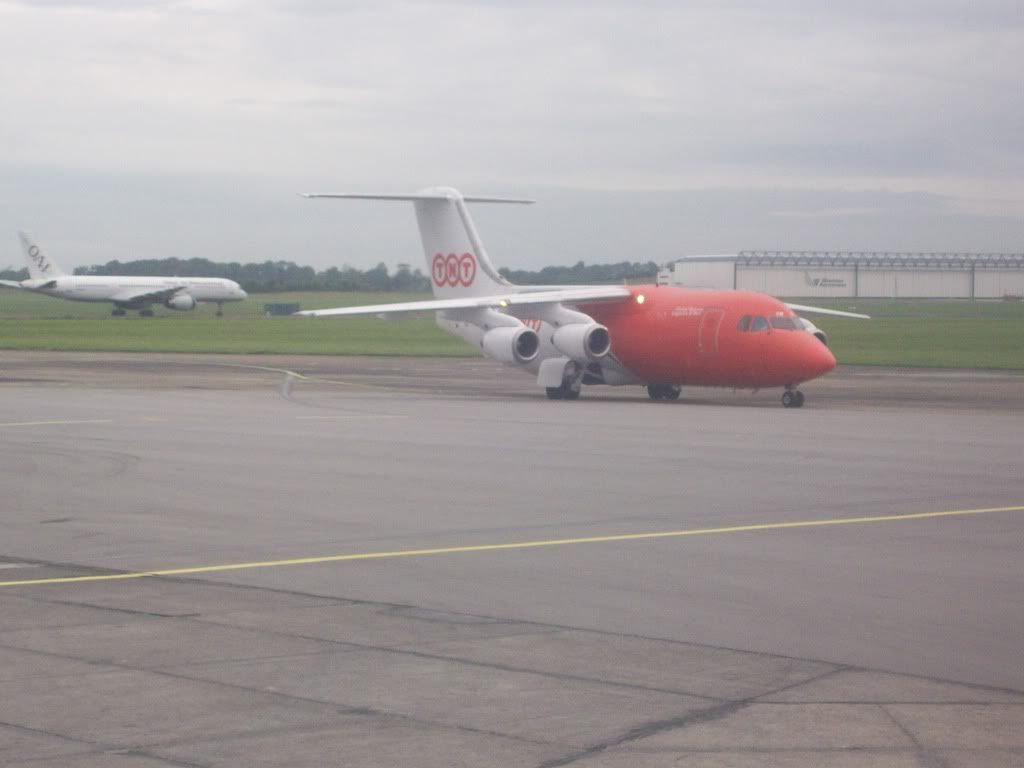 IWD A320 on its way to Reus. It had overnighted at SNN.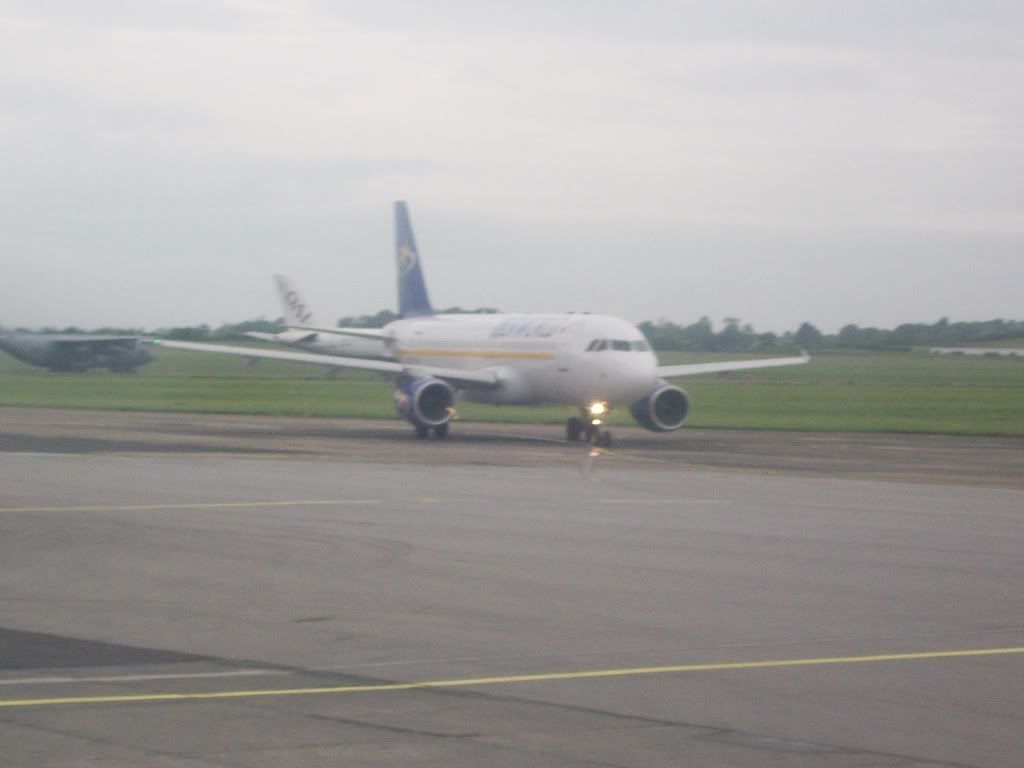 Anyway, we pushed back around 20-30 mins. behind schedule and passed the following sights:
Lufthansa Technik hangar: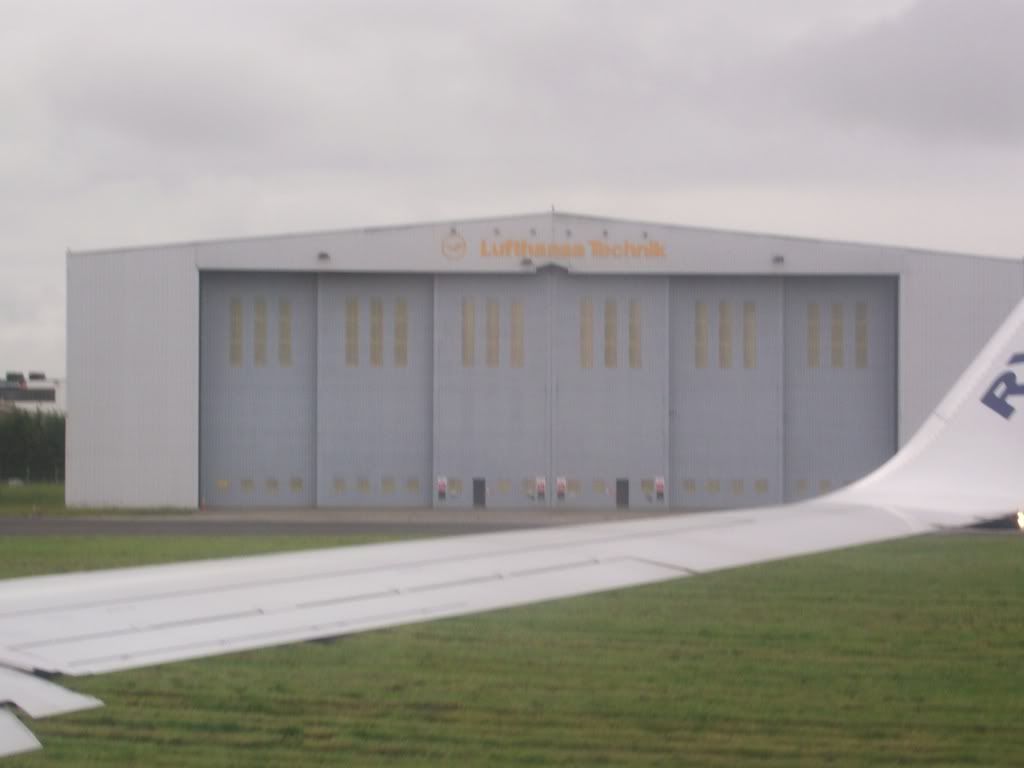 Sama 733:
Aeroflot Nord:
We took off using most of the runway. I apologise, I had videos of all take-offs/landings but had difficulty loading them on.
Sights after take off:
Interior of plane: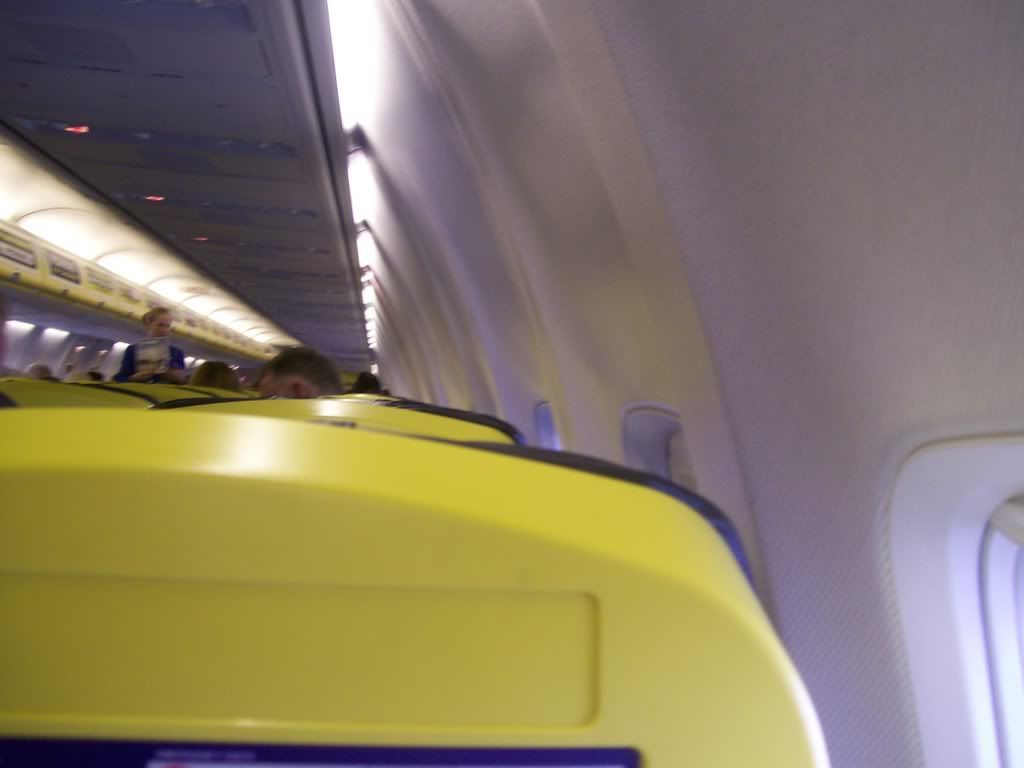 The in-flight service started once airborne. I didn't purchase anything on the outward leg, but there were good sales from the other PAX. The flight was pretty uneventful, bar the children tearing up and down the aisle of the aircraft. We hit some turbulence for a few seconds, but nothing extraordinary. I slept for about half an hour on (what I find) to be comfy seats! If there's one thing I can't stand when flying Ryanair, it's the bloody scratchcard announcements! The recorded announcement nearly deafens you, it's so loud. The Flight attendants weren't the friendliest bunch, but as long as they were safety conscious I couldn't give a dam. At one stage, however, two of them were at the back. One was lying down with her eyes closed and the other had a blanket over her! Oh well!
Some sights from the sky:
Alps:
We started to descend and landed at BGY slightly after schedule. The landing was interesting, to say the least. We hit the tarmac with an almighty thud, which caught most PAX by surprise.
Some shots from the ramp: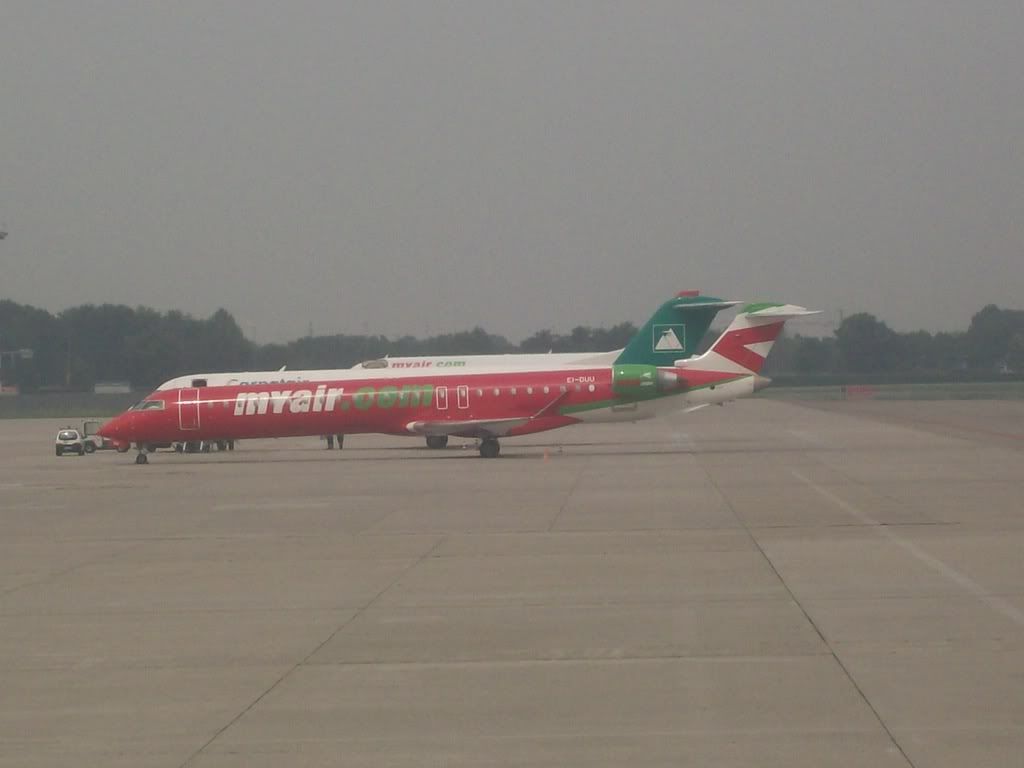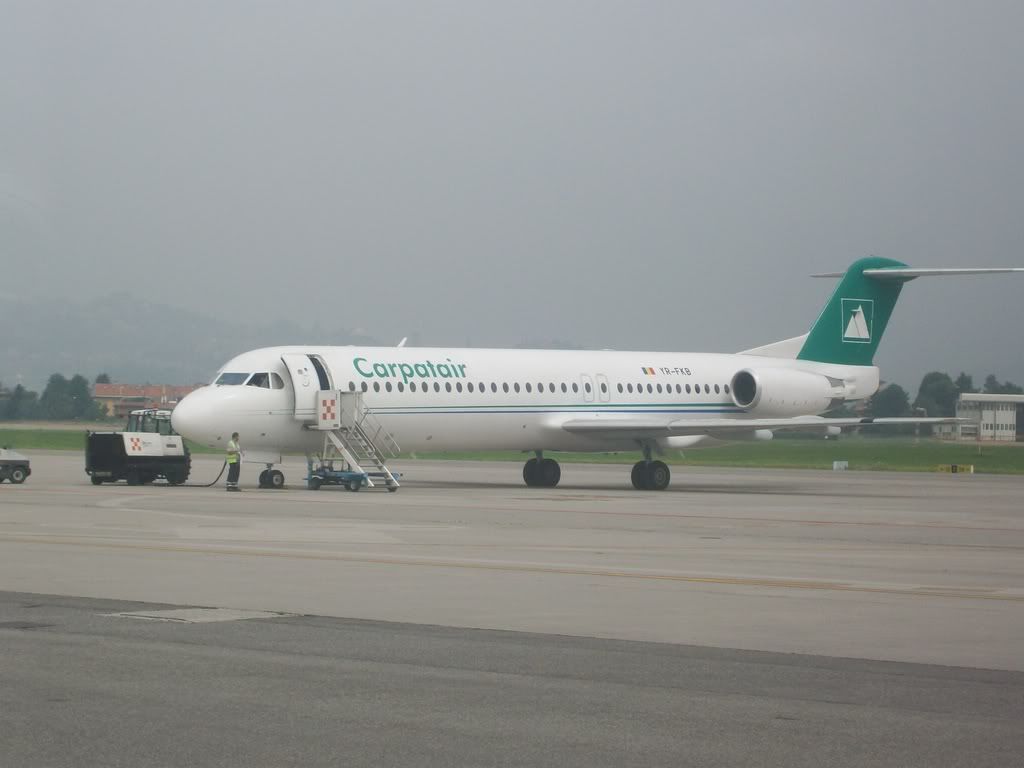 We were bussed to the terminal and recovered our baggage moments later. The holiday rep. met us at arrivals and we took the scenic coach journey to Limione to begin our holiday. Here's some holiday snaps:
View from room: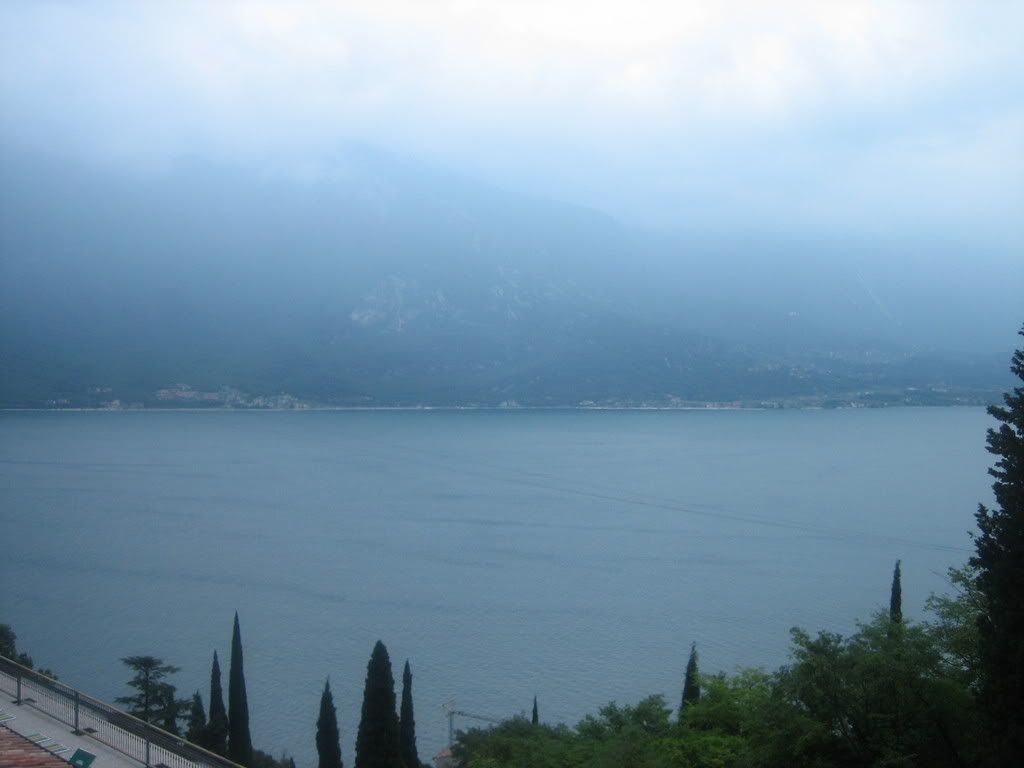 Venice:
Delta 767 descending into Marco Polo across the Bridge of Freedom: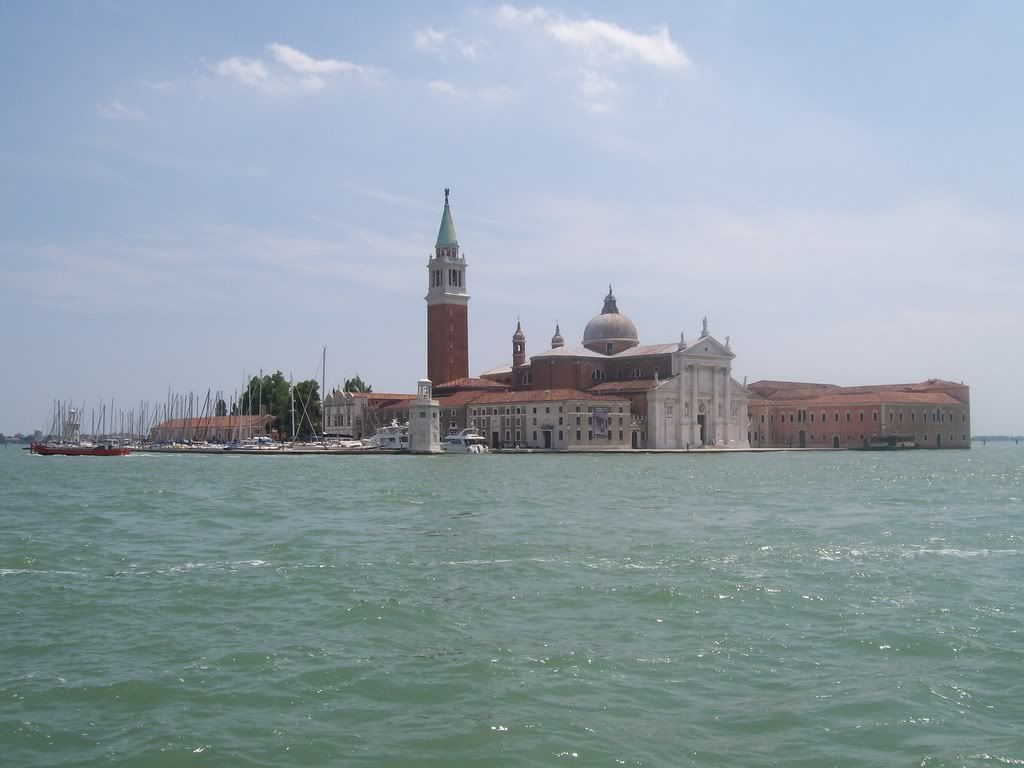 Canal: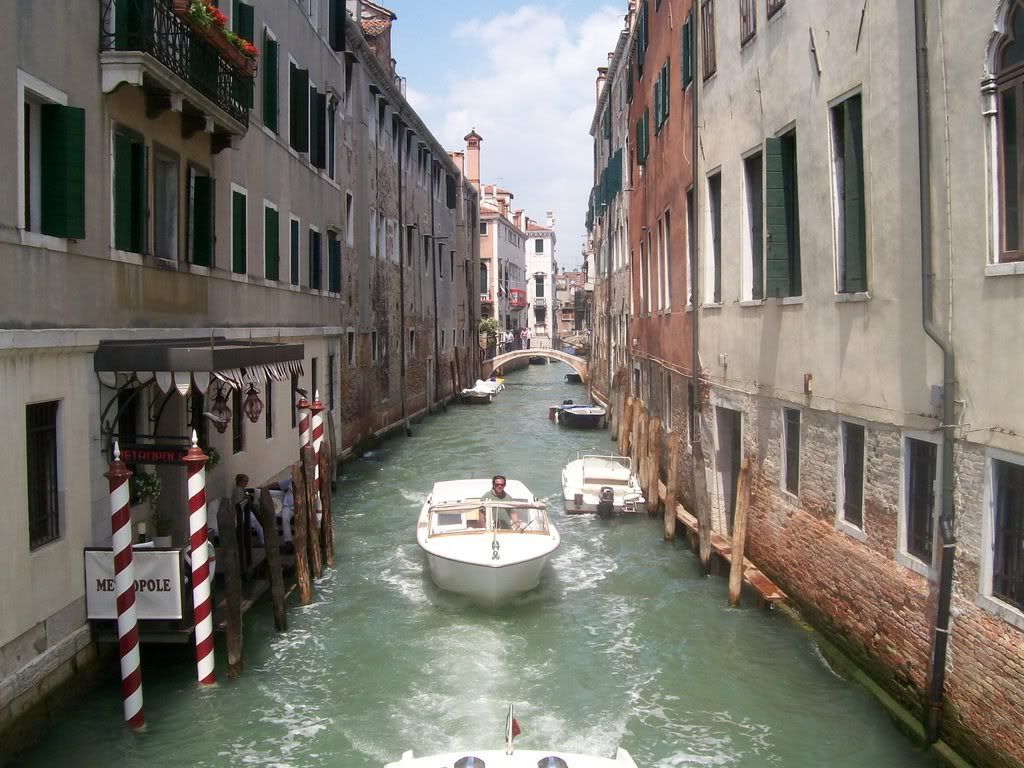 On the Gondola: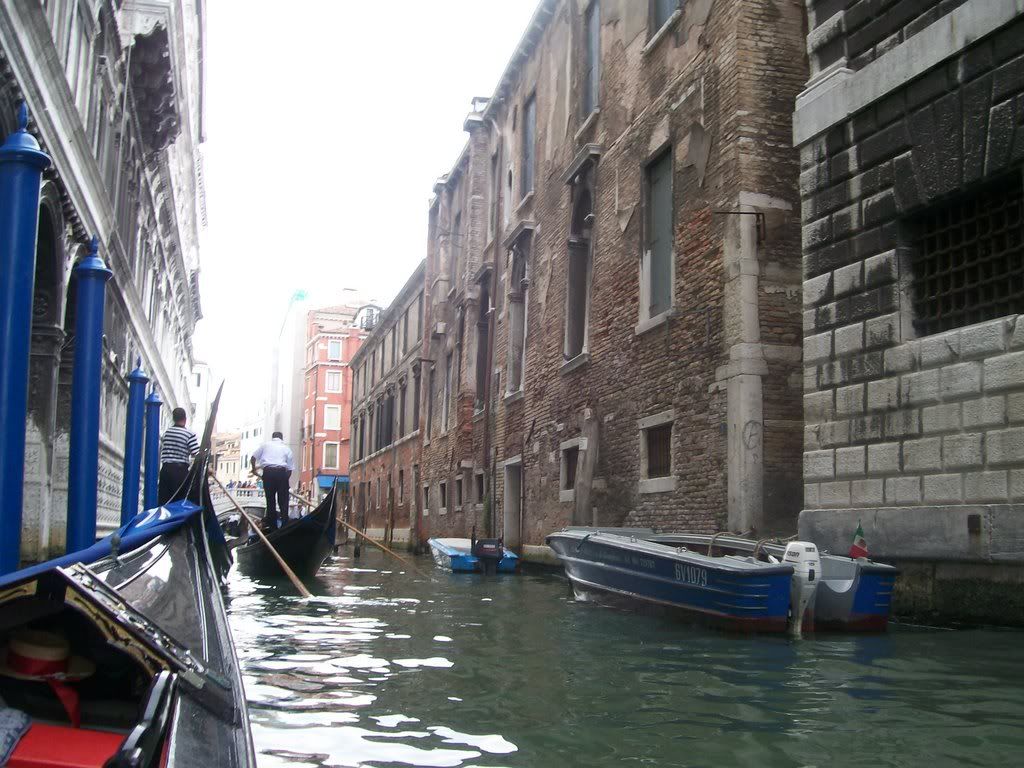 After a fantastic holiday it was time to go home.
Bergamo-Orio Al Serio to Shannon
We again had another early rise at 5am for our return flight. Once we arrived at BGY we went straight into BGY. The check-in wasn't open yet so we just looked around the rather dark check-in area:
__________________________________________________________________________________________________
Bergamo/Orio Al Serio at a glance:


IATA/ICAO codes:[/B] BGY/LIME

Passengers in 2006:[/b] 5.2m

Runway 10/28[/B] 2937m

Ryanair again the largest operator here.

__________________________________________________________________________________________________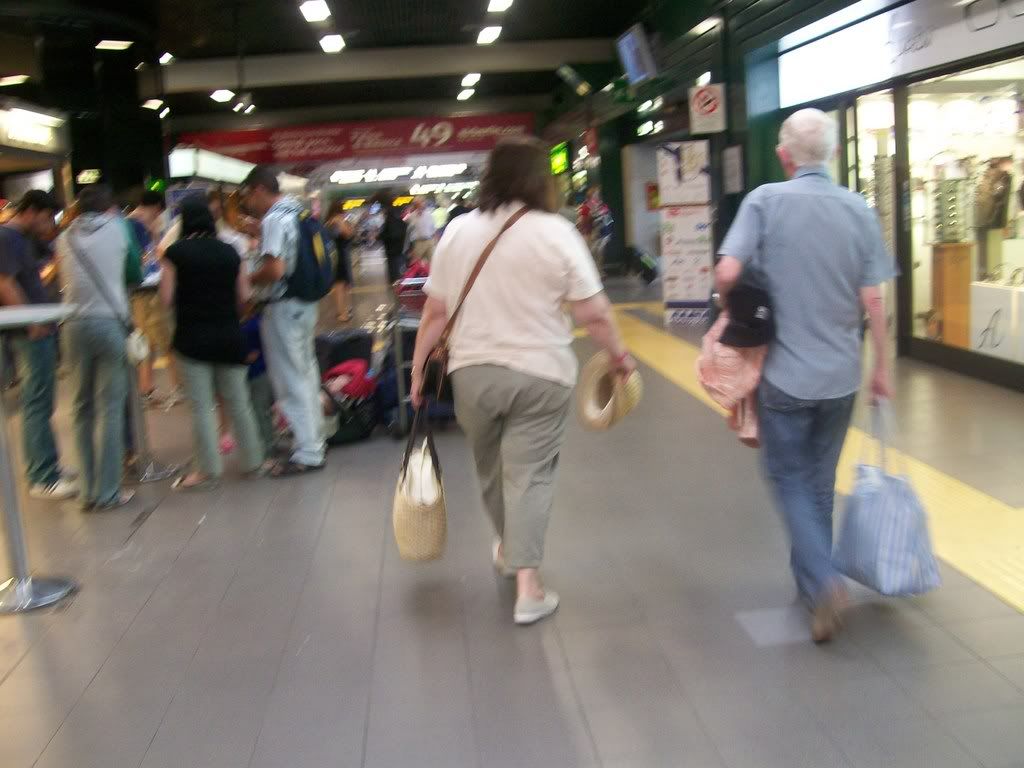 The small check-in area was crowded with 5 large flights departing around our time to Luton (FR), Stansted (FR), Oslo/Torp (FR), Bergamo (FR) and MyAir to Bordeaux.
Once checked in, we proceeded through security where I encountered an extremely cranky officer. I had taken all metal off and put it into the tray and, just as I was going for the detector, he made me take off my jacket and put it through. I went through and didn't beep but he still searched me. I've no problem with the extra safety checks but he was obnoxious.
The departure area in BGY is among the worst I have encountered. Absolutely tiny with seldom seats and throngs of people. There were elderly people sitting on the floor it was so crowded. There were five flights leaving simultaneously from Gates 1-5 including FR to Stansted and Shannon, Jet2 to Manchester and Carpatair to Timisoara. There's only one tiny coffee counter (Autogrill, the same restaurants we saw on the motorways here). A shots from the departure lounge:
Brussels Airlines which was there before we came and after we left: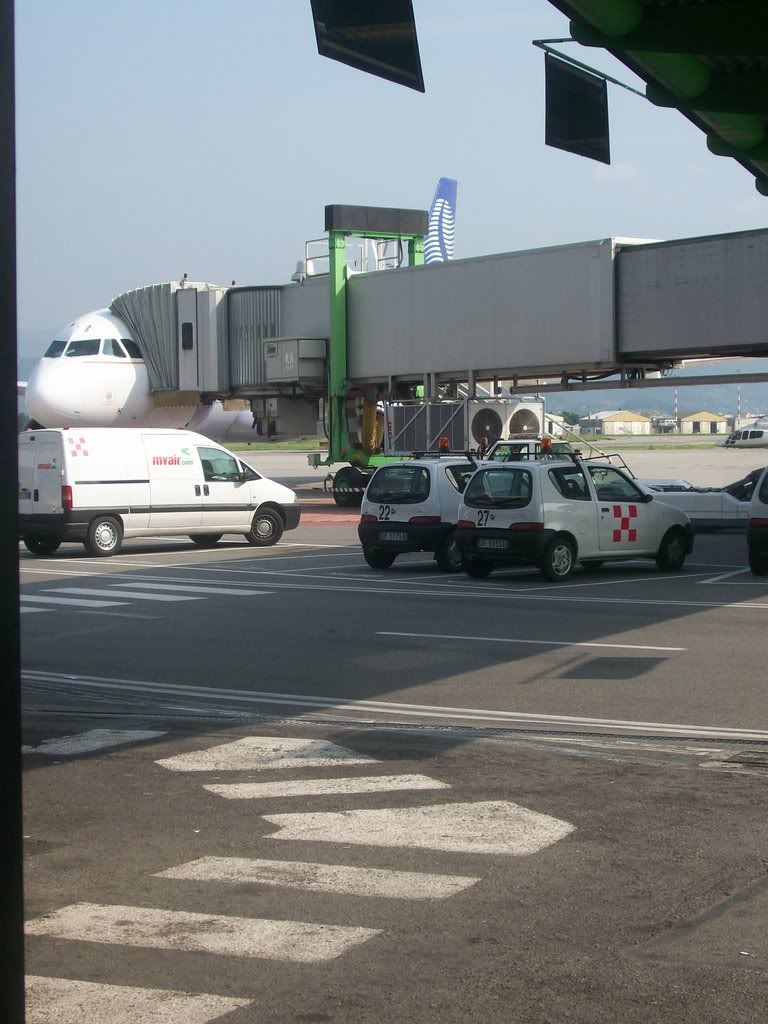 What happened next was not what we were hoping for. The same family of relations who took over the flight over, and whose kid roared the place down, walked into the lounge to take the same flight back. Charming. After a long wait our flight was called and there was a much longer queue this time. No sooner had we stood up then we were back sitting down as the screen said the flight was delayed until 07:30. We were again called for boarding soon after which took an absolute age mainly due to the slow arrival of buses to ferry us to our plane.
Date:
20th/06th /07
Aircraft
B737-8AS, EI-DLV.
E.T.D:
06:45
A.T.D:
07:30
Length:
2:30 hours.
Load factor:
80% to 85%
Here's some shots from the apron: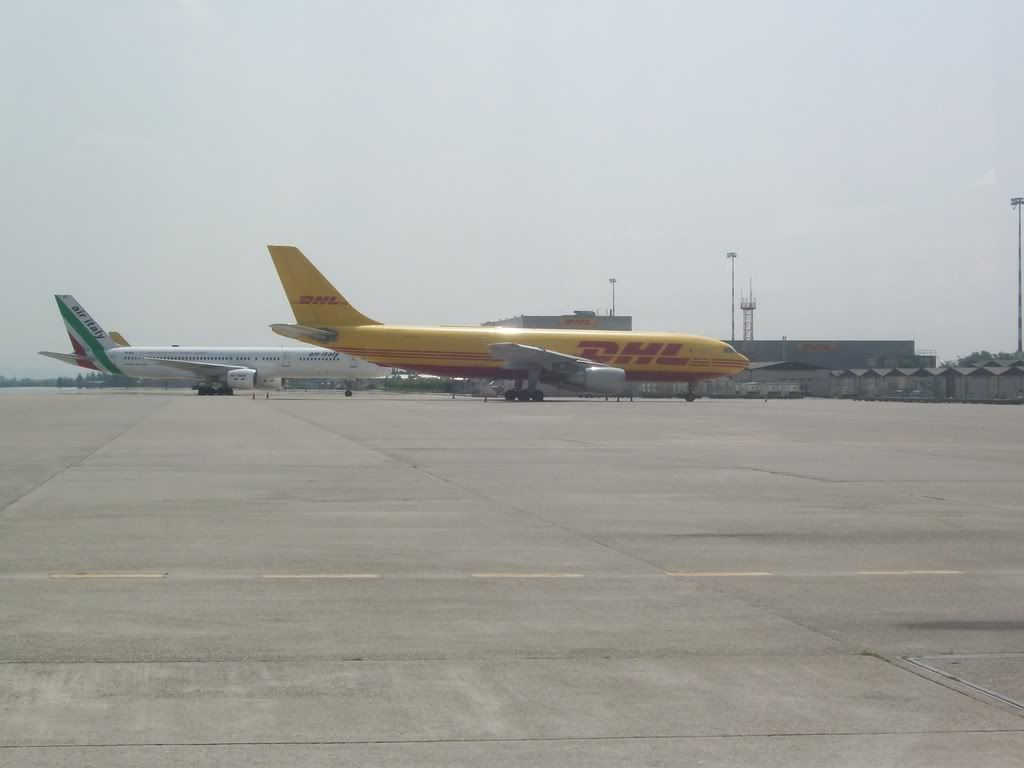 I was the last PAX on the busy flight but still got a window seat to the front of the aircraft. This time we had three female and one male cabin crew. The pilot came on the tannoy and apologised profusely for the delay which was caused by "air traffic control slots" at Shannon. We taxied to the runway (less the screaming from the first leg, thank God!) and took off.
The flight was pretty ordinary bar the same children sprinting up and down the aisle continuously for about 15 minutes with no move from parents to sit them down. The cabin crew were grand; nothing special but nothing noticeably bad about them. I read for most of the flight, but took some shots aswell: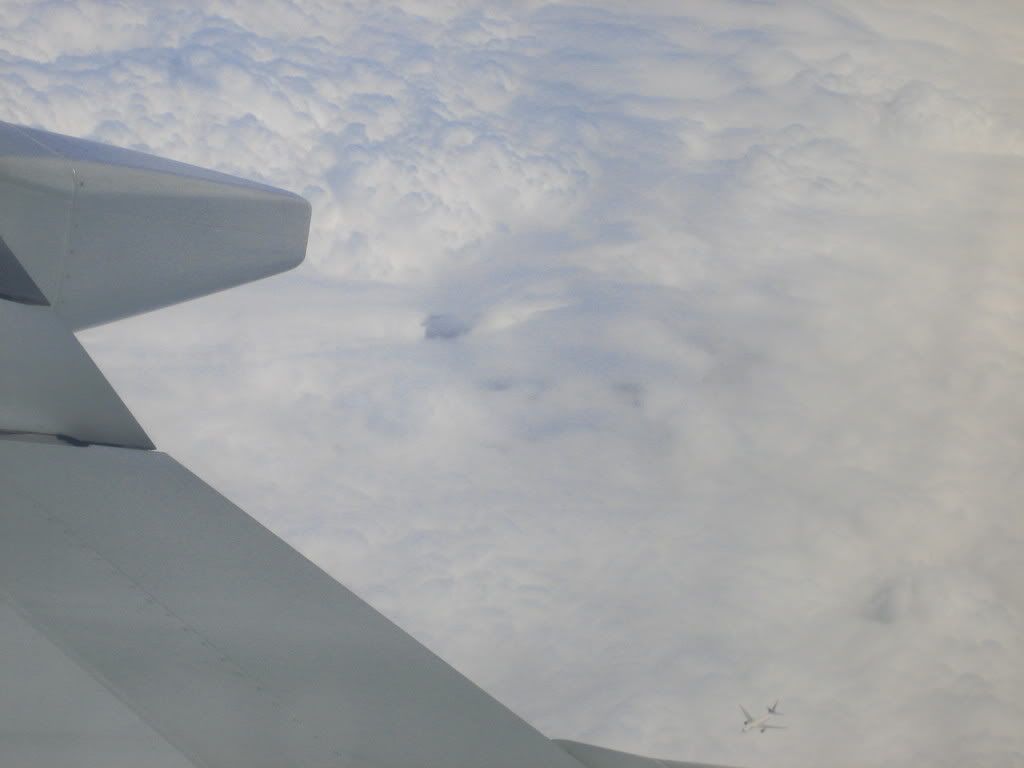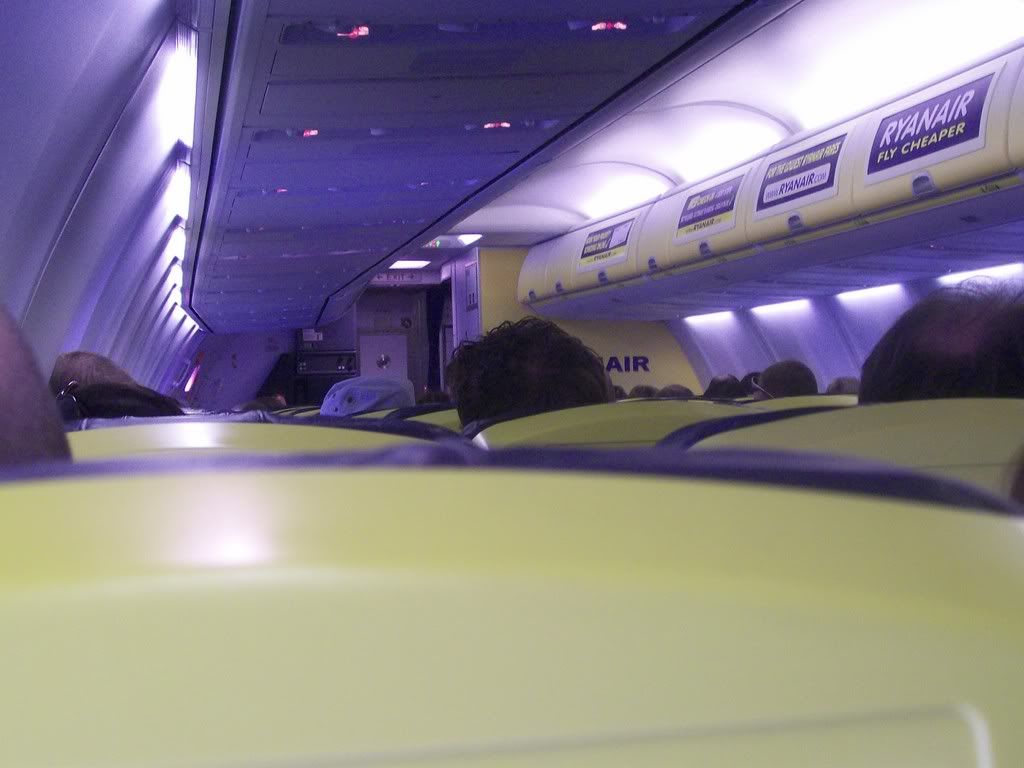 The in-flight service was started and this time I bought a delicious hot ham and cheese Ciabatta with a miniature can of Britvic bitter lemon:
I also bought a Ryanair mouse for the PC!!: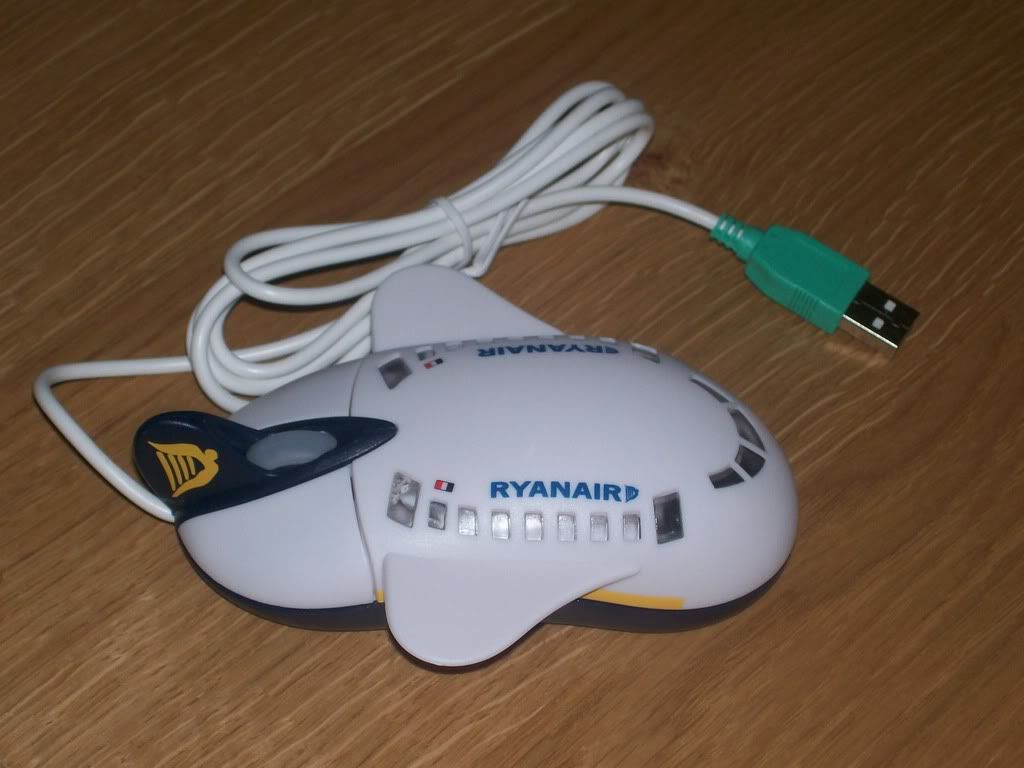 The first officer came over the loud speaker as we entered Ireland (over Wexford) and again apologised for the delay. We began our descent and, once again, SMACKED onto the runway even harder then before. It was lashing rain in Shannon that particular day: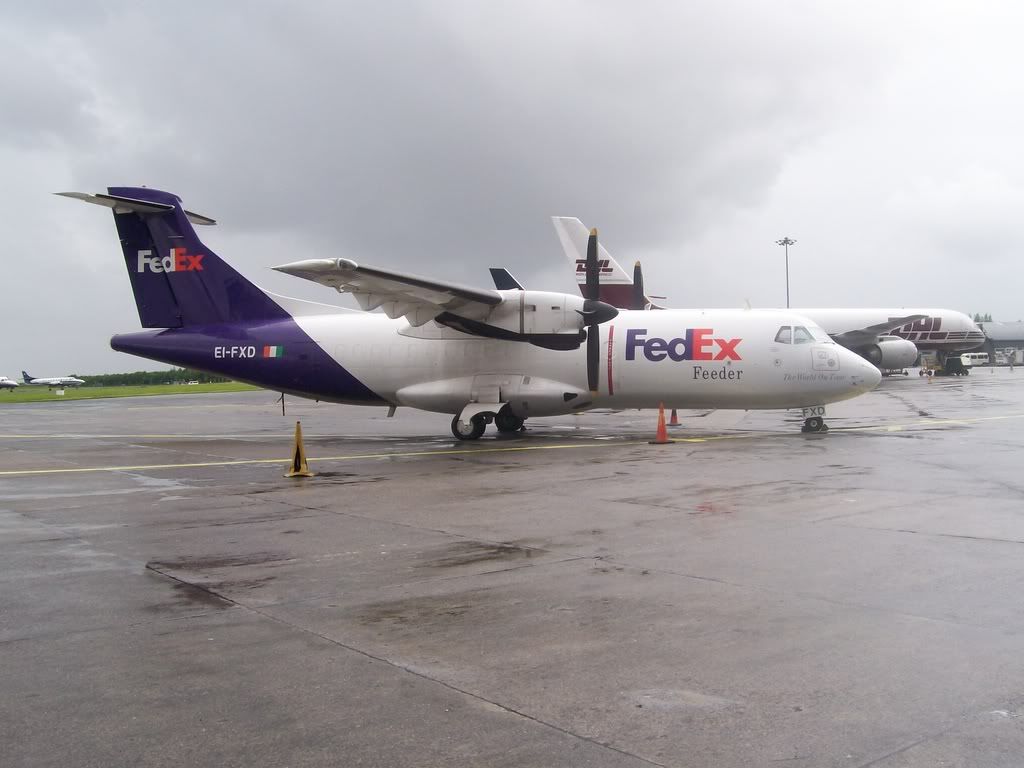 I alighted via the front stairs and walked across the apron past the smoking area where there were a considerable amount of U.S soldiers puffing away in the rain. Our bags arrived soon after in the baggage hall, soaked by the rain:
Evaluation
Over all I enjoyed my flights with Ryanair. They took us from our local airport to a convenient airport for our holiday. The cabin crew were fine, nothing special. The plane was clean and comfortable. I'm six foot and I find the seat pitch fine and the seats themselves comfortable.
I like Shannon airport, perfectly adequate. Can't say the same for Bergamo.
Thanks for reading my TR and questions/comments are appreciated.
Rineanna.
[Edited 2007-06-23 22:49:57]