Well, after reading Wrighbrother's spotting report
LHR Photo 'trip' Report.
, I decided to do one of my own considering that Virgin Atlantic were to be starting services from Glasgow to Orlando MCO yesterday (Saturday 23rd June 2007). So, without further adu, here's my 'spotting trip' report.
I got to Crash Gate 3, about one mile from the terminal building, at 9ish o'clock.... and started snapping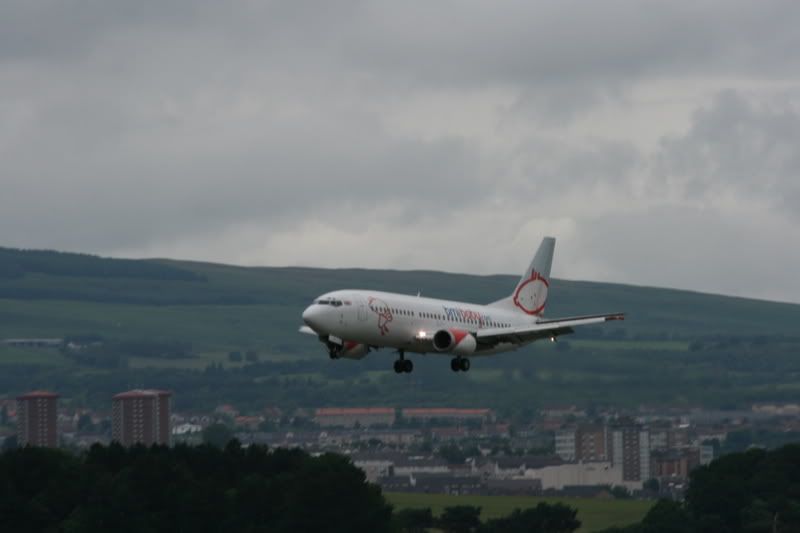 Bmibaby were the first airline to arrive after I got to my spotting place at Crash gate 3 =]
followed by a BACON ERJ-145 for take off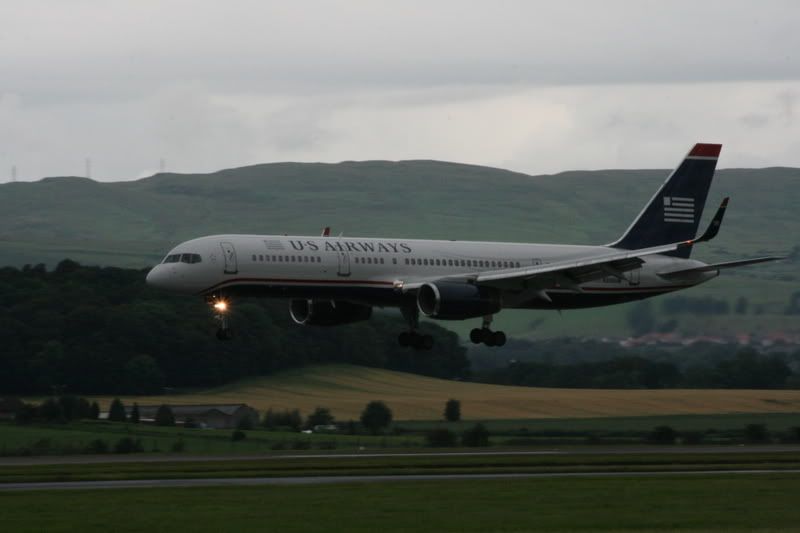 one of my other highlights for the day, a US 757 with winglets,
Glasgow regulars, EZY A319 and GSM 737-700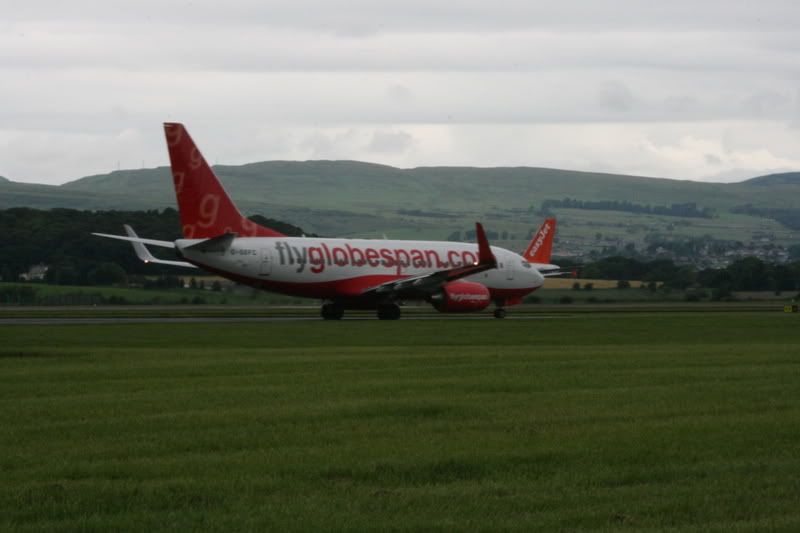 I saw this cute little Loganair Saab 340 taxiing for take off, with a new addition to the rear fuselage;
Air Discounts Scheme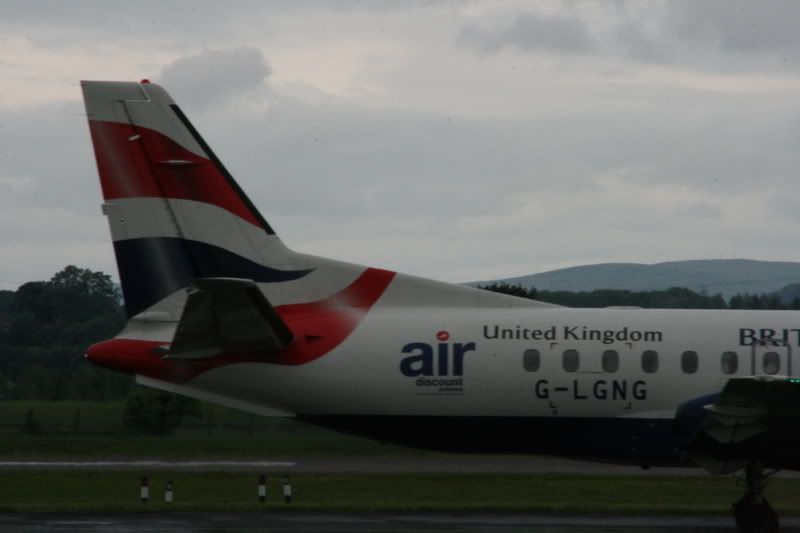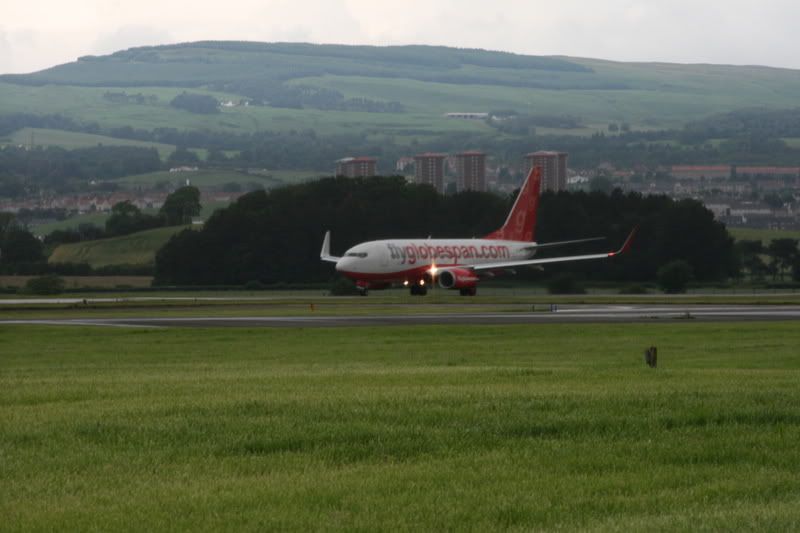 GSM 737-700.. I love the way I've caught the light on this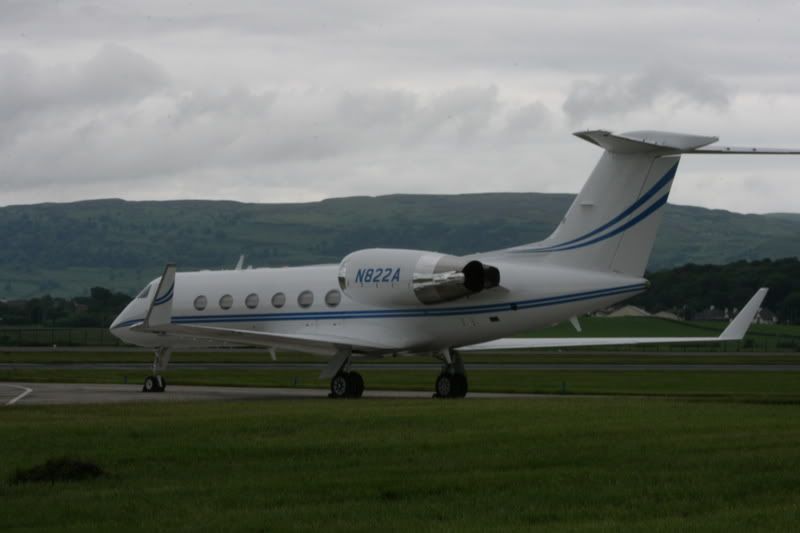 The cute little Gulfstream that was sitting infront of us, rumour had it that Branson was going to fly this to Heathrow, but it wasn't true,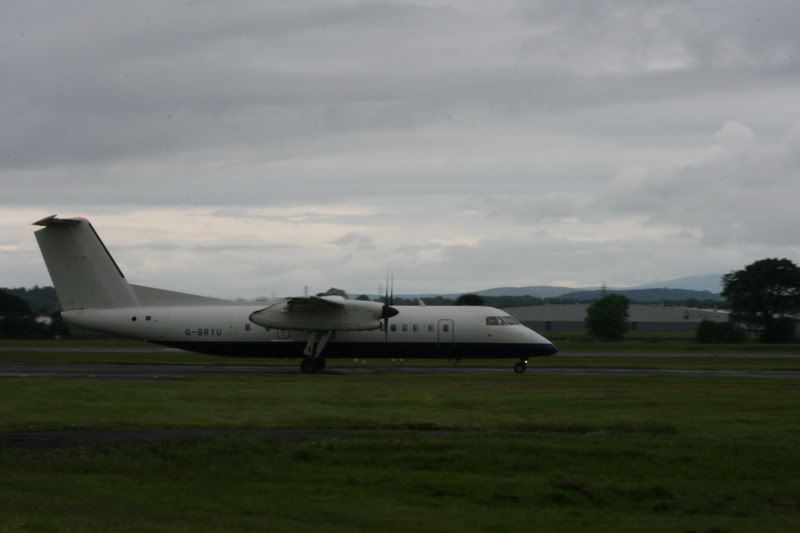 then the ex-Ba Connect DHC-8 passed by,now FlyBe's, another highlight of the day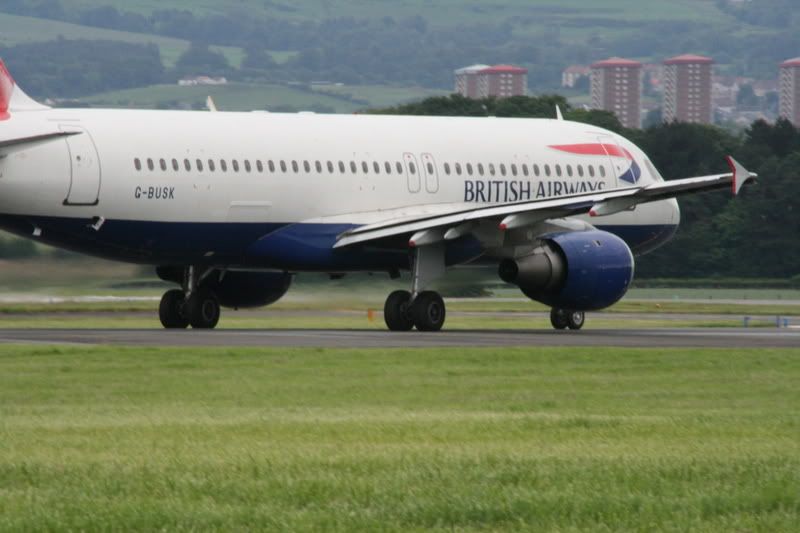 another GLA regular, BA 320
Air Berlin B737, I was surprised to see this instead of the usual Fokker 100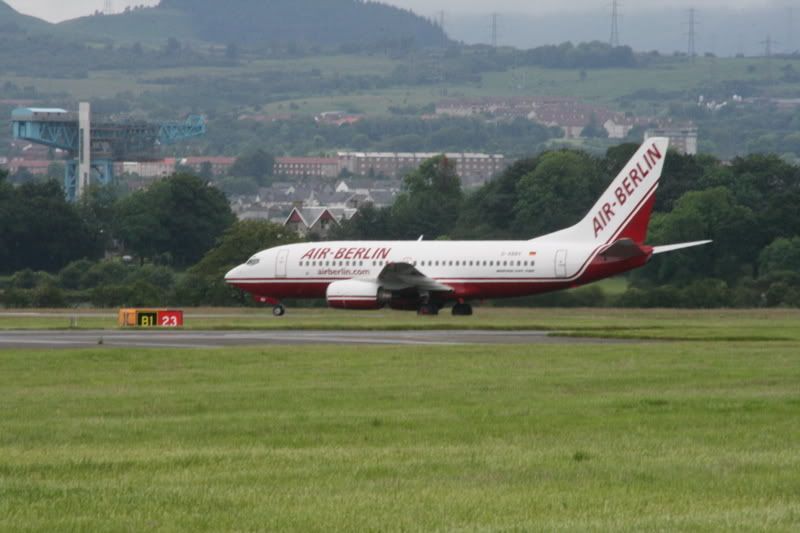 that earlier BMIbaby going back to BHX
Woo, good omen, the new GSM 767-300, from Neos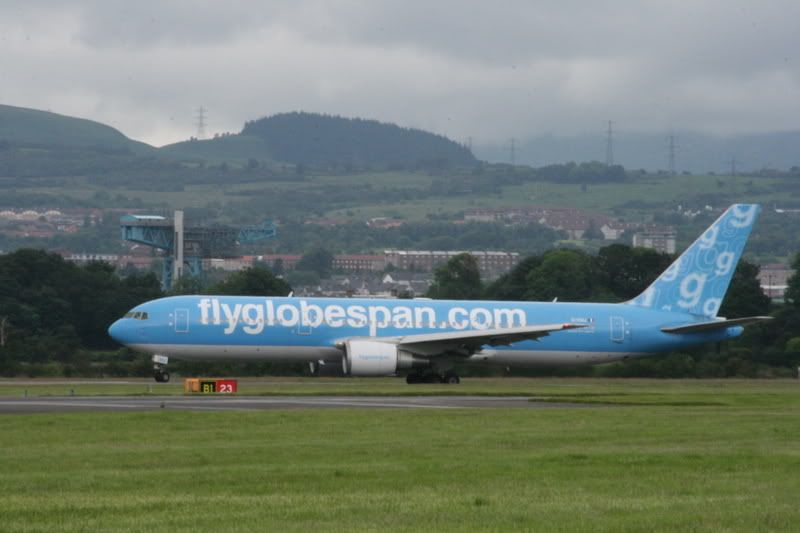 Flybe DHC-8-400 on final and GSM 757-200 taxiing for take-off, to YHM I believe
I love the motion blur on this one, although the pic isn't so great;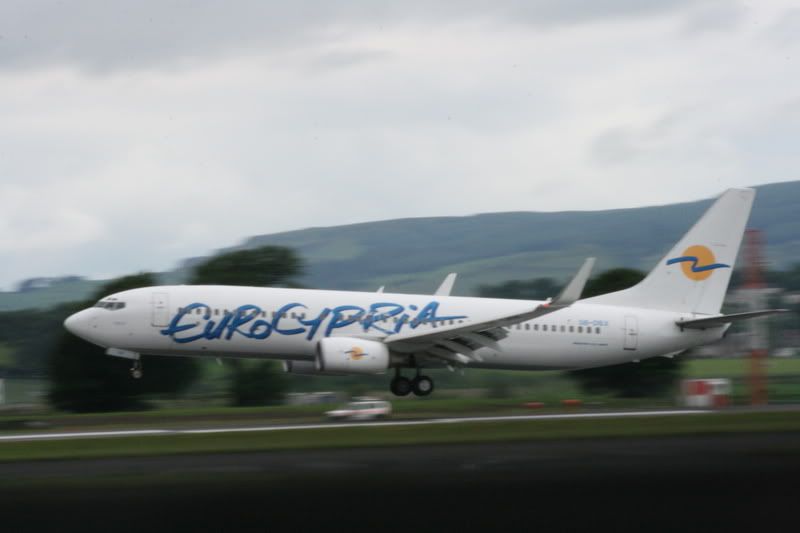 EuroCypria B737-800 from LCA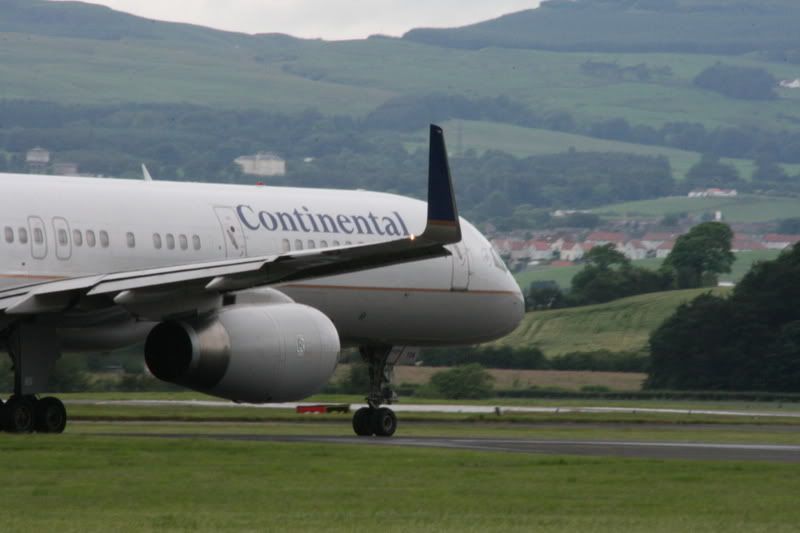 more 757's with winglets
, just gotta love them.... Continental taxiing for departure to EWR, just an hour and 15 minutes late,
and even more, US to PHL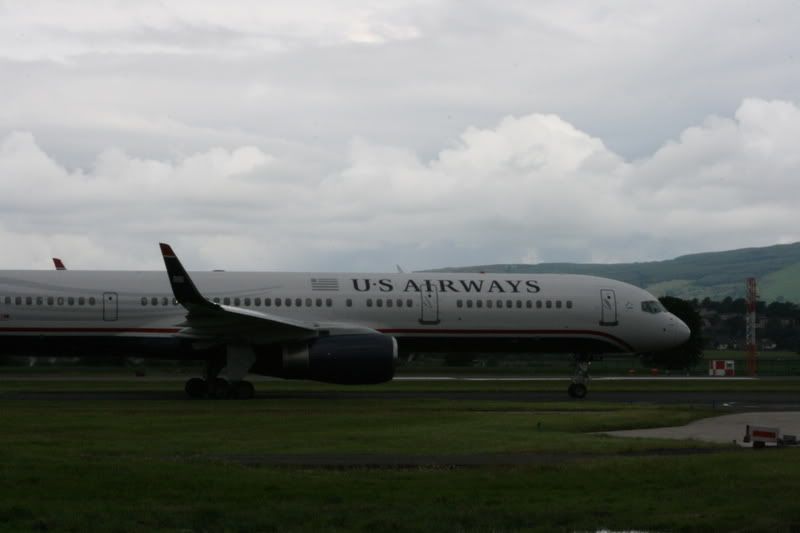 G-MIDL with a new logo
MYT 763 to CUN or SFB, I forget which one... someone did say tho
A little off topic, but I was testing my camera during a really quiet bit, and so took a pic of my yellow a.net bag,
and then the wind sock, showing us that all was clear and we didn't need to make a frantic dash to the other runway, lol,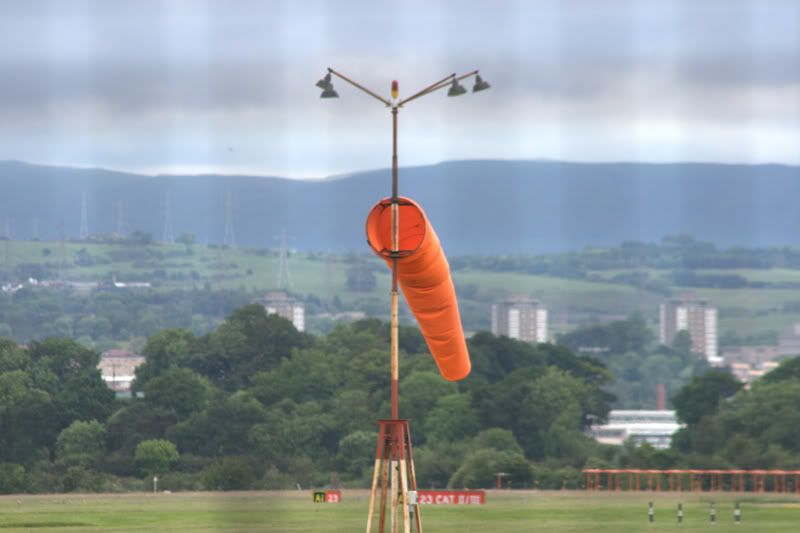 and now, to the point again, here's another highlight of the day... maybe it should be named "highlight day", lol
,
the hybrid BE / BA ERJ-145
I saw lights in the sky, which must have been about 6 or so miles away, and thought to myself, "This is EK or Zoom", then I saw this familiar sillouete in the sky;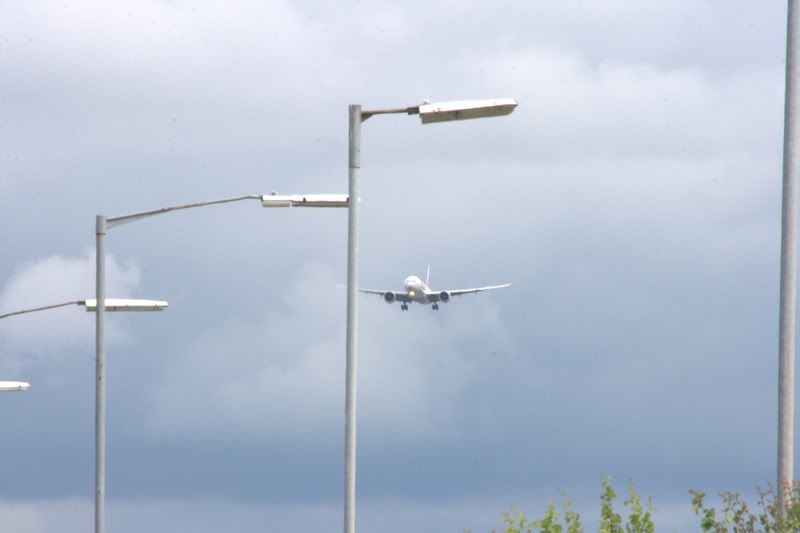 I love the way the B77Ws just seem to hang in the sky,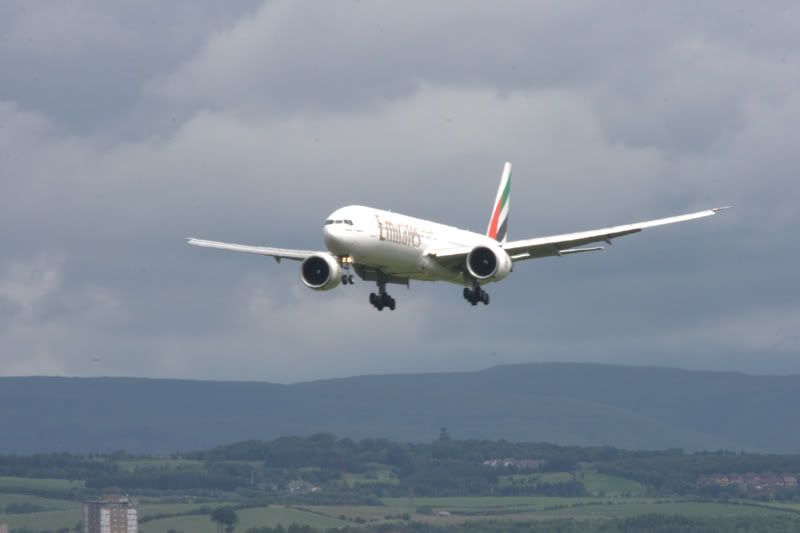 almost down
is it me or does this one look like a pic from a.net??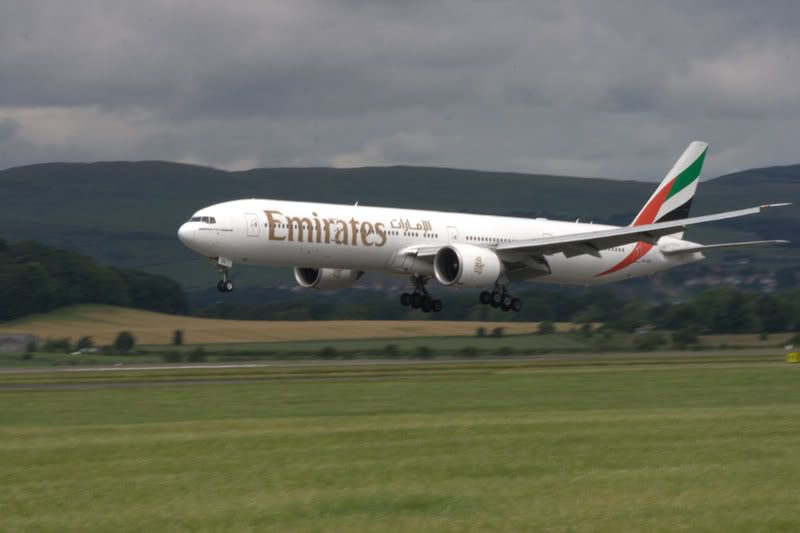 View Large
View Medium


Photo © Stewart Andrew
GSM's newest 737-800 over the threshold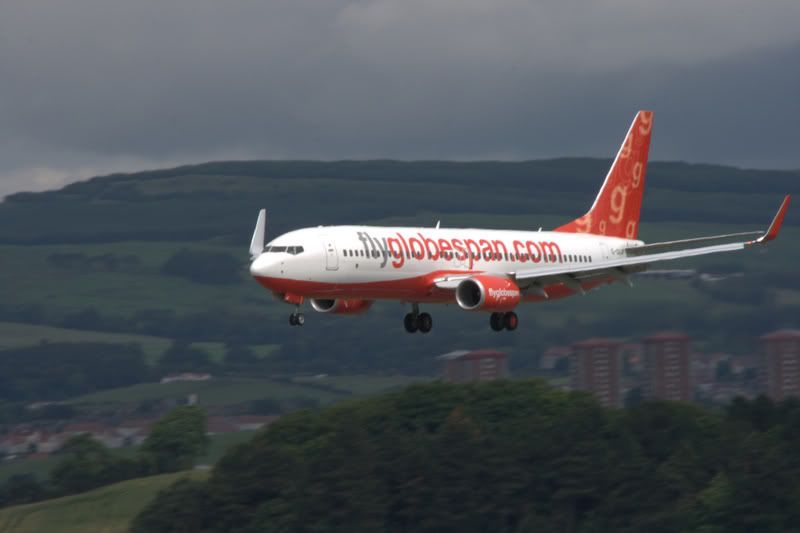 The VS aircraft was due to land at Glasgow at 12:30, just an hour and 10 minutes before it was due out again... 12:30 came and went and everyone started to get anxious... At 12:45, a light appeared in the sky, and one of the spotters, Dave, said, this must be First Choice... I looked through his binoculars (he's kindly said before that I could when I wanted to) and stated
"That's a four engines jet folks, this is it", and everyone looked thru their binoculars or camera lenses, and sure, enough, just a few minutes later, that familiar 747 sillouete appeared on the skyline to be seen without the aid of a longer lens... Slowly but surely she came down, the sound was just
, but I had been standing there for 3 hours and 50 minutes.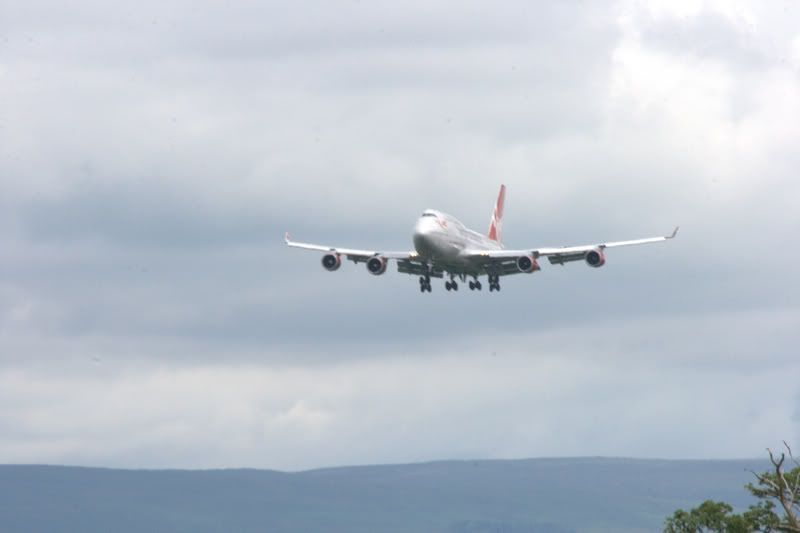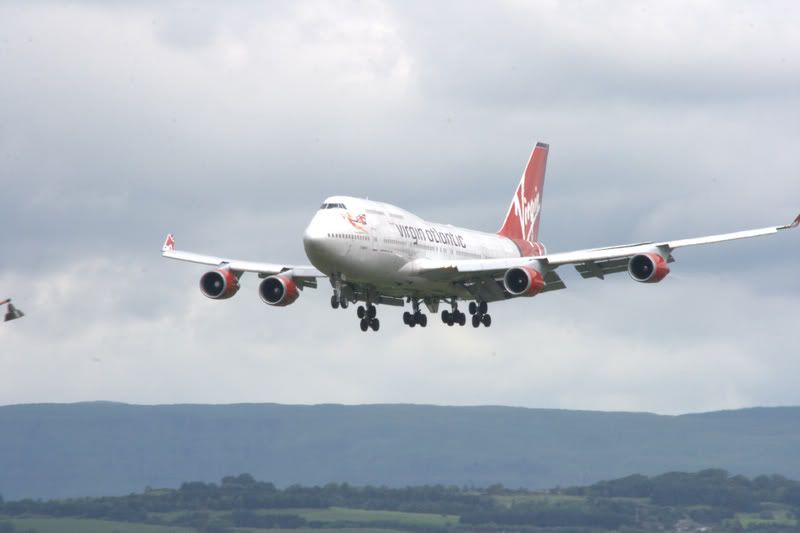 and then in black and white,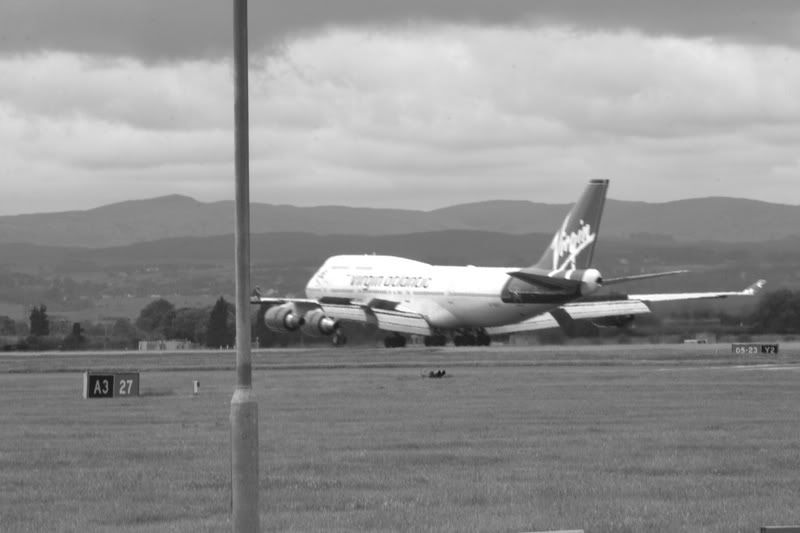 Sorry there are no pics of the gear touching down, I really had to see it for myself first, lol
And afterwards, nothing seemed to compete with the 747, size wise anyways.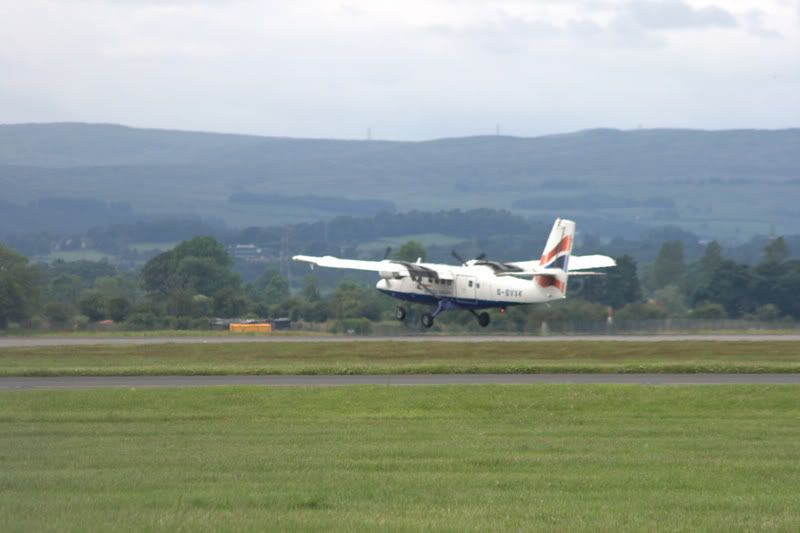 A tiny twin-snotter on it's way to Barra
my third attempt at catching the smoke from touch down, and it's quite good i think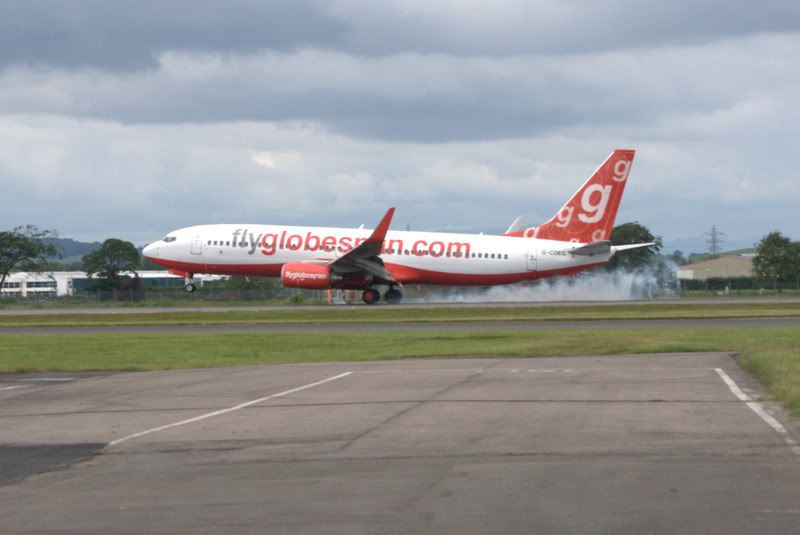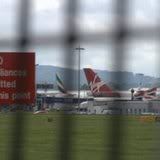 VS and EK together, both Boeing and both the largest a/c at GLA now
At 14:10, just 10 minutes late, VS071 to MCO pushed back and taxied up to the runway, passing us en route;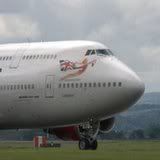 passing right infront of us, Ladybird's passengers look at us
the mid-section, 70mm is too much to fit a 744 into the frame completly, and I couldn't change to my 18-55mm lens in time.
and finally the tail section;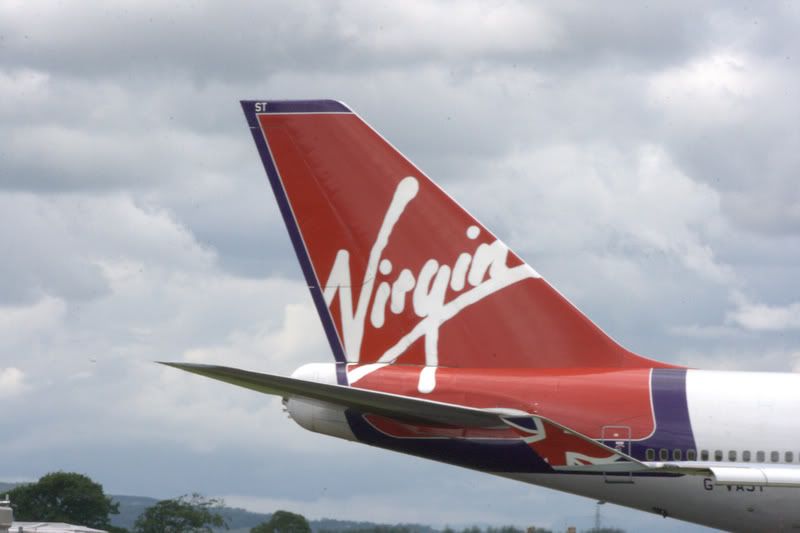 She continued the taxi to runway 23, just take a look at all the grass flying up behind the wheels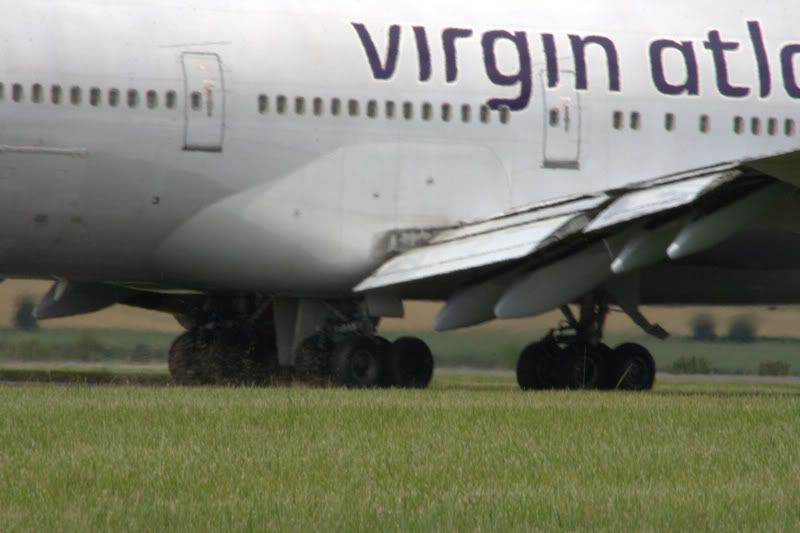 Have you heard of GLA's new approach to cutting the grass?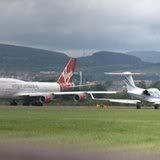 big versus wee
and now, a three parter of her accelerating down the runway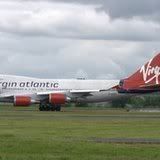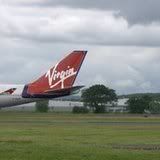 V1, Rotate!!!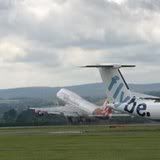 Climbing away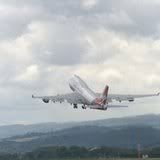 and that was it.... 11 months of waiting, I first heard about this in July 2006, and it was over in 30 seconds... I was really pissed off that they didn't do the water cannon salute,
So, now that Virgin were away, I stayed for another half hour until my battery died, but atleast I managed to get the EK going out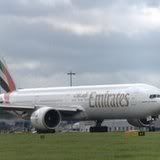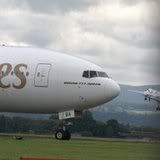 I love how I've caught the rotating BE Dash 8 in the right of the frame
and with such ease, EK026 to Dubai gets airborne and I tried to get a pic of the gear going up but the battery died just before I did so,
Well, I do hope you've enjoyed this, and it's my first one of the sort, so be kind,
Btw folks, I noticed that some of the pics are small, I do apologize, sorry.
Next trip report will be
EDI-LHR-EDI on BA/BD 12/7/07
JG