While this flight is admittedly no where near as eventful as my saga to Seattle last summer (
PWM-EWR-SEA-IAD-PWM On CO/UA
(by
KPWMSpotter
Dec 25 2006 in Trip Reports) ) I hope some of you will find it noteworthy, as it documents the third ever flight scheduled between Portland, Maine and Orlando.
AirTran Airways began service to Portland just three weeks ago (on the 7th of June) with three daily flights to Baltimore, and a long awaited weekly non-stop to Orlando. After the mess I went through last year connecting in Newark, it was a simple choice to jump on the nonstop for my trip down to Florida. Thanks to some inside information here at Airliners.net, tipping me off to the new route, I was able to jump on AirTran's low fares the day they were announced, allowing me to get tickets at $99 each way (compared to the $250+ each way that JetBlue was offering at the time.) Even though I sacrificed the chance of spotting in JFK, and checking out JetBlue's in flight TV, I wasn't complaining at all, getting the chance to check out the newest carrier at PWM and saving a load of money in doing so.
KPWM - KMCO
Flight # TRS798
Equipment:
B717-200 (N998AT)
Scheduled Departure:
14:00
Actual Departure:
14:03
Scheduled Arrival:
17:20
Actual Arrival:
17:05
I arrived at the jetport with a good two and a half hours to spare...not expecting any delays or lines, but simply so that I could get a glimpse at the planes on the tarmac for the noon rush. As I pulled into the parking garage, my one planned objective took off over my head, as JetBlue's A320 departed a few minutes ahead of schedule. I would have missed it if it had been on schedule though, as the parking garage was surprisingly full. All of the less expensive surface spots were taken, so I was forced to snake my way through the newer of the garages to find one of the scarce open spaces. (and I had always doubted the "need" for a new garage. That was before I ever had to park in long-term parking. It shouldn't be a problem after next spring though, as a new garage of double the size is in the works)
After a brief elevator ride and a jog across the street, I was in the terminal with two hours to spare. Check in was quick and painless. Since I had reserved my seat weeks ago for a $5 charge, and I had checked in online the night before, all I had to do was get my bags in the system and get a receipt-style boarding pass. The check in agents were quite cheerful, albeit a little inexperienced (only having been on the job for three weeks now) but they got me on my way in no time at all.
The apparently over-staffed Check-In counter (three agents, with only me checking in...)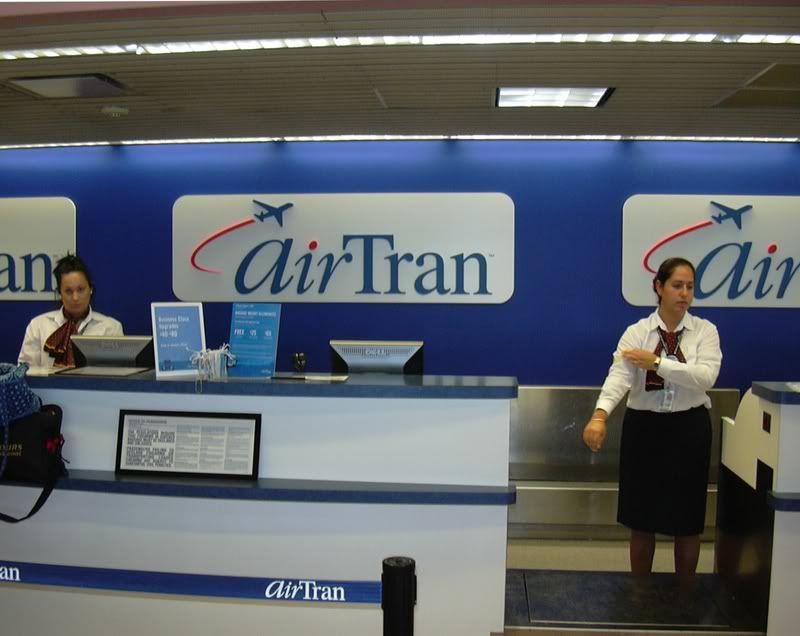 Security also had no line whatsoever. All three lanes were staffed, so I was simply directed to the empty one. After depositing my laptop, shoes, wallet, camera, change, pens, pencils, and immortal soul into the plastic bins to be X-Rayed, I was through the metal detector and right into the crowded gate area. The one thing I dislike about the Jetport's current setup is the gate 2 and 3 area. Security spits everyone right into this rather small space, which often seats people waiting for 4-5 different flights. Continental, Northwest, United Express, and AirTran all use gates 2 and 3, and in the two hours that I was waiting I watched 6 departures from that one area. This mess of a crowd can be easily avoided though, just by side-stepping down a few gates. Delta, US Airways, and JetBlue all provide ample seating at the opposite end of the terminal, and also the easiest views of the aircraft. (thus, this is where I quickly headed)
Delta had a pair of departures that quickly cleared some seats in the terminal, A CRJ-7 to ATL, and a CRJ-1 to New York JFK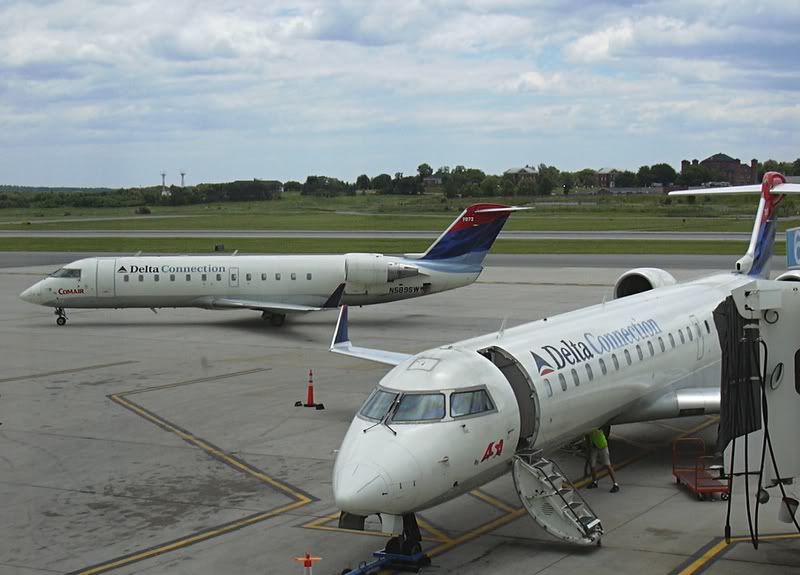 As I photographed the above Delta aircraft, I heard a stern voice from behind me utter something about "what kind of person takes pictures of airplanes anyways?" Afraid I was about to have a run in with a 'concerned citizen' of some kind, I turned around, relieved to see that it was just a former History teacher of mine, waiting for a delayed flight to DCA. After chatting for a while, I continued on my way down towards the empty end of the terminal.
JetBlue's painfully empty gate...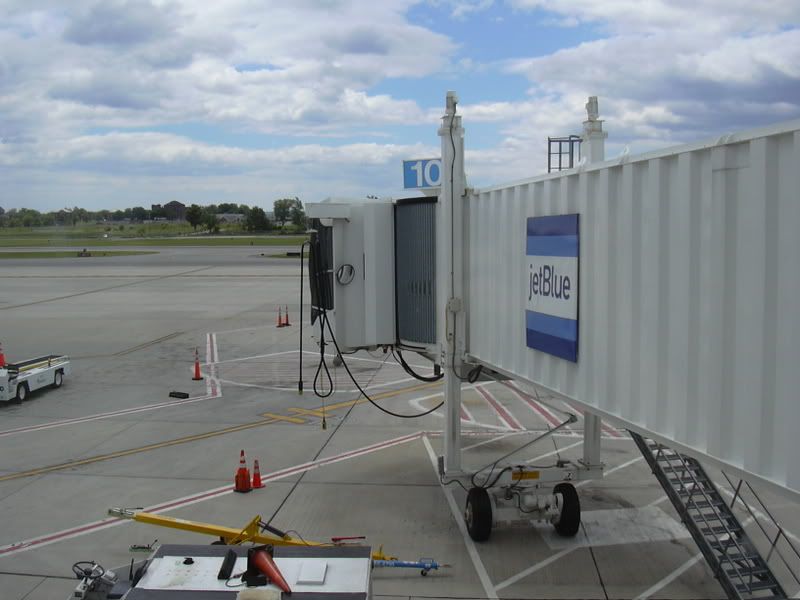 A US Airways lawn dart getting ready for a run to PHL from gate 11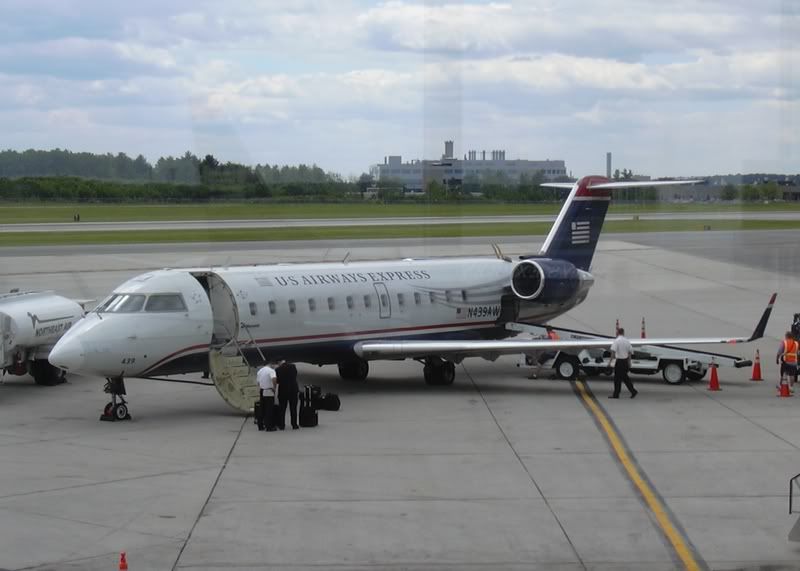 After grabbing a quick (yet quite expensive) lunch at the airside restaurant, I noticed that my teacher's E-170 had finally come in from DCA.
Even with technical problems, it's still a beautiful plane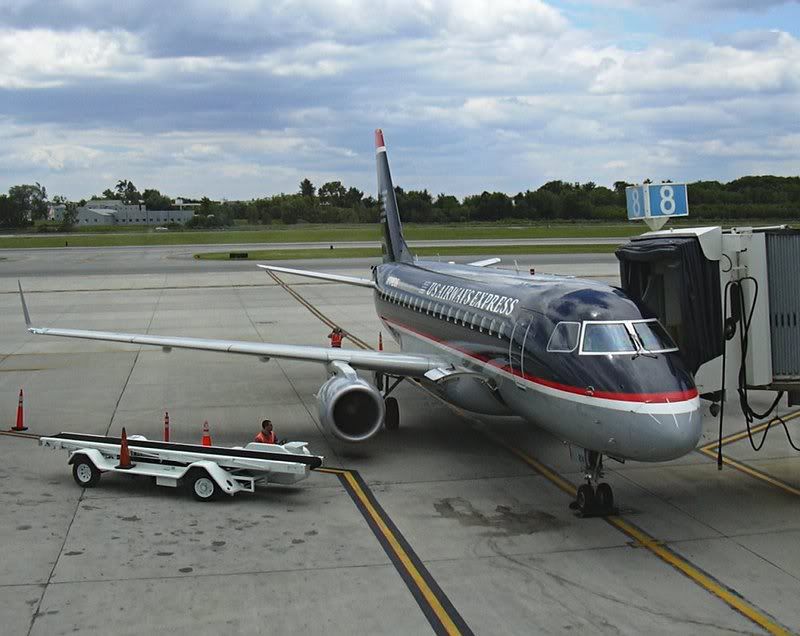 Heading out, framed in the tail of AirTran's mid-day flight to Baltimore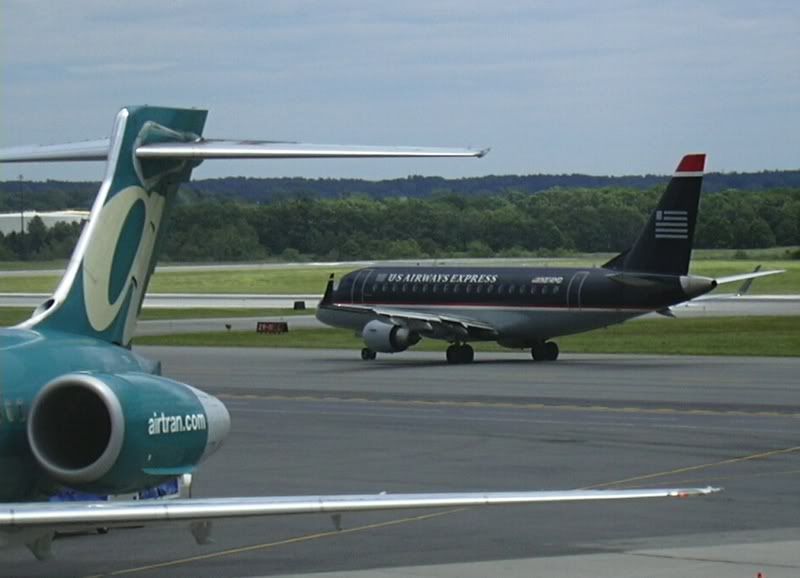 With about an hour left until my scheduled departure, I noticed movement down at AirTran's end of the terminal. The flight to Baltimore (N940AT, an old color scheme 717) was finally on its way. With less than a minute passed after it's push back, an identical 717 came cruising down the taxiway to take its place. My aircraft, N998AT, had arrived.
I was a little disappointed to see the old color scheme on it, but a sharp looking plane nonetheless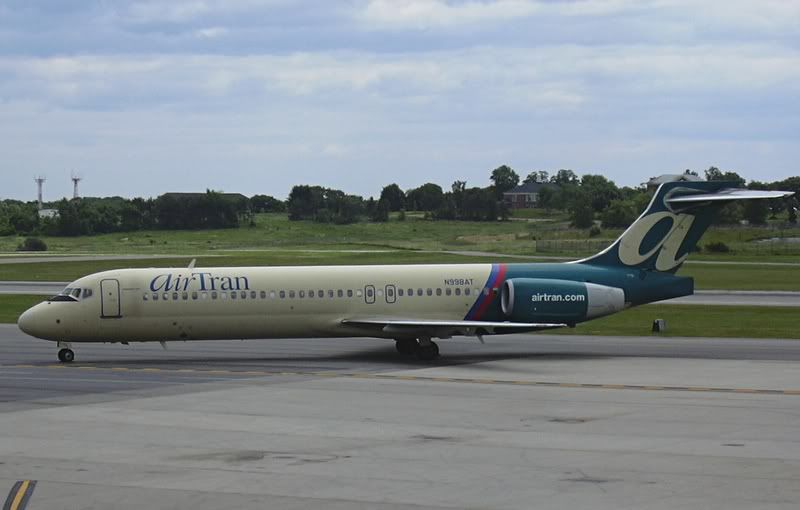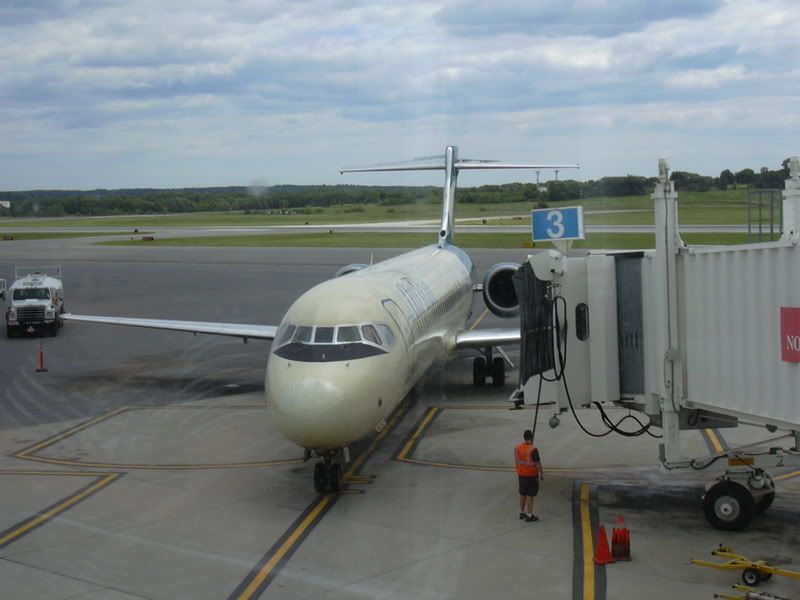 I was called to board in boarding zone 5 (although it didn't seem like many people were paying attention to the boarding zones) and took my seat in 15F. A window seat, 5 rows back from the bulkhead, it was the best seat that I could get on my cheap ticket. The overhead bin was surprisingly spacious, easily accepting my large laptop case, although the seat itself was certainly not very spacious. Leg room through all economy was a little bit cramped, and the seats were surprisingly short, providing no real head rest, and the cabin also had a generally worn feel to it, but it certainly beat a CRJ. There weren't many empty seats to be found, I would estimate at least a 90% load factor, but the aircraft didn't seem any more cramped than any other flight I've been on.
The view out the window was clear, since the wing is located quite aft on the 717, but I was still able to get glimpses of te control surfaces by twisting my neck a bit.
The view from the gate, showing a Continental Express flight just in from Cleveland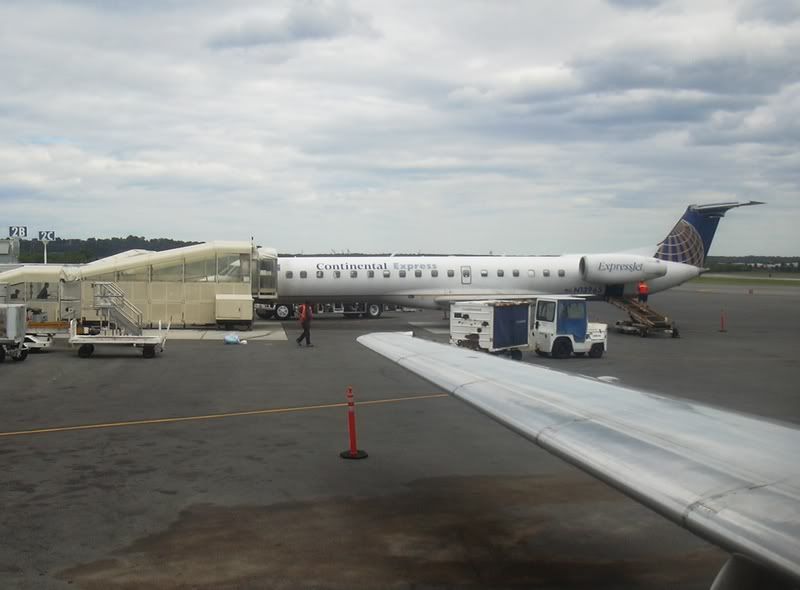 Taxi out was quick, pausing briefly short of Runway 29 to allow another Continental ERJ to land. The captain took the engines gently up to takeoff thrust as we made the turn down the runway. After a rather long seeming takeoff roll, we were in the air. Climbout seemed surprisingly steep compared to past aircraft type I have flown, and looking at video of other AirTran flights out of PWM, this seems to be a common practice. I don't know if it is because of the runway length, or just a characteristic of the aircraft type, but it certainly does make the initial climbout very interesting.
The control tower and gates 2 and 3 rush past on our takeoff roll.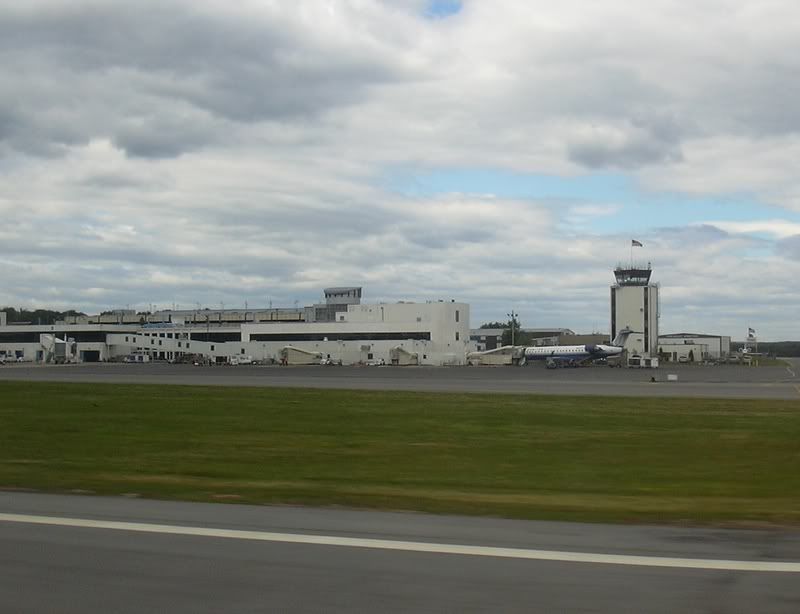 Climb to cruising altitude took quite a while, near 20 minutes. When we finally hit 34,000 feet the Captain announced that we were passing over Hartford on the right, and Boston to the left. Cabin service began shortly after that. The cabin crew for this flight consisted of two men and a woman. The lead flight attendant was a very energetic male, who seemed to to a very good job of entertaining the children on the flight, as well as calming a number of frightened older passengers on board. No matter how good the service was, the food they had to offer was scarce. Simply small pretzel packets and soda, with no further options even for sale. Even though I got a stern look for it, I was able to get the whole can of Sprite when I asked.
The pretzel packet gave instructions on how to properly eat the pretzels, insisting that we remind ourselves of the low-low fares with every bite.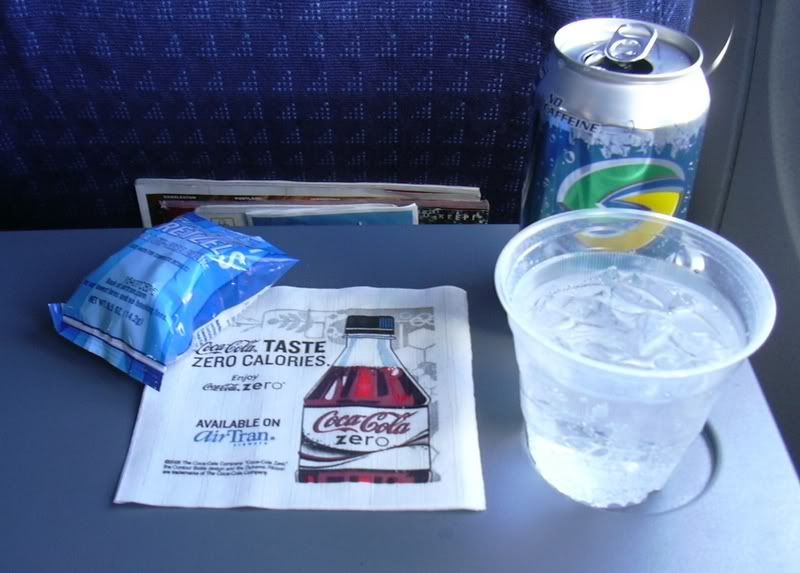 After the initial service, the flight attendants only came around once more, asking for trash and accepting requests for further food or drink. This left me with about two hours remaining to enjoy the view out the window, and the XM radio. I didn't find the XM service all that spectacular, so I simply reverted to my iPod to kill the rest of the time.
The flight was calm for the majority of the flight, with a little bit of sporradic chop. The next real event of note was descent into Orlando. The descent was quicker than the ascent, taking a little over 15 minutes, with occasional deployment of the spoilers to slow us down.
Our route along the Atlantic coast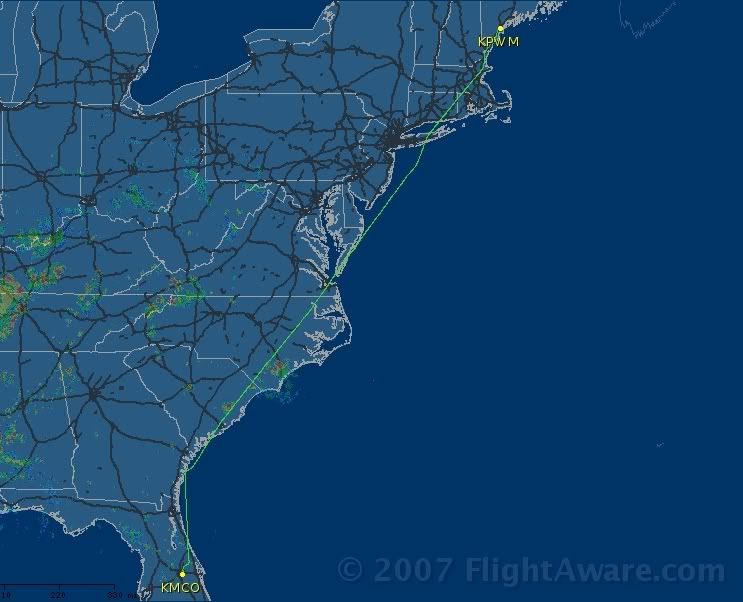 Spoilers up...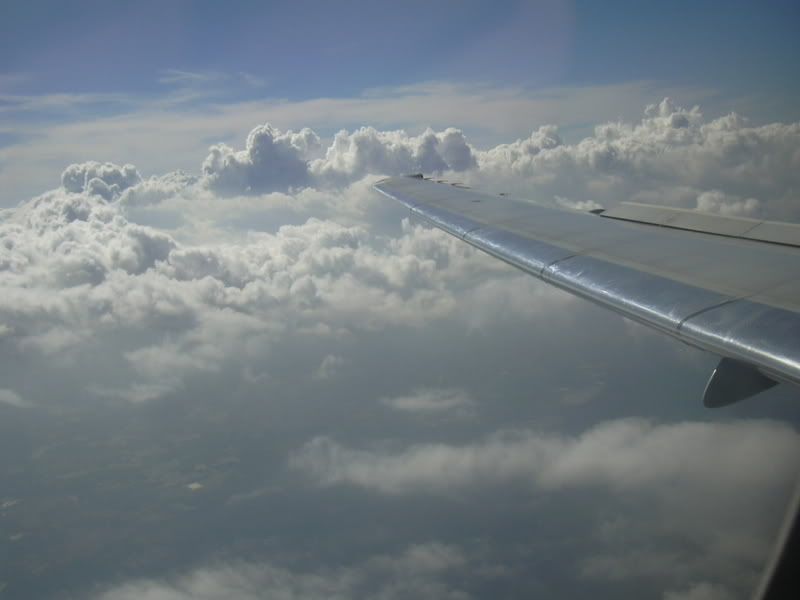 We flew a straight in approach to Runway 17L, as a 737 made a distant paralel approach to 18R. Roll out was quick and we taxied to the terminal without delay. The flight attendant made a lengthy announcement as we taxied, explaining that AirTran is still located at "Airside A" at MCO, and that they will not be moving for another few days. We pulled in to a gate at "A" next to another 717, and were asked to close our window shades so that the plane wouldn't heat up.
The gate area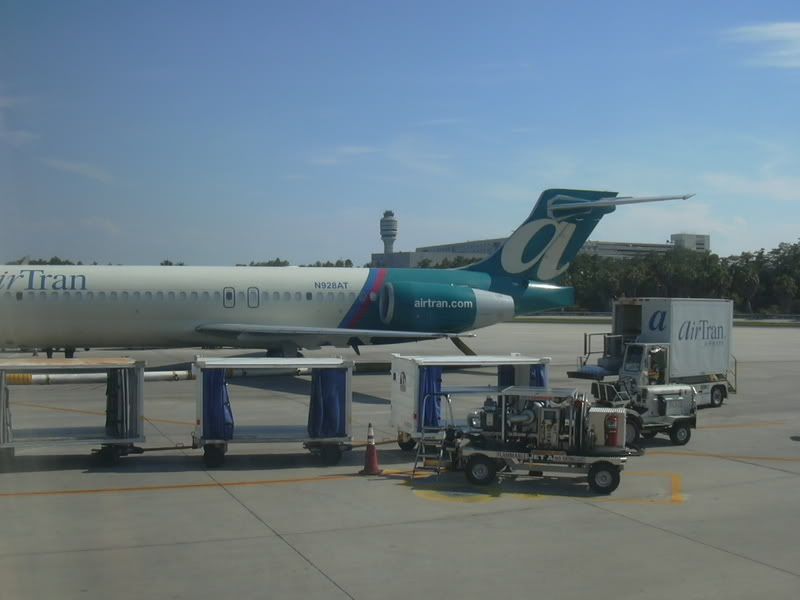 As we deplaned, I the copilot was in the cockpit filling out some paperwork. I asked if he had the time to let me look around, and he welcomed me in to the flight deck. As I snapped some photos I commented that I hadn't ever seen the 717's flight deck before. Hearing this, he pointed out Airliners.net as a good source for flight deck photos. As he said that, I laughed a little and commented that I "had heard of A.net before..."
Thanks to the co-pilot for letting me take some shots of the 717's beautiful glass cockpit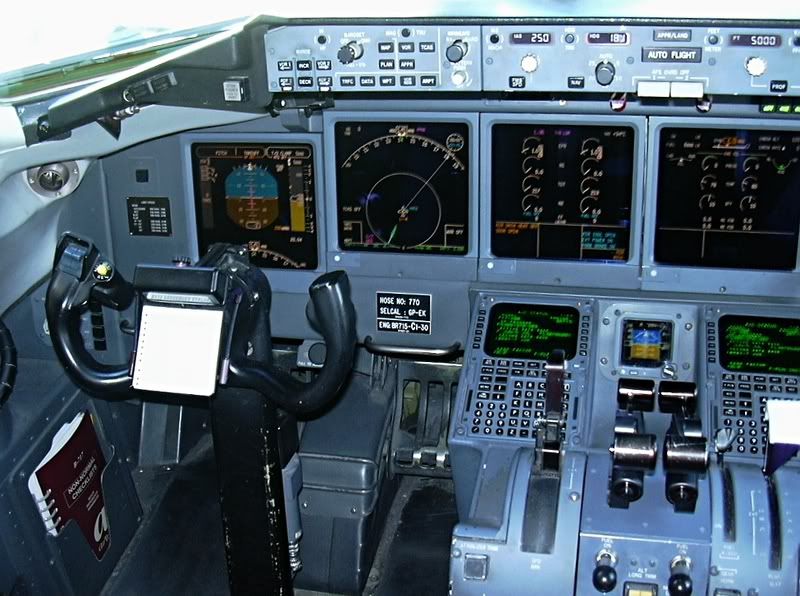 Leaving the plane, I was surprised by the open-ness of Orlando's terminal. It certainly is a very nice airport. Baggage claim took a while, but that certainly isn't anything to spoil my good impression of the airport facilities.
Looking back at "Airside A" from the tram.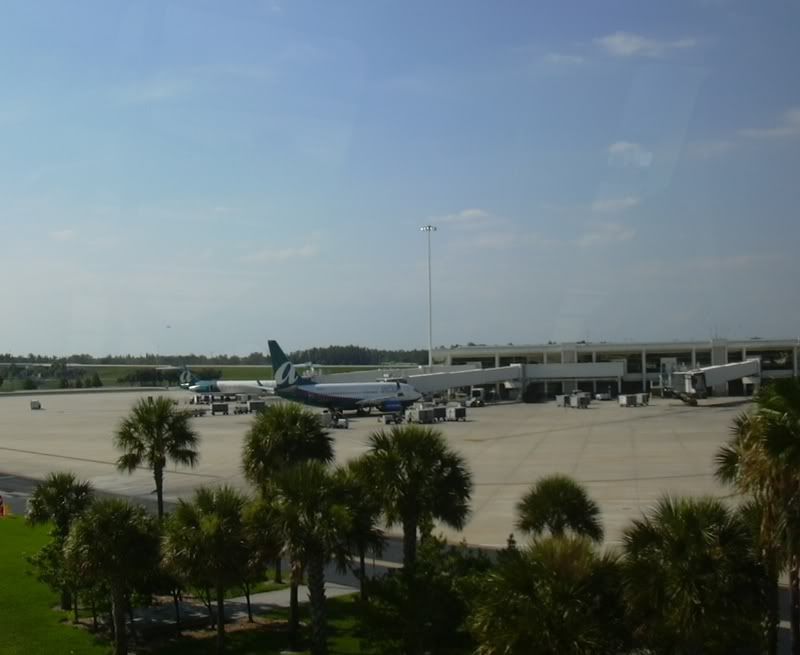 Overall,
AirTran Airways:
The flight was on time, and gave me nothing to complain about. Onboard service wasn't spectacular, but I shouldn't expect much for the $99 I paid for the flight. AirTran certainly made a good choice in connecting MCO and PWM, it's a city pair that's been under served for a long time now. Now we can only hope it goes to daily service later this year.
I shall post my return flight's report in a week...untill then, I hope you enjoyed reading this!