Hello everyone,
Here is a report about a trip to the Paris Air Show, my best friend Sebastian and me flew in on Saturday the 23rd and back on Sunday the 24th. There is not much text but a few pics and vids. I hope you guys enjoy.
Saturday the 23rd of June
I drove to Seb on the day before, we had a few beers in the evening and went to bed at around 4 AM thus it was quite hard to get up just five hours later at 9 AM. We had a shower and drove to Dusseldorf airport where we arrived just one hour later, we parked -- as always -- on the parking lot of the airport train station, took our backpacks and took the people mover to the main terminal.
It was pretty crowded inside the airport because the school holidays begun just three days before. There was also a small queue in front of the Air France counter for Tempo (Economy) Class so we decided to use one of the four check-in automates. I put my credit card into it, confirmed our names, confirmed that I don't carry firearms, bombs, ammo, and similar stuff and... voila.... I got an error message stating that I can't check-in two persons, the automates demanded a second credit card despite we paid the flights for both of us with my credit card. I fed up with this stupid automat so we went to the Business Class check-in counter where some Japanese guy just left. I approached the nice blonde girl behind the counter and said: "
Hello
", she welcomed me as well and I confessed that we are not booked in Business Class but in Economy. She looked a bit sternly and said: "
There is your check-in counter
" while pointing her finger on the counter next to her. I replied: "
Can you make an exception, please?
" She: "
And the other people there? What if they simply come over here and ask for an exception?
", me: "
We already tried to check-in at these automats but it didn't work
", she then: "
Yes, yes, yes...
". She took our ID cards, hacked a bit on her keyboard and asked: "
Is an aisle and a window seat ok for you guys?
", me: "
Of course
", she gave us our boarding passes and wished us a nice flight, we thanked her and went towards the security check where we had to wait a bit in a queue. Seb looked on his boarding pass and said: "
There must be a very small Business Class cabin today, we are in row number 5 which is pretty much in the front
", I looked on my boarding pass, saw "05E" and said: "
Hmmmm.... seems so"
, I looked again and saw an "AFFAIRES" instead of the usual "TEMPO" writing on the bottom of the pass. How sweet, a double upgrade to Business Class.
I didn't understand why the girl at the check-in counter didn't mention the upgrade (if you read this: Thanks a lot!).
Flight Number: AF1607
Route: Dusseldorf (International) to Paris (Charles de Gaulle)
Equipment: Airbus A318-100 (F-GUGP)
Departure Time: 1:20 PM
Security was a breeze, very friendly staff on duty on this Saturday morning. Actually we wanted to go to the lounge for a beer but unfortunately was there no more time left, we heard the boarding call when we stood in front of the lounge entrance. Boarding lasted a bit long because the flight was fully booked, we took a copy of the "Sueddeutsche Zeitung" from the newspaper rack and walked down the jet-bride, I asked the purser at the door if it is possible to get a jumpseat ride, he said that it is not possible because it is an instruction flight, I said: "
No problem, then we will take our seats in Business Class
, he replied: "
These seats are definitely more comfortable than the jumpseats
". We sat down and read the newspaper till boarding was complete, the door got closed, the plane got pushed back and the cabin crew made the usual safety demonstration on the way to the runway. The take-off was very powerful as always in the A318, the crew got out of their seats as soon as we reached 10.000 feet, they closed the curtains and begun their work in the galley, approximately 10 minutes later they started to serve the meals and drinks.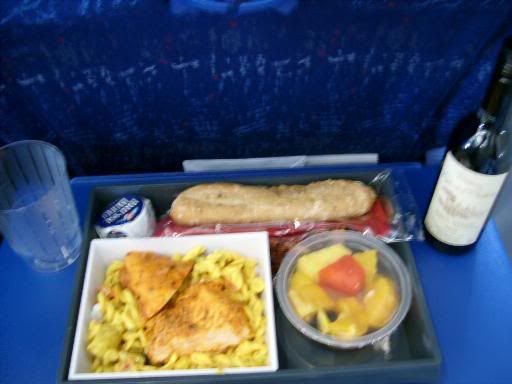 Inflight meal on the flight to Paris CDG
The meal was pretty large for a short 50 minute hop to the French capital, there were two pieces of chicken, pasta, bread, cheese, and a fruit mix. Seb chose a red wine and I chose a beer (1664) as drink. We had to hurry up with eating because of the short flight time, we finished just in time for the approach into Charles de Gaulle airport where we arrived after 10 more minutes, here is an inflight pic: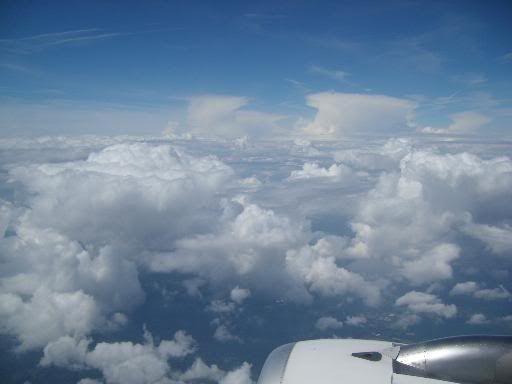 Somewhere between Dusseldorf and Paris
We deboarded, went through passport control (since when are there passport controls when you are flying from one Schengen country to another?), and took a shuttle to our hotel.
Check-in at the hotel lasted 20 seconds, we went to our room to place our backpacks there, drunk a beer in the grill restaurant on the other side of the street and took the shuttle bus to the airport. From there we took the RER to Charlet Les Halles station and continued there with the Metro to Odeon station where we arrived a few minutes before 8 PM. Yann (WunalaYann) called me in the morning and told me that he will wait there for us, we looked a bit around but didn't find him, then I got a SMS from Jason (Nosedive), we met him and two of his friends and continued to look for Yann, eventually we decided to search for the "Coolin Bar" to meet Yann there, we asked some guys for the way but they didn't know this place. Suddenly rung my mobile phone, it was Yann, we agreed on a meeting point and met there three minutes later, then we went to the Coolin and had a beer. My mobile phone rung again, it was Fabrizio (Bio), damn, I completely forgot him. Yann, Seb and me went back to Odeon Station to pick him up and all four of us returned to the Coolin. We sat there a while and went back again to Odeon station to wait for Sean (B747-437B), Alex (MYT332), Hannah (Speedbirdie), Gavin (Nighthawk), and Sam (A340600). We said hello to each other and went to a place called "Le Pinte" where we had a few beers and a lot of fun, here are some pics: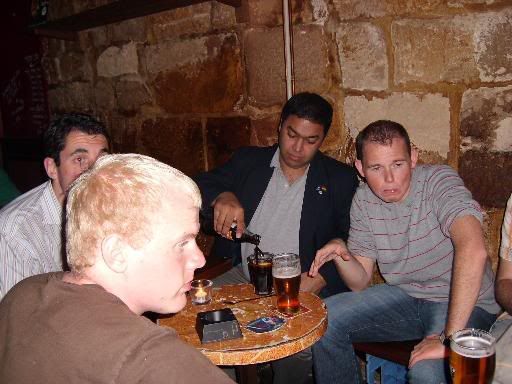 Foreground: WunalaYann on the left, Nosedive on the right. Background: B747-437B on the left, MYT332 on the right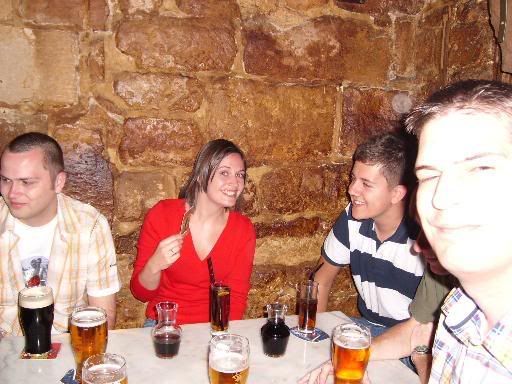 From left to right: Nighthawk, Speedbirdie, A340600, Bio, Sabena332
The barkeeper came at around 1 AM and told everyone that he closes soon. We left then, Hannah, Sean, Seb, and me went to the hotel while the others continued the drinking tour. Yann joined us until we reached the stop for the night bus to the airport, we said goodbye, thanked him for the great night and left. The bus dropped us off at the terminal and we took a taxi to the hotel, Seb and me bought four beers and a pack of Marlboro Lights at the reception, then we said goodbye to Sean and Hannah and went to our room to drink the beers while watching a bit MTV: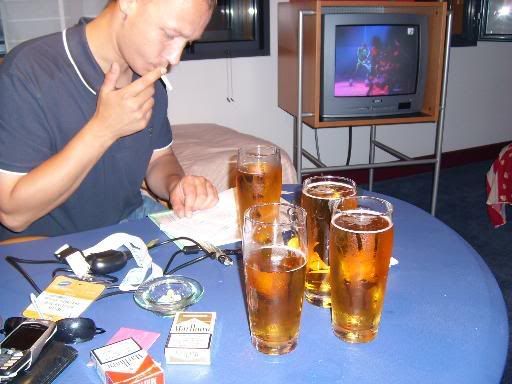 Seb checking something in the manual intruction of his camera, four ice-cold 1664 on the right, the press pass of some Elbonian fool on the left.
Sunday 24th of June
We woke up at around 9 AM from the sound of the planes that took off at the nearby airport, then we checked out a quick shower, took the shuttle bus to the airport and the RER to Le Bourget station. We had luck when we stood in the queue to the shuttle busses to Le Bourget airport, one guy saw our press passes, opened a gate and said: "
Press, priority
", we thanked him and went directly into the bus.
We entered the show through the press gates, ate something, looked a bit around, and went to the press center to watch the very impressive flight display, here are two videos (A380 and some fighter jet):
It was very crowded on the fairground, here is a pic that gives you an idea: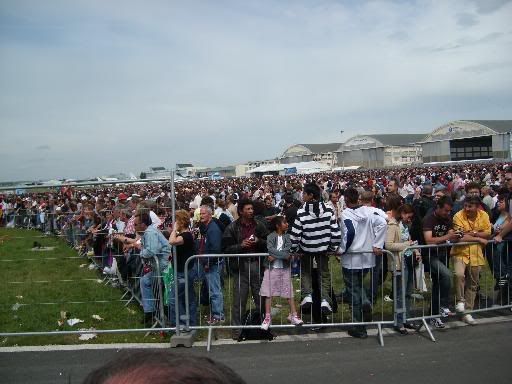 Pretty crowded, eh?
We left the show at around 5 PM, the shuttle bus needed 37 minutes from the fairground to the train station, fortunately had the RER to Charles de Gaulle just arrived so we hopped on.
We checked-in and had a Baguette at "Pomme De Pain" -- my favourite sandwich chain of all, they serve way better stuff than Subway so I eat always there when I am in France.
The security check was a pain in the ass because it lasted forever. I sent my backpack through the X-ray machine and got stopped when I wanted to pick it up, some bitch pointed her finger on my backpack and said: "
Liquids inside
", me: "
Sorry, I forgot the bottle of Orangine
", she took it threw it into the trash and said: "
Liquids not allowed
". WTF? Why didn't the cunt ask if I want to finish it before she threw it into the trash? I was not in the mood to fight so I went away, we had a coffee and went to the gate where we had to wait an hour or so, the flight was approximately 20 minutes late because the aircraft arrived later from Milan.
Flight Number: AF1006
Route: Paris (Charles de Gaulle) to Dusseldorf (International)
Equipment: Airbus A320-100 (F-GFKG)
Departure Time: 9:10 PM
Boarding was quick and the flight seemed to be booked out, the only seat that remained empty was the seat between Seb and me.
Here is the take off video (note the "
Scheiss Lufthansa da unten
" towards the end)
:
The flight was pretty bumpy at the beginning thus it lasted a bit until service begun. We declined the snack-mix but took a beer and chatted a bit: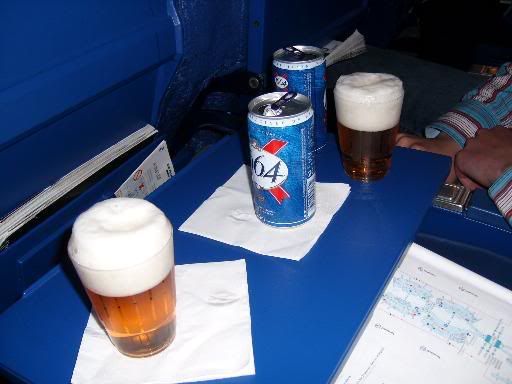 Drinking tasty 1664 beer with my best friend at 31.000 feet, can it get any better?
The flight time passes quickly and we approached Dusseldorf in the last rays of light, here is the landing video:
We deboarded, went to the parking lot of the airport train station and drove to Seb's apartment. Believe it or no, we needed just 47 minutes from Duseldorf airport to Soest... no question that Seb drove a bit faster.
It was a great trip, the A.net meeting was fun and so was the airshow. Air France was once again fantastic, we can't ask for more, a Business Class upgrade on the outbound and the only empty seat between us on the inbound flight... not bad for 117 EUR per person.
Thanks for reading and watching!
A big thanks to everyone who was there that night, it was good to meet you guys again. Special thanks go out to Yann and Sean (they know why)!
Patrick