Hi,
Another visit to France this year, being there last month for a wedding, now it was time to bring a days visit to the 47th International Paris Airshow at Le Bourget. A little bit in relation to my job, but mainly just for the interest in aviation, see a large part of the show during afternoon, and of course, the joy of flying
.
As I listed my and by bf for the first service to CDG that Saturday morning, it became more difficult to reach the airport in time by use of public transport. Therefore, we had to drive 5 kilometers to another trainstation to catch the first railway service to the airport, another 5 kilometers away
. We arrived at Schiphol Airport at 5.50am, so one hour before departure.
Heading straight to the selfservice check-in computers in lounge 2 at departure level, we got our boardingpasses within no time. No seats though, as always on KL while on standby.
We went through security which was a breeze that morning, probably because there were not many business travellers to the European destinations. On weekdays, this checkpoint can be a nightmare to everyone. It might take ages to pass it!
We passed along our most favourite coffee-corner 'Starbucks', recently opened in lounge 1 (airside), and being the first ever Starbucks in The Netherlands! A shame it was still closed at this fresh and early morning, although I was already in for some caffeine!
The night before I checked the airport system to see our planned aircraft, and we were supposed to fly on a B737-900 (PH-BXT) and departing from gate C7. It was a real little pity to see our gate has changed during the night to C8, and a older generation B737 was waiting for the CDG flight..., PH-BXT was re-scheduled to OSL for the 7.00am departure.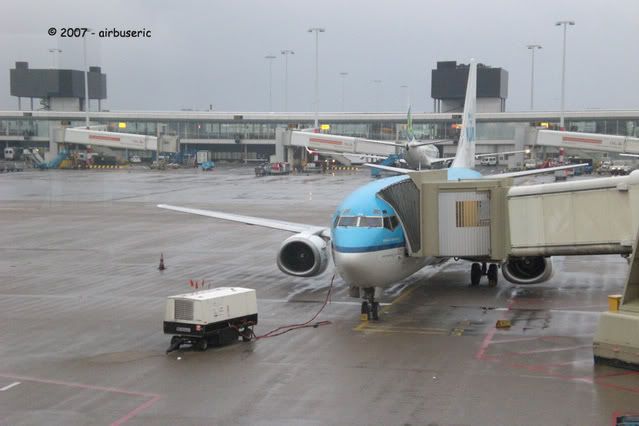 B737-400 PH-BDR waiting for her flight to Paris
We handed our current boarding passes to the groundstaff and took seats in the waiting area. An announcement was made and mentioned the free choice of newspapers: please grab one before you board your plane
.
While boarding started at 6.20am, we had to wait another 20 minutes until we finally were called to pickup our final boarding passes. We got seated next to eachother in Economy. We entered the aircraft almost as last passengers and walked through a cramped Europe Select ''Business'' class, fully packed with passengers. KL's C class on the 737's is really nothing compared to many other large carriers. Anyway, we had a walk further down and behind the curtain

AMS-CDG
Flight No.:
KL1227
Date:
23JUN07
STD:
0650
ATD:
0656
STA:
0805
ATA:
0800
A/C:
Boeing 737-406
Reg No.:
PH-BDR
Seat:
17E - Economy Class
My 8th ride on a Boeing 737-400, and the first on this same machine.
View Large
View Medium


Photo © John Higgins - AirTeamImages
Doors were closed on time, and probably caused by ATC we had a few minutes delay for pushback. The crew did the manual flight safety demonstration, still common sight on the shorthaul KLM flights.
We taxied to the active runway 24, entrance S6, and without waiting time we were cleared for takeoff. We got airborne shortly and climbed into the grey and bumpy clouds. After a sharp left turn towards the South the seatbelt signs were switched off remarkably soon after takeoff. The crew immediately started serving the cabin.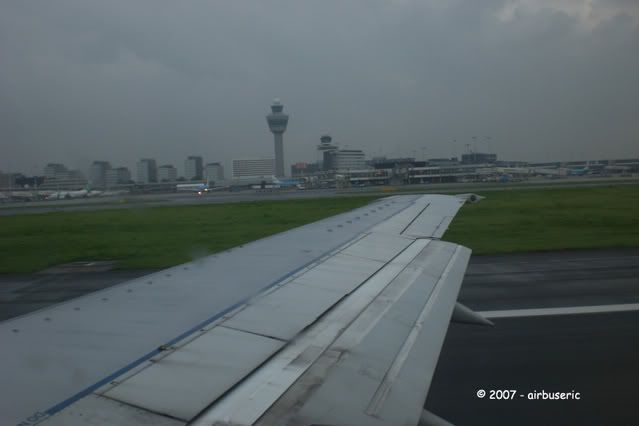 Departure runway 24, with dark clouds above the field
Breakfast this morning was the 'Trattoria' sandwich package, containing 2 ultra-small sandwiches: old cheese fig & ham/cream cheese.
Additionally I requested a coffee and orange juice, which came in a small 'Minute Maid' can. Which is new to me, as I never got served juices in cans on KL.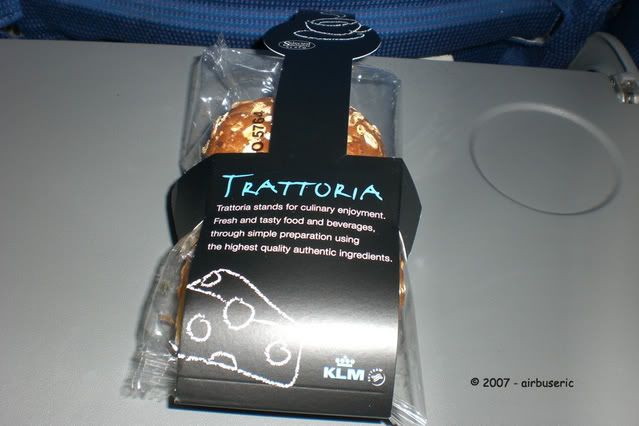 ''Sandwich'' service on KL1227 AMS-CDG
The flight was quite uneventful and we started the decent soon again. Getting closer to CDG, we noticed an Air France B777-200 following us on the approach.
I was busy filming the final approach with our new small camera, but the file came out to be 105Mbs, a bit too much to share here I think. Anyway, the landing was quite rough, but OK.
Strange enough at 07.46am, we landed on runway 27R, far away from terminal 2F which is used by KL. We had to taxi for almost 15 minutes before we reached our final stand. Disembarking via the jetbridges, and with a nice ''goodbye'' from the captain himself.
Load on this flight: around 80 %, with C class close to 100 % full.
***
The visit to the airshow was very nice. Weather was reasonable good, only 2 very light rainshowers. We saw the sunshine most of the day, except during the flying display. It was great to see the A380 in action, of course also the military fighter jets were great to see (and hear!).
***
After the show, we took the RER B lines back to CDG-2 for the return flight. I listed ourselves on the last service operated by Air France, as it's scheduled by the larger A321 aircraft, meaning more or less better availability to get on the flight!
When we went to the check-in desk at area 2 of terminal 2F, we got our boarding passes, also no seat assignments yet. The kind Air France staff already gave us the hint that we would be able to obtain seats, but nevertheless we were send to gate F25A around 6.00pm.
Terminal 2 is well-known by it's great piece of architecture. I really like the atmosphere in the building, but the minority of shops is a negative aspect for me. I always like to struggle around the shops and to spend my waiting time there. Now, I was finished quickly, also caused by the large groups of Japanese travellers on one of the 3 (!) JL flights that evening.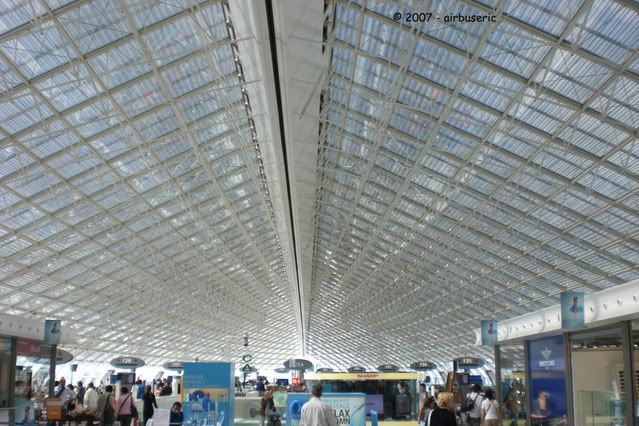 View inside terminal 2F at CDG (airside)
At the time mentioned we went downstairs to call at F25A, an area for standby passengers (and staff). Large flatscreens on the wall mentioning the names of the passengers on waitlists and exactly 30 minutes before our flight had to leave, our names popped up as well. The lady behind the desk called all passengers who were trying to get a seat on the flight to AMS, and about 6 people, including us, got the boarding pass.
This system by AF looks nice, and is quite modern with the use of the flatscreens.
We went again to the departure level and straight to gate F32. The flight was already boarding. No problems there, and when entering the aircraft we were greeted very professionally by 2 male flight-attendants. A box of towellettes was available at the door, to refresh yourself before the flight.
We took our seats next to a Japanese passengers, seeming to be very nervous about flying. Crew was helpful to other passengers stowing the handluggage in the overhead bins etc. Doors also closed ontime here.

CDG-AMS
Flight No.:
AF2240
Date:
23JUN07
STD:
1830
ATD:
1832
STA:
1945
ATA:
1941
A/C:
Airbus A321-211
Reg No.:
F-GTAI
Seat:
19C - Economy Class
My 5th ride on the Airbus A321, and the first on this same machine.
View Large
View Medium


Photo © Alejandro Pérez
A few minutes delay due ATC again, when we got pushback. Info about the flighttime to AMS was given from the flightdeck, and a small manual safety demonstration was done by the crew.
Loads were close to 100% in Economy Class, but with a nearly empty Business Class cabin. Interesting to see the cabin was separated in 3 parts: 2 business, and rear part Economy, starting somewhere from the wings.
We were following the JL flight bound for NGO, and done by JA704J, the B777-200ER featuring the
one
world colourscheme. We lined up for runway 27L and had a long run for takeoff before we got airborne. When in the air, we made a sharp right turn, probably to get free of bad weather. On our leftside we saw dark and thick clouds, probably with some thunderstorms inside. European countries have recently a lot of thunderstorms, causing big trouble to the aviation operations from time to time.
Mealservice started soon after the takeoff, and because the time of the day, I was hoping to get a nice sandwich or so. But, again AF disappointed me with only a very small bag of rice crackers. Therefore, I asked for a white wine, which was served.
For the remaing flight (yes, even during landing itself) I was listening to the music player of my cellphone. Strange enough the crew didn't notice, and didn't ask me to turn off this electric device.
The meal on AF2240 CDG-AMS
During our final approach we noticed also aircraft flying on the 18C ILS, so meaning simultaneously approaches that night. We got runway 18R, again the far-away one, and landing was uneventful. We taxied for exactly 12 minutes to our parking spot, gate C5. On gate C7, another AF aircraft was parked, an A318 and probably operating the LYS-flight.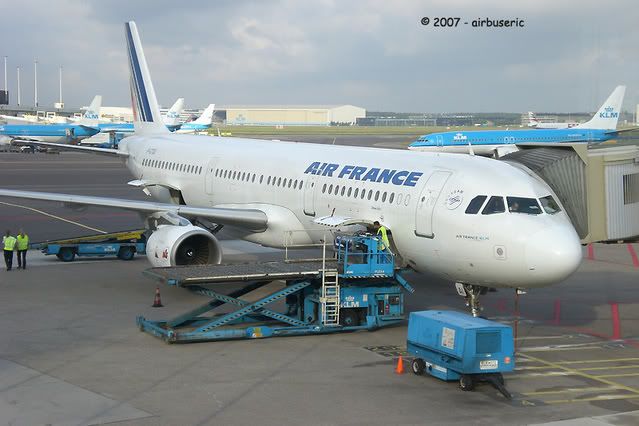 A321 F-GTAI after arrival at gate C5 at Amsterdam Schiphol Airport
Finally we got on a train back to our car-park within 15 minutes after disembarking. Yes, when travelling without luggage, AMS can offer very quick connections even to other means of transport!
All together, we had a nice day-trip to the show, 2 additions to my flightlog (with 2 new registrations). I liked the AF A321 a lot, the cabin looked like new, very clean, and in an overall great shape. The KL B734 is showing her age, and hopefully they get replaced in 2008 with the new B737-800(WL)'s. Additionally KL ordered a bunch of -700(WL)'s at the Le Bourget airshow last week, to replace some old -300's. Good to see some renewal there in the future
AF staff/crew surely are the winner today, and provide a more professional/polite service to the passengers. Maybe it's also how they look, maybe it's their uniform. I don't know, but nowadays I just prefer AF above KL.
Flights were both ontime, food a bit less good, but no complaints on these short flights.
Sorry that I don't have more pics , but I hope you still want to give some comments
Rgds
Eric