For the past five years, I had spent my Spring Break in Cabo San Lucas, Mexico with my family after we purchased a timeshare. However, this Spring Break was different because I had moved on to college, with a different break. Moreover, what college guy wants to go to Mexico with their parents during Spring Break? Instead, two of my best guy friends and I decided we would use one of our free weeks in June. In April, the three of us booked our tickets to Cabo and eagerly waited for a week of drinking and relaxing. We tried to get a few more friends, guys and girls, to go, but no one else could.
The night before our departure, we spent the night at Nick's house. It was easier to have his mom take us to the airport at 4 am than for all of parents. I ended up having the kind of sleep where you can only sleep for 15 minutes before you realize you weren't really sleeping and repeat the process over and over until you have to drag your exhausted ass out of bed. I was anxious for the trip like I always am. I was also anxious because my two friends didn%u2019t have confirmed seats on the SFO-SJD leg.
I wasn't too thrilled to shut off my alarm before it went off @ 330, But.....Mexico! We had checked in and said goodbye to Nick's mom by 430. PDX was alive, even if I wasn't. Security went quickly, and we headed to my fix, Starbucks. I was slightly disturbed at the massive line at Wendy's. Who can stomach Wendy's that early?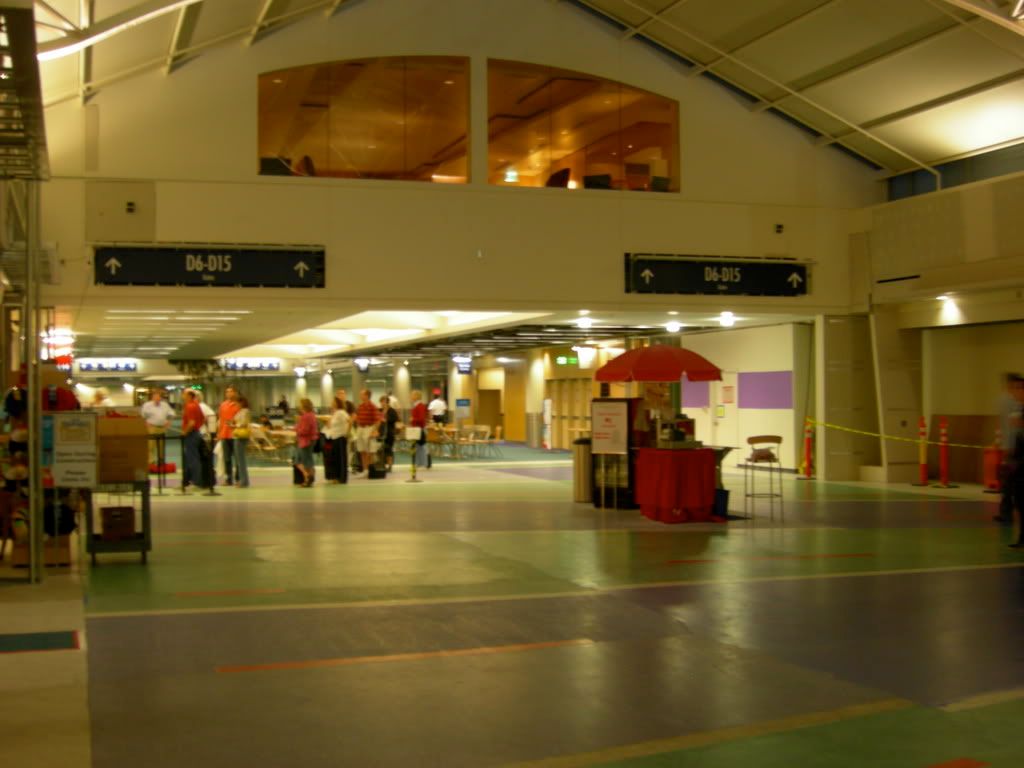 Sunday, June 17th, 2007
United Airlines Flight 707
PDX-SFO
737-300
N367UA (New Livery)
Gate: E3
Departure: 610 am (615 am)
Arrival: 752 am (740 am)
Seat: 16F Economy
Load Factor: 95%
FL 350
I snapped a few photos of our plane at the gate: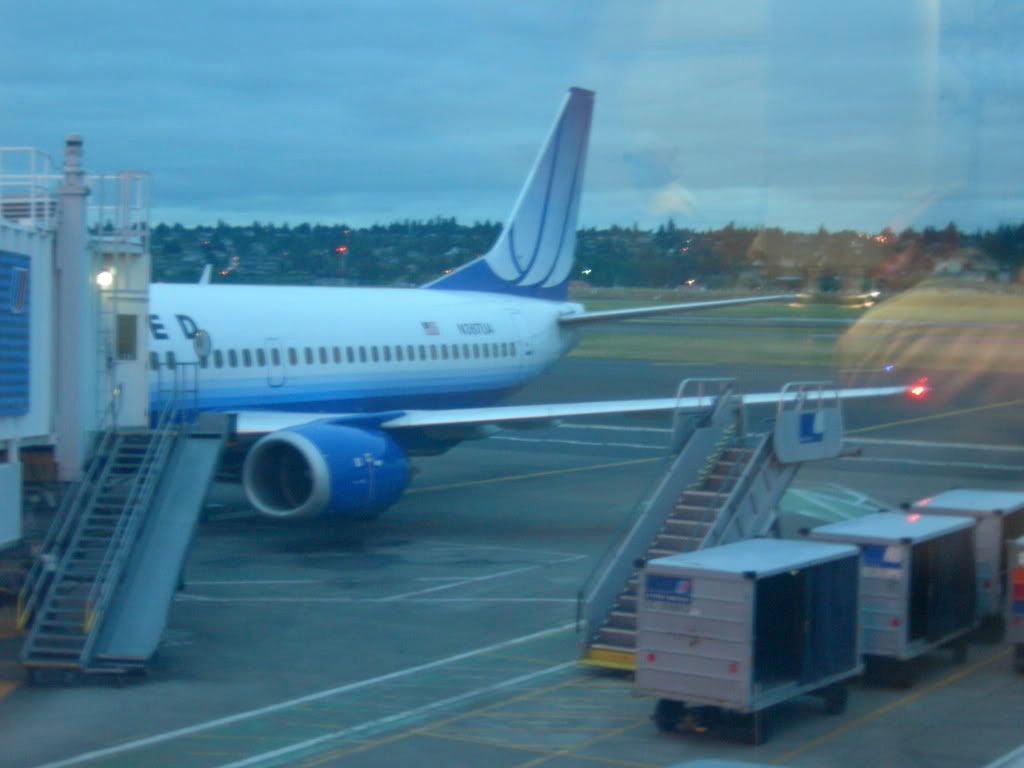 We boarded our flight in about ten minutes for an on-time departure. We taxied to 28R along Marine Drive and were airborne after a 32 second rolling start.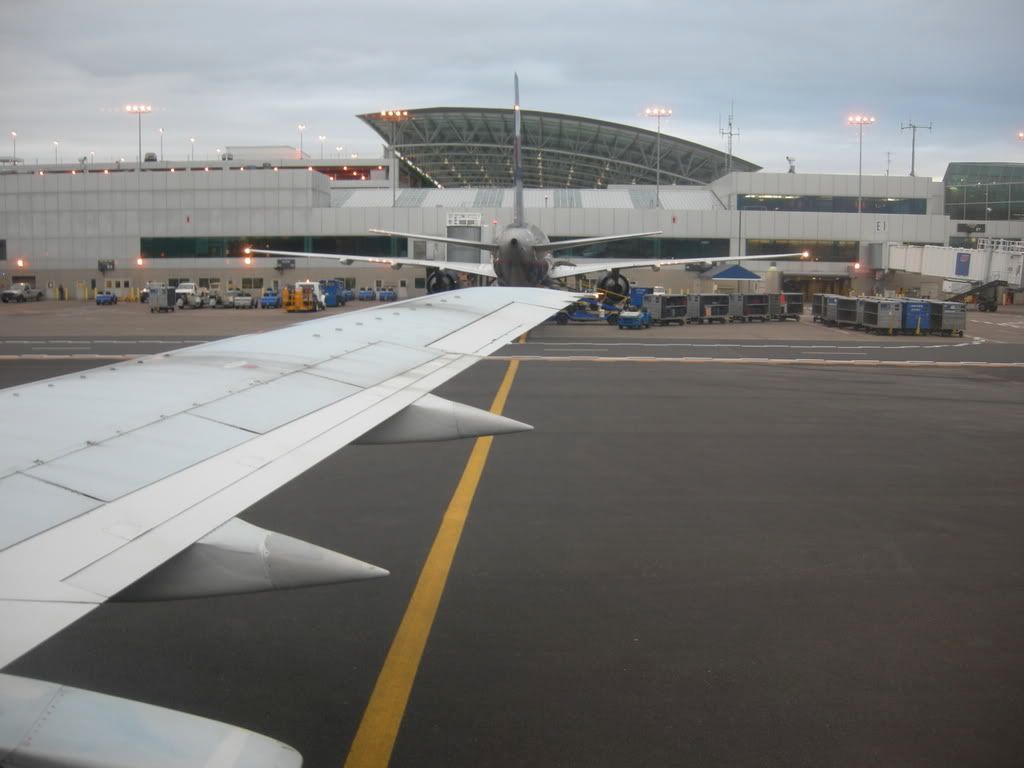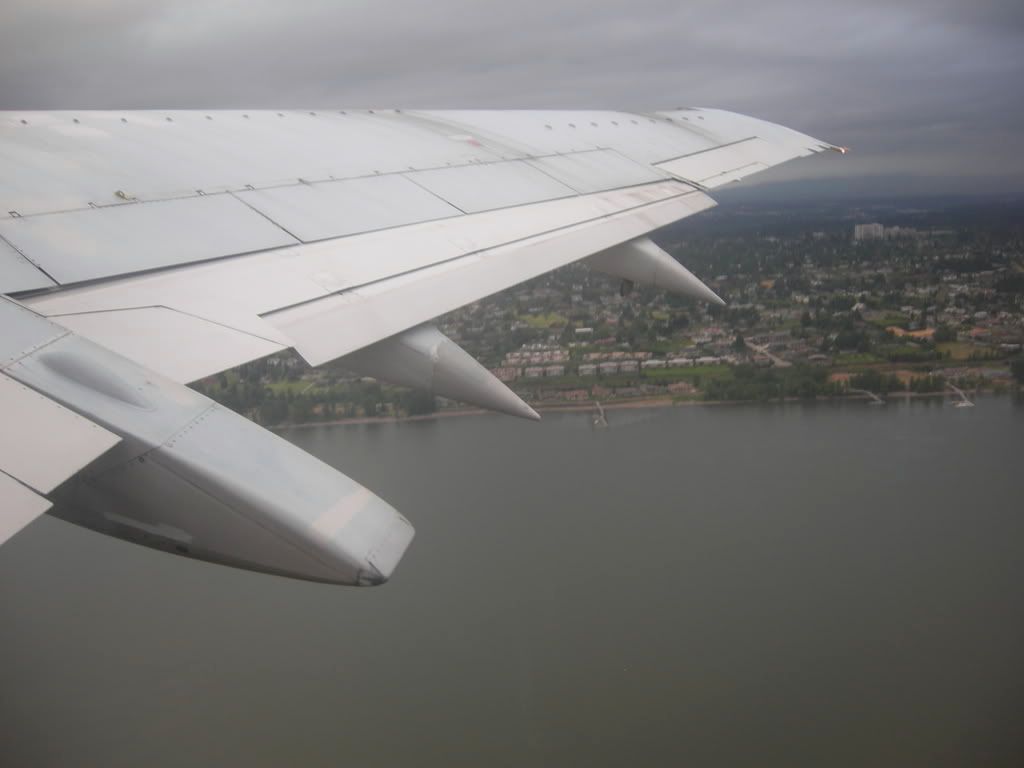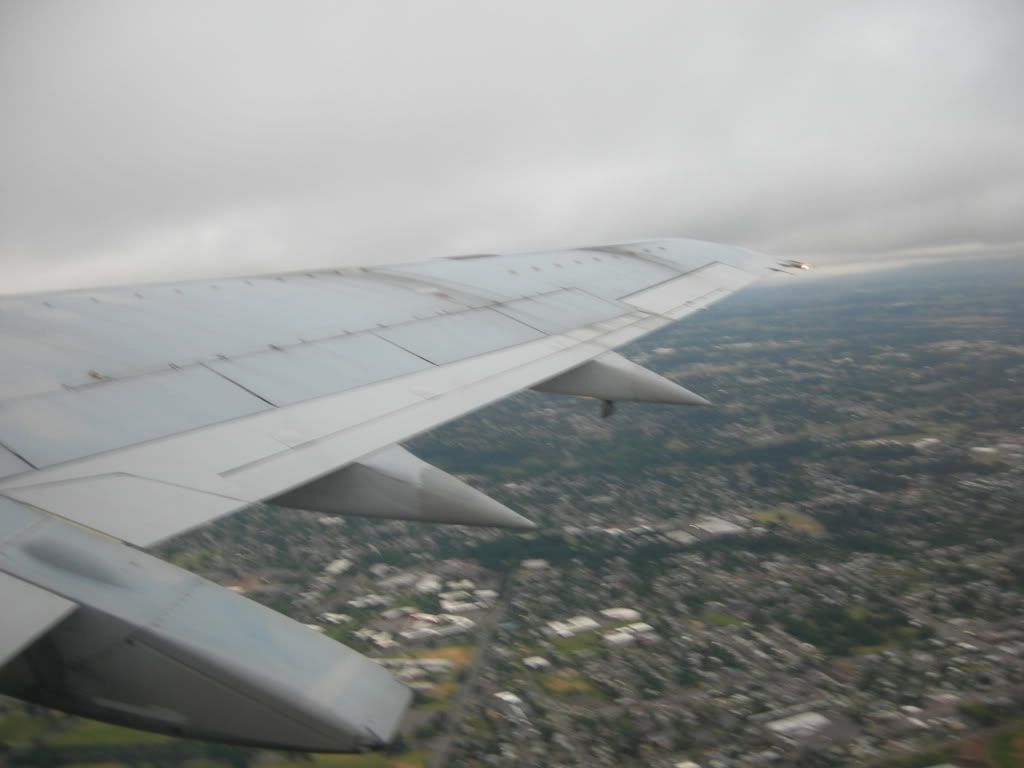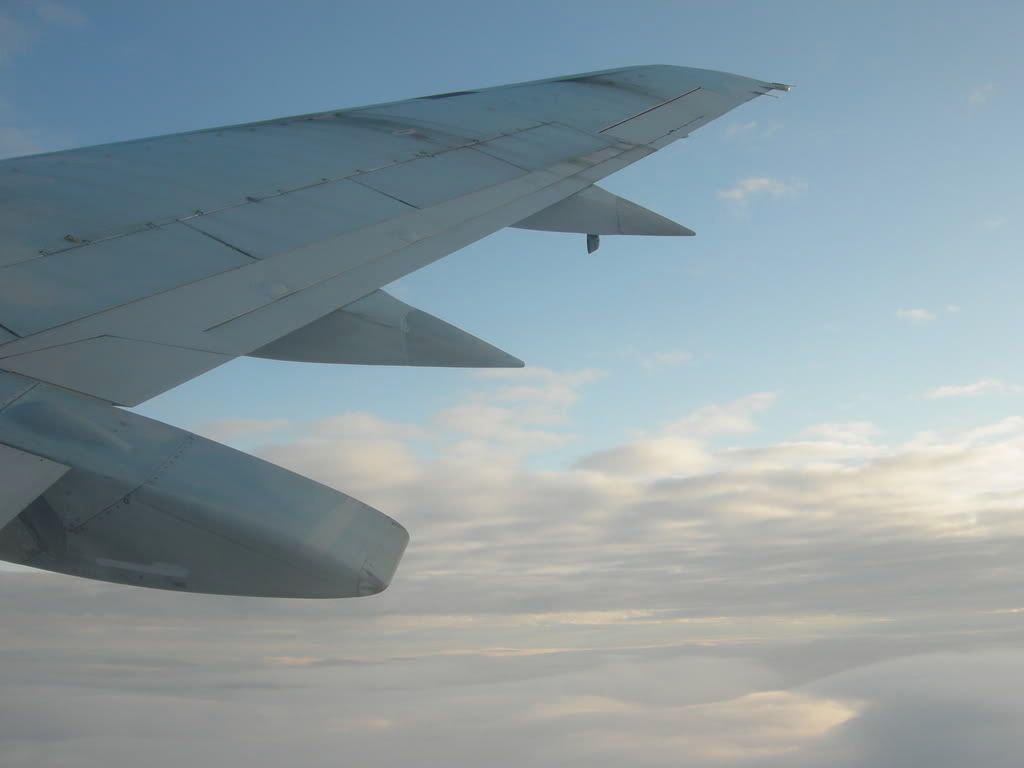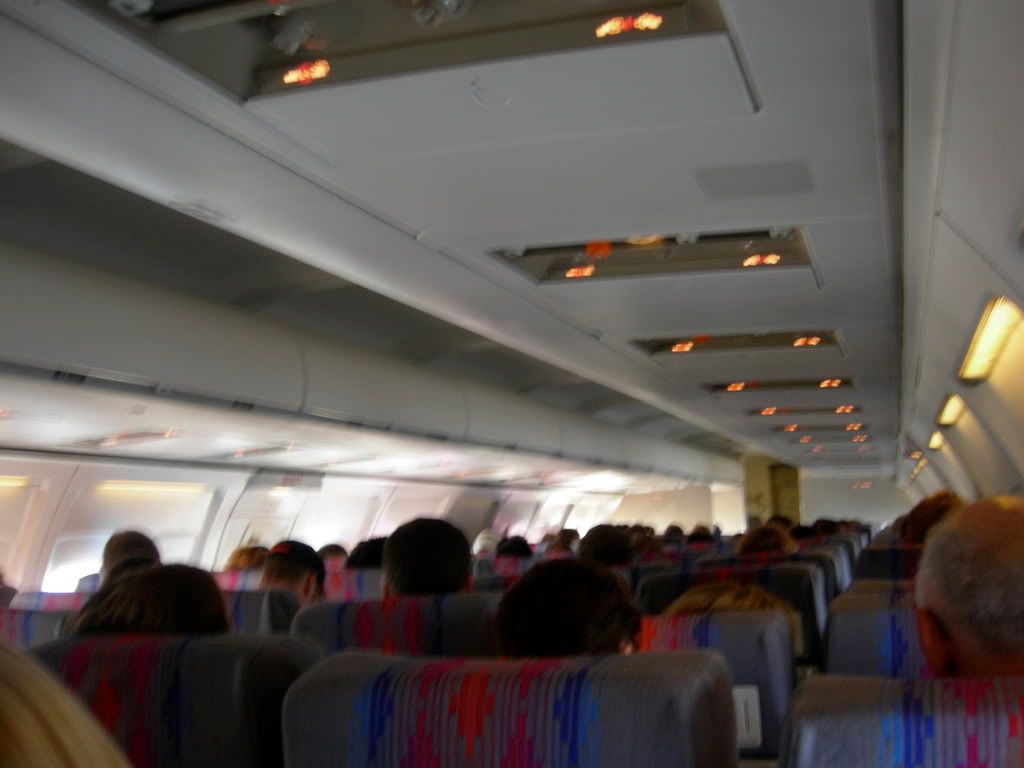 The wings on older 737's look so short compared to the NGs. Part of me likes the stubby build of the older 737's, but I love the gracefulness of the NGs. However, although I'm a huge Boeing fan, I find the A320 family much more comfortable from a passenger comfort standpoint. I'll connect back to this on the SFO-SJD leg.
I hadn%u2019t flown an older 737 in a while, so I was surprised to find that on UA's older 737's, drinks have to be made in the back of the aircraft since there are no drink carts. Is this a United-only thing or truly an older 737 trait?
I always and only get Ginger Ale when I fly:
I was disappointed to discover that Channel 9 wasn't functioning. My favorite part about flying UA is obviously listening to ATC. I like being able to predict turbulence, a turn, or a change in altitude.
Our arrival into SFO gave me some nice views of the aiport.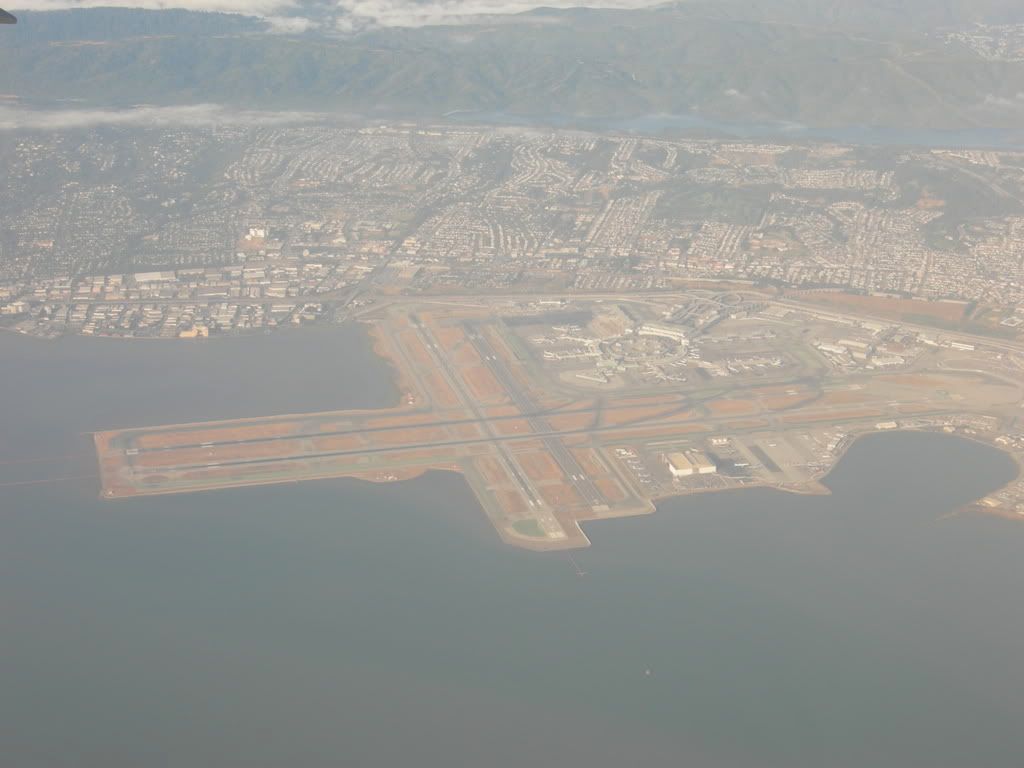 The first leg of the trip proved to be mostly uninteresting, besides the nice views of the bay on our approach.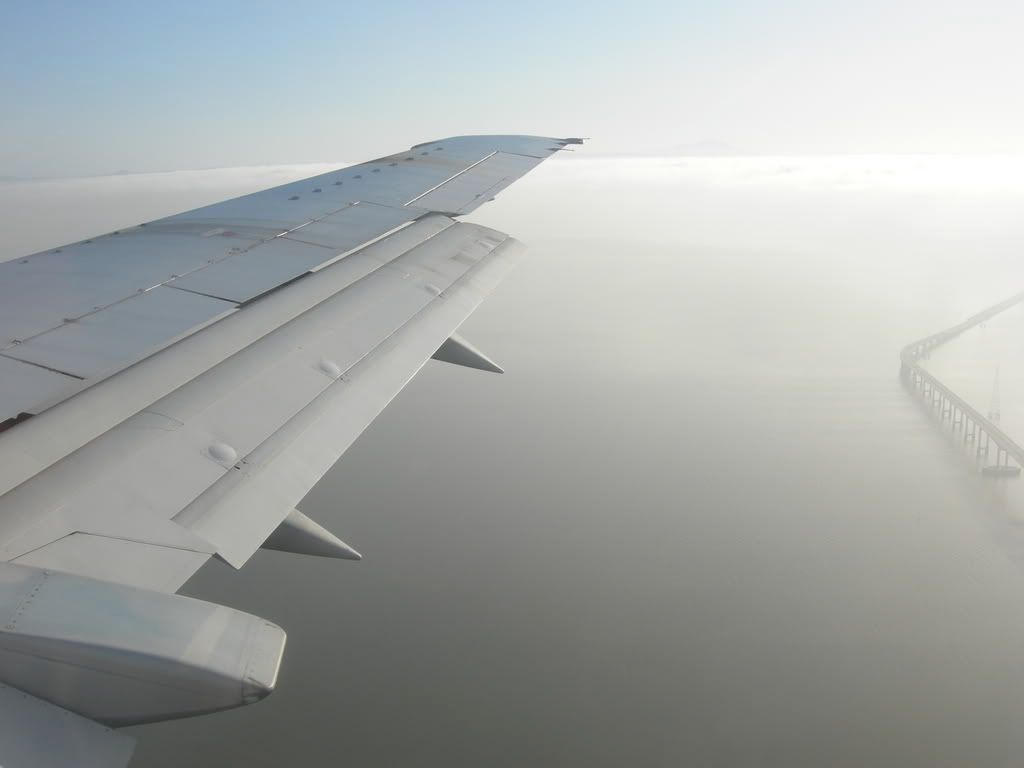 Two Virgin America 320%u2019s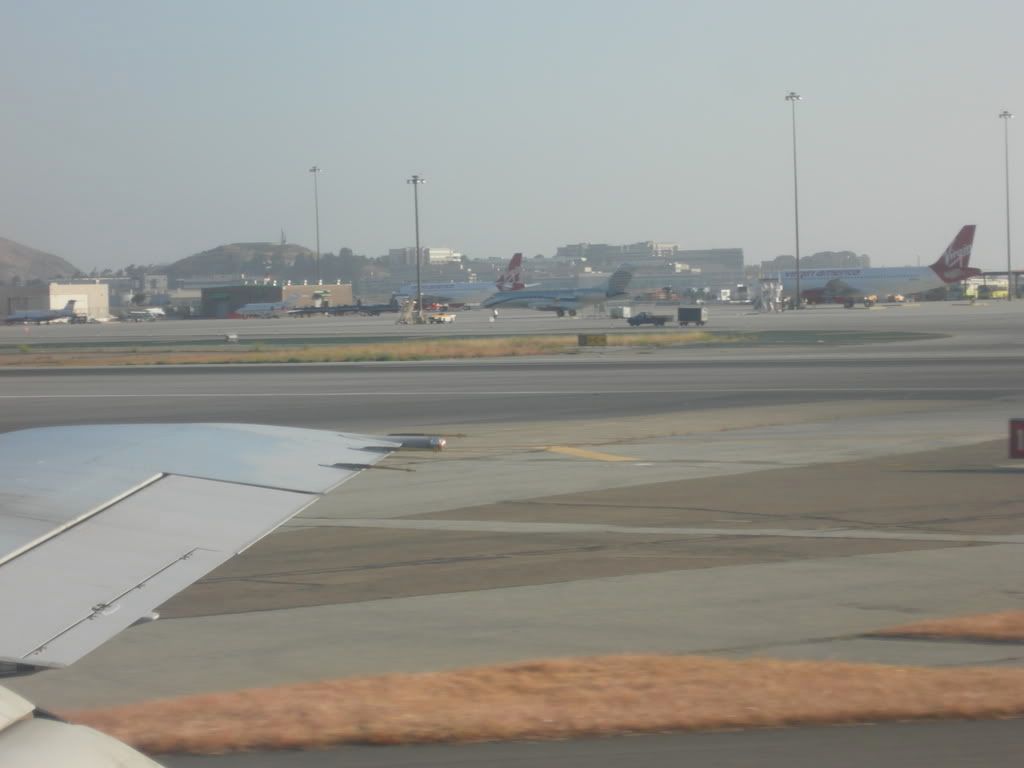 Although we arrived a bit early, we wasted no time getting to the gate for our next departure so that my friends could make sure they had seats on the final leg. I had checked seatcounter a few times before the trip, and the flight always checked out full, so I figured it was slightly overbooked. The international terminal was not only devoid of passengers, but it was spotless and elegant. At the gate, my friends set up camp in front of the counter, making sure they'd be first in line an hour before the flight was set to depart.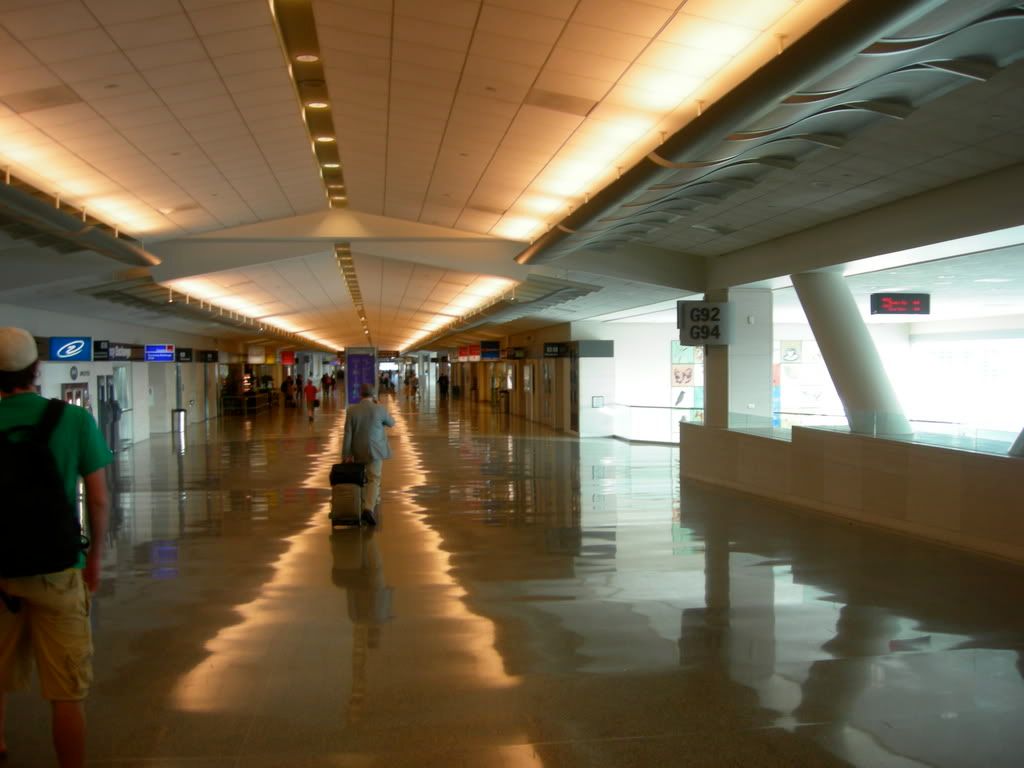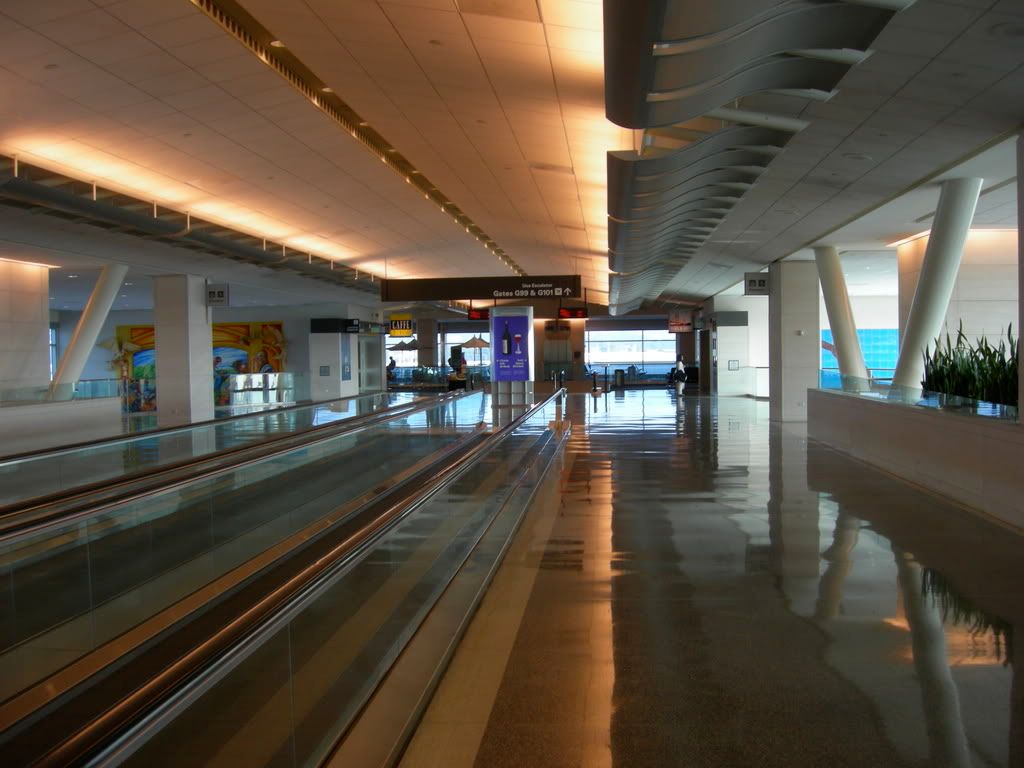 Sunday, June 24, 2007
United Airlines -Operated by TED- Flight 1681
SFO-SJD
A320-200
N482UA
Gate: G93
Departure: 937 am (1015 am)
Arrival: 145 pm 1 hour (150 pm 1 hour)
Seat: 11A Exit Row/Economy Plus
Load Factor: 100%
FL 315
About an hour before our flight was set to depart, a gate agent arrived as I had told my friends she would. I was in line with them hoping we could all three get seats together. Sure enough, she was very helpful and placed the three of us, with no status, in the exit row. We felt good about not only making it to Mexico that day, but also enjoy the copious amount of legroom in the Exit Row/Economy Plus row.
Our Airbus 320 was late arriving to the gate, not sure why. However, we boarded quickly and managed to leave the gate only a little late. We settled into the best seats on the plane, and I tried Channel 9 and found it to be functioning.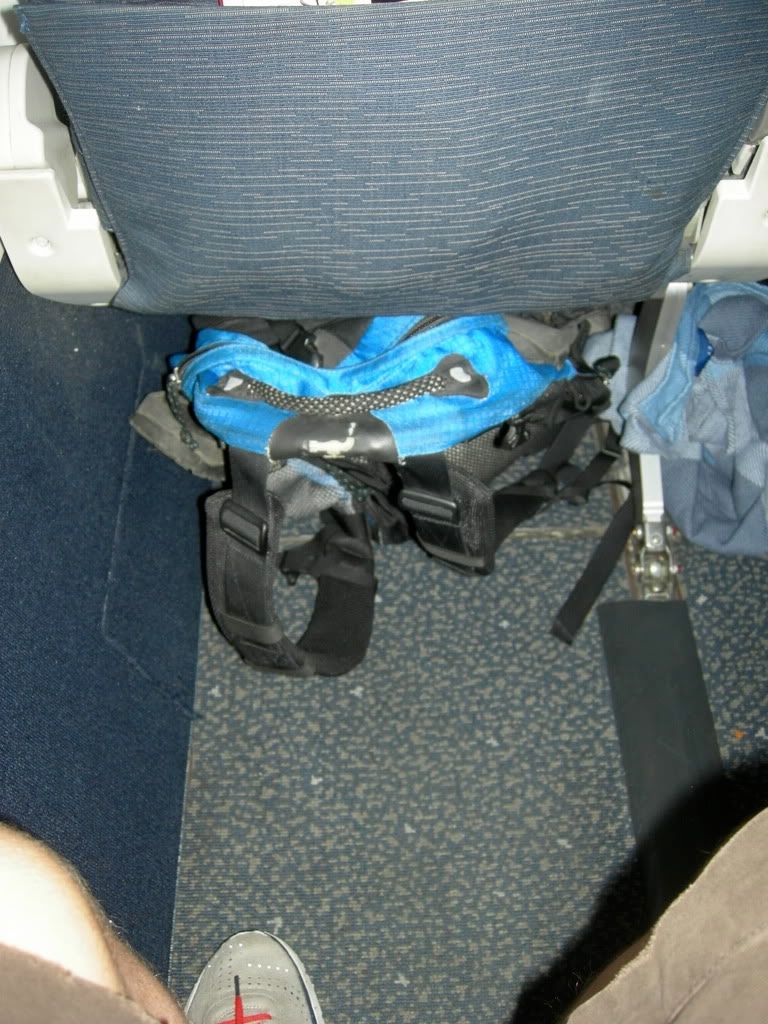 As we taxied to the runway, I heard our pilots tell ATC that we had a small problem. It turned out that we had to park the aircraft on the side of the taxiway and restart the engines and power since we had a computer glitch. This added a few minutes to our already late departure. In 33s we were airborne as we circled past the airport.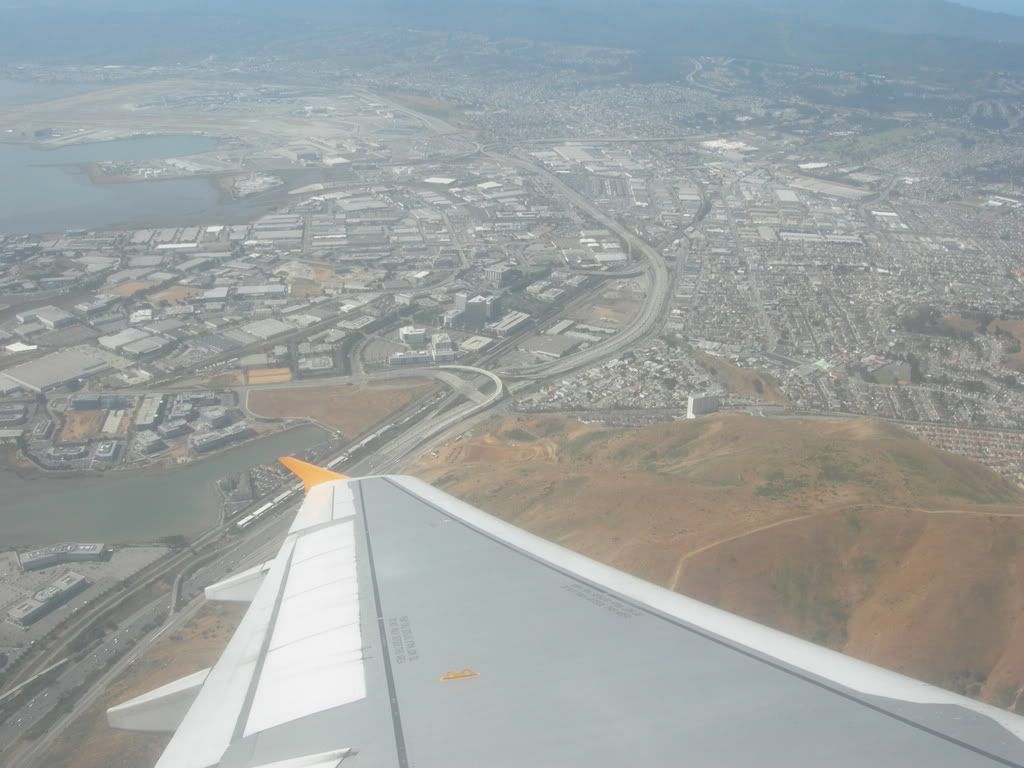 The flight crew were charming and professional. We had the opportunity to purchase onboard snack packs for $5, but the three of us declined, instead, we scored an extra biscoff cookie. The snack was delicious. We weren't allowed a full can of soda, but we could have as many cups as we wanted. My two friends watched the movie "Shooter"but I decided I'd rather read "1984" and take a nap. I'll have another chance to watch the movie on my way to LGW this Saturday, the 30th.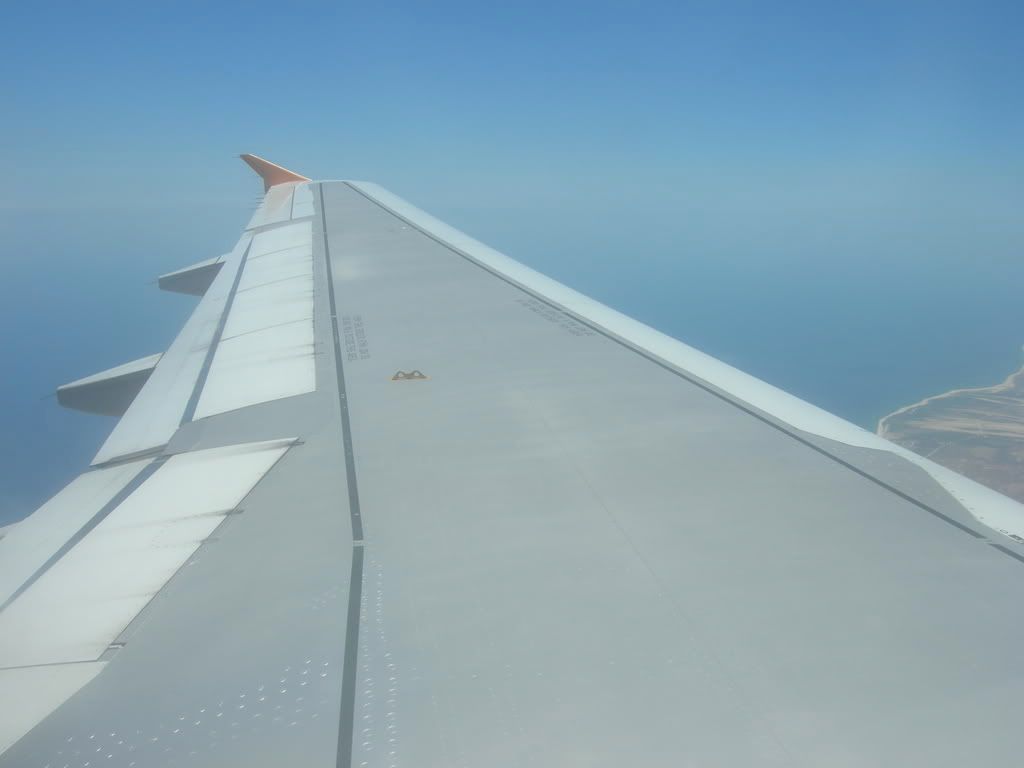 I found the Airbus to be so much roomier than the dated 737. The extra inches in width make a huge difference. The aisles are wider, giving the F/A's more room to maneouver, and the seats are slightly wider, which for most decent sized passengers makes the ride more comfortable. Airbus got the 320 series right on the inside.
We landed slightly behind schedule, but nonetheless we were the only passengers in customs at one of the two airport terminals. Customs lasted about 10 minutes and we were on our way to a week of relaxation, sun, and drinking.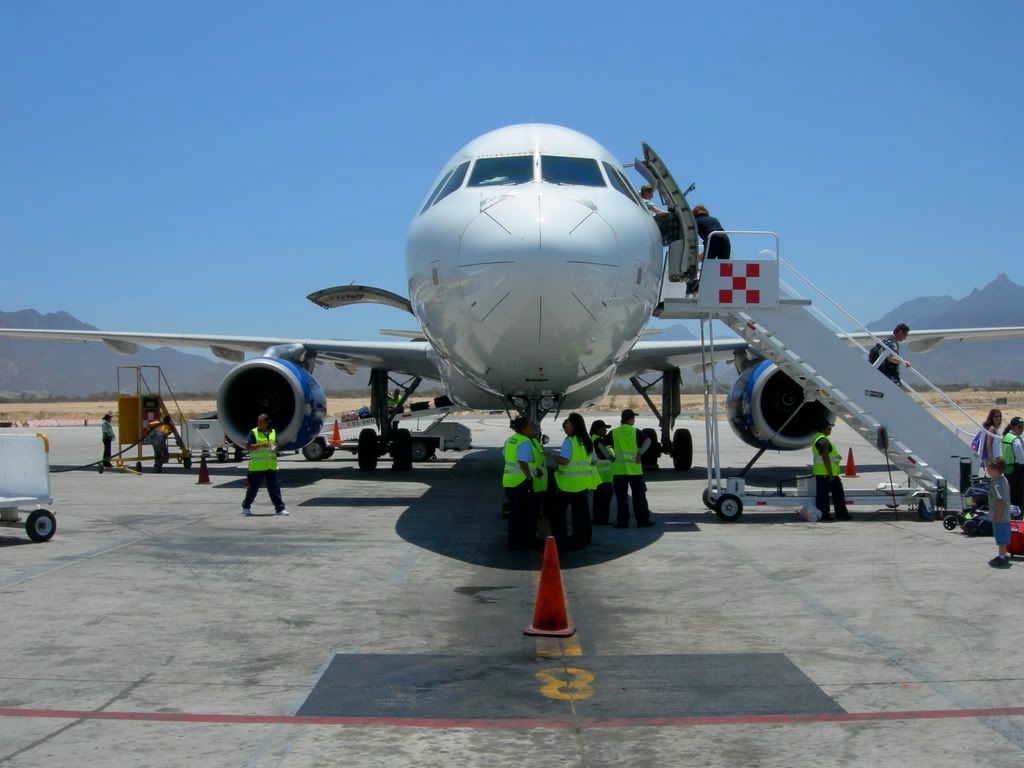 I hadn't flown United in a few years, but I had a good experience with them down to Cabo. The TED aircraft and service was pleasant and a bit more comfortable than the AS service I am used to taking to Cabo. We experienced nearly no chop nor turbulence. The 737s are dated, especially the seats and hideous oldschool upholstery that I vaguely remember from my childhood trips to DEN Stapleton to visit my grandma. Does UA have plans to retire them in the next few years or possibly revamp the interiors? Personally, I'd rather have new interiors than new paint on the outside of the aircraft, but that's not as cost efficient.
Stay tuned for Part 2, my return: SJD-DEN-PDX, which turned out to be a bit more interesting.
[Edited 2007-06-26 09:48:46]