Hubbing for 162 miles: Hof-Stuttgart-Hof via Frankfurt on Augsburg Airways, Eurowings & Lufthansa
Intro
In the past few weeks I decided to take off from Hof-Plauen Airport (HOQ) for the first time – it's closer than NUE, but I had never used it due to a very limited timetable. Between the 1980s and 2002, tour operators had used BAe 146 equipment on holiday flights to Spain, Greece and Tunisia but since 2002 the one and only destination has been Frankfurt - served by three daily turboprop flights, operated by Lufthansa partners (one daily flight Sat & Sun). Some years ago Augsburg Airways took over the route from Eurowings.
Round-trips HOQ-FRA-HOQ at LH's lowest 99 Euro fare are widely available, even on short notice. Since I could add a new airport, a new type (DHC-8-300) and a new carrier (Augsburg Airways) to my log, I took a day off and got ready for booking. However, spotting at FRA is limited due to the closure of the observation deck and therefore I checked options for a connection to another airport. Only domestic destinations were available at LH's basic fare and after a comparison between DUS, NUE and CGN I picked STR because I could add the missing BAe 146-300 (operated by Eurowings) to my log. Then I booked HOQ-STR-HOQ as a connection which saved 20 Euro in the end. Btw – the linear distance between Hof and Stuttgart is only 162 miles, while Hof and Frankfurt are 147 miles apart and Frankfurt and Stuttgart are 98.2 miles apart...
Online Check-in
Lufthansa offers a web check-in for all domestic and most European flights, available from 18:00 in the evening for all flights on the following day. I entered my data and soon realized it wasn't possible to get access to a seat map, all I could choose was window or aisle. In the end I got 8F (HOQ-FRA) and 6F (FRA-STR). LH could learn a lesson from jetBlue which offers to pick a seat at the time of booking.
Hof-Plauen Airport
Hof-Plauen is a tiny airport, equipped with a 1480 x 30 meter runway, located five kilometers southwest of Hof. Exactly 26,810 passengers were counted in 2005 which means HOQ is one of the smallest commercial "airports" in Germany. The one and only commercial route to Frankfurt is subsidized by the state of Bavaria (76,35 percent), the city of Hof and the counties of Hof and Wunsiedel, total costs: approximately 1,5 million Euro per year.
Due to the limited use of the airport, the infrastructure hasn't been a priority in the past years. Parts of the narrow road to the airport are in bad condition, and so is the asphalted ground around the terminal with its numerous potholes. I left my car at a private parking lot and bought a one-day ticket for 3,50 Euro – handwritten by the ladies at the sole check-in counter.
Here's the terminal building: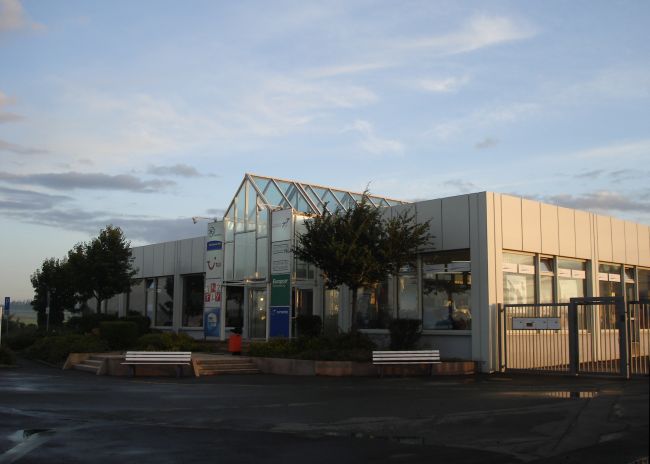 Tuesday, 19 June 2007
Hof (HOQ) – Frankfurt (FRA)
Augsburg Airways LH1391
06:15-07:15 (06:17-07:16)
Flying time: 00:51 (hrs)

Bombardier DHC-8Q-314
D-BLEJ (MSN 521), delivered 06/1998
Economy Seat 14F
New Seat
At the sole check-in counter I requested a new seat and got the desired last row. I went through security and took a seat in the gate area. Half an hour prior to departure I counted only ten other passengers at the small gate. Many empty seats left: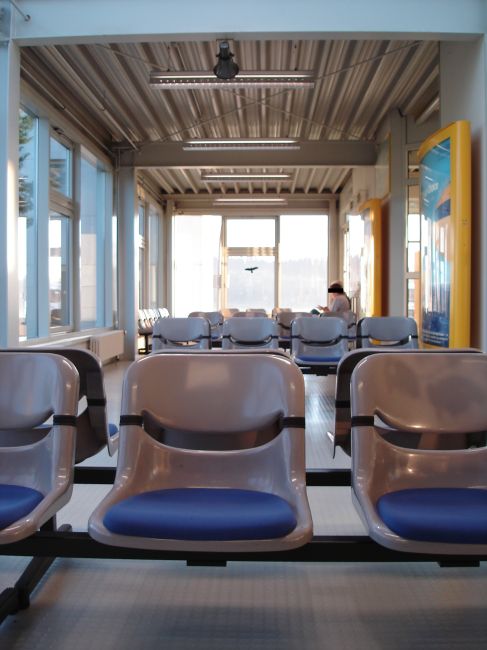 Expansion Plans
The expansion of the tiny (and loss-making) airport has been discussed many times since 1996, but there have never been any results. Though well booked, holiday flights operated by BAe 146 equipment weren't rated economic any longer in 2002. B737 or A320 operations are impossible and therefore it's hard to attract new carriers. Some years ago even the total closure was evaluated: In 2001, when BMW was seeking a large area for a new car factory, the city of Hof took part in the tender and offered to sell the airport ground. Though, BMW picked Leipzig in the end and the airport survived. In 2004, an American investor talked about spending some 100 million Euro, but there has never been only a letter of intent.
Several months ago the logistics company Medov (based on the British Virgin Islands) held out the prospect of investing more than 70 million Euro. That investment would have helped to realize the construction of a new 2500-meter runway – visible on that information board at the gate area: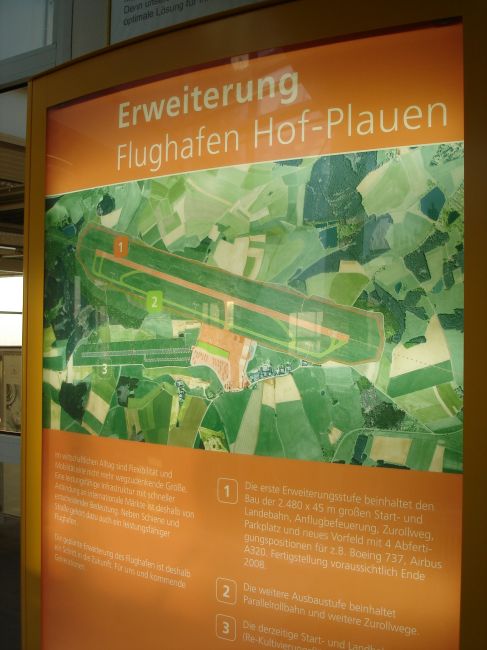 According to the airport management, tour operators and Hamburg International had ensured to start operations from HOQ after a runway expansion. However, exactly on the day of my trip the North Bavarian Aviation Authority in Nuremberg rejected the plans, raising doubts about both demand an financing. Now the Bavarian state government wants to invest more than 30 million Euro to simply modernize the existing facilities and help to secure the existing route to Frankfurt.
Boarding
DHC-8-300 D-BLEJ, which had been parked in a hangar at night, was ready for boarding at 06:00.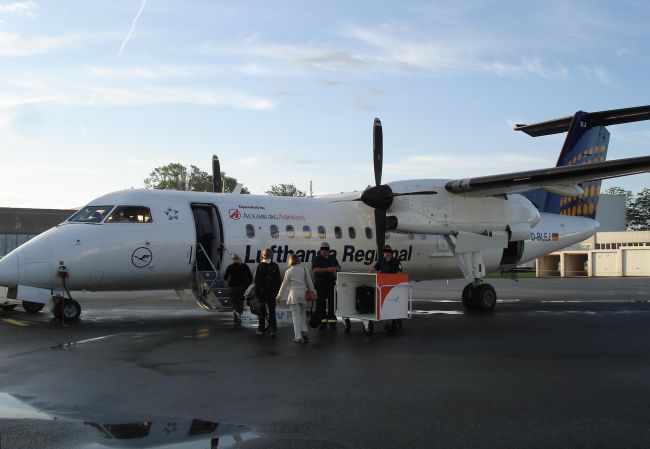 A friendly male flight attendant of Asian decent welcomed me on board and I took my seat in row 14. Typical window view on the DHC-8: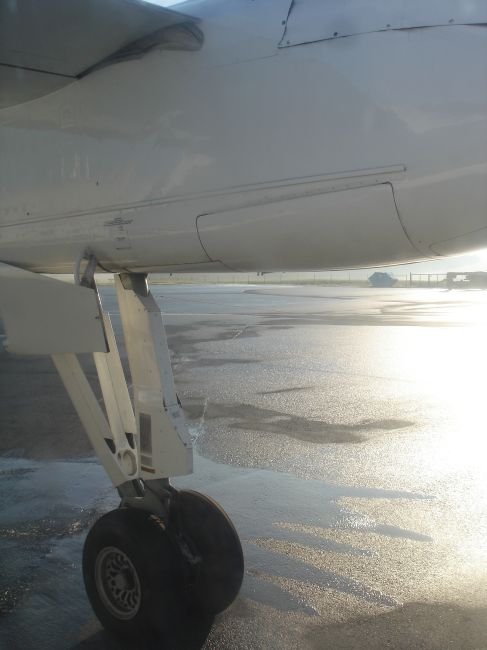 The hangar where the DHC-8 usually spends the night: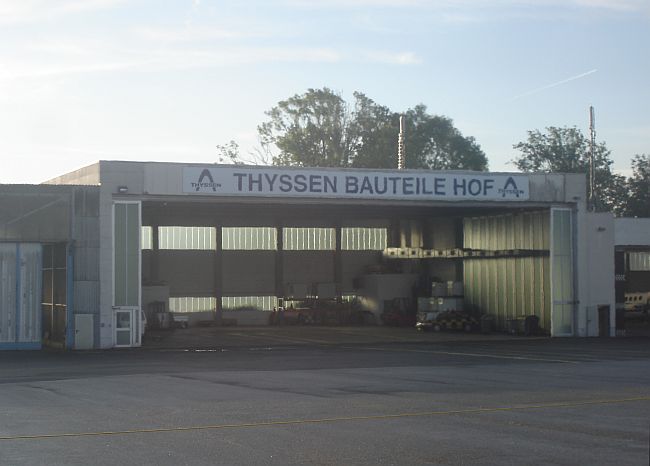 Cabin Comfort
The older style leather seats were quite comfortable…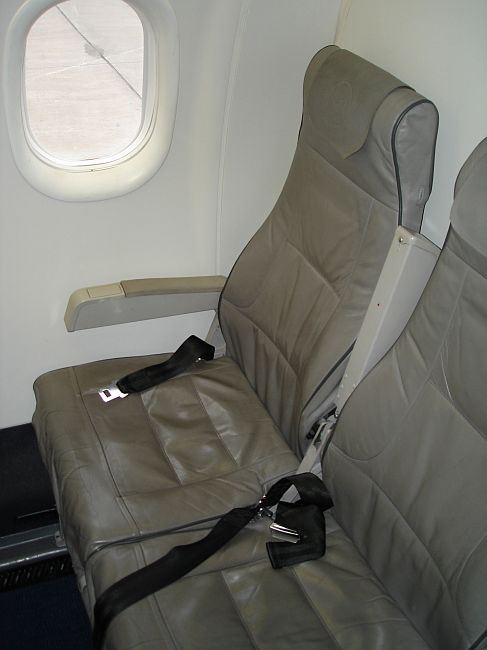 …and I was surprised by the plenty of legroom: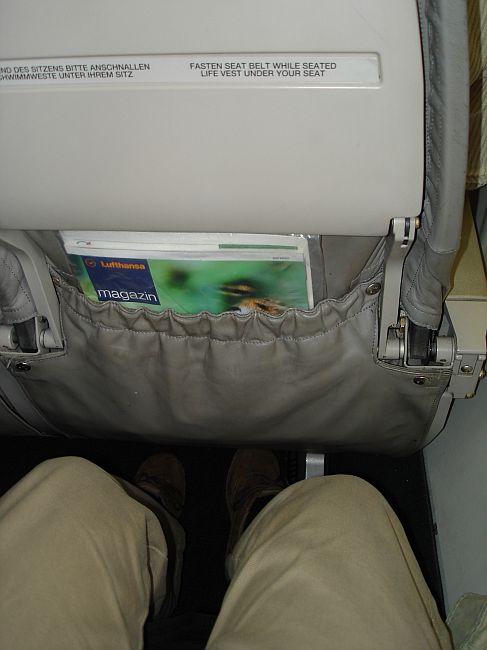 Takeoff
Boarding was completed within a few minutes, some 30 passengers were booked on that early morning flight. We left the parking position at 06:17 and departed two minutes later after a short takeoff roll on runway 27: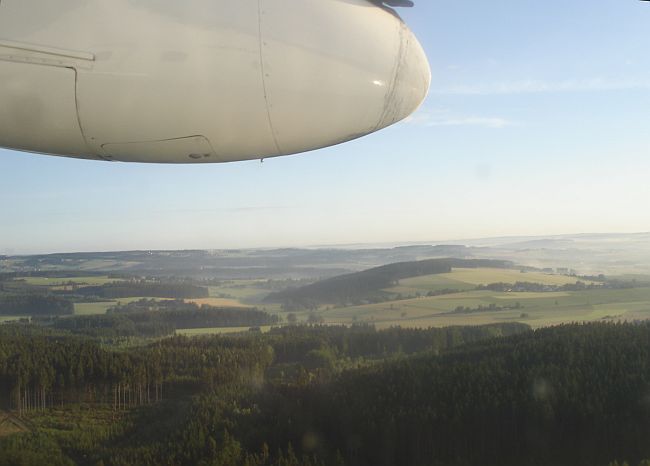 The famous Autobahn A9 on the right: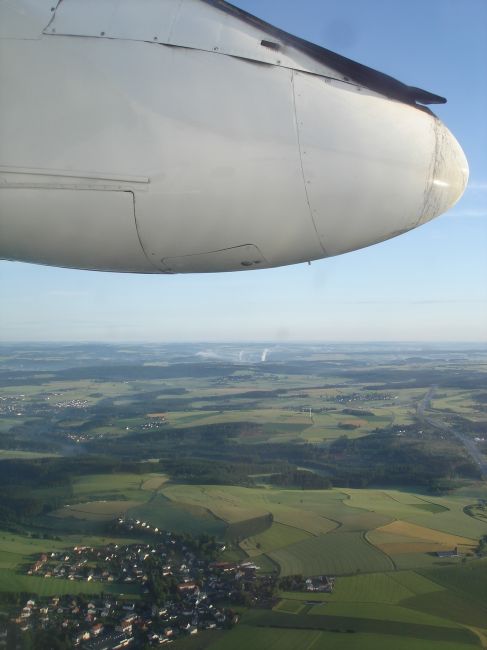 Drinks
The flight attendant started serving snacks and drinks in the mostly empty business class section (divided by little orange signs on top of two seats) and served drinks in Economy. He constantly offered an extra drink to all passengers who had only ordered one drink. I drank a good coffee and enjoyed the scenery: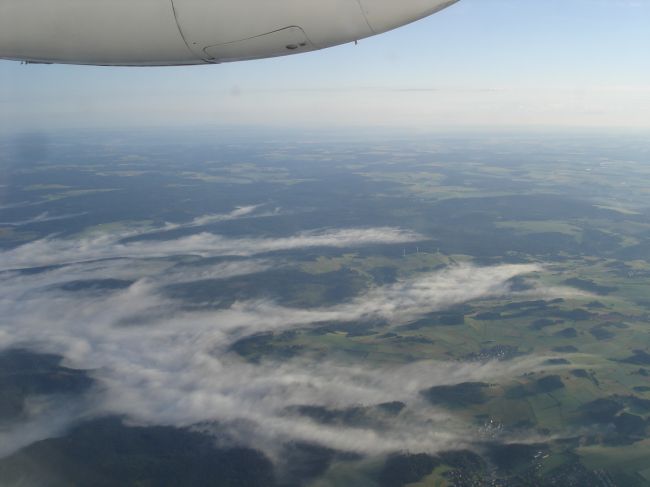 Holding Pattern
Right after departure the captain had announced a flying time of 45 minutes but later explained we would have to spend more time than expected in the holding pattern. The maximum cruise altitude was 5000 meters. Thick clouds over Hesse: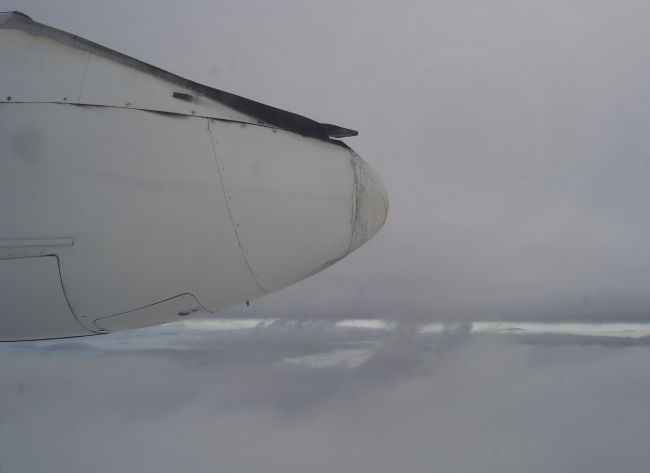 Approach
After circling for a while we started the final descent. Frankfurt's skyline: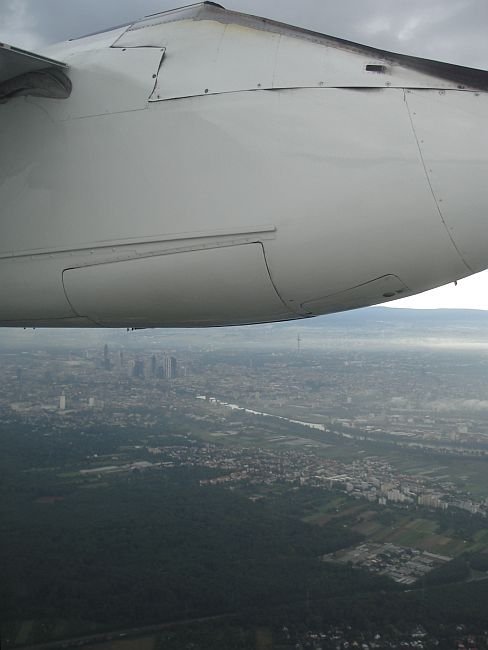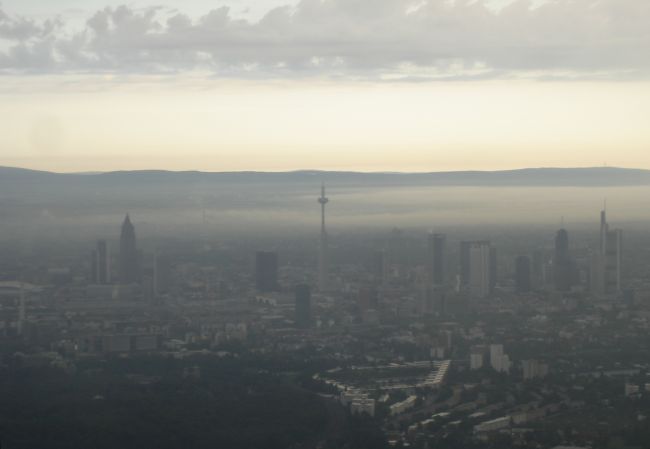 Seconds from touchdown at runway 25L: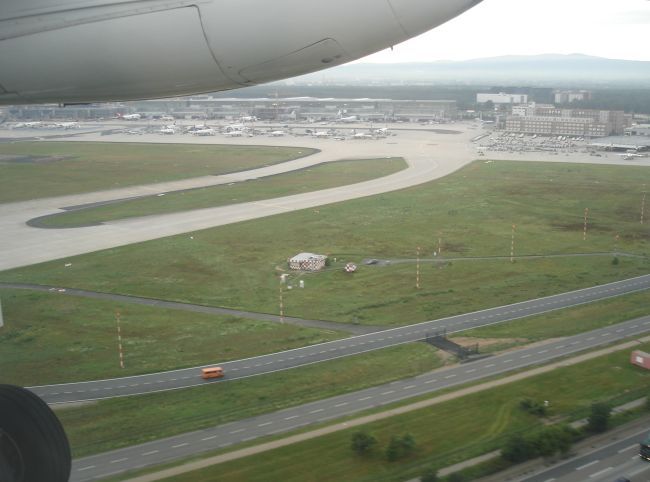 Within a few minutes we taxied back to the regional aircraft ramp east of Terminal 2 (party visible on the very right on the picture above). A bus took us all the way to Terminal 1A which was very crowded at that time. The long bus tour was quite enjoyable and I got some interesting regs without using my binoculars – e.g. AtlasJet B757 TC-OGT with Eritrean titles, Yemenia A332 7O-ADP and Varig B763 PP-VTE.
Tuesday, 19 June 2007
Frankfurt (FRA) - Stuttgart (STR)
Eurowings LH1352
08:55-09:35 (09:05-09:46)
Flying time: 00:22 (hrs)

BAe 146-300
D-AEWB (MSN 3183), first active with BAe Systems as G-BSYS 11/1990-06/1992
Economy Seat 6F
View Large
View Medium


Photo © Torben Guse
Boarding
I spent the remaining time at a window between gates A1 and A2. The flight to STR was apparently full, several passengers were waiting on standby. Boarding was started at 8:30 and a crowded bus took us back to the regional aircraft ramp, exactly on the same route. Again we passed many interesting aircraft, but some of them were too far away (e.g. China Eastern A332). Several Eurowings BAe 146 were parked there, most of them in new Lufthansa Regional colors, and we stopped next to D-AEWB – still wearing Eurowings colors. D-BLEJ was just leaving for another hop to Hof-Plauen: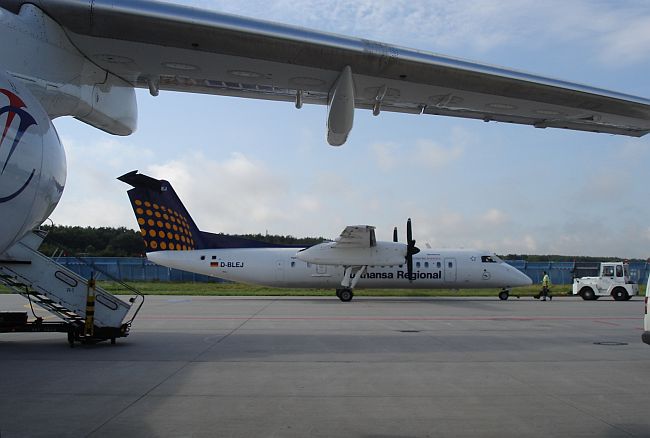 Engine close-up: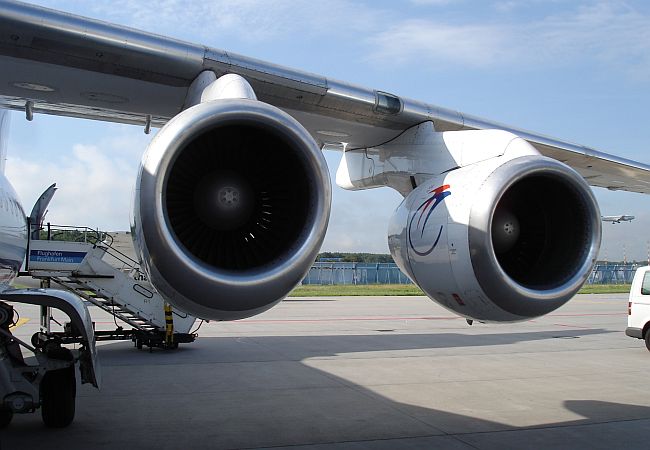 Cabin Comfort
D-AEWB is still equipped with Eurowings' blue leather seats: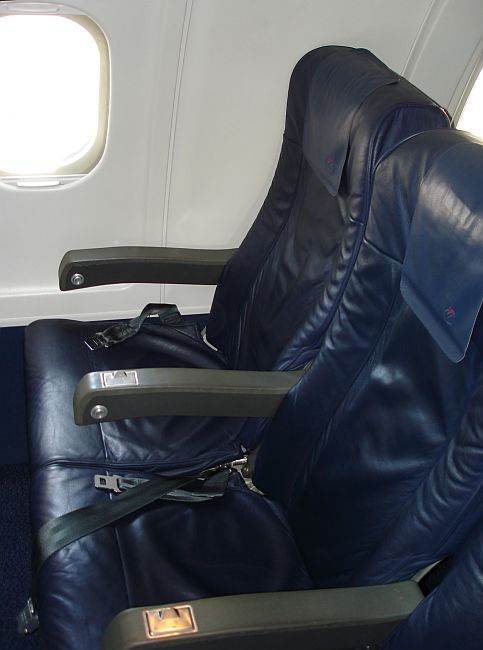 The seat pitch is generous, but shoulder and elbow space is almost non-existent. Six seats per row are simply too many in a BAe 146. A tall pilot flying on standby took the seat next to me and I felt cramped like never before on an aircraft.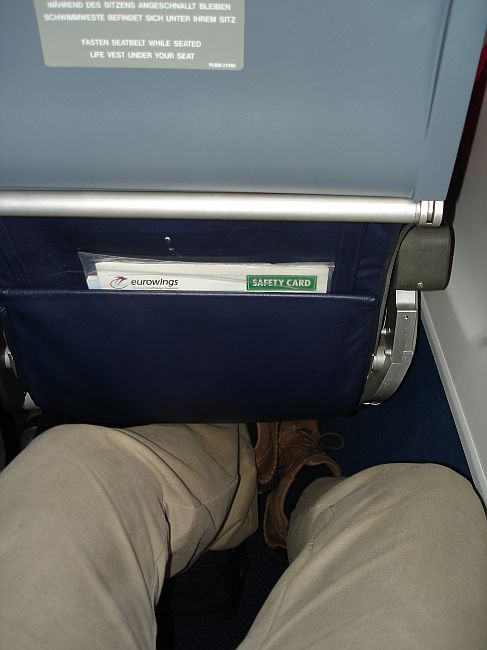 Takeoff
We left the gate ten minutes late, taxied all the way to runway 18…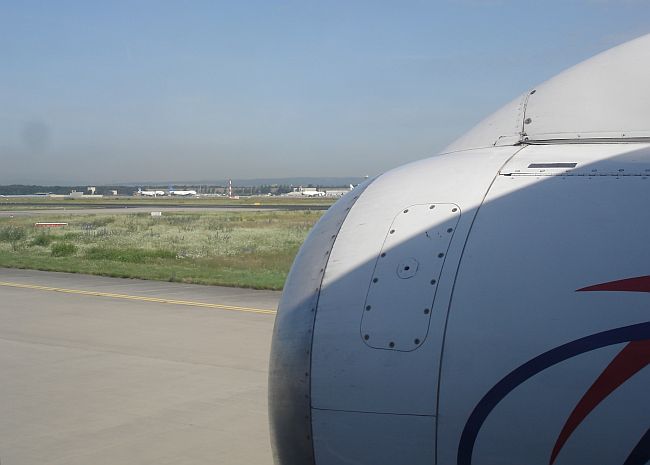 …and lifted off at 9:20 after a rather long takeoff roll: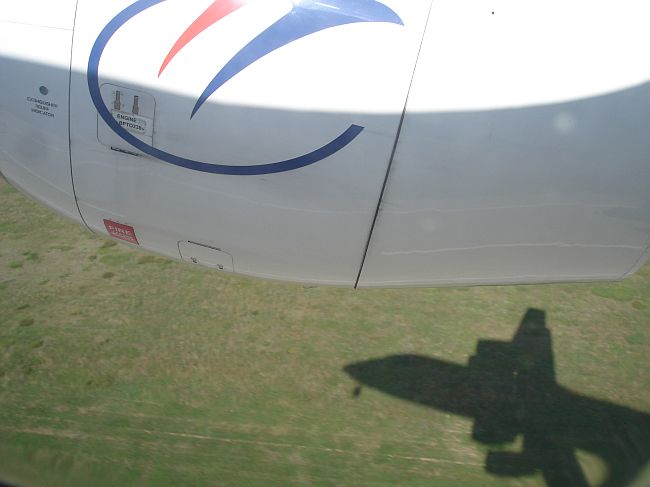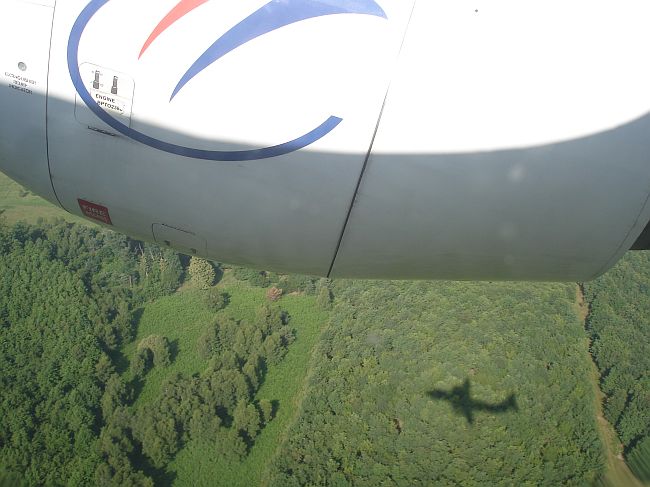 Soon to be gone: the large Eurowings logo on the engines.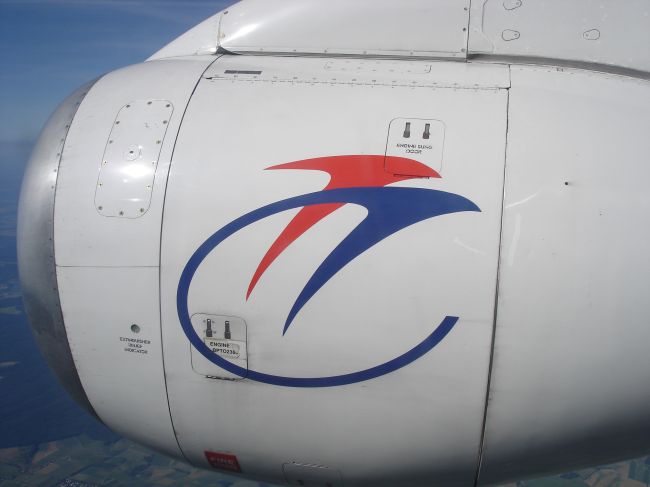 Approach
Only ten minutes after takeoff we already left the "cruising altitude" again. The time was just enough to serve some drinks in Business class.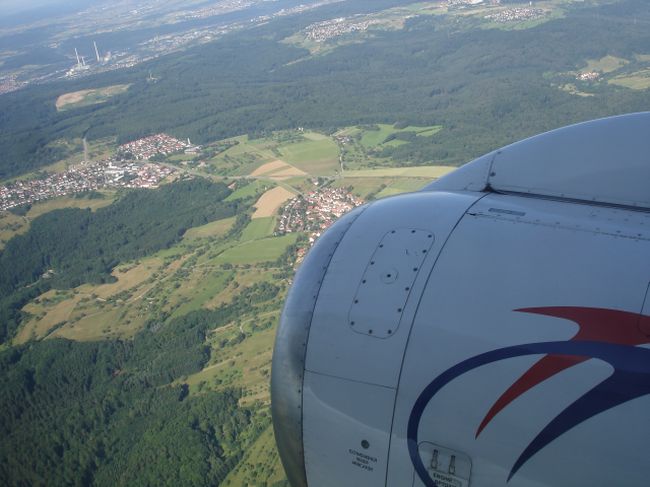 Final approach: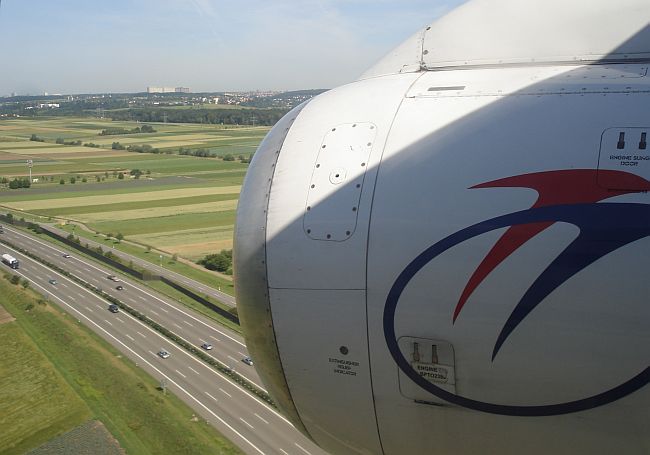 We touched down exactly 22 minutes after takeoff and taxied to a remote position.
Stuttgart Spotting & Mini a.net-Meeting
First of all I went to the departure hall and checked in for the return flights. This time I got access to the seat map and chose window seats in the last rows on both the B735 and DH8. Then I walked to the Burger King restaurant and contacted a.net user
Ndebele
who had a day off, too. Ten minutes later
Ndebele
arrived and he took me to the other side of the airport for some spotting. An hour later I continued spotting at the observation deck where I got into conversation with an air traffic controller working at Berlin-Tegel. I logged 18 new regs, including XL Airways B763 G-VKNH.
Tuesday, 19 June 2007
Stuttgart (STR) - Frankfurt (FRA)
Lufthansa LH1359
14:45-15:35 (15:07-15:53)
Flying time: 00:28 (hrs)

Boeing 737-530
D-ABIO Wesel (s/n 2031), delivered 04/1991
Economy Seat 21A
Slight Delay
Half an hour prior to departure I passed security and went to gate 173. D-ABIO
Wesel
arrived a bit late from Frankfurt: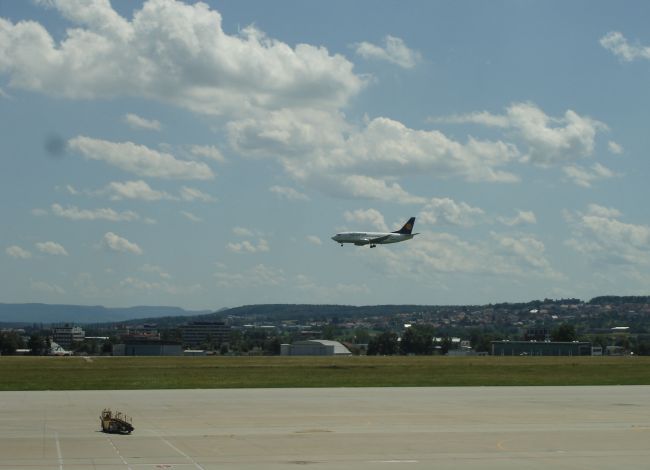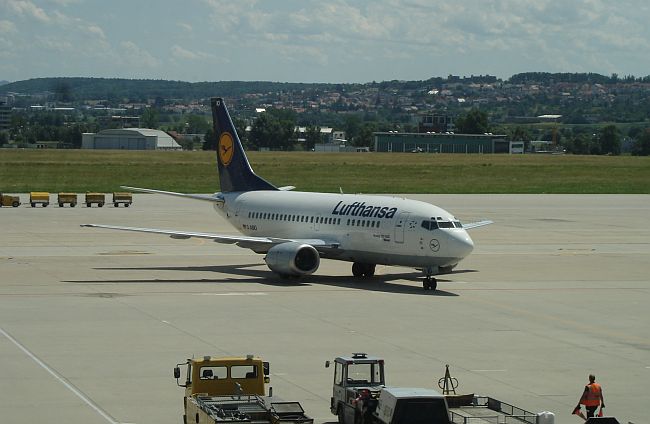 Cabin Comfort
Boarding was started shortly after the aircraft had arrived and a friendly crew welcomed the pax. LH's new short haul cabin is a real improvement over the old design. Pics from the database:
MyAviation.net photo:

Photo © Alexander Sarmiento Schober

MyAviation.net photo:

Photo © Alexander Sarmiento Schober
However, the seat pitch is not as generous as on the DHC-8 and the BAe 146. The flight was quite full, but I was lucky and the middle seat remained empty.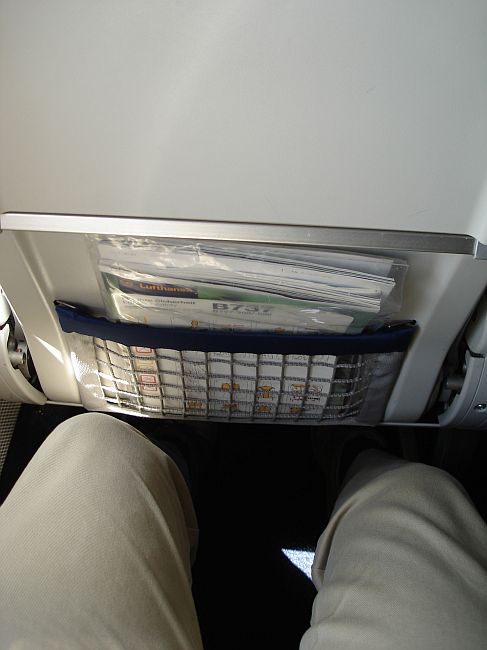 Takeoff
We left the gate at 15:07 and accelerated eleven minutes later. I was surprised by a powerful takeoff and a steep climb-out.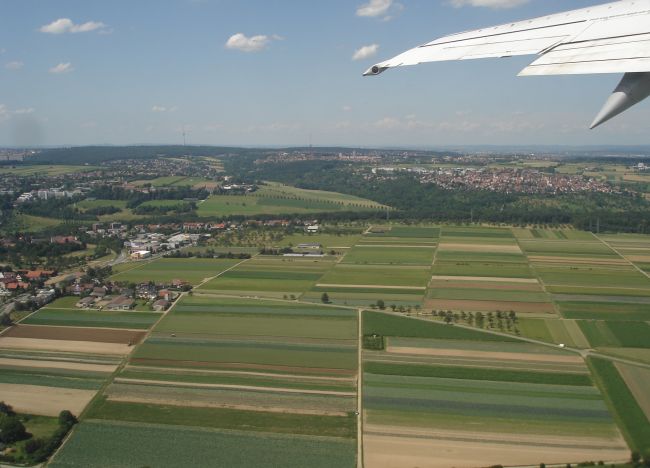 Now a question for the locals: What's that facility down there?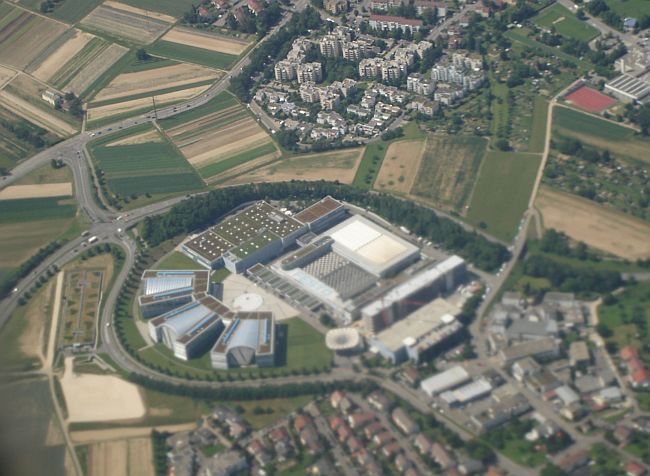 Approach
Again, the flight was too short for a drink service. Approach into FRA was started only 10-15 minutes after takeoff. Very clear view: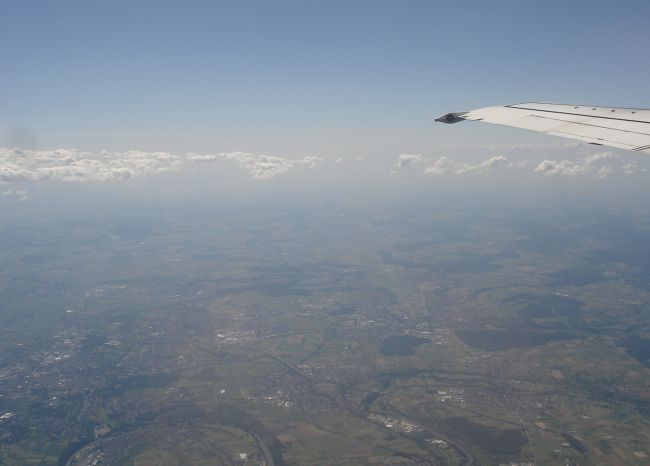 We touched down roughly at runway 25L 28 minutes after takeoff and taxied to a remote parking position opposite to Terminal 2. Funny occasion: While still on the taxiway the captain suddenly said on the loudspeaker:
"Attention, ground wave ahead!"
And indeed, some seconds later we "bumped" over that wave…
Tuesday, 19 June 2007
Frankfurt (FRA) - Hof (HOQ)
Augsburg Airways LH1392
17:40-18:30 (17:45-18:38)
Flying time: 00:42 (hrs)

Bombardier DHC-8Q-314
D-BLEJ (MSN 521), delivered 06/1998
Economy Seat 14F
Boarding
Back at Terminal 1A I drank some cups of tea at of of LH's self-service bars and spent the remaining time with spotting and reading. Always welcome: the good selection of free newspapers. Just like in the morning, gate A4 was used for the flight to HOQ. This time only some 15 people entered the bus which brought us back to the distant regional ramp. As expected, D-BLEJ was waiting again – currently only HOQ and London-City are served with DHC-8s from FRA and one aircraft is enough for the schedule. Daily weekday segments: HOQ-FRA-HOQ-FRA-LCY-FRA-HOQ-FRA-HOQ.
Takeoff
I took the same seat as in the morning, but this time the aisle seat remained empty. We taxied to runway 25L and I spotted a LH A300-600 preparing for takeoff at runway 25R: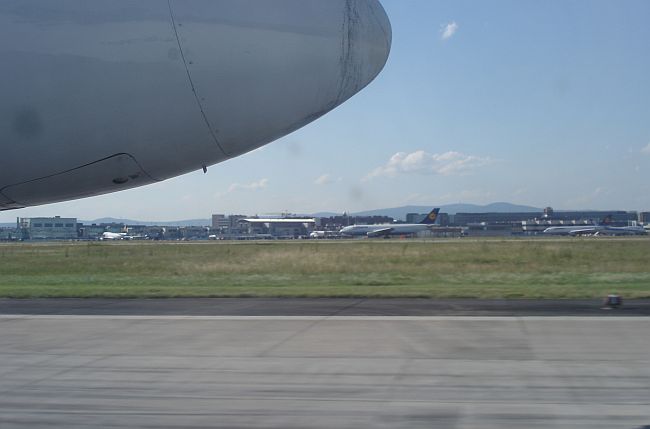 After our takeoff the A300 was still rolling…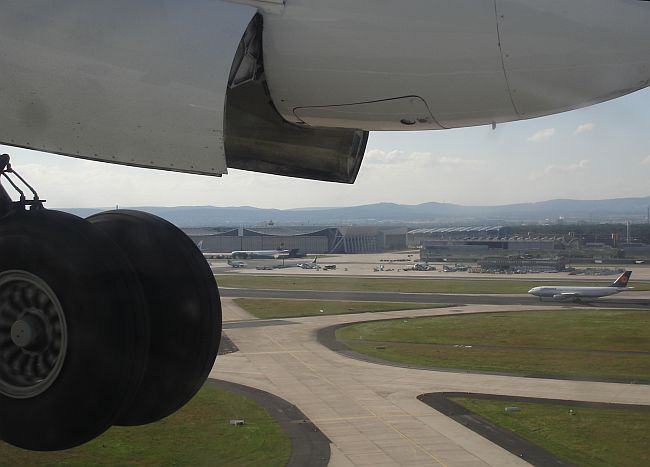 …and rolling…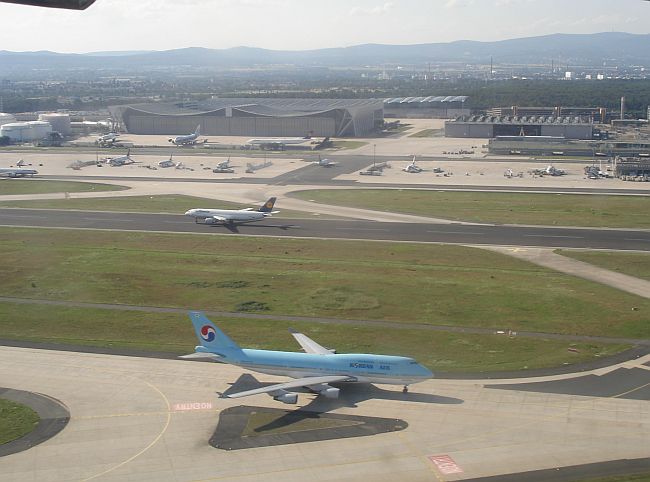 …and finally lifting off: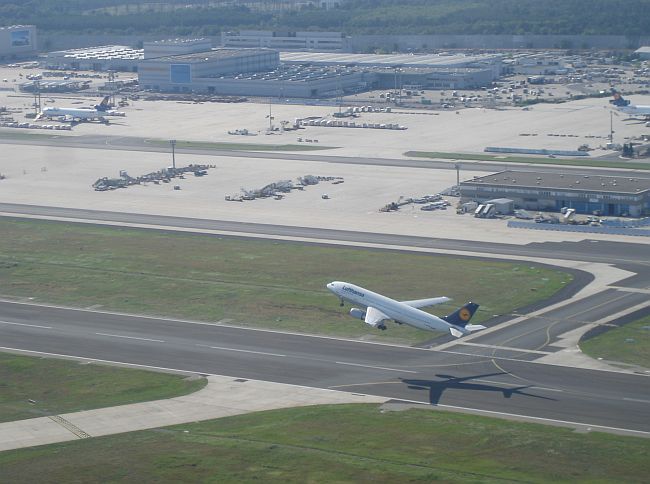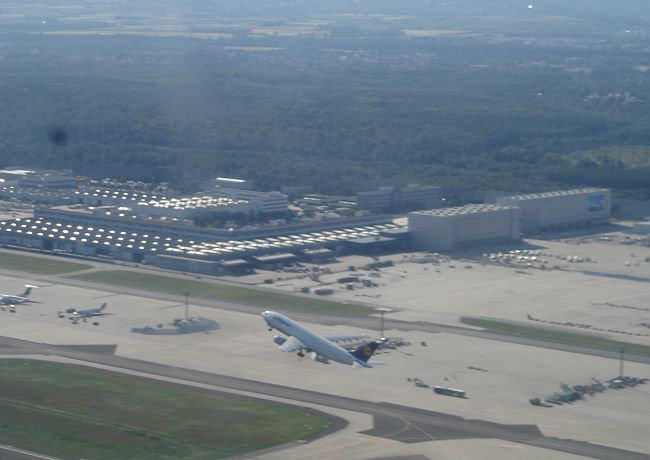 Approach
This time two female flight attendants – one of them apparently a trainee – served drinks. Again, extra drinks were offered to every passenger. The flight was uneventful and 30 minutes after takeoff we started the approach to HOQ.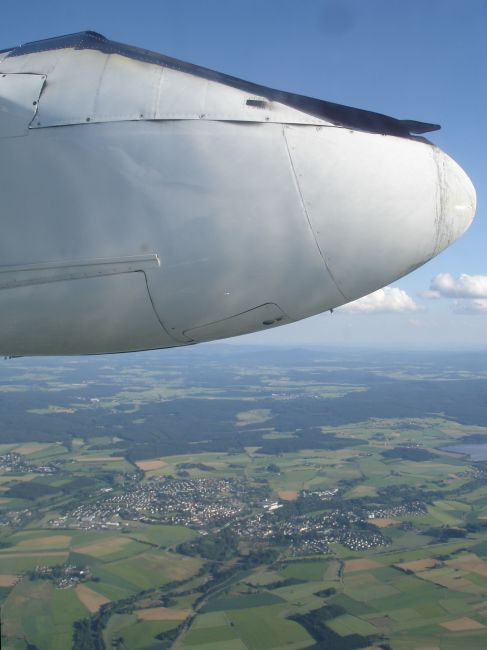 "Downtown" Hof with the city's train station in the middle: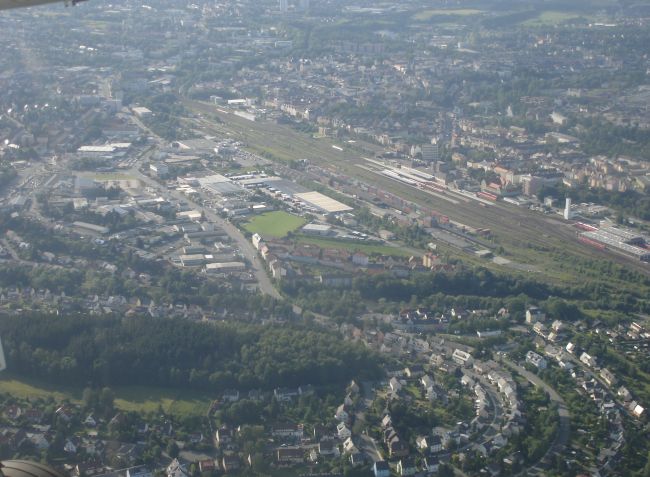 Seconds from touchdown on runway 27: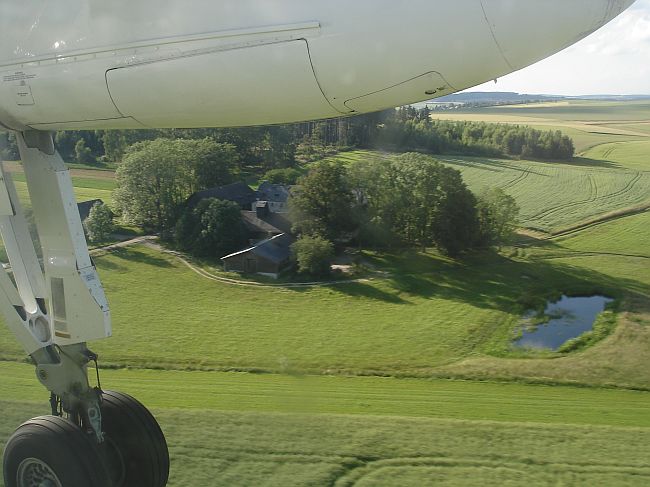 This is D-PAUL – reminds me of a fire trainer.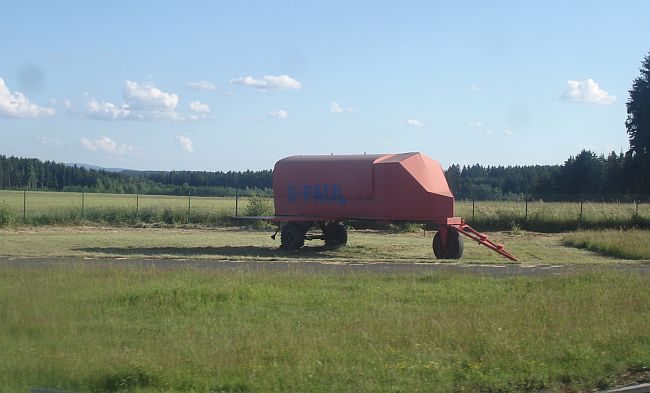 If you want to enjoy a cool Franconian beer in the shadow of a real airport tower, don't hesitate to visit Hof!
Note the benches on the grass, belonging to a small restaurant: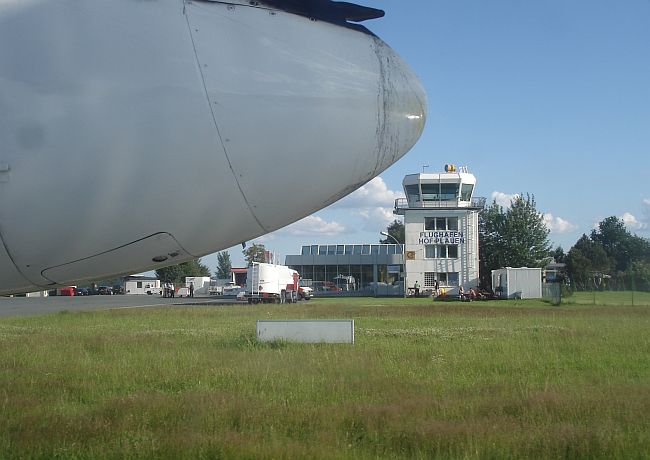 Final stop at the ramp at 18:38: The aircraft for the connecting flights have just arrived…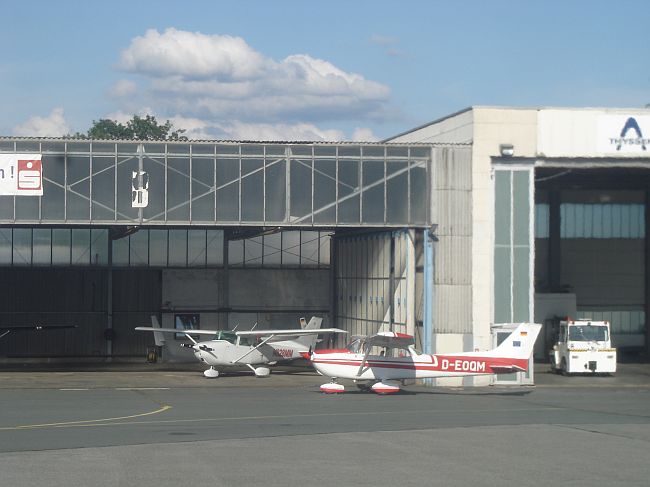 Only five minutes later I headed to the Autobahn and was glad about a truly successful and enjoyable "spotter mission".
Conclusion
Flying from Hof-Plauen is very convenient, no crowds, no hassle and very personal service. I'm quite disappointed that the expansion plan was rejected by the authorities, I would use the airport much more often if there were more options. Most importantly, the route to Frankfurt will remain and probably some more turboprop routes can be added after the airport's modernization.
Flying Augsburg Airways' DHC-8-300 is a pleasure: plenty of legroom, comfortable seats and friendly crews. The noise level is acceptable. In contrast, Eurowings' BAe 146s are awful due to the cramped 3-3 seating. LH's B737 is somewhere in the middle, but sufficient for short haul travel. For 99 Euro, LH's product is quite decent with free newspapers, drink service on board and free coffee and tea in the gate areas. And not to forget: a wide variety of aircraft types.
As usual, comments, opinions and questions welcome!
Best Regards,
PlaneHunter