Back in April, my family decided to go to Puerto Rico for a summer vacation. After searching various sites, we came across a reasonable fare on CO's website and decided to book the flight.
June 21, 2007
Columbus-Newerk Liberty Int'l.
CO 506
Boeing 737-300
Departure Time: 6:20am
Arrival Time: 8:03am
We left for CMH at about 4:45am. At the airport, we went straight to to the gate (in this case, A5) after checking in at the ticket counter. Boarding began a few minutes late, but was done smoothly. Once on board, we were welcomed by the crew, who got things underway very quickly.
View from my seat, just before pushback.
About 8-10 minutes after the doors were closed, the safety demo began and we started to slowly pull away from the gate. Soon, we began a hasty taxi. CMH seemed to be quite busy, with most of the gates filled not with little RJs, but with mainline aircraft. I saw some WN 737-700s, two NW DC9s, several US A319/320s and what looked like the entire Skybus fleet.
Taxiing at a busy CMH.
We took off on 10R, and made a quick climb, reaching a cruising altitude of 34,000 shortly after departure. The FAs began a beverage and snack service, which consisted of water and orange juice and a muffin. Before descent, the captain came on the PA and informed us on the weather in EWR and our arrival gate, C136. We had a long descent, crossing over Pennsylvania and suburban New York City.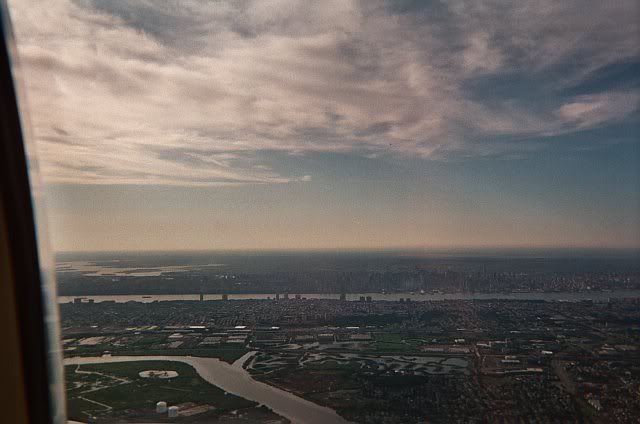 On final approach to EWR
We had smooth landing, and began a long taxi to C136.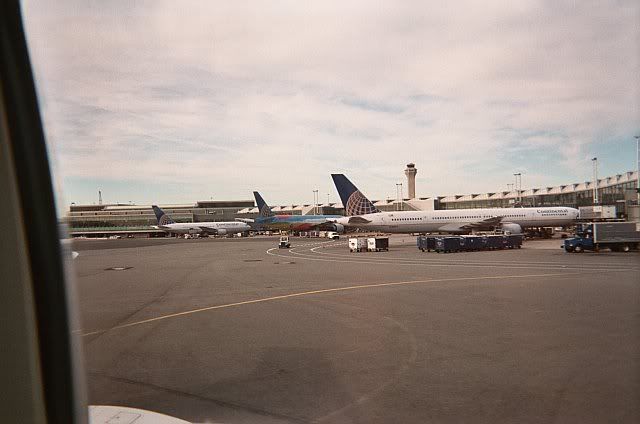 Taxiing past Peter Max
Once at the gate, it took a few minutes to deplane, as it was a full flight. In the terminal, we headed straight for our flight to San Juan, which was about to board nearby at gate 130. Turned out the flight was overbooked, so boarding began several minutes late.
Newark-Liberty Int'l.-San Juan
CO 471
757-300
Departure Time: 8:45am
Arrival Time: 12:45 pm
Seat 26E
Once on board, we were welcomed by the FAs, who were excellent throughout the flight, being both friendly and professional. I was pleasantly surprised with the 753 as I found it to be very spacious, bright and airy. It kind of reminded me of the 777 in a few ways. Music was being played, and the LCD screens overhead were showing "Welcome on Board" in various languages. This was a full flight, with lots of small children and several UMs, thus it took quite a while for everyone to settle into their seats and for the doors to be closed. Around 8:45, pushback began, and began to taxi a few minutes later. About one minute into the taxi, we got held up in the morning traffic at EWR. The captain came on the PA and told us that we were number nine for takeoff, and that it would be at least 15 minutes before we would be airborne. Shortly after nine, we finally took off, and climbed to a cruising altitude of 37,000 feet. The fasten seat belt sign was switched of after we passed FL180, and the inflight movie began. About forty minutes into the flight, the captain came back on the PA to warn us of some turbulence, from a strong storm. While the FAs were performing a beverage service, we ran into a light chop, and the fasten seat belt sign was turned on again. It got quite bumpy a few minutes later, with a few small instances of weightlessness. After getting out of the turbulence, the FAs served breakfast, which was a egg sandwich with fruit and a muffin. The food was actually really good, and even better then the breakfast I had on BA a few years ago. About two and a half hours into the flight, the descent into San Juan began. At about 1:03pm, we made a rather slow and bumpy landing in San Juan and taxied to the gate.
In Puerto Rico, we spent four full days enjoying the island. We stayed at the Embassy Suites Dorodo del Mar resort in Dorodo, which is a beautiful resort town about 21 miles west of San Juan with great beaches, golf and dining. Here are a few pictures form the trip:
Waterfall in the El Yunque rainforest.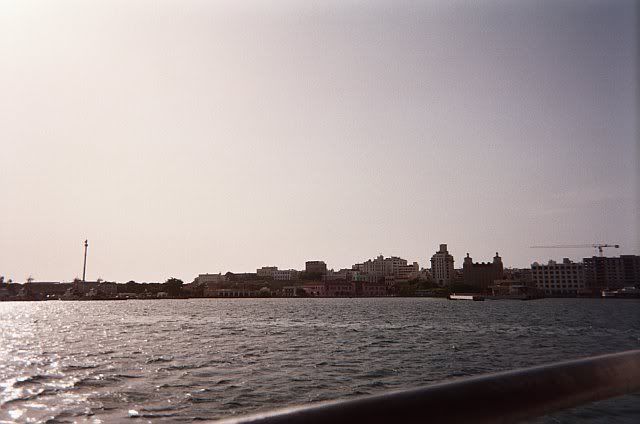 Old San Juan
Cerro Gorbo beach
June 26, 2007
San Juan-Newerk-Liberty Int'l.
757-300
We left for the airport by taxi about two and a half hours before the scheduled departure. Traffic in San Juan wasn't too bad, so we got to SJU earlier then expected. At check-in, we were told the our flight was delayed by one hour, because of the weather. Since we had nearly three hours to spare, we did some shopping and got a bite to eat. SJU is a perfectly nice airport, but it seems to be lacking in dining establishments, as I saw only one or two restaurants in all of the concourses, even in the AA wing.
I ended up walking through nearly all of the airport before boarding, which was total chaos. During the boarding process, the mariachi band, which strolls through the concourses, happened to be playing near our gate at the time, so it was difficult for anyone to hear the gate agent speaking. In addition, people were crowding the boarding area, slowing the process.
On board the aircraft, I browsed through the CO magazine, which has some interesting articles in it. Shortly before the doors were closed, the captain gave us details on the flight, and announced the we would be in the air for about three and a half hours. Before pushback, the safety video was shown, in both English and Spanish. A few minutes later, we started a quick taxi to the runway. This time, we were second in line for departure, after a US A320.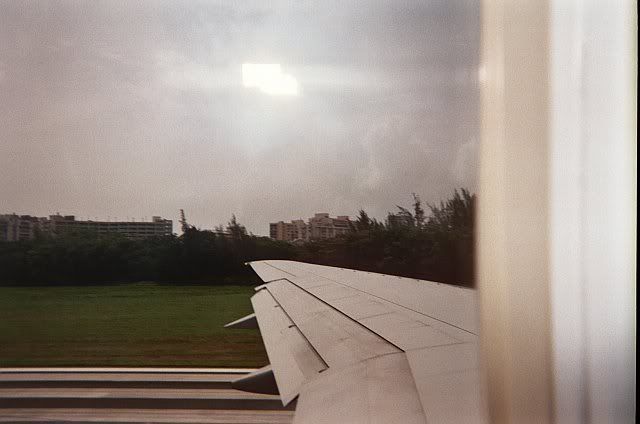 Beginning the takeoff roll
After a powerful takeoff, we climbed to 33,000 feet. The inflight movie, "Music and Lyrics" began sometime after we passed 10,000. Shortly before we reached our cursing altitude, the FAs started a lunch service, which consisted of a cheeseburger, a salad, and a brownie.

Lunch
Cruising at 33,000 feet
When we were around 108 miles away from EWR, the captain announced our descent into EWR and informed us of the hot weather conditions (about 96 degrees!). We touched down to a congested EWR at about 6:55 pm, about two hours late. Unfortunately, we had a string of bad luck while taxiing. We were supposed to arrive a gate C74, but there was a delayed flight still parked there. We got the next available gate, which happened to be C73. While we were moving to the other side of the concourse, we got caught up in a long line of planes, and ended up waiting for nearly a half hour before finally pulling into the gate.
When we got off the plane, we checked to flight information screens for our connection. It turned out that the flight to CMH was delayed, along with many other flights. Boy, EWR was in a crazy mess.
Since our flight wasn't supposed to leave until 9:54pm, we looked in some of the airport stores and ate dinner in the food court by gate C75. I decided to take a stroll through the terminal and do some spotting (though it was hard take any pictures, as it was getting dark). CO has a great terminal in EWR, with a good selection of shopping and dining.
At the gate, our flight to CMH was delayed again, because the plane was late coming in on a flight from IND. The departure time was now scheduled for 10:08pm, though we didn't begin boarding until 10:05.
Newark-Liberty Int'l.-Columbus
CO 753
737-500
Scheduled Departure Time: 8:30pm
Actual Departure Time: 10:35pm
Scheduled Arrival Time: 10:33pm
Actual Arrival Time: Too late to remember!
Seat 17E
We ended up being on one of the 735s equipped with video monitors. The crew got things underway quickly, and before I knew it, we were pushing back from the gate.
Safety video on a 735
After another long taxi (number five in line for takeoff), we had a powerful takeoff and quickly rose to a cruising altitude of about 35,000 feet. The FAs performed a beverage service, and also passed out the infamous bags of mini pretzels (perfectly acceptable on a short red-eye flight such as this). A while later, we made a fast and hard landing in CMH (the captain put on maximum reverse thrust) and proceeded to gate A6.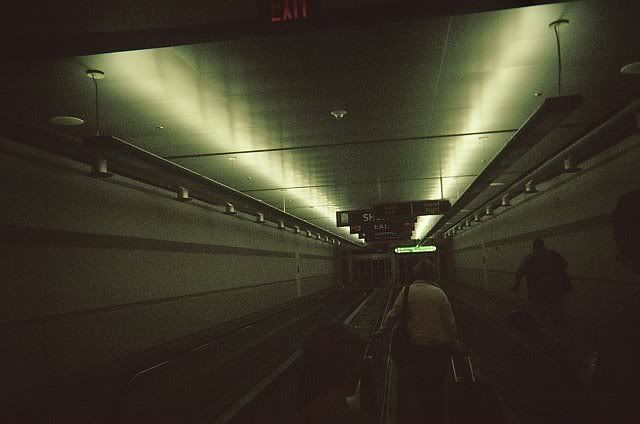 CMH
Overall, I was pleased with CO. They are much better then some of the other US majors, with free food, IFE, and professional crews. However, next time I would probably fly them through CLE or IAH, as their hub in EWR is overcrowded and prone to delays.