Feedback always appreciated.
Trip Report: 022
Flight Category: Y-DSR (See Report End)
Date: 26-May-07
SDT/SAT/Delay: 1305/1400/00:55hrs/Delayed by 01:20 enroute
Flight:
SAS, Braathens SK 4450
, 226 + 164 miles
Routing: OSL-TRD-AES (TRD unannounced and unscheduled stop)
Aircraft: 736
Seat: Economy, 9A
I > Background:
Ok, I am back! After taking a sabbatical from trip reports for 3 months due to immense work pressure (living in Caracas, Douala, Newark, and Zagreb), I am back to being an airline aficionado and write TRs for A.Net. Upon completion of my 4 week work assignment in Copenhagen, I decided to take 2 weeks off and visit the only country I had not been to in Europe (Norway), and visit my favorite city in Europe (Lisboa). For my Norwegian adventure, I decided to skip Oslo and head to Alesund (in the North) for some relaxation and driving some of the most beautiful roads in Europe. I have attached some pictures which scratches the surface of how beautiful Norway is up north. It's probably the least diverse country in the world ... but truly beautiful. Besides this, there will also be a TR for my OSL-LIS flight on TP ... one of Europe's longest flights in the north-south direction.
II > Pre-Flight:
a) Before Airport:
Booking for the entire trip was made using SAS' website at
www.flysas.com.
The website is fast and booking is done in a jiffy. Technically, you also have the ability to view your reservation as well as check-in online, but I was never able to do the later and had to call SAS help desk to choose my seats. Strangely, no special provisions exist for choosing exit row seats, and no seats are reserved for Star Gold members.
b) At Airport:
While the new OSL airport is efficient, signage was confusing and it was remarkably crowded ... perhaps the developers were not anticipating the strong growth the airport has been seeing? Star Gold flyers could use a dedicated check-in bay ... but this was hard to find. Having located the same, I was checked in by a terrific girl and my bags were off to Alesund. Prior to security checks, I had a chance to explore the airport. Oslo, like other airports in the region has distinct look. It follows what I shall call from now the Ikea School of Airport Design (ISAD). Think serious touches of wood, minimalist, etc. (Seriously, they all look very similar ... sort of like how I created a genre for airports in India). Security was quick and soon I made it to the domestic gate area. I was surprised to find that there were NO lounges at the domestic gates (and only one Star Gold lounge in the entire airport). Retail and food options were limited too and super expensive (this is Norway after all!). All in all, disappointing.
Boarding was announced and I was the last to board the Braathens tagged Boeing 737-600. I was greeted by the all female crew and soon we were off. The cabin of the 736 was very clean (definitely significantly cleaner than the average European carrier) and the plane looked smart with its blue seats. However, I found the ads on the seat backs to be pretty tacky and more reminiscent of pure LCCs. Load was extremely light at around 40%. I was not about to complain mind you ...
Airport - External:
(Oslo¡¦s new Gardemoen Airport)
Check-In:
Airport - Internal:
(Departure Hall)
Scenes of the tarmac:
NONE
Lounge
NONE. There seems to be NO lounge in the entire domestic side of Norway's premier gateway.
Boarding:
NONE.
III> In-Flight:
a) Service Schedule + Impressions:
Immediately post take off, the crew announced that the only thing complimentary was hot tea or coffee. Even water was to be bought on board! Now this really pissed me off. I mean, I bought a fairly expensive ticket (USD 700 or so for CPH-OSL-AES and v.v.) and I had to pay for water! There are plenty of SK crew on A.Net and I would LOVE to hear how their higher paying passengers have thought of this service plan.
Midway through the flight, the other odd thing happened. The captain announced that we had to divert to Trodenheim for "non-technical reasons" and that there was nothing to worry about ... apparently, the airline had to take care of paper-work. Now, I have flown enough and have never encountered something so odd! Granted, TRD was not far off route from AES, but didn't the airline recognize that this might severely inconvenience passengers. Of course, like other passengers (and some got panicky and were ringing for crew), my mind raced to what the possible reasons could be. In the end though, it was just what the Captain had said ... at TRD, he merely picked up some paper work! Very weird, and extremely unprofessional. Being the eternal non-cynic (yeah, right  
), I consoled myself at having been to TRD airport.
b) Aircraft + Seats:
The 736 was very well maintained and clean. Unlike some of my more recent experiences in Europe (Olympic to be specific), the seat pockets did not have dirt, chewing gum, and other mysterious remains. Lavatories were also clean and remained so during the flight. The interior of the 736 looked pleasant and inviting. However, the seat back advertisements were tacky and took away from the overall "clean" feel of the aircraft. Since I was in an exit row, legroom was generous. While not super cramped in the regular rows, pitch was still not something to write home about. The blue cloth seats were OK, and recline seemed above average. I was surprised that none of the exit row seats next to me were taken.
Aircraft:
(Pictured upon disembarkation @ Alesund Vigra Airport)
Views from Aircraft:
(Taken during the random stop at TRD. Read report.)
Seat Leg-Room:
(Really comfortable Exit Row)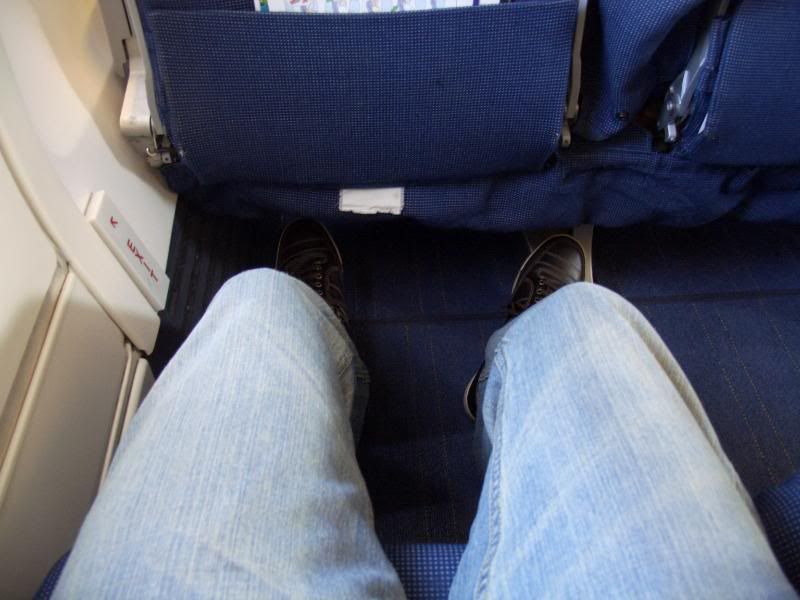 (Regular Seat, not too bad)
Seat Recline + Angle View: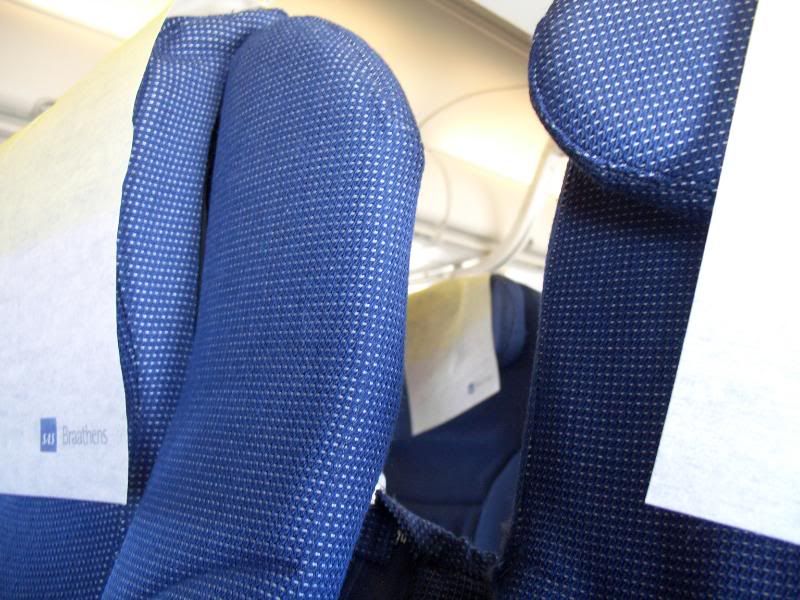 (Exit Row)
(Regular Row of Seats)
Cabin: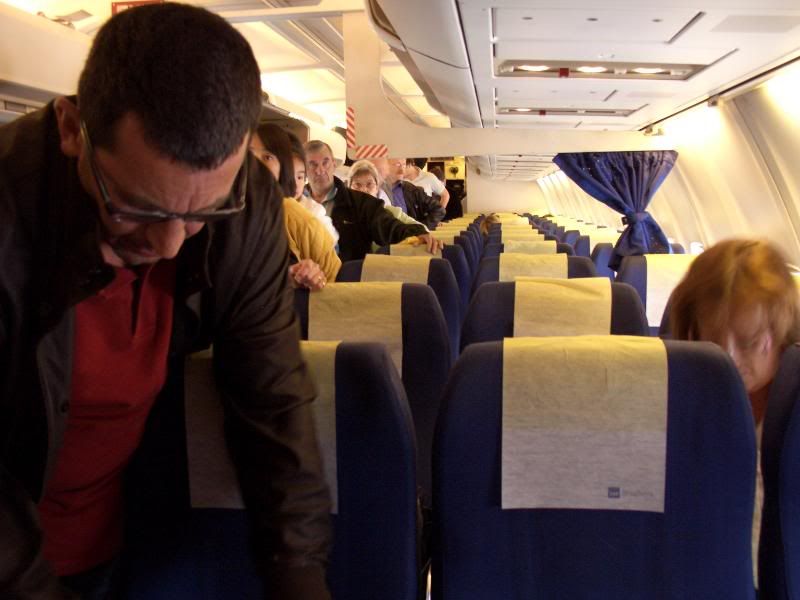 c) Meal + Beverage:
As mentioned earlier, the only thing provided was hot tea or coffee. I opted for coffee. The BOB menu was nothing special.
(Hot tea)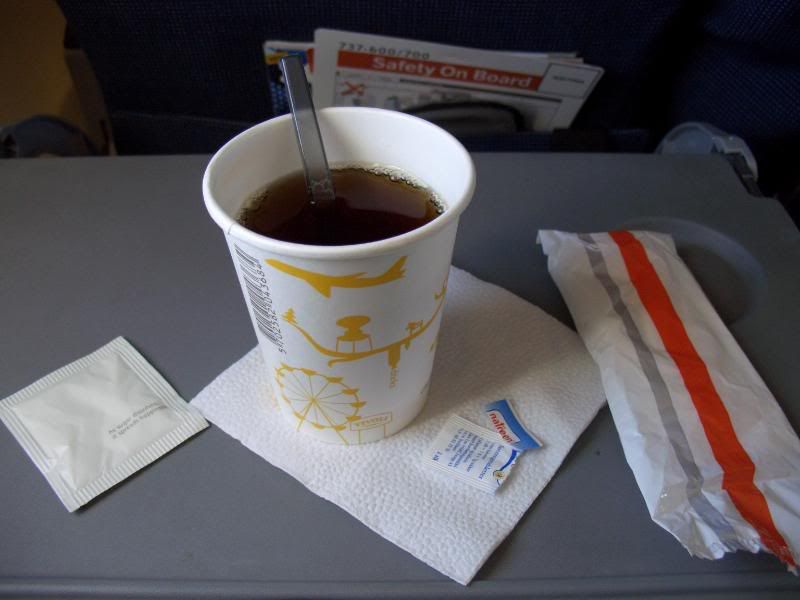 (Sugar sachet with random saying. Even the aircraft adorned some random saying about some snowflake)
(BOB page from Braathens inflight magazine)
d) Inflight Entertainment:
Nothing audio visual. However, there were the Scanorama (SAS) and Braathens inflight magazine. Though, I wish the Braathens magazine had an English section for us tourists  
.
(In-flight magazines, Boarding Passes, etc.)
(My inflight entertainment was to stare out of the window...)
(...especially when the stunning Norwegian coast appeared)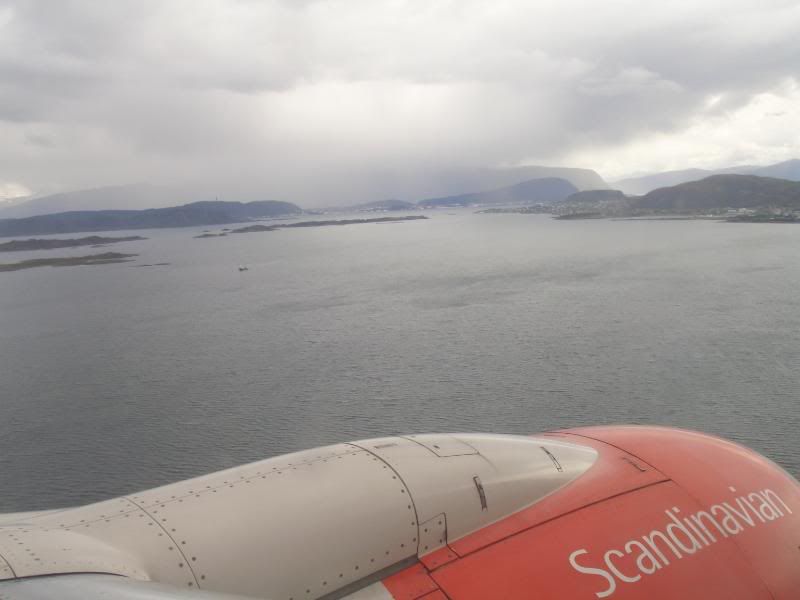 e) Crew:
Usually, I have received extremely COLD service from SAS Intercontinental crew. Many of them had serious attitude problems. And after flying 2 intercontinental flights with diva like service in Business class last year (ARN-ORD and CPH-BKK), I was prepared for the worst ... and I was EMPHATETICALLY surprised in a positive manner! Braathens/SAS Norge crew on all sectors (not just this OSL-TRD-AES flight) were absolutely amazing. Prompt, courteous, joking, and full of smiles. Within the limited amount of "service items", they carried their job with dignity and polish ... and it probably helped that so many of them were such lookers! I was impressed ... and SK became another mainline carrier whose domestic and regional (last year, MUC-CPH and CPH-ARN) crew is simply MILES ahead of their intercontinental crew. NWA and LH are others that I find this to be very sadly true.
IV> Post-Flight:
Alesund airport conforms to the ISAD as well. We disembarked using stairs and were escorted to the one baggage carousel. Interestingly (and probably for the first time EVER), I was the only one claiming a bag! I dont remember the last time I was in a baggage hall by myself. Definitely weird.
V> Impressions + Scores:
Overlooking the unprofessional unscheduled stop as a one-of event, I think I was most disappointed by the lack of food items on board. I found that their service plan of hot tea/coffee + BOB for everything else to not be cognizant of customer differentiation. Why should someone who paid more money to fly such a small leg have to pay for water? Beyond that, I was very impressed with the crew and will not hesitate to fly SAS Norge/Braathens.
Reservation: 7.5
Check-In: 8.0
Lounge: n/a
Boarding: 7.0
Seat: 7.0
Aircraft Overall Ambience: 7.0
IFE: 5.0
Crew Service: 8.5
Food: 1.0
Beverages: 3.0
Amenity Kits + Others Freebies: 5.0
Disembarkation: 7.0
On-Time Record: 3.0
OVERALL IMPRESSION: 5.75
(Pre-flight average of all-reviews: 6.38)
(Scores are based on comparison with other airlines in THAT class of service - No comparison of Y vs. F for example)
VI> Other Trip Reports:
1/
Avianca: BOG-LIM: 07/06/06: 7.09pts: Y-IMR
2/
Air Tran: EWR-MDW: 08/02/06: 6.73pts: Y-DMR
3/
West Jet: YYC-YVR: 09/05/06: 7.14pts: Y-DMR
4/
Air Canada: YYZ-YVR: 09/02/06: 5.92pts: Y-DLR
5/
Air Canada: ALB-YYZ: 09/01/06: 5.88pts: Y-ISR
6/
Singapore Airlines: EWR-SIN: 09/20/06: 7.81pts: J-ILR
7/
Adam Air: SIN-CGK: 09/22/06: 6.04: Y-ISR
8/
Valuair: CGK-SIN: 09/22/06: 5.04: Y-ISR
9/
Spice Jet: CCU-DEL: 09/25/06: 6.67: Y-DMR
10/
Indian: DEL-CCU: 09/26/06: 7.25: Y-DMR
11/
Air Sahara: CCU-BOM: 09/28/06: 4.42: Y-DMR
12/
Air Deccan: IXZ-CCU: 10/07/06: 5.75: Y-DMR
13/
Alliance: CCU-IXA: 10/08/06: 7.54: Y-DSR
14/
Kingfisher: IXA-GAU: 10/08/06: 8.21: Y-DSR
15/
Indigo: GAU-CCU: 10/08/06: 6.54: Y-DSR
16/
Singapore Airlines: CCU-SIN: 10/11/06: 5.88: J-IMR
17/
Air Canada: ICN-YYZ: 10/12/06: 7.13: J-ILR
18/
Delta AirLines: SEA-JFK: 11/24/06: 7.17: F-DLR
19/
USA 3000: PUJ-BDL: 01/06/07: 5.96: Y-IMR
20/
Viva Aerobus: CUN-JFK: 02/20/07: 4.58: Y-DSR
21/
Jet Blue: CUN-JFK: 02/20/07: 5.96: Y-IMR
(Note on Codes: Y - Economy, J - Business, F - First :: I/D - International/Domestic :: SR/MR/LR - Short/Medium/Long Haul :: I have designed these codes so people don¡¦t believe my scores are comparing apples and oranges)
VII> Other Pictures:
It has now become customary to share some images of the place I went to, and some other related aviation pictures. Hope everyone enjoys!
(Beautiful Alesund ... quieter, nicer, and friendlier than Bergen)
(Trollstigen)
(Atlantic Coast Road ... photo courtesy Local Tourist Bureau)
(Local Scenery)
[Edited 2007-06-30 06:41:16]