Feedback always appreciated.
Trip Report: 023
Flight Category: Y-IMR (See Report End)
Date: 29-May-07
SDT/SAT/Delay: 1455/1750/03:55hrs
Flight:
TAP Air Portugal TP 507
, 1722 miles
Routing: OSL-LIS
Aircraft: 321
Seat: Economy, 6C
I > Background:
Ok, I am back! After taking a sabbatical from trip reports for 3 months due to immense work pressure (living in Caracas, Douala, Newark, and Zagreb), I am back to being an airline aficionado and write TRs for A.Net. Upon completion of my 4 week work assignment in Copenhagen, I decided to take 2 weeks off and visit the only country I had not been to in Europe (Norway), and visit my favorite city in Europe (Lisboa). Lisboa to me remains the most intoxicating city in Europe … and I can be drunk on it literally and spiritually! It embodies old world charm that many other parts of Europe has simply lost, and the nightlife is legendary. The best part of the nightlife is unlike many parts of the region, it is laid back and NOT pretentious. People are here to have a good time without stress. Besides this, there is also a trip report on the OSL-AES flight which can be found at
SAS/Braathens SK 4450: 26/MAY/07: OSL-AES: Y Cabin
(by
Abrelosojos
Jun 30 2007 in Trip Reports).
II > Pre-Flight:
a) Before Airport:
Booking for the entire trip was made using TAP's website at
www.flytap.com.
It is definitely a weird website. While you are able to purchase a flight and book and change a seat online, online check is severely restricted to a few markets. Oslo was definitely not one of them! Moreover, the option to view and change seats was also limited to this city list … which was super annoying as I wanted to change my seat. Of course, TAP staff over the phone was not willing to do it as well. Again, no special provisions exist for choosing exit row seats and/or other special seats for Star Gold members.
b) At Airport:
While the new OSL airport is efficient, signage was confusing and it was remarkably crowded … perhaps the developers were not anticipating the strong growth the airport has been seeing? TAP uses check-in Bay B. Since I was transiting from Bergen, I did not have to go through security again. What was weird was that SK could not issue me a boarding pass at BGO … and they needed a boarding pass to let me through to the international gates at OSL. After 10 minutes arguing, they were finally convinced by seeing my e-ticket, of course after the customary amusement at the Liectenstein passport! Now, I went to the gate and there was no one to issue me a boarding pass. I then went to the ONLY Star Gold lounge (SUPER SMALL AND SUPER CROWDED – not impressed!) and they could not issue me the boarding pass as well. Uugh. Anyways, at the lounge I helped myself to a café and quickly checked my email from one of the many free computers. A good 40 minutes prior to boarding, I walked to the gate and noticed that boarding had already commenced. Since the ONE gate agent was busy, I waited until all the passengers had boarded the aircraft. When I finally went up to her, she snapped and asked why I was so late. I explained that I had been here, and I was waiting until she got free. She said she had already offloaded my bags! I was unusually calm and asked if she had checked her flight manifest which clearly indicated that I had arrived from BGO and perhaps she should have made an announcement for me at the gate area. This shut her up and she mumbled on the intercom to have my bag loaded and issue me a boarding pass. Of course, I was in no mood to ask for a specific seating. One thing I noticed about OSL was that it seemed crowded on the inside while relatively calm airside. Retail and food options were also better than domestic side of the terminal. And of course, the international area also followed the Ikea School of Airport Design (ISAD). However, queue management was still not up to the mark and boarding was announced not by class, status, or seat numbers. Of course, this led to a very chaotic process.
On board, I was greeted by some attractive cabin crew and one of them remarked in Portuguese about my passport  … little did they know that "eu falo Portuguese"
. Load was around 70%.
Airport - External:
(Oslo's new Gardemoen Airport)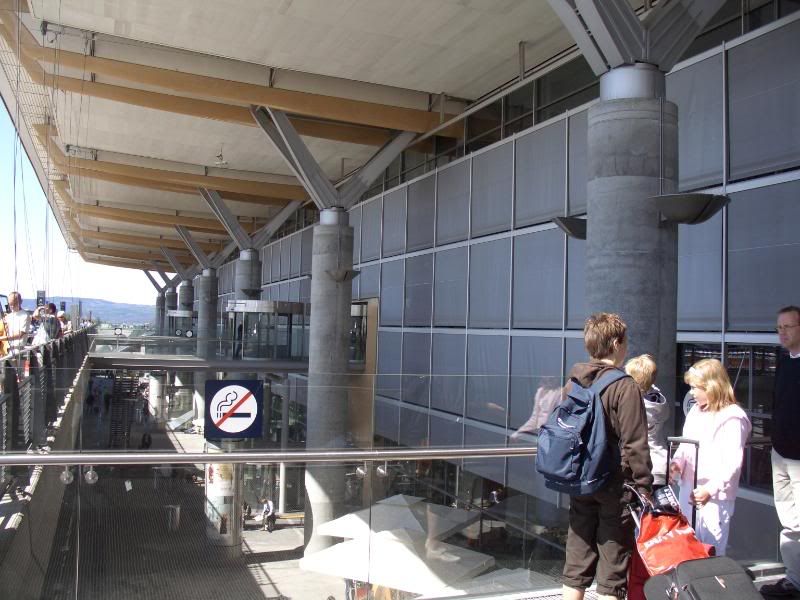 Check-In:
Airport - Internal:
(Departure Hall)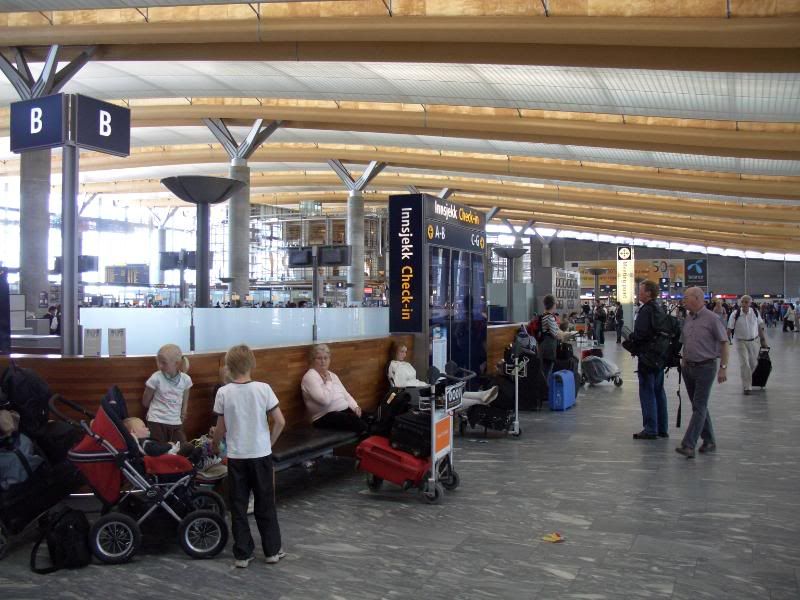 (Flight Information Board)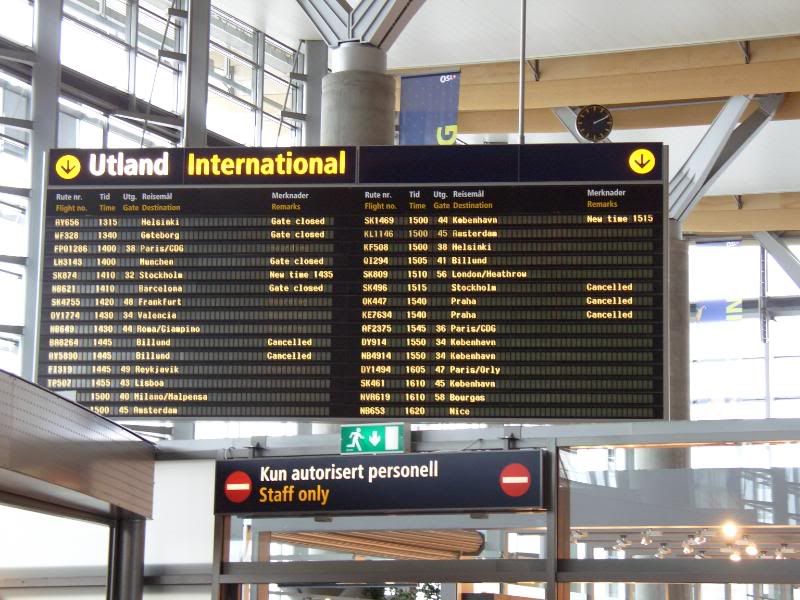 (Post Check-In, International Gates)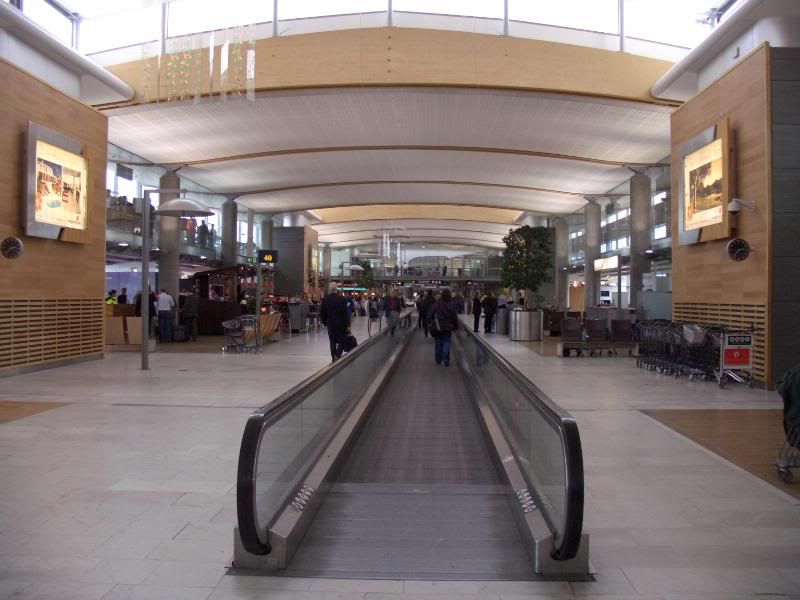 Scenes of the tarmac:
NONE
Lounge (SAS/Star Gold)
One relatively tiny lounge for all the Star carriers was a disappointment in a relatively new airport, and one that serves as Norway's flagship international terminal. It was crowded and had very limited food and beverage options. I did appreciate the free internet terminals though.
Boarding:
III> In-Flight:
a) Service Schedule + Impressions:
Immediately post take off, the crew served lunch, and then disappeared. I did like that TP has not cut off "extras" such as having free postcards to take both in J and Y class, and bag stickers at check-in.
b) Aircraft + Seats:
While the 321 felt cramped when I first walked in, I thought the seats had more than average legroom. Interestingly, I did not find the same to be true for a 320 I was going to fly a week later on LIS-ZRH. One of you please educate me if this is really true or if its in my head. Also, I don't know how long these 321s have been in service, but the seats definitely looked old and the overall cabin missed the fresh and clean look by a margin. While legroom was above average at 6C, recline seemed below average.
Aircraft:
(Pictured upon disembarkation @ Lisboa Airport)
Views from Aircraft:
NONE
Seat Leg-Room:
(Row 6, with above average legroom)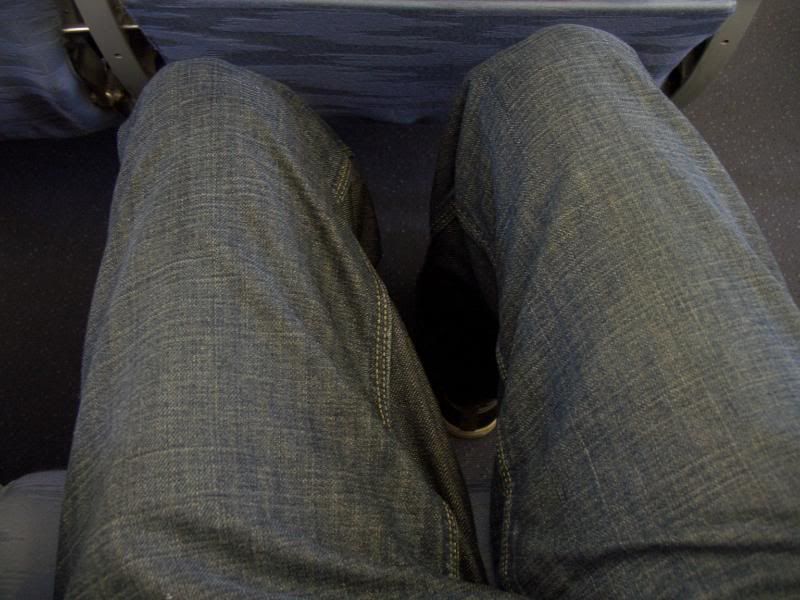 Seat Recline + Angle View: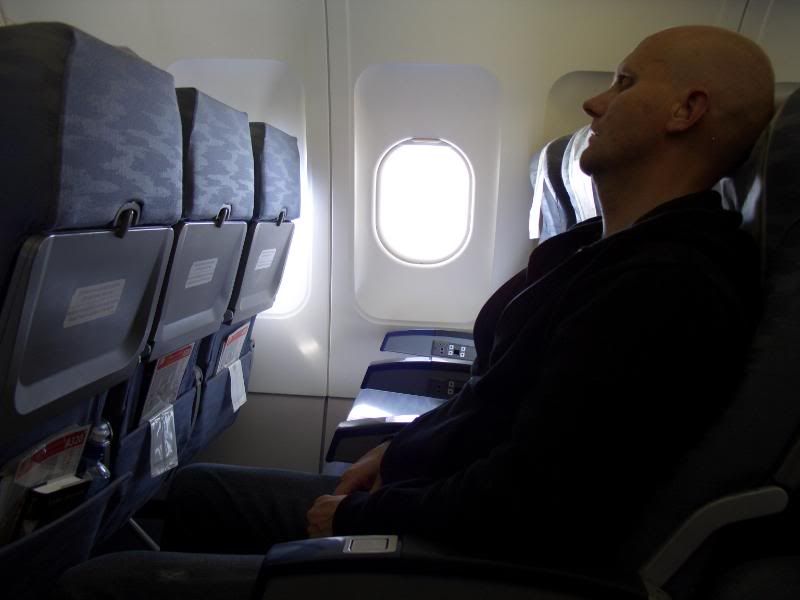 Cabin: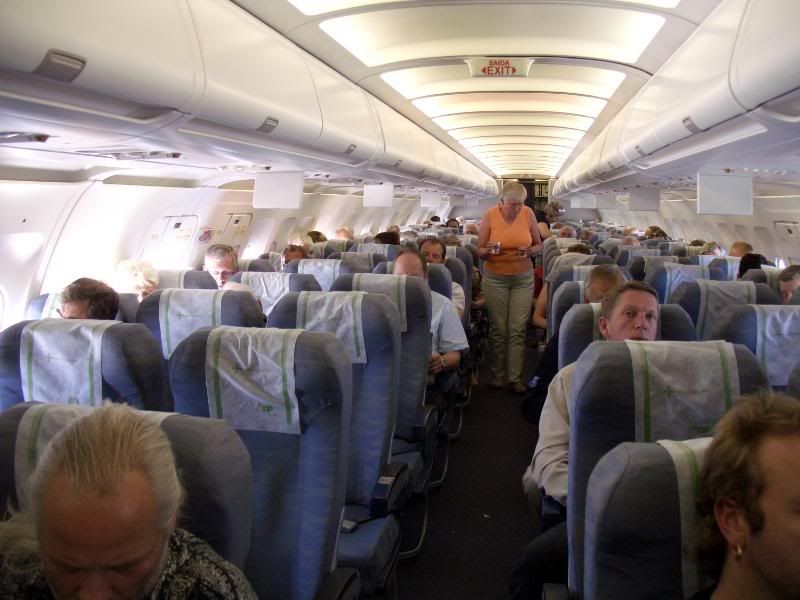 c) Meal + Beverage:
TAP's hot meal service definitely impressed me. It was probably the best chicken meal I have had on a European Y in a while. Quantity was good, the food was fresh, and you had a choice of wine selection. Besides the chicken (as you can see), you also got a average airline cake, a seafood salad, and a hard bread. For some weird reason, the airline cake was very 1980s Boeing 707 Kenya Airways like. Don't ask me to explain that! Oh, besides the chicken option, there was also vegetarian lasagna. Rounding up the meal service was a round of café or tea. After this, there was nothing (not even water runs) until we touched down @ LIS. Finally, can I just say how much real cutlery makes eating better?
(Lunch)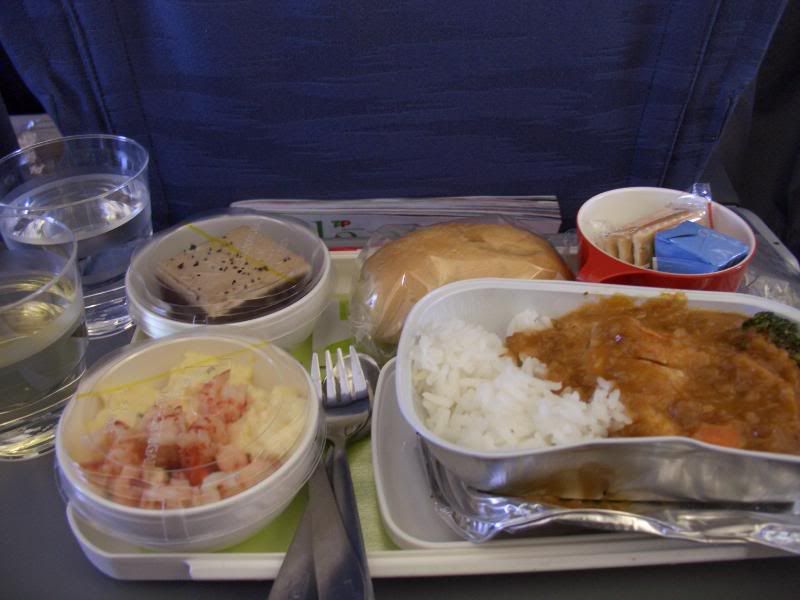 d) Inflight Entertainment:
No seatback videos. No movie was played over the main channel which I found to be extremely odd for a relatively long flight. A wide range of made-for-flight short programs were telecasted though.
(In-flight magazines, Boarding Passes, Postcards – definitely nice touch, and Stickers – they still had some of the old ones.)
e) Crew:
I am usually pretty generous with crew scores, and do not really expect too much. In fact, my average crew score is a relatively high 7.11. TAP is DEFINITELY going to be bringing this down! After my internal flights on SK, I was shocked to receive such aloof treatment. Sort of like crews on AF and IB that I have encountered, I felt that they were doing you this huge favor by being there. Immediately after meal service, they disappeared to the galleys. There were no future water runs, and worse NO response to any call by any passengers. The woman next to me started coughing violently and kept on ringing for water; until I had to rush to the galley to get water for her. On my flight from LIS to ZRH, same indifference permeated throughout the cabin crew who seemed annoyed to passenger questions on unannounced delays and missed connections. Apparently, the flight was waiting for GIG connecting passengers. During that flight as well, crew disappeared soon after serving breakfast.
IV> Post-Flight:
I think Lisboa's baggage hall took a leaf out of the Indian Airport Design School (IADS). The hall was dingy and depressing - think its those lights. Moreover, it took 45 minutes for the first bag to come! Thankfully, the rest of the airport looks much more modern.
(No No, this is not India)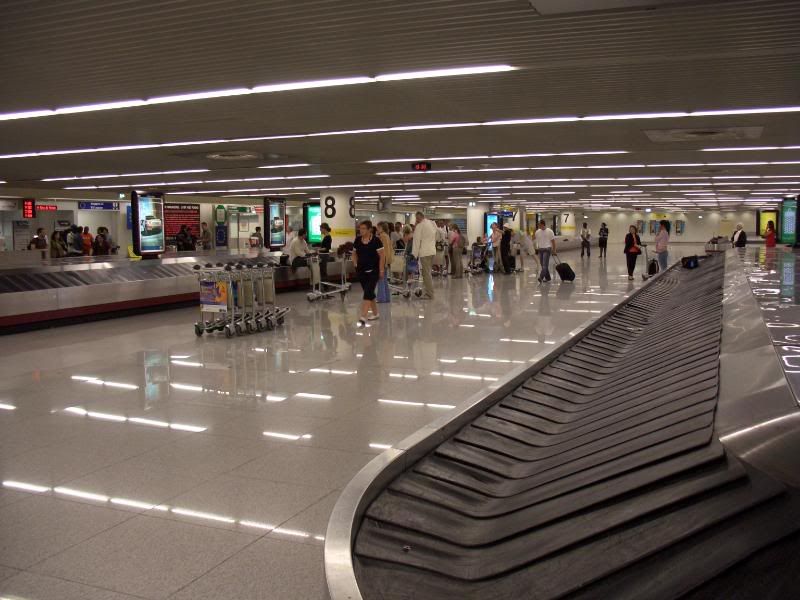 (Outside Arrivals)
V> Impressions + Scores:
TAP is what I call an "old-school" airline. The upside of this is a decent meal service in Y, postcards, stickers, leniency with luggage allowance, etc. The downside is a very lethargic crew embodying the worse qualities of an unionized workforce (I am assuming they are unionized), inefficient use of info tech (website), and an overall disregard for punctuality (unlike OSL-LIS, my LIS-ZRH and LIS-MAD flights were both delayed). I would not choose TAP over say an Asian carrier. However, within Europe, I would chose them with a combination of other factors (schedule, pricing, etc.) Nothing special to write home about; yet, not a horror story in its entirety.
Reservation: 6.5
Check-In: 6.0
Lounge: 5.0
Boarding: 3.0
Seat: 6.5
Aircraft Overall Ambience: 6.0
IFE: 5.5
Crew Service: 2.0 (LOWEST EVALUATED ON A.NET)
Food: 6.5
Beverages: 5.0
Amenity Kits + Others Freebies: 6.0
Disembarkation: 6.0
On-Time Record: 7.0
OVERALL IMPRESSION: 5.46
(Pre-flight average of all-reviews: 6.38)
(Scores are based on comparison with other airlines in THAT class of service – No comparison of Y vs. F for example)
VI> Other Trip Reports:
1/
Avianca: BOG-LIM: 07/06/06: 7.09pts: Y-IMR
2/
Air Tran: EWR-MDW: 08/02/06: 6.73pts: Y-DMR
3/
West Jet: YYC-YVR: 09/05/06: 7.14pts: Y-DMR
4/
Air Canada: YYZ-YVR: 09/02/06: 5.92pts: Y-DLR
5/
Air Canada: ALB-YYZ: 09/01/06: 5.88pts: Y-ISR
6/
Singapore Airlines: EWR-SIN: 09/20/06: 7.81pts: J-ILR
7/
Adam Air: SIN-CGK: 09/22/06: 6.04: Y-ISR
8/
Valuair: CGK-SIN: 09/22/06: 5.04: Y-ISR
9/
Spice Jet: CCU-DEL: 09/25/06: 6.67: Y-DMR
10/
Indian: DEL-CCU: 09/26/06: 7.25: Y-DMR
11/
Air Sahara: CCU-BOM: 09/28/06: 4.42: Y-DMR
12/
Air Deccan: IXZ-CCU: 10/07/06: 5.75: Y-DMR
13/
Alliance: CCU-IXA: 10/08/06: 7.54: Y-DSR
14/
Kingfisher: IXA-GAU: 10/08/06: 8.21: Y-DSR
15/
Indigo: GAU-CCU: 10/08/06: 6.54: Y-DSR
16/
Singapore Airlines: CCU-SIN: 10/11/06: 5.88: J-IMR
17/
Air Canada: ICN-YYZ: 10/12/06: 7.13: J-ILR
18/
Delta AirLines: SEA-JFK: 11/24/06: 7.17: F-DLR
19/
USA 3000: PUJ-BDL: 01/06/07: 5.96: Y-IMR
20/
Viva Aerobus: CUN-JFK: 02/20/07: 4.58: Y-DSR
21/
Jet Blue: CUN-JFK: 02/20/07: 5.96: Y-IMR
22/
SAS Norge/Braathens: OSL-AES: 05/26/07: 5.75: Y-DSR
(Note on Codes: Y – Economy, J – Business, F – First :: I/D – International/Domestic :: SR/MR/LR – Short/Medium/Long Haul :: I have designed these codes so people don't believe my scores are comparing apples and oranges)
VII> Other Pictures:
It has now become customary to share some images of the place I went to, and some other related aviation pictures. Hope everyone enjoys!
(Taken from my LHR-YYZ A343 service on AC. While I am not a fan of the 345 cabin or its economics, it's still such a beautiful aircraft)
(This was a complicated Europe itinerary and I flew LH a lot. Each Star airlines inflight magazine had a section celebrating 10years of Star. In LH's case, it was the whole magazine)
(Lisboa: MY FAVORITE EUROPEAN CITY! – pictures from Pr. de Figueira)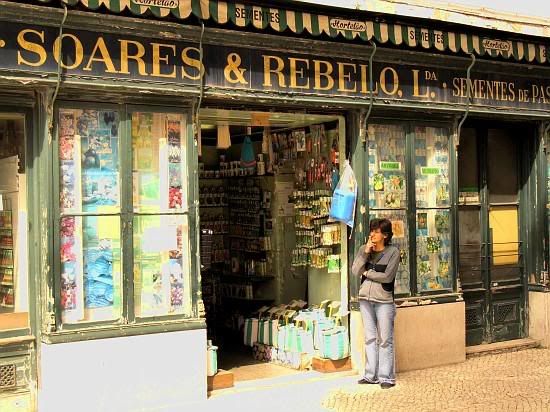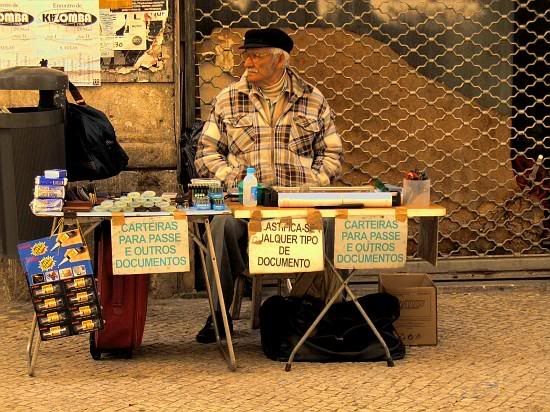 (Thought this was funny … saw it several times in LIS)
(Castelo de São Jorge area)
(National Theatre)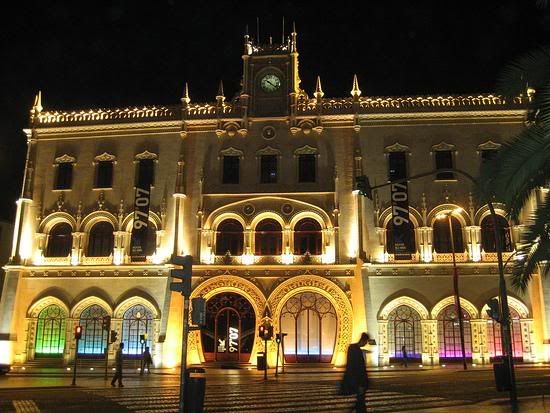 (Best Place for a café; Puerta del Sol)
(Enchanting Alfama neighborhood)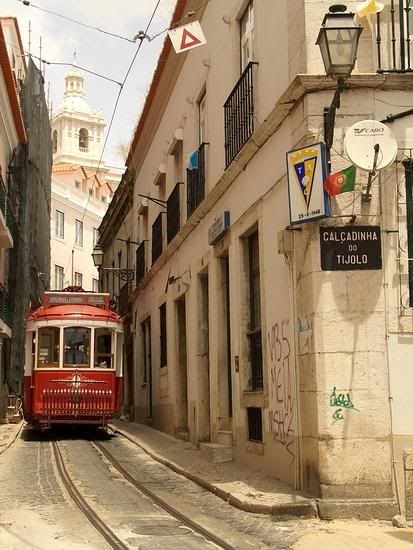 (Lisboa: Truly beautiful)
(World famous pastries @ Pasteis de Belen)
(Old World Charm, Rossio)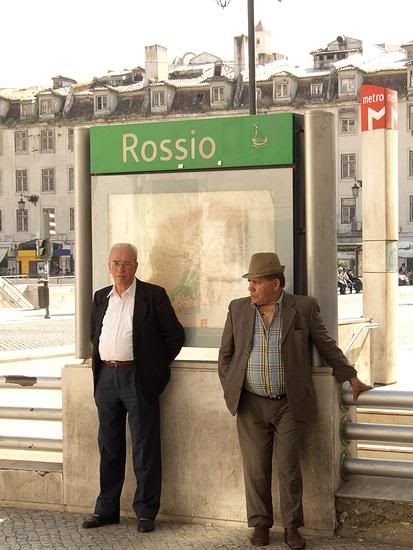 (View of Rossio from my hotel balcony)
(Amazing nightlife in Bairro Alto that spills outside)