Some HAM for the weekend!
Hello, dear readers,
time to write down a short, picture illustrated story, from a trip to Hamburg, last weekend.
It was my job to organize the travel for a group of total 17 colleagues.
The destination was fixed and all details booked, long ago, around January.
As usual, around my long term bookings, something, in this case a company meeting, affected my timetable
and therefore, 15 of us used the originally booked AB early morning service, me and another colleague gone
rebooked on a later flight.
Saturday, 23.06.2007
STR (Stuttgart-Echterdingen) - HAM (Hamburg-Fuhlsbüttel)
AB 6658 on F100 D-AGPS in AirBerlin colours, but finally operated by Germania
Scheduled: 15.10 // 16.25
Actual: 15.20 // 16.25
Gate: 142
Seat: 19A
Loadfactor: near 100 %
Fare: 7500 Top-Bonus-Miles, no taxes and fees
History:
20.06.1992: Delivered to USAir
27.02.1997: Renamed US Airways
25.02.2004: In service for Germania
19.03.2006: Further to DBA
In Air Berlin colours since: ?
Flight no.6 on the F100 and the first on this machine.
AB offered online check-in, also with luggage, sure my way, while there was not to much time between meeting
and departure. No problem the day before, sequence no.1.
Finally arrived at the airport at around 2.20 pm, 50 minutes ahead to departure.
No time to wait at the counter in T3, open for all AB services, the friendly girl there accepted my suitcase and printed me the usual paper
boarding pass. Also, no time to wait at security and at the gate some minutes before the announced boarding time.
My colleague arrived short thereafter with a sequence number around 80, so it seems a good load on this service.
The plane was ten minutes delayed inbound from NCE.
Bus boarding was called some minutes later, the plane parked on the apron.
Fokker 100 D-AGPS at STR:
Our neighbour at the apron: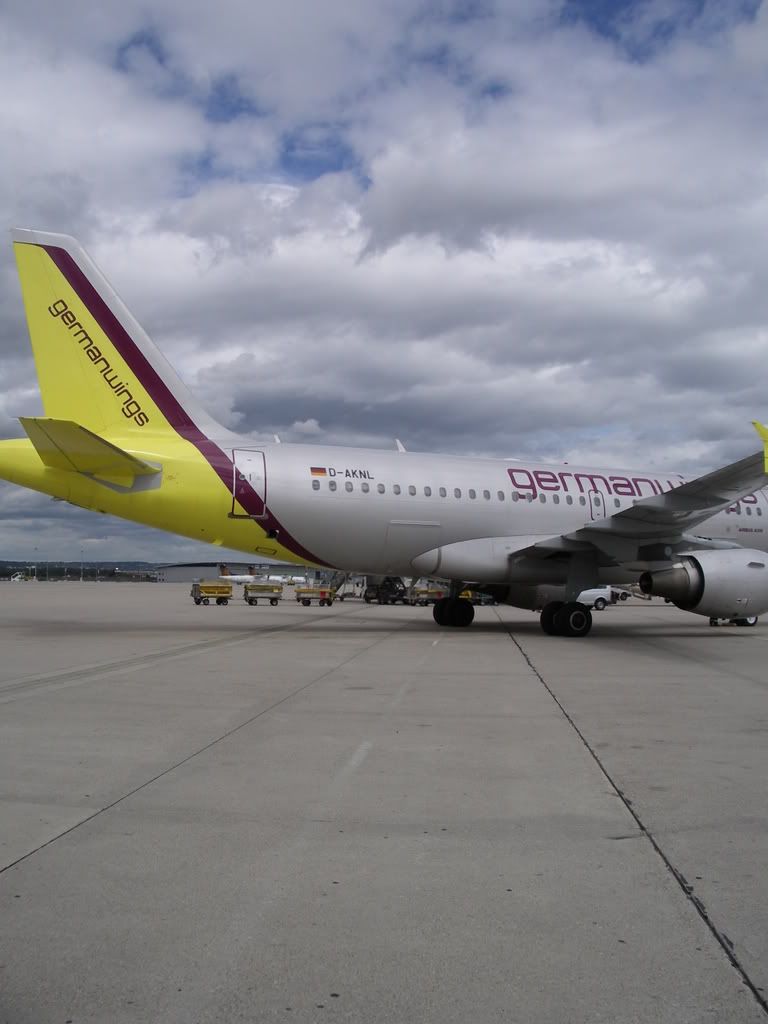 Boarding D-AGPS: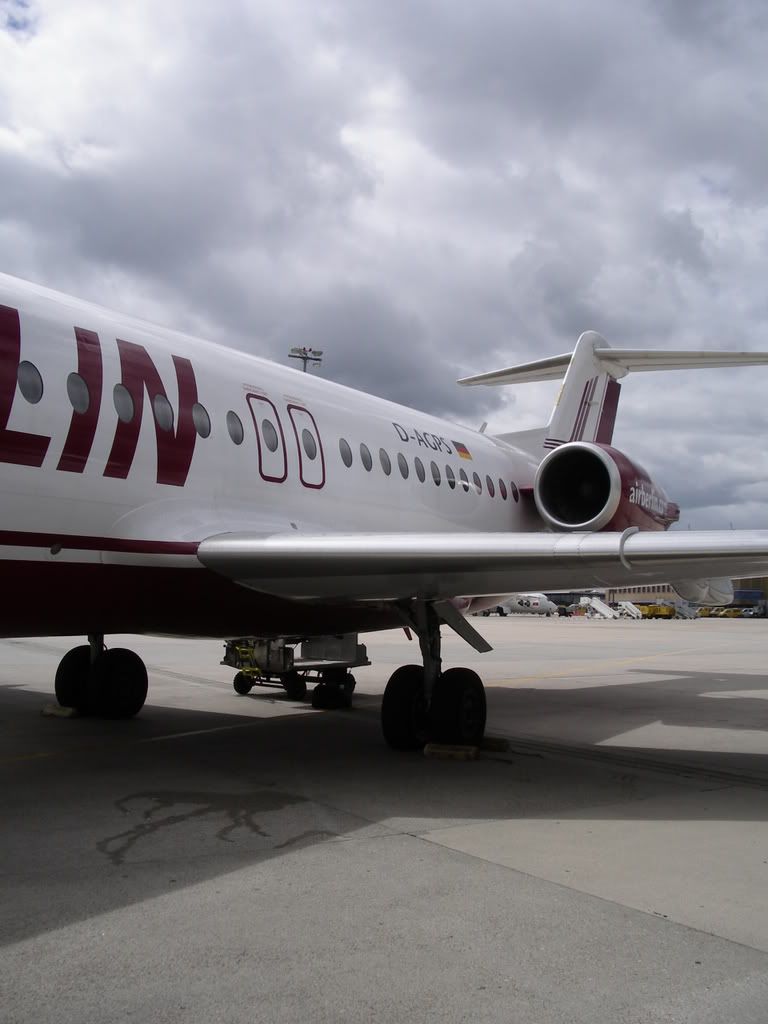 Operated by Germania: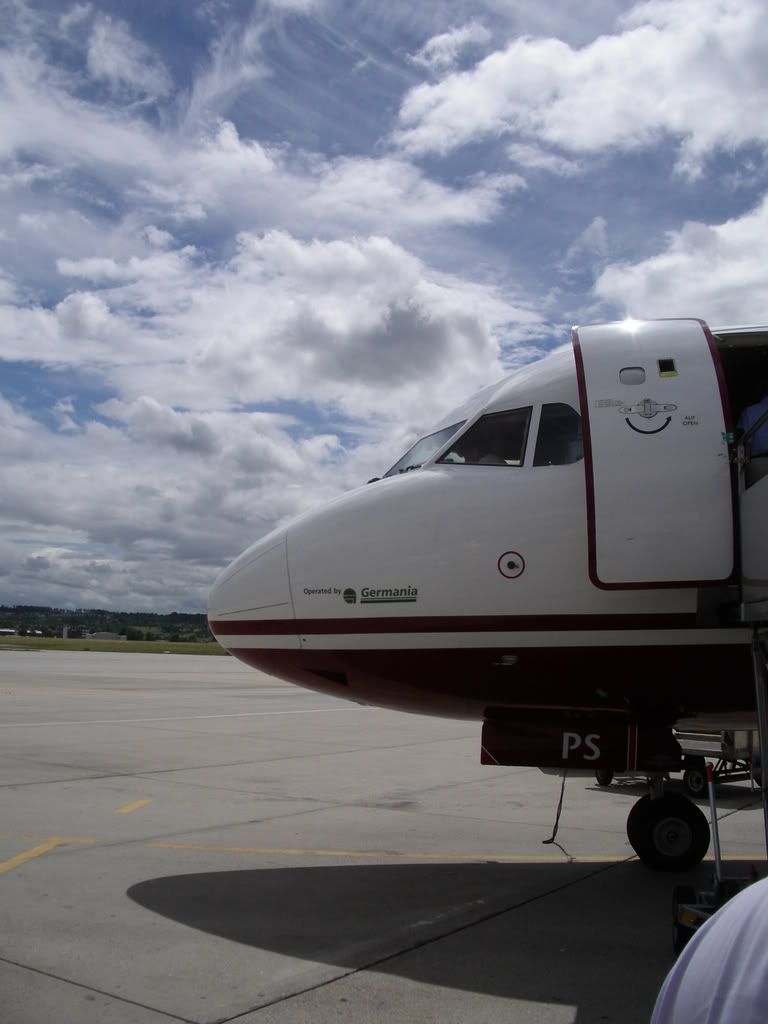 Nice, but windy wheather conditions to fly today.
Two female FA´s on this service, real friendly.
A short welcome from the flightdeck during boarding, the pilots from Germany.
The cabin fitted with bright, grey leather seats, clean, once again my impression about the F100, real good legroom.
Oldie style interior.
Departure from runway 25, in front another F100 from KLM. Duration: One hour.
The route leads us above Kassel and Hannover in northern direction. No info about the flight level.
Inflight to HAM:
Nice engine shot: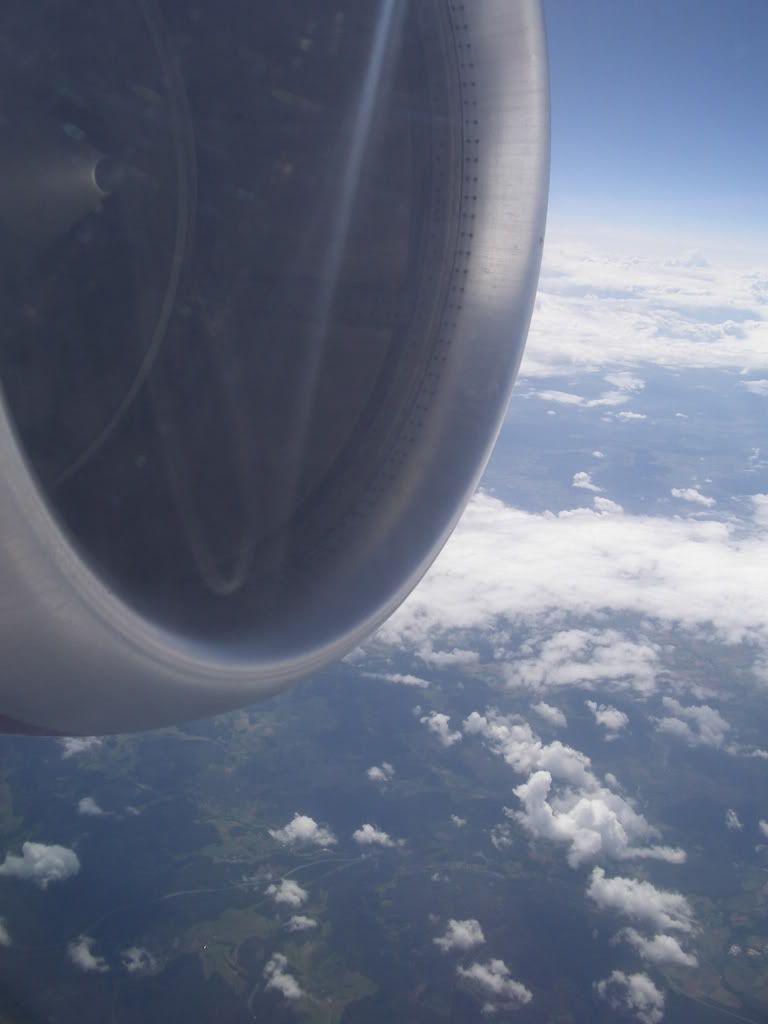 Snacks and beverages for free, also alcoholic drinks and newspapers, magazines for free.
Calm flight, more and more clouds inbound to HAM.
Arrival at HAM´s runway no. 23 ontime. Airbridge deboarding.
The FA´s offered the chocolate heart, but IMO, green was much nicer than red!.
D-AGPS at HAM: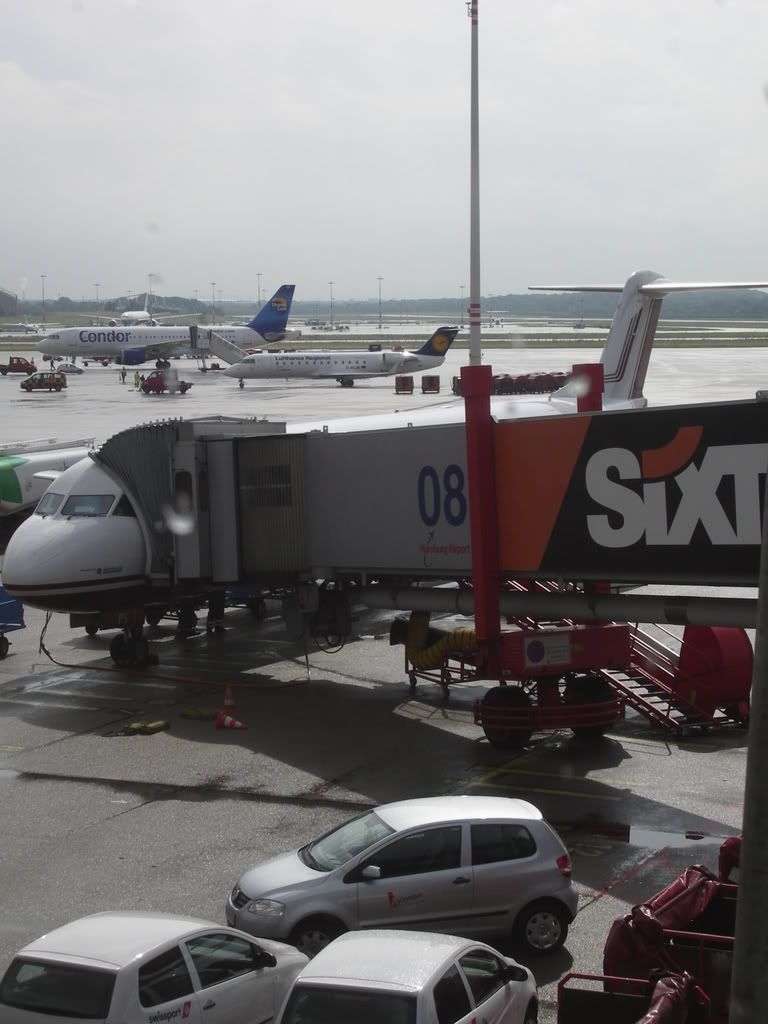 Only some minutes for the bags.
Further on the way by taxi to our accomodation, the recommendable Suitehotel Hamburg City, where we meet the rest of the crowd.
A nice, but especially in "net sleeping time" short weekend follows.
U-434: Russian espionage submarine:
U-434 en detail: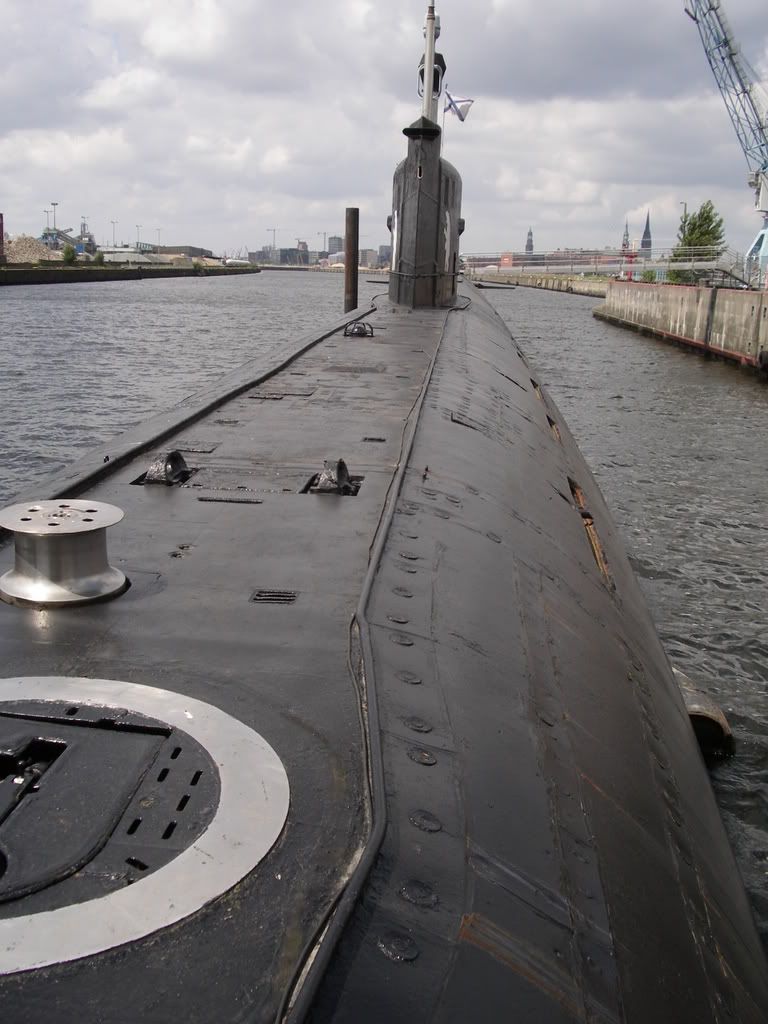 I will be in HAM again in around four weeks, more detailed pix during the next HAM trip report.
Sunday, 24.06.2007
HAM (Hamburg-Fuhlsbüttel) - STR (Stuttgart-Echterdingen)
4U 2047 operated by Germanwings A319 D-AKNT
Scheduled: 17.40 // 18.55
Actual: 17.45 // 18.45
Gate: A38
Seat: 23F
Loadfactor: 105 pax, around 70 %
Fare: 76,72 EUR per pax
History:
22.11.2005: Delivered to Germanwings
Flight no.27 on the A319 and the first on this plane.
Back at the airport, this time by the efficient public transport system, at around 4.00 pm.
No time to wait at check in, three counters for all 4U flights open.
Another friendly girl checked me in and send my suitcase back to STR.
I spent the time on the abservation deck, some nice planes there,
an Emirates A345, IranAir A310, KaliningradAvia B737 and so on.
The cross runway action was real interesting to follow.
Time for security at 5.00 pm, no time to wait there and at the gate at the scheduled
boarding time. The plane was inbound from STR and arrived some minutes early.
A-319 D-AKNT still arrived: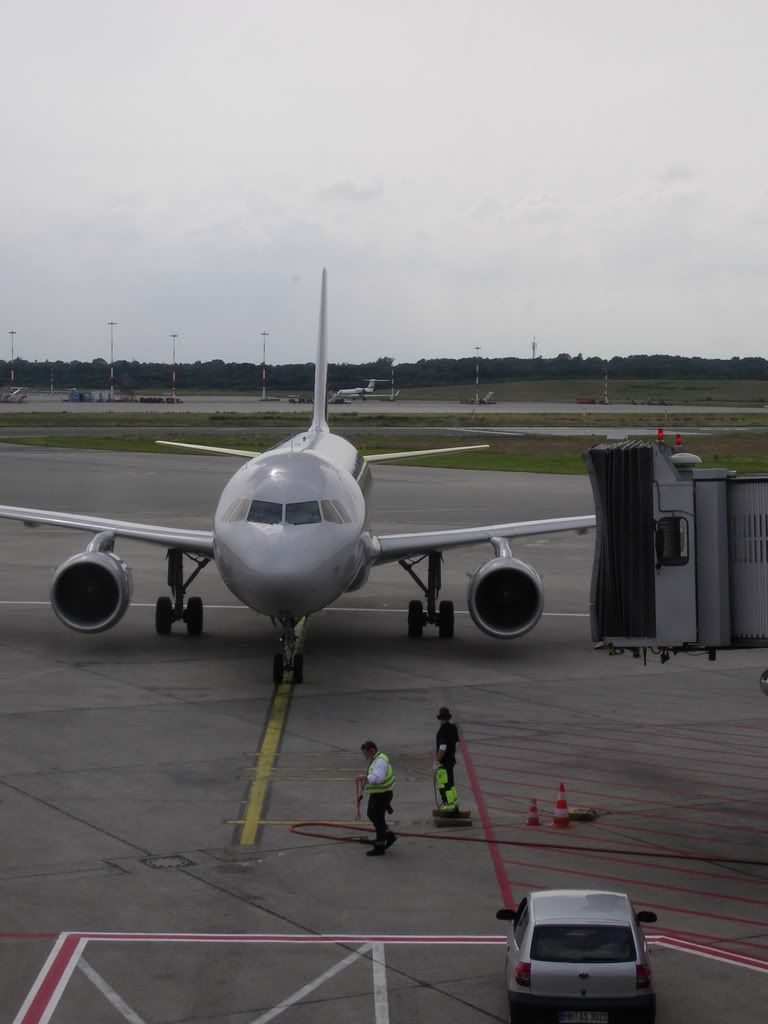 D-AKNT parked: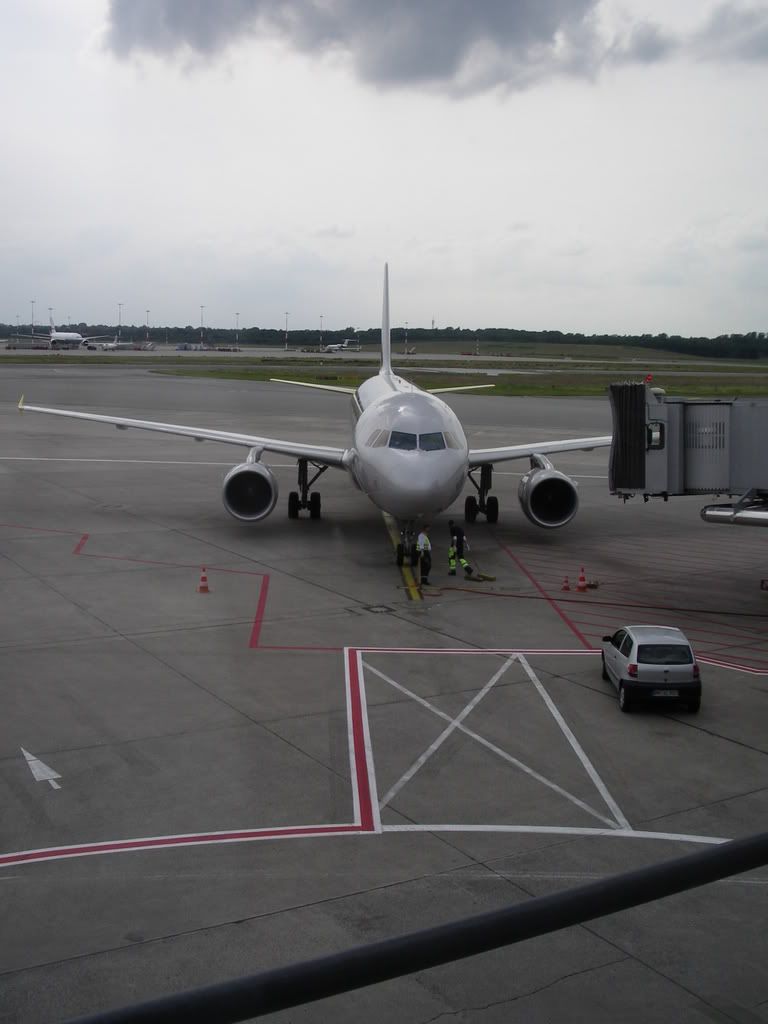 Ready for boarding:
Airbridge boarding at HAM also for Germanwings. Sequences 1 to 30 first, 24 for me, beneath families with children,
so no problem to bring the group together in the rear of the plane and also a window seat for me.
Three friendly female FA´s on this service.
Bright grey leather seats, clean machine, legroom was ok from my point of view.
Duration 1,00 hour.
Departure from runway 23, the same like on arrival yesterday.
Flightlevel 33.000 ft.
Both pilots from Germany. Detailed informaions in a friendly way during cruiseflight.
Good wheather along the whole route, no special service.
Some green northeast STR: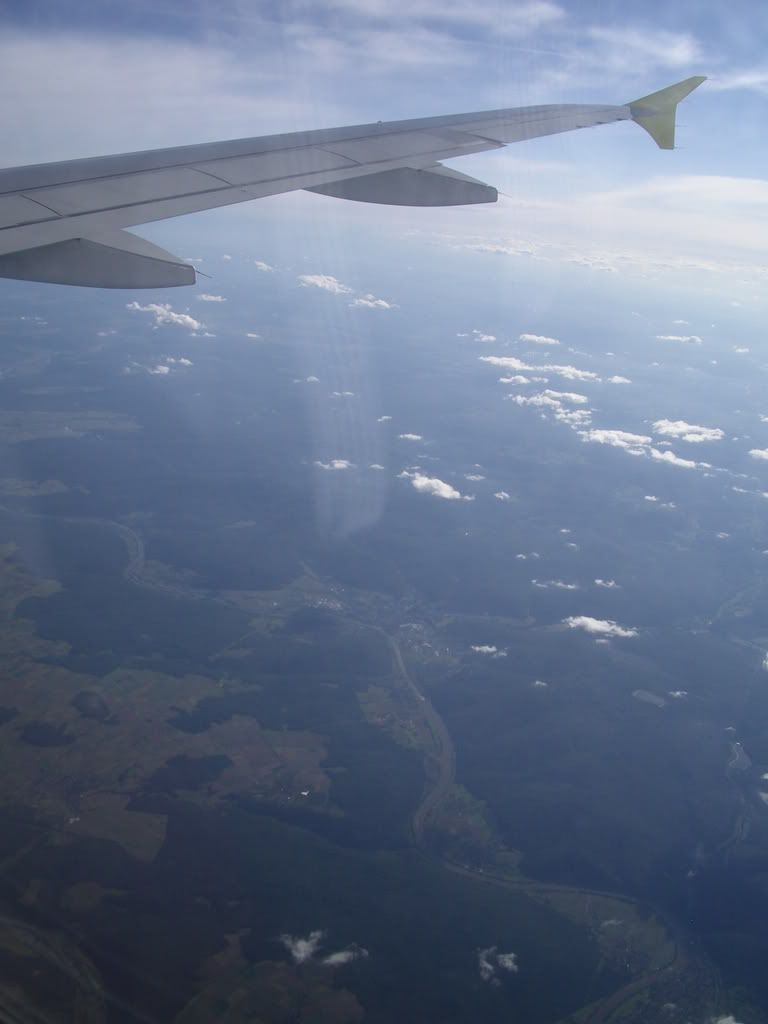 More colours east of STR:
East of STR during approach: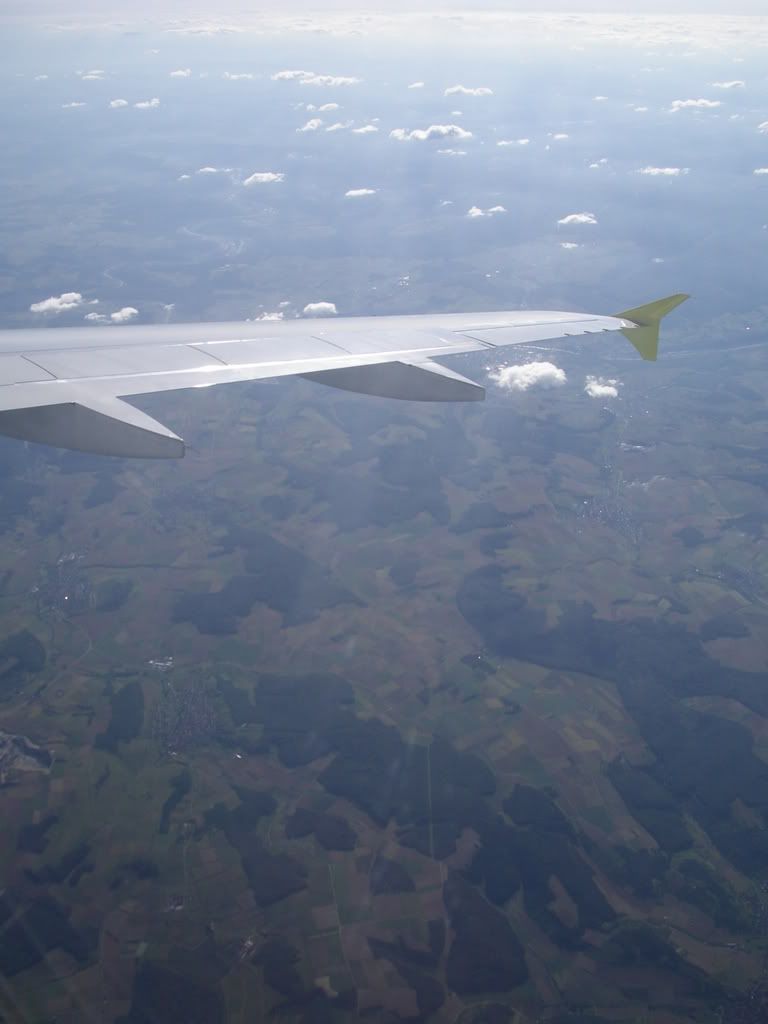 Back home on STR´s runway 25 ten minutes early, bus deboarding and some time to wait for
the bags while three Germanwings flights arrived nearly the same time, only one belt for
these flights available.
Bye-Bye D-AKNT: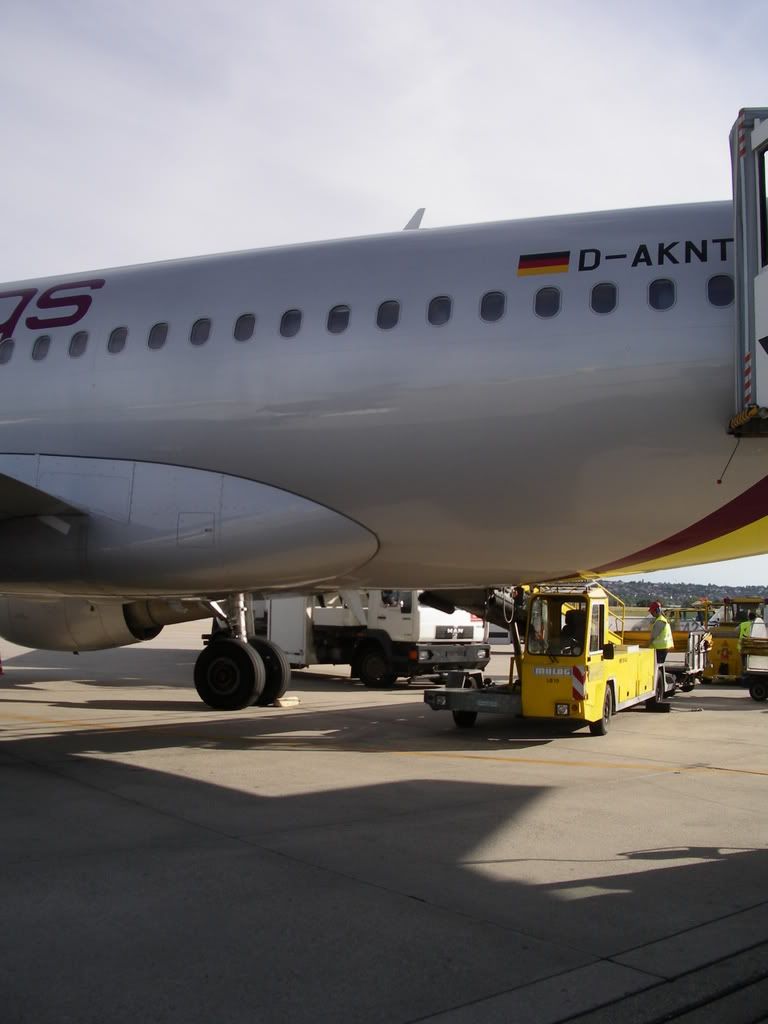 So, what about my personal opinion on these flights?.
Both services ontime, friendly FA´s both ways.
AirBerlin offers the more familiar service, fixed seating, magazines, free drinks, the chocolate heart.
There was some time ago, since my last Germanwings flight, but this time it was ok, but AirBerlin has still my
preference in direct comparison to Germanwings.
Comments always welcome,
Markus (FLIEGER67)